Please Note: Firefox and some other search engines are not suitable – Use "Internet Explorer" for this page to load perfectly!
Click the logo above to reach the ssMaritime FrontPage for News Updates & "Ship of the Month"
With Reuben Goossens
Maritime Historian, Cruise'n'Ship Reviewer & Author
USS Costa Rica Victory later the SS Groote Beer
And the …
Frank Lovell Story
Military Personnel Officer - then Chief Warrant Officer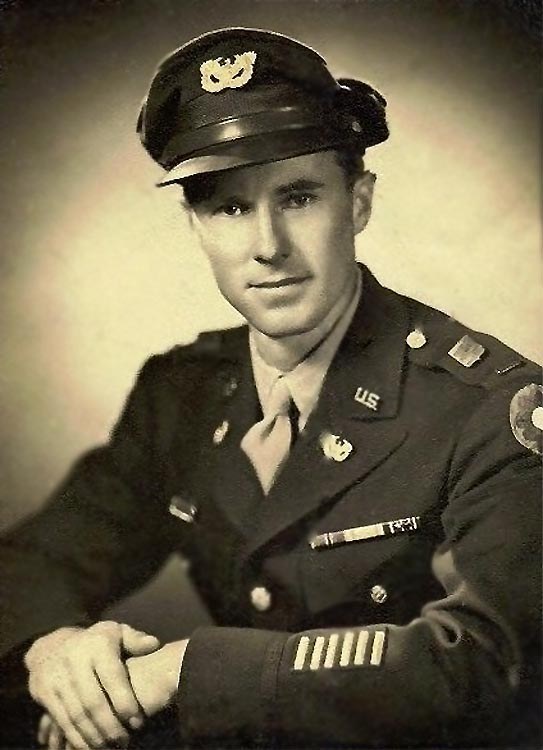 Introduction to the SS (USS) Rica Victory:
The SS Costa Rica Victoria was constructed, together with many other Victory class ships, by the Permanente Metals Corporation in Richmond, California, which was part of the Kaiser Shipyards. She was built for the "United War Shipping Administration" as a troop and cargo ship.
A the as yet unnamed ship was about to be constructed, she was given a hull number 529, which remained her name until launching, and her keel was laid with steel plate number 529 on March 22, 1944. But what was so amazing is the absolute speed that she was built, regardless of the speed, there was no doubt that the quality and their hull strength was beyond perfection! She was officially named Costa Rica Victory and launched on June 17, being less than three months after her keel was laid. She was towed to her Fit-Out berth where she was rapidly completed and was delivered to the "American-Hawaiian Steam Ship Company," on August 21, 1944, who operated her for the government.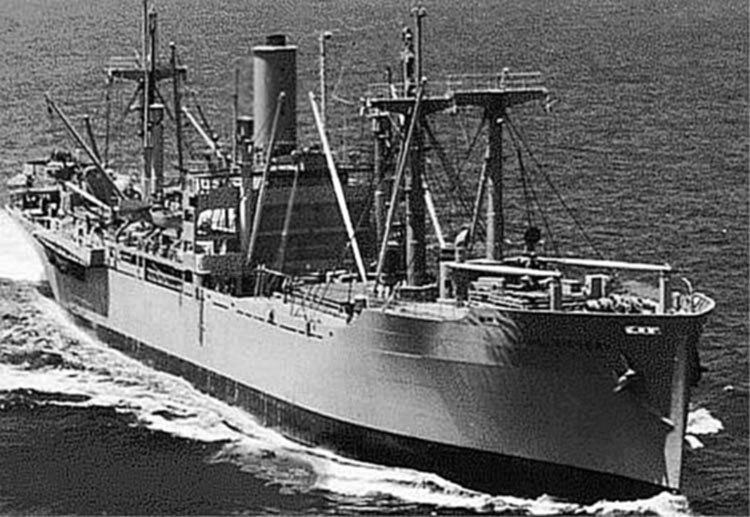 The USS Costa Rica Victory is seen at sea steaming homeward to America in 1944
Photograph from the author's private collection
It is still beyond comprehension that from laying her keel in March to her completion and delivery in August in 1944 took just five months and that was to build a ten thousand ton ship that could transport almost 1,600 people anywhere in the world! But we need to remember, these yards were almost like an automated assembly line as these Victory and C3 ships were being built in massive numbers during the war, in fact at total of 413 Victory ships were built in America! However, upon having been delivered to the American-Hawaiian Steam Ship Company, USS Costa Rica Victory quickly commenced her duties of carrying troops to Europe and bringing home troops!
Specification and Details:
She was the standard wartime "Victory" class ship of 9,140 GRT (Gross Registered Tons) with her specifications being as follows; Length 138.7m - 455.3ft, beam 18.9m - 62.1ft, she had tall slim one funnel, three masts, Propulsion: Geared Steam Turbines that operated a single screw and her service speed was 15 knots, with a maximum of 17 knots. She was completed to carry up to 1,597 troops. Bunks were installed in the 't'ween decks, and the galleys, washrooms, hospital facilities and a few public rooms were also added. All the accommodation areas were fitted with ventilation and a heating system for comfort.
The Frank Lovell Story:
Part One ~ My Father by Mary Lovell
My Father Frank Lovell was born on April 1, 1917, in Boston, Massachusetts and he was raised in Houghs Neck, Quincy, Massachusetts. His mother, Julia Sweeney was an Irish immigrant from Killarney, Kerry. Frank's father was descended from an early New England family. He worked as an automotive electrician specializing in Rolls Royce cars. Other family members included a sister, Helen and a brother, Walter.
Frank grew up playing baseball for the local youth league. After graduating from Quincy High School in the middle of the Great Depression, he worked alongside his brother Walter as a clam digger. Later he worked for the U.S. Post Office as a Mailman and then a Postal Clerk. During the late 1930s he went around the country trying out for major league baseball teams. Frank was selection playing in the Minor leagues for the Utica Braves, for the 1939/40 season.
Then in February 1940, Frank was drafted into the U.S. Army and it was here that his military service began. Initially he was placed at Fort Bragg at North Carolina, in A-Battery, 60th.Field Artillery Battalion, 9th.Infantry Division. Later he became a clerk and was transferred to Headquarters (HQ) Section, 60th Field Artillery Battalion, 9th.Infantry Division as a Personal Adjunct. But then his rank was changed to Military Personnel Officer however by completion of his service on November 1, 1945 Frank's highest rank was Chief Warrant Officer.
Prior to arriving in Normandy, Frank participated in all the 9th.Division campaigns and thus he boarded a C3 class ship the USS Florence Nightingale (AP-70) and departed the US and sailed to Morocco where his Division was involved with the invasion of Moroccoas well as having seen action in Algeria and Tunisia. All this was followed by the invasion of Sicily.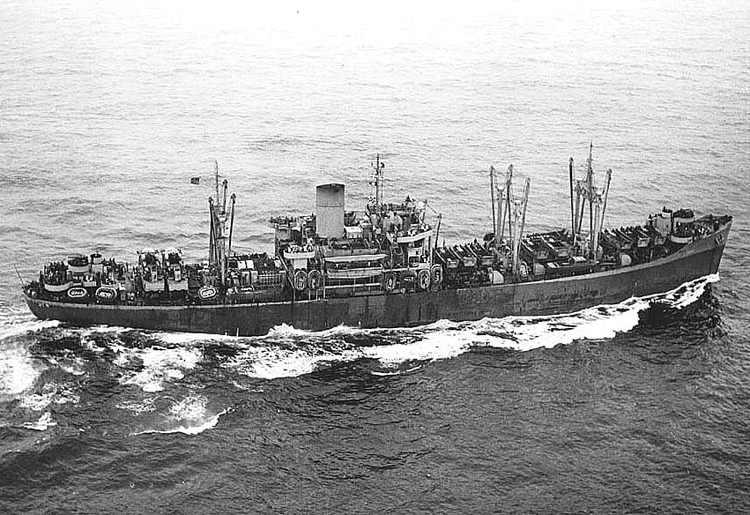 Here we see the USS Florence Nightingale steaming at full speed bound for Morocco
Photograph from the author's private collection
After all that, his unit was rested at Camp Barton Stacy in England. Finally on June 10, 1944 Frank landed with his Battalion at Utah Beach in Normandy, France and proceeded during the next 15 months to cross into Belgium and Germany and thankfully Dad survived the many battles. In July 1945 Frank was transferred in preparation for his transfer home to the 666th.Field Artillery Battalion which was located in Austria. Slowly he and others were made ready to be transported home to the Sates by ship!
One of the many troopships that would be in port to return across the Atlantic was the USS Costa Rica Victoria and on September 6, 1945 was Frank Lovell turn to board her to finally go home. His Daughter Mary Lovell was kind enough to send me a part of her dear late Father's Dairy as can be seen below; and I am most grateful to her for providing it to not just me, but to the world! What is so wonderful is that this page is very much about Frank Lovell and all the men who sailed on Costa Rica Victoria when she was an All American trooper! But, the Frank's Dairy also provides a wonderful insight of this soldier's viewpoint go his final days in camp and his time on board and his jubilant return home!
Part Two ~ The Dairy by Frank Lovell
The dairy commences six days before Frank was due to board the troopship to head home to the United States. In addition, I have left the dairy entirely as it was provided to me and although it contains some errors, and we need to understand that American's do not write what we could call the "Queen's English" but an American style, thus spelling is different to what many readers, except Americans, are used to! Thus, I have not edited Frank's writings in any shape or form!
All photographs were taken by Frank Lovell and kindly provided to me by & © Mary Lovell
September 1, 1945 to September 14, 1945
France, Aboard Ship, and Home
September 1, 1945
Camp Wing, Le Havre, France
I didn't get up for breakfast but got up about 7:30 a.m. and took a shower. I rounded up the morning reports, which depended upon the Public Address system to get the last two. I hung around in the morning. I watched the various sports being played and the airplanes. I talked with various people. I washed my soiled clothes and rested.
After supper I went to the show and then went to bed.
September 2, 1945
Camp Wing, Le Havre, France
I got up about 7:30 a.m. and had breakfast. I rounded together as many of the morning reports as I could. There were about six missing at the appointed hour. I checked some more, and found four. I left the remaining two up to the Public Address system.
It is Sunday. I went to Mass in the double squad tent at 11 a.m.
We got corned beef for Sunday dinner, as they ran out of chicken. After dinner I watched the men play ball, watched the airplanes, did a few odds and ends, and rested.
After supper I went to the show, talked with people, and took a short walk toward the beach. I went to bed early.
September 3, 1945
Camp Wing, Le Havre, France
I got up at 7:30 a.m. and ate breakfast. Afterwards I sat in the Colonel's tent and collected morning reports. I rounded up a table and two chairs for the tent. I had a Jerry soldier, a prisoner, carry the stuff and arrange it.
I hung around until dinner. In the afternoon I rested and then did a little typing for the Colonel. It rained in the late afternoon.
September 4, 1945
Camp Wing, Le Havre, France
I got up for breakfast. They had fresh eggs flown in from Denmark. I hung around the tent most of the day. I got my personal things sorted out and arranged.
I read all evening in the reading room.
September 5, 1945
Camp Wing, Le Havre, France
I got up for breakfast and they had fresh bananas no less. They must be flying them in from Spain or someplace further south.
I rounded up the morning reports and then rested for a while. I washed a few things. I watched a German helicopter come in. The British are taking it to England for examination. I hung around all afternoon and did some reading. We heard what we have been waiting for, for years. We are to board the Victory ship Costa Rica tomorrow and head for the States. We had a few meetings.
In the evening I hung around.
September 6, 1945
Camp Wing, La Havre, France
I didn't sleep well at all and the rest didn't either. We actually were chilly even with blankets. After breakfast we all got our things together. We hung around waiting.
We ate dinner at 1000 hours, gathered up our stuff, and joined our respective groups. It had been drizzling all morning. Our group was the first on the trucks. We loaded on semi-trailers; there were 60 of us with our equipment. The fellows on the trucks, as they went along, yelled at the girls and Military Police, as all are happy. We passed pillboxes and cement fortifications, they are all over the beaches, docks, and hillsides. The dock area is leveled of buildings.
We saw our ship, the Costa Rica Victory, and it looks fairly large. The Santa Rosa, sister ship of the Santa Paula, is behind it. We had been on the Santa Paula, a former Grace Liner, from Sicily to England.
We were given coffee and doughnuts and we were the first group to go aboard. The fellows from the 16th Reinforcement Depot are already on as they came from another camp. All the Lieutenants and Warrant Officers are in the forward hold. I got a top bunk and we then watched others come aboard, even some from the Air Corps. The Air Corps were overloaded with equipment and liquor. The G.I.s kidded them. Some fell down and got a big cheer.
The Officers have a card game going already. I took a shower and shaved. There are about 225 Officers in this forward hold. We waited quite some time for supper but it was worth the wait. I came back to my bunk, read, wrote, and then retired.
Please Note: Photographs below were taken by the late Frank Lowell and are now owned & © by his daughter, Mary Lovell. Therefore we ask that they are not copied for personal or any other use, unless permission is sought and is given in writing by Miss Lovell! Email me for details!
September 7, 1945
Aboard Ship Costa Rica Victory - Enroute to the U.S.
I awoke after a good night's sleep. It was warm sleeping. We had breakfast at 8:10 am. The food was good.
We all were on deck. The ship finally left the dock at 9:30 am. We pulled out into the stream. They opened the lock ahead and we steamed out about 10 o'clock. La Havre soon faded from view.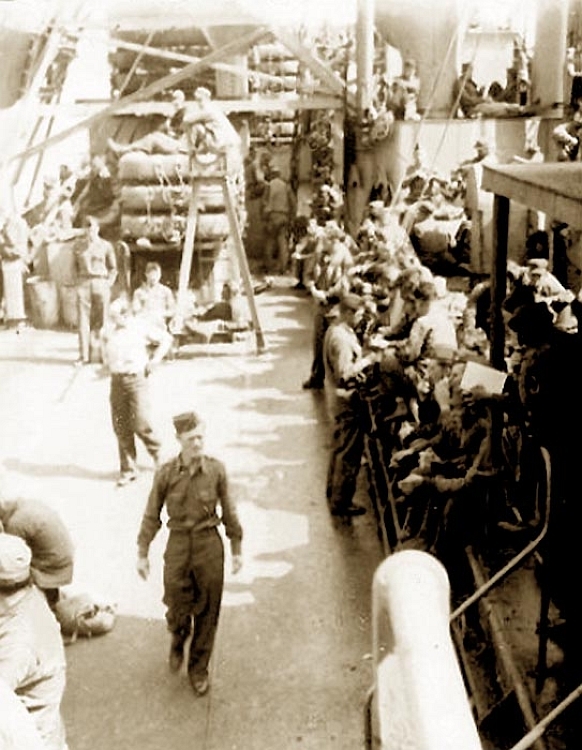 Decided to spend some time out on deck, as did everyone else!
There wasn't anything to be seen. We are traveling right along. It is a great day. I retired early in the evening.
September 8, 1945
Aboard Ship Costa Rica Victory - Enroute to the U.S.
I had a good night's sleep and got up early for breakfast. It was a wonderful day out. The water was a pretty blue. I took in the sun and read and talked. We passed a couple of ships. We are making good time. I went to bed early.
September 9, 1945
Aboard Ship Costa Rica Victory - Enroute to the U.S.
I slept well and got up for breakfast. It is a little rough out and the weather is poor.
After breakfast I went up on deck for a while. It was rough and sprinkling. I came back to the hold and slept.
I didn't get up for the usual noonday snack. I am feeling the weather.
I didn't get up for supper and I am now getting sick, no less. It is terribly rough now and many are sick. The huge waves hit the hull with a resounding smash. The prow seems to raise 15 feet and then fall with a thud. This is too much for my stomach. I rose up, grabbed a towel, and started for the head. I threw up at the foot of the ladder. I went to the latrine and threw up some more, even threw up some blood. I noticed many lying all around, sick. I came back to the hold for a while, as I feel better after throwing up. I got sick again. This time I took a blanket and went to the point that I figured was the center of the ship. I figured there would be less pitch fore and aft and sideways. I spread the blanket on the corridor and lied down with the rest of the guys. It was hard to find any space as all you could see were bodies laying on the floor. I feel better.
September 10, 1945
Aboard Ship Costa Rica Victory - Enroute to the U.S.
I got out of the aisle and made my way back to the hold. I feel good after a good night's sleep. I ate breakfast and there weren't many there.
I went on deck and there aren't many there either. Most of the people are still sick. It is still rough and stormy. I stayed on deck all day. There are birds flying around. I went to bed early in my regular place, the forward hold.
September 11, 1945
Aboard Ship Costa Rica Victory - Enroute to the U.S.
I got up for breakfast. I had slept in my clothes last night. I was afraid it might get rough and I would have to hustle to the latrine.
It was a little rough during the day. Later it began to get foggy and the water calmed down. The sick began to appear. The four-stacker Aquitania passed us about 8 pm. I turned in early.
September 12, 1945
Aboard Ship Costa Rica Victory - Enroute to the U.S.
I got up for breakfast. I stayed on deck all day. Most of the sick came out today, as it is fairly calm and clearing. The sun broke through about 1 pm and it turned into a great day. The crapshooters and card players have been busy during the whole trip.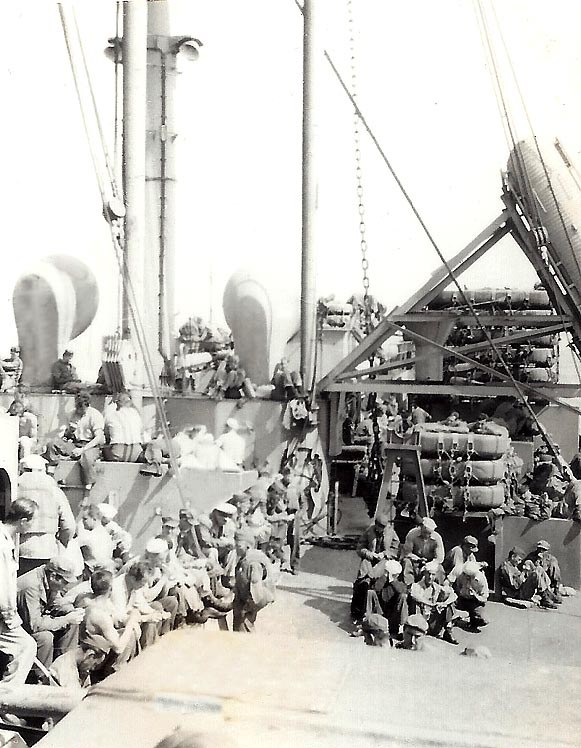 Above & below: Although we had quarters below, but the decks offered fresh air and
sunshine and we enjoyed each others company there, playing cards and just spending time talking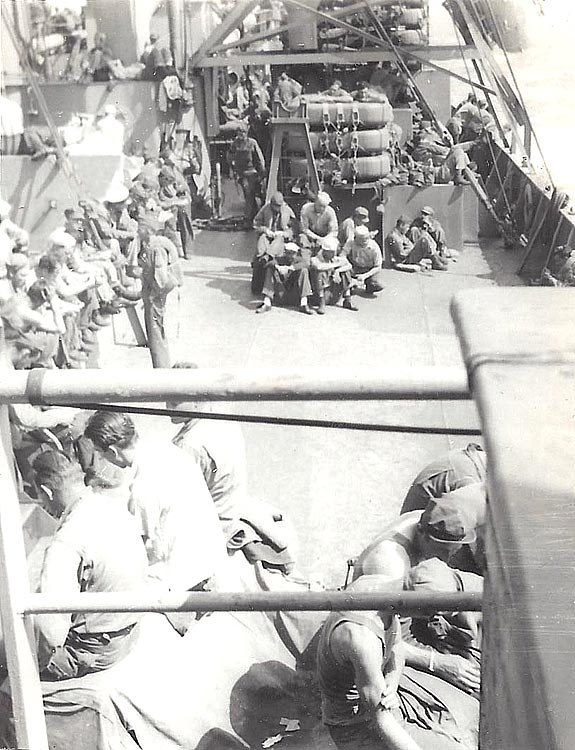 September 13, 1945
Aboard Ship Costa Rica Victory
Enroute to the U.S. - Seventh day at sea.
I got up early and had breakfast.
I went on deck. It was raining but fairly smooth. Soon the sun came out and it turned into a great day. We ran in and out of fog banks.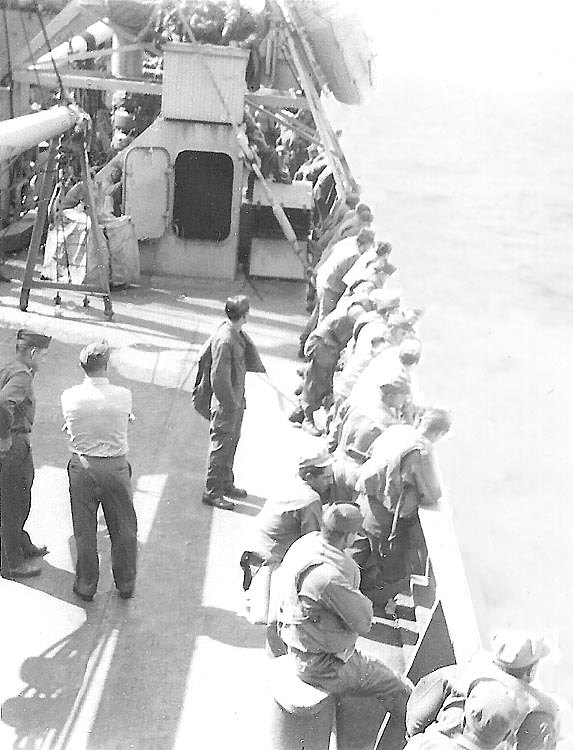 The seventh day at sea and as Frank said in his dairy
"It was raining but fairly smooth. Soon the sun came out and it turned into a great day."
Obviously this photograph was taken when the sun had come out and every one was on deck enjoying the fresh air and the sun!
We land tomorrow. I read and talked all day. More than one person told me that they never want to set their foot on another ship for the rest of their life. I wrote and read in the evening.
September 14, 1945
Aboard Ship Costa Rica Victory
Enroute to the U.S. - Eighth and last day at sea.
I got up early, shaved, and then ate. I got all my things ready, so I could be on deck and watch the arrival. We will dock in Boston.
We saw fishermen. It is a bit hazy and we just coasted along. The water is as placid as a pond. Everyone is on deck. I stood on the prow and we could see the fins of sharks. Then we saw some whales, they sure are huge. We saw more fishermen. They blew their whistle and waved. The fellows have climbed up and are all over the rigging.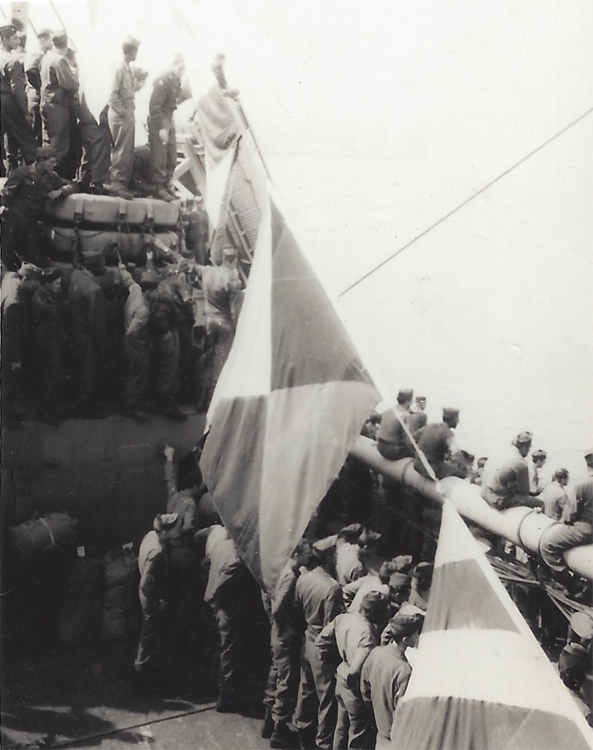 Above & below: Excitement spreads around the ship as the coastline comes into sight
Next there are fishing boats and the tugs arrive on the scene ready to take us to our berth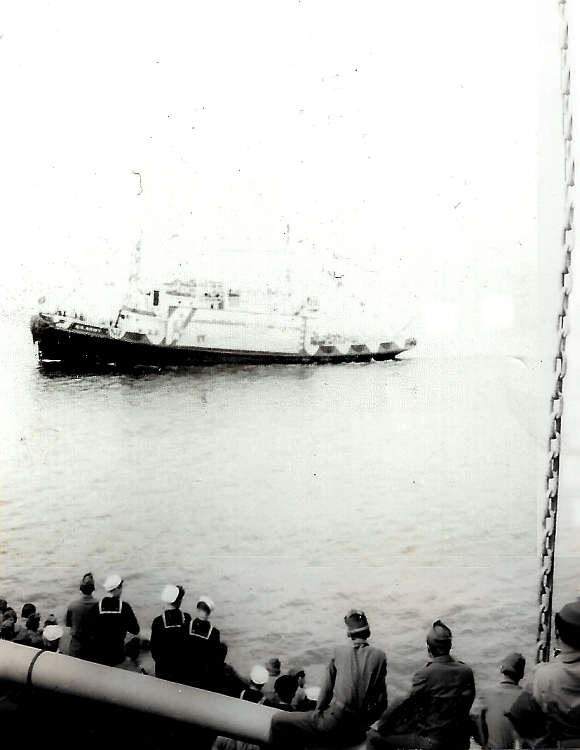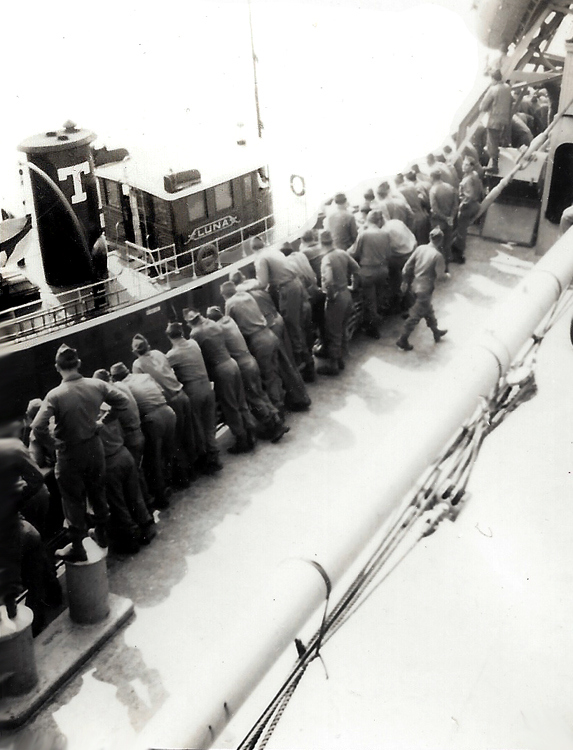 About 12:30 pm we saw the dim outline of land, what a thrill after three years. We could see some boats as we neared it. The lands we can see are the islands in Boston Harbor. I recognized some. I could see Great Hill, Houghs Neck, in the distance, and could almost see our house. I was hanging from the rail on the sun deck. The boats all around us blew whistles, as well as did our ship. It was a thrill.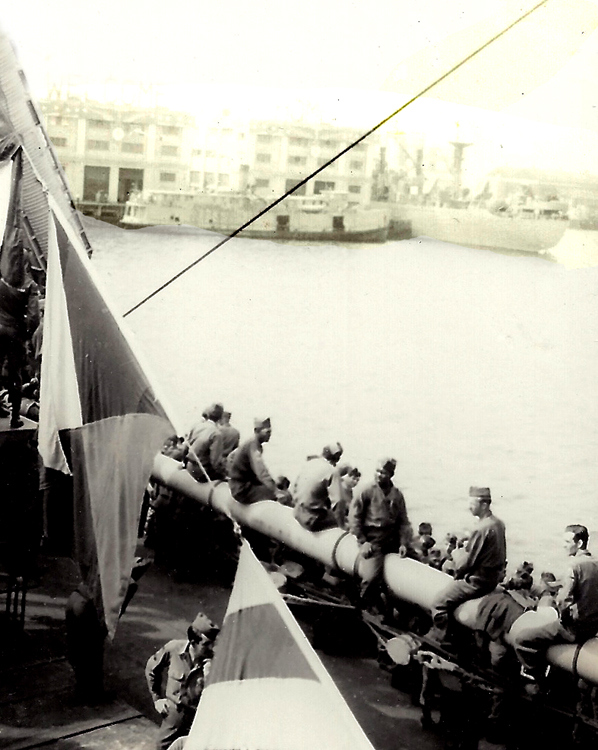 A tug, with a band and Woman's Army Corp (WACs) aboard, came along side. The band was playing and everybody was yelling and waving. We came in to the Army Base. The workers all lined the dock. The soldiers lined the rail, shouting and throwing coins. There was a band playing, WACs, and newspapermen. What a thrill, I almost felt like crying.
Above & below: We really know that we are home as we berth, the band is playing
But all we can think about is get off the ship and then I would really know I was home!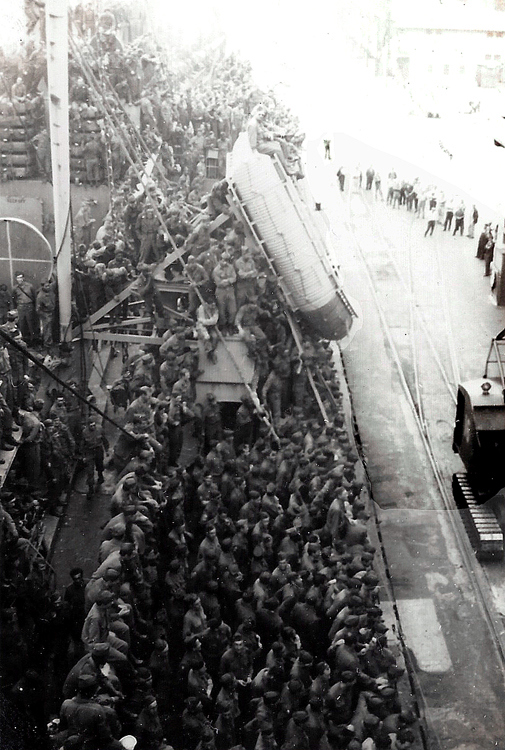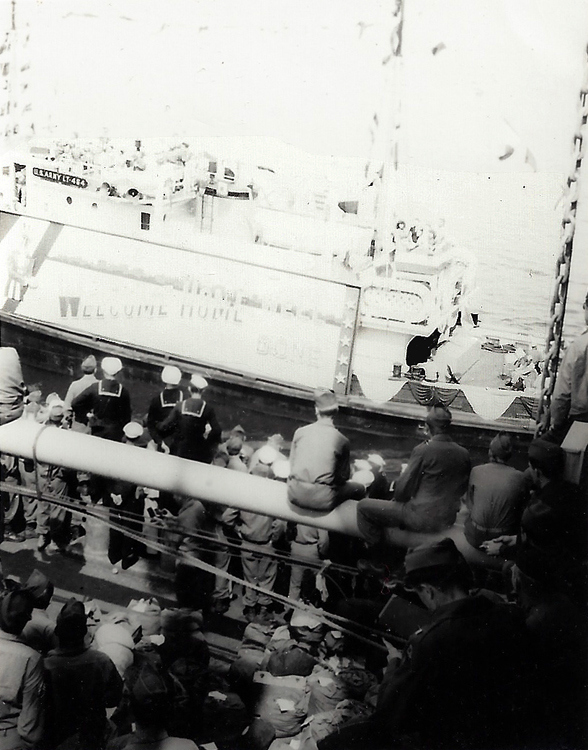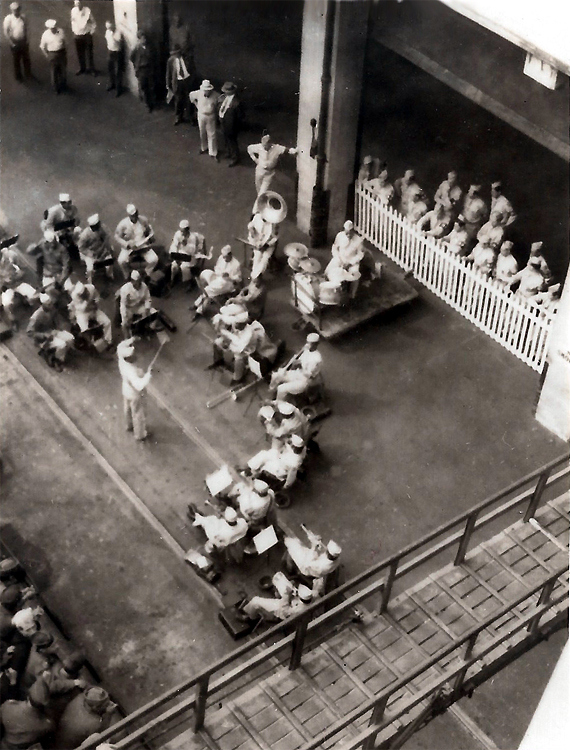 Our group was the first ones off and I fell on the gangplank and got a big round of cheers and yells. The reporters crowded around and were taking names. A little later we were given a little snack and milk.

We took a troop train to Camp Myles Standish, Taunton, Massachusetts. I just stood at the open door watching the sights. The regular trains all blew their whistles at us.

After we arrived we were oriented and billeted. I took a bath, called home, and retired.

Part Three ~ Frank's Life After the War

Please Note:

This final Part was written by the author of ssMaritime from material provided by Frank Lovell's daughter, Mary Lovell!

Having arrived and disembarked Frank was taken with his Battalion to the Army Camp at Taunton, Massachusetts, but he was soon released and he was able to go home to Boston and enjoy home cooked food and some real and normal life. Of course that would include going out some nights for he loved to go dancing. It would be around a month after he had returned home for in October Frank met his future wife, Patricia Anna Donnellan, who he lovingly called "Patsy" whilst he was at an Officer's dance in Boston. He recognized her from his mail route in Hough's Neck, Massachusetts, where Patsy's family had a summer cottage. Being madly in love, they married a year later in October 1946. the very pretty Patsy Donnellan was 22 years of age and a very handsome Frank Lovell was 29.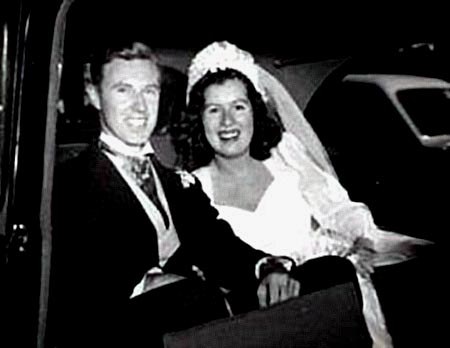 A delightful wedding photograph of the very happy Frank and Patricia Lovell in October 1946
They made their home in Brighton, Massachusetts for the next sixteen years and over the years they had five wonderful children. There would be two boys Frances and Paul, and three girls Patsy, Mary and Kathy.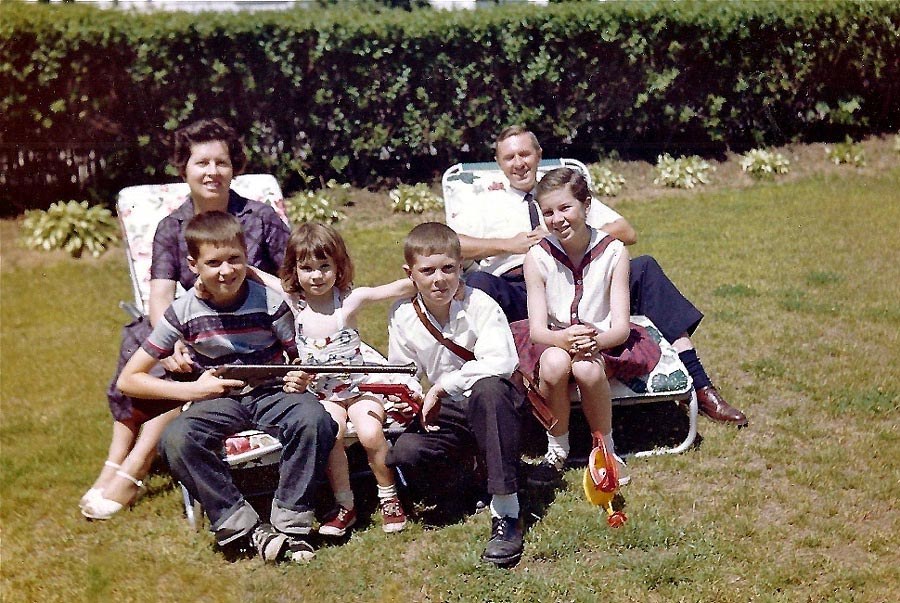 This photograph was taken in 1961 in the yard of our Brighton, Massachusetts home
Besides, Mum and Dad, in front is left to right: Paul, me Mary, Frances and Patsy, Kathy was born later!
However, in 1962 the family moved to West Roxbury in Massachusetts. Frank had always been a hard worker and he kept his job was like one for life. Frank was and highly respected and from having returned from the war Frank worked with the U.S. Post Office for an amazing 30 years.
Slowly as the years advanced, Mary told the author, sadly frank became old and rather ill, and as Mary wrote; "It is so funny that when I looked at my Father, no matter how old or sick he became, I always saw him as he appears in that 1961 photo."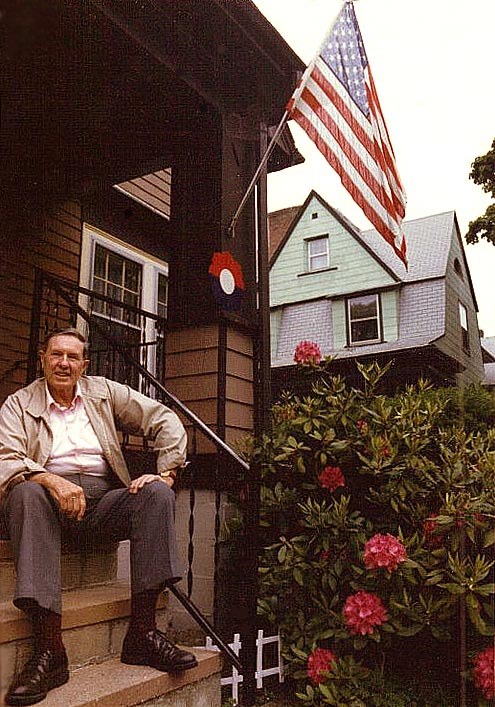 Frank is seen here in the early 1990s at his home in West Roxbury and by now his health was in decline!
Sadly, Frank Lovell passed away January 25, 1996 and Mary gave me sad news as follows; "My Mom passed away March 11, 2014 just a few months ago." Mary also told me that the, "the kids" had decided, rather to place their beloved Mum in an old age home, to keep her at home where they were able to take good care of her whilst she had been ill. In addition a doctor was always at hand when needed, etc!
This concludes the Frank Lovell Story, a man who sailed on one amazing ships, for she became one of three well known ship owned by the Dutch and they would take countless thousands from the Netherlands to the United States, Canada, New Zealand and Australia. The SS Costa Rica Victory was rebuilt into the migrant ship the SS Groote Beer.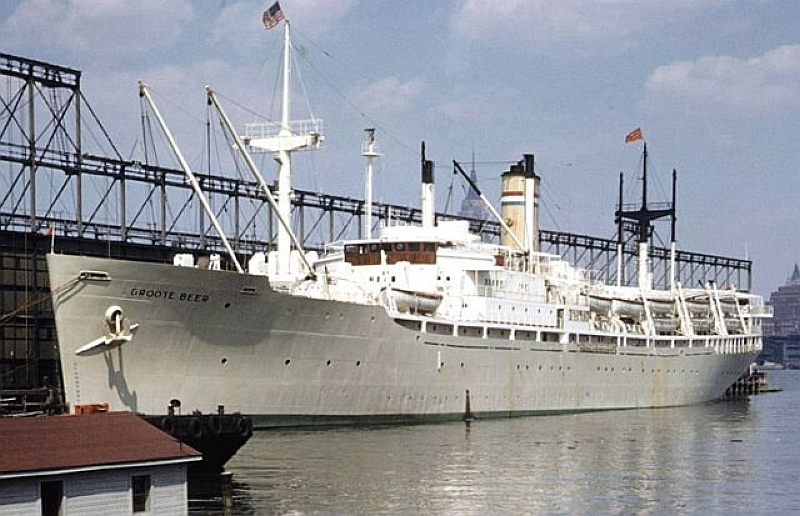 The SS Costa Rica Victory was extensively rebuilt into a humble passenger liner and was renamed SS Groote Beer (Big Bear)
She is seen berthed at Hoboken, New Jersey on June 30, 1958. Then having had a remarkable career, she was scrapped in 1967
                             Photograph by Victor Scrivens – from the Rich Turnwald collection                                                                                                                      
The other two ships were the SS Cranston Victory, which was rebuilt to become the SS Zuiderkruis and the SS La Grande Victory became the SS Waterman. All three ships were owned by the Dutch Government, but managed by Holland America Line, or the Netherland Line. Later in their days, they became popular as student ships sailing to and from New York!
If you would like to read more about these three amazing "Victory Class" ships and the full history of the SS Groote Beer, visit my extensive Nine-Page feature entitled … "The Dutch Victory Trio."
Please Note:
If anyone has come across this SS Costa Rica Victory story and this voyage and if you have any particular questions, Mary Lovell has advised me that she is happy to answer any, that is, if she is able. Therefore I have retained Mary's email address, thus feel fee to Email me and I will forward your email to Mary for her to answer!
****************************************
Return to the ssMaritime Main INDEX
ssMaritime.com & ssMaritime.net
Where the ships of the past make history & the 1914 built MV Doulos Story
Also visit my
"Save The Classic Liners Campaign"
Please Note: ssmaritime and associated sites are 100% non-commercial and the author seeks no funding or favours of any shape or form, never have and never will!
Photographs on ssmaritime and associate pages are by the author or from the author's private collection. In addition there are some images that have been provided by Shipping Companies and private photographers or collectors. Credit is given to all contributors. However, there are some photographs provided to me without details regarding the photographer/owner concerned. I hereby invite if owners of these images would be so kind to make them-selves known to me in order that due credit may be given.
This notice covers all pages, although, and I have done my best to ensure that all photographs are duly credited and that this notice is displaced on each page, that is, when a page is updated!
ssMaritime is owned & © Copyright by Reuben Goossens - All Rights Reserved