Aberdeen Line S.S. Euripides 1915 to 1932, Shaw, Savill & Albion Line R.M.S. Akaroa 1932 to 1954.
Please Note: Firefox and some other Search Engines may not be suitable
Use Google Chrome for this Web Page to load perfectly!

Please Note: All ssMaritime and other related maritime sites are 100% non-commercial and privately owned, thus ssmaritime is NOT associated with any shipping company or any other organisation! Although the author has worked and been involved in the passenger shipping industry for well over 60 years, but due to his old age and poor health, he was forced to retire. Yet, he has completed well over 1,435 Classic Liners, Passenger-Cargo Liners as well as humble converted C3 converted Migrant Liners, which has transported countless thousands of folk to the new world, as well on vacations'. I trust the features online will continue to provide Classic Liner and Ship enthusiasts both the information they are seeking, but more so provide a great deal of pleasure and relive many happy memories!
Normandie-Third-2BC-a.jpg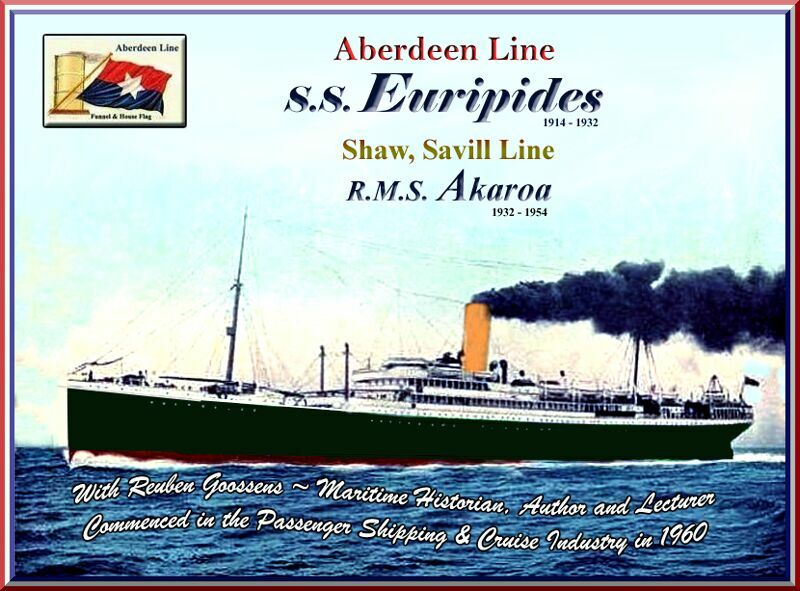 Postcards, photographs & other images are either from the author's private collection or from my supporters.
Thus a very thank you to three very special ssmaritime supporters for sending me their wonderful
photographs & images for I could not have completed this feature to this point.
I am sorry but some of the images shown may not be of the highest quality, but they are the best that were available
Introduction in Brief:
The S.S. Euripides was a UK coal fired steam Ocean Liner as well as a refrigerated cargo ship built by "Harland & Wolff at their Belfast yards for the Scottish "Aberdeen Line" completed in 1914 to operate on the London to Australia service and when new she was the largest ship in the company's fleet. During the World War One she was an Allied Troop Ship and she did her duties exceptionally well!
*********************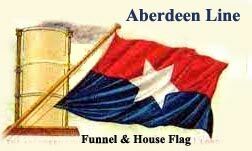 Her Construction & Launching:
The "Euripides" was laid down at the Harland and Wolff Yard N° 439 in 1913, and launching her on January 29, 1914 and completing her on June 6.
On June 14, she departed with a large party of officials and media and other guests for her Sea Trials, which went very well as she achieved a speed trial of 16.5 maximum speed, but she would operate at a service speed of 15 knots.
S.S. Euripides looked relatively similar to her "Aberdeen Line's" running mates, the "Themistocles" and "Demosthenes". Although, with the "Euripides" having a length of 569 ft - 173 m and beam of 67.4 ft  20.5 m Euripides was 50 ft (15 m) longer and 5.4 ft (1.6 m) broader. As built, her tonnages were 14,947 GRT (Gross Registered Tons), 9,399 NRT (Net Registered Tons) and about 25,000 tons displacement, and thus she was the largest ship in Line's fleet.
She featured the traditional Aberdeen Line's livery of a Green hull with red boot topping, a white superstructure and a yellow funnel, with her masts and all cargo handling equipment being in buff. However, later her hull was changed to being in the more traditional black with a red boot topping.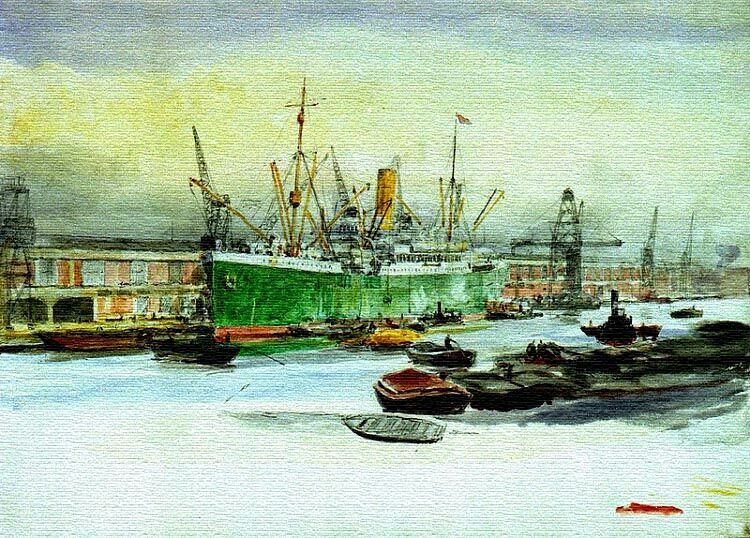 A delightful work of art of the S.S. Euripides with her original green hull berthed at London
This fine work of art was by the late; William Lionel Wyllie
In addition the "Euripides" had a double bottom for the full length of her hull. Her hull was divided' into watertight compartments, in order that she could remain afloat if any two were fully flooded.
The S.S. Euripides was technically a two class ship, even though she did offer an immigrant Steerage class, which would be used whenever there was a need.
First class facilities were located on the following decks; Bridge Deck, Boat Deck, Main Deck and Awning Deck. Whilst Third Cass was on located the Poop and T'ween Decks. The space for the 750 Steerage passengers would most likely have been in two converted holds, which was done in a good number of ships in those days, for I could not located any other permanent accommodation on board.
Her holds were refrigerated and had a capacity for 245,593 cubic feet of cargo. There were a total of seven hatches, served by 19 winches.
The "Euripides" had three screws, which were driven by a pair of four-cylinder triple-expansion steam engines which drove her port and starboard screws. And an exhaust steam engine, from low-pressure cylinders, powered a low-pressure steam turbine that drove her middle screw. The combined power output of her three engines was rated at 1,401 NHP and gave her a service speed of 15 knots.
Interiors and facilities:
Her First Class facilities were pleasant and well finished with some touches of fine dark timber touches ivory walls and ceilings and fine furnishings. Sadly, I do not have many photographs of her Public Venues, but those I do will provide a general picture of what she was like on board, and what she type of ship she was to sail on!
I will commence with the First Class Venues and Cabins, then the Third Class, but sadly there is nothing available on the Steerage accommodations, which is usually very basic located in the bow section and sleeping venues was located in large dormitories, which was often in converted holds, for steerage would only be carried when requested and was not a regular transport for the ship.
First Class: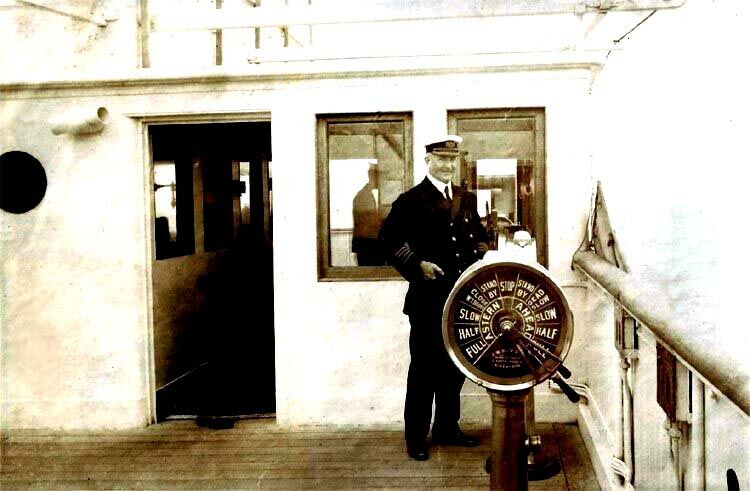 Not a First Class facility, but it is nice to see that the Captain ensures that you will get there safely!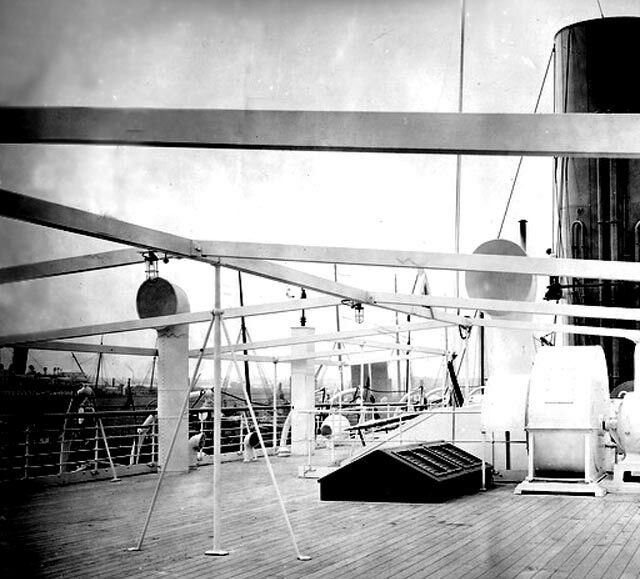 Sun Deck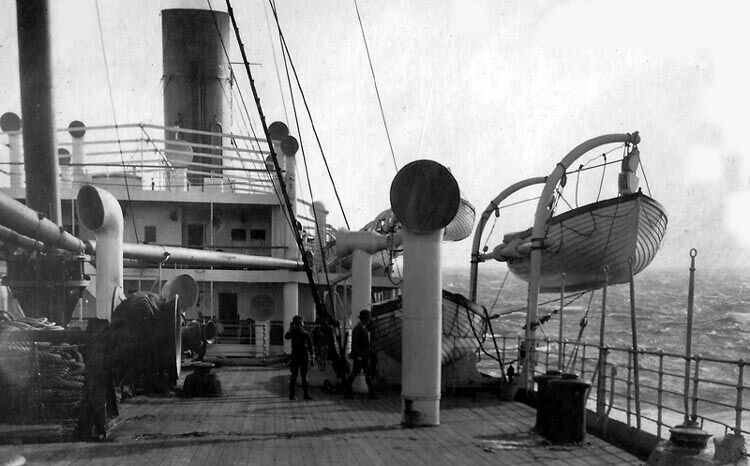 Boat Deck aft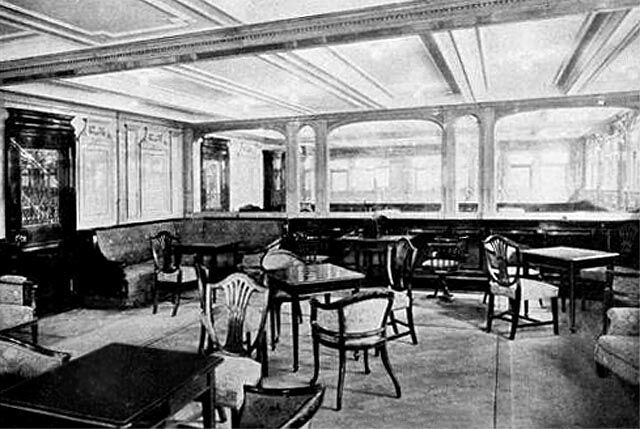 Above & below: This intimate Lounge is dived with the Library and writing Room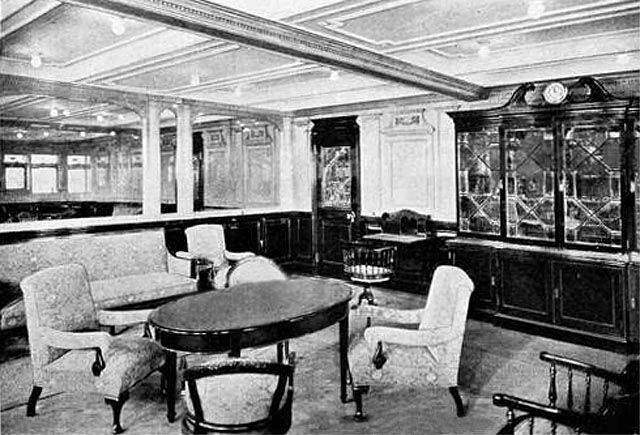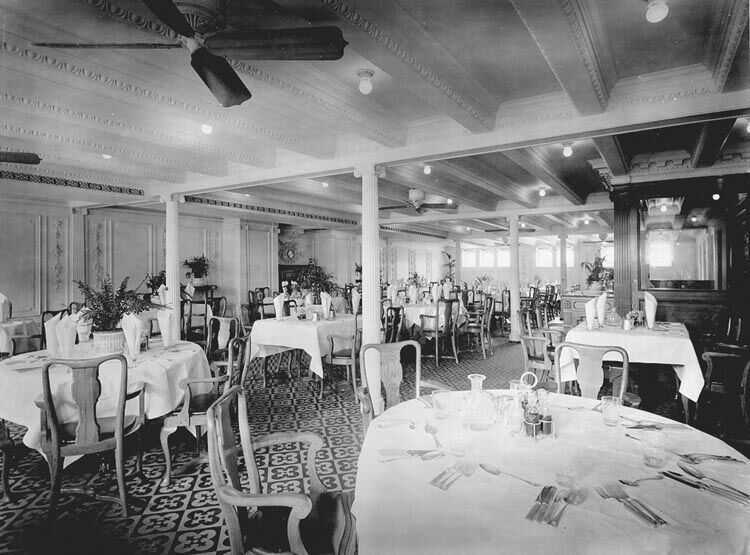 The beautiful Dining Saloon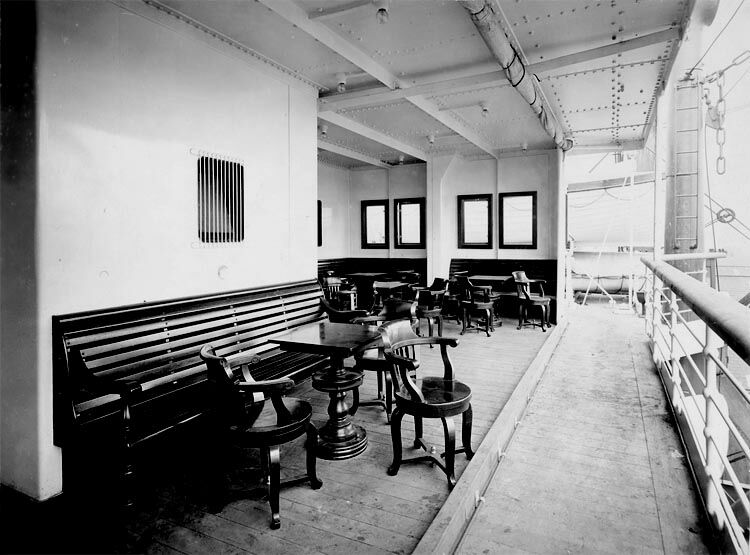 A popular deck space for having a drink, or just to read a book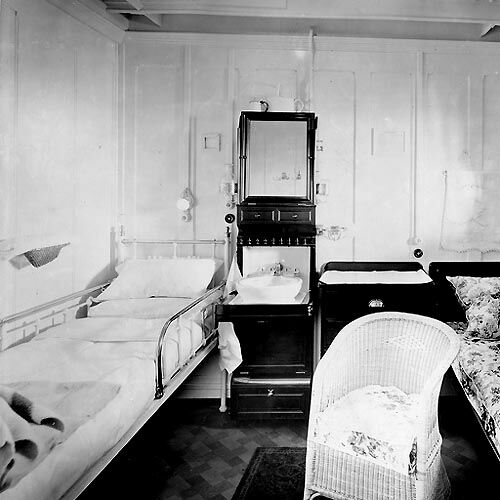 An inside two bed cabin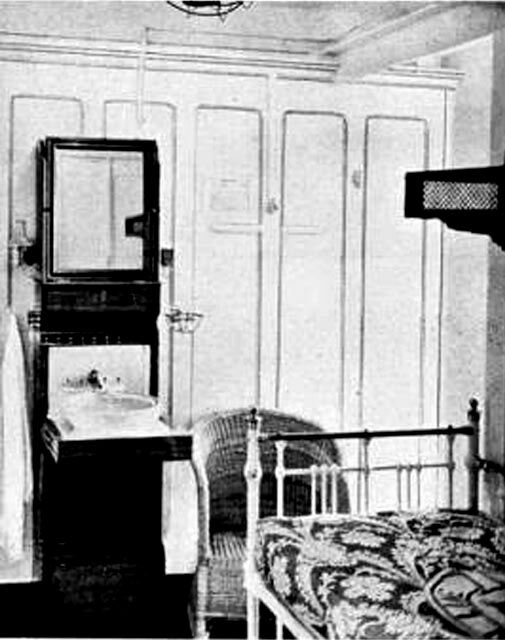 A single cabin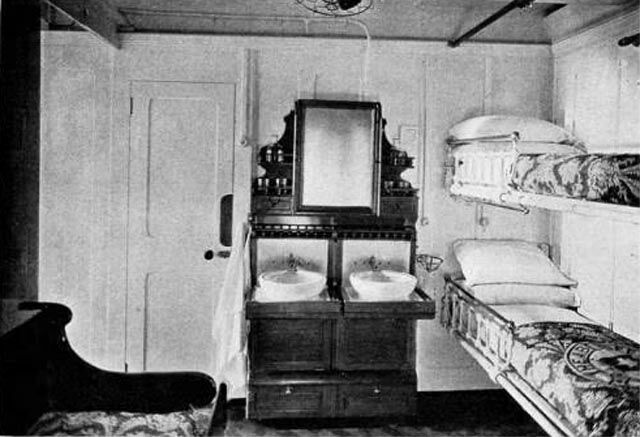 A two or three berth cabin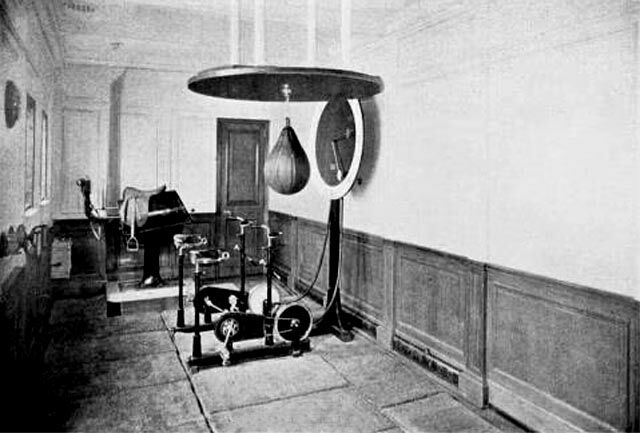 The ships Gym
Third Class: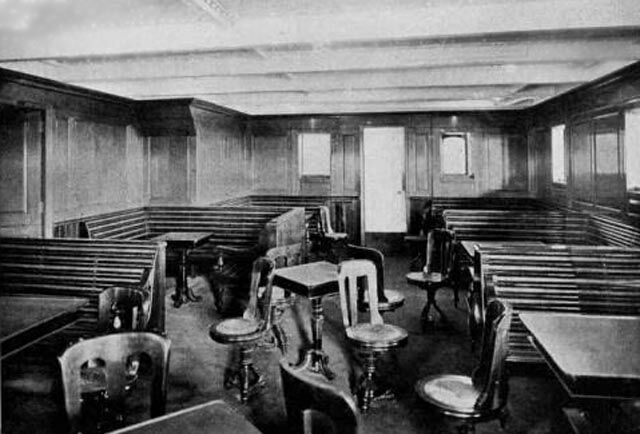 The Smoking Room, there was a pleasant Lounge and Dining Room available as well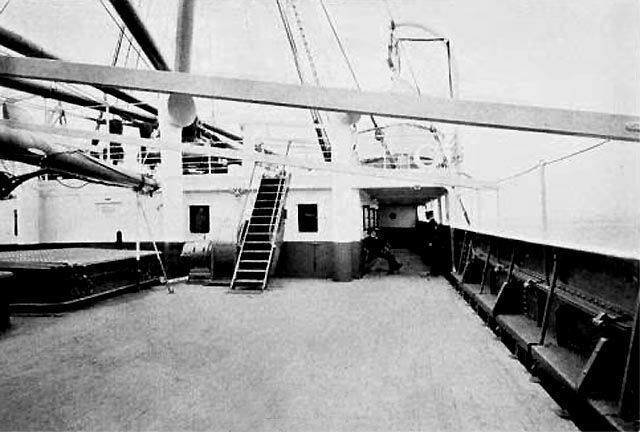 The Promenade Deck and aft deck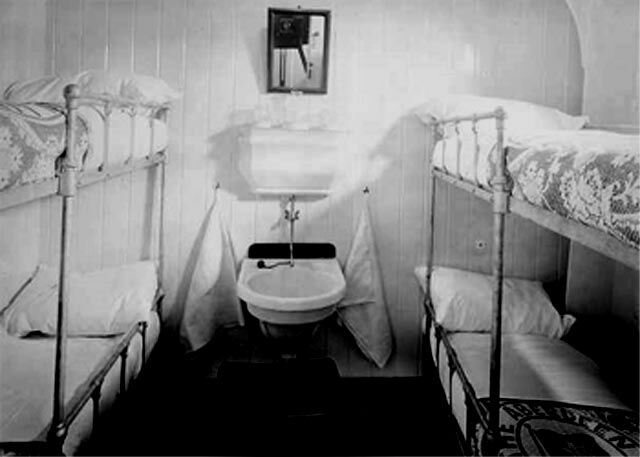 A typical 4 Berth cabin
*********************
Her Maiden voyage:
Aberdeen Line was built to operate scheduled services between London, with her destination being Brisbane, Australia, sailing via Cape Town, South Africa.
S.S. Euripides departed London on her maiden voyage on July 1, 1914, and she called at Plymouth on July 2, the at Cape Town on July 20, just eight days later as we will know, World War One commenced whilst the "Euripides" was crossing the Indian Ocean.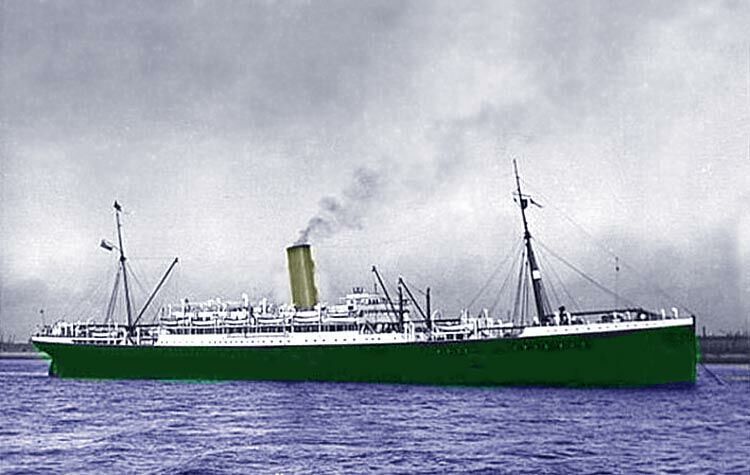 The S.S. Euripides is seen during her maiden voyage
She called at Albany (Western Australia) on August 4, then at Melbourne (Victoria) on August 13, and she arrived in Sydney (New South Wales) on August 15. When the S.S. Euripides was in Sydney, the Daily Commercial News and Shipping List hailed her as "a palatial vessel", but it also stated that she had been requisitioned to become an Australian troop ship. However she departed and headed for her destination Brisbane (Queensland) arriving on August 24, 1914.
*********************
World War One - H.M.A.T. Euripides:
Whilst in Brisbane it was on August 26, that the "Euripides" was officially requisitioned by the Australian government as become an Australian Troop ship and she was locally refitted. She had accommodations for 136 officers, as well as for 2,204 troops, in addition a special space was created for the stabling for 20 horses. Upon completion she became the H.M.A.T. Euripides and was given the pennant number 'A14' and was painted in the traditional War grey livery.
On September 24, 1914 at Brisbane she embarked B Squadron, D Troops, and the 2nd Light Horse Regiment. Then between 18 & 20 October, at Sydney the 3rd Infantry Battalion, 4th Infantry Battalion, 1st Field Ambulance First Division & six Nurses embarked the ship.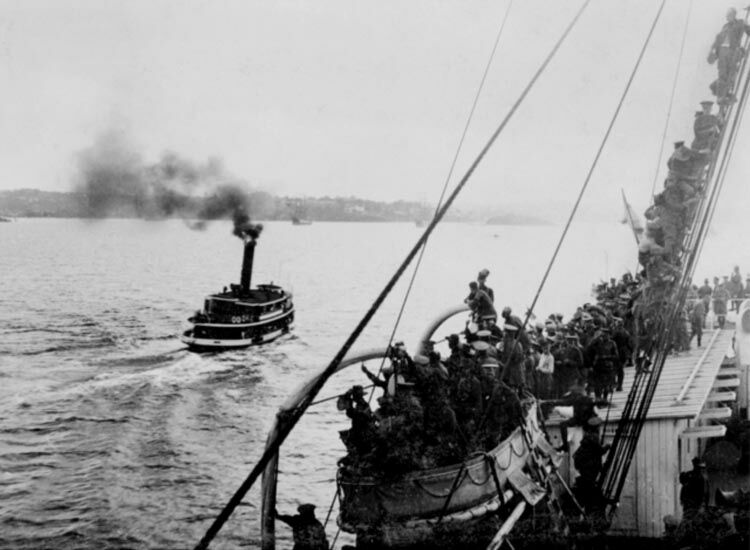 The H.M.A.T. Euripides A14 is seen departing Sydney on October 20, 1914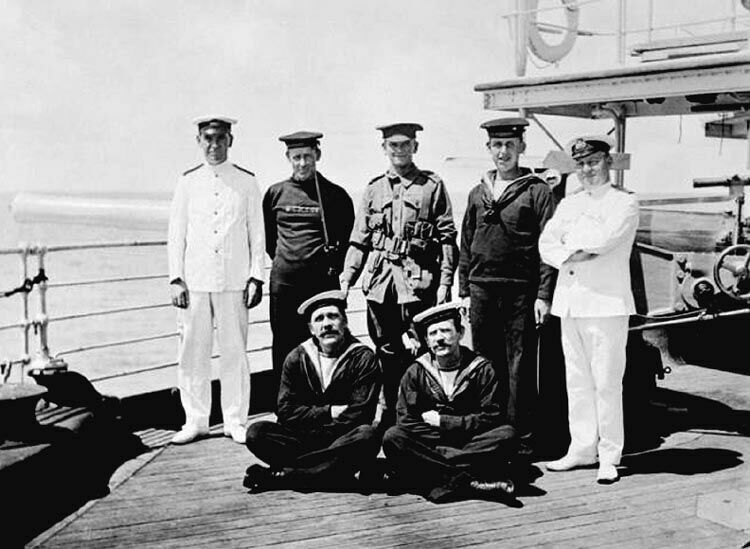 Gun crew aboard the troopship H.M.A.T. Euripides A14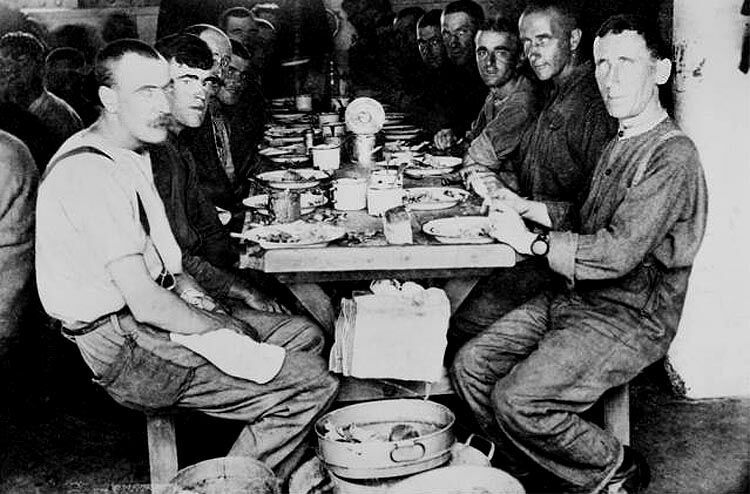 Some of the enlisted med are seen in the mess for a meal
She for Albany Western Australia, and on November 1, 1914, she assembled with the first convoy at King George's Sound at Albany in transporting the First Detachment of the Australian and New Zealand "Imperial Expeditionary Forces" all taking part in the first Australian troop convoy to the Dardanelles.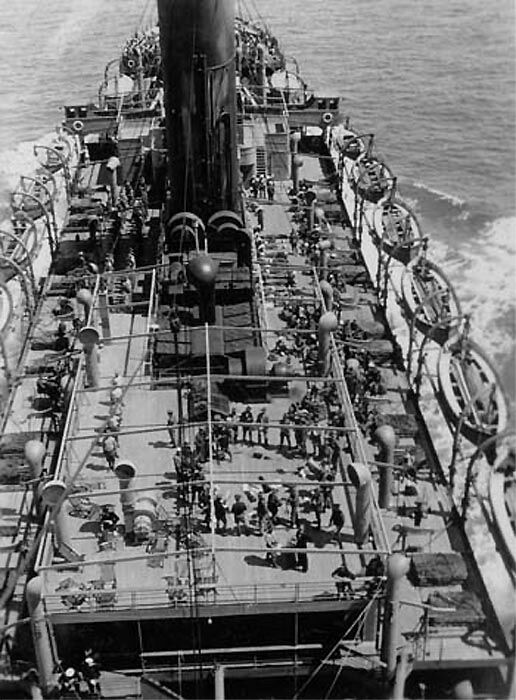 She is one her way to the Suez Canal and troops are topside receiving lectures and drills
Although she reverted to British government control in 1915 and continued on the London to Australia voyages, with her third class accommodation being used mostly by troops under Commonwealth control, but she retained the prefix H.M.A.T. - "His Majesties Australian Troopship".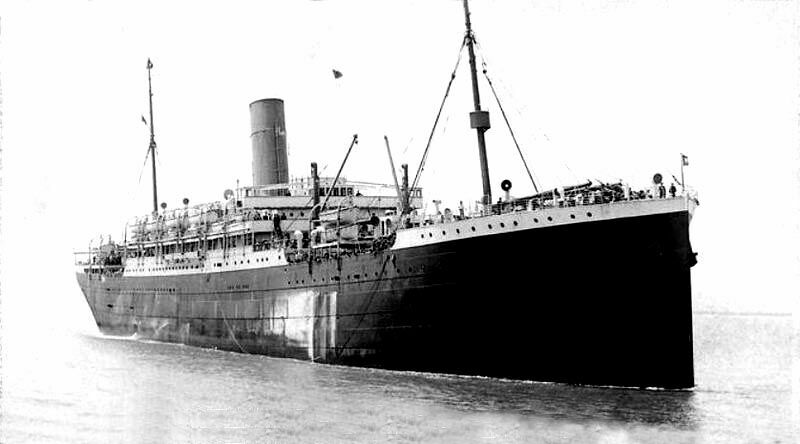 H.M.T.S. Euripides is seen arriving at Cape Town in 1915
She completed seven transport voyages from Australia commencing September 24, 1914, until final voyage from Sydney October 31, 1917.
During that time carried forty-four Infantry Battalion Reinforcements, the 6th Light Horse Regiment and the 11th Reinforcements, the 7th Light Horse Regiment, 12th Reinforcements, Light Trench Mortar Battery, 1st Reinforcements (Artillery) & Medical Officers.
Subsequent History:
From February 1919 she repatriated Australian troops, and during this including her war service, the H.M.A.T. Euripides steamed 208,307 miles and carried 38,439 troops.
H.M.A.T. Euripides A14 - listed Voyages:
Sydney to Alexandra October 20 - December 3, 1914.
Plymouth to Fremantle June 24 - August 3, 1916.
Port Suez to Melbourne January 22 - February 21, 1917.
Plymouth to Australia July 22 - September 11, 1917.
Sydney to New York May 1 - June 14, 1918.
Portland to Fremantle March 3 - April 10, 1919.
Other Voyages:
May 10, 1915 from Melbourne.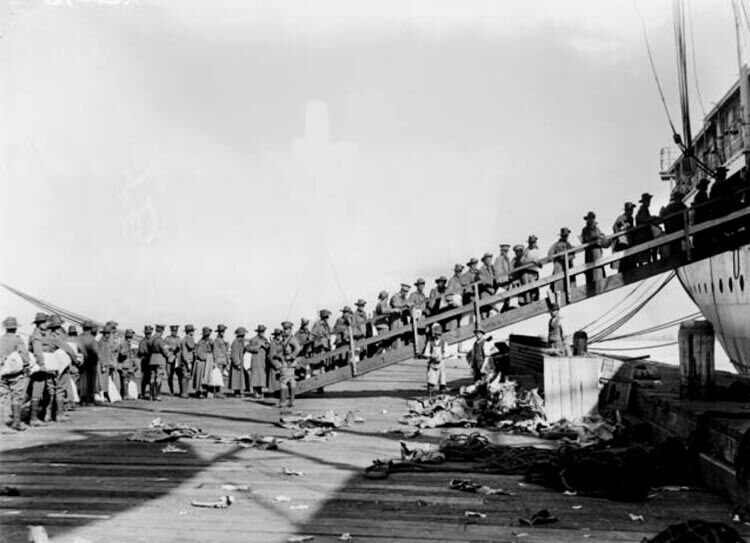 Troops boarded the "Euripides" at Melbourne on May 8, and she departed on May 10, 1915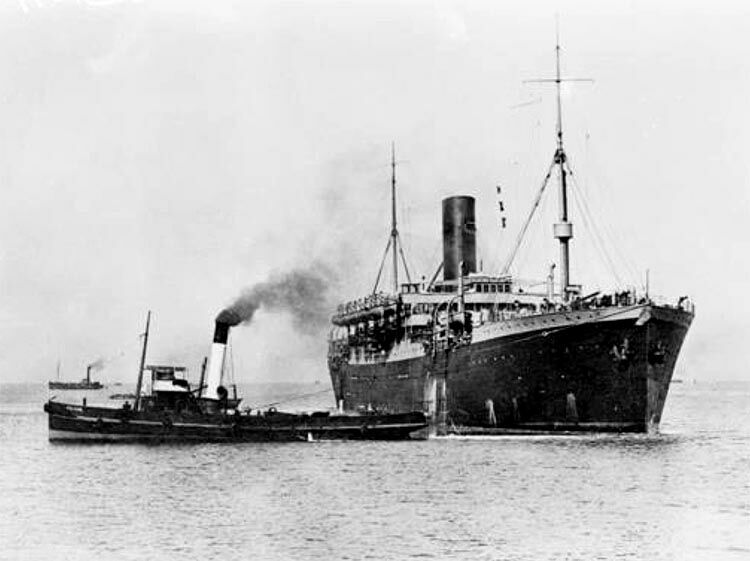 The "Euripides" departed Melbourne on May 10, 1915
November 2, 1915 from Sydney.
May 1916 from Melbourne to Alexandria.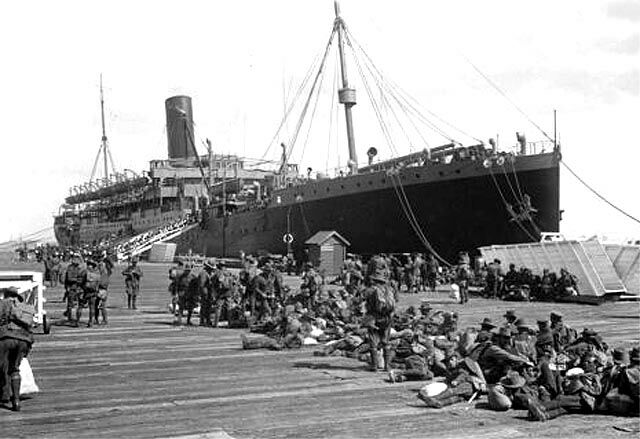 Troops boarding, with other waiting to board the "Euripides" in May 1916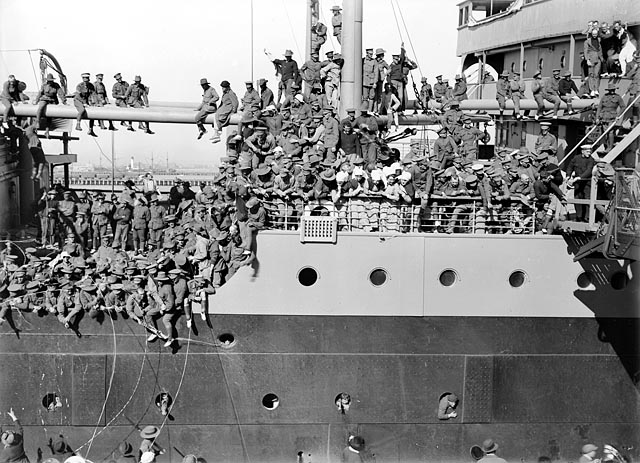 Nurses are seen on board the "Euripides"
Above: A group of Australian nurses are seen ready to depart Melbourne on the troopship H.M.A.T. Euripides in May 1916. During their long voyage, they were kept busy assisting with vaccinations and operations, and training male orderlies, etc.
September 9, 1916 from Sydney.
September 11, 1916 from Melbourne.
October 31, 1917 from Sydney.
By 1918 Euripides was equipped for wireless telegraphy, operated by the Marconi Company. Her call sign was MSE.
Early in 1919 she was given a radical change of war livery of light angled and curved stripping all over her grey hull, and she looked hideous to say the least during the final year of her troop ship duties!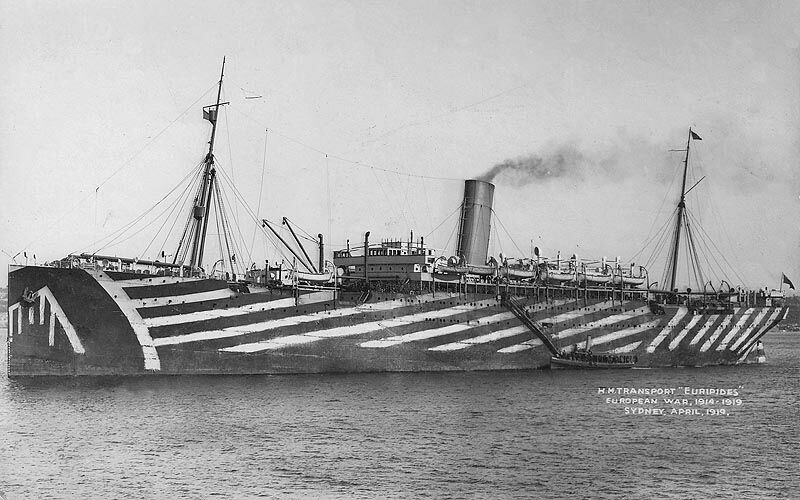 She is seen in Sydney on harbour in April 1919
In 1919 she basically returned to her regular London to Australia service but she sailed via the Cape of Good Hope until she was officially returned to her owners.
*********************
Post War:
After her troop service "Euripides" was overhauled at Belfast. In November 1920 she resumed Aberdeen Line's service between London and Australia.
In 1922 the company took delivery of a pair of new 12,300 GRT liners, Sophocles and Diogenes. In March 1923 Euripides' route was changed to serve Southampton instead of London.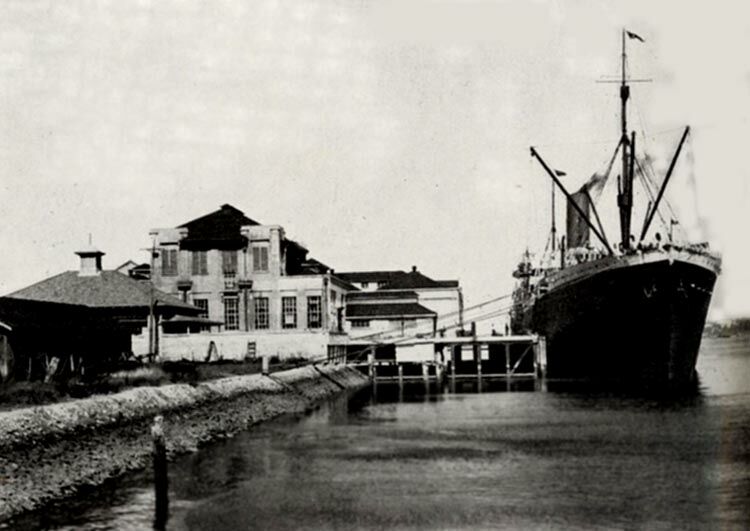 S.S. Euripides is seen at the Brisbane Hamilton wharfs cold stores loading butter bound for London in 1926
In 1927 Euripides was laid up for five months in the Firth of Clyde. She then went into a service between Liverpool and Australia run jointly by Aberdeen Line and Blue Funnel Line.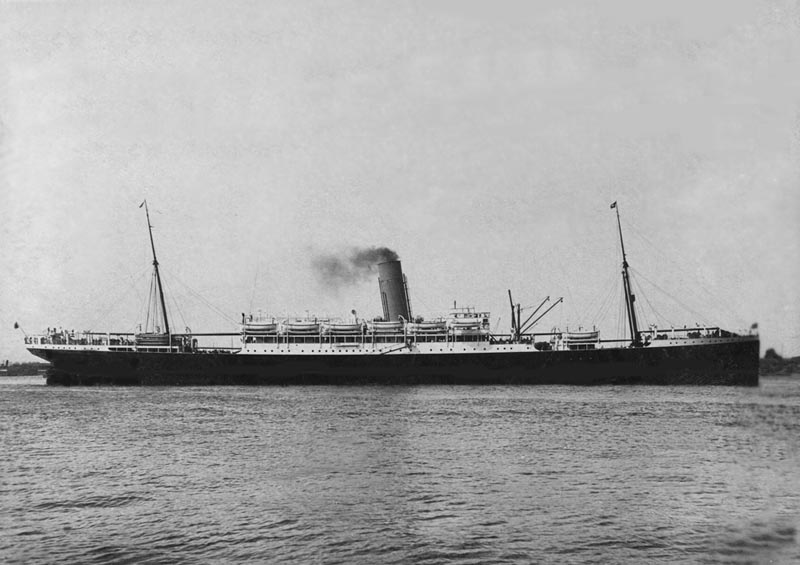 The "Euripides" is seen arriving at Adelaide, South Australia in the 1920's
In November 1929, management was transferred to the "White Star Line", but "George Thompson & Co Ltd" (Aberdeen Line) continued to be her owner. Also in 1930 the "Euripides was" equipped with wireless direction finding apparatus.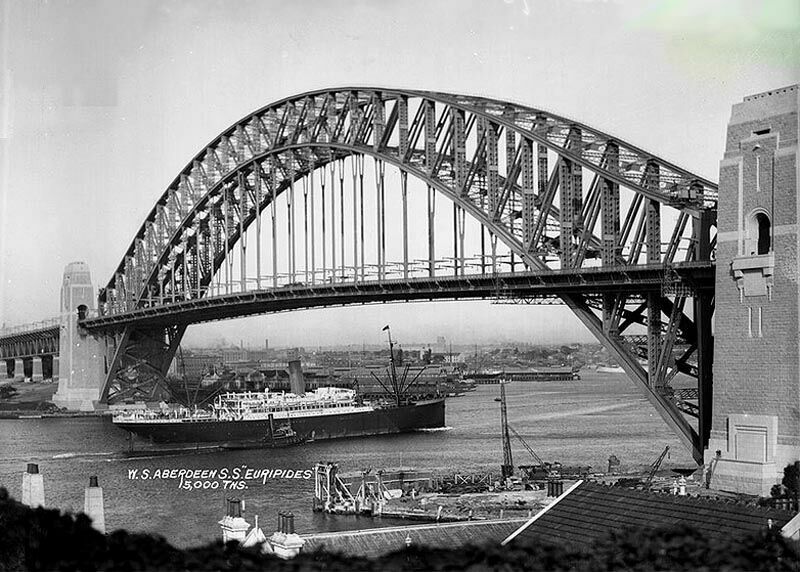 Photograph Above: She entered Sydney in March 1932 during her very last voyage as an "Aberdeen Line" owned liner being just prior the official opening of the Sydney Harbour Bridge, which was on March 19, 1932. Even though the photograph shows a tram on the bridge, but this tram was on a trial run, for there was no other traffic or people on the bridge what-so-ever, as it was still officially closed.
With "White Star Line" being in huge financial difficulties, due to its owner Lord Kylsant having overspent so greatly and being in a huge debt, it ended up that on July 20, 1931 the "Royal Mail Case" opened at the 'Old Bailey', which sadly led to the collapse of the White Star Line's parent company The company being unable to repay its debt, and its ships serving on the Australian route were sold to a new company, the "Aberdeen and Commonwealth Line Ltd" in 1933
Shaw, Savill & Albion: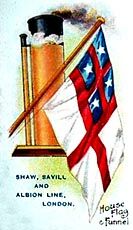 However, it was in July 1932 that "Shaw, Savill & Albion" took over the "Aberdeen Line" and all their ships, including the "Euripides", which was sent to the yards of "R. & W. Hawthorn, Leslie and Company, Ltd" at Hepburn, where she was comprehensively refitted.
Her First Class cabins were enlarged and greatly modernised when completed there were now accommodated 200 passengers in an excellent Cabin Class. In addition a new modern fully equipped Gymnasium as well as Swimming Pool was added. Whilst the old third class section was completely converted into additional cargo space, increasing her total refrigerated cargo capacity to 442,680 cubic feet, 12,535 m3. During the refit, she was converted from coal to oil burning. Her refit saw her tonnage change to 15,128 GRT and 9,461 NRT. "Shaw, Savill and Albion" had renamed her, "Akaroa" and she was now registered at Southampton. She undertook a brief trial.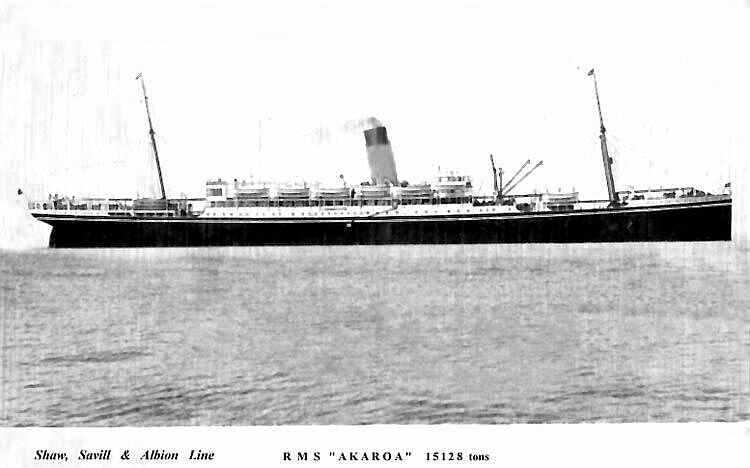 A Shaw, Savill & Albion postcard of their newly acquired and refurbished R.M.S. Akaroa
Her new regular service was from Southampton to New Zealand sailing via the Panama Canal.
"Shaw Savill" offered 100-day holidays from Britain to New Zealand for an all-inclusive fare of £112. It included a month in New Zealand where the "Akaroa" visited Auckland, Wellington, Lyttelton as well as Port Chalmers, and shore excursions were arranged with the aid of the New Zealand Department of Tourism.
The precise route was: Southampton, Willemstad (Curacao), Colon (Panama), (Pitcairn Island was called at occasionally) Wellington & Auckland (New Zealand) – these two ports could be visited in reverse if not on the 100-day holiday voyages.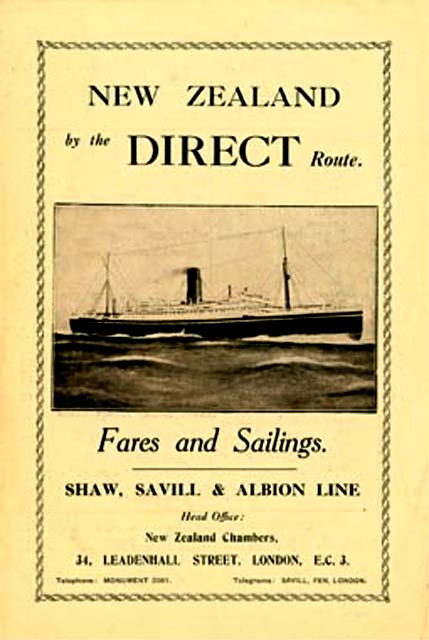 Fares & Sailings for 1933 for their three ships on this service
R.M.S. Akaroa, S.S. Mataroa & S.S. Tamaroa
S.S. Akaroa departed Southampton on her first voyage to New Zealand on February 28, 1933. However, during her voyage in November that year she made her fastest passage from the United Kingdom to New Zealand in a record 37 days!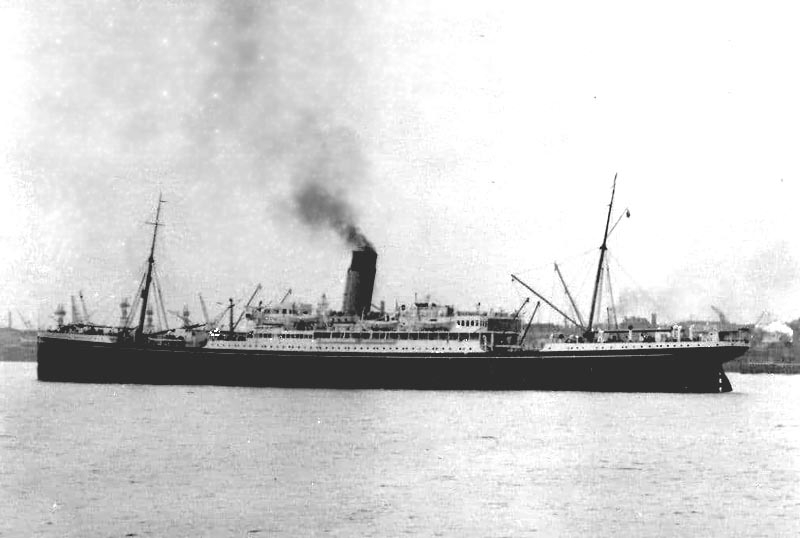 The R.M.S. is seen during on her maiden voyage to New Zealand in March 1933
In 1934 the "Akaroa's" code letters 'JFRC' were withdrawn and she was given the call sign 'GMLP'. And later in the 1934 she was also equipped with an echo sounding device.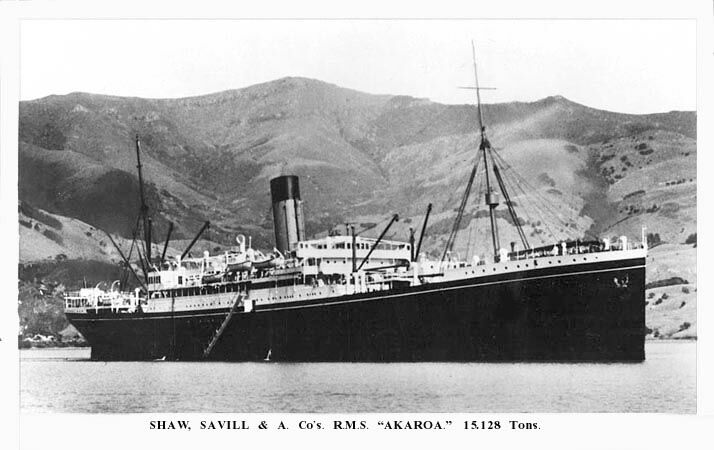 Another fine postcard of the R.M.S. Akaroa
Then in 1936 whilst back in the United Kingdom she was fitted with a gyrocompass.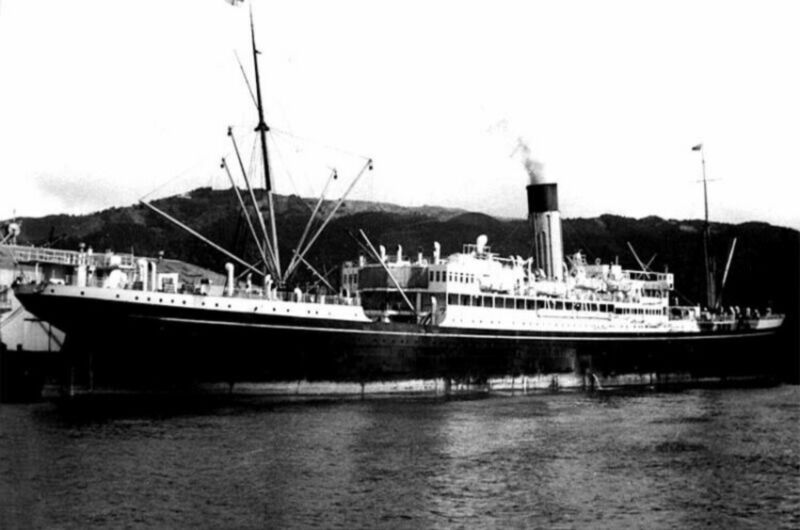 The "Akaroa" is seen berthed at Wellington New Zealand
World War 2:
On September 1, 1939, the day the Second World War began, and the "Akaroa" departed Southampton for New Zealand as per normal. She reached Auckland on October 8, where her passengers presented her Master, Captain William Horation Hartman, with a silver salver in commemoration of "a notable and perilous voyage". On her return voyage after calling at Curacao on November 30, she was diverted to join Convoy HXF 12 from Halifax, Nova Scotia, for her eastbound crossing of the Atlantic. On December 27, she arrived at London rather than Southampton.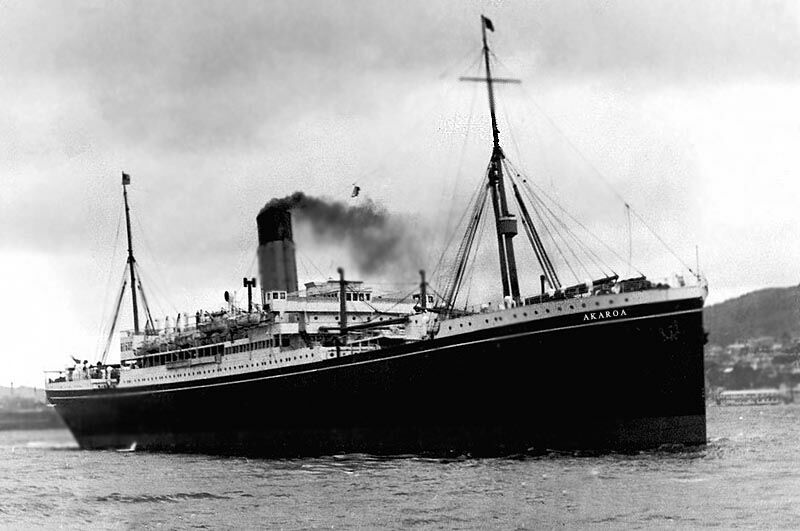 A postcard of the R.M.S. Akaroa at Wellington
Throughout the war the "Akaroa" continued her services between Britain and New Zealand, although parts of her voyages were diverted in order to receive protection from various convoys whenever it was required, but for much of the time she did sail unescorted. During the war she used different UK ports, which included Avonmouth, Belfast Lough, Cardiff, Falmouth, the Firth of Clyde, Liverpool, Milford Haven, Newport as well as Swansea.
Nine of her eastbound transatlantic crossings were with 'HX convoys'. Five of her westbound crossings started with 'ON convoys', three started with 'OS convoys', and in 1944 she made one westbound Atlantic crossing to New York City with a 'UC convoy'. When with 'Convoy HX 206' in September 1942 the "Akaroa" carried 300 passengers eastbound across the North Atlantic, despite having berths for only 200 guests.
Then after the United States entered the war in December 1941, various convoys were introduced along the East Coast of the US and across the Caribbean Sea. The "Akaroa" sailed with some of these convoy's that involved diversions via Guantánamo Bay, New York or Key West.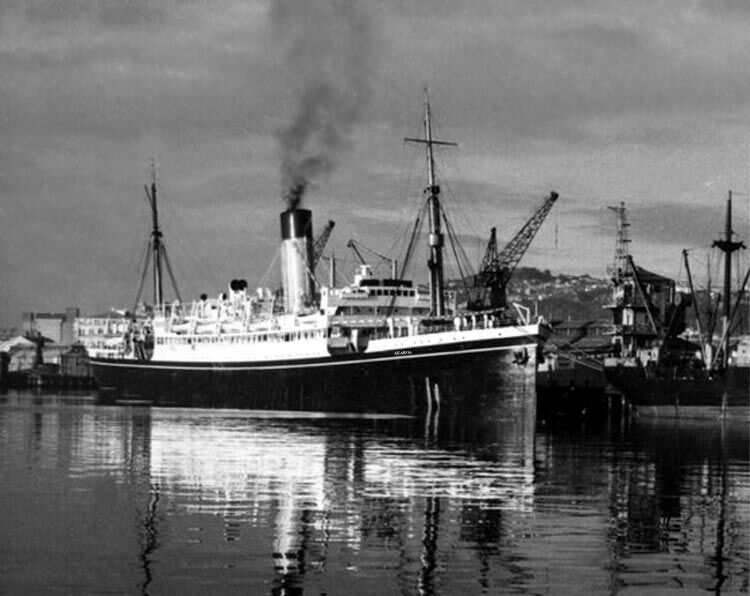 She is seen in a port
Visiting many Ports:
During the war she would served other ports of call as required, calling at Bermuda six times, including four visits in 1941. She visited Trinidad three times, Kingston, Jamaica twice, and in June 1945 she visited Saint Helena.
On one westbound voyage from Liverpool in November and December 1940 she went to Sydney and Melbourne instead of New Zealand, and called at Auckland and Wellington only on her return voyage in January 1941.
On another westbound voyage in 1944 she called at Wellington on September 27-28, continued to Sydney and then to Brisbane in October 1944. During her return voyage in November, she sailed from Sydney directly to Panama.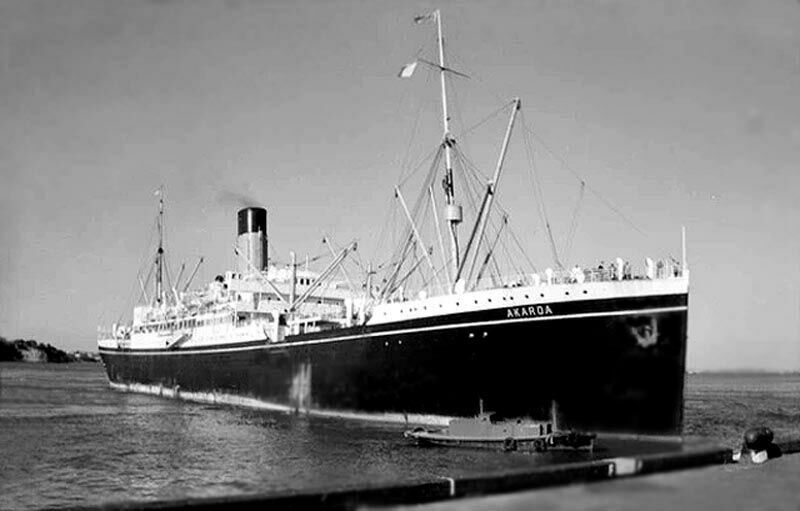 The R.M.S. Akaroa is about to dock at Hamilton Wharf Brisbane, Queensland, Australia
On February 28, 1943 the "Akaroa" departed New York with Convoy HX 228, but on March 10-11, a wolf pack of nine U-boats attacked the Convoy HX 228, sinking four merchant ships as well as the destroyer H.M.S. Harvester. The "Akaroa" and other survivors of this Convoy were ordered back to Halifax.
From Halifax, ships that had survived the attack joined Convoy HX 229A, which had left New York on March 9. HX 229A but it ran into sea ice which damaged two merchant ships, but the ice did sink the 14,795 GRT whaling factory ship the S.S. "Svend Foyn". The "Akaroa" reached Liverpool with HX229A on March 26. In May 1943, her Captain, the already much loved and now famous Captain William Horation Hartman received an 'OBE'.
Later in 1943 the "Akaroa" sailed from Britain to Argentina, Uruguay and home. She departed Liverpool on September 17 with Convoy OS 55, which took her as far as Freetown in Sierra Leone. She crossed the South Atlantic unescorted, spent 11 days in Buenos Aires, called at Montevideo on November 2 to 3 and returned unescorted to Freetown. There she joined Convoy SL 141, with which she reached Avonmouth on December 15.
In 1945 "Akaroa" made one voyage to Australia and New Zealand returning via South Africa. She departed Liverpool on February 11, with Convoy OS 110KM, called at Cape Town and Sydney, reached Auckland on 2 April 2, and then called at Wellington and Lyttelton. She began her return voyage from Wellington on May 5, called at Melbourne and Cape Town, and on June 13, 1945, she called at Saint Helena, and finally returned to the UK.
Her Final Ten Years:
In the second half of 1945, S.S. Akaroa was overhauled and refitted on the River Tyne and returned to service between Britain and New Zealand. Additional cabins were converted to single-berth configuration, as well as additional cabins were fitted with private bathrooms. Thus her number of berths was reduced to 190. Yet, her tonnage had slightly increased to 15,320 GRT. Upon completion, she recommenced her original regular services to New Zealand.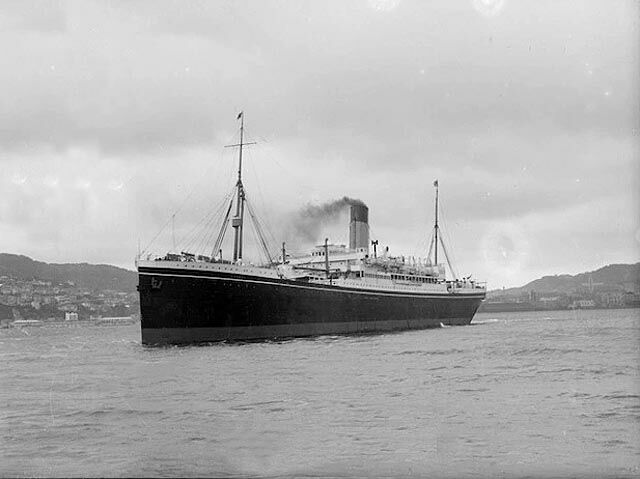 R.M.S. Akaroa seen in Wellington on June 12, 1947

The S.S. Akaroa commenced her very last voyage from Britain to New Zealand on January 2, 1954, and upon her return, considering the S.S. Akaroa being now a good 40 years old it was decided to dispose of her, and she was sold to a Belgian breaker for UK£130,000 pounds, she departed in May 10, 1954 under her own steam and she arrived at Antwerp on May 12, to be broken up by "Jos. de Smedt & Co".

*********************

S.S. Euripides Specifications & Details

:

Name's:                                          S.S. Euripides 1914 - 1932.

    "                                                R.M.S. Akaroa 1932 - 1954.

Owner:                                           George Thompson & Co Ltd - 1914.

    "                                                Shaw, Savill & Albion Line - 1932.

Operator:                                        Aberdeen Line, 1914,

    "                                                White Star Line, 1929.

    "                                                Shaw, Savill & Albion Line, 1932.

Built by:                                         Harland & Wolff, Belfast.

Yard No:                                         439.

Launched:                                       January 29, 1914.

Completed:                                     June 6, 1914.

Sea Trial:                                        June 14, 1914.

Maiden Voyage:                               July 1, 1914.

UK Official No:                                 133648.

Pennant No:                                    A14 - 1914–17.

Call Sign:                                        MSE by 1918.

Code letters:                                   JFRC to 1933.

Call Sign:                                        GMLP 1934 onward.

Port of Registry:                              Aberdeen, 1914.

     "                                               Southampton, 1932.

Type:                                             Passenger-Cargo Liner.

Tonnage:                                       

1914:                                             14,947 GRT, 9,399 NRT, 25,000 Displacement.

1932:                                             15,128 GRT, 9,461 NRT.

1945:                                             15,320 GRT.

Length:                                          569 ft - 173 m.

Beam:                                            67.4 ft - 20.5 m.

Draught:                                         32.11 ft - 10.03 m.

Installed Power:                               1,401 NHP.

Engines:                                         2 × triple-expansion steam engines.

.                                                    1 × low-pressure steam turbine.

1932:                                             Converted from coal to oil burning.

Propellers:                                       Three Screws - 8,300 IHP.

Speed:                                           15 knots service speed, 16.5 maximum speed.

Accommodations:

1914:                                             140 First Class, 334 Third Class passengers.

.                                                    750 Steerage (only when requested).

1932:                                             200 Cabin Class passengers.

1946:                                             190 Cabin Class       "        .

Cargo:                                           

1914:                                             245,593 cubic ft, with refrigerated cargo.

1932:                                             442,680 cubic ft, with refrigerated cargo.

1914 WW1:                                     Troop Ship No.1.

1939 WW2:                                     Troop Ship No.6.

Sensors and processing systems:       Wireless direction finding - by 1930.

     "                                               Echo sounding device - from 1934.

     "                                               Gyrocompass - from 1936).

Fate:                                              Scrapped by "Jos de Smedt & Co" breakers, Antwerp in 1954.

*********************
R
emembering the …
S.S.
Euripides
&
R.M.S.
Akaroa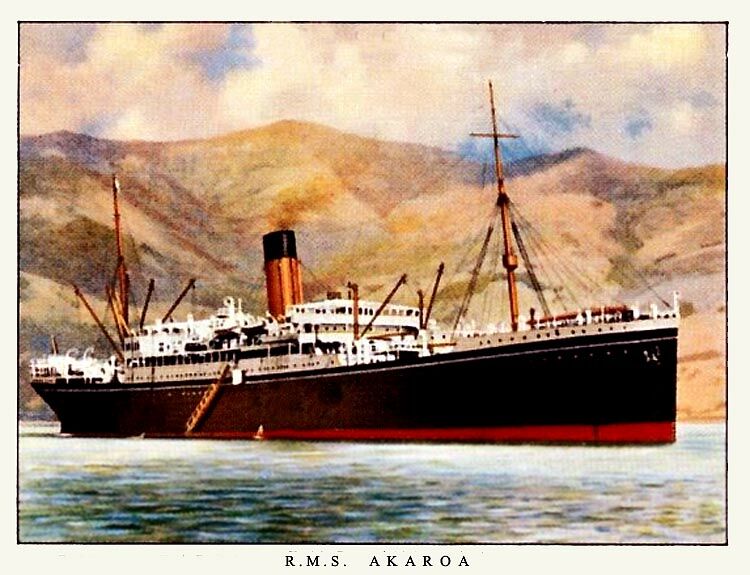 A fine artistic postcard of the R.M.S. Akaroa, ex S.S. Euripides
*********************
 "Blue Water Liners sailing to the distant shores.
I watched them come, I watched them go and I watched them die."
*********************

Featuring over 1,435 Classic Passenger Liners, Passenger-Cargo Liners & Classic Cruise Ships!
Or ENTER HERE
For interest: Sadly an email service to ssMaritime is no longer available, due to the author's old age and chronic illness as well as being disabled, etc. In the past ssMaritime received well over 120 emails per day, but Mr. Goossens can no longer handle same. He sincerely regrets this!
*********************
ssMaritime.com & ssMaritime.net
Where the ships of the past make history & the 1914 built M.S. Doulos Story.
The Author has been in Passenger Shipping & the Cruise Industry for well over 60 years
In addition he was the founder of "Save the Classic Liners Campaign" in 1990.
Please Note: ssmaritime and associated sites are 100% non-commercial and the author seeks no funding or favours of any shape or form, never have and never will!
Photographs on ssmaritime and associate pages are by; the author or from the author's private collection. In addition there are some images that have been provided by Shipping Companies and private photographers or collectors. Credit is given to all contributors. However, there are some photographs provided to me without details regarding the photographer/owner concerned.
This notice covers all pages; although, and I have done my best to ensure that all photographs are duly credited and that this notice is displaced on each page, that is, when a page is updated!
ssMaritime is owned & © Copyright by Reuben Goossens - All Rights Reserved