ssMaritime.com & ssMaritime.net
With Reuben Goossens
Maritime Historian
Don Tremain's
Memories of the SS Norway
Past passenger and professional photographer
"The unique thing about the SS Norway was that she had a sense of history about her and she was a classic"
Photographs on this page are © copyright Ton Tremain and they are NOT to be copied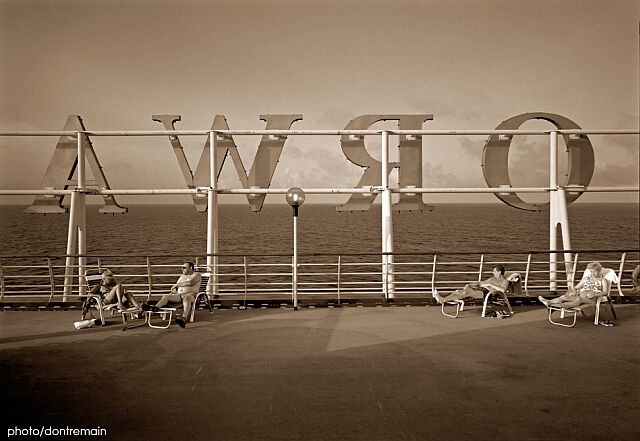 Click each black & white image for the full size version

I think that many people find their first cruise is similar to their first love. It remains unique and special years later. My first cruise was in August of 1995 aboard the SS Norway out of Miami. It retains a special place among the ten cruises I've taken.

At the time, at age 46, a cruise vacation was not and had not been on my radar. I probably would have remained a cruise virgin to this day but, as luck would have it, one of my photographs won a grand prize in a contest and the all expense cruise was my reward. The SS Norway was essentially chosen for me. I remain grateful to this day as it was a special ship.

The Norway did not have the Las Vegas GLITZ of some of today's cruise ships but since it was my first experience it didn't matter. In retrospect what the SS Norway had going for her was that she was a real ship. She was one with the ocean waters, something that is missed in the design of today's mega-liners. I felt in touch with the blue Caribbean waters and salty breezes.

I had a very nice stateroom with windows looking out over the jogging deck. I shared the room with my buddy George, a gregarious bon vivant who was a bartender back in Dallas. I invited George because he was and is one of the most fun-loving people I've ever known. He was in fine form all week and it seemed like all of the crew and most of the guests knew him by name. He balanced out my usual restrained Midwestern demeanour. The Great Outdoor Restaurant was just out our door onto the deck and down the stairs. Very convenient! The pool area wasn't much further away.

The unique thing about the SS Norway was that she had a sense of history about her and she was a classic. I don't have the maritime vocabulary to expound on this but I will say it is something some people get and others don't. I felt it the minute I boarded her and my experiences on many cruise ships afterwards have only heightened that sense or feel.

I am a professional photographer. In what I jokingly call an act of lunacy, I took a antique wooden 5x7 view camera on this cruise. I had been using it for personal fine art work in Dallas for about a year. I foolishly thought I might not have much to do on the ship and the spaces on the ship might provide interesting subject matter for images. It was a major pain transporting this camera with its large tripod and assorted accessories from Dallas to the Norway in Miami.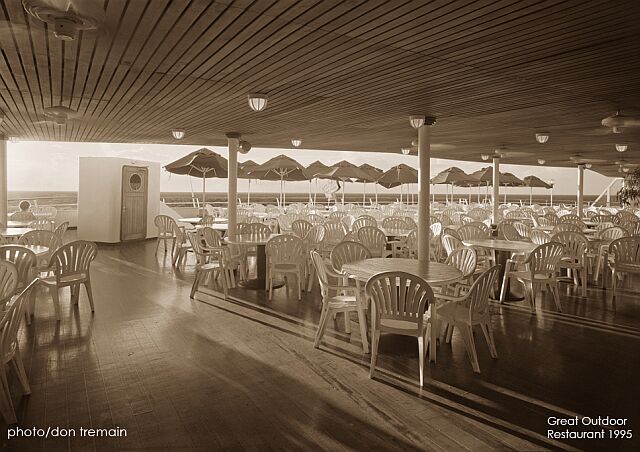 Surprisingly, I didn't attract that much attention on the boat when I set up this camera and began struggling under my black velvet focusing cloth. If people thought I was daft they didn't let on. Early on in the cruise I was set up over the pool deck and going through my regular procedure where I adjust all the camera controls and then use a small carpenter's level on the top of the camera to make sure the camera is level. Immediately afterward I got under the cloth to do final focusing on the ground glass. Then I stuck in a film holder and prepared to expose a sheet of film. I made one more check with the carpenters level and -- damn! -- the camera had slipped out of level.
Well, this series of events repeated itself several times until a gentleman approached me sheepishly and said, I don't mean to tell you what you are doing but are you having trouble getting your camera level
Why yes, I replied. The gentleman lifted both of his hands and started doing this up and down motion with them. Do you realize you are on a ship
Anyway, I felt a little foolish but I thought it was funny. Still do.
I exposed twenty some sheets of film on the ship. It was difficult as I had shifted into a very relaxed vacation mode and the view camera was WORK! I had three pictures I liked a lot (the ones shown on this page). One of those won an award from The Texas Photographic Society and all three appeared in a show of my view camera work.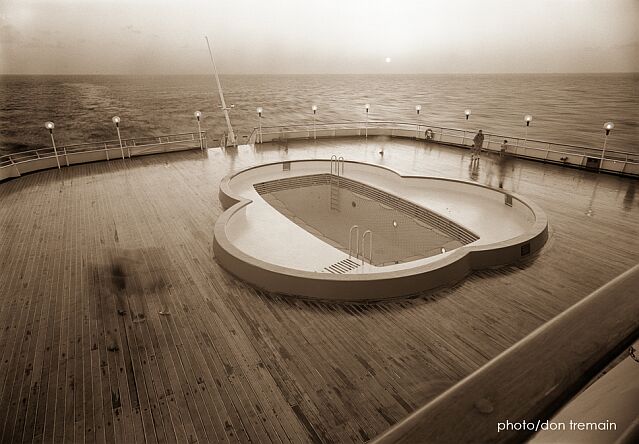 There are very few people in my photos as I wanted to concentrate on the personality of the physical spaces on the ship. In retrospect, I'm glad I used a classic traditional approach in my photography as the SS Norway was a classic herself. When I look at the photos today I notice the absence of people. It gives me a feeling of melancholy that is only accentuated by the ships condition today. A ship is more than a physical structure. It is also years of interaction with crew and passengers and these photos remind me of the thousands of unseen spirits which made the SS Norway a joy during her years in service.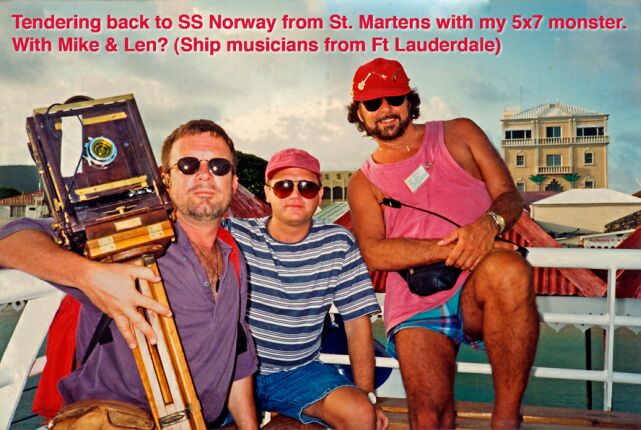 I still remember all the spirits and friends I made during my week on the Norway, everyone from my affable Philipino cabin steward to dinner mates. People seem friendlier on a cruise ship and this socialization phenomenon is one reason I became a committed cruiser.
Don Tremain
***********************************
Index
Page One …                      SS France
Page Two …                     SS Norway
Page Three …                   SS Norway – Blue Lady
Page Four …                     Norway Deck Plan
Photo …                           QE2 passes the Norway
Photo …                           Photographer Don Tremain presents his experience and four photographs
Photo …                           Tomas-Rosales shares his photographs of the Norway in Miami
Photo …                           Michael and Lee Ann Pavlick honeymoon cruise in 2002
Photo …                           Norway in Bremerhaven – Page Two
Photo …                           Norway Departs Bremerhaven 23 May 2005
Photo …                           A series of photographs of SS Blue Lady in Alang
Story …                            Pauli Dangerousli describes his 1997 cruise on the SS Norway
Story …                            "The Ship that Saved my Life" – The Karl Henrik Henriksen Story (2 pages)
Article …                          "Surreal times on the SS France" by Patrick Jackson
Brochure …                      This inaugural SS Norway brochure (1980) was provided by Mr. Michael Bobo
***********************************
Use the Back button on your browser or Close the Page to return to the previous page
or go to our INDEX
Who is the Author of ssMaritime?
Commenced in the passenger Shipping Industry in May 1960
ssMaritime.com & ssMaritime.net
Where the ships of the past make history & the 1914 built MV Doulos Story
Also visit my …
"Save The Classic Liners Campaign" & "Classic Ocean Voyages" pages
Photographs on ssmaritime and associate pages are by the author or from the author's private collection. In addition there are some images that have been provided by Shipping Companies and private photographers or collectors. Credit is given to all contributors. However, there are some photographs provided to me without details regarding the photographer/owner concerned. I hereby invite if owners of these images would be so kind to make them-selves known to me (my email address may be found on www.ssmaritime.com only), in order that due credit may be given. I know what it is like, I have seen a multitude of my own photographs on other sites, yet these individuals either refuse to provide credit or remove them when asked, knowing full well that there is no legal comeback when it comes to the net. However, let us show these charlatans up and do the right thing at all times and give credit where credit is due!
This notice covers all pages, although, and I have done my best to ensure that all photographs are duly credited and that this notice is displaced on each page, that is, when a page is updated!
ssMaritime is owned and © Copyright 2010/12 - by Reuben Goossens - All Rights Reserved