ssMaritime.com & ssMaritime.net
With Reuben Goossens
Maritime Historian
SS France
SS Norway / SS Blue Lady
Surreal times on the SS France
? 2006 Patrick Jackson - BBC News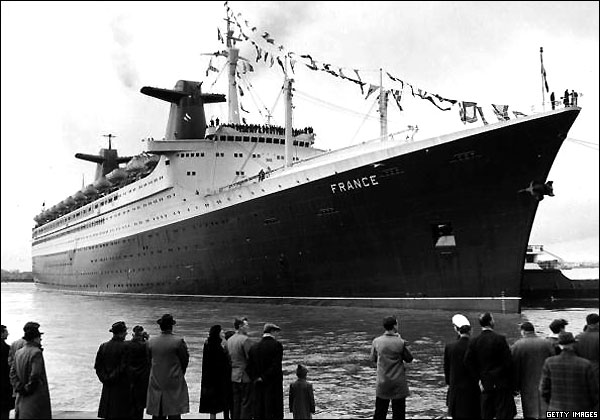 ?
SS France departing from Le Havre January 1962
Although this page and its contents is now long in the past, details found in this article and the comments towards the bottom are certainly interesting and it reminds us what a wonderful ship the SS France / SS Norway really was!
Reuben Goossens.
Project SS Norway – SS France
Ship-lovers and ecologists are battling to prevent the scrapping of a former French ocean liner in India. We look back at the (slightly surreal) glory days of the SS France.
"The great French Line SS France, became one of the world most popular cruise ships owned by Klosters/Norwegian Cruise Lines which was later taken over by the Malaysian Casino giant Genting Corp. Currently she is owned by Bridgend Shipping/Haryana shipbreakers and she is currently at anchor off Alang.
Salvador Dali
If the ghost of Salvador Dali appears off the coast of Gujarat, he may well be on the deck of the SS France, walking his pet cheetahs. A phantom guitar chord may hang in the air, left behind by David Bowie the day he played the staff canteen. Or maybe a stray note of wedding music? This is the ship that "bore away thousands of lovers", in the words of French singer Michel Sardou. <![if !vml]>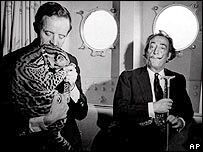 <![endif]>
Jean Coune remembers another sound: the smack of a champagne bottle smashing against the hull on a fine May Day in 1960 to launch the new liner in Saint-Nazaire.
It was released by Madame de Gaulle, accompanying the French president who was "as ever, on form and delivered a forceful speech" to tens of thousands of onlookers, Mr Coune says. Jean Coune knows a thing or two about the hull: at 83, he is the last survivor from among the engineers who built it.
Salvador Dali travelling with his pet ocelot-
Saint-Nazaire threw a party that day, adds former shipbuilder Jacques Lheritier, who still remembers the dance in the town square. Dancing resumed on-board in January 1962 when the luxury liner made its maiden voyage, and it continued for some 13 years as the France crossed the Atlantic between Le Havre and New York.
During those years it saw many weddings, as well as hosting famous passengers preferring the majestic five-day Atlantic crossing to a plane trip.
Ocean oddity
It was quite a time, recalls Bruno Rabreau, who as a receptionist in the 1970s had dealings with Dali and his entourage including his formidable wife Gala, his friend Captain Moore - and the cheetahs, of course.
The first time Gala came to book a phone call, he remembers thinking she looked very plainly dressed, and he found it hard to believe the "old maid" was the spouse of the great surrealist artist.
"She told my chief that I was not very pleasant, then she came back and gave me five dollars and said 'I will tame you'," he says. "That's when I knew she was Madame Dali!"
Luckily for the ship, the cheetahs appear to have been tamed in advance, as Bruno recalls:
"They took those two big beasts for a walk around the ship and on the outside desks too - it was not a real panic but almost!"
Dali, as far as Bruno remembers, did not do any painting on his trips aboard the SS France but not only did David Bowie perform - he played for the crew.
Travelling as a first-class passenger, the rock star was not scheduled to play aboard the France but apparently had heard the crew were disappointed, so he turned up in the canteen with an acoustic guitar.
"We enjoyed more than 10 songs and especially Space Oddity which was the first one, and a few crew members took instruments too and played with him," Bruno says.
"It was a really, really good time. He was a very ordinary person and very friendly to us. We really enjoyed it."
'A corpse for cormorants'
In recent years, crew and passengers alike have been remembering the SS France on a French web site, Souvenirs de France, which teems with postings as poignant as they are affectionate.
Alain Rochas, also a receptionist on Le France, writes: "Oh, the strongbox room before Dinner! How many beautiful women would come for their jewels; when you are 20 years old..."
Back in 1975 there was already nostalgia for the liner, which had just been decommissioned and was in port at the quai d'oubli (the Quay of the Forgotten) at Le Havre.
Sardou's Le France touched a nerve in France as he sang: "I was a giant of a boat, I bore away thousands of lovers. I was France itself and now what remains? A corpse for the cormorants."
Four years later, the liner returned to service as the SS Norway and ended up cruising off Miami, where a boiler room explosion in 2003 killed eight crewmen, a tragedy which effectively ended its service at sea.
Now renamed the SS Blue Lady, it is the subject of a preservation battle. If the breakers do not win out, there is a proposal to convert it into a floating hotel off a Gulf State. The hull is said to be still in excellent condition.
Campaigners in the France Liner Association want to see it moored in its "its birthplace Saint-Nazaire for a third lease of life", where it could be used as a museum and conference centre.
"The SS France is part of France's heritage," says Jean Philippe Prieur, its spokesman.
"For a French person, scrapping le France is like dismantling the Tower of London for a Briton."
Do you have any pictures of The France? If so, you can send them to rg@ssmaritime.com. All photographs used will receive credit as instructed.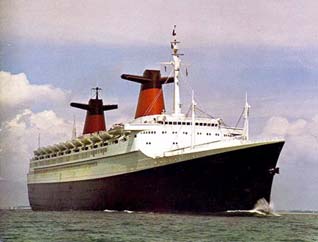 SS France was indeed a piece of maritime art!
Comments (Obtained by Patrick Jackson)
I was on board during Sept. 11th. with many friends. It was a very surreal experience.
Erik Ryan, Providence, RI USA
Definitely a keeper!!! Obsolete ..yes, of a by-gone era ...yes, expensive travel...yes. Anything comparable now.......NO. That's good enough reason to preserve her. May her hull always lap the waves of her home!!
Jan , CANADA
I journeyed from New York to Southampton on the France in 1970 at the age of seven, and I shall never forget it. My sister and I paid no attention to the signs on the free-of-charge cinema and ended up seeing Women in Love a few good years before we were meant to. Johnny Halliday was aboard and his unbelievably unruly little son was our dining partner in the childrens mess. Crew could not stop the little tyrant from jumping out of his chair etc. All in all it was like a dream gilt-edged ...
john Dunton-Downer, London UK
During 1968-70, before I reached my teens, my family lived in Sierra Leone. The Suez Canal was closed after the Six Day War and large vessels had to take the long way around Africa. One day the SS France called in. She was far too big for the dock at Freetown but dropped anchor just offshore. My mother and I managed to score passes to go aboard - what a contrast to the African bustle and confusion just a few hundred metres away! SS France was a small part of Europe which had almost magically descended into West Africa for the day. I will never forget my all too few hours aboard its glamorous yet understated luxury. Simon
Simon Carter, Brisbane, Australia
I sailed on the SS France from New York to Southampton in late 1962. I was two years old. My earliest memory is of looking at the ship at its mooring in New York at night before we sailed. My father subsequently built a scale model of the ship and it was on the shelf in our living room for many years. In that sense, it continued to be part of my life. I hope the SS France can be saved.
Sean Lynn-Jones, Brookline, Massachusetts, USA
Does she not hold the record for the fastest crossing of the Atlantic at a staggering average of 41 mph.
Les Watson, Wales
Unfortunately a bygone era; nowadays people get excited by the Airbus A380, quite the opposite. I have childhood memories of a cousin of my father, Capt. Christian Pettre, telling stories over dinner about the ship he was in command of (he was I believe the last captain of France).
Bruno, France
I was a passenger in 1994 when she was the SS Norway, my wife and I did a wonderful two week cruise from Florida down to the Carribean. She still had so much style even then she stood out from the vast white american cruise ships. It will be sad if they break her up for scrap - she was the last of the "blue ribbon" liners. I remember my time aboard her with great affection. Chris Rose
Chris Rose, York N. Yorks
I sang and had dinner on board for the commemoration of the Norway in 1980. Dinner guests included the actors Liv Ullman, Burl Ives, and Rock Hudson, and the famous ship builder and owner Knut Kloster, who'd bought and refitted the SS France into the SS Norway. I was a visiting performing songwriter from New York singing at the commemoration concert. It was a perfect summer evening when from the windows of the SAS hotel, I saw a flotilla of white sails of escorting boats and fountains of water spraying from the numerous tugs saluting the beautifully refitted vessel as she pulled out of the Oslo harbor into the blue fjord to her new future as the SS Norway. Eric Andersen
Eric Andersen, New York, New York
I first saw the SS France in October 1973 alongside the pier in New York ... I'll never forget her beautiful lines with those distinctive perfectly proportioned funnels. I went specifically to Southampton to see her off at the old ocean terminal in 79/80? after her conversion. She still looked beautiful. It's sad that she's at the end of her life, she epitomised the ambition & hope of post-war France as well as being a showcase of sixties design.
Paul Edwards, Peacehaven, England
I remember visting the SS Norway whilst in Miami and although traditional and elegant she was very very big, even our on board guide managed to get us lost.
Paul shoosmith,
This ship must be saved ! As a child I crossed the Atlantic six times on the S.S. France between 1969 ad 1974. Truly one the most amazing ways to travel, the ship became my World...at about 300 meters, it could be fully explored, really amazing.
Andrew Hayden, Newburyport, MA. USA
In March 1981 (I was only 21 and very newly engaged) I spent the most fantastic week on the Norway, my husband won this trip from his then company, there must have at least 50 of us in the group. I had never been to the carribean then - and my word I can still remember the ship, it looked stunning in the harbours of the islands we visited, and the food and the crew were fantastic. The most memorable night was Captains ball, and the waiters came down a spiral staircase with 'Baked Alaskas' singing....
Mrs Christine, Surrey
I travelled on Le France as a foetus. Departed New York on April 27, 1967. I still have the baggage labels to testify. My mother was quite seasick during the trip and I wonder if this is the reason why I'm not prone to sea sickness.
Thomas, Zurich. Switzerland
I can remember sailing on the SS France and the magnificent cuisine and that was not in first class!
Talbot Hood, Santander Spain
I was a Customs Officer at Southampton in the late sixties/early seventies and 'boarded' the France many times. The paperwork was always completed in the music room. She certainly was the most elegant of the Atlantic liners. The entrance to the dining room was stunning.
Peter Hayward, Haywards Heath UK
Never a passenger, sadly, but I remember as a child standing at the harbour entrance in Le Havre as she steamed out with a replica of the Statue of Liberty forward of her bridge. It was being filmed for a film called "The Brain". A beautiful ship...
Peter Parsons, Worthing, England
I went to New York on the France in 1972 aged seven. They had kennels on board and a fenced-off exercise yard on deck for the dogs. This featured a variety of street furniture - New York hydrants, British pillar boxes, Parisian lamp standards etc, to ensure that dogs of every nationality would know where to go!
George Davson, Oxford
I was a waiter on the SS Norway during 1980. Nineteen years old and saving my tips to pay for University. Left Bremenhaven and moored in Norway when people queued for hours to see her. Almost every nationality worked on board - most there to send money home or save for a later dream. Hours were long with tips being the raison d'etre. Her metamorphosis into cruising was not without problem - leaking pipes, no air con etc. oh - and that kitchen floor was like an ice rink! My Korean friend met his wife whilst docked in Norway - yes she changed many lives - and prepared me for mine.
Dr Tim du Feu, Jersey, CI
I was on the SS France in 1964 at the age of 11. It was absolutely fabulous. The food was incredible, the service was magnificent and the facilities were amazing. She was a beautiful, elegant ship. What a way to cross!! I have Great memories of a wonderful, long gone way of life. We also traveled on the SS. United States (destroyed in the late 70's). It would be a real pity if the SS France was destroyed too. I hope she will live.
Don Taylor, Checkendon, Uk
INDEX
Page One …???????????????????? SS France
Page Two …???????????????????? SS Norway
Page Three …?????????????????? SS Norway – Blue Lady
Page Four …???????????????????? Norway Deck Plan
Photo …?????????????????????????? QE2 passes the Norway
Photo …?????????????????????????? Photographer Don Tremain presents his experience and four photographs
Photo …?????????????????????????? Tomas-Rosales shares his photographs of the Norway in Miami
Photo …?????????????????????????? Michael and Lee Ann Pavlick honeymoon cruise in 2002
Photo …?????????????????????????? Norway in Bremerhaven – Page Two
Photo …?????????????????????????? Norway Departs Bremerhaven 23 May 2005
Photo …?????????????????????????? A series of photographs of SS Blue Lady in Alang
Story …?????????????????????????? Pauli Dangerousli describes his 1997 cruise on the SS Norway
Story …?????????????????????????????????? "The Ship that Saved my Life" – The Karl Henrik Henriksen Story (2 pages)
Article …????????????????????????? "Surreal times on the SS France" by Patrick Jackson
Visit the "Save The Classic Liners Campaign" page
***************************************************
I trust you have enjoyed reading this page on this fine and much loved passenger liner. If you have sailed on her I would like to hear from you, and if you have any photographs I would greatly appreciate some, especially those of the interiors and out on deck. Email Me!
Use the Back button on your browser or Close the Page to return to the previous page
or go to our
INDEX
Who is the Author of ssMaritime?
Commenced in the Passenger Shipping Industry in May 1960
Contact me via

PLEASE NOTE: I receive hundreds of requests for Passenger/Crew Lists and Sailing Schedules. I hereby wish to advise that I am unable to assist due to time restrains and as most shipping companies have long gone these lists/schedules are no longer available. I regret to advise that any request for these will no longer be answered regardless of the circumstances presented!
ssMaritime.com & ssMaritime.net
Where the ships of the past make history & the 1914 built MV Doulos Story
Also visit my …
"Save The Classic Liners Campaign" & "Classic Ocean Voyages" pages
Photographs on ssmaritime and associate pages are: 1. By the author. 2. From the author's private collection. 3. As provided by Shipping Companies and private photographers or collectors. Credit is given to all contributors. However, there are photographs provided to me without details provided regarding the photographer concerned. I hereby invite if owners of these images would be so kind to make them-selves known to me, that due credit may be given. I know what it is like, I have seen a multitude of my own photographs on other sites, yet they either refuse to give me credit and even refuse to remove them, knowing full well that there is no legal comeback when it comes to the net. However, let us show the charlatans up and do the right thing at all times and give credit where credit is due! Note: I do not credit those who send me photos as they are not the owners of the photographs concerned, unless the image is part of their private collection.
This notice covers all pages, although, I have done my best to ensure that all photographs are duly credited and that this notice is displaced on each page, that is, when a page is updated!
ssMaritime is owned and ? Copyright 2010 - by Reuben Goossens - All Rights Reserved

melbourne dry cleaners Counter