ssMaritime.com & ssMaritime.net
With Reuben Goossens
Maritime Historian
Page One
Compagnie Generale Transatlantique - French Line
SS France
Sold to become – NCL's & Star Cruises' SS Norway finally the breakers - Bridgend Shipping & Priya Blue SS Blue Lady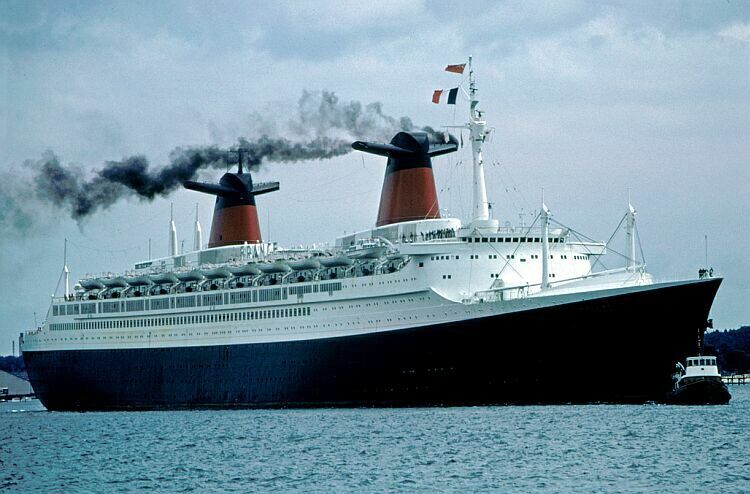 SS France remained the Longest Liner until the completion of Cunard's Queen Mary II
(This magnificent photograph is from an unknown source)
Introduction
Normandie / Ile de France / Liberte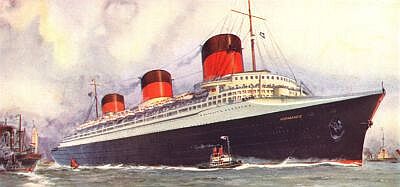 SS Normandie
With the loss of the Normandie in New York Harbour in 1942, the Ile de France became the only French Line largest Trans-Atlantic liner. However, the German liner Europa, which had been captured by Allied troops towards the end of World War II, was awarded to the French Line, who renamed her Liberte. This liner kept the French line afloat throughout the 1950's.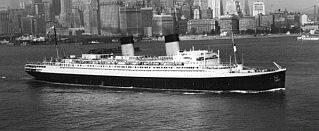 SS Ile de France seen here with her third (dummy) funnel removed after being partially rebuilt in 1949
However, with Cunard operating the pride of their fleet with the 83,673-ton Queen Elizabeth, French Line directors decided to go one better than the British and build the longest passenger liner ever, to replace both the aging the Ile de France and Liberte, both of which were taken out of service by 1960. The 66,348-ton SS France was to be the last French liner to be built for the Trans-Atlantic service.
The magnificent France was born in the grand era of ocean going liners. She was launched on May 11, 1960. She became the longest Trans-Atlantic liner at 1,035 ft, in addition she was one of the most beautiful and graceful passenger liners ever built and the last of a long line of elegant French liners. Her trails commenced on November 19, 1961 and departed on January 19, 1962 for her first voyage, being a cruise to the Canary Islands. On February 3, 1962 she departed on her maiden Trans-Atlantic crossing from Le Havre to New York.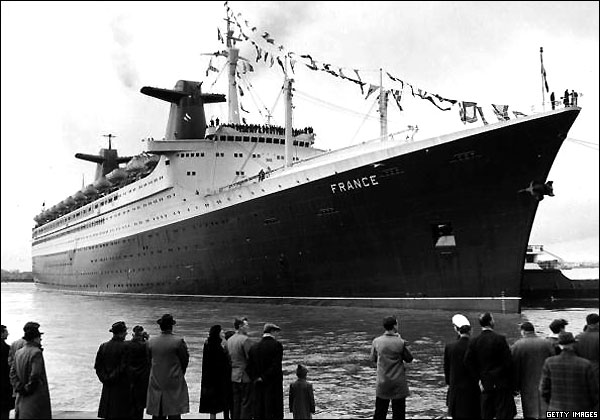 SS France departs on her maiden voyage – January 1962
With thanks to "Getty Images"
For the next twelve years, the France was the French icon of national maritime pride. However, even prior to her departure for New York, air travel had already gained favour with the travelling public, thus by the time she departed on her first voyage to New York sea travel had already declined to the point that the French Government has to subsidise her with massive amounts to keep SS France the pride of France in operation, especially as the British company Cunard Line was about to launch the Queen Elizabeth 2.
SS France was designed to make 46 Trans-Atlantic crossing per year as well as a series of winter cruises. On January 9, 1974, SS France departed New York on a world voyage. As she was too long for the Panama Canal locks, she sailed via South America via Papeete Tahiti, Auckland, and Wellington New Zealand to Australia. Having her visit to Hobart Tasmania cancelled at the last minute due to her length, she arrived in Sydney Australia with great fanfare on February 16. She returned to New York via South Africa.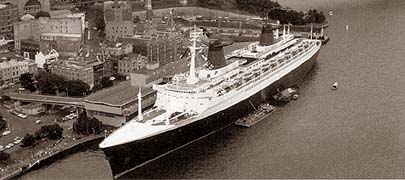 SS France in Sydney Australia on 16 February 1974
Author's private collection
SS France Photo Album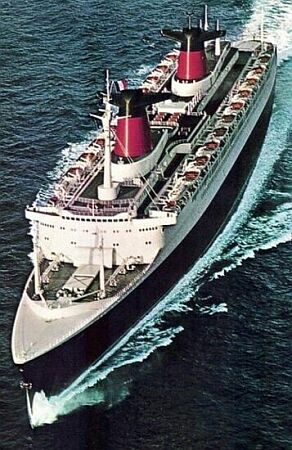 SS France at full speed ahead
Author's private collection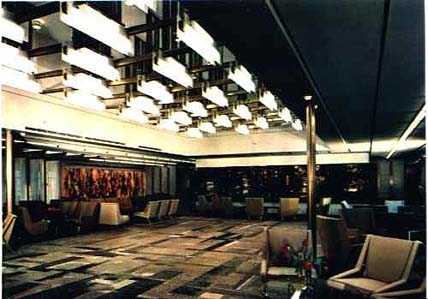 First Class Grand Salon
All photographs below are sourced from a French Line brochure
Author's private collection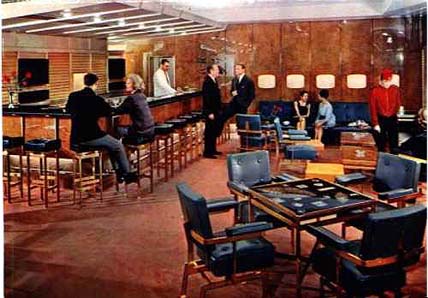 Tourist Class Smoking Room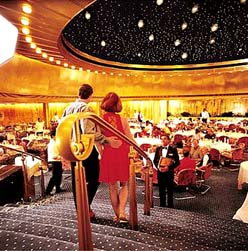 First Class Restaurant
<![if !vml]>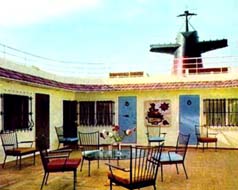 <![endif]>
<![if !vml]>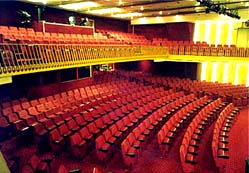 <![endif]>
--Cinema
Patio Provencale--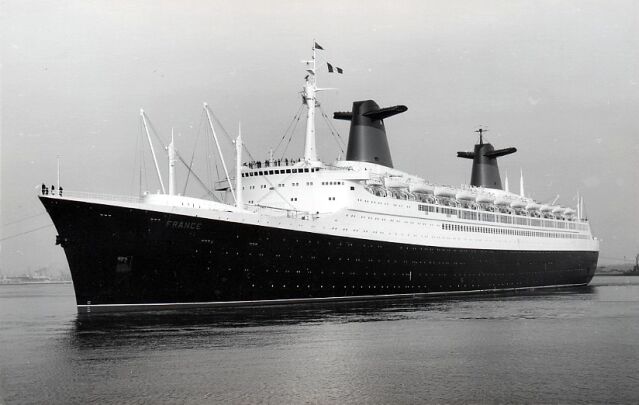 A grand view of the SS France
Author's private collection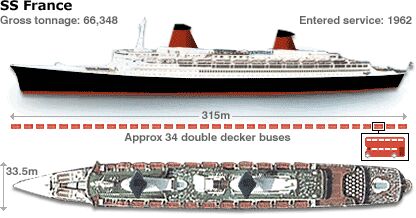 Author's private collection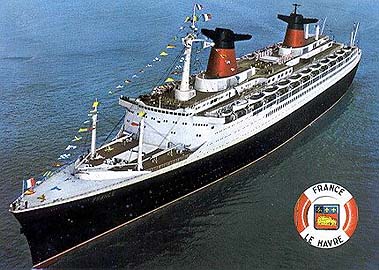 French Line official Postcard
Author's private collection
<![if !vml]>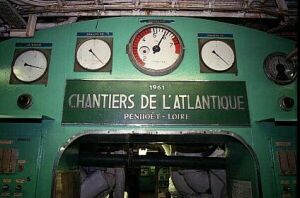 <![endif]><![if !vml]>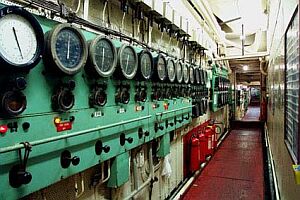 <![endif]>
Engine Room and the builder's plaque on the main turbine control panel
Unknown
In July 1974 the French Government announced that it was not prepared to provide any further subsidies, soon thereafter French Line made it known that they would withdraw their flagship from service on October 25, 1974. Upon her return from New York in September, the French maritime trade union took things into their own hands, and took control of the ship anchoring her in the fairway, protesting against the threatened loss of jobs. Passengers were taken ashore by tender. In October the striker's enthusiasm had waned, and the France was duly berthed and then laid up at Le Havre where she remained idle for five years.
I received a delightful piece from Wendy Konazeski in relation to her last voyage on SS France.
"In the 1970's my parents, Mr and Mrs Francis Olmsted, took my siblings and myself, in my teen years, and sailed on the SS France. My time on this beautiful ship has remained one of the best memories of my life and I love recalling the sights and feelings of fun and laughter. I have even retained several menus from our last cruise with her. I recall Elizabeth Taylor and Richard Burton on the ship because while my mother was sitting on the deck she looked up to see me being escorted by a very handsome man. She could see that I had been  up to some mischief and she was so embarrassed that Mr. Burton had his hand firmly on my shoulder and returned me to my mother for trying to look in his cabin. He was not too forceful but he did demand the respect of a father and I sure followed and apologized. I was wrong but the story has given us countless hours of laughter ever since."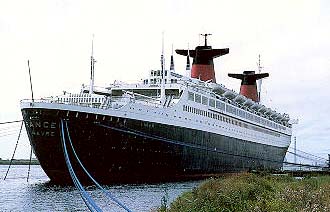 A sad SS France seen laid up at Le Havre from 1974 to 1979
Author's private collection
Specifications - SS France
Built by:                                      Chantiers de l'Atlantique, Saint Nazaire
Tonnage:                                    66,348 GRT – Gross Registered Tons
Dimensions:                                1,035 X 109 ft (315.5 X 33.7 m)
Draught:                                     34 ft 4 in (10.80 m)
Propulsion:                                  Parsons Steam Turbines, built by the builders
Screws:                                       Quadruple
Service Speed:                            30 knots (35 maximum)
Stabilizers:                                  Two pairs
Passengers:                                 407 First
                                                  1,637 Tourist (250 interchangeable cabins)
Flag:                                           French
----------------------------------------------------------------------------------
From Sophistication to Glitz
In 1979 SS France was sold to Klosters Rederi A/S, for the Norwegian Cruise Line" (currently owned by the Malaysian Genting Casino group, who also operate Star Cruises and own Orient Line). SS France was turned into a grand but glitzy cruise ship. She was renamed SS Norway and commenced cruise duties in the Caribbean.
Page Two continues her story how she turned for a grand Trans-Atlantic liner to the world's largest cruise ship in her day!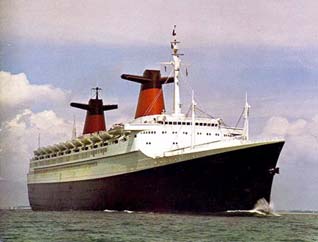 The magnificent SS France, the way we love to remember her
Author's private collection
***********************************
Index
Page One …                      SS France
Page Two …                     SS Norway
Page Three …                   SS Norway – Blue Lady
Page Four …                     Norway Deck Plan
Photo …                           QE2 passes the Norway
Photo …                           Photographer Don Tremain presents his experience and four photographs
Photo …                           Tomas-Rosales shares his photographs of the Norway in Miami
Photo …                           Michael and Lee Ann Pavlick honeymoon cruise in 2002
Photo …                           Norway in Bremerhaven – Page Two
Photo …                           Norway Departs Bremerhaven 23 May 2005
Photo …                           A series of photographs of SS Blue Lady in Alang
Story …                            Pauli Dangerousli describes his 1997 cruise on the SS Norway
Story …                            "The Ship that Saved my Life" – The Karl Henrik Henriksen Story (2 pages)
Article …                          "Surreal times on the SS France" by Patrick Jackson
Brochure …                      This inaugural SS Norway brochure (1980) was provided by Mr. Michael Bobo
***********************************
Use the Back button on your browser or Close the Page to return to the previous page
or go to our INDEX
Who is the Author of ssMaritime?
Commenced in the passenger Shipping Industry in May 1960
ssMaritime.com & ssMaritime.net
Where the ships of the past make history & the 1914 built MV Doulos Story
Also visit my …
"Save The Classic Liners Campaign" & "Classic Ocean Voyages" pages
Photographs on ssmaritime and associate pages are by the author or from the author's private collection. In addition there are some images that have been provided by Shipping Companies and private photographers or collectors. Credit is given to all contributors. However, there are some photographs provided to me without details regarding the photographer/owner concerned. I hereby invite if owners of these images would be so kind to make them-selves known to me (my email address may be found on www.ssmaritime.com only), in order that due credit may be given. I know what it is like, I have seen a multitude of my own photographs on other sites, yet these individuals either refuse to provide credit or remove them when asked, knowing full well that there is no legal comeback when it comes to the net. However, let us show these charlatans up and do the right thing at all times and give credit where credit is due!
This notice covers all pages, although, and I have done my best to ensure that all photographs are duly credited and that this notice is displaced on each page, that is, when a page is updated!
ssMaritime is owned and © Copyright 2010/12 - by Reuben Goossens - All Rights Reserved