P&O S.S. Himalaya 1949 to 1974
Please Note: Firefox and some other Search Engines may not be suitable
Use Google Chrome for this Web Page to load perfectly!

Please Note: All ssMaritime and other related maritime sites are 100% non-commercial and privately owned, thus ssmaritime is NOT associated with any shipping company or any other organisation! Although the author has worked and been involved in the passenger shipping industry for well over 60 years, but due to his old age and poor health, he was forced to retire. Yet, he has completed well over 1,435 Classic Liners, Passenger-Cargo Liners as well as humble converted C3 converted Migrant Liners, which has transported countless thousands of folk to the new world, as well on vacations'. I trust the features online will continue to provide Classic Liner and Ship enthusiasts both the information they are seeking, but more so provide a great deal of pleasure and relive many happy memories!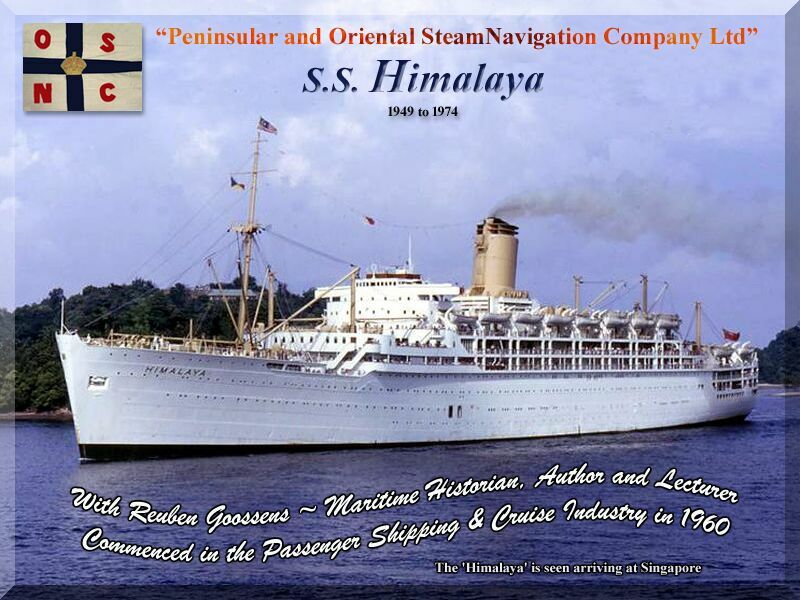 Please Note: Postcards, photographs & other images are either from the author's private collection, unless stated otherwise.
A special thank you to the ssmaritime supporters for their very kind assistance.
Page One
This feature covering the S.S. Himalaya (3) is a Two Page feature, as this page covers her entire history as well as a tour of her interiors and exteriors. Whilst page two contains her Deck Plans, Menus, Souvenirs & Memorabilia as well as her 'Specifications & Details'.
Also, I wish to make it known that I actually wrote most of this feature around 12 years ago, but somehow forgot about it and lost it until someway I discovered it recently. Although I am extremely ill these days and no longer work or write any more, I decided to slowly try and complete it, with the help of a dear friend of mine who will edit it as I am disabled, and can only do so much these days. Thus, this is in fact the very last ever ship that will be added to my site and although it states above that I have written well over 1,435 Classic Liners, that number was a very long time ago, and there will at least around another 500 or so been added by then, give or take.
I hope you will enjoy the S.S. Himalaya story, for I loved her as she was such a fine ship in every respect!
Enjoy!
Reuben Goossens.
***********************
Introduction:
When the World War Two ended sadly P&O had suffered some of the worst losses possible as they had lost some 182 vessels with an amazing loss of around 'one and a quarter million' tons, which was almost unbelievable!
Thus a rebuilding schedule of their passenger fleet commenced rapidly in 1945; when P&O ordered their new liner the "Himalaya" from 'Vickers Armstrong at Barrow-in-Furness' in 1945. Thus P&O had ordered its first new passenger liner of the post-war period and their new liner when it emerged in 1949 certainly was not just a fine ship, but it was also the fastest and the largest ship that P&O had ever owned until that time. As well as in May 1950 the slightly smaller but very similar S.S. Chusan arrived.
The Three S.S.
Himalaya's
The S.S. Himalaya of 1949 would be the third ship to bear the proud name of 'Himalaya', and these ships were given a name that matched their greatness for P&O at the time, for all three were named after the 'Himalaya Mountains', thus the S.S. Himalaya!
S.S. Himalaya (1):
The first "Himalaya" was Barque-rigged steamer completed built in 1853 and she was 3,553 tons, and was intended to be used on Orient service, however, the Crimean War changed this and she was used by the British Admiralty. Thereafter she was sold and became a 'coal hulk'.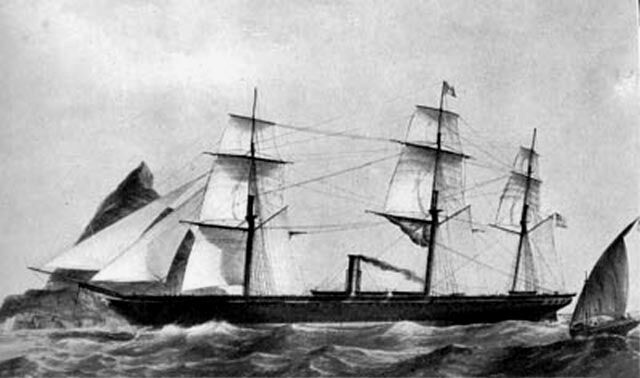 "Himalaya" (1) of 1853
S.S. Himalaya (2):
The second S.S. Himalaya was built in 1892 and she was 6,929 GRT GRT (Gross Registered Ton) and 465.6 ft long. She accommodated 265 First Class and 144 Second Class passengers, and had a crew of 249.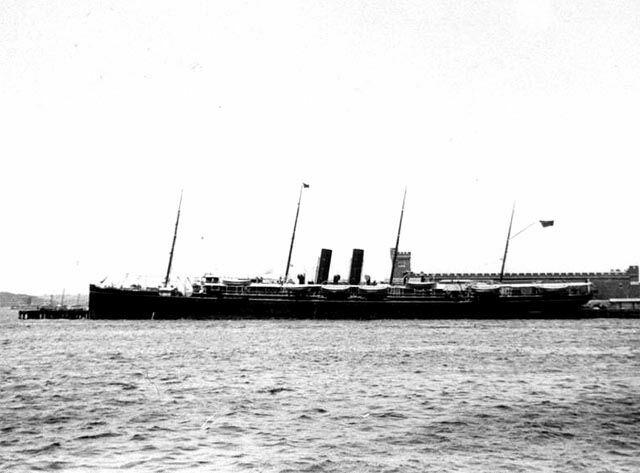 S.S. Himalaya (2) of 1892 was a good looking ship
She was built for the Tilbury to Sydney service sailing via the Suez Canal. But in 1908 she was transferred to the Far East Asia service. She also served during WW1, but she was eventually scrapped in May 1922.
***********************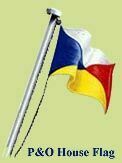 S.S. Himalaya (3):
In 1945 P&O ordered their first new passenger liner of the post-war period. This new liner when it emerged in 1949 certainly was not just a splendid ship, but being 27,955 GRT and a 708.8 ft long sailing at a service speed of 22 knots ship, she was also the largest and fastest ship that P&O had ever owned up until that time..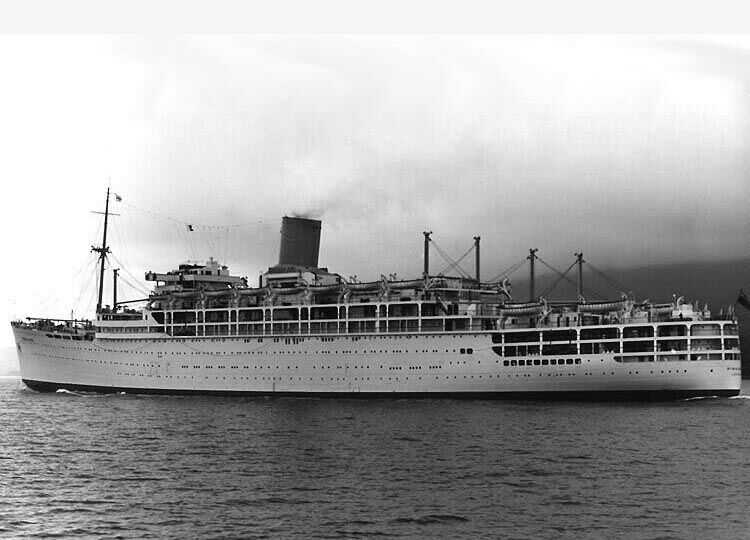 S.S. Himalaya is seen as built in 1949
Design & Construction:
She was ordered in March 1945 and she was built by Vickers Armstrong Ltd', at Barrow and her keel was laid in Yard number 951 on February 26, 1946. Her building took some 18 months longer than was planned, and at £3.4 million, she was £1 million over budget when she was finally delivered.
The big day of her launching came and she was launched by Lady Curry, the wife of the P&O Chairman, on 5th October 5, 1948. What many did not know is that the "Himalaya" shared the same hull design as a new 'Orient Line' liner the S.S. Orcades.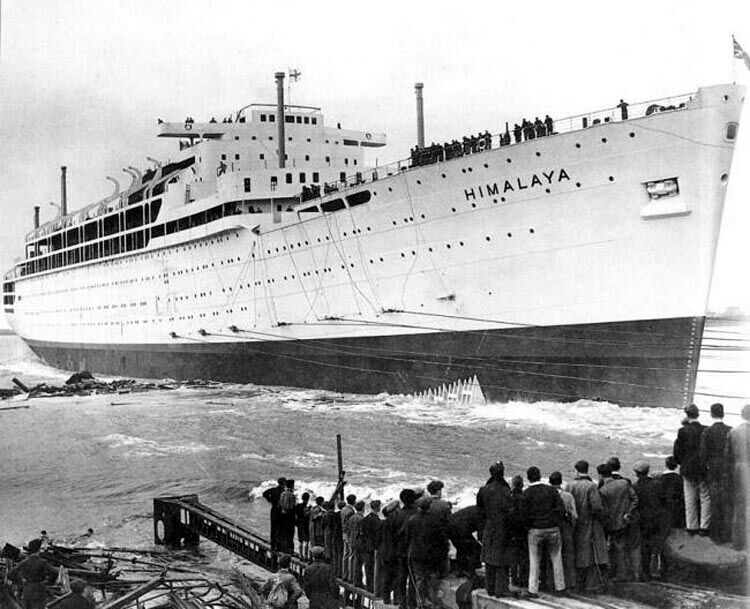 Having been launched the "Himalaya" enters the water for the first time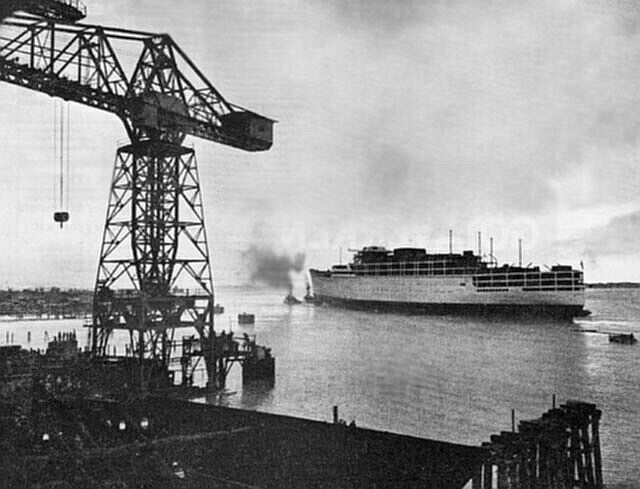 She is seen under tow to her fit-out berth
As she entered the water she was taken in tow and she headed to her fit out berth and as she was getting close to completion she was joined by her smaller sister the Chusan which was berthed aft of her for her fit-out.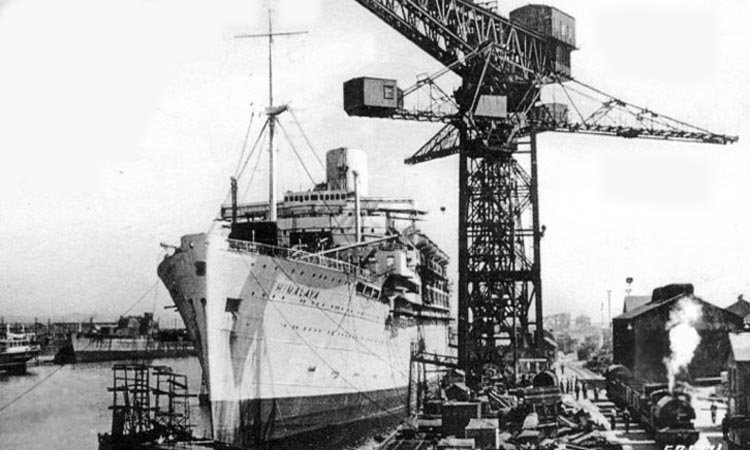 S.S. Himalaya is seen at her fit-out berth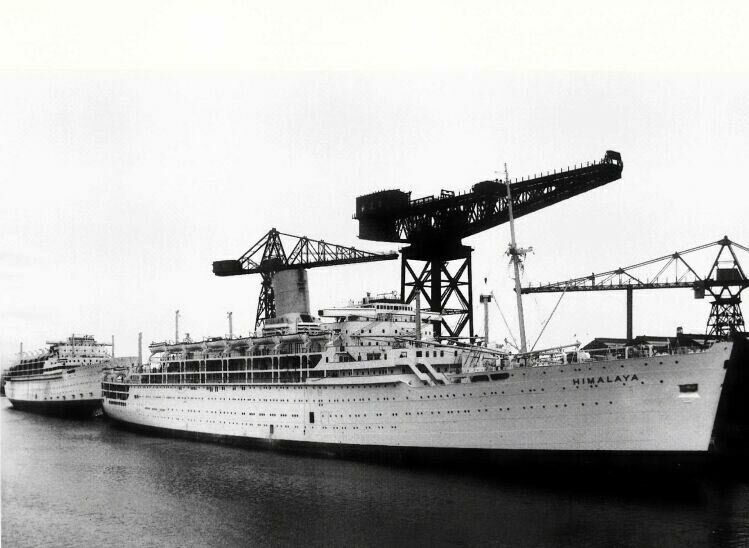 Here we see that the Chusan has arrived on June 28, 1949 and is berthed aft of the
almost completed "Himalaya" which would head off on her trials in less than a month
With the "Himalaya" ready, she departed for her speed trials off the Isle of Arran on August 24, 1949, and she achieved a speed of 25.13 knots over the 'measured mile'.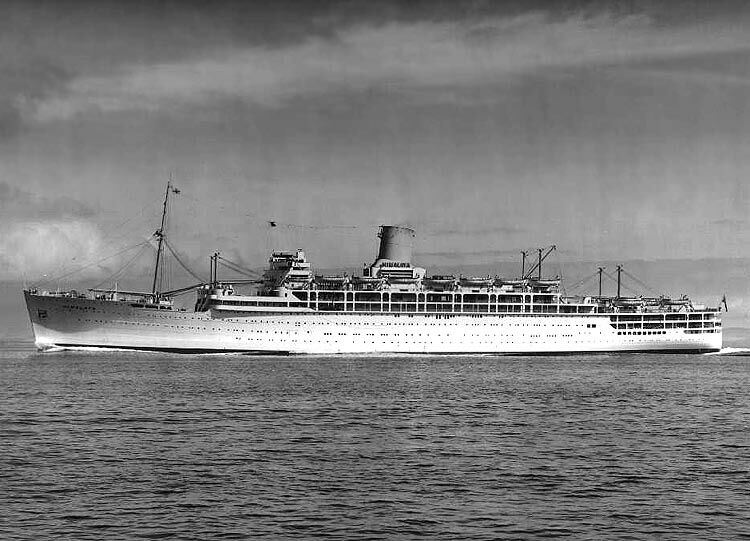 S.S. Himalaya is seen during her measured mile speed trial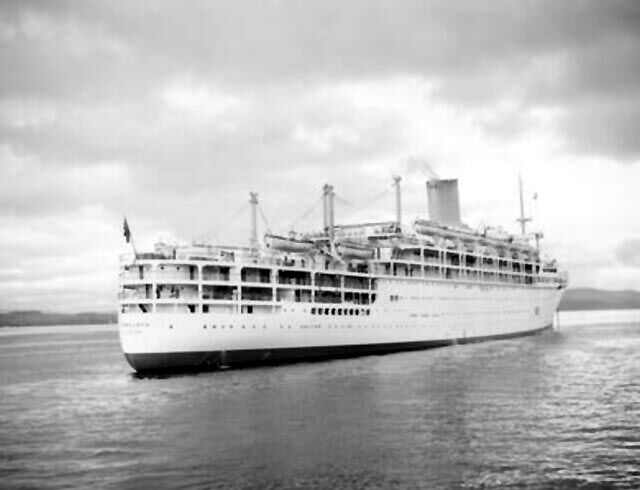 Another photo of her during her trials
Although after her trial she was officially handed over to P&O on September 1, 1949 at Tilbury, but she did return to Belfast for some additional fitting out work to be undertaken and she would be returned to Tilbury on September 11.
Some Ship's Information:
She was an all-white ship, with a hull and superstructure, and red boot topping at the waterline, her funnel, masts and derricks, etc, were all buff to yellow. Her Gross Tonnage was 27,955 GRT, and she had a length of 708.8 ft. She was powered by a set of double reduction geared steam turbines by her builders, which developed 42,500 SHP and steam was supplied at 525psi, and 850°F by four controlled superheat 'Foster Wheeler' boilers. Four turbo-generators supplied electrical power for heating and lighting throughout the ship and there were two emergency diesel generators. Her twin screws had her sail at a service speed of 22 knots, although during her speed trials she managed to achieve an excellent 25.13 knots maximum.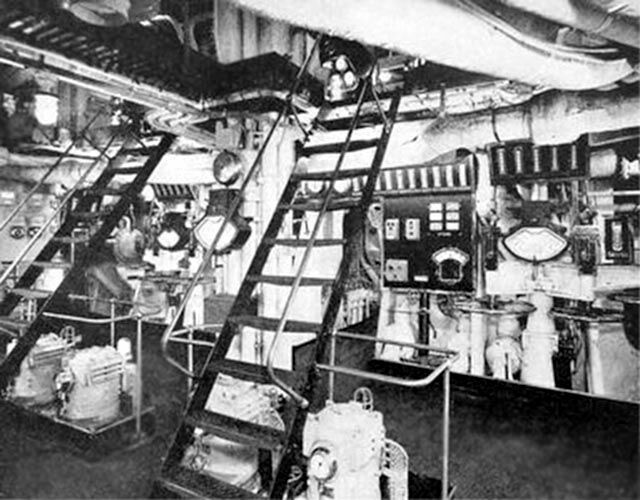 Above & below: A view of the Engine Room Control platform and one with her engineer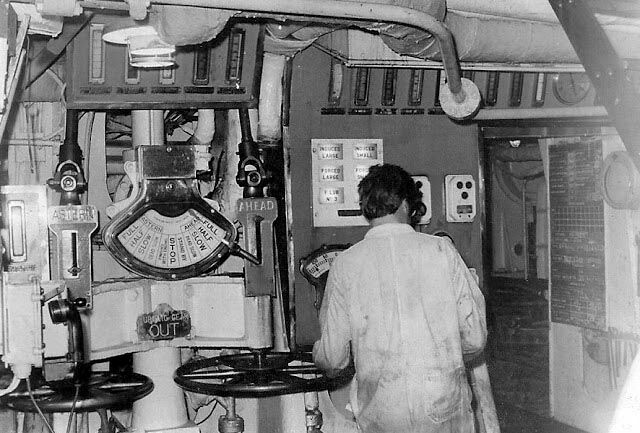 She accommodated 758 First Class, 401 Tourist Class Passengers; but later in her career she became a One Class all Tourist Class ship with 1,416 passengers. She was the first ship to have air-conditioning in her Dinning Rooms and all First Class accommodations. In addition, she would also be the very first liner to be equipped with the innovative "Weir evaporating plant" which distilled sea water into perfectly fresh water.
The "Himalaya" had six holds with a cargo capacity of 449,940 cu-ft - 13,000 m³, being the largest of the fleet at that time.
***********************
Her Maiden Voyage:
The "Himalaya" arrived at Tilbury's Landing Stage on September 11, 1949, and the commenced to make her ready for her maiden voyage to Australia by first fully crewing her.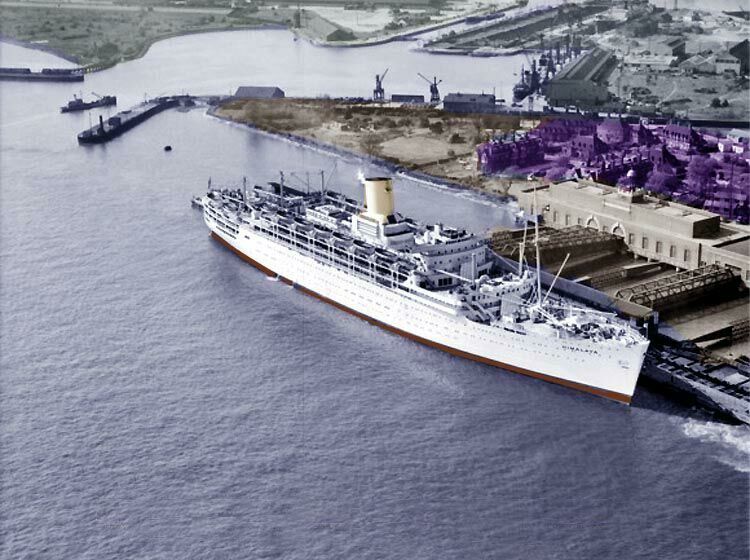 S.S. Himalaya is seen berthed at the Tilbury Landing Stage ready for her big departure
Then the time came for her to be laden with cargo, and with food to be brought on board as well as all the necessary requirements, making sure that by the day the passengers arrived, the ship would be spick and span, beds perfectly made and she would be like home, yet feel very much ready for a fun like vacation awaiting ahead for them!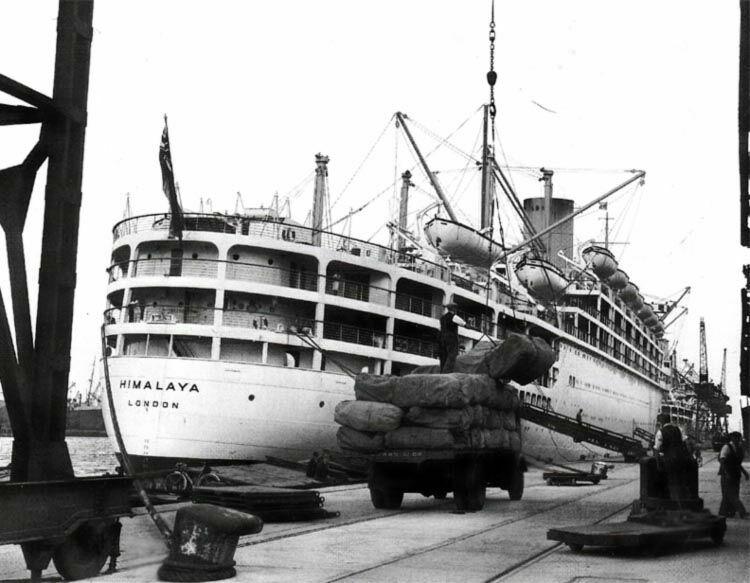 Cargo is seen being loaded on the "Himalaya" on October 4, 1949
October 6, 1949 has arrived, as her passengers who had all gone through all the formalities with passports and papers checked and they were now on board, been to their cabins, their family and friends have left the ship  and where dockside and a band was now playing. They were certainly ready for their long voyage ahead, yet there was no doubt that emotions were slowly beginning to reach a high note for those on board, but also for many of those ashore. Obviously many would not be seeing each other again for a very long time, as there were those who were migrating to Australia to start a new life there, whilst others who may have been tourists yet they would not be back home for at least six or possibly many more months!
The time came and the S.S. Himalaya slipped her lines as she slowly departed Tilbury (London) and headed off on her Maiden Voyage, sailing via the Suez to Bombay via Suez, continuing onto Colombo, Fremantle, Adelaide, Melbourne and Sydney and back to the UK. The S.S. Himalaya was in command of P&O's Commodore, Captain D.M. Stuart DSC, who was a long standing member of the company and an excellent and a well honoured master!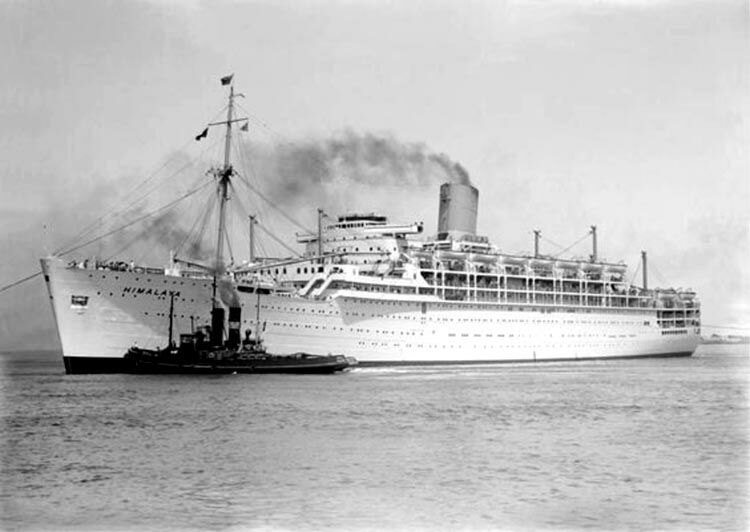 S.S. Himalaya is seen finally on her way to Australia

Passengers soon got to know their way around the ship and began to enjoy their surroundings, especially the daily activities that were available, but as always the highlight was always the great food that was available in the Dining Rooms, as well as those wonderful Buffets!

Regular ports of call:

Tilbury (London), Plymouth, Tangier, Gibraltar, Marseilles, Port Said, Aden, Bombay, Colombo, Fremantle, Adelaide, Melbourne, Sydney - and return.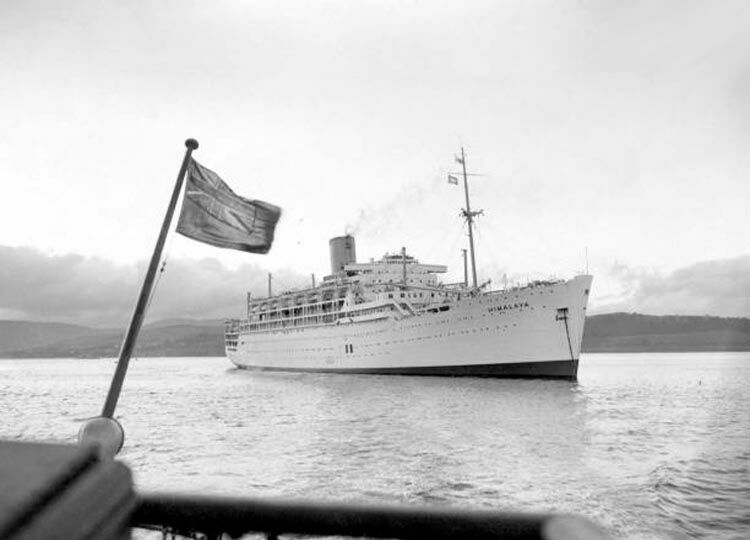 She is seen here at anchor at Aden (in today's Yemen)
Himalaya certainly proved to be a record breaker for she cut the Tilbury to Bombay voyage by good 5 days and reduced the overall voyage to Australia from 38 days to just 28 days.
The Himalaya arrived in Sydney on November 7, 1949 and there was a massive crowd awaiting her arrival as it was a huge event for the first new P&O post war liner to arrive and she was simply magnificent!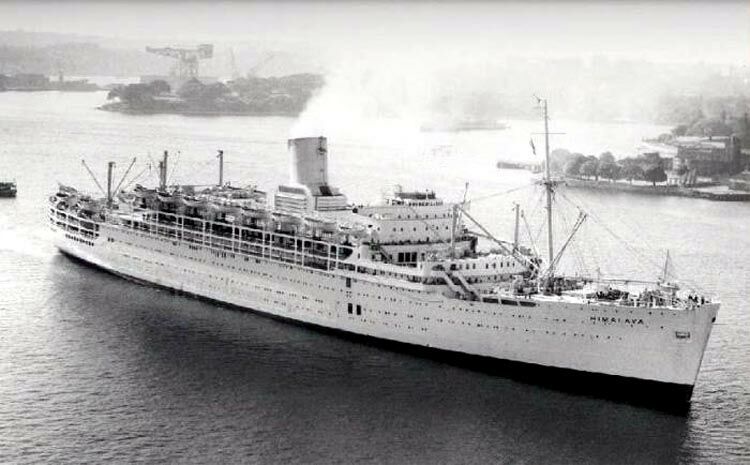 A photo taken from the Sydney harbour bridge with the "Himalaya"
seen arriving at Sydney on November 7, 1949 about to turn into Circular Quay and her berth
Note the point with the trees on the right, that is called 'Bennelong Point'
 being the very place where the 'Sydney Opera House' stands today!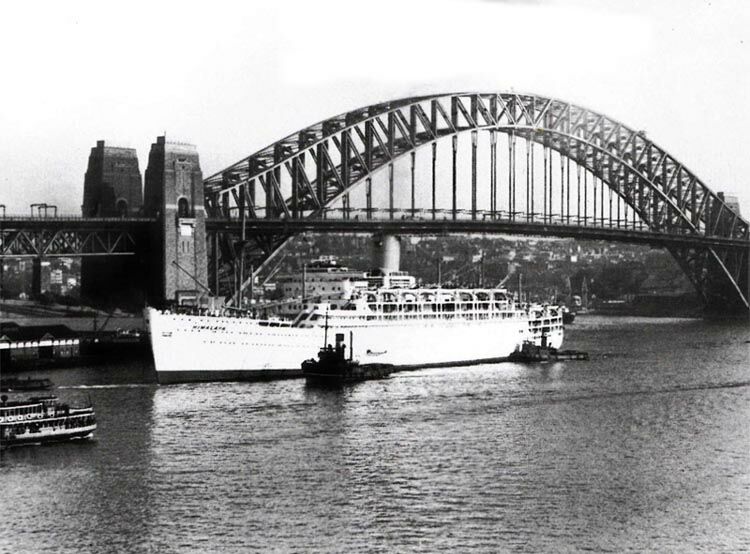 The "Himalaya" pulls into the Circular Quay 'Overseas Passenger Terminal'
On board on the Foc'sle a special photograph was taken of the entire ships company including P&O's chairman, Sir William Currie who was on board during this voyage.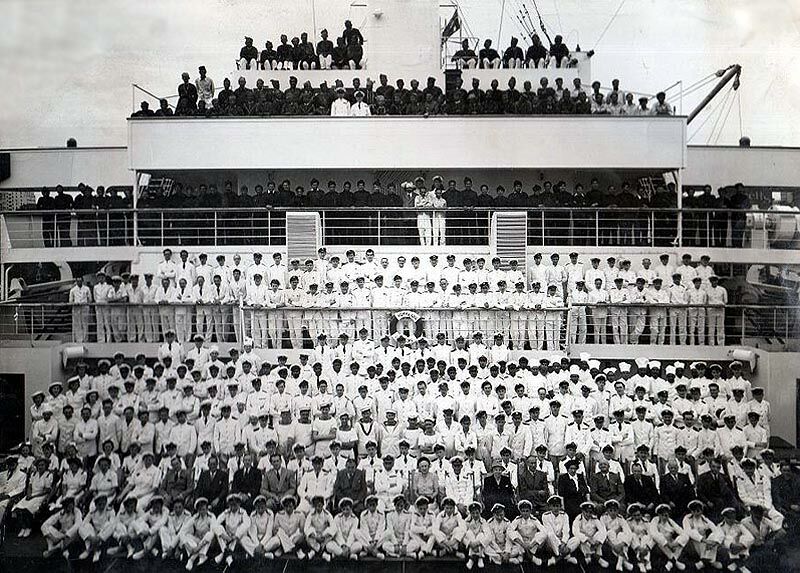 The Captain D.M. Stuart DSC, Sir William Currie and the First Officer
are seen in the centre of the second row from the bottom
The six ships operated by 'P&O' and the 'Orient Lines' worked closely together on their Australian service, and they had their schedules organised in such a way that sailings alternated between P&O and Orient. Thus they formed, quote: "A Southern Dominions Big Six fleet".
***********************
Tour of the Ship:
Now the Himalaya has commenced her services, it might be a good time to head on board and take a tour of the ship and discover her interiors as well as some of her deck spaces, etc. As always I will commence topside and start from forward and slowly head aft.
First Class
The first Class Passengers Facilities and Accommodations were arranged over Six Decks, starting with Boat and Promenade Decks and the A to D Decks. I will cover each deck with pubic facilities individually and describe  the accommodations in general but will not cover each of the decks that may contain them, unless there are other important venues on that deck.
The Bridge:
Far forward above Boat Deck there is a there level Bridge section, and topside obviously is the location of the ships Bridge, which is manned 24 hours per day whilst at sea. The Chart Room is located directly aft of the bridge itself.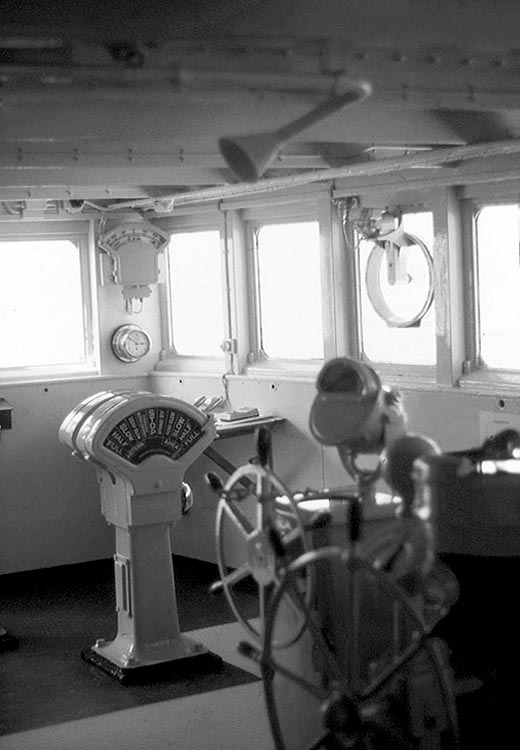 The Bridge seen whist in port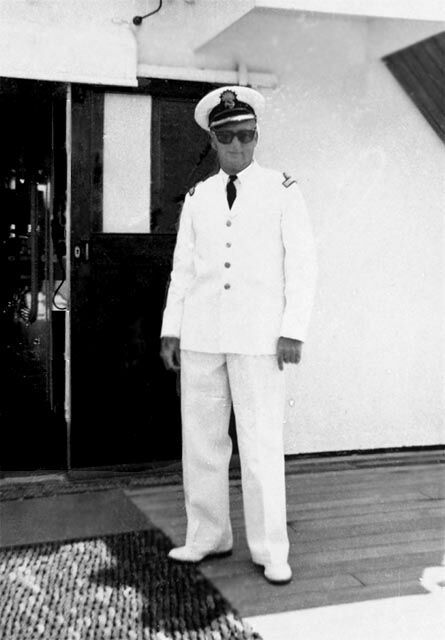 This is Captain Cowen seen on the portside door of the bridge who was in Command of her in 1964
Stairs lead down to the middle level and at the front overlooking the Foc'sle is the Captains office as well as his private quarters, the First Officer's quarters is also located on this level. There are other senior officers as well as the chief engineer that are accommodated on the lower level and there is also the Radio room.
Boat Deck:
Sports Deck:
This deck offered a very large space for sports and other activities, whilst directly aft of the Bridge housing was a very large deck space which was enclosed on both sides by folding glazed screens, which kept any wind at bay and the warmth of the sun in. The size of this deck can be gathered from the mere fact that there were nine Deck Tennis Courts and 28 Quoits Pitches laid out here.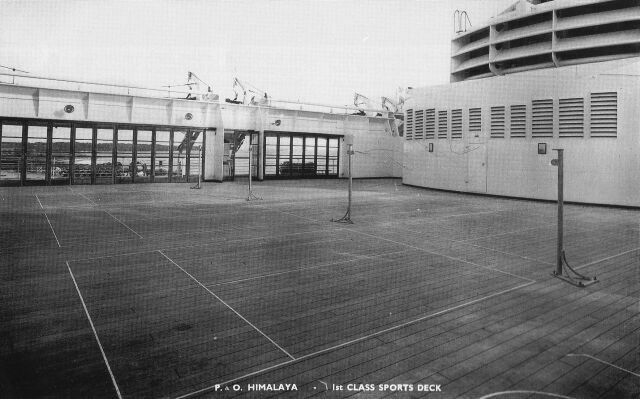 Forward Sports Deck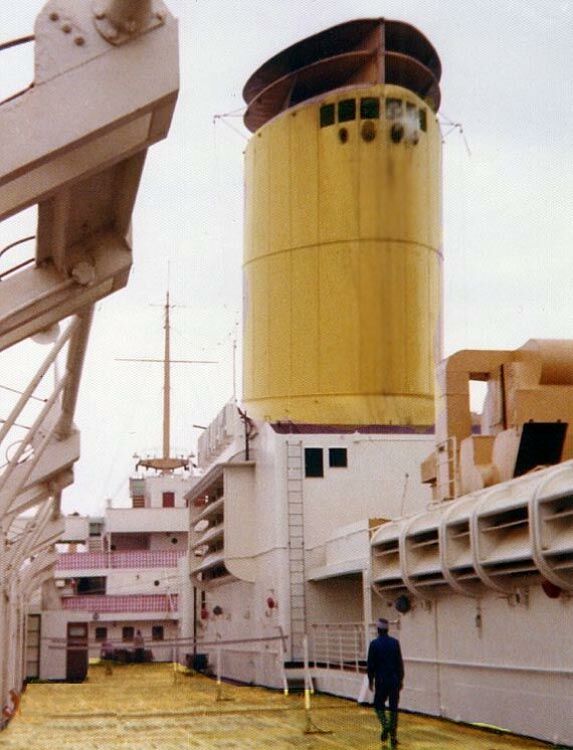 Boat Deck portside looking forward
Promenade Deck:
Children's Playroom:
The first Passenger facility on Promenade deck is amazingly the Children's Playroom and on both sides there are spacious safely netted play decks, thus completely safe for the little ones to play at! Everything is here including facilities, and snacks and drinks are provided at the relevant times, etc.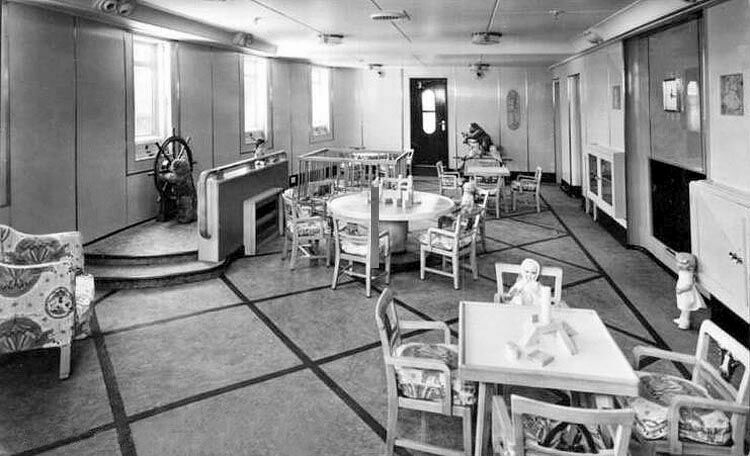 It should be noted that the entrance to this venue was via a staircase on the starboard side forward on the starboard side interior.
Lobby side Lounges:
As we head to the main interior of the deck we will start at the forward Lobby which has on both sides two delightful intimate Lounges, which are beautifully decorated and a popular location to chill out.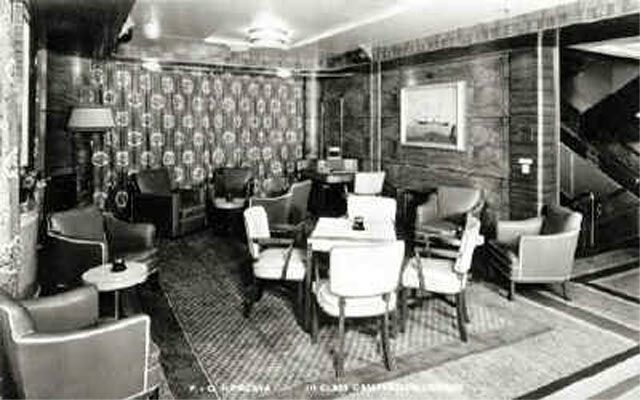 This is the portside of the two Lobby Side Lounges the starboard side is identical
Of course the lobby has Central double Main Staircase which goes up to Boat deck and down to D Deck and the Dining Room. Along the aft bulkhead there are two Elevators (Lifts) as well as some further seating with tables.
Promenade Deck:
On either side of the Lobby there were doors out onto the Promenade Deck, which was a wide fully covered deck and far forward it has a glass enclosed section that covered the entire Ladies lounge and the Lobby and a little more, etc, and along the lounge area the deck was even wider, thus a very spacious deck for guests to enjoy their time out of the weather when it is unpleasant during the winter months, etc.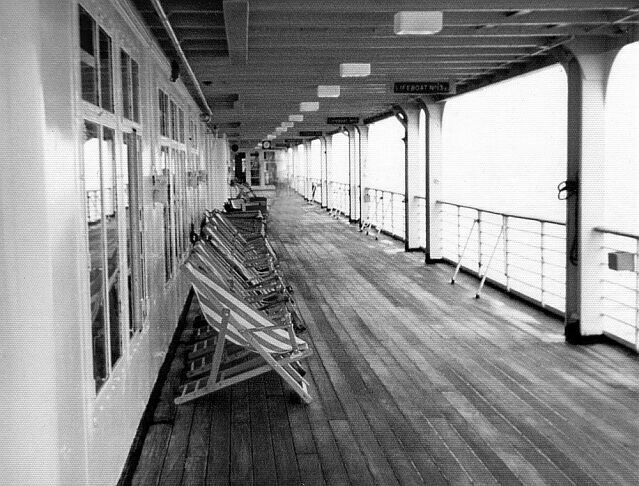 The spacious Promenade Deck (starboard side), note the fully glass enclosed promenade forward
The Lounge:
From the lobby there were double swinging thick glass doors that led into the Main Lounge and the venue featured a host of fine Australian timbers and other touches. The venue was contemporary, yet somehow classic in style, and had that "ever so British" feel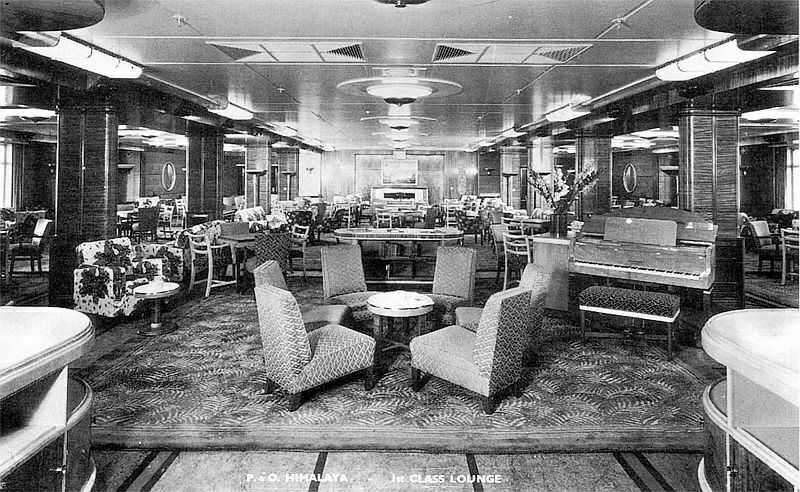 The Lounge, note the Piano
It was said by most guests that you always felt at home as soon as you arrived in this room! Forward on the port side was the bar which was a steward service only bar.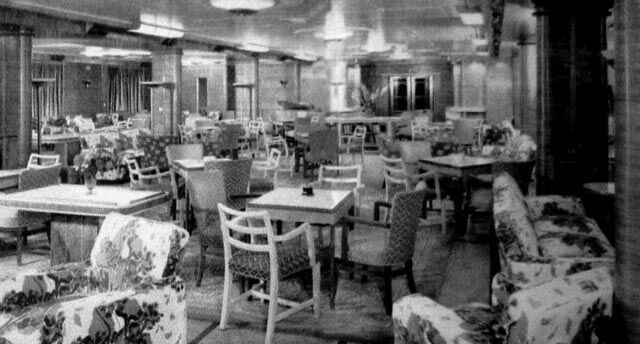 Looking towards the forward central double entrance door of the Lounge
Aft of the room were two doors, one on the Starboard side led to the Library &Writing Room, and the one on the Port Side to the Australia Room.
Australia Room:
Considering at that time P&O had been associated with Australia for over 100 years this special venue was decorated to identify with that link! The panelling was all from the best of Australian timbers, and curtains and covers were all designed and woven and made in Sydney and paintings were by the Australian artist  J. S. Loxton of Melbourne. This was the very first time that the company had identified a particular room so closely with a Commonwealth country.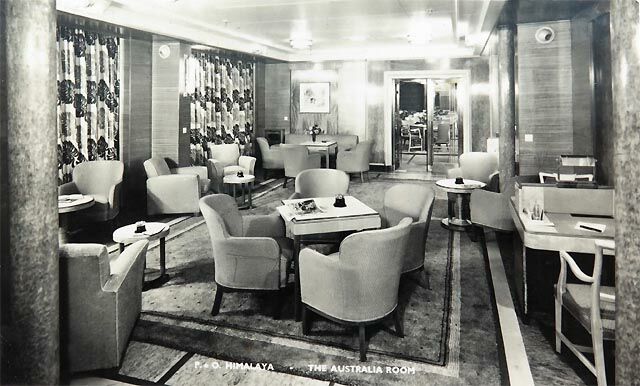 The Australia Room
The Library & Writing Room:
This venue was beautifully timbered and was furnished with heavy leather sofas and comfortable lounge chairs. The Venue had four tables with two chairs each for writing letters, etc, two located in the middle of the room well separated, and two located on the interior bulkhead.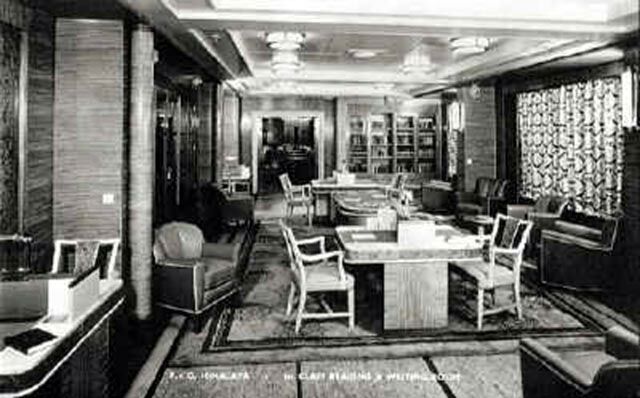 The wonderful Library & Writing room
The books were located in two four glass door cabinets, one on the forward bulkhead, and one on the interior bulkhead.
Aft of both the Australia and the Library and Writing Rooms were doors that led directly into a spacious venue as follows …
The Ballroom:
This venue looked more like a huge indoor deck space as the floor featured teal planking. Although the sides of the venue had folding and sliding glazed screens.
The venue had a more casual style of furnishings, being mostly the cane style chairs and square laminated topped tables, thus it had a more casual feel, the slightly raised bandstand was located against the forward bulkhead and being the dance venue there was of course a host of multi-coloured concealed lighting.
The Ballroom would also be used as a Cinema and for the ever popular horse races and all the other fun games and entertainments that happen of board these fine ships! And not to forget the special Children's Parties!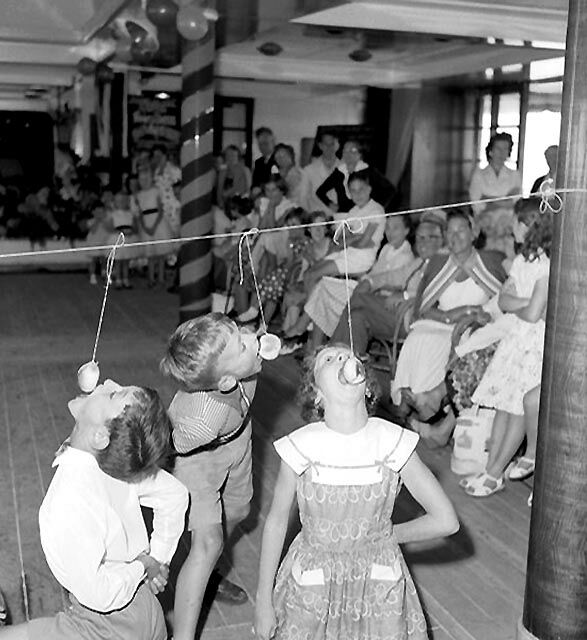 The Ballroom seen during one of the Children's parties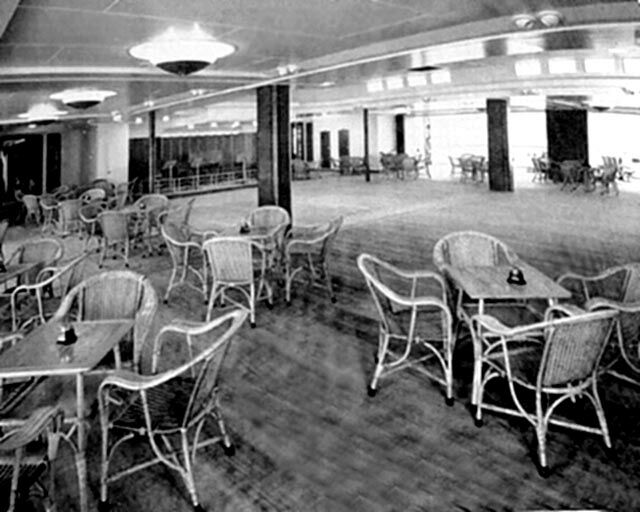 An overall view of the Ballroom
I am sorry for the poor state on this image, but believe me it was in a far worse state when I found it
Forward on the portside there was a pantry for a snack service and on the same side but aft was the Steward only service Bar.
Directly aft of this venue was the last on this Deck and that was the …
Verandah Café:

The Verandah Café was the Smoking Room, thus it was a two in One venue. It was a beautiful U shaped venue perfectly furnished in a more modern style as well as dark leather chairs and unusual squared tables of a new and a unique design. Room dividers were of maple and were fitted with long vertical light fittings, and even the ceiling lighting were very different, making this room a one of a kind and a stand out venue on the "

Himalaya".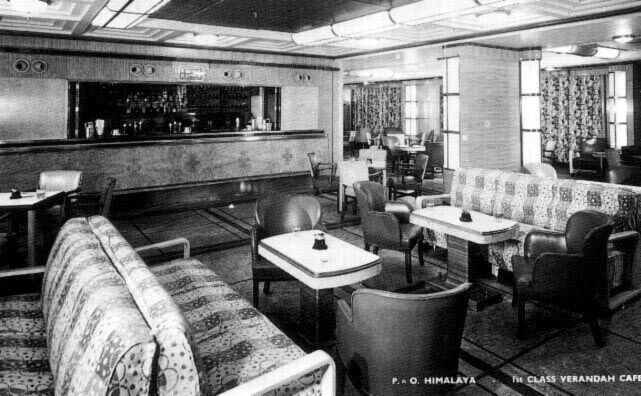 On the centre forward bulkhead was a large Bar and finally it was one that was accessible to the passengers, thus you could go to the bar and order a drink, unlike in any of the other venues where drinks were only available by ordering it from a steward.
Directly aft was another stairwell that only went down to B Deck, and on either side there was lounge style seating with tables.
A Deck:
This was a deck with mostly cabins, but it also did have a number of important other venues, such as at the forward Lobby along centre aft bulkhead was the spacious ships Shop which had a huge variety of items, from clothing, a host of daily needs, gifts and Souvenirs, and sweets, and so much more.
Directly aft of the Shop with the entrance being on the starboard side hallway were the Ladies Hair and Beauty Saloon and the Men's Hairdressing Saloon.
Promenade:
At the sides of the Lobby there were the door opened out onto the fully covered promenade deck, although not as wide as the Promenade above, but this deck was a full walk-around deck, thus perfect for those who loved their daily walk a mile or two around the ship.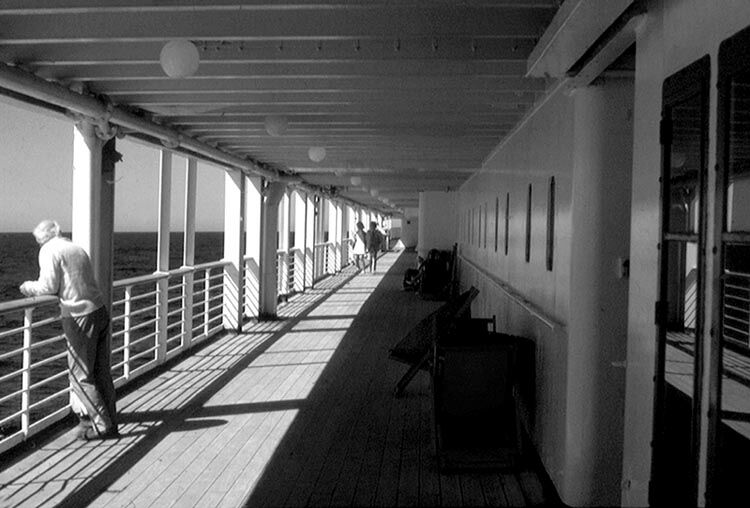 The A Deck Promenade port side looking forward
The windows seen are those of the Pool Café located far aft on this deck
Pool Café:
The delightful Pool Café a more casual venue and it was ideal considering it was just forward of the Swimming Pool and sweeping windows aft provided an overall view of the Pool.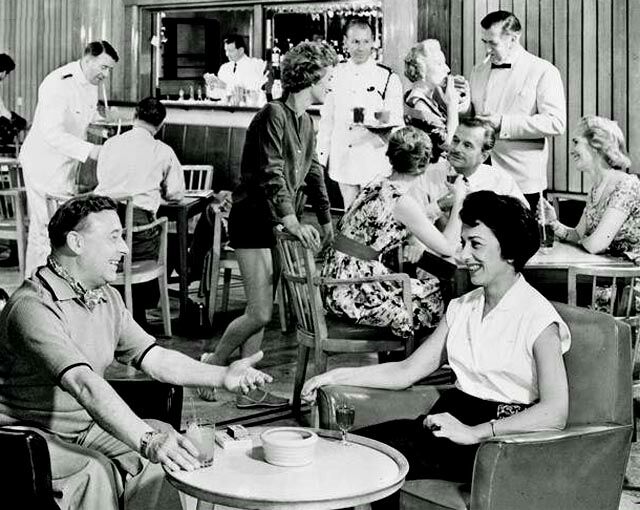 The Pool Cafe
This venue had that outdoor type atmosphere and it was perfect for the setting and although there was a full steward service available, however the Bar was open to the guests to obtain their drinks. Furnishings was in a more casual timber style, with round and square tables with Formica tops, as well as some leather lounge chairs. Two doors on the aft most windowed wall led to the deck and poolside.
The Swimming Pool:
The pool was perfectly sheltered by the surrounding facilities, with the ladies changing rooms and WC's on the starboard side, and the men's facilities as well as the Pool attendant room located on the portside.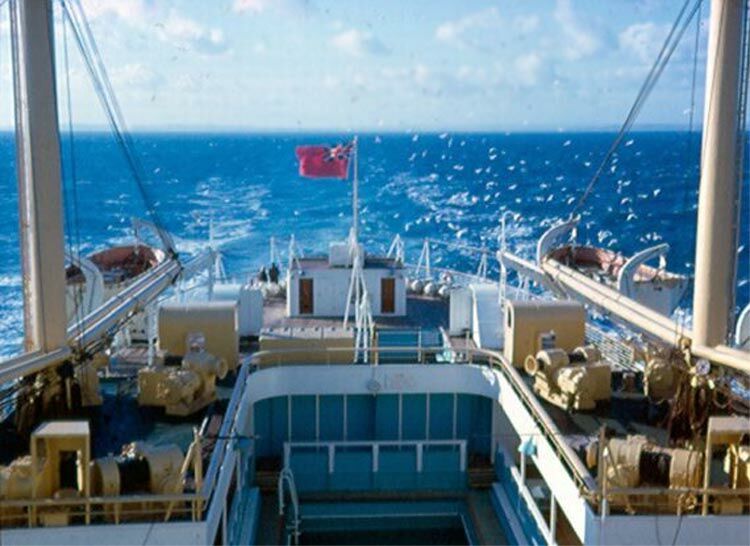 The Swimming pool is seen from Boat Deck above
Accommodations:
The vast majority of outside cabins on this deck had either a bath and WC, with a basin in the cabin, or a shower and a WC, etc. Others would use the many public facilities that were located in countless locations and were always nearby and kept spotless.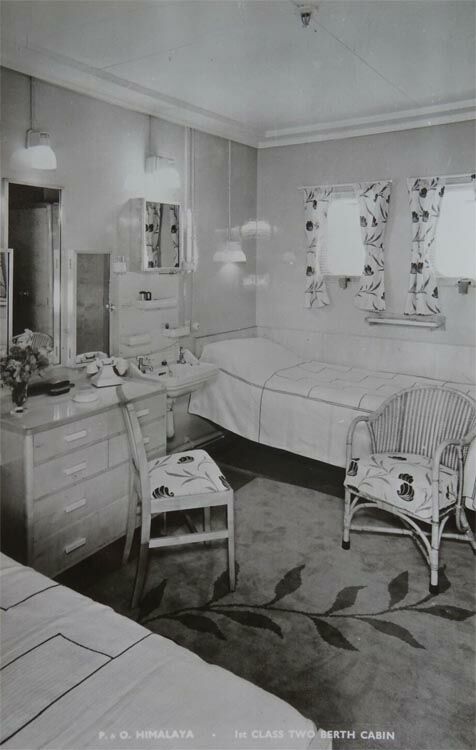 Twin bedded cabin with a bath & WC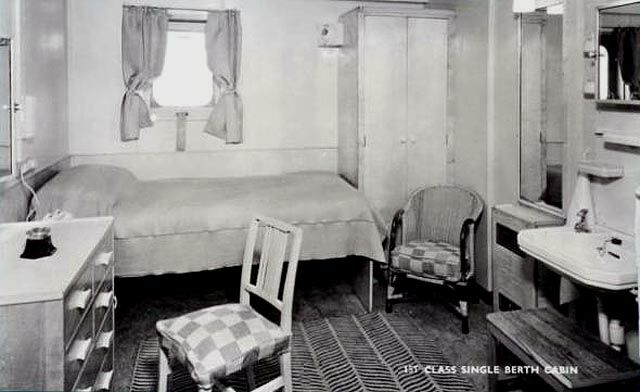 A Single bed cabin with a private shower & WC
B Deck:
Cabins

are the highlights on this deck, as the best of the best is to be found here. Amidships are two, one on each side De-Luxe Suites, which contain a spacious bedroom, a Lounge, and a large Verandah with large windows providing an excellent view of the seas or the country being visited. Of course there is a very spacious full bathroom with everything one could desire, as well as a huge amount of wardrobe space and the most luxurious furniture, and a trunk/suitcase room and so much more.

However, the two sections can be split and sold as individual Cabin De-Luxe, meaning that One has a spacious bedroom with a sitting space and is identical to the other four Cabins De-Luxe. Whilst the second part of the Suite has also a bedroom when sold separately, but the Verandah is the lounge and it has four large windows. There are also a good number of single and two bedded cabins with either a shower or a bath, etc.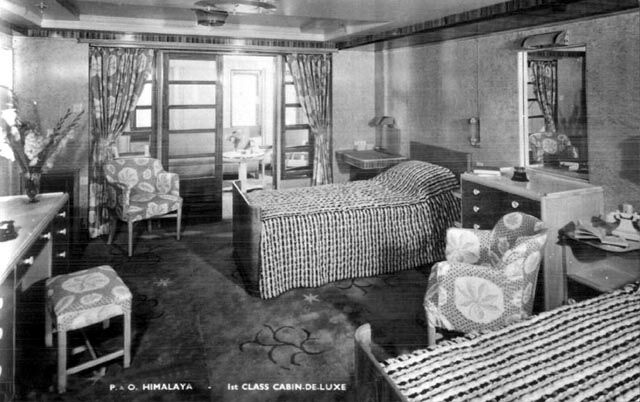 Here we see the Verandah part of the suite, being sold as a Cabin De-Luxe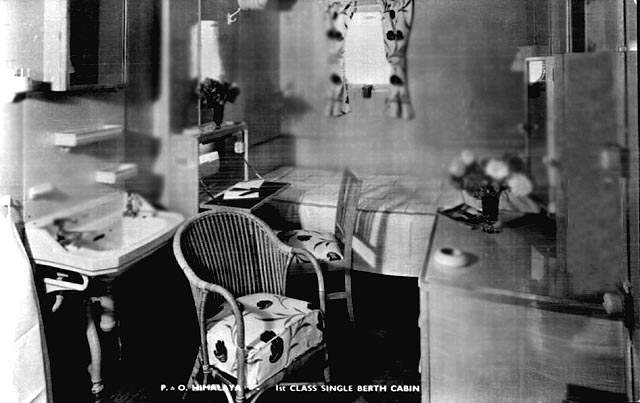 Another single bed room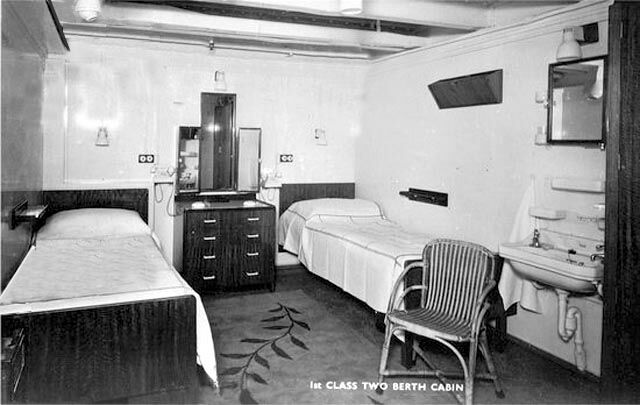 Here we see an inside twin bedded cabin
There is also an ironing room located on this deck. As we head aft of the cabins there is the aft main Lobby with a lift which goes from Promenade Deck down to B deck. Just forward of the Stairwell is the main telephone venue, where passengers can make use of the phone, as there are a good number of phones there. Located aft of the Stairwell and another lobby is the First Class is "Bureau" or as it is better known as the "Pursers Office", whilst on the starboard side there are a further five offices for the use of the purser and his staff, etc.
C-Deck:
Forward on the portside at the Main Lobby is a Dispensary, where the ships doctor can be seen, whilst far forward on the same side is the ships hospital with a theatre and four wards.
This is a much shorter deck with cabins as it only has cabins until amidships. Located forward they are all two berth cabins that is a cabin with a lower and an upper berth, all having a wash basin, but all with share facilities. The rest of the cabins are either singles or twin bedded, but all are use share facilities.
D Deck:
The heart of this deck is the Lobby which also happens to be the First Class Main Entrance Hall. Directly forward of the Lobby there were just 17 cabins, being either twin bedded or two berth cabins, all using share facilities.
Dining Room:
Whilst directly aft of the Lobby was the only other venue on this deck for First class and that was the Dining Room which was perfectly situated amidships. The venue was in many ways rather understated with soft tones and delightful timbers, but on the central forward bulkhead was a beautiful long mahogany buffet and above it was a stunning large mirror feature which contained a painting of tree branches with birds.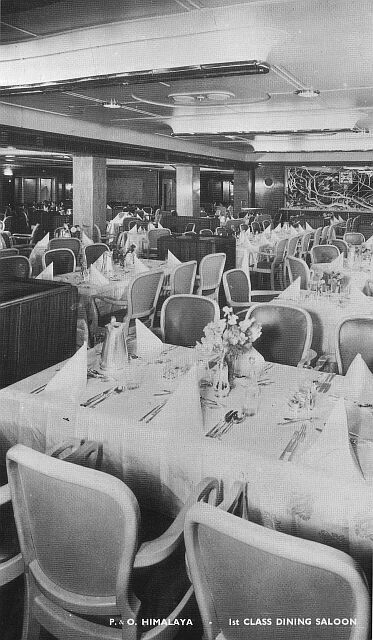 Above & below: Two views of the Dining Room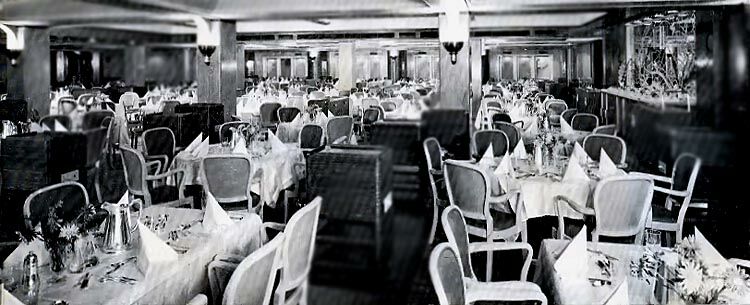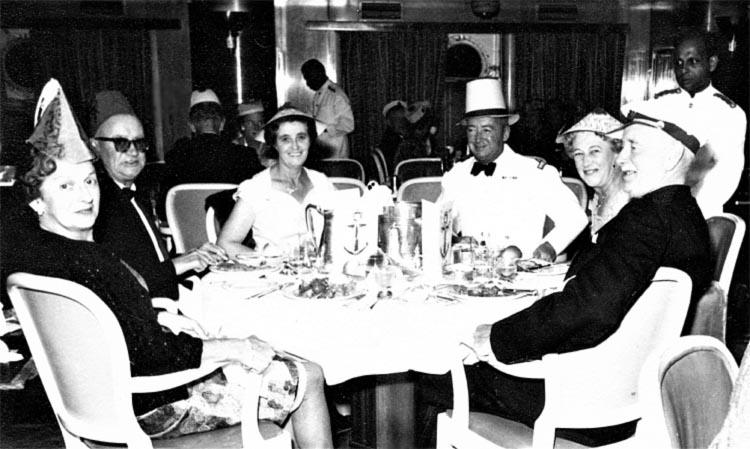 Guests at the Captains table
The Dining Room seated 389 passengers at tables for two, four or six dinners at square or round tables. Strangely, the entrance to the dining room was via one of the two 'revolving doors' that were located on the exterior side of the two Elevators (Lifts). Aft on the starboard side of the dining room there was a small private dining room, for special occasions, etc.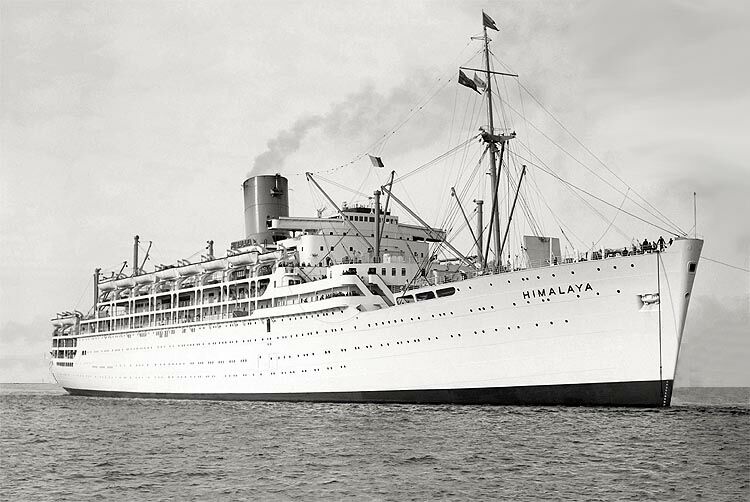 S.S. Himalaya seen at Port Phillip Bay Melbourne in 1950
******************************
Tourist Class
Tourist Class passengers were accommodated aft of the ship on A to E Decks. And they had every possible facility available to them one would expect on a passenger liner!
A Deck:
This was a wide open and a spacious Sun come Sports and general activity deck, and there was also a Swimming Pool, therefore this was obviously a popular area.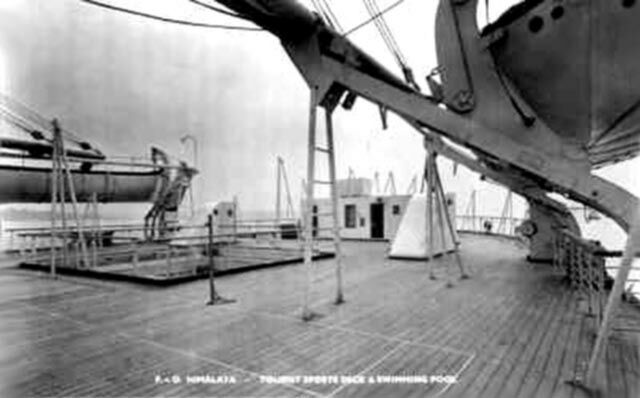 Sports deck and the Swimming Pool
B Deck:
Forward of on this deck for Tourist class was the Bureau (Pursers Office). But directly aft were two venues along the port side was the Dance Hall and on the starboard side the Cinema. Just as up in First Class the sides of the rooms had sliding glass doors that could be either open or shut with.
On the portside aft there was a Bar for steward service only. Outside there was covered promenade space and far aft the ships hospital.
C Deck:
The Tourist Class main stairwell commenced on this Deck and it went down to E Deck.  Just aft of the stairs on both sides there were two shops, offering general everyday items and specialty goods and souvenirs, etc.
Smoking Room:
Just aft was the spacious Smoking Room which was a large and a beautifully furnished and finished venue, featuring lighter timbers, and fine works of art and a large mural mover the aft fireplace. The bar was located forward of the venue and was open to the passengers. Along both sides huge windows overlooked the Promenade deck, and provided grand views of the sea during the day.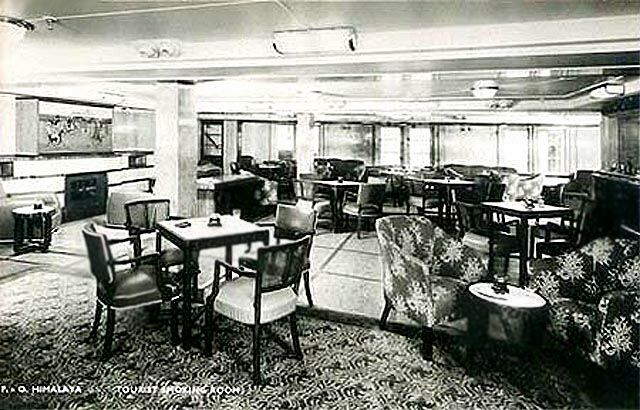 A most hospitable Smoking Room!
Children's Playroom:
Directly aft of the Smoking Room was the well-equipped Children's Playroom complete with every possible facility, also their outdoor safe playground.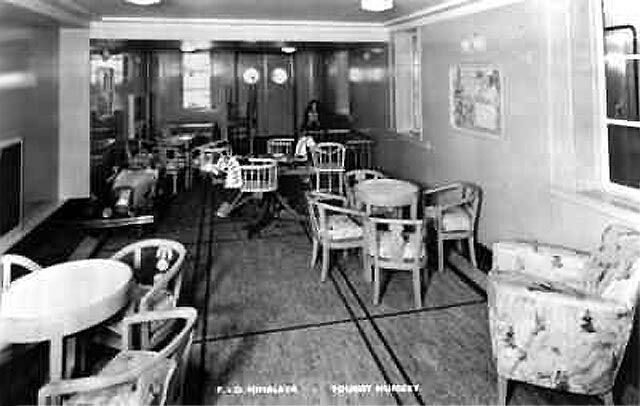 The Children's Playroom
Aft of the Children's Playroom, was a separated area for the crew who would be able to relax on that deck area there, often the Goanese crew would go there and enjoy their lunch there.
D Deck:
This Deck had two main Venues, the Dining Room forward and the Lounge aft, and in between these two there were 30 cabins.
Dining Room:
The Dining Room was tastefully fitted out, with maple and mahogany timbers, maple was featured mainly as walls and column trimmings, whilst the walnut was used in all furnishings including the cabinets and the large buffet. The room seated 208 passengers at tables for two, four or eight.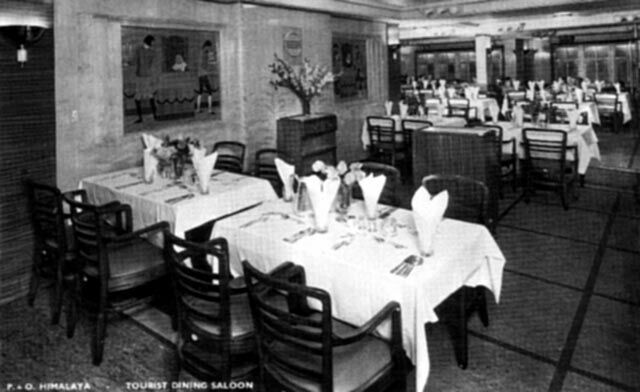 Above & below: Two views of the Dining Room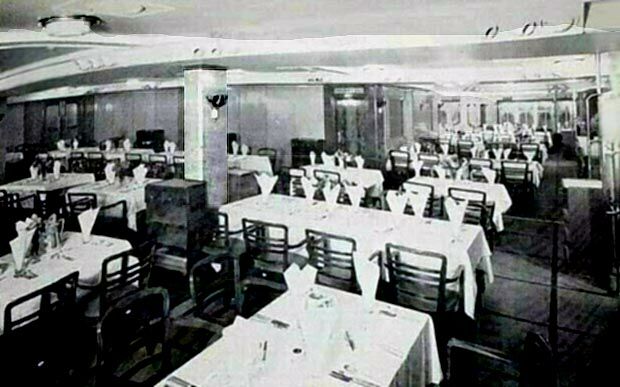 Personally I liked the chairs in this venue much better than those in the First Class dining Room, as those here seemed to be far better suited.
The Lounge:
Like the Dining room it is maple and mahogany that is featured in this delightful venue with its huge bay style windows on both sides. The lounge has that homely feel, and it is a room that was much loved by the passengers!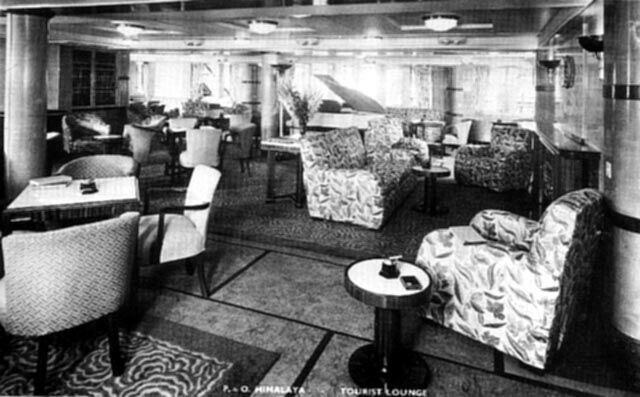 The delightful Lounge
Beside and directly aft of the lounge was a spacious covered promenade deck, which proved to be a popular space. But just further aft of this at the stern interestingly was the ships main laundry.
Accommodations:
Between the Lounge and the Dining Room there were those 30 cabins all these were two berth cabins, certainly not the world largest accommodations, but comfortable, with all having a washbasin with hot and cold water, but of course having to the use of the public facilities.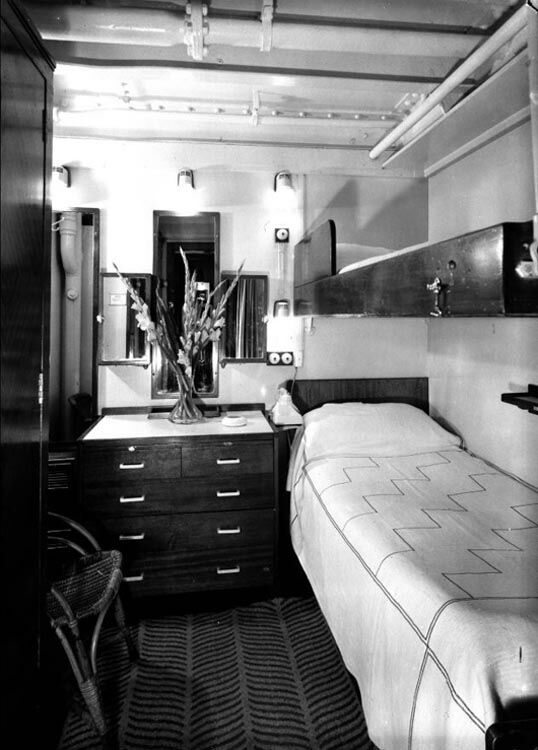 An Inside two berth cabin
E Deck:
This deck has the vast majority of the cabin's, there is a clump of them that goes as far back as the rear of the Lounge and as far to the forward part of the Dining Room. Then on the port side the Tourist Class cabins continue as far as where just one deck above (C Deck) the aft of the Main Entrance Hall starts.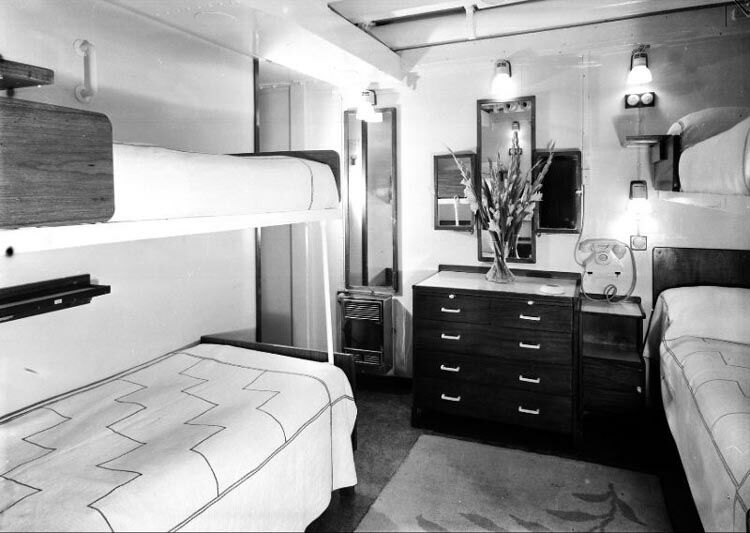 An inside four berth cabin with a washbasin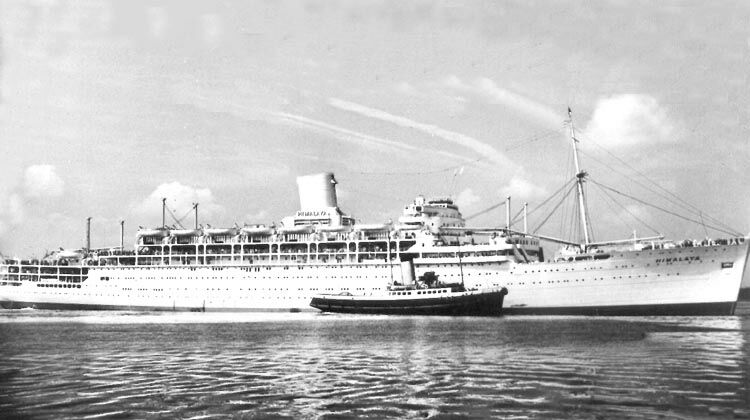 S.S. Himalaya is seen between 1949 and 1952
'Overseas Passengers Terminal' at Circular Quay
******************************
"Thorneycroft Funnel top" fitted 1953:
Both the "Himalaya" and her slightly newer and somewhat smaller sister "Chusan", had slightly shorter funnels than was the usual for those days, and they certainly did suffer from far too much soot and smut falling on their after decks. Instead of heightening the funnels, P&O had searched for other devices to resolve the problem, and after testing various alternatives they chose a smoke-deflecting top that was designed by the revolutionary "Thorneycroft's" of Southampton. Back in 1952 one had already been fitted to the "Chusan's" funnel and it proved to be extremely effective and as a bonus it even improved the appearance of the S.S. Chusan.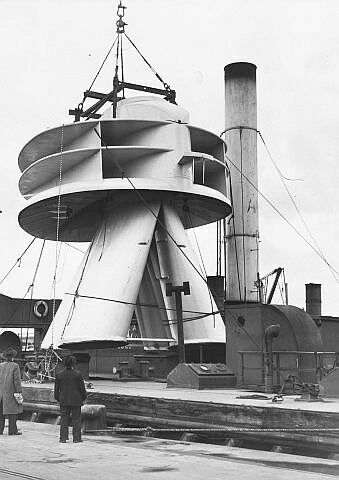 The Thorneycroft's extension, the bottom part fits inside the funnel
Thus in 1953, the famed Thorneycroft funnel top extension was added to "Himalaya's" funnel and it had excellent results.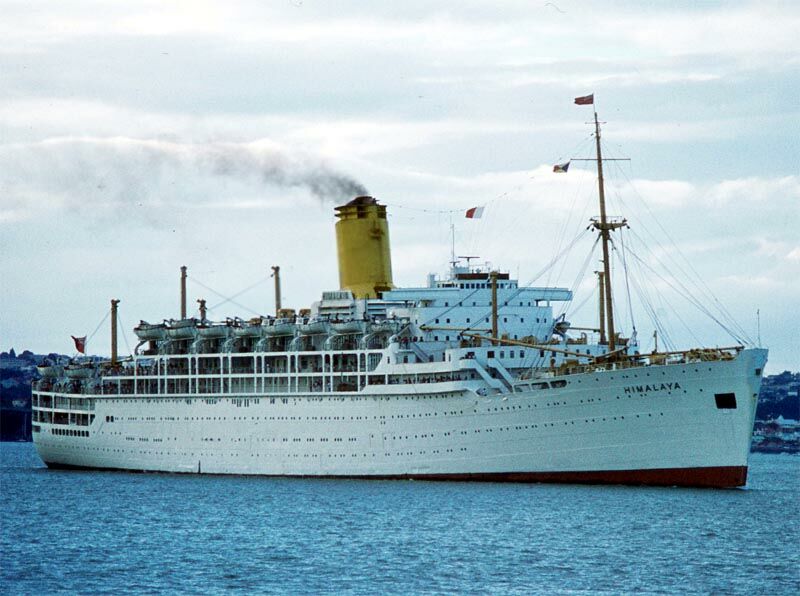 "Himalaya" is seen arriving in Sydney with her new look funnel in 1953
A VIP Passenger:
In 1956 a VIP passenger joined the "Himalaya" and this was Lady Clementine Churchill, and Sir Winston Churchill came to bid his wife farewell at Tilbury on February 17, 1956. Lady Churchill was leaving aboard the S.S. Himalaya for a voyage to Colombo, Ceylon.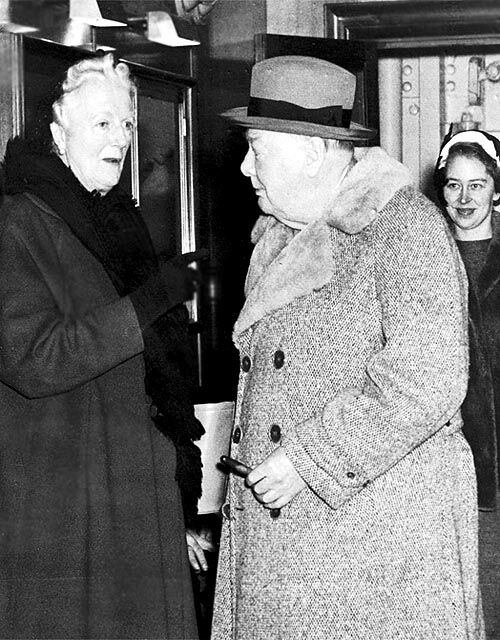 Sir Winston Churchill saying farewell to his dear wife Lady Clementine aboard the "Himalaya"
Having completed a cruise in August 1956, she was about to depart on her next Voyage to Sydney Australia, which as it turned out was far from being a normal voyage to say the least!
A

 

Sad Voyage:
She departed Tilbury at 1511 hours on August 27, 1956  which should have been a routine voyage to Australia, but that was not going to be so. The "Himalaya" was under the command of Captain H. Maller who took over the ship only on August 13 and the Chief Engineer was Mr. F. H. Goodall. Just three days after departure at 1845 hours on August 30, with the ship being at position 36°-35'N/Long 00° - 0'8E, off the coast of Algeria
when suddenly there was an explosion in a refrigeration unit, located on the starboard side in a working area on E Deck. The blast sadly caused severe burns and injuries and tragically two members of the crew were killed instantly, with another 14 crew members being injured, with a number of these being a critical condition having suffered terrible burns. The ships medical staff did all they were able, and the senior in charge also requested if there were any doctor's on board, and thankfully there were, and they came and were very helpful.
Thankfully the ship herself was fully functional and was able to steam full speed ahead and contacted Algiers, but the port were closed as of Midnight, thus the "Himalaya" had to head at full speed to Valletta, Malta. Early in the early morning of August 31, even though all the very best intensive care had been given to all the injured, especially those who were so severely burned, tragically two of the most critically injured men had sadly succumbed from their massive and passed away. Thus now there were 12 still badly injured left, most of who were Goanese. Before arrival to Malta a solemn ceremony was held for the body of Mr. A.K. McConnell, who was the First Refrigeration Officer was committed to the deep, as he had taken the full force of the explosion.
The "Himalaya" then headed to Valletta and berthed at Malta's Grand Harbour at 0415 hours on September 1. There were ambulance after ambulance to take all the injured to the 'Bighi Naval Hospital' where all the injured were well taken care of medically and would be flown home as soon as it was possible. Although the "Himalaya" had departed that same day she arrived at 2200 hours and continued her voyage and 48 hours later she arrived at Port Said. However news arrived whilst she was on the Indian Ocean that tragically one other member of the Goanese crew had sadly died from his injuries, thus now the death toll had risen to five, which was one of the ships greatest tragedies!
She continued her regular voyage and she arrived at Sydney in the morning of September 28, 1956. But here again, something was going to change again, for it seemed that this was never going to be a normal voyage! Captain Mallet was advised the route back to Liverpool had to be changed and they would now be sailing via Cape Town and Las Palmas and the reason for the change being the political tensions in the Middle East between the British and the French and Egypt, etc, and the British government warned all shipping to stay clear of the Levant area and the Suez Canal.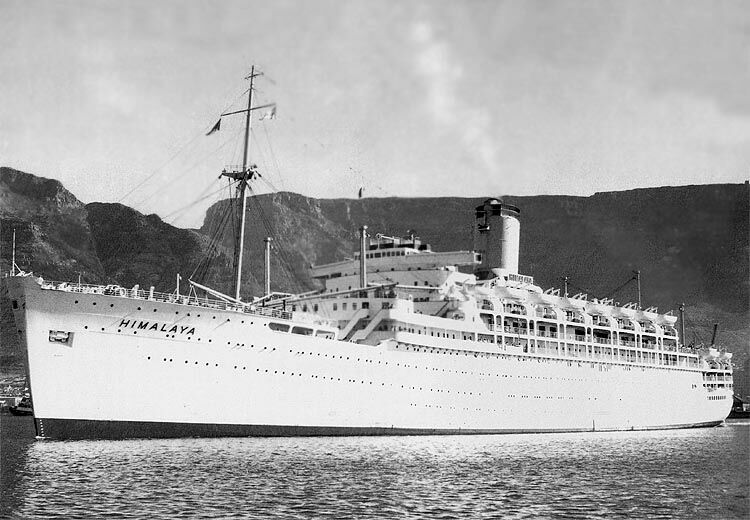 S.S. Himalaya arriving at Cape Town in October 1956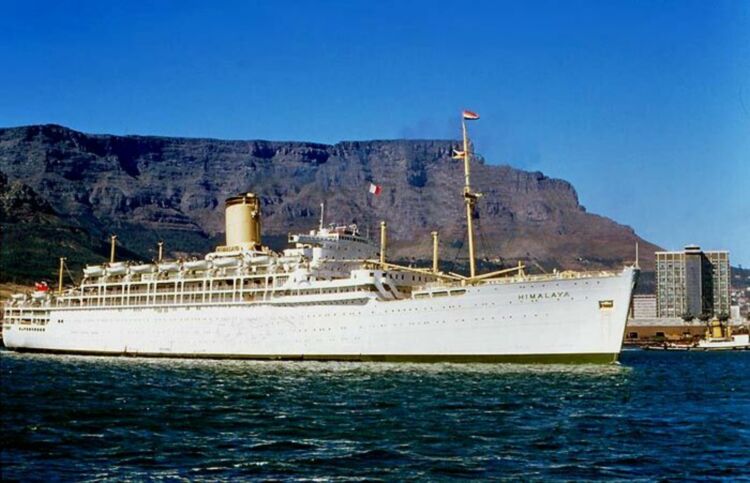 The "Himalaya" is now seen departing Cape Town in October 1956
Image was kindly sent by Johannes de Vries of South Africa
New Around the Word Service:
Some major changes took place in January 1958 when P&O and Orient Line services to Australia were extended to sail via the usual service but return via New Zealand, Fiji Asia and the USA , etc, in a joint service marketed as the "Orient & Pacific Line".
The Himalaya was the first ship to commence this new around the world service, when she departed Tilbury on January 12, 1959, on a round trip of 79,000 km (49,250 miles) to Australia, then from Sydney to New Zealand, Pacific Islands, Asia, Canada, USA, via the Panama Canal, homewards with a range of assorted ports etc.
Ports of call for the full around the world service was as follows:
Tilbury (London), Southampton, Le Havre, Lisbon, Gibraltar, Marseilles, Naples, Port Said, Aden, Bombay, Colombo, Penang, Singapore, Fremantle, Adelaide, Melbourne, Hobart, Sydney, Auckland, Suva, Manila, Hong Kong, Kobe, Yokohama, Honolulu, Vancouver, San Francisco, Los Angeles, Panama, Colon, Trinidad, Las Palmas, Madeira, Tilbury.
A Dutch Refit:
During the Northern Hemisphere winter months of 1959/1960 she was given a major refit at Flushing in the Netherlands that included the installation of full Air-Conditioning throughout the ship. In addition Denny Brown stabilisers were fitted. Then in May of 1960 her management and operation was transferred to "P&O-Orient Lines".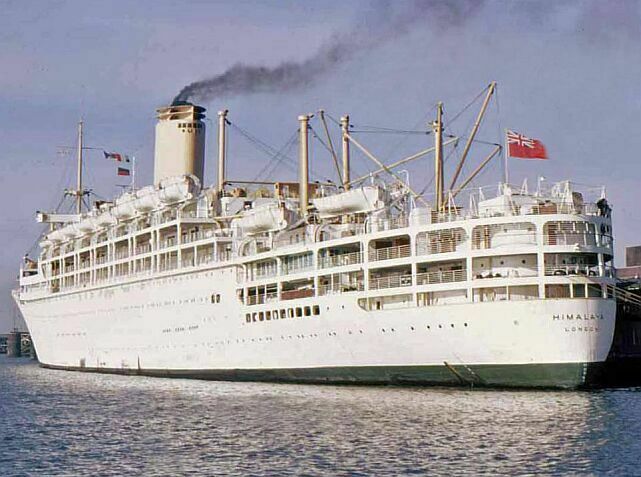 S.S. Himalaya is seen at Tilbury getting ready for her next around the world voyage
Carry on the

Himalaya

:
For passengers on board a voyage in October 1960 it did become a bit like a 'Carry On' Movie when they arrived at Colombo and this is why?
It was discovered that a very strange event took place on the ship, for apparently there was a man on board by the name of 'Stephen Bradley' who had abducted and murdered an eight year boy who was the son of Australia's first ever 'Sydney Opera House lottery' winner.
Back in Australia a search for Bradley revealed to the police that he had departed Sydney for the United Kingdom with his wife and their children on the S.S. Himalaya on September 26, 1960, and the ship was en route to Colombo. With the Police having a warrant in hand, they flew to Colombo and there plain clothed police boarded the ship where Bradley was removed from the "Himalaya" as soon as she docked, even before anyone was permitted to leave the ship. Bradley was placed into custody, and then two days later on November 18, he was extradited back to Sydney, Australia by air to face trial. Whilst the ship having already left for the UK.
You may have noted that the Himalaya was returning to the UK once again via the Suez Canal, even though, there was a round the world service, I have no idea why, but that was of the company's making its own decisions.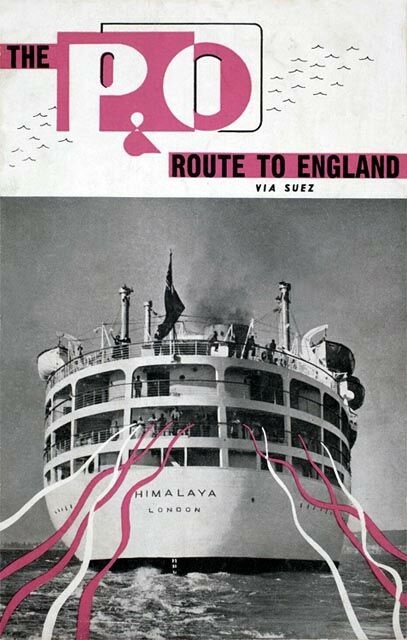 A P&O Australia brochure released in 1960
It's all
Cricket

:

Long before the arrival of long-haul air travel, the Australian Test Match teams would annually travel to England on board P&O liners, and they had done so in March 1956, on the S.S. Himalaya as well as in 1961 as we will see below.

The Australian 1961 Test Team, Captain Richie Benaud and the Vice Captain Neil Harvey are seen on board the S.S. Himalaya as they and the team were going to Tilbury for their next big game in the UK.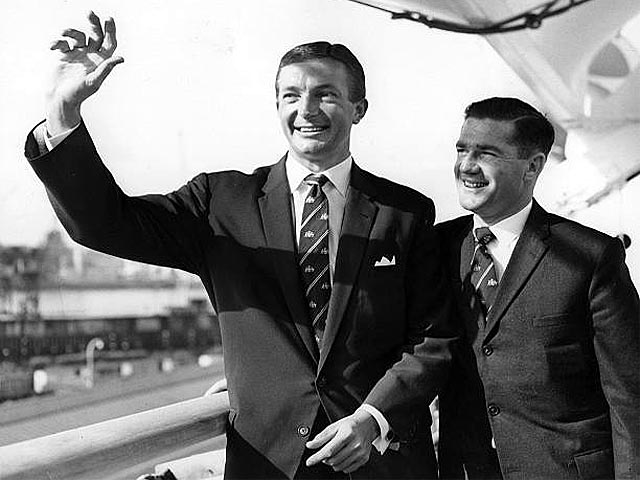 Richie Benaud and Neil Harvey waving goodbye to their family as the "Himalaya" departs
The Australian tour party consisted of these players: R Benaud (Captain), R N Harvey (Vice Captain), A T W Grout (wicket keeper), B N Jarman (wicket keeper), W M Lawry, N C O'Neill, P J P Burge, C C McDonald, B C Booth, R B Simpson, K D Mackay, A K Davidson, F M Misson, G D McKenzie, R A Gaunt, I W Quick & L F Kline.
And of course Australia won the series to retain "The Ashes" and that's Cricket!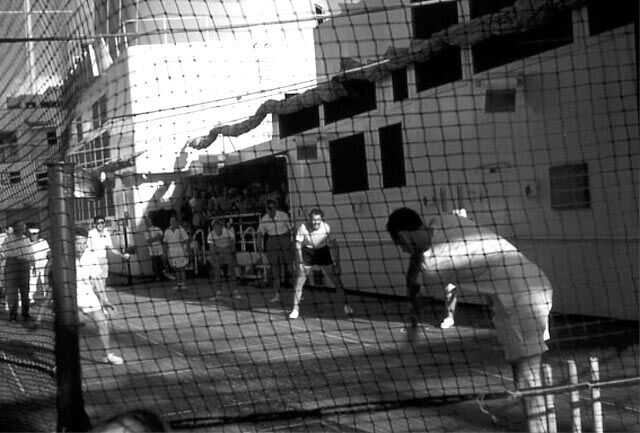 A game of cricket up on Boat deck
Although there had been other cricket teams on the S.S. Himalaya Long before the arrival of long-haul air travel, the Australian Test Match teams would annually travel to England on board P&O liners, and  they did so in March 1956, on the S.S. Himalaya and again in 1961 and both of these tours are shown below.
And here is the Australian 1956 Cricket Test Team who also sailed on the "Himalaya", with the Captain being Ian W. Johnson; but sadly they did not win "The Ashes" in that year. But they had a great time on board the Himalaya! The photograph below shows the entire team whilst they were in England.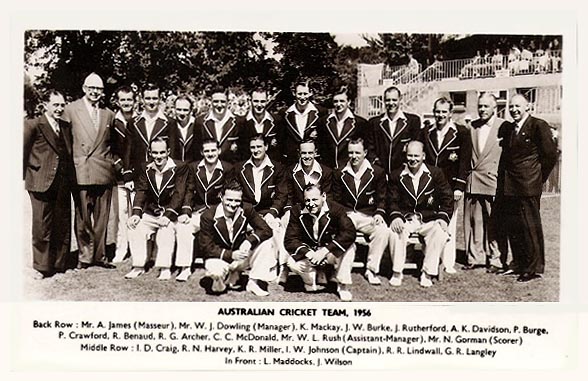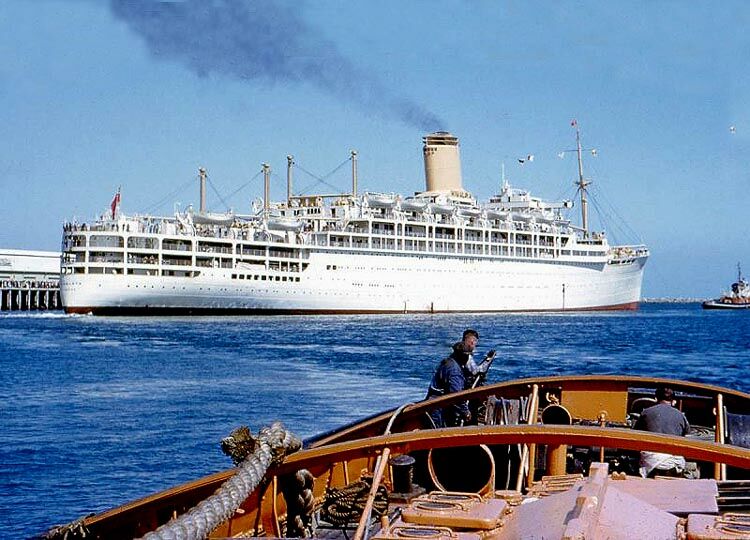 The S.S. Himalaya is at Adelaide (South Australia)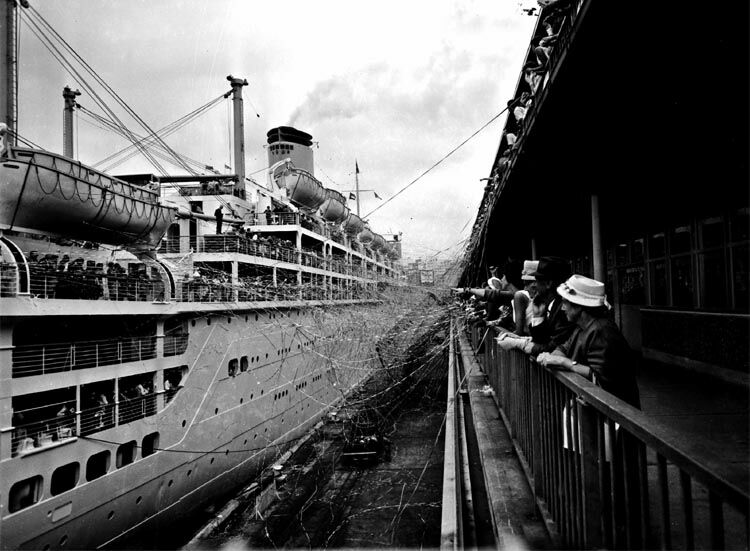 She is about to set sail and cross the Tasman Sea for Auckland New Zealand
and then continue for her long voyage back to England
There was something about the Tasman Sea, and I have sailed it countless times. The truth is most times I have crossed it I think I have been very lucky for it has been as smooth as silk, and the weather simply beautiful. But on several occasions, well it was as wild as I know the Tasman can really be, for it is well known that it can be a really rough ride, to say the least!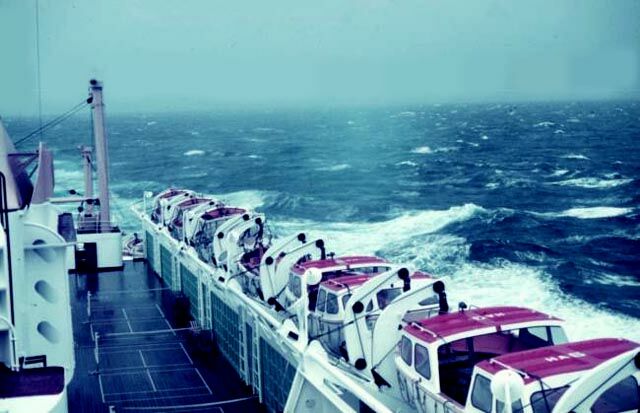 Above & below: the Tasman Sea not even at its worst, that is just it being a naughty girl
For she can get very much worse, and the waves will go right over the top of the ship,
but I did not photograph that, wish I could
These images were taken by an unknown source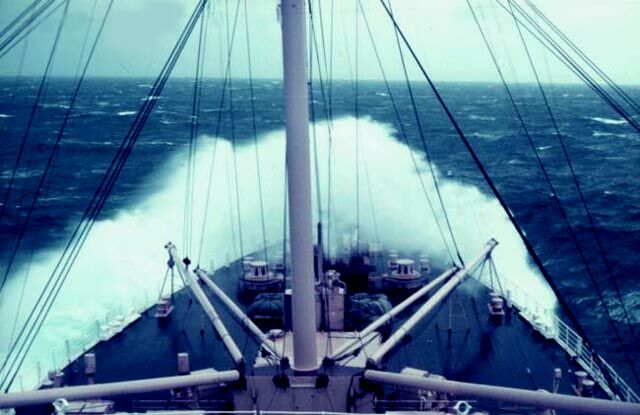 Refitted into a One Class Ship:
On November 8, 1963 she arrived at Tilbury and she was taken over by 'R. & H. Green and Silley Weir Ltd' as she was due for her annual overhaul, but this time she would be given an extensive refit  as she was to become a One-Class ship. During the refurbishment the two small lounges besides the Stairwell forward on Promenade Deck were renamed the 'Hillary' and the 'Tensing' Rooms. The main First Class Lounge became the 'Everest Room' and the old First Class Verandah Café was completely rebuilt and became on the portside the 'Overland Bar', whilst on the starboard side it became the "Cinema" with seating for 140 persons. Whilst on B Deck the former Tourist Class Ballroom was also split, with the portside becoming the 'Yeti Tavern' complete with a Juke Box, and the starboard side became the 'Cascade  Room'. Whilst aft on C Deck the Smoking Room became the 'Boot & Piton'. The Children's Playroom was turned into the aft playground. And finally at the aft end of D Deck what had been the Tourist Class Lounge became the 'John Hunt Room'. The Dining Rooms were renamed as follows, the one located forward became the 'Drake Restaurant' and the aft one became the 'Tasman Restaurant'. Thus the Himalaya had an entire new look as well as a new identity, and that was especially noticeable to past passengers and they certainly liked what they saw! Below I have just a few of the new images.
In addition to the many changes made, her passenger capacity increased by 280 berths, for passenger numbers rose from 1,136 to 1,416 with some of A Deck's single bed cabins having a second berth added, whilst two bedded cabins became four berth cabins mostly on B Deck, etc.
Upon completion she was a very attractive One Class - 'Tourist Class' Liner and Cruise Ship, and she would now be used on both assisted immigrant as well as paying passenger voyages, as well as operating on occasional vacation cruises from Southampton as well as from Sydney, Australia. When she was completed she was registered as being 27,989 GRT.
Her New Look Interiors:
Below are several photographs of her new look interiors, the one of the Lounge I happen to have, but the other three I received from a long time reader from the UK, Jonathan Maingard, and I am most thankful to him.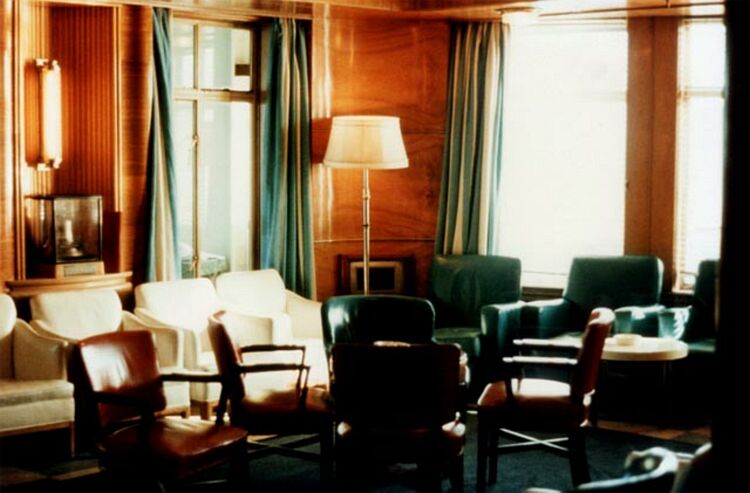 The Hillary Room portside far forward of the Lobby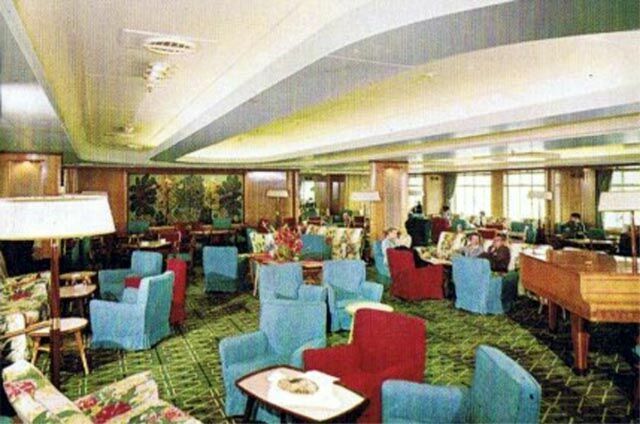 The Lounge was now named the 'Everest Room'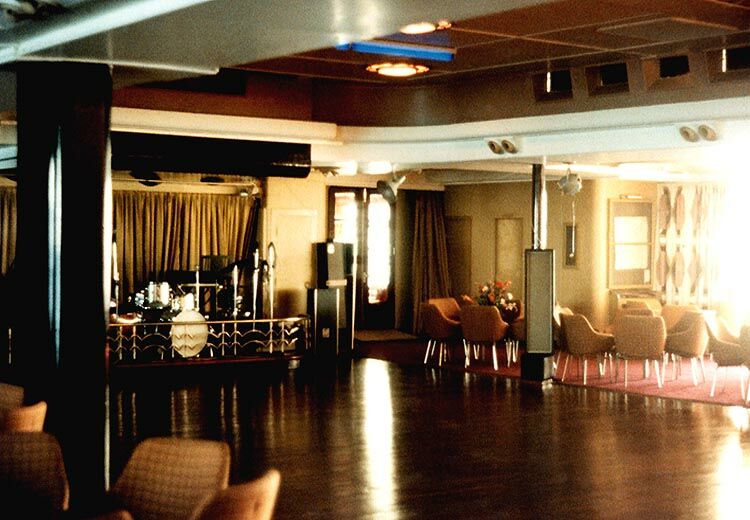 The original First Class Ballroom was now greatly updated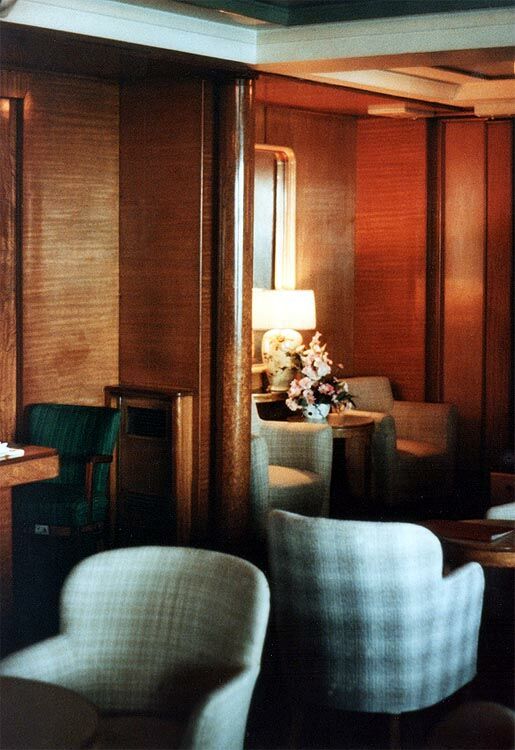 The Library certainly had a magnificent makeover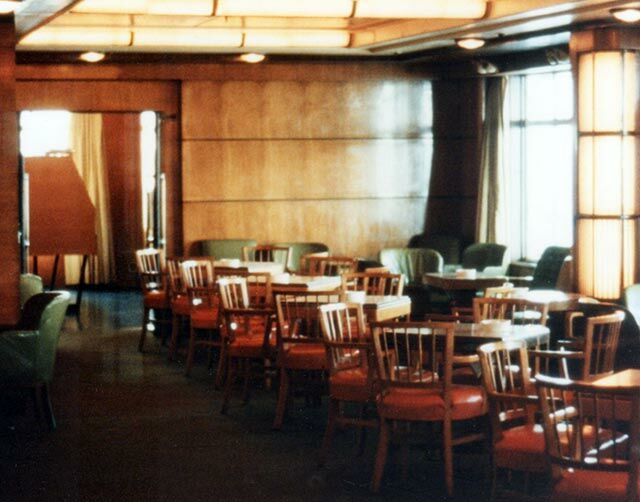 The ex first class Verandah Café was now the 'Overland Bar'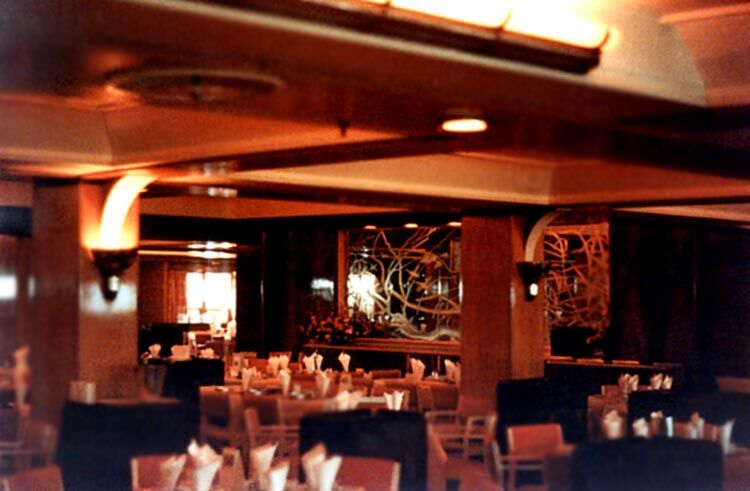 The forward Drake Restaurant
On November 21, 1963 a fresh new looking S.S. Himalaya set sail from London as a full fledged One Class Tourist Liner to Australia and passengers were delighted to finally have the run of the entire ship,. With so many excellent public venues and vast deck spaces to choose from!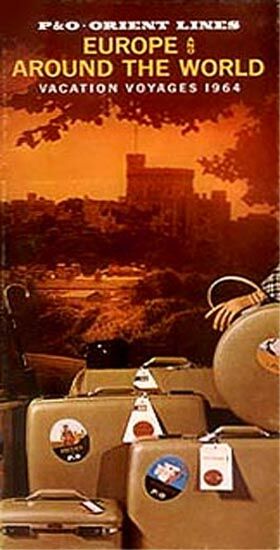 The New around the world schedule for 1963 – 1964
For the: S.S. Canberra, Oriana, Arcadia, Iberia, Himalaya, Chusan, Orsova, Orcades & Oronsay
Her new much longer route was as now as follows: London, Rotterdam, Flushing, Southampton, Le Havre, Lisbon, Gibraltar, Barcelona, Marseilles, Naples, Malta, Piraeus, Port Said, Aden, Bombay, Colombo, Penang, Port Swettenham, Singapore, Fremantle, Adelaide, Melbourne, Sydney, Auckland, Wellington, Savu Savu, Suva, Pago Pago, Manila, Hong Kong, Kobe, Yokohama, Honolulu, Vancouver, San Francisco, Los Angeles, San Diego, Acapulco, Panama, Cartagena, Trinidad, Nassau, Port Everglades, Bermuda, London.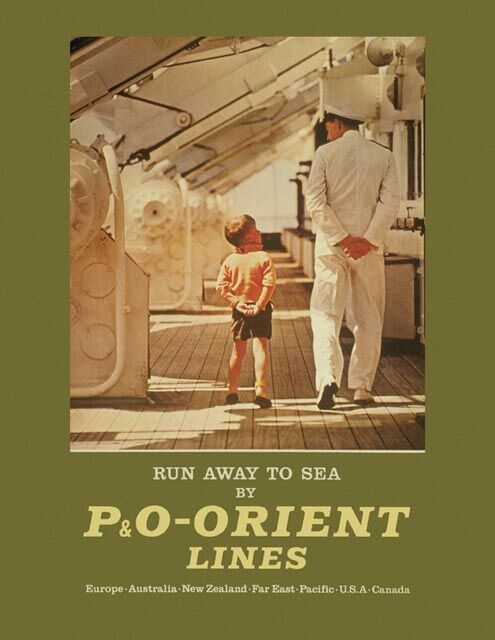 A 1960's P&O-Orient Lines brochure
Just three years later, in 1966 her management and operation returned once again to P&O Lines.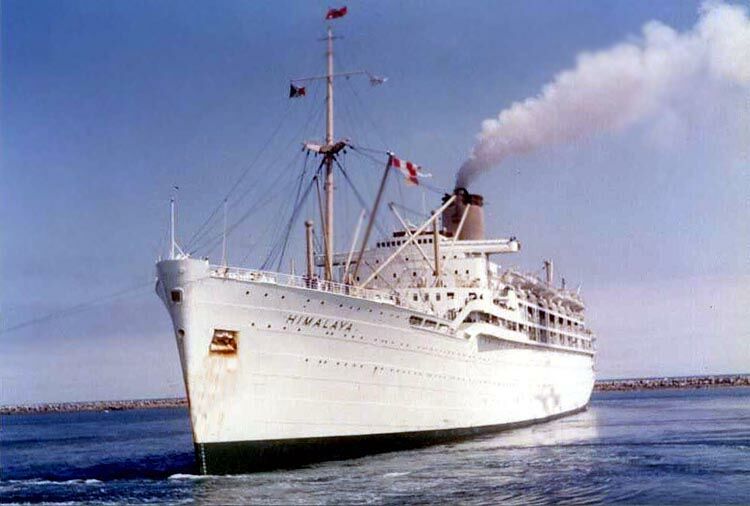 The "Himalaya" is seen in Port Phillip Bay as she arrived at Melbourne, Victoria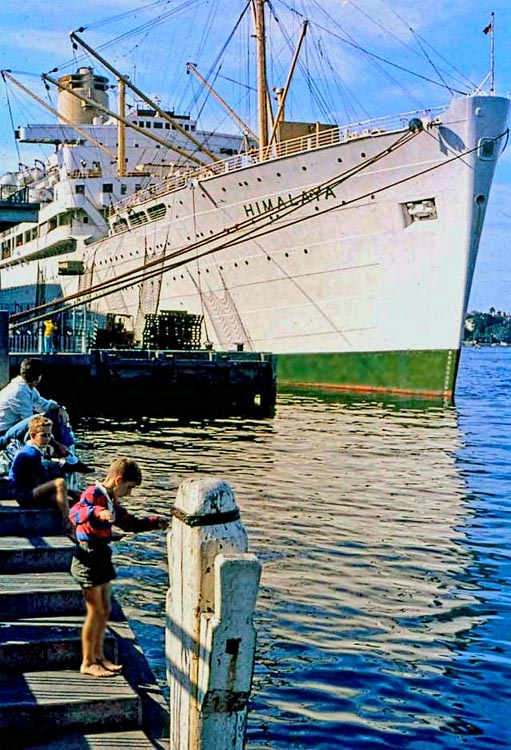 And the S.S. Himalaya is seen here berthed at Sydney's
'Overseas Passengers Terminal' at Circular Quay
P&O Changes their Base:
On October 10, 1969 the "Himalaya" departed Tilbury for the final time the reason being was that P&O was moving their base to Southampton. This was certainly big news in London and it certainly made the news, as we can see below;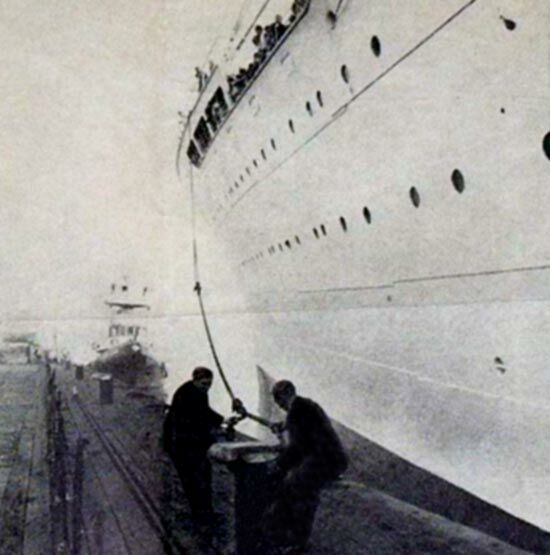 Her departure made all the Newspapers with this image for here we can
see the "Himalaya's" last line being removed as the last P&O liner
departs Tilbury on October 10, 1969 for the very last time!
S.S. Himalaya the Cruise Ship:
From 1970 the "Himalaya" was almost exclusively used as a full time cruise ship, and during the Northern Hemisphere summer (May to October) she would operate cruises from Southampton, and then in September 1970, she would undertake a one way line voyage to Sydney, Australia.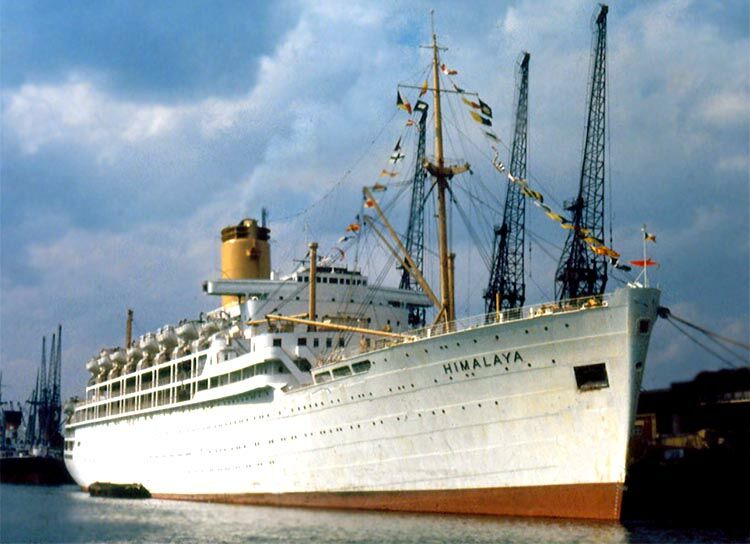 She is due to sail for Sydney today
Once she arrived in Sydney she would commence a series of cruises from Sydney around the Pacific and New Zealand, etc, visiting the many tropical Islands such as New Caledonia, Vanuatu (The New Hebrides), Fiji, Samoa, Western Samoa, and New Zealand with ports varying at different cruises, pending length, etc.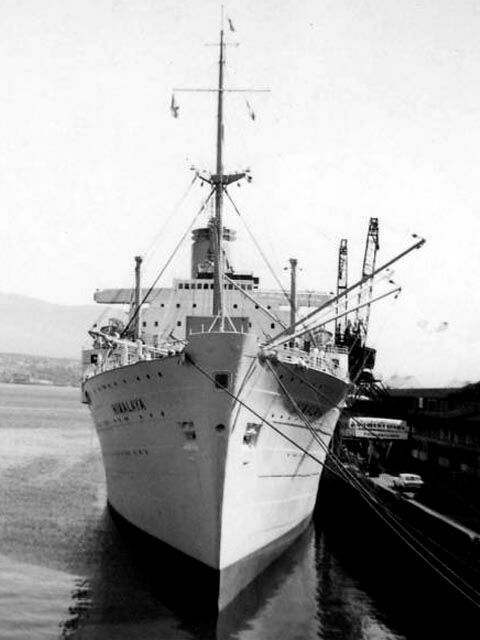 S.S. Himalaya is seen during 1970's Cruise services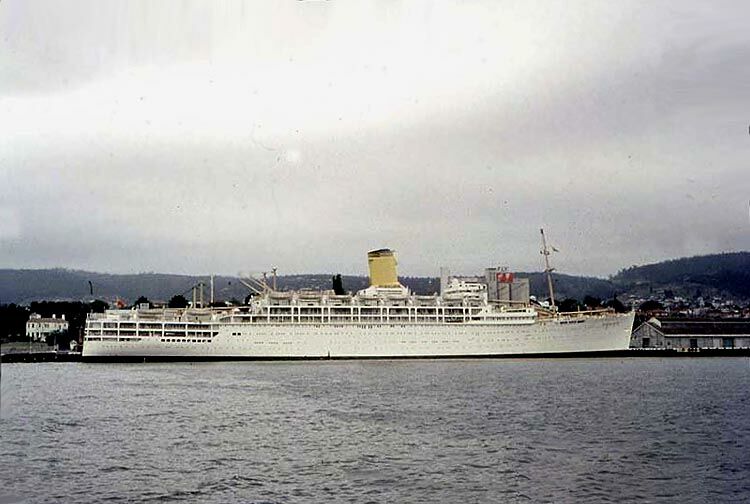 Above & below: S.S. Himalaya is seen at Hobart, Tasmania, Australia
whilst on heading to Sydney during her line voyage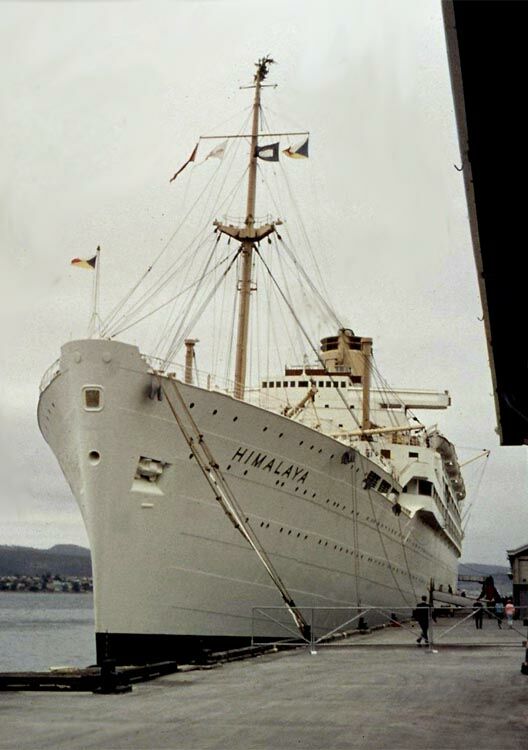 When in Sydney she would on occasion's head off on a scheduled cruise to the Pacific Islands and then returning to Sydney via Auckland New Newland.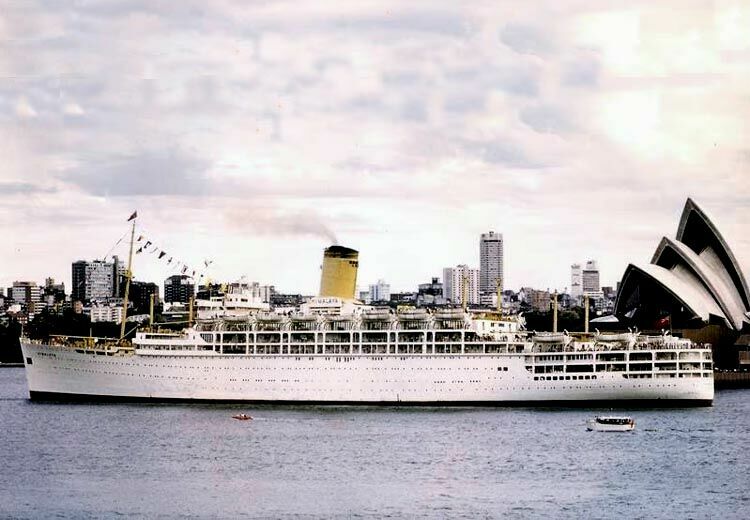 S.S. Himalaya became an extremely popular cruise ship and she seen here heading off for yet another cruise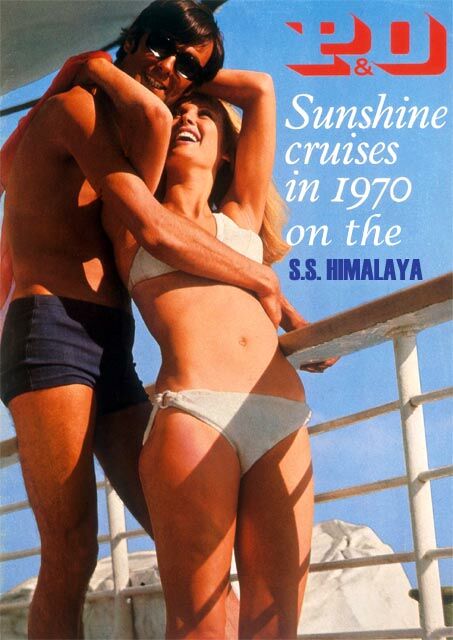 One of the 'P&O Sunshine Cruise' series of brochures
In Australia the "Woman's Weekly Around the World Tours" had become extremely popular and these would sail to and from to the UK by ship and P&O was their company of choice. Thus after an exciting voyage to the UK, groups would be allocated and be sent on tours of the UK, travelling via Scotland and around Ireland and the UK, or others in reverse, and other groups would head first via France and end in Europe in Amsterdam and then do the British tours, or start on Amsterdam and end in France, etc. Then they would have several weeks at their own expense and finally re-join a P&O ship, not always the same ship, and return to Australia.
On March 27, 1973 the Himalaya arrived in Southampton with some 1,400 passengers of whom 950 were women on a World Discovery tour organised by the Australian magazine the "Woman's Weekly".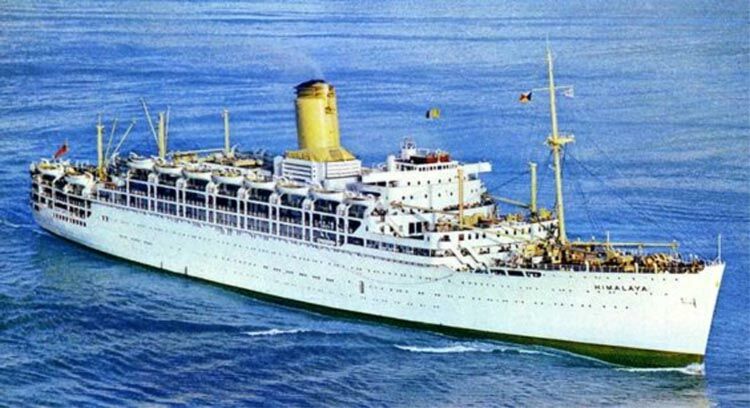 S.S. Himalaya is seen having just passed through Sydney Heads and is heading for Auckland early in 1973
The "Himalaya" continued operating both her line voyages as well as her popular Pacific cruises.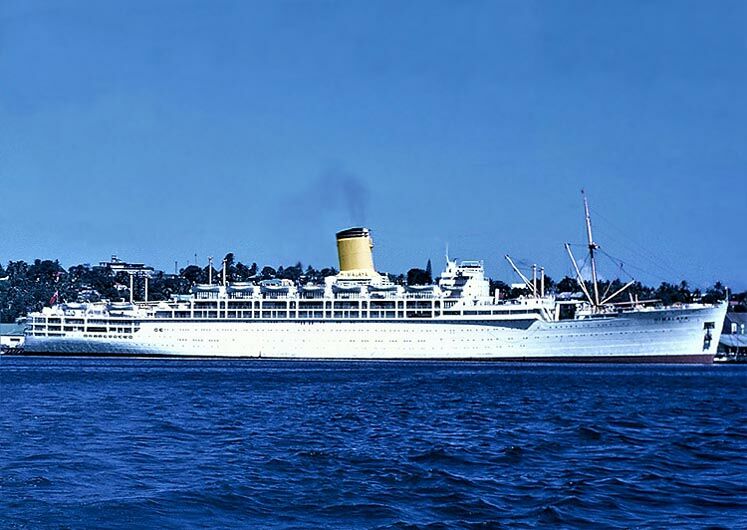 S.S. Himalaya is seen berthed at Suva (the Capital of) beautiful & tropical Fiji on December 1, 1973
Photograph provided by Johanes de Weerd
Although the "Himalaya" was a popular ship and she continued to do well, but it was her cost of operations that made P&O decide to use one of the newer ships to replace her. Even though the "Himalaya" was only 25 years old, P&O decided that with both the newer S.S. Iberia and S.S. Arcadia in service it would be best to retire the older "Himalaya". Thus around April or May 1974 she was sold to "Mitsui & Co", although at some time that company resold her to "Tong Cheng Steel Manufacturing Co. Ltd" being a Taiwanese ship breaker. Apparently all this happened whilst the "Himalaya" was at sea.
Then, in April 1974 the "Himalaya" made what was her very last voyage back to Southampton being fully laden with holiday makers all enjoying an amazing voyage of discovery sailing via the Pacific, Asia, the USA through the Panama Canal, etc.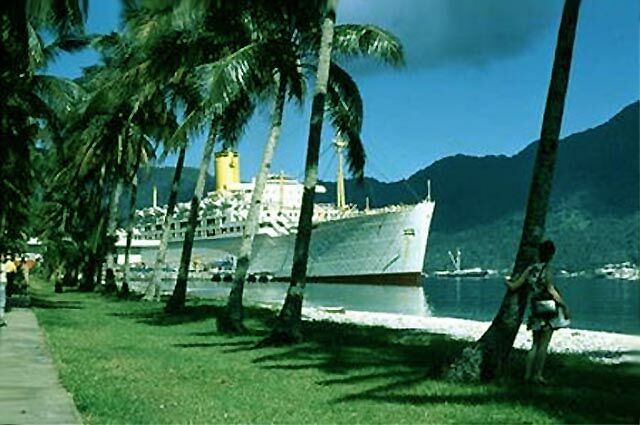 Here she is seen at 'Pago Pago' the Capital of American Samoa being situated on

'Tutuila Island' during her last voyage back to Southampton, the UK

Upon arrival at Southampton however, she departed again on May 16, being her final departure from the

United Kingdom and she sailed via Cape Town, South Africa to Sydney.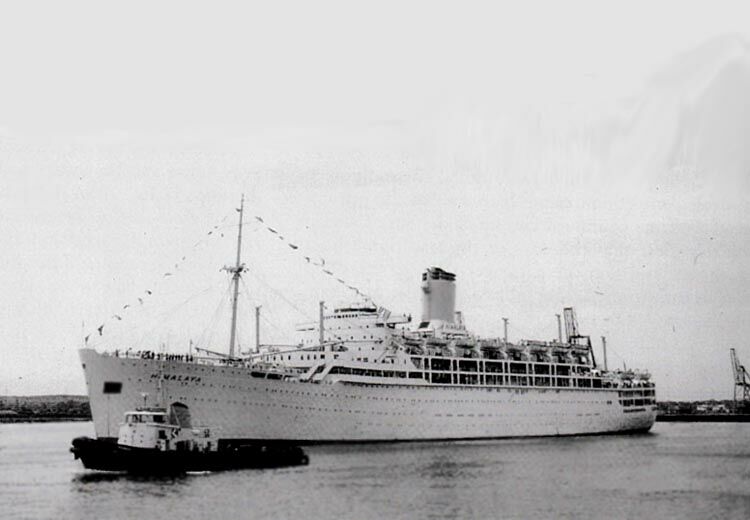 S.S. Himalaya is seen on the Solent departing on her very last Line Voyage ever from the UK to Australia
For her passengers this voyage proved to be a very special farewell line voyage and they enjoyed the entire experience greatly, for as a ship, she was as good as she had always been. Once she arrived in Sydney she recommenced her popular Pacific Cruise Programme from Sydney.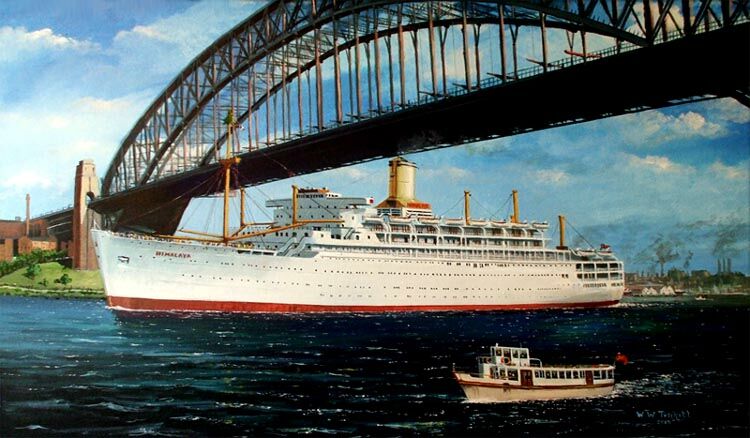 A fine painting of the S.S. Himalaya in Sydney - it was painted by the brilliant New Zealand Maritime
Artist Wallace Trickett, click the following Link to visit his website - Maritime Paintings
When she arrived back in Sydney after her last scheduled Australian round cruise, she was made ready for her very last cruise ever, being a one way 14 day cruise to Hong Kong.
She departed Sydney on October 18, 1974, for her grand farewell with her paying off banner proudly flying from her forward mast. There were people all over the harbour, right up to Sydney Heads as they would be up there to see her go through the 'Heads'  and leave Sydney and go out to sea and head North heading for her first port of call 'Brisbane' in Queensland.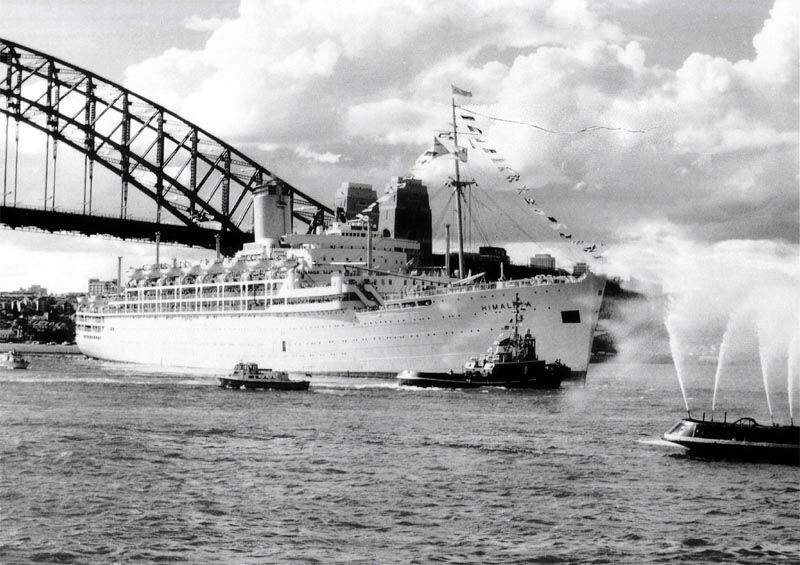 "Himalaya's" departure from Sydney on October 18, 1974, and she was flying her long Paying off pendant
With the "Himalaya" having departed Sydney she headed for Brisbane where she arrived early in the morning of October 20. After a nine hour stay with passengers enjoying a tour of the city and a trip up Mount Coot-tha to its magnificent look-out. When she departed, amazingly there was a huge crowd at the Hamilton wharves because the "Himalaya had brought so many couples and families from the UK who now lived in Brisbane, and the local Newspaper had a huge story about her heading to Asia stating that she was on her final cruise to Hong Kong, and that she would then go and be broken up, etc, thus they came to say goodbye to their much loved ship, it certainly was a very emotional departure and her passengers were very touched what occurred in Brisbane, even more than what happened in Sydney!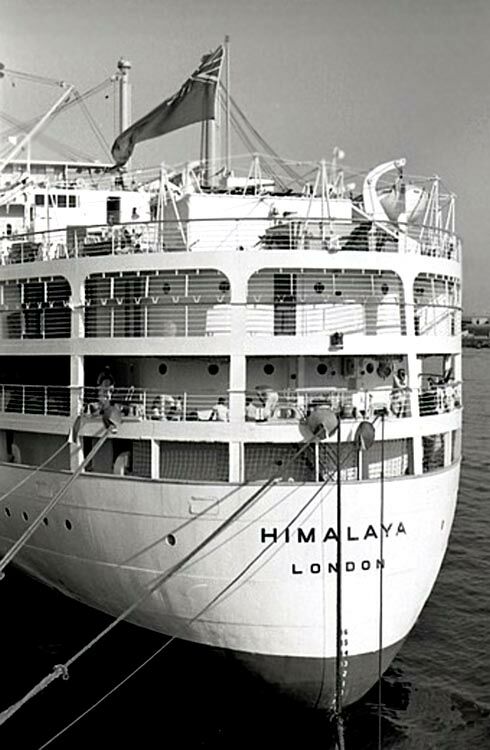 The stern of the "Himalaya" is seen at Hamilton Wharf Brisbane on October 20, 1974
From here she headed for a rather brief three hour stop over at Manila on October 29, and then she headed for Hong Kong.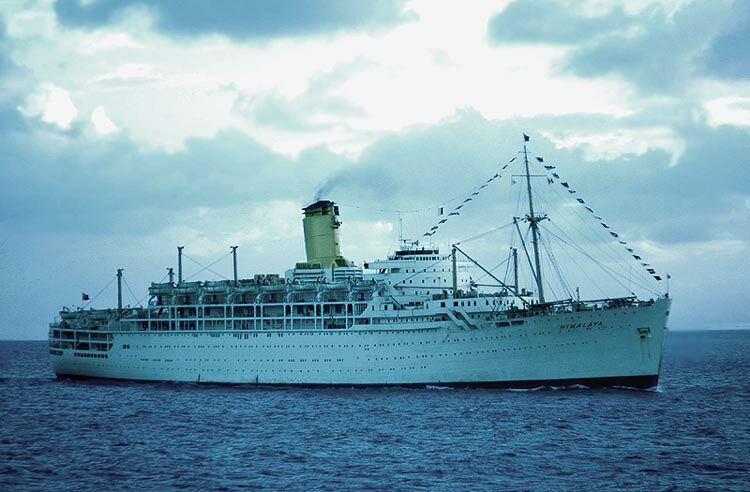 The "Himalaya" is seen her between Manila and Hong Kong on October 27, 1974
Having sailed majestically up Hong Kong Harbour as she had done so many times before, at 0759 hours on October, 31 she berthed at Hong Kong terminal and her cruise and her working life had sadly come to an end. Her many passengers disembarked, and there were so many who were very tearful to say the least, for many had booked as they had sailed on her before, be it on a cruise, or they had come to Australia on her from the UK, and this was a farewell voyage for them and they would miss the wonderful "Himalaya"!
Soon thereafter much of her fittings were removed and placed into storage and within four days most of her crew were signed off and were flown home to the UK and to India, and returned to Goa, as the Goanese staff would be on vacation until they would be returned for their next assignment on another ship! Only Captain J. W. Terry and 12 of his Officers and 26 crew members remained on board and they would take her out of Hong Kong for her very last ever voyage at 1600 hours on November 26, 1974, and they headed for Kaohsiung, Taiwan.
She arrived at the "Tong Cheng Steel Manufacturing Co. Ltd" breakers yard at 0958 hours on November 28, 1974 at Kaohsiung, Taiwan and it was there she was officially handed over. Although the actual demolition of the "Himalaya" only commenced in January 1975.
It is said that S.S. Himalaya during her wonderful 25 year career sailed 2¼ million miles – 3,468,688 kilometres on both line voyages as well as cruises.
Please see the Index below the next image for "Himalaya Page Two"
Also listed are all the other 8 P&O & Orient Line ships I have online.
*********************
R
emembering the
D
elightful …
S.S.
H
imalaya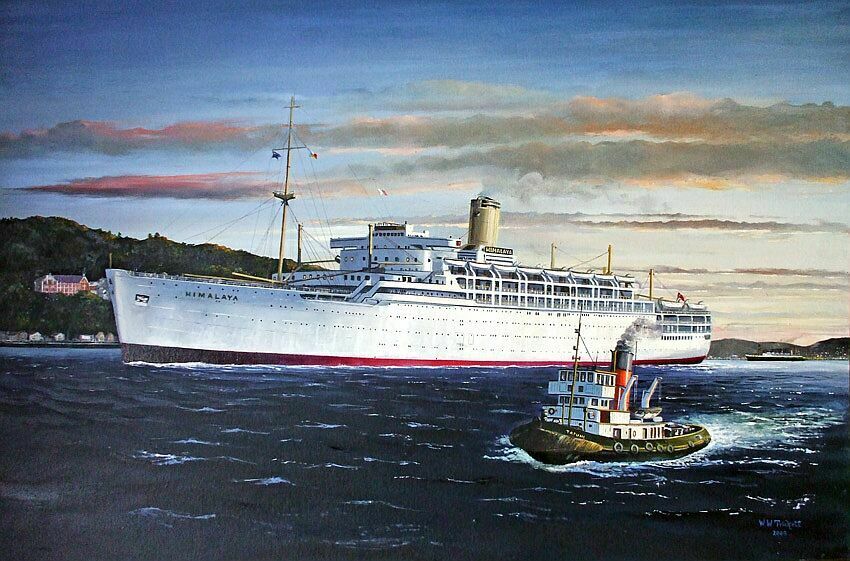 A fine painting of the S.S. Himalaya was painted by the brilliant New Zealand Maritime artist

Wallace Trickett, click the following Link to visit his website - Maritime Paintings

******************************

The Himalaya Index

Go to – Page Two

For her Deck Plans, Menus and Souvenirs & Memorabilia and her Specifications & Details.

Two youtube features of the S.S. Himalaya

A 1.21 min clip of her launching on October 5, 1948.

A 5.54 min clip of a P&O film from the 1960's featuring the "Himalaya" on

a voyage to Australia. Discover what life at sea was like on her in the 1960s.

Also Visit Features on the following P&O & Orient Lines Ships

P&O: RMS Strathaird - SS Himalaya - SS Chusan - SS Iberia - SS Canberra

Orient Lines:

RMS Orion -

RMS Orcades

- SS Oronsay - SS Oriana

******************************

"Blue Water Liners sailing to the distant shores.
I watched them come, I watched them go and I watched them die."

Featuring well over 1,435 Classic Passenger Liners, Passenger-Cargo Liners & Classic Cruise Ships!

And since going online we have received an amazing 573.4 million visitors to date

Or ENTER HERE

For interest: Sadly an email service to ssMaritime is no longer available, due to the author's old age and chronic illness as well as being disabled, etc. In the past ssMaritime received well over 120 emails per day, but

Goossens can no longer handle same. He sincerely regrets this!

******************************

ssMaritime.com & ssMaritime.net

Where the ships of the past make history & the 1914 built M.S. Doulos Story.

The Author has been in Passenger Shipping & the Cruise Industry for well over 60 years

In addition he was the founder of "Save the Classic Liners Campaign" in 1990.

Please Note: ssmaritime and associated sites are 100% non-commercial and the author seeks no funding or favours of any shape or form, never have and never will!

Photographs on ssmaritime and associate pages are by; the author or from the author's private collection. In addition there are some images that have been provided by Shipping Companies and private photographers or collectors. Credit is given to all contributors. However, there are some photographs provided to me without details regarding the photographer/owner concerned.

This notice covers all pages; although, and I have done my best to ensure that all photographs are duly credited and that this notice is displaced on each page, that is, when a page is updated!

ssMaritime is owned & © Copyright by Reuben Goossens - All Rights Reserved