SS Keewatin 1907
Please Note: Firefox, iPhones, iPads & some other Search Engines may not be suitable
Use Internet Explorer & Old Google for this Web Page to load perfectly!
Click the logo above to reach the ssMaritime FrontPage for News Updates
With Reuben Goossens
Maritime Historian, Cruise'n'Ship Reviewer, Author & Lecturer
Please Note: All ssmaritime and my other related ssmaritime sites are 100% non-commercial and privately owned sites. Be assured that I am NOT associated with any cruise or shipping companies or travel/cruise agencies or any other organisations! The author has been in the passenger shipping industry since May 1960 and is now semi-retired, but continues to write article on classic liners and cruise ships in order to better to inform cruise and ship enthusiasts for their pleasure!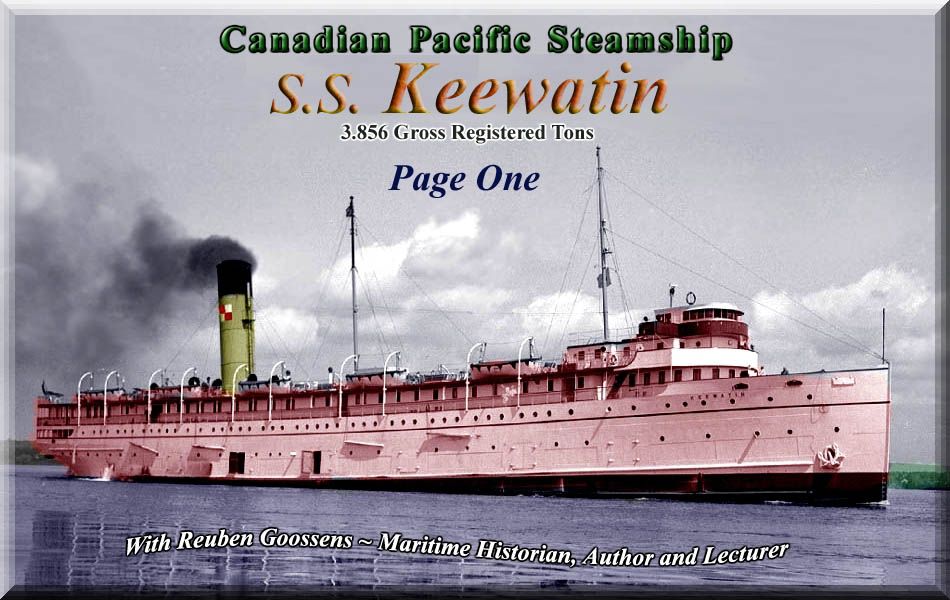 Please Note: All Photographs on this page are the property and are © Copyright "Friends of Keewatin" Foundation, unless stated otherwise.
In Brief: The Keewatin operated continuously (just short) of a majestic 60 seasons and then she was retired in 1967. Today she has become a fine Historic Maritime Monument at Port McNicoll Ontario, Canada, and this is her amazing story!
Introducing the S.S. Keewatin:
Building and Delivery Details
Canadian Pacific Steamship Company operating their famed CP Railway's Great Lakes Steamship Service ordered their new ship to be built by Fairfield Shipbuilding and Engineering Company in Govan Scotland on December 22, 1906. Amazingly this remarkable ship that is still with us to this very day, now over a 110 years later (based on updating this feature in 2017), after she was delivered in 1907, which was in fact a mere seven months after her having been ordered! Contract for Hull No. 453 was signed on February 20, 1907 with Insurance coverage through Lloyds of London beginning at £78,500.
She was launched from berth No 6 and officially named Keewatin on July 6, 1907 and she headed to her fit out berth to be made ready for her voyage to Canada. On September 12, 1907 she commenced her sea trials, amazingly on the very same day as the SS Lusitania on the Clyde. With her trials being successful the SS Keewatin departed Scotland and sailed for Montreal Canada on September 14, 1907.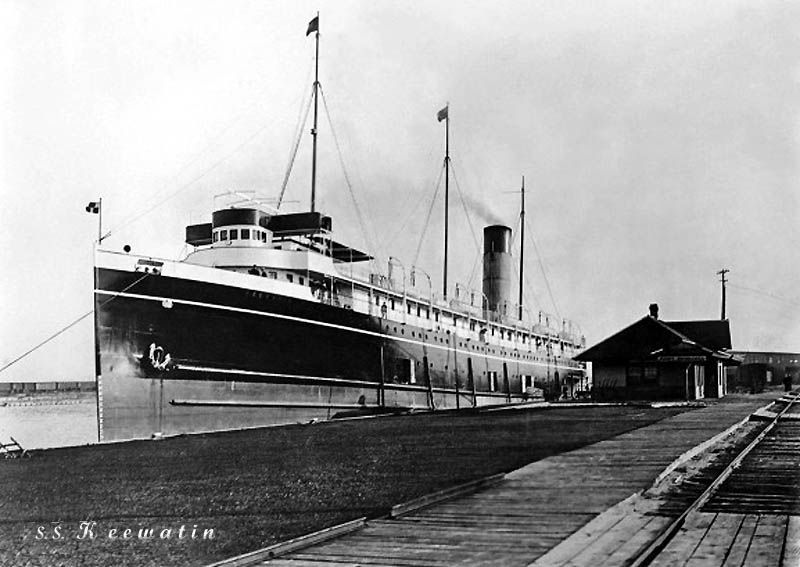 The SS Keewatin is seen here as built with a dark hull
Please Note: "Keewatin" is a word that originates from the Native North American Indian Cree language, meaning "Blizzard from the North."
On October 1, she was officially registered in Montreal with the Canadian registration number 125985. However for her journey to her homeport she could not head there as she was, for she required a dramatic undertaking, for on October 5, whilst at the Davie Ship Yards at Quebec City, she was cut into two sections and secured, made fully fit for the journey.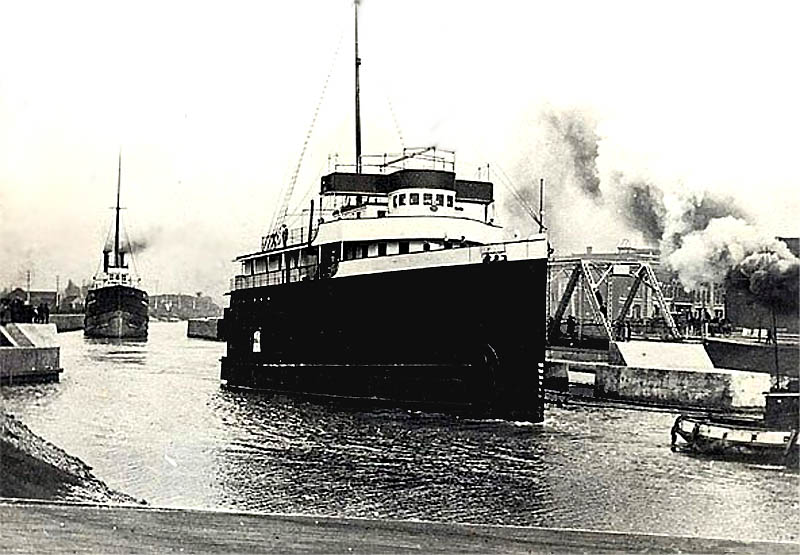 Here we see the bow and forward half of the ship being towed toward her destination
Once she arrived, the two parts of the ship were joined together and she was a whole ship again
She was towed up the St Lawrence, across Lake Ontario, through the Welland Canal to Buffalo whilst she was in the two parts and this journey took from October 10 to 15, 1907. But it would be almost a year later the SS Keewatin was ready to commence regular sailing, thus on October 7, 1908 she departed on her first regular voyage from Owen Sound to Fort William and these seasonal return voyages continued, until when she began operating from the new deep-water port at Port McNicoll on May 1, 1912.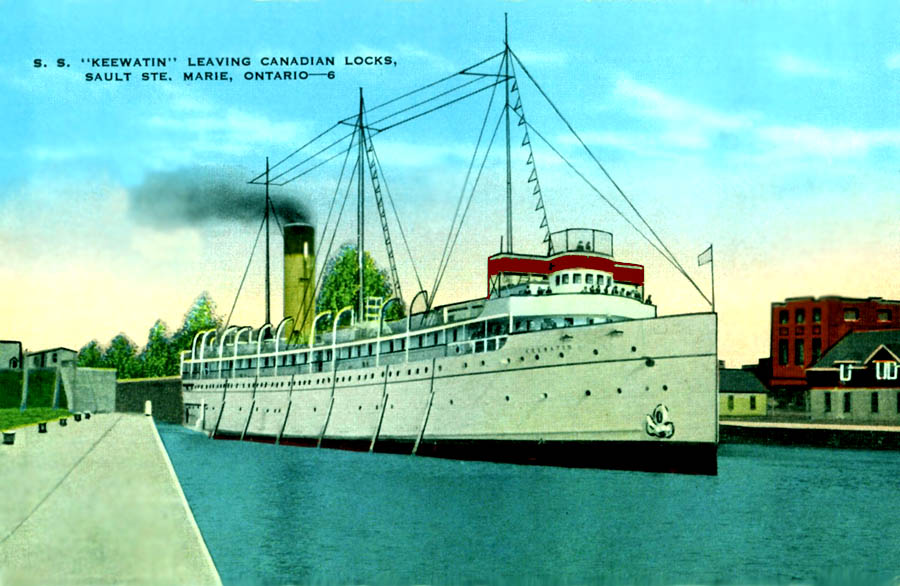 The SS Keewatin is seen on a postcard as built and she was the known as the
"Edwardian Schooner" because she had three wooden masts
With restoration needed as well as other needs, etc, on December 19, 1907 the SS Keewatin departed Buffalo for the voyage to Owen Sound, which would be her homeport for some time and she arrived on the 25th. She operated the two and a half day passenger service between Port Owen Sound to Fort William on Lake Superior and then from Port McNicoll, Ontario, Canada from 1912 to 1966.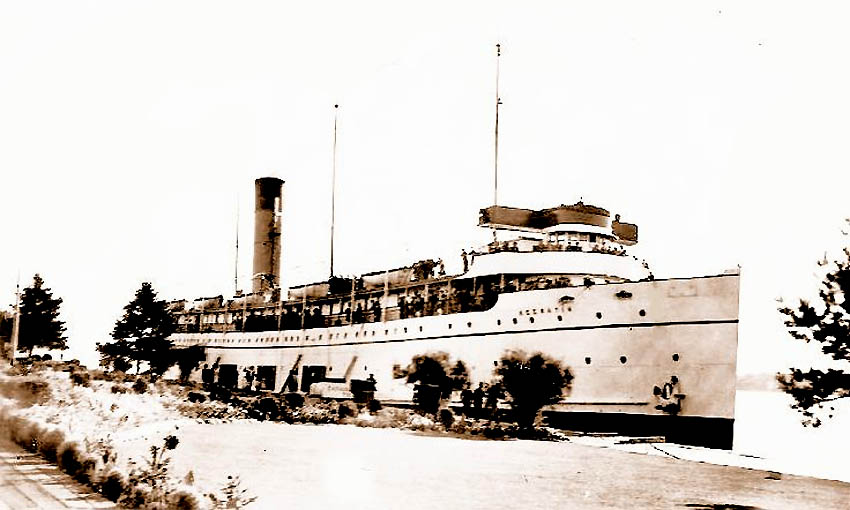 Here we see a more historic view of the Keewatin having an all white livery
The Keewatin together with four other ships carried passengers between the many Great Lake ports, but she also carried packaged freight especially for the railway needs at the ports visited. Her appointments were very glamorous with fine Lounges, Observation Lounge and a Dining Room. Cuisine was well known as being excellent and the service was provided by an enthusiastic young staff, therefore, she was a popular and a much-loved ship indeed!
Old Canadian Pacific Railway Steamship Postcards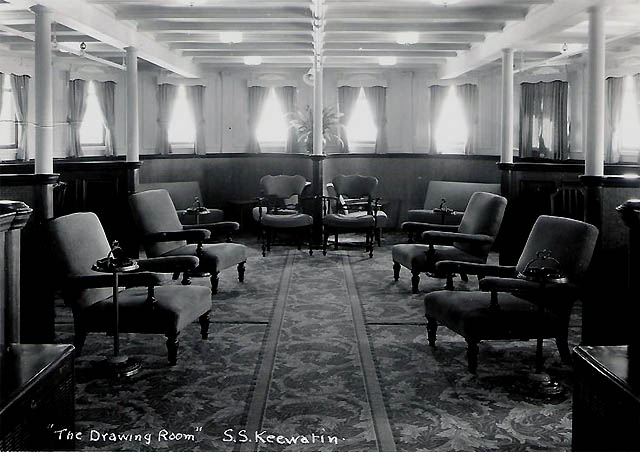 The elegant Drawing Room located forward of Upper Deck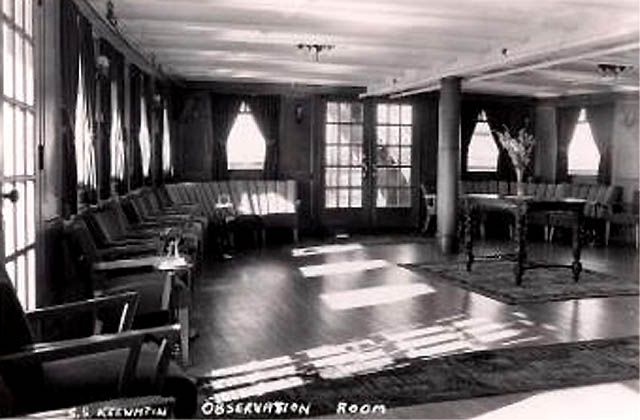 The Observation Lounge located aft of Upper Deck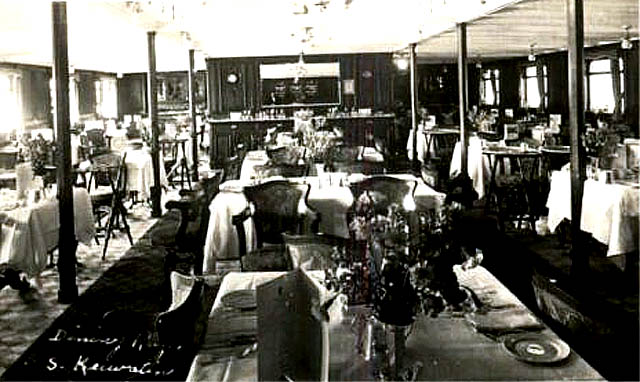 The Dining Room amidships on Upper deck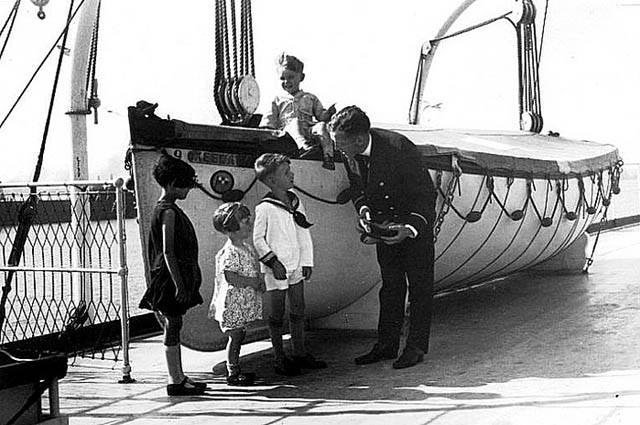 An officer chats with children up on Long Sun Deck at a Lifeboat
The Keewatin together with four other ships carried passengers between the many Great Lake ports, but she also carried packaged freight especially for the railway needs at the ports visited. Her appointments were very glamorous with fine Lounges, Observation Lounge and a Dining Room. Cuisine was well known as being excellent and the service was provided by an enthusiastic young staff. There was no doubt she was a popular ship indeed!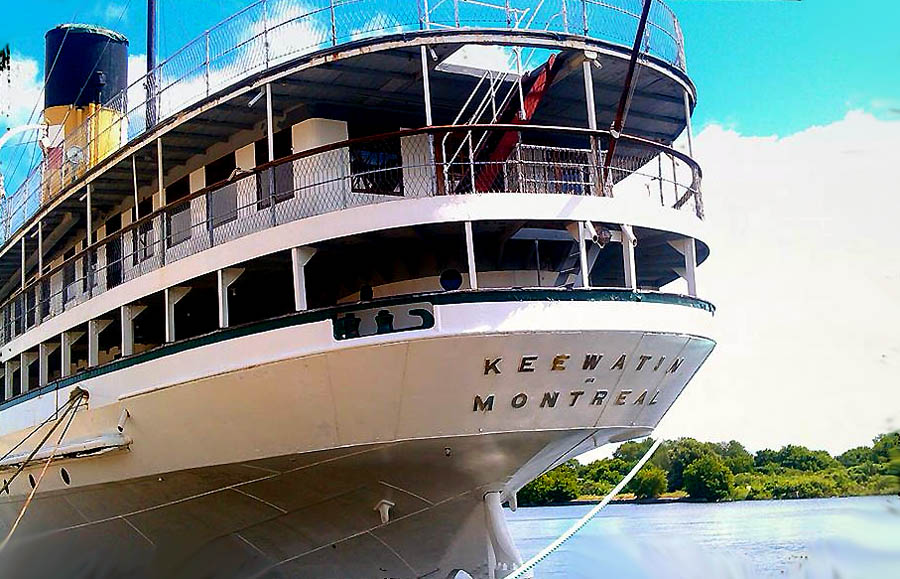 Here we see that superb counter stern of the Keewatin
Ship Details:
Interestingly, as built the SS Keewatin originally had three wooden masts and she was known as an "Edwardian Schooner" because these masts could support sails for use during emergencies. However, they were never used and thus in 1950, they were replaced by two steel masts. The original middle mast was moved to the stern in the "mizzen" position in 1955. The middle mast supported the Ariel for the radio room, which also was removed and the radar installed in 1955. Making the SS Keewatin the very first Great Lakes passenger ship to be fitted with a radar!
Her three beautiful designed passenger decks are as follows; Long Sun Deck, Upper Deck, with a Drawing Room far forward, followed by cabins, then the Dining Room, still ahead of the funnel a Lounge and Observation Lounge far aft. The next deck down the magnificent stairwell is Main Deck that was fully occupied by cabins. There were seven Deluxe double cabins having private facilities, four 4-berth cabins and the balance beingn2-berth cabins, whilst all outside cabins with a window/porthole had an extra sofa bed available, making it a 3-berth cabin.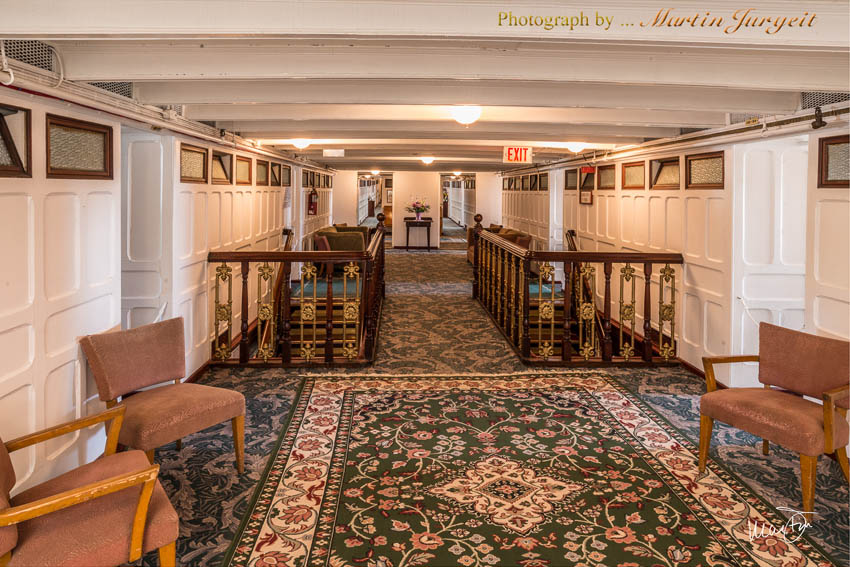 Her luxurious fittings continue amid her cabins
Photograph by & © Martin Furyeit
In the last twenty years of the SS Keewatin's working life, like many passenger ships of that era on the Great Lakes, both her and her sister ship the SS Assiniboia operated under very stringent regulations imposed for wooden cabin steamships, especially following the terrible SS Noronic disaster in Toronto Harbour September 1949.
Doomed by their wooden cabins and upper superstructure, these overnight cruisers lasted through the decline of the passenger trade on the lakes in the post-war years. As passengers opted for more reliable and faster modes of travel, the Keewatin and her sister the Assiniboia were withdrawn from the passenger trade in 1965, continuing in freight–only service until September 1967 with her sister until 1968. Along with a South American and a Milwaukee Clipper, the Keewatin was among the last of the turn-of-the-century style overnight passenger ships of the Great Lakes.
SS

Assiniboia

:
Although this special feature is all about the SS Keewatin, but we should not forget her identical sister ship the SS Assiniboia, which was launched first on June 25, 1907. Both ships were built by the same builder and had all the identical machinery and dimensions, the only difference being hat the Assiniboia was 3,925 GRT. In addition five years both ships had the three wooden masts removed and replaced by the two steel ones, the Assiniboia was converted to oil firing during the off-season (winter) of 1953/54. The Keewatin remained a coal steam ship to this day, therefore she remains one of the most original and unique ships in the world today!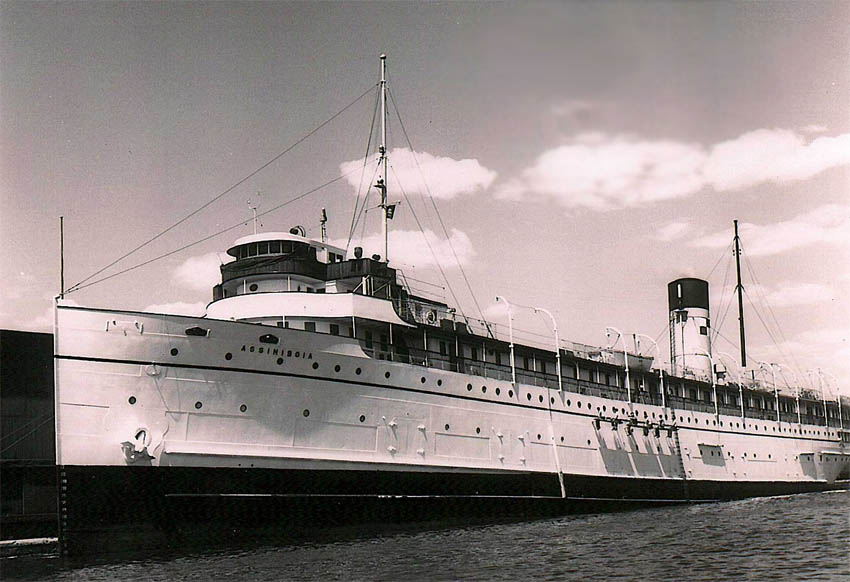 SS Assiniboia which was launched first operated as a passenger ship until 1965, then sailed with freight only until sold early in 1968
With the SS Assiniboia having been retired, she was set to be preserved as a floating Restaurant and a Tourist attraction, but tragically she caught fire and was burned out and gutted on November 8, 1969. As she had sunk, she was refloated in January 1970 and water was pumped out of her lower decks.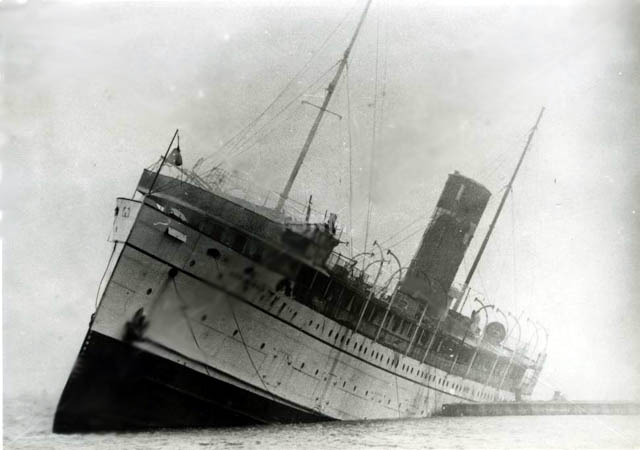 Here we see the very sad looking Assiniboia late in 1969
However, after having raised her and with previous thought of restorations, but due to extreme damage on board, it was considered that the cost of the work required would simply be far too great, therefore with great sadness she was sold to be broken up. She was scrapped at Philadelphia in 1971. It was a great loss to see this fine ship lost, for had it not been for that fire, she would have been a fine vintage maritime tourist attraction in United States by now. But it was not to be!
An American Entrepreneur buys the Keewatin:
In January 1967 the SS Keewatin was purchased by West Michigan entrepreneur Mr. Roland J. Peterson Sr., for US$37,000, being around $2,000 more than she would have made if she had been sold to be broken up. She arrived at Saugatuck on Kalamazoo Lake, Douglas, Michigan, on June 27 that year.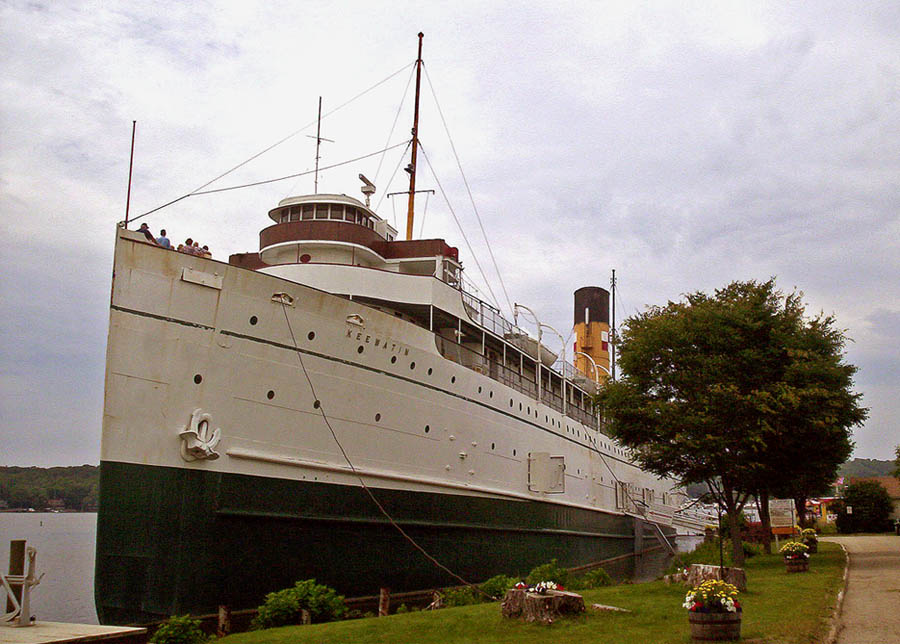 The Keewatin is seen here at Saugatuck, Michigan USA where she had operated with great success!
The ship was known as the "Keewatin Maritime Museum" and she was permanently docked at this location from 1968 trough to 2012. She was a great success and a popular tourist location over the many years whilst she in America! She was even listed on the "National Register of Historic Places" in the United States. There was no doubt that her owner had looked after her very well, for she was in an excellent condition, although still requiring work for her new roll in Canada.
Her Return Home to Canada:
It is at this point I would like to introduce Captain Eric Conroy, for he worked on the Keewatin as a 17-year-old waiter,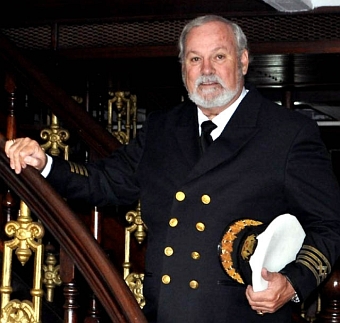 and Eric became reacquainted with the ship in 1995 when he commissioned a model of her to be built and the builder told him that she was still around, but located in the USA.
It is here where the story becomes even more interesting for when Mr. Eric Conroy retired, he befriended Mr. Gil Blutrich who like Eric admired the Keewatin, and they had learned that the American owner Mr. R.J. Peterson aged 87 felt that he could no longer maintain the ship and that he thought that he would like to see her go back to Canada. Thus in 2012, Eric and Mr. Gil Blutrich Chairman and President of "Skyline Developments" who owns the Port McNicoll land and the docks that once was the "Canadian Pacific Railway Co" operating centre for the Great Lakes voyages, decided to buy the ship. Eric was sent to negotiate the sale between Mr. Roland J. Peterson Sr., and Gil Blutrich provided the funds to purchase the SS Keewatin from Mr. Peterson, as well as dredge a good 137,000 cubic yards of silt from the Kalamazoo River where she had sat for 45 years, as well as to get her seaworthy and then to bring her home to Port McNicoll.
Captain Eric Conroy-
Thus the ship is owned by "Skyline Developments" and she is rented by the special charitable organisation that was set up by Eric Conroy that operates her for a minimal sum per year. Money that has been raised from the tourism that she has created as well as donations received, will all go into the ship, and thus the four years have proven to be a unique business model. Then, at the end of four years, being in September 2015, the Keewatin will be appraised by internationally recognized appraiser James P Catty. Once the value is established the Charitable Foundation will provide Skyline a "Tax Receipt" for the value of Keewatin and Mr. Blutrich will turn over the ships ownership to "The Friends of Keewatin" Foundation.
It is rather amazing, but Eric, who once worked on this wonderful ship as a 17-year-old waiter, would never have thought back then that he would be the one who would become the ships negotiator and work together with Mr. Gil Blutrich and bring her back to Port McNicoll and return her to her original beauty and make such a great success of her as one of the finest Maritime Tourist Ventures in Canada, and of course today he had become the ships' Captain.
Her Official Homecoming:
It was in June 2012, when the SS Keewatin was repatriated and returned undertow to Canada and back to her homeport, being at Port McNicoll, her Great Lakes most eastern port for so many years when she was still in service.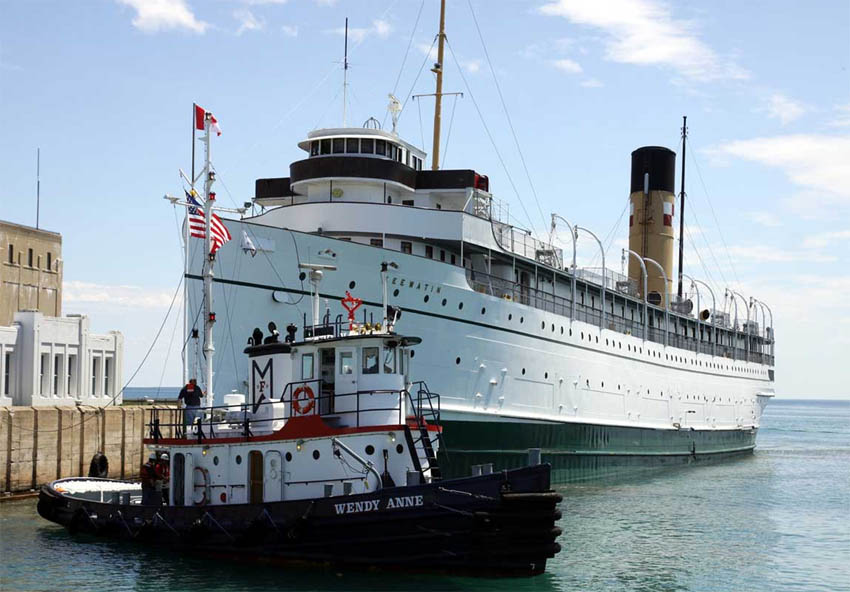 The SS Keewatin is seen undertow from the USA to Port McNicoll in 2012
Photograph by & © Richard Weiss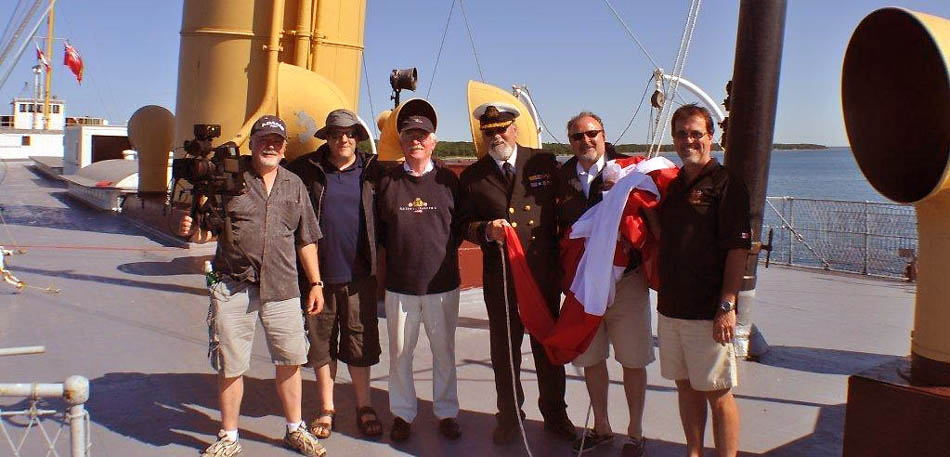 As the Keewatin was being towed from Mackinaw City, Michigan USA, to her old home port of Port McNicoll in Canada, obviously Eric Conroy was on board, as well as a small group of "Friends of Keewatin" who would crew her, they are seen on her Sun Deck on the photograph above. From left to right are; Cameraman Cameron McCleery, Josh Killham, Kevin Griffin, Eric Conroy, Al Russell and the Great Lakes pilot, Kevin Noseworthy.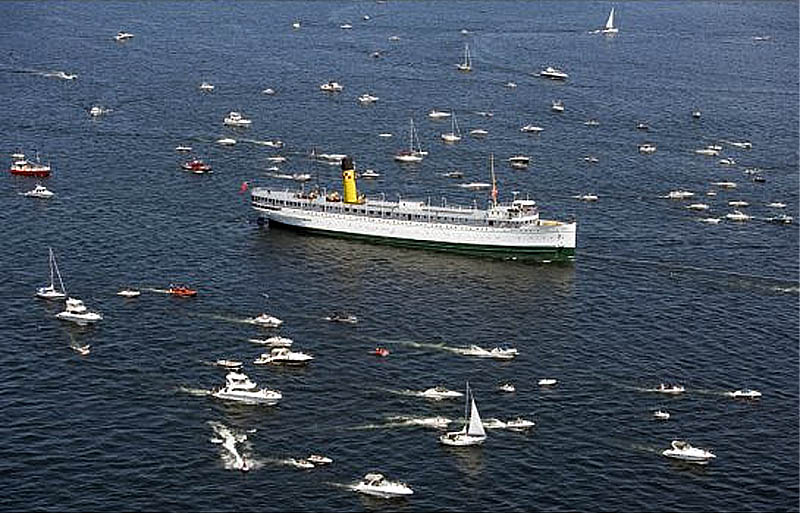 A the Keewatin arrived at Port McNicoll she was followed by an armada of it was said by a huge
number of vessels of all sizes, only some are seen here as many more were ahead of her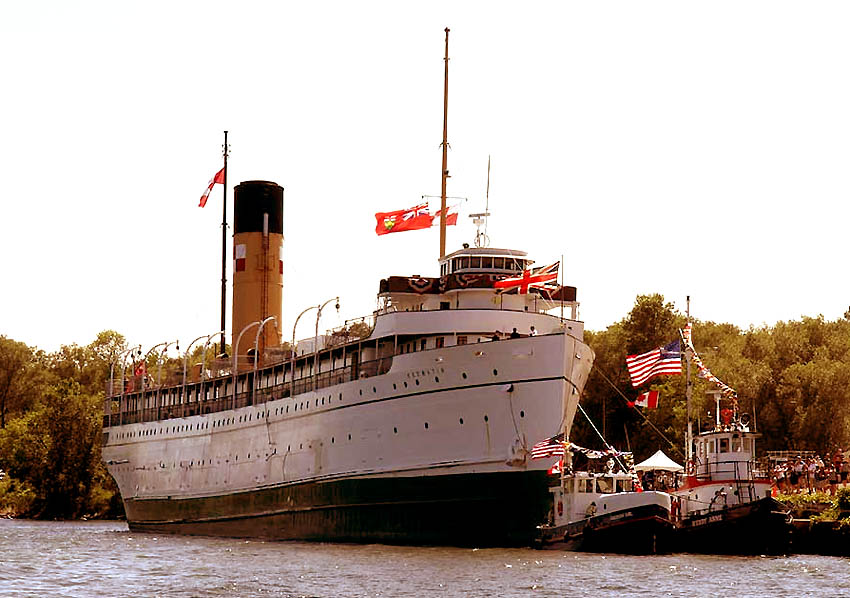 As the S.S. Keewatin arrived home, it was to the great delight of well over seven thousand ship enthusiasts, joyful Canadians and other fans. In addition she was followed by an armada of around a thousand vessels of all sizes, thus it was a sensational homecoming for this great centenarian, the S.S. Keewatin!
The Keewatin has just tied up at Port McNicoll and the Canadian flag is flying proudly from her aft main mast, the two American tugs have done a good ob bringing her home safely. But now commences the work of refurbishing her and with the assistance of Mr. Gil Blutrich of "Skyline Developments" and seeking private donations as well obtaining as much as possible media attention as possible, this great new project should do exceedingly well. After her arrival was a Press presentation where Mr. Conroy spoke and gave his presentation.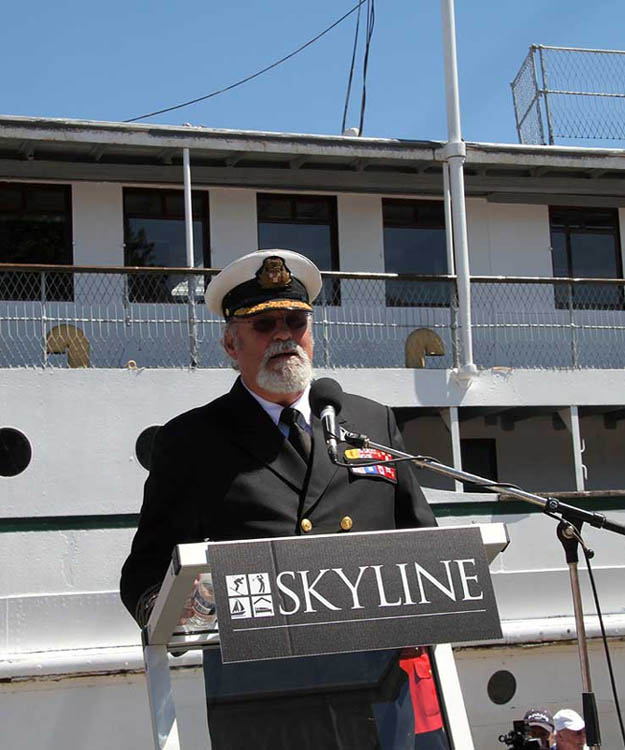 In the photograph above we see Captain Eric Conroy during a press release and he announced that funds to refurbish the ship would be done through corporate sponsorships and per private donations.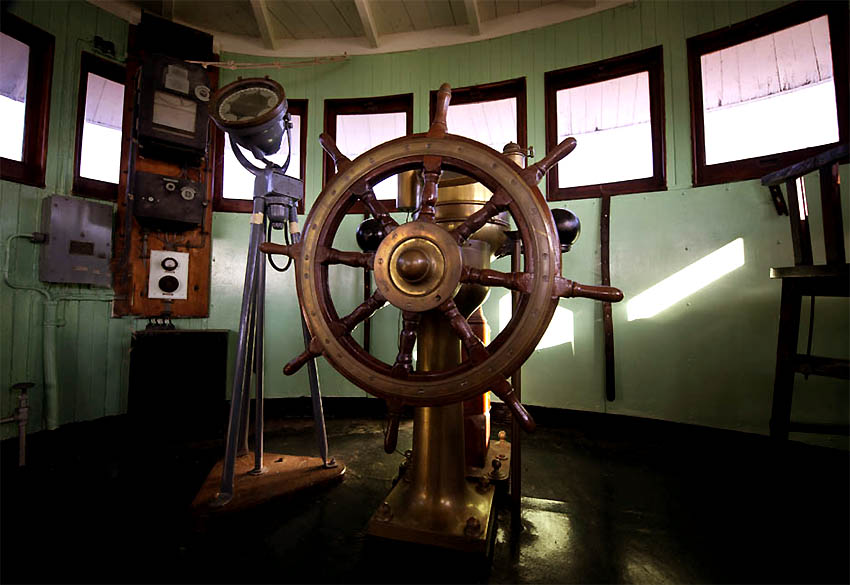 She has that wonderful Old World Bridge, but not showing is her radar screen just aft to port
The Keewatin is a multicultural showcase all by herself, for she was built in Scotland and registered in Montreal Canada, the ship retains so many of her original features, including her quaint rounded Bridge, her Lounge features intricately carved wood panels depicting the various Ethnic groups that came to Canada to forge a new life and work beside the French, First Nations and Métis that were already in this amazing country.
To date, now being July 2015, this amazing ship already become a floating set for a number of maritime-related documentaries as well as television docudramas, including subjects involving the torpedoed ocean liner the RMS Lusitania, the burned-out Bahamas cruise ship, the SS Yarmouth Castle, Canadian Pacific's SS Empress of Ireland, and even the RMS Titanic. The SS Keewatin was also used extensively in the opening episode of Season Seven of "Murdoch Ahoy," of the "Murdoch Mysteries" series. Thus, she has become quite well-know in the media, film and TV circles!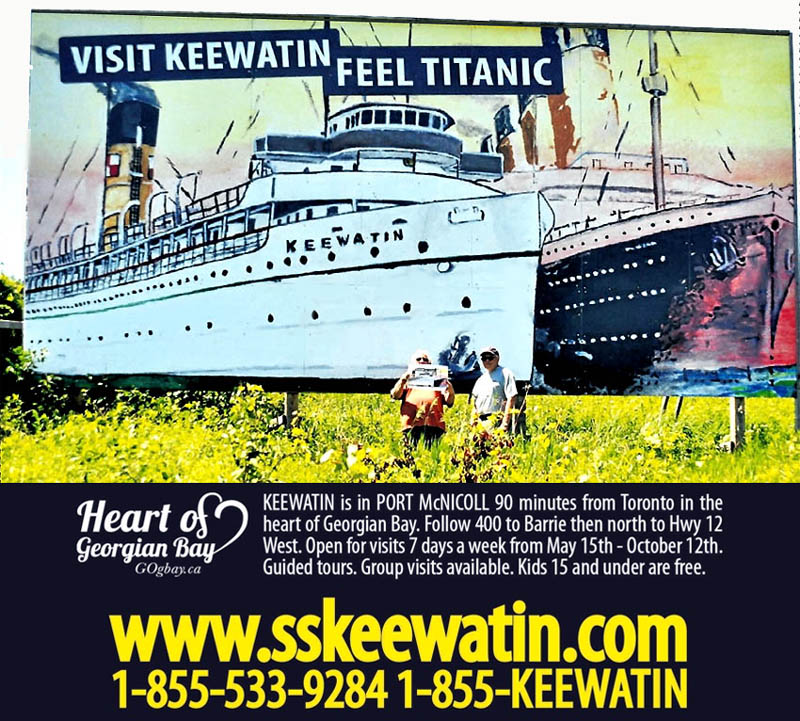 CLICK on the poster ABOVE to enter the website
There is another LINK at the bottom of the page!
Photo Album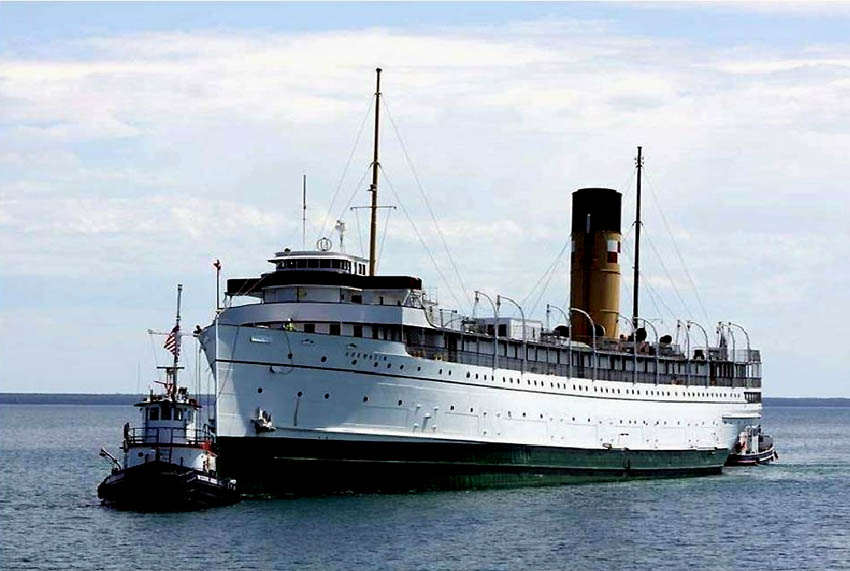 The Keewatin is almost home and ready to be refurbished for her new and exiting role!
The SS Keewatin is seen at her Home Base - Port McNicoll Ontario, Canada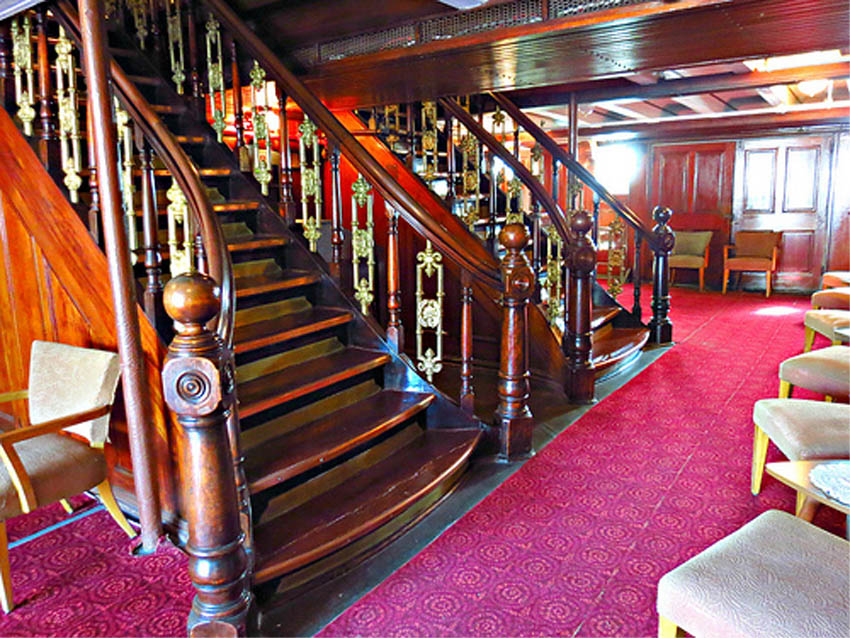 A beautiful Grand Staircase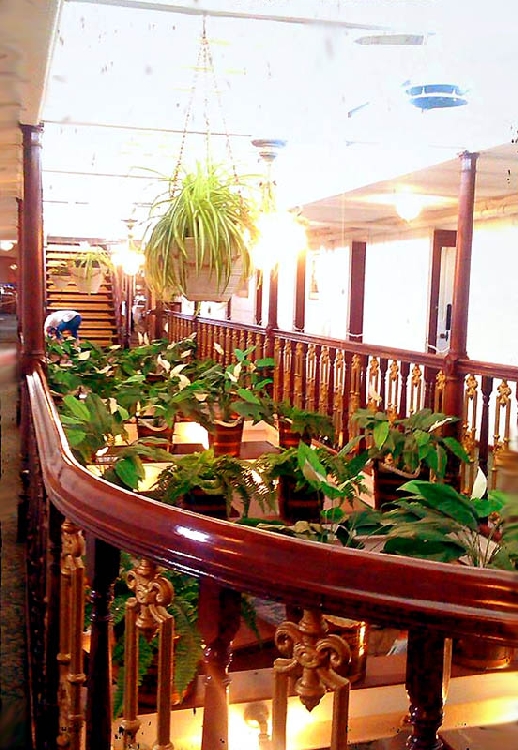 A view along what is called the "Flower Pot Lounge" on Promenade Deck with the fine stairs at the end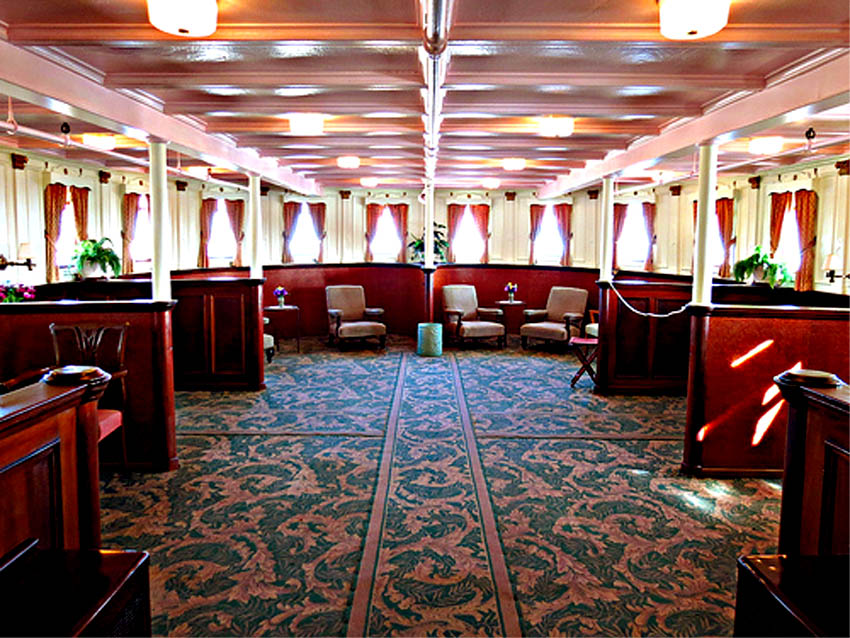 This was the original far forward Drawing Room as seen today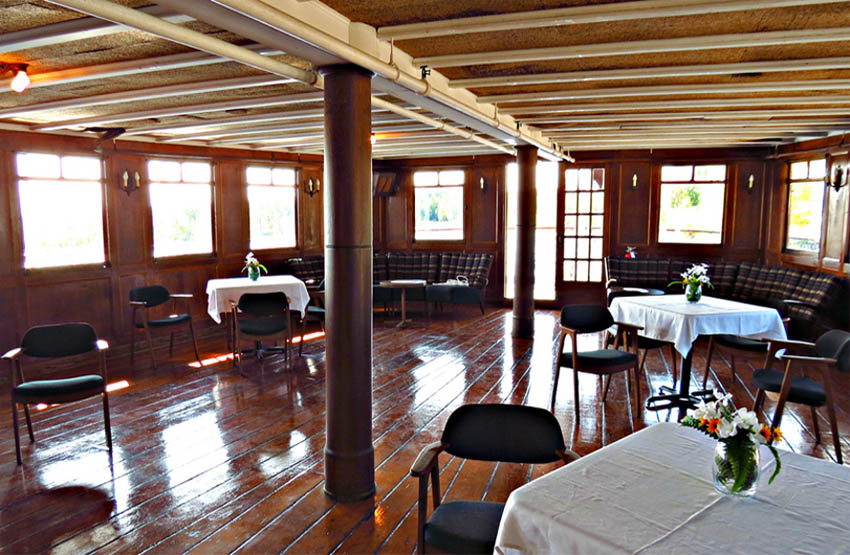 Here we see the original Observation Room that is located far aft, but in today's more casual style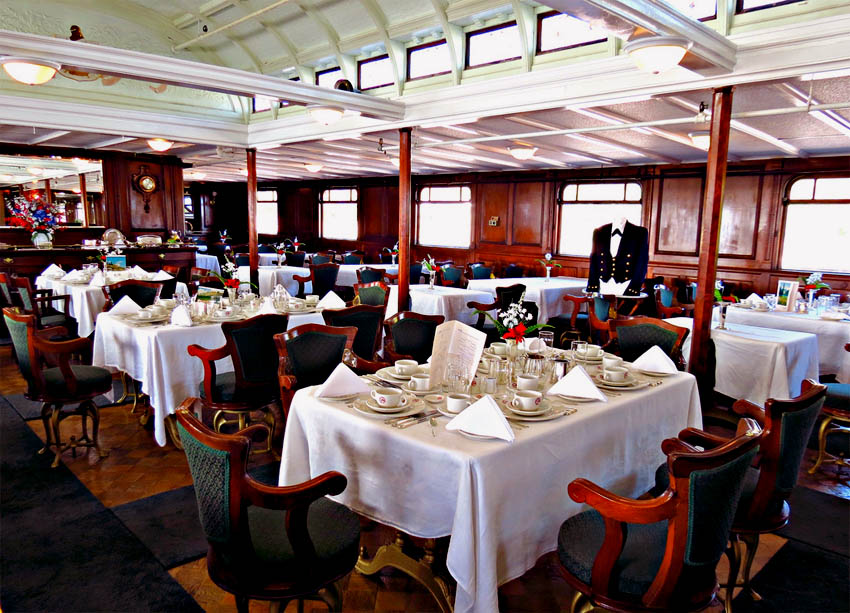 The Restaurant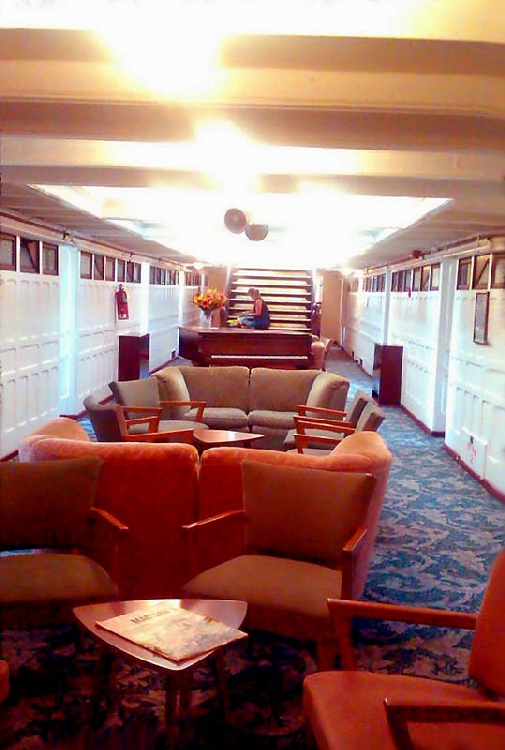 Upper Deck Lounge and cabins along both sides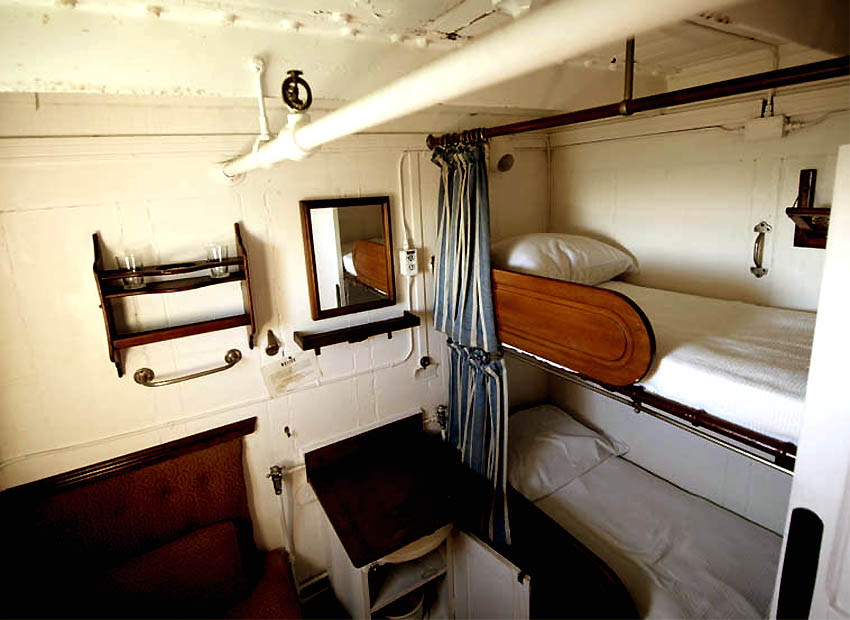 Here we see a typical 2-Berth outside cabin with a sofa bed, seen just to the left

And yes, if you look closely, that is a potty at the bottom of the bedside cabinet

The ex Canadian Pacific SS Keewatin is the very last of those beautiful Edwardian Liners left in the World today and I am sure that there are many ship lovers who will admire this great

centenarian ship, for she is as worthy as any of the Atlantic Liners, for this ship has proved herself over the years, for believe me, the Great Lakes are not just nice calm and still waters, for at times it is more like very wild seas with huge waves! I recommend that you view the short film via the link at the bottom of the page, and see how rough it was so many times! Thus ship lovers, I am sure that you will be more than happy to play some sort of a part in her ongoing preservation!
2017 Update:
Received an email from Mr. Eric Conroy with the following news update;
"We are now going into our 5th.season with the KEEWATIN back in Canadian waters. As you can see she now has her life boats repaired and up on her deck. Her steering engine is once again functional, and an independent appraiser valued her at $32.5 million Canadian dollars."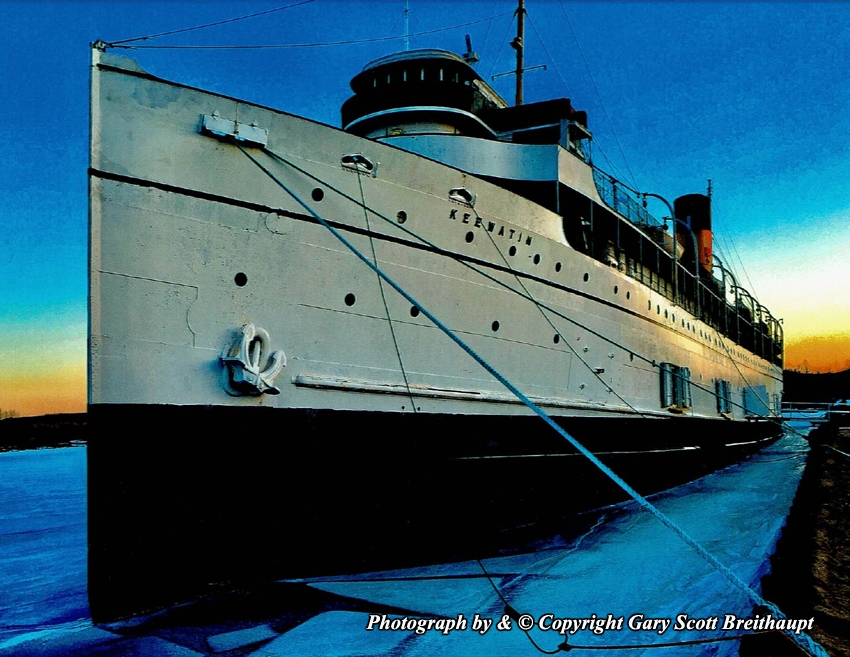 The SS Keewatin is seen with her lifeboats back on board in 2017
In addition, Eric stated:
"In the meantime, we have spent our time rebuilding the 100 year-old docks as well as installing a beautiful park that will sport gardens and picnic areas."
There is no doubt that Eric and his amazing team has been doing a wonderful job as this wonderful historic ship is being restored to her original beauty and glory days, whilst at the same time achieving as much publicity as is possible.
For more information, the SS Keewatin website has a great deal of information available, and a link to this site is located at the bottom of this page.
However, should have an important or special question or a contribution to make, you may contact Eric Conroy; at: ericconroy@rogers.com.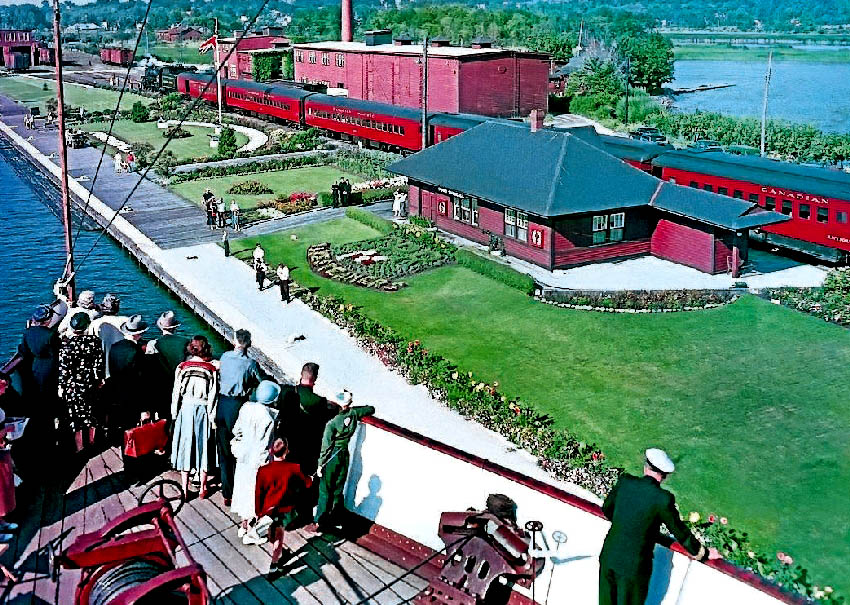 Onlookers seen up on her bow, with one of the ships officers close by
In Conclusion:

Page Two will bring you up to date and there are photographs of the official opening of the SS Keewatin by a member of parliament, the Mayer of Tay, and other dignitaries, as well as bands and the unveiling There is a link below to this page! This page also contains a short history of the ship in a slightly different light!

Specifications:

Ordered: December 22, 1906.

Builder: Fairfield Shipbuilding & Engineering Co, Govan, Scotland.

Contract Signed: February 20, 1907.

Hull No: 453.

Launched & Named: July 6, 1907 - berth #6.

Sea Trials: September 12, 1907.

Delivered: September 14, 1908.

Depart Scotland: September 14, 1907.

Registered: October 1, 1907 Montreal (Canadian #125985).

Maiden Voyage: October 7, 1908 Owen Sound to Fort William.

Out of Service: November 29, 1965.

Tonnage: 3,856 GRT (Gross Registered Ton).

Length: 102.6m - 336.5ft.

Width: 13.53m - 43.8ft.

Draught: 8.11m - 26.7ft.

Propulsion: Quadruple Expansion Steam Engine & 4 Coal-fired Scotch Boilers.

Propellers: Single.

Speed: 14 Knots.

Passengers: 220 in berths & an additional 64 sofa beds available.

Crew: 86.

Current Status: Museum ship, Port McNicoll, Ontario, Canada.

****************************

Visit Page Two for a great day in June 2017

Work & Completion and the unveiling of the "Confederation Gateway To The West Docks" & the Keewatin

Visit: The Friends of Keewatin Website for further details

Click HERE TO DONATE to "The Friends of Keewatin" Foundation

Please Note: ssMaritime is not related to the above foundation, but fully supports it

Therefore I am delighted to provide this link!

Or email Eric Conroy at: ericconroy@rogers.com.

Also view "The Mighty Ship Keewatin" short film - at:

https://www.youtube.com/watch?v=8k7vntOxOgc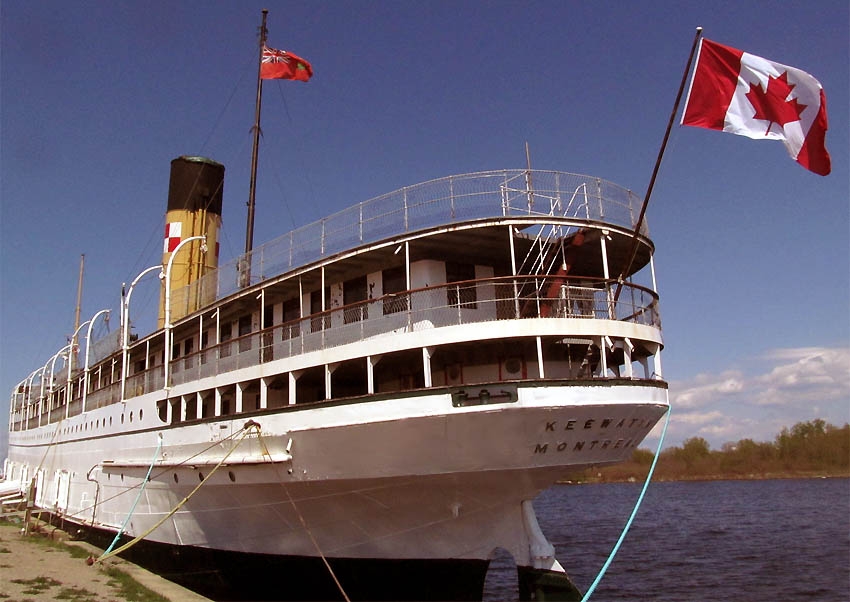 May the great centenarian, the S.S. Keewatin live on for another 100 years!
************************
"Blue Water Liners sailing to the distant shores.
I watched them come, I watched them go and I watched them die."
But thankfully some are Saved and Continue to live on for future Generations!
************************
ENTER OUR ssMaritime MAIN INDEX
Where you will discover over 700 Classic Passenger & Passenger-Cargo Liners!
ssMaritime.com & ssMaritime.net
Where the ships of the past make history & the 1914 built MV Doulos Story
Photographs on ssmaritime and associate pages are by the author or from the author's private collection. In addition there are some images that have been provided by Shipping Companies and private photographers or collectors. Credit is given to all contributors. However, there are some photographs provided to me without details regarding the photographer/owner concerned. I hereby invite if owners of these images would be so kind to make them-selves known to me (my email address may be found on www.ssmaritime.com only), in order that due credit may be given.
This notice covers all pages, although, and I have done my best to ensure that all photographs are duly credited and that this notice is displaced on each page, that is, when a page is updated!
ssMaritime is owned & © Copyright by Reuben Goossens - All Rights Reserved