Please Note: Firefox and some other search engines are not suitable – Use "Internet Explorer" for this page to load perfectly!

Click the logo above to reach the ssMaritime FrontPage for News Updates & "Ship of the Month"
With Reuben Goossens
Maritime Historian, Cruise'n'Ship Reviewer & Author
Please Note: All ssMaritime and my other related ssMaritime sites are 100% non-commercial and privately owned sites. Be assured that I am NOT associated with any cruise or shipping companies or travel/cruise agencies or any other organisations! The author has been in the passenger shipping industry since May 1960 and is now semi-retired, but continues to write article on classic liners and cruise ships in order to better to inform cruise and ship enthusiasts for their pleasure!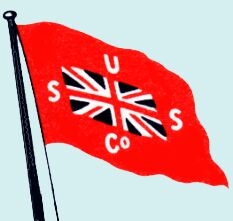 Union Steamship Company of New Zealand …
Melbourne, Victoria
TS Loongana
"Loongana"
is an Aboriginal word meaning to be "Swift" or "Fast"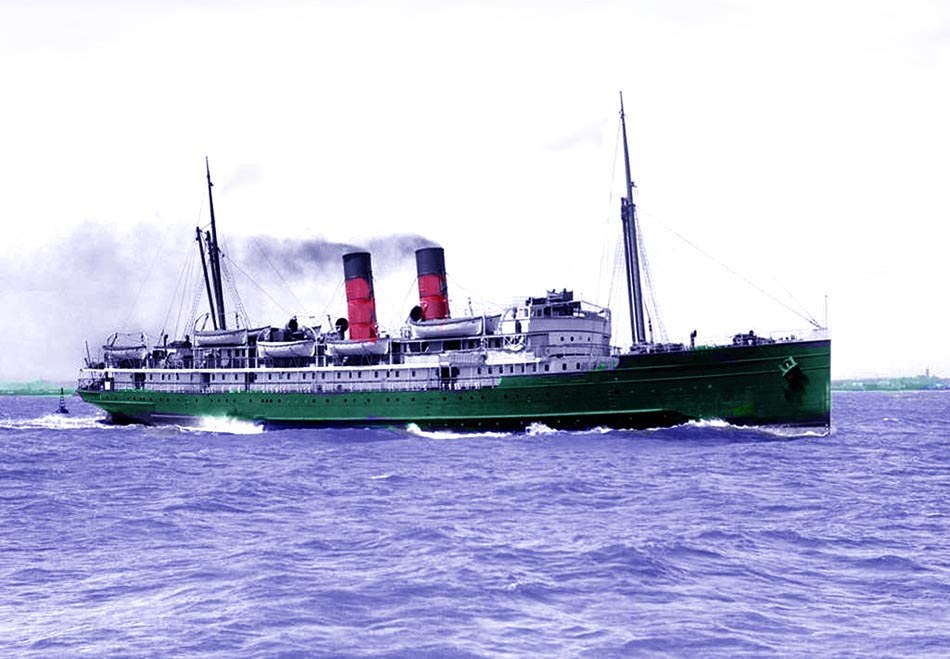 The delightful TS Loongana is seen in Port Philip Bay sailing from Melbourne, Victoria
ready to cross Bass Strait bound for the Tamar River and Launceston, Tasmania
Author's private maritime collection originally obtained in Wellington New Zealand in 1960
Introduction:
This is the story of a fine New Zealand flagged and registered passenger ship that amazingly never visited her homeland, which somehow seems sad! But, Australia, especially both Melbourne in Victoria and Launceston on the beautiful "Apple Isle Tasmania" enjoyed her excellent services, for although she may have been an amazing small ship but she proved to be a reliable vessel, as she was able to sail from Melbourne to Launceston (wharf to wharf) in just 15 Hours and that had never been achieved before!
Design & Construction:
The TS Loongana was designed to be a well designed and a fast "Union Steamship Company" (USSCo) turbine steamer to operate passenger and cargo services between Melbourne, Victoria and Launceston in Australia's Island State, Tasmania.
This delightful looking passenger ship was built by the well-known Scottish ship builder, William Denny and Brothers, at Dumbarton based on the River Clyde. "William Denny & Brothers" were often referred to simply as "Denny."
Some of the information I managed to source out about this fine 2,448 GRT (Gross Registered Ton) ship was as follows and I trust that you will find it as interesting as it was, when it was written back in 1904 for the "New Zealand Times," Wellington.
"The Union Steamship Company's turbine steamer … turbine machinery, although it occupies the same floor space, it will not require half the same height in the engine room as ordinary engines in common use at present. There will be 18 furnaces altogether, two double-ended and two single-ended boilers. There will be three propellers, similar in design to the everyday pattern, although considerably smaller owing to the greater revolutions to the minute than the common type. The vessel's propellers will measure four feet (1.4m) in diameter, and will run at a velocity of 450 revolutions a minute. The three propellers will be placed in a position similar to that of the ordinary twin screws, one on each side close to the rudder and the third propeller between the other two. The absence of vibration is not the least striking feature of the turbine. There will be three turbines, one fitted to each tail shaft and of course, working entirely independent of each other. The turbine as an engineering contrivance is by no means a latter day invention, but only of recent years has the attention of experts been turned towards applying to the device to marine engines. The turbines cannot reverse. Therefore other turbines are fitted, which are idle until the vessel is required to go astern."
I found this a most interesting and a revealing insight of the ship from days long gone, and it displays their thoughts on turbine steam ships and the details that were given, and it was obviously prior to her being even being launched!
The Loongana was finally launched on June, 2 1904 and she was taken to her fit-out berth in the River Clyde for completion. She then undertook her sea trails where she achieved her amazing maximum speed of 22.8 knots and she passed with flying colours!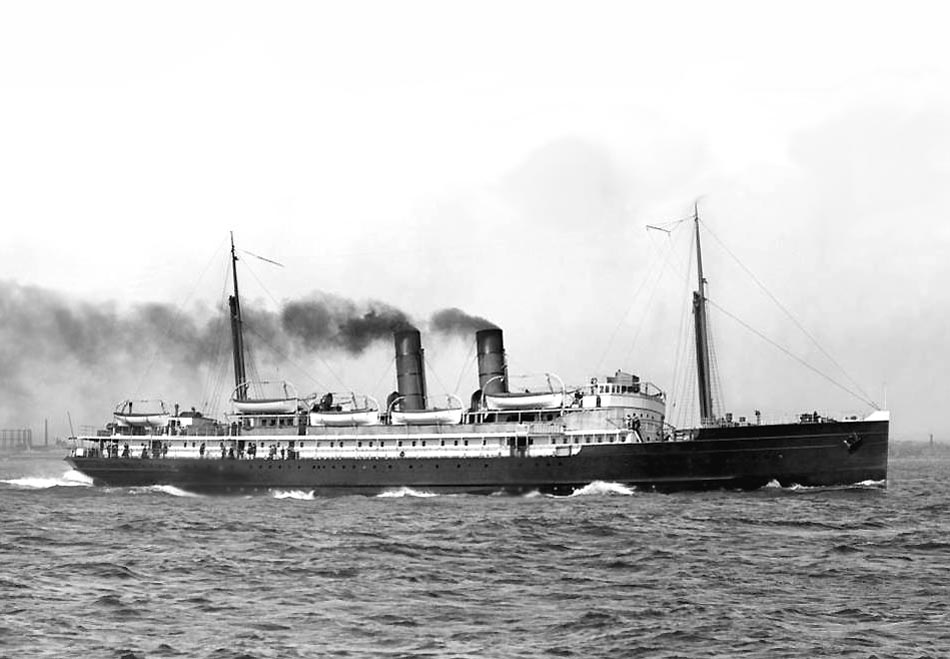 The TS Loongana was such a fine looking small passenger ship for her time!
Sourced from the State Library of Victoria
Maiden Voyage to Melbourne:
The TS Loongana was handed over to the Union Steamship Company on August 25, 1904 and Captain Livingstone took command of the ship and he ensured that she was fully manned and stocked with everything in perfect order for her maiden voyage to Australia
She departed Greenock, Scotland on August 31, 1904 and according to Captain Livingstone as well as from other official sources, her maiden voyage to Australia went amazingly smoothly, and below are just some of the details of her voyage;
The voyage was certainly very successful, for there was not the slightest hitch working the engines throughout the voyage. There were some heavy periods of very heavy weather, which likewise enabled the ship to prove her fine seafaring qualities. Her steadfastness was remarkable, and in the region of the southeast trades where the winds and seas were exceptionally severe, the vessel did not ship a single drop of water!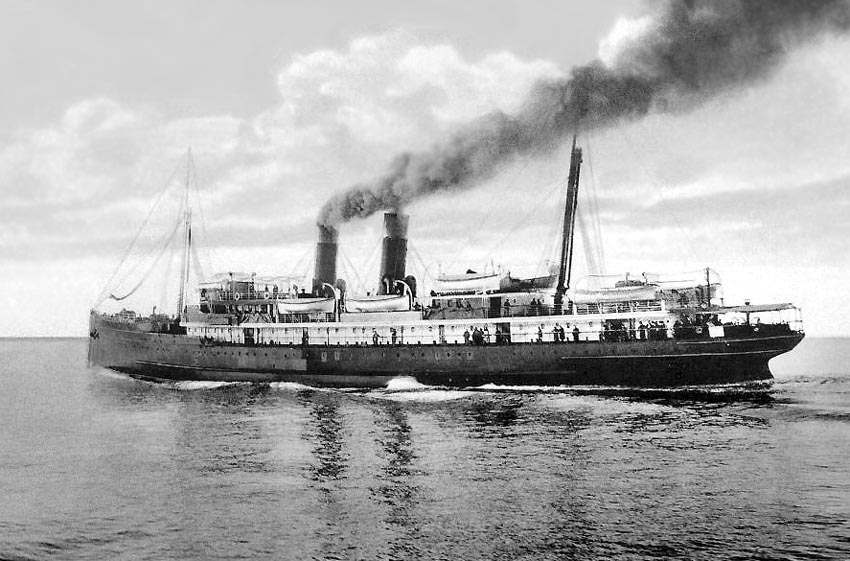 The TS Loongana is seen at sea with passengers out on deck
From the Author's private maritime collection
The voyage from Greenock, including stops at Port Said, Perim, Colombo and Fremantle took 37 days, but the actual steaming time of the voyage was only 32 days, 1 hour and 24 minutes, representing an average speed of 15 knots. There was no attempt made to ever drive the ship, and only two of her four boilers were being used, thus considering having encountered heavy weather and head winds, thus we had a remarkable voyage to Melbourne arriving in the evening of October 7, 1904." The aforementioned was based on statements by the ships master and others on board.
There was no doubt that this fine vessel had already proved that she was a worthy ship for she would have to sail Bass Strait and it is well known that it can at times be quite rough! And during her voyage to Australia, she encountered some of the very worst seas whilst she was on the Indian Ocean, which is well known as being one of the wildest seas, and I have personally experienced that more than once!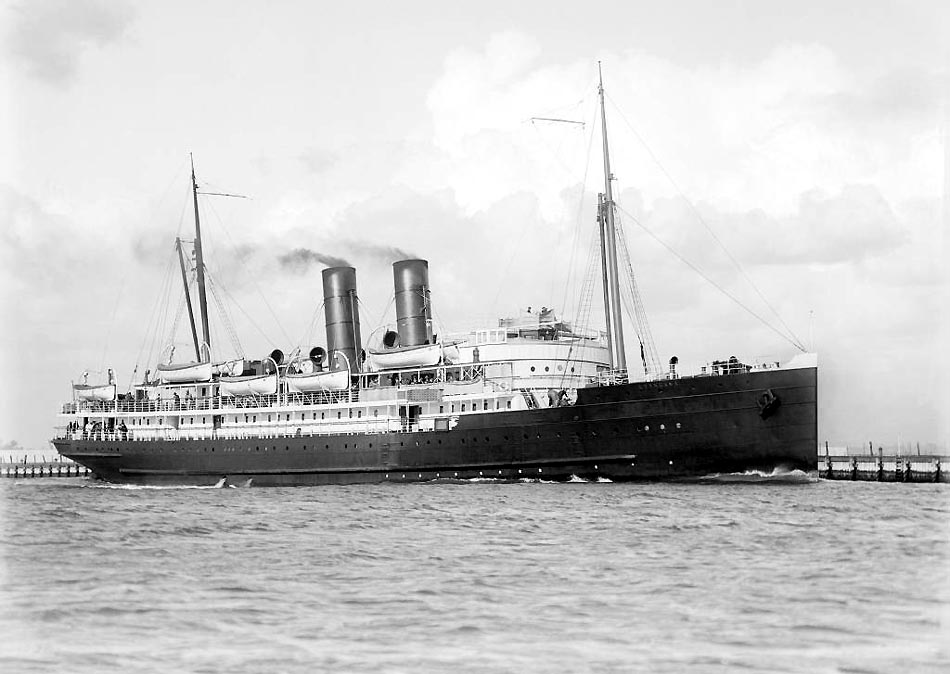 Here we see the TS Loongana arrive at Melbourne
Sourced from the State Library of Victoria
Preparation for Service:
Having arrived in Melbourne, the Loongana had a brief spell in Duke's dry-dock, located around a kilometre down stream from Queens Bridge, which would be hard to believe for those living in Melbourne today! She required some repainting and cleaning of her hull prior to commencing her express services. For those who were able to come and inspect her exterior were impressed by "… her shapely hull that had such fine lines, but what did stand out was her huge fins that projected along either side of her keel. Towards her bow she fines away, and look down the dock is enough to realise how it is she slips through the water as she does." This was written by a reporter of the Launceston "Examiner" when he inspected the ship in Melbourne. He also described her as follows; "The Loongana is not a mere ship. In every essential she is a yacht, in fact while she was being testes the popular remark always was - 'What a beautiful yacht.' The beauty of her design and the grace of her every movement produced always the impression that she was the property of a Royal." The "Examiner," Launceston October 13, 1904.
Bass Strait

"Express Passenger Service":
With the TS Loongana made ready to operate her "Express Passenger Service" she commenced duties in October 1904, and she rapidly became very popular because of her on board comforts and being the first steam turbine merchant ship ever in the southern hemisphere. Although she would sail mostly between 18 and 20 knots, yet during her sea trials she was able of reaching an excellent speed of 22.8 knots, which was remarkable for that time as she was one of the fastest ships around!
Two wonderful old postcards from my personal collection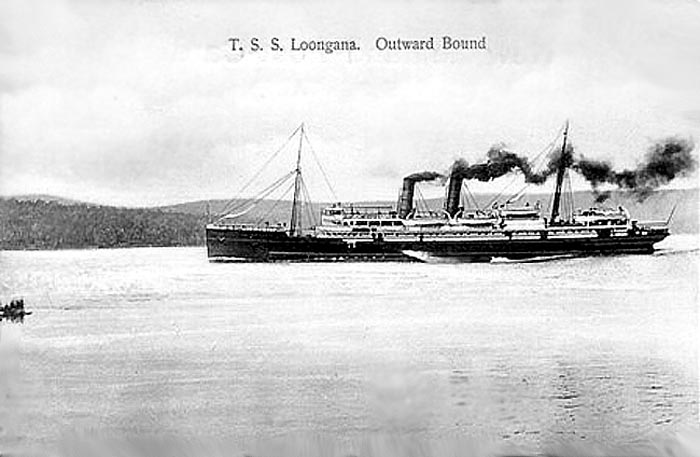 Her we see the Loongana depart Melbourne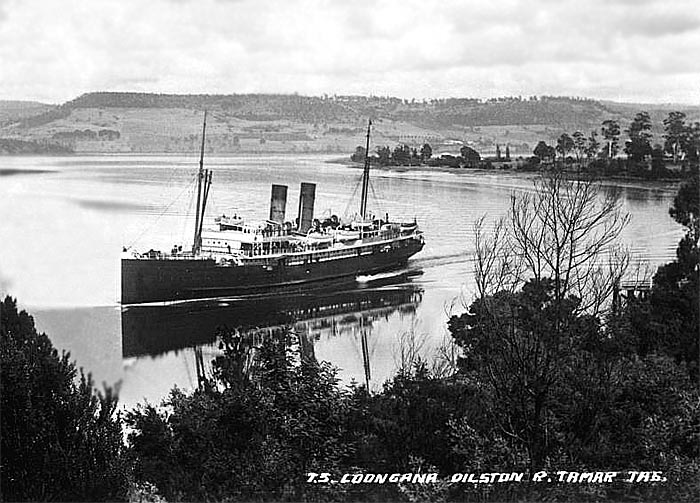 And this is her slowly sailing on the wonderful Tamar River that connects Bass Strait and Launceston
Please Note: All postcards on this page are from the Author's private maritime collection
TS Loongana became a very popular ship, for she offered far more comforts than any ship on the Bass Straits had ever seen before, for she had excellent and beautifully designed appointments. Both First and Second class had a beautiful Music Room as well as a Grand Saloon with the Bar (Main Lounge). The Dining Saloons were considered as being grandiose, and the public venues on the Loongana were considered suitable for a grand Ocean Liner! Of course First Class public venues were located forward and Second Class aft!
In addition, cabins on board were as being the best ever to be found on a ship especially designed for a nightly overnight crossing of Bass Strait for previously they had been more frugal. But now, each room was well appointed with First Class obviously being superior, but both classes featured the best innerspring mattress available at that time as well as cosy eider down quilts. The TS Loongana also became famed for being a ship that was offered a comfortable voyage, for she was ship without vibration as even more importantly she was a stable ship, for she somehow glided through the water being so perfectly designed, even in bad weather she was a well-balanced ship!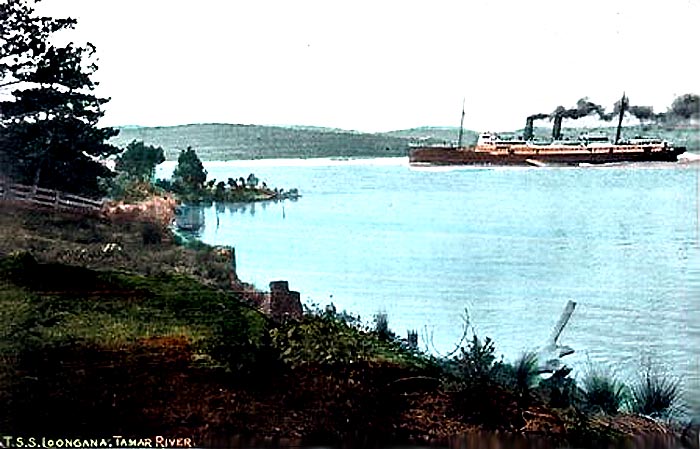 Above & below: two more Postcards of the Loongana seen on the beautiful Tamar River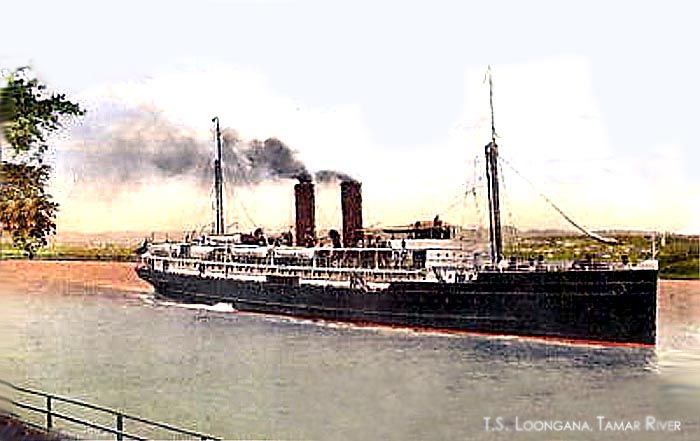 When required in 1912 the Loongana was quite capable to maintain an average speed of 22 knots as she raced across Bass Strait with Melbourne fire fighters on board including all their heavy rescue equipment and safety gear, for they were hoping to assist with the tragic disaster at the Mount Lyell Copper Mine on the Tasmanian West Coast. This also ensured her place in history!
In December 1921, Union Steamship Company of New Zealand together with the well know Australian Shipping Company Huddart Parker, formed a new company named the "Tasmanian Steamers Proprietary Limited," and it would operate a joint service between Melbourne and Tasmanian ports. The ships used were the TS Loongana and the smaller SS Oonah was provided by the Union Company and the new SS Nairana by Huddart Parker to join this new fleet.
Incidents
:
During her 32 years in service she only had two events, one that can be called a mishap and the other a brave event for the ship. In 1917 she had one of her propellers damaged, meaning she could not continue hr sailing, but this was soon repaired. Then in 1928, with industrial disputes going on in Tasmania, she was not able to reload any further coal in Launceston and had to return to Melbourne with barely half a load of coal. Considering she had some 200 passengers on board this was a risky voyage, but it was no use remaining in Tasmania, for she would be stuck there. However, with fine captaincy and some good luck she made to the heads of Port Phillip Bay and there she was met by Melbourne tugs that aided back to her berth!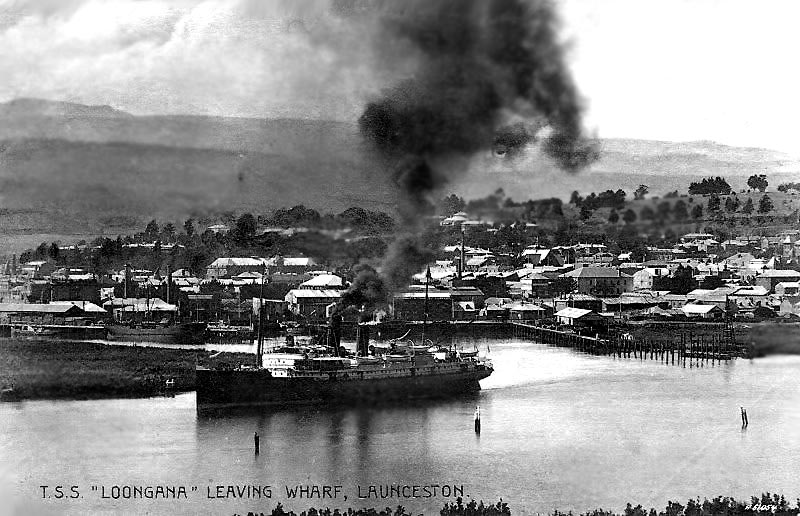 I had to do some work on this badly damaged postcard of this
lovely ship seen of one of her final departures from Launceston
Her Final Days:
But by late in 1935 it became obvious that the time would soon come that the wonderful Loongana was aging and that she would be replaced by the new and a larger ship that was being built by Alexander Stephen & Sons, Glasgow Scotland and she was completed in January 1935, being the SS Taroona. This ship was certainly larger and in many ways could be considered a better ship, but she could never match the superior speeds of the Loongana, as the Taroona could only manage a maximum of just 18 knots and nothing better, thus the turbine steamer Loongana had it all over the new ship, but age and old machinery was still a factor and the "Swift," "Fast" ship had finally worn out considering that she had sailed every night to and from Melbourne and Launceston!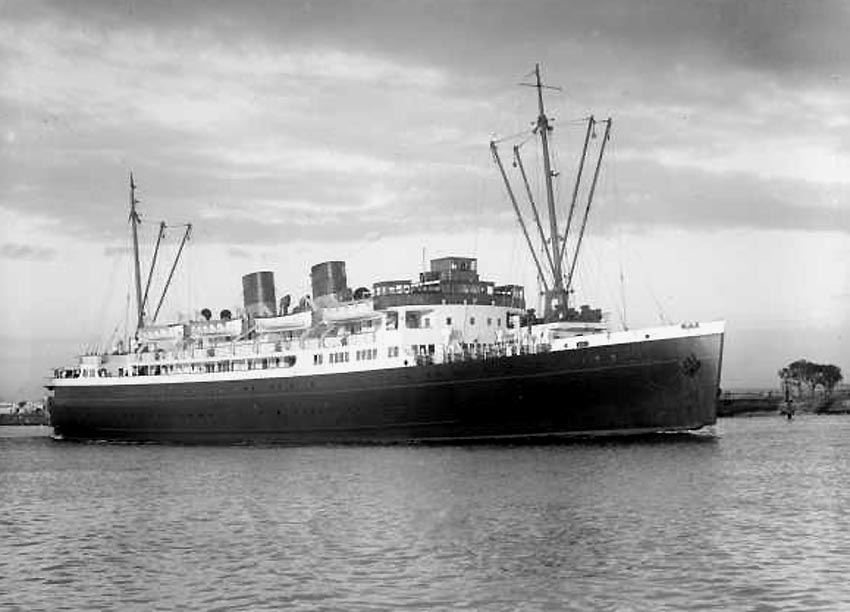 A more modern looking 4,325-ton SS Taroona
From the Author's private maritime Collection
Finally the time came that the TS Loongana was laid up in Melbourne and placed on the market to be sold, it did not take long before she was sold to a Japanese ship breaker by the name of "Tanaka K.K.K." of Osaka around July or August 1936.
The beautiful TS Loongana was once called "A beautiful Yacht" and she departed Melbourne on November 3, 1936, under-tow by the Union Steam Ship Company Tug the "Kauri" and they headed northward for Osaka, Japan for the long haul to Asia and Osaka, with suitable stops on the way. Once she had arrived at Osaka in December, it did not take long before they commenced breaking up this fine ship.
TS Loongana Specifications:
Owner:                                  Union Steamship Company of New Zealand, Melbourne, Victoria.
Builder:                                  William Denny and Brothers, Dumbarton, UK.
Yard No:                                728.
Launched:                              June 2, 1904.
Completed:                             August 25, 1904.
Type:     Passenger/cargo ship.
Registered:                             Australia.
Tonnage:                                2,448 GRT.
Length:                                  91.5m – 300.2ft.
Width:                                   13.1m – 42.11ft.
Draught:                                4.11m - 13.6ft.
Speed:                                   20 knots 22.8 knots maximum.
Passengers:                            240 First Class, Second Class numbers unknown
Ownership:                             1 - USSCo – 1904 to 1922.
.                                            2 - Tasmanian Steamers Pty Ltd -1922 to 1936.
Disposal Data:                        Broken up in Osaka December - 1936.
Remembering a New Zealand Ship that Never Made it Home
Because she was a True AUSTRALIAN!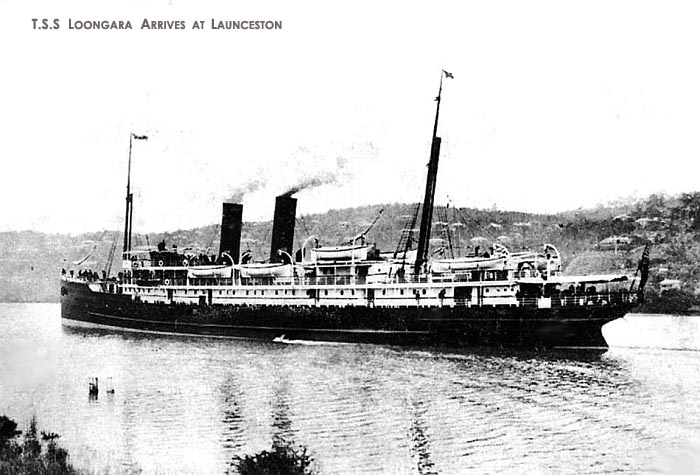 TS Loongana is seen arriving at Launceston
Also view the other USSCo Passenger Ships online, from oldest to the last ever built
SS Waitaki / SS Moeraki & Manuka / SS Marama & Maheno / RMS Aorangi
TSS Monowai / TSS Awatea / MV Matua & MV Tofua
****************************************
Return to the ssMaritime Main INDEX
ssMaritime.com & ssMaritime.net
Where the ships of the past make history & the 1914 built MV Doulos Story
Also visit my
"Save The Classic Liners Campaign"
Please Note: ssmaritime and associated sites are 100% non-commercial and the author seeks no funding or favours of any shape or form, never have and never will!
Photographs on ssmaritime and associate pages are by the author or from the author's private collection. In addition there are some images that have been provided by Shipping Companies and private photographers or collectors. Credit is given to all contributors. However, there are some photographs provided to me without details regarding the photographer/owner concerned. I hereby invite if owners of these images would be so kind to make them-selves known to me (my email address may be found on www.ssmaritime.com only), in order that due credit may be given.
This notice covers all pages, although, and I have done my best to ensure that all photographs are duly credited and that this notice is displaced on each page, that is, when a page is updated!
ssMaritime is owned & © Copyright by Reuben Goossens - All Rights Reserved