"Union Steamship Company" S.S. Maori (II) 1907 to 1951
Please Note: Firefox, iPhones, iPads & some other Search Engines may not be suitable
Use Internet Explorer & Old Google for this Web Page to load perfectly!
Click the logo above to reach the ssMaritime FrontPage for News Updates
With Reuben Goossens
Maritime Historian, Cruise'n'Ship Reviewer, Author & Lecturer
Please Note: All ssmaritime and my other related ssmaritime sites are 100% non-commercial and privately owned sites. Be assured that I am NOT associated with any shipping companies, cruise or travel agencies or any other organisations! The author has been in the passenger shipping industry since May 1960 and is now retired, and has loved writing articles on classic liners and cruise ships in order to better to inform cruise and ship enthusiasts for their pleasure. But I have now ended due to age and poor health!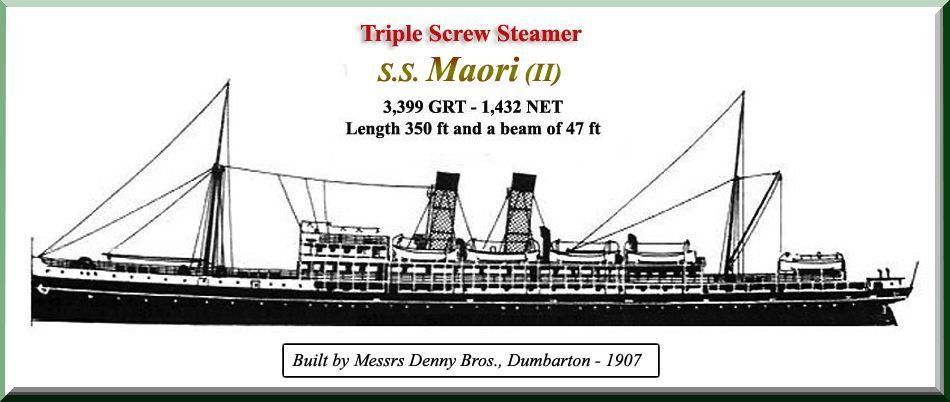 Sold to become: S.S. Hwa Lien in 1946
Initially the "Union Steamship Company" (USSCo) of New Zealand owned and operated a considerable fleet ships covering a range of tonnages, however the over-night Inter-Island Express service between Wellington and Lyttelton (Christchurch), was one of the most important routes. At that time it was operated by one of their somewhat larger ships which accommodated 332 passengers, being the 1,727 ton S.S. Rotomahana, which was built in 1879 and was due for replacement, therefore a new ship was urgently required and the company was looking into a new and innovative design.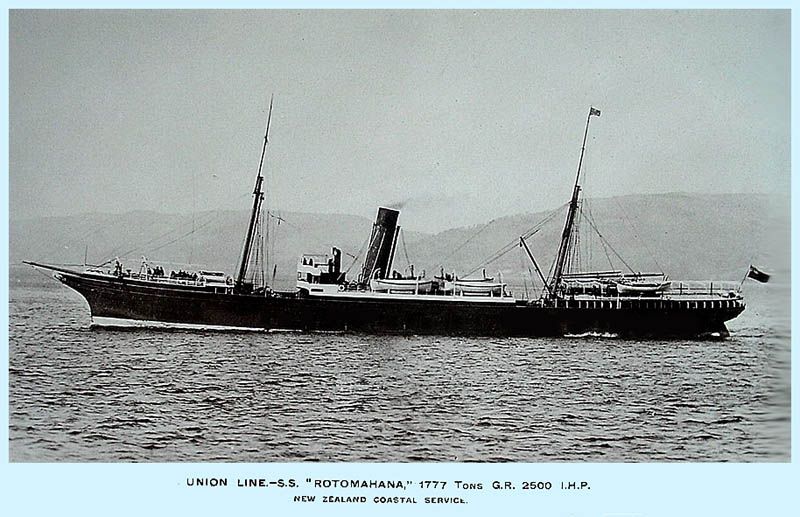 A postcard of the S.S. Rotomahana, which was a fine looking ship for her time
A New Inter-Island Ferry Ordered and Built:
Thus a new ship was beautifully designed and ordered to be built by "William Denny & Bros" at Dumbarton, Scotland. Amazingly, this fine ship would the very first ship to be especially designed and built for New Zealand's Inter-Island passenger service at a cost of UK£108,848.
Launching of the S.S. Maori (II) & voyage to

Australia
:
On November 11, 1906, came the great day for the new vessel to be named and launched in the presence of the Prime Minister of New Zealand, Sir Joseph Ward, but it was his wife, Lady Ward who actually named the ship "Maori," and then the Prime Minister officially launched the S.S. Maori.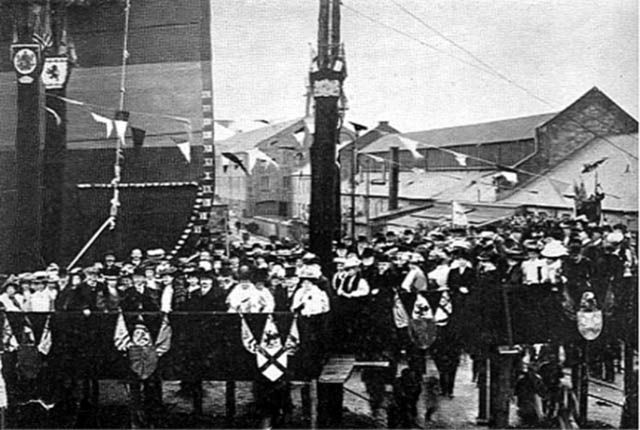 The Maori had just been named by Lady Ward, and is about to be launched by the Sir Ward
But sadly as the Maori entered the river, she went straight across to the opposite bank of the river and crashed into it, thankfully there was no damage and she was towed to her fit-out berth. Her fitting out and completion took almost another nine months, considering she was to be an Inter-Island Ferry she was certainly sumptuously appointed with beautiful Saloons and grand Dinning Rooms, venues up to standard of Trans Atlantic Ocean Liners and spacious and well appointed accommodations! Finally, with the S.S. Maori having been completed she headed out for her sea trials, and sadly during the trial somehow she ran aground and was forced to return dry-dock for repairs to her hull.
With repairs completed she departed for her second trial run on September 19, 1907 and unbelievably this time the Maori collided at 11.45 am with, and sank the S.S. Kintyre being a small coastal vessel. The following is a story that kindly sent to me by a supporter of ssmaritime, Mr. Conall Fyffe of Glasgow, Scotland.

The S.S. Kintyre
"The SS Kintyre departed Greenock for Campbeltown around 11 A.M., and she had on board a crew of 15 including her master and chief engineer, on this voyage she did not have any passengers or cargo. It was simply a beautiful day with a calm sea. With the Kintyre having just come around the east point of Wemyss Bay, and remaining close to the shore of Renfrewshire, then through some (as it was said) "misunderstanding" she collided, and was sunk by the new ship the 3,400 ton turbine steamer, the S.S. Maori, which at the time had been undergoing her speed tests on the measured mile.
Apparently, the bow of the Maori smashed with great force into the starboard quarter of the S.S. Kintyre, just at the after hatch and in close proximity to her machinery, which meant that water poured into the steamer's side extremely fast. With the ship flooding so rapidly the Kintyre settled down by the stern within minutes. It was soon realized that she would not remain afloat for long, and thankfully, the two ships remained locked long enough to enable the Kintyre just above water and the crew of the stricken ship were able to scramble up the side of the Maori with the aid of rope ladders thrown down to them by the crew on the larger ship."
The S.S. Maori returned to dry-dock for repairs to her bow and her bow rudder. Believe you me, there were quite a few people praying, "Please God let all tragic events come to end!" Thus, was it all finished, well not quite, for there would be just one more event to come! At the commencement of her delivery voyage to New Zealand, the Maori believe it or not, ran aground once again! However, thankfully this time she did not suffer any damage whatsoever, and the S.S. Maori able to continue her voyage to her homeport in New Zealand, without a single problem.
Her delivery voyage from Scotland to the USSCo head Office in Dunedin, New Zealand was under the command of Captain Malcolm Livingstone was delighted to bring the S.S. Maori to her homeland.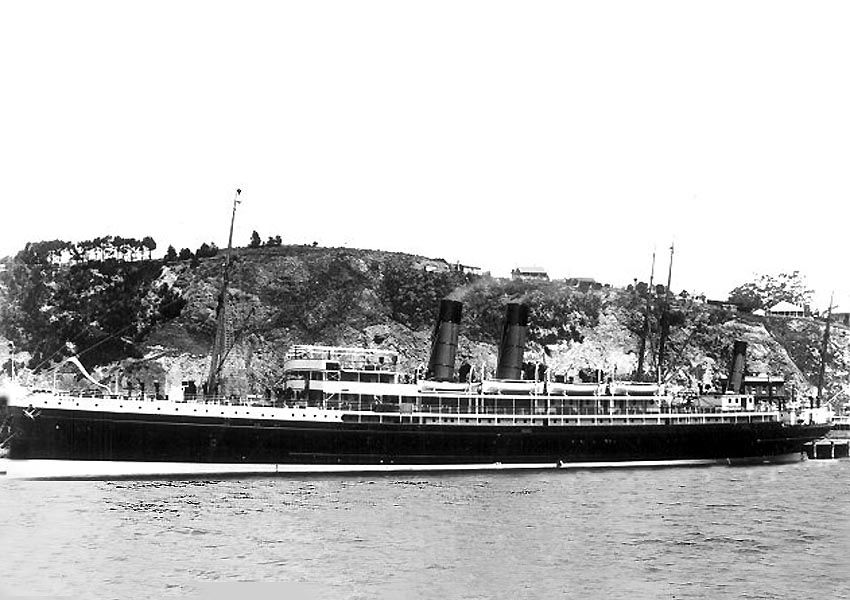 A Fine view of a beautiful ship, the S.S. Maori having been delivered to her owners in Port Chalmers (Dunedin) New Zealand
After all the official speeches, and formalities, the ship was opened to invited guests and the media, and later to the public. She the headed for her homeport Wellington on November 20, 1907 and Captain Livingstone handed the ship over officially to Captain Manning and said that he was delighted to handover to this splendid ship, for she had handled perfectly during her long voyage from Scotland!
Named After an Earlier Ship:
For interest, the "Maori" was named after one of the earlier ships in the "Union Steam Ship Co" founding fleet, being and the S.S. Maori (I) built, which was built in 1875, and she was a mere 173.57 tons and accommodated just 20 passengers. Besides having a Compound Steam-Reciprocating inverted direct acting engine, she also had two masts, thus she was schooner rigged and could sail under canvas.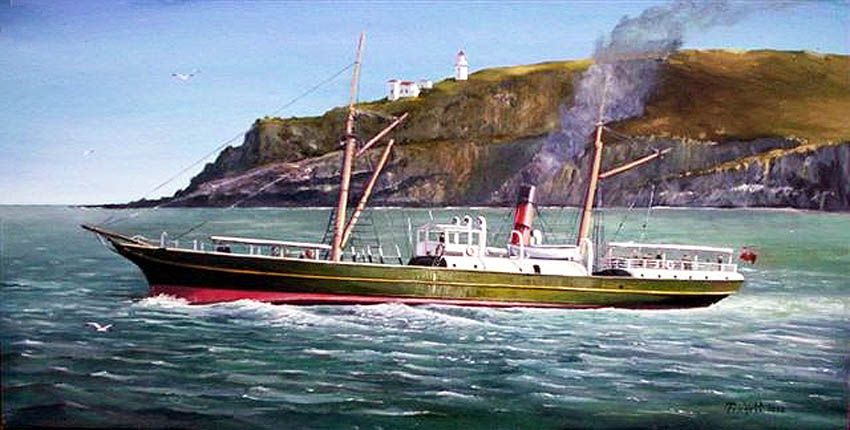 The Schooner, S.S. Maori (I) is seen n this painting departing Wellington for Lyttelton
SS Maori (II) Mechanical Details:
She was fitted with three sets of Parson's steam turbines that worked up to 5,859 horsepower. The single high-pressure turbine was brought into action when under weight, whilst the two low-pressure turbines (port and starboard) in use in port and also at sea. There were two double-ended boilers 20'6" over the plates, and 18 corrugated furnaces of 3'9" in diameter. She had three - three bladed propellers, each being 5'4" in diameter, with a 4'7" pitch. As built her boilers were coal fired, but in 1923 she was converted to become oil fired, making her a cleaner and a less expensive ship to operate.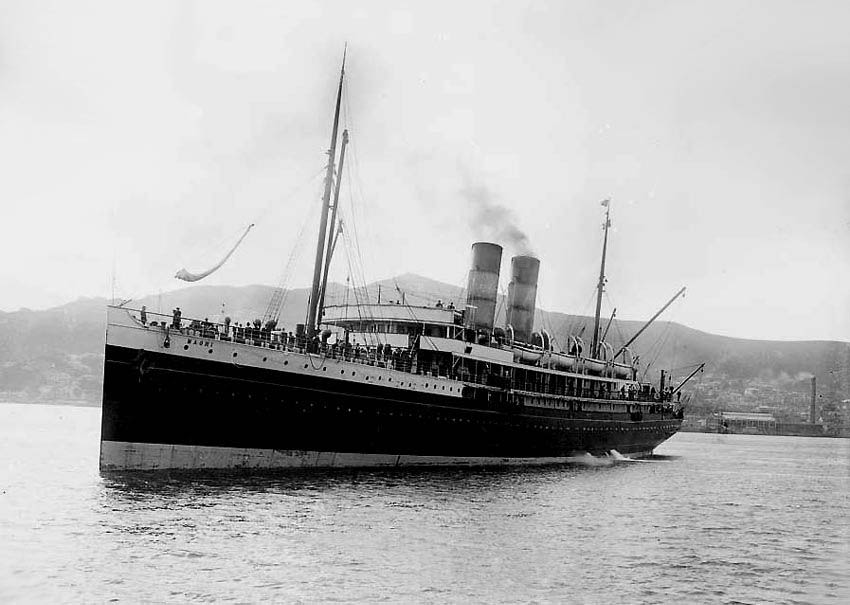 The S.S. Maori is seen here having just commenced her inter-island services in December 1907
One of the main reasons this fine new ship was ordered, was due to the anticipation of rapid increase passenger traffic, mostly due to the completion of the new direct railway line between Auckland and Wellington. And this proved to be correct as there was indeed a steady increase of passenger loadings.
S.S. Maori's Interiors:
With the Maori having arrived she was opened for inspection and according the newspapers, both the public and officials were amazed by the luxurious appointments, both in Saloon (First) and Second Classes. However, the news of what had occurred in Scotland there remained within some minds, who continued to wonder; "What sort of jinxed ship have we acquired?" Thankfully, that thought rapidly disappeared as when the S.S. Maori commenced her voyages, she continued with a perfect record and enjoyed smooth sailing for many years; could it have been that she just did not like the Northern Hemisphere?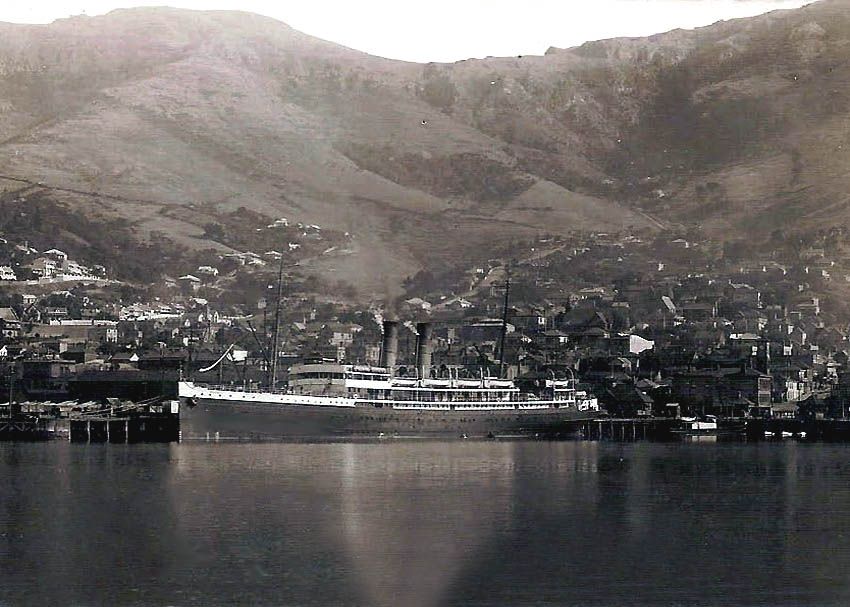 The elegant looking S.S. Maori is seen berthed at Lyttelton
Photograph © Bert Bonnington
The appointments of the S.S. Maori are calculated to intensify at once the feeling luxurious appointments and confirm the sentiment of accommodations have cosy comforts! The Maori has five Decks, these being; Navigation Deck, Upper Promenade Deck, Lower Promenade Deck. Main Deck and Saloon Deck.
Saloon Class:
Her spacious Music Room is a veritable symphony in old gold and blue. There are comfortable beautifully upholstered lounges that invite relaxation, whilst the grand piano foreshadows unending possibilities for the evening. The magnificent grandiose Dinning Room is reached by a grand Stairwell, featuring the finest of timbers and superbly carved pieces. The Dinning Room itself was of special significance, as it was upholstered in crimson and decorated in subdued artistic tints of green and white and gold. A grandiose dome which was pierced and garnished with stained glass rose up right through to the Upper Promenade Deck into the Music Lounge, where there was a balustrade and passengers could look down into this fine venue. The Smoke Room was appointed for sheer comfort and relaxation, its furnishings comprised green covered tables of a Sheraton designed lounge chairs with crimson upholstering as well as comfy wicker chairs with downy cushions.
Cabins were superbly equipped and all were spacious. Special attention had been given to lighting and ventilation. There was even a special Bridal Chamber! Accommodations available were single bed cabins as well as twin bedded cabins. Some cabins may have an additional fold away upper berth for an addition guest or child. The Maori very soon became well known for its luxurious bathrooms and "marvellously fashioned lavatory" which were available all over the ship, and always close to accommodations, and were always spotless!
Second Class:
It should be said from the outset, that this class was like Saloon, and it was superbly provided for in every possible way! The delightful Saloon was superbly upholstered in blue, russet and gold, and richly carpeted and was the perfect venue for a drink or some evening entertainment before or after dinner. Their cabins were again very spacious indeed, with all beds on board having spring mattresses and superior bed coverings.
Her Usual Schedule would be:
S.S. Maori would depart Wellington at 8.30 pm, on alternate days. She would arrive at Lyttelton at 6.40 am the next morning.
She would depart Lyttelton at 8.30 pm and arrive at Wellington at 6.40 am the next morning.
PS: During her regular service as stated above; she would arrive at Lyttelton at 6.40 am on alternate days, and the Maori would depart for Wellington at 8.30 pm in the evening. However, if the Invercargill express train was late arriving in Christchurch, then she would wait for the arrival of the passengers and the mail, she would then sett off at high speed for Wellington, where she would arrive around 7.00 am the following morning. Then she would wait all day for the passengers from the South bound Auckland express train who have booked to head south on her.
Record Breaking S.S. Maori:
However, having been delivered, she very quickly set a few records within the first month of her arrival in New Zealand.
In December 1907 the Maori sailed from Lyttelton Heads to the Wellington Heads in eight hours and eighteen minutes, reducing the 175 miles service by more than one hour, thus setting a record!
Then soon thereafter on December 27, 1907 she set a new record of a mere eight hours and twenty three minutes from wharf to wharf, this is a record that would not be broken for fourteen long years.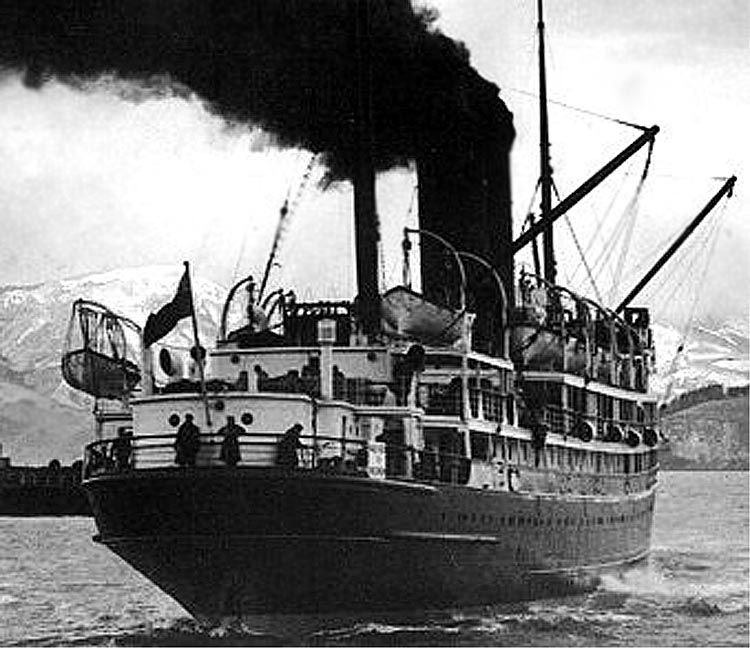 S.S. Maori is seen leaving Lyttelton Heads for a record breaking voyage to Wellington Heads in December 1907
The photographer is unknown - Please read the Photo Notes at the bottom of this page.
In July 1913 the 4,435 ton S.S. Wahine arrived in Wellington and joined the Wellington Lyttelton service working together with the ever-popular S.S. Maori. Now the USSCo had two excellent ships that were able to match one another and run to a timetable that would be the envy of any bus or railway organisation and operate on tight schedules.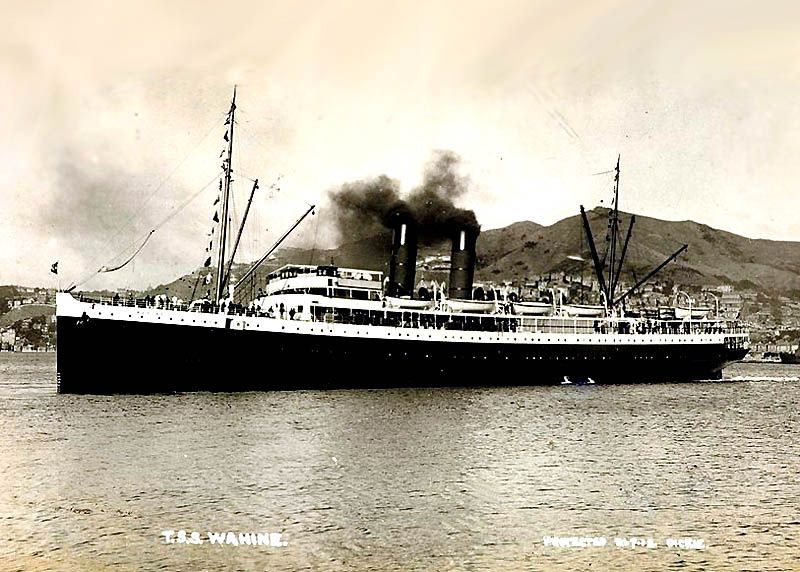 An USSCo postcard of the S.S. Wahine (I)
Both ships made perfect connections with railway expresses in the North and South Islands and ensured that mail posted in Wellington by at least 6 pm on any evening except Saturday could be delivered in Christchurch the following morning, as well as in Wellington. But sadly this great service was soon interrupted a week later due to a water-front strike that threatened the economy of New Zealand. Although in due course the strike finally ended on December 20, and although the ships had attempted to operate occasionally that ended early in November due to an incident.
Work was done mid in 1916 on that was known as the "Lyttelton Wool Jetty" but upon completion it was officially known as the "Lyttelton Ferry Wharf. The Maori fist berthed at this new Ferry wharf on June 6, 1916.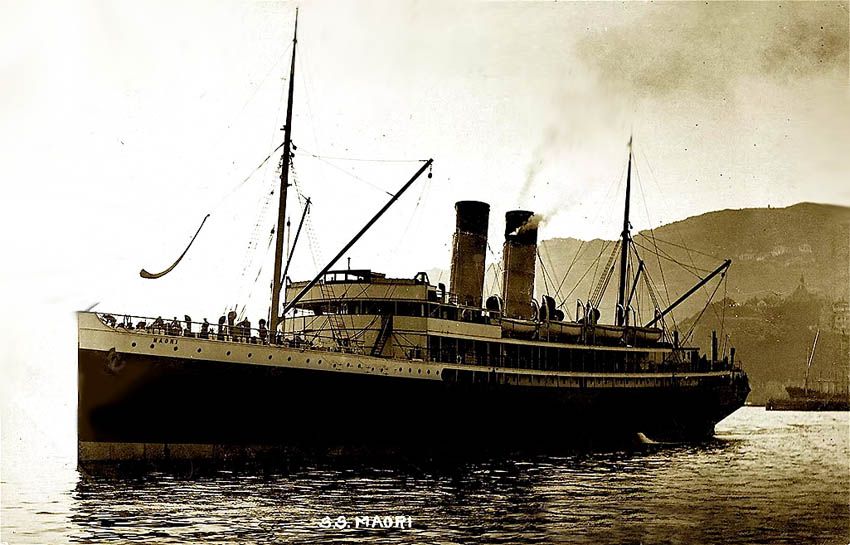 Another postcard of the S.S. Maori
Provided by Dr. David McMahon, Snr - NZ
The Maori remained a popular ship and together with the Wahine they operated the perfect Inter-Island service. However, in 1916 everything changed due to World War One, as there was a huge crew shortage, as most were now used on the larger troop ships, there was a massive crew shortage, her services were temporarily cancelled, but services were restored as soon it was possible.
World War One:
The S.S. Maori did make an excellent contribution to the war effort, as she transported military material, as well as armed forces and countless passengers between Wellington and Lyttelton. Maori's service during her career had proved to be, to say the least, simply outstanding considering she had sailed through some of the roughest seas imaginable, but handled them all well. During her days with the USSCo she suffered comparatively few accidents or mishaps, there was a minor collision, and there was a blade shed from one of her propellers.
Post War I:
The S.S. Maori had been operating successfully for a considerable time, but she could not compete with the Unions and in 1922 there was yet another maritime strike, which cased the ship to be withdrawn and laid up once again. However, in 1923, she received a refit and she was converted from being a coal fired ship, to oil burning! After this she returned to full time service.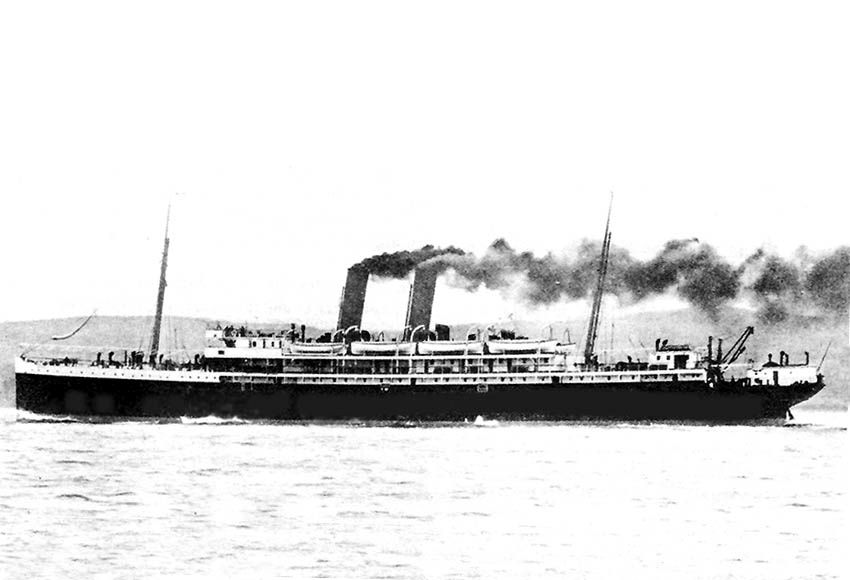 The S.S. Maori is seen departing Wellington for Lyttelton
The Maori was kept very busy on the Inter-Island service from 1907 right through to 1931, when she was laid up when the Rangatira arrived, but she was kept in reserve and was then brought back into regular service during World War II, in order to replace the Wahine, as she had been commissioned to serve as a troop ship.
The Maori continued her regular sailings, but suddenly on January 6, 1944 she was laid up at Wellington, and sadly she would never sail for the "Union Steamship Company" ever again!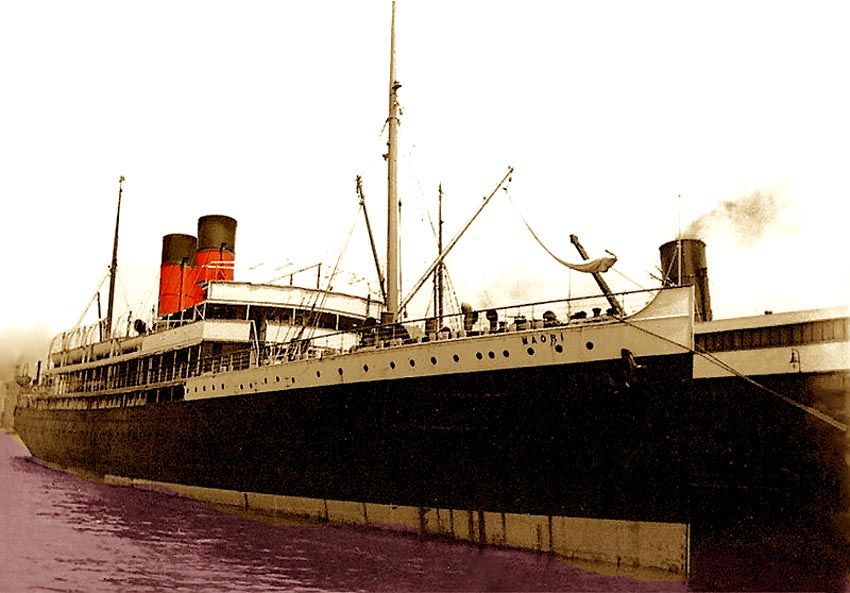 The SS Maori is seen after her conversion to oil burning but she is seen during a lay up situation
This photograph was partially colourised by the sender.
Photograph provided by Jan Bouwman
Sold to become the
S.S. Hwa Lien
:
S.S. Maori remained idle for the next two and a half years, then in June 1946 she was sold to the Shanghai based "United Corporation of China Ltd" (UCC) for £100,000, and she was renamed "Hwa Lien" meaning - "China Connection." The company obtained her to operate her on the China coast and the local population would consider this ship the last word in luxury as her interiors were indeed very glamorous.
Her hull was painted black with red boot topping and a thin white ribbon around her hull, her funnels were now black each having a broad white band. The now Chinese owned S.S. Hwa Lien departed Wellington on August 22, 1946 and she crossed the Tasman Sea headed for Sydney, Australia.
Of course she was built as a coal fire ship, and only converted to oil firing in 1923. It was expected that she would sail under her own power to Sydney, which she was capable off, then she was to be towed to Shanghai, for her oil tanks were simply insufficient to carry sufficient fuel to sail the distance, for she only designed to operate an overnight voyage each way from Wellington to Lyttelton and return.
Having arrived, she refuelled and the ship was stocked up and she departed and headed north and she headed for her new homeport and she much have called into a number of port on the way to Shanghai China to refuel, but no information was provided by the company.
UCC obtained the S.S. Hwa Lien to operate a service along the Chinese Coast; however as soon as they had enlarged the fuel tanks, it was decided by the Government to send her on a special humanitarian voyage to Sydney Australia with 474 refugees, including 303 European Jews who had escaped Holocaust horrors and had managed to travel as far as Shanghai. These refugees had been given permission to come to and enter Australia.
The S.S. Hwa Lien departed Shanghai on December 29, 1946 and at the outset she intended to sail direct to Sydney, but, within two weeks the ship was running drastically short of food, water and other supplies, thus on January 10, 1947 the ship radioed and advised that the ship had to divert to Darwin to obtain supplies, and she arrived there on January 14. S.S. Hwa Lien just happened to be the very first passenger ship to visit the port of Darwin since the end of WWII. Having fully restocked with food and water, she departed and headed for Brisbane where she arrived on January 26.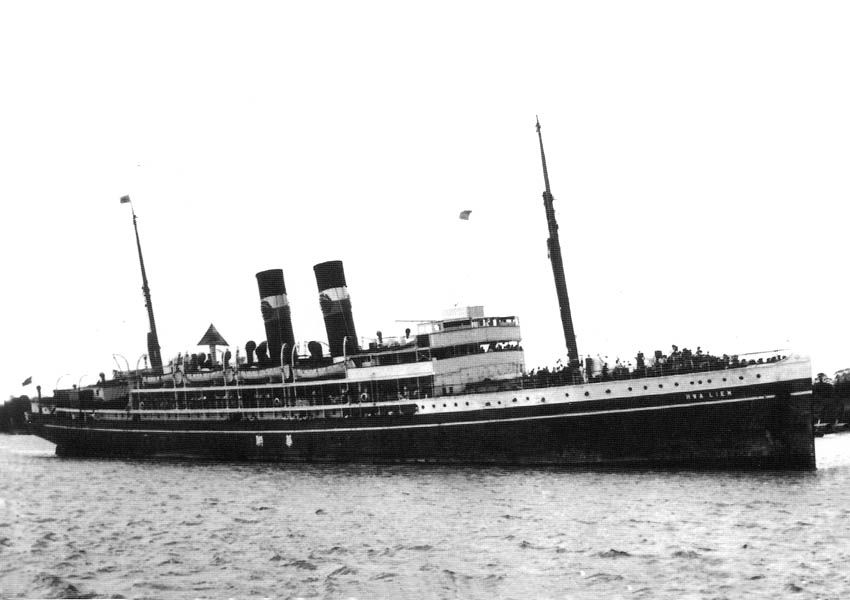 S.S. Hwa Lien is seem sailing along the Brisbane River heading for Hamilton wharf
The Hwa Lien departed Brisbane late in the afternoon of the day of arrival, after which it was just two more nights at sea before arriving in Sydney on January 28, 1947.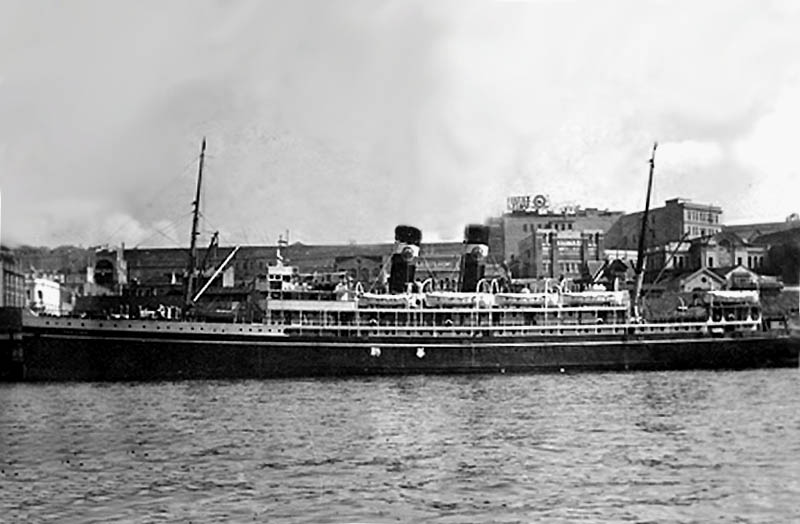 SS. Hwa Lien is seen berthed in Sydney
In Sydney all her 474 passengers disembarked and they were more than pleased to have arrived, but were delighted to get of the ship, which some called the ship from hell, even though her public rooms may have been beautiful, but there was little to no service, the food seemed to be constantly rationed and the quality was from "very poor" to "terrible." In addition, the little ship pitched and rolled so violently for days on end during her voyage.
The next day, January 29, 1947 the S.S. Hwa Lien departed an empty ship, except for her relatively small crew, limping port by port for Shanghai.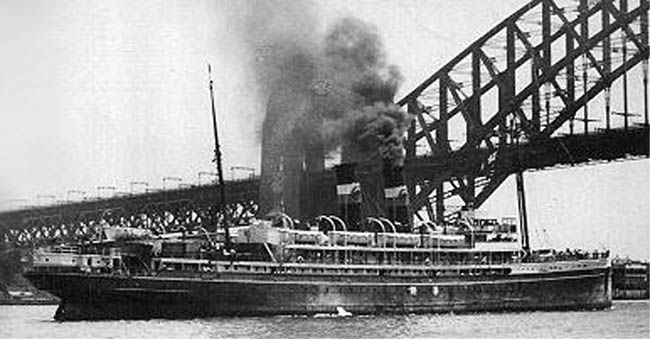 Here we the Hwa Lien for the final time as she departs Sydney bound for Shanghai
As the S.S. Hwa Lien returned to Shanghai, she was finally crewed and made suitable for Chinese passengers and in the very best accommodations, international guests, where there would be more specialised stewards in attendance! The coastal service proved quite popular, but with the advance of the communist forces on Shanghai, this brought the end of Hwa Lien's coastal services, and she was now used to ferry Nationalist troops to Formosa (Taiwan).
1950; She was sold in 1950 to the "Chung Lien Steam Ship Company" but they laid her up in Keelung Harbour.
On January 13, 1951 a hurricane his and the Hwa Lien was dragged by her anchors, which saw finally sinking. In May, she was raised and was sold to the breakers. This saw all her superstructure demolished, but a section of the hull was converted into a barge, and they placed an 80 ton crane on her. Upon completion the new barge with her crane served Keelung Harbour for many further years.
S.S. Maori (2):
Official Nr.         117598.
Built by:            William Denny & Bros at Dumbarton, Scotland 1906/07.
Launched:          November 11, 1906.
Delivered:          November, 1907.
Tonnage:           3.399 GRT – 1.432 NET.
.                       3.488 GRT - 1.567 NET.
Engines:            3 sets of *Parsons steam turbines up to 5,859 BHP.
.                       B&W 6 cyl Diesels 4,500 BHP.
Propellers:         Three - three bladed propellers, each being 5'4" in diameter, with a 4'7" pitch.
Rudders:            Two astern.
.                       One bow rudder for astern berthing.
Service speed:    18 knots service speed, 20.5 knots maximum speed.
Length:             106.7m - 350.55.
Breadth:            14.3m - 47.2ft.
Draught:            5.15m - 16.9ft.
Passengers:        553 passengers - 423 in Saloon Class and 130 in Second Class.
Crew:                95.
*Three sets of Parson's steam turbines that worked up to 5,859 horsepower. The single high-pressure turbine was brought into action when under weight, whilst the two low-pressure turbines (port and starboard) in use in port and also at sea. There were two double-ended boilers 20'6" over the plates, and 18 corrugated furnaces of 3'9" in diameter. She had Three - three bladed propellers, each being 5'4" in diameter, with a 4'7" pitch.
************************
Remembering the Delightful "USSCo" ~ S.S. Maori.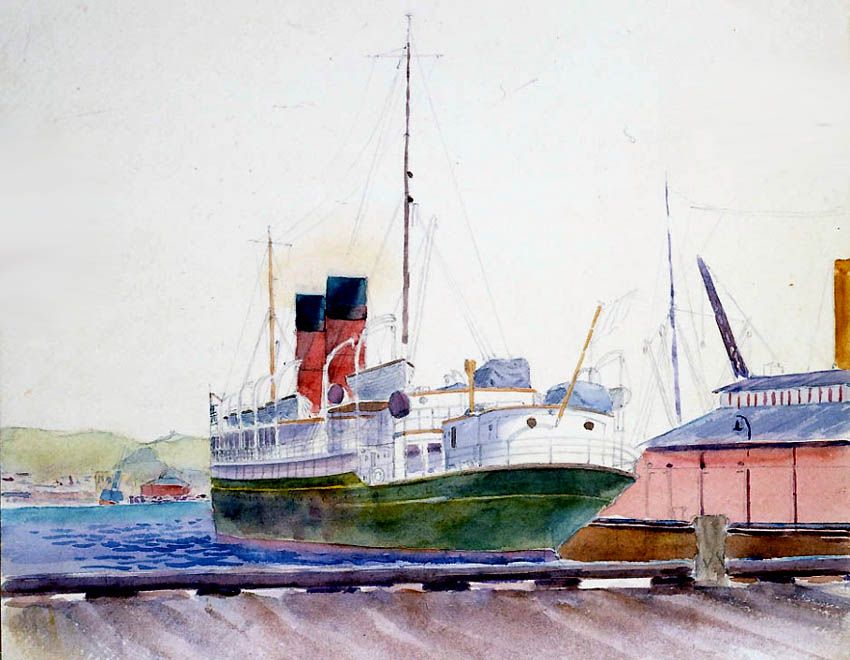 A delightful watercolour by Arthur-Hayden with a stern view of S.S. Maori seen alongside her Wellington Inter-Island berth
The Painting of the S.S. Maori' is © https://nzhistory.govt.nz/media/photo/painting-of-the-ferry%2C-maori - Ministry for Culture and Heritage
"Blue Water Liners sailing to the distant shores.
I watched them come, I watched them go, and I watched them die."
************************
ENTER OUR ssMaritime MAIN INDEX
Where you will discover over 750 Classic Passenger & Passenger-Cargo Liners!
ssMaritime.com & ssMaritime.net
Where the ships of the past make history & the 1914 built MV Doulos Story
Photographs on ssmaritime and associate pages are by the author or from the author's private collection. In addition there are some images that have been provided by Shipping Companies and private photographers or collectors. Credit is given to all contributors. However, there are some photographs provided to me without details regarding the photographer/owner concerned. I hereby invite if owners of these images would be so kind to make them-selves known to me at rg@ssmaritime.com in order that due credit may be given. Believe me, I am well, aware when photographs are taken without permission, Pinterest.co.uk seems to help themselves to anyone's images, for almost over 800 of my personal collection on their site, without my permission, yet I have contacted, but no reply! As well as others who just help themselves, but I will never do this, as I believe to do the right thing at all times. But when I receive a photo, and there is no knowledge of a photographer, I ask for permission, or will even happily remove it if requested politely!
This notice covers all pages, although, and I have done my best to ensure that all photographs are duly credited and that this notice is displaced on each page, that is, when a page is updated!
ssMaritime is owned & © Copyright by Reuben Goossens - All Rights Reserved