Union Line of New Zealand SS Maunganui 1911 - 1947 / Hellenic Mediterranean Lines TSS Cyrenia 1947 - 1957
Please Note: Firefox & Google Chrome are not suitable - Use "Internet Explorer" or old "Google" for this page to load perfectly!

Please Note: All ssMaritime and other related maritime/cruise sites are 100% non-commercial and privately owned. Be assured that I am NOT associated with any shipping or cruise companies or any travel/cruise agencies or any other organisations! Although the author has been in the passenger shipping industry since 1960, although is now retired but having completed over 690 Classic Liners and Cargo-Passengers Ships features I trust these will continue to provide classic ship enthusiasts the information the are seeking, but above all a great deal of pleasure!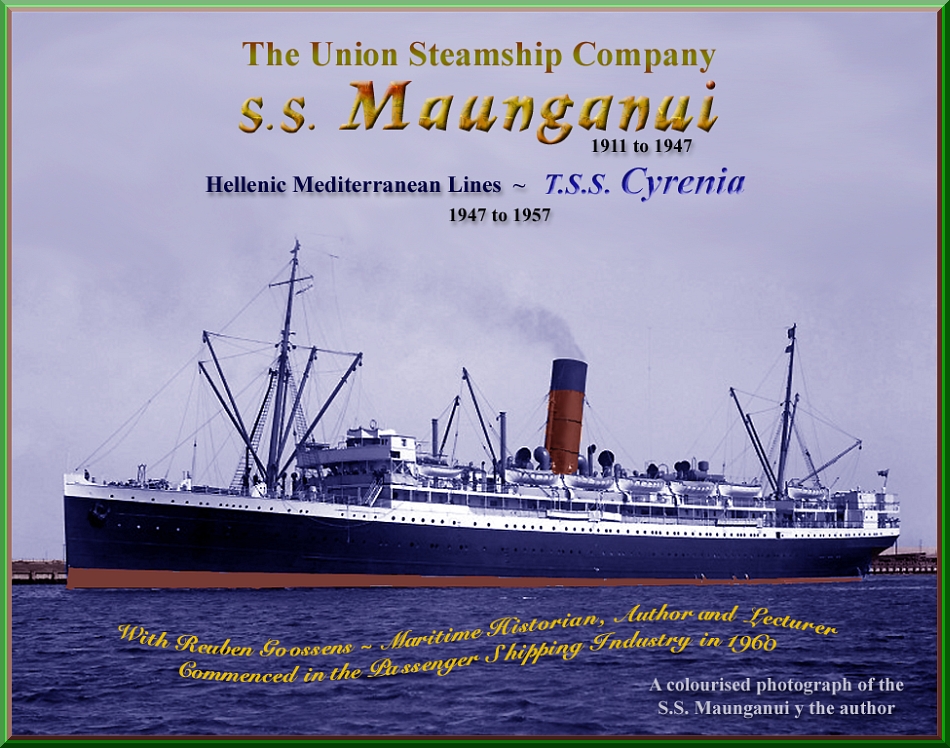 Part One
Introduction:
With the Union Line of New Zealand having had a number of ship losses during the past twenty years, it was decided to build what was considered one of the finest ships for the company, she would have specifications that were very precise and the Union Line stipulated that only the finest of materials and equipment was to be used in every area of the new ship, from the engine room, the crew quarters, galley's and the passenger accommodations!
Thus the Union Line, later to become the "Union Steamship Company" (USSCo) of New Zealand ordered a new passenger liner to be built by Fairfield Shipbuilding and Engineering Company, Govan on the River Clyde in Glasgow.
She was launched on August 24, 1911 and once her fit-out had been completed, she headed off for her sea trials, which proved to be successful and she was officially handed over as the "Maunganui" for the Union Line of New Zealand.

A line drawing of SS Maunganui's starboard profile
Thanks to the very high quality control during her construction combined with the finest workmanship by Fairfield workers proved that the Maunganui would be not just a solid ship but also one of the most successful of the Union Lines ships. In fact, she served and came out safely in two World Wars, and she also enjoyed a long and a very successful and a profitable life, sailing for an amazing 46 years, which for a ship in those days was unheard of!
Voyage from the U.K. to New Zealand:
Although the SS Maunganui was due to be completed by the end of November, but due to several last minute problems her delivery was delayed until the end of December, therefore instead of departing Glasgow on December 5, she did not get away until December 27, 1911 and headed south for Plymouth arriving on December 29 and she departing the same day having taken onboard 300 passengers and continued her maiden voyage half way around the world to Australia and New Zealand!
Although she was due to be completed by the end of November, due to several last minute problems her delivery was delayed until the end of December, therefore instead of departing Glasgow on December 5, she did not get away until December 27, 1911. Having been officially handed over to her owners she departed Plymouth on December 29, for her maiden voyage half way around the world having taken onboard 300 passengers.
She steamed non-stop around Africa and she arrived in Melbourne on Friday February 2, 1912 and she remained overnight, then on Saturday the 3rd.she headed for Sydney arriving on Monday February 5. She remained in Sydney to be prepared to commence her forthcoming Trans-Tasman "horseshoe" service, which she replaced the veteran ship the SS Warrimoo.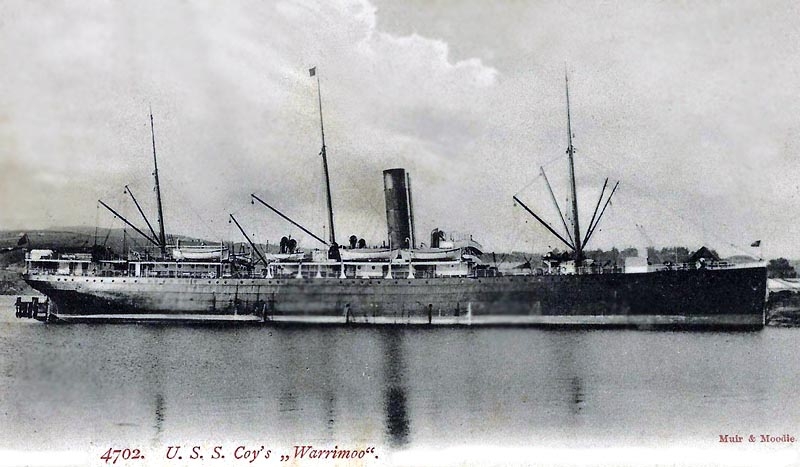 The SS Warrimoo was built in 1992 and was 3,529 tons
The Maunganui departed Sydney on Monday February 12, being her first official Trans-Tasman sailing and she headed directly to Wellington, then to Lyttelton, Dunedin, and Bluff before returning across the Tasman to visit Hobart and finally back to Melbourne. The new Union Line liner was the subject of an astonishing amount of favourable comment in every port she visited, as she was just slightly smaller than the popular liners that were employed on the Trans-Pacific services to San Francisco and Vancouver.
Maunganui's Arrival in Wellington:
As she plied the Tasman Sea bound for Wellington, where she would in so many ways officially commence her USSCo career! She arrived in Wellington on Wednesday, February 14, 1912 around midday with a large number of spectators waiting along the shores and her berth, just to see the stately looking liner with her tall slightly tilted funnel and two tall masts and her dark hull sail up Wellington Harbour until she berthed. She was an instant hit with all who saw her, for if she was as good on the inside as she was on the outside said many, she would be a great ship, and indeed she was a superb ship, for her interiors were superb!
Her arrival and the ships interiors are best described by the enthusiastic reporter of the "Evening Post" Wellington who wrote on February 14. Please Note: The following article taken from the Evening Post is a word-perfect copy of the original article and has not altered in any way, except for the two deletions as is clearly shown. Thus it uses the language of the time!
"After an uneventful trip from Sydney the latest addition to the Union Co.'s passenger fleet arrived at Wellington shortly before noon today. The Maunganui was specially built for the Company's Vancouver service by the Fairfield Ship Building Co., and it is claimed for her that she is one of the finest and most artistically finished liners of her size in the world. She is about 1,000 tons greater than the Marama and in appearance resembles the Karoola. She is said to have cost about £200,000 to build and equip.
On her maiden voyage from the Clyde to Melbourne she behaved remarkably well and proved herself a very fast vessel, the non-stop trip occupying only 34½ days. On her trials she developed a speed of a little over 18 knots without undue pressure and a good 17 knots (in service) can be got out of her if required."
Short specification section by the reporter is not used as these are listed below!
"The main passenger entrance may be either on main or upper deck, according to the tide. Forward to the main (first class) stairway there is a dining saloon over 50 ft long extending the full width of the vessel. The decorations of the saloon are arranged on the café principle and are capable of seating 144 persons. The second saloon will seat 11 diners.
In general arrangement and equipment, the Maunganui is of the highest class. Ventilation has received careful attention both naturally and by thermo-ventilating system with Louvre to each room which allows passengers to regulate the current of air.
Short specification section by the reporter is not used as these are listed below!
The Maunganui will remain at Wellington until tomorrow when she will continue her voyage to Melbourne via southern ports Lyttelton, Dunedin, Bluff and then via Hobart."
SS Maunganui's Photographs:
All interior photographs shown below are First Class public venues, for sadly there are no Second or Third Class images available.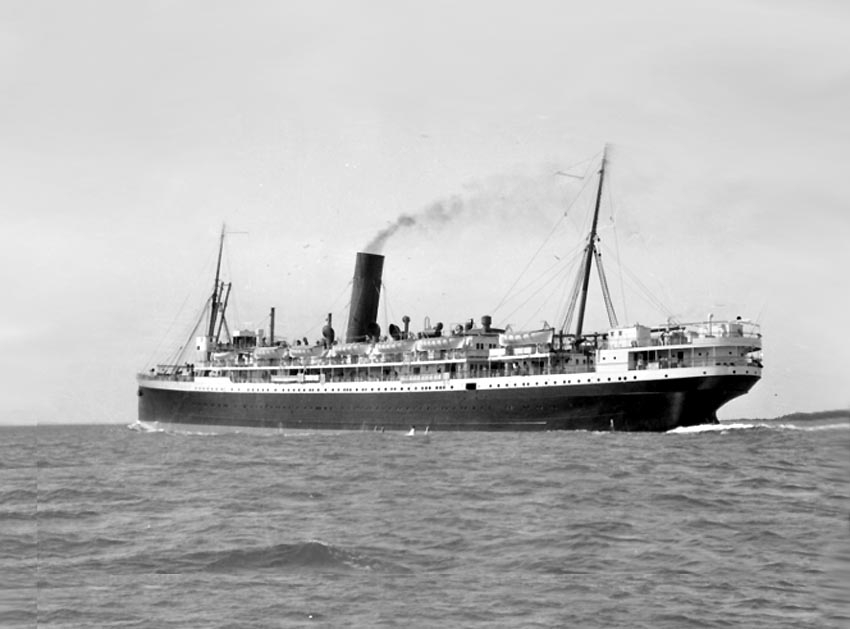 A fine view of the Maunganui's counter stern as she heads for Australia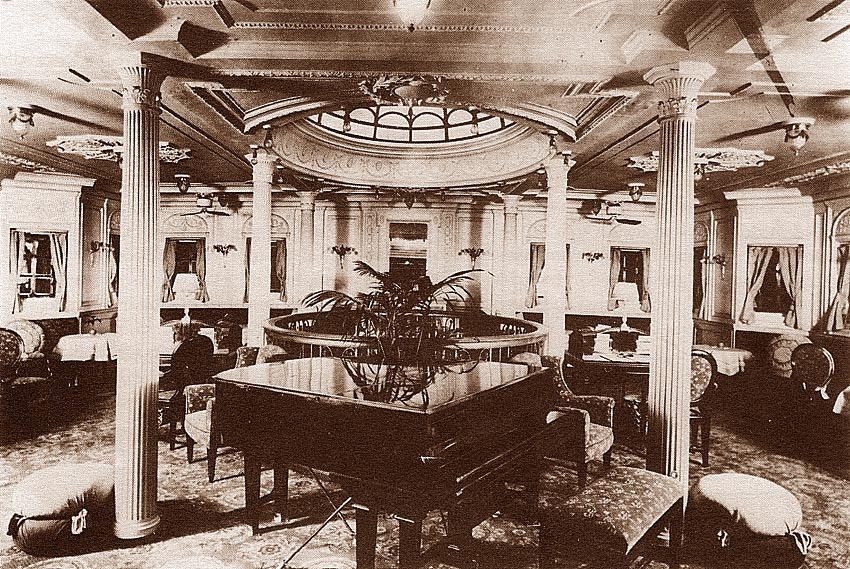 The Music Room featured a magnificent glass dome being at the top of three-level interior stylish atrium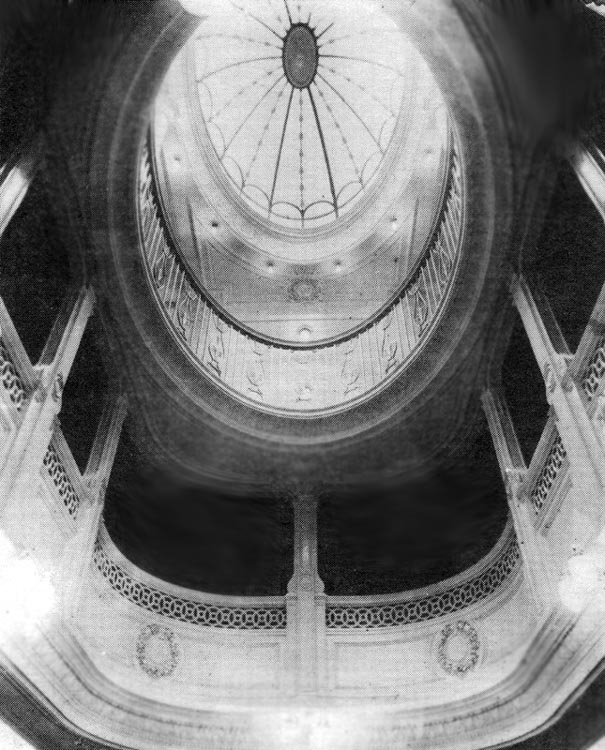 Looking up from Main Deck to Upper and Promenade decks where the Music Room is located, the Dome sits up on Boat Deck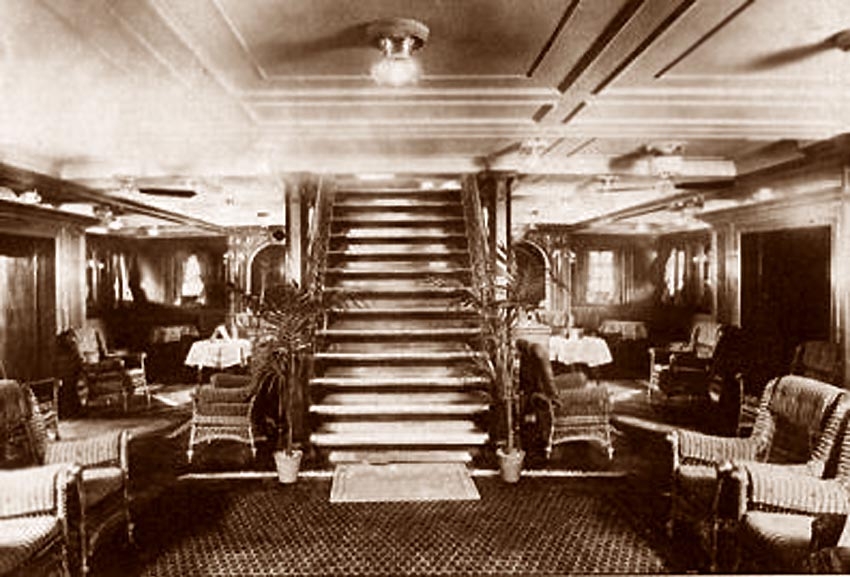 The Main Lounge located aft on Promenade Deck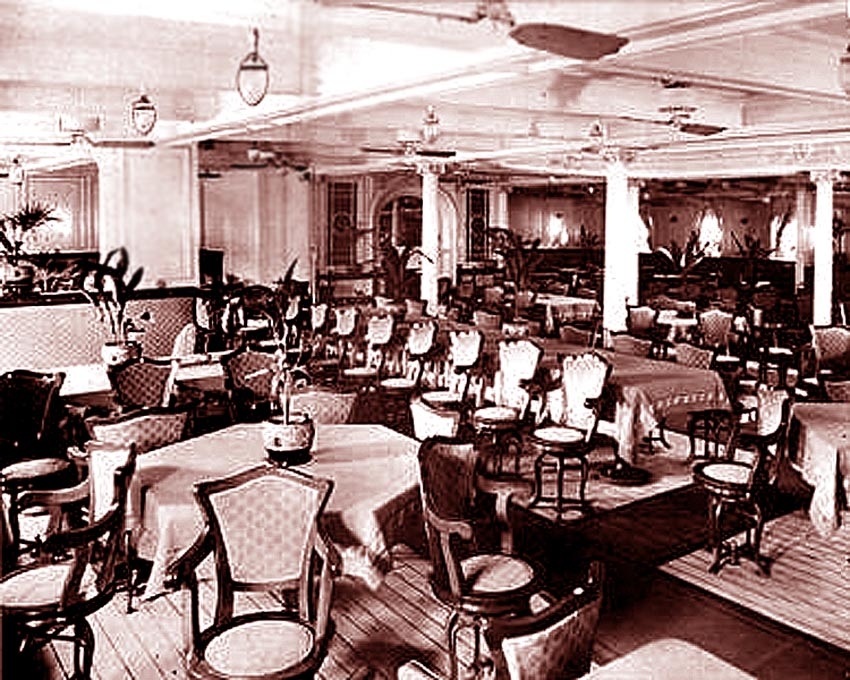 The First Class Dining Saloon seated 144 persons
Trans Tasman Voyages:
The Maunganui departed Wellington on Thursday February 15th.and headed to New Zealand's South Island and first called in at the port of the City of Christchurch, Lyttelton where she arrived on February 16, she then continued to Dunedin and Bluff, then crossing the Tasman Sea she headed to Tasmania Australia and called into its Capital Hobart before arriving in Melbourne. She had now made herself well known and would become one of the most popular ships to cross the Tasman Sea on to and from New Zealand! This continued August 1914.
During a waterfront strike late in 1913, the inter-colonial liner Maunganui was forced to act as a ferry between Wellington and Lyttelton in place of the SS Wahine, commencing November 5, 1913 which she did for a brief period.
Maunganui the WWI Troopship:
The Maunganui was officially requisitioned on August 23, 1914 for war service and she was converted for trooping duties.
16.10.1914: When completed she departed Wellington in convoy with the Tahiti and the Limerick on October 14, 1914 heading for Egypt with part of what was the first contingent of the New Zealand Expeditionary Force of 8,427 men and 3,815 horses. The voyage took 49 days.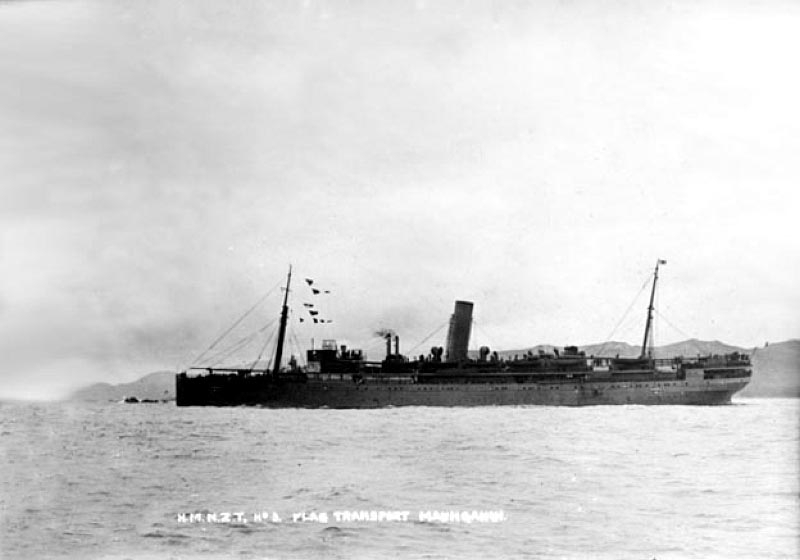 HMNZT Maunganui is seen departing Wellington having been refitted as "His Majesties New Zealand Troopship"
Takeover of the Union Steam Ship Company of New Zealand was officially taken over by The Peninsular and Oriental Steam Navigation Company on July 1, 1917 with both parties having come to an agreement.
Having operated countless trooping voyages her final one being in June 1919 and she was returned to her owners in July. Due to lack of yard space she was laid up until her refurbishment could commence. Her refit would also include a conversion to oil burning, and work was subjected to a good number of delays due to industrial disputes as well as other problems. Therefore, it was not until the June of 1922 that the Maunganui was finally completed and ready to return to service.
Maunganui Returned to Union Line:
By that time the Union Line had completely decided to reorganise its Tasman services, and had abandoned its horseshoe service and substituted it with the shorter routes for its vessels. In addition, they were also short of suitable tonnage on their San Francisco service, therefore the Maunganui was sent to Sydney to operate the Pacific trade, taking over from the 1907 built SS Marama.
On July 6, 1922 the delightful SS Maunganui commenced on the Sydney to San Francisco service, her first port of call was of course Wellington arriving on July 11, then Rarotonga on July 16, Papeete on July 19, and she arrived at San Francisco on August 2. The Maunganui remained on the Pacific route for the next three years, in partnership with the SS Tahiti, however she did make occasional sailings across the Tasman between her pacific voyages.
A change came about when the USSCo decided to change the SS Maunganui's registry, for on April 30, 1925 it was transferred from London, UK to Wellington, New Zealand.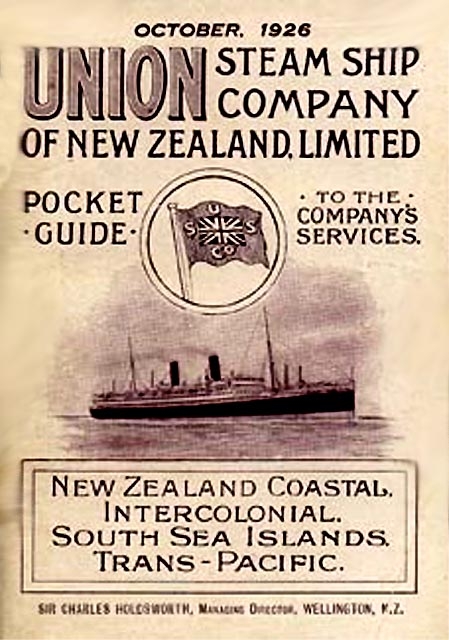 A 1926 Pocket Guide including all of the Union Line services, Trans Tasman, South Pacific & NZ coastal services
The Maunganui had the pleasure of hosting the one very famous passenger, the Russian ballerina Anna Pavlova, for she together of her company of 65 dancers and musicians also travelled on the ship departing from Sydney and on a special voyage to Auckland arriving there on May 25, 1926. The tour of New Zealand, which commenced in Auckland, was a huge susses and it was said at the time, one of the "most outstanding entertainment events of the century."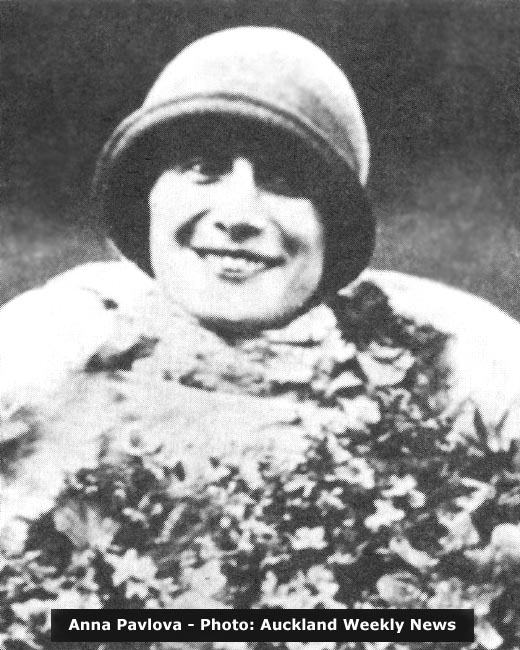 A radiant Anna Pavlova is seen after her reception at Auckland in May 1926
She made a relief sailing to Vancouver, departing from Sydney on June 2, 1927 and she returned on July 2. Having returned the big liner had no services planned and thus she sent to Wellington, where she was laid up at anchor in the harbour for well over three months.
Then on November 1, 1927 the SS Maunganui departed Wellington for Sydney and then returned to operate on the Tasman trade operating to either to Wellington or Auckland.
In 1928 the SS Tahiti was taken out of service as she was to be given an extensive refit and therefore the Maunganui spent several months back on the San Francisco service.
She sailed from Queen's Wharf, Wellington on February 3, 1928 and headed for Sydney. Later that year on July 18, there was an engine room breakdown in the Pacific. However, it was soon fixed.
On June 13, 1929 she departed from Sydney for her only sailing across the Pacific for the year, as the onset of the depression had resulted in a massive reduction in the volume of passenger numbers. The same would follow in 1930 when she operated another single voyage across the Pacific and the rest of the year she was busy trading on the Tasman.
In 1931 the Maunganui operated three voyages across the Pacific; the first was from Sydney on May 14 bound for San Francisco. The second departed on July 9, and the third on August 29, and upon her arrival to Sydney she returned to her trans-Tasman service with a sailing to Auckland.
Back on the Pacific Service:
1932: The San Francisco service was being operated by the SS Makura and the SS Monowai, but was these ships were incurring losses each year, thus the USSCo decided to replace the SS Monowai with the Maunganui. On November 24, the Maunganui departed from Sydney as the permanent liner on this service once again and for almost four years she operated along with the SS Makura.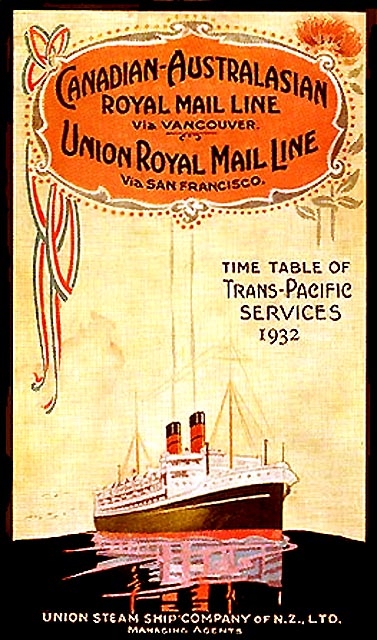 This brochure included the SS Maunganui 1932 schedules
1936 October 21: Then on October 21, 1936 the Union Line decided to completely abandon the San Francisco service and the Maunganui made her last departure from the San Francisco on October 21. SS Makura followed a month later and she was sold to Asian ship breakers, however, the SS Maunganui was spared that fate, and she was placed on a summer service from Wellington and South Island ports to Melbourne, while in the winter she began making cruises to the South Sea Islands.
Special ANZAC Voyages & a Cruise:
On April 25, 1937 the SS Maunganui transported the New Zealand contingent to Sydney for the Anzac Day commemorations. And she repeated this again when she departed from Wellington on April 19, 1938 in the company of the SS Awatea and the SS Monowai, all three carrying the New Zealand contingent to Sydney for the annual Anzac Day commemorations.
In July 1938 she operated a very special longer South Sea Islands Cruise from Auckland visiting Rarotonga, Papeete, Moorea, Bora Bora, Apia, Vavau and Nuku'alofa, back to New Zealand.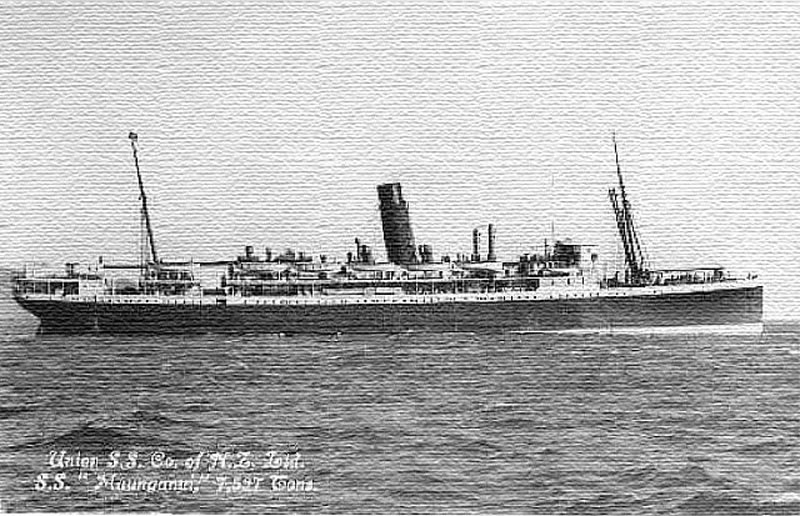 Seen later in her career whilst cruising the Pacific Islands during the winter months
The Maunganui also spent several months of each year laid-up and she could have possibly have been sold to the breakers had the war not broken out in 1939.
WWII - NZHS Maunganui No.42:
For the first eighteen months of World War II, she operated on the Tasman Sea duties in place of those liners that had already been taken out of service for war duties as troopships or hospital ships!
The Maunganui was requisitioned to enter war duties in January 1941. This time the New Zealand Government decreed that the liner would be converted into a hospital ship and the work would be done by the Union Line staff at Wellington. Upon completion she had a capacity for 364 patients, 112 medical staff and 118-crew, and considering she was a Hospital Ship she was painted all with a broad green band with three large red crossed on both sides of the ship as well as on the white funnel. The ship was designated with a number being Hospital Ship No.42.
For most of the next four years the Maunganui was engaged in bringing wounded soldiers back to New Zealand from Egypt but she also made some voyages to South Africa as well as India.
Captain W Whitefield commanded the ship for the first two years of her war service until he was succeeded in turn by Captains Jaunay, Toten, Prosser and Collins. She was staffed by Union Company deck and engineer officers with New Zealand merchant seamen and a large staff of stewards. New Zealand Army doctors, nurses and other personnel from the Medical Corps attended to the surgical and medical needs of the patients. She was mainly engaged in carrying sick and wounded New Zealanders back home from Suez but she was often directed to transport British, Indian, South African and Australian sick and wounded servicemen on special voyages.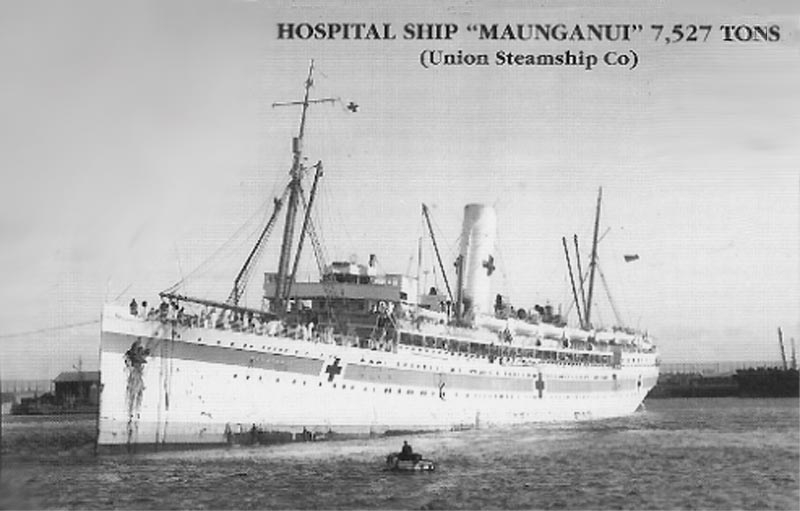 New Zealand Hospital Ship Maunganui No.42
In February 1942 she made the first of nine visits to Lyttelton in her current capacity as a hospital ship. Then in June 1942 during one of her voyages to South Africa, she rescued the survivors from lifeboats of a ship sunk off the coast of East Africa.
In November of 1942 she and the Australia Hospital Ship Wanganella gallantly came to the aid of a Dutch tanker MS Ondina that had been attacked by two Japanese commerce raiders and set on fire.
May 1945 the hospital ship Maunganui was attached as part of the British Pacific Fleet, being stationed at Leyte Gulf in the Philippines while the British forces mounted attacks on Japanese air bases in the Sakashima Islands and Northern Formosa. This service was interrupted when the Maunganui made a voyage back to New Zealand for a short refit, however, she returned to duties in Asia when the Japanese capitulated in August 1945. She was immediately sent to Hong Kong and then Keelung in Formosa to evacuate prisoners-of-war back to New Zealand.
The Maunganui departed from Wellington in April 1946 carrying the official New Zealand contingent to the Commonwealth victory celebrations in London, and when the celebrations had completed the ship brought them back home again. She arrived in Wellington on August 14, 1946 and she was officially handed back to the Union Line.
The end of the SS Maunganui:
However, being thirty-five years old, the Union Steamship Company felt that it not worthwhile refitting the SS Maunganui and therefore she was laid up. From commencement she had steamed a good 2,184,081 miles and it was thought that her life was well and truly finished, but thankfully that was not to be the case, as we will discover in Part Two located below the SS Maunganui Specifications.
She was placed on the market, but it was not long before she was sold to a Greek Company. The rest of the story is continued in Part two.
SS Maunganui Specifications - 1911 to 1947:
Builder:       Fairfield Shipbuilding and Engineering Company, Govan
Yard:                                479.
Launched:                         August 24, 1911.
Completed:                        December 5, 1911.
Official Number:                 127810.
Tonnage:                          7,527 GRT - 4,542 NRT.
Length:                             430.8ft - 131m.
Beam:                               55.7ft - 17m.
Draught:                           31.2ft - 10m.
Propulsion:                        2 Quadruple expansion steam engines.
Power:                              1,304 BHP.
Propellers:                         Twin screws.
Speed:                              17 knots, maximum 18.7 knots.
Passengers:                       244 First Class, 175 Second Class & 80 Third Class.
Crew:                               104.
Decks:                              5 - Boat, Promenade, Upper, Main & Lower Decks.
Sold:                                1947 to Greek owners.
****************************
Part Two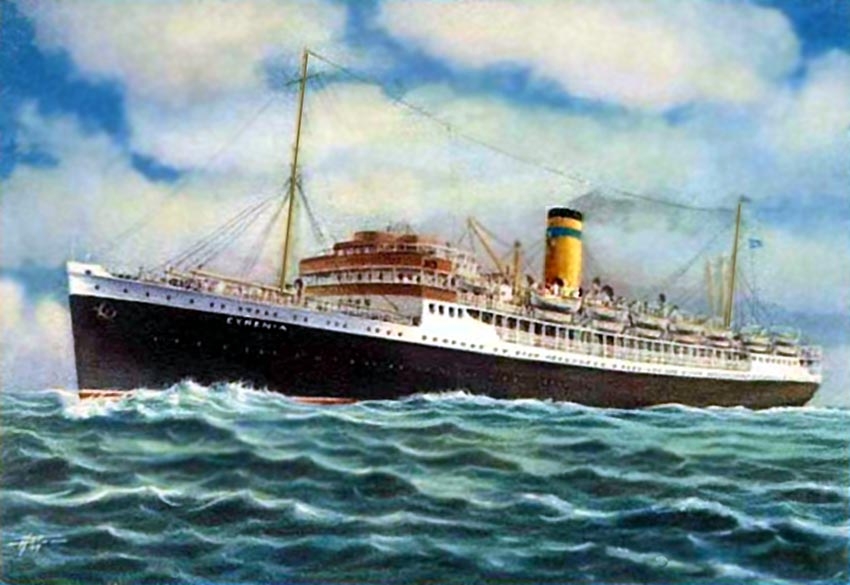 First Postcard released by Hellenic Mediterranean Lines and was for sale onboard the ship
TSS Cyrenia:
At that time there was a shortage of passenger liners and in Europe and therefore when a good ship would come on the market it would be rapidly be purchased by one or another company. This time the buyer was Companhia Naviera del Atlantica based in Piraeus, Greece and t Maunganui was officially handed over late to her new owners in January 1947.
SS Maunganui's New Zealand registry was concluded on February 10, 1947 and New Zealand's much loved and what had in reality had proved to be a very profitable liner, despite her occasional lay-ups, etc, departed Wellington to a sad farewell, but now flying the Panamanian flag. She headed to sea for a long voyage for Piraeus, where she would enter a shipyard in order to be given a comprehensive and a lengthy refit, during which she was given somewhat more basic Third and Second Class accommodations than she had previously, but her First Class remained excellent. In total she accommodated 840 passengers with a crew of 136. The main changes made to her exterior was her funnel had been painted yellow with a blue band, but more major changes were that the aft section of the Upper Deck superstructure was enlarged and enclosed as well as the lifeboats now being doubled up, with the ship now having a total of 26 lifeboats.
With the company having obtained the IRO contract to transport refugees and migrants from Europe to Australia, as soon as she was completed she was remained under the Panamanian flag was renamed "Cyrenia." In addition, she had been placed under the management of a well-known shipping Company; "Hellenic Mediterranean Lines" and the ship remained in their service for the rest of her days. The TSS Cyrenia would be operating from Genoa, Malta and Piraeus to Melbourne Australia. Very rapidly the Cyrenia established herself as a reliable and comfortable steamer despite her 37 years of age.

Another promotional a illustration of the ship
The tonnage shown is based on the Greek GRT measurement, therefore the difference
On March 6, 1946 the TSS Cyrenia finally departed Genoa on her maiden voyage and she headed on her new service to Australia arriving in Fremantle (Perth) on April 2, 1949 and arrived at her destination Melbourne, Victoria on April 8.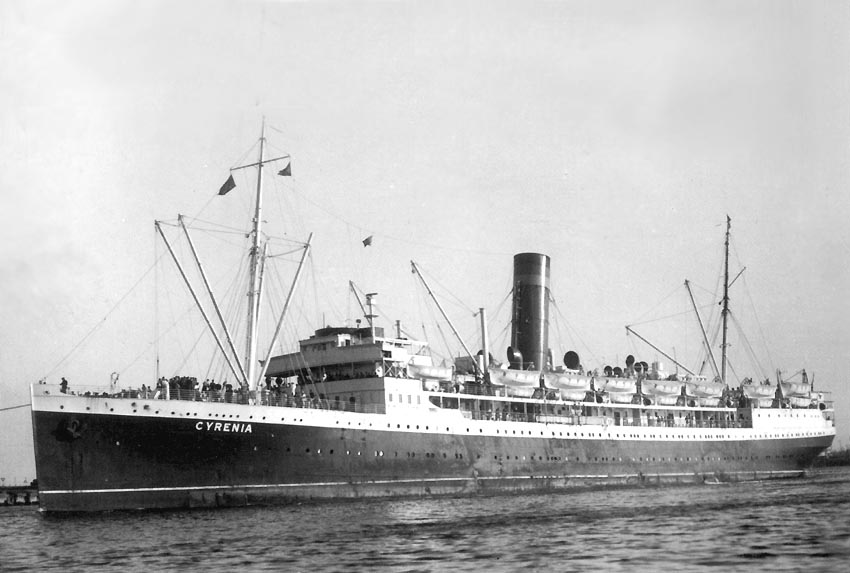 TSS Cyrenia is seen arriving in Melbourne
During her second voyage from Genoa on June 4, 1949 she called at Malta to take migrants and passengers to Australia.
Hellenic Mediterranean Lines Company Ltd decided in 1950 to purchase the liner, and reregistered her in Piraeus, Greece. They and retained the IRO contract and continued her voyages on the Australia migrant trade for the next six years.
However, there was a special return voyage for when she departed from Melbourne on August 16, 1950, she headed by request directly for Saigon and upon arrival she took onboard French nationals who were fleeing the war in Indo-China.
But in June 1952 there had were signs of a sharp decline in the numbers of displaced persons seeking passage to Australia, and therefore it was decided to lay her up at Piraeus. She remained there until May 1954 when she was reactivated and headed once again for Melbourne with migrants, but this time she returned with full fare paying passengers, as there had been considerable, advertising, promotions creating good sales.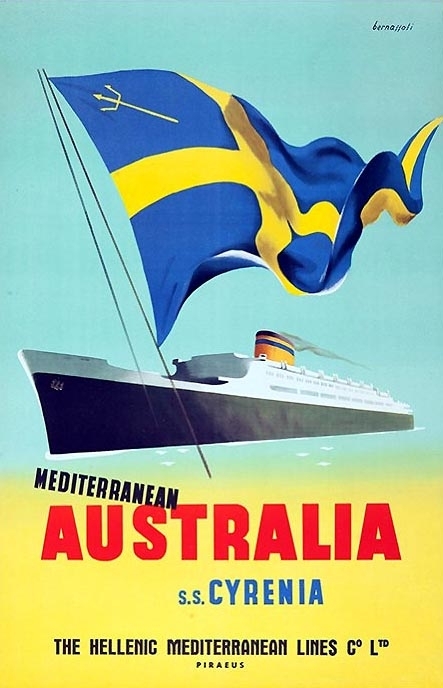 A Hellenic Mediterranean Lines SS Cyrenia Poster
To date the Cyrenia had only called into Fremantle and Melbourne, but finally in December 1955 she would continue to Sydney and this would be her first and her last visit!
In 1956 the master of the Cyrenia was fined by the Australian Authorities for contravening certain safety regulations. But then came a bigger problem for the company, for that very same year the Suez canal was closed and sadly this it was said brought about the end of this once magnificent small liner's career later in 1956.
The still beautiful TSS Cyrenia departed the Port of Melbourne for the very last time ever on November 1, 1956 and she arrived back in Piraeus early in December.
The Hellenic Mediterranean Lines had already sold her to an Italian ship breaker, she departed at the end of December, she arrived at Savona on February 6, 1957, and breaking up soon began.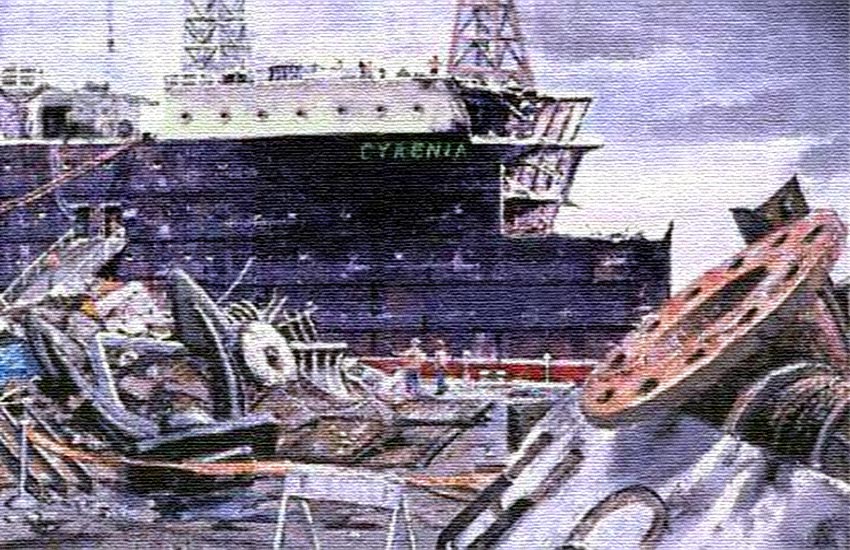 An impression of the tragic end at the breakers yard of the Cyrenia, ex Maunganui
SS Cyrenia Details:
Owner:                             Cia Naviera del Atlantica, Piraeus. 1947.
Managed & Owned by:       Hellenic Mediterranean Lines 1950.
Tonnage:                          7,527 GRT, 11,320 Greek Tonnage.
Passengers:                       240 First Class, 300 Second Class & 300 Third Class.
Crew:                               136.
Speed:                              14 knots.
Sold:                                1957 to Savona, Italian breakers.
"Blue Water Liners sailing to the distant shores.
I watched them come, I watched them go and I watched them die."
****************************
Visit our ssMaritime Main INDEX
Where you will discover well over 700 Classic Passenger & Passenger-Cargo Liners!
ssMaritime.com & ssMaritime.net
Where the ships of the past make history & the 1914 built MV Doulos Story
Please Note: ssmaritime and associated sites are 100% non-commercial and the author seek's no funding or favours of any shape or form, never have and never will!
Photographs on ssmaritime and associate pages are by the author or from the author's private collection. In addition there are some images that have been provided by Shipping Companies and private photographers or collectors. Credit is given to all contributors. However, there are some photographs provided to me without details regarding the photographer/owner concerned. I hereby invite if owners of these images would be so kind to make them-selves known to me (my email address may be found onwww.ssmaritime.com only), in order that due credit may be given.
ssMaritime is owned & © Copyright by Reuben Goossens - All Rights Reserved