Aberdeen Line SS Miltiades and the Marathon 1903 &1904
Please Note: Firefox and some other search engines may not suitable
Please use Google Chrome for this page to load perfectly!

Click the logo above to reach the ssMaritime Main Page
With Reuben Goossens
Maritime Historian, Author, Cruise'n'Ship Reviewer and Maritime Lecturer
Please Note: All ssMaritime and other related maritime & cruise sites are 100% non-commercial and privately owned. Be assured that I am NOT associated with any shipping or cruise companies or travel or cruise agencies, etc! Although having been in the passenger shipping industry since 1960, I am now retired but having completed features on well over 1,355 Classic Liners and Cargo-Passengers Ships, I trust these will continue to provide you the classic ship enthusiast the information you are seeking, but above all a great deal of pleasure!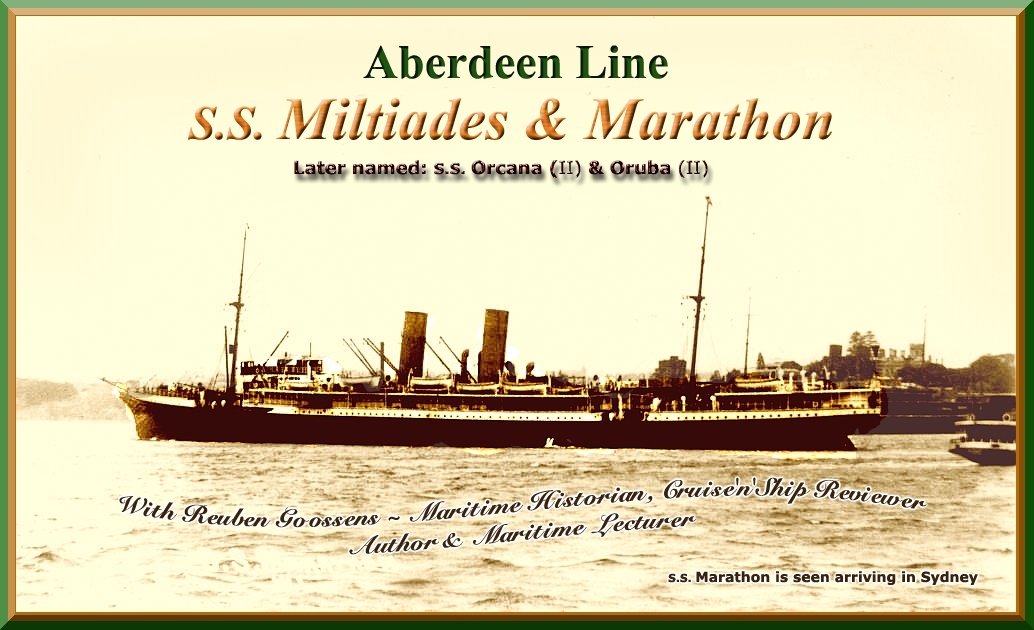 The above image shows the SS Marathon after her rebuilding in 1912
Photographs & Images on this page are from the author's personal collection, unless mentioned otherwise!
Please Note: Email service to ssMaritime, is sadly no longer available, to the author's old age and severe illness as well as being disabled.
Introduction:
I have had a good collection of photographs and postcard of these ships for years, but somehow I never got around to writing on them. Then I suddenly realised how neglected these two wonderful ships are, for there is really nothing about them in books, or very much online as I have been told. Thus I decided, even in my retirement to commence to slowly write on these two rather amazing passenger liners, for they were the very last of their kind, and their beauty would never be seen again!
Company Background:
The Aberdeen Line operated between London and Australia sailing via South Africa, was managed by their owners, being George Thompson & Company, which was founded at Aberdeen. The company long occupied a prominent position in the cargo and passenger trades to Australia, due to the voyages of their two most noted clippers in the early 1900s to Melbourne and to Sydney, and the general high standard of their fleet in those days with their exceptional immunity from loss of time over more than half a century. It was the SS Aberdeen, built in 1881, being their earliest ocean steamer to demonstrate the superior merits of triple-expansion engines and the company's reliability!
Their sailing vessels was soon reduced to just one 2,093 ton ship, and she also was removed from the fleet for the reputation of the firm would be going ahead with modern steam passenger liners bearing time-honoured names of former ship known as the "fliers" such as the Miltiades and Marathon!. These two twin-screw steamers, Miltiades, 6,793 tons, and Marathon, 6,772 tons, each 15.5 knots max, were the two of the most successful at the time greatly due to their good speed! In fact, the maiden voyage of the Miltiades from London to Melbourne, took just 35 days, her time from Plymouth being a record passage of 34 days steaming.
Thus here is the story of the sail and steam turbine engines liners between Britain and Australia the SS Miltiades and her identical sister the Marathon. I am sure that after you have read this feature and seen their photographs, you will be suitably impressed!
Building, Launching & Maiden voyages: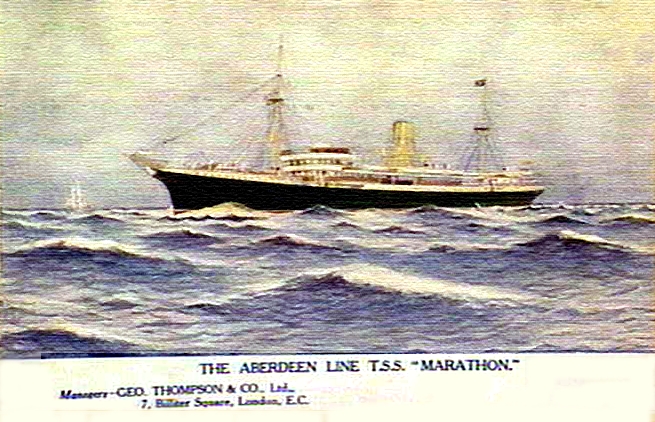 The first postcard released by Aberdeen Line of the SS Marathon
This card was in a very poor condition, but I have carefully restored it as is now
These rather graceful passenger liners the SS Miltiades and the Marathon were designed by a man who had sheer genius, he was the maritime architect Fred J. Stephen who designed these ships combining the old with the new of the day and, ended up with two of the finest ships afloat. In addition they would be the last ships of their kind never to be built as you will read a little later when I come to their descriptions.
With their designs complete and the Aberdeen Line (George Thompson and Company) being totally delighted with them, they placed an order for both the 6,795 GRT (Gross Registered Tonnage) ships to be built by Alex Stephen & Sons at Glasgow. The engines were also made by the builders and were of the surface-condensing, direct-acting triple-expansion type, capable on the voyage about 6,600 IHP, and propelling the ship at a service speed, fully laden of 14 knots, but they had a maximum of 15.5 knots.
The first ship to be launched was the SS Miltiades, which had been built in yard 401, and that occurred on Tuesday, August 11, 1903 she was transferred to het fit-out berth and she was very soon completed. The Miltiades departed London on November 3, 1903 for her maiden voyage to Sydney, sailing via Cape Town and Melbourne, arriving in Melbourne in record time on December 10.

Newspaper clipping dated December 11, 1903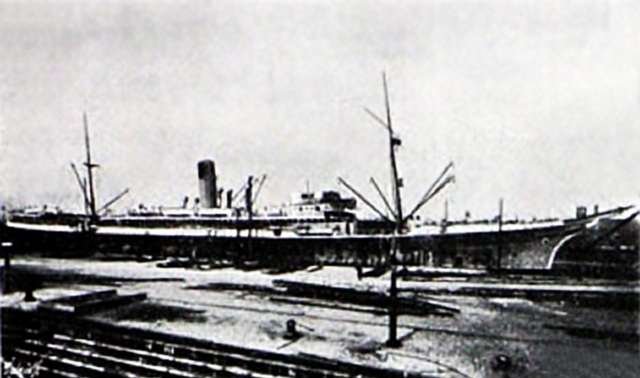 SS Miltiades seen during her early voyages to Australia
Next to be launched was the identical sister the SS Marathon which was launched from yard 402 on Wednesday, November 18, 1903. Both ships had been fitted out and completed close together and the Marathon was delivered early in January 1904, and later that month, on January 27, she departed London and sailed via the same route as her sister to Sydney, where she arrived on March 8. There was no doubt that both these ships were proving to be most popular and thus were very successful liners for the company!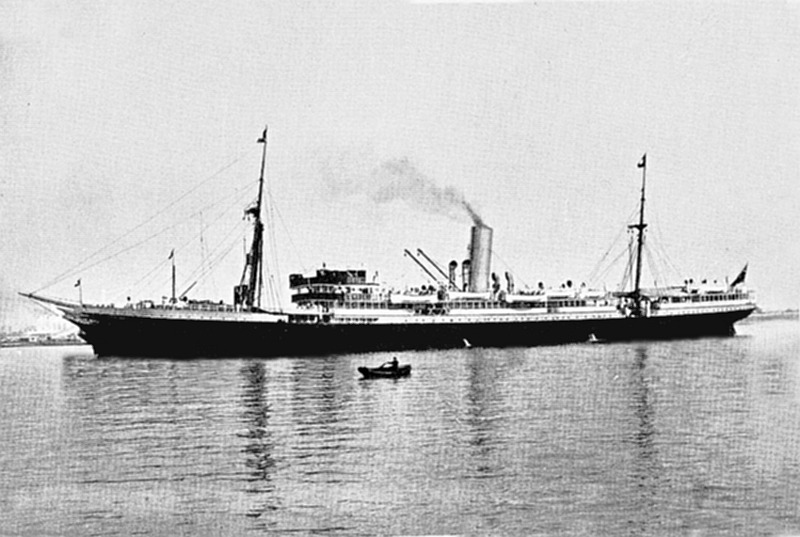 The SS Marathon is seen here in 1904, but we do not know the precise date, but it could well be her maiden voyage
Ship's Description:
The Ships: The Miltiades and her sister were the very last liners of any size to be built that had that famed traditional "Aberdeen Clipper Bow," which was complete with a stunning timber "Figurehead." Her excellent hull was complemented by her Counter Stern! She had a black hull with red boot topping that had a thin white line above, an all white superstructure Stained timber featured on the forward superstructure of the Bridge and one deck below, being rather traditional of the day! To complete the picture she has two tall masts and a single yellow (buff) funnel making her look most elegant!
To reduce rolling in bad weather, the ships were fitted with bilge keels, and as the ships has a good beam there was ample deck space for all passengers!
Venues and Cabins:
First Class accommodated 90 passengers and their accommodations where located on Bridge Deck, with other cabins on Upper Deck, where the Saloon was to be found. The Drawing Room, Writing Room, and Library were located on Boat Deck, whilst the Smoking Room was on Bridge deck, and of course there was also fine Dining Room, thus there was an excellent range of public venues for First Class!  Most of the accommodations were outside two-berth cabins; however there were some upper berths for of three or four. Then there were several special twin deluxe rooms that were so arranged that they could be converted into special luxury Staterooms, thus a two roomed Suite. In addition there were also a few single cabins for the solo travellers. The Captain had his quarters up on Boat deck.
Sadly to date I have not been able to locate any interior images of her public venues, or First Class cabins, etc. The same applied to Third Class public venues, but I do have one photo of a cabin, as you will see below.
Third Class was located in what was called in those days the "Poop," being the aft built up section of the ship. It was quite spacious and it offered its passengers a Music Room as well as a Smoking Room and a Dining Room. Accommodation wise there was a variety of choice from two and four berth cabins being the best available, then there were the male and female dormitories for the Immigrants to Australia.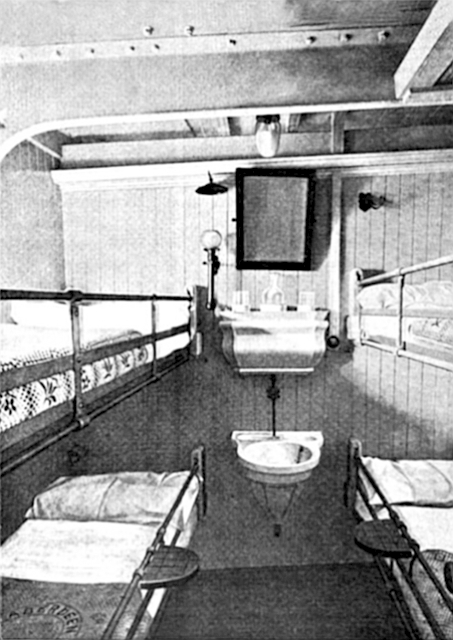 A Third Class four berth cabin
Cargo: Particular attention has been paid to transporting general cargo as well as frozen foods, in fact all gear used for her five holds will be the very latest and the most suitable to handle all cargos with expediency, especially the frozen food holds for those days! The refrigeration machinery was the very latest kind ever to be fitted on any ship to date, and it was be capable of maintaining a temperature as low as was required for a hold space of a 100,000 cubic feet. The smaller holds were also cooled and were be adapted for fruit, butter and chilled provisions for passengers and crew.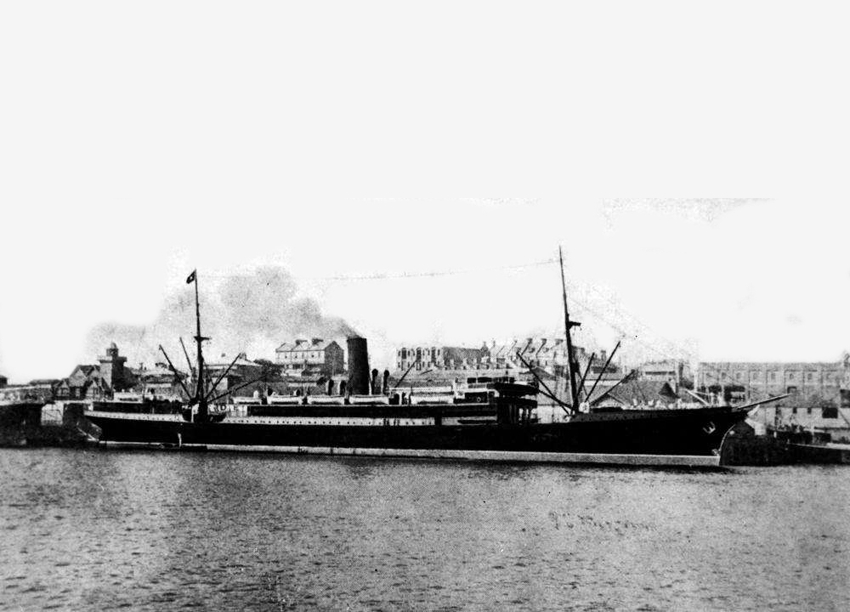 The SS Marathon is seen at the Tenerife wharves Brisbane in 1904 - the famed historic wool stores are just behind
The wool stores today they have been converted into super luxury spacious apartments (condos)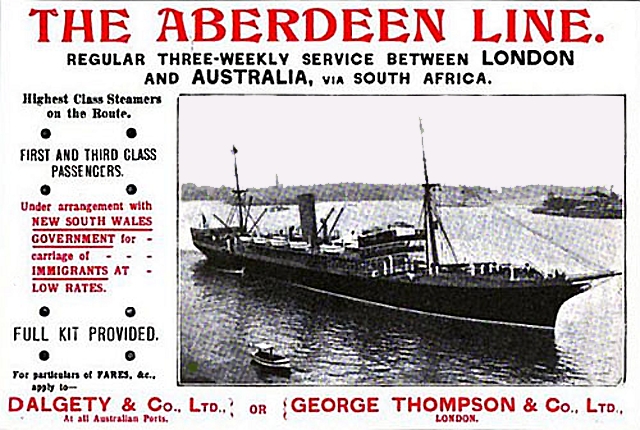 An Aberdeen Line Advertisement featuring the Miltiades and Marathon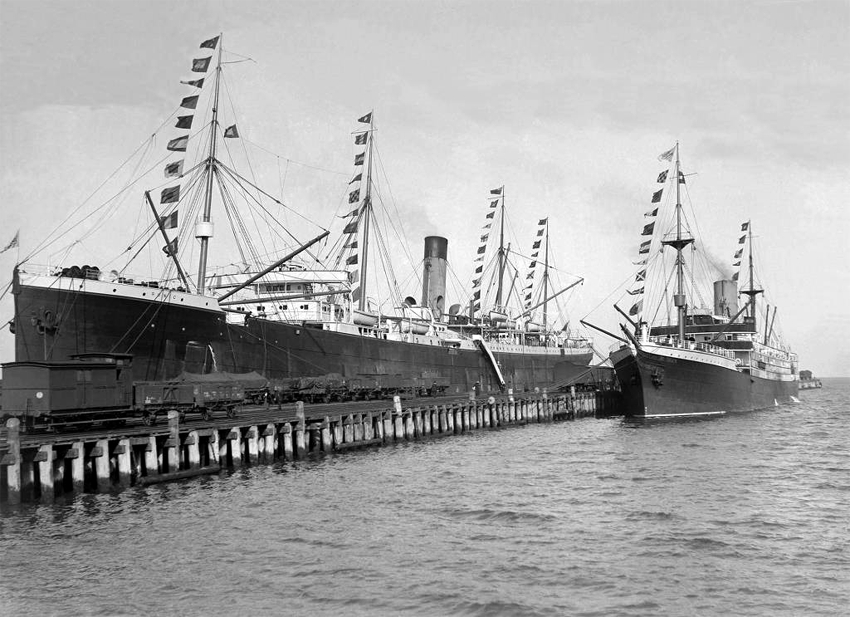 Here we see the SS Miltiades (right) and the White Star Line SS Runic in Melbourne, both seen fully decked out
State Library of Victoria
A New Era:
Australia had only just celebrated the 1910 New Year and each year on January 26 the country Celebrates "Anniversary Day" being one of the most important days in the country's year!
The Day's background: "Anniversary Day," is the countries official "Foundation Day" and ANA Day, thus the official National day of Australia. It is celebrated annually on January 26, as the date commemorates the arrival of the First Fleet at Sydney Cove, New South Wales in 1788 and the proclamation at that time of British sovereignty over the eastern seaboard of Australia that was then still known as "New Holland." These days, January 26 is called "Australia Day"!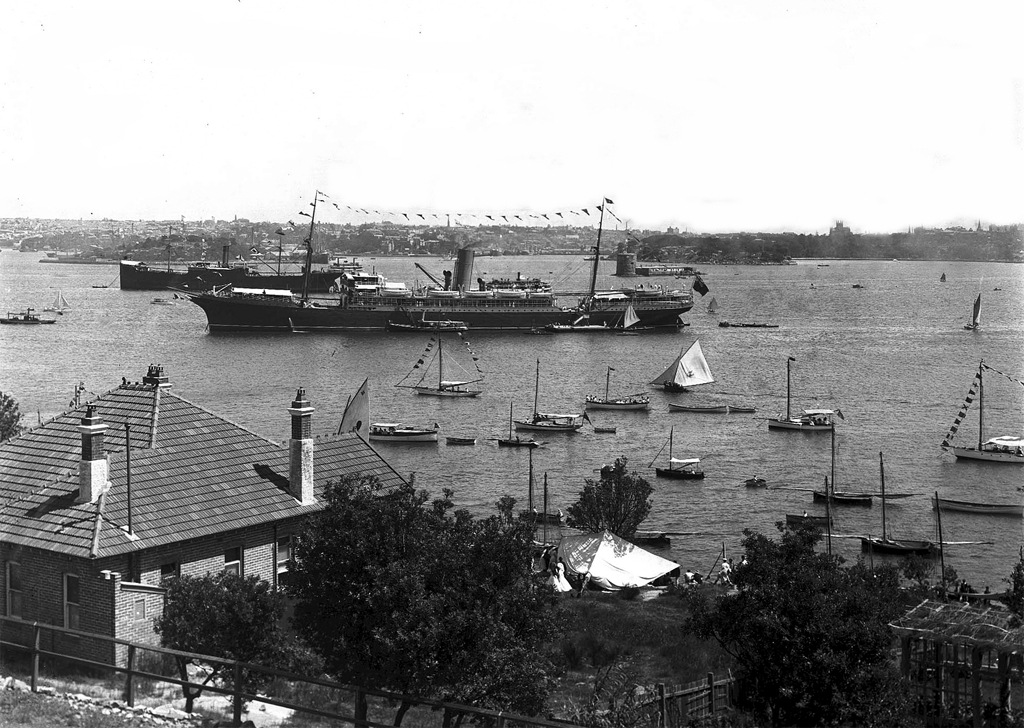 Sent in by an ssMaritime supporter, but source is unknown - *Please see my Photo Notes at the bottom of the page!
The photograph above shows the Aberdeen liner SS Marathon fully dressed with flags as she had been chosen to be the flagship for the "Anniversary Day Regatta" on January 26, 1910. The photo was taken from around "Cremorne Point" and Fort Denison is visible behind the stern of the ship in the middle of the harbour.
Their Rebuilding: As the Miltiades and Marathon continued their voyages, the management began to realise that they needed either to built larger ships due to the demand for these long voyages to the land of "opportunity." but with the situation as it was in Europe, they felt that another solution might be better and they did decide on a rather adventurous option, and it was one of the first attempted, one that became more popular in the modern days! Lengthen the ship!
Thus in 1912 she was taken to the Alex Stephen shipyards on July 3, 1912 to be lengthened, adding accommodations and further facilities onboard. Externally she was given an additional funnel, although it was a dummy, but it certainly made her look wonderful, as with her superb bow and long sleek lines, she looked one of the finest liners around! Upon Completion on September 12, 1912 her tonnage had increased to 7,848 GRT. She soon returned to her regular duties, but World War I would in due course halt her passenger days for five years. For interest, her sister the SS Miltiades was also lengthened and she entered the very same yard two days after the Marathon had left it on September 14.
The ship has been cut in half, and here we look forward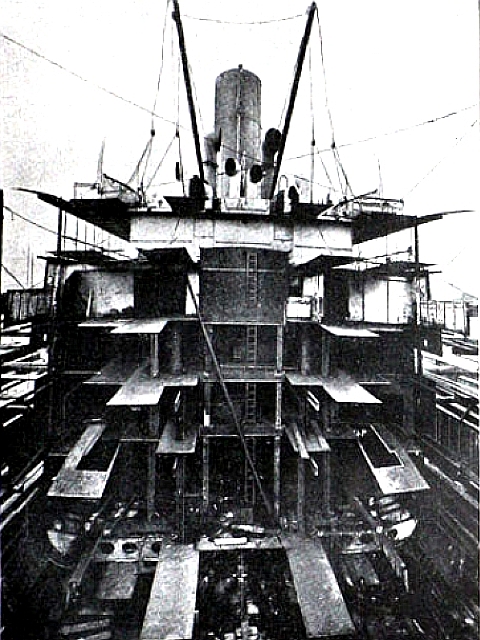 Looking aft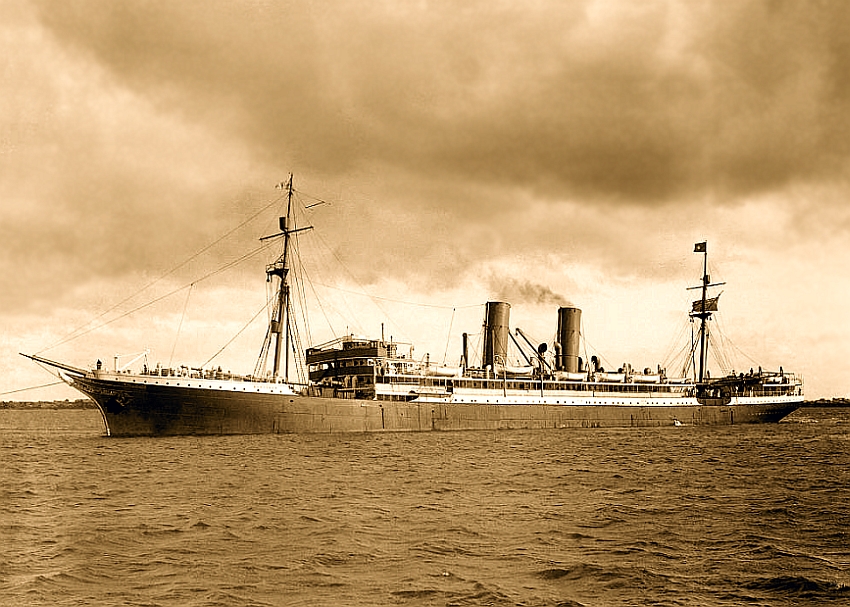 Here we see a new SS Marathon on September 18, 1912
State Library of Victoria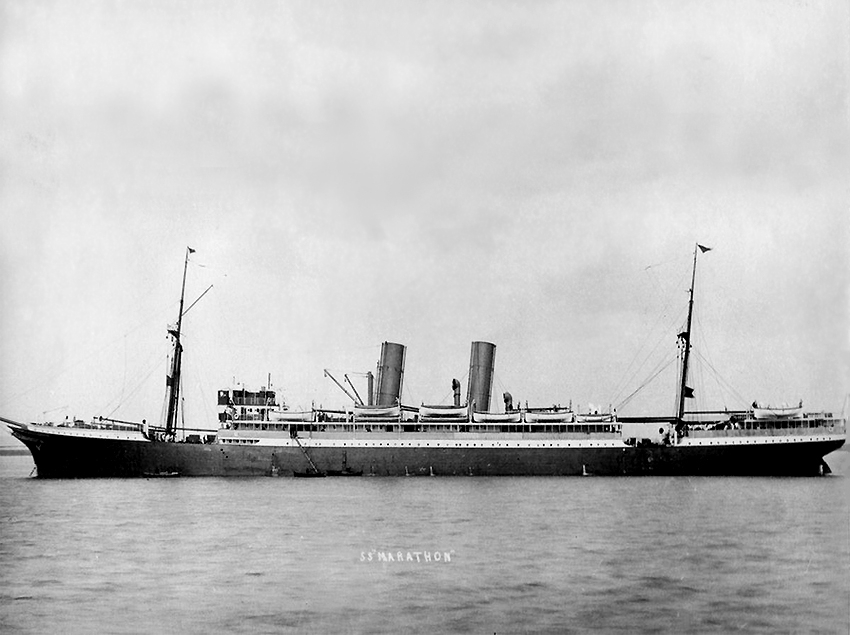 Postcard provided by Mr. John Farthing Newport Iowa U.S.A., whose father-in-law,
Robinson sailed to Fremantle (Perth), Western Australia in 1912/13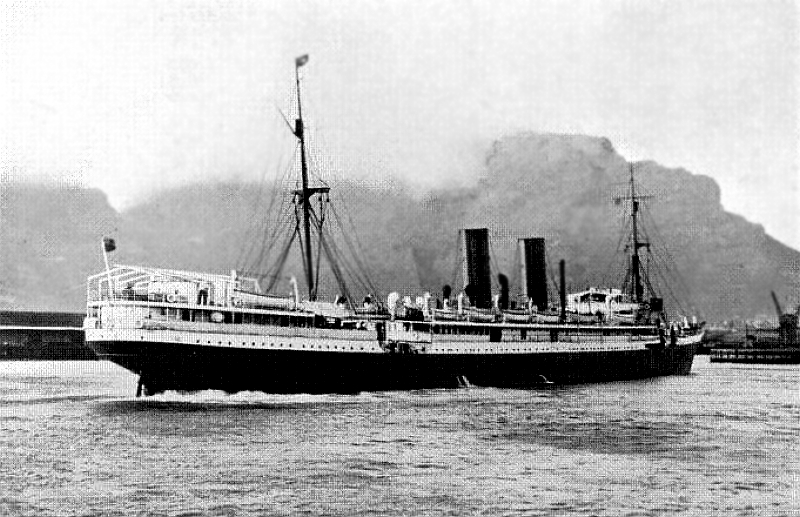 A wonderful stern view of the SS Miltiades after her rebuilding
The Shaw Savill liner SS Gothic was chartered by the Aberdeen Line to operate four voyages whilst the Marathon and Miltiades were lengthened. Throughout the charted the Gothic showed the Aberdeen livery, on the funnel and did fly the Aberdeen Lines house flag from her fore mast.
Although both ships were considered to be well built, and due to their hull configuration they were considered as the most stable ships around, especially when it came to roiling. And that certainly was true, but when sailing in really bad seas such as going around the Cape they could pitch like crazy, and the photograph below does make the point, I would think!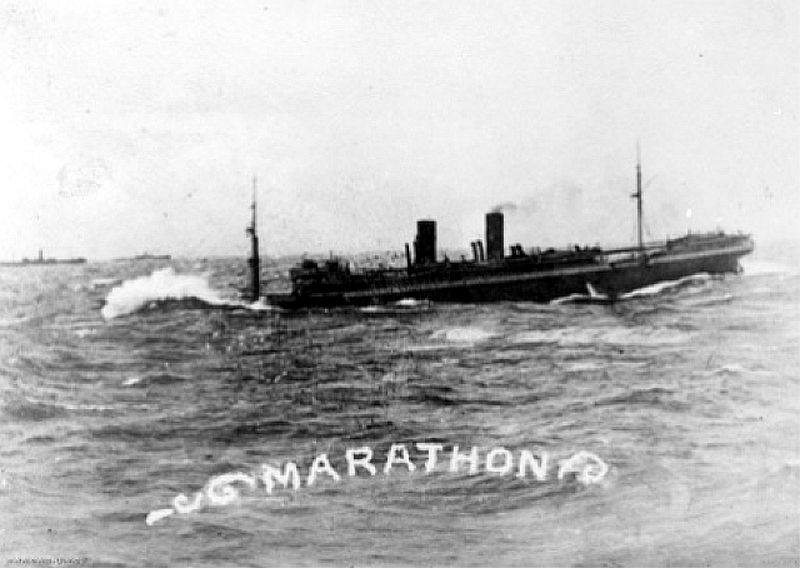 A dramatic photograph of the SS Marathon sailing around the frequently very rough Cape of Australia
World War I:
In 1915 both ships were requisitioned for trooping duties and having received the respective refurbishments to make them suitable as a troopship The HAMT Marathon having been giver the number (A74) and she headed for Australia as she transported many Australian soldiers and countless medical officers and staff to Plymouth England, after which they went to the European front.
The Miltiades was leased by the Commonwealth of Australia and she operated the following some of the voyages: On February 7, 1916 it she took on board mostly Medical Officers and staff from Adelaide.
On May 4, HMAT Marathon (A74) departed Sydney with 1,225 AIF (air force) personnel. Then when at Fremantle on May 21 she departed with an additional 4 Nurses onboard and she was escorted by Convoy 21. She headed for Plymouth in the UK sailing via the Suez Canal.
Then on August 1, 1916 there were further Medical Officers from Melbourne, and on August 9, 1916 she collected the balance of her capacity of Medical Officers and staff in Fremantle.
Her next voyage was on October 27, when she departed Brisbane for the very first time as a troopship with 1,078 AIF as well as the 49th Battalion and the 7th Reinforcements, plus Medical Officers & 35 Nurses, sailing in Convoy 26. She then headed south to Sydney and on October 31, she departed with 146 AIF personnel and she then headed for Plymouth in the UK again sailing via the Suez Canal.
On January 24, 1917 she came to Adelaide for the next time to collect another group of Medical Officers. Her very last official leased voyage from Australia as a troopship was on August 2, 1917 for her final collection of Medical staff from Sydney.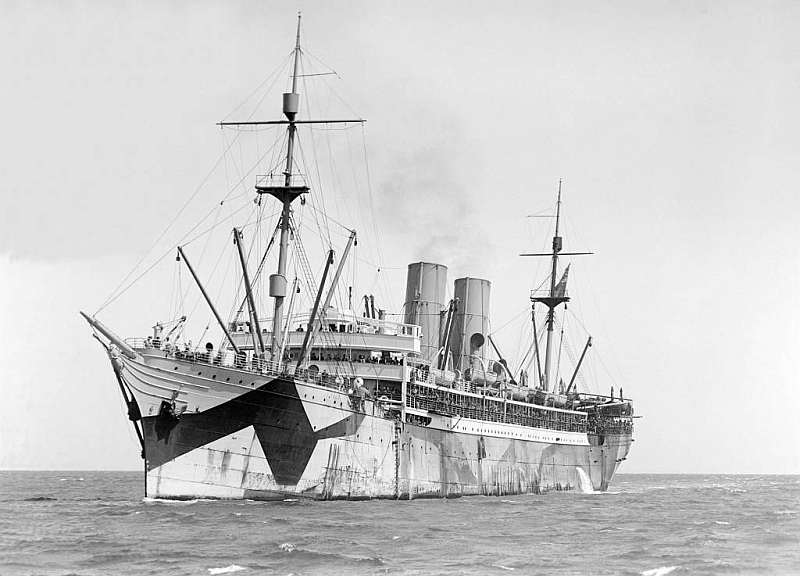 The Marathon is seen in her camouflage livery arriving in Melbourne on January 1, 1919
To be able to see the many soldiers onboard CLICK HERE for an extra large version 1600 pixels or 22.22 inches
State Library of Victoria
The Marathon has her first departure as a troopship from Brisbane's at Pinkeba wharves on October 27, 1916 on board was the 49th Battalion, 7th Reinforcements & Medical Officers, she sailed to the United Kingdom where they disembarked at Plymouth. One of those soldiers was one of Australia's heroes who tragically died fighting most gallantly during the retaking of "Zonnebeke Ridge" on October 4; this was the 19-year-old Private William Ernest Foster. SS Marathon transported countless men to Europe, but sadly far too many never came home, as from these brigades that went thousands died in France and Belgium!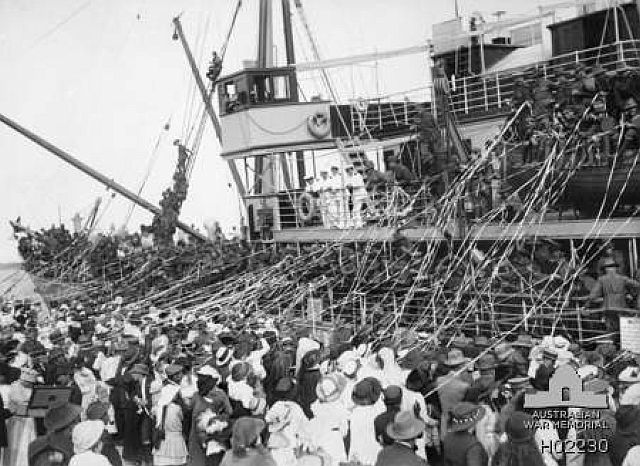 This is the first departure from Brisnane as a troopship on October 27, 1916
One of those soldiers was the 19-year-old hero's - Private William Ernest Foster
With thanks to the wonderful and must visit – the "Australian War Memorial" in Canberra Australia– H02230
Then on May 10, 1917 the 1st Infantry Battalion, the 25th Reinforcements, and Medical Officers boarded at Sydney. Another departure was on July 23, 1918 when Medical Officers boarded the Marathon in Melbourne. I am aware that she did return to Melbourne on January 1, 1919, bringing soldiers and other repatriates home as the photographs above shows!
The Final Days:
The Miltiades returned to the Aberdeen Line's commercial service to Australia on June 4, 1920 and she headed for Australia once again, however as it turned out her days after her war years would be hort lived operating just two voyages.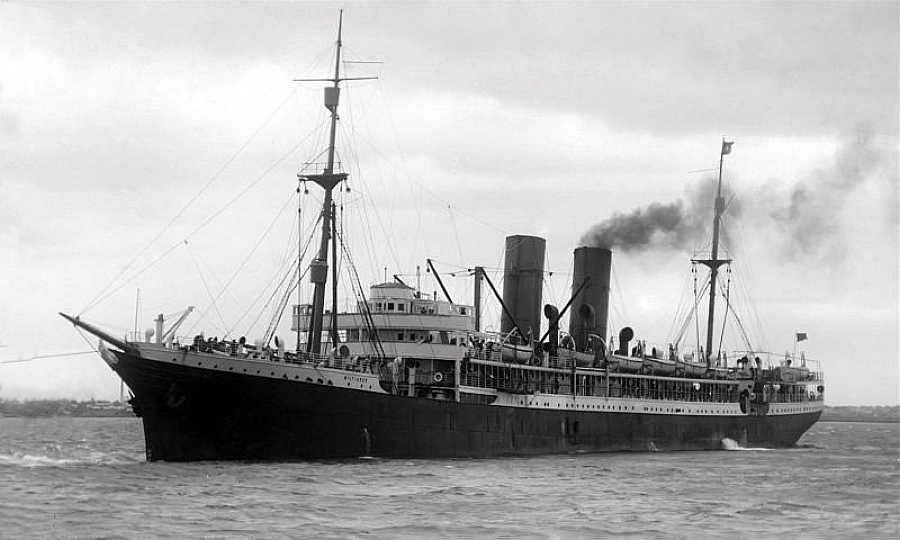 The Miltiades seen back in service and in Australian waters
Photograph from the late Allan Green Collection - Australia
As when she returned from her Australian voyage toward the end of 1920 she was purchased by Royal Mail Lines and she was renamed Orcana and placed in their fleet and operated on their regular services.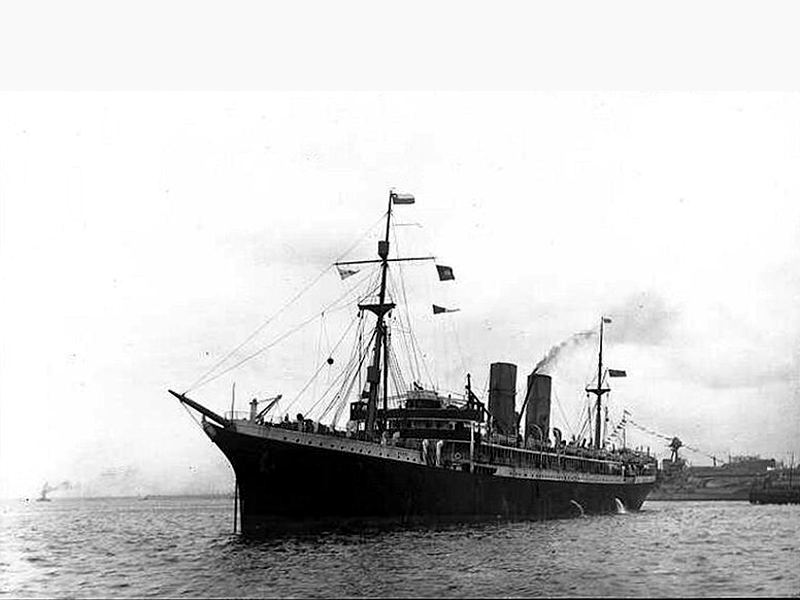 Royal Mail Lines new liner SS Orcana
However, another change took place when she was officially transferred to the Pacific Steam Navigation Company (Pacific Line) in 1922 as a replacement for the three their 'O' ships that had been transferred to the North Atlantic services
Thus on August 11, 1922 the SS Orcana commenced her intended "Round South America" service, that departed Liverpool and visited Montevideo, and Valparaiso, the Panama Canal then back to Liverpool. However the Pacific Line found that after her very first voyage she was far too expensive to operate and thus they laid her up. She was first laid up at Liverpool and then taken to Dartmouth where she remained until she was sold to Arie Rijsdijk Boss & Zonen in 1923, who had her towed to the Netherlands to be broken up at Hendrik-ido-Ambracht in 1923.
The Marathon returned to the Aberdeen Line after the war, and she was again placed on the Australia service, commencing on October21, 1920, but she just made a single return voyage to Australia before she was sold to Royal Mail Line with her sister, and she was renamed the Oruba.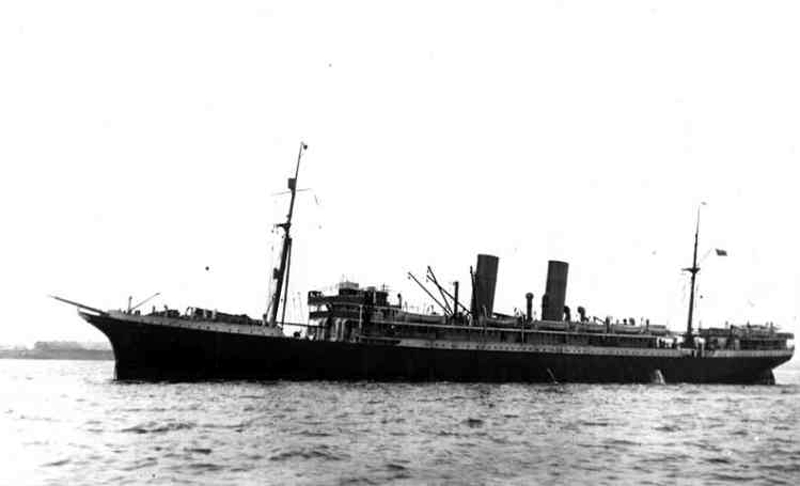 Royal Mail new SS Oruba
In the following year the SS Oruba, was transferred to the Pacific Steam Navigation Company and on May 26, 1921 she commenced her South American Round America Service. In due course, when the Pacific Line decided that both ships were proving to be too expensive to operate she was laid up in 1922, and again like her sister, she was first laid up at Liverpool and then at Dartmouth. She was sold to Schweitzer & Oppler of Berlin on September 19, 1924 to be Scrapped. She headed for Hamburg Germany where she was broken up in 1925.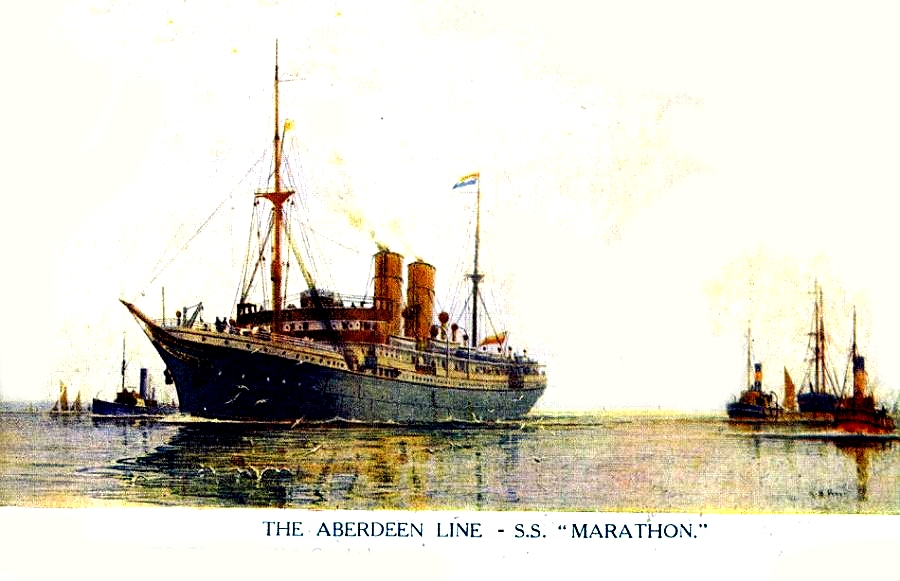 A delightful postcard of the SS Marathon after her rebuilding in 1912
SS Miltiades & Marathon - Specifications 1903/04 & 1912:
Built by:                 Alex Stephen & Sons at Glasgow.
Yard:                      Miltiades 401 / Marathon # 402.
Launched:               Miltiades - August 11, 1903.
.                            Marathon - November 18, 1903.
Port of Registry:       Liverpool.
Tonnage: 1903:       Miltiades - 6,793 GRT (Gross Registered Tonnage).
Tonnage: 1904:       Marathon – 6,772 GRT.
Tonnage 1912:        7,848 GRT.
Length 1903/4:        454.10ft - 138.41m.
Length 1912:           504.10ft – 153.65m.
Beam:                    55.10ft – 16.79m.
Moulded depth:        33ft – 10.05m.
Motive Power:          Triple-expansion steam-engines - 6,600 IHP.
                             And sails forward and aft.
Screws:                  Twin.
Speed:                   14 knots - service speed, 15.5 knots maximum.
Passengers:             90 First Class and 150 Third Class.
Crew:                     Unknown.
Broken up:              SS Miltiades/Orcana 1923 in the Netherlands.
.                            SS Marathon/Oruba 1925 in Germany.
************************
Please Note: Email service to ssMaritime, is sadly no longer available, to the author's old age and severe illness as well as being disabled.
Memories of Two Fine Historic Liners that were the Very Last of a Kind!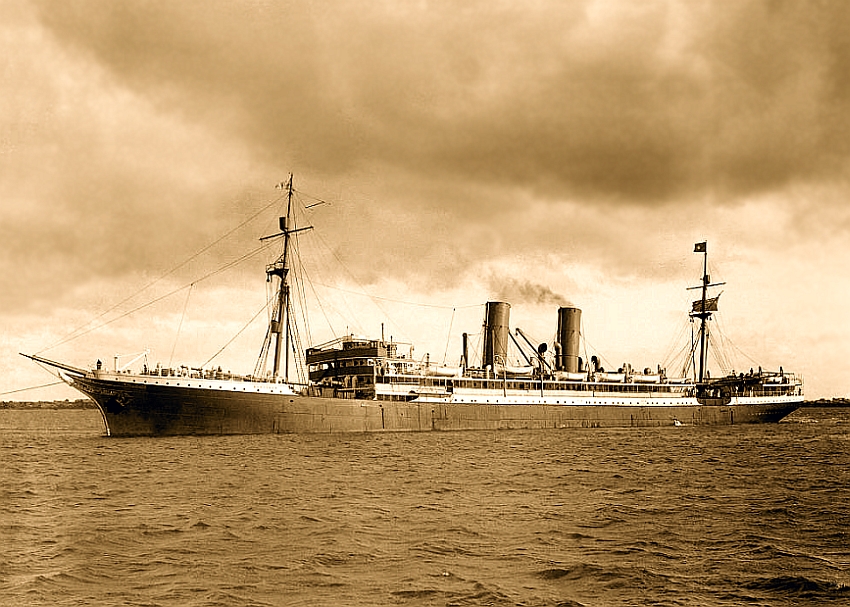 A ship with the ultimate classic lines seen in Australian waters!
State Library of Victoria
************************
ENTER OUR ssMaritime Main INDEX
Where you will discover over 700 Classic Passenger & Passenger-Cargo Liners!
ssMaritime.com & ssMaritime.net
Where the ships of the past make history & the 1914 built MV Doulos Story
Photographs on ssmaritime and associate pages are by the author or from the author's private collection. In addition there are some images that have been provided by Shipping Companies and private photographers or collectors. Credit is given to all contributors. However, there are some photographs provided to me without details regarding the photographer/owner concerned.
This notice covers all pages, although, and I have done my best to ensure that all photographs are duly credited and that this notice is displayed on each page, that is, when a page is updated!
ssMaritime is owned and © Copyright by Reuben Goossens - All Rights Reserved