P&O's S.S. Moldavia 1922 to 1938
Please Note: Firefox and some other Search Engines may not be suitable
Use Google Chrome for this Web Page to load perfectly!

Please Note: All ssMaritime and other related maritime sites are 100% non-commercial and privately owned, thus ssmaritime is NOT associated with any shipping company or any other organisation! Although the author has worked and been involved in the passenger shipping industry for well over 60 years, but due to his old age and poor health, he was forced to retire. Yet, he has completed well over 1,550 Classic Liners, Passenger-Cargo Liners as well as humble converted C3 converted Migrant Liners, which has transported countless thousands of folk to the new world, as well on vacations'. Amazingly, ssmaritime.com has received 573.4 million visitors to date I trust the features online will continue to provide Classic Liner and Ship enthusiasts both the information they are seeking, but more so provide a great deal of pleasure and relive many happy memories!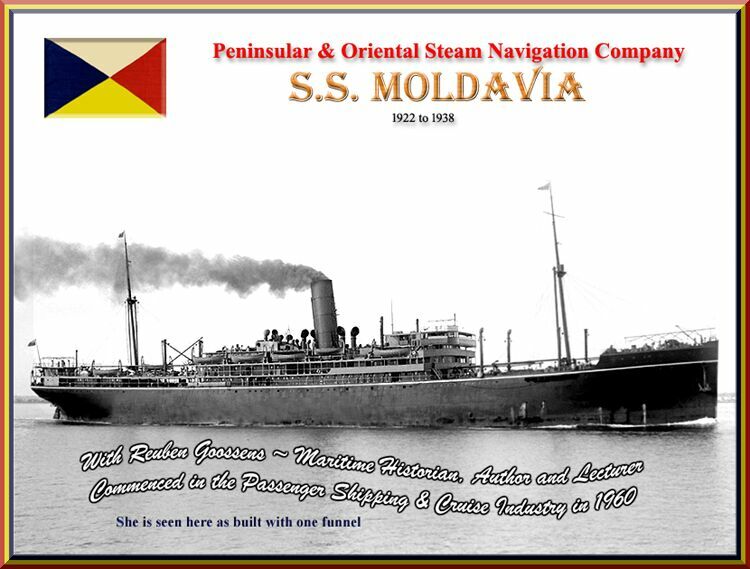 Please Note: Postcards, photographs & other images are either from the author's private collection or from my supporters.
Thus thank you to my ssmaritime supporters for sending me their wonderful photographs & images.
I am sorry if some of the images shown may not be of the highest quality, but they are the best that were available
I was only made aware recently that most of my readers had no idea that P&O from the old days actually had an official "Coat Of Arms' thus I decided to show it at the head of this feature …
The "Peninsular & Oriental Steam Navigation Company" Coat Of Arms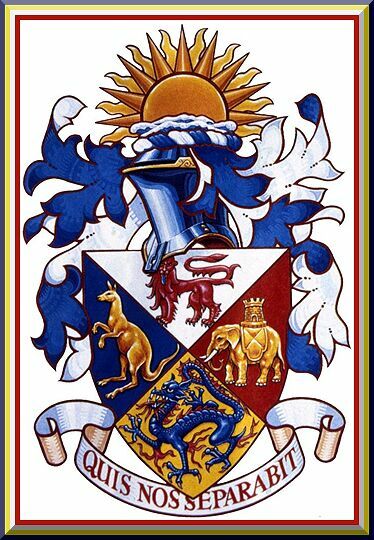 The Motto translates as "Who will Separate Us"

Obviously the three of the animals represent the old days of their voyages, such as the Elephant represents India, the Dragon is China, the Kangaroo is obviously Australia and New Zealand, and (maybe there should have been a Kiwi as well). But then there is that red British Lion at the head of it all, although unlike the days long gone it has lost much of its power these days!

On this page you will note it is mostly about one ship, but I will be also mentioning two other ships as well. It just happens that the S.S. Moldavia

is the second ship of that name, thus I will commence briefly with her forerunner of 1903. Also she had a slightly newer sister the S.S. Mongolia that came in service just a little later than her. Although she has her very own feature online.

Thus let's start from the very beginning!

*********************
S.S. Moldavia (I):
The first ship bearing this name was built by "Caird & Company" of Greenock, Scotland for the "Peninsular & Oriental Steam Navigation Company", in Yard No. 301 and she was launched on March 28, 1903. She was completed on July 30, 1903, and the ship was 520 ft - 160 m in length, with a beam of 58.3 ft - 17.8 m, and a draught of 24.8 ft - 7.6 m. Her gross tonnage was 9,500. Coal bunkerage was 2,000 tons and cargo about 3,500 tons. Moldavia was built for 348 first and 166 saloon class passengers.
S.S. Moldavia (I)
She was hired by the UK Admiralty for use as an "Armed Merchant Cruiser'" on November 27, 1915. But sadly on May 23, 1918, she was torpedoed and sunk of Beachy Head whilst in use as a troopship.
*********************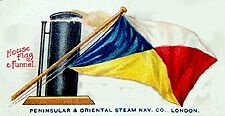 Construction to Launching of the S.S. Moldavia (II):
The S.S. Moldavia (II) was ordered to be built by "Cammell, Laird and Company" of Birkenhead, on December 1, 1916, but construction was sadly delayed due to WWI. Her first hull plate was laid down in Yard 839 and construction finally commenced post war going ahead until the big day.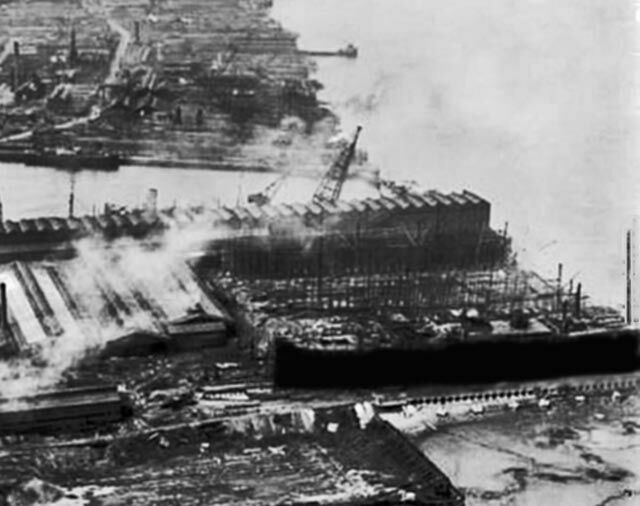 The Moldavia can only just be seen in construction
She was launched with a large crowd present on October 1, 1921, and as she finally entered the water tugs took her under tow and had her heading to the builder's fit-out berth, where she would be completed.
The "Moldavia" was to be the first ship of the post war era and she when she was delivered to P&O in September 1922, she came at a cost of £1,246,380. She and her sister-ship, the S.S. Mongolia, were both designed for the Company's Australian service.
She was fitted with "twin Parsons double reaction-geared turbines", developing 13,250 IHP that drove her twin screws, giving her a service speed of 16 knots. Her engine room represented a major advance, in fact she was the first P&O ship fitted with "double-reduction-geared steam turbines".
She had six passenger decks; Boat Deck, Promenade Deck, Main Deck, Upper Deck, Shelter Deck and Shade Deck. As built, the "Moldavia's" First Class Lounge, Music Saloon and Smoking Room, along with her Verandah Cafe, were all arranged up on the Promenade Deck.
The Second Class Music and Smoking Rooms were located on the Shade Deck aft.
Passenger cabins were arranged according to the "the Inchcape plan", meaning that every single cabin aboard had a porthole, providing ample light and fresh air.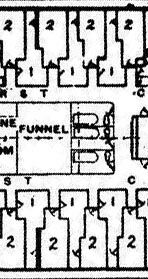 This show how the "Inchscape plan" works, although a plan of another ship is shown
Even those cabins that seemed to be on the "inside", but they were designed in such a way that they all had a narrow passage to the ship's side and the porthole.
A Brief note regarding the S.S. Mongolia:
Her almost identical sister the S.S. Mongolia had a slightly lower tonnage of 16,504 GRT and she was ordered on November 22, 1918, and just like the 16,556 GRT "Moldavia" she was also delayed due to the war.
The "Mongolia" was finally launched on August 24, 1922, and commenced on her maiden voyage from Tilbury to Sydney on May 11, 1923. I do have a very special feature on the "Mongolia" online and a link is located at the bottom of this page! Interestingly, she was sold in 1938, but amazingly she had a number of new lives thereafter!
Trials and S.S. Moldavia's Maiden Voyage:
Having been completed she was ready to undertake her sea and speed trials which she did very successfully on September 19, 1922, and having reaching a reasonable top speed of 16.3 knots. She was delivered the very next day to P&O at Tilbury.
She was fully manned and the ship was made ready for her guests. Her stores were filled as were her larders with the best of food products, all her cabins were made up to perfection and her holds were filled with cargoes bound for her first destination.
The big day had arrived and on October 13, 1922, she departed Tilbury on her maiden voyage with excited passengers at the railing, but she was not heading for Australia, but she was bound on this voyage to Bombay, India.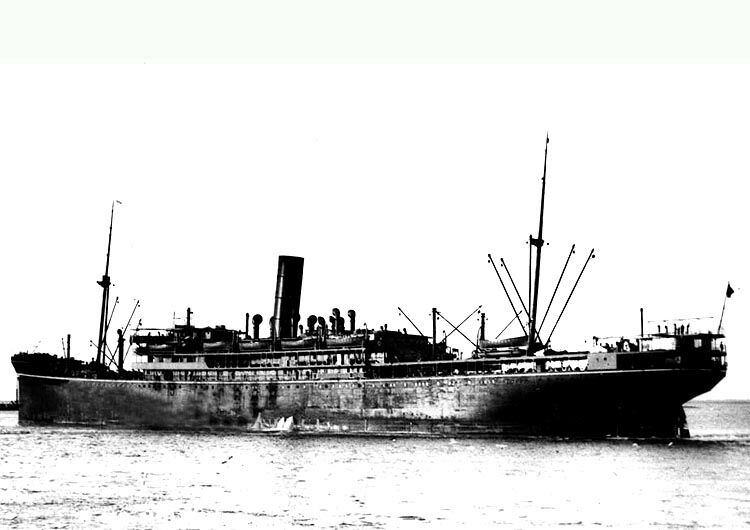 The S.S. Moldavia is seen here as built heading for Bombay
As she departed the ship came amid considerable press criticism mainly that she had just a single funnel, and they all felt that was "rather insignificant for "a major Passenger Liner of her size and it marred her appearance".
There was certainly no doubt that both she and her sister were somewhat outdated in their design, having straight stems, counter sterns and that much criticised single funnel, when they should have had the more stately two funnelled design! But no matter what, her passengers loved the ship itself, as the quality on board was far above perfection! They loved the Lounges, the comfortable accommodations, the excellent service, fine food, and the ship was one of the best ships at sea as she rode the waves so well, even when it was a bit rougher. Passengers rated her very highly, so who cared how many funnels she had!
However, finally on February 16, 1923, she was transferred to the service she was actually built for, and she headed for Australia, as follows: Tilbury, Marseilles, Port Said, Colombo, then to Fremantle being the Capitol of Perth (Western Australia), next to Adelaide (South Australia) then to Melbourne (Victoria) and finally to Sydney (New South Wales). (Brisbane Queensland was added a little later).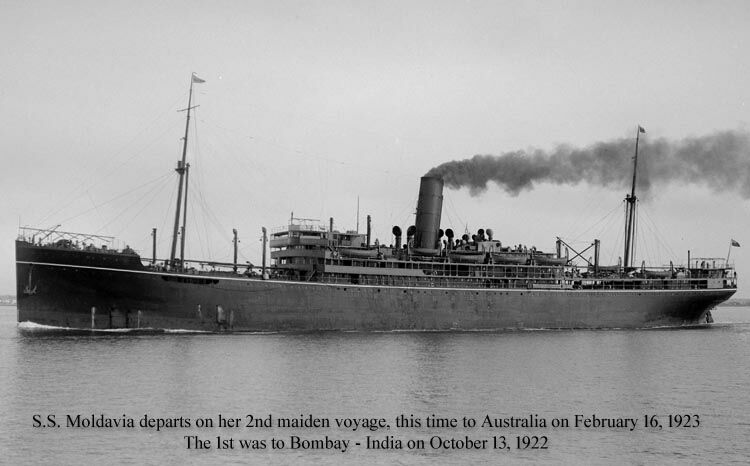 The "Moldavia is Australia bound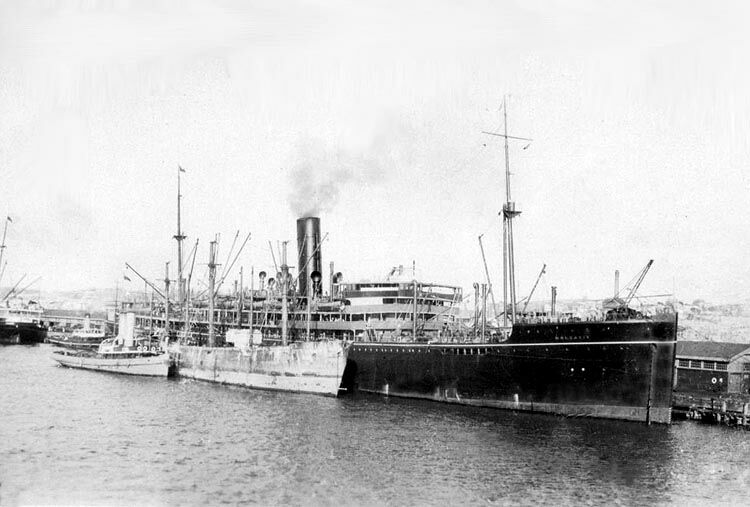 The "Moldavia" is seen at Fremantle during her first visit there
*********************
Her Passenger facilities:
Let us take a look at some of her excellent passenger facilities, which were very highly regarded by her passengers.
First Class
Bridge & Boat Deck:
The Bridge being located far forward and a deck above Boat Deck. Obviously there was the Bridge located there, as well as the chart room.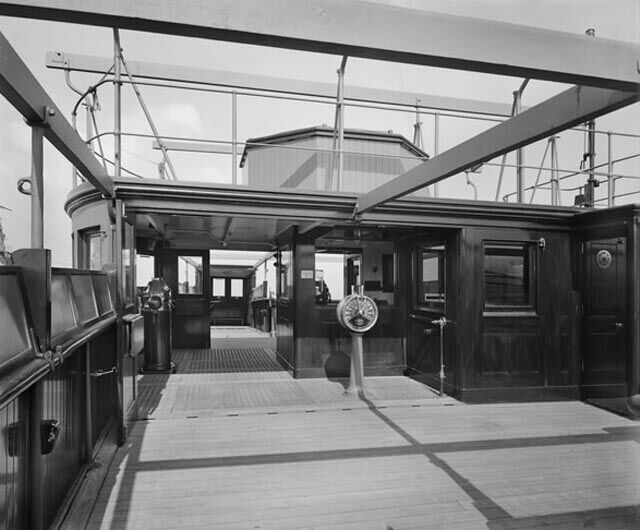 The Beautiful all timber Bridge as seen from the portside wing
Far forward on Boat Deck was the Captain's quarters and his office; in addition there were the First Mates, and the Chief Engineers quarters and the Radio Office.
Boat Deck outside was a spacious and a long deck and it was a popular location for sunning, or just going for a walk and chatting with fellow passengers, as well as playing various games of sports, be it Shuffle Board, Deck Tennis, Quoits and other activities as arranged by the ship's crew.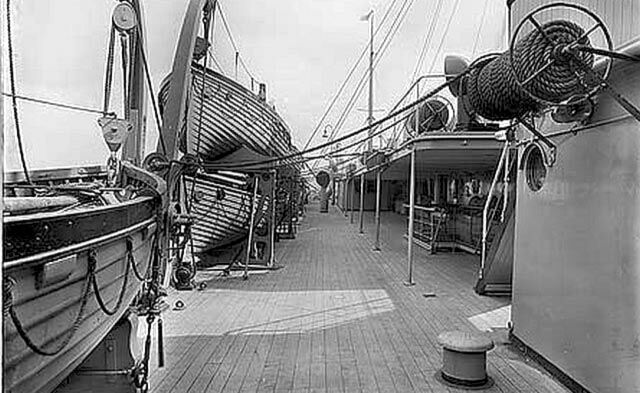 Boat Deck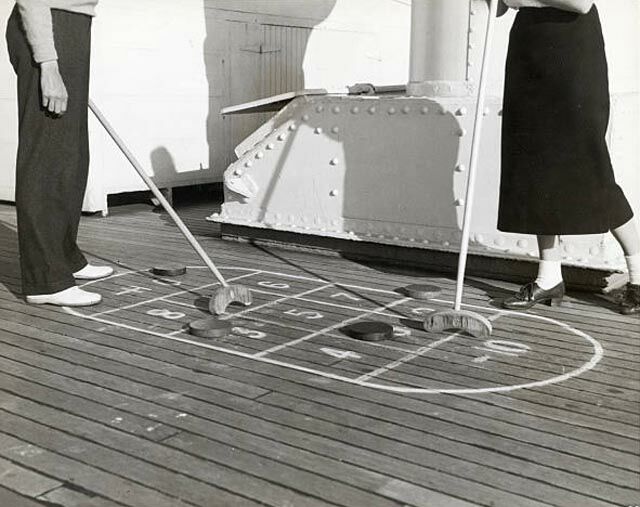 The ever popular Shuffle Board
Promenade Deck:
The Lounge was located forward and featured windows on three sides, allowing light streaming in from forward and the two sides. The ceiling and parts of the walls were in ivory pearl, and the trim as well as the columns in soft fine timbers. Furnishings were in mahogany with chairs either beautifully upholstered or others having cane inserts giving a somewhat more casual feel.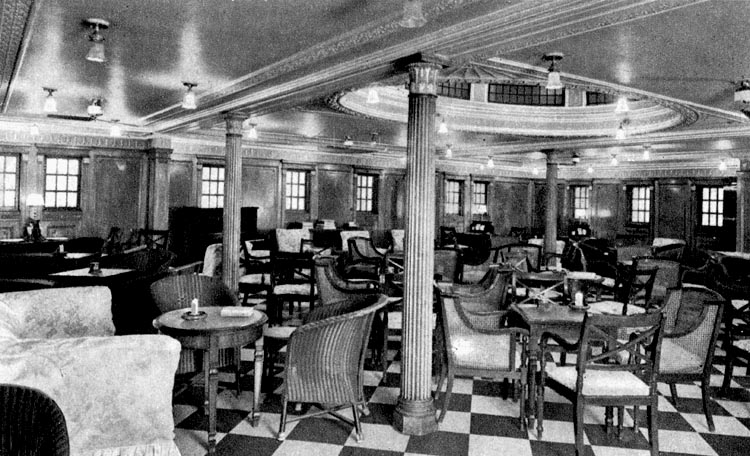 The glamorous Lounge
Yet there were large comfortable lounge chairs which were richly upholstered in the finest tapestries. In the centre of the room there was a round dome that reached up high onto the Boat Deck, and it featured a huge stained Glass dome, which was a spectacular feature of the room!
Directly aft of the Lounge was the First Class Main Lobby with its Grand beautifully carved timber Staircase that went up to Boat deck and down Shade Deck forward, was located centred on the aft bulkhead and on both sides where electric lifts (elevators).
Nearby was the intimate Card and writing Room is very much an all old style English venue and mostly furnished with wicker chairs and mahogany tables, as well as leather chairs and writing tables. And as we can see above this venue, as all the Public Rooms on Promenade Deck had a dome going up into Boat Deck above featuring a fine Stained Glass top!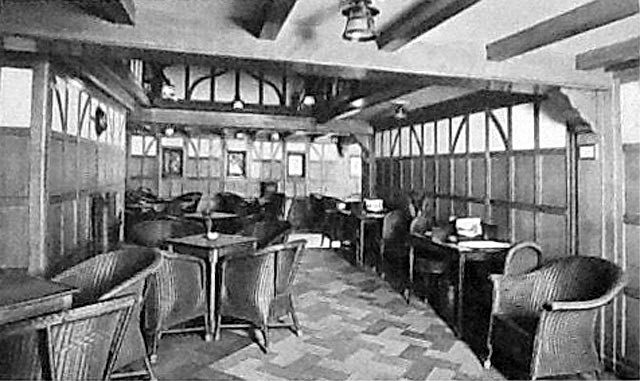 The very English Card & Writing Room
We will just head outside for a moment and take a look at the spacious Promenade Deck; of course Main Deck just below also offers a promenade deck, thus the ship offers two promenades, as well as the very spacious Boat Deck!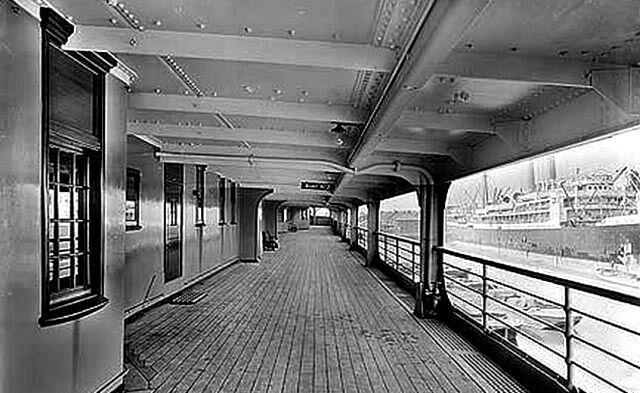 This is a view on the starboard side looking forward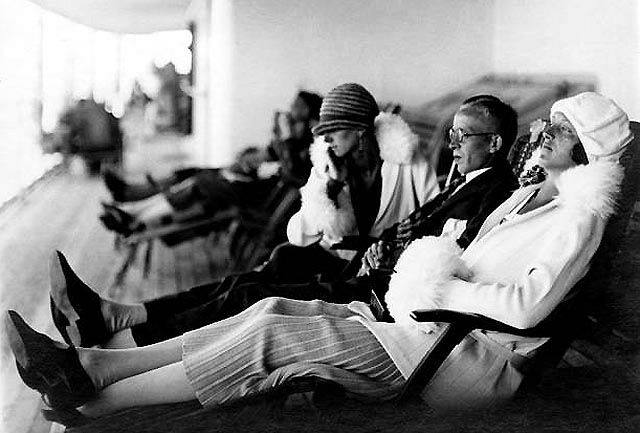 Passengers relaxing out on Promenade Deck
But there is still the magnificent Smoking Room just aft amidships, and this venue is heavily clad in fine timbers and is a warm and an elegant venue.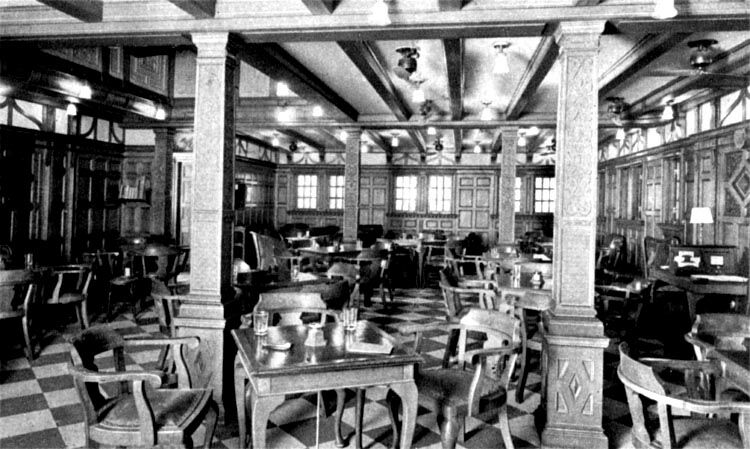 The magnificent Smoking Room and it has a bar
There are four square grandiose timber columns in the centre of the room and the décor of the entire venue can be seen above, it is simply magnificent!
Like the Lounge it also has a Dome in its ceiling, but this one was also square, and it's was certainly a staggeringly beautiful one as we can see from the photograph below!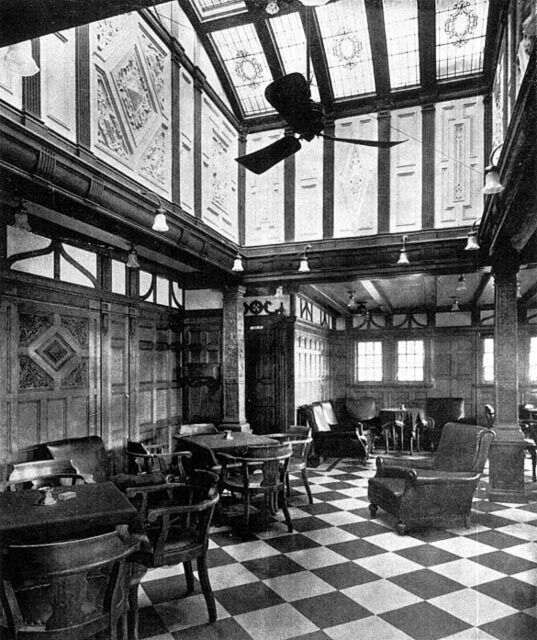 Here we see the magnificent feature of the Smoking Room, which was without a doubt very special
Just aft of the Smoking Room was the Verandah Café, for that outdoor view and a nice cup of tea, or coffee and a snack, etc.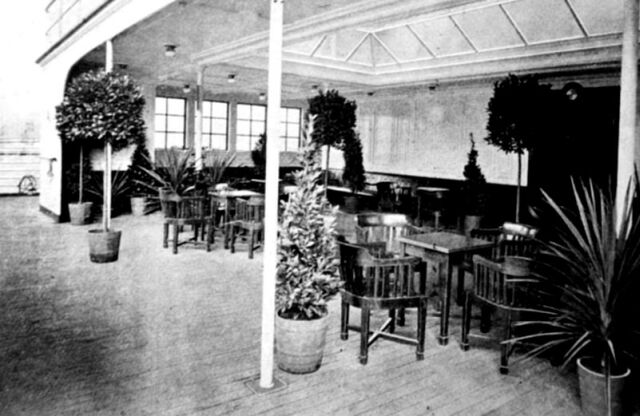 The delightful Verandah Café
Later the venue was enclosed and had glass doors added to the rear making it more suitable to offer evening meals in an intimate setting.
The Dining Saloon was located on Upper Deck directly aft of the forward Main Lobby. It certainly was a splendid venue being superbly furnished with the finest quality of furnishings, made of mahogany and elegant in style, as soon as one entered you would be assured that a fine meal awaited you as you were shown to your table by one of the polite and perfectly dressed stewards.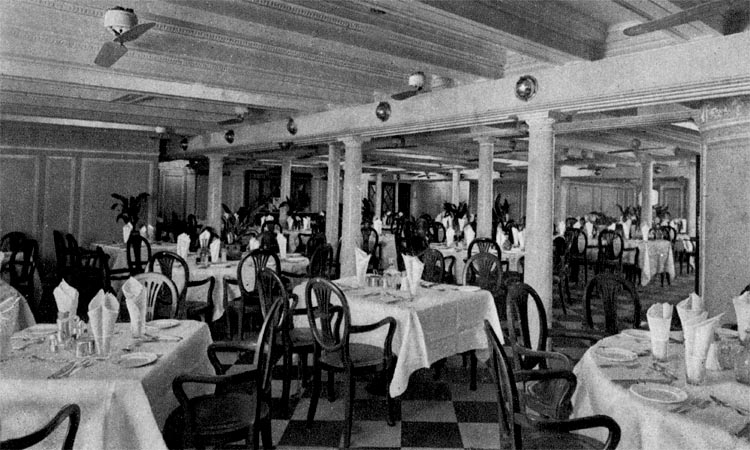 The venue stretched the full width of the ship and it was a fine and a spacious venue, beautifully decorated in every respect. It was the venue you expected featuring the finest silver and fine porcelain to match the best of cuisine that was on offer!
Below we see a twin bedded cabin whilst there were also ample single bed cabins available. Some cabins did offer a third berth if required. Behind the bed on he right is the passage that leads to the porthole, thus all the light that can be seen.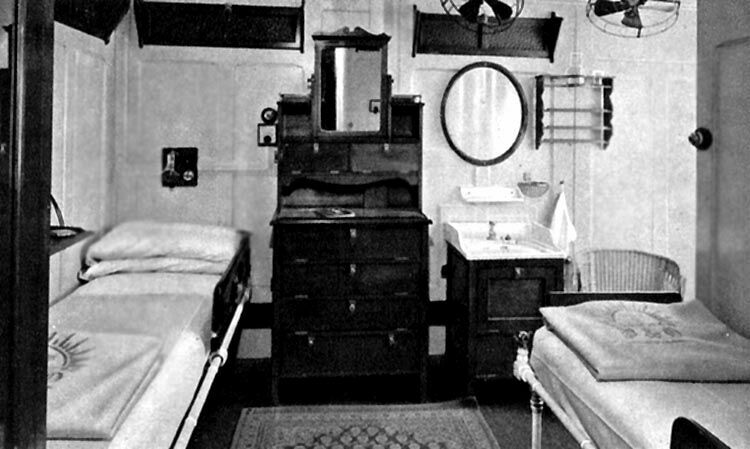 A twin bedded cabin
Of course there were many other facilities available on board, besides the Pursers Office, there was a Shop a Ladies Beauty Saloon as well as a Gents Hair-dresser, etc, a Doctor's Surgery and a Hospital if needed. A laundry was available to the Guests and access to the baggage room.
*********************
Second Class
Second Class had a Lounge, and a Music Saloon, a Smoking Room and a Card, Writing Room, etc, which were located on the Shade Deck as well as their Dining Saloon. But sadly I have not been able to locate any photographs of their Public venues.
However I did locate some of the cabins, which were very similar to those of the First Class, except the Mirrors were not quite as fancy, and the rooms  were slightly smaller of course. Yet they were well furnished as Two, Three or Four Berth cabins.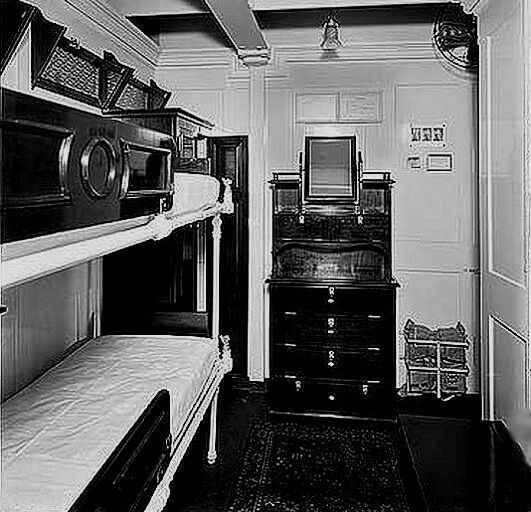 A two berth cabin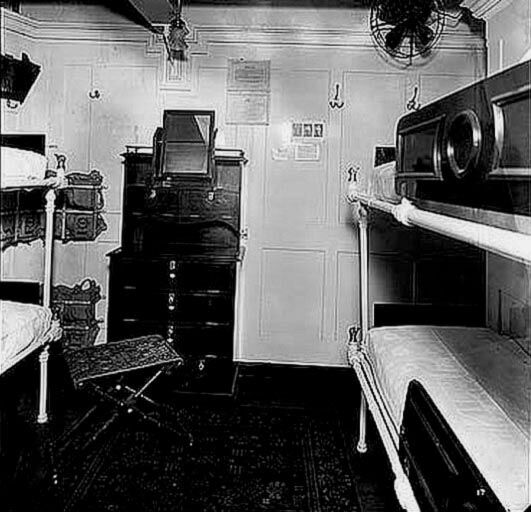 This cabin can be sold as a twin bedded, or as a three and a four berth cabin
I am sorry that I am unable to show you any of the other features of this Class, which became Third Class later and finally the ship became a One "Tourist" Class ship (or Emigrant Class).
*********************
Her History Continues:
She sailed on to and from Tilbury to Sydney Australia, and soon enough the Capital of Tropical Queensland up north of New South Wales was added and she would head as far as the Capital City of Brisbane.
However during her last voyage of 1923, on December 26, somehow a fire broke out in a cargo of fibres which had been loaded at Colombo, Ceylon (Sri Lanka) just as the "Moldavia" was approaching Fremantle. The Fremantle Fire Brigade was forced to flood the entire hold to save the ship caching further damage, however, this did not destroy just the Ceylonese cargo, but also a great deal of the passengers' heavy baggage, which was much worse as far as the passengers were concerned!
Three Refits:
S.S. Moldavia was refitted in 1925 and her Second class was now officially Third Class. In addition it had been decided to add a second dummy funnel after all, and it was added aft of her original funnel, keeping the press boys happy P&O hoped! Also her bridge was raised up one level, thus now from the Boat Deck there were two decks above it, providing additional space for the Captain and Officer's quarters, as well as giving her an overall a better profile. However, the best change of all was that the boilers were converted to burn oil fuel. Her tonnage was now registered as being 16,543.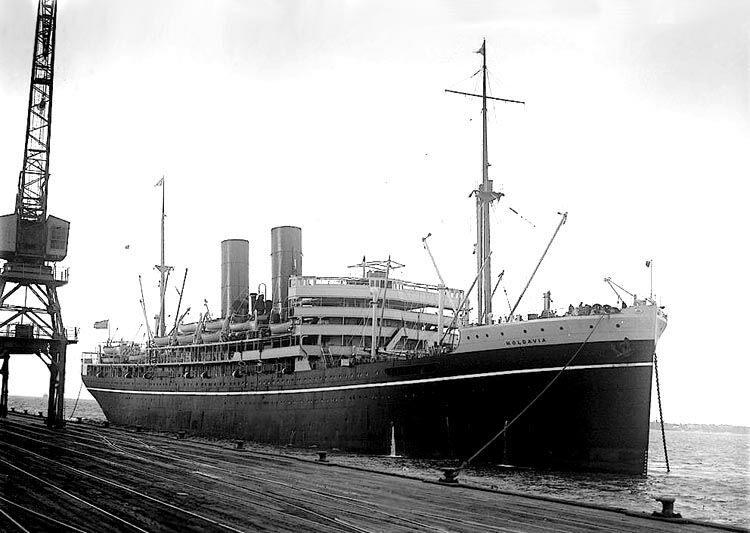 The new look S.S. Moldavia with her two funnels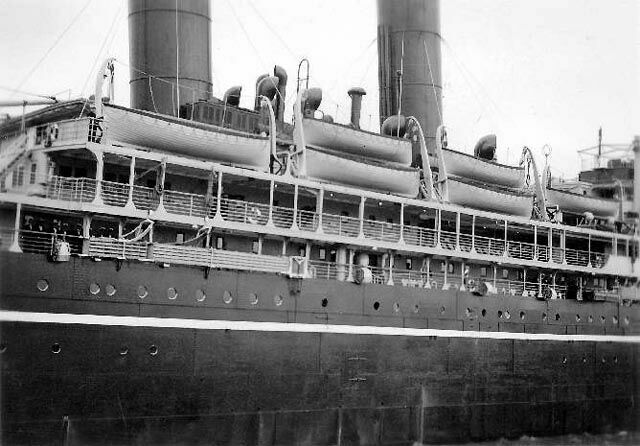 A close up view of her new funnels, some of her crew can be seen aft on Main Deck
But just two years later in 1930 there was another refit and now she was wholly reclassified as Tourist Class ship when she was operating as a cruise ship, and when on the Australian emigrant service she would be an "Emigrant (Third) Class" ship with 830 passengers. Passages to Australia were now available for as little as UK£38 pounds.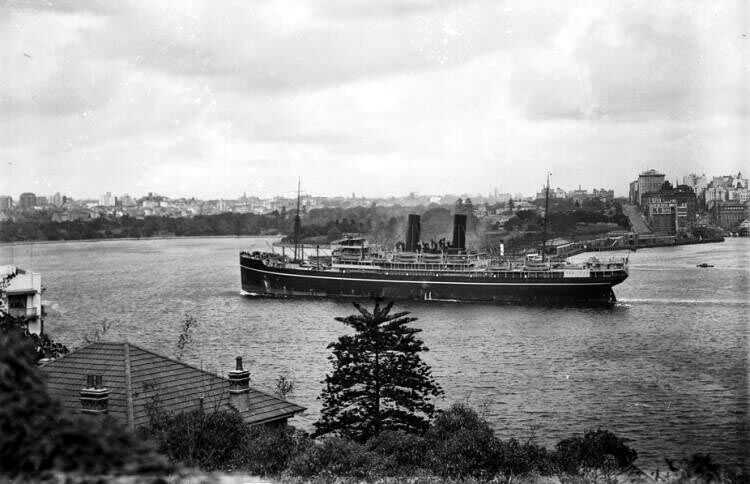 The S.S. Moldavia is seen departing Sydney and she will be heading south to
Melbourne and then homeward via Adelaide and Fremantle to the UK in 1930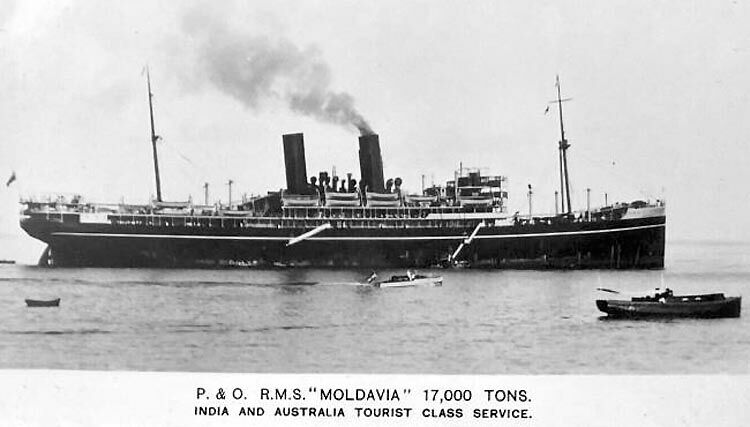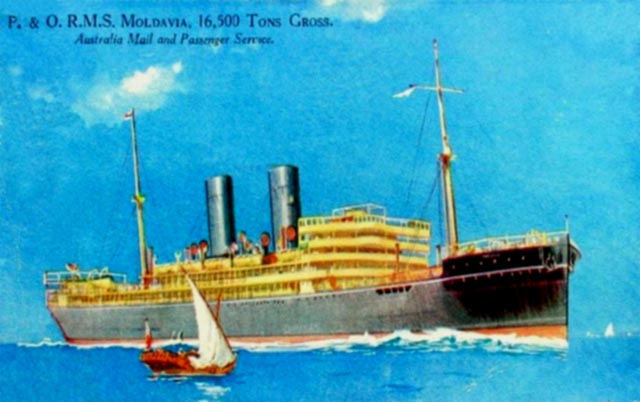 A newly released colour postcard of the "Moldavia" which was sold at the ships shop
Then one more refit in 1931, when Steam super-heaters and two new propellers were fitted, which did increase her maximum speed to just over 17 knots.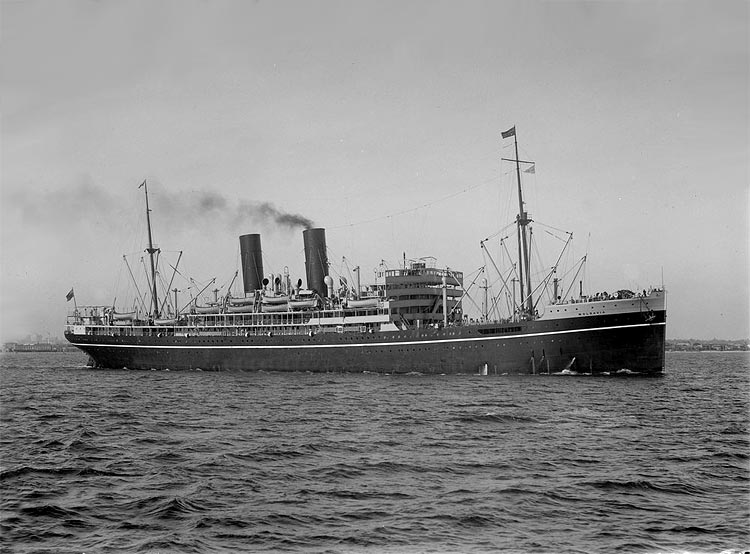 She is seen having departed Brisbane and is sailing down the Brisbane River and
is about to head into Moreton Bay where she has to continue north until she
can turn around Moreton Island and head south for Sydney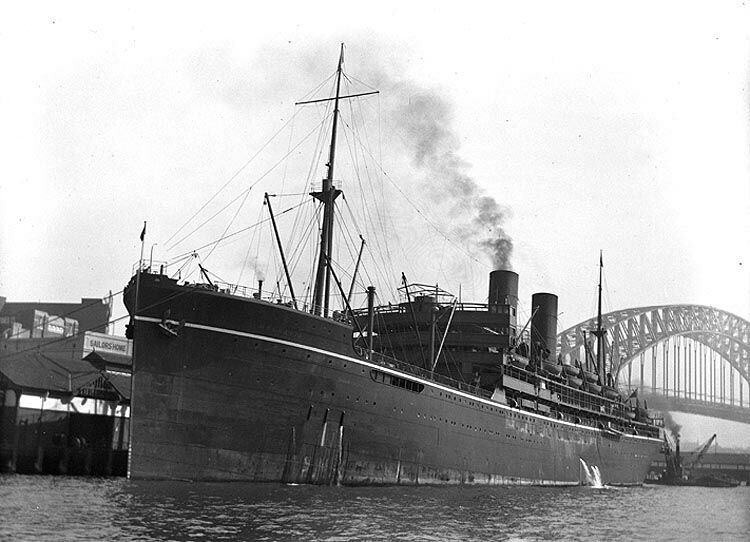 S.S. Moldavia is seen at Sydney on October 15, 1931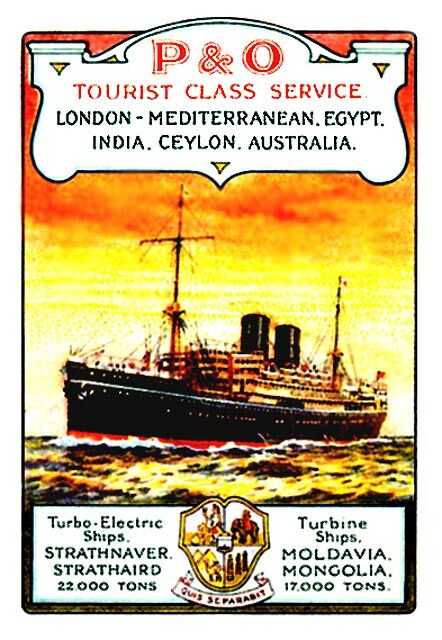 A full colour P&O poster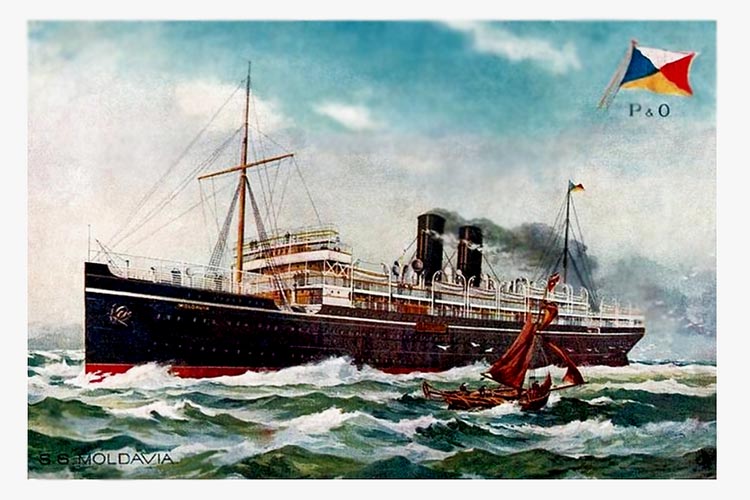 A popular colour P&O postcard of the S.S. Moldavia
There was no doubt that she was becoming a popular cruise ship, and what made it even better that her fares were exceptional value. In 1935 she had scheduled 11 cruises as seen in an advertisement in the Newspaper on February 15, 1935, below.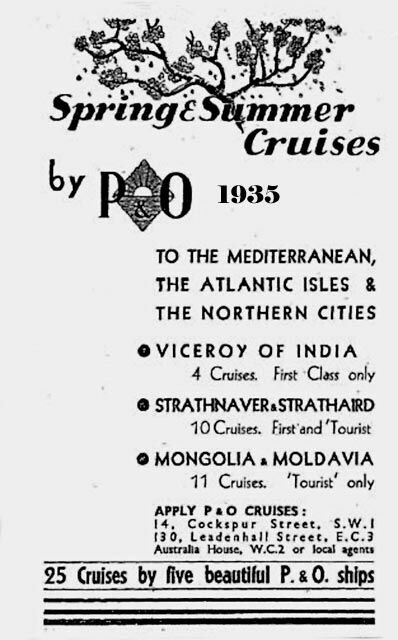 During 1935 she was also chartered to carry guests to the Coronation Review at Spithead.
However, sadly on July 21, 1935, suddenly a fault appeared with the port turbine having left Monte Carlo whilst on a Mediterranean cruise. Repairs were carried out at the naval dockyard at Gibraltar which took three day, and her next cruise which was fully booked sadly had to be cancelled.
But she returned thereafter as good as new, and continued her very popular cruise series, and in 1936 she operated two much longer cruises, such as;
On April 9, she operated a 23 day cruise to Athens, Istanbul, Santorin and other ports, with fares from just UK£23 pounds.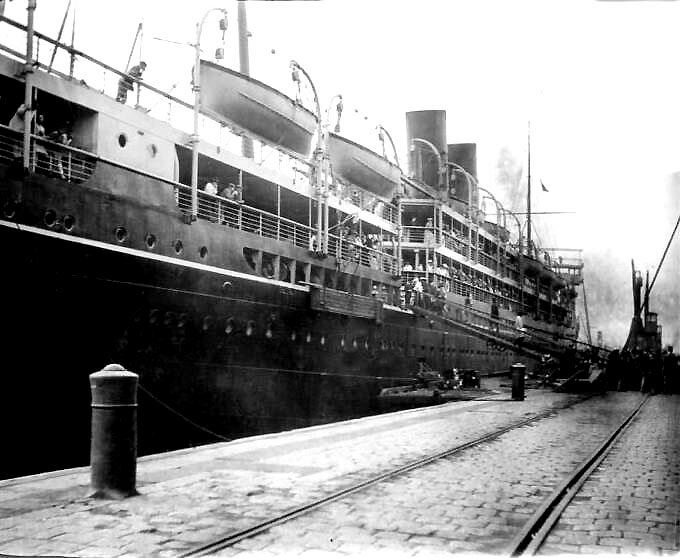 Ready to depart from another port and visit a new and exciting port of call, that is what cruising is all about!
Then on May 9, she operated a 14 day cruise to Barcelona, Palma and Algiers, etc, with fares from just UK£14 pounds.
She departed again on another 21 day cruise from Southampton on August 1, 1936 visiting; Malta, Santorin, Salonika, Athens, Gythion, Bizerta, Lisbon back to London. The front cover and inside cover of her Passenger list are shown below.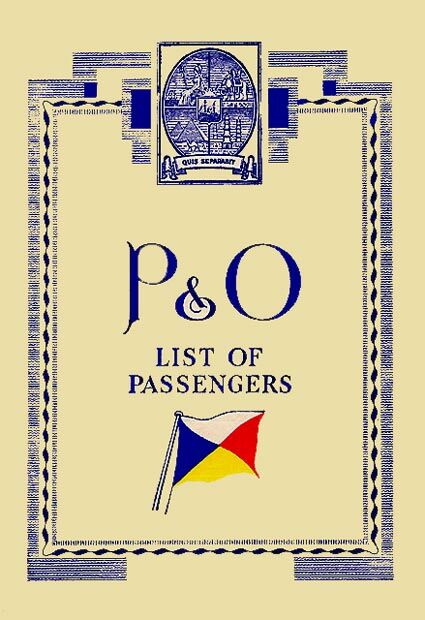 -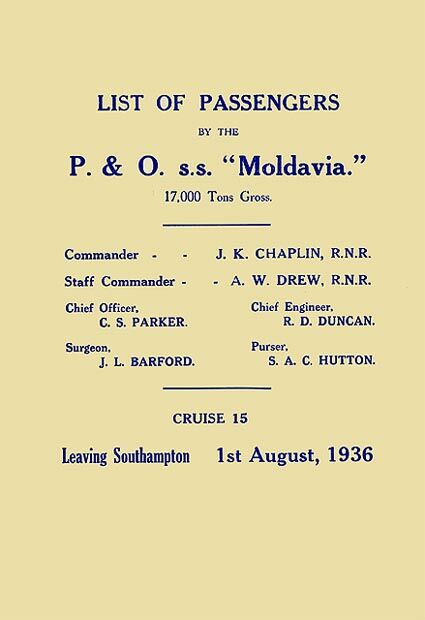 In addition, her Tourist voyages to Australia were being offered from as little as UK£39 pounds.
S.S. Moldavia's Final Years:
She departed Tilbury what was to be her very last ever voyage to Australia on September 17, 1937, and having arrived in Sydney then went to Brisbane and she departed there on November 2, arrived in Sydney on November 4, and the next day she headed off for her very last 7 day cruise ever. Upon her return on the 12th, she departed on November 13, there was a sad farewell from the people of Sydney as she departed for the very last time and her passengers on board really felt it as it was such a sad event.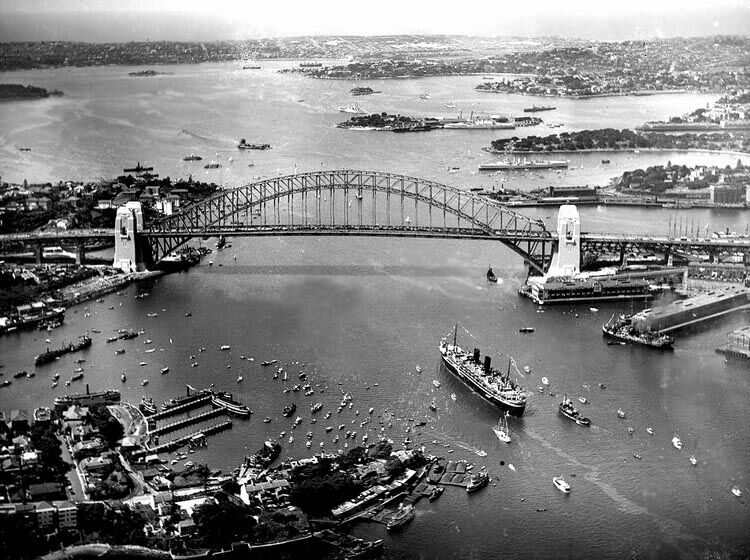 She had quite a fleet of yachts and a good number of tugs that would
also join her further on to farewell her properly!
Then, even up on Sydney Heads, there were countless people high up for she had to pass through the Heads in order to leave Sydney Harbour and go out to sea. A huge number of people stood there, many in tears waving the old girl goodbye, as she headed down to Melbourne arriving on November 14, and departed again on November 16, and headed for Adelaide from where she departed on November 22, 1937. For some reason she did not stop at Fremantle this time and she continued homeward to Tilbury (London) via all her usual ports.
Passengers on this her final voyage simply had a wonderful voyage as her crew really outshone themselves, as past passengers on board stated that they were even more attentive than ever before, for let's face it, this was a one of a kind voyage and everyone made sure it was going to be very special, more like an great event! On arrival at Tilbury on December 24, 1937 it was more like a huge family parting, with hugs and kisses amongst passengers and crew, as they seemed to have become family over the past month or so, and it was such a sad event, no-one wanted to leave the ship, but they all had to, as everyone had homes to go to, etc. But the memory of that wonderful final voyage on the S.S. Moldavia would remain with them for a very, very long time! After passengers had left the ship, as well as a good number of her crew, the "Moldavia" was laid up and she had been placed on the market. Her sister the "Mongolia" had already been sold and she would survive and live with four new names and sail on until 1965.
Then, on April 5, 1938, the "Moldavia" was not as fortunate as her sister, for she was sold to 'John Cashmore Ltd' for UK£38,000 pounds. Six days later on April 11, she was officially handed over at Tilbury and she then departed and on April 18, 1938, the "Moldavia" arrived at Newport, Monmouthshire breakers yard where very soon she was demolished.
Please Note:
Below the Ships Specifications and Details below, there is one further section containing some of her Menus, as well as items of Memorabilia and Souvenirs.
*********************
Specifications & Details S.S. Moldavia (II):
Name:                                   Moldavia 1921 to 1938.
Type:                                     Passenger & Cargo Liner.
Registered Owners:                  Peninsular & Oriental Steam Navigation Company.
Ordered:                                December 1, 1916, However construction badly delayed due to WWI.
Builders:                                Cammell Laird & Co Ltd, Birkenhead, UK.
Yard No:                                839.
Launched:                              October 1, 1921.
Sea & Speed Trials:                  September 19, 1922.
Delivered:                               After her Trials on September 20.
Registered at:                         Liverpool, UK.
Maiden Voyage:                       October 13, 1922, Tilbury to Bombay, India.
February 16, 1923:                  Departed on her first voyage of her permanent service to Australia.
Official No:                             145973.
Call Sign:                               KMSJ.
Signal Letters:                        GDVZ.
Classification Society:               Lloyds of London.
Tonnage:                                16,556 GRT, 10,065 NRT, 12,225 DWT.
Length:                                  552.4 ft - 168.31 m.
Width:                                   71.7 ft - 21.85 m.
Draught:                                30.1 ft - 9.147 m.
Engines:                                 Six double-reduction-geared Parsons steam turbines to 2 shafts, by builder.
Boiler Details:                         4 single-ended and 3 double-ended boilers.
Power:                                   13,250 SHP.
Propellers:                              Twin Screws.
Speed:                                   16 Knots service speed.
Accommodations:
As built:                                 222 First Class, 175 Second Class.
1928:                                    222 First Class, 175 Third Class.
1930:                                    830 berths - Third Class or Tourist (Emigrant) Class.
Crew:                                    350.
Cargo Capacity:                       743,595 cubic feet - 21,053 cubic metres & 145,716 cubic feet - 4,126 cubic metres of refrigerated space. Total of 7 compartments.
Refits:
1925:                                    Tonnage was re-measured at 16,436 GRT.
1928:                                    A second dummy funnel was added aft of the original funnel, and the boilers were converted to burn oil fuel. Tonnage was then 16,543.
1930:                                    Another refit with all accommodation being reclassified as Third Class or Tourist (Emigrant) Class, for 830 passengers. Passages to Australia were available for as little as £38.
1931:                                    Steam super-heaters and new propellers were fitted which increased her maximum speed to 17 knots.
1935:                                    Chartered to carry guests to the Coronation Review at Spithead.
July 21, 1935:                         There was a fault with the port turbine after leaving Monte Carlo on a Mediterranean cruise. Repairs were carried out at the naval dockyard at Gibraltar.
September 17, 1937:               Left Tilbury on her final Australian voyage.
September 17, 1937:               Last departure from Sydney.
December 14, 1937:                Last arrival at Tilbury.  Laid up pending sale.
April 5, 1938:                          The Moldavia was sold to 'John Cashmore Ltd' for UK£38,000 pounds
April 11, 1938:                        She was handed over at Tilbury.
April 18, 1938:                        S.S. Moldavia arrived at Newport, Monmouthshire for demolition.
Menus, Memorabilia and Souvenirs:
I have a number of items directly related to the S.S. Moldavia such as Menus and items of memorabilia purchased on board from the ship or received as prizes, etc.
1… Menus: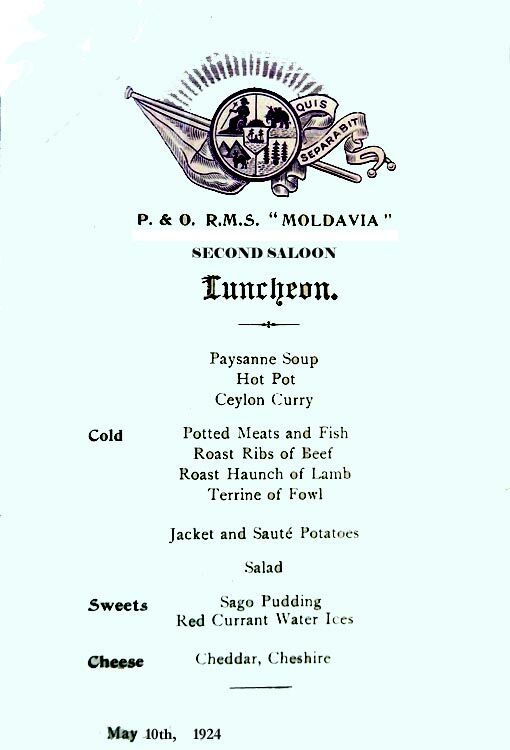 Second Class Lunch Menu May 10, 1924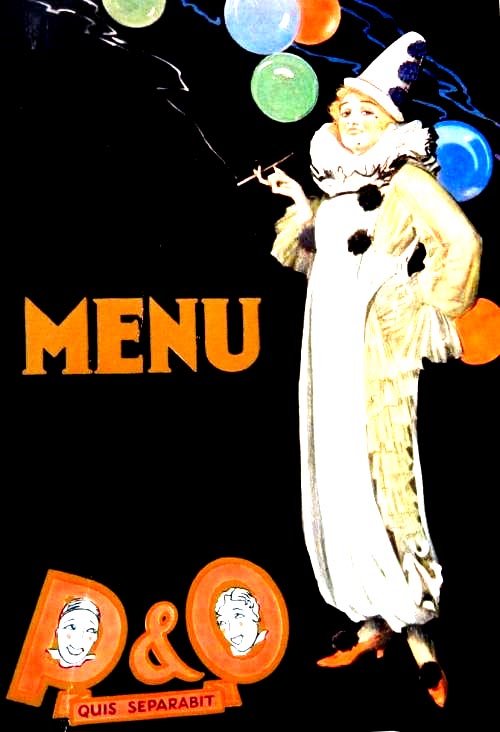 -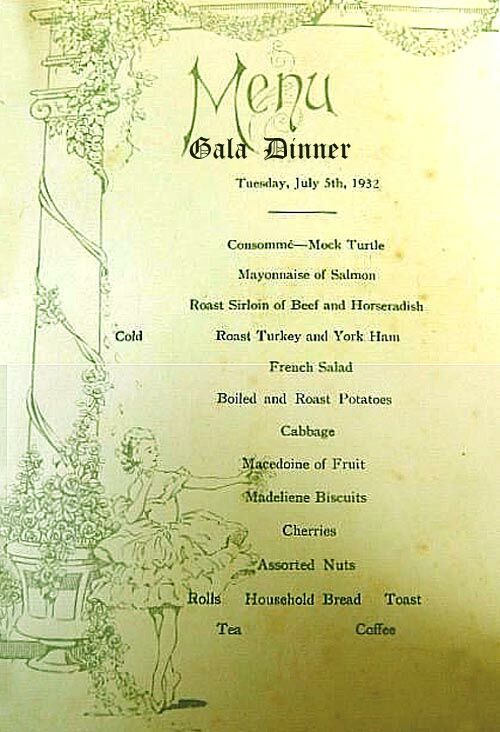 First Class Gala Dinner Menu for July 5, 1933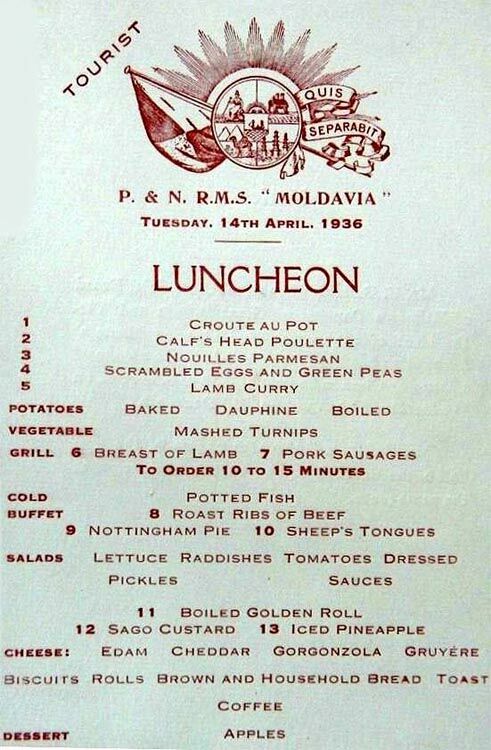 Tourist Class Lunch Menu April 14, 1936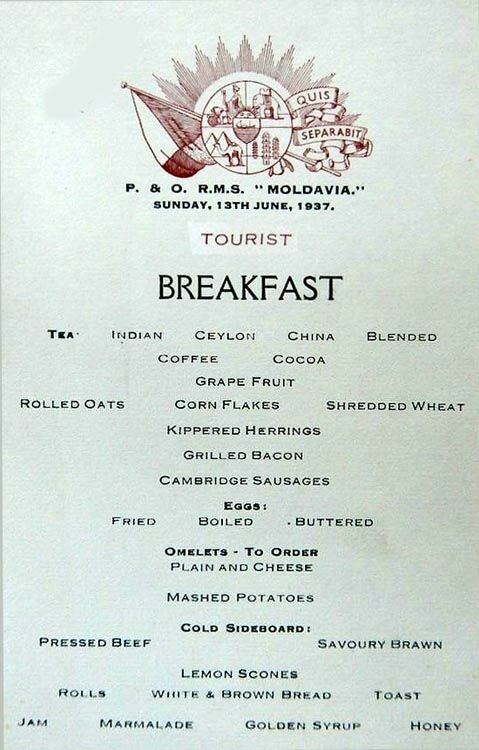 Tourist Class Breakfast Menu June 13, 1937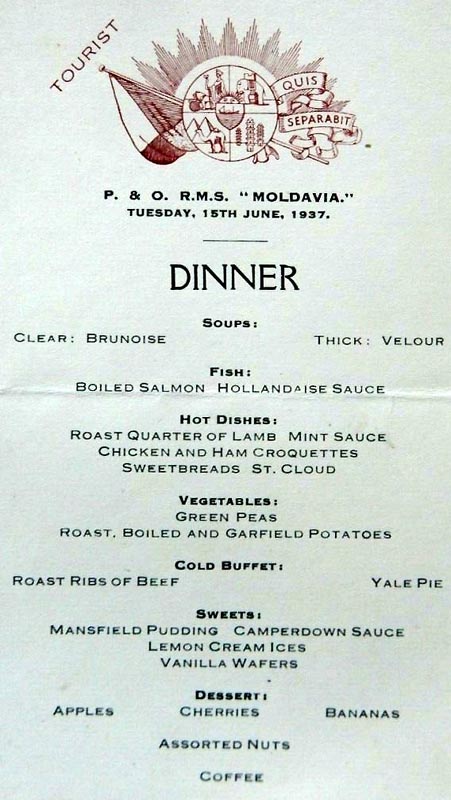 Tourist Class Dinner Menu June 15, 1937
2… Memorabilia & Souvenirs: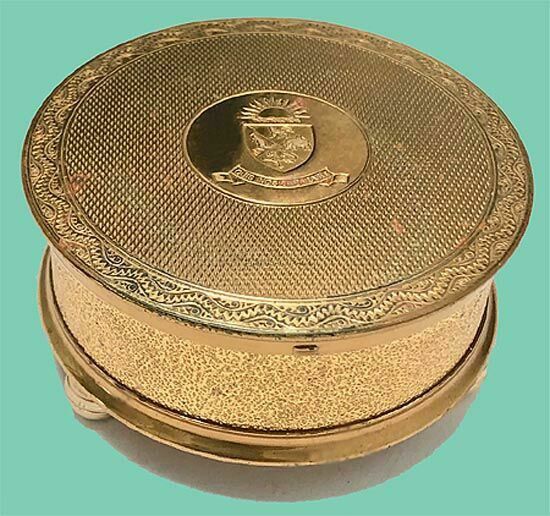 A Gold ladies powder bowl
Inscribed with P&O's official Coat Of Arms and their Motto;
"Quis nos separabit" - "Who will separate Us"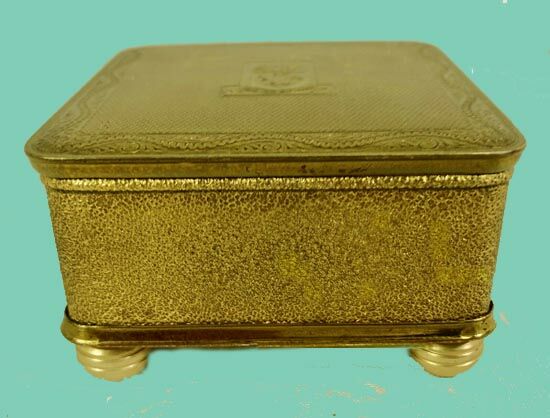 Above & below: A Gold Jewellery Box with the P&O's Coat Of Arms and their Motto on the lid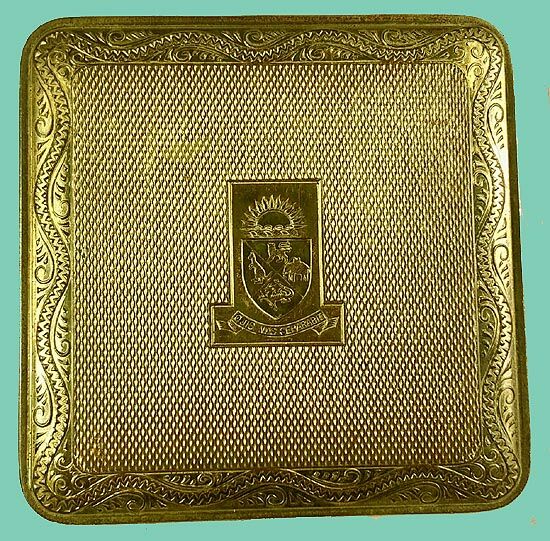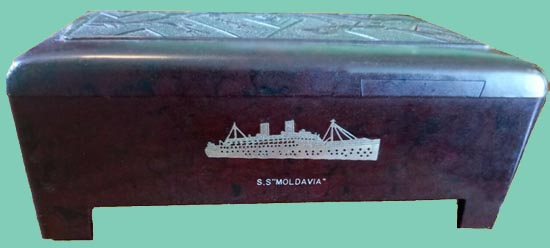 A blue, embossed inlaid bakelite lidded box from the S.S. Moldavia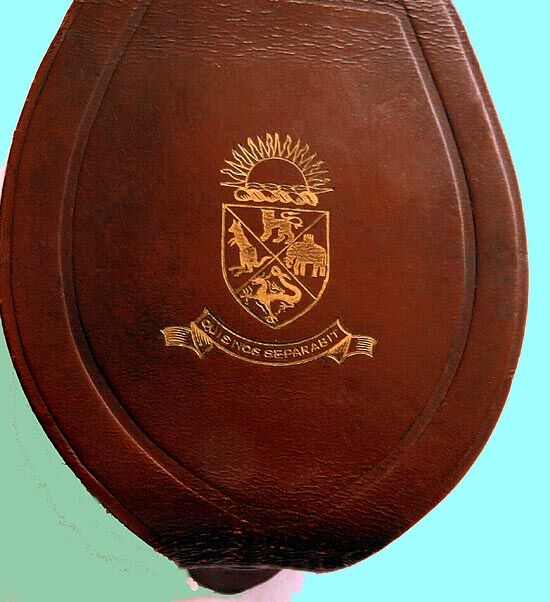 A Gents leather Cuff-links Box also has P&O's Coat Of Arms and their Motto on it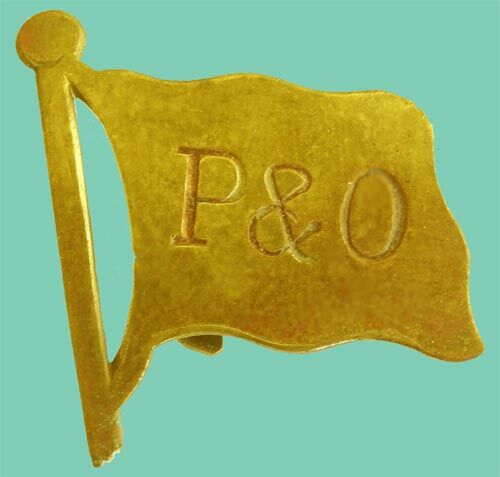 A pin in the shape of a flag with P&O on it, not sure of its origin, but it came off the "Moldavia"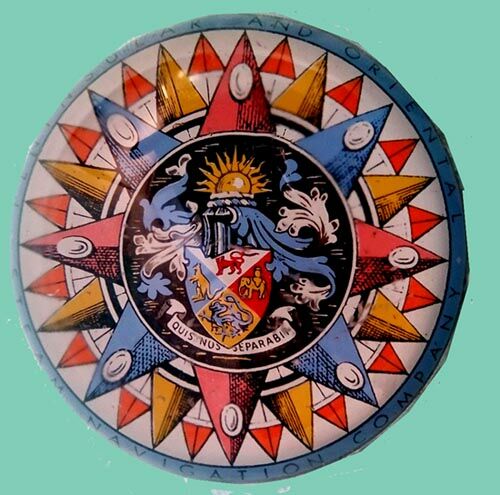 Above & below: A beautiful and such a colourful - heavy paperweight with the P&O's Coat Of Arms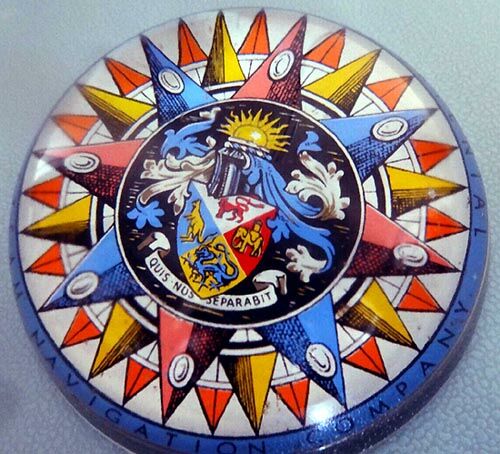 *********************
R
emembering the Remarkable, but Short Days
of the Orient Liner - S.S.
Moldavia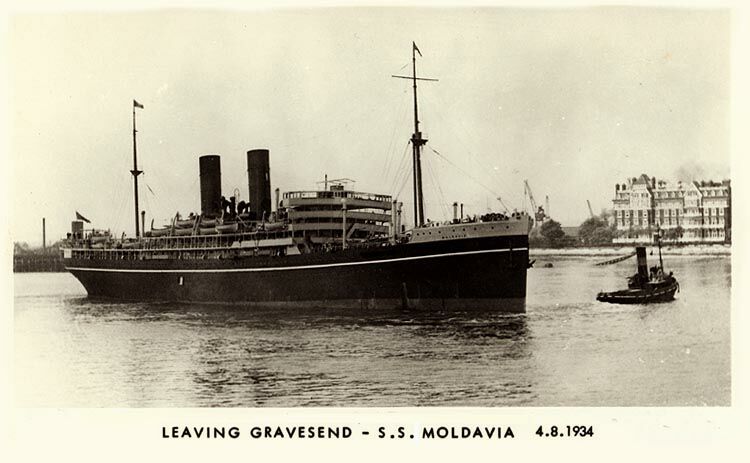 The S.S. Moldavia seen leaving Gravesend, having just departed Tilbury on August 4, 1934
Also view her sister ship: RMS Mongolia
*********************
 "Blue Water Liners sailing to the distant shores.
I watched them come, I watched them go and I watched them die."

Featuring over 1,550 Classic Passenger Liners, Passenger-Cargo Liners & Classic Cruise Ships!
Or ENTER HERE
For interest: Sadly an email service to ssMaritime is no longer available, due to the author's old age and chronic illness as well as being disabled, etc. In the past ssMaritime received well over 120 emails per day, but Mr. Goossens can no longer handle same. He sincerely regrets this!
*********************
ssMaritime.com & ssMaritime (offline)
Where the ships of the past make history & the 1914 built M.S. Doulos Story.
The Author has been in Passenger Shipping & the Cruise Industry for well over 60 years
In addition he was the founder of "Save the Classic Liners Campaign" in 1990.
Please Note: ssmaritime and associated sites are 100% non-commercial and the author seeks no funding or favours of any shape or form, never have and never will!
Photographs on ssmaritime and associate pages are by; the author or from the author's private collection. In addition there are some images that have been provided by Shipping Companies and private photographers or collectors. Credit is given to all contributors. However, there are some photographs provided to me without details regarding the photographer/owner concerned.
This notice covers all pages; although, and I have done my best to ensure that all photographs are duly credited and that this notice is displaced on each page, that is, when a page is updated!
ssMaritime is owned & © Copyright by Reuben Goossens - All Rights Reserved