ssMaritime.com & ssMaritime.net
With Reuben Goossens
Maritime Historian
Klosters – Norwegian Cruise Line
SS
Norway
ex SS France
Michael Bobo presents the …
Inaugural 1980 SS Norway Cruise Brochure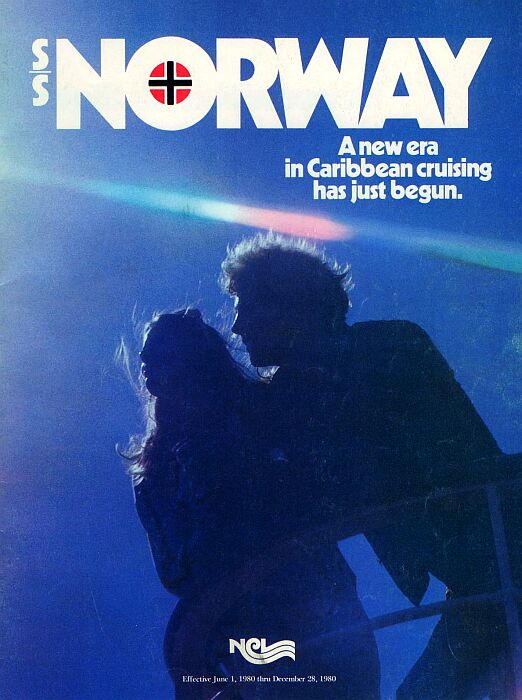 This is the 1980

inaugural SS Norway cruise brochure, which Mr. Michael Bobo kindly provided the author to present online, and therefore I am extremely grateful to him! Now the whole world can enjoy and remember this great ex French liner through this very special publication as we see and remember her when she commenced her brand new innovative cruise venture. In addition, as we can see from the photograph of her, it was well before she was so heavily built-up up topside! At the bottom of the page you will find her original SS Norway Deck Plan!

Enjoy the wonderful memories, and again Michael, many thanks!

Reuben Goossens.

Maritime Historian.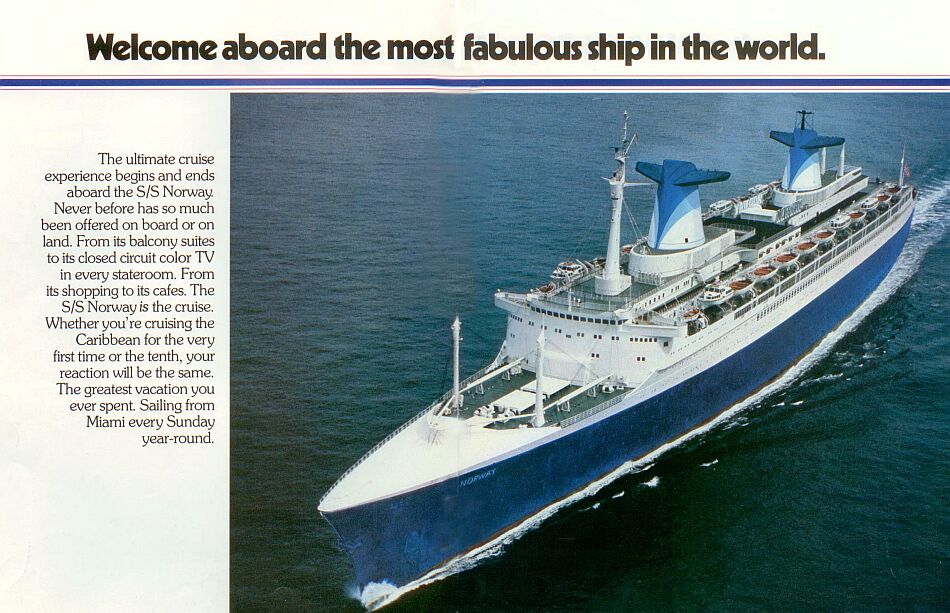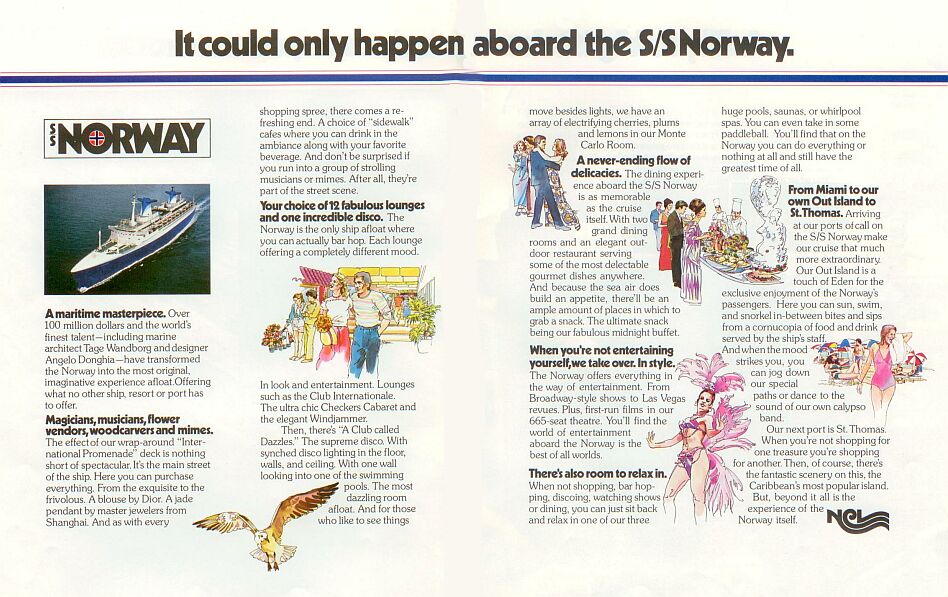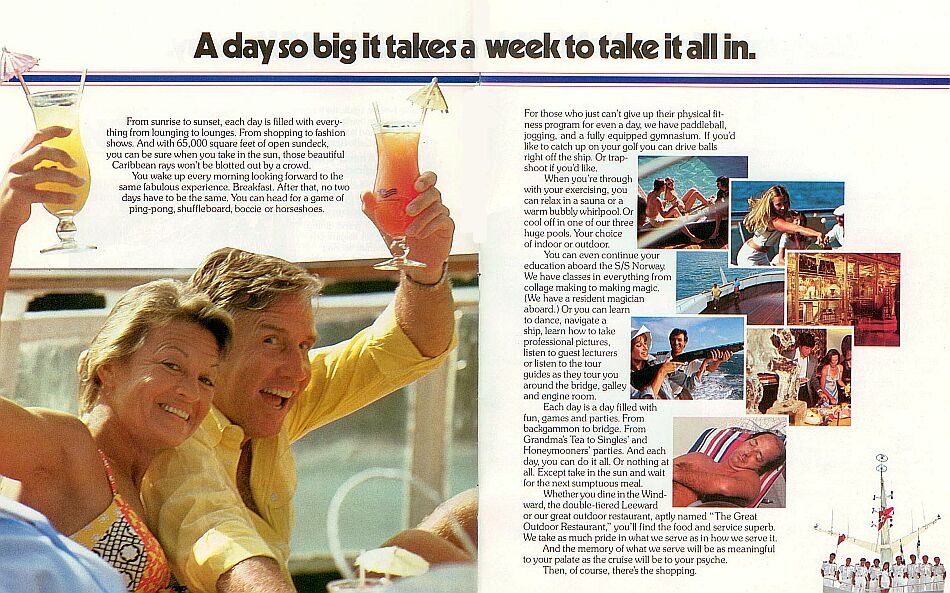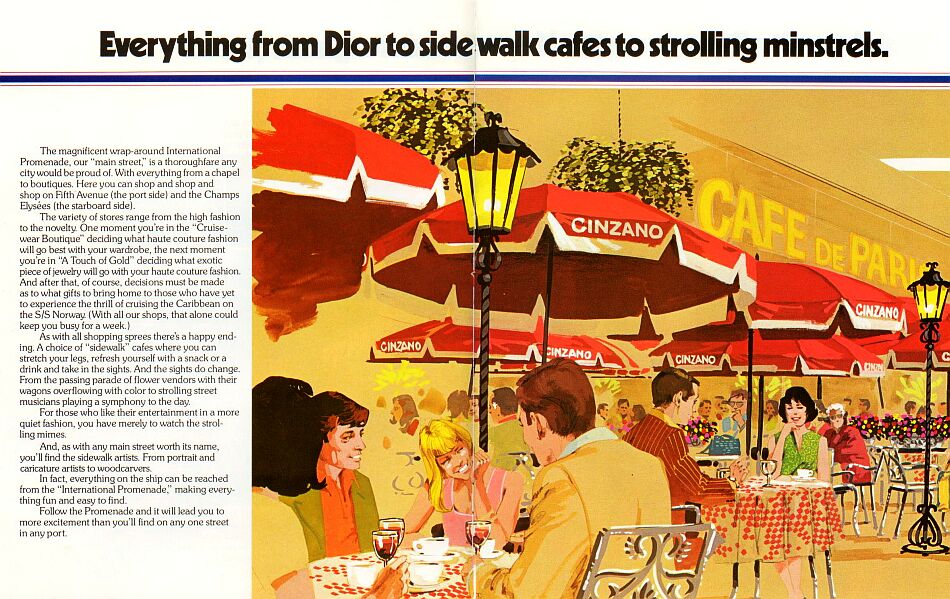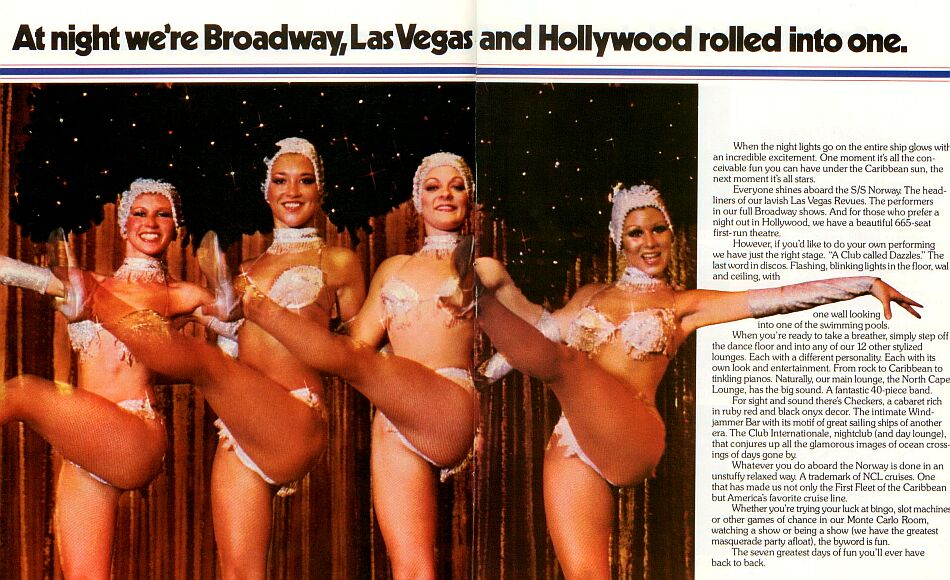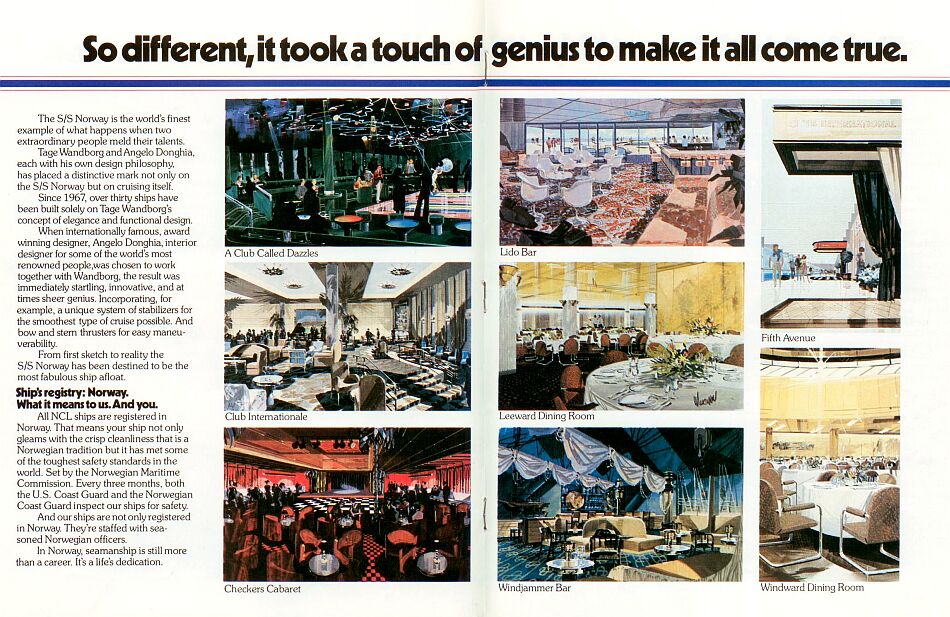 Deck Plan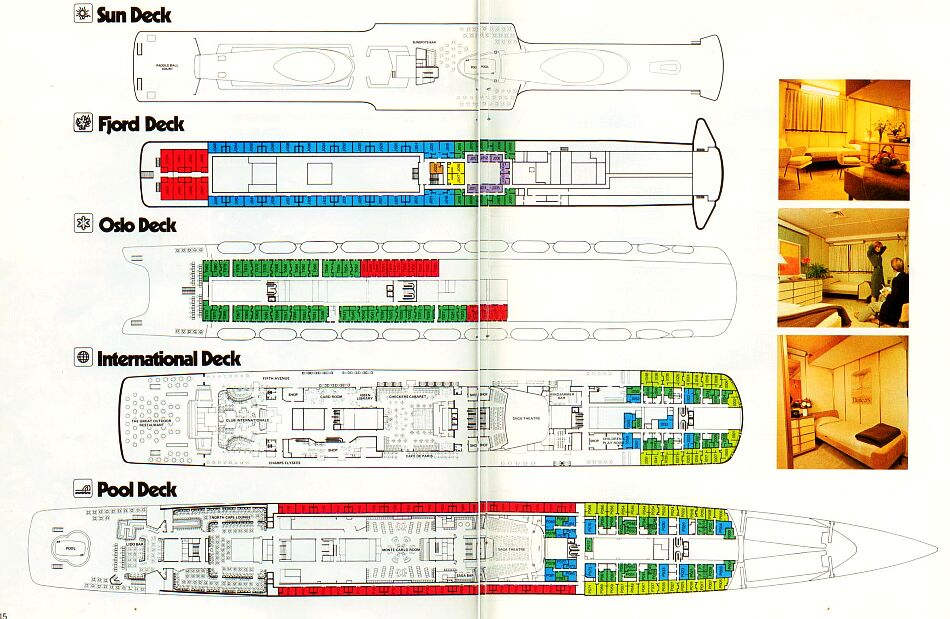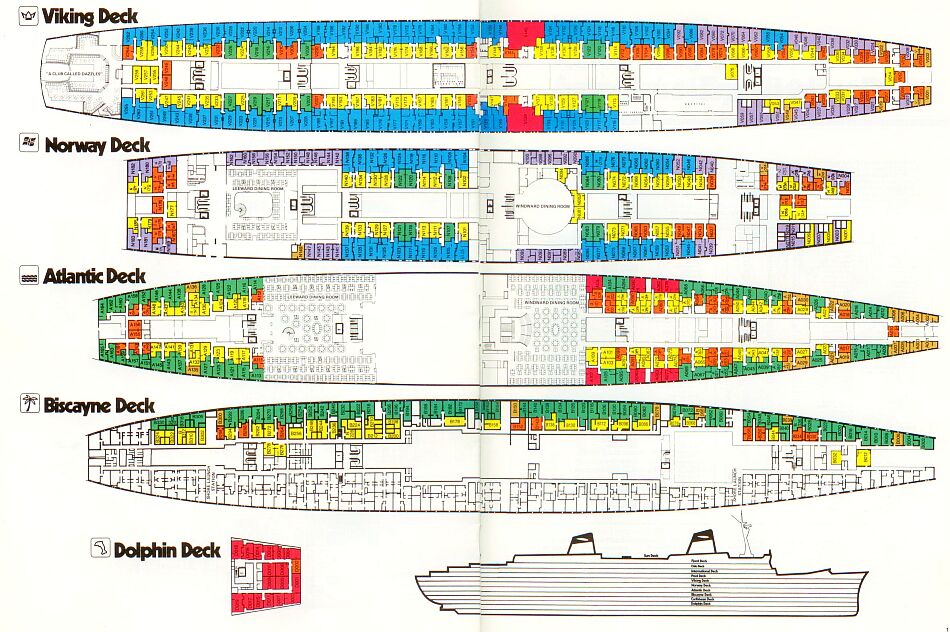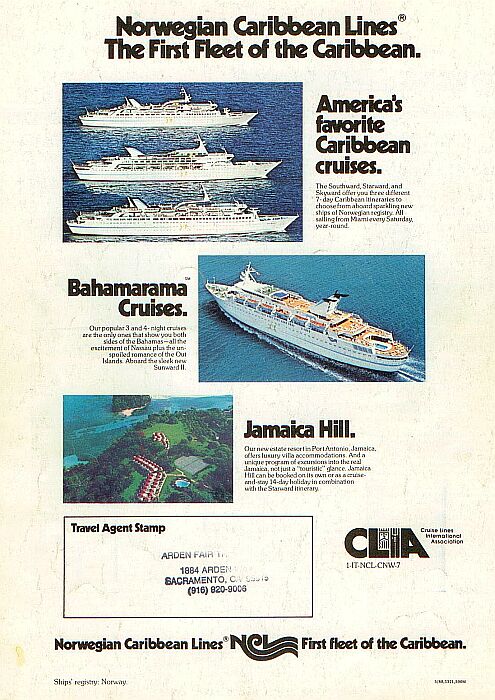 ***********************************
Index
Page One …                      SS France
Page Two …                     SS Norway
Page Three …                   SS Norway – Blue Lady
Page Four …                     Norway Deck Plan
Photo …                           QE2 passes the Norway
Photo …                           Photographer Don Tremain presents his experience and four photographs
Photo …                           Tomas-Rosales shares his photographs of the Norway in Miami
Photo …                           Michael and Lee Ann Pavlick honeymoon cruise in 2002
Photo …                           Norway in Bremerhaven – Page Two
Photo …                           Norway Departs Bremerhaven 23 May 2005
Photo …                           A series of photographs of SS Blue Lady in Alang
Story …                            Pauli Dangerousli describes his 1997 cruise on the SS Norway
Story …                            "The Ship that Saved my Life" – The Karl Henrik Henriksen Story (2 pages)
Article …                          "Surreal times on the SS France" by Patrick Jackson
Brochure …                      This inaugural SS Norway brochure (1980) was provided by Mr. Michael Bobo
***********************************
Use the Back button on your browser or Close the Page to return to the previous page
or go to our INDEX
Who is the Author of ssMaritime?
Commenced in the passenger Shipping Industry in May 1960
ssMaritime.com & ssMaritime.net
Where the ships of the past make history & the 1914 built MV Doulos Story
Also visit my …
"Save The Classic Liners Campaign" & "Classic Ocean Voyages" pages
Photographs on ssmaritime and associate pages are by the author or from the author's private collection. In addition there are some images that have been provided by Shipping Companies and private photographers or collectors. Credit is given to all contributors. However, there are some photographs provided to me without details regarding the photographer/owner concerned. I hereby invite if owners of these images would be so kind to make them-selves known to me (my email address may be found on www.ssmaritime.com only), in order that due credit may be given. I know what it is like, I have seen a multitude of my own photographs on other sites, yet these individuals either refuse to provide credit or remove them when asked, knowing full well that there is no legal comeback when it comes to the net. However, let us show these charlatans up and do the right thing at all times and give credit where credit is due!
This notice covers all pages, although, and I have done my best to ensure that all photographs are duly credited and that this notice is displaced on each page, that is, when a page is updated!
ssMaritime is owned and © Copyright 2010/12 - by Reuben Goossens - All Rights Reserved