ssMaritime.com & ssMaritime.net

With Reuben Goossens

Maritime Historian

SS

Norway

Memories cruising on a great liner in June 1997

By Pauli Dangerousli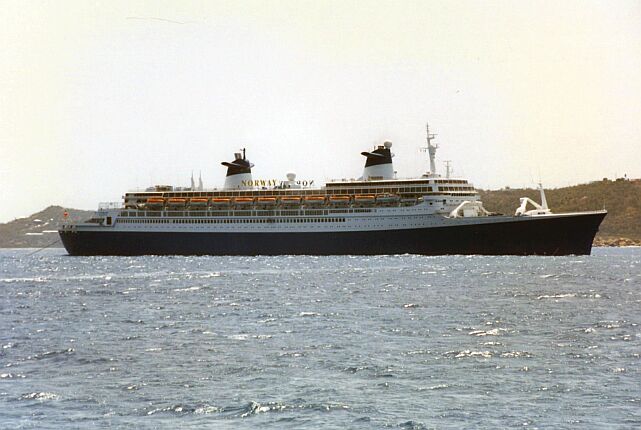 I hereby wish to thank Pauli Dangerousli for sending his recollections of his honeymoon cruise on SS Norway in 1997. In addition he sent an excellent range of colour and black and white photographs, which I am sure you will enjoy. I have scattered these throughout the page in no particular order. All photographs are © 2007 and taken by Pauli Dangerousli.

"Let's go on a cruise"

When my fiancée suggested that we go on a cruise for our honeymoon, I was reluctant. I did not want to spend a week on some overcrowded "carnival." However when our travel agent suggested we go on the SS Norway, I was elated, as I knew that she used to be the SS France and I jumped at the chance to travel on a genuine liner.

We took a train down to Florida and spent a few days in less than optimal conditions waiting for our time to embark. I cannot put into words the feeling that I got, when we finally arrived at the wharf and I saw that immense, yet graceful ship berthed there. I knew that a week of luxury and pampering, sun, tuxedos, evening gowns, good food and exotic ports awaited us.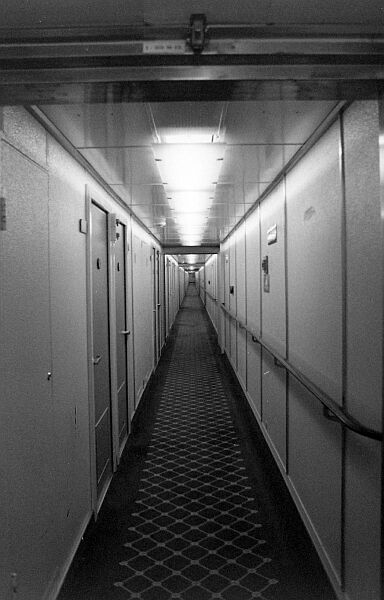 Hallway
We boarded the ship and made our way to cabin K025, or as I liked to call it "Sky25." It was located on the second deck from the top, on the starboard side. When we walked in it seemed huge, especially as at the time I lived in a small Brooklyn apartment. The outside wall was entirely glass, floor to ceiling. Blue carpets, a queen size bed, and a nice sitting area partitioned off with a hip room divider. The bathroom had a full size bathtub bigger than the one I had at home. Large closets, a little safe, more TV channels than at home, and a mini bar, which was particularly appealing to me. To top it all off, on the wall was a poster of the SS France.
We went to the Bon Voyage party and had strong fruity drinks served in a pineapple. We danced and sang and heard Norway's distinctive and very loud voice as we glided out of the port of Miami.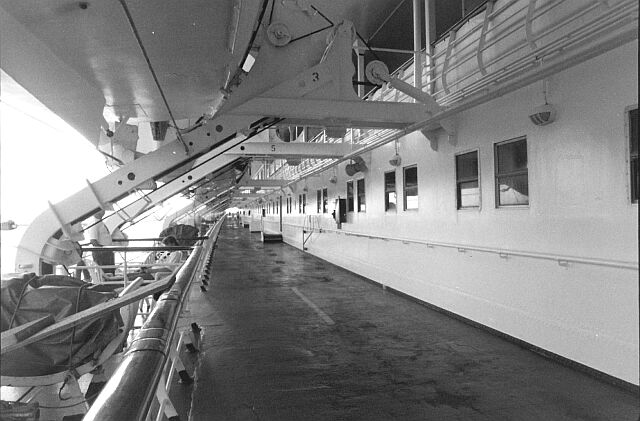 Boat deck
After our muster drill, which was kind of funny seeing folks awkwardly wearing their life jackets, we went exploring. I noticed that there were plenty of lifeboats, including inflatable ones. Having read "A Night to Remember" more than once, this sort of comforted me. The largest boat I had been on up to that time was the Staten Island ferry. This was my first time on a big ship, and man was she BIG.
Club Internationale was one of the most impressive spaces on board with its art deco interiors and unique chandeliers. The great outdoor restaurant was also impressive, giving one that Coney Island hotdog kind of feel. The Monte Carlo Casino was very nice and very tempting for those susceptible to that sort of thing. International deck and the Promenades, however I would really prefer to use the words "boulevards" which were on both sides of the ship. Here you could go shopping. The Saga theatre was another fantastic space, very large, yet subdued in its décor, which seemed to me to come out of the 1965 World's Fair. The Roman Spa was truly a delight, right up my alley with massage, a Jacuzzi, and saltwater baths. Not to mention the pretty English girls who tended to you. Of course there were many other places on board but those stick out. The other place of note was Dazzles Disco. About as far away from my cabin as possible, it was also usually the last bar, of the many on board, to close. This made for a very long and sometimes difficult and embarrassing way home.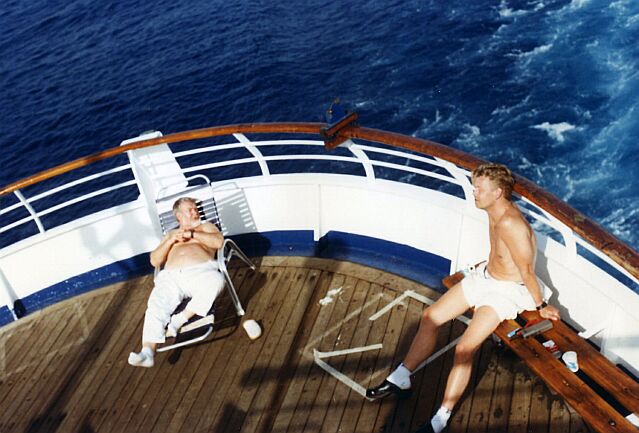 Sunbaking aft
As it turned out my three favourite places on board were the Lido deck, the Windward dinning room, and the Windjammer bar.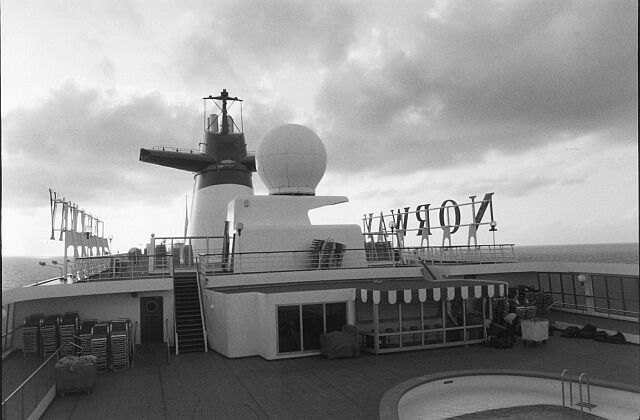 Her funnels are imposing as other photo's on this page prove!
The Lido deck was were we spent most of the days on board, swimming, drinking Coronas, people watching, and listening to the Caribbean style bands, which were very good. By the way the aftermost part of the ship was crew only. One could not hang over the taffrail ala James Cameron's Titanic on the Norway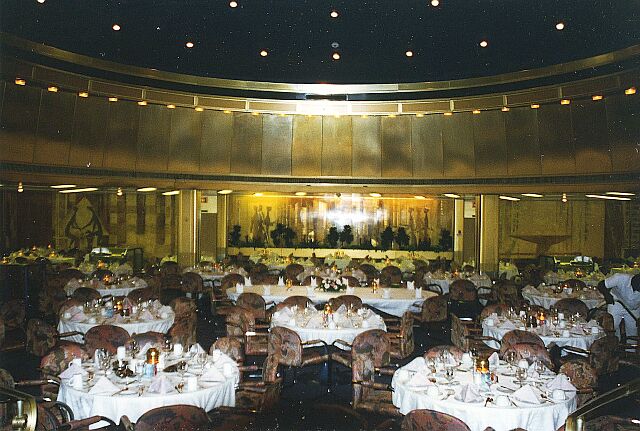 Windward Dinning Room
The Windward dinning room was where we had all of our main meals, and why not? This kind of exquisite atmosphere was not to be had in any other place. To experience the dinning room on formal night was truly a spectacular. It even sported an entrance stairway with a wrap around balustrade. I was lucky enough to have a seat where I could watch the people come to dinner down those stairs and see if they made proper use of this old -fashioned architectural device. A talent I fear long gone from our collective memory. Strangely enough the only time I got seasick on the cruise was whilst I was in the dinning room. My waiter told me it was because the room had a two story high dome, which gave the space an ambiguous orientation. "Go outside and look at the horizon and you will be fine." he told me, and he was right, it worked.
Inevitably towards night's end we ended up in the Windjammer bar. This was a cosy sort of place with models of sailing ships and nautical themed stuff hanging about. It was also the place where one could see the Norwegian officers having a cocktail. They did not fraternize with the passengers though.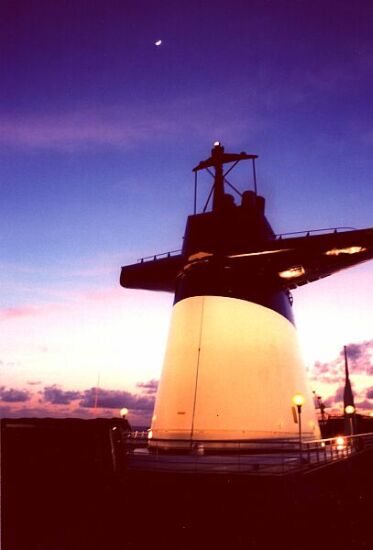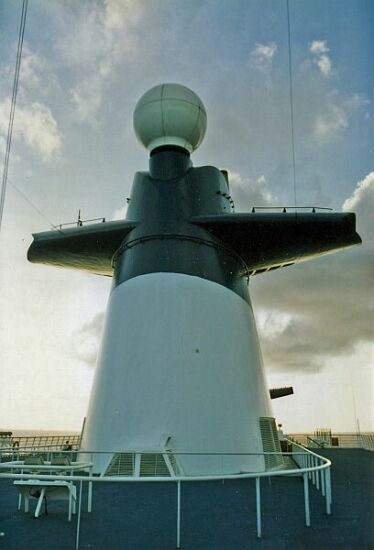 Forward and aft funnels – A magnificent sunset and a half moon is seen on the right photograph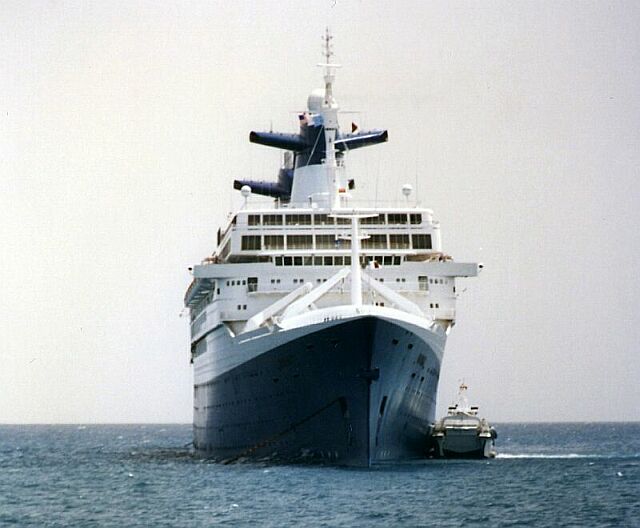 Tenders down – a great bow shot!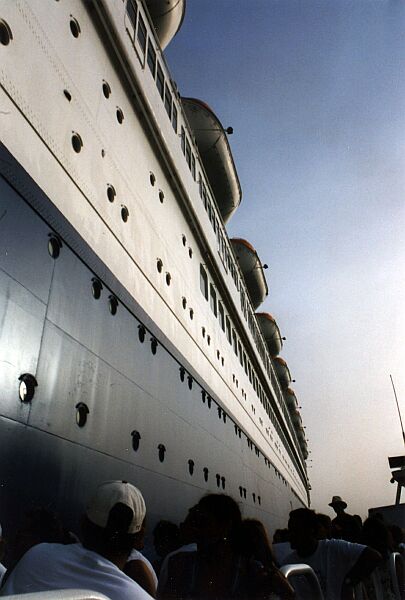 Heading to shore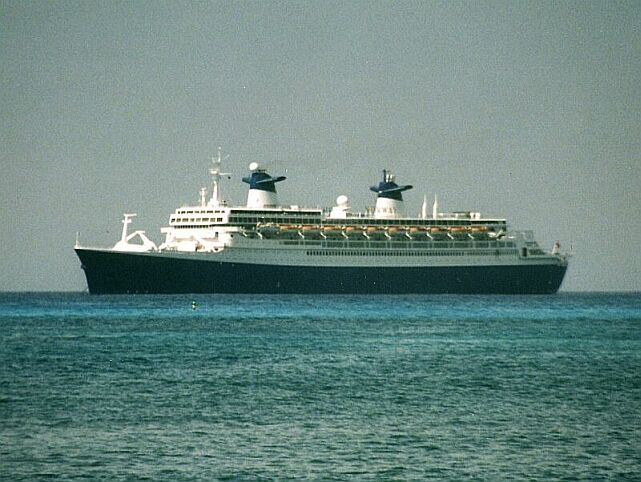 A sight to behold!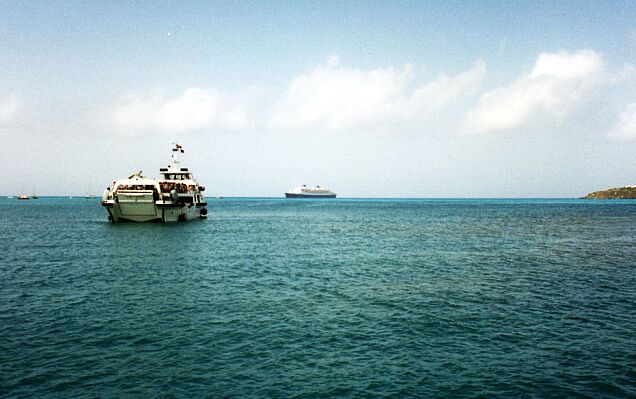 A view of both the tender and the ship
Being rather nautical myself, I spent allot of time on the ships deck just observing every thing from course change to wind direction, the colour of the exhaust smoke, and most interestingly the deployment of Norway's two large tenders, and they are really big. I understand that both are registered as small vessels themselves. They are lowered and raised in am efficient seaman-like manner whenever we were at anchor and had to take the tenders ashore. The Norwegian crew seemed particularly proud of their tenders as well as the Norway herself. An interesting thing I noticed was that when a tender was raised I expected to feel some sort of motion on the ship as she took the weight of these vessels on her davits. There was none, Norway was solid as a rock.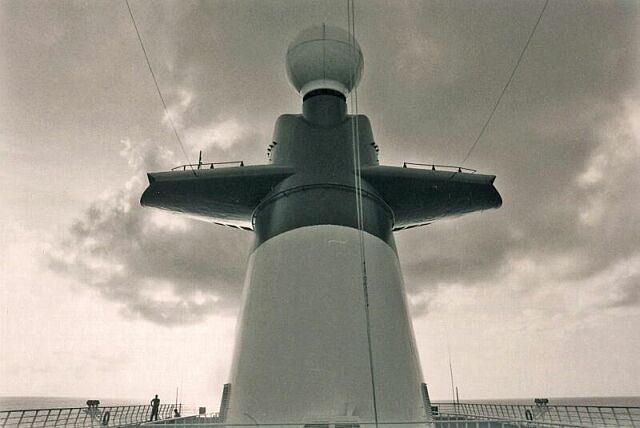 Streamlined beauty
My impressions regarding the ships crew was extremely positive, be it a Pilipino crew member painting, who would wave and smile as I passed him, to the Caribbean waiters aboard who were always willing to help and give an extra serving. My Spanish-speaking stewardess was particularly wonderful. I remember her cleaning up my absolutely dishevelled room and she even neatly organised my socks on the bed. The bartenders were always friendly, and they had a way of doing little origami type things to the receipts that you had to sign for everything. The bartender in the Windjammer bar turned them into little shirts.
The drinks on board were quite strong and the food was scrumptious and there was certainly more than plenty of both. I was impressed with the intricate Ice sculptures not to mention the oysters Rockefeller, as well as hot dogs and pizza. We had Corona during the day, brandy and cigars after dinner and whiskey at night. On offer was the most insane thing I ever saw, a chocolate buffet. I think the entire ship stayed up until 4 in the morning that night.
All in all, my time on the Norway was nothing less than magical. After all she was my honeymoon ship and I was in the prime of my life, just married to a most beautiful and wonderful woman.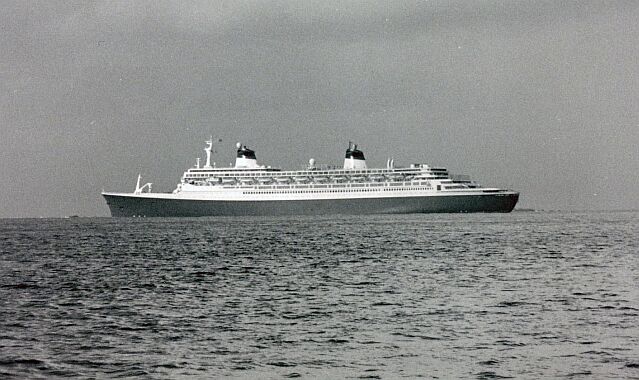 I remember passing other ships as we sailed the Caribbean. Seeing these floating all white wedding cakes made me happy and proud to be on a truly great ocean liner, the Norway.
Index
Page One … SS France
Page Two … SS Norway
Page Three … SS Norway – Blue Lady
Page Four … Norway Deck Plan
Photo … QE2 passes the Norway
Photo … Photographer Don Tremain presents his experience and four photographs
Photo … Norway in Bremerhaven – Page Two
Photo … Norway Departs Bremerhaven 23 May 2005
Photo … A series of photographs of SS Blue Lady in Alang
Story … Pauli Dangerousli describes his 1997 cruise on the SS Norway
Article … "Surreal times on the SS France" by Patrick Jackson
Article … "Chic ship too toxic for scrapping" by Justin Huggler
***************************************************
I trust you have enjoyed reading this page on this fine and much loved passenger liner. If you have sailed on her I would like to hear from you, and if you have any photographs I would greatly appreciate some, especially those of the interiors and out on deck. Email Me!
Use the Back button on your browser or Close the Page to return to the previous page
or go to our INDEX
Who is the Author of ssMaritime?
Commenced in the Passenger Shipping Industry in May 1960
Contact me via

PLEASE NOTE: I receive hundreds of requests for Passenger/Crew Lists and Sailing Schedules. I hereby wish to advise that I am unable to assist due to time restrains and as most shipping companies have long gone these lists/schedules are no longer available. I regret to advise that any request for these will no longer be answered regardless of the circumstances presented!
ssMaritime.com & ssMaritime.net
Where the ships of the past make history & the 1914 built MV Doulos Story
Also visit my …
"Save The Classic Liners Campaign" & "Classic Ocean Voyages" pages
Photographs on ssmaritime and associate pages are: 1. By the author. 2. From the author's private collection. 3. As provided by Shipping Companies and private photographers or collectors. Credit is given to all contributors. However, there are photographs provided to me without details provided regarding the photographer concerned. I hereby invite if owners of these images would be so kind to make them-selves known to me, that due credit may be given. I know what it is like, I have seen a multitude of my own photographs on other sites, yet they either refuse to give me credit and even refuse to remove them, knowing full well that there is no legal comeback when it comes to the net. However, let us show the charlatans up and do the right thing at all times and give credit where credit is due! Note: I do not credit those who send me photos as they are not the owners of the photographs concerned, unless the image is part of their private collection.
This notice covers all pages, although, I have done my best to ensure that all photographs are duly credited and that this notice is displaced on each page, that is, when a page is updated!
ssMaritime is owned and © Copyright 2010 - by Reuben Goossens - All Rights Reserved

melbourne dry cleaners Counter