ssMaritime.com & ssMaritime.net
With Reuben Goossens
Maritime Historian
Page Two
Klosters – Norwegian Cruise Line
SS Norway
ex French Lines - SS France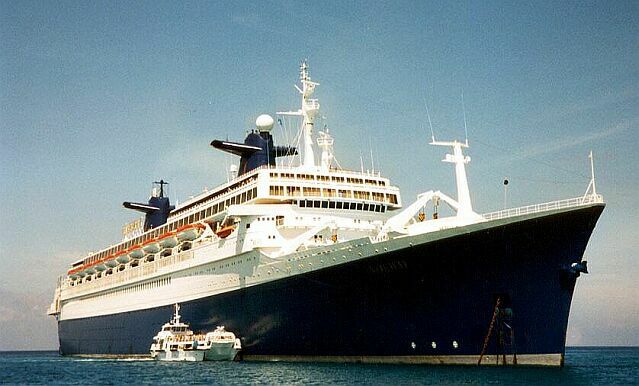 SS Norway in her latter days as a NCL Cruise Ship
June 1979 the sophisticated, elegant French grand dame entered a new guise when she was sold to the Oslo-based Klosters Rederi A/S, one of Norway's oldest and most respected shipping firms. Renamed SS Norway she was converted to become the largest cruise ship of her time. Many thought that she was too large to be a cruise ship and many felt that the cruise industry was dwindling. How wrong they were, SS Norway started a new wave of interest in cruising.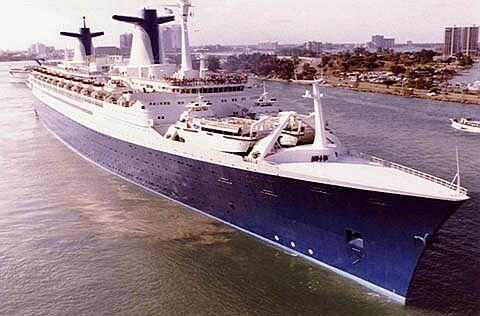 Above and below: SS Norway seen in her new Guise as a fine Cruise Ship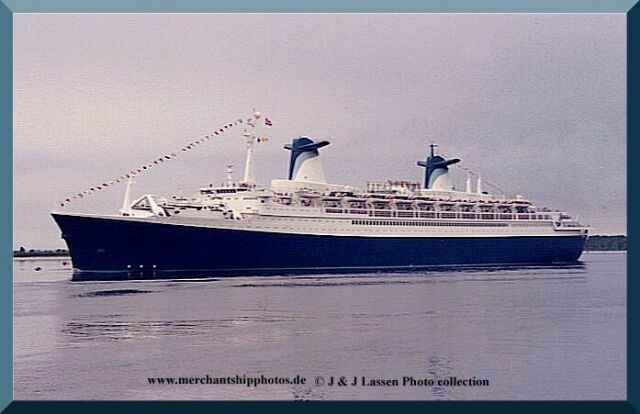 With her fine heritage and size SS Norway became the most popular cruise ships sailing out of Florida. Her success was so great, other companies realised this market would be profitable and placed their ships in the US market. A wealthy American, Mr. Mickey Arison set up a new cruise company, Carnival Cruises, and marketed it to Mr and Mrs average and the younger market. It was a great success, and today, Carnival Corp, owns more that half of the cruise companies, including the famed Cunard, Holland America, P&O, etc.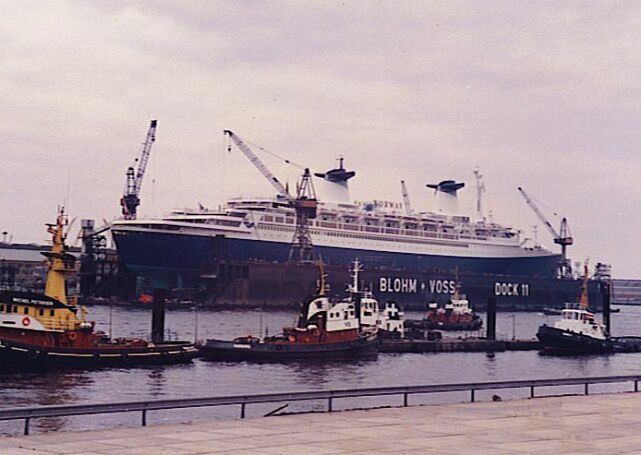 SS Norway in the Blohm Voss Dry-Dock #II
Photo from the J& J Larsen photo collection
www.merchantshipphotos.de
During her refit, two propellers and four boilers were removed, reducing Norway's top speed from a maximum of 35 knots down to around 25 knots. Her interiors saw many changes made and she would now successfully serve as a one-class cruise ship. Upon completion, she operated a variety of cruises from Miami, including those to the owner's private islands in the Cayman Islands.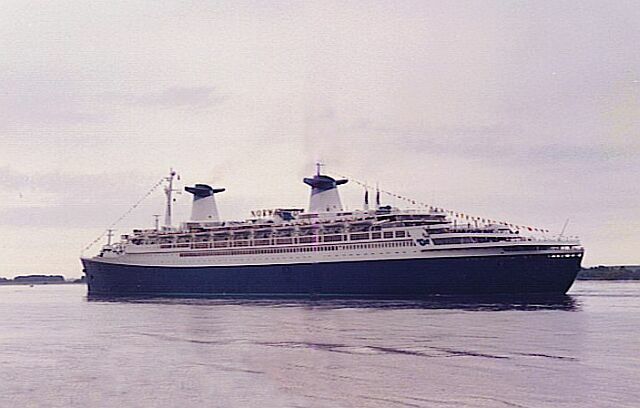 SS Norway seen prior her massive 1990 rebuilding
Photo from the J& J Larsen photo collection
www.merchantshipphotos.de
A further series of major refits and she was dramatically rebuilt, which changed her appearance greatly, as well as her tonnage. During September and October 1990 two additional decks were added atop the Norway, which added 135 luxury cabins and suites.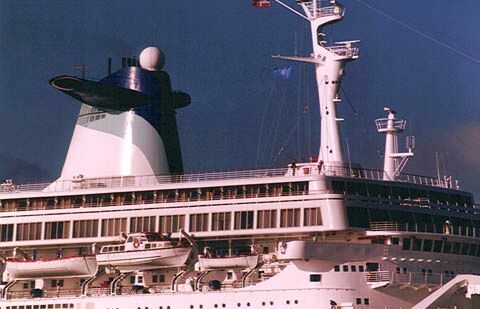 Ship lovers worldwide criticised the addition of these two decks. Although still an attractive ship, she looked top heavy! However, in spite of this SS Norway always remained a grand and an imposing sight.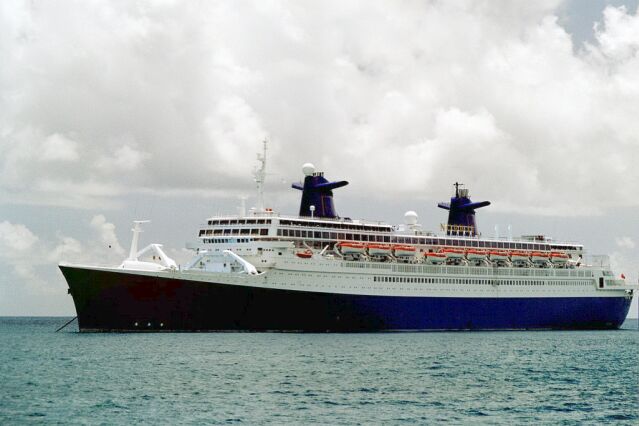 Norway received additional refits in 1993 and 1996 in order to comply with the new SOLAS (Safety of Life At Sea) regulations. These upgrades would allow her to continue cruising well into the future. Thankfully her funnels had been repainted, taken on the new NCL livery with a dark blue funnel with a gold NCL logo, which was a vast improvement.
Specifications SS Norway
Tonnage:

               

76,049 GRT
Passengers:             2,032 (twin basis)
                              2,370 (all berths)
Crew:                      875
Photo Album - Part One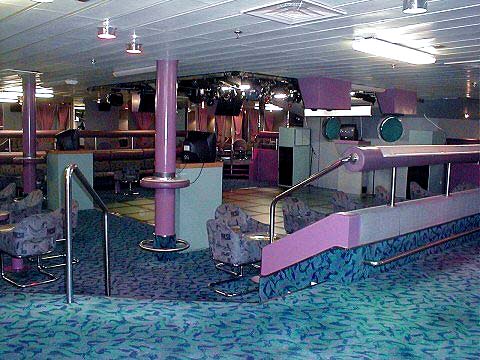 As the Norway she gained a more modern look internally, as seen here in the Dazzles Disco
The glass dance floor in the background was built on top the former aft pool.
<![if !vml]>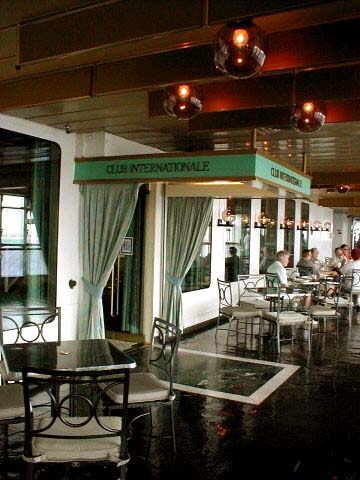 <![endif]>
<![if !vml]>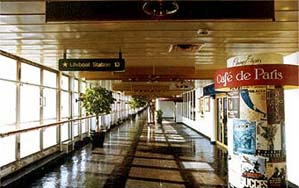 <![endif]>
The Classic Glass enclosed Promenade Deck
Seen from the entrance of Café de Paris
-The entrance to Club Internationale and seating on
--Promenade deck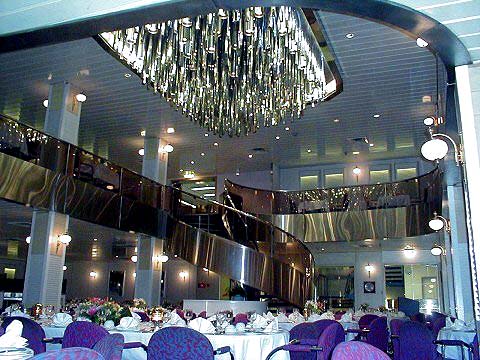 The Leeward Restaurant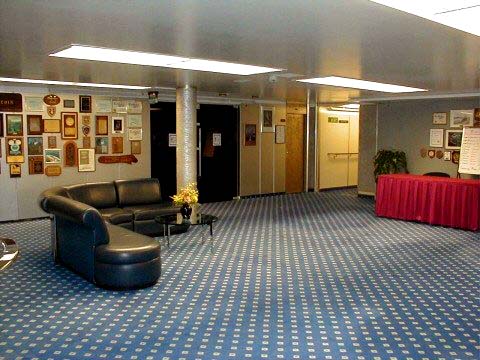 A Lobby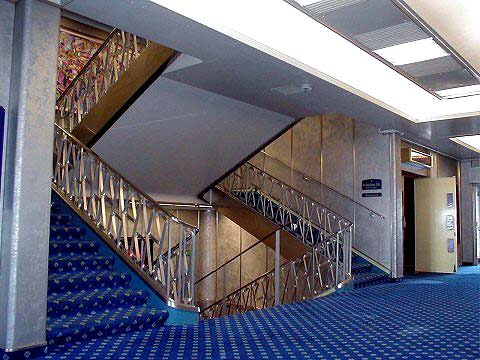 A Stairwell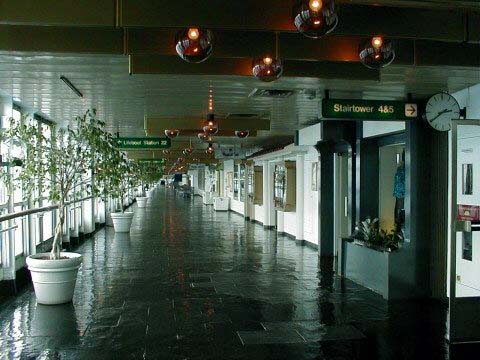 Another view of the magnificent Promenade Deck
<![if !vml]>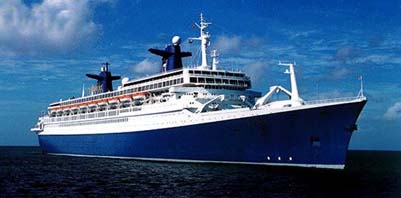 <![endif]><![if !vml]>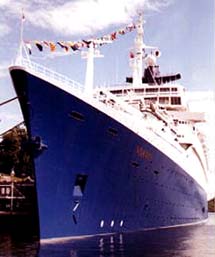 <![endif]>
-Author's private collection
Raoul Fiebig of Das Ruderhaus-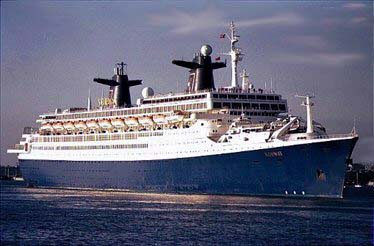 By Raoul Fiebig of Das Ruderhaus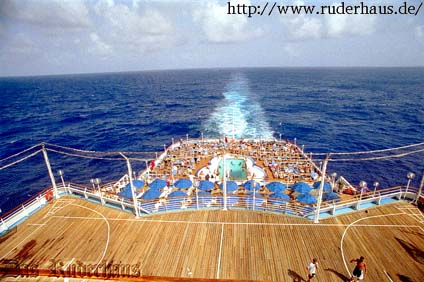 A fine view of her extensive aft decks and pool
SS Norway's Final Days
Being a steam ship Norway became expensive to operate, however NCL was taken over by the Malaysian Genting Casino Corporation Star Cruises, who decided to keep her in operation due to her massive popularity and loyal following. In 1999, Norway experienced a turbo-charger fire as she entered Barcelona, which put her out of action for three weeks.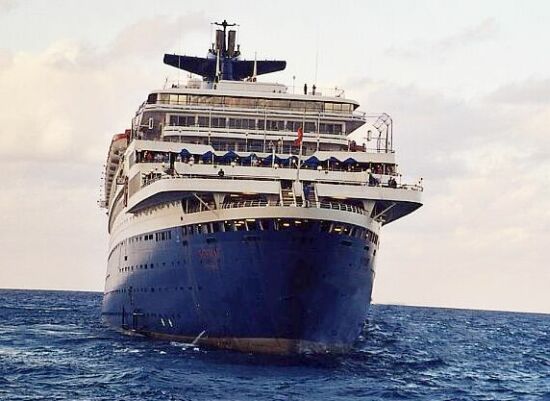 A stern view of the Norway revealing the aft extensions to her decks
On May 25, 2003, having docked at 5.00 am in Miami, the Norway was severely damaged by a boiler explosion at 6.30 am. Seven lives were lost as well as seventeen injured. None of the passengers were affected. On June 27, 2003, NCL/Star decided to relocate SS Norway. She departed Miami under tow, although at first NCL/Star refused to announce her destination. However, she headed for Europe and eventually arrived in Bremerhaven on September 23, 2003. Soon NCL/Star announced that boiler parts were available to repair her, and to build a new boiler was out of question.

SS Norway departs Miami under tow
Provided by Smit Wijs - International Tug company
On March 17, 2004, Colin Veitch Chairman of NCL announced that the "Norway would not return to "North American cruise duties," however, he stated that NCL/Star "will continue to evaluate appropriate options for the vessel," however the Norway had "been officially removed from the NCL fleet."

Aerial Shot of the Norway in Bremerhaven
© taken by Raoul Fiebig of Das Ruderhaus
Norway continues to look magnificent whilst berthed in Bremerhaven
© taken by Raoul Fiebig of Das Ruderhaus
The decision to remove her from the NCL fleet she remained berthed in Bremerhaven until 2005, when she was towed to Port Klang Malaysia. Star Cruises said that she would remain in use, either as a static Casino in Singapore, or on short overnight casino cruises, although at a slow speed on her remaining boiler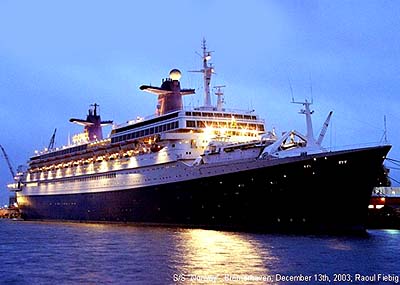 SS Norway seen at night in Bremerhaven
© taken by Raoul Fiebig of Das Ruderhaus
However, in December that year, Star Cruises sold her to a Bangladeshi (Liberian registered) breaker who renamed her Blue Lady after which she headed off to be broken up but was soon stopped due to a massive outcry by her loyal followers as well as Greenpeace, who protested regarding the huge amount of asbestos onboard. Apparently, Greenpeace claimed that she sailed to Malaysia illegally due to some asbestor law, and that all asbestos should have been removed prior her departure for Asia. SS Blue Lady was forced to return to Port Klang and was anchored just outside the port, where she remains today (May 7, 2006).
<![if !vml]>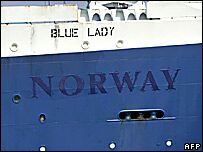 <![endif]><![if !vml]>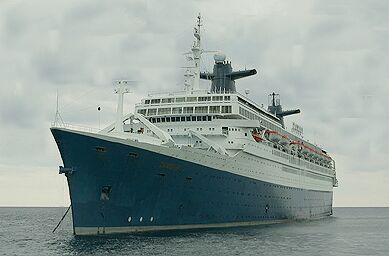 <![endif]>
Above we see SS Norway anchored off Port Klang. In December 2005, her name painted out and her new name Blue Lady stencilled above. We can also see that her large tenders, originally located on her foredeck have been removed, as has much of her fine furnishings and other fittings. Star/NCL will use some items on some of their other cruise ships.
The next page will have the Norway Photo Album Part Two, as well as SS Norway at Port Klang, her renaming, and the underhanded disposal of the ship by Star Cruises to the breakers.
***********************************
Index
Page One …                      SS France
Page Two …                     SS Norway
Page Three …                   SS Norway – Blue Lady
Page Four …                     Norway Deck Plan
Photo …                           QE2 passes the Norway
Photo …                           Photographer Don Tremain presents his experience and four photographs
Photo …                           Tomas-Rosales shares his photographs of the Norway in Miami
Photo …                           Michael and Lee Ann Pavlick honeymoon cruise in 2002
Photo …                           Norway in Bremerhaven – Page Two
Photo …                           Norway Departs Bremerhaven 23 May 2005
Photo …                           A series of photographs of SS Blue Lady in Alang
Story …                            Pauli Dangerousli describes his 1997 cruise on the SS Norway
Story …                            "The Ship that Saved my Life" – The Karl Henrik Henriksen Story (2 pages)
Article …                          "Surreal times on the SS France" by Patrick Jackson
Brochure …                      This inaugural SS Norway brochure (1980) was provided by Mr. Michael Bobo
***********************************
Use the Back button on your browser or Close the Page to return to the previous page
or go to our INDEX
Who is the Author of ssMaritime?
Commenced in the passenger Shipping Industry in May 1960
ssMaritime.com & ssMaritime.net
Where the ships of the past make history & the 1914 built MV Doulos Story
Also visit my …
"Save The Classic Liners Campaign" & "Classic Ocean Voyages" pages
Photographs on ssmaritime and associate pages are by the author or from the author's private collection. In addition there are some images that have been provided by Shipping Companies and private photographers or collectors. Credit is given to all contributors. However, there are some photographs provided to me without details regarding the photographer/owner concerned. I hereby invite if owners of these images would be so kind to make them-selves known to me (my email address may be found on www.ssmaritime.com only), in order that due credit may be given. I know what it is like, I have seen a multitude of my own photographs on other sites, yet these individuals either refuse to provide credit or remove them when asked, knowing full well that there is no legal comeback when it comes to the net. However, let us show these charlatans up and do the right thing at all times and give credit where credit is due!
This notice covers all pages, although, and I have done my best to ensure that all photographs are duly credited and that this notice is displaced on each page, that is, when a page is updated!
ssMaritime is owned and © Copyright 2010/12 - by Reuben Goossens - All Rights Reserved