S.S. Oxfordshire 1912-1951 of the 'Bibby Line'
Please Note: Firefox and some other Search Engines may not be suitable
Use Google Chrome for this Web Page to load perfectly!

Please Note: All ssMaritime and other related maritime sites are 100% non-commercial and privately owned, thus ssmaritime is NOT associated with any shipping company or any other organisation! Although the author has worked and has been involved in the passenger shipping industry for well over 60 years, but due to his old age and poor health, he was forced to retire. Yet, he has completed well over 1,435 Classic Liners, Passenger-Cargo Liners as well as humble converted C3 converted Migrant Liners, which has transported countless thousands of folk to the new world, as well on vacations'. I trust the features online will continue to provide Classic Liner and Ship enthusiasts both the information they are seeking, but more so provide a great deal of pleasure and relive many happy memories!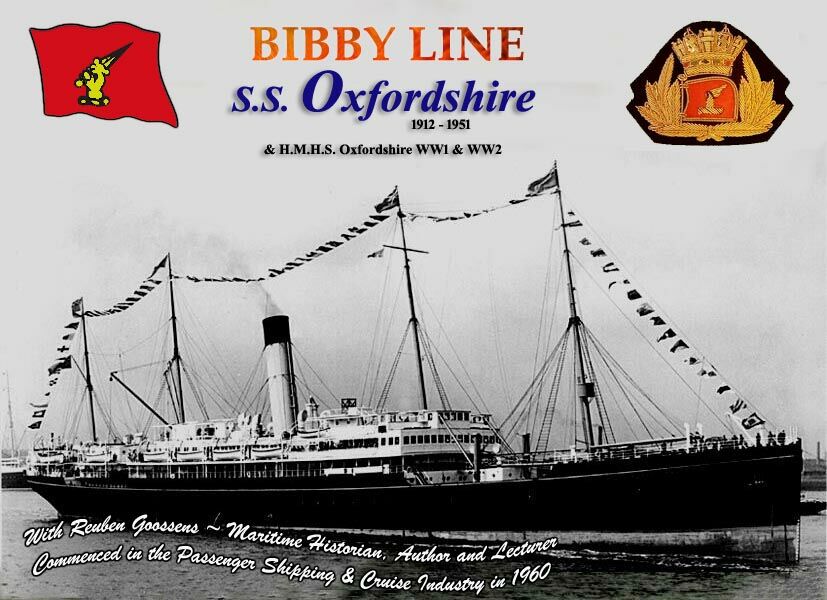 Postcards, photographs & other images are either from the author's private collection or from my supporters.
Thus a very thank you to three very special ssmaritime supporters for sending me their wonderful
photographs & images for I could not have completed this feature to this point.
I am sorry but some of the images shown may not be of the highest quality, but they are the best that were available
Introduction in Brief:
The S.S. Oxfordshire was a fine passenger liner built by "Harland & Wolff at their Belfast yards for the "Bibby Steamship Co. Ltd" of Liverpool in 1912 to operate on the Liverpool to Rangoon service.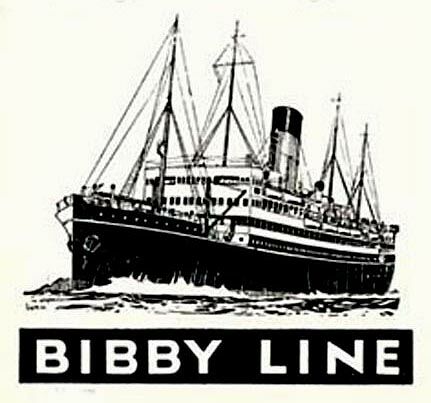 *********************
From Construction, Launching to Maiden Voyage:
She was laid down late in 1911 in "Harland & Wolff's" Yard No 429 and she was launched on June 15, 1912. She was completed on September 17, 1912 undertook her Sea Trials and managed a respectable 15.5 knots maximum speed, but would operate at around 14 knots service speed, 15.5 knots maximum. She was delivered several days after the trials to her owners in Liverpool, and as soon as she was made ready and full stocked up and cargoes laden, she departed on her maiden voyage, and although there is no actual date recorded anywhere, we know she headed for Burma sailing as follows; from Liverpool, to Marseilles (France), Port Said, Suez (both Egypt), and Colombo (Ceylon - today's Sri Lanka) to Rangoon (Burma - today's Myanmar).
The Ship Externally and Internally:
Externally she was a most attractive looking ship having a black hull with a counter stern, having red boot topping and a thin red ribbon around her hull up high just under her portholes. Atop her superstructure was a gleaming white and with her four tall buff masts, a tall and slender reddish and black topped funnel she was a fine looking ship indeed.
She was designed to carry only First Class passengers, and thus offered spacious Promenade and Sports Decks, there were ample room for deck chairs for their guests, and yet space for promenading, and all the sports desired, be it deck tennis, and all the other ship board games were available.
She was specially designed in every detail for the comfort of passengers travelling to and from the East. Every cabin had direct access to fresh air and there were only single and two berth cabins. With the occasional cabin having a third berth option.
Internally the S.S. Oxfordshire was certainly a First Class ship in every respect, as she afforded her 247 passengers a luxurious ocean voyage in excellent Public Rooms on Boat (A) Deck, Promenade (B) Deck, and on Poop (C) Deck. The accommodations for the crew were located aft on B Deck as well as some forward on C Deck. Whilst the lower decks obviously was the location for her engine room, fuel storage, baggage room, holds, and so much more.
There was no doubt that her public venues had been very carefully been created for a long all First Class luxury voyage, as she had a fine Lounge, a Music Salon and a Smoke Room, as well as a Veranda, and these were located over her three Decks of her superstructure.
The Lounge:
This delightful venue was decorated in a sumptuous mahogany timber along on the walls, as well as along the four long ceiling panel's side's centre and those four pillars in the centre of the room, not to forget the delightful furnishings of course. The sofas and some lounge chairs were deep and soft as well as elegantly upholstered in the finest brocades. On top of the flooring, there were genuine Persian rugs on the floor. This Lounge certainly was impressive!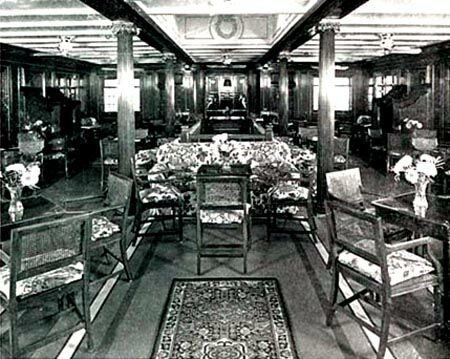 The elegant Lounge
The Music Room:
The Décor in the Music Room was obviously very much in the 'Adam' style and it was certainly delightfully cool and most restful in every respect! The furnishings once again, like in the Main Lounge, contain deep and comfortable lounge chairs beautifully upholstered, as well as several styles of attractive timber chairs with square tables. In the corner stood a mini Grand Piano and of course there was that cosy fire place in the middle.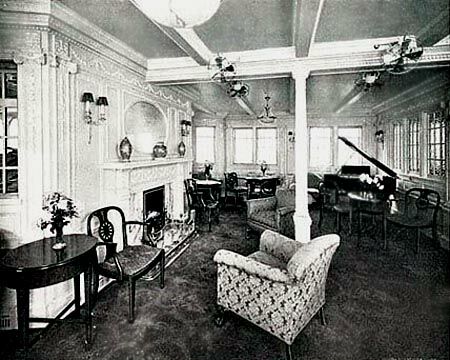 The Music Room
The Smoke Room:
This venue was very different to the lounge and there was no mahogany to be found anywhere, the timbers are not mentioned but as we can see they were much lighter thus could be any from a range of woods. But it certainly gave this venue a look of its own. Besides the decorative pillars and railings there is so much detail in this room that made it a beautiful venue indeed and a perfect location for a drink or two and to enjoy time with your new found friends, etc.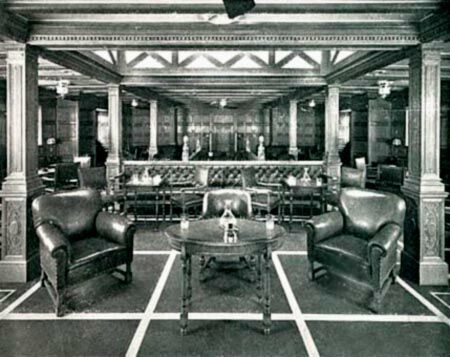 The Smoke Room
The Verandah:
The Verandah was designed to be the location where you could relax and spend time with friends and enjoy the ocean views. It was also the ideal spot regardless of the weather, for here you could enjoy yourself with a cup of tea or coffee, or a drink from the bar and read a book.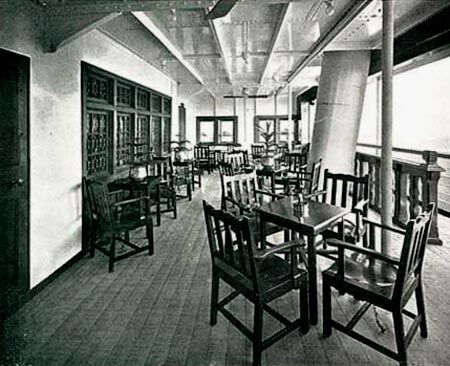 The Veranda Located aft
Dining Room:
The Dining Room was beautifully timbered and had that homely feeling with every table having a table lamp and seating varied from two, six to eight persons. The Dining Room could seat all guests at the one sitting and they were served cuisine prepared in the best of galley's which had been fitted with the very latest facilities of the day, and the company only employed the best chefs. Service was something that the Bibby Line had long been famous for as it was simply impeccable!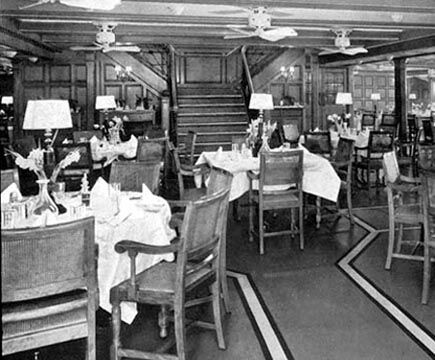 The delightful Dining Room
Accommodations:
Although the cabins compared to somewhat later times were as glamorous, but for the days she was built in 1912, it was very good indeed. The two berth cabin was a comfortable room, nicely furnished with running water and your steward would bring hot water in the morning if needed. Of course there were no private bathrooms, but the facilities outside were simply spotlessly clean and maintained throughout the day and night! The other option was a Single bed cabin, and there was also the two berth cabin with a sofa that converted into a third berth, if required.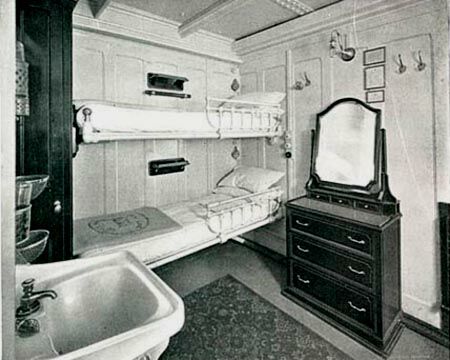 Above & below: A two berth and a single bed Cabin, all having a window or porthole and a genuine Persian rugs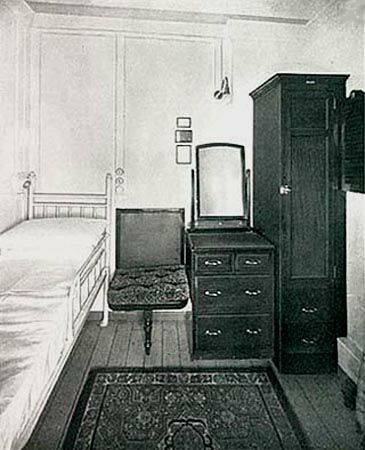 *********************
Passenger liners were sailing on their services and all was well, but that was until a certain event took place.
Troubled Times Ahead:
We have learned from history that tensions were really fired up in the Balkans when on June 28, 1914 following the assassination of Archduke Franz Ferdinand, the Austro-Hungarian heir by Gavrilo Princip, a Bosnian Serb. That was a month before World War One commenced, but it was the cause of it, and now commenced the complicated alliances.
Of course Austria-Hungary blamed Serbia and the interlocking alliances involved the Powers in a series of diplomatic exchanges known as the "July Crisis". On July 28, Austria-Hungary declared war on Serbia and Russia came to Serbia's defence and by August 4, the conflict had expanded to include Germany, France and Britain, along with their respective colonial empires. In November, the Ottoman Empire, Germany and Austria formed the Central Powers, while in April 1915, Italy joined Britain, France, Russia and Serbia as the Allied Powers. Of course WW1 officially started for Britain on August 4, 1914 and continued until November 11, 1918.
World War One:
On August 2, 1914 the "Oxfordshire" was the very first ship to be requisitioned for war duties, two days before the war actually broke out. This occurred whilst she was en-route from Liverpool to London and she was ordered to head to Tilbury where she was converted into a Naval Hospital Ship. Thus she became the H.M.H.S. Oxfordshire No. 1 and she had a total of 562 beds. She was officially commissioned on August 10, and she was sent to Scapa Flow to be a base ship on September 25, but soon enough it was decided that she was too big for the job there and she was moved to the English Channel to operate as a hospital ship there.
Then in April 1915, she was sent to the Greek Isle of Lemmos and was placed at anchor at Murdos Bay. Her role was to be a Base Hospital Ship, remaining in the region until after the evacuation of Gallipoli.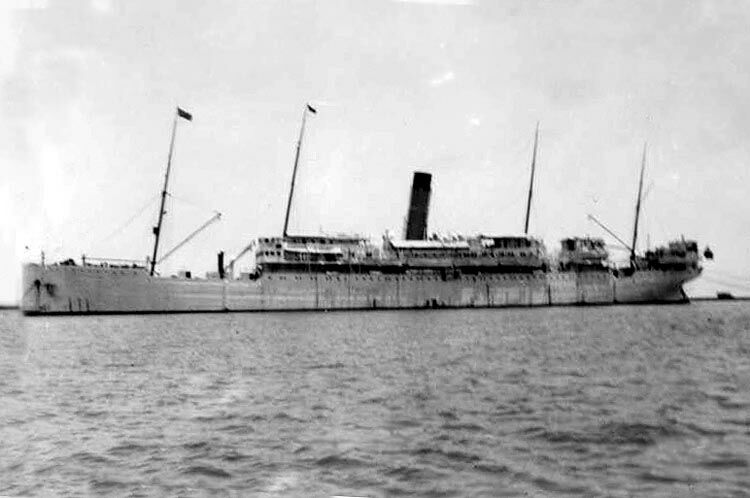 The H.M.H.S. Oxfordshire is seen at Malta
Thus she was present during the ANZAC withdrawal at the Dardanelles, and she used her very own boats to bring the wounded from shore to the ship. Thankfully the Turks respected the Red Cross, thus they did not fire on her boats.
There after she visited the Valetta in Malta whilst on her way to her next operation.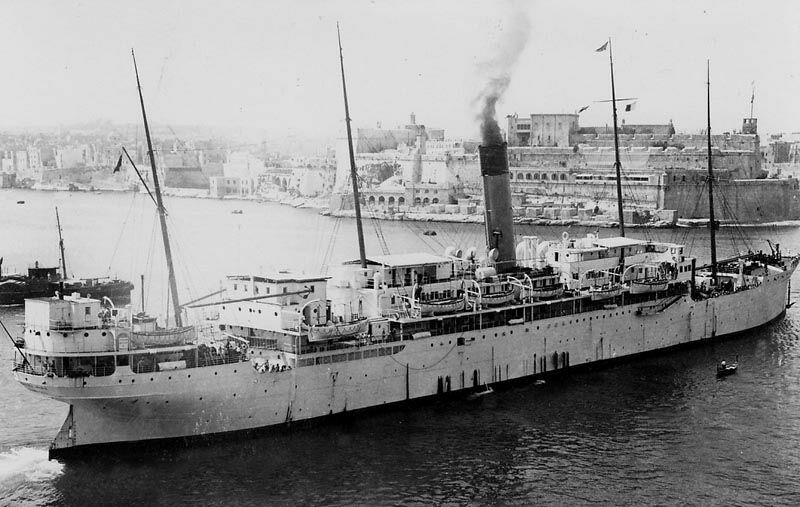 H.M.H.S. Oxfordshire is seen arriving at Valetta, Malta
The Oxfordshire then served in the Persian Gulf and then German East Africa during December 1916 and in 1918 she served as a shuttle hospital ship in the English Channel once again.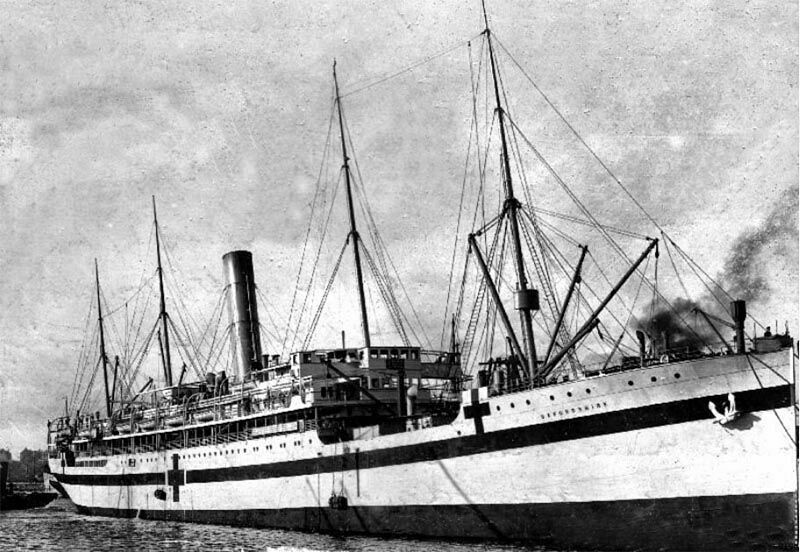 H.M.H.S. Oxfordshire No. 1 seen berthed now with a full hospital livery
She was decommissioned on March 24, 1919, having made an amazing 235 voyages, and steamed some 172,000 miles without a single mechanical problem and she carried 50,000 wounded, with is recorded as being the highest of any hospital ship during the war!
Back to Passenger Services:
She was returned to the "Bibby Line" who sent her to "Harland & Wolff" at Belfast once again to have her refitted, as well as change her from coal to being oil fired.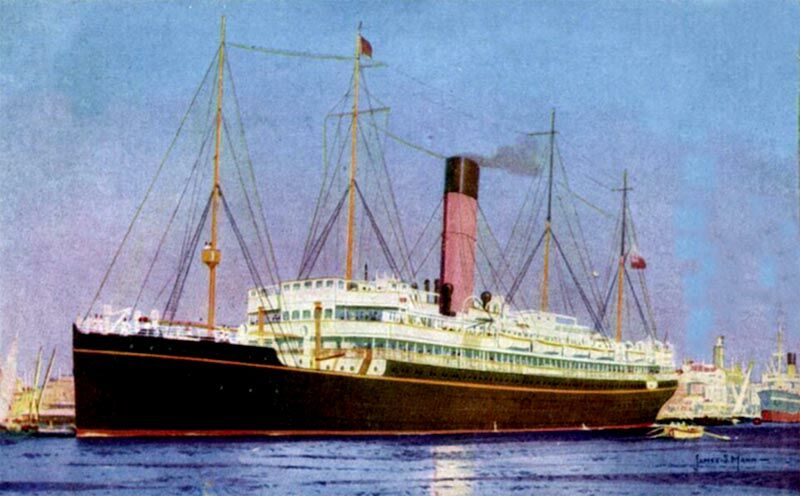 An artist impression of the "Oxfordshire" seen departing Liverpool
Soon returned to her regular services sailing as follows; Liverpool, Marseilles, Port Said, Suez, Colombo, Rangoon. Returning via London then to Liverpool.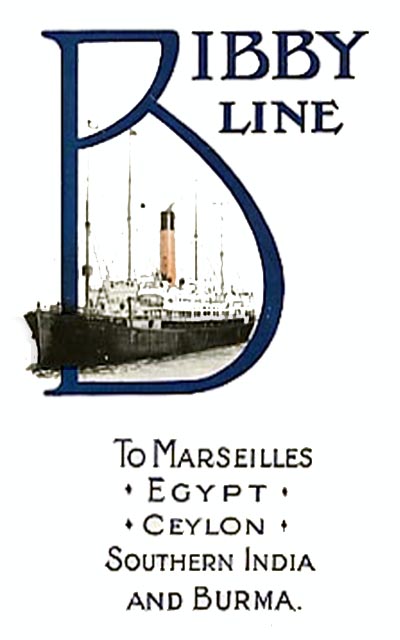 A 1920's sailing schedule
During the 1930's various Bibby Line ships, including the "Oxfordshire" would operate short cruises, which became very popular, and a special poster was produced as can be seen below.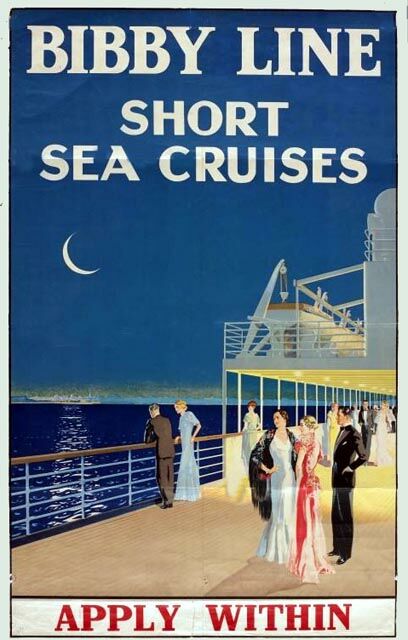 She sailed on for the next twenty years without any problems as she proved herself as the ship that never seemed to fail. She just had her regular maintenance services, and back to work she would go, and it was that she was the ship that was unstoppable! Yet, her passenger services would again be stopped, not because of her, but there was another war on the way!
World War Two:
On September 3, 1939, the "Oxfordshire" was again requisitioned for war duties and she was sent this time to the "Royal Albert Dock" in London and she was again converted into a Naval Hospital Ship, the H.M.H.S. Oxfordshire No. 6, this time she was fitted with a total of 500 hospital beds.
She was officially commissioned on September 24, 1939 and she departed London November 11, heading for Freetown, Sierra Leone, with 98 medical Staff and 177 crew and upon arrival she served at Freetown as the base hospital ship.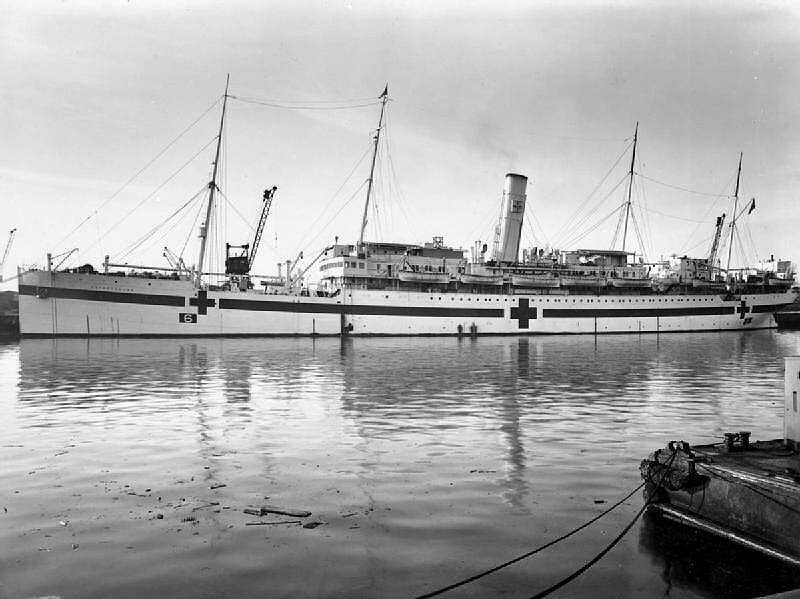 Then in September 1942 she was redeployed to the Mediterranean were she remained until 1944, when she headed back to the UK and was given a refit at the Clyde, after which she was sent to the Adriatic and on October 29, 1944, she was slightly damaged by a bomb, but survived during a voyage between Ancona and Bari.
In November 1944 she was ordered to the Far East where she would serve the Admiralty Islands (New Guinea), the Philippines as well as Australia when she visited Sydney on September 24, 1945.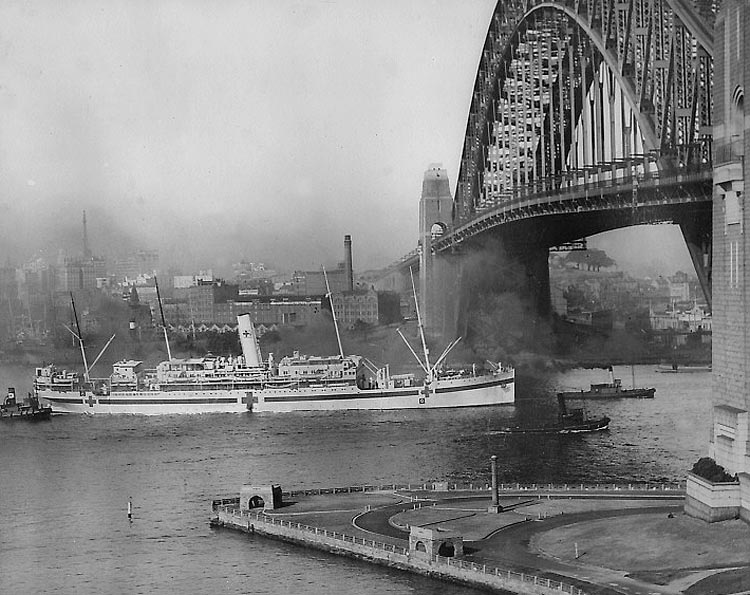 The H.M.H. Oxfordshire is seen going under Sydney Harbour Bridge
After the defeat of Japan in 1945 the H.M.H.S. Oxfordshire was now used to repatriate wounded from Hong Kong and in May 1946 she became an Army hospital ship to return the sick home from the Near and the Far East.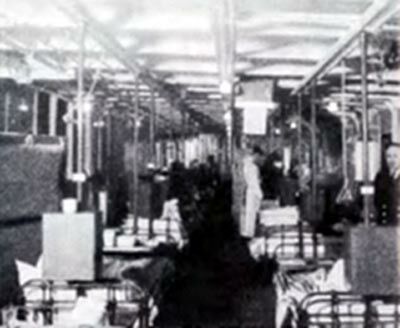 Here is a typical ward on board and this photo was taken whilst she was at Hong Kong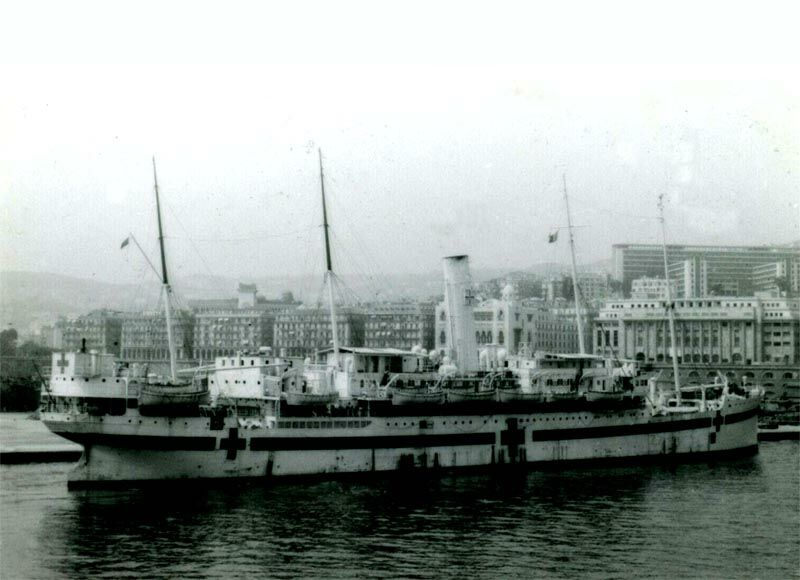 She is seen during 1946 somewhere in Asia
She was kept extremely busy as she was then used to repatriated Indian troops from Basra to Bombay, not to forget the four North Atlantic Crossings with refugees.
In 1948 she arrived home from the Holy Land, on July 19, 1948 she was finally decommissioned at Southampton having carried some 22,321 casualties during the war, and amazingly this turned out to be once more to be the very highest of any hospital ship at sea! However, on September 8, 1928 she did make one further voyage on a special charter to Jeddah filled with pilgrims, before being returned to the Bibby Line.
*********************
Several Items of interest:
Below are several items of memorabilia but there is not a great deal available for the "Oxfordshire" I am afraid, but I do have several items as well as an Officers Hat Badge.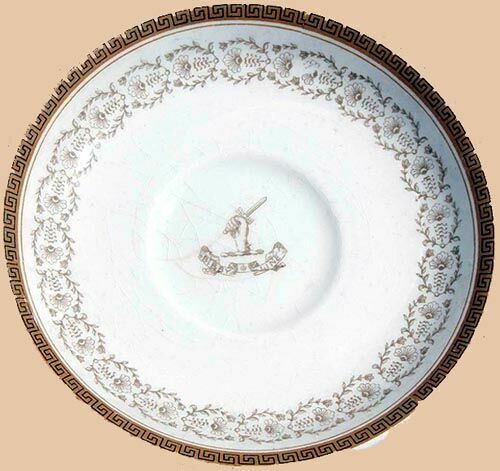 A diner plate from the Dining Room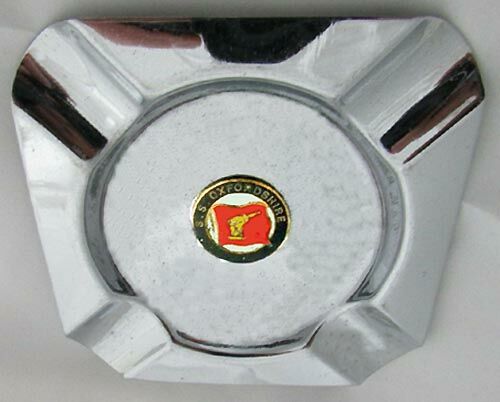 An "Oxfordshire" ashtray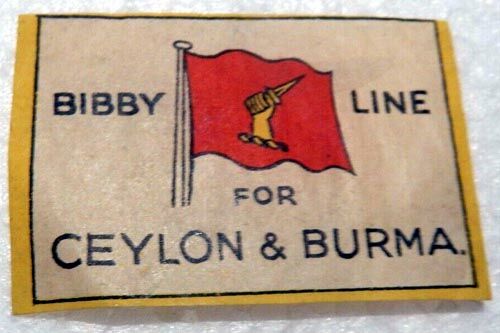 Matches were available at the Bar, this is a cover from a box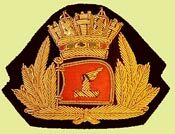 A badge from an Officers Hat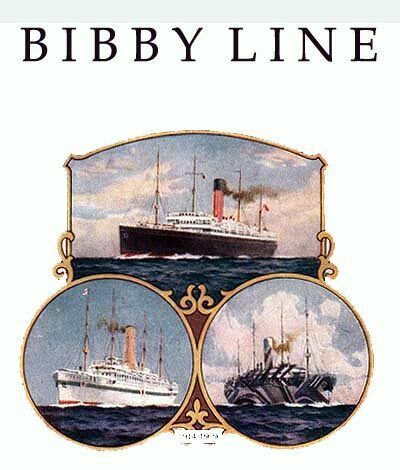 A schedule from the 1920's
*********************
Returned to her Owners:
(But a Big Change of Direction!")
With the "Oxfordshire" being 36 years old, it was considered that it was not worth while to bring her back to her old luxurious style, and therefore an alternative was opted for. Considering there was a demand for ultra budget travel, such as the migrant trade, as the charter operation's, they decided to take her in that direction.
Thus she was sent "Harland & Wolff" where she was given what could be called to say the least a rather austere makeover. Upon completion she now had accommodations for 700 persons, some in cabins, but most would be accommodated in converted holds. New larger lounges and dining areas were created being very different to their original luxurious ones, but they served the purpose.
The "Oxfordshire" had already been chartered by the "International Refugee Organisation" or the "IRO", thus her passengers would be mostly individuals and families who would be migrating to Australia after World War Two from various European Countries including Germany, Hungary, Russia, Ukraine, Latvia, Poland, Czechoslovakia and Romania, etc. The vast majority of these people were World War Two refugees or displaced persons and some were Jewish Holocaust survivors.
In April, 1949 The "Oxfordshire" would make her first voyage for the "IRO" from Naples to Australia.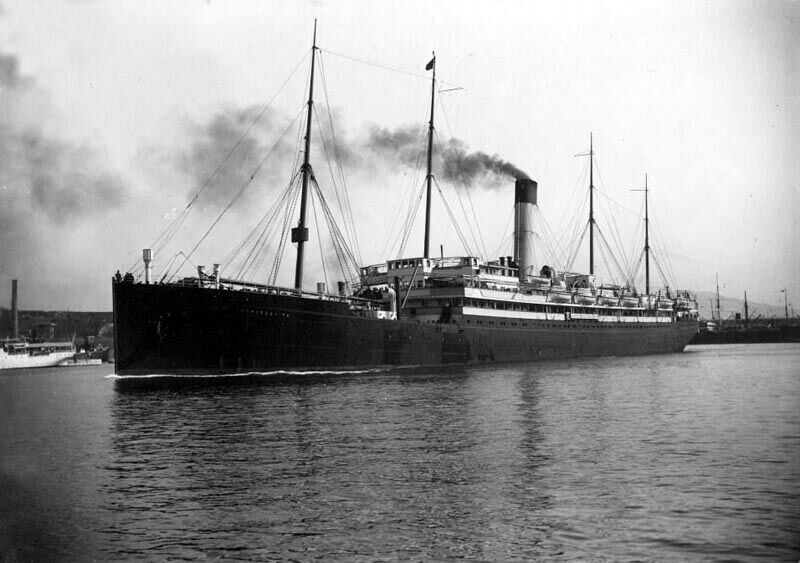 The S.S. Oxfordshire is seen here after her refit
Note the air vents far forward and the others, these are to allow
air to enter the old hold areas which are now passenger spaces
She departed Naples on April 24, 1949, and arrived at her destination at Adelaide, South Australia on May 25, 1949 with 672 persons. On her return voyage she called in at Fremantle again to bunker on June 3, 1949.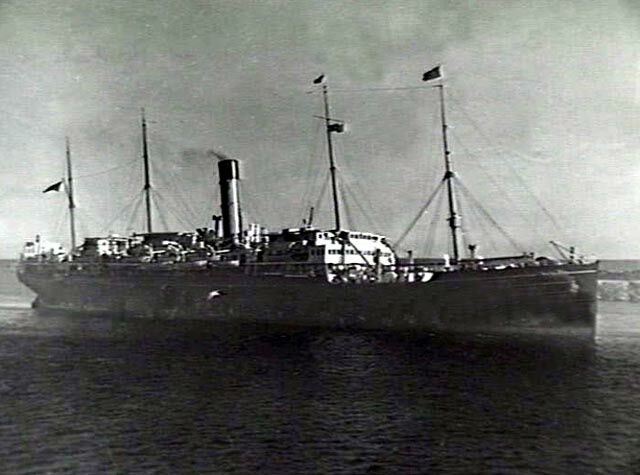 A poor image, but this is the "Oxfordshire" arriving at Fremantle for the 2nd time on June 3, 1949
I would assume that she again sailed from Naples, but have no date, but this time she headed for Western Australia and the Port of Fremantle (for the City of Perth) arriving there on August 11, 1949.
Her next departure was from Naples on October 22, 1949, arriving at Fremantle, Australia on November 17, then she arrived at her destination Adelaide on November 23. Her next voyage as far as I can see was from Naples on February 5, 1950 sailing via Fremantle and she arrived at Newcastle in New South Wales, on March 6, 1950. Her next voyage was to Fremantle arriving there on June 16, 1950.
Further Trooping Duties:
In 1950 she did return to trooping duties between Trieste and Port Said, and continued this service until February 1951, and the "Bibby Line" decided it was time to let this old faithful ship that had served them so well, and better still having been a ship that had never caused them a single moment of engine trouble whatsoever, she had been the perfect ship ever!
Sold to a New Owner:
Thus she was soon sold to "Pan-Islamic Steamship Co" of Karachi, Pakistan, and amazingly this was their first ever passenger ship and on April 13, 1951, she departed from Liverpool renamed "Safina-El-Arab" bound for Karachi. They had purchased this ship mostly because of her large capacity and they would operate her on the Karachi to Jeddah Pilgrim trade between June and October, and for the rest of the year she would sail between Karachi and Chittagong.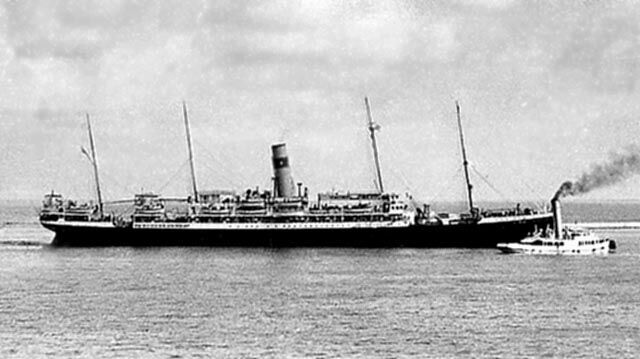 S.S. Safina-El-Arab still looking very smart
After seven years with her new owner, after the ex "Oxfordshire" having been for 46 years in operation, in 1958 her owners decided to dispose of her and she was sold to a local breaker in Karachi and the old Dame of the sea was duly broken up.
In Conclusion:
It is worth remembering that she is a ship that broke a number of records; for she transported and worked on more wounded in two World Wars than any other Hospital Ship, as well as being a ship that had a 100% trouble free time with all of her machinery for 46 long years, and that is a world record for any ship!

*********************

Specifications & Details

:

Name's:                                          S.S. Oxfordshire 1912 - 1951.

    "                                                S.S. Safina-El-Arab 1951 - 1958.

Owner:                                           Bibby Steamship Co. Ltd.

Built by:                                         Harland & Wolff, Belfast.

Yard No:                                         429.

Launched:                                       June 15, 1912.

Completed:                                     September 17, 1912.

Official No:                                      131454.

Call Sign:                                        GLZF.

Classification Society:                       Lloyd's Register.

Registered at:                                  Liverpool, UK.

Tonnage:                                        8,623, 5,439 NET.

Later:                                             8,646 GRT.

Length:                                          474.6 ft – 144.63m.

Width:                                            55 ft - 16.76m.

Draught:                                         32.1 - 9.78 m.

Type:                                             Passenger-Cargo Liner.

Engines:                                         Quadruple-expansion Steam Engine.

Details:                                           2 Quadruple expansion steam engines with cylinders of bore 22", 31˝", 46" and 66" with stroke 51".

Built by:                                         Harland & Wolff, Belfast.

1919:                                             Converted from coal to Oil burning.

Boiler Details:                                  2 double-ended and 2 single-ended boilers operating at 215 psi.

Propellers:                                       Twin Screw.

Power:                                            906 MN.

Speed:                                           14 knots service speed, 15.5 maximum speed.

Accommodations:                            276 First Class Only.

1914 WW1:                                     Hospital Ship No.1 with 562 Patient beds.

1939 WW2:                                     Hospital Ship No.6 with 500 Patient beds.

Decks:                                            Three Passengers Decks.

    "                                                Two Decks for crew and other needs.

Additional Info:                                Fitted with radio direction finding and submarine signalling equipment.

Sold:                                              In 1951 to 'Pan-Islamic SS Co', Karachi and renamed 'Safina-El-Arab' used for pilgrim voyages - Karachi to Jeddah, 8,648 GRT.

Fate:                                              Sold in 1958 to ship breakers in Karachi.

*********************
R
emembering the
D
elightful
S.S.
Oxfordshire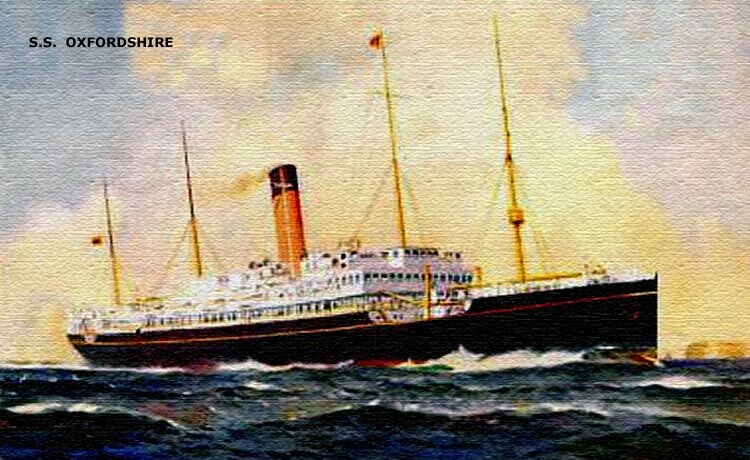 An excellent artist impression of the 1912 constructed "Bibby Liner" the S.S. Oxfordshire
*********************
 "Blue Water Liners sailing to the distant shores.
I watched them come, I watched them go and I watched them die."

Featuring over 1,435 Classic Passenger Liners, Passenger-Cargo Liners & Classic Cruise Ships!
Or ENTER HERE
For interest: Sadly an email service to ssMaritime is no longer available, due to the author's old age and chronic illness as well as being disabled, etc. In the past ssMaritime received well over 120 emails per day, but Mr. Goossens can no longer handle same. He sincerely regrets this!
*********************
ssMaritime.com & ssMaritime.net
Where the ships of the past make history & the 1914 built M.S. Doulos Story.
The Author has been in Passenger Shipping & the Cruise Industry for well over 60 years
In addition he was the founder of "Save the Classic Liners Campaign" in 1990.
Please Note: ssmaritime and associated sites are 100% non-commercial and the author seeks no funding or favours of any shape or form, never have and never will!
Photographs on ssmaritime and associate pages are by; the author or from the author's private collection. In addition there are some images that have been provided by Shipping Companies and private photographers or collectors. Credit is given to all contributors. However, there are some photographs provided to me without details regarding the photographer/owner concerned.
This notice covers all pages; although, and I have done my best to ensure that all photographs are duly credited and that this notice is displaced on each page, that is, when a page is updated!
ssMaritime is owned & © Copyright by Reuben Goossens - All Rights Reserved