French Line, S.S. Paris (1916) 1921 to 1947
Please Note: Firefox and some iPad's or iPhone's, etc are not suitable
Use Google Chrome for this web page to load perfectly!

Click the logo above to reach the ssMaritime FrontPage for Ships of the Month & News Updates
With Reuben Goossens
Maritime Historian, Cruise'n'Ship Reviewer, Author & Lecturer
Please Note: All ssmaritime as well as my other related maritime & cruise sites are 100% non-commercial and privately owned sites. Be assured that I am NOT associated with any shipping or cruise companies or agencies or any other organisations! The author has been in the passenger shipping industry since May 1960, but although retired and unwell, I occasionally attempt to write an article now and then, in order to bring enjoyment and pleasure to ship enthusiasts past passengers and crew.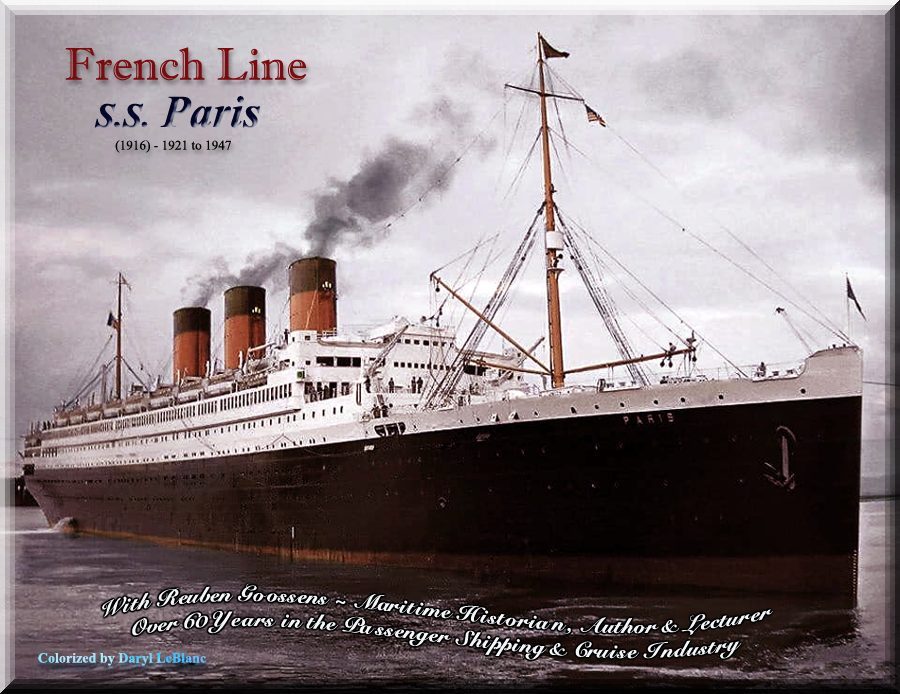 Photographs are from the ssMaritime historic collection - unless stated otherwise
Introduction:
Let me first introduce you to the S.S. France owned by "Compagnie Générale Transatlantique" (CGT) which was better known as the "French Line". This 34,569 GRT (Gross Registered Ton) liner became known as the "Versailles of the Atlantic", being a reference to her ultra luxurious décor that reflected the famous palace located outside Paris. She was ordered in 1908, and she commenced on her Trans-Atlantic service in April 1912, which happened just a week after the sinking of R.M.S. Titanic. The S.S. France was the only French liner among the famous liners of the grand "four stackers" sailing at that time. However, the France rapidly became one of the most popular ships on the Atlantic. During World War I she served as a hospital ship and thankfully she survived that war, and she had a career that spanned a good two decades.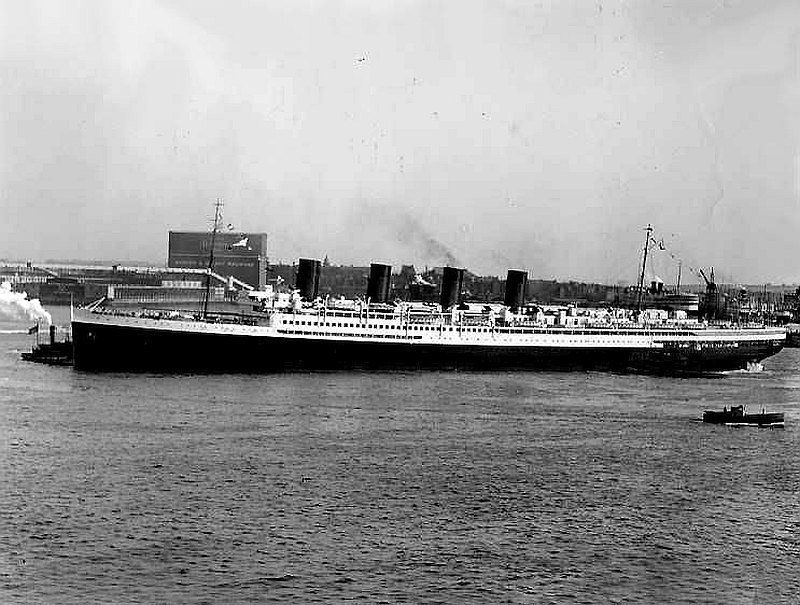 Here we see the magnificent S.S. France - 1912 to 1935
The S.S. France proved to the world that the "French Line" had become one of the world's most distinguished shipping companies. The company had deliberately decided not to interfere in the struggle of obtaining the speed limit of the Atlantic crossings known as the "Blue Riband", for their aim was to construct new, larger super luxury liners that featured interiors that were so luxurious and it was this that attracted passengers, not the ships speed.
Thus French Line decided to continue the success of the S.S. France by commissioning another new liner shortly after the arrival of the France. This time their aim would be even more evident of what "opulent really meant!" The new liner would be close to 35,000 tons, and have a maximum speed around 22.44 knots, which was still a good speed for the early 1920s. But as I already stated, it was not speed hat would attract passengers to this new liner, for it would be the ship's magnificent interiors, just like those, if not superior then the France!
Construction and completion of the
S.S.
Paris
:
The new liner was ordered to be built by Penhoët at Saint Nazaire, although her first hull plate had been laid down in 1913, but sadly construction of the ship soon halted due to the outbreak of WW1 in 1914. The partially completed hull had already been named 'Paris', but she lay idle on the slipway during the first two years of the war. Then the French Government decided that they needed every space possible for them to construct new war-ships.
Thus on September 12, 1916, the Paris was hurriedly launched to make room for the construction of new war-ships and she was placed in "Quiberon Bay", however no work would be done for around a year.
Finally, in 1918 the Germans was forced to surrender and sign the treaty of Versailles, and when the war had ended, every participating country had to recommence from where they were back in 1914. However, work did not recommence on the Paris until 1919, and a great deal of work was required, as she had to be completely fitted out.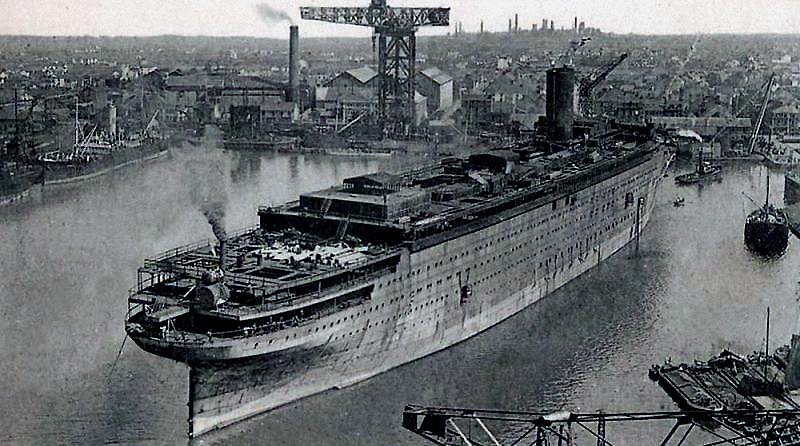 The 'Paris' is seen in Quiberon Bay during her fit-out
Two years later the elegant Paris was finally completed. She emerged from the shipyard as the largest vessel ever built in France. Now that she was completed, the press could catch an eye on what the French Line had meant in 1913, when they talked about the Paris' interiors. The ship certainly had something of a magic touch, for she featured a number of styles of amazing and superb interiors. Passengers could choose to travel in the conservative Palace-like cabins, but the Paris also featured Art Nouveau, as well as hints of the Art Deco that the Ile de France would boast six years later. The luxury of this ship was something no other liner in the world could claim at that time. Amazingly, the vast majority of the First Class staterooms had proper windows rather than the traditional round portholes. In the cabins guests had a private telephone, which was extremely rare on board a ship. A valet was available on the Paris, and he was easily called by phone and he would be there within a minute, as he was locate in an adjacent room, rather than in a cabin in the second class like on other companies, which would have been far away. Added to this the Paris, along with the other French liners, was well known for their amazingly superb cuisine, which was of a very high five star standard!
Interior Photo Album
First Class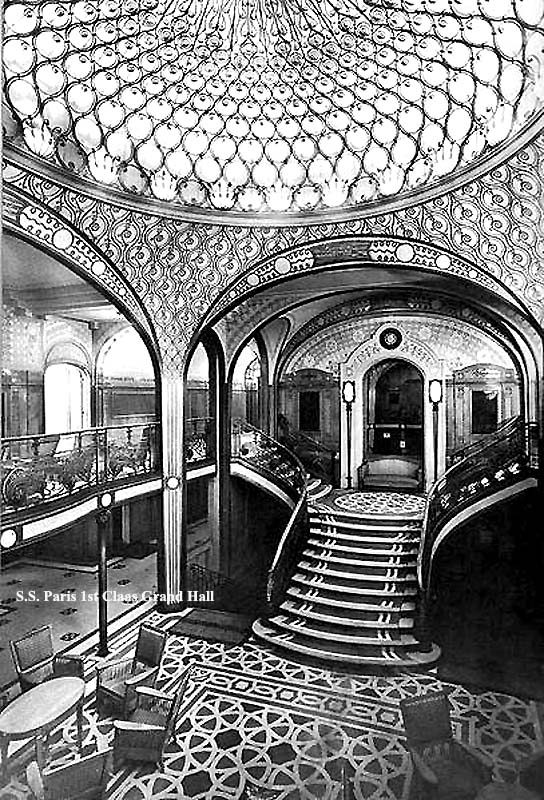 The Grand Hall and Stairwell
Smoking Room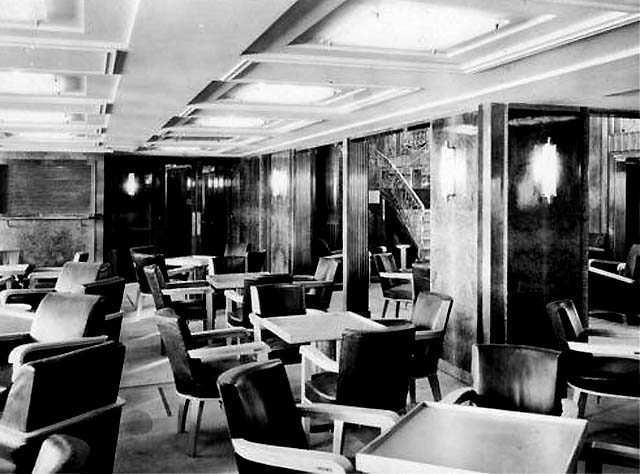 The ladies had their own Smoking Room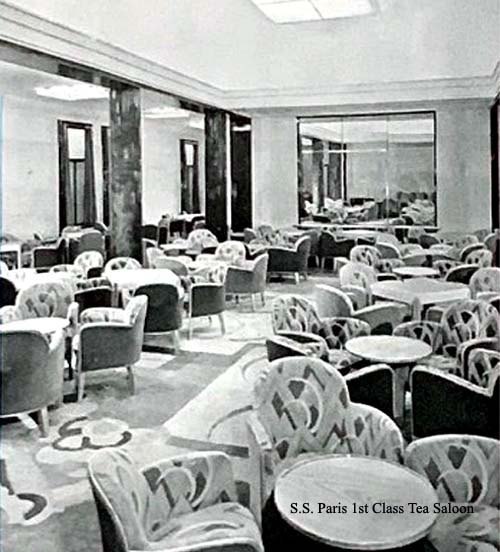 The very popular Tea Saloon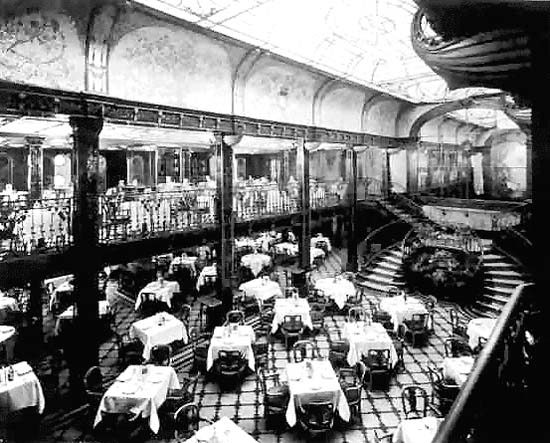 A grand Restaurant to say the least and the cuisine was simply sublime!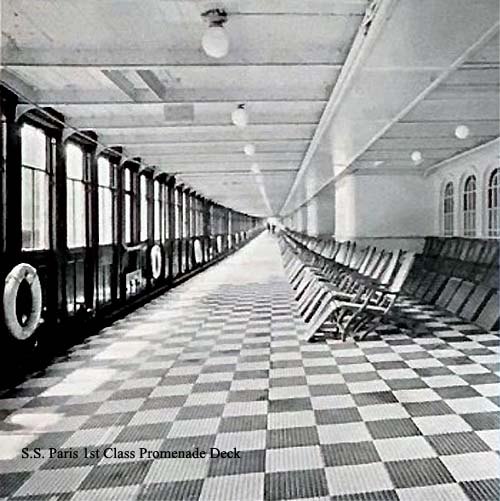 A spacious Promenade Deck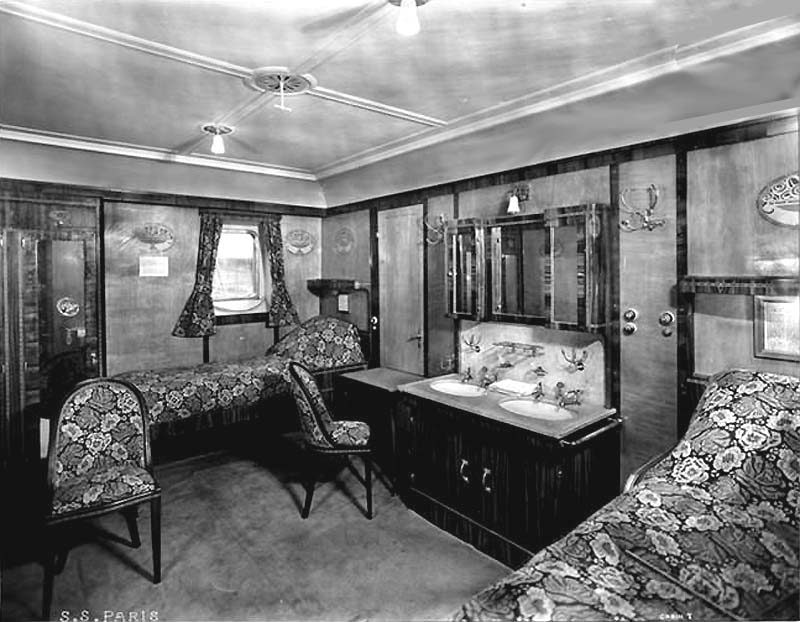 Twin bedded Stateroom

Please Note

: There is a Deck Plan of the S.S. Paris on Page Two, there is a link at the bottom of this page!

Second Class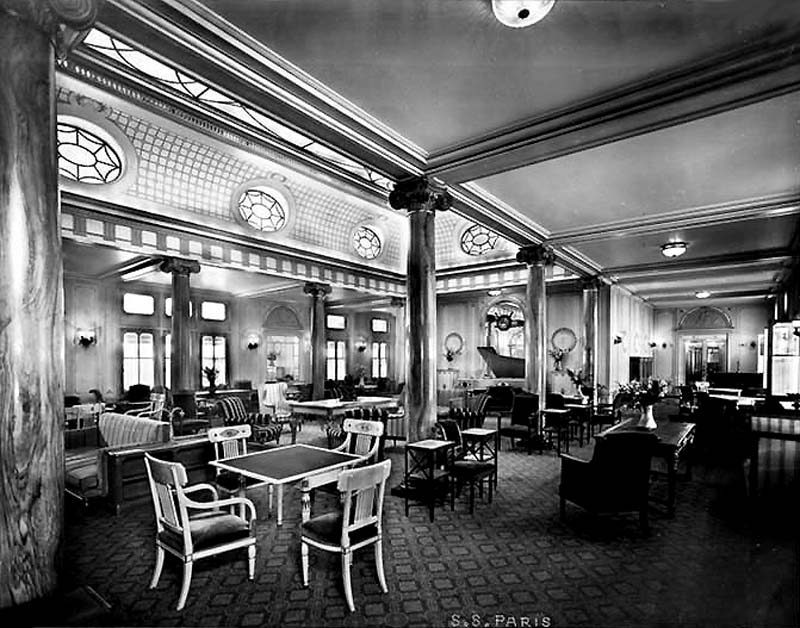 The Main Lounge was of such a high standard it would have been up to the standard of First Class on the best of fine liners!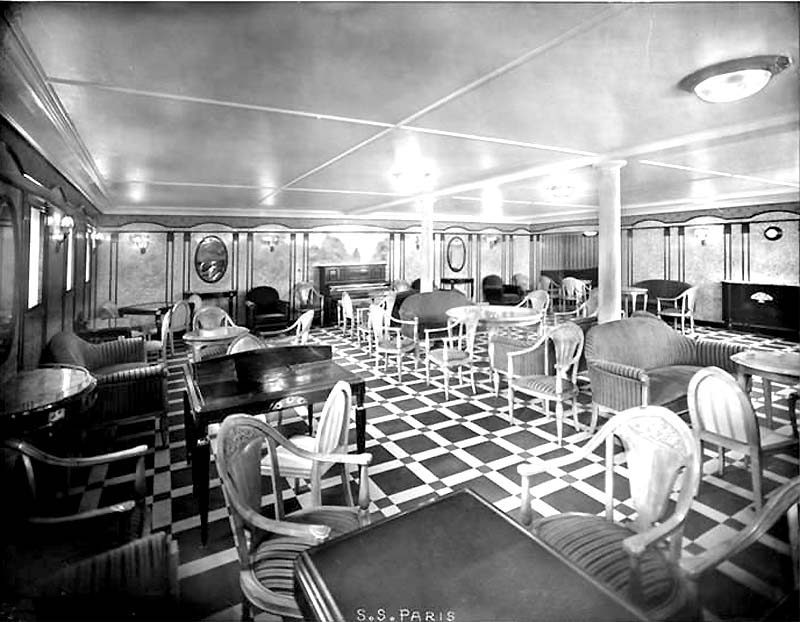 Music Saloon
Third Class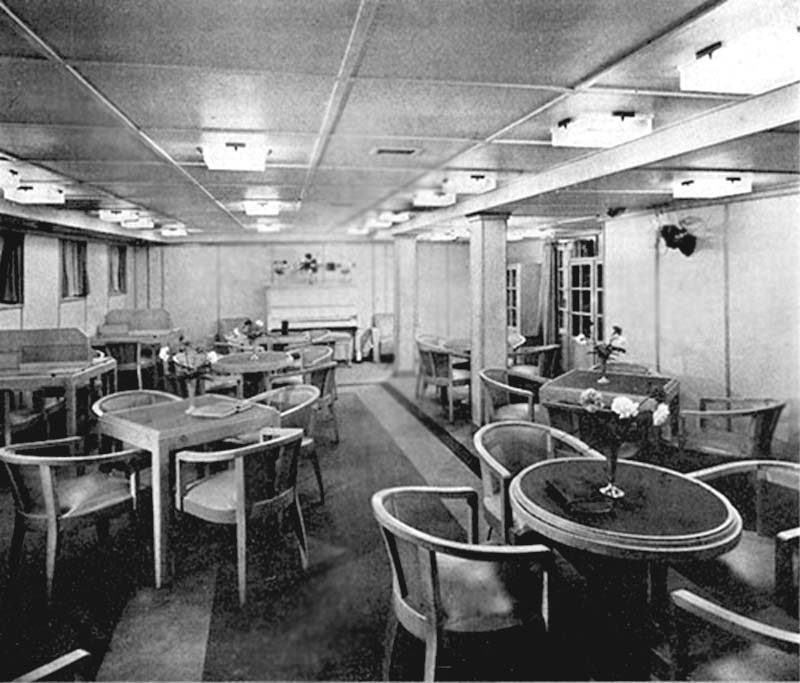 Library and Writing Room, also used to show films and other activities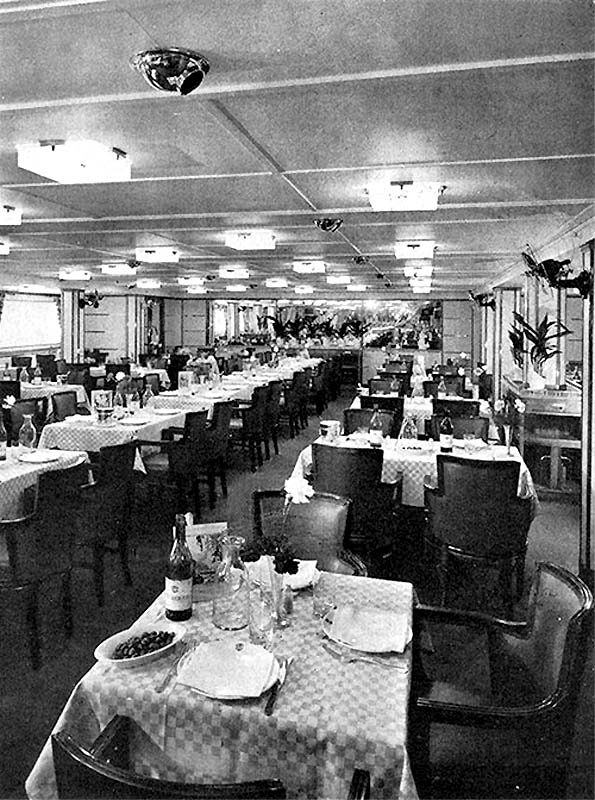 A very pleasant Dinning Room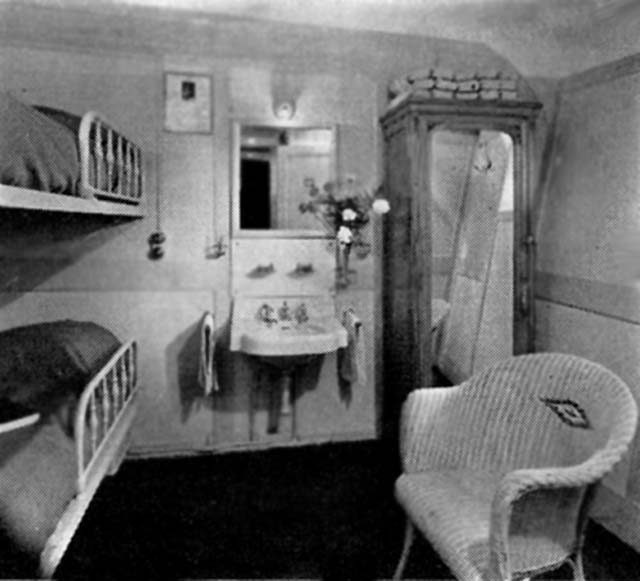 A Two Berth Cabin complete with a hot and cold water basin
Completion to Maiden Voyage:
With the Paris was finally completed at that time she had become the largest liner under the French flag, as officially she now registered as being, 34,569 GRT (Gross Registered Tons).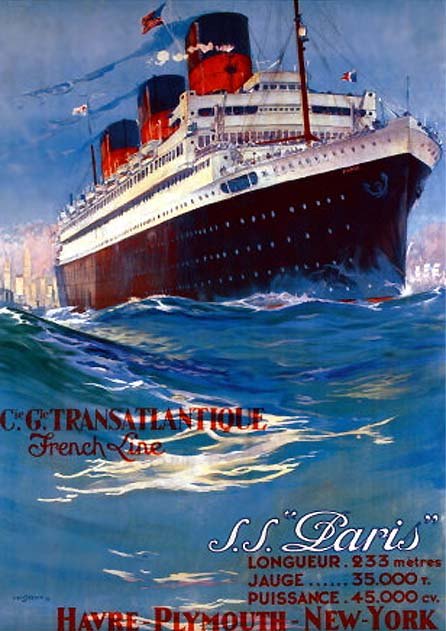 Pre maiden Voyage Promotional S.S. Paris Poster
During her speed trials she managed a good maximum speed of 22.44 knots, but her service speed would generally be 21 knots. She was completed and delivered to the French Line on June 5, 1921, and she was made ready for her maiden voyage, thus she was fully stored up, and took on board her full crew of 648 members.
Then on June 15, 1921, the magnificent long and sleek looking three funnelled S.S. Paris finally departed Le Havre fully laden and she headed via Plymouth (UK) to New York!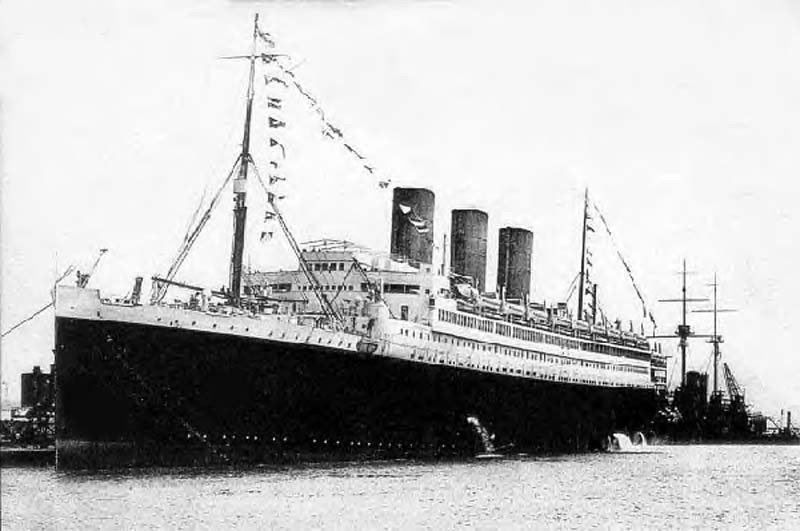 Here we see the S.S. Paris during her maiden voyage to New York
The Paris was originally, as had all liner had been prior to the war designed with Europeans immigrating to the USA in mind. However after the war, the United States had severely restricted its immigration policy, thus the Paris now had to aim more and more the lucrative tourist market as well as the wealthy and famous passengers. Thankfully, the 1920's turned out to be a very profitable period for the magnificent luxurious S.S. Paris and the stars did indeed turned out to sail on this luxurious liner, including the famous actress Gloria Swanson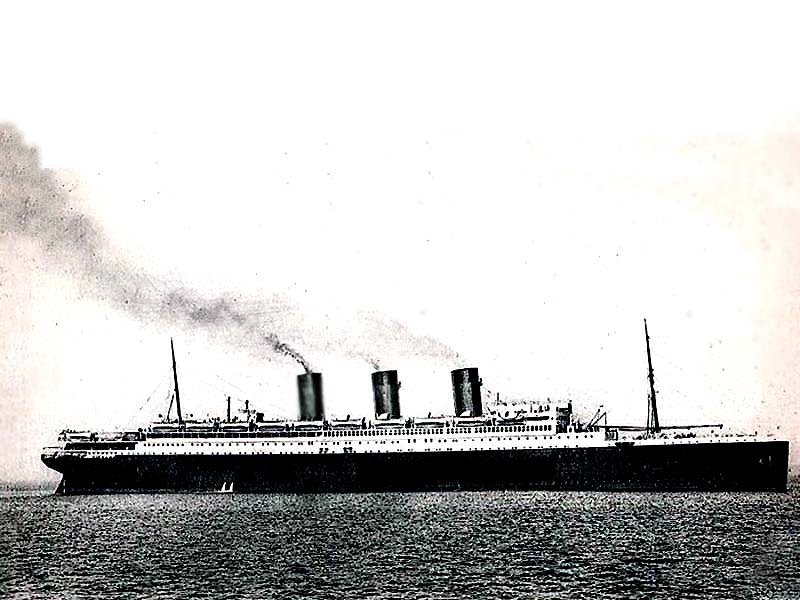 The S.S. Paris seen at sea
As I already stated earlier that dining on Paris was so good, and the service being simply beyond superb and her living spaces were divinely comfortable and luxurious. Thus with her enormous appeal she rapidly became known as the liner to sail on during the twenties as she was "Floating bits of France itself", as one brochure aptly stated. But as always, it came back to the magnificent cuisine for on the Paris, it was said that was her most outstanding feature. Passengers stated that: "More sea gulls followed Paris than any other ship in hopes of grabbing scraps of the haute cuisine that were dumped overboard".
The French Line's success took off even more when a third ship joined the service in June 1927, being the grandiose S.S. Ile de France.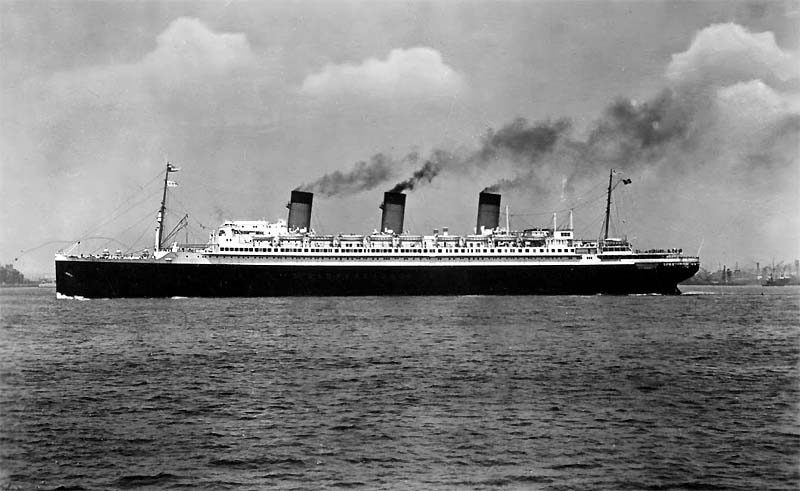 The new 43,153 GRT S.S. Ile de France of 1927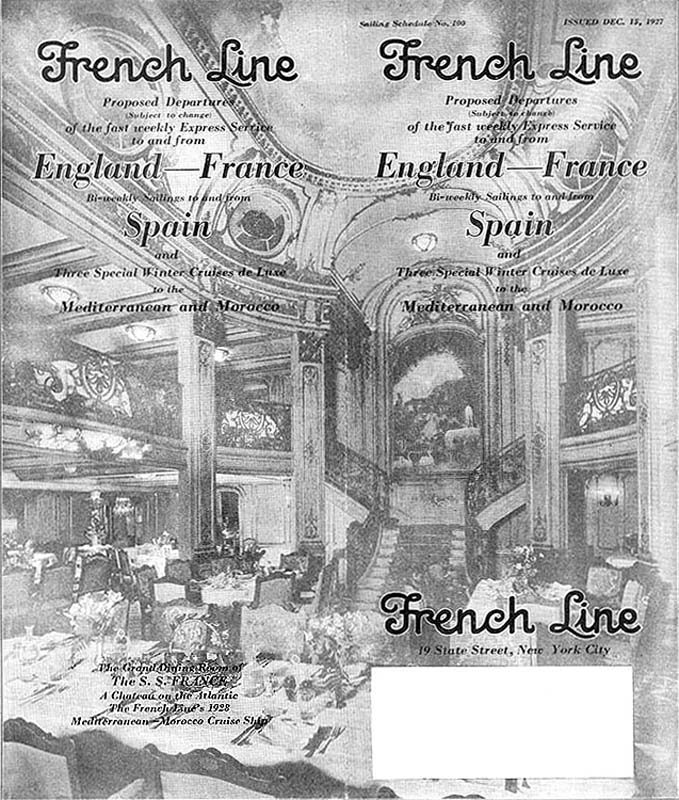 A French Line sailing schedule released December 1927
Troubled times for the
S.S.
Paris
:
The Norwegian cargo steam ship, the 1916 built S.S. Besseggen, which happened to be at anchor on "the Road" in New York Harbour was rammed by the departing S.S. Paris on October 16, 1927, and tragically, due to the heavy damage caused, the Norwegian ship sunk rapidly. This collision resulted in the loss of six of the Norwegian crew lives, whilst survivors were rescued by Paris as well as the harbour ferries "American Legion" and the "Brooklyn". All blame was clearly placed on the officers of the Paris.
1929 a really bad year!

Then on April 7, 1929, the Paris ran aground on the Brooklyn shore, New York

, and she was refloated 36 hours later. Amazingly, just eleven days later on April 18, 1929, she did it again as she ran aground once more, but this time on the "Eddystone Rocks", at Cornwall, the UK. Again she was refloated, but this time it was just two hours later and she then anchored off Penlee in Cornwall, where 157 of her passengers were taken off by a tender and landed at Plymouth.

These two incidents did not damage the ship, unlike the fire that would brake out on board the ship when she was at Le Havre just four months later.

Next, whilst at Le Havre on August 20, 1929, the Paris caught fire and she was severely damaged. Sadly, the much of the ship's passenger areas were devastated by the blaze's smoke, and due to the massive amount of water sprayed by the fire brigade she partially sank. Then on September 11, she was refloated and sent to be repaired and refitted.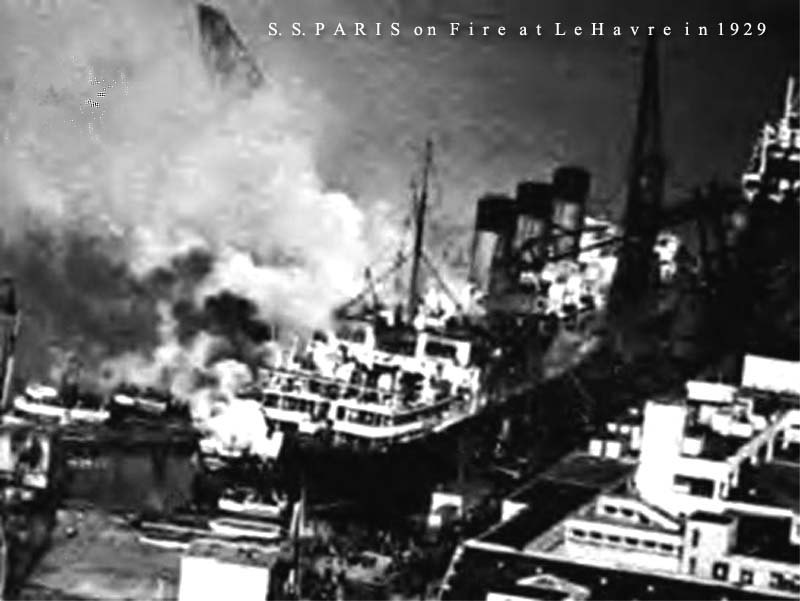 Here we see the Paris on fire at Le Havre in 1929
Her repairs and refit took a good six months to complete. When she was completed she looked her old self, and she returned to service. However there had been some changed made to her passenger accommodations that had been lowered; from 2,132 to 1,934 passengers, but whilst cruising she would accommodate just 300 guests.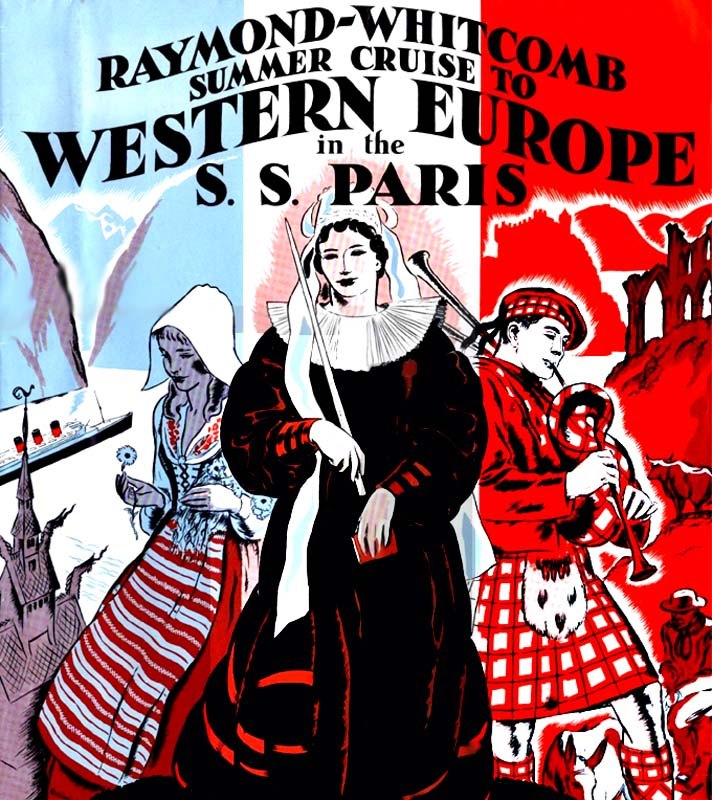 A Cruise Brochure Cover
With the onset of the Great Depression late in 1929, even the French Line's stylish ships were sailing only a third full. The French Line avoided the possibility of laying them up by pressing them into cruise work. To some, it seemed scandalous to have such ships lazily roaming the Mediterranean or Scandinavia as cruise ships with just 300 First Class passengers on board.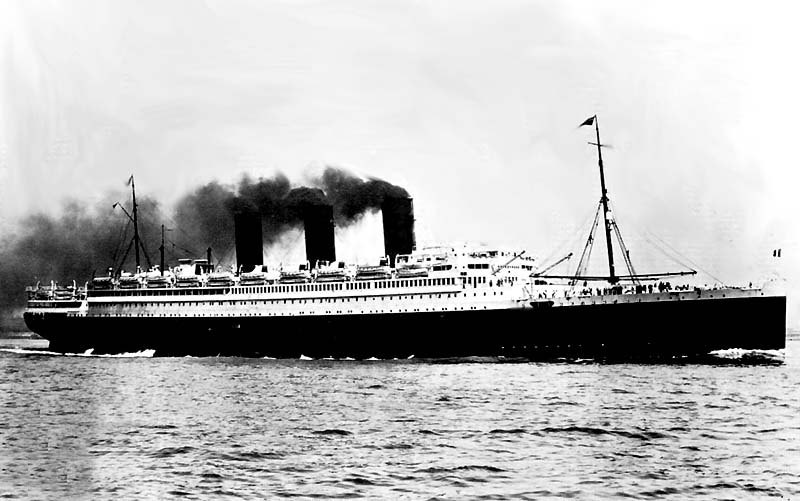 S.S. Paris is seen at sea during a cruise
She did continue to her regular Trans-Atlantic services, and thankfully passenger numbers had thankfully increased again, and the France was making some money one more!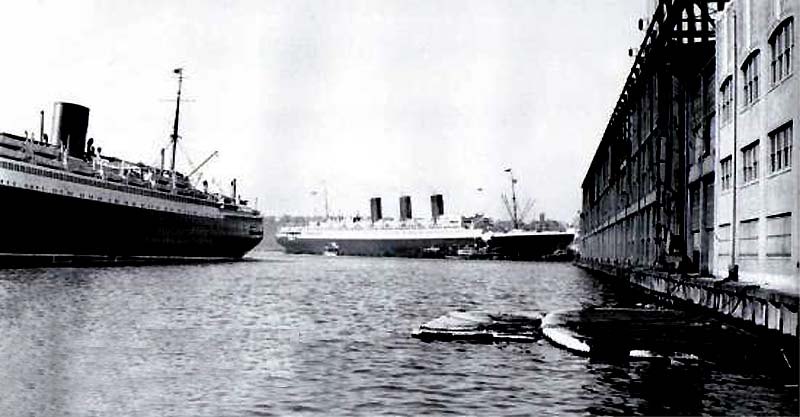 Paris is seen arriving in New York
A Tragic End for a Fine Liner:
On April 18, 1939, S.S. Paris caught yet another fire whilst she was docked at Le Havre and she would temporarily block the new superliner Normandie from departing from her brief stay there.
Five hours after the fire had commenced, all of her promenade deck cabins were ablaze, and just as it was would be with the great S.S. Normandie just three years later in 1942, the fire brigade pumped far too much water onto the Paris, that she became top heavy for somehow all the water was unable penetrate the lower areas of the ship due to the ship's watertight compartments having been closed.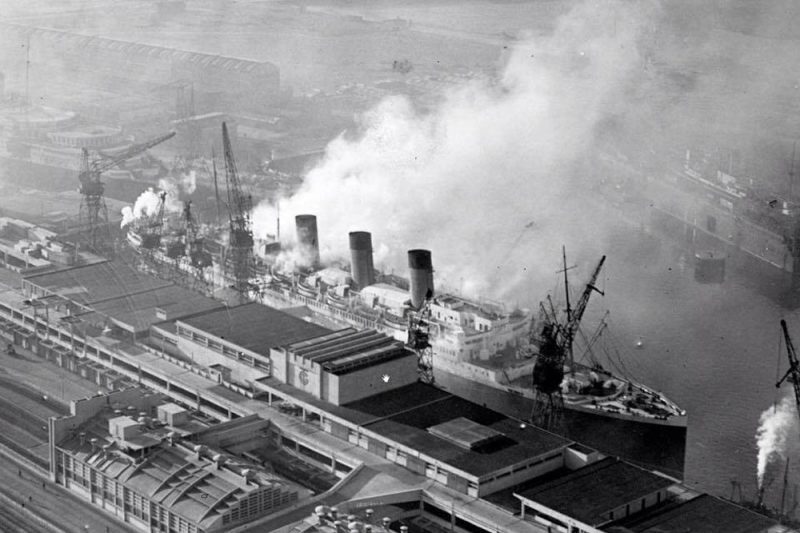 S.S. Paris is seen ablaze on April 18, 1939.
The next morning at 9.15 am suddenly the S.S. Paris heeled over onto her port side, which meant that her funnels and masts would trap the much larger and magnificent liner the S.S. Normandie who was now berthed alongside the Paris close-by.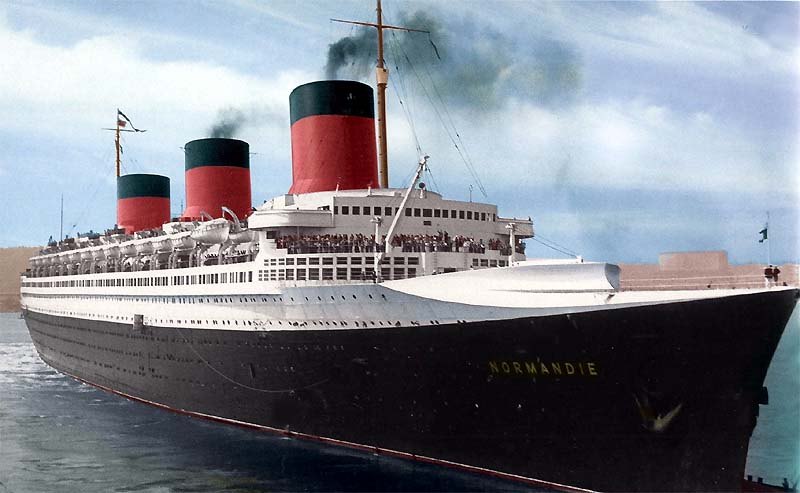 The great 83,423 GRT, S.S. Normandie seen in here in all her glory during her latter years
The Paris was unable to be righted and it rapidly became clear that it was impossible to save the once magnificent S.S. Paris. Two days later her funnels and masts were removed, which was done in order to allow the Normandie, which had been trapped by them, and allow her to depart and head for New York.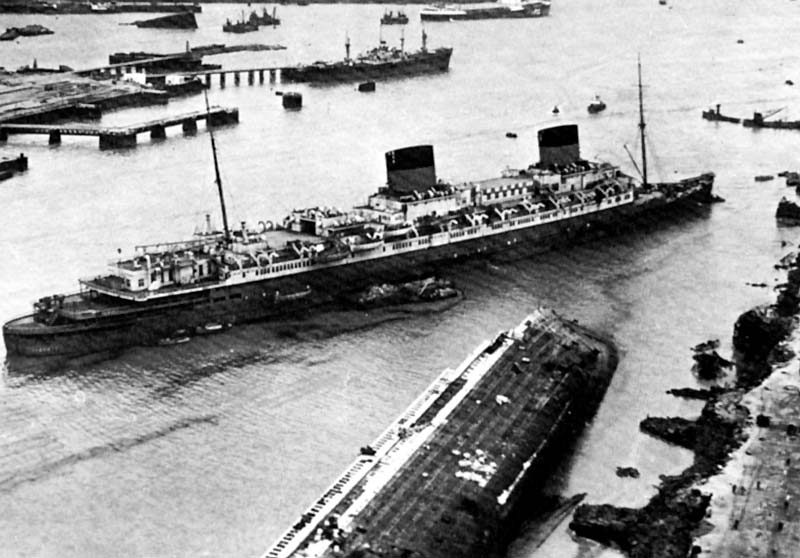 The Great S.S. Normandie is finally able to pass the Paris and she heads for New York

A few months later, World War II commenced as Germany invaded Poland. The war would mean that the Paris was of no concern for the French Line, as they had far too many problems on their hands, thus they decided to leave the Paris where she was on her side at Le Havre until the end of WW2.

The once great Line the S.S. Paris laid where she had sunk until 1947, and it was finally decided to have her scrapped, which was done where she lay!

Specifications & Details S.S. Paris

:

Owner:                                  "Compagnie Générale Transatlantique" - "French Line".

Type:                                     Ocean liner.

Port of registry:                       Le Havre, France.

Ordered:                                1908.

Builder:                                  Penhoët, Saint Nazaire, France.

Laid down:                             1913.

Yard:                                     68.

Launched:                              September 12, 1916.

.                                            Fitted out, but remained laid up during the war.

Maiden voyage:                       June 15, 1921.

Tonnage:                                34,569 GRT.

Engines:                                 Steam turbines powering four propellers.

Length:                                  764 ft - 233.4 m.

Beam:                                    85 ft - 26 m.

Decks:                                   10.

Speed:                                   22 knots.

Passenger Capacity:

As Built:                                 2,115 Passengers.

.                                            563 First Class.

.                                            460 Second Class.

.                                            1,092 Third Class.

August, 1929:                         1,934 Passengers.

.                                            560 First Class.

.                                            530 Second Class.

.                                            844 Third Class.

Crew:                                    648.

Fate:                                     Caught fire, and capsized in Le Havre on April 18, 1939.

.                                            Dismantled where she lay in 1947.
Remembering the Magnificent

S.S.

Paris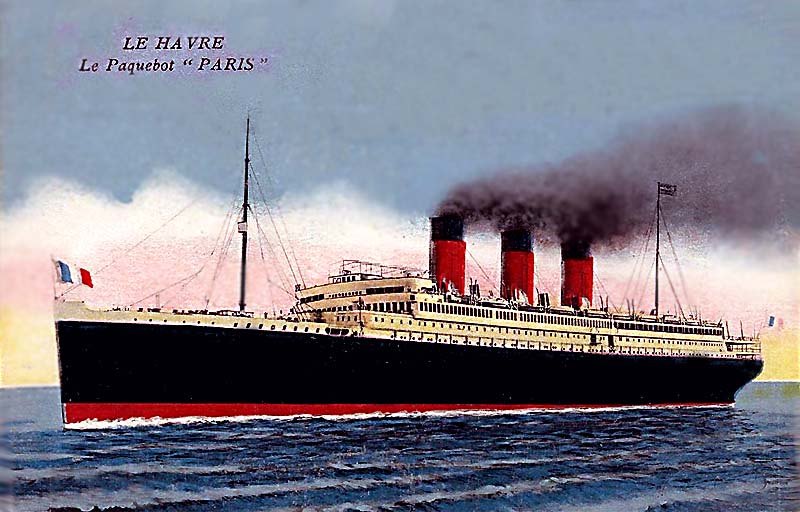 One of the best French Line's colour Postcards of the 'Paris'
View the S.S. Paris Deck Plan
Also visit the 3 page S.S. Normandie Feature - 1935 to 1947
And the S.S. Ile de France - 1927 to 1959
***********************************
 "Blue Water Liners sailing to the distant shores.
I watched them come, I watched them go and I watched them die."
Return to ssMaritime MAIN INDEX
ssMaritime.com & ssMaritime.net
Where you will discover over 1,435 Classic Liners & the 1914 built MV Doulos Story
The Author has been in Passenger Shipping & the Cruise Industry for a good 60 years!
For interest: Sadly an email service to ssMaritime is no longer available, due to the author's old age and chronic illness as well as being disabled, etc. In the past ssMaritime received well over 120 emails per day, but Mr. Goossens can no longer handle same. He sincerely regrets this!
Please Note: ssmaritime and associated sites are 100% non-commercial and the author never seeks any funding or favours of any shape or form, never have and never will!
Photographs on ssmaritime and associate pages are: by the author or from the author's private collection. In addition there are some images that have been provided by Shipping Companies and private photographers or collectors. Credit is given to all contributors. However, there are some photographs provided to me without details regarding the photographer/owner concerned.
This notice covers all pages: although, and I have done my best to ensure that all photographs are duly credited and that this notice is displaced on each page, that is, when a page is updated!
ssMaritime is owned & © Copyright by Reuben Goossens - All Rights Reserved