SS Patricia 1951, later SS Ariadne, Freeport II, Bon Vivant, Ariane, Empress Katerina
Please Note: Firefox, iPhones, iPads & some other Search Engines may not be suitable
Use Google Chrome for this Web Page to load perfectly!

Click the logo above to reach the ssMaritime FrontPage for Ships of the Month & News Updates
With Reuben Goossens
Maritime Historian, Cruise'n'Ship Reviewer, Author & Lecturer
Please Note: All ssmaritime as well as my other related maritime & cruise sites are 100% non-commercial and privately owned sites. Be assured that I am NOT associated with any shipping or cruise companies or agencies or any other organisations! The author has been in the passenger shipping industry since May 1960, but although retired and unwell, I occasionally attempt to write an article now and then, in order to bring enjoyment and pleasure to ship enthusiasts past passengers and crew.
Rederi AB, Svenska Lloyd
S.S.

Patricia
Sold to become SS Ariadne, Freeport II, Bon Vivant, Ariane, Empress Katerina & Empress 65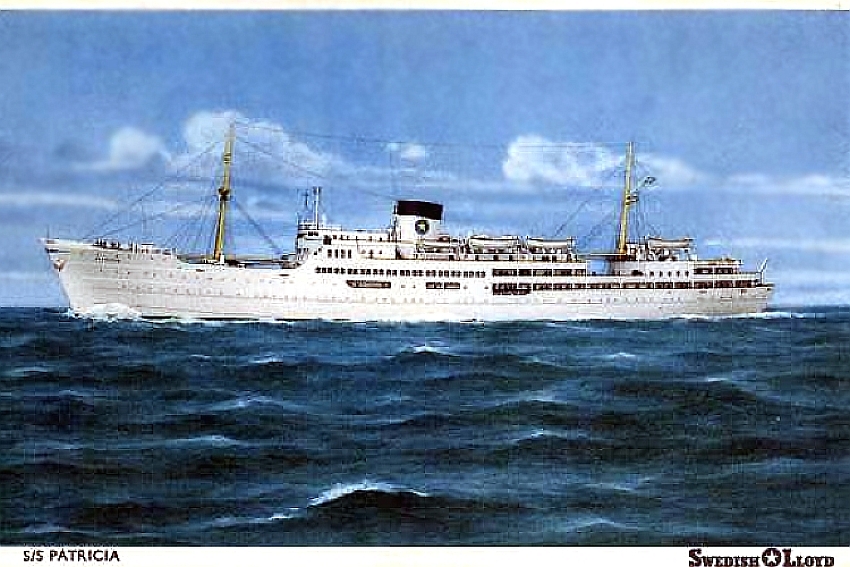 A delightful Postcard of the SS Patricia
Please Note: Photographs and images on this page are from the author's private maritime collection, or as otherwise stated!
Building a New Ship:
The Swedish Svenska Lloyd or the Swedish Lloyd operated a very profitable Passenger ferry service between Gothenburg to London (Tilbury), with ships operating such as the SS Saga, Britannia and the Suecia. But they were in need of a fourth and a larger ship, and having plans made for their new and a much superior ship they placed an order with the Swan, Hunter and Wigham Richardson Shipyards in Newcastle England to build their new 7,505-ton passenger ferry!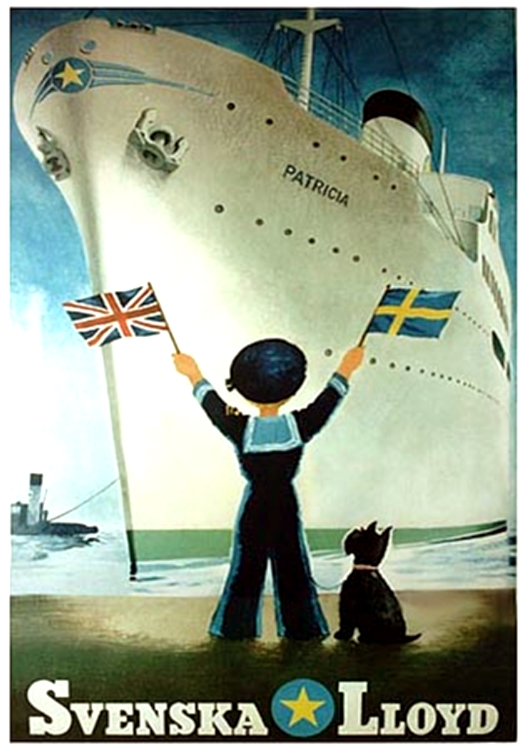 A promotional poster released prior to the Patricia being launched!
SS

Patricia is

Born

:
This new ship would be named the SS Patricia and she was launched on November 8, 1950 and was delivered after running her sea trails to her new owners on May 4, 1951 and just three days later she commenced on their regular Gothenburg to London (Tilbury) service as a busy passenger ferry.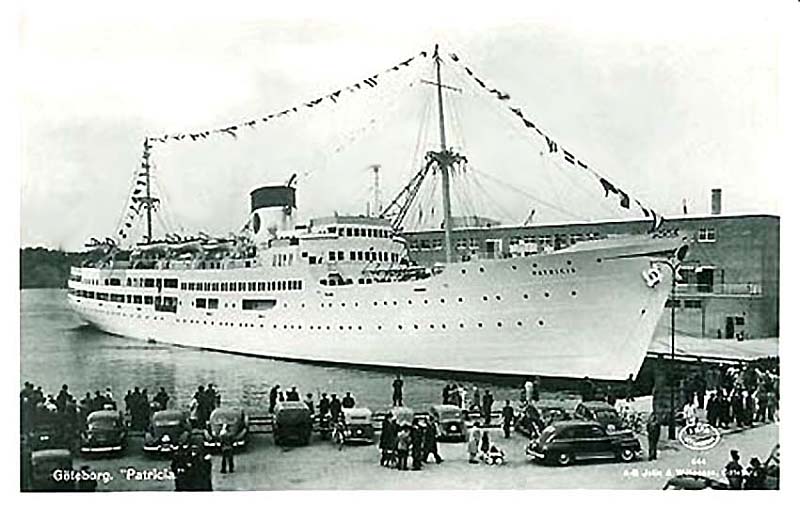 Above & below: The brand new SS Patricia has just arrived in Gothenburg and she is a popular
attraction as many people came to look at the new and the largest ship of the fleet!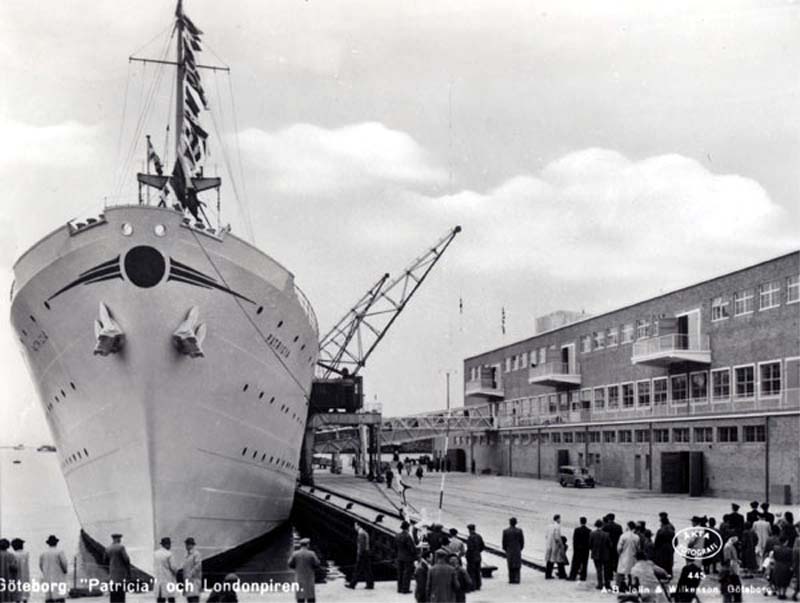 An impressive bow indeed, made her look much larger than she really was!
Lounges & Deck Spaces:
The public rooms in First Class were a delight to behold for there was a beautiful Observation Lounge located far forward up on Boat Deck; it had two curved staircases alongside a small atrium between the two staircases that looked down into the spacious Main Lounge on A Deck. The stairs framed the dance floor in the Main Lounge where there was also a Cocktail Bar located on the aft wall. Just aft was the Smoking Room, which was finished in fine English Oak. A feature of the First Class Bar was a carved bar front that depicted many characters from English life and history including a remarkable sculpted relief of Winston Churchill. Surrounding both these venues was a full wrap around glass enclosed Garden Verandah, which was fitted out with wicker furnishings, as well as many plants in raised planter boxes. The Verandah was a popular casual meeting place for a cup of coffee or tea with a snack and there was a spectacular ocean view! In addition, there was also a library located on the starboard side just aft of the main lobby on A Deck.
Further aft on A Deck was first the Second Class Main Lobby followed by the Main Lounge, and then the Smoking Room with the Bar. Directly aft was the Third Class only public venue, the Smoking Room and Bar with a stairwell in the middle going down into their Dinning Room on B Deck. A Deck provided Promenade Deck pace for all three classes, whilst Boat Deck had additional deck space for both First and Second Classes, and Third Class had an additional Promenade Deck space down on B Deck.
Dining Rooms:
The three Dining Rooms were located on B deck, with the First Class Dining Room being located just aft of the Main Lobby followed by their Galley, then the Second Class Lobby and their Dining Room, next the Third Class Lobby and their Dining Room. The Galley for the two latter dining venues was located one deck down on C Deck, meaning stewards had to use the stairs to obtain the food and return the dishes, which unlike the modern days of elevators was most inconvenient!
Accommodations:
Suite and cabins were spread throughout the ship as follows; Suites and Deluxe cabins were located aft of the First Class section on A Deck, whist the accommodations section of B was all First Class. C Deck had First Class forward and Second Class towards the aft, but there were interchangeable cabins in the middle. Far aft there were accommodations for waiters. D Deck aft contained all the Third Class accommodations, whilst forward there were the Dormitories; portside was for the men, and starboard for women, but they shared the third class public facilities.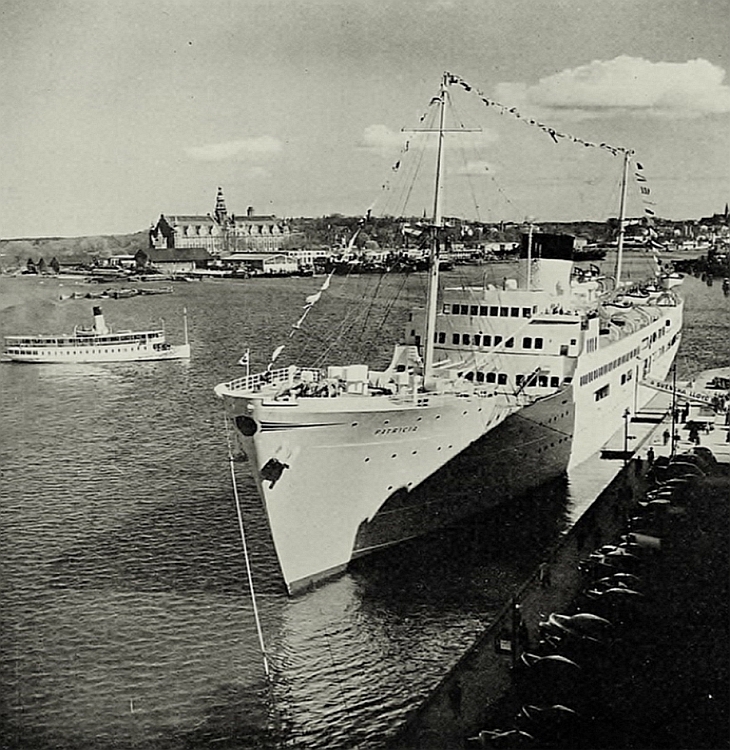 Here we see the impressive SS Patricia berthed at Stockholm, seen with the famed 1911 built S.S. Blidösund
Patricia

the Cruise Ship:
During the winter season of 1951, commencing on September 13, Swedish Lloyd had decided to operate her out of New York as a cruise ship to the Caribbean, and this proved to be very popular indeed! Thus she would operate the same cruise service each year and in 1953 she would also operate another service, but this one between New York and Bermuda, also being chartered out to an American based travel company to operate a number of Fly/Cruises to the Caribbean from New York during that season and again in 1954.
In September 1955, Hamburg America Line had booked Patricia to operate two special Mediterranean cruises, however due to the sudden crisis in the Middle East; the charterer was forced to cancel and Patricia returned to her regular services.
December 1955: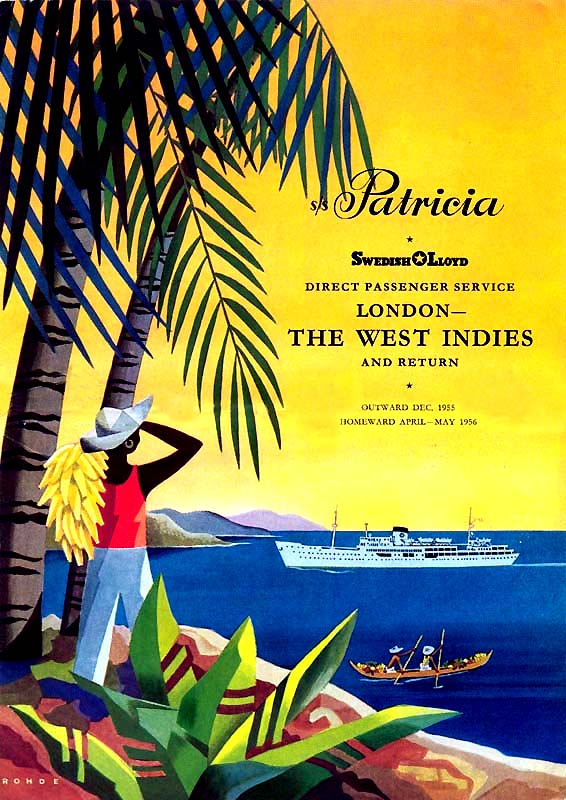 Trans-Atlantic voyages London to the Caribbean in 1955 or return in 1956.
In December 1955 the Patricia made her Trans-Atlantic positioning voyage for her series of winter cruises out of New York to the West Indies and her return to England and Sweden was in April 1956, arriving in May. Whilst in the America's and the Caribbean some of her ports of call were as follows: Ponta Delgada, Bridgetown, Port-of-Spain, La Guairá, Willemstad (Curacao), Kingston and of course Nassau. Upon her return to Sweden she returned to being a humble passenger ferry.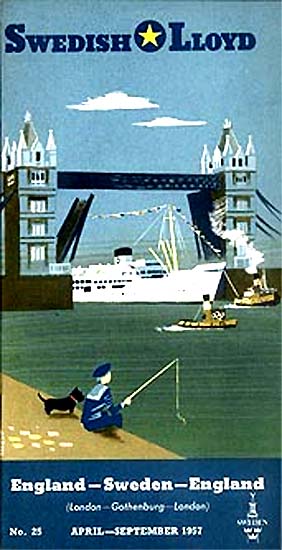 Here we see a SS Patricia - 1957 Schedule - London - Gothenburg - London
This would be her very last service to from Sweden to the United Kingdom for the Swedish Lloyd ever!
A New Life as the SS

Ariadne

:
In due course the Swedish Line began to realise that although the SS Patricia was a great success over in the USA and the Caribbean as a cruise ship, but she was mostly used by them as three-class ferry between Gothenburg and London (Tilbury) for which she was built. However as it turned out she was just too big for this service and it was for this reason that on January 2, 1957 she was sold to Hamburg Amerikanische Paketfahrt (HAPAG) who purchased her outright, but with delivery in October as the Patricia was scheduled to operate through to the end of September.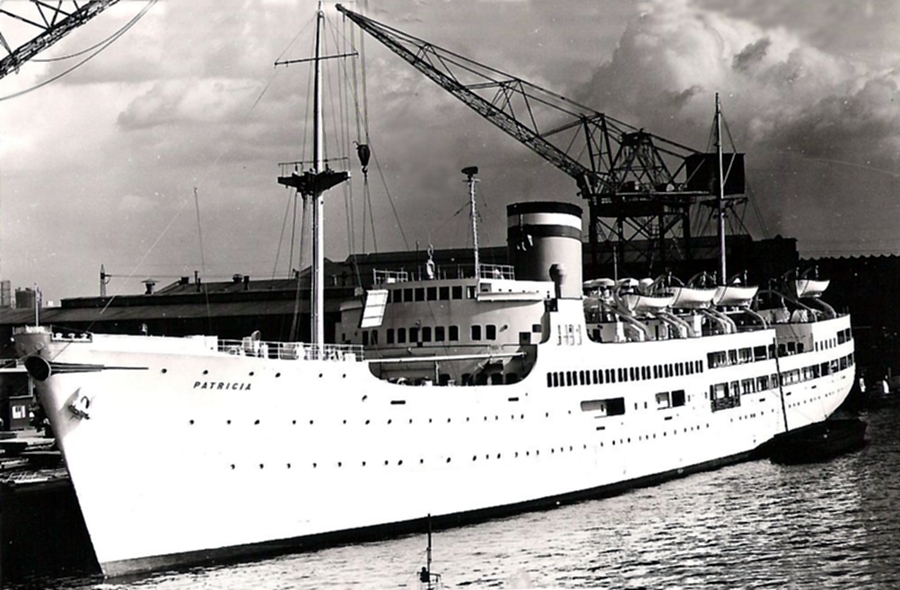 The Patricia arrives in Hamburg on October 3, 1957
On October 3, 1957 HAPAG took possession of their newly acquired ship and immediately she was placed into dry-dock at Blohm & Voss in Hamburg and she was given a comprehensive refit. As she emerged from the yard on February 1, 1958 the Patricia been renamed Ariadne and she was now a luxury cruise ship and would be able to sail on several services.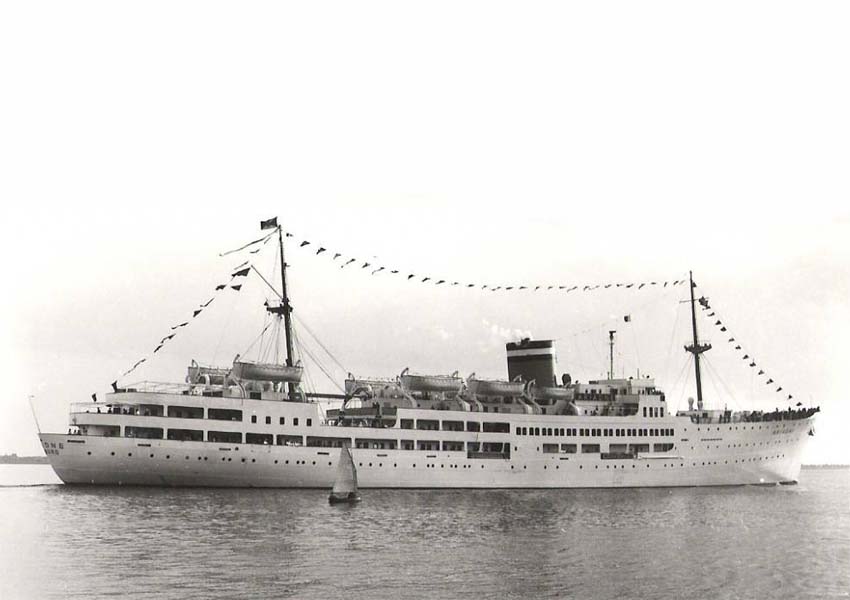 A fine stern view of the just refurbished SS Ariadne
The Ariadne commence to operate cruises in and around Scandinavia as well as other parts of Europe during the spring and summer months, there after she headed further afield and operated on a number services including the Caribbean.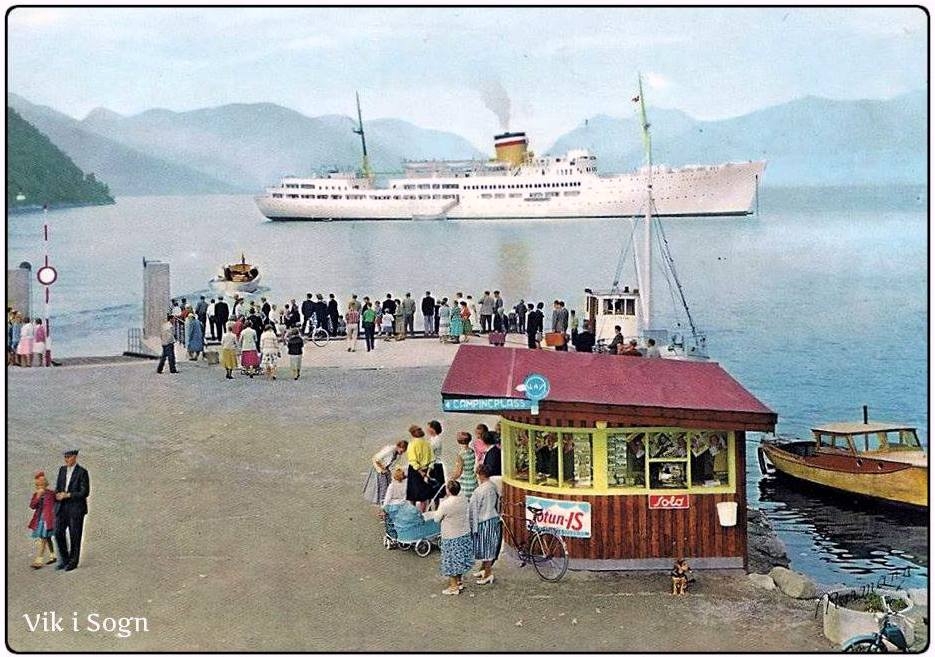 A postcard of the SS Ariadne seen at Vik i Sogn, Norway around 1960
Eastern Shipping Co Obtains the SS

Ariadne

:
However, her time with HAPAG would be short lived for in November 1960 Ariadne was purchased by Miami-based Eastern Shipping Corporation a company that was controlled by the McCormick Shipping Company, who where considered to be the pioneers of Florida cruising. Beginning in 1961, with a capacity of just 239 passengers, she was initially used by them on longer and more diverse cruises from Miami to the Caribbean and she became one of the first ships to sail to Cozumel, Quintana Roo in Mexico.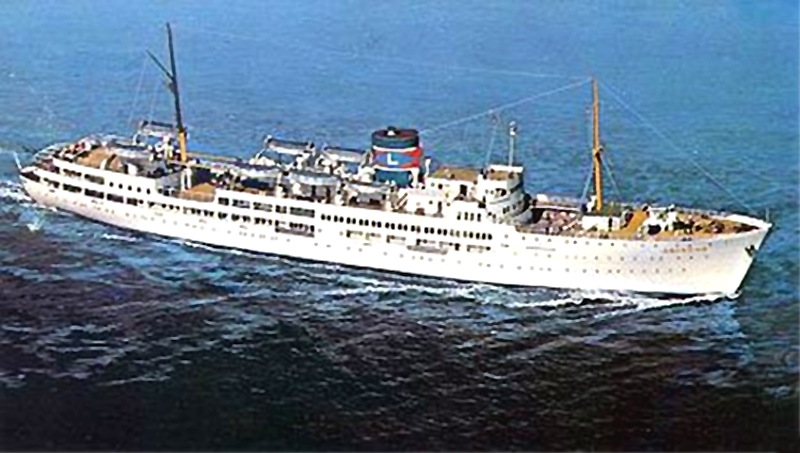 Eastern Shipping - SS Ariadne is seen here at sea
She was then moved to three and four-day run from Port Everglades/Ft. Lauderdale, Fl. to Nassau and Freeport in the Bahamas.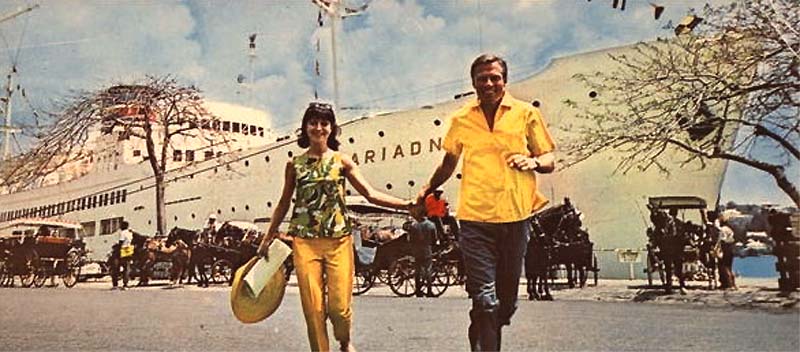 An Eastern Cruise Lines promotional image promoting the Ariadne
On May 26, 1961 Eastern Shipping Corporation changed ownership (McCormick out and W.R. Lovett, the owner of the Winn-Dixie supermarket chain) and it now became the Eastern Steamship Corporation. After a few years, the operating name was once more changed to Eastern Steamship Lines, a revival of the old Boston based company's name.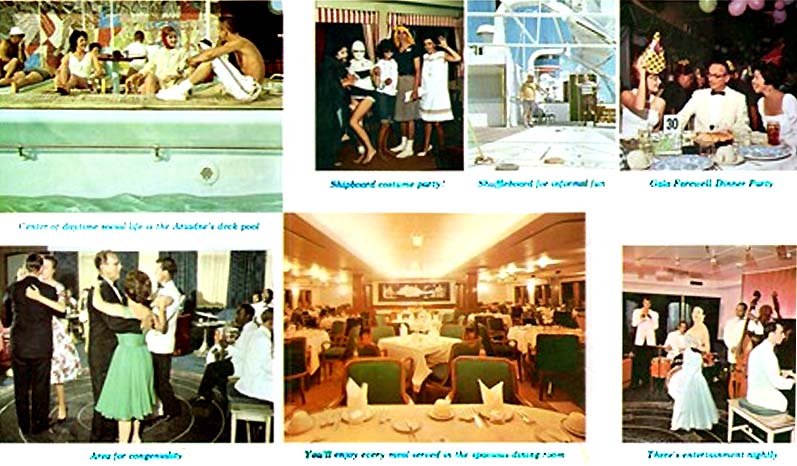 Part of an Eastern Shipping brochure promoting their cruise ship, the SS Ariadne
However, before leaving Eastern Steamship SS Ariadne would also cruise to new ports, such as Jacksonville, Florida, Charleston South Carolina, San Juan, Puerto Rico, Charlotte Amalie and St. Thomas.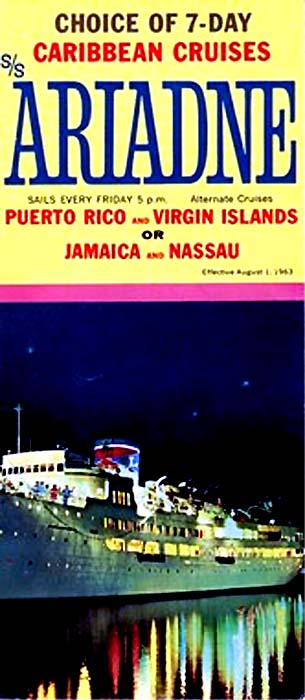 The very last Eastern Cruise Lines brochure released in 1973
But the cruise schedules were never completed!
Chandris Cruises Obtains her to Become the SS Bon Vivant:
In 1972, Eastern Steamship Lines, which was now owned by the Norwegian Gotaas-Larsen Corporation, an one-third owner of Royal Caribbean Cruise Lines) had entered into an agreement with Greek-based Chandris Lines to exchange SS Ariadne for Chandris' SS Atlantis that would become their popular SS Emerald Seas.
Chandris promptly chartered the SS Ariadne out to Bahama Cruise Line as the Freeport II from May 1973 until the end of the year.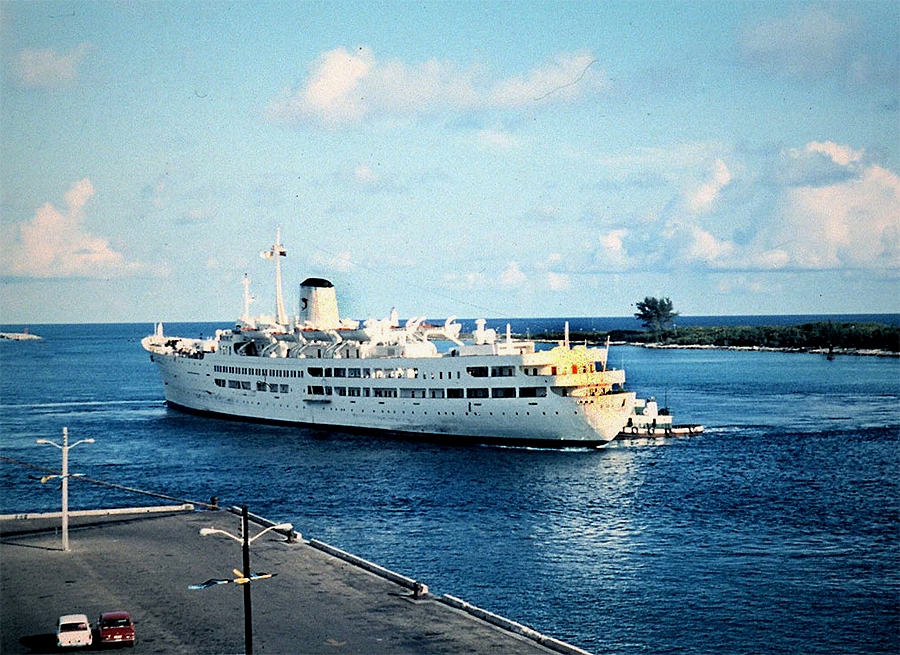 The Bahama Cruise Line SS Freeport II seen in 1973
Upon her return to Piraeus late in December 1973, she was placed in dry-dock for a comprehensive and an extensive refit and she emerged in April 1974 having been renamed Bon Vivant. She was operated by Chandris Bon Vivant, Ltd, and Flagship Cruises on Mediterranean as well as Caribbean itineraries and in 1975 she would once more be chartered by the Bahama Cruise Line, but this time she retained her name Bon Vivant!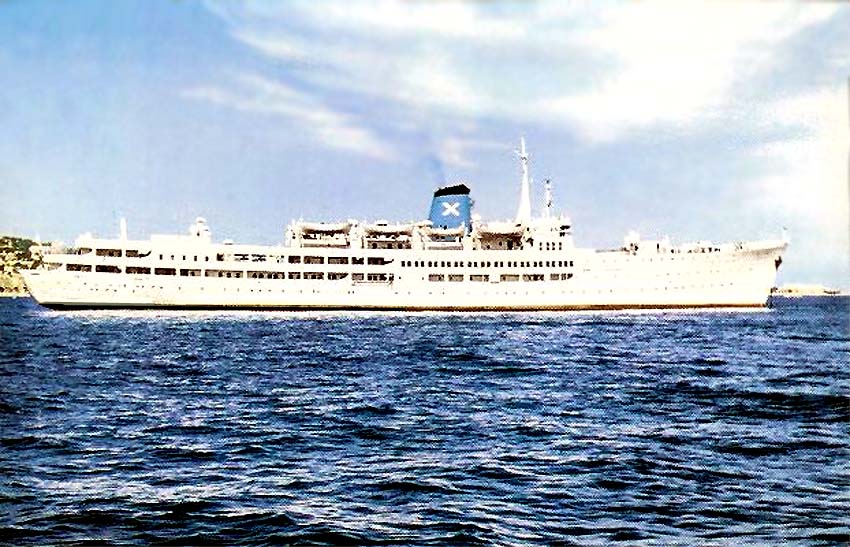 A Chandris Cruises SS Bon Vivant postcard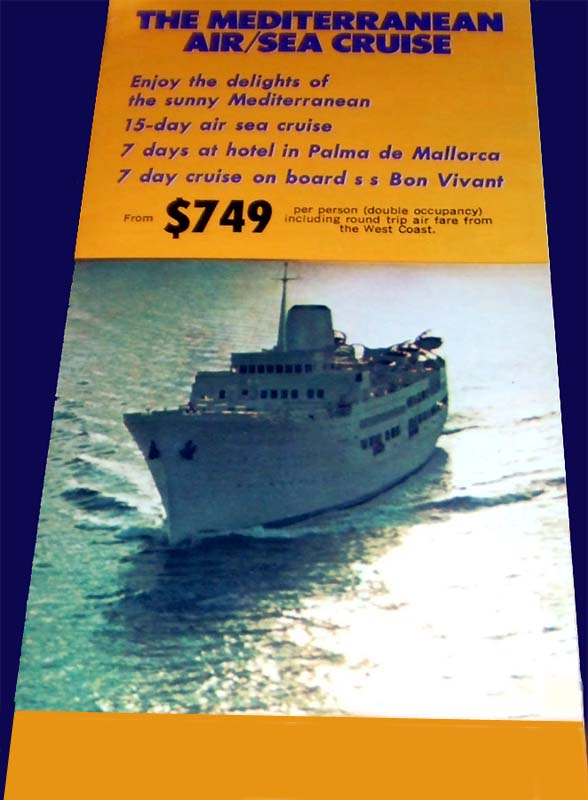 A Fly/Cruise brochure released by an agency with Chandris for Bon Vivant cruises in 1974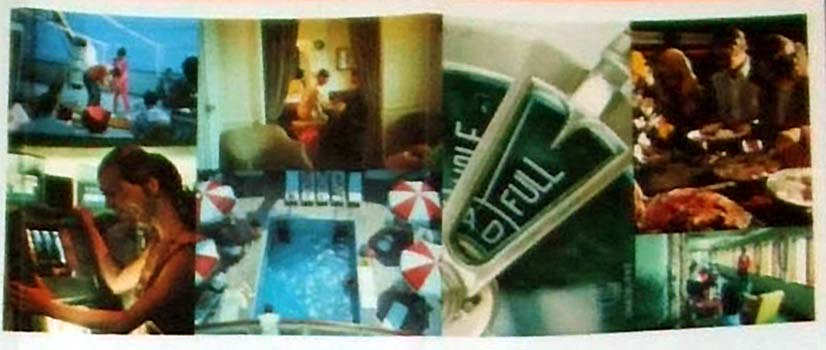 The Fly/cruise brochure interior
In the spring of 1976, Chandris operated her on cruises from Venice, Italy to Dubrovnik, as well as to Yugoslavia, the Greek islands, Istanbul, Turkey and Alexandria, Egypt.
Bon Vivant a Hotel in Dubai:
Chandris sold the Bon Vivant in December 1976 to the Panama-registered March Corporation Inc., who would use her as a hotel ship in Dubai effective January 8, 1977.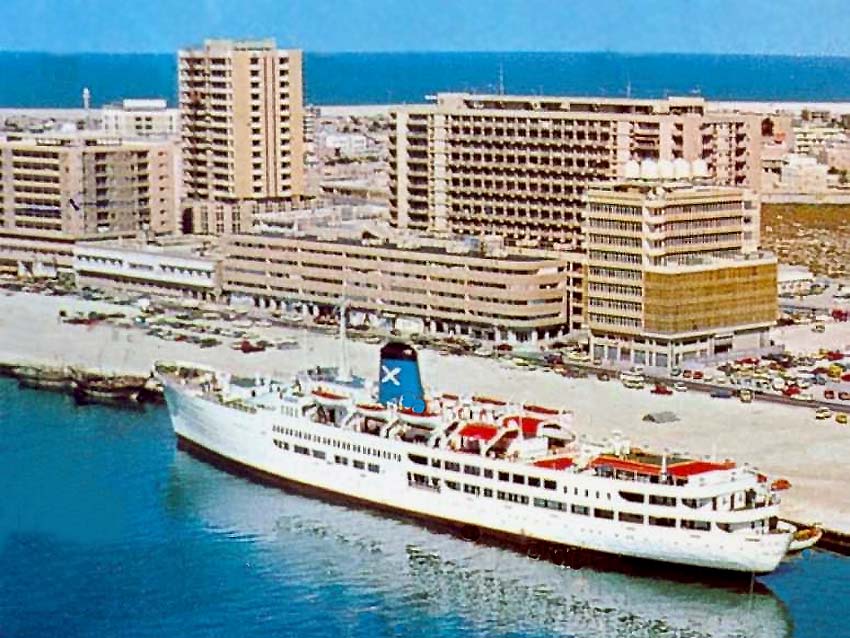 Here we see the Bon Vivant serving as a hotel in Dubai during 1977, but she was given and Arabic name
Photographer unknown – Please the photo notes at the bottom of the page!
However in December 1977, she was returned to Piraeus and she was placed in layup again at Eleusis Bay where she remained until she renamed.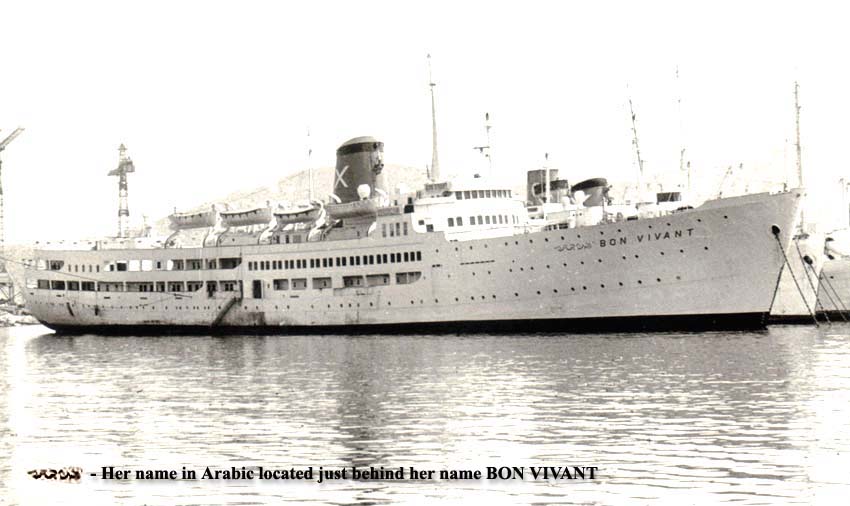 Here we see the Bon Vivant laid up with other ships out of Piraeus in 1978
Note that just in front of her name, is Arabic writing being her name whilst she was in Dubai
Photograph by & © Antonio Scrimali from the Rich Turnwald collection
Renamed SS

Ariane

:
In September 1978 Chandris Cruises again obtained the ship and they renamed her Ariane and she was sent to dry-dock to make her ready for future cruise duties.
Chandris decided to operate her on a series of shorter series, being the 3, 4 and 7 night cruises series out of Piraeus, whilst the other Chandris ships would operate from 7 to 20 night voyages. SS Ariane commenced her first 1979 summer cruise from Piraeus on Monday June 18, and the last of the series commenced on Friday October 12, 1979. For some reason these were her final official Chandris cruises.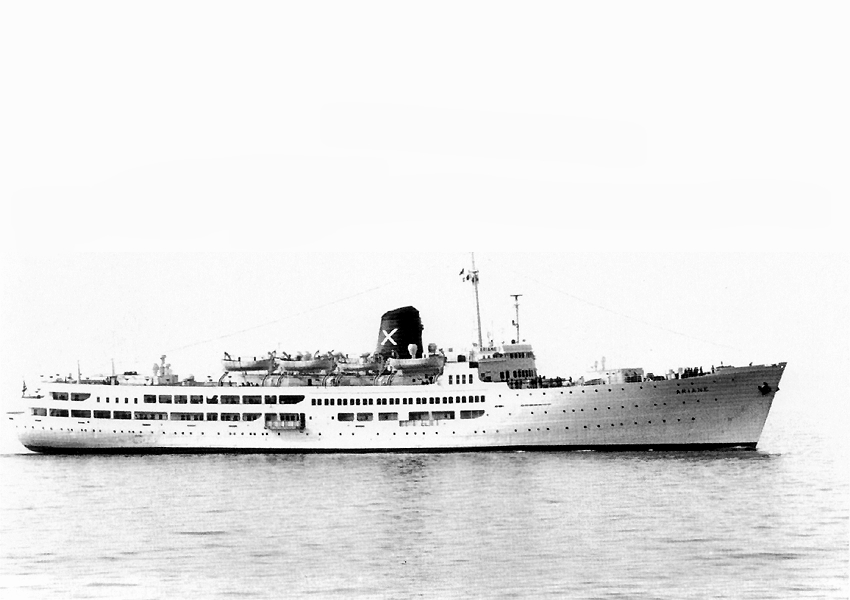 Chandris' cruise ship SS Ariane

seen during a 7-night cruise in August 1979

Below we see the actual cruise schedule that has the following Chandris ships on it, Amerikanis, Ariane, Britanis, Ellinis, Regina Prima and the Romanza, operating from 7 to 20 night cruises. There are some who actually dispute that she ever operated any cruises under the name of Ariane, but I know for a fact, being very close in the early days to the Chandris family, that she did!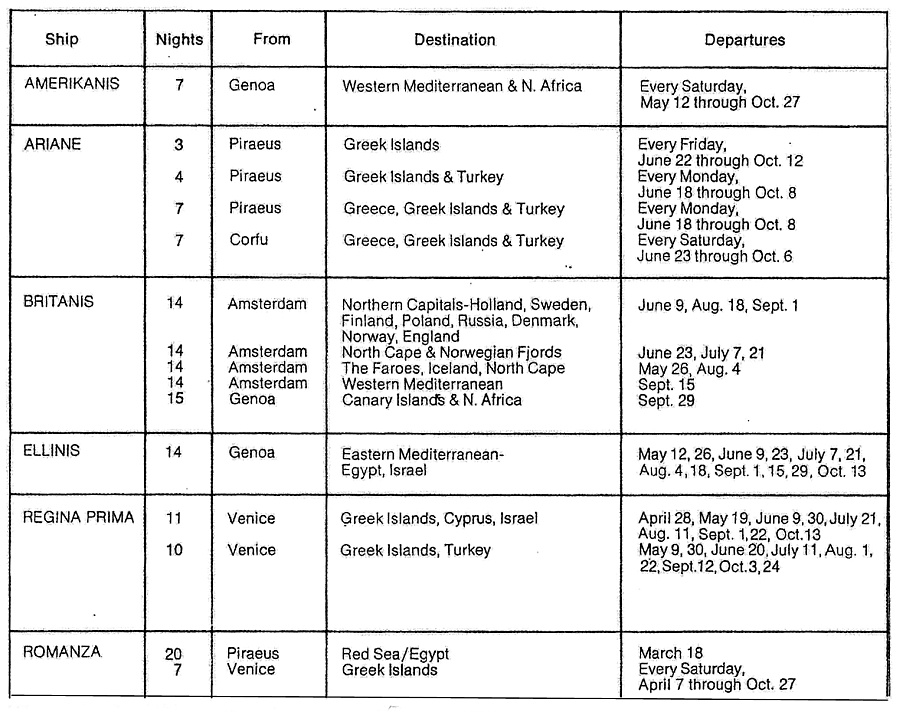 Having concluded her cruises, sadly from October 15, 1979 through to May 1982, she was placed in lay-up out of Piraeus at Eleusis Bay where other ships were also at anchor awaiting their doom.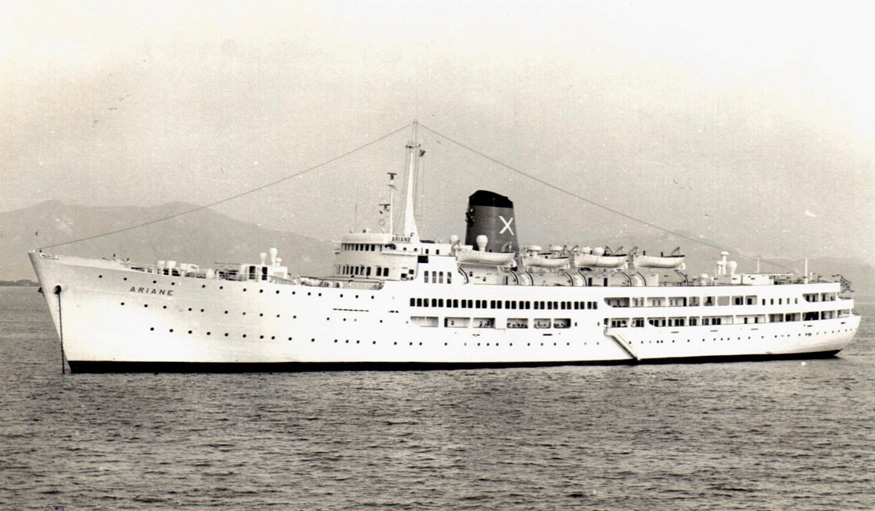 She has completed her cruises and was laid up in Eleusis Bay not far from Piraeus
But this was briefly interrupted for one month from May to June in 1982, as she was chartered by a travel company to operate a special cruise out of Genoa, after which she was returned to layup at Eleusis Bay and she remained there until 1989.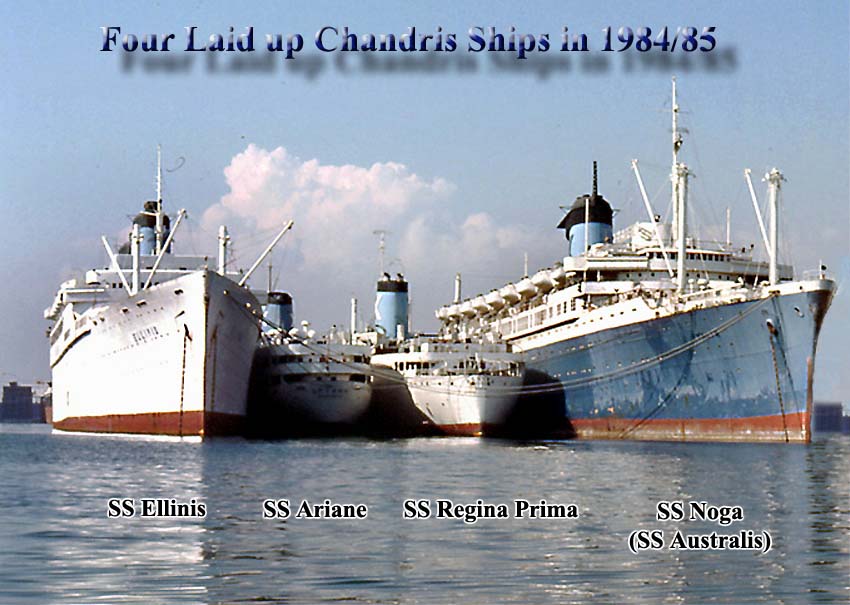 Seen laid up at Eleusis Bay from the left is 1; the SS Ellinis ex Lurline.
2; SS Ariane ex Bon Vivant ex Freeport II, Ariadne and Patricia.
3; SS Regina Prima ex Regina, President Hoover, Panama, James Parker, Panama.
4; SS Alfredoss ex Noga, Italia, America, Australis, America. But she still had the name Noga on her stern
Photographer unknown – Please the photo notes at the bottom of the page!
She goes Asian:
She was purchased in 1989 by a Cyprus-based company; Nios March Corporation Ltd of Limassol and she was given a comprehensive overhaul in Piraeus, ensuring that Her boilers, engines, generators, electrical systems and plumbing, etc was in tip-top condition, and that she would be able to sail under her own power for her forthcoming long voyage to Asia! Her hotel facilities were also altered, for she would be used for a different purpose when she arrived in Asia as her new owners knew their market well!
Upon completion she was renamed Empress Katerina and on March 22, 1991 the ex SS Patricia, now the grandly named SS Empress Katerina departed Piraeus for her extended voyage to Singapore sailing via Gibraltar, Port Said for fuel and on to her destination.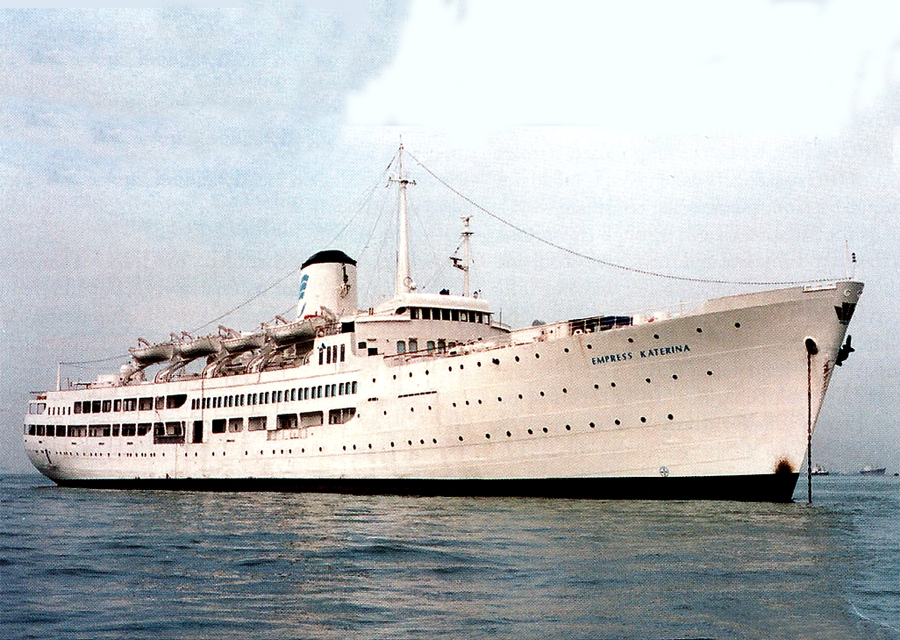 The renamed SS Empress Katerina is seen just after her arrival in Singapore in 1991
Photographer unknown – Please the photo notes at the bottom of the page!
Having arrived in Singapore she was placed at anchor briefly, before continuing to her next destination, as she had already been chartered out and thus she sailed to Ho Chi Minh City (ex Saigon) in Vietnam. Upon arrival she was berthed and used as was intended a barracks, but also as an accommodation ship.
However in January 1995, she was sold to the Fortune Regent Maritime Ltd of Panama, and she sailed to Subic Bay in the Philippines where she would continue her role as both a barracks ship as well as a luxury accommodation ship for the next three years.
The End has come for the 46 Year Old SS Patricia!
Sadly the time came that this once proud and beautiful 46 year old smallish Swedish passenger ferry come cruise ship, time had run out for her, and in 1997 she was sold to the St. Vincent-based Thanfil Shipping & Trading SA of Kingstown. Whenever an older ship is sold to a St Vincent based company, it always means, that the ship is doomed and that it will head to the chaos of a ship breaker yard, most likely at the filthy polluted beaches of Alang India or Chittagong Bangladesh! The Empress Katerina was then given the name of Empress 65 for her sad final voyage to the horrific Indian Alang beach breakers.
The Empress 65 arrived at Alang on December 18, 1997 and as I am a campaigner against these hideous shipyards, although they were even worse during those earlier infamous years, as there child labour, workers rights was non-existent and countless men and women died on this beach due to the hideous toxic waste, and sadly it is still is rife at the time of writing!
The ex SS Patricia was broken up during that same year and I always wonder "At what cost?" For the truth is so many injuries and countless severe to terminal health issues will have resulted from all the toxicity and asbestosis, and thus there will have been deaths, all because the lack of safety equipment given to Alang and Chittagong workers and as I said it was very bad in those days, but it goes on in many yards, regardless of management protestations, to this very day! I wish that ships would be sold to safe breakers in Europe, where there are rules and strict regulations.
Specifications:        SS Patricia as Built:
Built:                       Swan Hunter & Wigham Richardson Ltd, Newcastle-upon-Tyne.
Yard No:                   1884.
Launched:                 November 8, 1950.
IMO:                        5023629.
Tonnage:                  7,505 GRT (Gross Registered Tons).
Length:                    415,6ft – 138.39m.
Beam:                      58ft – 17.77m.
Draught:                   28.8ft - 8.76m.
Engines:                   Single Parsons reduction geared steam turbines - 7850 SHP.
Screws:                    Two.
Speed:                     19 knots.
Passengers:              166 First Class, 78 Second Class, 100 Third Class & 64 in Dormitories.
Hold:                       106,000 cu.ft.
Remembering a Wonderful and Much Loved Cruise Ship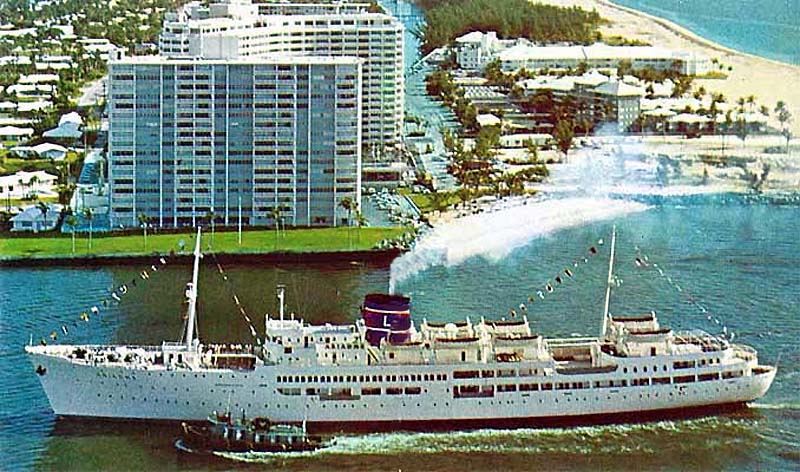 Eastern Steamship Lines cruise ship the SS Ariadne is seen arriving
at Port Everglades, Fort Lauderdale and she is looking good!
View the SS Patricia Deck Plan
****************************
"Blue Water Liners sailing to the distant shores.
I watched them come, I watched them go and I watched them die."
Return to the ssMaritime MAIN INDEX
ssMaritime.com & ssMaritime.net
Where you will discover around 1,300 Classic Liners & the 1914 built MV Doulos Story
The Author has been in Passenger Shipping & the Cruise Industry for a good 60 years!
Also visit the …
"Save The Classic Liners Campaign"
Please Note: ssmaritime and associated sites are 100% non-commercial and the author seeks no funding or favours of any shape or form, never have and never will!
Photographs on ssmaritime and associate pages are: by the author or from the author's private collection. In addition there are some images that have been provided by Shipping Companies and private photographers or collectors. Credit is given to all contributors. However, there are some photographs provided to me without details regarding the photographer/owner concerned. I hereby invite if owners of these images would be so kind to make them-selves known to me (my email address may be found on www.ssmaritime.com only), in order that due credit may be given.
This notice covers all pages: although, and I have done my best to ensure that all photographs are duly credited and that this notice is displaced on each page, that is, when a page is updated!
ssMaritime is owned & © Copyright by Reuben Goossens - All Rights Reserved