SS Penguin 1864 to 1909
Please Note: Firefox or Google Chrome, etc, are not suitable. Please Use "Internet Explorer" for this page to load perfectly!

Click the logo above to reach the ssMaritime FrontPage for News Updates & "Ship of the Month"

With Reuben Goossens

Maritime Historian, Cruise'n'Ship Reviewer & Author

Please Note

: All ssMaritime and other related maritime/cruise sites are 100% non-commercial and privately owned. Be assured that I am NOT associated with any shipping or cruise companies or any travel/cruise agencies or any other organisations! Although the author has been in the passenger shipping industry since 1960, although is now retired but having completed over 700 Classic Liners and Cargo-Passengers Ships features I trust these will continue to provide classic ship enthusiasts the information the are seeking, but above all a great deal of pleasure!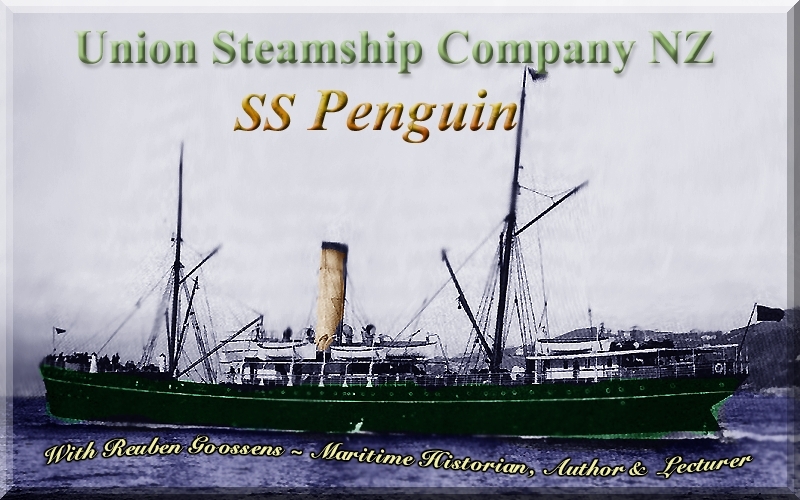 Introduction to the SS Penguin:
The SS Penguin was built as a Topsail Schooner by Tod & McGregor ship builders of Glasgow, Scotland in Yard number 128, for G. & J. Burns of Glasgow and was launched on January 21, 1864. She was officially registered in Glasgow on April 4, 1864. Her main engines were by the builders and she was powered by steam, inverted 2-cylinders 48 inch & 36 inch, single screw sailing at 10 knots.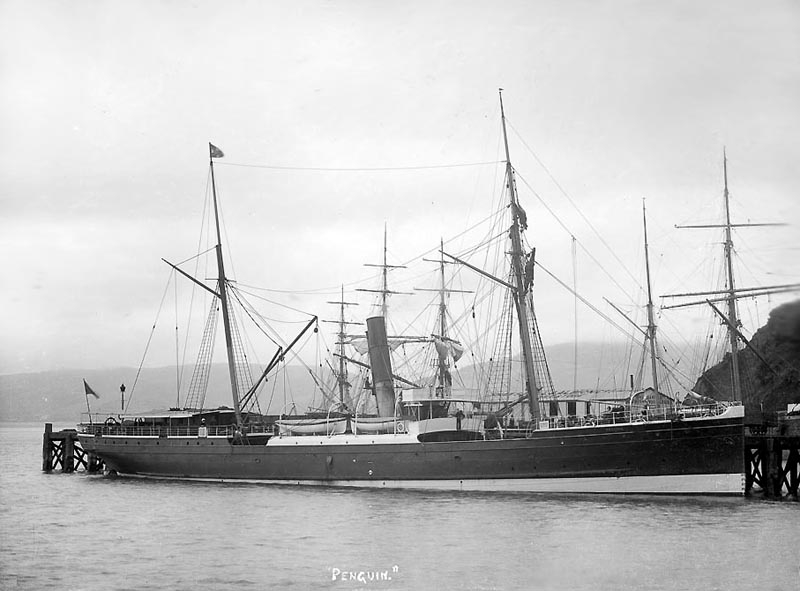 Here we see the SS Penguin as built for her original Scottish owners G. & J. Burns of Glasgow
However, she was sold to the Union Steamship Company in 1879, and the USSCo had intended to rename her 'Tarawera,' but they changed their minds and retained her original name.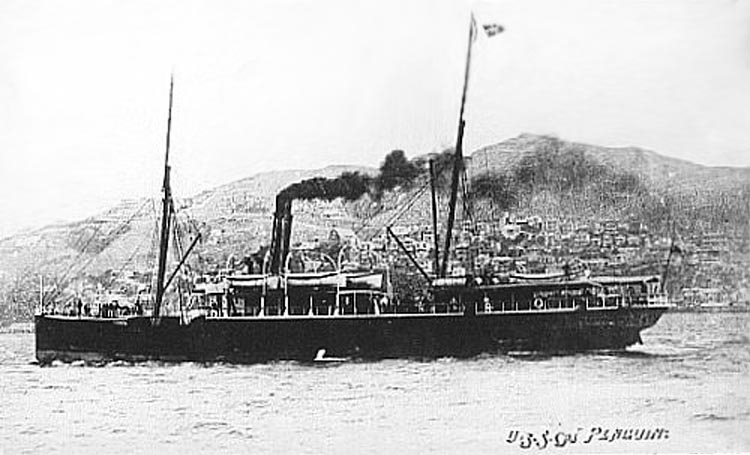 The SS Penguin seen prior to 1882
Three years later in 1882 she was given an extensive refit  and she was also given new engine, being a Robert Napier & Sons 180hp (134 kW) 2-cylinder, 33 inch & 55 inch - 36 inch compound steam engine, which gave her a somewhat better speed of 12 knots as well as being more economical. Then she commenced her new Nelson, Picton to Wellington and return interisland services from the South to the North Island, as Wellington being New Zealand's Capital City and the heart of business.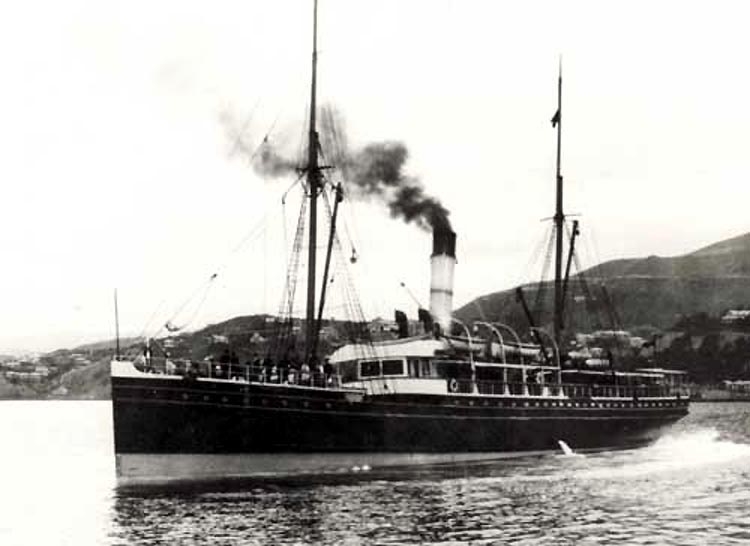 SS Penguin is seen having been refitted and with her new improved engines
The Tragedy at Thoms Rock:
The Penguin left Picton on February 12, 1909 on its regular service to Wellington. It was a beautiful and a clear night, thus being perfect conditions for sailing. On board there were a total of 103 persons.
The Penguin reached the Cook Strait at 8.00 pm and it became apparent that the weather was getting worse. Then, halfway across Cook Strait a powerful southerly wind blew up and visibility became extremely poor. By 10.00 pm Captain Francis Naylor had not as yet sighted "Pencarrow Light" which was at the opening of Wellington Harbour, and thus he gave orders to turn back out to sea until the weather cleared.
However, the Penguin was much closer to land than the Captain had realised as there was no visibility. As the ship turned, it suddenly smashed into Thoms Rock off Cape Terawhiti in Cook Strait, around 15 miles from her destination Wellington. The rock tore a hole in the ships hull, but the wild and powerful sea immediately pulled the Penguin away from the rock and thus sea water rapidly began to pour in through the hole. It was very obvious that pumps would not be able to keep the ship afloat and thus the Captain quickly called to "Abandon ship."
The crew began to load the lifeboats with women and children, but just two lifeboats were successfully launched, but tragically both were swamped by the huge waves and almost all on board drowned. There was just one woman that survived, but sadly all the children who were onboard the Penguin perished. The wooden rafts that were used had more success, and after drifting for some hours a few survivors managed to make their way to the shore.
As the Penguin sank, seawater flooded the engine room. Thus as cold water finally reached the red-hot boilers a huge explosion violently fractured the ship into a fireball, lighting up the sky! Of the 103 persons on board sadly far too many were lost, in fact 72 persons were taken by those huge waves, that being 47 passengers and 25 crew members. Thankfully 14 passengers were saved, as well as 17 crew. The author has a full list of every person that where on board this voyage.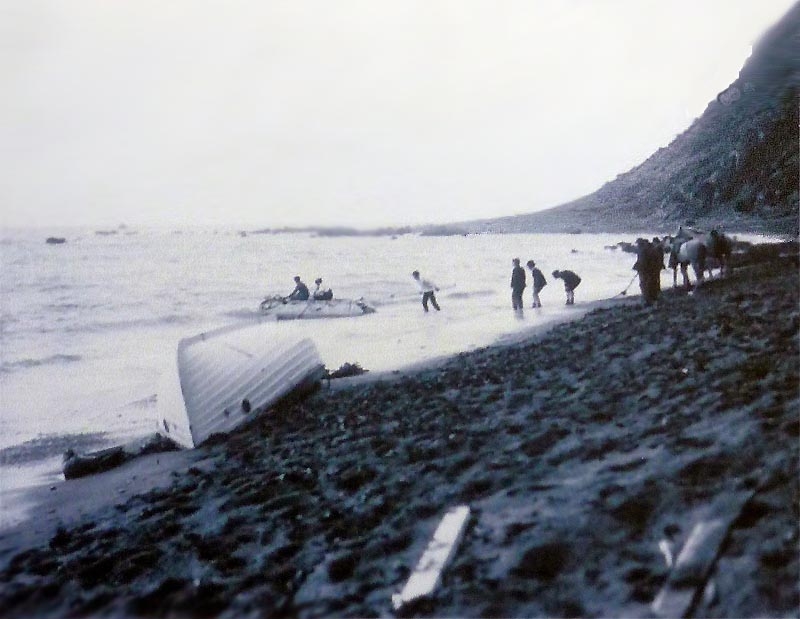 People on the beaches and along the shoreline search for survivors of the Penguin
The Aftermath:
Following the disaster, round a week later, a half-day holiday was declared in Wellington to allow for funerals to be held for those that were lost. About forty of the people who were killed were laid to rest in the Karori Cemetery, where a special self-guided walk goes past their graves.
A court of inquiry found that the Penguin struck Thoms Rock, near the mouth to Karori Stream in Cook Strait. The captain maintained that she had struck the submerged hull of the SS Rio Loge that had been lost there a month earlier.
On February 12, 2009, the 100th anniversary of the sinking of the SS Penguin, Wellington's Mayor unveiled a plaque remembering the disaster at Tongue Point, closer the site of the wreck.
SS Penguin Specifications & Details:
Builder:                Tod & McGregor of Glasgow, Scotland.
Yard Nr:                128.
Launched:             January 21, 1864.
Owners:                G. & J. Burns, Glasgow, Scotland (1864-1879).
.                          Union Steamship Company, New Zealand (1879-1909).
ID Nr:                   47849.
Tonnage:              749 GRT - 518 NRT, as built.
.                          874 GRT - 517 NRT from 1882.
Length:                 220.6ft - 67.21m.
Width:                  28.6ft - 8.69m.
Draught:               14.4ft - 4.37m.
Propulsion:            Tod & Macgregor 2-cylinder inverted steam engine as built.
.                          Robert Napier & Sons 180 hp 2-cylinder compound steam engine from 1882.
Speed:                  10 Knots as built.
.                          12 Knots 1882.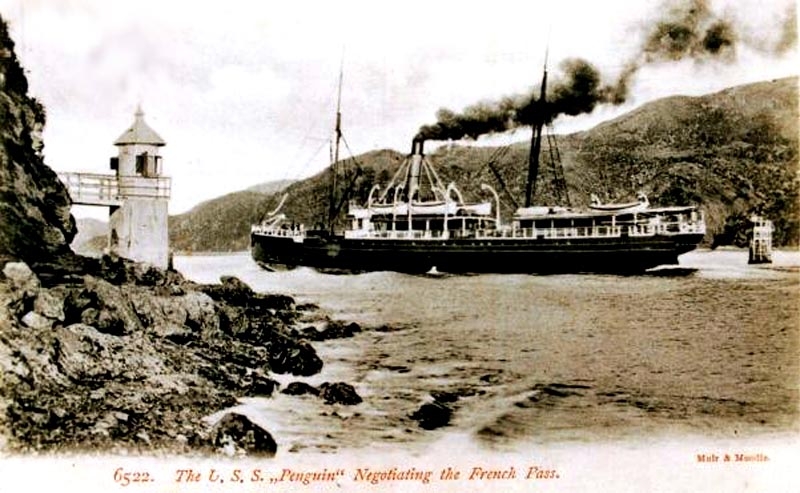 I conclude with happier memories of the SS Penguin with this delightful USSCo postcard of her
Also view the other USSCo Passenger Ships online, from oldest to the last ever built
SS Waitaki / SS Moeraki & Manuka / SS Marama & Maheno / RMS Aorangi
SS Penguin / TSS Monowai / TSS Awatea / MV Matua & MV Tofua
"Blue Water Liners sailing to the distant shores.
I watched them come, I watched them go and I watched them die."
****************************
Return to the ssMaritime Main INDEX
Where you will discover over 700 Classic Passenger & Passenger-Cargo Liners!
& ssMaritime.net
Where the ships of the past make history & the 1914 built MV Doulos Story
Please Note: ssmaritime and associated sites are 100% non-commercial and the author seeks no funding or favours of any shape or form, never have and never will!
Photographs on ssmaritime and associate pages are by the author or from the author's private collection. In addition there are some images that have been provided by Shipping Companies and private photographers or collectors. Credit is given to all contributors. However, there are some photographs provided to me without details regarding the photographer/owner concerned. I hereby invite if owners of these images would be so kind to make them-selves known to me (my email address may be found on www.ssmaritime.com only), in order that due credit may be given.
This notice covers all pages, although, and I have done my best to ensure that all photographs are duly credited and that this notice is displaced on each page, that is, when a page is updated!
ssMaritime is owned & © Copyright by Reuben Goossens - All Rights Reserved