SMN - SS Prinses Juliana 1910 to 1030, renamed SS Costa Rica 1930 to 1941 for KNSM
Please Note: Firefox & Google Chrome may not suitable
Use Internet Explorer / Google for this page to load perfectly!

Click the logo above to reach the ssMaritime FrontPage for News Updates & "Ship of the Month"
With Reuben Goossens
Maritime Historian, Cruise'n'Ship Reviewer & Author
Commenced in the Passenger Shipping Industry in 1960
Please Note: All ssmaritime and my other related ssmaritime sites are 100% non-commercial and privately owned sites. I am NOT associated with any shipping or cruise companies or travel/cruise agencies or any other organisations; in addition I refuse advertising of any kind! The author has been in the passenger shipping industry since 1960 and is now retired, but continues to write occasional articles on classic liners and cruise ships in order to better inform cruise and ship enthusiasts for their pleasure!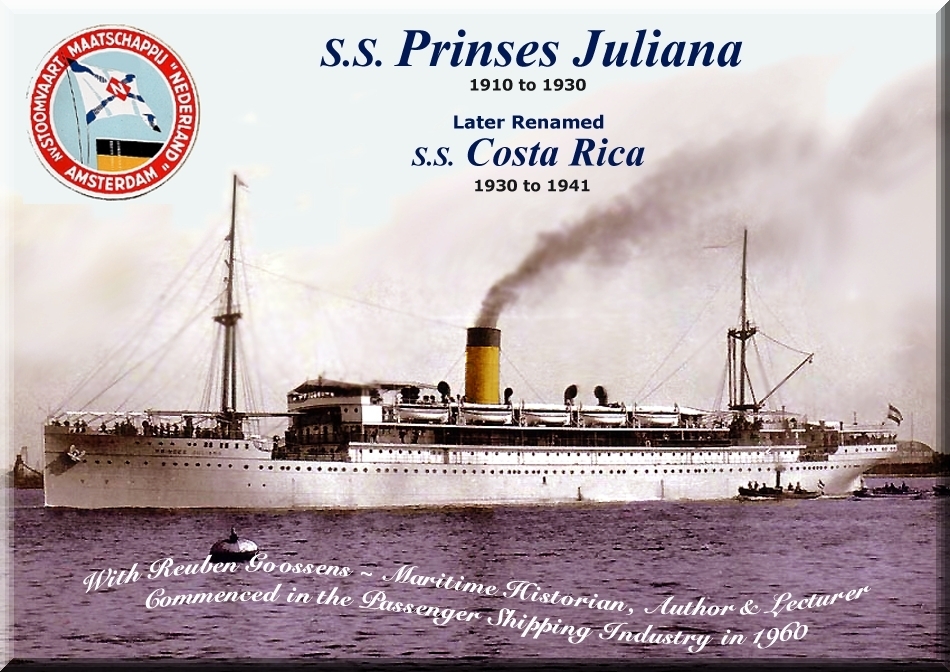 A Brief Introduction:
Nederland Line's SS Prinses Juliana of 1910 was placed in service on the Amsterdam to the Dutch East Indies (Indonesia) as well as serving as a troop ship during WWI.
However, in 1930 she was renamed SS Costa Rica and operated via the Panama Route to Asia and return, but she again became a troop ship again during WW2, during which she was sadly sunk during a German air and bombing attack off Crete.
Please Note: Below is her comprehensive history as well as countless photographs of this fine Dutch liner. In addition, you will find one of the most extensive specifications and other details sections that contain a host of information, which is not often found with other ships.
Construction and her Launch:
The "N.V. Nederlandsche Scheepsbouw-Maatschappij" (NSM) in Amsterdam had an 8,000 Gross Registered Ton (GRT) passenger Liner in Construction which was planned to be named SS Sarphati.
However, on April 30, 1909 HRH Queen Wilhelmina's very first child was named; "Juliana Louise Emma Marie Wilhelmina" and she was born at Noordeinde Palace, in The Hague. Considering that Prinses Juliana was now the Crown Princess and thus the future Queen of the Netherlands, the new liner was now going to be named in honour of Prinses Juliana.
Construction was taking place at "N.V. Nederlandsche Scheepsbouw-Maatschappij," in Yard 105 at Amsterdam. She was laid down on July 7, 1909, and she was launched and named by HRH Queen Wilhelmina on June 1, 1910.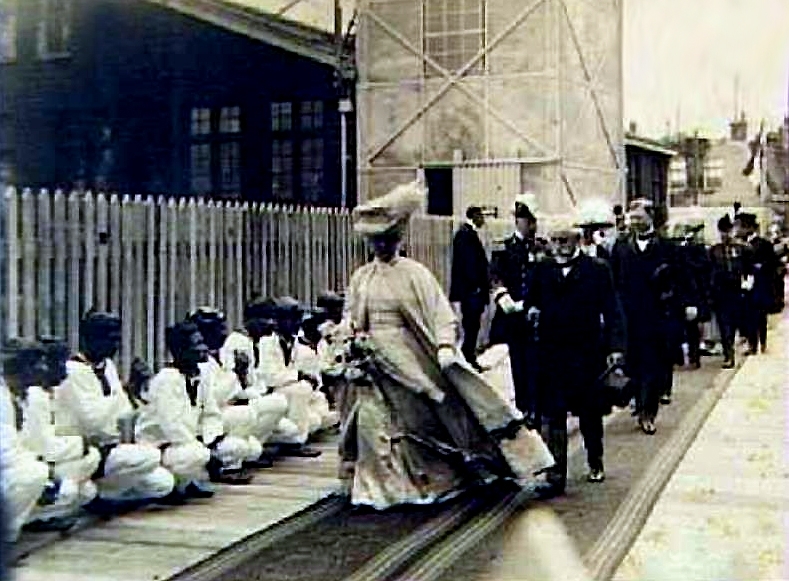 HRH Queen Wilhelmina & NSM Executive Director Mr. Goedkoop is seen walking toward the launch platform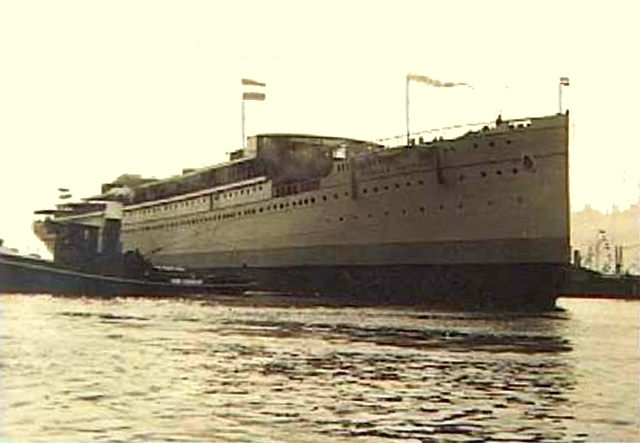 The just named and launched Prinses Juliana is seen in the water and is now undertow bound to her fit-out berth
At the "Nederlandsche Scheepsbouw-Maatschappij" fit-out facility the Prinses Juliana had her superstructure completed, as well as her funnel and two main masts fitted and her interiors completed. She would then enter the Drydock where she would be completed; having her hull painted grey whilst her boot topping was red, and her superstructure was painted a crisp white. Her funnel was a buff (dull yellow) with a black top (hat).
For her time she was a well-balanced looking ship, with her two tall, slightly slanting masts, one forward, and one aft, combined with an equally slanting single tall funnel. With her low-slung superstructure she looked quite attractive, as hew slender hull was completed with her sharp straight bow, and that simply beautiful counter stern, making her an overall perfect package for her days! In relation to cargo, she had two holds forward of her superstructure and two holds aft of the ship, giving her an extensive cargo space.
Upon completion around September 20, 1910, she headed off for her deep-sea trials, which was successful for she attained a maximum speed of 15.5 knots with very little vibrations considering. However, her service speed would be generally 14 to 14.5 knots.
Upon completion of her trials the Prinses Juliana headed for Amsterdam and she was delivered to her owners, the "Stoomvaart Maatschappij 'Nederland," or the "Netherlands Steamship Company." She was fully manned, stocked up, and made ready for her duties as a passenger liner, and soon she would be ready to commence her official duties sailing to the "Dutch East Indies," or "Indonesia" as we know it today!
Maiden Voyage and early service:
SS Prinses Juliana departed Amsterdam on her maiden voyage on October 1, 1910. From Amsterdam she headed for Southampton, Lisbon, Tangiers, Genoa, Egypt, Colombo, Sabang (Sumatra), Singapore and Java. The ship would connect with ships to Australia, Japan, China, as well as India. She would return via much the same ports, with the occasional variations.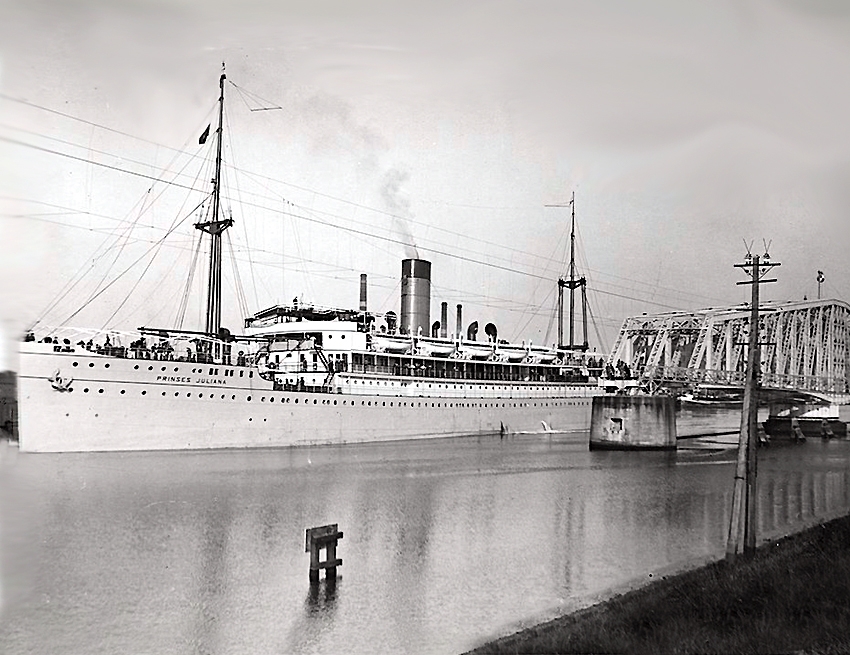 SS Prinses Juliana is seen here on her maiden voyage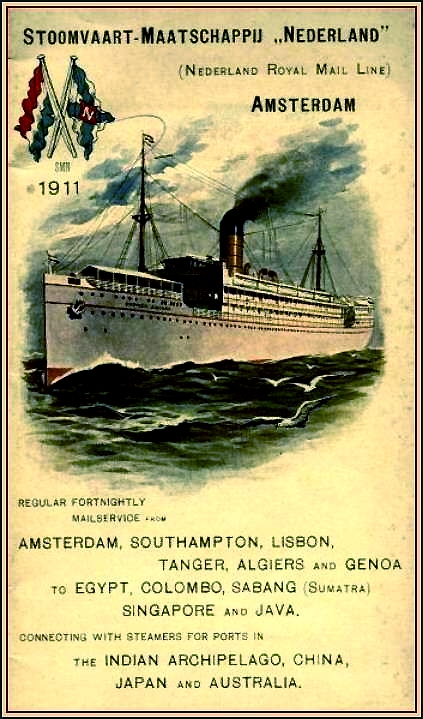 NSM Poster from 1911
Then from April 4, 1917 to March 1918 her schedule changes, as the SS Prinses Juliana became part of the fleet that sailed on the then regular Java Pacific Mail Services, that visiting such far away places as San Francisco, Honolulu, Yokohama, Nagasaki, Hong Kong and Singapore to Batavia, and vice versa. It also called on Sabang on the north coast of Java.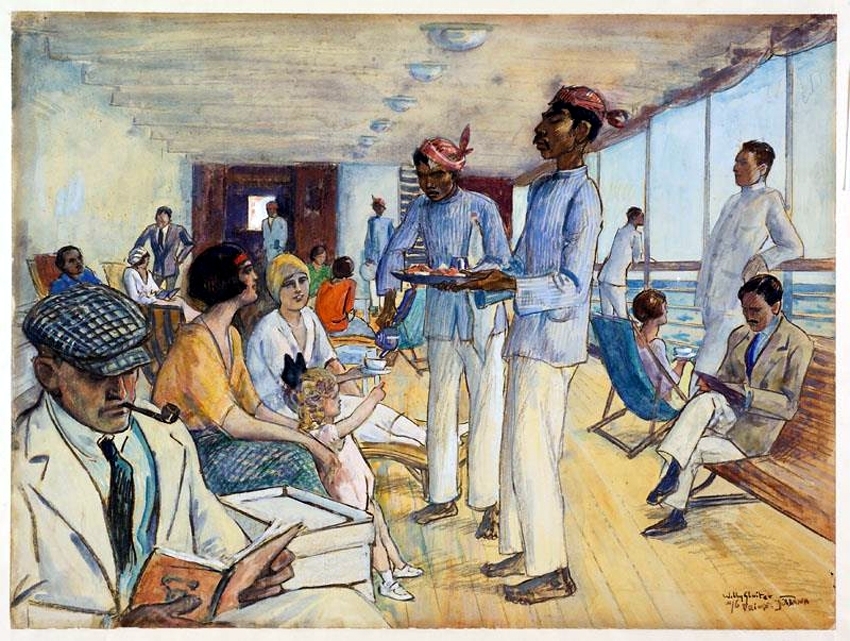 A NSM postcard with an illustration of an afternoon tea being served on Promenade deck, with Javanese stewards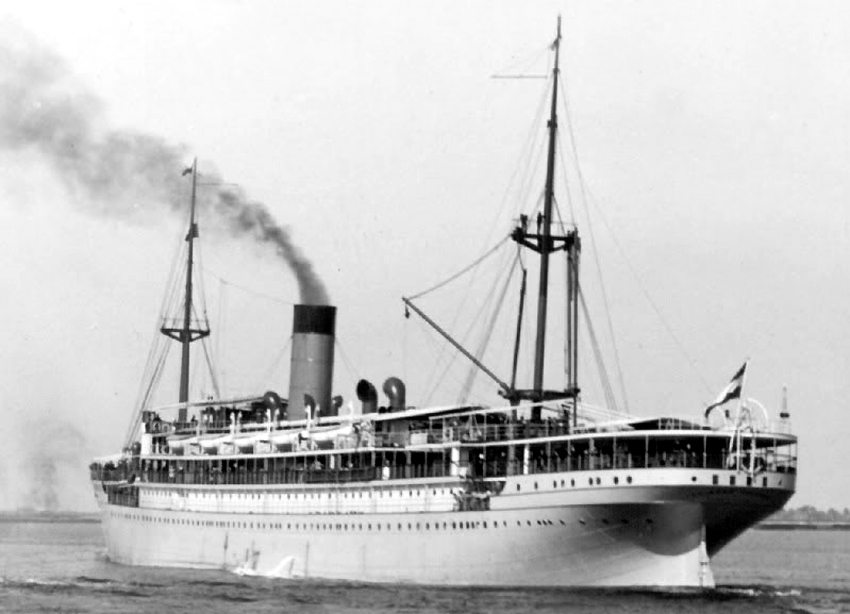 A superb stern view of this fine ship!
But, then on March 23, 1918 whilst the Prinses Juliana was in Hong Kong, she was commissioned for the war effort by the British and she was placed under the P&O flag, but she retained the majority of her Dutch crew. She headed for San Francisco for conversion.
Prinses Juliana the Trooper:
The newly converted Prinses Juliana now being a troop ship for the Cruiser & Transport Service, departed from San Francisco on May 5, 1918 and she headed for Balboa. On August 6, the ship departed with an amazing 2,800 troops bound for the fighting fields in France. Prinses Juliana made nine trooper voyages transporting a good 17.622 soldiers and medical units, etc.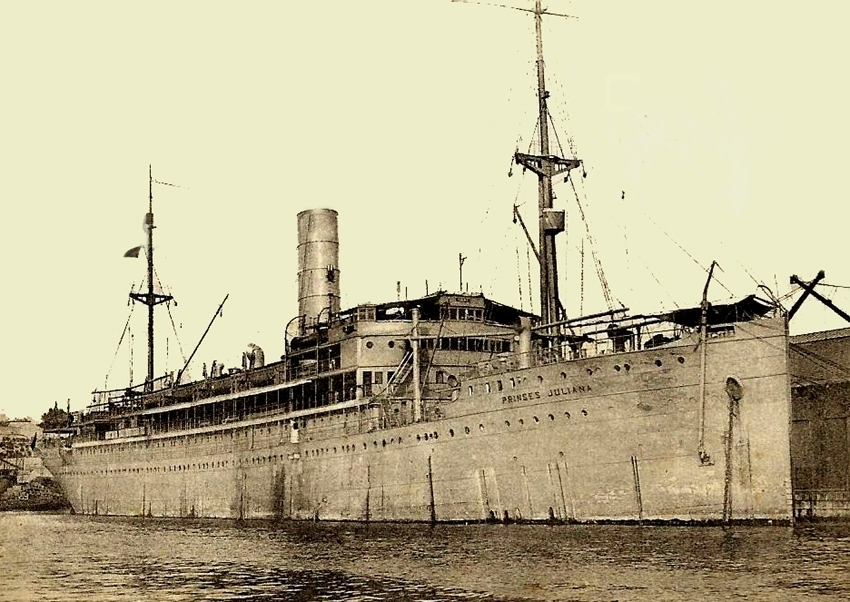 Here we see a very dull looking troop ship Prinses Juliana berthed
Her final voyage under the British flag concluded on August 19, 1919 in New York, and having been decommissioned she crossed the Atlantic and on September 2, 1919 she returned home to Amsterdam and she was quickly placed back under the flag of the SMN.
Returned to her Previous Liner Service:
Having had her interiors restored to their previous glory as well as external repainting, the SS Prinses Juliana soon departed Amsterdam on her original service sailing via the Suez Canal to the Dutch-East-Indies, or Indonesia. However, it was decided by NSM in 1924 that her aft break in her hull, or the Main (accommodation) Deck would be filled in to reach the aft section, adding additional cabins and externally making the ship look more streamlined as seen below! She then returned to her regular services for another five and a half years.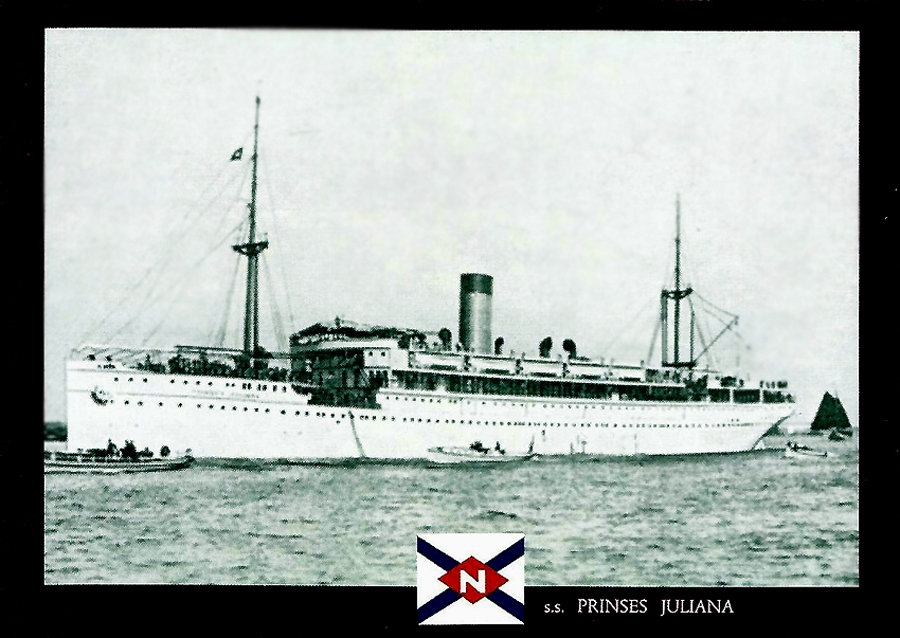 A new postcard of the updated SS Prinses Juliana
Change of Ownership and Name:
It was suddenly announced that on May 15, 1930 the Prinses Juliana had been sold to the "Koninklijke Nederlandsche Stoomboot-Maatschappij N.V.," (KNSM) of Amsterdam and she headed to Schiedam near Rotterdam, where she would receive a considerable rebuilding as well as an internal refit. Once work was completed dockside and the dry dock of the famed "Wilton Fijenoord Mij NV" in Schiedam, where her make over was completed.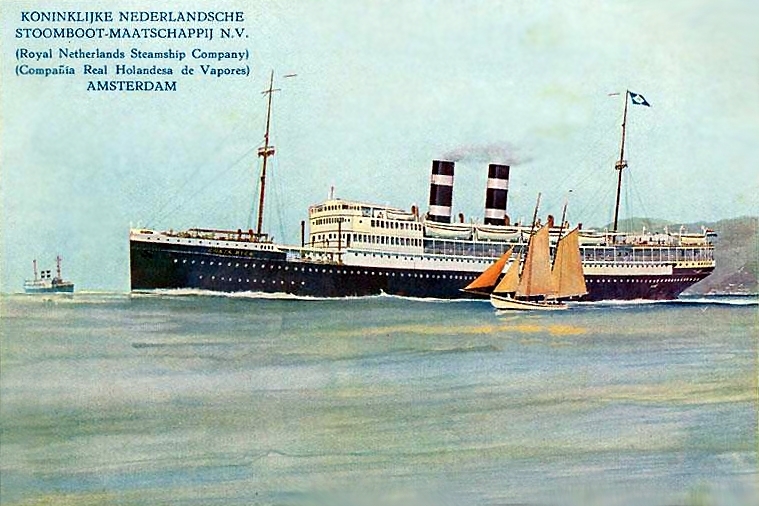 Her we see a pre-release postcard with an illustration of how the new updated liner SS Costa Rica would look like
This included adding an aft dummy funnel, making her a better-looking ship as well as a new casing for her forward funnel, giving her thicker and thus making her a better-proportioned looking ship. Her new funnel livery was black with two white narrow bands, and her hull was also painted black, with red boot topping and she was renamed the "Costa Rica".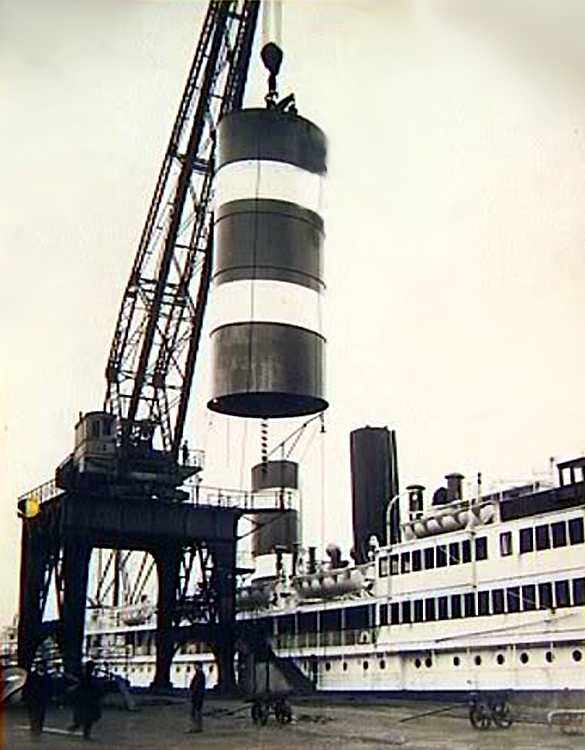 Her we see that the new aft dummy funnel had been fitted, but a new casing was now being placed over the forward funnel
We can also see the new glazed forward sections of Boat and Promenade Decks, providing better passenger spaces
In September of 1930 the SS Costa Rica headed out for her sea trials and she arrived back very much a new looking liner in Amsterdam to be delivered to her new owners on September 22. The next three weeks were spend making the ship ready, such as crewing, stocking up, as everything would have new branding for the KNSM.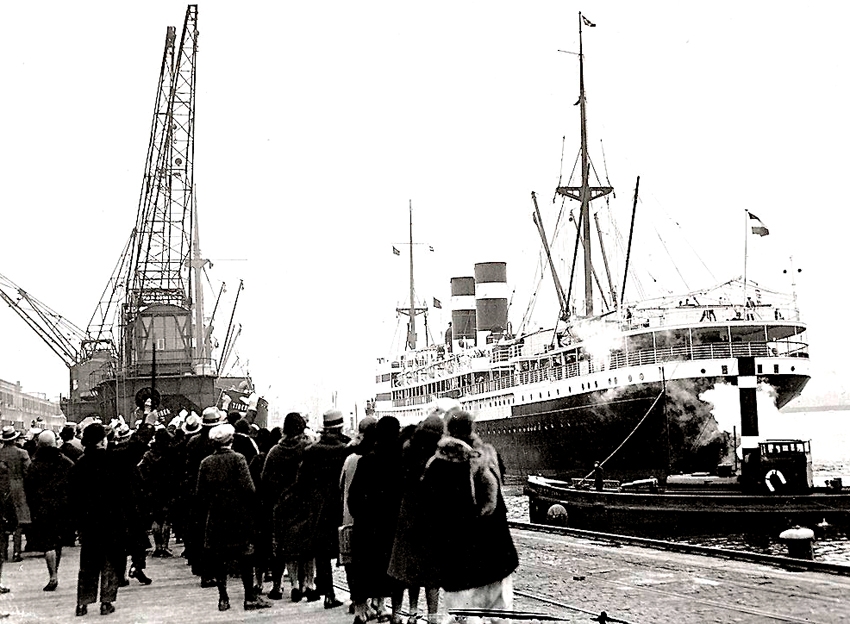 The Costa Rica is seen departing Amsterdam on her maiden voyage on October 17, 1930
The spotless almost new looking SS Costa Rica finally departed Amsterdam with countless happy passengers on October 17, as she headed off on her maiden voyage bound for Colón. She became a very popular ship, especially with her many new interior features.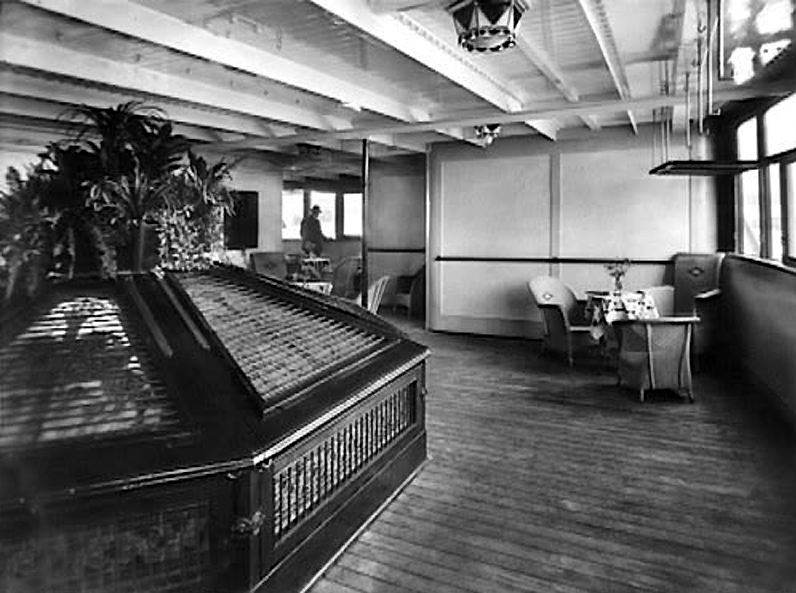 With the new enclosed Promenade Deck on both sides a Palm Garden Verandah had been created
This venue was perfect for relaxing, a hot morning bouillon, and afternoon tea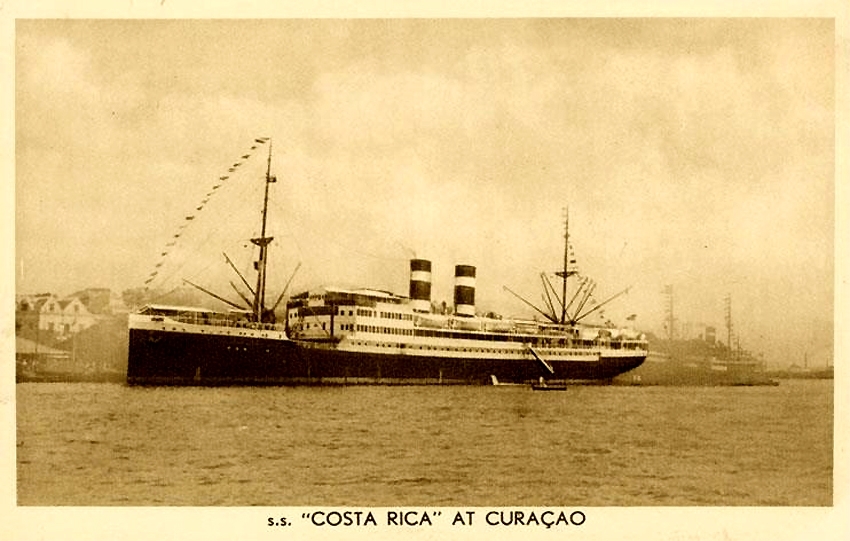 Regardless her popularity, sadly due to the situation at hand with the looming world war, it was decided by KNSM that as from September 1939 all of Costa Rica's passenger accommodations would be closed and she would now only be used as a cargo ship being operated by a much smaller crew. She would operate as a rather luxury cargo ship for just a year, as fate would soon change everything!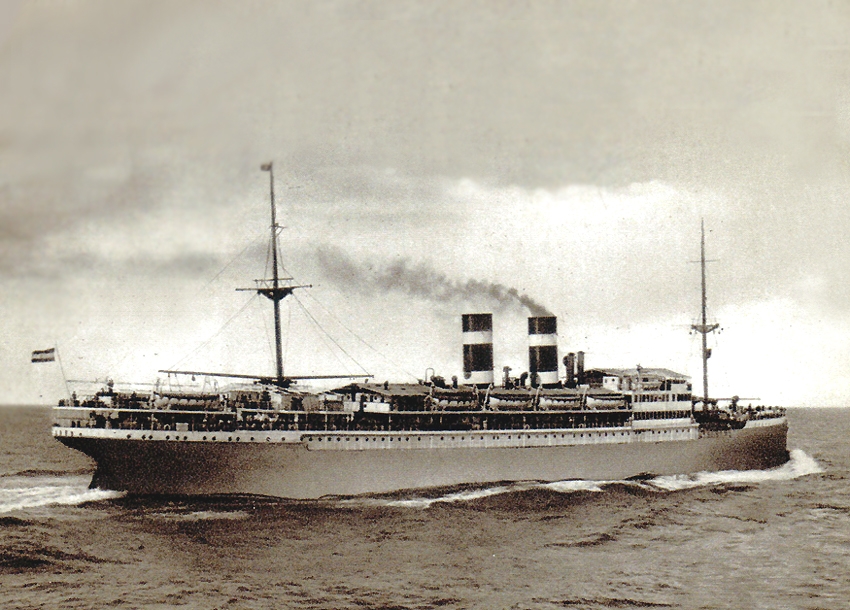 Towards the end of her days with KNSM the SS Costa Rica seemed to have a grey hull, as this photograph shows
World War Two:
Everything was about to change again, for she had been commissioned by the British, just as she had for World War One, to operate as a troop ship. Thus the Costa Rica headed for and remained in Liverpool, Great Britain from September 22 to December 15, 1940 were she was being extensively converted into troop ship, as well as being given additional heavy load handling devices. She then headed off from the UK in December fully laden with British troops bound for the various war zones.
That Tragic Day in 1941:
It was late in April 1941 when troopship HMTS Costa Rica would evacuate British troops from Kalamata in Greece, and it was on April 27, 1941 at 6 pm that the Costa Rica departed Kalamata fully laden with 2,800 troops on board.
But tragically, as fate would have it, no sooner had she left port on April 27, full of British fighting men and heading for a safe port, the Costa Rica suddenly came under direct air attack and she was bombed by German aircraft, which so badly damaged the ship that she was completely destroyed and could not be saved and very quickly she sunk in position 35-54 N & 23-49 E. However, thankfully all allied troops from the Costa Rica and her crew were rescued thanks to the nearby British naval ships!
************************
General Specifications & Construction Data:
Ship's Name: SS Prinses Juliana.
Built by: "N.V. Nederlandsche Scheepsbouw-Maatschappij," Amsterdam, the Netherlands.
Yard Number: 105.
Date laid down: July 7, 1909.
Launch Date: June 1, 1910.
Delivery Date: October 1, 1910.
Classification Register: Lloyd's Register of Shipping (LR).
Category: Passenger vessel.
Propulsion: Steamship.
Type: Passenger ship.
Masts: Two masts.
Funnels: One.
Material hull: Steel.
Passenger decks: 3.
Engines: Steam, Quadruple Expansion by Nederlandsche Fabriek van "Werktuigen & Spoorwegmaterieel N.V," Amsterdam.
Number of Cylinders: 4.
Power: 6500 BHP.
Power Unit: IHP.
Engine additional info: Two 4-cylender Steam Engines.
Service speed: 14.5 knots.
Screws: 2.
Tonnage: 8,069 GRT, 4,952 Net Tonnage. 7,080 Deadweight.
Cargo: 234,000 Cubic Feet.
Length: 455.3ft. Beam: 55.2ft. Draught: 34.2ft.
Passengers: First 101 - Second 74 - Third 34 & Steerage Class 140 - Total of 349.
Ship History Data:
Date & Name: October 1, 1910 - SS Prinses Juliana.
Owner & Manager: N.V. Stoomvaart Maatschappij 'Nederland', Amsterdam.
Homeport / Flag: Amsterdam, the Netherlands.
Call sign: PQNW.
Date: March 2, 1918. HMT Prinses Juliana - Troop Ship.
Manager: Peninsular & Oriental Steam Nav. Co. Ltd., Hong Kong, Great Britain.
Owner: The Shipping Controller, London, Great Britain.
Homeport / Flag: Hong Kong, Great Britain.
Date: September 2, 1919 - SS Prinses Juliana.
Owner & Manager: N.V. Stoomvaart Maatschappij 'Nederland', Amsterdam.
Homeport / Flag: Amsterdam, the Netherlands.
Call sign: PQNW.
Refit & Rebuilding in 1930:
Rebuilt & refurbished by: NV. Wilton's Machinefabriek & Scheepswerf, Schiedam, the Netherlands.
Date & Name: September 22, 1930. SS Costa Rica.
Owner & Manager: Koninklijke Nederlandsche Stoomboot-Maatschappij N.V., Amsterdam.
Homeport / Flag: Amsterdam, the Netherlands.
Call sign: NLQV 1930-1934. Then: PDMM in 1934.
Gross Tonnage: 8,672 GRT
Net Tonnage: 4,938 Nrt.
Deadweight: 6,510 Dwt.
Passengers: 254.
Date & Name: September 22, 1940 - HMT Costa Rica - Troop Ship.
Manager: Peninsular & Oriental Steam Nav. Co. Ltd., Hong Kong, Great Britain.
Owner: The Shipping Controller, London, Great Britain.
Homeport / Flag: Liverpool, Great Britain.
Fate: Bombed by German aircraft, ship destroyed and sank rapidly on April 27, 1941 - all souls saved.
************************
Regarding Prinses Juliana and her family:
Prinses Juliana Louise Emma Marie Wilhelmina was born April 30, 1909 at Noordeinde Palace, in The Hague. She was the only child of Queen Wilhelmina of the Netherlands and Duke Henry of Mecklenburg-Schwerin. The princess was named after Juliana von Stolberg, who was the mother of HRH Willem the Silent.
This wonderful Photograph of the Prinses was personally signed by Prinses Juliana, as can be seen on the lower right!
Two Photographs: A youthful Prinses Juliana (above) & a Family photograph (below) of: HRH Queen Juliana 1909 - 2004; husband Prince Bernhard, Princess Irene, Princess Magriet, Princess Christina and Princess (later Queen) Beatrix. PS: Queen Beatrix abdicated in 2005 and her son Crown Prince Willem Alexander became the first Dutch King in many generations.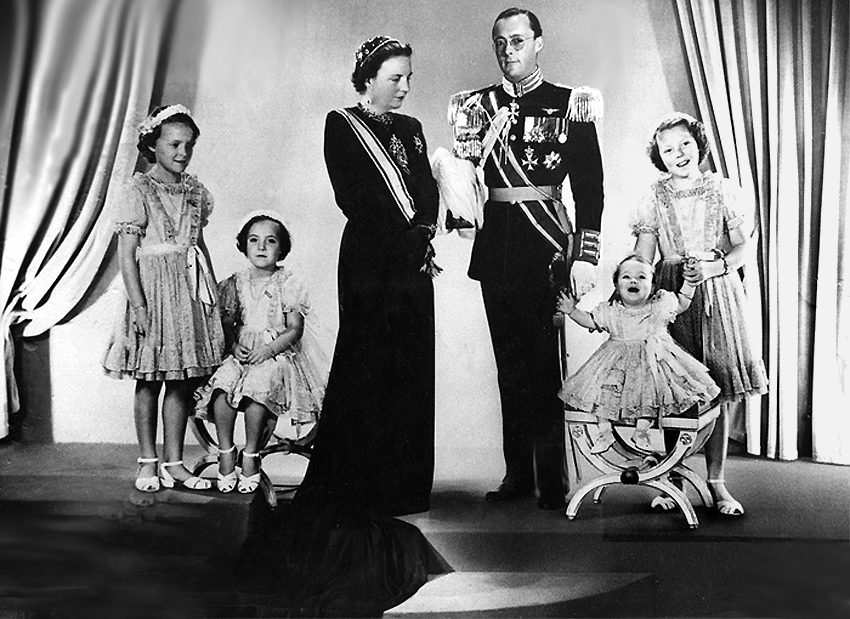 HRH Queen Juliana's family portrait seen with husband Prince Bernhard and are seen with their four children
From left to right: Princess Irene, Princess Magriet, Princess Christina and Crown Princess Beatrix
Remembering the delightful S.S. Prinses Juliana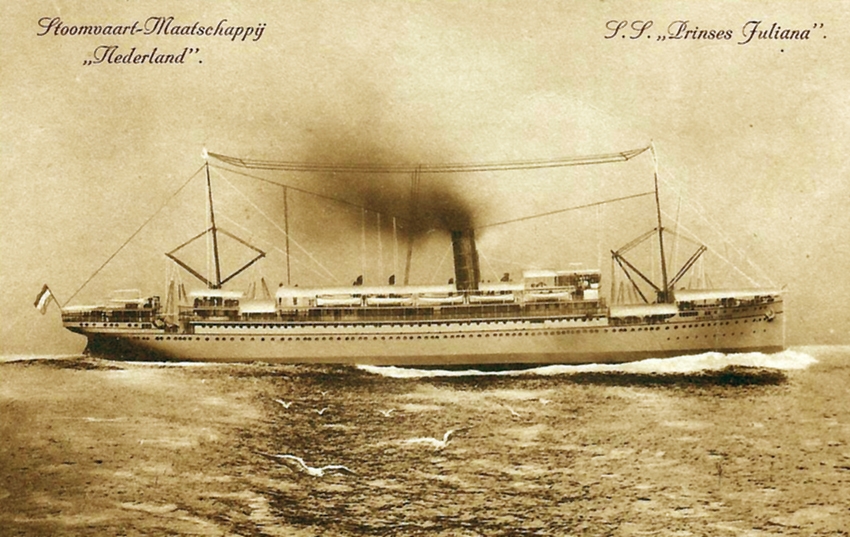 A special artist's impression of the SS Prinses Juliana
************************
ENTER OUR …
ssMaritime Main INDEX
Where you will discover over 700 Classic Passenger & Passenger-Cargo Liners!
ssMaritime.com & ssMaritime.net
Where the ships of the past make history & the 1914 built MV Doulos Story
Photographs on ssmaritime and associate pages are by the author or from the author's private collection. In addition there are some images that have been provided by Shipping Companies and private photographers or collectors. Credit is given to all contributors. However, there are some photographs provided to me without details regarding the photographer/owner concerned. I hereby invite if owners of these images would be so kind to make them-selves known to me (my email address may be found on www.ssmaritime.com only), in order that due credit may be given.
This notice covers all pages, although, and I have done my best to ensure that all photographs are duly credited and that this notice is displayed on each page, that is, when a page is updated!
ssMaritime
is owned and © Copyright by Reuben Goossens - All Rights Reserved