Please Note: Firefox and some other search engines are not suitable – Use "Internet Explorer" for this page to load perfectly!
Click the logo above to reach the ssMaritime FrontPage for News Updates & "Ship of the Month"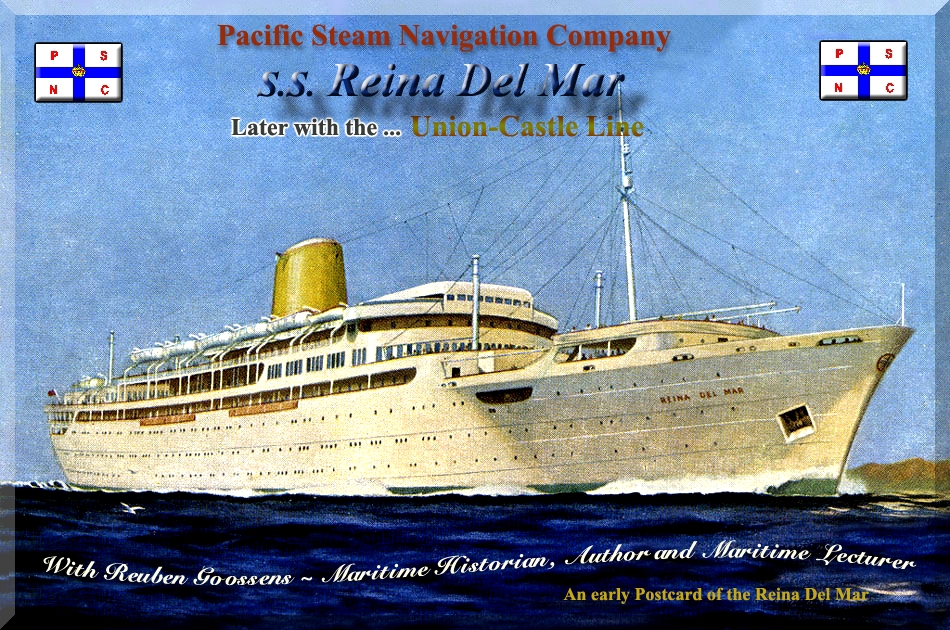 The Story of the Last Liner to Fly the Company's Flag!
Please Note: Most images are from the author's collection, but for others … *Please see the special "Photograph" note at the bottom of the page
Introduction:
The Pacific Steam Navigation Company (PSNCo) commenced plans for a new ship as a replacement for their ageing diesel liner Reina Del Pacifico which was completed in 1931, that had been on the Europe and the West Coast of South America service. One of the big problems with the attractive looking two-funnelled Reina Del Pacifico was that she had a rather unpleasant reputation as an ocean liner, regardless of her well-known nickname, "The Rolling Reina," there many past passengers and admirers who were unhappy to see this liner her go to the breakers in 1958, for her interiors were simply superb!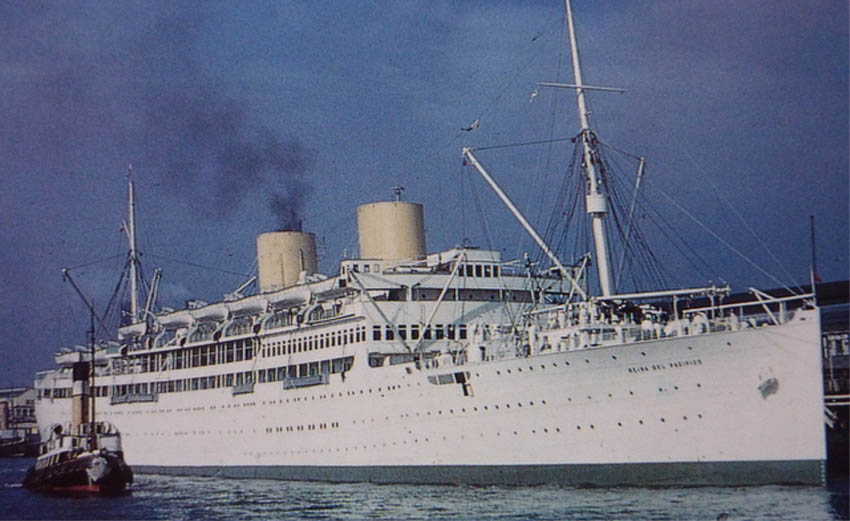 The Reina Del Pacifico seen at her homeport, Liverpool
The new ship was designed like the Reina Del Pacifico to sail from Liverpool to South America via a host of ports. Although onboard the new ship all accommodations would be fully air-conditioned and she would be given Denny-Brown stabilisers, ensuring her stability. Although her public rooms would attractive, however they would be as good as the sheer beauty of those onboard the Reina Del Pacifico. The new ship was given Parsons geared steam turbines, and with her twin screws her speed her service speed was 18 knots.
Construction and Lunching:
The 20,234 GRT (Gross Registered Ton) passenger and cargo Liner SS Reina Del Mar was built by the famed Harland and Wolff's Belfast shipyard and she was launched on June 7, 1955 by Mrs H. Leslie Bowes who was the wife of the PSNCo then managing director. Also attending the launching ceremony were the ambassadors of Colombia, Peru and Ecuador, as well as the Minister of State for Chile. She was towed to her fit-out berth for her completion.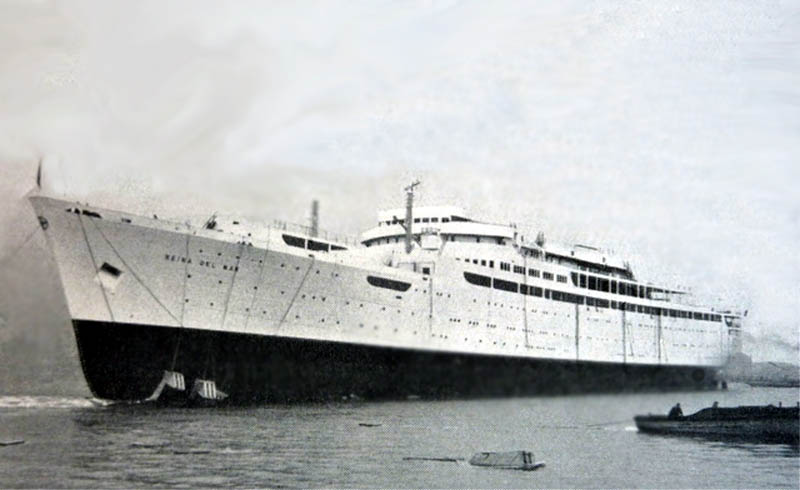 The Reina Del Mar is seen having just been launched on June 7, 1955
Having completed her sea trails successfully, she finally made her very first arrival at Liverpool on April 9, 1956 and eleven days later she sailed on a special pre-maiden voyage three-day cruise to the Western Isles of Scotland.
PSNCo - 1956-1964:
SS Reina Del Mar, under the command of Captain George Rice, departed Liverpool on Thursday May 3, 1956 on her long sixty-five day Maiden Voyage to West Coast of South America, calling at an amazing thirty-eight ports en-route covering countries such as France, Spain, Bermuda, the Bahamas, Cuba, Jamaica, Panama, Colombia, Ecuador, Peru and Chile, although this was reduced to twenty-six ports by 1960.
Ports of call as of 1960: La Rochelle France, Santander Spain, Corunna Spain, Bermuda, Willemstad Curacao, Cartagena Colombia, Cristobal Panama, La Libertad El Salvador, Callao Peru, Arica Chile, Antofagasta Chile, Valparaiso Chile, and the same return, but also calling at Vigo Spain and Plymouth UK.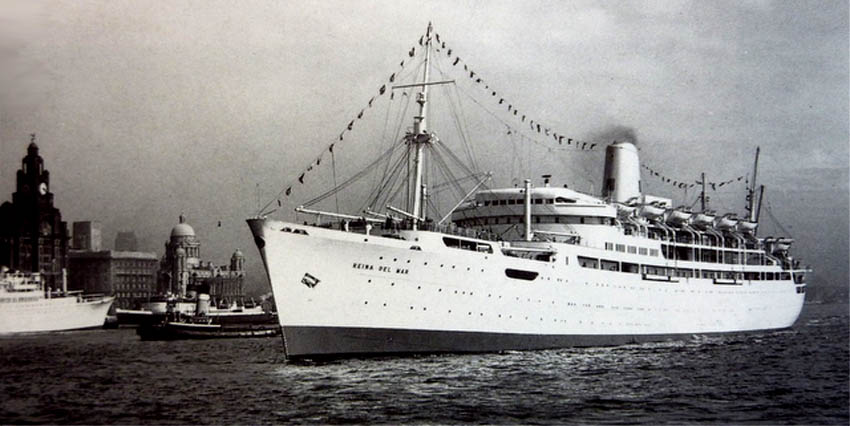 The Reina Del Mar is seen departing Liverpool for her Maiden Voyage on Thursday May 3, 1956
Note the forward section of the Elder Dempster Liner MS Aureol still berthed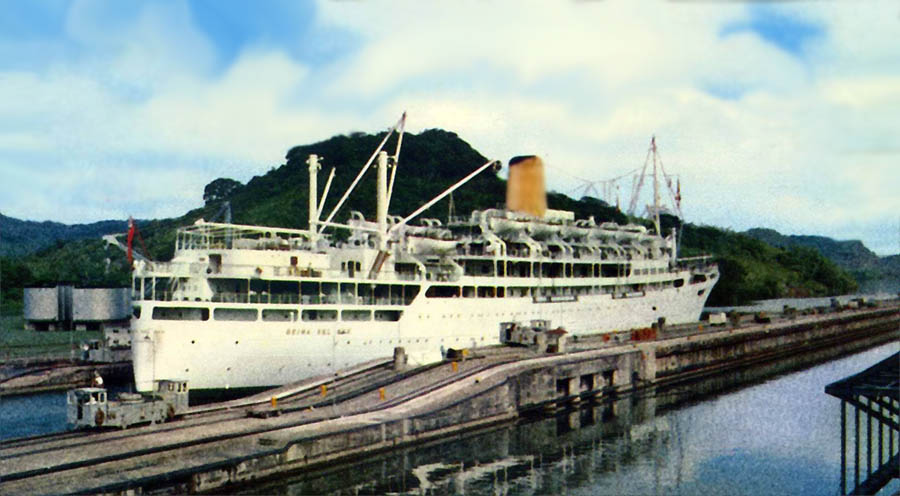 Here this fine ship is seen in one of the Panama Canal Locks as she transits
As she returned to Liverpool on July 7, Captain Rice had reported that: "She handles beautifully and steers like a yacht." What did became quite a joke from this voyage was, that at this time the Reina's chief engineer was Mr A. Currie, thus it was to be expected that the new Reina Del Mar would rapidly become known as the "Curry and Rice boat!" She operated with the Reina Del Pacifico as her consort until the old ship was sold for scrap in 1958. All seemed well for the SS Reina Del Mar and it was thought that all ready for a long quietly successful life on the Valparaiso run, but was it?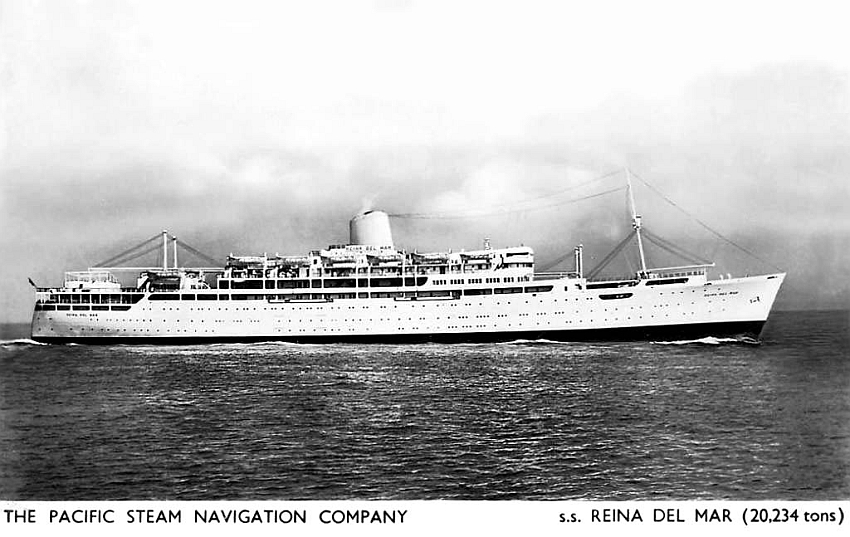 A wonderful PSNCo postcard showing off her elegant lines!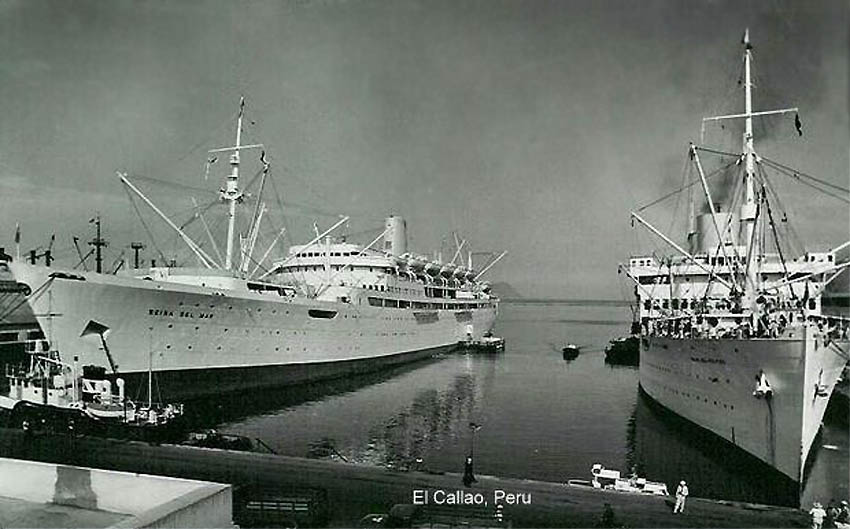 Reina Del Mar and the Reina Del Pacifico are seen together at Callao, Peru in 1957
Back to the Ships Details:
Considering she was designed for the South American service, where there was still a demand for the conventional three classes, thus she operated with 207 First, 216 Cabin and 343 Tourist Class passengers.
First Class was mostly for the wealthy South Americans and some of the well to do British passengers, who expected the best and are prepared to pay for the finest accommodations and service!
Her decks were named as follows; Boat Deck, being a full walk around deck for First Class only. Aft there was their Swimming Pool and Lido Deck.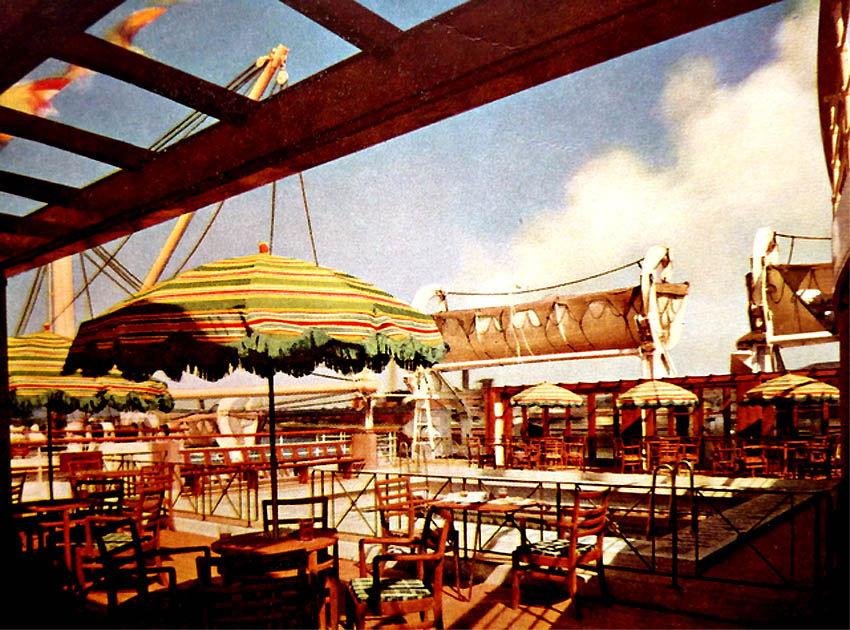 First Class swimming pool
Next was the Promenade deck that featured all the First Class Lounges and promenade deck forward, with a Cabin Class Lounge and deck space aft. D (shelter) Deck contained First Class accommodations, all of which had private facilities and they included two deluxe Suites and several groups of interconnection pairs of deluxe two bed cabins. Aft was another Cabin Class Lounge and deck. C Deck, the Mid section of C Deck continued the First Class accommodations made up of single bed, two bed cabins as well as deluxe cabins. Aft of this deck were cabins for Cabin Class that were either a single cabin, a two berth, a twin bedded cabin that could be made up as a three or a four berth cabin. B Deck had two Dining Rooms, the First Class was forward and Cabin aft of the Galley. Each could take all their guests in a single sitting. The Tourist Class accommodations were located forward of C and B Decks and they had cabins from a single to six berth cabins. Their Lounge was located forward on C Deck and Lounge and their Dining Room was on A Deck that required two sittings. Their lounges would have been nearby, but not having seen a cabin plan I am not sure where their public rooms were located.
Of course, she also carried cargo, both regular as well as cooled cargoes in her aft-insulated holds. She had five holds with three located far forward and the two insulated holds being located aft! The forward two were looked after by derricks that were operated via the mainmast and its operating machinery whilst the thirds one, close to the superstructure, was cared for by two king posts and its derricks. The aft two holds also had two king posts and its derricks.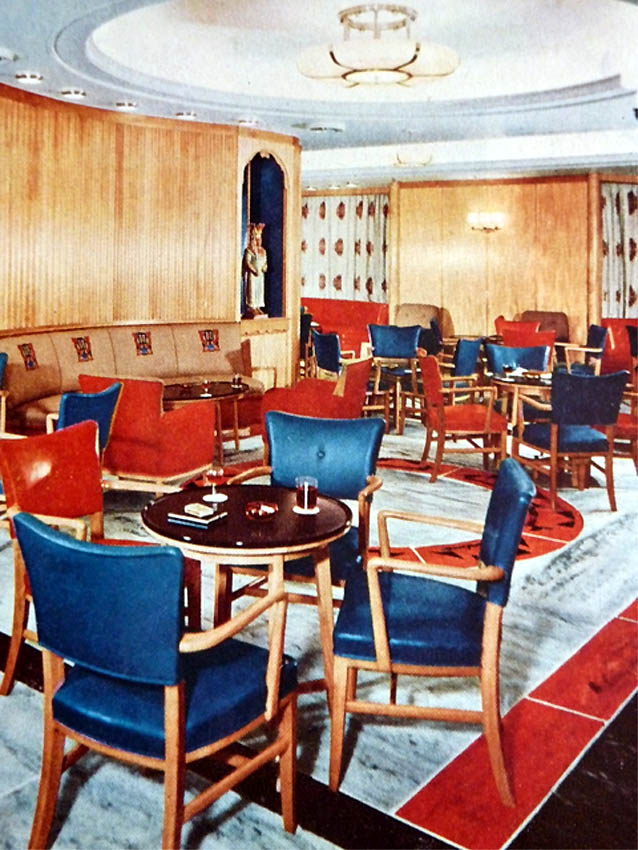 Cabin Class Cocktail Lounge and Bar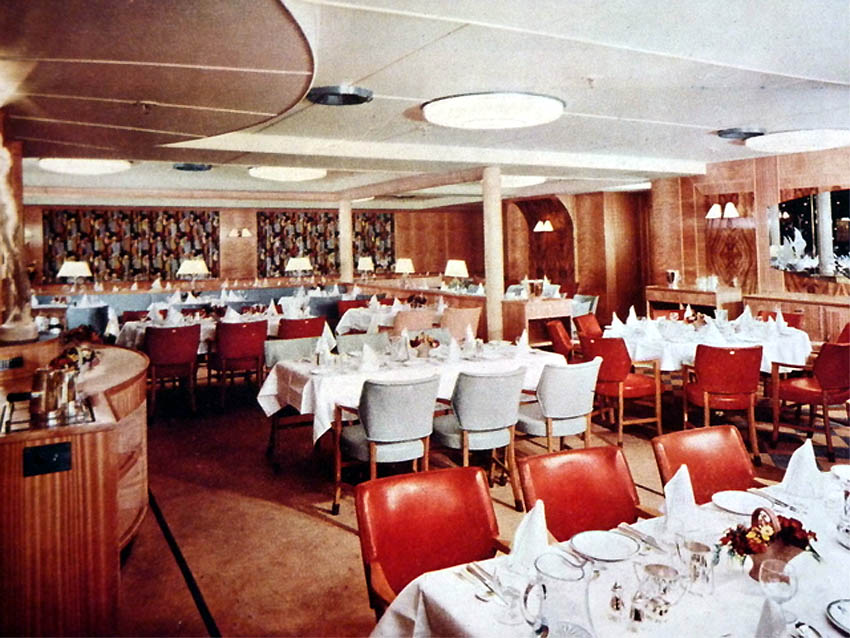 Cabin Class Dining Room
Sadly the delightful SS Reina Del Mar operated for just eight years before PSNCo was forced to withdraw her from the South American service in March 1964. Thus, she would become the very last of her kind for this old and well-established service.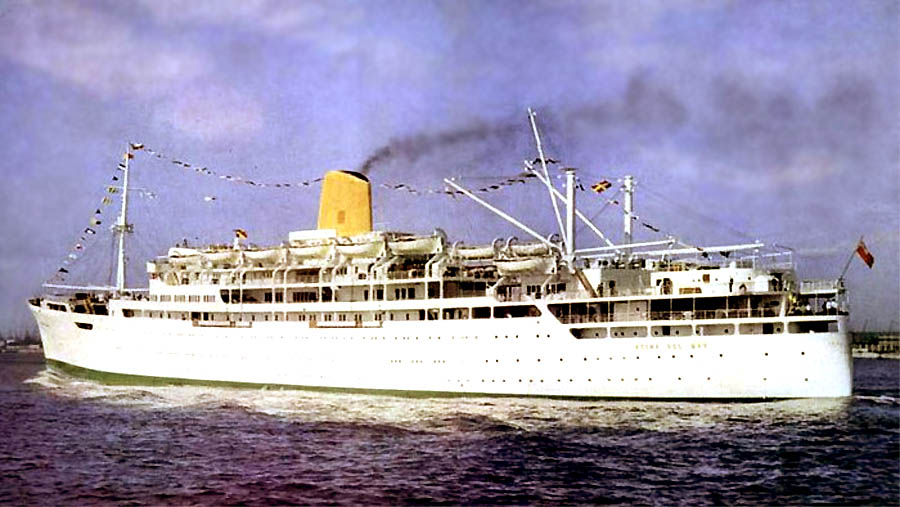 A wonderful stern view of her!
A Little History:
The Pacific Steam Navigation Company was founded by Mr. William Wheelwright in London back in 1838 and he began its shipping operations in 1840 when he commissioned two steam ships, the SS Chile and SS Peru to carry mail. Then on 1852 the company obtained a contract from the British Government to take mail to posts in western South America. Thus two  new direct routes were established, the first being from Liverpool to Callao, Peru in 1868, as well as from London all the way to Sydney, Australia in 1877.
Therefore, with the end of the SS Reina Del Mar's service to South America was a good 124 years after PSNCo commenced its very first mail service to that continent which would have been so far away back then!
Union-Castle - 1964-1975:
Considering that her owners had already signed a charter agreement with the Travel Savings Association, which was jointly owned by Union-Castle Line, Canadian Pacific, Royal Mail Lines, and the founder, Max Wilson, the Reina Del Mar was returned on March 10, 1964 to her original builders, Harland & Wolff in Belfast for an 13 week conversion into a full time cruise ship accommodating two classes.
A good number of cabins were given additional berths, such as twin bedded, now has the optional third and/or fourth berth. In addition another 135 brand new cabins were fitted in what were former cargo spaces. The former First Class Dinning Room was greatly enlarged and would take all passengers in two sittings. Also greatly enlarged were the ships deck spaces considering that Promenade Deck had been extended far forward and there had also been some aft deck extensions. Forward in the new section of Promenade Deck was the brand new and spacious Coral Lounge and Showroom, seating 650 guests. All Lounges and Bars were remodelled and decorated and topside was the ships brand new feature, which was located inside what became known as "The most hideous part of the rebuilt Reina" for that huge white boxlike structure was the ships new Cinema!
Upon completion, the Reina Del Mar would have two swimming pools, two BBQ's, a new Shopping Centre and Hairdressing Salon. She could now accommodate a maximum of 1,047 passengers in 2 and 3 berth cabins as well as 4 berth cabins. Whilst previously 100% of the accommodations had private facilities, now it was a mere 30% that offered private facilities, which was a huge step down and rather sad for this fine ship! In June 1964 she was finished and ready to be delivered to her owners, which was of course PSNCo, but she had been chartered to TSA. She was registered as being 21,501 GRT.
All I can say is that such a great deal of work was achieved by Harland & Wolff in just a short time, for she came out of the yeard almost a brand new ship, both internally and there had been a great deal of external work done as well!
The SS Reina Del Mar certainly did look good in her all white livery and her traditional yellow funnel, the only difference was that it now had the black "TSA" logo on it. She was placed under the management of the Union-Castle Line, and interestingly, they took full ownership of "TSA" in October 1964.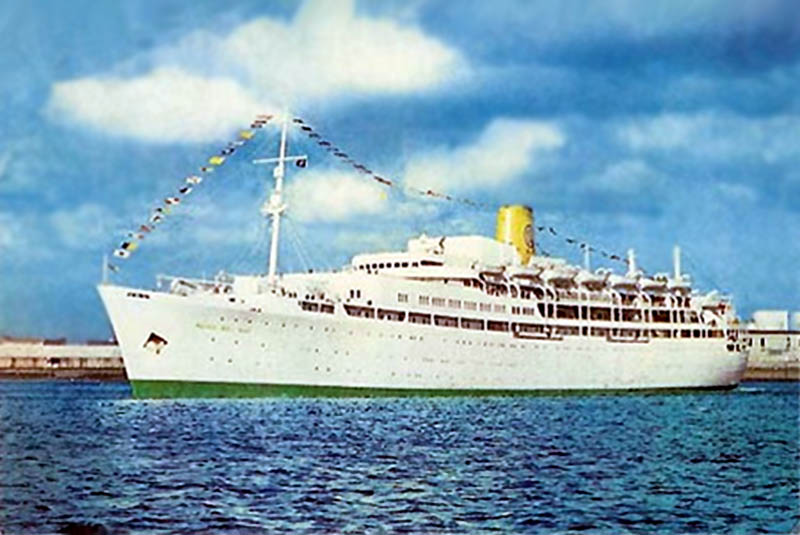 Here we see the Reina just after her conversion into a cruise ship and note the "TSA" logo on her funnel!
The all-new Reina Del Mar commenced cruising in June 1964 and continued to do so through to November of that year. The reviews were quite favourable and it seemed quite obvious that she was indeed the right ship to enter the cruise market, but certainly not as a two class ship!
Thus, it was rapidly decided that it would be better to convert her to an all One-Class ship, and this was done in November of 1964, now having 1,026 berths, although her capacity was restricted to 998 passengers. In addition, it had been decided to have her repainted in the traditional Union-Castle Line colours and in this way, she became the only full time Union-Castle cruise ship. She would cruise from Southampton during the summer and from Cape Town in winter. In 1967 she was registered as being 20,750 GRT.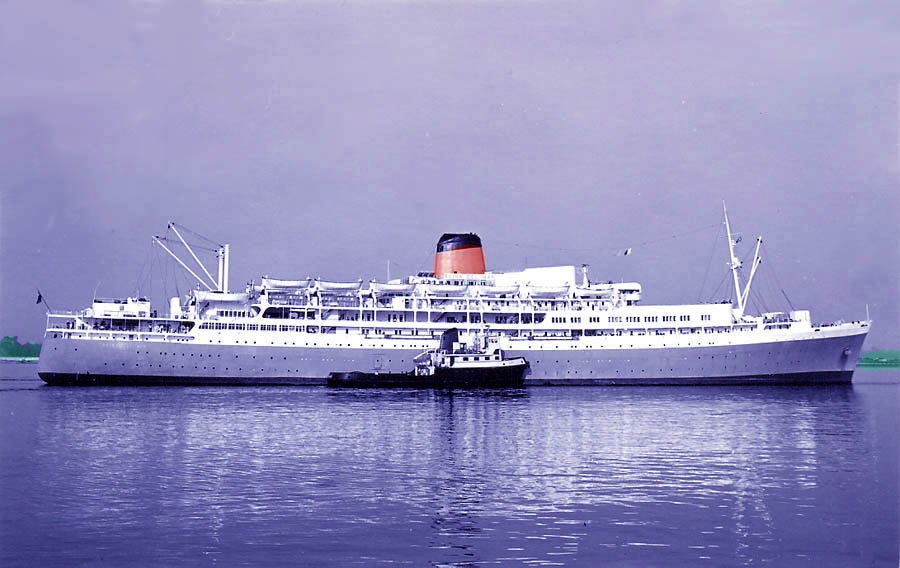 Here the Reina Del Mar is seen looking good in her traditional lavender hull of Union-Castle line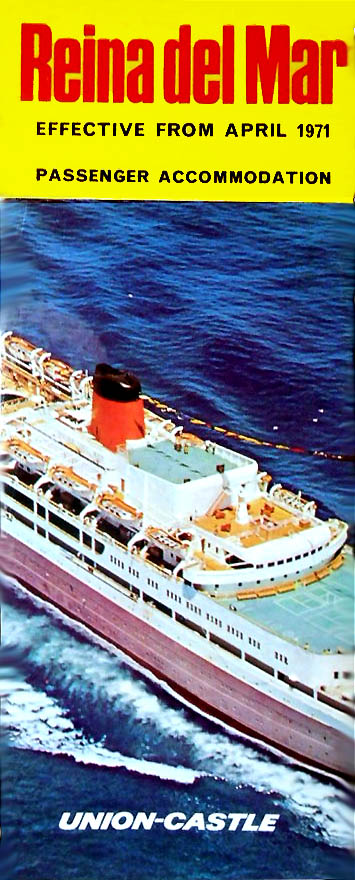 The front cover of a Union-Castle Deck Plan of the rebuilt ship
For the next years Reina Del Mar continued to operate operated as a full-time cruise ship on charter to the Union-Castle Line. The charter was due to expire in September 1974, but in November 1973 it was announced that Union-Castle had purchased the Reina outright from Royal Mail Lines, the parent company of the Pacific Steam Navigation Company.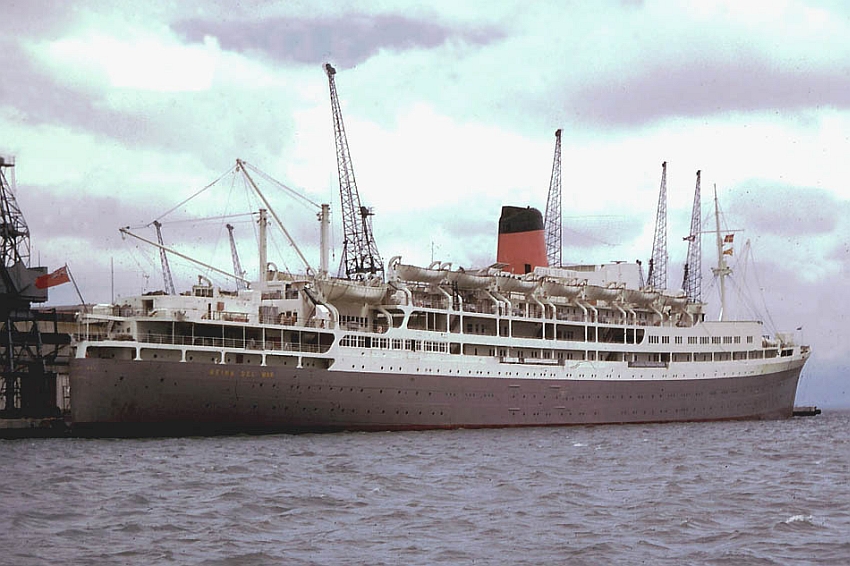 The Union-Castle cruise ship Reina Del Mar seen berthed at Southampton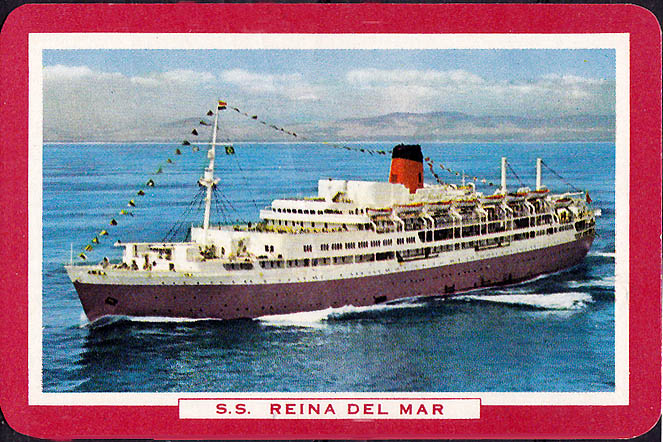 A playing card taken as a souvenir from the Reina Del Mar
Her Final Years:
Although bookings had remained excellent, but sadly operating costs had been increasing rapidly due to the massive increase of the price of oil, and obviously that played a huge part in the decision. But, there was also the ever-increasing crew wages and maintenance costs, for they also were very high, and then there were the ongoing repairs and all this contributed. The fact that this delightful ship was only eighteen years old and very popular with the British cruising public, she was simply not able to pay her way. Thus the decision had to be made by the directors and they with regret decided that she would be withdrawn from service after her 1974 and 1975 cruise series in the UK and South Africa.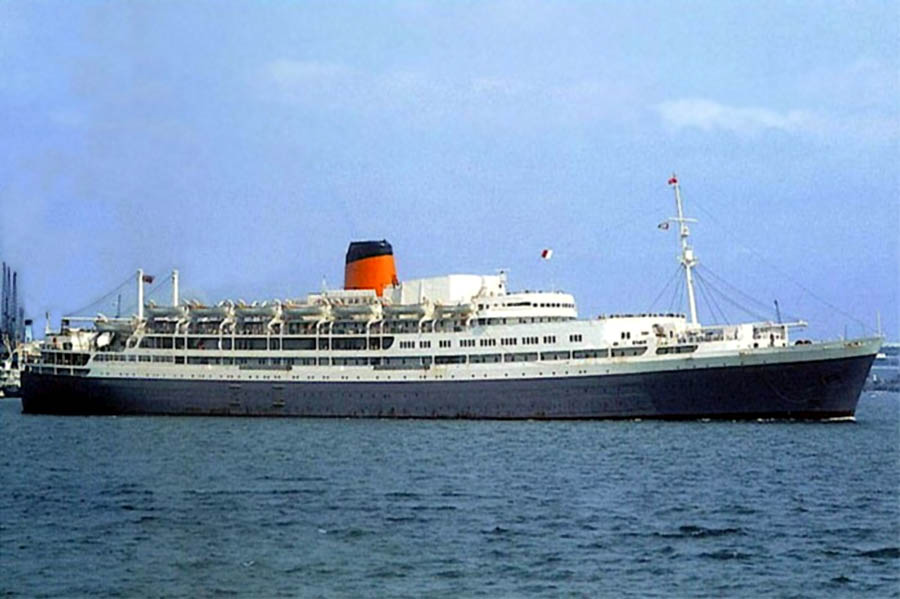 The end for this wonderful ship was near, yet she was 19 years young!
Having retuned to Southampton having completed her duties, the SS Reina Del Mar was laid up on April 1, 1975 and eight weeks later she departed and sailed for Kaohsiung, Taiwan
Reina Del Mar arrived at the Kaohsiung Taiwanese breakers on July 30, Demolition and breaking commenced rapidly and this one beautiful ship had been completely gone forever on December 10, 1975.
Remembering the Wonderful SS Reina Del Mar as Built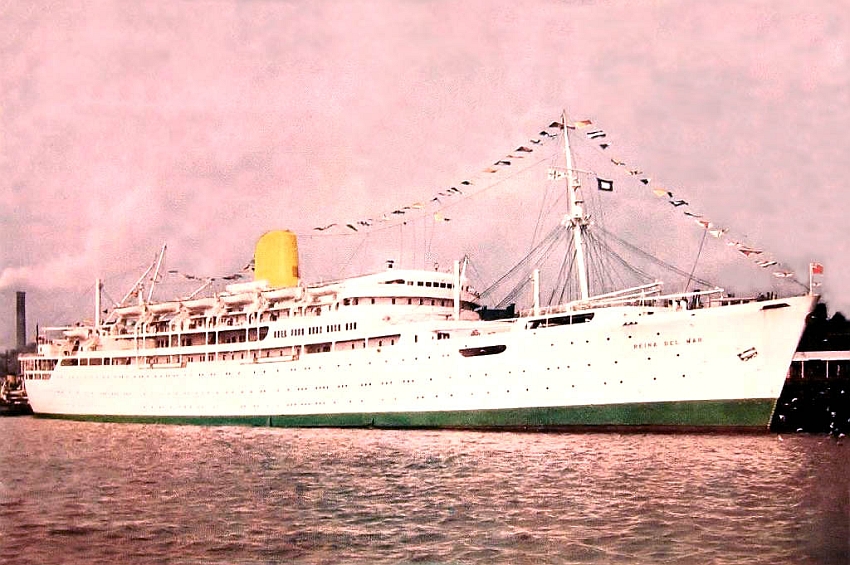 The Reina Del Mar seen in Port with a threatening sky as a backdrop
SS Reina Del Mar ~ Specifications:
Built by:……………………….Harland & Wolff, Belfast.
Yard No:……………………..1533.
Launched:…………………..June 7, 1955.
Completed:………………….April 8, 1956.
Tonnage:…………………….20,234 GRT.
…………………………………….1964 – 20,501 GRT.
…………………………………….1967 - 20,750 GRT.
Length:………………………..601ft - 183.18m.
Width:………………………….78ft - 23.8m.
Draught:………………………30.1ft - 9.17m.
Engines:………………………Parsons Steam, D.R. Geared Turbines by H&W.
Screws:……………………….Twin – 17,000 SHP.
Speed:………………………..18 Knots.
Passengers:………………..As built 766 - 207 First, 216 Cabin and 343 Tourist Class.
1964:…………………………..Once Class, 1,047 berths - 998 usual capacity.
…………………………………….Crew - 327 as built.
Scrapped:……….……………Broken up July 30, 1975 by Tung Cheng Steel Co., Kaohsiung.
**************************************
Use the Back button on your browser or Close the Page to return to the previous page
or go to our INDEX
Who is the Author of ssMaritime?
Commenced in the Passenger Shipping Industry in May 1960
ssMaritime.com & ssMaritime.net
Where the ships of the past make history & the 1914 built MV Doulos Story
Also visit my …
"Save The Classic Liners Campaign"
Photographs on ssmaritime and associate pages are by the author or from the author's private collection. In addition there are some images that have been provided by Shipping Companies and private photographers or collectors. Credit is given to all contributors. However, there are some photographs provided to me without details regarding the photographer/owner concerned. I hereby invite if owners of these images would be so kind to make them-selves known to me (my email address may be found on www.ssmaritime.com only), in order that due credit may be given.
This notice covers all pages, although, and I have done my best to ensure that all photographs are duly credited and that this notice is displaced on each page, that is, when a page is updated!
ssMaritime is owned and © Copyright by Reuben Goossens - All Rights Reserved