Please Note: Firefox and some other search engines are not suitable – Use "Internet Explorer" for this page to load perfectly!

Click the logo above to reach the ssMaritime FrontPage for News Updates & "Ship of the Month"
With Reuben Goossens
Maritime Historian, Cruise'n'Ship Reviewer & Author
"Compania Argentina De Navegacion Dodero S.A."
Dodero Line - Transferred to "ELMA"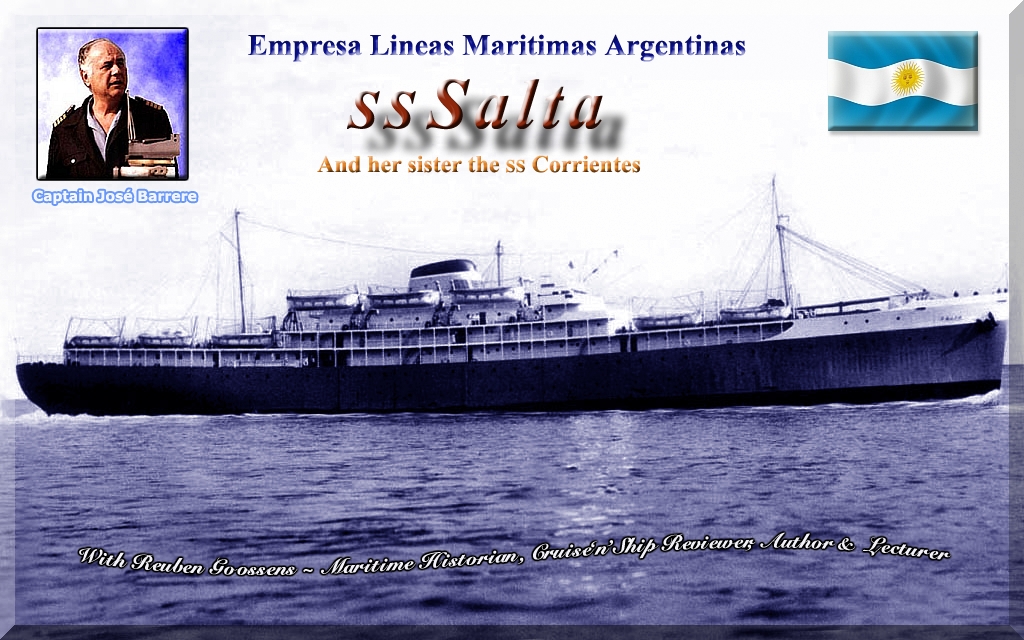 Introduction to the Dodero Line:
The original Company was named; "Compania Argentina De Navegacion Dodero S.A.," or as they were known - the "Dodero Line." This company operated a considerable fleet of passenger liners, and they had 8 ships operating on the very busy Buenos Aires to London service. Then there were 3 passenger liners operating on the Buenos Aires to Amsterdam and Hamburg service, thus a total of 11 ships in all. However after the war that would be 13 ships as two more would join the extensive fleet!
From a simple Freighter, an Escort Aircraft Carrier to a Passenger Liner:
There would be two new ships on the horizon for the company, but they already had a history prior to their arrival and this is their story.
The first ship was originally to have been simple C-3-S-A1 Class freighter and she was originally to have been named SS Mormacmail for the famed American "Moore McCormack Lines," but long before she could be completed she was required for the US war effort and then the British Navy and she was rebuilt and completed as Escort Aircraft Carrier by Williamette Iron & Steel at Portland, Oregon. Thus the now ex freighter being quite a different ship was launched on March 7, 1942 and named HMS Tracker, with her Battle Number being BAVG-6 just whilst she was under US jurisdiction, and then D-24 with the British Royal Navy.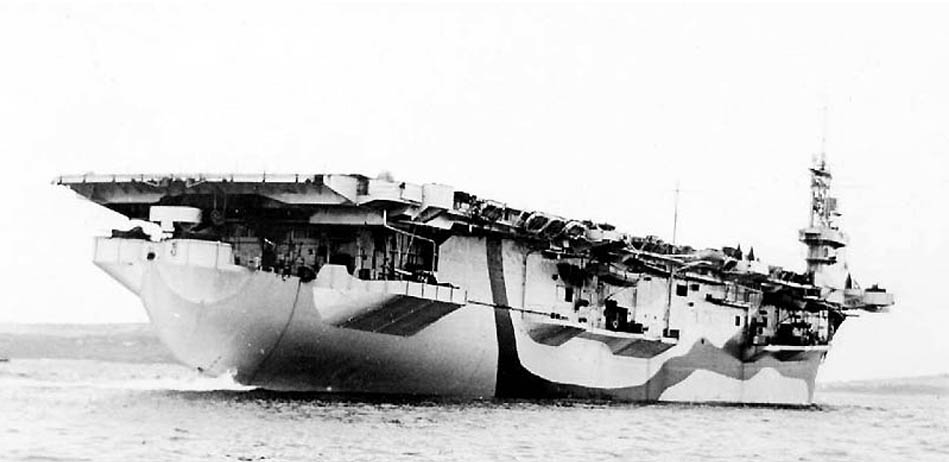 The Royal Navy HMS Tracker D-24
The second ship was also a C-3-S-A1 Class ship, originally named USS Jamaica and she was going to be used by the US Navy, but again she was also seconded to the Royal Navy become a "Prince William" Class Escort Aircraft Carrier and she was launched on April 21, 1943 and was named HMS Shah, with her Battle Number being D-21.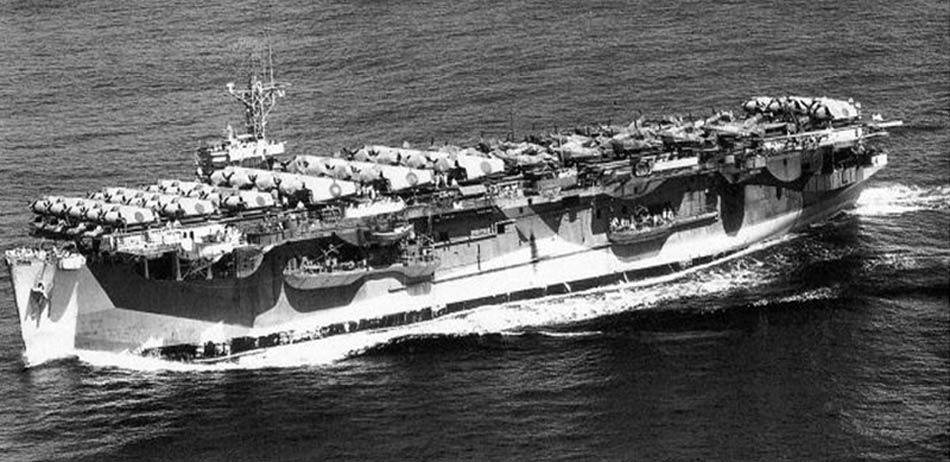 And here we have a superb aerial view of the HMS Shah D-21
Both ships had admirable war records that can be located online and LINKS are available at the bottom of this feature! After the war these brave ships were laid up and placed on the open market and they were purchased on June 20, 1947
Both the ex HMS Tracker and Shah were sold to "Rio De La Plata, S.A." on June 20, 1947 to be rebuilt into passenger ships. The work was to be carried out by Newport News S.B. & D.D. Co., at Newport News in Virginia, there were they were comprehensively rebuilt into passenger ships having a rather huge passenger capacity of 1,320 passengers in an all Third Class configuration. However, for some reason the rebuilding of these ships took much longer than had been expected.

An illustration of what the two ships would look like, thus a massive transformation!
Finally upon their completion, both were sold to the Argentinean, "Compania Argentina De Navegacion Dodero S.A." to operate them as immigrant ships and both were transferred to the Argentine Flag and Registry given the name of SS Corrientes and Salta.
"Dodero Lines" would place them on their Genoa and Naples service, sailing via Marseilles, Barcelona, Lisbon, Las Palmas, Rio de Janeiro and Montevideo to Buenos Aires.
Just for interest: At a later time these ships must have had a refit for they had 4 passengers in First Class and 18 additional passengers, a total of 1,338 in Third Class. Thus these rather small, 12,000-ton ships had a huge 1,342-passenger payload and that was simply ridiculous to say the least! These ships were obviously were obviously intended to transport emigrants and I would assume that their public facilities would have been quite modest to say the least.
Two New Liners - SS Corrientes and Salta:
The completed SS Corrientes and SS Salta entered the Genoa to Buenos Aires service early in 1951, and they were without a doubt solid ships, and certainly not unpleasant looking ships externally, for the result of a conversion at the Newport shipyards, although purely practical, amazingly they had a reasonably pleasant profile and certainly very much better than many other C-3 class conversions, which were externally far more basic and boxlike!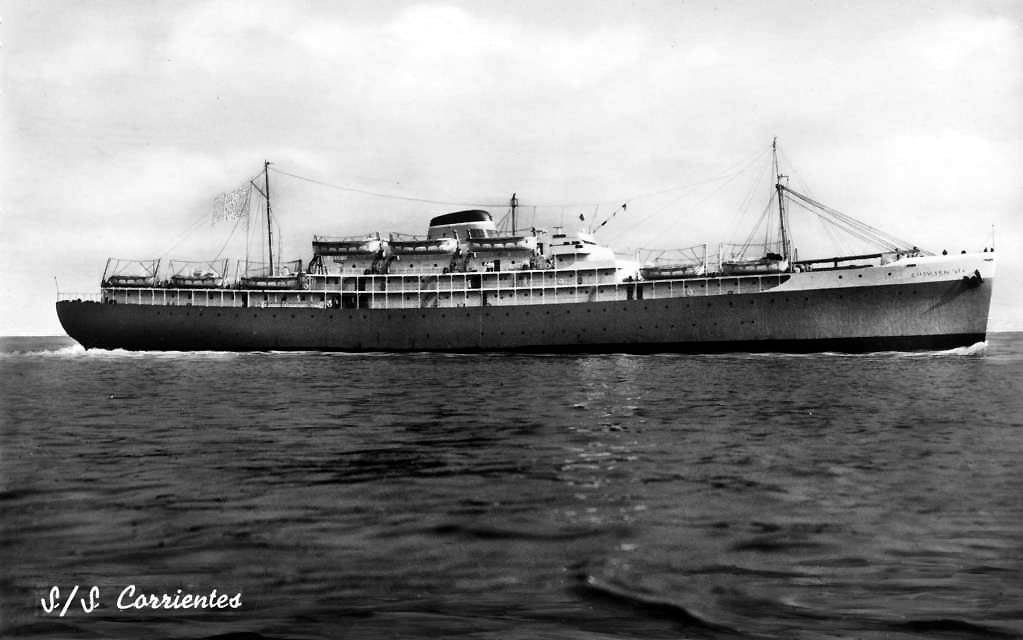 An official postcard of the SS Corrientes a pleasant looking ship, see another C-3 conversion below …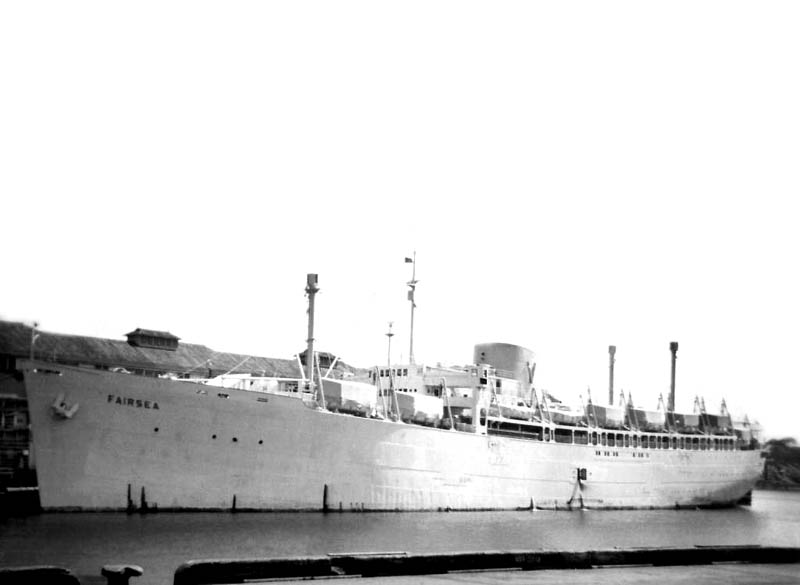 The Sitmar liner SS Fairsea, seen as Woolloomooloo Wharf Sydney, Australia on December 31, 1949
She did receive additional improvements to het exteriors, but never became a beautiful white swan!
Both ships had two Steam Turbine Engines having been manufactured by Allis Chalmers, which were good and reliable units! The Salta was given the call sign LPCS, whilst I was unable to locate that of the Corrientes.
After the fall of the Peron Government in 1955, sadly the Dodero Line ceased operations and the management of all their ships fell under the control of the Government, but soon it passed to "Flota Argentina de Navegación de Ultramar" also known as "FANU." But, in 1962, "FANU" merged with the state-owned "Flota Mercante del Estado" to form a new company named "Empresa Lineas Maritimas Argentinas" or "ELMA."
Regardless of the legal and economic circumstances at the time, the SS Corrientes and Salta continued sailing on their regular services throughout the 1950s and 60s connecting Europe to South America and vice versa offering low fares on the tourist run from Argentina to Europe.
The TSMS Lakonia Tragedy December 1964:
The SS Salta became well known as she was involved with an incident with a famous classic passenger ship that was built in Amsterdam, the Netherlands in 1929 as the luxury liner, the MS Johan van Oldenbarnevelt, lovingly known around the world as the JVO. She was sold to the Greek Line and was handed over to them in Genoa in March 1963, and she soon became the ill-fated cruise ship MS Lakonia by the end of that year.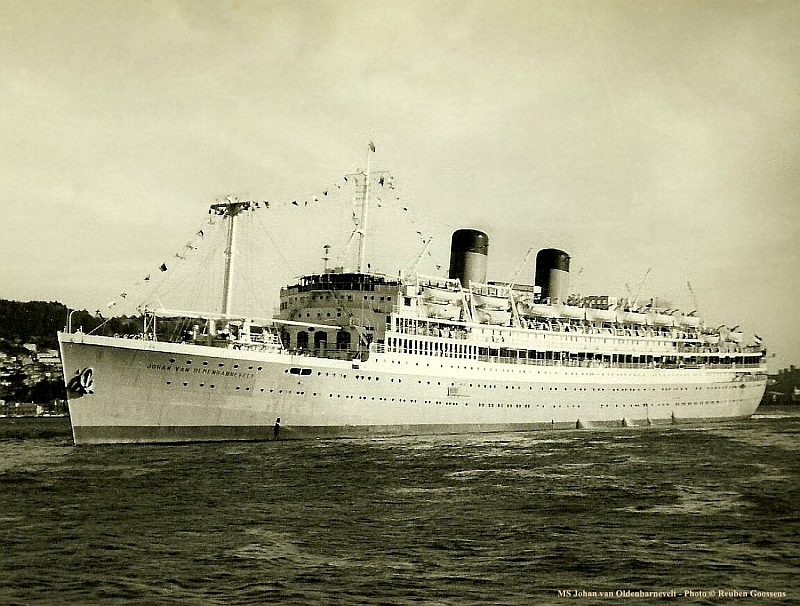 The greatly beloved JVO departs Wellington New Zealand for the final time on January 30, 1963
She had donated her ships bell to one of the local High Cchools!
Photograph © by the Author, Reuben Goossens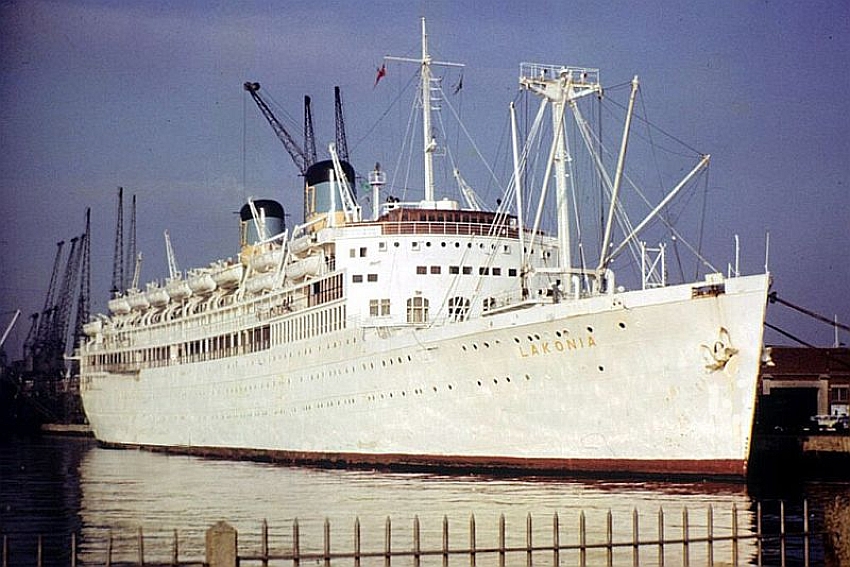 Here we see the Lakonia looking good and preparing for, as the Greek Line advertisements and handbooks
stated … "Here is a Holiday you will remember and talk about for the rest of your life"
This Christmas cruise certainly would be remembered, but for all the wrong reasons!
Whilst she was on an eleven-day Christmas cruise to Madeira, Tenerife and Las Palmas, etc, in December 1963, however, as she was just 180 miles North of Madeira and 550 miles northwest of Casablanca-Morocco on the evening of the 22nd.a small fire broke out in the barber shop, however it rapidly caught hold and it spread throughout of the ship, which had to be evacuated, it was a disaster. The Greek crew proved to be mostly useless and could little to nothing with the original small fire, besides being far too slow to act! In addition, far too many proved to be utter cowards as they preferred to save themselves rather than passengers, although there were some who were heroic! Signals were sent out for help and the SS Salta received the call and she sailed at full speed toward the Lakonia.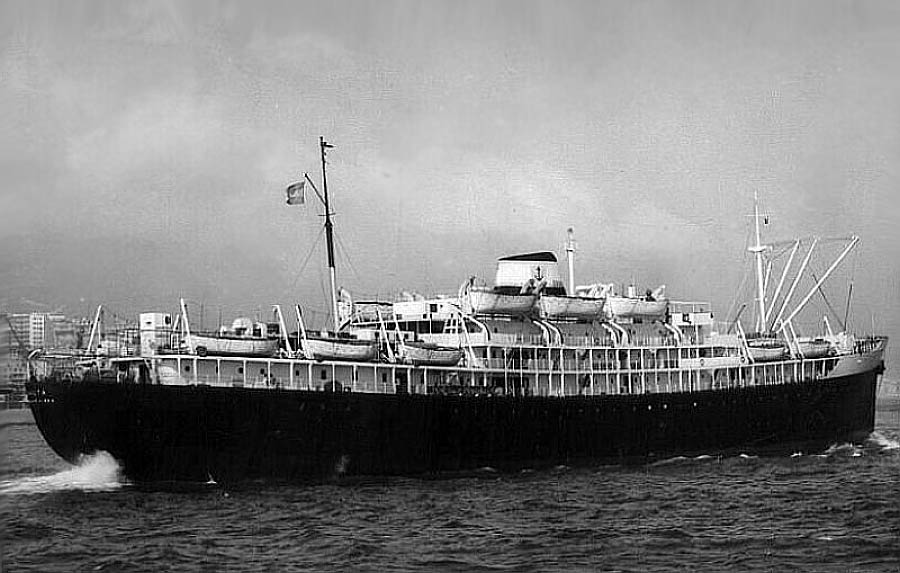 The SS Salta seen around 1963-64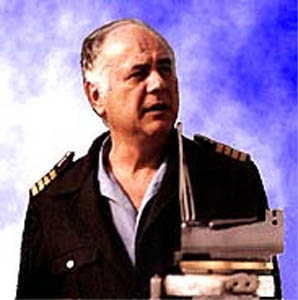 Early the next morning, Monday December 23, at just after 3:00 a.m., being just four hours after the first distress call for the Greek ship, the Argentinean liner, SS Salta arrived on the scene and commenced the rescue. The Salta was under the command of Captain José Barrere and he had been on his way from Genoa to Buenos Aires, but he acted calmly and ordered his crew to commence lowering the lifeboats in order that as soon it was safe and possible they could go and commence searching for survivors. At 4.00 a.m. the British ship Montcalm arrived on the scene, but the Salta had already rescued the first survivors by 4.15 a.m., being a great effort and her crew did a mighty job and throughout that day she continued and rescued many of Lakonia's passengers. Of course the other ships all did an amazing job searching the waters for survivors and saving other passengers as well as collecting those who had sadly died away and were in the water. Some 95 passengers and 33 crewmembers sadly passed away, although, there were 53 who were killed in the actual fire, whilst the rest died from drowning, exposure or injuries that were sustained due to diving overboard. The rescue attempt continued all the next day on the 23rd.but the ship kept on listing.
SS Salta excellent master, Captain José Barrere--
But by Tuesday the 24th, Christmas Day she was listing some 10 degrees whilst continuing to burn deep within. The elegant spotless white liner that had departed Southampton just five days ago was now a sad sight. Topside her bridge and several of her aft decks caved in. Her white hull plates were severely scared and were now black because of the fire.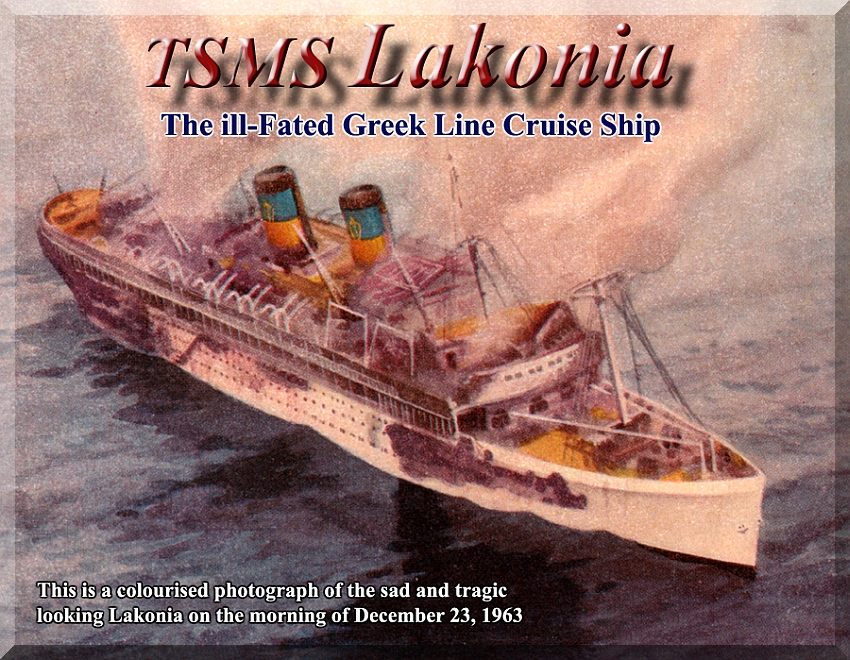 Finally on the 24th.Dutch and Norwegian tugs with naval assistance, managed to attach towropes to the stricken ship and commenced to tow the crippled Lakonia towards Gibraltar. However, without much warning, five days later, the dying ship, she finally gave up, mostly due the worsening weather and she had commenced to take on water. First, her list increased, then around noon on Sunday 29 December 1963; the Lakonia began to sink fast.
There was no doubt, but her end was certainly very fast; it was within three minutes that she heeled over onto her starboard side and with a massive splash she disappeared under the waves. It was a tragic end to a ship that had been such a great and much loved liner, for the MS Johan van Oldenbarnevelt was loved worldwide from Northern Europe, Britain, the USA, Africa, to Australia and New Zealand. Sadly when she was sold to the Greek Line she was sadly poorly looked after and her crew were not trained up to standards and her lifeboats had not been serviced at all since she had been received back in March, thus through sheer negligence a once great ship was now lost! Her story is available in full via a link at the bottom of the page!
The
SS Corrientes
and Salta's final Days: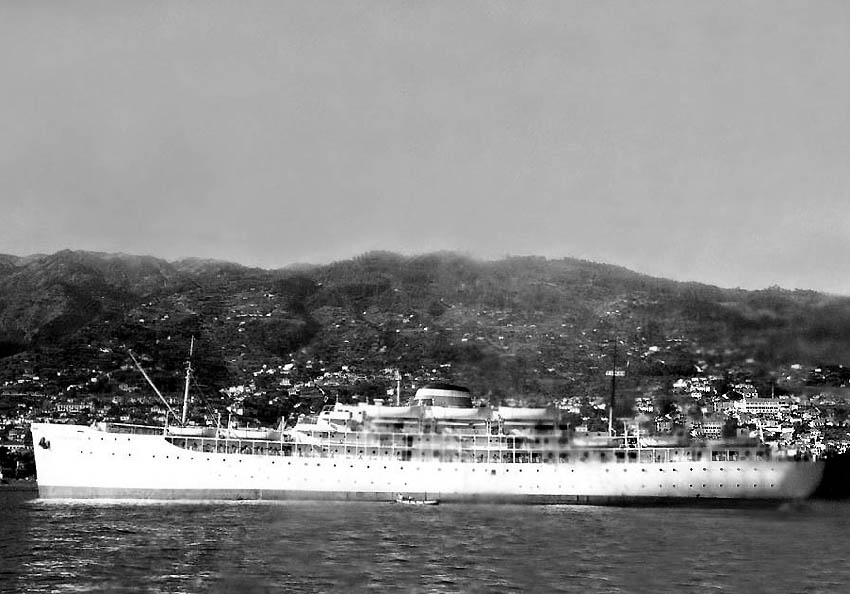 The SS Corrientes is seen at what looks like Funchal

But sadly Salta's days were close to over for she only had twelve months left at sea!

Sadly due to the maintenance of the SS Corrientes, she was completely disabled due to a severe engine failure in August 1964 and she had to disembark all her passengers in Lisbon. A month later she was towed to the port of Antwerp, Belgium where she was broken up for scrap metal.

Sadly, the Salta only lasted just several more months, for in December of that year her sailing year concluded due to severe breakdowns and boiler problems. She was laid up in Buenos Aires and she remained idle for two years. She was the sold in June 1966 to local Argentinean ship breakers and soon enough she was broken up right there in Buenos Aires.

Specifications SS Corrientes & SS Salta:

Owner: Compania Argentina De Navegacion Dodero S.A.

Other names: SS Corrientes: HMS Tracker.

. SS Salta: USS Jamaica, HMS Shah.

Builder: Seattle Tacoma, 1942 & 1943.

Rebuilt: 1949-1951 Newport News S.B. & D.D. Co. at Newport News in Virginia.

Tonnage: 12,053 GRT (Gross Registered Tons).

Length: 492ft – 142.7m.

Breadth: 70ft – 21.2m.

Power: Steam Turbine Engines by Allis Chalmers.

Screws: One.

Speed. 16.5 knots service speed – 17.5 knots max.

Passengers: 1,320 Third Class as built.

. 4 First Class & 1,338 Third Class at a later date.

View the War Records for the HMS Tracker and the HMS Shah

Also read about the TSMS Lakonia tragedy, the ship built as the …

Luxury Dutch Liner - MS Johan van Oldenbarnevelt

Use the Back button on your browser or Close the Page to return to the previous page
or go to our INDEX

Who is the Author of ssMaritime?

Commenced in the Passenger Shipping Industry in May 1960

ssMaritime.com

& ssMaritime.net

Where the ships of the past make history & the 1914 built MV Doulos Story

Also visit my …

"

Save The Classic Liners Campaign"

Photographs on ssmaritime and associate pages are by the author or from the author's private collection. In addition there are some images that have been provided by Shipping Companies and private photographers or collectors. Credit is given to all contributors. However, there are some photographs provided to me without details regarding the photographer/owner concerned. I hereby invite if owners of these images would be so kind to make them-selves known to me (my email address may be found on www.ssmaritime.com only), in order that due credit may be given.

This notice covers all pages

, although, and I have done my best to ensure that all photographs are duly credited and that this notice is displaced on each page, that is, when a page is updated!

ssMaritime is owned and © Copyright by Reuben Goossens - All Rights Reserved