Click the logo above to reach the ssMaritime FrontPage for News Updates & "Ship of the Month"
With Reuben Goossens
Maritime Historian, Cruise'n'Ship Reviewer & Author
MV Stella Maris I
Built as: HMS Guildford Castle but only served as the HMS/HMCS Hespeler & SS Chilcotin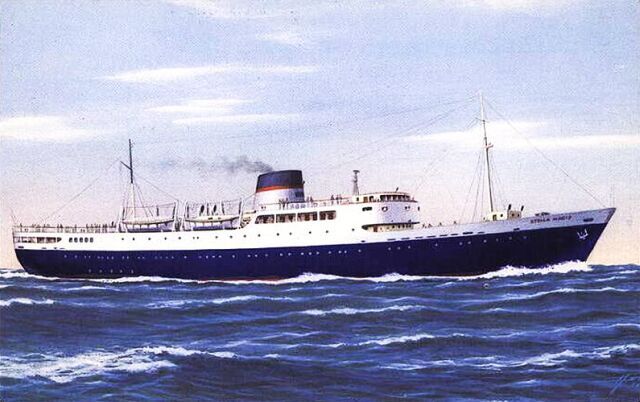 Postcard of the SS Stella Maris I, one of the first of the Sun Line luxury cruise ships
*Received from a reader – Please see note at bottom of page
The first Sun Line Stella Maris was a steam ship, which was built as a Castle Class Patrol Frigate named HMS Guildford Castle. She was built at the built at the Henry Robb Shipyards in Leith, Scotland. Her keel was laid on May 25, 1943, and she was launched on November 13 that year. Having been fitted out and completed and commissioned she was handed over on March 11, 1944, but she had been renamed the HMS Hespeler for the Royal Canadian Navy. She was used on the Atlantic to hunt down U-Boats and the now prefixed HMCS Hespeler played a significant part in the Battle of the Atlantic and she was credited in the sinking of a U-Boat as well as an another enemy ship.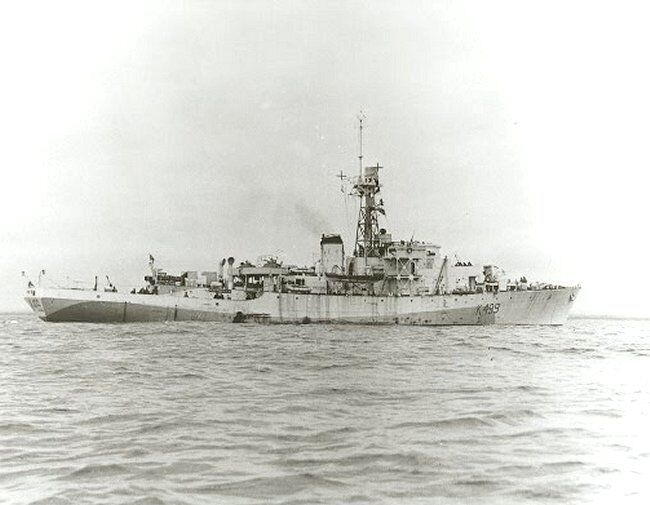 She is seen here in her second guise as the HMS/HMCS Hespeler - pendant number 489.
From the author's private collection
HMS Guildford Castle - HMS/HMCS Hespeler Specifications & details:
Type of Ship:                  Castle class Corvette.
Built by:                         Henry Robb Shipyards Leith - Scotland.
Launched:                      November 13, 1943.
Tonnage:                        1,370 GRT (Gross registered Tonnes).
Length:                          76,81m - 252ft
Beam:                            11.15m - 36.6ft
Draught:                        3,53m - 11.6ft
Propulsion:                      4 cyl triple expansion steam engine – 2,980 IHP.
Screws:                         One.
Speed:                           17 knots.
Complement:                   100 to 110 Officers and men.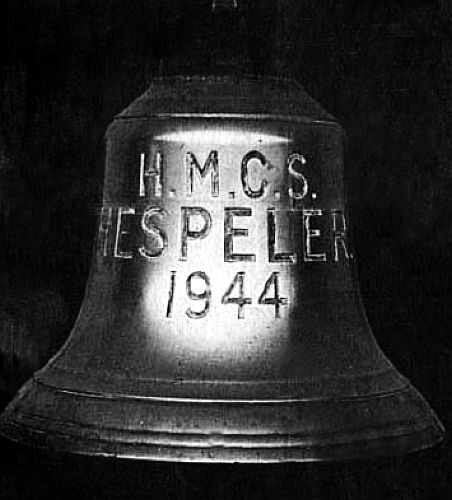 HMCS Hespeler's Ships Bell
Provided by www.leithshipyards.com
The Hespeler was paid off on November 15, 1945 and she was soon sold. She was renamed SS Chilcotin in 1946, but sadly there is little no information available regarding her duties from that time until she was sold in 1958.
She obtained by Greek Sun Line who decided to completely rebuild her and she became the Liberian registered SS Stella Maris in 1958. Looking at her, you would never have thought that this ship was originally built as a frigate, although some of her lines, which were beautifully hidden by her dark hull colours.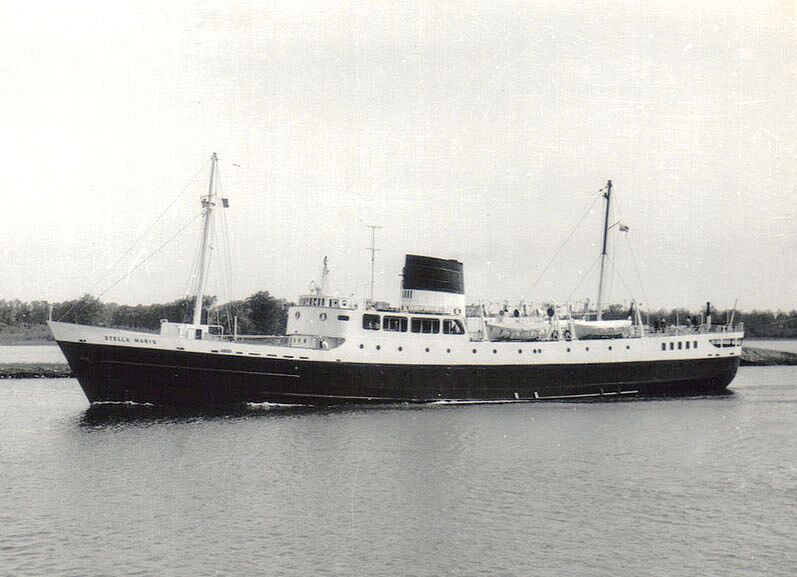 Stella Maris is seen here (I am told) on May 17, 1957
Photograph by a Mr. D.C. McCormick
She certainly became a fine looking cruise ship, but above all she became extremely popular and the name Stella Maris made the name Sun Lines a household byword in fine cruising as the company flourished purchasing many other ships, the next ship being the much larger Stella Solaris and later the intimate but slightly larger ship that would carry her name on her bow.
The SS Stella Maris may have had a Short Cruising Life, but it was a Great One! She was sold in 1965 to make way for the new MV Stella Maris II. SS Stella Maris was renamed SS Westar, but sadly having only just entered service whilst sailing in the Sarroch Roads off the coast of Sardinia on January 28, 1966, the worst possible accident at sea occurred as she caught fire which saw her being totally destroyed. She was beached to stop her from sinking. Once she had been refloated she was sold and she was taken to an Italian breakers yard arriving at La Spezia on April 30, 1966.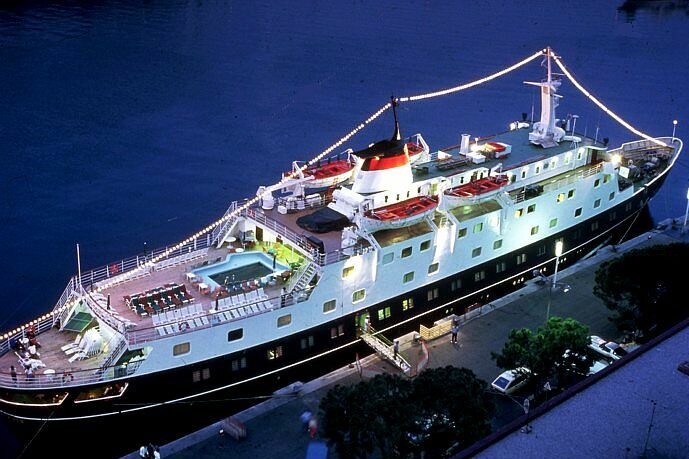 Sun Lines luxury Yacht-Like Cruise Ship - MV Stella Maris II
From the author's private collection
Memories and the End of Sun Line
SS Stella Maris I and II  as well as the other Sun Lines ships are remembered for many years of superb service with one of the finest luxury Greek cruise companies that was tragically destroyed much later when a number of other Greek cruise companies merged into one larger company known as Royal Olympic Cruises. Although the Olympic committee forced them to change their name and their new name was - Royal Olympia Cruises. However, this new management was to say the least a total shambles and with a combination of a litany of greed and stupid managerial decisions they, and I mean the executives and no one else, totally destroyed this once superb company. Myself and a number of people attempted to purchase several of their laid up ships on behalf of others who wished to operate them and save them from doom, however these total idiots simply would not sell them, even though the income could have saved them from total financial doom, but they just did not have the brains to see this. No wonder the Greeks are in such a state today and I have great doubts about any Greek run company these days! It is sad to say having managed Chandris Lines in the past, but I simply would not work with any Greek operator in the modern age, yet having said this, in days past the Greek men I have worked with were great people and I have worked with some of the very best in the shipping Industry, but they have sadly all gone! My all time favourites were of course Mr Onassis and dear Mr Chandris Snr, however his sons were useless and as they could not handle the cruise industry after their father passed away, they sold my beloved Celebrity Cruises to Royal Caribbean. However, back to Olympia Cruises and the Stella's.
Their ships remained laid up and were a burden on their purses. Then suddenly without notice these ships were sold to the breakers for less than 20% of the original offers that we made to them. Now call that stupidity on a grand scale! As I said before no wonder the Greek nation is in such a mess today, for frankly idiots are running it!
Sun Line should have remained its own boss and it would have remained profitable, for this company was well run and had a superb reputation and a huge following for they were simply spectacular. It was only ruined by Royal Olympia! Sorry, I am just being me – totally honest and to the point!
Also read my multi-page feature on: MV Stella Maris II
For further information of the Castle Corvettes built at Leith Visit the following site & page:
and HMS Hespeler
I wish to thank Rob "The Loftsman" of leithshipyards.com for his kind assistance with details on the HMS Guildford Castle & HMS/HMCS Hespeler.
**************************************************
Use the Back button on your browser or Close the Page to return to the previous page
or go to our
INDEX
Who is the Author of ssMaritime?
Commenced in the passenger Shipping Industry in May 1960
ssMaritime.com & ssMaritime.net
Where the ships of the past make history & the 1914 built MV Doulos Story
Also visit my …
"Save The Classic Liners Campaign" & "Classic Ocean Voyages" pages
Photographs on ssmaritime and associate pages are by the author or from the author's private collection. In addition there are some images that have been provided by Shipping Companies and private photographers or collectors. Credit is given to all contributors. However, there are some photographs provided to me without details regarding the photographer/owner concerned. I hereby invite if owners of these images would be so kind to make them-selves known to me (my email address may be found on www.ssmaritime.com only), in order that due credit may be given. I know what it is like, I have seen a multitude of my own photographs on other sites, yet these individuals either refuse to provide credit or remove them when asked, knowing full well that there is no legal comeback when it comes to the net. However, let us show these charlatans up and do the right thing at all times and give credit where credit is due!
This notice covers all pages, although, and I have done my best to ensure that all photographs are duly credited and that this notice is displaced on each page, that is, when a page is updated!
ssMaritime is owned and © Copyright by Reuben Goossens - All Rights Reserved