Grace Lines - SS Santa Rosa & Santa Paula of 1958
Please Note: Firefox & Google Chrome may not suitable - Use Internet Explorer / Google for this page to load perfectly!

Click the logo above to reach the ssMaritime FrontPage for News Updates & "Ship of the Month"
With Reuben Goossens
Maritime Historian, Cruise'n'Ship Reviewer & Author
Commenced in the Passenger Shipping Industry in 1960

SS Santa Paula
My time as a "Hostess" on board the Santa Paula in 1969
By Marcia Kennedy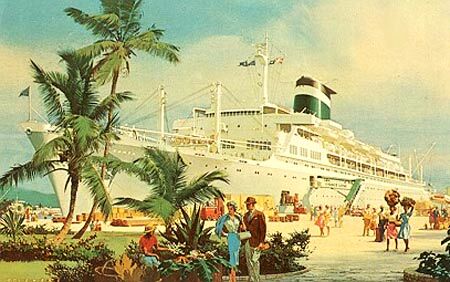 A popular standard Grace Lines postcard of the SS Santa Paula / Santa Rosa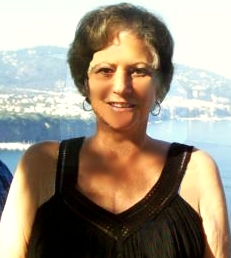 --My name is Marcia Kennedy and I was the hostess on board the Santa Paula during spring and summer of 1969. I sailed with Chief --Purser Fred Lennertz and Larry Lopez who would relieve Fred as Chief Purser when he was on leave. Our Captain's name was --------Theodore Thomson, who would be relieved by Captain Ronald MacKenzie.
--Marcia Kennedy seen whilst cruising just off the Amalfi Coast in 2012.
--Taken on board the Celebrity Equinox – Provided by Marcia Kennedy.
---
Some on board memories
!
--I was such a wreck on my first sailing for believe it or not I actually lost weight! I would see passengers disembark from the ship ---two weeks later sporting an additional few pounds, due to such wonderful food served on board, which was there in abundance!
--To this day, I cannot eat filet mignon since that is just about all I ate when on board as it was not flambéed, drenched in cream, ----wine or any kinds of sauces! Hmmm, is that another story!
I also remember that on the first morning of my very first sailing, my schedule had me leading a small group of passengers on a "Fire Drill." However, it did not tell me where to take them, thus I just found the nearest staircase and started climbing. It all worked out in the end!
Thankfully I have retained some photographs from my days on the Santa Paula. Below is a photograph of Chief Purser Fred Lennertz, seen on the far left with Captain MacKenzie third from the left. First Assistant Engineer Jack Lathbury is third from the right and next to him to the right is Jack Tenney who was the assistant Purser. And I am on the far right. Sadly I do not recall who the two other gentlemen are, but I think that they were guest VIP entertainers on that particular voyage?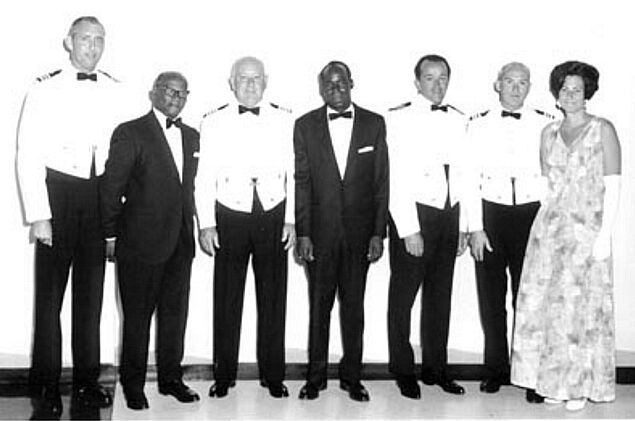 Photo provided by Marcia Kennedy
PS: If anyone recognizes these two African-American gentlemen could you please let the author, Mr. Reuben Goossens of ssMaritime know at: info@ssmaritime.com?
Also shown below is a group photo of passengers and several of Santa Paula's officers as well as me seated second from the left in the black dress on the bottom row. The Chief Purser Fred Lennertz may be seen on the far right on the top row, and the captain is fifth from the left on the top row. These photos make such great memories and I certainly enjoy looking at them! If you are one of those passengers or crew members please contact Marcia. See email details at the bottom of this story.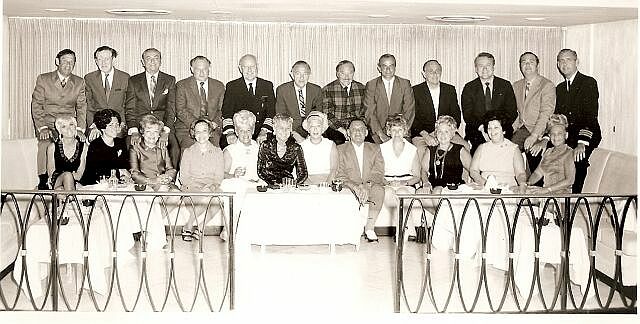 Photo provided by Marcia Kennedy
The Staff Purser was a Vincent Sabino and frequently a popular guest vocalist Lillian Holland would be on board. She was a delight to be with. To this day I am still in touch with one of the guest priests, Rev James Mackey who sailed with us. He certainly was a hoot then, and believe me he still is today. Although now in retirement he still sails as a guest priest several times a year on various cruise ships.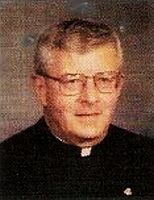 Father James M Mackey
Photo provided by Marcia Kennedy
Passenger Lists Voyages 71 & 76: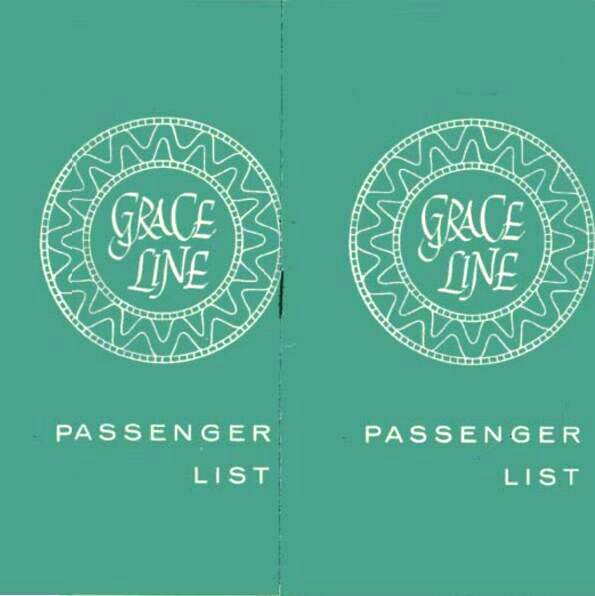 The cover from one of Santa Paula's Passenger Lists
Image provided by Marcia Kennedy
Over the years I sold most of the passenger lists that I had, except for two that I kept for memories sake. Those that I retained are from voyages 71 (April 11 to 24 1969) and 76 (June 20 to July 2 1969), I have included the cover of one of these as well as the inside front pages covering the ports of call their crew lists. I trust that these will be enjoyed by many, especially if you were a passenger on these sailings!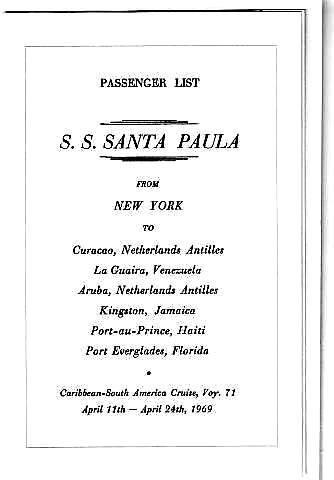 Title page of voyage 71 – April 1969
Provided by Marcia Kennedy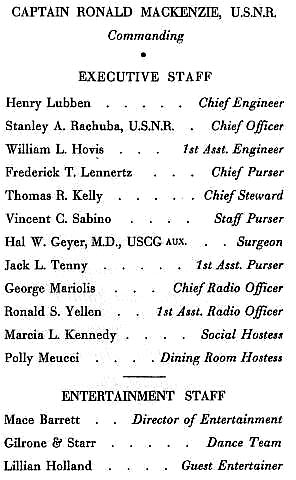 Crew list of voyage 71
Provided by Marcia Kennedy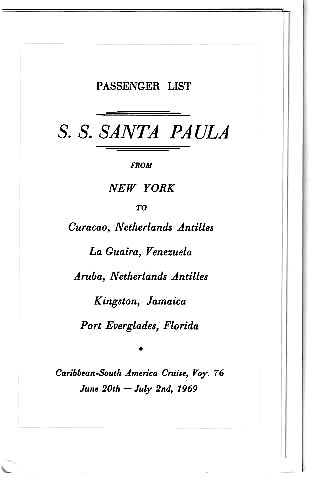 Title page of voyage 76 – June 20 – July 20, 1969
Provided by Marcia Kennedy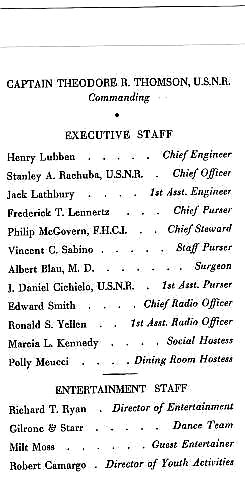 Senior crew list of voyage 76
Provided by Marcia Kennedy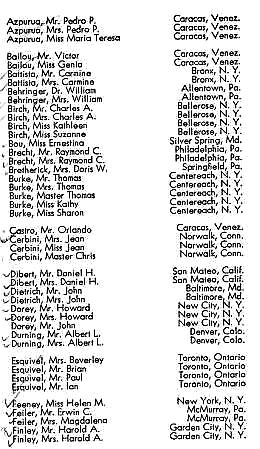 Above and below: The full passenger list of Voyage 76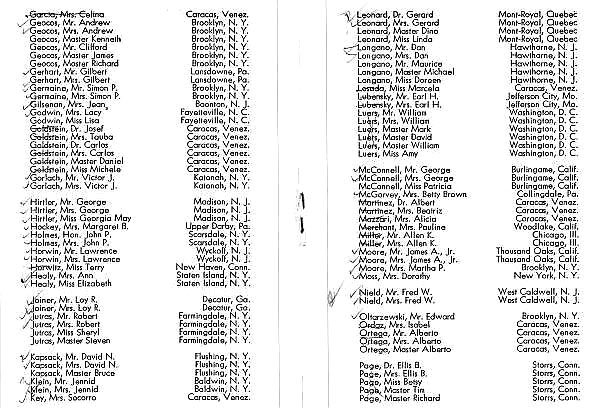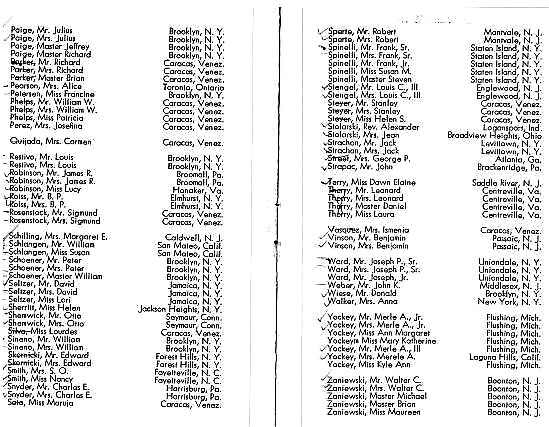 I have many other photographs of my days while on the delightful Santa Paula and someday when time permits I will unpack them and I will email them having scanned them, as well as the passenger lists, etc.
In addition I still have a number of notes and letters of appreciation from passengers including one delightful note from a little girl named Jill who was the daughter of Grace Lines' President. She was if I remember right she was about eight years old and that little childish note is very special to me and a wonderful memory for she treated me like a "big sister." However, I will include another note from my collection. This one is from a wonderful passenger, Sara Matchett who would have been according to the reverse side of the note on "Caribbean trip 77", or voyage 77.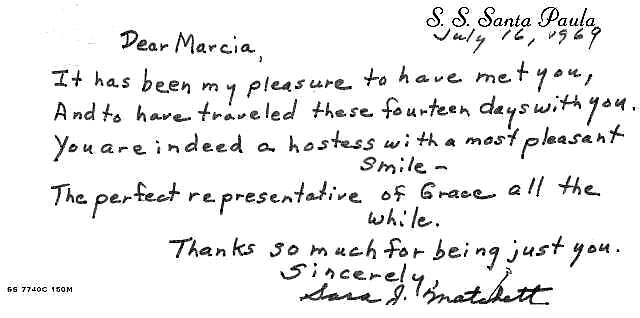 A note from Sara Matchett
Provided by Marcia Kennedy
A few on board memories:
I remember one evening with great fondness: Normally the lounge would close around 1 am. However, on this particular voyage, Larry Lopez the Chief Purser and all of us, including some passengers who were still in the lounge at 1 am were having such a great time, we did not want to leave, neither did Larry. Thus for this one night he tossed all the rules overboard and the band continued and the party lasted until somewhere around 4 am. Nearby sleeping (or trying to sleep) passengers were not too happy, but everyone who stayed up had a ball! If I recall, that might be the very night Father Mackey tossed firecrackers off the side of the ship in the harbor of La Guairá at 3 am. What a fun and crazy evening that was!
Another fond memory was of skeet shooting. I had never done this before and thus tried it for the first time aboard the Paula. I actually managed to hit two in a row and much to my surprise, the entire group of around thirty passengers just below by the pool, all clapped and shouted! I was floored but did manage to curtsey without falling overboard. Such wonderful days on the Santa Paula!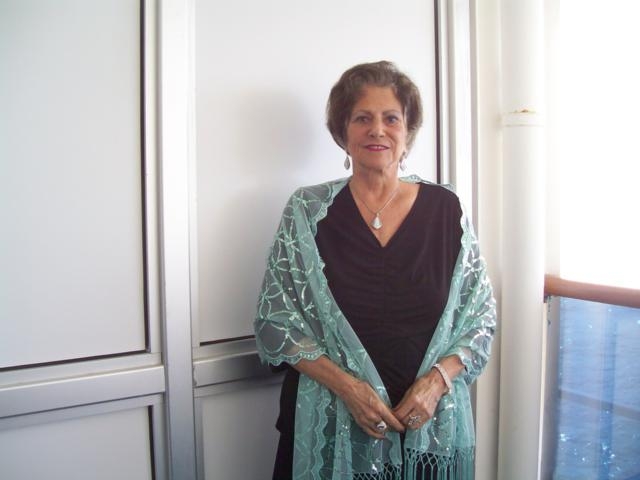 A photograph of Marcia taken aboard Celebrity Equinox mid 2012
Provided by Marcia Kennedy
New photographs received from Father Jim Mackey:
I recently emailed Father Jim Mackey and thereafter I was able to speak with him resulting in three photographs from his album all taken during the July 1969 voyage we were on, and I can remember well, it was simply a wonderful and a hilarious cruise!
I recall the costume (fancy dress) ball very well, and Father Jim arrived dressed as Moses holding the Ten Commandments, he looked a hoot, and he won the first prize that night. The other passengers who joined in the fun all had a a superb time. I recall that on another voyage one man tied a faucet to his head and came with the title - "a drip." If I remember right he won the first prize on that sailing!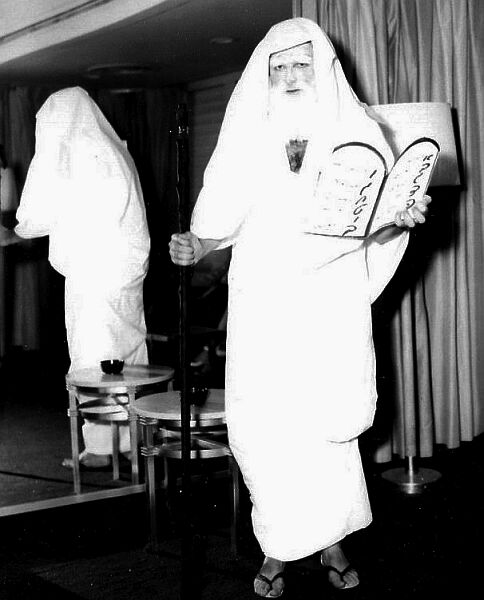 Father "Moses" Jim Mackey
Photo provided by Fr. Jim Mackey & Marcia Kennedy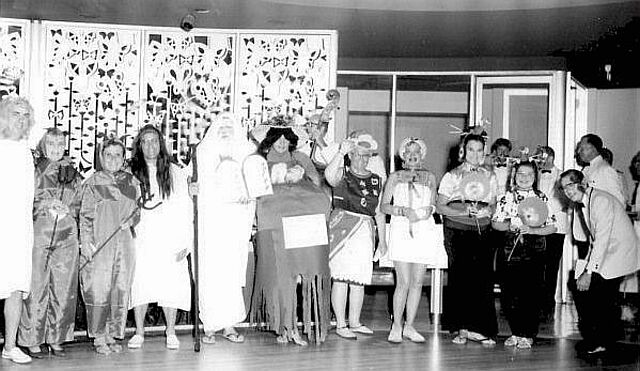 A group photograph of all the participants of the "Costume Ball"
Photo provided by Fr. Jim Mackey & Marcia Kennedy
The priests onboard Santa Paula were always a great deal of fun and talking to Father Jim just the other day, he even remembered tossing some firecrackers overboard at 3 am, and he said that on many nights he never even got to bed! He simply was a character!
In the near future he will again be a guest priest on another cruise line and I believe I may have mentioned that I may join one of his cruises for old times sake. Such wonderful memories! It's amazing that we have kept in touch for the last 41 years, but I have not seen or actually talked to him since 1987, but we did have such a fine conversation last week. All thanks to your pages on the Santa Paula. But imagine, he was 31 and I was 25 then. Now he is 71 and I am 66 Years old now. Where did life go?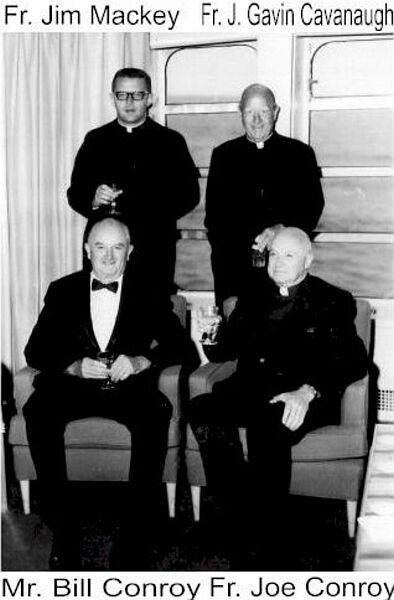 A photograph of three Priests on board and a Mr Bill Conroy
Although Fr. Jim Mackey was the officiating Priest on Santa Paula
Photo provided by Fr. Jim Mackey & Marcia Kennedy
In conclusion
:
As I close, I dearly wish to send my best regards to any of my wonderful passengers who may be reading this, for I certainly loved sailing with you all!
Also, if anyone would like to contact me, please feel free to do so by emailing me. My email address is: casablanchie194@q.com. I sure hope to hear from some of my passengers as it will be wonderful to reconnect with some of you!
Kind regards
Marcia Kennedy
1969 SS Santa Paula "Hostess."
Please Note: Marcia Kennedy's story has been slightly edited from its original and this was done for readability purposes only. However, it retains the original story and contents! Reuben Goossens.
Sadly the ex SS Santa Paula, of late the SS Emerald
was beached at Alang India in August 2012 and she is to be broken up!
She served an excellent 55 years providing great joy to many who sailed on this superbly built all American liner and cruise ship!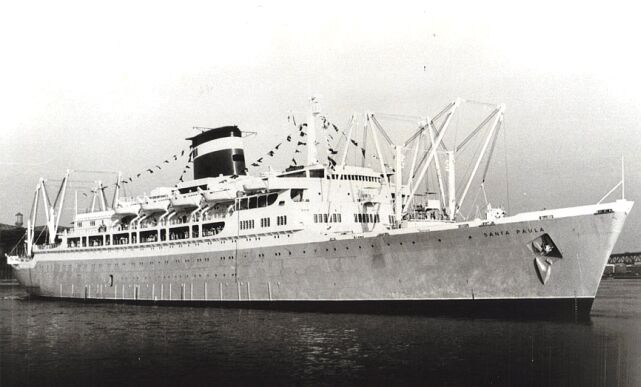 The beautifully proportioned luxury liner SS Santa Paula seen around 1969/70
Photograph by Vic Scrivens, from the Rich Turnwald collection
We will remember this wonderful ex Grace Liner, which has given us a remarkable 55 years of joy and great service!
Grace Line INDEX:
Page One … SS Santa Paula & Santa Rosa – History Page
Page Two … The Marcia Kennedy Story – An interesting story from a Santa Paula 1969 hostess
Page Three … The Emerald - ex Santa Rosa rebuilt as a luxury cruise ship – see her interiors!
**************************************************
ENTER OUR … ssMaritime Main INDEX
Where you will discover over 700 Classic Passenger & Passenger-Cargo Liners!
ssMaritime.com & ssMaritime.net
Where the ships of the past make history & the 1914 built MV Doulos Story
Photographs on ssmaritime and associate pages are by the author or from the author's private collection. In addition there are some images that have been provided by Shipping Companies and private photographers or collectors. Credit is given to all contributors. However, there are some photographs provided to me without details regarding the photographer/owner concerned. I hereby invite if owners of these images would be so kind to make them-selves known to me (my email address may be found on www.ssmaritime.com only), in order that due credit may be given. I know what it is like, I have seen a multitude of my own photographs on other sites, yet these individuals either refuse to provide credit or remove them when asked, knowing full well that there is no legal comeback when it comes to the net. However, let us show these charlatans up and do the right thing at all times and give credit where credit is due!
This notice covers all pages, although, and I have done my best to ensure that all photographs are duly credited and that this notice is displaced on each page, that is, when a page is updated!
ssMaritime is owned and © Copyright by Reuben Goossens - All Rights Reserved