Grace Lines - SS Santa Rosa & Santa Paula of 1958
Please Note: Firefox & Google Chrome may not suitable - Use Internet Explorer / Google for this page to load perfectly!

Click the logo above to reach the ssMaritime FrontPage for News Updates & "Ship of the Month"
With Reuben Goossens
Maritime Historian, Cruise'n'Ship Reviewer & Author
Commenced in the Passenger Shipping Industry in 1960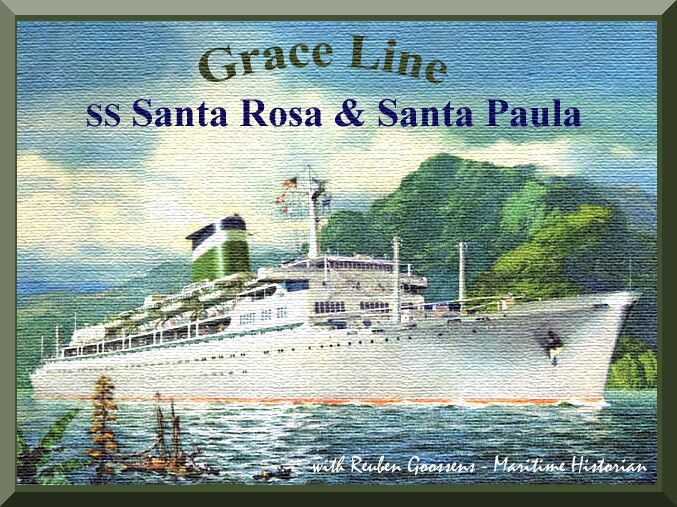 Please Note: Except where marked otherwise, images on this page are from the author's private collection. Some images are from an unknown source and were sent in to us by ssMaritime supporters. Please read our photo notes at the bottom of the page.
A NEW feature has been added, which can be reached via a link at the bottom of this page. It is the delightful story from Santa Paula's "Hostess" in 1969 – Marcia Kennedy.
Building Two New Ships:
In 1956 Grace Line decided to build two new ships to replace the aging 9,000 GRT (gross registered ton) sisters SS Santa Rosa and SS Santa Paula (3). The new vessels were designed by Gibbs & Cox and were named after their two forerunners. Their earlier two funnelled namesakes the Santa Paula and Santa Rosa (2) built in 1932 would be withdrawn after 26 years of dependable service as soon as the new ships would be delivered. These new and vastly advanced liners would be built by the famed Newport News Shipbuilding Company USA.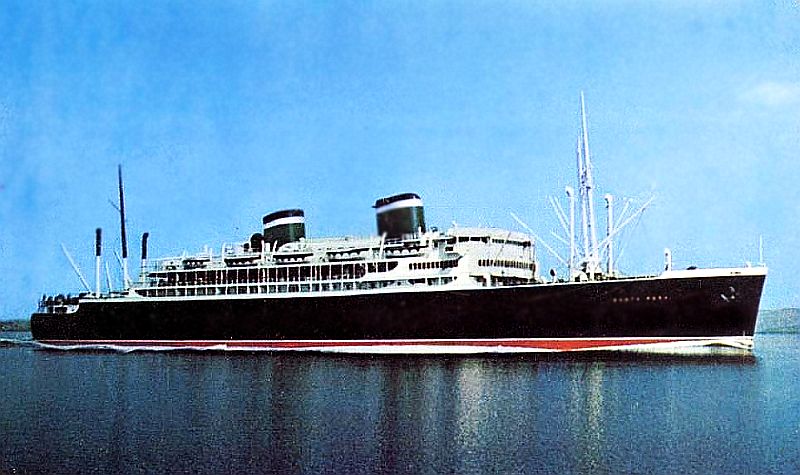 A postcard of the elegant 1932 Grace Line Liners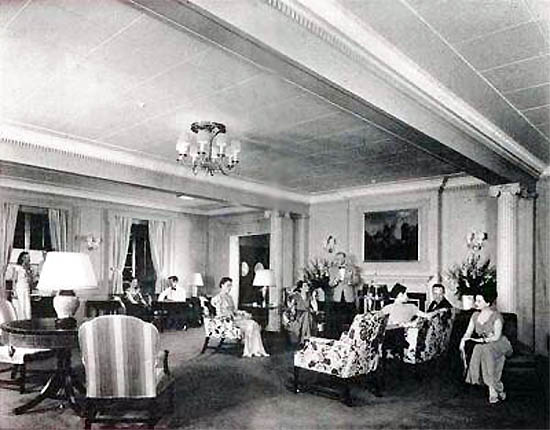 The Lounge aboard the Grace ships in the 1930s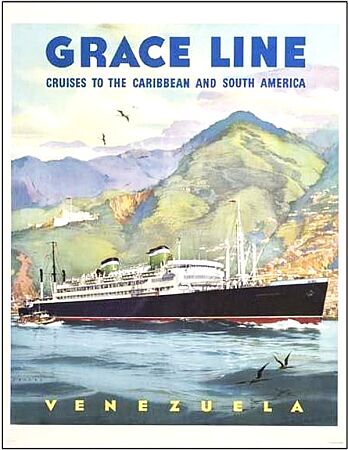 A Grace Line poster featuring their 1932 built ships

On June 28, 1957 Santa Paula would be the first of the new pair of ships to be launched on June 28, 1957. The honour to officiate was given to

Nixon, but somehow the bottle of champagne smashed against her bow but it failed to break, and thus it was left to a workman to take it and smash it by hand.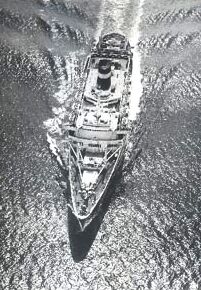 Above & below: Santa Rosa ­ and the Santa Paula ¯ seen during their sea trails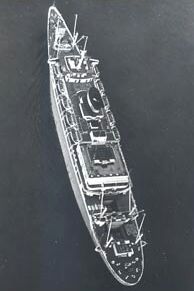 Santa Paula departed from Newport News on October 10 and slowly sailed up the Hudson River to Albany and pier 27, New York. She departed the next day which was significant, because she would be the first large passenger liner to make her maiden entry into the port of New York from the north.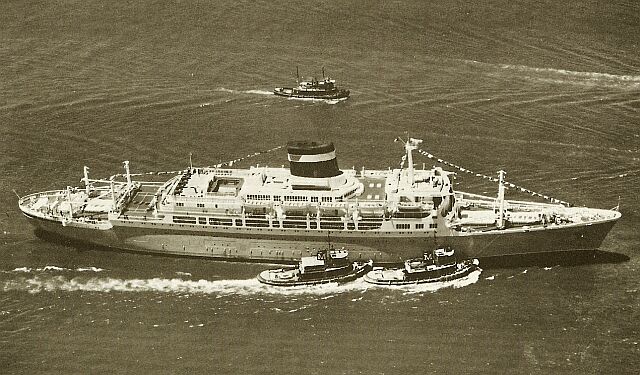 Santa Paula departs on her maiden voyage
SS Santa Rosa was next to be launched on August 28, 1957 and was delivered to Grace Lines on June 12, 1958 and she departed on her maiden voyage from New York's pier 27 bound for South America and the West Indies.

SS Santa Rosa seen departing on her maiden voyage
From an original news paper article
Both ships continued the New York to Central America service for Grace Line until they were transferred to operate the Caribbean service.
Santa Rosa

and Santa Paula were remarkable at the time having a variety of and innovative features, including their interiors being panelled with aluminium as a fireproofing measure. Public rooms and cabins were particularly spacious with all cabins being outside having private facilities. Another innovation on these fine ships was their cargo handling gear for their 4 holds. Especially unique were the side doors fitted to holds 3 and 4 having automatic conveyers to move pallets on and off the ship ensuring rapid turn around times.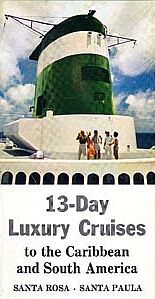 Above & below: Two Grace Line brochures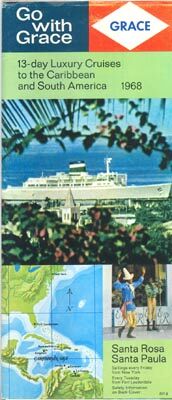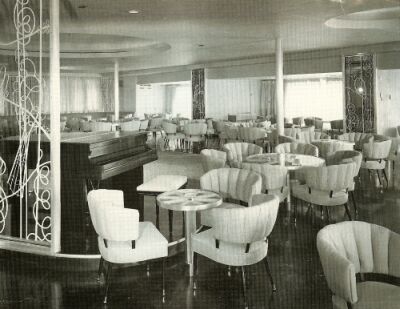 Club Topicanas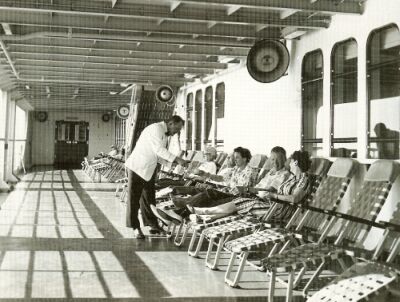 A classic scene on Promenade Deck
*******************************
SS Santa Paula & MV
Stolt Dagali: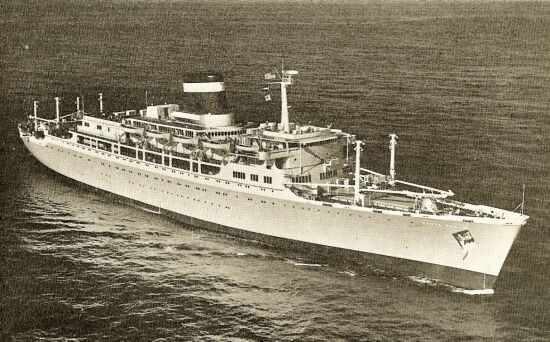 SS Santa Paula
On November 25, 1964 the Israeli liner SS Shalom departed New York on a cruise to the Caribbean. However, at 0200 during a dark and foggy night the Shalom collided with the 12,723 GRT Norwegian tanker MV Stolt Dagali having a crew of 43. The sharply raked bow of the Shalom rammed portside aft resulting in Stolt Dagali's stern section sinking quickly. The rest of the ship remained afloat due to her watertight tanks. With a S.O.S. having been sent out, the first ship to arrive on the scene was the Santa Paula which was returning from the Caribbean under the command of Captain Theodore Thomson. Later he said "We had to circle around a wide area until we saw the Shalom standing still with her lights lit. Her bow was badly damaged. Then we saw the remains of the tanker, the bow section with some sort of a light lit, and we could see ten men aboard." Captain Thomson positioned the Santa Paula in order to provide a windbreak for the Stolt Dagali's bow section. 25 crew members were rescued, however 18 Stolt Dagali crewmembers perished.

MV Stolt Dagali seen with her stern section gone
*******************************
The concluding days of two fine Grace Line Ships
Yet as time went on their days were sadly numbered as various strikes and this began to affect the companies' profitability. However, they continued until 1969 when Grace Line finally decided to sell their shipping interests to Prudential Lines, and thus the new company became "Prudential-Grace lines." However, by the end of the year regardless the reasonably good passenger numbers it was decide to withdraw both ships from service and Santa Paula was laid up at Hampton Roads Virginia on January 16, 1971, with the Santa Rosa being also being laid up at Hampton Roads just six days later. Tragically these fine luxury liners would never sail under the US flag again.
Specifications – Santa Rosa – Santa Paula
Built by:

Newport News Shipbuilding Company S.B. & D.D., USA - 1958

Yard: Santa Rosa 728 / Santa Paula 522

Tonnage: 15,371 GRT / 15,366 GRT

Length: 177.9m – 584ft

Width: 25.6m – 84ft

Engines: GE Geared Turbines – 22,000 SHP

Screws: Twin

Service speed: 20 knots

Passengers: 300 First class

Crew: 246

Fully air-conditioned

Gyrofin Stabilisers

*******************************
From "Santa Paula" to "

Kuwait Marriot Hotel

"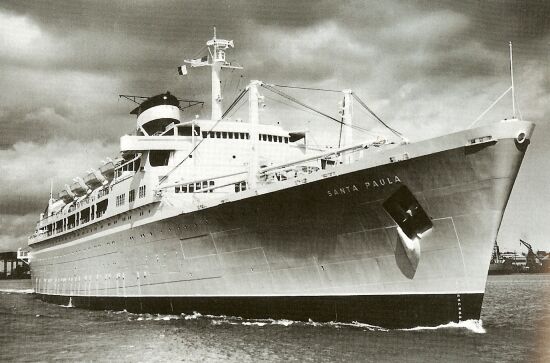 SS
Santa Paula
In 1972, Santa Paula was sold to "Oceanic Sun Line Special Shipping Company Inc" of Greece and she was renamed Stella Polaris. It was intended for her to become a cruise ship. Although she arrived in Piraeus on December 11, she remained laid up until 1976, when she was obtained by the Marriott Group, and four Kuwaiti companies. She was sent to Rijeka, Yugoslavia (today's Croatia) where she was converted for the use as a luxury-floating hotel in Kuwait. She arrived in Kuwait in September 1978 having been renamed "Kuwait Marriott Hotel." On October 17, workers commenced to raise the harbour bed at her specially prepared berth as her hull was to remain to be permanently grounded. This was completed and she officially opened as a hotel on February 1, 1980.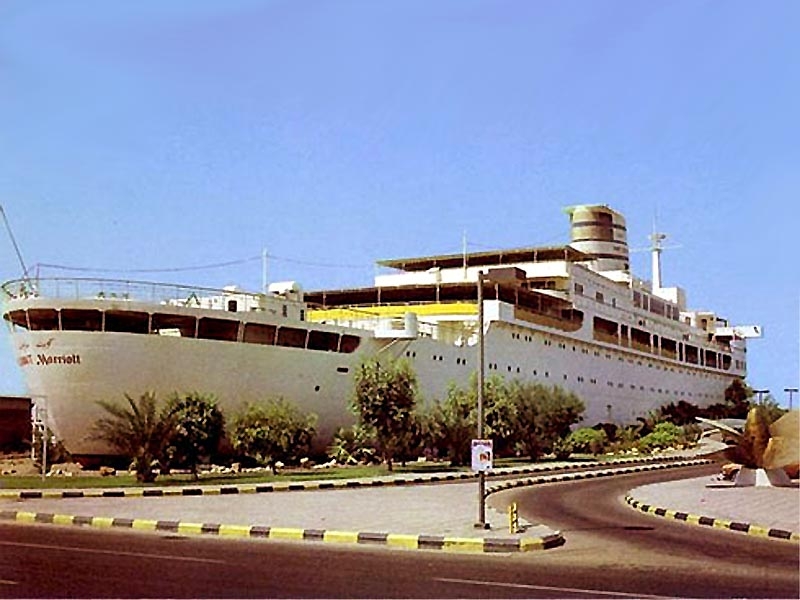 Kuwait Marriott Hotel, ex SS Santa Paula, still looking beautiful!
A Marriot postcard from the author's private collection
Then in 1989 she was renamed the "Ramada Al Salam Hotel" and they placed a hideous sign on top of her funnel advertising the name of the hotel. However, in the near futures a tragic disaster would hit this once magnificent ship when Iraq invaded Kuwait in 1991, and the "Al Salam Hotel" was attacked, bombed, and caught fire, totally destroying this once magnificent ship. Upon inspection she was considered a total loss. Much of her machinery spares somehow remained in perfect order and were sold and were used for her sister ship, the ex Santa Rosa now in use with Regency Cruises having been rebuilt as the SS Regent Rainbow. Today this fine totally rebuilt ship continues to sail on as the SS "The Emerald." The "Ramada Al Salaam Hotel," ex Santa Paula was scrapped in 2002, however it is said that parts of the ship are still visible at her final resting place.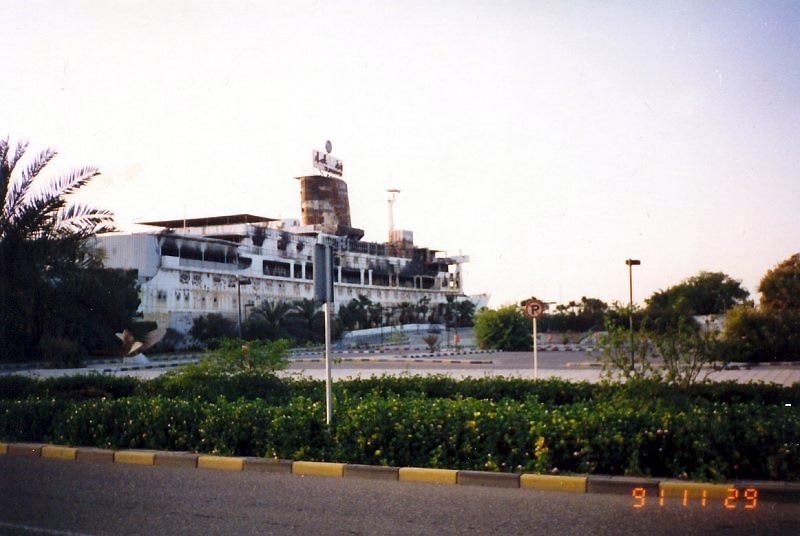 "Ramada Al Salaam Hotel" after being bombed
Unknown source – *See Photo notes at bottom of page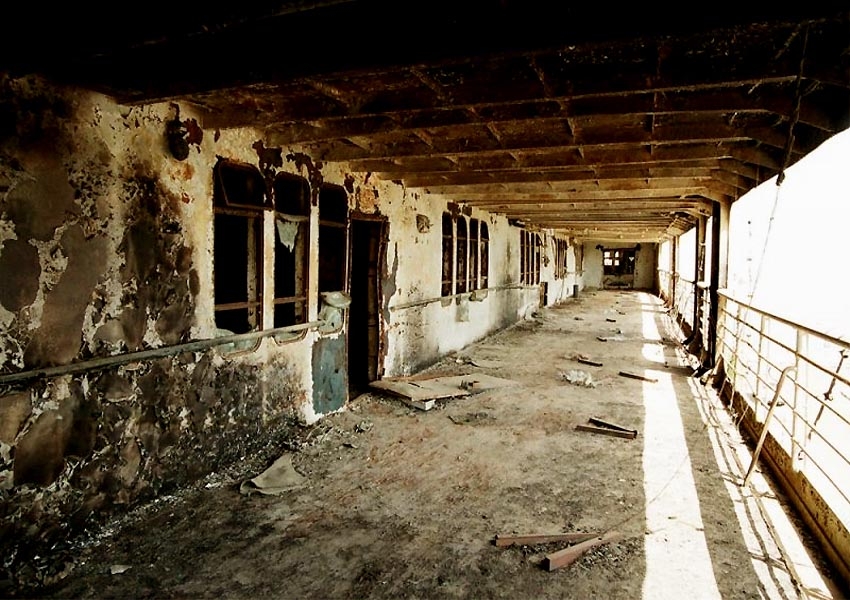 The burnt-out Promenade Deck of the Al Salaam Hotel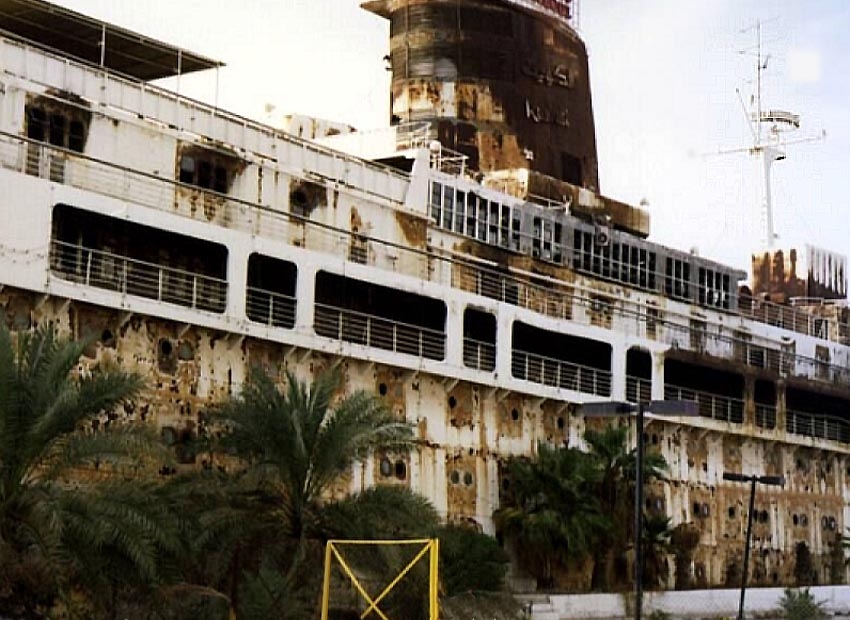 Above & below: Three photographs of the destroyed ex liner after the vicious attack
These three photographs were kindly provided, taken & are © by Dr. Roland Schregle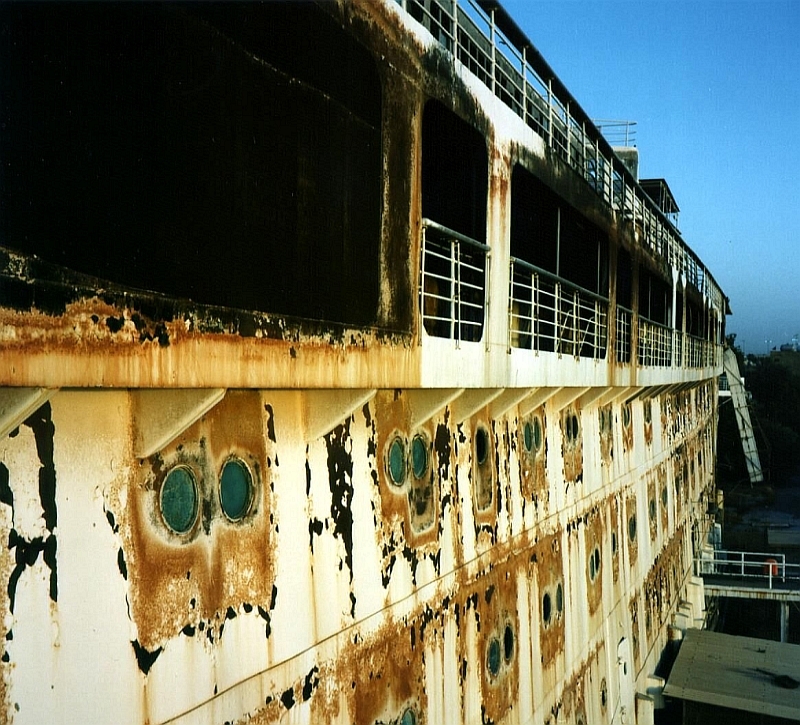 --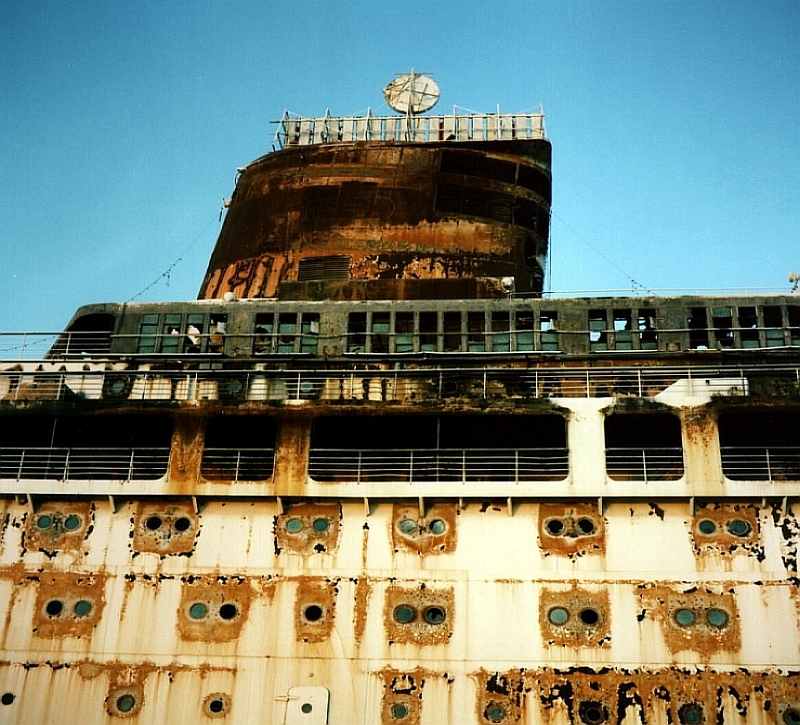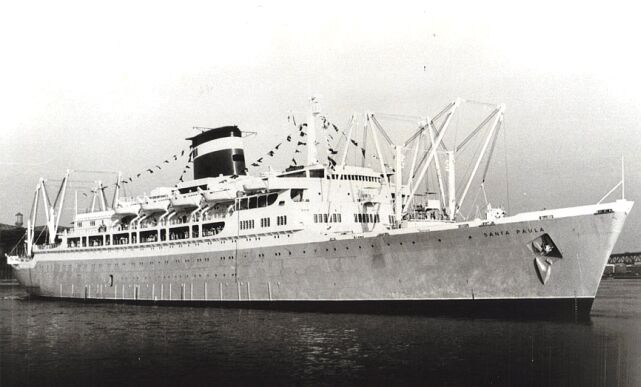 A fine photograph in memory of a superb ship, the SS Santa Paula, which is seen here during her Grace Line days
Photograph by Vic Scrivens
*******************************
Grace Lines Memorabilia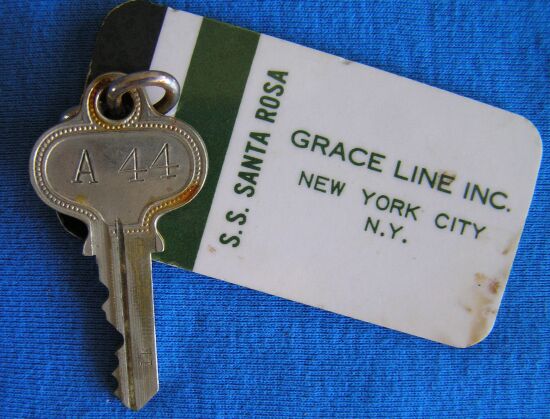 Harold Reitz sent me a photograph of his SS Santa Rosa cabin key - cabin A 44

Harold Reitz collection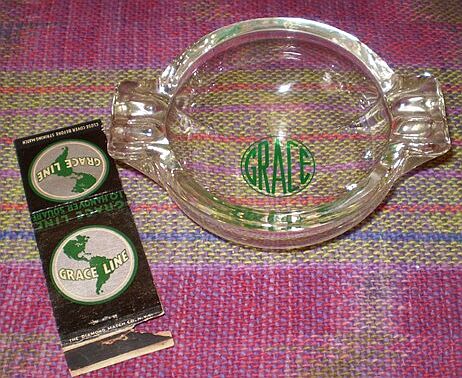 An ashtray and matchbook cover from the SS Santa Paula
From the author's private collection
*******************************
"Santa Rosa" was rebuilt into a modern cruise ship, currently named the Emerald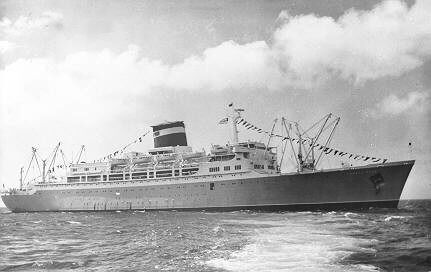 SS Santa Rosa
Santa Rosa remained laid up in the USA for 20 long years, during which she passed hands a number of times. In 1975 she was obtained by the US Department of Commerce, then in 1976 she was sold to Vintoro Corp of New York who renamed her Samos Sky and she was to operate the South American service once again. However, this venture did not eventuate and she remained idle. She was again sold in 1989, to Coral Cruise Lines Inc, New York who had her towed from Baltimore to Greece in December. She arrived at Chalkis Greece in March 1990 where she was to be modernised. Coral Cruises first renamed her Pacific Sun, then Diamond Island. Later that year she was finally sold to the Greek Lelakis Group who commenced to extensively rebuild her at a cost of $70 million. When completed in 1991, visually she was a very different ship to say the least, yet with her unaltered hull and her new superstructure she had become a fine looking cruise ship. She was renamed Regent Rainbow and commenced cruising for Regency Cruises. At the time many found it strange that with her extensive rebuilding the company decided to retain her steam turbine engines, which had been renovated with parts from the Santa Paula.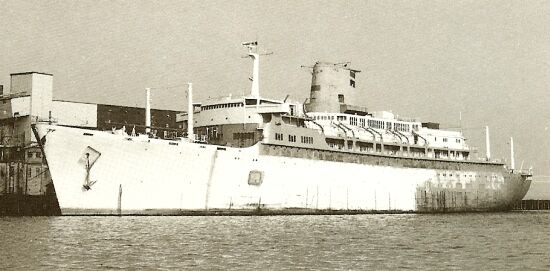 Seen here in Greece during her reconstruction to become a cruise ship
Regent Rainbow became a popular ship, however, Regency Cruises has an extensive fleet and was suffering extensive losses, and in 1995 Regency was declared bankrupt. Regent Rainbow was placed under arrest on November 27 in Tampa USA. In December 1996, Regent Rainbow was sold to rapidly growing Maltese Shipping Company Louis Cruise Line and she was renamed The Emerald. She was mostly chartered to Thompson Cruises and catered for the British market.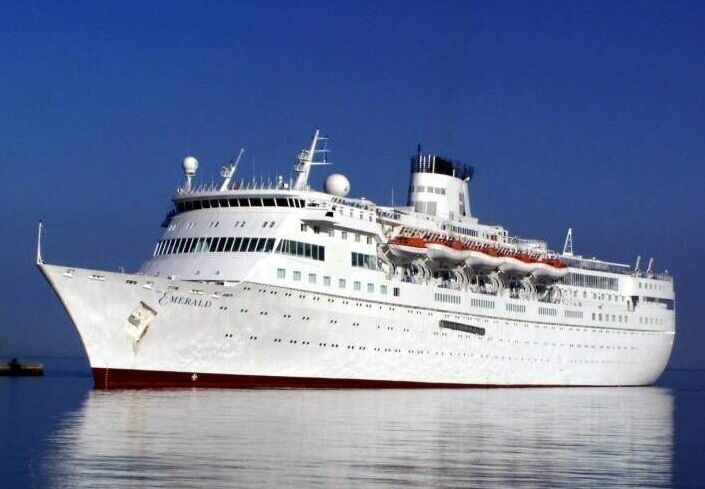 The Emerald is seen here as the stunning looking Louis Cruise Line cruise ship featuring the Louis livery with their "L" on the funnel
SS Santa Paula – the Emerald's Sad Farewell!
This delightfully modern cruise ship that was a famous yet ex classic liner, the Emerald remained but operating mostly for Louis Cruises themselves in service until 2010 when she was finally laid up and placed on the market. We had such hopes for her, as a company did seem to have plans for her and she was to head for Asia to be used as an accommodation ship, and then head to the Central America and continue to operate as a cruise ship again. The truth is that she was a fully updated ship and was SOLAS 2010 compliant.
However, that venture fell through and we heard the news in 2012 that she had been sold and we knew that it would be to a breaker, even though details had not been provided.
I was advised on August 14 that she had been beached at Alang India to be broken up, this once fine liners days has now come to an end!
The Santa Sister's leave us with some wonderful Memories, even though they have Now Gone!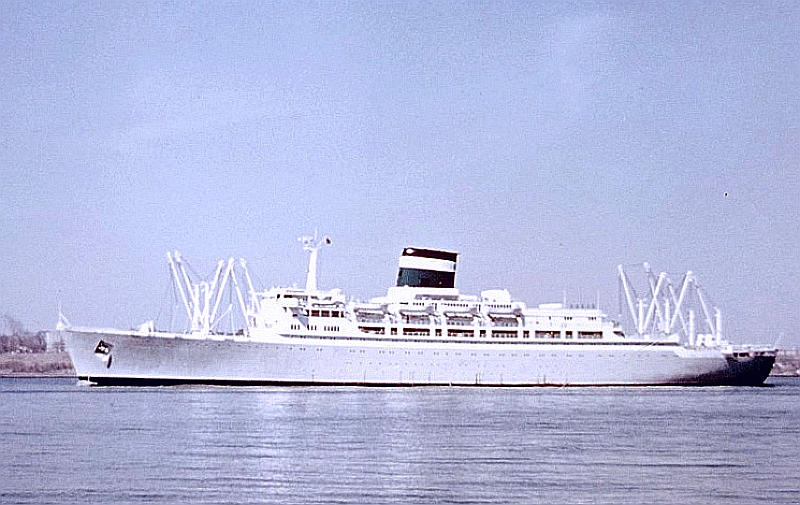 The SS Santa Paula is seen here departing New York in 1966
Photograph by Vic Scrivens, from the Rich Turnwald collection
We will remember this wonderful ship, which has given us a remarkable 55 years of joy and great service!
Grace Line INDEX:
Page One … SS Santa Paula & Santa Rosa – History Page
Page Two … The Marcia Kennedy Story – An interesting story from a Santa Paula 1969 hostess
Page Three … The Emerald - ex Santa Rosa rebuilt as a luxury cruise ship – see her interiors!
**************************************************
ENTER OUR … ssMaritime Main INDEX
Where you will discover over 700 Classic Passenger & Passenger-Cargo Liners!
ssMaritime.com & ssMaritime.net
Where the ships of the past make history & the 1914 built MV Doulos Story
Photographs on ssmaritime and associate pages are by the author or from the author's private collection. In addition there are some images that have been provided by Shipping Companies and private photographers or collectors. Credit is given to all contributors. However, there are some photographs provided to me without details regarding the photographer/owner concerned. I hereby invite if owners of these images would be so kind to make them-selves known to me (my email address may be found on www.ssmaritime.com only), in order that due credit may be given. I know what it is like, I have seen a multitude of my own photographs on other sites, yet these individuals either refuse to provide credit or remove them when asked, knowing full well that there is no legal comeback when it comes to the net. However, let us show these charlatans up and do the right thing at all times and give credit where credit is due!
This notice covers all pages, although, and I have done my best to ensure that all photographs are duly credited and that this notice is displaced on each page, that is, when a page is updated!
ssMaritime is owned and © Copyright by Reuben Goossens - All Rights Reserved