Elder Dempster MS Calabar 1935 & Epirotiki Lines MV Semiramis 1953
Please Note: Firefox and some other search engines are not suitable – Use "Internet Explorer" for this page to load perfectly!

Click the logo above to reach the ssMaritime FrontPage for News Updates & "Ship of the Month"

With Reuben Goossens

Maritime Historian, Cruise'n'Ship Reviewer & Author

Please Note

: All ssMaritime and other related maritime/cruise sites are 100% non-commercial and privately owned. Be assured that I am NOT associated with any shipping or cruise companies or any travel/cruise agencies or any other organisations! Although the author has been in the passenger shipping industry since 1960, although is now retired but having completed over 700 Classic Liners and Cargo-Passengers Ships features I trust these will continue to provide classic ship enthusiasts the information the are seeking, but above all a great deal of pleasure!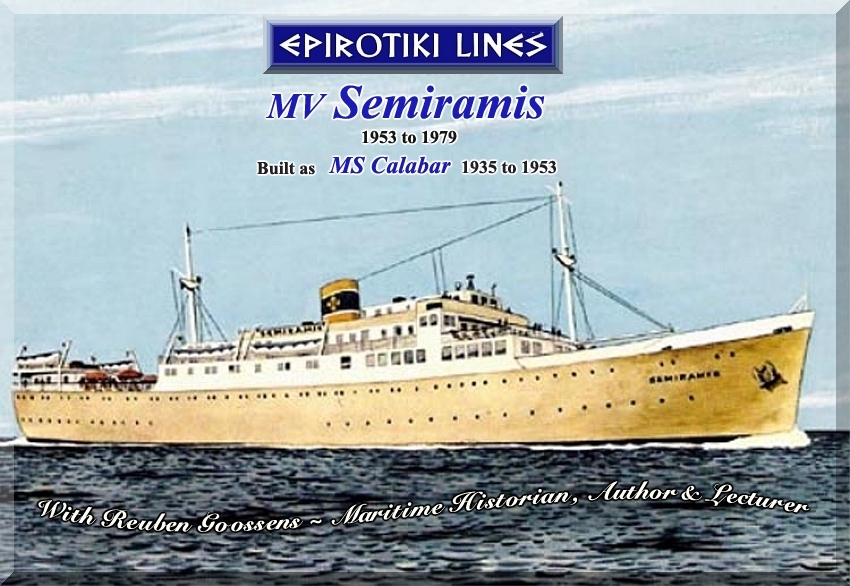 Page One
The Ship that Commenced the Popular 4 & 4 Day Cruises to the Greek Islands
When Two cruises were Combined it became a 7 Day Aegean-Grand Circle Cruise!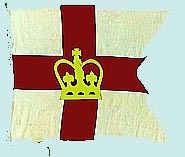 Elder Dempster Lines
Introduction:
Welcome to a new feature covering the very early days of long established Epirotiki Lines purchasing second hand ships in order to enter a brand new market of operating a cruise service around the Greek Islands, which they were the very first to establish!
This page and the three pages to follow will cover some of the earliest nine small cruise ships, with the greatest tonnage being 5,251 tons, being two ships shown on this page. Sadly I have very little interior details of the ships listed on this page, however should I locate brochures and deck plans of these, I will of course add them online in due course, all being well! But, you will find that for the next two ships there are ample photographs as well as comprehensive deck plans, and the same applies for the final three ships shown on Page Four!
I sincerely trust that you will enjoy this feature for I was a friend of the late Mr. George Potamianos for after he left Epirotiki and <![if !vml]>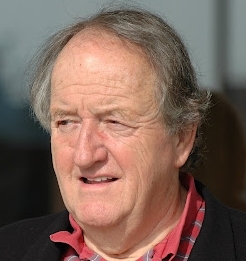 <![endif]>went to commence his own cruise company, which was "Classic International Cruises" that in due course had an amazing fleet of ships. I was fortunate enough to sail on them a good number of times, (and remember, my policy is as always, I pay my own fares!). Ships like the wonderful MV Funchal and the amazing MV Athena, two ships I dearly love and both are still sailing, but for other companies! I was to meet dear George in Lisbon Portugal when the Athena was to be in port, whilst I was on yet another voyage from Australia to Portsmouth England, however, sadly just before we arrived he had fallen very ill and was rushed to hospital. Tragically, Mr. George Potamianos passed away, before we even reached The United Kingdom, less than a week later. There is a special page online (Page Five) that Honours him and his countless achievements!
The late and greatly missed, Mr. George Petros Potamianos-
The Epirotiki Story in Brief:
The Epirotiki Shipping Line began when Mr. Anastassios Potamianos commenced his first shipping venture in 1850 by transporting both cargo and passengers along the River Danube between the Island of Cephalonia and the City of Braila. Assisting Mr. Potamianos was his nephew, Giorgos Potamianos.
When Anastassios Potamianos passed away in 1902, Giorgos took over control of the company and took the emblem of the Byzantine Cross as the company's trademark, and changed the company name to Epirotiki. In 1916 Giorgos moved to the new centre of shipping of Piraeus, acquiring his first steam powered ship. By 1926 the company owned 15 passenger vessels ranging between 800 to 1,500 GRT (Gross Registered Tons).
Considering the Potamianos family had been in the shipping industry since 1850, it took them just over one hundred years to enter to enter their company Epirotiki Lines into operating passenger services.
In fact Epirotiki pioneered cruises in the Aegean Sea working in conjunction with the "Hellenic National Tourist" Office and establishing round cruises to the Greek Islands and Eastern Mediterranean. In order to do this they obtained a 1935 built ship from Elder Dempster Lines being a passenger-Cargo ship in 1953 and this was the beginning of the passenger services for Epirotiki Lines, thus this page will tell the story of this very special ship!
MS Calabar:
The mini Passenger-Cargo Liner, the MS Calabar of 1.933 GRT (Gross Registered Tons) was built at Harland & Wolff Yards in Belfast in 1935 for Elder Dempster Lines. This small liner first traded on the West Africa coastal service, then later on the long Takoradi (Sekondi), Ghana; Lagos, Nigeria; with her destination being Cape Town, South Africa. The Calabar operated this service on a year round basis.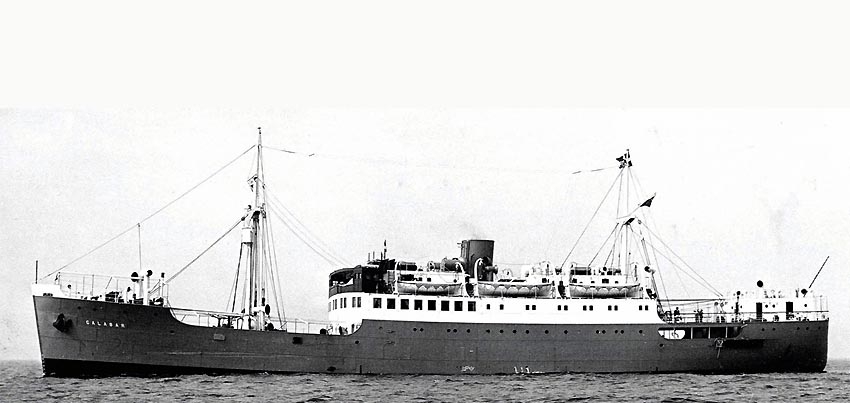 MS Calabar is seen here in her early days, with the Bridge located on Boat Deck
Whist topside there was an open emergency Bridge, and it can just be seen
The Calabar as it turned out was a ship that was built within a calendar year being 1935 being quite an achievement! Yet having been built at such a great speed, she turned out to be an extremely well built and a strong and a sturdy ship. For her cargo, she had three cargo holds, two forward and one aft.
However she was also a passenger liner and she offered First Class passenger accommodations for 40 passengers as well as 12 passengers in Second Class; making a total of 52 persons in the two classes. First Class offered comfortable two berth cabins that could be cleverly be converted and sold as single bed cabins: for in those days the colonial administrators valued their privacy when they travelled and that came with their seniority. They had a lounge come Smoking Room and a Dinning Room as well as a writing room and hairdressing facilities.
In the poop area (aft) the 12 Second Class passengers were accommodated in just four three berth cabins adjacent to a small dining saloon, which was also their lounge: without it being designated as the lounge.
Whilst forward of this area up on the Upper Deck, being the location of Hatch number 3 was a deck area that was available for "Deck passengers," who were known as "Deckers" and they were big business for most Elder Dempster ships as they voyaged between the West African coastal ports. Frequently their accommodation under the sun or at night would be nothing more than just a very basic hatch tent that would be rigged over the closed hatch.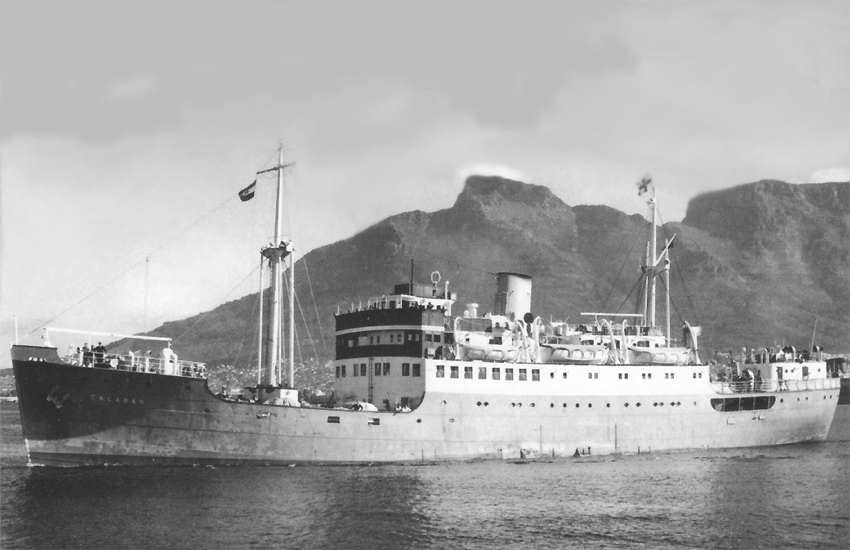 The Calabar is seen here at Cape Town after the 1948 refit a new enclosed Bridge was built on the new Bridge Deck
The photo was sent in, but the photographer is unknown - Please see the Photo Notes at the bottom of the page
In the forward section of the superstructure was a 60ft x 38ft space, which contained the two main First Class public venues, Dining Room on the portside and the Lounge and bar on the starboard side. These two venues were perfectly divided by large sliding glass doors and large windows, allowing light to radiate through both venues during the day! The Dining Room offered one sitting and there was a pantry which was linked directly to the main galley located directly one deck down, and it was serviced by a small lift that transported the food up rapidly. The Lounge had the main windows on the two sides, all of which could be opened; this was designed to ensure the venue to be a cool space in a climate where the ambient temperature was seldom below 80°F or 26°C.
From what I have been told, a photograph that was taken in the 1930s of the dinning room, it reveals that the furnishings was made of a rather stark steel type of furniture, and there was certainly no discernable attempt at giving this ship a contemporary art deco style or even a comfortable look. I was told that this was the result of the …
"Calabar was constructed and designed under the supervision of Mr. J. B. Wilkie an austere man, who was the owner's chief engineering superintendent and who tended to minimise on everything. The truth is that he would have been more interested in the ships main engine being installed and therefore he took little to no care when it came to her ambience!"
A new Style of Engine:
The Calabar received the first ever Harland & Wolff built five cylinder Burmeister & Wain-type diesel engine producing 1,400 BHP, and it was said, that "It was to be considered an early form of super or turbo charging." Well to be perfectly honest that was rather an overstatement! However, considering that this B & W engine operated most efficiently for almost 46 years it must have been an operational success. Forward of the engine room and under the storage space were two large tanks for diesel oil that could be purified onboard. Three 40Kw generators supplied power for the all-electric systems and cargo gear onboard. The layout of the three cargo hatches were simply holds for the fast stowage of general cargo to be trans-shipped from the mainline vessel and the return cargoes were bagged oil seeds. Hold number 3 was used mostly for mail, parcels and passenger baggage on the upper level.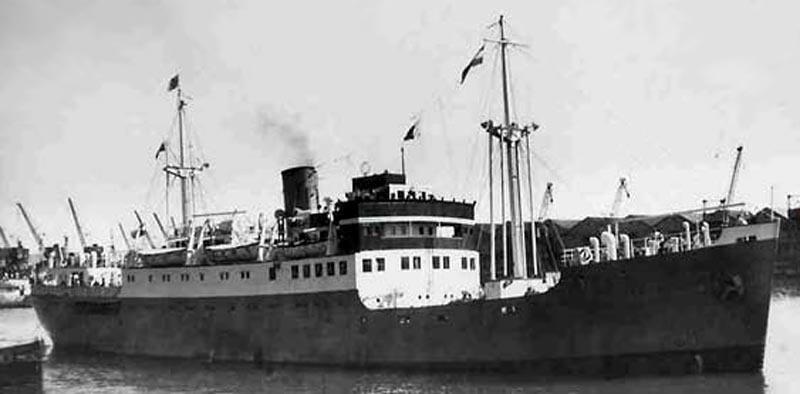 Another photo of the MS Calabar as she comes to the end of her Elder Dempster service
Photograph from & © Robert Pabst collection
Early in 1935 she departed her maiden voyage under the command of Capt. J. J. Smith and she headed off on her West African Coastal services. This lasted until after the war. In 1948 she returned to Harland & Wolff for a refit, where finally her Bridge was raised up one deck to the new Bridge Deck, as it had been on Boat Deck since being built, with only an emergency station above! The other exterior change was the raising of her funnel, which was now higher. Internally, she had received new furnishings and other cosmetic changes, making her a far more comfortable ship for the new and longer service she was about to commence. When completed, under the command of Captain C. E. Edge she commenced her longer service to Takoradi-Sekondi), Ghana and Lagos, Nigeria to Cape Town, South Africa.
During her career, she was a successful ship, but in due course new, larger and far superior ships entered into service, like the wonderful 14,083 GRT MS Aureol in 1951. Therefore the company decided to sell the Calabar in 1953, two years after the Aureol commenced service.

MV Semiramis:
Epirotiki Lines obtained the MS Calabar in 1953 for £42,000 (English Pounds) and took her to Greece where she was given a comprehensive refit and a partial rebuild to become a cruise ship. On Bridge Deck, the Bridge was modernized, whilst forward on Promenade Deck there was now a large deck space covering what used to be, where hold number two had been, for it had been removed and it was now used for accommodations, etc. The Dining Room had gone and the Lounge had now stretched right across the ship, for a new Dining Room had been relocated down on Main Deck where the hold area used to be. Only a few cabins had private facilities such as a toilet and a shower. And the ships passenger capacity was around 80, although I am unable to obtain confirmation of her early numbers.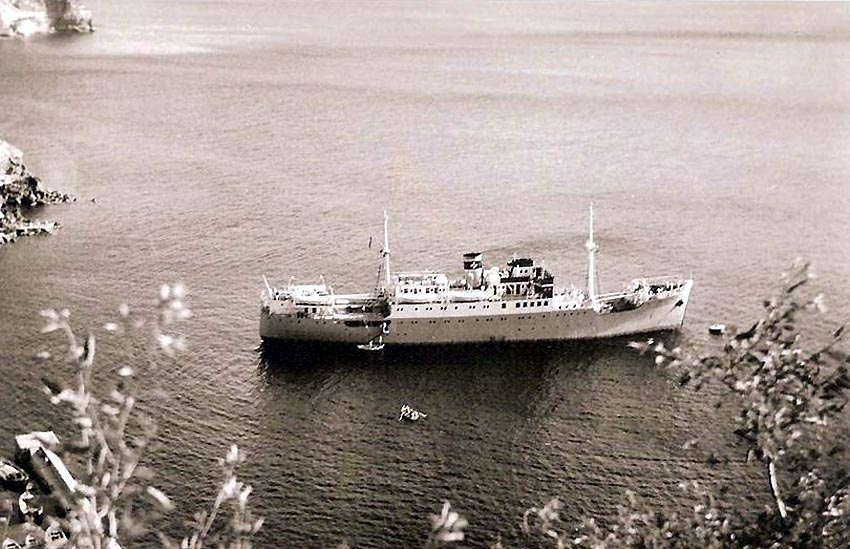 A rare postcard of the delightful MV Semiramis seen after her original refit was completed late in 1954
Epirotiki pioneered cruises in the Aegean Sea, working in conjunction with the "Hellenic National Tourist" Office and establishing specialty cruises to the Greek Islands and Eastern Mediterranean.
Thus the main purpose of obtaining this particular ship and rebuilding her into a cruise ship in order that Epirotiki could pioneer this, being a new market, which had not been greatly explored previously, and the Semiramis was the very first cruise ship to do so! She was indeed the pioneering ship that commenced the entire Aegean Island cruise business and has created 3 and 4 days cruises, which could be combined to make an unpatrolled week-long voyage. Ports of call included gems such as; Delos, Skiathos, Rhodes, Mykonos, Crete and much more! On the 7 day cruise the passenger would encounter, the Minoan, Archaic, Classical, Hellenistic, Roman, Medieval and Byzantine and all this in the comfort of this fine classic intimate yacht like ship! The Semiramis commenced her cruises in 1955 and she certainly became a rapid success and she needed further public rooms as well as cabins!
Major early 1960s Rebuild:
However, it was not long after Epirotiki realised that they needed to upgrade the Semiramis extensively, and thus in the early 1960s she underwent an extensive rebuilding programme and yet another refit, bringing her up to the required standard that was required for a far higher standard of cruising!
Sun Deck:
Far forward, directly above the "new Main Lounge" was the spacious new "Solarium," being a popular Deck space used for relaxing as well as for viewing when entered a fascinating port of call, such as one of the magnificent White Greek Islands!
Aft there were six cabins all with Private Facilities, two were located portside forward and these could only be entered from the deck outside, and thus passengers in these cabins needed to walk to the aft housing where the other cabins were and enter the hall head down the stairs to Promenade Deck for the Lounges, or Main Deck to the Dining Room.
Promenade Deck:
Major changes had taken place at the forward part of the Promenade Deck, for the superstructure was stretched forward over the previous hold number 2, that was already covered in her original refit and rebuilding, thus it just required strengthening of the flooring and the building new housing that created a brand new spacious lounge, having windows on three sides. Although there was a great deal of glass on the inner wall as there were glass doors and windows separating the venue to the Smoking Room and Bar directly aft. Aft of the public rooms were nine cabins all with all with private facilities. Far aft there was a spacious deck area as well as a Swimming Pool, a Solarium, and Medical Centre in the aft housing.
Main Deck:
Far forward was the spacious Dining Room, which was located somewhat to starboard directly below the Main Lounge over ex hold one. Aft of the Dining Room, on the starboard side were seventeen cabins as well as a Card Room and a Beauty Parlour. Nine of these had Facilities.
A Deck:
This Deck contained cabins fore and aft. Around 28 out of 74 cabins had private facilities, although six of those cabins on A Deck had a shower only.
Upon completion she looked a smart little ship with her buff hull, gleaming white superstructure, her two tall main masts combined with and her yellow funnel, with a big blue band around it with the traditional yellow Epirotiki logo on both sides, and along the waterline her red boot topping. She was now registered at Piraeus and at 1,964 GRT.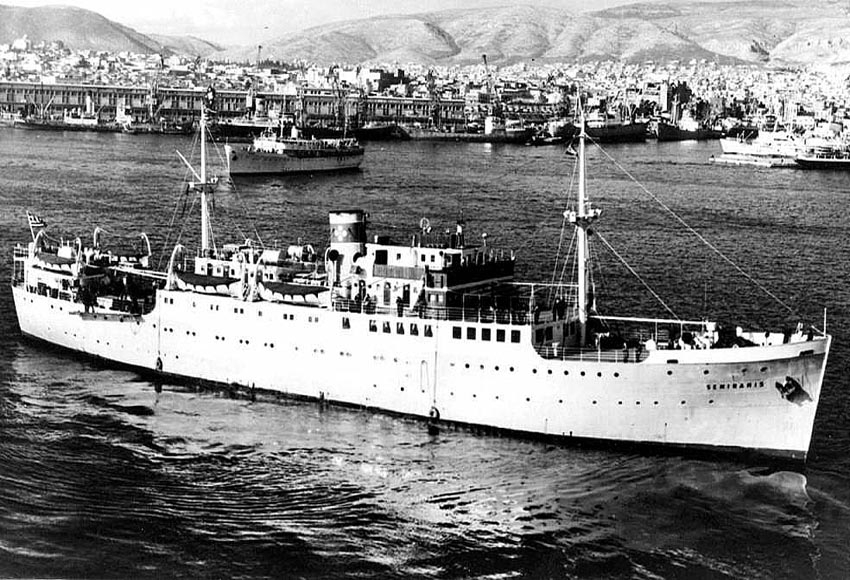 Here we see her new look with her Promenade Deck stretched forwarding around 1963
The Semiramis received several further refits, one in 1966 and whilst having her annual service she received a sprucing her up with new carpets and soft furnishings in 1970. Upon completion she commenced seven day cruises from Piraeus to the Aegean islands as well as to Turkey!
MV Semiramis Photo Album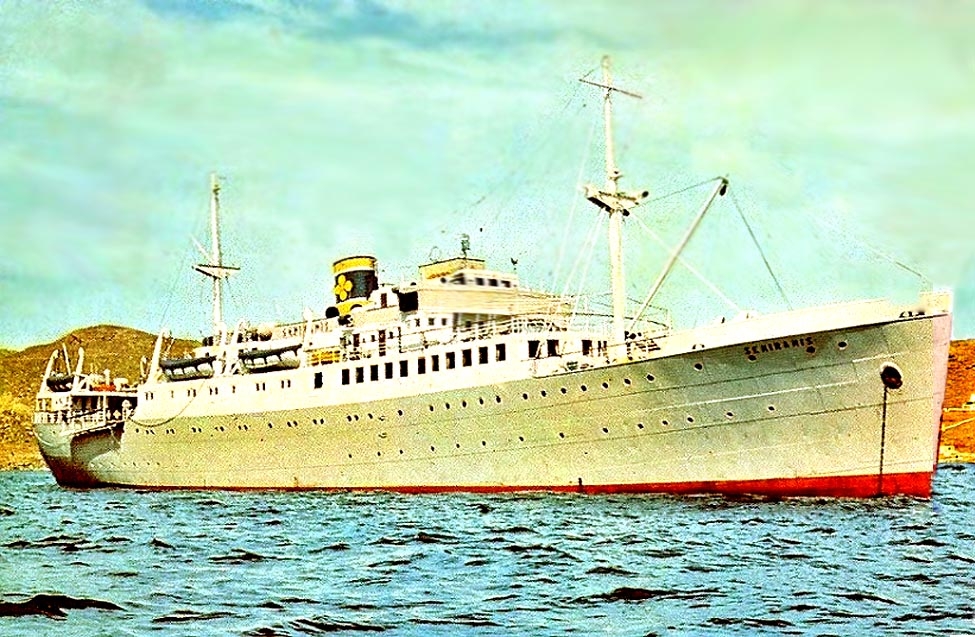 The MV Semiramis as seen in 1966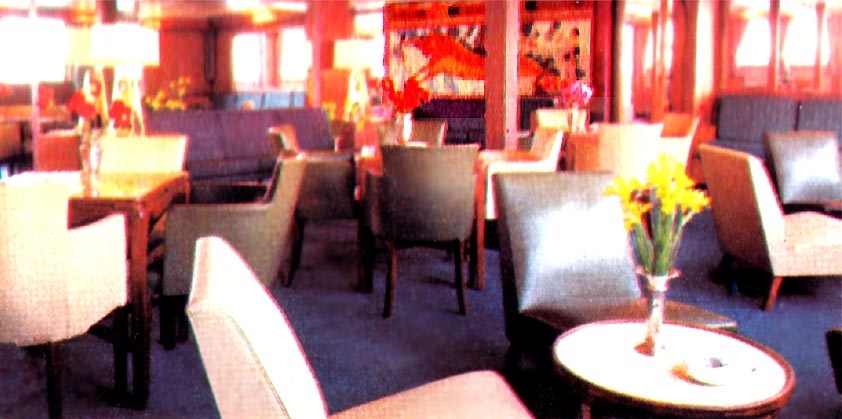 Here we see her wonderful new Lounge forward of Promenade Deck seen from port to aft
The Smoking Room can be seen through the windows just aft of the Lounge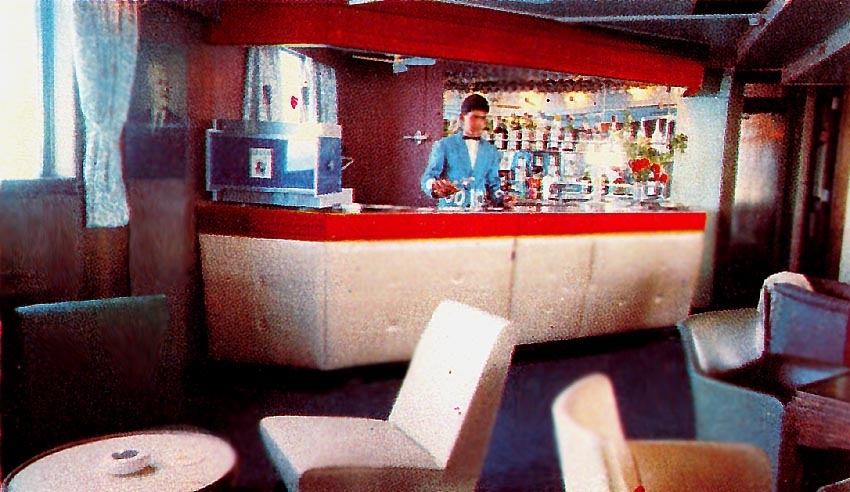 The Bar in the delightful Smoking Room was located aft and on the starboard side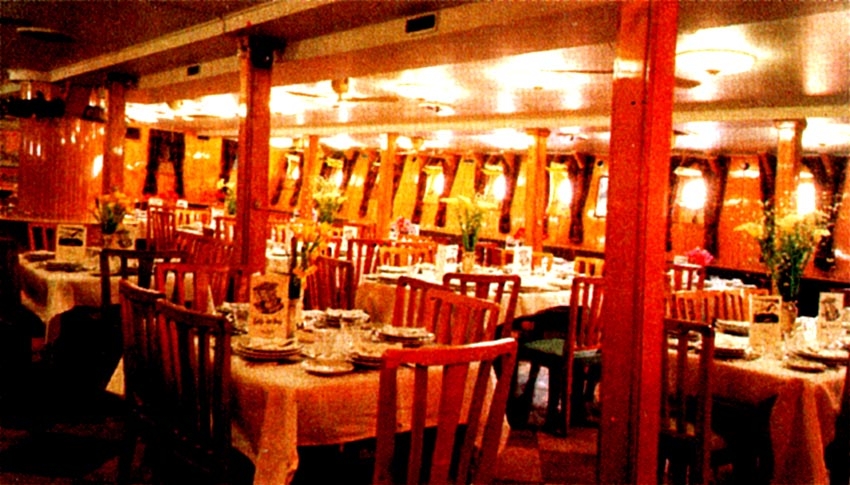 A delightfully nautical looking Dining Room located on Main Deck forward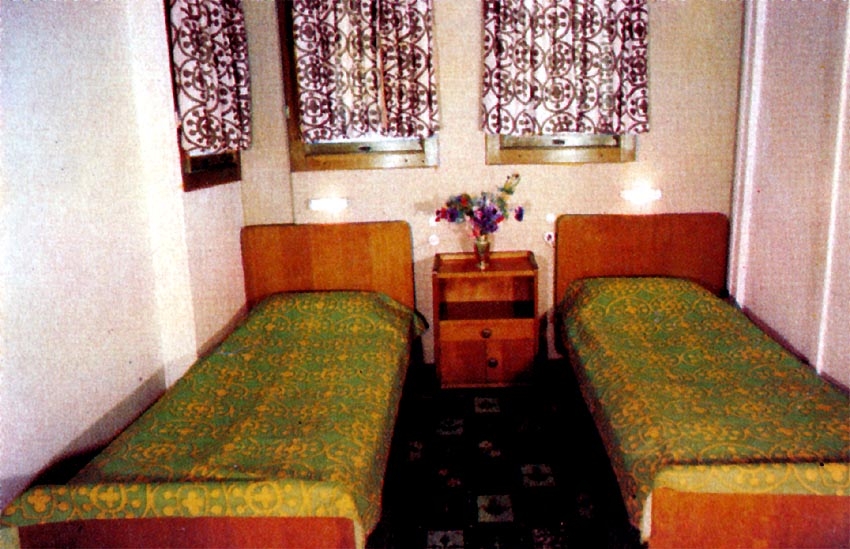 Cabin Nr. one, Sun Deck forward, a twin bedded cabin with three windows and with Private facilities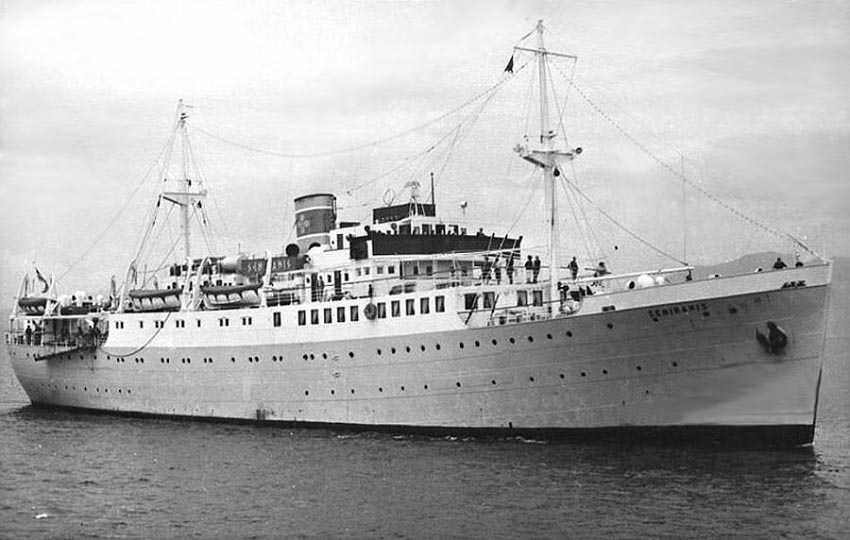 A black and white study of the MV Semiramis
The Semiramis proved to be extremely popular, even though she was far from being a luxurious ship. Yet she offered the right cruise programme with all the exciting ports and the ship had an intimate nautical atmosphere offering excellent service and passengers enjoyed the best of cuisine!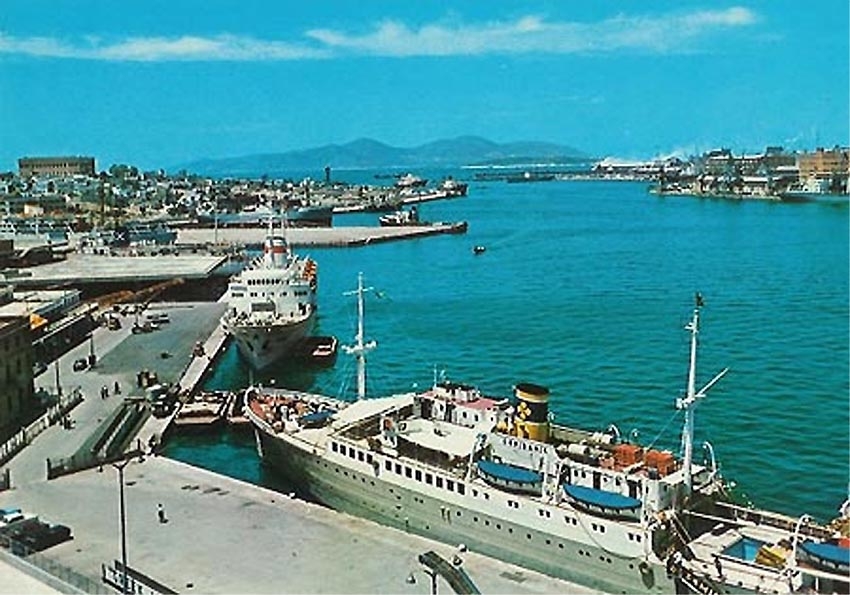 A postcard of the Semiramis seen berthed in Piraeus, Greece as she is ready for another cruise
Note the shade far forward on Boat Deck, or the "Solarium" giving shade as guests spend time up there
Her Final Days:
Thus Epirotiki used there first faithful small cruise ship for a good 26 years, but finally in 1979 she was chartered to a Saudi Company "Shobokshi Maritime" who relocated her to the Middle East" where she was used as a workers' accommodation ship. However when the charter expired she was sold to a Singaporean breaker to be broken up and she departed for Singapore in February 1980.
MV Semiramis arrived in April at the breakers Yards in Singapore of the National Ship breakers, Pty, however, work did not commence until October and thus breaking was not finished until February 1981, being 46 years after the MS Calabar departed on her maiden voyage.
Specifications for 1 = MS Calabar & 2 = MV Semiramis:
Name:                                  1. MS Calabar III - 1935-53.
Operator:                              Elder Dempster Lines.
Name:                                  2. MV Semiramis.
Operator:                              Epirotiki Lines 1953 - 1997.
Built by:                               by Harland & Wolff, Belfast in 1935.
Yard:                                   954.
Tonnage:                              1. 1,933 GRT.
.                                          2. 1,964 GRT.
Length:                                249.4ft - 75.9m.
Beam:                                  41.2ft - 12.5m.
Draught:                               16.3ft - 4.95m.
Engines:                               Five cylinder Burmeister & Wain-type diesel by the builders.
Screws:                                Single - 1,400 BHP.
Speed:                                 10 knots.
Accommodations:                  1. 40 First Class, 12 Second Class passengers
.                                          2. 185 One Class.
Passenger Decks:                   1. 3.
.                                          2. 4.
There was no doubt that the MV Semiramis encouraged Epirotiki Lines to enter into an upmarket cruise programme and thus back in the early 1960s they decided to commence a search for a ship that they could convert into an all first class product, and they soon found one in 1964, this was the ship that would become the luxury cruise ship the MS Argonaut.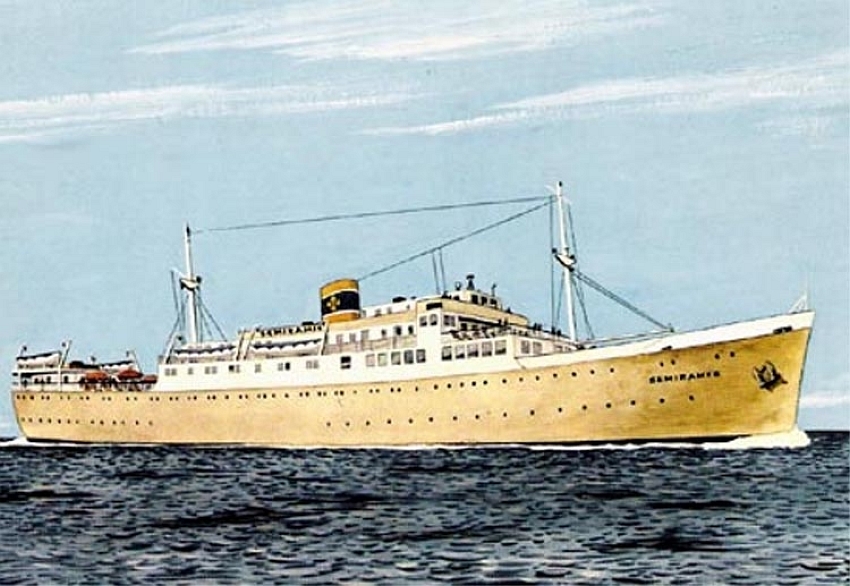 The MV Semiramis, the ship that commenced a cruise revolution in the Aegean
Epirotiki Index:                     
Page One …                              MV Semiramis the first ship!
Page One B …                           MV Semiramis Deck Plan.
Page Two …                              The Early Ships - SS Hermes, Atreus, Pegasus & Hermes II.
Page Three …                           MS Argonaut.
Page Three B …                        MS Argonaut Deck Plan.
Page Four …                             MTS Jason.
Page Four B …                          MTS Jason, later MS Ocean Odyssey - Deck Plans.
Page Five …                              MTS Orpheus II.
Page Six …                               MTS Apollon II.
Page Six B …                            MTS Orpheus II & Apollon II - Deck Plans.           "
"Blue Water Liners sailing to the distant shores.
I watched them come, I watched them go and I watched them die."
****************************
Return to the ssMaritime Main INDEX
Where you will discover over 700 Classic Passenger & Passenger-Cargo Liners!
ssMaritime.com & ssMaritime.net
Where the ships of the past make history & the 1914 built MV Doulos Story
Please Note: ssmaritime and associated sites are 100% non-commercial and the author seeks no funding or favours of any shape or form, never have and never will!
Photographs on ssmaritime and associate pages are by the author or from the author's private collection. In addition there are some images that have been provided by Shipping Companies and private photographers or collectors. Credit is given to all contributors. However, there are some photographs provided to me without details regarding the photographer/owner concerned. I hereby invite if owners of these images would be so kind to make them-selves known to me (my email address may be found on www.ssmaritime.com only), in order that due credit may be given.
This notice covers all pages, although, and I have done my best to ensure that all photographs are duly credited and that this notice is displaced on each page, that is, when a page is updated!
ssMaritime is owned & © Copyright by Reuben Goossens - All Rights Reserved