Rotterdam Lloyd MS Sibajak 1928 to 1959
Please Note: Firefox & some other Search Engines may not be suitable
Use Google Chrome for this Web Page to load perfectly!
Click the logo above to reach ssMaritime FrontPage & Featured ships
With Reuben Goossens
Maritime Historian, Author, Cruise'n'Ship Reviewer and Maritime Lecturer
Please Note: All ssMaritime and other related maritime & cruise sites are 100% non-commercial and privately owned. Be assured that I am NOT associated with any shipping or cruise companies or travel or cruise agencies, etc! Although having been in the passenger shipping industry since 1960, I am now retired but having completed features on well over 1,350 Classic Liners and Cargo-Passengers Ships, I trust these will continue to provide you the classic ship enthusiast the information you are seeking, but above all a great deal of pleasure!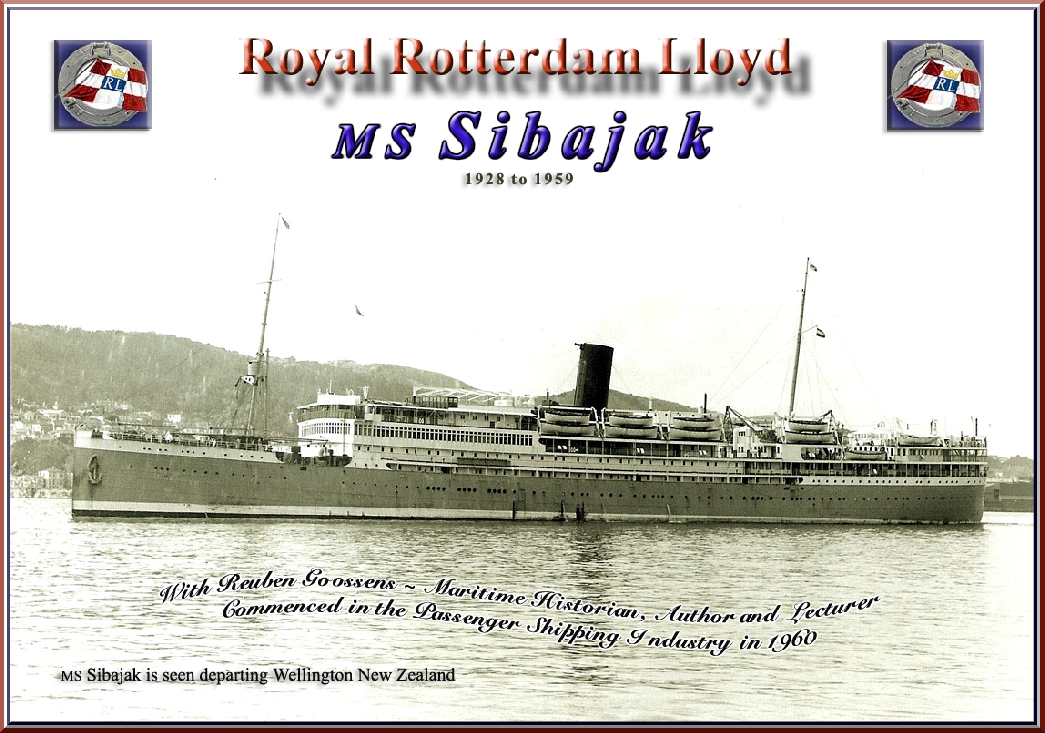 Image above from the Author's Private Collection

Please Note: Many Images below were provided by Peter Nieborak, unless stated otherwise
Page Seven
The Nieborak Family Sail for Sydney
Introduction by the Author of ssMaritime:
Some time ago I received an email from Mr. Peter Nieborak who told me that he and his family, just like myself, sailed on the MS Sibajak in her final years of operation prior to her being broken up 1959. As I was heading off on a cruise, and retuning home not all that well, together with being forgetful these days, I only have just found his wonderful story and images that Peter sent late in 2014. Thus here is his and his Peter's Families story together with the wonderful scans he provided!
This story of the Nieborak family's voyage from Rotterdam to Australia was told to me by Peter Nieborak who was born in Poland, in April 1958. Thus Peter was just barely eight months old and he remembers little to nothing, pat one event, which would be difficult to forget, almost at any age! He has sent me the details and although all the fact are correct and as told, but it has been rewritten especially for readability sake. In addition, his older brother Christopher or Chris will also provide some of his memories.
Reuben Goossens August 5, 2015.
The Peter & Chris Nieborak Family Story:
"The Nieborak family, being my Mother (Bogumila) and Father (Antoni), together with my brother (Christopher) and Sister Regina Anna left Poland in late 1958 went to Germany and we remained there for a very short time. Whilst there they collected their documents, labels as well as a colour brochure of the ship."

Above & below: The exterior and interior of the 4-fold brochure
This is the restored version, for the scans of the brochure I received, showed that
it had suffered considerable wear and tears from the many years of its existence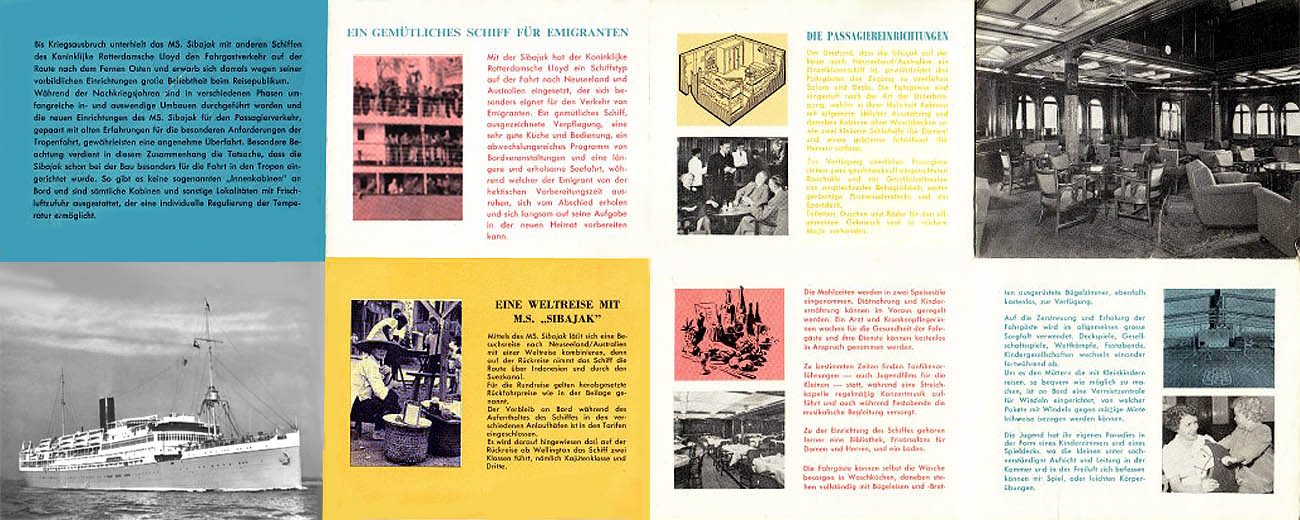 "Having received our travel documents, it was time to leave Germany and board a train and head for Rotterdam, Holland where we would be embarking the Royal Rotterdam Lloyd liner MS Sibajak and sailing half way around globe to Australia were we had an uncle who had organised our travel arrangements from his side.
Unknown to us, suddenly there would turn up an unexpected and a scary problem for all of us, for as soon as we arrived in the Netherlands we ended up spending the night before our departure not in a hotel, as we had expected, but in a Dutch prison. This was because the Dutch Border Authorities thought that we had entered the country illegally. To say the least, this was a very bad start to our huge journey to a new land and a new life! However, in the morning, once the paperwork was sorted out, the police drove us to the Royal Rotterdam Lloyd docks and the Sibajak awaited us, and we thankfully received priority boarding which was really great and my parents were very pleased how it all turned out, "for from out of a bad thing can come something good, and it did!
Obviously I being just a baby (Peter) remember very little about this day as I was so young and sleepy, thus I was put in the specially provided cot in our four-berth cabin number 234, and whilst my dreamland, the family went off exploring the ships lounges and all the many decks."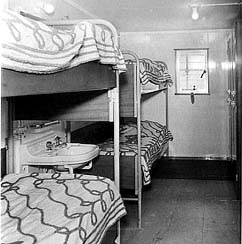 A typical four-berth cabin on the Sibajak
Image from the Author's Private Collection
"As time approached for departure, they remained at the rails on Promenade Deck and listened to the Bands play rousing music and a stirring piece as the ship set sail, with hundreds ashore holding on to the thousands of streamers for their loved ones were leaving and sailing so far away, and would they ever see them again? But the Nieborak family had no family there and they could just look on at this emotional experience and would have felt the experience, for what they were undertaking it was a big thing to do, to take your children so far away not really knowing what lay ahead?"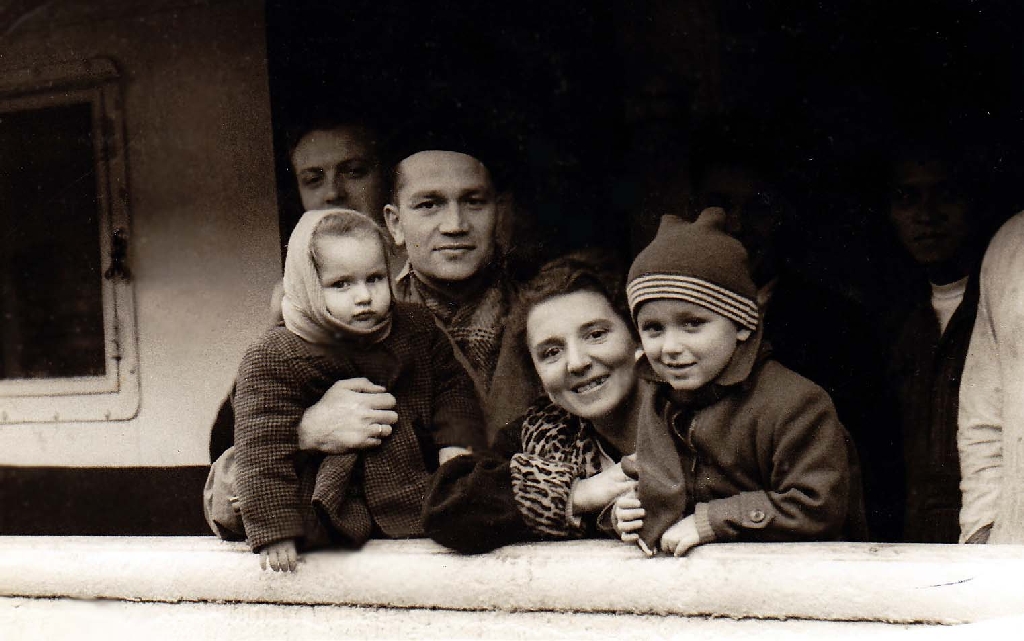 Here we see Mum and Dad, little sister Regina Anna (left) and big brother Christopher (right)
Baby Peter was in his cot in the cabin fast asleep at this time!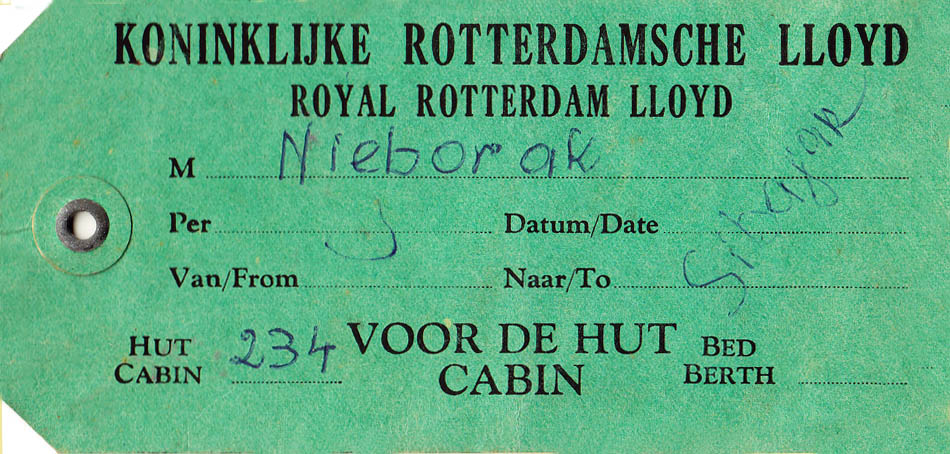 Above & below: Two sides of the Family label, Cabin 234, being a four-berth cabin.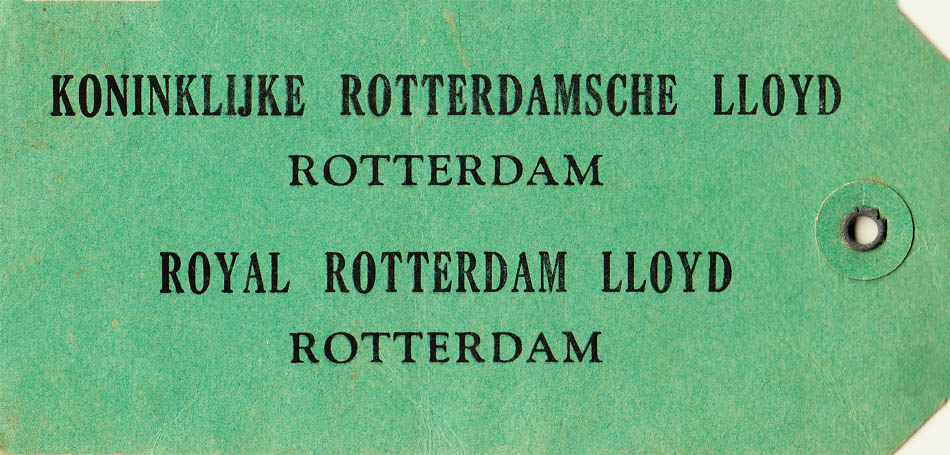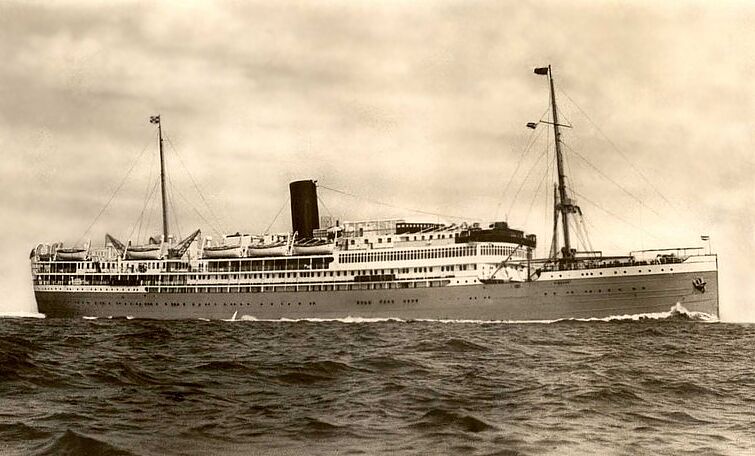 The MS Sibajak has set sail and here she is seen crossing the Atlantic bound for Willemstad, Curacao
Postcard from the Author's Private Collection
The Itinerary:
The Sibajak itinerary was as follows; she departed Rotterdam's Lloyd Kade (Wharf) on Tuesday December 2, 1958, at 3.25 pm with a complement of 780 passengers, and her ports of call were, Southampton December 3 (161 passengers boarded), Willemstad December 14 (1 Passenger boarded), transit the Panama Canal with a bries Stop at Panama City at night (no date available), Papeete December 29, Wellington 6 January 1959 (759 passengers disembarked) & departed Wellington January 8 (33 passengers boarded), Sydney January 12 (76 passengers disembarked) & departed Sydney January 14 (27 passengers boarded), arrive Melbourne Jab\nuary 16 (108 passengers disembarked).
"As we departed Rotterdam, we crossed the North Sea to our first port in England, Southampton, where she picked up more passengers, we then crossed the Atlantic Ocean and at first it was very cold and the weather somewhat rough, but as we got closer to the Caribbean, it warmed up and we arrived at the Dutch Antilles, Willemstad, then a passage through the fascinating Panama Canal with a short late afternoon, evening call at Panama City. She then entered the warm and beautiful Pacific Ocean with its famed flying fish and its next port tropical and beautiful Papeete in Tahiti from there it was a longish voyage to Wellington New Zealand, which was for the passengers on board the ships main destination, as the majority disembarked here. But as we entered the harbour it turned out to be one of the most beautiful harbours my parents had ever seen!
And as it turned out Wellington did live up to what Mum and Dad had heard, it had a reputation for being the "Windy, Wet Wellington" for it certainly was just that! After several days in port, the Sibajak headed north of New Zealand and turned west to cross the Tasman Sea and we sailed for Sydney, where further passengers disembarked!" And of course our fin al port was Melbourne, our destination, the place where we would commence our new lives."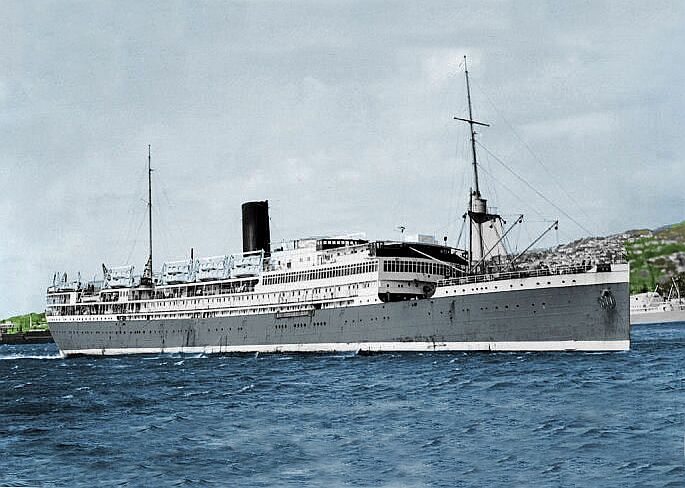 The Sibajak is seen departing Wellington at the beginning of 1959 and bound for Sydney
Image from the Author's Private Collection
Our On Board Experiences:
"Obviously there are many memories and our voyage was spoken of by my parents over the years and they obviously enjoyed it very much, but with three children did make it somewhat more difficult, especially that two of us were very little holding Mum back a lot.
My brother Christopher remembers eating a banana at one of the ports and it was the first banana he had ever eaten in his life, and he claims that he has never tasted a banana like that one eve again! I suppose, how can you better that very first experience, and also often bananas in the tropics, let's say if it was in Curacao or Tahiti are often they are so much better there, for they tend to be 'Lady Fingers.'
Although there was one major event that even I as a babe in arms somehow recall to a degree, for we had a fire in our cabin and we lost most of our clothes  and of course my nappies etc. The passengers assisted us wonderfully, for they rallied around and provided us with what we needed. There was such a wonderful community spirit on board and the Dutch passengers were amazing. The crew were outstanding for they had it extinguished very quickly, for can you imagine a fire on a ship could have been very serious."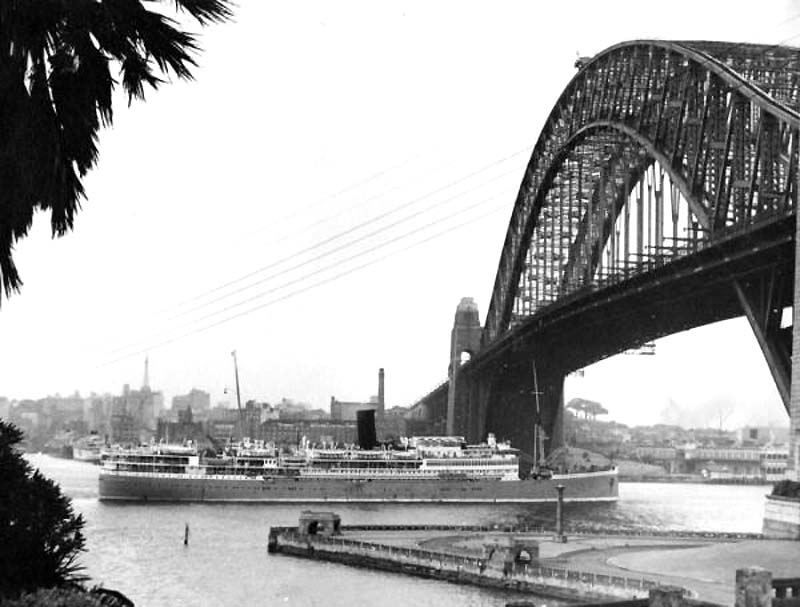 The Sibajak arrives in Sydney in 1959
Image from the Author's Private Collection
And this concludes the Nieborak family story of their voyage on the MS Sibajak. Peter Nieborak
MS Sibajak Index:
Page One:…………………….MS Sibajak had long career from 1927 to 1959 - This is her complete story!
Rotterdam on May 17, 1958.
Australia on May 17, 1958.
Chef H B Hulspas story, a floorshow programme and a farewell menu dated 1955.
der Net and their voyage to Australia in 1956.
Australia in 1959.
Page Eight:                Mr & Petzold sail from Rotterdam to Cape Town on October 25, 1949.
Also visit the Three other Dutch Liners on the New Zealand - Australian Service
MS Johan van Oldenbarnevelt - MS Oranje & MS Willem Ruys
Please Note: Email service to ssMaritime, is sadly no longer available,
This is due to the author's old age and illness as well as being disabled, etc.
***********************************
"Blue Water Liners sailing to the distant shores.
I watched them come, I watched them go and I watched them die."
Return to the ssMaritime MAIN INDEX
ssMaritime.com & ssMaritime.net
Where you will discover over 1,365 Classic Liners & the 1914 built MV Doulos Story
The Author has been in Passenger Shipping & the Cruise Industry for over 60 years!
Please Note: ssmaritime and associated sites are 100% non-commercial and the author seeks no funding or favours of any shape or form, never have and never will!
Photographs on ssmaritime and associate pages are by; the author or from the author's private collection. In addition there are some images that have been provided by Shipping Companies and private photographers or collectors. Credit is given to all contributors. However, there are some photographs provided to me without details regarding the photographer/owner concerned.
This notice covers all pages; although, and I have done my best to ensure that all photographs are duly credited and that this notice is displaced on each page, that is, when a page is updated!
ssMaritime is owned & © Copyright by Reuben Goossens - All Rights Reserved