Rotterdam Lloyd MS Sibajak 1928 to 1959
Please Note: Firefox & some other Search Engines may not be suitable
Use Google Chrome for this Web Page to load perfectly!
Click the logo above to reach ssMaritime FrontPage & Featured ships
With Reuben Goossens
Maritime Historian, Author, Cruise'n'Ship Reviewer and Maritime Lecturer
Please Note: All ssMaritime and other related maritime & cruise sites are 100% non-commercial and privately owned. Be assured that I am NOT associated with any shipping or cruise companies or travel or cruise agencies, etc! Although having been in the passenger shipping industry since 1960, I am now retired but having completed features on well over 1,350 Classic Liners and Cargo-Passengers Ships, I trust these will continue to provide you the classic ship enthusiast the information you are seeking, but above all a great deal of pleasure!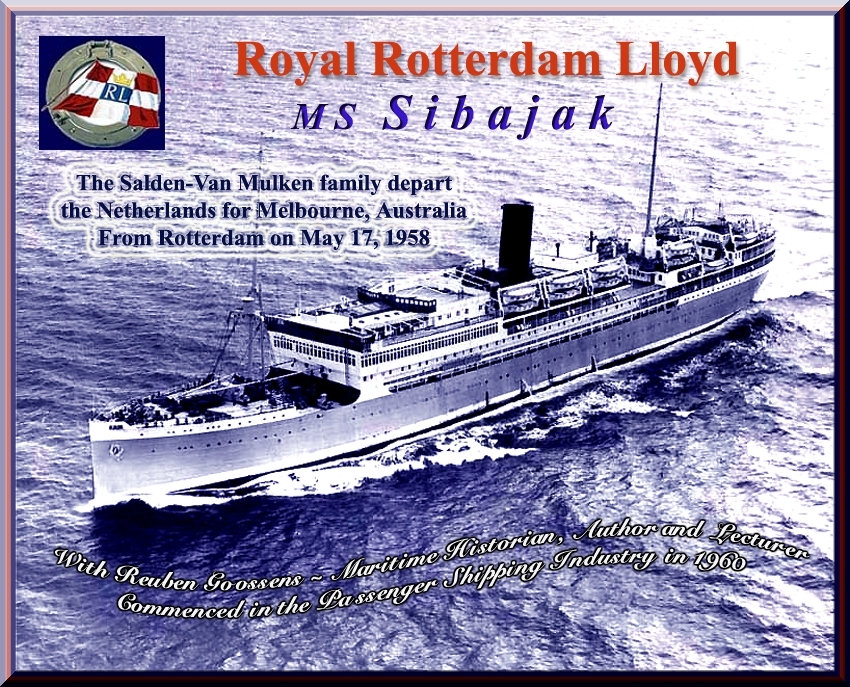 Photograph from the author's private collection
Page Three B
Emigration to Australia …
From Tulips and Windmills
to
Gum Trees and Kangaroos
Departing Rotterdam o
n
M.S.
Sibajak
on May 17, 1958
By Mia Salden-Van Mulken
Part One
Introduction:
Please Note: I hereby wish to thank the Salden-Van Mulken family for the story of their voyage to Melbourne Australia, which was written by Mia Salden-Van Mulken. You will find that the main part of the story is located directly after the MS Sibajak brochure located below, and it commences with the heading; Saturday May 17, 1958 - Departure Day.
On the previous page, Page Three - I described my very own voyage on the M.S. Sibajak, sailing on this same voyage from Rotterdam to Wellington New Zealand as this family. Over the years I received several emails from those who have sailed on this sailing, to Wellington, or Australia. Recently, I received a most welcome email from a member of the Salden-Van Mulken family, who was actually born in Australia, however, her Mother, Father and Baby brother came to Melbourne on the voyage I sailed on 59 years ago, and it was a thrill to hear from her! Sadly her dear Mother Mia has in recent years passed away. However, I trust that this page will be a blessing to the family and all who sailed on the Sibajak, be it on this voyage in May 17 to June 30, 1958, or on other sailings over the many years of the Sibajak's operation!
Please Note: Photographs and brochures on this page were kindly provided by the family of Mia Salden-Van Mulken, unless mentioned otherwise
Family Salden-Van Mulken background:
The Salden family lived in the south east of the Netherlands in the Province of Limburg, and the town of Geleen, which was in the Municipality of Sittad-Geleen.
Sittard-Geleen is one of the oldest cities in the Netherlands, and it certainly has a very rich history behind this ancient city. Its city rights were originally granted in the year 1243. Since then the region certainly had a varied history, which included possession by the French, and the Germans as well as the Belgium's wanted to index it to their country, but Sittard-Geleen remained strongly Dutch!

Left: the Rijksweg into town & Right: Town centre looking towards the Town Hall
Photographs obtained from the Municipality of Sittad-Geleen
In 1920 there were just 4,000 living in Geleen, then in 1930 it had increased to 12,000, and by 1955 the population had reached 25,000, which remained even for the next ten years.
During the 20th century coalmines sprang up in the region, and the State-owned coalmine 'Maurits,' being the largest in Europe, was located in Sittard-Geleen and with the opening of the mine, this meant a rapid population increase. However, during the 1960s and 1970s all coalmines, in this province were closed down. By 1980 the population of Geleen had reached 36,000, whist today the population is somewhat less and stands at around 34,500.
The Voyage to Melbourne Australia on the Sibajak:
With the idea of a new life in New Zealand or Australia having become very popular amongst many in the Netherlands, and the relative Immigration Departments were holding special events in many cities and towns promoting the idea of a new life Down Under. At these events they would give a short lecture and a film regarding life in New Zealand or Australia.
The family obviously decided that they would go to Australia and would disembark the ship in Australia's second largest city, being Melbourne in the State of Victoria, and make their new life there. Thus they made all the relevant arrangements through the Australian Immigration Department in Holland, and in due course they were booked on the Royal Rotterdam Lloyd 1928 built passenger liner, the 12,342-ton MS Sibajak.
Having received several brochures of the Sibajak, as well as a good number of ºpages of information regarding boarding and ship information, etc., they had a good idea what facilities this ship offered them, including having good baby facilities on board as they would be travelling with their baby boy.
ºThe ship information mentioned above together with brochures not shown below will be on Part Two of this story. A LINK is at the bottom of the page.
Departing on the Sibajak on May 17, 1958 bound for Melbourne Australia was the Dutch family: Mr. Gus Salden 31 years of age, Mrs. Mia Salden-Van Mulken 36 years of age and their baby Leon Salden who was just nine months of age, and he was officially the youngest male baby aboard the ship as there was a slightly younger female baby on board.
The family had to travel by bus from Geleen to Rotterdam and board the Sibajak, which was berthed at the Lloydkade. The time to board the ship was between 11 am and Noon.
Voyage details from Rotterdam to Melbourne:
Depart Rotterdam;……………………..May 17, 1958
Southampton:………………………..…….May 18.
Willemstad, Curaçao;…………..……….May 29.
Cristobal, Panama;……………..………..May 31.
Panama Canal;………………………..…….May 31.
Balboa, Panama;………………..…………May 31 & June 1.
Papeete, Tahiti;……………….……………June 13 & 14.
Arrive Wellington, New Zealand;...June 22.
Depart Wellington;…………….…………June 23.
Arrive Sydney, Australia;………….….June 27.
Depart Sydney;…………………..………….June 28.
Arrive Melbourne:…………….………..June 30, 1958
Reuben Goossens - July 2017.
****************************
You can view a large version of the brochure below HERE

Above & below: This is just one of the brochures received by the family there are other brochures and material located on Part Two
Please Note: You can view a larger version of this brochure, by just clicking on the actual image or the link directly below it!
The brochure is in Dutch, a German version is also located on Part Two
You can view a large version of the brochure below HERE

Our Voyage on the Sibajak
By Mia

Salden

-Van

Mulken
Saturday May 17, 1958 - Departure Day:
We were all up at sunrise to prepare to leave Geleen in the south of Holland in the Province of Limburg as we would be bound for Rotterdam and boarded the MS Sibajak and we were immigrating to Australia. This was our last day in our homeland. At 6.30 am 'The Splendid Touring Car' Company Bus chartered by Lissone-Lindeman (travel agents) arrived. Our suitcases were quickly loaded and we, along with some relatives who would go with us to see us off boarded the bus. Konings, was our travel guide and he informed us, that more emigrants and their families would board at Urmond, Grevenbicht, Echt as well as Weert.
After a morning coffee stop we arrived at The 'Koninklijke Rotterdam Lloyd' (Royal Rotterdam Lloyd) wharf where our ship the Sibajak awaited us.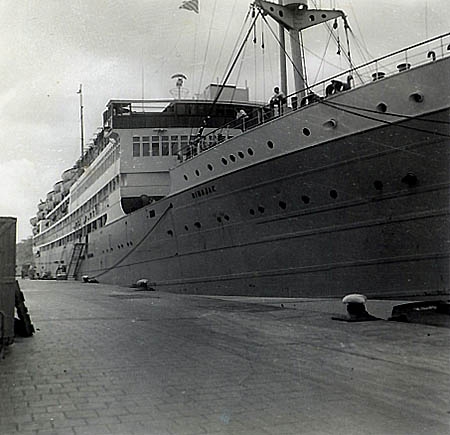 MS Sibajak seen berthed in Rotterdam
Having gone through all the official emigration and other boarding procedures, we boarded the ship leaving our relatives back on the wharf. My son and I were in cabin Nr. 85A, which we shared with another woman and her two children. They were going to Wellington New Zealand. My husband was in a male dormitory Nr. 136B.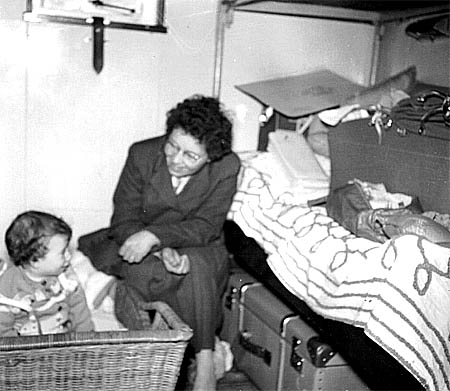 Mia and baby Leon seen in their cabin Nr. 85A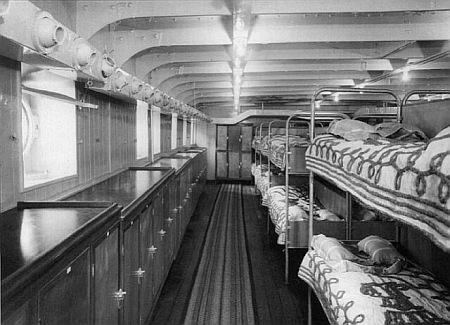 A typical dormitory
Our cabin boy was 'Amin' from Java Indonesia soon arrived to look after the baby while lunch was served in the dining room. Amin spoke broken Dutch and a few words of English. Amin kept the cabin tidy and clean, and he would bring the ship's paper in the morning. He was very busy with work on the ship.
Then final preparations before departure commenced. The pilot had come on board and the tug moved to the front of the ship. The ship's steam horn sounded for the first time, and the people on the wharf were throwing colourful streamers to the ship, more and more streamers came and it was a beautiful and an emotional sight. All these many colourful streamers were our very last contact with our family and friends who were seeing us emigrants on the Sibajak who were leaving their home country for a far-a-way country; it was an unforgettable sight.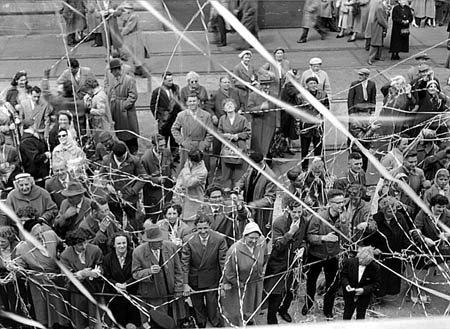 Passenger's family and friends came to say Goodbye and colourful streamers provided an emotional farewell from Holland
The ship's horn sounded for the second time, and now the gangway was removed and the close connection with our homeland was completely broken. Our very last day in our country was drawing to an end.
At 2.50 pm the ship's horn sounded for the third and last time and M.S. Sibajak was moving slowly undertow of a tug heading mid harbour. The crowd on the wharf were cheering loudly and waving, and of course all on board waved and yelled goodbye back.
It took the tug about two & an quarter hours to tow the Sibajak through the Canal to Hoek van Holland, where we would finally enter the North Sea, and once we were at sea we really knew that we had left Holland, and a strong feeling of adventure set in. We enjoyed the afternoon drinks that were served at 4 o'clock, as there was coffee, tea, and soft drinks available, but for those who enjoyed something stronger, drinks were served in the bar. This was the time for us to become acquainted with our fellow travellers and we found out that most of our fellow passengers were actually going to New Zealand. As the ships entered the North Sea she set course for Southampton, England.
A nurse came to see me (Mia) to have a chat, her name was 'Marlies,' and she told me that, "If the baby is troubled with anything, all you have to do is come straight here, don't wait. We have a health-centre, with two doctors and medical staff onboard.  We are all here to look after the passengers and we do care that nobody gets sick." 
At this time, there were around 800 passengers onboard and there were more joining the ship at Southampton. We discovered that there were two hairdressing salons, a spacious lounge called the 'conversation hall' with quiet corners for writing and reading. There were other lounges, which were used for films, concerts, dances as well as those popular sing-along evenings. On Sundays several lounges were used for the Roman Catholic and Protestant services. There was also a library with books and magazines for quiet reading. For the young people, there was plenty of sport available such as; gymnastics' and a range of deck games individually, or organised group's games with the ships crew. There was a separate children's room from five years upwards, which had plenty of toys, games art and craftwork, and it was fully supervised. In addition, there was a preschool centre and toddler's room which were located on the Upper Deck, qualified children's or baby nurses took care of these little ones.
Sunday May 18 - Southampton, England, UK:
After we had breakfast the Isle of Wight came in sight, we could now see a coastline of white rocks surrounded the island. The morning sun shone onto this delightful scenery, it was a beautiful sight, and there were small vessels and yachts with their sails up on the water. With Sibajak's engines running at a quarter of its power, we slowly steamed into the River and in course we docked at the Ocean Dock Terminal. After the gangway was secured, passengers who wished to go ashore could do so and head for some shopping or sightseeing in and around Southampton. Packed lunches were available, and they could be collected in the dining room. Here in Southampton further immigrants came aboard, being the last place where the Sibajak would take any non-Dutch ones.
Being a Sunday, Southhampton was very quiet and all shops, bars, or restaurants were closed. One could not even buy a cup of coffee or tea. This was very strange to us, for we were used to having all bars and restaurants open every day from 10.00 am until 11.00 pm., even on Sundays.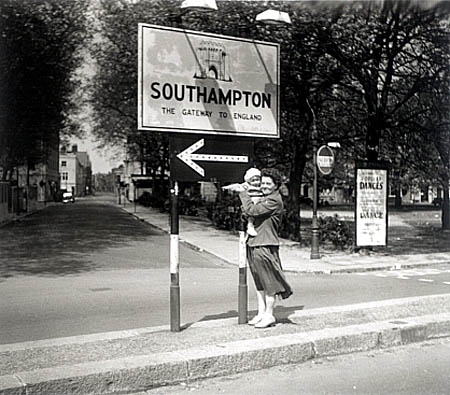 Proof that we were in a very quiet Southampton England
But, time passed too quickly, and we had to return to the ship. There was a great deal of activity going on at the wharf, and we watched it for a while. An hour later Sibajak's engines started turning over and another pilot came onboard and tug was in position to take the ship away from The Ocean Dock Terminal and back towards the sea. The M.S. Sibajak would be on the salty Atlantic Ocean for the next eleven days until our next port of call, Willemstad in Dutch Curacao.
On our second night onboard, we steamed through the Channel between Dover, England and Calais, France, and considering the weather, the waves were quite high by now.
Monday May 19 - The Atlantic Ocean:
As we woke we were on the Atlantic Ocean, and we quickly settled into our morning routine. Life onboard became rather easy. The weather soon commenced to improve and it was lovely and warm out on deck. Passengers had a lot of spare time during a voyage such as this, especially after the busy time we had in the last weeks prior our departure. Within a very short time we made new friends and formed a very nice group together. In fact we had all been on the same bus trip to ship in Rotterdam, thus we had something in common from the start.
Our friends were; Ger Beaumont and his wife Annie and baby Gerty who came from Geleen. Jo Pelzers and his wife Els with their son and daughter who came from Urmond. Wim de Leeuw and his wife Elisa from Heerlerheide. As well as family Nieuwenhuizen from Heerlen. Harie Bosch and his wife Gerda and their son from Weert, and finally this group of friends consisted of my husband and I with baby Leon from Geleen.
They were all going to New Zealand except for the Harie and Gerda Bosch with their son, who were going to Sydney, Australia and Gus, Leon and I were going to Clunes in Victoria via Melbourne.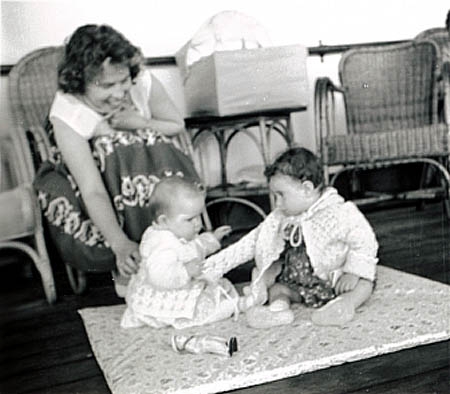 Anni Beaumont, her daughter Gerty and Leon
Note: Baby Gerty was officially the youngest person on board the Sibajak during this voyage
There was a large wall map outside the purser's office and another map in the conversation hall. On both maps the stewards kept the course and ship position marked with coloured pins.  We could follow how many sea miles the ship did in a day.  The Ship's Bulletin was printed on board it kept us informed with news, activities or special events on board and anything of interest, such as information about our next landing-port. 
For those with cameras, the shop sold films, also processed and printed the photographs. There was always some entertainment going on, in the afternoon films for children and in the evening for adults. We could play cards, draughts, chess or bingo any time of the day, soon there were clubs formed for any games to be played.
We had a really good time, everything was cared for. Morning coffee and afternoon tea was served every day out on deck and soft drinks and sweets were also available. As the weather got warmer there were cold drinks all through the day - one just called a waiter.  Only stronger drinks were not served on deck, these were only served at the bars.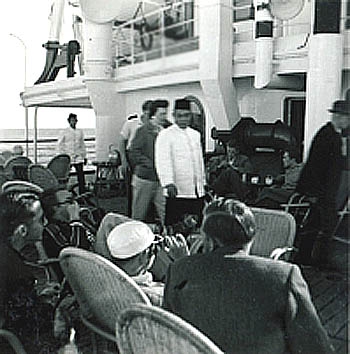 Relaxing out on deck, slightly aft of the ship, and stewards were always close at hand
As we steamed across the Atlantic Ocean, we saw nothing but water and more water for the next days, sometimes another ship would cross far away on the horizon.  The temperature was getting higher as we crossed the Tropic of Cancer and steamed closer to our next port, Willemstad, Curacao.
Now we slept with open porthole, there was always a cool breeze at night. In daytime we found a nice cool spot on the lower deck, which was covered and shaded. It was lovely to sit with a cool drink there:
Thursday 29th May 1958:
We reached Curacao and steamed slowly up the St. Anna Bay into Willemstad. The ship was navigating so close to the city, we had the feeling of cruising through a 17th century channel. The Emma Bridge (a pontoon bridge) lies across St. Anna Bay. Several time a day the Emma Bridge has to be opened for shipping. Because of this the ships would stop the traffic flow from one part of Willemstad to the other part, so a ferry is operated free of charge for the city traffic to cross the bay.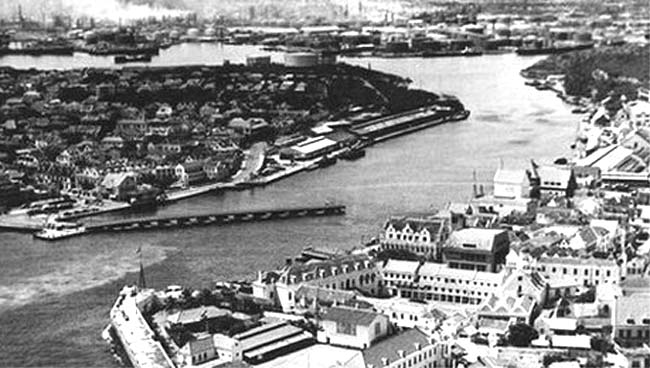 Here we see Willemstad in the 1950s with the Emma Bridge open, at the bottom are
   the docks where we berthed and   the city center was across the river and to the left
The Sibajak docked at the Prince Hendrik Wharf. From here we went into the city by bus. We visited the market, then we went on to Ruiterkade. Here the traders from Venezuela, South America come to sell goods from the small sailboats. Many local women do their daily shopping here.  After our ship had taken supplies and fresh water on board, we lifted anchor and continued towards the Panama Canal. On the evening of 30th May we cruised from the Caribbean Sea to the Gulf of Mexico.
Saturday 31st May 1958:
We reached the Panama Canal Zone.  Coming from the Gulf of Mexico, the M.S. Sibajak had to navigate between two piers, which are built into the Caribbean Sea, which is part of the Gulf of Mexico.  We saw Colon, the first city at the beginning of the Panama Canal with its port town of Cristobal.  The distance from the two piers to the first locks was 11km. This lock is named Gatum Lock and there is a set of three locks. The ship is towed into the first lock by a small railway locomotive which runs along the embankment of Gatum Lock. Once the ship is in the first lock, the lock-doors are closed behind the ship, then the lock-doors of the second lock are opening. This released the water into the second lock, until the water reaches the same level, after which the ship is towed into the second lock.

Left: Panama Canal locks and the large doors can seen closing behind us
Centre: One of the 'horses' (locomotive) can just be seen on the left of photo
Right: A Cable Laying ship behind us in the lock to our portside, being pulled by a horse
This procedure of opening and closing locks, and changing water levels, while the ship slowly is moved from one lock to the next lock is repeated until the Sibajak is through all three locks which make up the Gatum Locks. Going through the locks is quite an experience. The ship in low water and it is so far down in the locks, we can only see the high lock wall on both sides of the ship. As the water is raised so does the ship, once again we look over the countryside. From the Gatum Locks we reach the very large Gatum Lake, which is 38 kilometres long. After cruising across Gatum Lake we come to the Gaillard Canal, also called Culebra (snake) canal, which is 13km long. The Gaillard canal flows from Gamboa until Pedro Miguel. Here starts the Pedro Miguel Lock. This has just one lock. After it we enter the Miraflores Lake, which is only one mile long, and at the end of the lake are a set of the two Miraflores Locks. Once we have gone through this, the Sibajak has reached the water that connects with Panama Bay, which is 13km long and at end is the Balboa harbour.
The Panama Canal was constructed for ships to go through, and it is 78 kilometres long from Colon in the east of Panama, through to the west of South America. We reached Panama on Sunday morning the 1st June 1958.
The Pacific Ocean - To New Zealand Sunday 1st June 1958:
Having departed Panama we entered the Pacific Ocean and we are now on our way to Papeete in Tahiti, which we should reach in 13 days.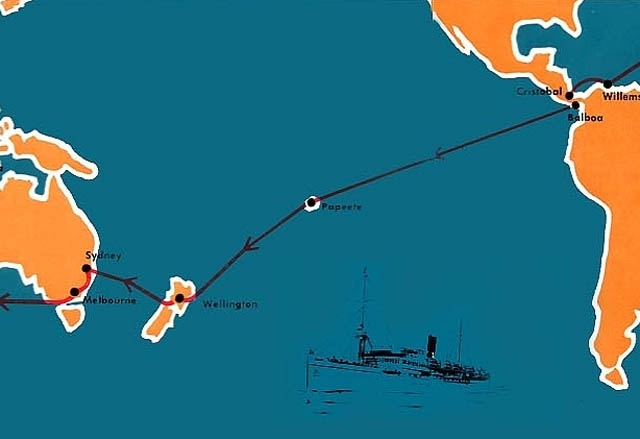 A map of the Pacific Ocean as we sail from Panama via Tahiti to New Zealand
We passed a group of islands, known as the Galapagos Island, which are famous for rare animals in addition we were also getting close to the equator. The weather by now certainly had become very hot.
Monday 2nd June 1958:
Then came the day we crossed the Equator and there was going to be a 'Crossing the Line' Ceremony, with King Neptune, who was supposed to be the God of the Sea from Roman mythology, and he came to visit the Sibajak. The party was held in and around the swimming pool, and many passengers took part of the frivolities and then a dip in the cool pool water. There was also a vast amount of refreshments provided, and the staff catered for every age group and there many games available for the younger ones.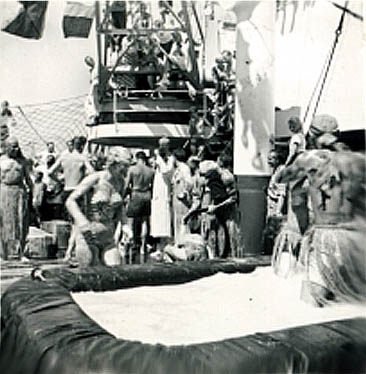 Fun at the 'Crossing the Line Ceremony'
As the sun slowly set in the west, the sea looked like a ring of fire running across the ocean from west to east with the Sibajak sailing peacefully into this golden burning sea, and it was a sight one can never forget!
Tuesday 3rd June 1958:
There are eleven days before we reach Papeete, and at times we will see another ship passing by mostly faraway, on the horizon. As we cruise further away from the equator the weather starts to improve, not that burning heat anymore and the nights were getting much better. Leon had suffered somewhat with the heat, and he is feeling much better now.
Every day we relax and sit out on deck, for the Pacific Ocean is so calm. Being surrounded by the Pacific Ocean we continued to steam towards Tahiti, which is the largest of the Society Islands. The main island got its name from the British Royal Society, a study association, which had sent an expedition to Tahiti in 1769 to study the passing of the planet Venus between the Earth and the sun. The expedition travelled on the Endeavour under Command of Lieutenant James Cook, who in later years as Captain James Cook was on the first British ship to discover Australia, as the Dutch had been there before. Near Matavai Bay, east of Papeete at Cape Pointe Venus is a memorial of the expedition I mentioned.
Thursday 13th June 1958:
We are arriving at Papeete the capital of Tahiti, and the pilot-boat arrives at the ships side and the pilot comes on board via a rope ladder.  The Sibajak would be taking aboard some supplies as well as water for our voyage ahead. Papeete has a beautiful natural harbour enclosed by coral reefs.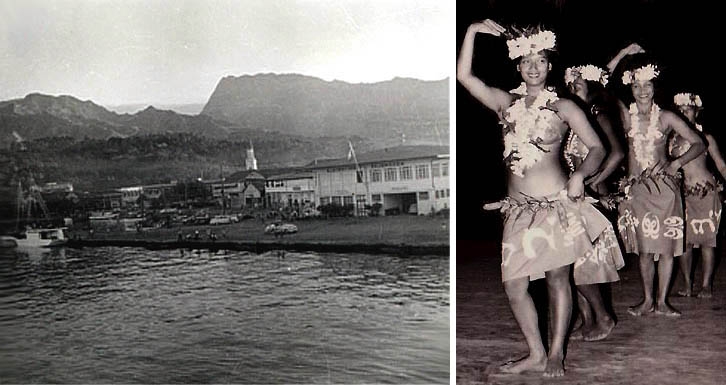 Papeete as seen upon arrival and Tahitian girls dancing the 'Tamuree'
The Tahitian people are mostly of Polynesian descent and are very friendly. As we entered the harbour Tahitian girls were waiting on the wharf for-passengers to come ashore, they carried had many long necklaces made from small blue shells, which they would place around the neck of every girl and lady who came ashore. In the evening these girls came back to the wharf, and they sang their beautiful Tahitian songs and danced in their grass skirts for our entertainment.
But, after the ship was tied at the wharf, we went for a walk into Papeete we passed many homes and saw that native families mostly sat outside of their houses. Some even invited us into their home to have a look at how they lived. These people lived very simple lives and were of such a very friendly nature.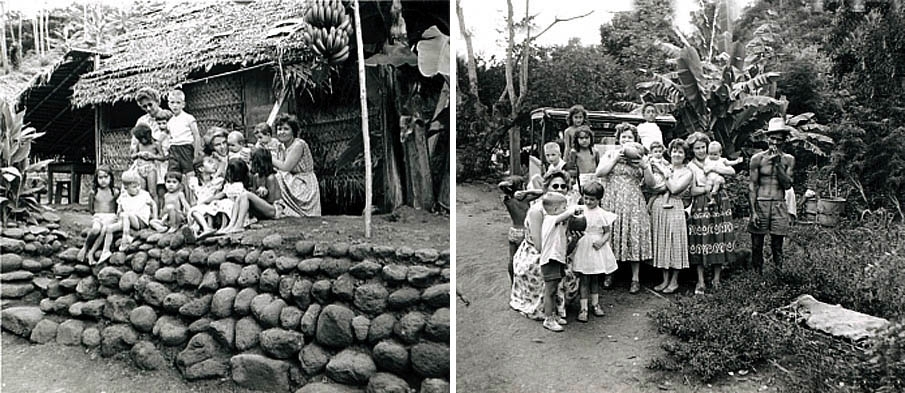 Visiting Tahitian homes and meeting the friendly locals
The shopping centre was mostly owned by Asian's and you would think you were on a visit to China. Women dressed in tunic and wide pants tied at the ankles.
Friday 14th June 1958:
A tug took us into tow as we headed away again leaving Papeete bound for our next destination being Wellington the Capital of New Zealand. As we sail we see many small islands in the distance. But we now cruise westwards towards New Zealand which we will reach on June 22. In Wellington, all emigrants bound for New Zealand will leave the ship.
As time passes, many were exchanging addresses wherever it was possible. Some people are going to stay in a hostel or an emigration camp, and some had a home addresses, as they had contacts or family there. 
Friday 20th June 1958:
Today we had a farewell dinner, because day after tomorrow we arrive in New Zealand and many of our friends we will not see for a very long time. Together, we have shared more than 5 weeks of our lives together on board of the MS Sibajak. Together, we have shared our past, our hopes for the future, which lay ahead of us. At the farewell dinner, our menu cards moved from hand to hand, we all signed each other's menu card and wished each other good luck, and blessing for our future lives in a new country.
Our Farewell Diner Menu prior to arriving in Wellington, New Zealand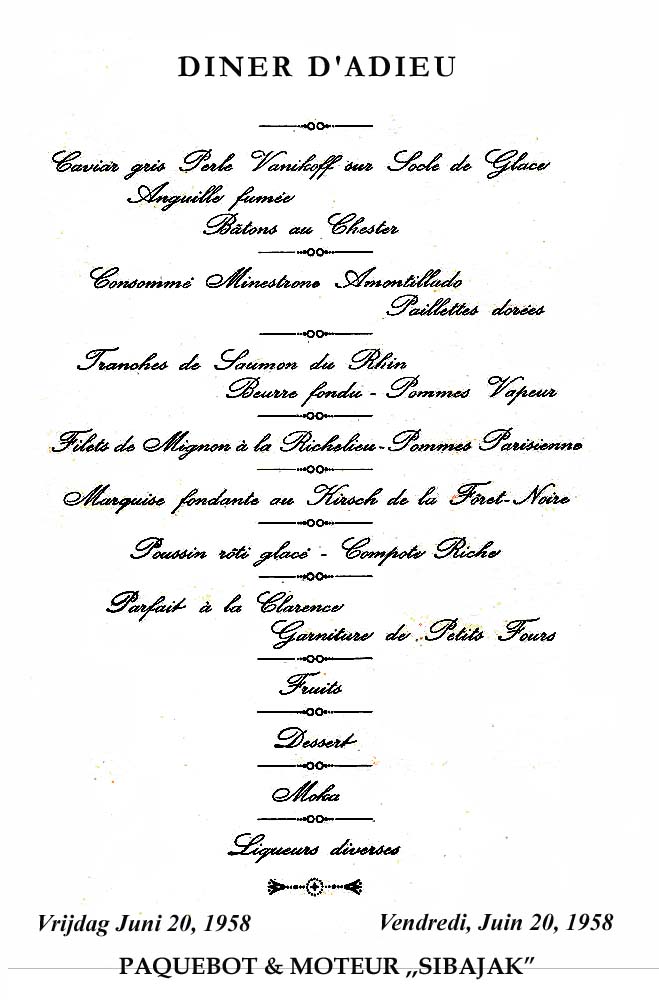 Tomorrow would be a busy day for so many, as it was time for them to pack and whatever they wore in the evening, they would have to wear the next morning when they left the ship and headed off to their destination in New Zealand. All baggage was taken in the evening, and passengers would leave mostly with hand luggage.
Sunday 22nd June 1958:
Very early in the morning we pass through Cook Strait, being the narrow strait separating the North and the South Island of New Zealand. The pilot came on board at 'Pencarrow Heads' to take the ship into Port Nicholson, and we slowly arrived in Lambton Harbour and at our berth at Queens Wharf. Views from the decks of the M.S. Sibajak towards Port Nicholson, Lambton harbour and Wellington's city as it came into sight was simply overwhelming. The entire bay was bordered by high hills and mountains, and the city of Wellington is built all over these beautiful mountains.
Having docked, passengers who were heading for Australia were permitted to leave the ship first and there was a bus parked on Queens Wharf that would take us on a sightseeing tour of the Wellington district. Our tour took us around this beautiful city. Houses had an English construction style, but most were built with timber planking and were in all different colours. They had metal corrugated roofs which were also in various colours, and as we sailed in earlier it was a colourful sight indeed!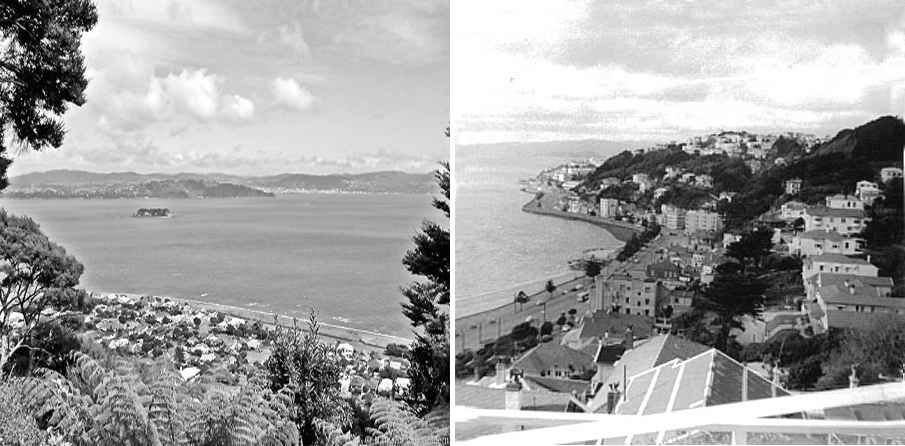 Mountainous Wellington was such a beautiful city!
Amazingly, even in winter there are flowers everywhere in the gardens, and it looked magnificent, no doubt but Wellington is one of the most beautiful cities I have ever seen. It was a very enjoyable tour, and the only drawback was we did not know enough English to fully understand our tour guide. I still hope to visit New Zealand one day again. The people here are around 90% of British decent, from English, Scottish, Irish and Welsh migrants, but there are also good number of Dutch migrants here. But the Maori (a Polynesian) people are the original inhabitants of New Zealand, and they are very proud people. But, I will say it again; the scenery in New Zealand is just splendid.
We had to be back at the M.S. Sibajak before 2.00 o'clock, when a late lunch was being served. In the afternoon we watched the unloading of the shipping containers and the taking on of water as well as fresh supplies for the next stage of our voyage. This continued for most of the night.
Monday 23rd June 1958:
In the morning all ropes that secured the ship to the wharf were freed and we were on the way once again. The pilot was on board to take us out of Wellington Harbour and a tug had taken its place and slowly the ship headed to the mouth of the harbour, and there we turned north. The Sibajak sailed to the northern tip of New Zealand and then turned left and headed into the Tasman Sea, and we were on the last stretch of our voyage to Australia. The Sibajak is due to arrive in Sydney, New South Wales on June 28.
M.S. Sibajak seen departing Wellington
Photograph from the author's personal maritime collection
The ship was very quiet wherever we went, for after losing the vast majority of the passengers in Wellington, there were only some 125 passengers left on the ship.
New Zealand

to Australia:
We were one day out at sea, suddenly the weather turned very bad, and the sea was very rough. The Tasman Sea we heard could be bad, and as it was winter in the Southern Hemisphere it was very cold. The second day became even worse, and the crew started to tie everything up with ropes. The corridors, stairs, etc, were roped off. In the dining room they had changed to rubberised tablecloths, because plates and cups were sliding along. The vast majority of passengers and some crew were seasick. We had driving rain and wild winds for two full days. It was a four days voyage to Sydney. On the last day at sea, thankfully the wind started to abate and when we finally were close to Sydney the sun started to shine through the clouds.
Saturday 28th June 1958:
Whilst we were still out at sea the pilot came on board, and he took us through Sydney Heads and the Sibajak slowly sailed into this grand Harbour. After a while the Sydney Harbour Bridge, also known as the 'Coat Hanger' came into sight, and we had to sail under the bridge. Then tugs met us and they towed the ship to our berth.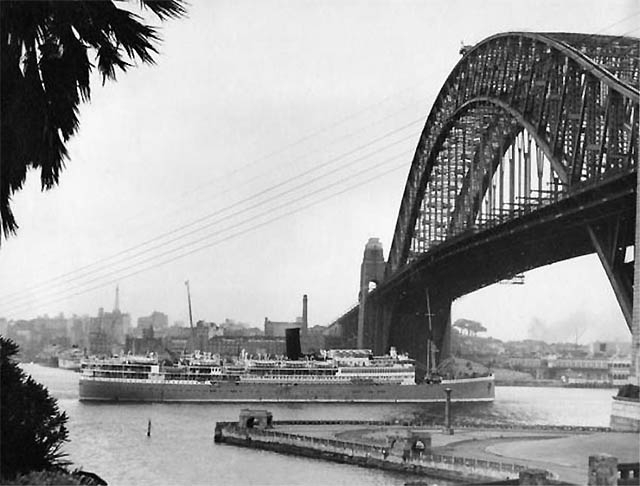 The Sibajak seen in Sydney
Photograph from the author's personal maritime collection
After arriving at Sydney, the emigration officers came aboard, our emigration papers were all checked, and stamped.    We got a Certificate of Registration issued by Department of Immigration. We were also given some documents regarding rules and rights under Australian law.
After formalities were completed, we were permitted to head off into Sydney and this was our very first steps on Australian soil. We went for a walk in some nearby streets. Suddenly, a Dutch voice said "The baby is enjoying himself." A man started to talk in Dutch to us, and when he found out that we were passengers on the Sibajak bound for Melbourne. He said "Come meet my wife and son." They introduced themselves as Bill and Tina Schrender and invited us in for a cup of tea. While we drank our tea, Tina asked her husband to bring out the car then we could all go for a ride around the local area. Their son was seven years old. Tina and Bill lived in Sussex Street. Bill said "We will bring you after back to the Sibajak. Years ago when we came out here some kind soul did us the same favour and now we do some emigrant a favour too."
We drove over the Sydney Harbour Bridge, along a nice park and some beautiful streets. A few hours later they brought us back to the ship. We thanked them for a lovely few hours and a nice welcome to Australia. In the evening the pilot and a tug took their places and we were finally on our final leg of our journey, for the next stop would be our destination, Melbourne in the State of Victoria.
Sunday 29th June 1958:
We were once again at sea heading south to Melbourne. Close to the Pursers' Office there was a chart, were we could follow our voyage, as it was updated early each morning. At breakfast the dining room was almost empty for there were not many passengers left now, with around 75 passengers having left in Sydney, thus only about 50 or so were left on board. So many of the wonderful people we had come to know left the ship in New Zealand.
Today, we cleaned the wardrobes out, and packed all we could into our suitcases, for tomorrow we would be in Melbourne. Our voyage had taken nearly six and a half weeks. When we were packed, we went for a good walk all over the ship, and said goodbye to some people we knew and to some we did not, for we were all getting off tomorrow.
Monday 30th June 1958:
Early in the morning, it was hard to believe that our ship was about to dock in Melbourne and our long voyage was about to end. First, the Sibajak lay anchored outside Port Phillip Bay waiting for the pilot-boat to bring a pilot, later a tug took us in tow and this was the last time we were towed into a harbour. The M.S. Sibajak finally docked at Station Pier Dock 13, in Port Melbourne and this was the end of our amazing experience and a new one was about to start!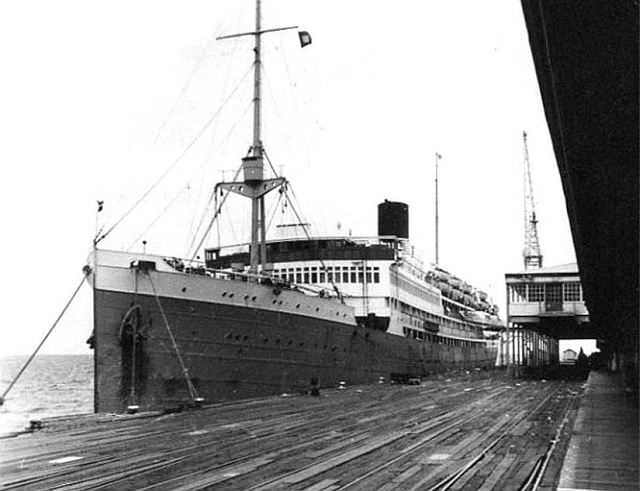 M.S. Sibajak berthed at Station Pier Melbourne
Photograph from the author's personal maritime collection
There were taxis coming and going. But we soon discovered that there was a porter strike and there was only a skeleton staff working. Amin, our wonderful cabin boy, helped us to carry our luggage off the ship. On the wharf there were people waiting until the passengers came off the ship. There was also a young man standing holding a large board above his head. Turning in every direction. The board said, "Fam Salden here please" and underneath it in Dutch "Fam Salden hier a.u.pl." This young man had come to escort us to our new home. He introduced himself in Dutch "I am Henk Overberg and have come to meet you." With the introductions over, Henk took the lead to a taxi and we went to Spencer Street Railway Station. We soon found out the trains were also on strike, thus I decided to take a taxi straight to Clunes, which is 146 km (91 mi) from Melbourne, where we arrived late that evening. The cost for the taxi ride to Clunes was £12 6s, (12 Pounds & 6 shillings), but it was money well spent. Once settled, we just had to wait for our container to arrive, containing all our belongings, which was addressed to Clunes.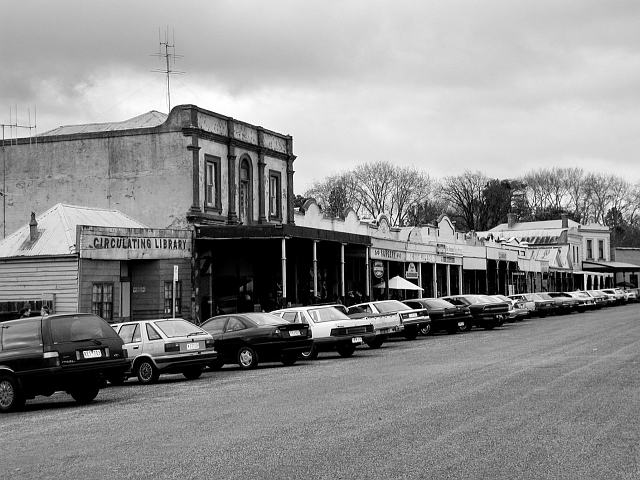 A view of town of Clunes in the late 1990s
Photographer is unknown - Please see photo notes at the bottom of the page
In Conclusion:
The story above was written by the late Mia Salden-Van Mulken as her personal memories, and it was slightly edited by the author of ssmaritime. However, I have retained the integrity of the story of her families' voyage to Australia! The story and photographs was sent to me mid 2017, by her Australian born daughter.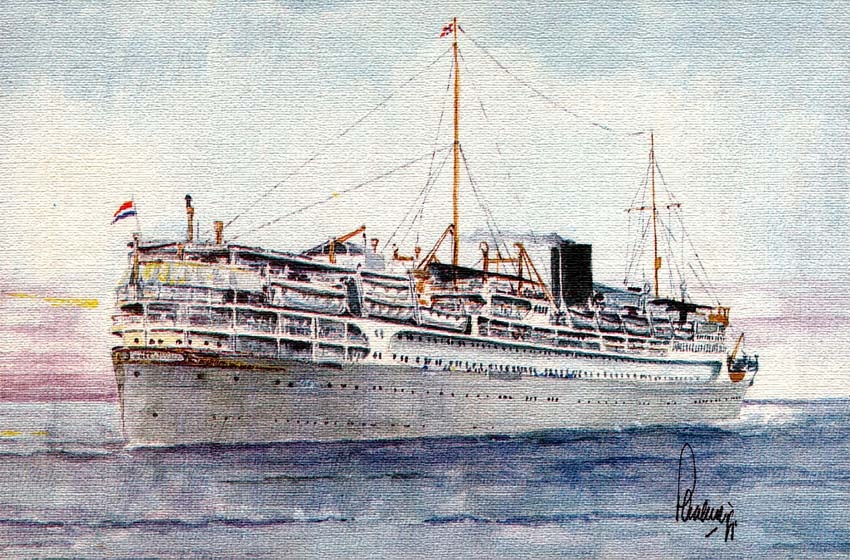 M.S. Sibajak was scrapped one year later and this painting is a wonderful memory of this fine ship!
Painting by & © F.H. Haalmijer
Go to Part Two of this Feature
MS Sibajak Index:
Page One:……………………….MS Sibajak had long career from 1927 to 1959 - This is her complete story!
Page Two:……………..……….Brochures, Deck Plans, Photographs Menus and Memorabilia.
Page Two-b:…………..………The Ships Interiors, Deck by Deck.
Page Three:…………..……….The Author's voyage on the Sibajak from Rotterdam on May 17, 1958 - See Page 3b.
Page Three-b:……..…………The Family Salden-Van Mulken sail to Australia on May 17, 1958.
Page Four:………….………….Ships Chef H B Hulspas story, a floor show programme and a farewell menu dated 1955.
Page Five:………….………….Family van der Net and their voyage to Australia in 1956.
Page Six:…………….………...Family van der Biezen sailed on her second last voyage in 1959.
Page Seven:………….……….The Nieborak Family's voyage to Australia in 1959.
Page Eight:…………………….Mr & Petzold sail from Rotterdam to Cape Town on October 25, 1949.
Also visit the Three other Dutch Liners on the New Zealand - Australian Service
MS Johan van Oldenbarnevelt - MS Oranje & MS Willem Ruys
Please Note: Email service to ssMaritime, is sadly no longer available,
This is due to the author's old age and illness as well as being disabled, etc.
***********************************
"Blue Water Liners sailing to the distant shores.
I watched them come, I watched them go and I watched them die."
Return to the ssMaritime MAIN INDEX
ssMaritime.com & ssMaritime.net
Where you will discover over 1,365 Classic Liners & the 1914 built MV Doulos Story
The Author has been in Passenger Shipping & the Cruise Industry for over 60 years!
The Author has been in Passenger Shipping & the Cruise Industry for over 60 years!
Please Note: ssmaritime and associated sites are 100% non-commercial and the author seeks no funding or favours of any shape or form, never have and never will!
Photographs on ssmaritime and associate pages are by; the author or from the author's private collection. In addition there are some images that have been provided by Shipping Companies and private photographers or collectors. Credit is given to all contributors. However, there are some photographs provided to me without details regarding the photographer/owner concerned.
This notice covers all pages; although, and I have done my best to ensure that all photographs are duly credited and that this notice is displaced on each page, that is, when a page is updated!
ssMaritime is owned & © Copyright by Reuben Goossens - All Rights Reserved