MS Sibajak MR & Carl Petzold head for Cape Town
Please Note: Firefox & some other Search Engines may not be suitable
Use Google Chrome for this Web Page to load perfectly!
Click the logo above to reach ssMaritime FrontPage & Featured ships
With Reuben Goossens
Maritime Historian, Author, Cruise'n'Ship Reviewer and Maritime Lecturer
Please Note: All ssMaritime and other related maritime & cruise sites are 100% non-commercial and privately owned. Be assured that I am NOT associated with any shipping or cruise companies or travel or cruise agencies, etc! Although having been in the passenger shipping industry since 1960, I am now retired but having completed features on well over 1,350 Classic Liners and Cargo-Passengers Ships, I trust these will continue to provide you the classic ship enthusiast the information you are seeking, but above all a great deal of pleasure!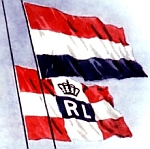 Page Eight
Mr & Petzold
Immigrate to South West Africa
On the
MS Sibajak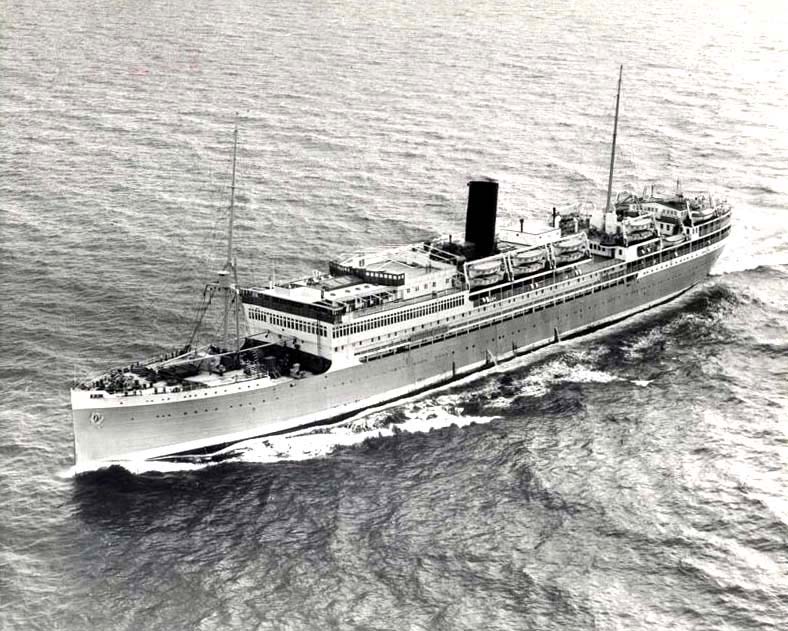 A fine aerial view of the MS Sibajak (ssmaritime.com)
Written by Günther the 67yo son of Carl and Gisela Petzold
Based on the memories of his Mother Gisela
Please Note: All copy in italics is by the, author of ssMaritime.com.
Photographs on this page are by the late Mr. Carl Petzold and ssmaritime.com
Introduction:
Voyage 113 was rather a rather special sailing as we will discover later, and for this voyage the Sibajak was under the command of - Captain J. C. Schetler and his 1st Officer was - H. van den Heuvel; with the Chief Engineer being - H. Fröling; the Ships Doctor Dr. Lohmann O.E.Th.F N; with the Purser being - F.P van Ravenswaay; the Maître'd was - J.M. Trijsburg; and the most important man on board for the passengers was the Executive Chef - Mr. C. van der Want.
Just prior to this Voyage the Sibajak received some minor alterations in Rotterdam, as well as having her hull cleaned and repainted. There were four additional lifeboats added on her aft decks, the main reason for these lifeboats, were as follows; Voyage 113 was in fact just a half voyage, as it was mostly a migrant voyage from Rotterdam via Las Palmas to Cape Town where this voyage concluded, She then commenced a completely new task having to collect Dutch soldiers and some passengers from Batavia (Indonesia) and take them home to the Netherlands. Therefore, due to the somewhat larger number of people on board, the ship had to comply with additional safety regulations thus these four lifeboats were required by law.
Although the ship was owned and usually managed and operated by the "Rotterdam Lloyd," however this voyage was under a special charter to the Dutch Government and this voyage was placed under the operation of "Holland America Line."
Carl

and Gisela's Story:
Carl Petzold and Gisela Fiebig married on May 14, 1948 at Kiel, Germany. At that time they did not have much hope for a good future living in a war destroyed Europe, therefore they decided to immigrate to South West Africa. It took them a good year to get all the necessary documents together and obtain the visa for their country of hope. Finally they were lucky to be among the very few people to obtain a visa as well as a ticket for a voyage from Rotterdam to Cape Town on a Dutch ship, the MS Sibajak. Thus it was time to start packing and get ready for the big trip ahead!
October 24, 1949:
Yet, it all commenced with a troublesome start right at the Station at Neumünster in Schleswig Holstein. For some reason the train from Copenhagen to Rotterdam was late, therefore they had to provide another train. Thus their great journey started with a delay, and that was not what they wanted, considering they were taking such a big undertaking and ocean voyage.
October 25:
Upon arrival at Rotterdam of course they were late, and they had to rush from the train to harbour and the wharf without their luggage and they reached the ship just in time. Luckily their luggage was brought separately also arriving just in time.
Carl was 30 years of age and Gisela 21 years of age, and finally on this voyage they could now happily have their honeymoon they had waited for. But the early days of the voyage would not be the best of days, for on the night of their departure a big storm was blowing on the North Sea and the Sibajak had to head that way and suffer its consequences!
MS Sibajak1 left her berth at 08.09 pm on Tuesday October 25, 1949 and as she departed the ship gave the three traditional farewell blasts from her horn on the funnel. There were those ashore waiving with colourful paper streamers blowing in the wind and as the ship slowly moved from her berth, as the streamers broke, the link from those on the ship and those ashore were suddenly broken. Many were crying as they said goodbye as they departed Rotterdam it was their home or not, for it was the last link to their home, no matter where in Europe they had come from! What was also so hard, many were migrating for good, although some would later return again.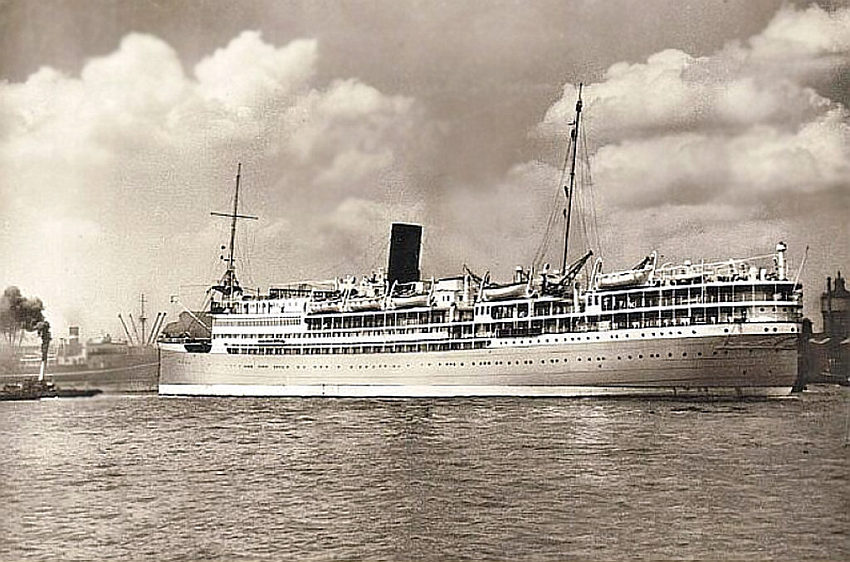 The Sibajak departs Rotterdam the Netherlands as she heads down the Maas River (ssmaritime.com)
Some would have an early night, but others would enjoy some relaxation time in one of the lounges and bars and mingle with other passengers, and soon new friendships would be made.
The Sibajak departed Rotterdam with 896 passengers who hailed from a variety of nationalities and although most were immigrants, however, there were a number of full fare paying passengers in first class, all were heading for Cape Town. The officers on board were Dutch, whilst the rest of the crew was Javanese and a few Chinese.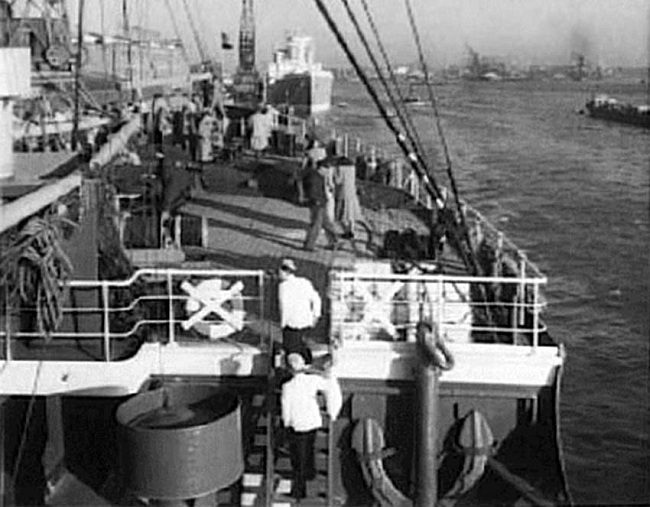 Passengers seen up on the Foc's'le during departure from Rotterdam (ssmaritime.com)
October 26:
During the night the storm that had been forecast proved to be a powerful south-westerly storm, and in those days ships like the Sibajak did not have stabilizers' and thus with these wild winds and huge waves the ship was pitching and rolling so badly that the crew were forced to place the steel covers on all the portholes in the hull, for the waves were that severe! All side decks were closed to passengers. Ropes were tied along all passageways to aid passengers to and from, bathrooms, and the Dinning Room, as well as better the Lounges where there was ample fresh air  and a glassed in Promenade Deck, and in this kind of weather, wherever there is fresh air that is the best place to be! However, the ship was heading for the Gulf of Biscay and this storm will not be over yet!
Third Class passengers slept in dormitories, with men and women separately. Apparently Gisela had to sleep in a large cabin close to the bow with 7 other women. Carl's accommodation was aft not far from the stern where the sounds from the propeller could be heard, thus when going to sleep it tended to be noisy and he found it disturbing. Considering the couple only just married, they were unable to stay together during the night, but that is the price you pay, when travelling as an immigrant and at that price!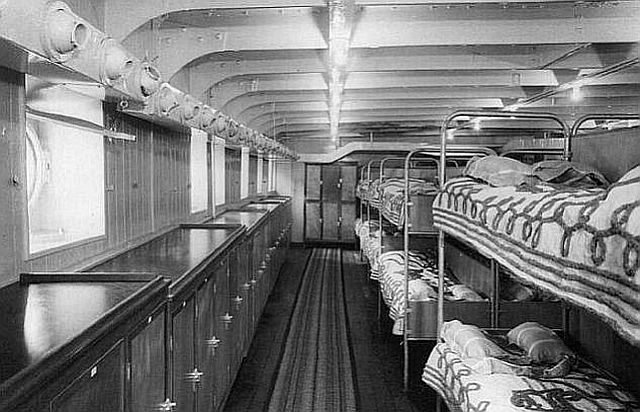 ---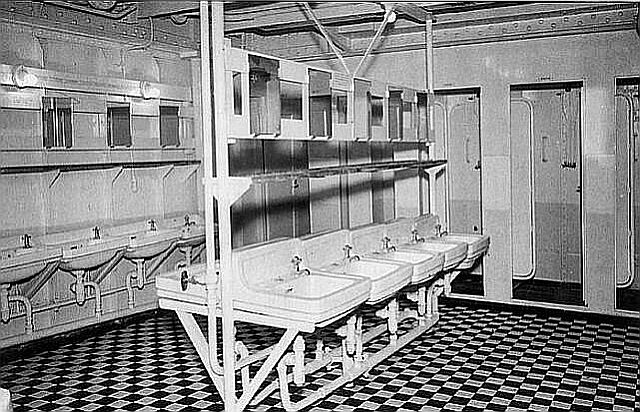 A typical 6 or 8 berth cabin which was still very good and comfortable, with ample wardrobe space at the end, as well as cupboards on the side
We also see a communal ladies bathroom with showers - there were also individual bath rooms available
(ssmaritime.com)
A little later, due to a storm in the Gulf of Biscay most of the passengers were seasick, including poor Gisela, she said; "You simply can't imagine how it smelt down in the dormitory, you couldn't stand it! In the morning, when waking up, I (Gisela) took my clothes and quickly headed to the upper deck and changed from nightdress outside in fresh air, as no one was there. Carl had no problems with the movement of the ship at all, in fact he enjoyed it and felt happy and well all the time."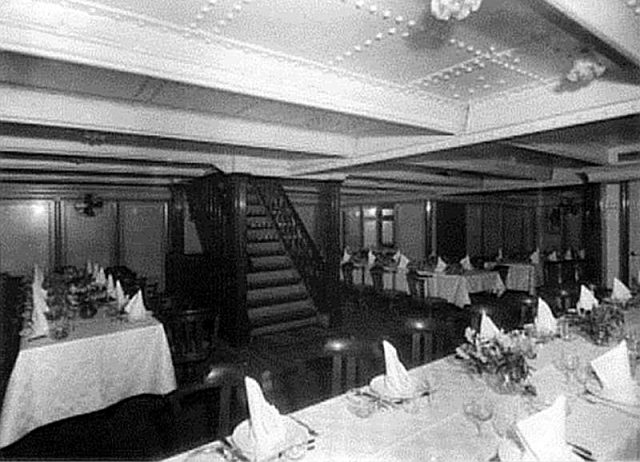 ---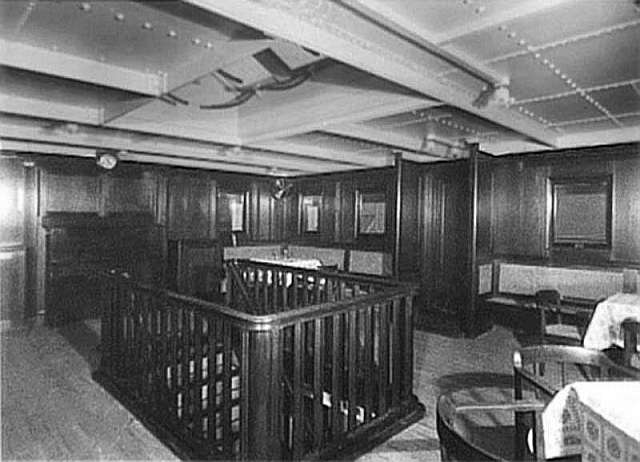 The Third Class Dining Room is seen set up for the Gala Night, and the Smoking Room - the stairs, are between the two venues
   (ssmaritime.com)
During the rough sea you could find vomit almost nearly everywhere and although the crew were just amazing as they constantly cleaned it up, but many people continued to be sick! As Carl felt well, he tried to convince Gisela, in spite of how she was feeling, to join him in the dining room. He told her, she would feel much better, if she had something in her stomach, but it was quite difficult to convince her, but finally she did go. As a result they were almost alone in the dinning room!
October 27:
The weather soon cleared up and the crew quickly washed and scrubbed all the decks making it salt free for the ocean had washed all over the ship in yesterday's wild storm! From today through the 30th.the sun shone brightly and the weather was perfect and everyone was able to enjoy all the ships facilities!
Gisela became friends with the woman wearing the checked suit on the picture. She was on her way to Johannesburg, her husband was there already working for ISCOR (Iron and Steel Corporation Ltd.), building up the Vanderbill Park. (Remarkable which details my mother remembers seeing the old images!) Prior to the departure she sold all her goods in Germany and bought some clothes for herself and her husband.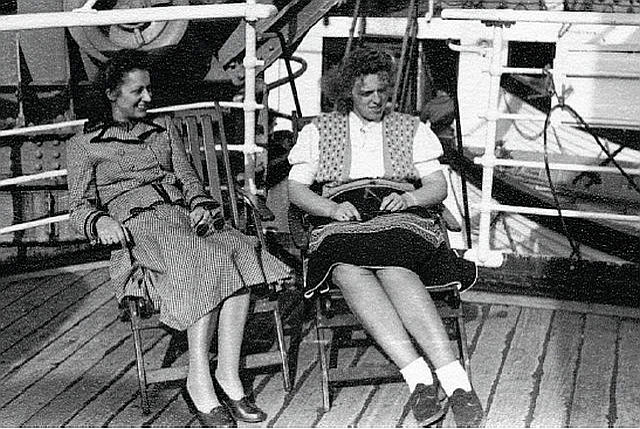 ---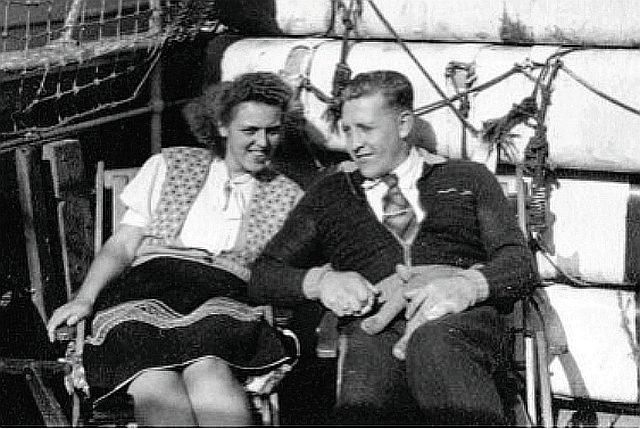 Gisela seen with her friend relaxing on deck - Gisela and Carl obviously enjoying their honeymoon on the Sibajak
The two women could be seen very often chatting about everything. Furthermore they got know a good number of other passengers, for instance they met; Knoblauch and his wife who were travelling to Swakopmund in South West Africa where they operated a garage. Also the Behrends family who were heading to South West Africa were going to operate a farm.
Also, Carl enjoyed walking along the promenade deck, now the weather had cleared up, and he found it easy to speak and make contact with many of the crew.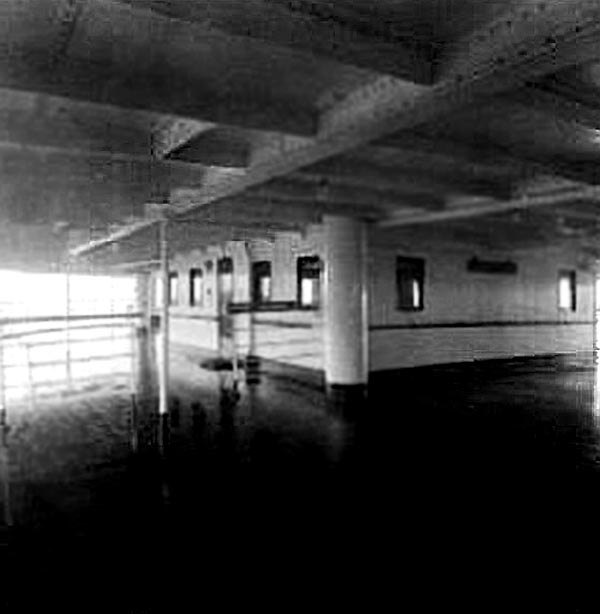 The Third Class Promenade Deck (ssmaritime.com)
Finally one of one crew member personally invited Carl and Gisela to come visit the engine room. When they arrived in the engine room, one of the machinists described to the huge engine and explained its workings. They found the experience not only very interesting, but they were very kind and looked after them so well.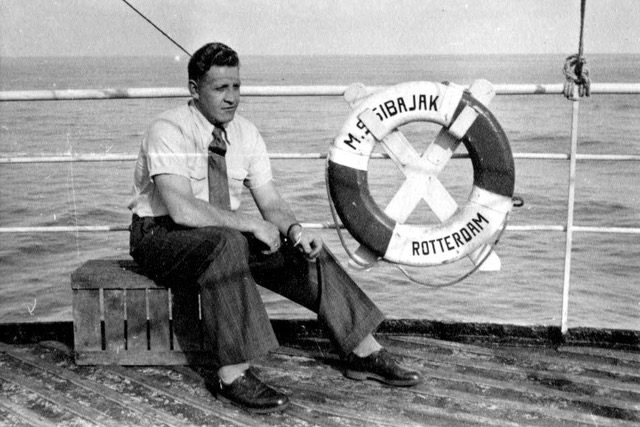 ---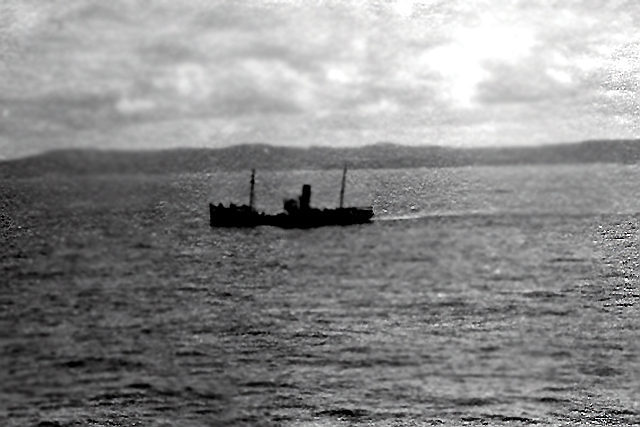 Carl is seen sitting at the ships railing beside a Life Buoy & A small coastal freighter seen sailing along the African coast
Carl even succeeded in obtaining permission to go up to the bridge and whilst there he took a photograph of the Captain, Gisela, and her friend.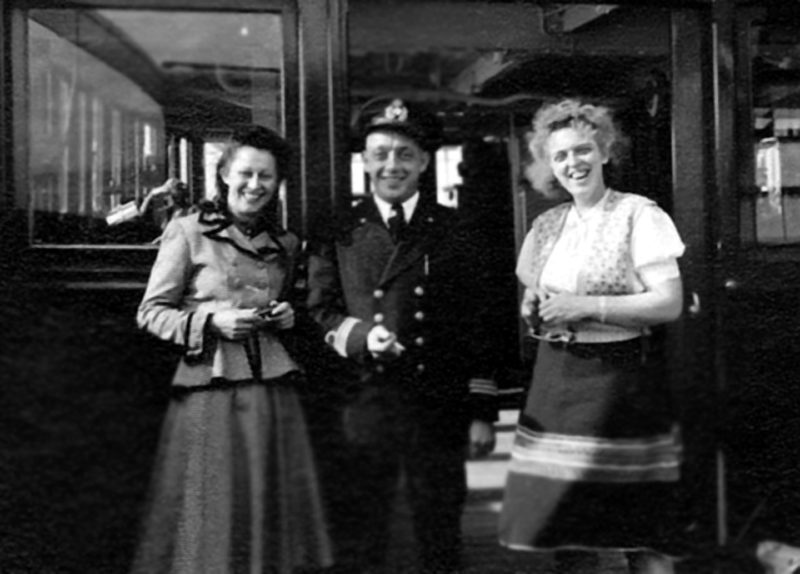 Captain J. C. Schetler is seen with Gisela (right) and her friend on the Bridge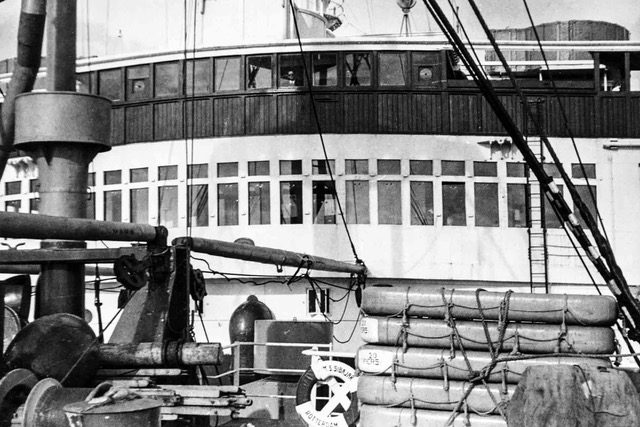 A view from the Foc's'le towards the ships Bridge (ssmaritime.com)
October 28:
The Sibajak arrived at Las Palmas at 6.00 am, and she remained here until 5.30 pm. Passengers as well as some of the crew headed ashore to visit this Spanish Colony to visit its many treasures and scenic delights, let alone shopping! However, everyone had to be back on board by 4.30 pm sharp
Carl, Gisela and a big family decided to go ashore and visit the market on the pier that had a vast variety of stalls with all sorts of wares available. Although sadly there was a shortage of funds, Gisela did purchase a nicely weaved item which was very inexpensive, and she believes it is still there after 60 long years!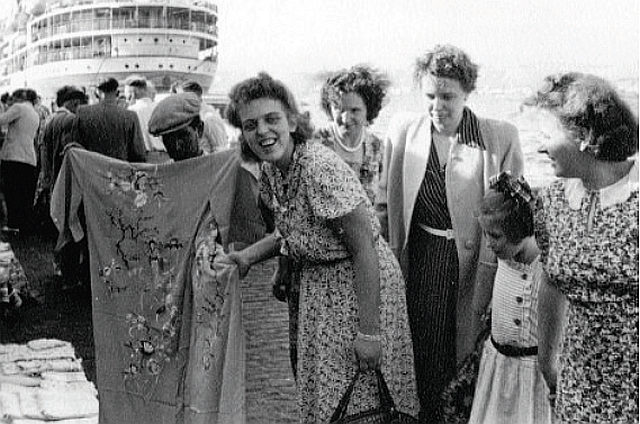 In market, the Sibajak waiting in the back
Having finished in the market, they decided to take a big taxi together and take a nice tour through the city of Las Palmas ending up on the hill from where there was a beautiful view across the city and the harbour: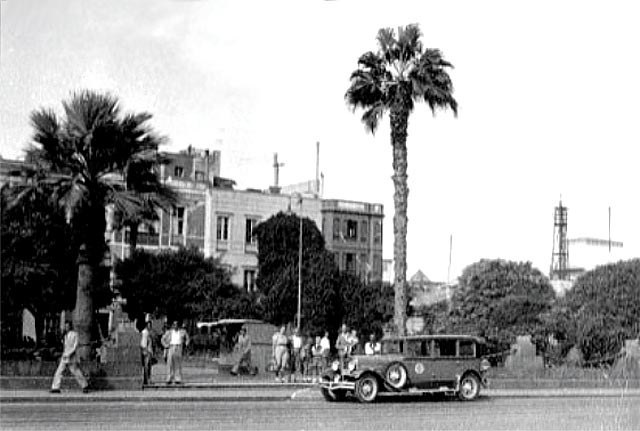 ---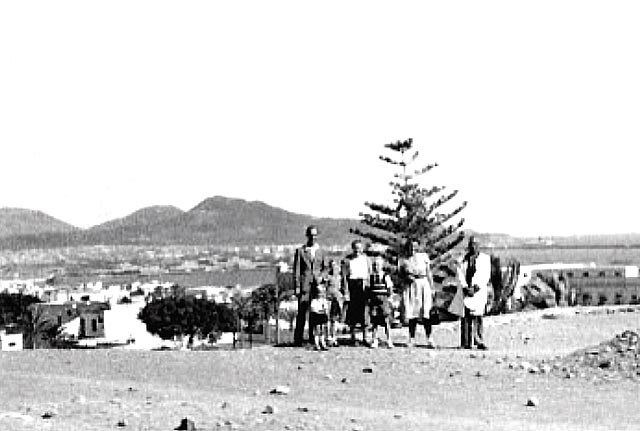 However, returning to the ship in their taxi was another matter for disaster struck as they gor in, and they almost missed the ship! What happened, once they got back into the taxi; "That nice old taxi just would not start". Thus, the whole party had to get out and push the taxi in order to get it started. But in doing so, "that old thing made a big bang (backfire) with all of us being caught up in a lot of black smoke, and all our clothes were covered in filthy black soot, but at least the car was running. The driver rushed through the city and thankfully we reached the ship only just in time!"
The Sibajak departed and she headed directly for Cape Town, being a voyage of 15 nights, and during this time passengers were able enjoy all the facilities the ship had to offer.
The weather was fine with warm sunny weather every day, and everyone enjoyed this part of the voyage. Gisela was kept busy knitting. Carl was looking forward of going home to the country of his birth having been away for 10 years, as he was born at "Keetmanshoop", in South West Africa.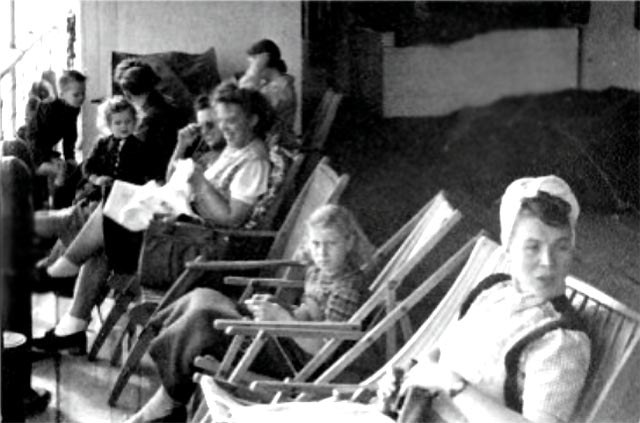 ---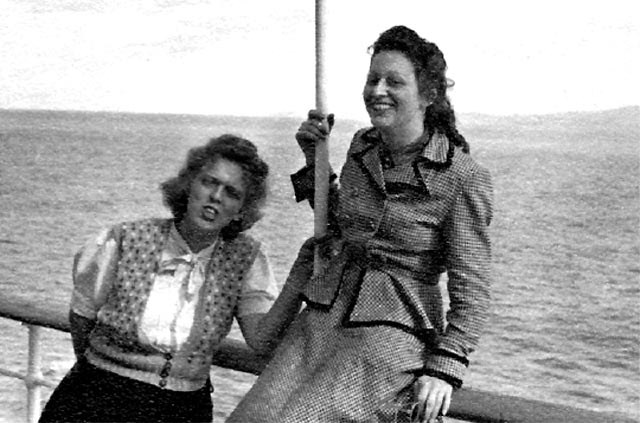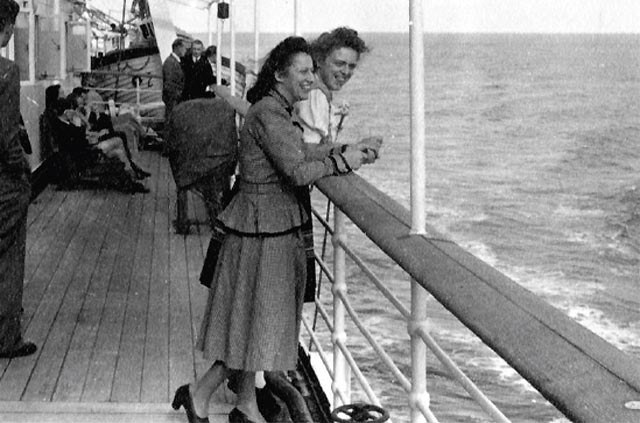 ---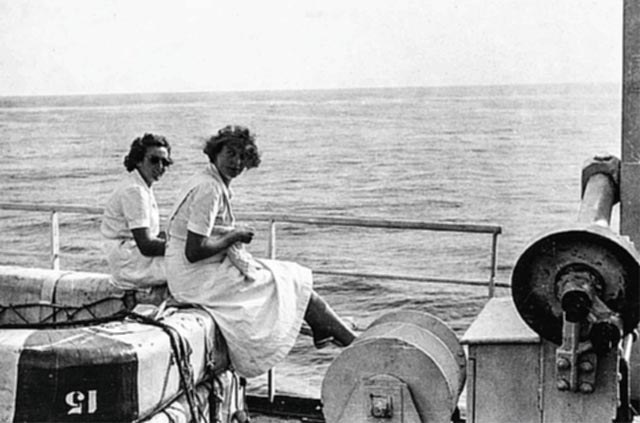 The first 3 photographs show Gisela and her friend's enjoying a relaxing life out on deck
And two friendly ladies of the crew whilst they were off duty
"On some days the passengers could view a movie, or there were dance parties into the Saloon, as well as other deck games and sport activities. But, while the ship was rolling left to right, people dancing would all go from to the other, and then all would come back again, it was a big fun". Gisela said; "Carl has been a good dancer although he never had been on a dancing school, just a natural talent".
Tuesday November 13:
Late in the afternoon the MS Sibajak arrived at her destination as she pulled in at Cape Town "Duncan Dock" Berth A. Passengers would remain aboard the ship overnight and enjoy their last evening on this fine old liner.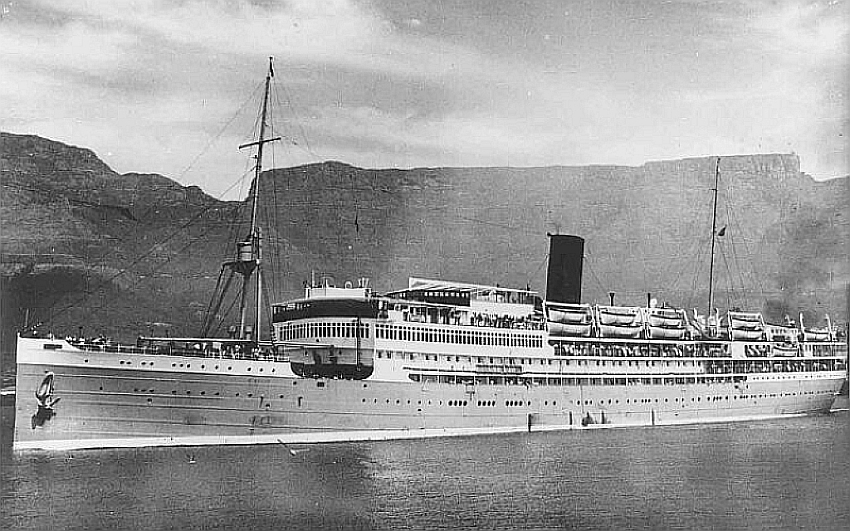 MS Sibajak is seen arriving at Cape Town (ssmaritime.com)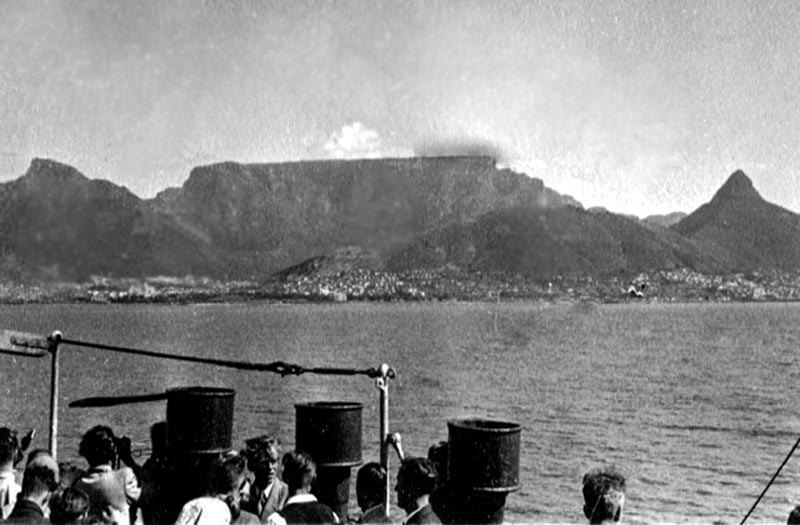 A photograph by Carl as they arrived in Cape Town, being the conclusion of their ocean voyage on the Sibajak!
Wednesday November 14:
Having had a hearty breakfast, every one was made ready to disembark the ship in a pre-arranged orderly manner. Once all passengers had left the ship, her crew did as they always did, and cleaned the ship from end to end. Voyage 113 officially concluded at midnight.
Voyage 114:
Having reached Cape Town, the Sibajak departed the next day (November 15) on Voyage Nr 114, and headed directly for Tanjung Priok in Batavia (Indonesia) where she arrived on December 1. There 1,400 Dutch Military boarded, as well as 300 First Class passengers, and the Sibajak departed on December 3, headed home to Rotterdam sailing via various ports and through the Suez Canal. She arrived home in Rotterdam at 8.40 am on December 28, 1948.
It was obvious that the enlisted men loved it on the Sibajak, for as private, Pt Joahannes van de Berg wrote in his day book during the voyage; "When we came on the Indrapoera, we had to sleep in hammocks below the waterline where it was either hot or cold, but here our bedding is just like in a hotel, with proper beds that are comfortable, and best still we are above the waterline. Also, the mess (food) is much better, and all this has made the camaraderie much better on board then it was on the other ship."
MS Sibajak Details & Specifications (1935 to 1952):
Built at:..................De Schelde, Vlissingen.
Yard:……………………….181.
Call Sign:…………………PSBQ.
In 1940:………………….PHMB.
Tonnage:…………………1935; 12,226 GRT (Gross Registered Tons).
………………………………..7,087 NW (Net Weight) 8,289 DW (Dead Weight).
Length:……………………161.54m - 529.11ft.
Breadth:………………….19.16m - 62.10ft.
Draught:………………….7.82m - 25.7ft.
Engines by:.............De Schelde (Vlissingen) Netherlands Sulzer Diesel Engines.
Engine Type:…………..Motor Oil, 2-stroke single acting.
Cylinders:………………. 8.
Power:…………………….10,000 BHP.
Screws:……………………Twin.
Service speed:………..17 knots.
Passengers:…………….1935: 200 First, 250 Second & 75 in Third Class
………………………………..Can vary using 3rd & 4th (Military) Classes for special immigrant voyages.
Crew:……………………….489.
****************************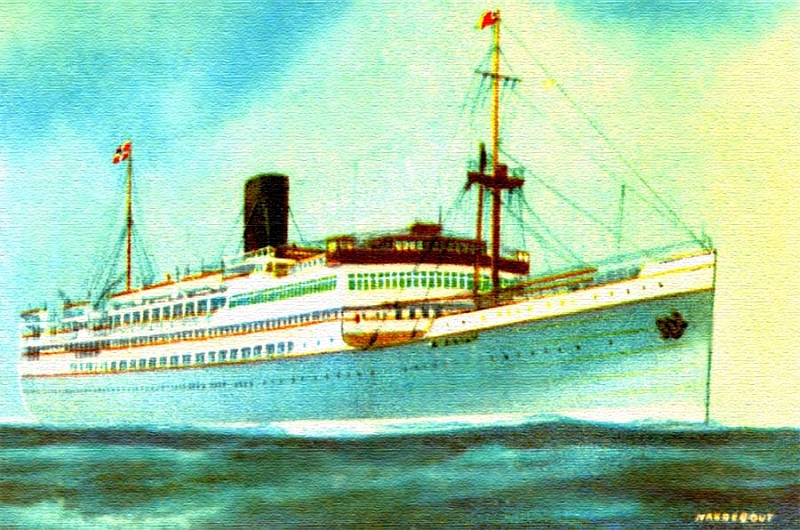 A fine painting of the MS Sibajak seen as built

By & © Dutch artist G. J. Frans Naerebout

MS Sibajak INDEX

:

Page One:        MS Sibajak had long career from 1927 to 1959 - This is her complete story!

Page Two:        Brochures, Deck Plans, Photographs Menus and Memorabilia.

Page Two-b:     The Ships Interiors, Deck by Deck.

Page Three:     The Author's voyage on the Sibajak from Rotterdam on May 17, 1958.

Page Three-b:  The Family Salden-Van Mulken sail to Australia on May 17, 1958.

Page Four:       Ships Chef H B Hulspas story, a floor show programme and a farewell menu dated 1955.

Page Five:        Family van der Net and their voyage to Australia in 1956.

Page Six:         Family van der Biezen sailed on her second last voyage in 1959.

Page Seven:     The Nieborak Family's voyage to Australia in 1959.

Page Eight:      Mr & Petzold sail from Rotterdam to Cape Town on October 25, 1949.

Also visit the Three other Dutch Liners on the New Zealand - Australian Service

MS Johan van Oldenbarnevelt - MS Oranje & MS Willem Ruys

Please Note: Email service to ssMaritime, is sadly no longer available,

This is due to the author's old age and illness as well as being disabled, etc.

***********************************

"Blue Water Liners sailing to the distant shores.
I watched them come, I watched them go and I watched them die."

Return to the ssMaritime MAIN INDEX

ssMaritime.com & ssMaritime.net

Where you will discover over 1,365 Classic Liners & the 1914 built MV Doulos Story

The Author has been in Passenger Shipping & the Cruise Industry for over 60 years!

Please Note: ssmaritime and associated sites are 100% non-commercial and the author seeks no funding or favours of any shape or form, never have and never will!

Photographs on ssmaritime and associate pages are by; the author or from the author's private collection. In addition there are some images that have been provided by Shipping Companies and private photographers or collectors. Credit is given to all contributors. However, there are some photographs provided to me without details regarding the photographer/owner concerned.

This notice covers all pages; although, and I have done my best to ensure that all photographs are duly credited and that this notice is displaced on each page, that is, when a page is updated!

ssMaritime is owned & © Copyright by Reuben Goossens - All Rights Reserved