Skaugen Line ~ M/S Skaubryn - 1951
Please Note: Firefox and some iPad's or iPhone's, etc are not suitable
Use Internet Explorer or Google for this page to load perfectly!

Click the logo above to reach the ssMaritime FrontPage for News Updates & "Ship of the Month"
With Reuben Goossens
Maritime Historian, Cruise'n'Ship Reviewer, Author & Maritime Lecturer
Please Note: All ssMaritime and other related maritime/cruise sites are 100% non-commercial and privately owned. Be assured that I am NOT associated with any shipping or cruise companies or any travel/cruise agencies or any other organisations! Although the author has been in the passenger shipping industry since 1960, although is now retired but having completed around 690 Classic Liners and Cargo-Passengers Ships features I trust these will continue to provide classic ship enthusiasts the information the are seeking, but above all a great deal of pleasure! Reuben Goossens.
MS Skaubryn
Page Three
The Day Skaubryn Burned & the Harold Weiss Story
On March 14, 1958, Skaubryn departed Bremerhaven heading for Australia under the command of Captain Alf Haakon Feste. One of the passengers onboard was the 26 year old Harold Weiss. On her way to Australia and crossing the Indian Ocean, tragically a fire broke out in the engine room in the evening of March 31. Thankfully, as the photographs below prove, the seas were calm enabling passengers to abandon the ship without too many dramas. This page will tell the story of that day and the story as related to me by Harold Weiss.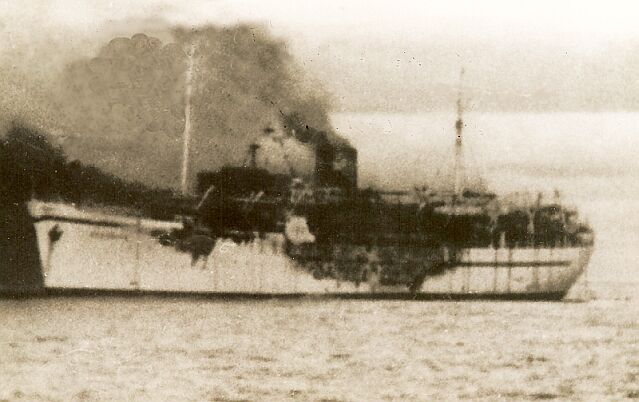 Mr. Weiss took this photo on the morning of April 1. A tragic sight indeed

Photograph © Harold Weiss

As the Ellerman Lines City of Sydney approached the burning Skaubryn in the morning, passengers were efficiently evacuated per lifeboat. One German gentleman suffered a heart attack whilst in a lifeboat and sadly he later passed away. All of the 1288 passengers and 208 crew were transferred to the City of Sydney and due to her being a cargo/passenger liner with accommodations for just 38 passengers Skaubryn passengers needed to be transferred to another ship, however, whilst onboard all passengers were well looked after in every possible way! The following day (April 2) the Flotta Laura Liner SS Roma arrived and all passengers were transferred to the Roma per lifeboat. The Roma proceeded to take the Skaubryn passengers to Aden.

As the two photographs prove, the fire on the Skaubryn caused great damage to her central superstructure. Although an attempt was made to tow her to Aden by HMS Loch Fada, the Dutch Tug Cycloop took over the task, but days later the Skaubryn began to take on water and on April 6, 1958 MS Skaubryn broke in two and sank into the deep.
Mr. Harold Weiss:
Harold Weiss remembers this voyage well and said that she was a delightful ship and he had a most enjoyable time on her, until the tragic event on March 31.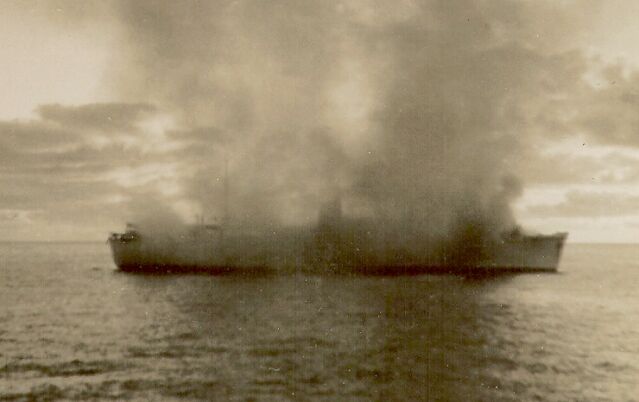 Here we see the Skaubryn still ablaze
Photograph © Harold Weiss
The Harold Weis Story:
"I and other passenger liked the ship very much as she was a delightful ship. During the voyage I never heard any complaints from other passengers. The service aboard and the food was excellent, I felt she was more like a fun cruise ship and certainly not like an immigrant ship.
Although accommodations onboard varied a great deal, from beautiful two bedded cabins to large dormitories. I was berthed in one located on one of the lower decks, and shared it with about 20 (30?) other men. But the room and beds were quite comfortable and there where no problems at all with any of the other's I shared with.
On the night the ship caught fire I was in the aft tourist class lounge and bar with other young people. The band was playing and some of us where happily dancing whilst others where chatting having drinks, or just playing cards. I recall that it was a warm and a beautiful night just as they are in the Indian Ocean.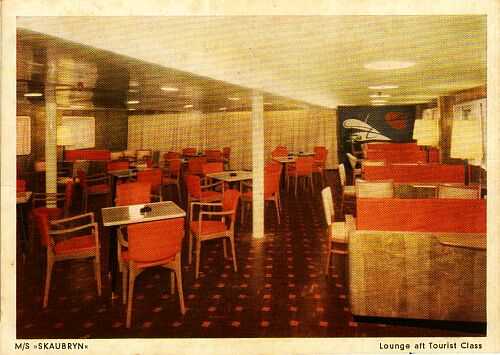 This postcard was provided by Mr. Kjeld Andersen who sailed on the Skaubryn in December 1957
Then suddenly somebody was yelled out and told us to get out to the lifeboats as the ship was on fire. At the first I thought somebody is joking, but as more and more people went outside I followed and then I saw thick clouds of smoke drifting along the side of the ship. So I went to the lifeboat station as we had learned earlier during a *lifeboat drill. When I arrived there a crew member asked me if I would take a girl of about 8 or 9 years old down the rope ladder in order to get into the lifeboat. I said sure, so the little girl had to hang onto my neck until reaching the lifeboat that was already in the water. Her mother was directly behind us. After about 3 to 4 hours rowing the City of Sydney came to our rescue and took us all onboard. From her decks we looked on as we saw the beautiful Skaubryn burn."
*As fate would have it, on March 31, the very day of the fire, an emergency lifeboat drill was held out on deck by all passengers.
"The next day we were transferred to the Italian ship SS Roma, where we were offered some new clothes and there were passengers who even offered their cabin to those who exhausted and needed a rest. We were well treated by passengers and crew as we headed for Aden arriving on Good Friday. Some 700 passengers including myself joined the Dutch liner MS Johan van Oldenbarnevelt, whilst others joined the Orient Lines SS Orsova, all of us heading for Australia.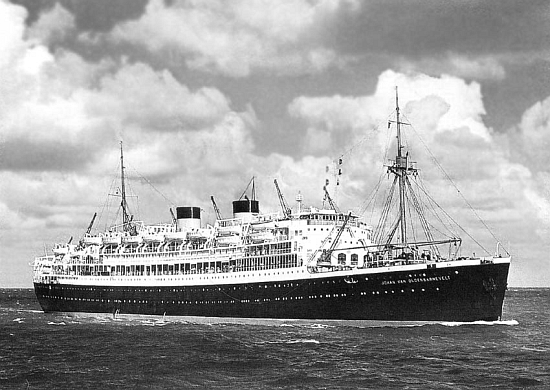 The Netherland Line Liner MS Johan van Oldenbarnevelt heading across the Indian Ocean to Fremantle
From the author's private collection
The Johan van Oldenbarnevelt was a very beautiful ship about 20.000-tons and was much larger than the Skaubryn. It was a pleasant voyage, except between Fremantle and Melbourne we had some very rough weather with huge waves. I remember that some passengers were running around with their lifejackets on and yes, they where mostly passengers who from the Skaubryn.
That is my story of my voyage on the Skaubryn and it turned out to be some adventure. I never knew that it would take three ships to get me to Australia. But, it was so sad to see the beautiful Skaubryn destroyed, for I will always remember the wonderful time I had on her!"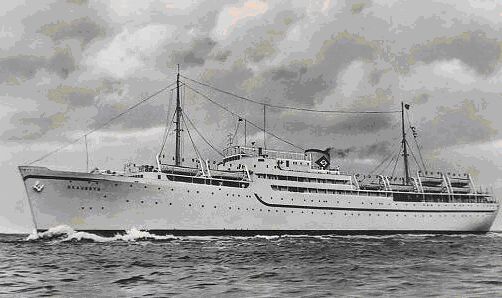 A typical Skaubryn postcard
From the author's private collection
After Harold's arrival in Australia he worked on the Warragamba Dam project near Sydney for one year. It was a dangerous job as he was a "powder monkey" working with explosives. Later he moved north and worked in Queensland as far north as Cairns. For personal reasons Harold returned to Germany in 1961.
An email received from an Aden resident at the time - Jane

Nevezie

.
"I have read with interest your entry about this ship. I was 11 years old when this event occurred, living in Aden, to where all the passengers and crew were taken. The majority of passengers were housed in a newly constructed building which was the brand new hospital about to be opened. I know all this because my mother who was fluent in a number of languages, acted as an interpreter for many of the migrants who could not speak English. She not only helped with translations but was able to enlist the generosity of many of the traders and emporium owners, to replace many of the basic necessities (clothing, cases, toiletries, spectacles, etc.) as passengers had lost so much personal belongings in the fire. I met quite a few of these very grateful passengers.
Later my parents and I also migrated to Australia, settling in Melbourne in 1959. We managed to locate one of the couples from the Skaubryn and renewed contact for a short time.
This event has been etched in my memory and I am now in the process of gathering information for my family history, which includes this event and my mother's involvement in it, thus I was searching the Internet for official information, and I am so glad I found your website. Many thanks, Jane Nevezie."
Postscript:
Received an interesting email from Mr. Heinz Bachmann who read this page which clarified something he knew a little about. A friend of his Aunt, M/S Eure A Reinhard boarded the Skaubryn in 1952 bound for Australia.
WHAT a surprise!
Imagine, a neighbour and a friend of your aunt … sent a postcard from M/S Skaubryn (posted with a 4½d special (1)stamp on March 25 in 1958 on the island of Malta) and you would read for the first time in your life (via Mr. Harold Weiss' historic photographs and report!) all about this fire and prior "emergency lifeboat drill" on July 30, 2007.
I knew about this fire but nothing else about the whole adventure that followed on March 31. Here's what my aunt's friend, A. Reinhard (MS), who was a passenger of M/S Skaubryn, wrote (on the card)
"Liebe Fam. Deckinger. Bin gut auf dem Schiff angekommen. Bis jetzt ging alles gut. Meine Gedanken sind sehr viel bei Ihnen. Heute sind wir in Malta und kann Post abgeben. Das Schiff ist sehr schön wunderbar eingerichtet und die Verpflegung sehr gut. Es ist hier schon sehr warm. Habe schon viel gesehen und hoffe dass es eine schöne Reise wird. Mit den herzl. Grüssen Eure A. Reinhard."
Translation by www.FreeTranslation.com.
"Beloved family Deckinger. Arrived on the ship and all has gone very well. My thoughts are very much with you. Today we are in Malta and can use the postal service. The ship so beautiful wonderfully and well arranged and the provisions are very good. It is quite warm already. From what we have seen so far we can see it is going to be a beautiful trip. Greetings Eure A. Reinhard."
She also wanted to see Australia and as far as I know finally arrived in Adelaide.
Please send my sincere greetings and thanks to Harold Weiss if he is still "with us".
(1)The special 4½d stamp "Postage & Revenue" was issued in memory of the famous Roosevelt's Scroll reads as follows: "In the Name of the People of the United States of America I salute the Island of Malta." Bernd Heinz Bachmann & family
I thank Mr. Bachmann for his email as it gives us another insight into this voyage experienced by M/S Reinhard. We are not aware what became of her. If there are any relatives or friends that may read this, please do get in touch that we may obtain a little more on her adventures in Australia.
We are very grateful to Mr. Weiss for providing the two historic photographs of the Skaubryn on fire!
MS Skaubryn Index:
Page 1 …   The Skaubryn story with images.
Page 2 …   The Woering family at sea.
Page 3 …   The Harold Weiss story – the Skaubryn fire on March 31, 1958 with photographs.
Page 4 …   Ingeburg Dammasch (she later married in Australia to become Mrs. Schwertner) is a survivor from the last voyage and she is looking for fellow passengers of Skaubryn's final voyage – Also: the Jochen (Joe) Wagner story.
Page 5 …   The Lerche Family sails for Australia in 1957.
 "Blue Water Liners sailing to the distant shores.
I watched them come, I watched them go and I watched them die."
****************************
Visit our ssMaritime Main INDEX
Where you will discover over 750 Classic Passenger & Passenger-Cargo Liners!
ssMaritime.com & ssMaritime.net
Where the ships of the past make history & the 1914 built MV Doulos Story
Please Note: ssmaritime and associated sites are 100% non-commercial and the author does not seek funding or favours and never have and never will.
Photographs on ssmaritime and associate pages are either by the author or from the author's private collection. In addition there are some images and photographs that have been provided by Shipping Companies or private photographers or collectors. Credit is given to all contributors, however, there are some photographs provided to me without details regarding the photographer or owner concerned. Therefore, I hereby invite if owners of these images would be so kind to make them-selves known to me (my email address can be found at the bottom of the page on www.ssmaritime.com), in order that due credit may be given.
ssMaritime is owned & © Copyright by Reuben Goossens - All Rights Reserved