Skaugen Line ~ M/S Skaubryn - 1951
Please Note: Firefox and some iPad's or iPhone's, etc are not suitable
Use Internet Explorer or Google for this page to load perfectly!

Click the logo above to reach the ssMaritime FrontPage for News Updates & "Ship of the Month"
                                                                                                              With Reuben Goossens
Maritime Historian, Cruise'n'Ship Reviewer, Author & Maritime Lecturer
Please Note: All ssMaritime and other related maritime/cruise sites are 100% non-commercial and privately owned. Be assured that I am NOT associated with any shipping or cruise companies or any travel/cruise agencies or any other organisations! Although the author has been in the passenger shipping industry since 1960, although is now retired but having completed around 690 Classic Liners and Cargo-Passengers Ships features I trust these will continue to provide classic ship enthusiasts the information the are seeking, but above all a great deal of pleasure! Reuben Goossens.
MS Skaubryn
Page Five
The Lerche Family sails for Melbourne in 1957
Images on this page were kindly provided by Inge Meldgaard
And taken by the late Mr. Anker Lerche
Except those marked otherwise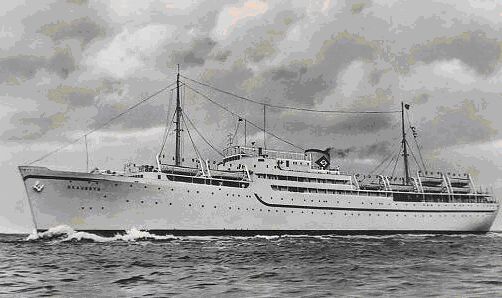 Postcard of the MS Skaubryn
Author's private collection
The item below was sent in by Inge Meldgaard (nee Lerche) containing details that are based on a translation of her late Father's memoirs in Danish relating to the family's voyage on the MS Skaubryn from Denmark to Australia arriving in Melbourne in February 1957. It gives us yet another insight of a family having made such a massive decision to sail half way around the world and we are grateful to Inge for sending it to us!
Our family name was 'Lerche', made up of Elna (Marie) Lerche, my mother; my father, Niels Anker Melgaard Lerche; and my sister, Tove Lerche. My sister now calls herself Tove Melgaard-Lerche and I call myself Inge Meldgaard. The spelling difference in 'Melgaard/Meldgaard' came about because in Denmark the Lutheran priests gave out christening certificates when children were baptised and the name on my father's certificate, and on that of one of his brothers, was misspelled. I decided to rectify the mistake and use the correct name instead of 'Lerche' because of the horrible mispronunciations I've had to live with!
We all originally lived in Copenhagen, where my father - a marine engineer - worked on the ferries that sailed between Sweden and Denmark. His health had suffered from having served with the British merchant navy for the duration of World War II, and the work on the ferries was extremely cold and wet, with very long hours. As many Danes did at that time, my parents chose between Canada and Australia in search of a better life.
Family photo's taken onboard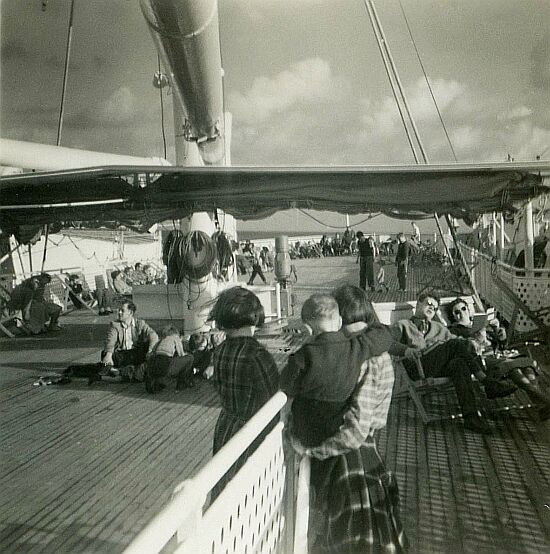 This is a good view of the aft sun and sports deck of the Skaubryn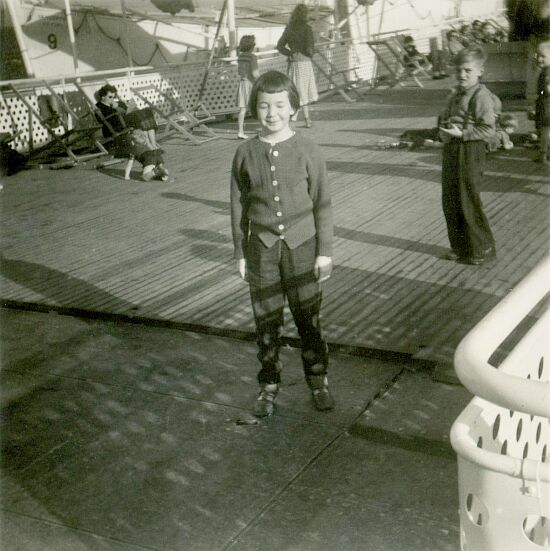 My sister Tove enjoying the sun and playing games out on deck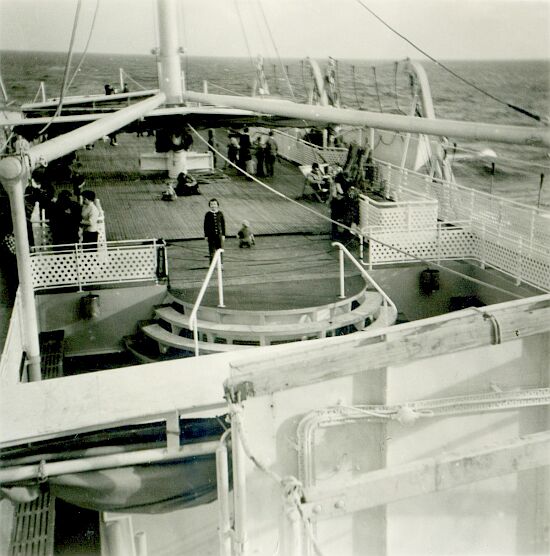 Here we see Tove on the fore deck of the ship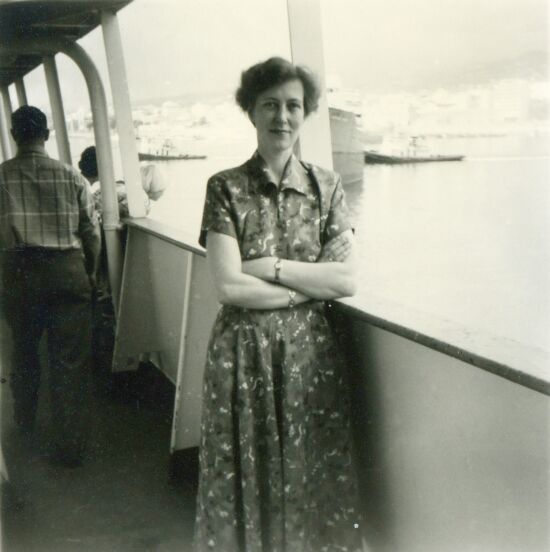 My Mother Elna out on deck in Cape Town
We departed on the MS Skaubryn from Bremerhaven, Germany on the 8th January 1957. Although I was only 3½ at the time when we left Denmark for Bremerhaven and the long voyage to Australia, but I have vivid images of life aboard the ship, not all particularly good ones, I'm afraid I was seasick for much of the time, but I remember enjoying watching the water cover the portholes during storms, and when well enough, eating rainbow (chocolate, strawberry, vanilla) ice cream for the first time in the adults' dining room. One of the other things I also recall about shipboard life was the lifeboat drills.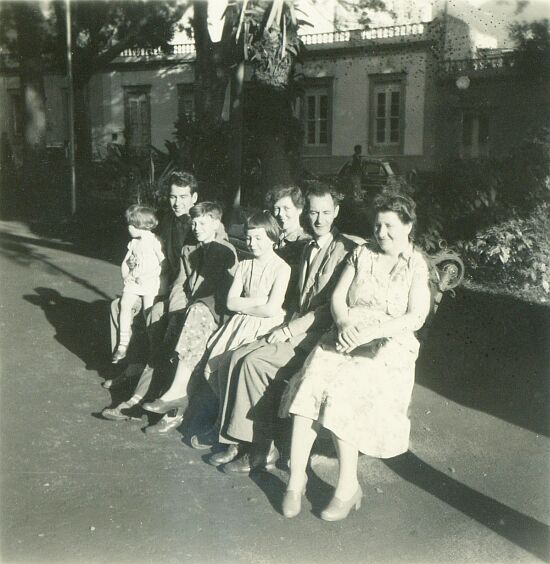 The Lerche family and shipboard friends in Tenerife – Inge is seen on the far left
We all enjoyed Tenerife and Cape Town when the ship stopped in those ports. I remember the cobbled streets in Tenerife and goats running down them! The ship remained in Cape Town from 7pm until midnight, so my father hired a taxi to take us up Table Mountain. The lights of the city below were a wonderful sight, but we had to hurry to get back in time.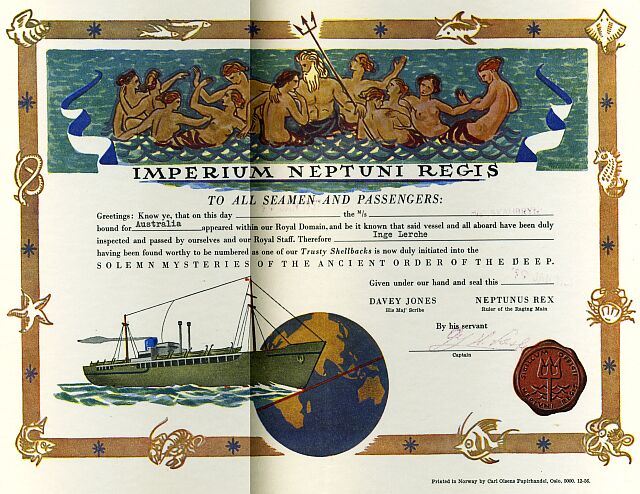 Inge's Crossing the Equator Certificate
(The name of the ship and date was written in ink and cannot be seen in this scan)
When we came to Australia, I saw Fremantle from a distance, but strangely enough, do not remember arriving in Melbourne, but it was on a hot day, and I later discovered it was on February the 13th 1957.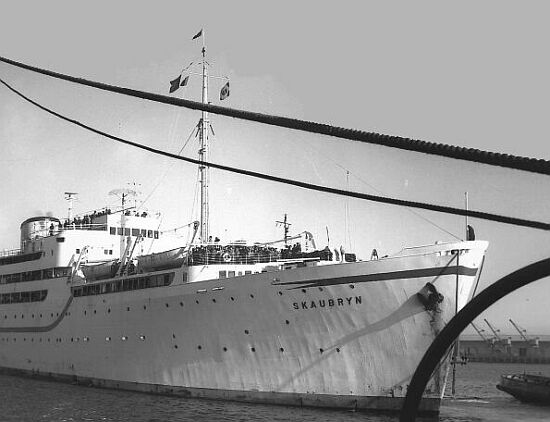 MS Skaubryn arriving in Fremantle
Photograph © West Australia Newspapers
A Danish friend of my father's and his English wife George and Mary Schmidt met us and we stayed with them in Huntingdale. They had four children, two of whom are seen in the photograph below. George Schmidt was also a Dane in the British merchant navy during WWII, who served with my father.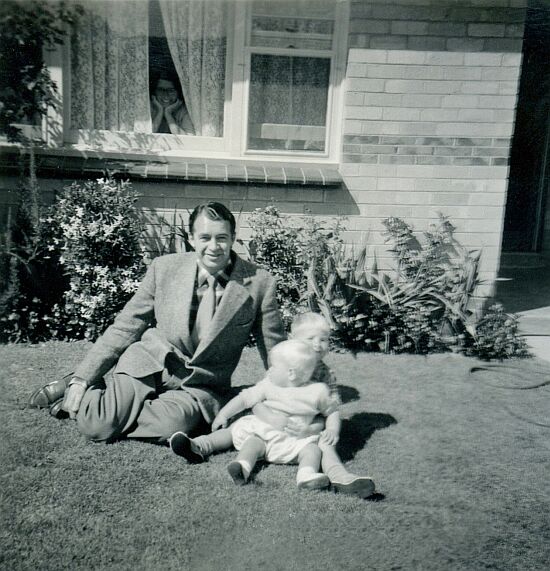 My father Anker Lerche with two of the Schmidt children
We only stayed with the Schmidt's for a couple of weeks for they found us a shared house to rent from an elderly couple, Mr. and Mrs. Holland, at number 1 John Street, in Oakleigh and the house remains to this day. I lived in Oakleigh again at a later time and it was good to remember those early days.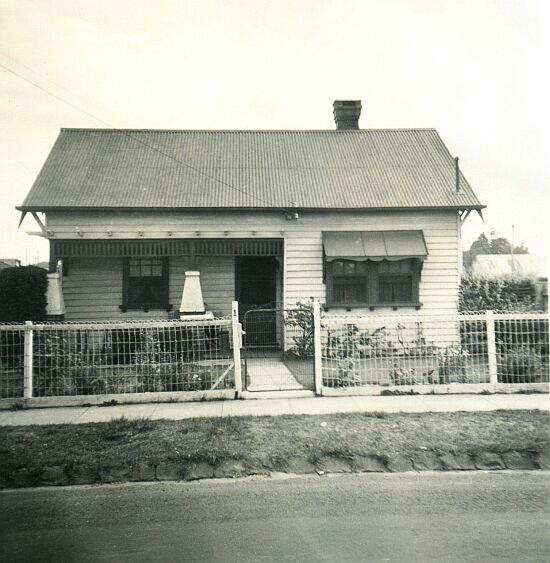 Memories of our early days in Australia - our house in Oakleigh at 1 John Street

After Oakleigh, my parents bought a house in Glenroy but we then moved to Yallourn when my father obtained work as a power station engineer. My sister and I moved out of home to go to Melbourne to finish our studies once we completed high school. My parents left Yallourn for Traralgon when Yallourn was to be demolished during the 1970s. They then moved to Mulgrave in Melbourne after my father retired, where they lived until they passed away. My father died in 2002 and my mother in 2006. I now live in Belgrave Heights and my sister lives in Cockatoo.

**************************************************

The Lerche/Meldgaard family came to Australia like so many before them, with many more coming later on ships that may not have been one of the great passenger liners of their time. Each of these ships have a remarkable story to tell, as they brought many fine people to a new life in a faraway land! Many had wonderful journeys and great memories; whilst others remember the long days of seasickness, which was not uncommon in the days before stabilizers. But, these voyages all had the same thing in common: they brought people to a new world, be it to Canada, the USA, New Zealand, or Australia as in the case with the Lerche family. This makes the Skaubryn special, for she will be etched in the memory of Inge, her sister Tove and her family forever!

If you were a passenger on this particular voyage that departed Bremerhaven on January 8, 1957, and you would like to make contact with Inge you are welcome to email Inge Meldgaard.

Skaubryn Index

Page 1 …   The Skaubryn story with images.

Page 2 …   The Woering family at sea.

Page 3 …   The Harold Weiss story – the Skaubryn fire on March 31, 1958 with photographs.

Page 4 …   Ingeburg Dammasch (she later married in Australia to become Mrs. Schwertner) is a survivor from the last voyage and she is looking for fellow passengers of Skaubryn's final voyage – Also: the Jochen (Joe) Wagner story.

Page 5 …   The Lerche Family sails for Australia in 1957.

"Blue Water Liners sailing to the distant shores.


I watched them come, I watched them go and I watched them die."

****************************

Visit our ssMaritime Main INDEX

Where you will discover over 750 Classic Passenger & Passenger-Cargo Liners!

ssMaritime.com & ssMaritime.net

Where the ships of the past make history & the 1914 built MV Doulos Story

Please Note: ssmaritime and associated sites are 100% non-commercial and the author does not seek funding or favours and never have and never will.

Photographs on ssmaritime and associate pages are either by the author or from the author's private collection. In addition there are some images and photographs that have been provided by Shipping Companies or private photographers or collectors. Credit is given to all contributors, however, there are some photographs provided to me without details regarding the photographer or owner concerned. Therefore, I hereby invite if owners of these images would be so kind to make them-selves known to me (my email address can be found at the bottom of the page on www.ssmaritime.com), in order that due credit may be given.

ssMaritime is owned & © Copyright by Reuben Goossens - All Rights Reserved