Skaugen Line ~ M/S Skaubryn - 1951
Please Note: Firefox and some iPad's or iPhone's, etc are not suitable
Use Internet Explorer or Google for this page to load perfectly!

Click the logo above to reach the ssMaritime FrontPage for News Updates & "Ship of the Month"
With Reuben Goossens
Maritime Historian, Cruise'n'Ship Reviewer, Author & Maritime Lecturer
Please Note: All ssMaritime and other related maritime/cruise sites are 100% non-commercial and privately owned. Be assured that I am NOT associated with any shipping or cruise companies or any travel/cruise agencies or any other organisations! Although the author has been in the passenger shipping industry since 1960, although is now retired but having completed around 690 Classic Liners and Cargo-Passengers Ships features I trust these will continue to provide classic ship enthusiasts the information the are seeking, but above all a great deal of pleasure! Reuben Goossens.
                                                     MS Skaubryn                                                                
Page Four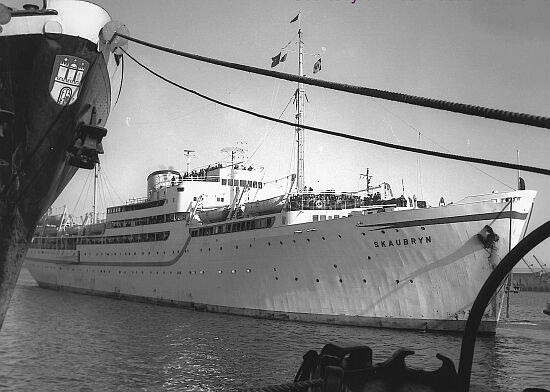 Skaubryn arrives in Fremantle
Photograph © West Australia Newspapers
Looking for Survivors of the Survivors from MS Skaubryn's last voyage!
It will be 50 years on 31st March 2008, when a fire broke out in the engine room of the MS Skaubryn on her crossing to Australia in the Indian Ocean.
I, Ingeburg Schwertner (nee Dammasch) was one of the passengers on the way to Australia to follow my love. My friend Lothar had migrated to Australia on the same ship in November 1956.  He wrote to me in the DDR and invited me to come to Australia.  We married on the 12th of July 1958 and have lived a very happy life in Australia.
We have two children and have moved around Australia quite a bit. Started our married life in Sydney, than moved to Tea Gardens, lived in Woomera for seven years and worked on the Rocket Range. Moved back to Sydney and are now living in Northern New South Wales in a Sub-tropical Paradise.
I have never regretted having migrated to Australia and have had a wonderful life here. Since it now comes to an anniversary of the tragic drama at sea, when we saved the most important thing, namely our lives (except for one gentleman) I often wondered what has become of all the other passengers, where have they ended up and what life experiences they have encountered?
It would be very interesting to hear from any other survivor after 50 years in Australia.
Please contact me on our e-mail: lothars@iprimus.com.au.
Mrs. Ingeburg Schwertner (nee Dammasch)
Another passenger from this ill-fated voyage!
My name is Jochen (Joe) Wagner and I also was on the MS Skaubryn when she caught fire. Sadly I lost all my belongings that day, and I had no insurance! I read the story about Inge and I remembered her when we stayed in Aden. I was in a group in an Army Camp in the dessert and there were some girls who came to visit at times, there was a Gerda von Baron as well as Inge, although I cannot remember all names, there was also in our group a tall chap by the name of Paul Seemann, I often wonder what happened to them all.
I came originally from Bielefeld and was on the way to Australia and I live in Kingston Tasmania, and I have lived in Tasmania since 1960. I would like to hear from anyone who knew me. You can email me at: otto1234@bigpond.com.
Joe Wagner.
MS Skaubryn Index:
Page 1 …   The Skaubryn story with images.
Page 2 …   The Woering family at sea.
Page 3 …   The Harold Weiss story – the Skaubryn fire on March 31, 1958 with photographs.
Page 4 …   Ingeburg Dammasch (she later married in Australia to become Mrs. Schwertner) is a survivor from the last voyage and she is looking for fellow passengers of Skaubryn's final voyage – Also: the Jochen (Joe) Wagner story.
Page 5 …   The Lerche Family sails for Australia in 1957.
 "Blue Water Liners sailing to the distant shores.
I watched them come, I watched them go and I watched them die."
****************************
Visit our ssMaritime Main INDEX
Where you will discover over 750 Classic Passenger & Passenger-Cargo Liners!
ssMaritime.com & ssMaritime.net
Where the ships of the past make history & the 1914 built MV Doulos Story
Please Note: ssmaritime and associated sites are 100% non-commercial and the author does not seek funding or favours and never have and never will.
Photographs on ssmaritime and associate pages are either by the author or from the author's private collection. In addition there are some images and photographs that have been provided by Shipping Companies or private photographers or collectors. Credit is given to all contributors, however, there are some photographs provided to me without details regarding the photographer or owner concerned. Therefore, I hereby invite if owners of these images would be so kind to make them-selves known to me (my email address can be found at the bottom of the page on www.ssmaritime.com), in order that due credit may be given.
ssMaritime is owned & © Copyright by Reuben Goossens - All Rights Reserved