Skaugen Line ~ M/S Skaubryn - 1951
Please Note: Firefox and some other search engines are not suitable – Use "Internet Explorer" for this page to load perfectly!

Click the logo above to reach the ssMaritime FrontPage for News Updates & "Ship of the Month"
With Reuben Goossens
Maritime Historian, Cruise'n'Ship Reviewer, Author & Maritime Lecturer
Please Note: All ssMaritime and other related maritime/cruise sites are 100% non-commercial and privately owned. Be assured that I am NOT associated with any shipping or cruise companies or any travel/cruise agencies or any other organisations! Although the author has been in the passenger shipping industry since 1960, although is now retired but having completed around 690 Classic Liners and Cargo-Passengers Ships features I trust these will continue to provide classic ship enthusiasts the information the are seeking, but above all a great deal of pleasure! Reuben Goossens.
MS Skaubryn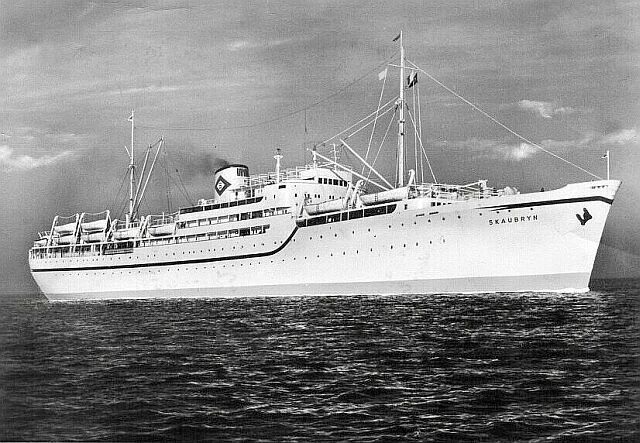 MS Skaubryn the cargo ship that became a very popular, but eventually an ill-fated passenger liner
Photograph from the author's private collection
Ship owner, Mr. Isak Skaugen, intended the Skaubryn to be a shelter deck cargo ship for one of his companies, Eikland Co. She was built by Oresundsvarvet A/B, Landskrona Norway and she was launched on October 7, 1950. However, whilst being fitting out, Mr. Skaugen decided to have her completed as an emigrant liner. He had her transferred to Howaldt Deutche Werft shipyard in Kiel, who completed her as a fine small passenger liner. For her time she was an attractive looking ship offering Tourist Class accommodations for 1,205 passengers. Skaubryn was one of the best equipped of the early post War migrant liners.
Unknown to most, MS Skaubryn also had eight twin bedded cabins accommodating 16 First Class passengers located up on Bridge Deck. The privileged few could enjoy a delightful lounge and bar, and an intimate dinning room.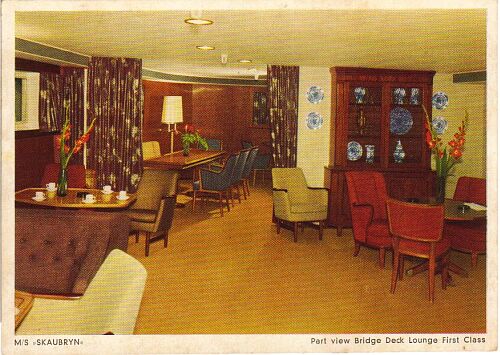 First Class Lounge and Bar
Of the tourist class accommodations, 50% of the cabins were two to eight berth cabins, the balance were dormitories, with varies numbers of berths in each.
Tourist class offered several tourist class lounges, a cinema, two dinning rooms as well as a separate dining room for children and a large play room. She had a remarkably large hospital with room for over 70 patients. There was ample deck space for both sport activities and sunbathing and an open air swimming pool. Compared to many other migrant ships of her day, she was well fitted out and she was mostly well liked by her passengers.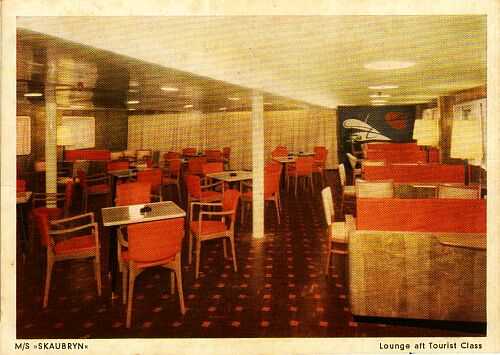 Above and below: The Aft Tourist Class Lounge and Bar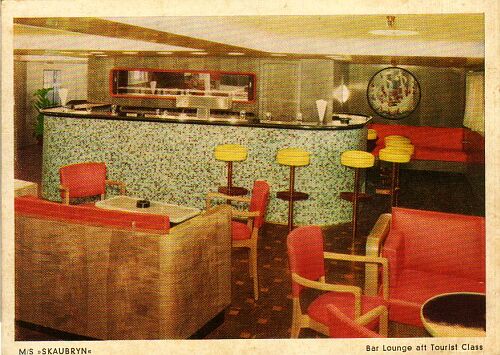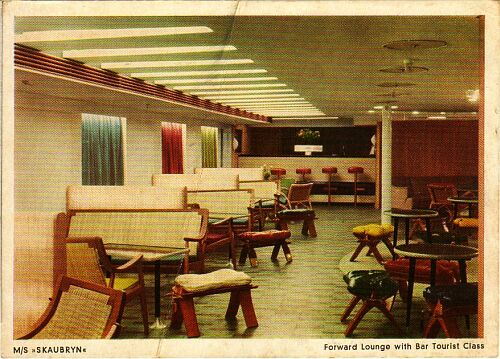 Forward Tourist class Lounge and Bar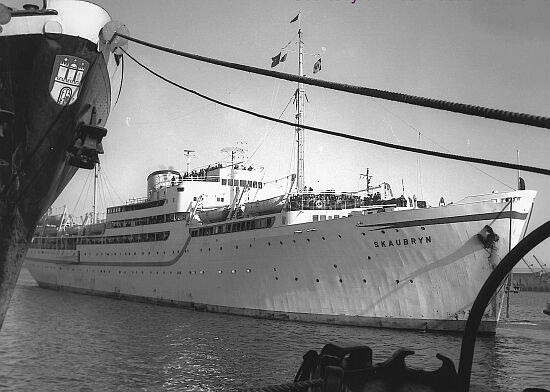 Skaubryn arrives in Fremantle
Photograph © West Australia Newspapers
Her Maiden Voyage and early days:
She departed Nordenham near Bremerhaven on *Saturday February 24, 1951. The ship accommodated sixteen First Class passengers and her Tourist Class had a full complement of 1,205 migrants. Her first port of call was Port Said and as she proceeded through the Suez Canal MS Skaubryn continued to Aden and then sailed direct to Fremantle Australia arriving there on *Thursday March 29, arriving at her destination in Melbourne on Monday April 2, 1951.
*Please Note; I have been able to conform these dates as there has been conflicting reports, by maritime historians and even some passengers who have sailed on this very voyage, thus I decided to undertake my own research to ensure its accuracy! Therefore these dates are according the official registrar oft the Australian Department of Immigration, as well as the Australian National Archives both of which are located in Canberra Australia, and a passenger list of this voyage is available upon request (document #A12916 1/147).
Interestingly the Skaubryn departed Melbourne without any passengers as she had a special charter arranged and thus she headed north bound for Indonesia where she was to be loaded with Dutch ex patriot's and Indonesian citizens' who desired to leave the country as it had become such a troublesome place, and go and live in the Netherlands. Skaubryn departed Tandjoeng Priok (a port just north of the city of Batavia) on April 14 and she sailed for the great harbour city of Rotterdam arriving on May 6, 1951.
From Rotterdam she returned to Bremerhaven. Her second voyage to Australia departed from Nordenham, Bremerhaven on May 23 and she sailed via the same route and this voyage again concluded in Melbourne and a passenger list for this voyages is also available (document #A12916 1/149 from the Australian National Archives).
Although the Melbourne service continued for several further voyages, but due to the diminishing number of passengers her service was extended through to Sydney and she soon began to operate from other European ports as well making the service more profitable. In addition in times ahead she would operate on a variety of charter operations.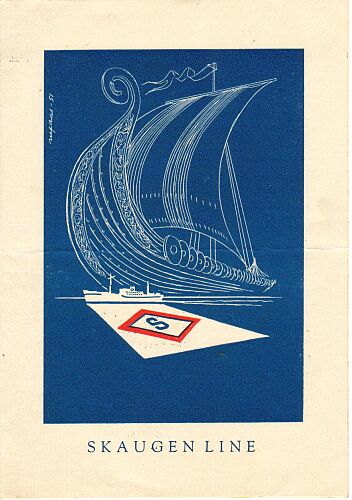 Menu cover
Her main service now being from European ports to Sydney, Australia; however, she also began to operate a number of sailings to Canada. She was chartered several times, once by the French Government mid 1950's to bring troops back from Vietnam.
In 1956 the Dutch Government used her for a single voyage from Rotterdam to Halifax and New York. That same year, she was again chartered, but this time by the British Government to transport troops from Singapore to the UK.
The Greek Line chartered her in 1957 for four round trips from Europe and the UK to Quebec after which she returned on the Australian emigrant service again.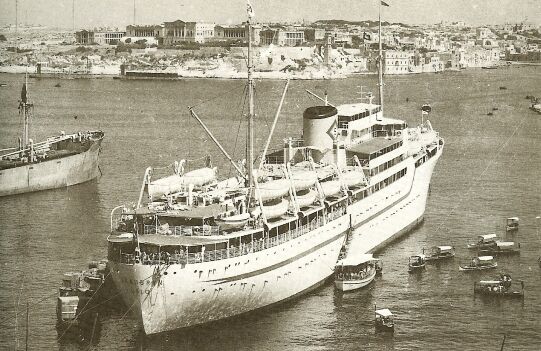 Skaubryn at anchor in Valletta Malta
Photographer unknown - *See Photo notes at bottom of page
Due to her rather short lifespan the Skaubryn never became one of the better known passenger ships that sailed to Australia in the 1950's, and generally very little is known about her. Therefore I trust that this feature will provide a little more on what was really a remarkable and a fine ship of the 50's. This feature came about because one passenger, who arrived in Melbourne in February 1957 that emailed me and I was only too happy to add this ship on ssMaritime.com.
However, I never cease to be amazed the amount of email I receive regarding this, what would appear to be such a little known ship in general, however her past passengers really love this ship and her crew. I thank all those who have written, be they actual passengers or family members and I appreciate your input! Below are just a few personal stories and then of course was the voyage that ended it all when she caught fire in 1958. This story is well covered by using the links on the index below.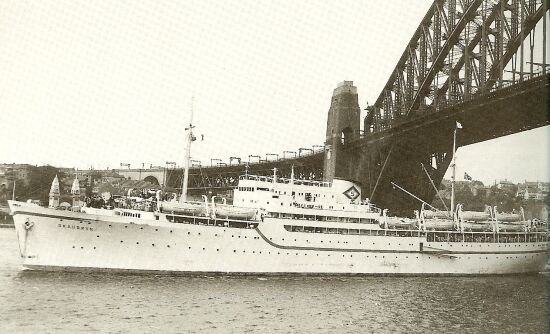 MS Skaubryn arrives in Sydney
Photographer unknown - *See Photo notes at bottom of page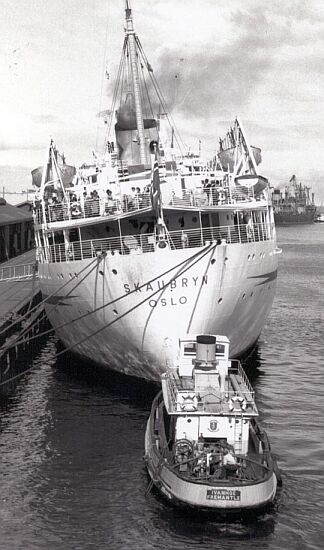 Skaubryn ready to depart Fremantle - A fine view of her stern

Photograph © West Australia Newspapers

Specifications:

Built:                          

Oresundsvarvet A/B, Landskrona & Howaldswerke Deutche Werft, Kiel.

Launched:                    October 7, 1950.

Maiden Voyage:             February 24, 1951 - Bremerhaven to Melbourne.

Tonnage:                      9,786 GRT.

Length:                        458ft – 139.6m.

Width:                         57ft – 17.3.

Engine:                        Gotaverken Diesel.

Screw:                         Single.

Speed:                         16 knots.

Passengers:                  16 First Class.

Passengers:                  1,205 Tourist Class (mostly migrants).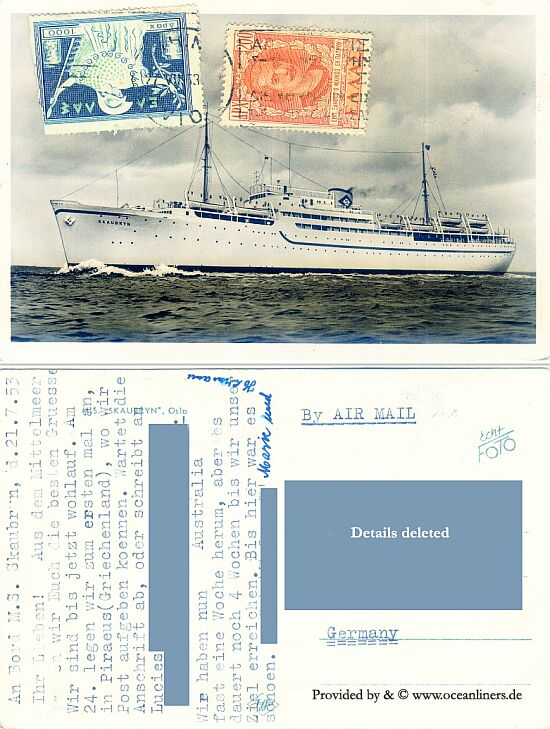 A postcard written aboard Skaubryn on July 21, 1953 and sent when in Piraeus the next day.
Name and addresses on this card have been removed
Joe

Farrugia's

voyage to Sydney in 1952:
I have just spent over an hour on this site reading some of the SS Skaubryn history in which I had some personal involvement. Although I was not on the ill-fated 1958 voyage, I still feel I am one of those who feel some pride in the fact that this liner took me to Australia, arriving in Sydney on October 12, 1952.
My experience is that this ship was a rather fast going liner and had no problem dealing with mountainous seas whilst in the Indian Ocean. But we did have some rather exciting moments for suddenly she stopped and the ship was stationary and listing for a few days. It turned out we waiting for assistance, as apparently the propeller had fallen off and obviously by now was lying somewhere on the ocean floor! Walking at a 45 degree angle anywhere on the ship was certainly an eerie experience. However, after a few days all was set to go and we eventually made it into Sydney to receive a royal welcome, if anything by relatives and friends.
I do have a special recollection of a couple of Scandinavian ladies, a mother and her daughter Eva Sivertsen. It was so nice of them to want me to join them and keeping company together at mealtimes and during most of the journey to Australia. The latest news I had was that the family moved to the skiing mountains where they lived in one of the tourists chalets/resorts. I remember them telling me that back at their homeland skiing was a daily experience especially in the winter season. While in Sydney, the Sivertsen Family lived in Glebe near Sydney, in New South Wales. I would love to re-establish contact with this family as it was my first friendship outside the country of my birth, being Malta. I am now married and live on the east coast of the USA in the city of Norwalk, Connecticut. One never knows, but just in case a Sivertsen family member reads this - here is my email address: joefarrugia33@aol.com. Sincerely, Joe Farrugia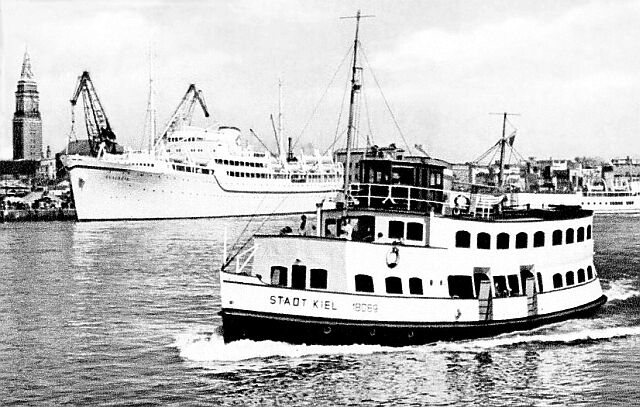 Skaubryn seen at Nordenham near Bremerhaven in the fifties
Photograph from the author's private collection
Apart from Mr Farruia's story above, there are many other stories from past passengers of the SS Skaubryn and these are all on other pages with links as seen below. Mr. Kjeld Andersen who was a passenger on the Skaubryn from December 1957 to January 1958 provided the delightful interior postcards as well as a menu cover.
Another passenger, Mr. Harold Woering and his family arrived in the US on September 28, 1956. We thank Mr. Woering for sending us a selection of photographs as well as a copy of the "Farewell-Dinner" Menu dated 26 September 1956.
Page three covers the events of this fine ship when she caught fire in 1958. A passenger on that voyage provided me two graphic photographs of her ablaze. And then there is the 1957 Lerche's Family story on page 5.
Skaubryn Index
Page 1 …   The Skaubryn story with images.
Page 2 …   The Woering family at sea.
Page 3 …   The Harold Weiss story – the Skaubryn fire on March 31, 1958 with photographs.
Page 4 …   Ingeburg Dammasch (she later married in Australia to become Mrs. Schwertner) is a survivor from the last voyage and she is looking for fellow passengers of Skaubryn's final voyage – Also: the Jochen (Joe) Wagner story.
Page 5 …   The Lerche Family sails for Australia in 1957.
 "Blue Water Liners sailing to the distant shores.
I watched them come, I watched them go and I watched them die."
****************************
Visit our ssMaritime Main INDEX
Where you will discover around 690 Classic Passenger & Passenger-Cargo Liners!
ssMaritime.com & ssMaritime.net
Where the ships of the past make history & the 1914 built MV Doulos Story
Please Note: ssmaritime and associated sites are 100% non-commercial and the author does not seek funding or favours and never have and never will.
Photographs on ssmaritime and associate pages are either by the author or from the author's private collection. In addition there are some images and photographs that have been provided by Shipping Companies or private photographers or collectors. Credit is given to all contributors, however, there are some photographs provided to me without details regarding the photographer or owner concerned. Therefore, I hereby invite if owners of these images would be so kind to make them-selves known to me (my email address can be found at the bottom of the page on www.ssmaritime.com), in order that due credit may be given.
ssMaritime is owned & © Copyright by Reuben Goossens - All Rights Reserved