Skaugen Line ~ M/S Skaubryn - 1951
Please Note: Firefox and some other search engines are not suitable – Use "Internet Explorer" for this page to load perfectly!

Click the logo above to reach the ssMaritime FrontPage for News Updates & "Ship of the Month"
With Reuben Goossens
Maritime Historian, Cruise'n'Ship Reviewer, Author & Maritime Lecturer
Please Note: All ssMaritime and other related maritime/cruise sites are 100% non-commercial and privately owned. Be assured that I am NOT associated with any shipping or cruise companies or any travel/cruise agencies or any other organisations! Although the author has been in the passenger shipping industry since 1960, although is now retired but having completed around 690 Classic Liners and Cargo-Passengers Ships features I trust these will continue to provide classic ship enthusiasts the information the are seeking, but above all a great deal of pleasure! Reuben Goossens.
MS Skaubryn
The Woering Family sails for New York in 1956
Images on this page were kindly provided by Mr. Harold Woering
Except those marked otherwise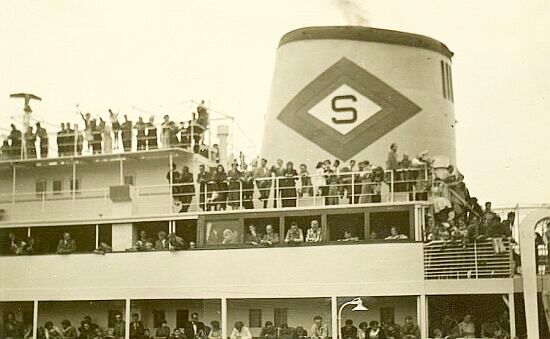 MS Skaubryn about to set sail from Rotterdam the Netherlands bound for New York
Photographs of the departure were taken by a family member
Harold Woering was just 4 when he departed Rotterdam, yet he still has some memories of his adventure across the Atlantic. He kindly provided these snapshots, which we are sure will delight all those who have fond memories of what was a fine and a well run little ship.
The Woering family arrived at their destination on September 28, 1956. More on his adventure later.
The author has received many emails of past passengers, including one passenger, Mr. Weiss, who happened to be on her last fateful voyage when she caught fire on March 31, 1958. Thankfully, it was a calm day at sea and all passengers were safely evacuated, but sadly one passenger suffered a heart attack and passed away. She sank on April 6. We hope to have MR' Weiss' story and photographs on line soon.
You can read the complete Skaubryn history on www.ssmaritime.com/Skaubryn.htm.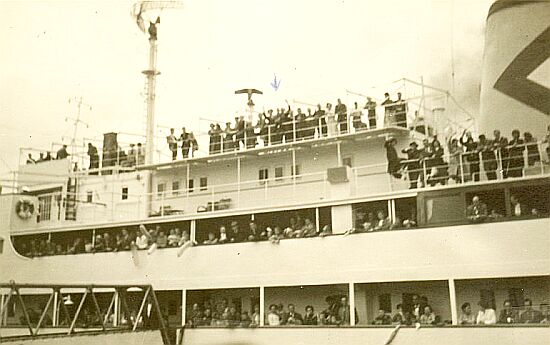 Soon the gangway will be removed and the MS Skaubryn will set sail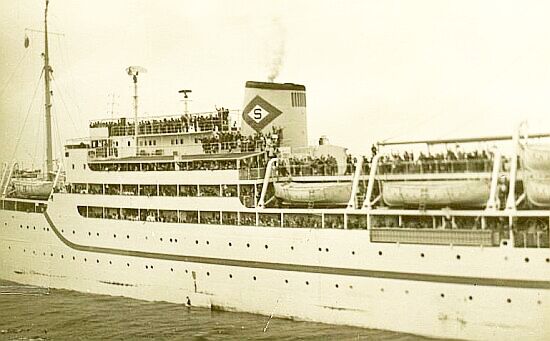 Skaubryn sets sail with a full complement of passengers heading towards a new life in America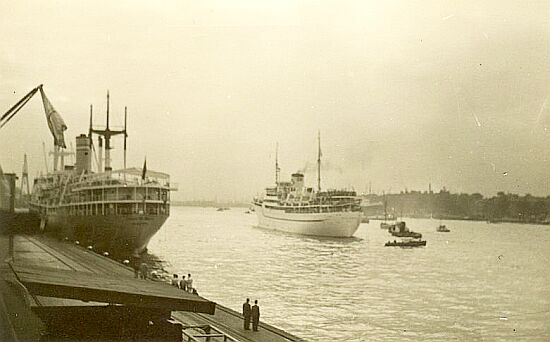 The Dutch SS Zuiderkruis is seen docked as MS Skaubryn sails down the Maas River towards the North Sea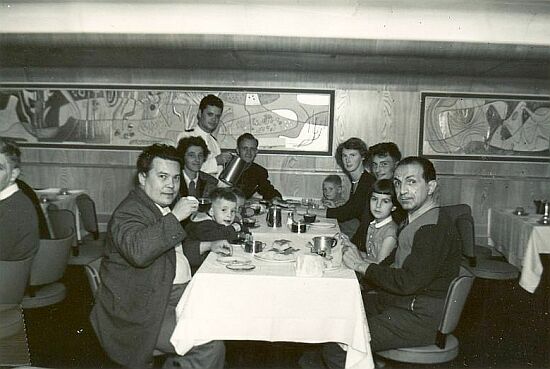 In the Dinning Room, Harold is seen top right with his Mother, his Father seated opposite them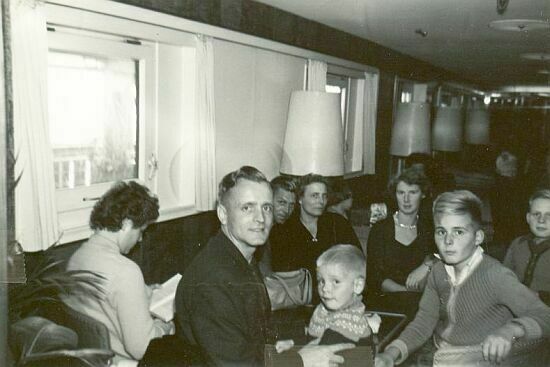 Mr. Woering with Harold and his Mother just right behind him seated the aft Tourist Class Lounge
This photographs was obviously taken whilst in port as the window indicates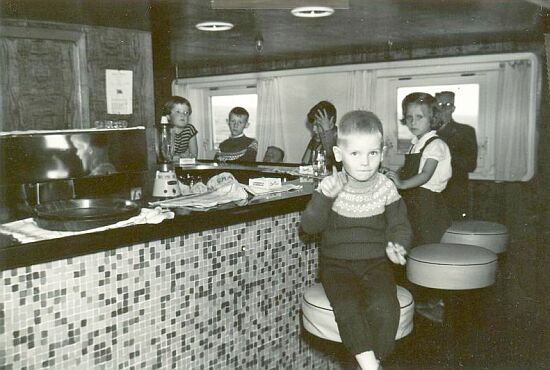 Drinks for anyone? No not for a 4 year old!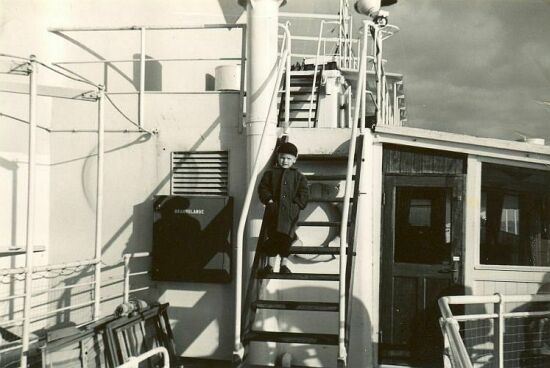 It is good to have a nice (be it a little cool) sunny day whilst crossing the Atlantic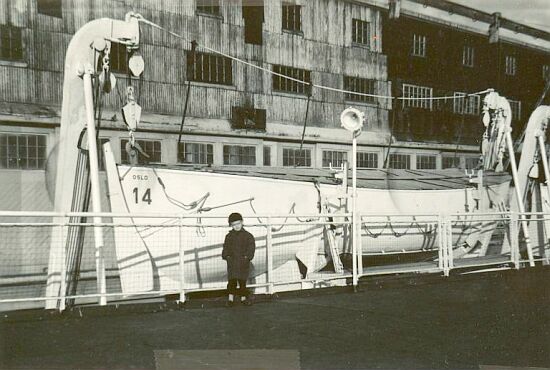 Harold is seen her whilst Skaubryn was in port. I hope to determine which one soon
Below the Farewell Dinner Menu dated September 26, 1956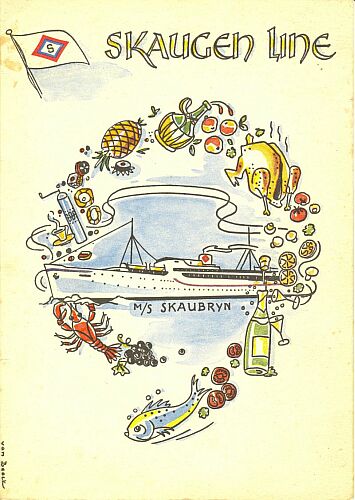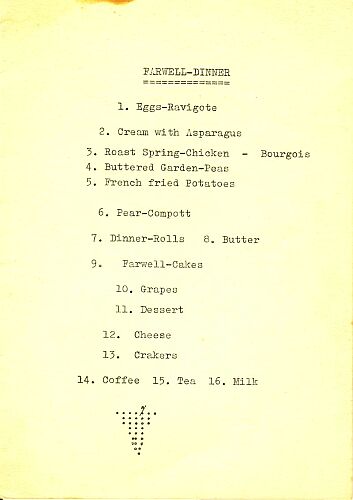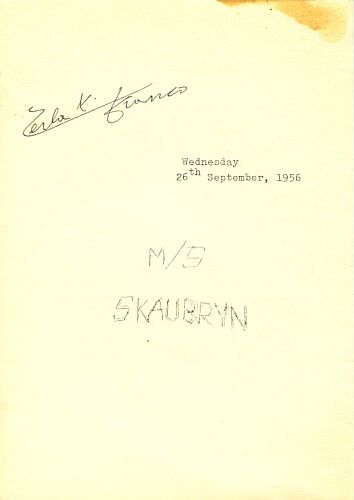 I hope to add more to this page in the near future. Also look out for Mr. Weiss' page to come online soon.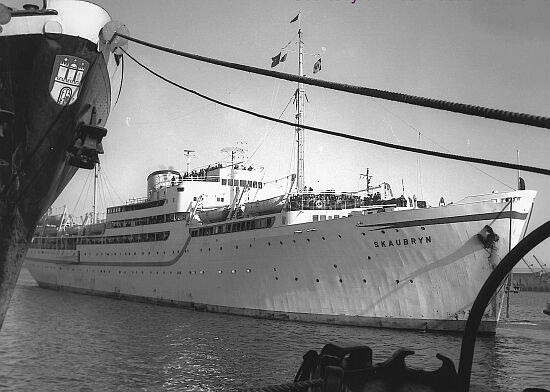 Skaubryn arrives in Fremantle
Photograph © West Australia Newspapers
Skaubryn Index
Page 1 …   The Skaubryn story with images.
Page 2 …   The Woering family at sea.
Page 3 …   The Harold Weiss story – the Skaubryn fire on March 31, 1958 with photographs.
Page 4 …   Ingeburg Dammasch (she later married in Australia to become Mrs. Schwertner) is a survivor from the last voyage and she is looking for fellow passengers of Skaubryn's final voyage – Also: the Jochen (Joe) Wagner story.
Page 5 …   The Lerche Family sails for Australia in 1957.
"Blue Water Liners sailing to the distant shores.
I watched them come, I watched them go and I watched them die."
****************************
Visit our ssMaritime Main INDEX
Where you will discover around 690 Classic Passenger & Passenger-Cargo Liners!
ssMaritime.com & ssMaritime.net
Where the ships of the past make history & the 1914 built MV Doulos Story
Please Note: ssmaritime and associated sites are 100% non-commercial and the author does not seek funding or favours and never have and never will.
Photographs on ssmaritime and associate pages are either by the author or from the author's private collection. In addition there are some images and photographs that have been provided by Shipping Companies or private photographers or collectors. Credit is given to all contributors, however, there are some photographs provided to me without details regarding the photographer or owner concerned. Therefore, I hereby invite if owners of these images would be so kind to make them-selves known to me (my email address can be found at the bottom of the page on www.ssmaritime.com), in order that due credit may be given.
ssMaritime is owned & © Copyright by Reuben Goossens - All Rights Reserved