Click the logo above to reach the ssMaritime FrontPage for News Updates & "Ship of the Month"
With Reuben Goossens
Maritime Historian, Cruise'n'Ship Reviewer & Author
Hamburg Süd Reederei
(Hamburg South America Line)
Page One
MS Santa Ines & Santa Teresa
Two elegant predecessors to the famed "Cap San" Series
Including some of Hamburg Sud's earlier ships such as the …
SS Cap Arcona (1923), and the foursome … MS Santa Ursula, Santa Catarina, Santa Elena & Santa Isabel (all 1951)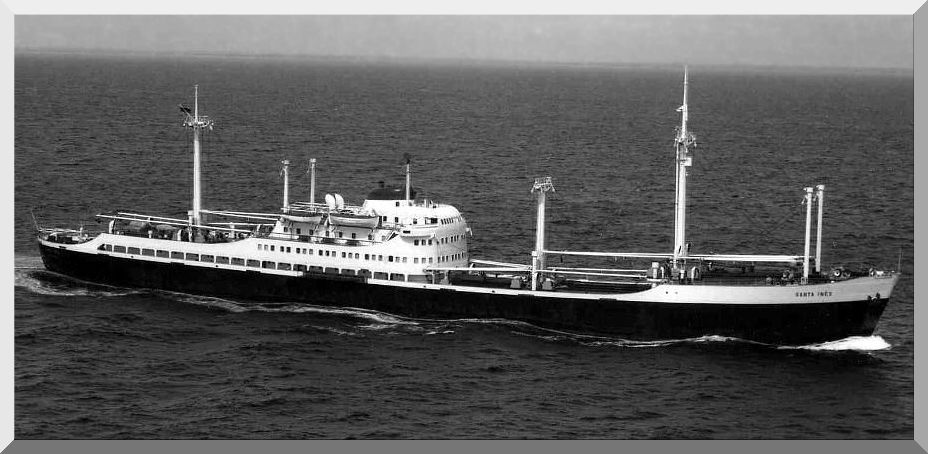 Here we see the long and elegant lines of the MS Santa Ines at sea
Please Note: ALL Photographs and Postcards on this page are from the Author's private collection
Although this page is all about these two delightful 8,900 GRT (Gross Registered Ton) passenger cargo liners that were built in 1952 and 1953 some nine years prior the famed sextet known as the "Cap San" series of ships, which I have written on and you can locate on Pages Two and Three, see the INDEX located at the bottom of this page. But this page is all about beginnings and earlier days. Thus, I will commence with a very short introduction that includes the luxurious passenger liner SS Cap Arcona, which will be followed by four of the earlier sisters of the "Cap San" series and of a similar size, but they were visually quite different to say the least!
1 – Introduction to Hamburg Sud and the Cap Arcona:
Hamburg Sud Reederei goes were established back in 1871 and although they started small, they eventually built up into a mighty passenger and cargo empire. After the turn of the century and by the twenties they were operating a comprehensive fleet of 18,000 to 20,000 GRT passenger liners, such including the extremely popular and much loved SS Cap Arcona, which was built in 1923. She was considered as one of the most beautiful ships of her time and without doubt her interiors were sublime! However, World War II took its toll on so many ships and one day before the unconditional surrender had been declared by the Germans, on May 3, 1945 the British bombed the Cap Arcona and she caught fire and capsized. Some 5,000 souls died, but a few managed to jump overboard. In due course the capsized hulk of the ship somehow drifted ashore, and she was beached, where the wreck was eventually broken up in 1949. It is said that this was the second worst seafaring incident in history.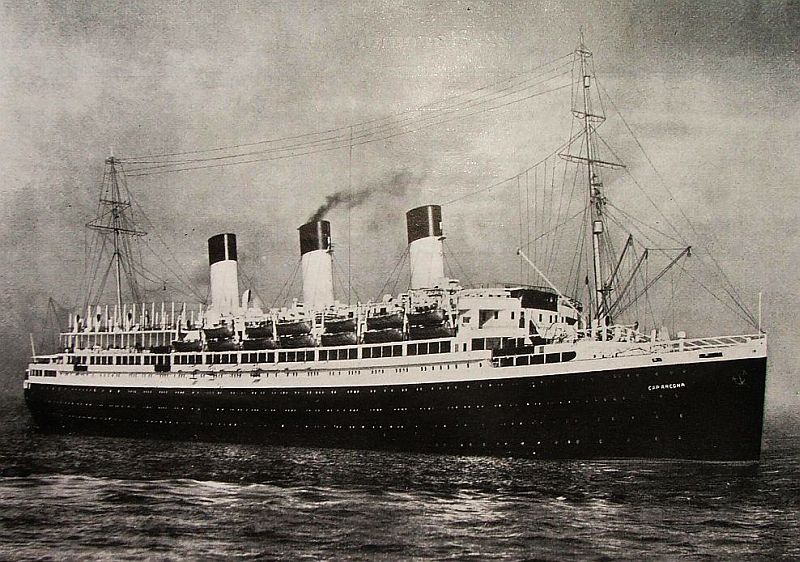 The Grand Dame of her time, the 1928 built SS Cap Arcona
**************************************************
2 - The Santa Foursome of 1951:
These four ships would be the company's part of their rebuilding plan and their very first post war smaller passenger cargo ships. All were built in 1951. Named were as follows: MS Santa Ursula 6,962 GRT, Cap Salinas 7,154 GRT (she was renamed in 1959, from her original name MS Santa Catarina), Santa Elena 6,971 GRT and Santa Isabel 6,982 GRT, all approx: 9,700 d.w. Length: 479ft, Breadth: 61ft' Draught: 24.8ft. Engines: MAN Diesels, Single screw, 13 knots.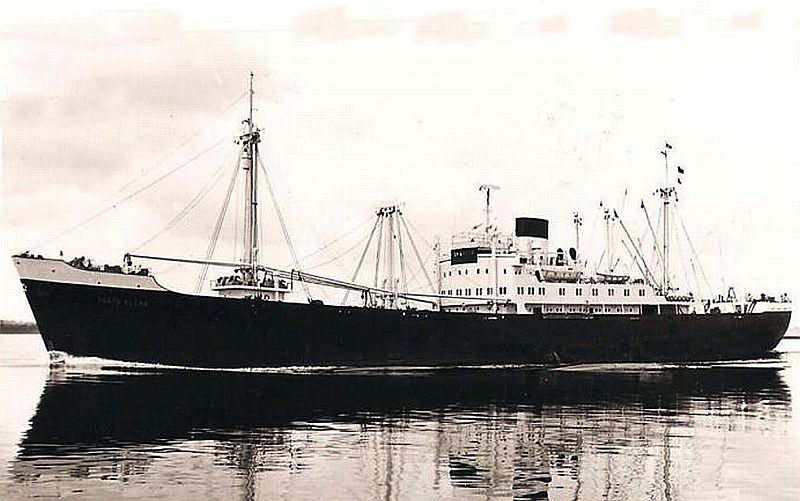 A standard company postcard of one of these of the quartet, but it is the MS Santa Elena
The Santa Ursula was the first completed and she departed on her maiden voyage for South America on April 5, 1951. They accommodated 28 First Class passengers in twin bedded cabins having a private bathroom and fitted with air-conditioning. However, the single bedded cabins had shared facilities, which were located between two cabins, and they had "mechanical forced ventilation." The Santa Catarina (Cap Salinas) also had a deluxe twin bedded suite. Pubic venues included: a lounge, dining room and a bar.
However not long after these ships were competed the company had already new and exciting designs in hand for two brand new ships the would revolutionise their future luxury passenger service, as well as trading the Atlantic with ships that were without a doubt the ultimate in style and the envy of the maritime world!
With the arrival with the far superior, Santa Ines and Teresa, and then the six super luxury "Cap San" Class ships, all these ships became less popular and they were eventually sold between 1961 and 1968 to various countries around the world. Some of the ships continued in service, whilst others were soon broken up.
**************************************************
3 – The Santa Twins of 1952 & 1953:
Hamburg South America Line was growing from strength to strength, and obviously offering the high quality passenger accommodations were attraction an excellent clientele, thus they had decided to again improve on this and with their two new ships, not only make their interiors far mote luxurious, but also give these ships a longer and a more flowing lines, and that included round off section atop of her Bridge, and extending her superstructure, which was topped by a stylish but a short funnel. It was obvious that the finest maritime artists had done their utmost to create something very special with these two supreme ships!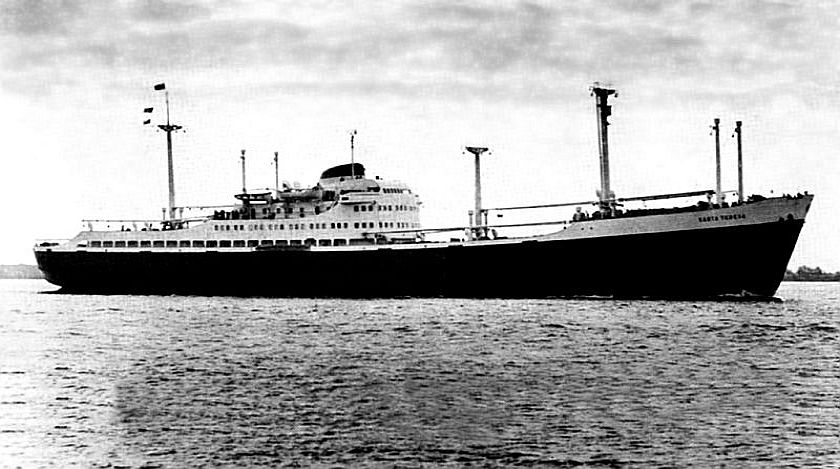 MS Santa Teresa is seen here out to sea bound for South America!
4- Cargo Facilities:
MS Santa Ines and Santa Teresa have five cargo holds, 3 forward and two aft. Several of these were refrigerated and cooled for the transport of meat, fruit and vegetables, etc, as well as having warmed tanks for the transport of sweet oils. These holds were serviced by two forward king posts, two forward masts and two king post located on the aft superstructure as well as a mainmast located aft. In total there were 10 derricks to work the cargo.
5 - Public Venues:
The interior decoration of these sisters was the work of one of Hamburg's most famous architect's, and I assume this to be Casar Pinnau, but I could be wrong. Passengers had and elegant Bar up on Promenade Deck, with most of its walls somewhat curves, and beautifully timbered, with a long bar that just seemed to flow along the aft wall. All seating, arm chairs and sofas where covered in rich beige leather band this line continued along the lower parts of the Bar. This was the ultimate venue! It was located far forward on the port side. In the centre was the Lounge, come Smoking Room, which was lighter in colour, but with a mixture of leather and fabric upholstery. Large windows faced forward overlooking the bow and ocean. On the aft wall were two large double glass doors leading to the lobby and stairwell, between these doors was a large built in book cabinet that served as the ships library. On the starboard side was the rather relaxed and informal style Dining Room. Overall the colour scheme was light and the chairs were similar to what you would find in the old time "Palm Court's." There was jus one very large dome light in the ceiling and twelve attractive wall lights with delicate glass shades.
Interior Photo Album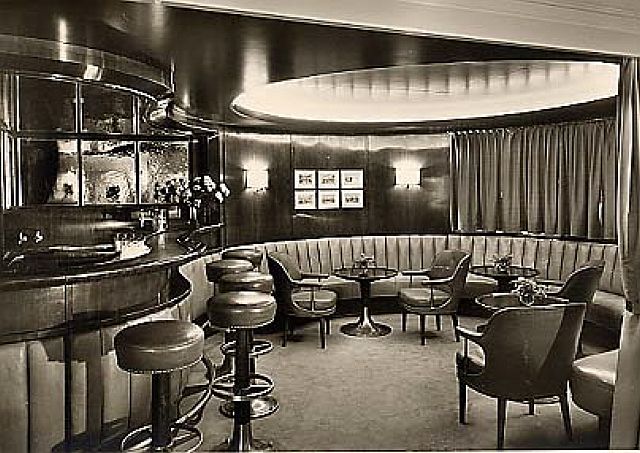 The ships Bar with lounge area was located on the portside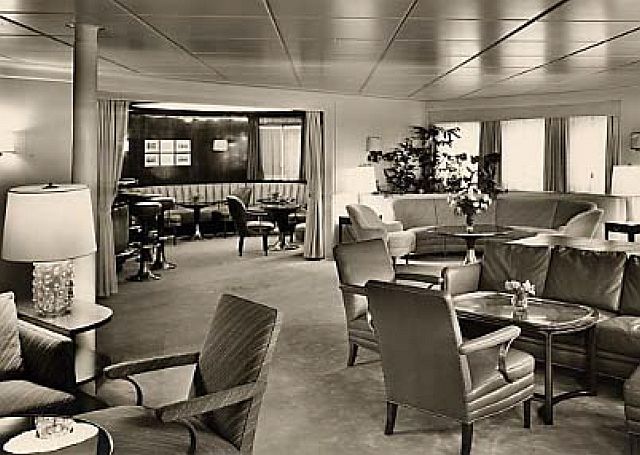 The Lounge was centred forward of the ship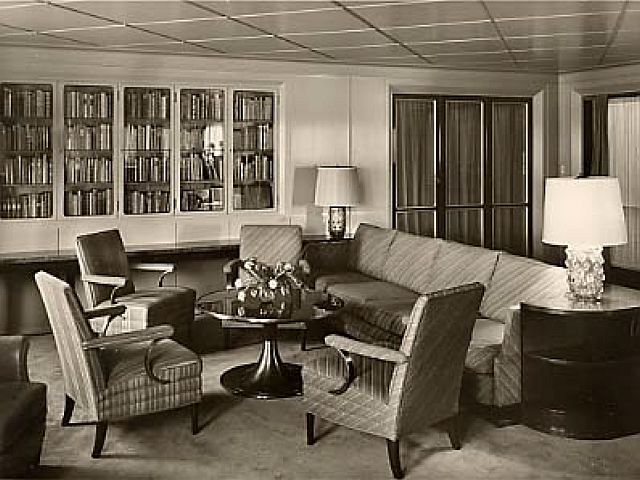 Looking to port and aft and we the book cupboard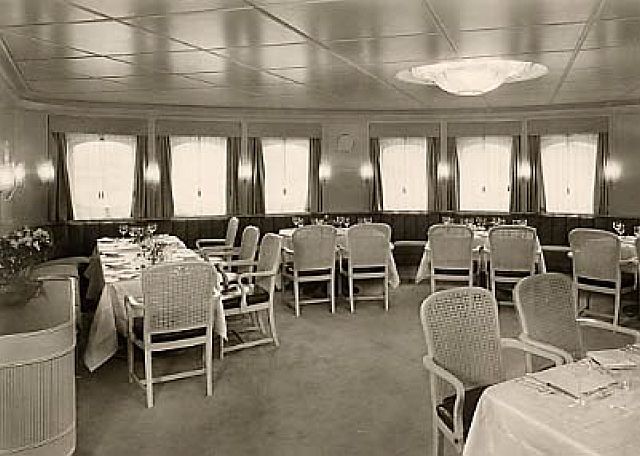 The Dining Room located on the starboard side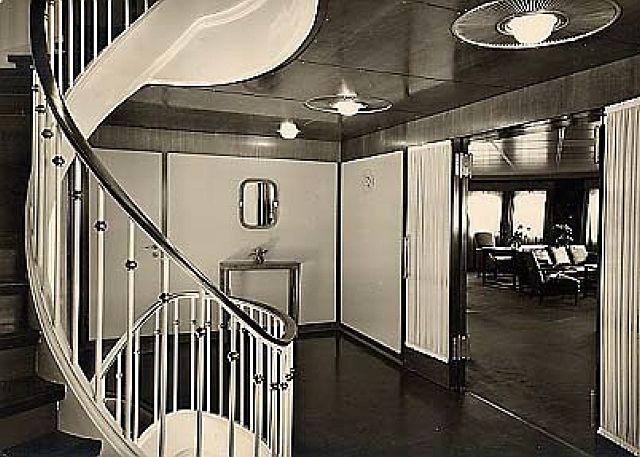 The main lobby and the superb spiral stairwell
6 – Accommodations:
These sisters accommodated 28 passengers in the ultimate of style and luxury and besides having such luxurious pubic venues these ships even had an outdoor swimming pool located aft. However, there were 12 single cabins and 8 twin bedded cabins all outside with private bathrooms and air-conditioning. Those cabins located on Promenade Deck, the deluxe cabins had a separate lounge, as seen below.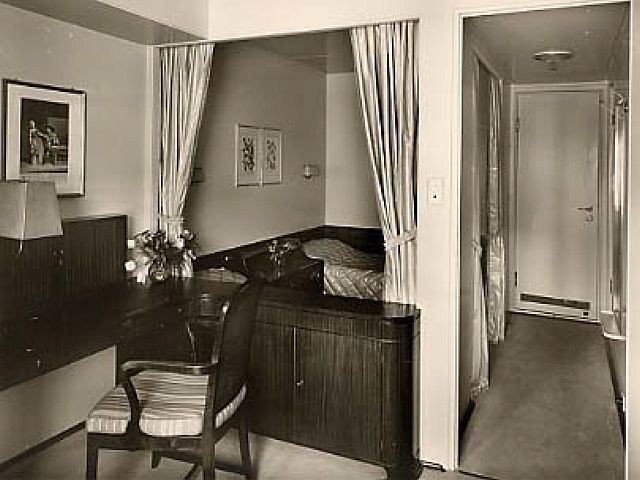 Looking from the lounge into the bedroom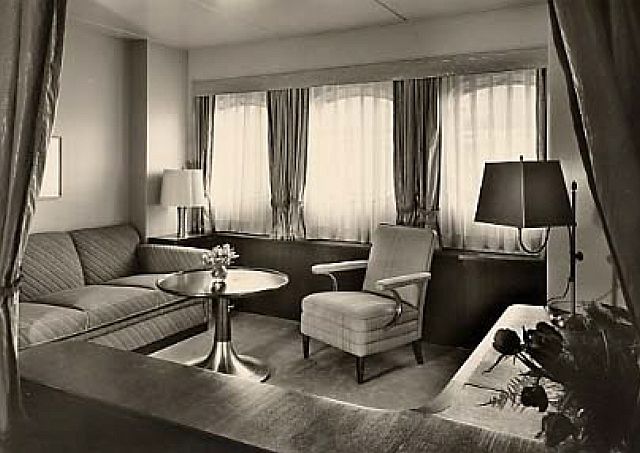 The lounge area of a deluxe twin bedded cabin on Promenade Deck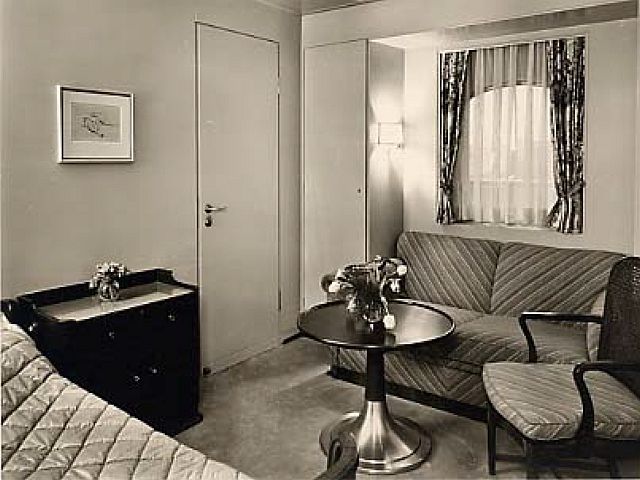 Single Bed Cabin that has a delightful sitting area
Note that the soft furnishings is the same as that is used in the Lounge/Smoking Room, when not leather
7 - Ports of call:
These two sisters sailed along with the four earlier ships until they were taken out of service. But schedules were as follows.
Hamburg, Bremen, Rotterdam, Antwerp, Las Palmas, Recife, Salvador, Rio de Janeiro, Santos, Rio Grande, Montevideo, Buenos Aires, Santos, Rio de Janeiro, Ilheos, Salvador, Las Palmas, Hamburg.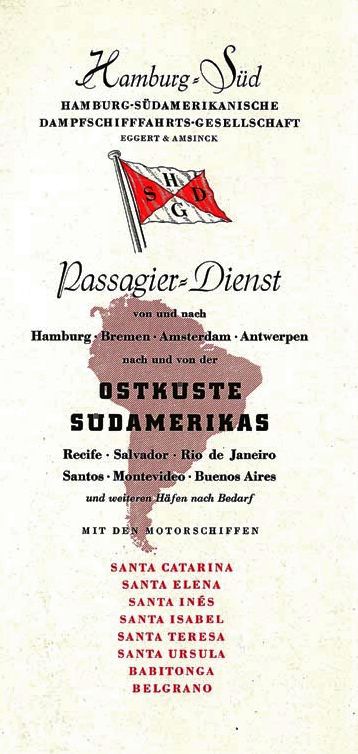 This brochure covers these two Santa's as well as the four Santa's mentioned earlier and two other ships.
As it is not dated, it must have been released prior to 1959 as the Santa Catarina had not been renamed as yet!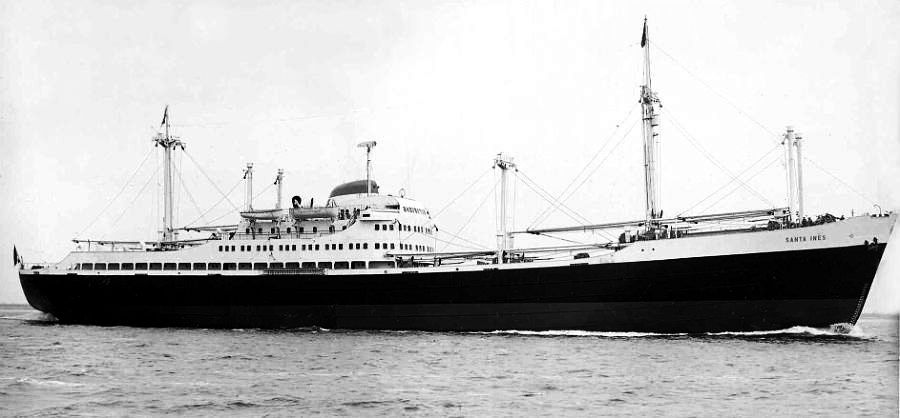 MS Santa Ines at sea
8 – The Santa's final days:

1

- The MS Santa Ines: Although there is not a great deal of information available on their final days, however the Santa Ines was sold in 1961 to a Pakistani company and she was renamed MS Ocean Energy. Her call sign was AQVB as she continued in service considering her luxurious accommodations and being such an excellent well built and maintained German ship. However, there are no details at hand regarding her end.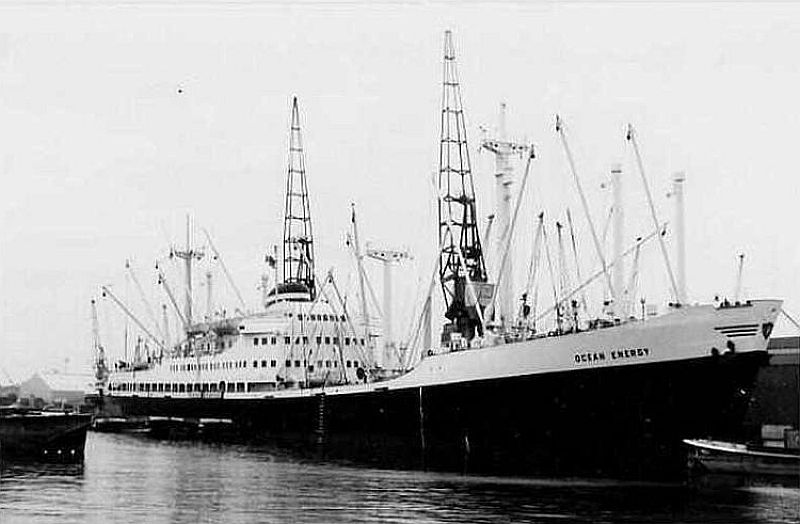 The Pakistani liner - MS Ocean Energy
Photographer unknown, sent in by a supporter - *Please see the photo notes below
2 - The Santa Teresa was also sold in 1961 but she was sold to a Bangladeshi company who renamed her MS Rustom. Apparently she continued services for around 20 years, as in 1983 she must have been disposed off, as in that year the Bangladeshis had obtained another much smaller ship which they renamed the MS Rustom. They had purchased this new Rustom from the Belgium's and she is still afloat today, but apparently aging, yet she was involved in 2011 in a rescue attempt when a vessel sank.
In conclusion: Sadly apart from above I know little more than what I have said, but, if anyone has any further relevant information on the final days of these two fine ships, I would certainly be very grateful to hear about it, especially if you have some photographs to support it!.
Thankfully, due to these page, these ships will be long remembered for their beautiful long and sleek design, as well as their luxurious passenger accommodations and being typical fine German built and maintained ships, where nothing but the very best will do! I am amazed that there no pages online that cover these superb ships at all and yet, I believe that they, and their four earlier Santa's, and the "Cap San" class that followed them were some of the finest passenger cargo ships EVER built!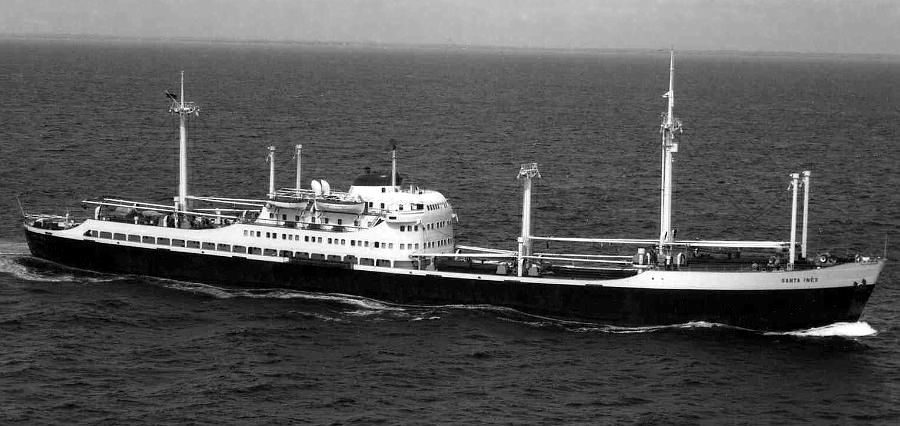 These were indeed ships with such grace and sheer beauty!
Hamburg Sud's INDEX:
Page One …                   "MS Santa Ines & Santa Teresa" - Including a little "Hamburg Sud" history and a few other ships.
Page Two …                   "MS Cap San Diego" - The Last of Six "Cap San" Class Liners.
Page Three …                 "MS Cap San Diego" - "The Museum & Hotel Ship."
Page Four …                   The other Five "Cap San" White Swans.
**************************************************
Use the Back button on your browser or Close the Page to return to the previous page
or go to our INDEX
Who is the Author of ssMaritime?
Commenced in the passenger Shipping Industry in May 1960
ssMaritime.com & ssMaritime.net
Where the ships of the past make history & the 1914 built MV Doulos Story
Also visit my …
"Save The Classic Liners Campaign" & "Classic Ocean Voyages" pages
Photographs on ssmaritime and associate pages are by the author or from the author's private collection. In addition there are some images that have been provided by Shipping Companies and private photographers or collectors. Credit is given to all contributors. However, there are some photographs that have been provided to me without details regarding the photographer/owner concerned. I hereby invite owners of these images, if they would be so kind to make them-selves known to me (my email address may be found on www.ssmaritime.com ), in order that due credit may be given in full. I know what it is like, I have seen a multitude of my own photographs on other sites, yet these individuals either refuse to provide credit or remove them when requested, knowing full well that there is no legal comeback when it comes to the net. However, let us show these charlatans up and always do the right thing at all times and give proper credit where credit is due!
This notice covers all pages, although, and I have done my best to ensure that all photographs are duly credited and that this notice is displaced on each page, that is, when pages are updated!
ssMaritime is owned and © Copyright by Reuben Goossens - All Rights Reserved