Holland America Line's Revolutionary Liner S.S. Statendam 1967 to 1982
Please Note: All ssmaritime and my other related ssmaritime sites are 100% non-commercial and privately owned sites. Be assured that I am NOT associated with any cruise or shipping companies or travel/cruise agencies or any other organisations! The author has been in the passenger shipping industry since May 1960 and is now semi-retired, but continues to write article on classic liners and cruise ships in order to better to inform cruise and ship enthusiasts for their pleasure!
However, there are some from an unknown source - Please see the photo notes at the bottom of the page
World War Two came to a conclusion it was time to start rebuilding the city of Rotterdam that had its entire heart destroyed, as well as other cities and villages throughout the Netherlands. However there were also many ships sunk during this terrible war on all sides and from so many countries as well some fine Dutch liners, thus an extensive rebuilding programme of ships and liners would play a huge part in reviving the Dutch financial situation as it would all over Europe and Great Britain, for let's face it, shipping was the main means of transport of passengers and cargoes across the oceans! But the new ships were being designed by the finest maritime architects they were well aware that these ships would have to be by far superior and offer new and advanced technologies and superior facilities than ever before than their pre-war counterparts.
One of the first things that Holland America Line (HAL) had to do after the war was to have their finest liner refitted after having served as a Troopship throughout the war under the British Ministry of Transport, and in October 1947 she returned to service, and she is still famed to this day as the most beautiful ship ever designed and built! However, this famed grand old and established Trans-Atlantic companies decided very early on that they were going to head in a new direction and base their new build's more on a Tourist Class "run of the ship" effect, meaning that Promenade Deck would be wholly devoted to this class forward to aft, and that this new style of class should be by far a superior one. In 1950 two ships were commenced as cargo ships, but whilst being built HAL decided to finish them as two fine passenger liners and named them SS Ryndam (1951) and Maasdam (1952). At 15,000-tons they accommodated 822 Tourist Class passengers and an intimate section for just 39 First Class up on Boat Deck. With affordable prices, these two ships became very popular and profitable indeed. HAL marked them as "The Economy Twins."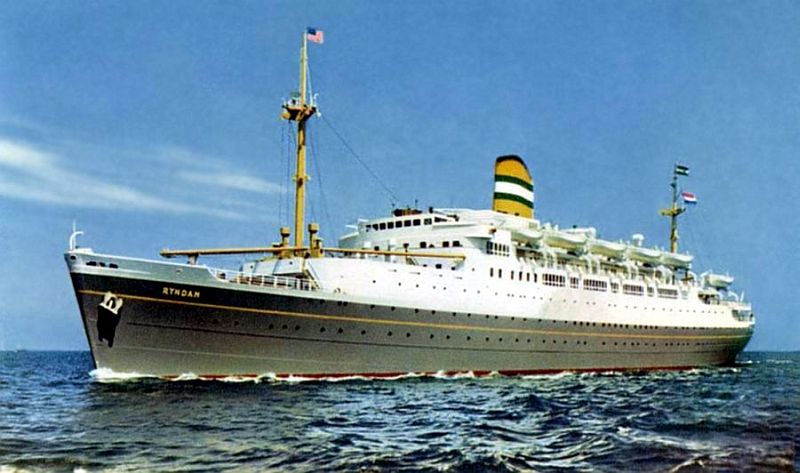 A postcard of the SS Ryndam
Considering the huge success of the sisters, the SS Ryndam and Maasdam HAL decided that they would continue the Tourist Class "run of the ship" idea with their next but much larger liner, which would become known as the SS Statendam, the fourth liner bearing this distinguished name.
The first three SS Statendam's:  
The 10,491 ton SS Statendam (1) was built in 1898 by Harland & Wolff, Belfast and sold to Allan Line Steamship Company Ltd, Glasgow in 1911. She was scrapped at Genoa in 1927.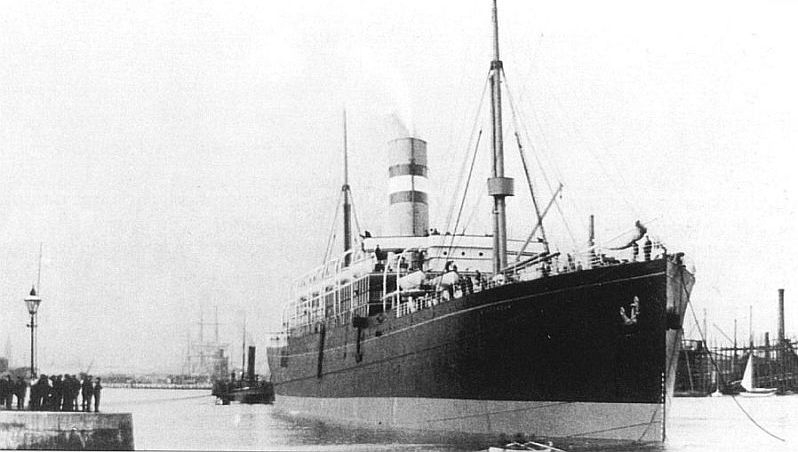 SS Statendam I - 1898
The 32.234 ton SS Statendam (2) was built in 1917 by Harland & Wolff, Belfast. She never sailed for HAL as she was requisitioned by the British government. Torpedoed and sank in 1918 named SS. Justicia.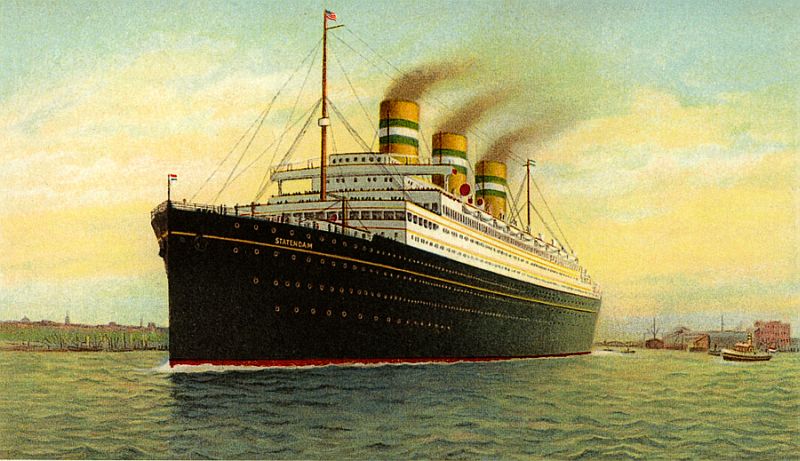 Painting of the SS Statendam II - 1917
The 29.511 ton SS Statendam (3) 1929 - 1940 * Built by Harland & Wolff, Belfast in 1921, but completed in 1929. She burnt out in May 1940 and scrapped in August 1940.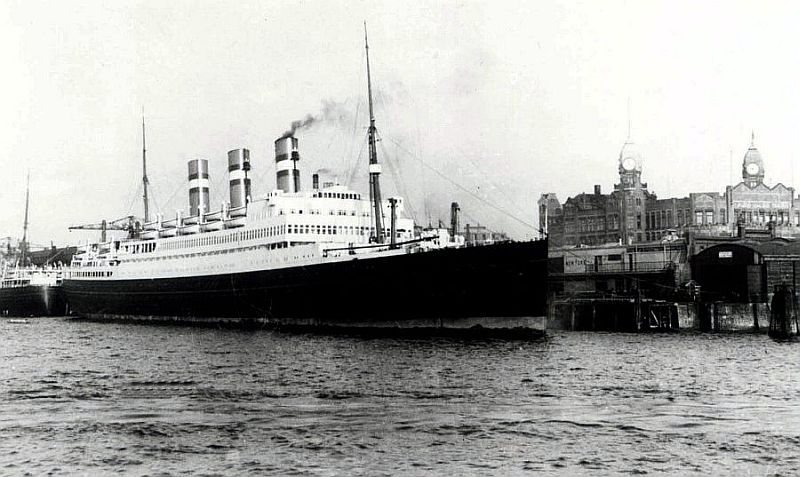 SS Statendam III - 1940
Planning SS Statendam (4) - Ship 753:
Her planning had commenced in 1953, but was taking good shape in 1954. Many new improvements were incorporated into her design compared to the earlier sisters for this new, as yet unnamed ship, was just known as number 753 was built as a passenger liner from the laying of her building plate. In addition, she would be almost 10,000 tons larger than the aforementioned ships and this extra size would allow a far superior hull design as the previous ships did have hulls that were essentially designed for their original role as passenger cargo ships. The 753 would be fitted with twin screws, thus her service speed would be a good 19 knots compared to the 16 knots "The Economy Twins." However, the Tourist Class flow throughout the ship would once again be first and foremost, but this time of a much higher standard utilising some of the finest artisans that HAL could gather.
With the overall plan agreed upon, HAL signed a building contract with the Wilton-Fijenoord shipyards at Schiedam and had the blueprints completed and approved, after which the actual construction could commence. Unlike most liners she would not be built on a slipway, but very similar to the great SS United States in 1951, she was constructed within a dry dock. This caused a great deal of publicity at the time, but the truth is that HAL was far ahead of their times for these days this kind of construction is very much the norm when they build the largest of ships, but now ships are no longer built as one whole but in pre fabricated sections and then welded together until it become a whole.
Building the 753:
As time passed an attractive new modern looking ship had taken shape and on June 12, 1956, she was ready to be launched, although not in the traditional way of course. The dock was filled with water and she simply floated out. This was certainly not as compared to the old slipway style of launching, but it was the new and modern way of doing things and the Dutch were always an advanced sort of country. Now afloat she was taken to her fitting out berth for completion. Strangely enough this ship had little to no pomp or ceremony attached to her, in fact less than any of the earlier HAL ships, for to date she had not officially been named. Holland America decided that they would announce her name at a later date.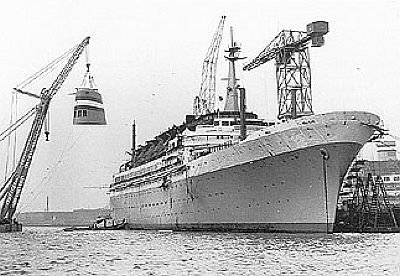 The unnamed ship is seen here at her fitting out berth being completed, as her funnel is being placed on board
On November 17, 1956, the ships very first master, Captain Cornelis Haagmans boarded her at Schiedam to supervise the concluding stages of her construction and fitting out process. It was customary for Captain Haagmans to get familiar with his new ship as soon as possible for his responsibilities also included taking out on her several deep sea trials. The first of these was to test her engines and it commenced on December 15, 1956. However, this trail went very badly as her engines suffered an embarrassing total breakdown and five tugs had to be called on to tow her back to Schiedam returning onthe 17th. There was grave disappointment amongst all of the workers at the shipyard and the Holland America employees who were on board the ship and it mush have been demoralising for them, but they pulled up their socks and continued and started to fix the problems at hand!
The engine problems were soon dealt with, but, some of these mechanical flaws would occasionally come to the surface again throughout her career. In particular her boilers would cause various problems, but ten again, which ship did not have similar problem? But the 753 was given a new kind of untried and an experimental type of boiler. After a month of repairs she was ready for her trail, being her technical trial. This time she had some 476 people on board, she departed Schiedam at 0900 on January 14, 1957. This time, she performed extremely well. The Captain even decided to push her and tried her out to top speed and she reached an admirable 21.9 knots. After her excellent performance she returned to her builders berth, arriving in the morning of January 17th.
Then on January 19, 1957, she departed her builder's yards and headed for her home port of Rotterdam, which is just a short two-hour voyage. However having arrived she was made ready for an overnight voyage on the 23rd.on the North Sea with some 500 special guests, one of the guests was the 18 year-old Dutch Crown Princess Beatrix (today she is HRH Queen Beatrix of The Netherlands) and she officially named and Christened the ship in the  restaurant. Her Highness was invited to pour a glass of champagne over the ship's 300lb bell and then she gave the ship her blessing and the official name "I name her Statendam." Finally she had a name and an identity, which had not been known to the Dutch to date. The newly named SS Statendam arrived home in Rotterdam the following morning and she was made ready for her maiden voyage early in May.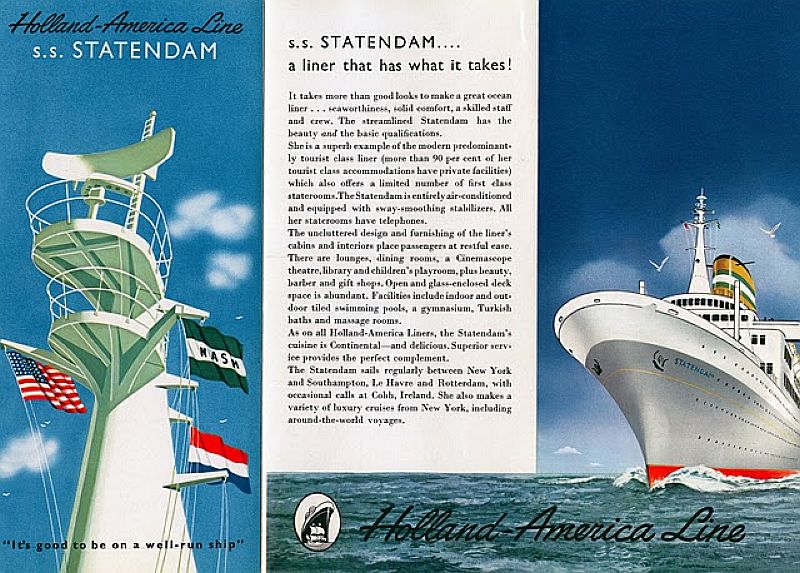 This special brochure was a special pre-release in readiness for her maiden voyage to New York
Her Externals:
Externally SS Statendam was a ship that had perfect proportions in every respect. She had one of the most beautiful and superb bow sections of her time and a beautifully rounded stern. In between these were her long sleek lines and a beautifully styled funnel and shapely mast atop her Observation Lounge. She was not overburdened with cargo handling gear like so many liners of the day, as there was just four unobtrusive kingposts, two forward two aft. She was soon rightfully considered one of the most stylish liners of the day. Needless to say, the lovely classic Holland America Line dove grey hull with that traditional buff funnel with the company colours emblazoned on it certainly did add to her charm!
Her Internals:
Internally, the new and imaginative liner SS Statendam was designed to be a huge success for obviously "The Economy Twins" the SS Ryndam, Maasdam had set precedence, and both had the vast majority of the ship designed to be almost a Tourist Class liner with a very small First Class section. This time the larger and more glamorous Statendam offered accommodations for 867 Tourist Class passengers, and 84 people in First Class, however these was to comply with the "two-class requirements of the Trans-Atlantic Passenger Steamship Conference" of the time.
In this respect the Statendam was very much alike her two smaller fleet mates, but she offered a great deal more in terms of luxury and comforts. Due to her being built as a passenger liner, unlike her predecessors, she offered private facilities for 90% of her Tourist Class cabins, as well as al her cabins being very much large. She featured an outdoor pool and spacious outdoor deck spaces that made her a most suitable ship to adapt for cruising duties during the off-season. However, she retained all the traditional HAL features that Trans-Atlantic voyages were so famed for, such as a long glass enclosed Promenade Deck, which was the absolute essential.
Cabins:
All her First Class cabins were outside with windows accommodation from one or two beds, with some having a third berth available, but every room, suite had a private bathroom, telephone, which was rather new for the day, and the ship was fully air-conditioned with controls in every room. Whilst Tourist Class offered from one, two, three and four berth cabins, both outside and inside, with at least 90% having a full bathroom, with either a bath or shower and like in First Class all cabins had phone. The furnishings reflected the style of the ship, contemporary, stylish with that traditional HAL touch of style. Those who had sailed previously in Tourist Class on other ships would have though they were being shown into a First Class cabin upon entering, for these rooms were that good!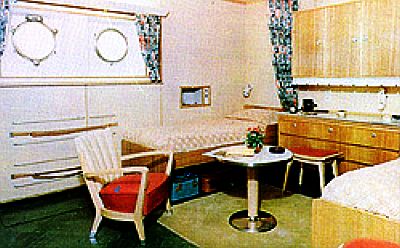 A standard tourist class outside twin bedded cabin
Lounges and Public Venues:
The ships public venues were far from the old traditional style and she followed the SS Nieuw Amsterdam, which was rather art deco, where the interior designers of the Statendam had decided on a contemporary décor. However, they did continue that Holland America Line tradition, by using vast amounts of exotic woods in her public venues, such as bleached Ash, Bubinga, and Rio Rosewood.
The Tourist Class Main Lounge featured a floor area of some 5,380 square feet with seating for 450, being just over half of the Tourist Class guest list. This fine room had a décor of soft warm colours such as chairs and carpets warm yellow and old rose with a parquet dance floor in front of the bandstand. Above there was indirect lighting that provided a delightfully intimate atmosphere? Several of the walls in the Main Lounge were adorned by multi-coloured ceramic depictions of the four seasons, which added to the dramatic visual effect of this room. Amazingly, this theme, although a much newer format and with a tulip touch was used on later HAL much newer cruise ships.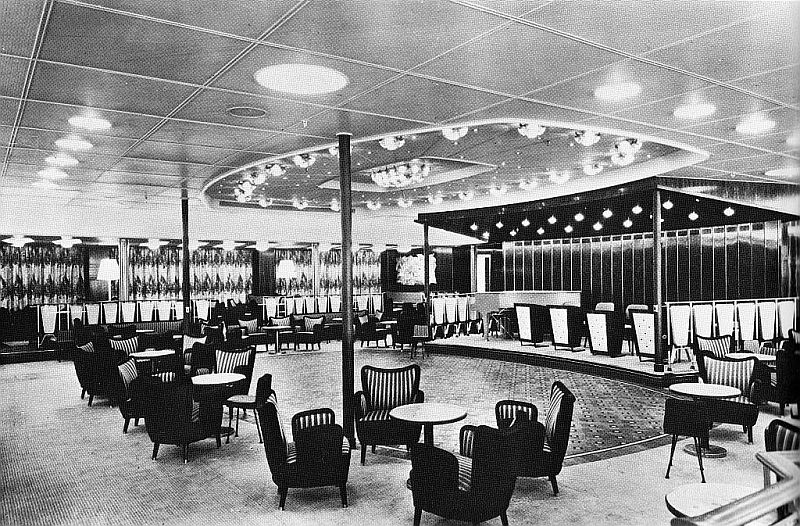 The spacious Tourist Main Lounge and Ball Room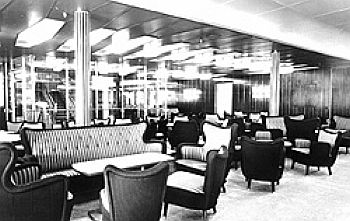 Here we see another lounge view on board with a stairwell at the end
Just forward of the Smoking Room there was the Ante Room that ran between venues and this venue was adorned by a huge wall size tapestry that was named "By the Well." Panelling in this room was of Bubinga sourced from the African Cameroons, whilst the chairs were in pale blue half velour's upholstery and the floor was covered by a hand tied beige carpet.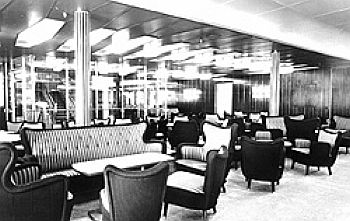 The Tourist Ante Room, looking toward the Smoking Room through the glass doors
Holland America had also included a Palm Court and Verandah on the Statendam, just as they had done on many other previous liners. The secluded First Class Verandah was done in a bright and cheerful fashion, with walls panelled in cherry and a multi-coloured linoleum relief of the five continents. From here, glass doors led to the Lido Deck and outdoor pool.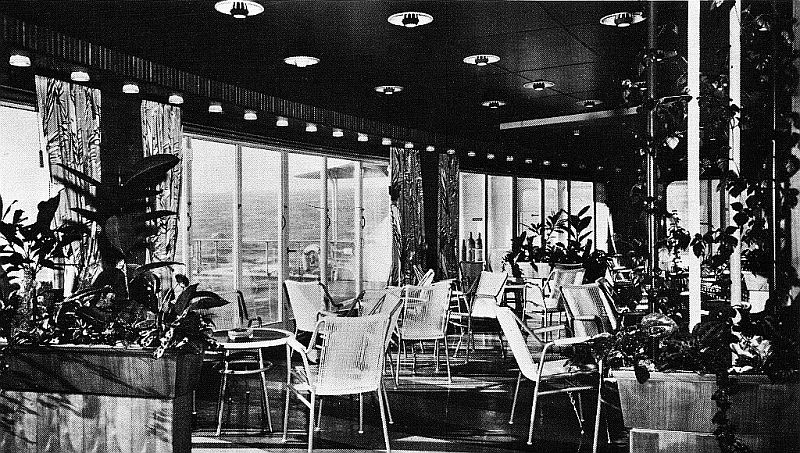 The traditional Tourist Palm Court (Veranda) overlooking the pool and aft deck
The Ocean Bar, on the other hand, made use of black and grey for its floor and ceiling, while accentuated by the lemon yellow, pale red, grey, and black on the tables, chairs, and stools. And with the nature of the room in mind, the designers had incorporated humorous line drawings on the walls and tabletops.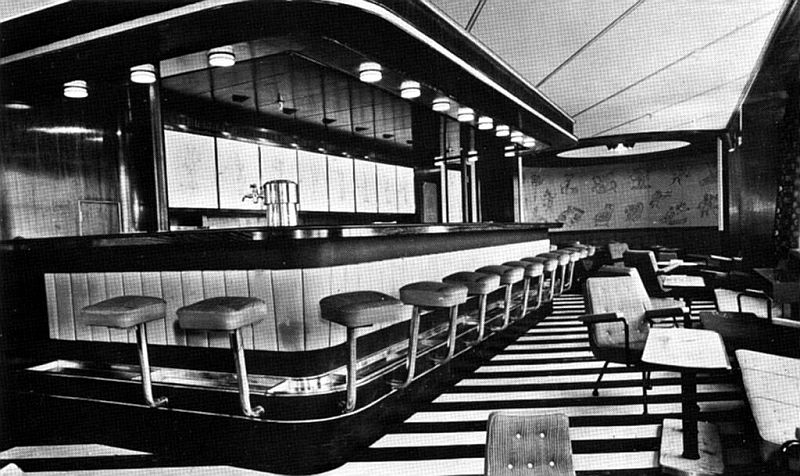 The delightful Tourist Ocean Bar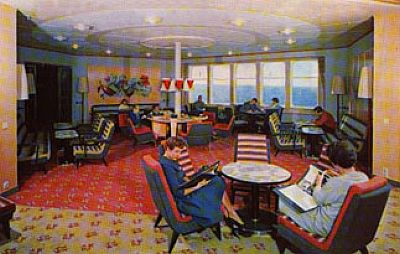 The First Class Observation Lounge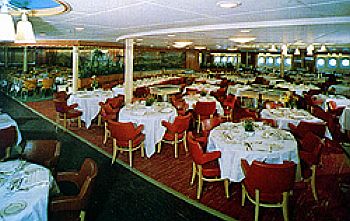 The Tourist Class Dining Room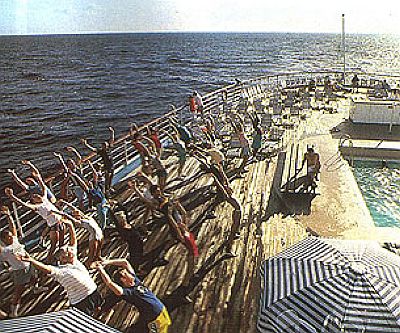 The swimming Pool and spacious aft deck
Her Maiden Voyage:
SS Statendam departed with some 877 passengers for her maiden voyage on February 6, 1957, with Captain Haagmans' standing proudly on her bridge as the ship sailed along the Maas River and headed for the North Sea bound for New York, sailing via Le Havre and Southampton.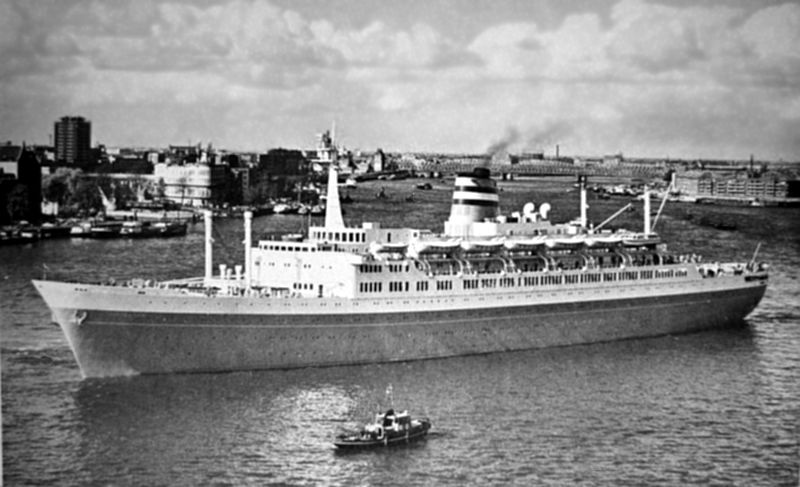 SS Statendam is seen departing her homeport Rotterdam
However, in spite of her luxurious and stylish interiors the maiden voyage sadly was not greatly successful with all passengers, mostly due to the ship encountering a severe storm and heavy seas that led to a good number of cases of seasickness among her passengers. As it was too dangerous for passengers to go out on deck, the entertainment staff worked very hard to make the crossing as pleasant as possible by ensuring that the entertainment was up to standard, well at least for those that were brave enough to stay up and keep on going regardless no matter what! Soon they were would be arriving into New York and as this was a new liner on her maiden voyage, every one on board thought there would be a huge welcome awaiting thus hem as they sailed up the harbour most were out on deck awaiting the spectacle was the New York tradition. But sadly it was not to be on that day!
As the ship arrived in New York, there was no big welcome and greeting, no festive a gala, close to nothing. The reason for this was that there had been an ongoing strike amongst the harbour tugs masters and pilots, thus it was not just her greeting escort was smaller than expected for at least HAL did send someone out, the Captain discovered that he would also have to dock the ship without the aid of any tugboats or even with the assistance of a pilot. Although Captain Haagmans was to berth her at the company's Hoboken pier, a berth he knew well, but obviously to date he did not have a great deal of un aided docking practice with this ship and he could not possibly know precisely how she would behave without any tug aid. Captain Haagmans later admitted that the docking was no easy task, he later said: "I first brought a headline ashore with our own lifeboat and dropped one of the anchors, then I heaved her slowly alongside; not too slow to beat the incoming tide. At 7:10 a.m. it was all over and we were docked without any mishap." Thus it all went well and it proved his admirable skills as a great seaman!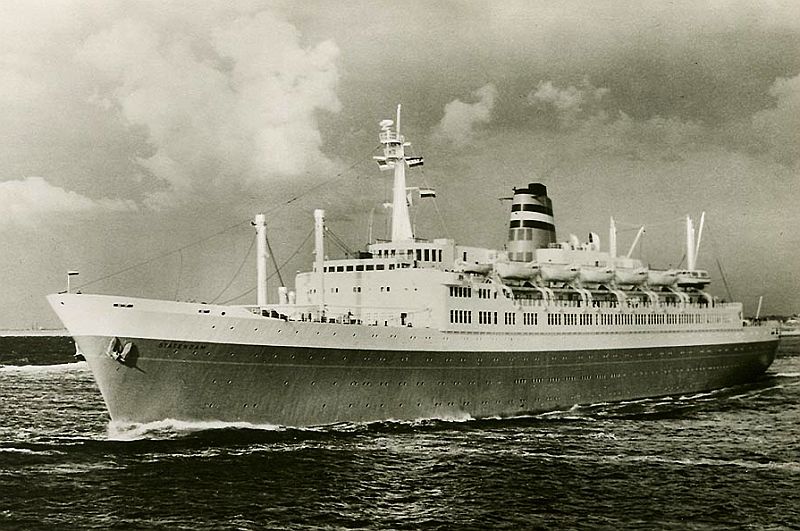 The Statendam showing off her beautifully shaped bow for 1957
Following this eventful maiden voyage, the Statendam remained in New York for a few days before she undertook three Caribbean cruises. Prior to commencing to build her Holland America had already realised that new ships had to be built for the dual purpose of transatlantic crossings and cruise operations, and thus the SS Statendam and the SS Rotterdam that would soon be built was no exception. On these cruises, the Statendam would sail as a one-class ship, with a reduced passenger capacity, thus giving her a superior passenger to crew ratio. She would accommodate just 650 passengers on each cruise. SS Statendam returned to Rotterdam on April 16, 1957.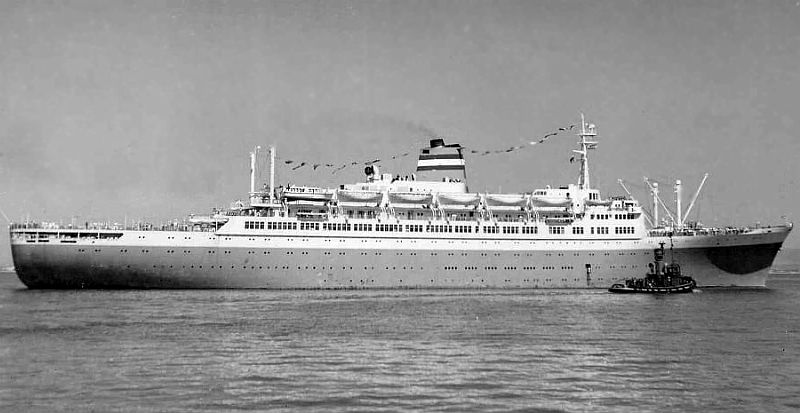 She is seen here during one off her cruises and showing her extensive aft decks
From May though to December 1957, the Statendam made ten Trans-Atlantic voyages, operating at full capacity on each occasion. Following a further two cruises to the Caribbean, it was time for HAL to summarise her first year duties and outcome was that the company directors were extremely pleased with the results, considering that the Statendam had proved to be even more popular and this meant financially so, than "The Economy Twins. She continued into a regular Trans-Atlantic service combined with her regular cruise services, which seemed to gain more and more popularity and it was due to her popularity as a cruise ship Holland America made one very brave decision and place her on what would become on an amazing voyage commencing from New York!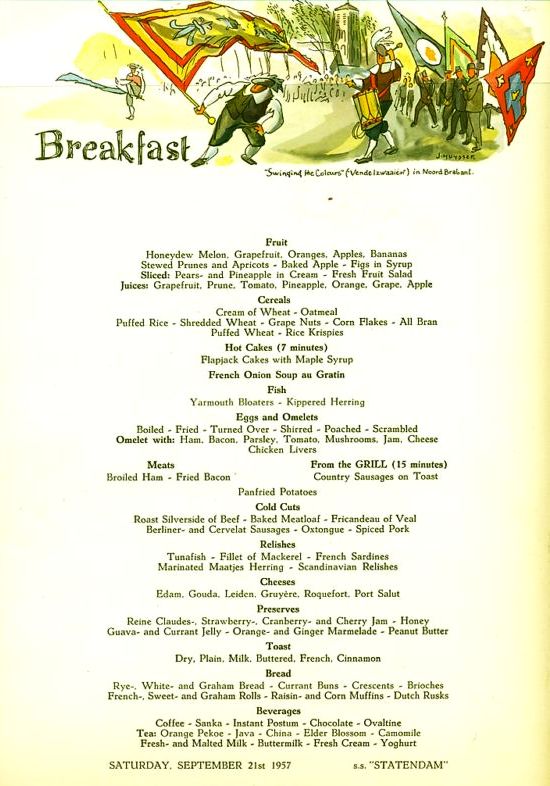 A Tourist Class Breakfast menu dated September 21, 1957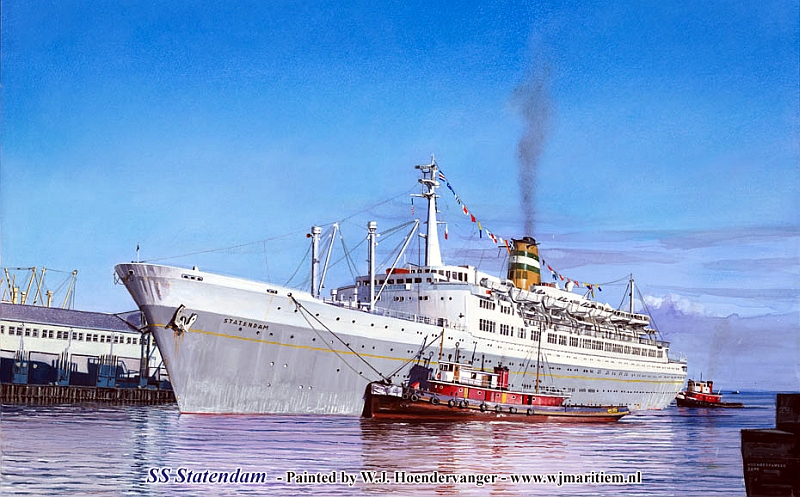 A superb painting of the SS Statendam by the superb Dutch Maritime Artist Mr Hoendervanger
Visit his site at: www.wjmaritiem.nl
SS Statendam departed New York on January 7, 1958, and commenced on a 110-day around the world cruise, being Holland America Line's very first ever. For this voyage two special motorboats had been fitted on top of hatch two in order to assist shore with tendering whilst at anchor. Also she had a crew of 503 with an additional cruise staff of 26, whilst there were only 351 passengers. The reason for the low numbers was that this voyage was meant to be an exclusive and luxury cruise. This crew/passenger ratio that was almost 2 to 1 guaranteed the highest level of service and the passengers got all that and so much more!
Her very first port of call was to be the Cape Verde Islands, but sadly there was an encounter with a violent east-south-easterly gale that resulted in one of those extra motorboats being lost in the storm, and due to the subsequent delay the ship was forced the ship to cancel her first port of call. Thus, she headed for Dakar, where she arrived on January 14. From there she continued to Freetown and Pointe Noire, where yet another incident would occur when the Statendam was departing. With the harbour pilot on board to take the ship out, the Captain advised him clearly that the ship had very good reverse power. However, he took no heed to his warning, the pilot ordered the engines to "slow astern" instead of the recommended "dead slow." Considering that the Statendam was docked between two other ships, this manoeuvre could have easily ended up in disaster. But thanks to a "miraculous stroke of luck" as Captain Haagmans later said, everything went well, although it was by a very small margin. The ships lines snapped, but thankfully she did not run into the ship astern. The Statendam continued aft and passed the other ship along the whole length just a few feet next to her thanks to some rapid thinking on the Captains side at the steering wheel. The pilot decided that it was better to let the Captain handle all the engine commands from here in, and then he could safely bring the ship out of the port. With this dramatic event behind her, the Statendam continued her spectacular around the world cruise without any further hitches! She continued and sailed via Luanda, Walvisbay, Cape Town, Durban, Zanzibar, and Mombasa. She then arrived at Bombay where she remained for a full week to allow passengers to make a trip to Nepal. Following her week in India, SS Statendam sailed via Colombo (Sri Lanka), Penang, Singapore to offshore near Bangkok. There a coastal vessel came alongside and took on passengers for transportation up the river. As the rest of the cruise continued, she sailed to Bali, Manila, Hong Kong, Formosa, Okinawa, and Yokohama before proceeding across the Pacific Ocean to Honolulu, San Francisco, and Acapulco. She then passed through the Panama Canal and stopped at Cristobal before heading back to New York, returning April 26. Holland America Line's premiere world cruise became known as a splendid success and this would be a beginning of many more to follow, by the Statendam as well as her newer fleet mate the "Grand Dame" that would be completed in 1959, the superb SS Rotterdam V.
SS Statendam after three days in New York returned to her regular North Atlantic trade and sailed back to Rotterdam, where she received a quick clean up in dry dock and returned to service to spend the summer season on the Atlantic Ocean. In June that year, Captain Haagmans was transferred to the company flagship SS Nieuw Amsterdam for his last voyage as a Captain. But when he retired at the age of 60 he boarded his favourite ship, the SS Statendam, the ship he called his friend, but this time he came on board as a passenger and sailed to New York. Later he recalled that it was "a very special and emotional voyage" for him.
The changing times:
Captain D. Van Dalen, took command of the Statendam and she continued her career both as a liner and a cruise ship, spending nine months on the Trans-North Atlantic service and then she operated another world cruise in 1959, This would was the ships second such grand voyage, but also for the Holland America Lines second ever. Although the company's shorter cruises around the Caribbean had become very popular, these voyages were provided the signs what the future had in store for all of the Trans-Atlantic ocean liners, for it was becoming obvious that passenger traffic on the Atlantic was rapidly declining!
As the 1960s continues, it was becoming more and more obvious that more passengers were travelling by air instead of opting for the slower route by sea, and therefore many countries with liners that served the North Atlantic decided to lessen services or simply discontinue them and sell their ships altogether. As a result, many liners were rescheduled to operate on more pleasure cruises and the already popular SS Statendam was certainly no exception. Slowly her time crossing the Atlantic became less and less every year until 1966 when it was decided that she would become a full-time cruise ship. The two-class system was totally abandoned, and her load capacity was reduced to just 650 passengers.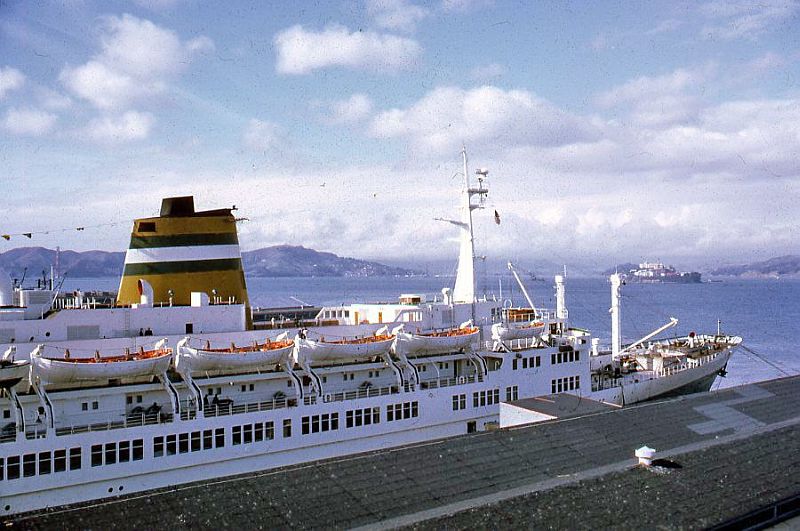 Here we see the Statendam berthed in San Francisco, Alcatraz can be seen on the right
Photographer unknown – *Please see Photo notes at bottom of page
In October 1965 she departed New York and sailed through the Panama Canal and several West Coast Cities, including San Francisco, voyaged via various Pacific Islands and called to Auckland New Zealand and Sydney Australia for the first time ever. Although this was certainly nor HAL's first visits to Australia for the SS Ryndam had arrived in 1964 and the SS Maasdam in 1965, but certainly not as luxury cruise ships but operating as migrant ships into Australia and tourist ships homeward. The Statendam returned to the USA sailing via Asia. She operated the same voyage in 1966 and again in 1967.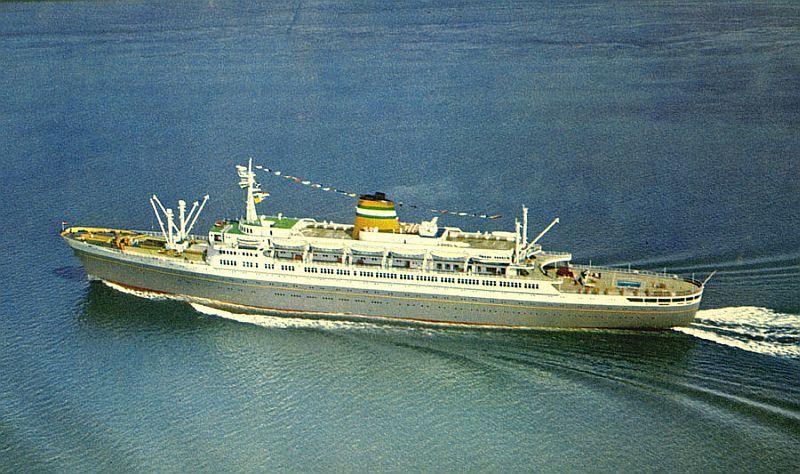 A fine areal photo showing off her extensive deck space and her aft open-air pool
Her 1967 visit to Sydney was going to be very special indeed as it would the very first time ever that two Holland America Line passenger ships were in the Port of Sydney at the very same time so far from home. Thus, on November 7, 1967 both the SS Maasdam had sailed direct from the Netherlands via the UK, and SS Statendam on her cruise, were in Sydney proudly showing off their spotless livery of grey hulls, gleaming white superstructure, their proud buff funnels with those green and white HAL bands on them. Such an event would not happen again, well not until the 21st.century when two HAL cruise ships are stationed in Sydney, being the ms Volendam and ms Zaandam in 2011/12 and in 2012/13 the ms Volendam and ms Oosterdam, in addition with regular visits of the ms Amsterdam and the ms Rotterdam VI.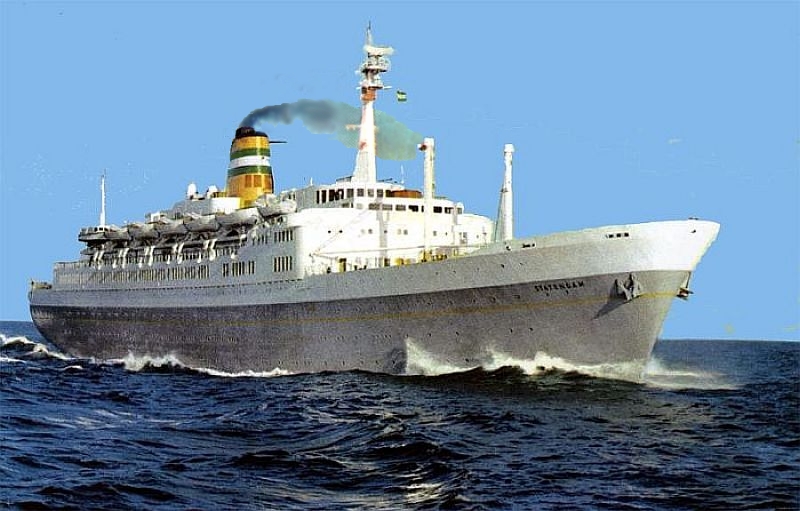 Another fine HAL SS Statendam postcard heading for New York at full speed ahead!
After the Statendam visit in 1967 it would be another five years before she would return to New Zealand and Australia, but she would be a very different ship to the one that had been seen Down Under!
The all-New SS Statendam:
Holland America Line saw great potential in the Pacific Ocean, and they started operating the Statendam from the American west coast. Already she made a series of luxurious cruises to the South Seas, New Zealand, Australia, and the Orient. She proved to be so popular that frequently guests on board would include a good number of movie stars and famous people and VIPs on vacation. Thus HAL's cruise ventures proved to be extremely successful.
In 1971 the company had already decided on a new company flag and logo as well as an updated fleet livery, more suitable for cruising as this had become their major source of income. Also, HAL decided to evolve and when the opportunity came along the company purchased one million shares of "Westours Inc" and they acquired 85% of their shares in February 1971. Westours had been a major force touring to Alaska and Yukon as of 1947, and this tradition would now be continued by Holland America Line. Thus they decided to restructure their outlook as well as their fleet's livery. All ships would be repainted with a royal blue hull and red boot topping, topped with a gleaming white superstructure. The ships funnel would now be orange, which is the traditional "House of Orange" colours, being the Royal Family as well as the country's colours, adorned with three stylised lines, "aqua, white, and aqua."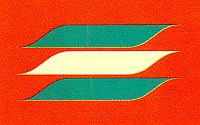 The Statendam entered the Rotterdam Dry-Dock Company in September 1971, where she was given an extensive internal rebuild and refit in and externally. This would see her original Sports deck completely taken up with a brand new superstructure from fore to aft, and her Promenade Deck would be completely be rebuilt, with little to nothing of the original fittings remaining, which was rather sad! Due to entering a new market, there would be a Casino, larger lounges and aft deck have windows extended as a windshield for her pool areas, as well as showers added at the rear of the pool.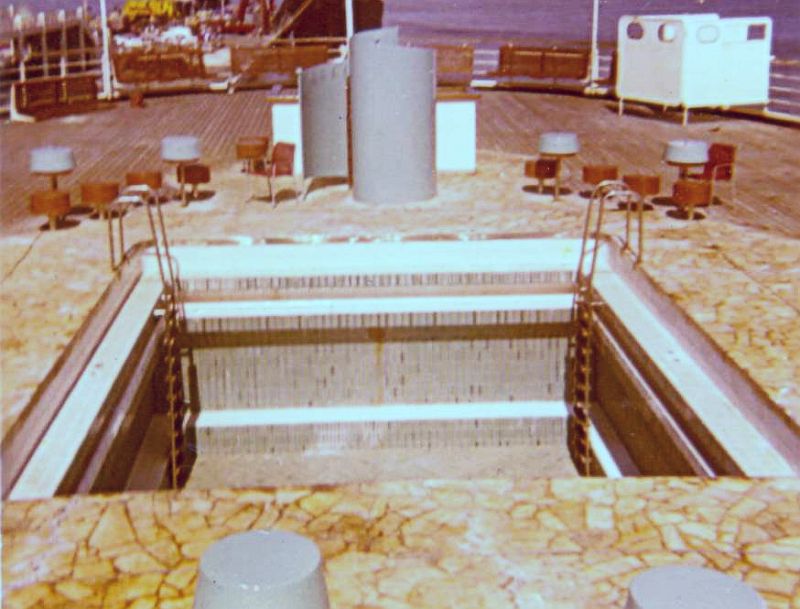 The new Lido and pool deck with its showers and lighting systems installed
Photographer unknown – Please see Photo notes at bottom of page
But the saddest of all for so many was that the enclosed promenade areas had now gone for these spaces had made room for the new larger public rooms. She was also given an enhanced lido and pool deck aft, with new windows along the sides as a windbreak and showers aft of the pool and other additional facilities! All her accommodations received a massive upgrade to the very highest of standards and when completed she could accommodate 740 passengers. In all, after five months of work and at a cost of US$7 million, she was like a brand new ship.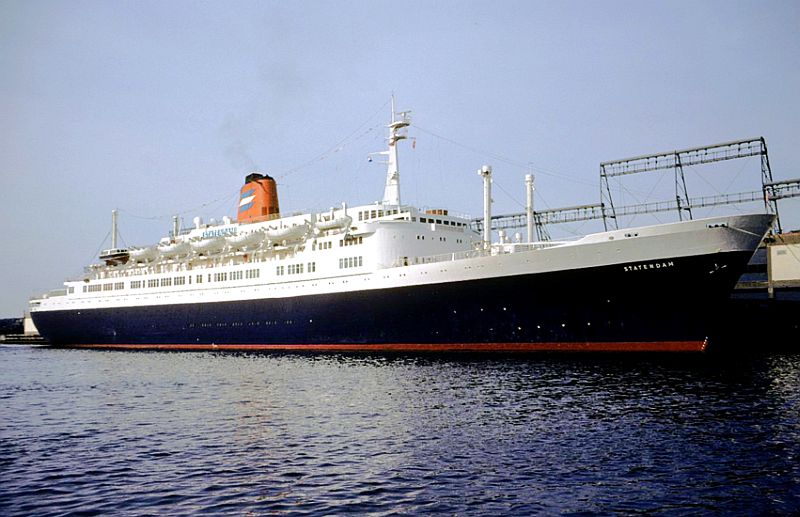 The new look for the SS Statendam was not just internally but she had also big changes internally!
Photograph by Victor Scrivens – from the Rich Turnwald collection
Upon completion, the SS Statendam recommenced her sailings on March 14, 1972, as she returned to New York from where she made Caribbean cruises as well as extended voyages like the one later in the year. The Statendam departed the United States for her fourth and final visit Down Under and she arrived in Sydney on November 19, 1972 and her passengers enjoyed an overnight stay departing on the 20th. She returned to the USA via Asia. Sadly Australia was not to see her again. In 1973 she was reregistered to Holland America Cruises in Willemstad Curacao and all HAL ships would now employ Indonesian service staff rather than just all Dutch.

A Holland America Cruises SS Statendam souvenir teaspoon
Statendam continued cruising the Caribbean and Bermuda until 1981, except for 1979 when she was selected together with the SS Rotterdam to represent Holland America Cruises at the New York Harbour Festival. After which she returned to her cruise duties. Then in 1981 she was relocated to Vancouver to operate 7-day Alaskan cruise during in summer, which proved to be rather successful and it became a lucrative market for HAL and just about every other cruise line these days!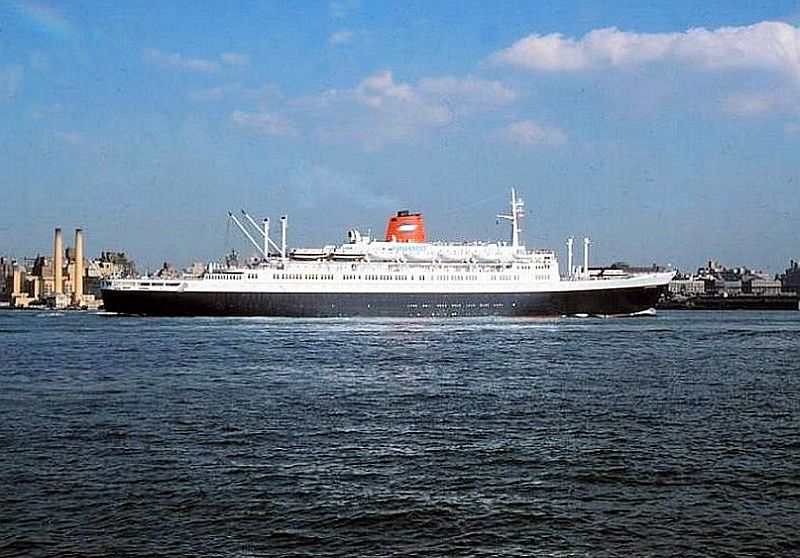 SS Statendam seen berthed
Photographer unknown – Please see *Photo notes at bottom of page
Statendam's final HAL days:
However, at 27 years of age, it seemed that the Statendam was no longer in the best of condition, which was mostly due to her boiler problems, which had always been a source of worry every now and then. But the time had come they were really becoming a problem. It came to the point she was having ongoing breakdowns causing disruptions to her schedule even requiring costly repairs. In several ports the authorities placed a notice on her due to engines producing foul emissions.
Then the worst incident of all came about, for whilst she was off Antigua in 1982, her generators failed completely and this resulted in total power loss throughout the ship. As all lights and air-conditioning went out, the ship drifted for many hours before the electricity could be restored. But it had been decided at Head Office that situation was no longer acceptable, and although HAL had already decided earlier to sell the ship it was now time to release her.
Going French - the SS Rhapsody:
The once elegant and ever popular SS Statendam was officially handed over to Actus Investments Ltd, in October 1982 and placed under the management of the French company Paquet Cruises. She received repairs and a refurbishment and a new livery, being all white including her funnel with a large stylised P with the top part in aqua with a flying seagull and the bottom in red. Her hull also had an aqua ribbon surrounding her hull. Upon completion she was renamed Rhapsody and reregistered in Panama and given a multi national crew.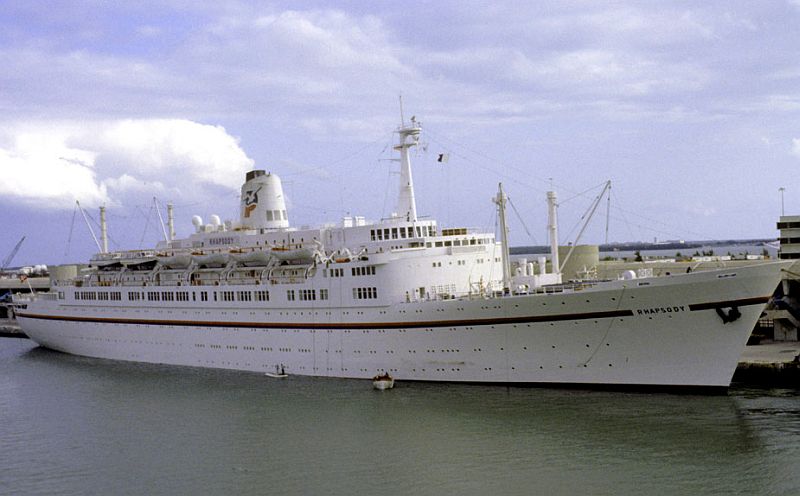 SS Rhapsody 1983
She returned back to operate Alaska cruises in the summer and Caribbean service in the winter, much as she had done before. However, soon enough her new owners, began to realise that their new ship was not all they had hoped for, as mechanical problems continued to plague her, and due to this the company was certainly not being very profitable, to say the least!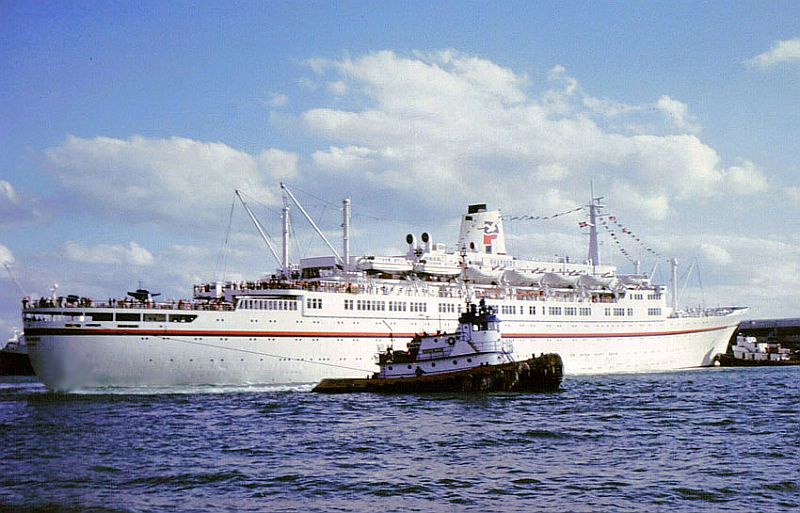 Rhapsody Stern
But far worse was still to come, and no one can blame her engines for this, for on March 28, 1984, the Rhapsody suddenly struck some rocks and was firmly stuck on them at the Grand Cayman, near Georgetown. After three days sitting there with nothing happening passengers were very angry, and they were finally taken off the ship and flown home on the 31st. The Rhapsody remained there for over two months before she was refloated, which finally happened on June 15. She towed to Galveston where she would have to undergo the required repairs. Then in September she returned to her cruise duties from Port Everglades, but she was a failure and never a profitable ship for Paquet Cruises, the whole affair had been a total failure. Paquet placed her on the market and prayed that there would be a buyer for this, what now seemed to be a plagued ship!
MS Regent Star:
She was sold for US$12 million to Universal Glow Ltd, Piraeus, part of the Lelakis Group, on March 11, 1986. This company was owned by the well-known Greek businessman Antonis Lelakis, who renamed her Regent Star. She was intended to be one of his new cruise company's first ships, for Lelakis' had recently founded Regency Cruises. She had been handed over on May 4 at Port Everglades and she headed for Piraeus, Greece, where she was given, yet another extensive refit. As Mr. Lelakis was well aware of the engine problems, he had obtained a container ship the MS Margaret Johnson in February 1986 that was going to be rebuilt as a cruise ship, but, now with the arrival of the SS Regent Star, it was better to use the diesels engines of that ship and place them into the ex Statendam and removed her old troublesome steam turbines. The Margaret Johnson was then sold for scrap.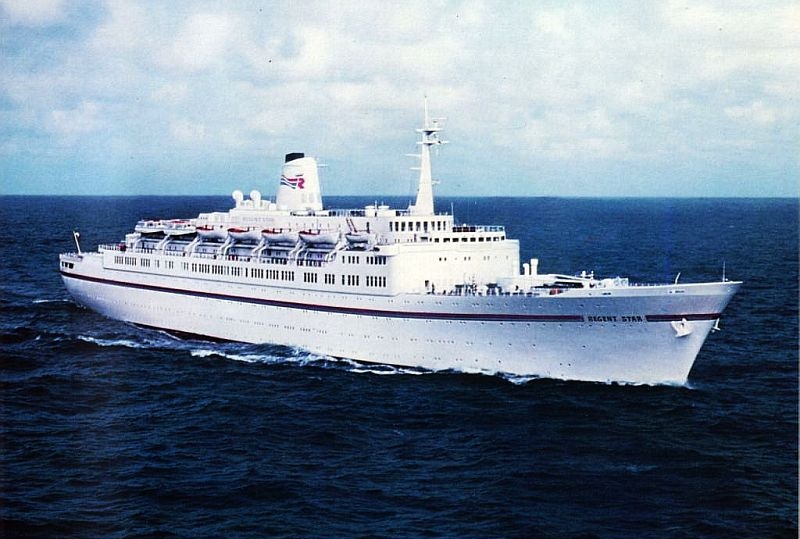 A postcard of the MS Regent Star
Her passenger capacity was now 950, which meant an additional 75 new cabins had been installed. With her refurbishment completed, the all-new MS Regent Star entered service for Regency Cruises on July 26, 1987, commencing cruises from Montego Bay, Jamaica. After which her programme seemed much the same as that she has followed most of her cruising life on the West and East Coast of the USA, from Vancouver she operated summer Alaska cruises and the rest of the year Caribbean cruises.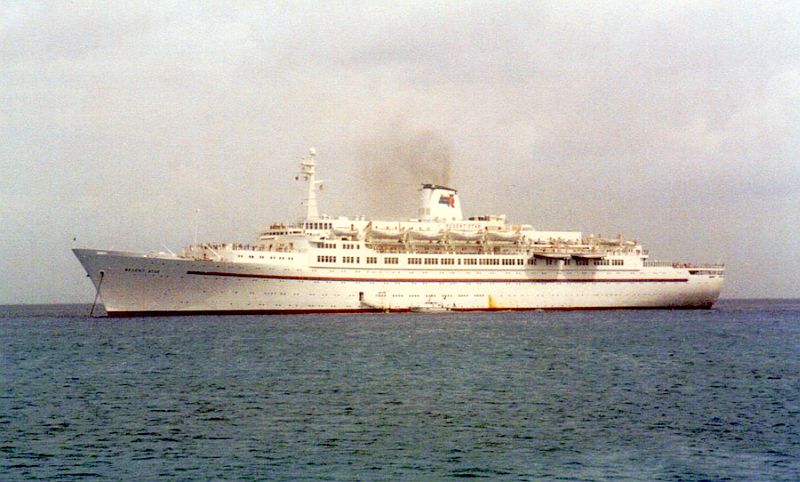 MS Regent Star seen in 1990
Photographer unknown – Please see Photo notes at bottom of page
However, in June 1990, she returned to New York for the first ever-Regency Cruise operations from this port. Sadly it would be on Memorial Day 1990, that she again had a problem as she ran aground some 25 miles up the Delaware River. However, the Delaware ferry came to her assistance very rapidly and manoeuvred alongside her port side and unloaded all passengers that were onboard. Thereafter, the Regent Star was then able to get off and thankfully she was practically undamaged.
But after a while the Regent Sun replaced her on the company's New York-Eastern Canada service after only a year. Regent Star was returned to Alaska to her old service there. She continued her normal duties until the summer of 1995, when the ship once again became the scene of yet another dramatic event.
Whilst she was approximately 65 miles southwest of Valdez, Alaska, there was a ruptured fuel line, and this resulted in a fire in the engine room that crippled the ship. The Captain ordered radio calls to be sent out and amazingly, the very first ship to arrive assist her was her long time running mate, the SS Rotterdam. She immediately assisted with the unloading of all her passengers.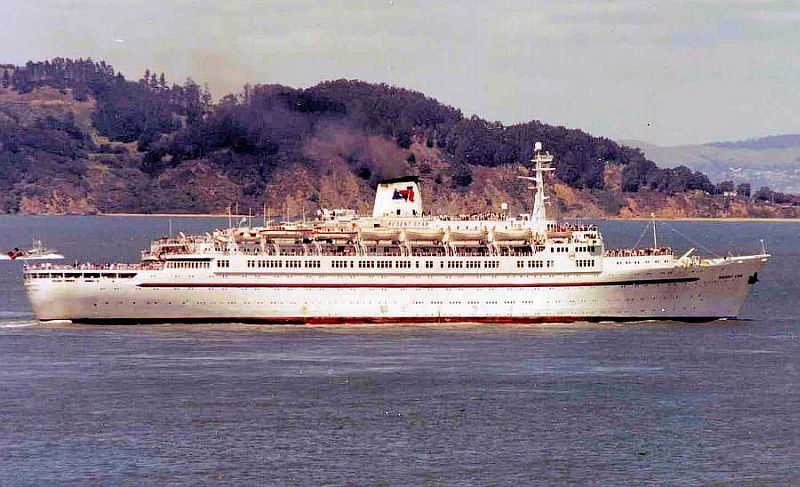 Regent Star seen during her final days in 1995
Photographer unknown – Please see Photo notes at bottom of page
But tragically in October of 1995, Regency Cruises collapsed and their fleet was scattered at sea or in various ports. Regent Star was at the time voyaging a part of the Panama Canal, whilst on a cruise of the Caribbean, Florida and eventually heading for the Mediterranean. But as had been known by some, the company had been in financial difficulties for some time, and crewmembers on board the Regent Star had been waiting for their salaries that were slow in being paid. In addition, the ship was having shortages of supplies and stores, but when the final announcement regarding the collapse came, the ship concluded her cruise and her captain headed away from the awaiting American creditors at the next port and headed for the Mediterranean.
Her last days as the MS Sea Harmony – Harmony I:
When she arrived in Greece she was arrested and taken over by CIT Financiers of New York and she was placed at anchor at Eleusis Bay Greece in November 1995. In 1996 she was sold to Perosea Shipping Co and was renamed Sea Harmony and it was intended to return her to cruise duties, but she remained in laid-up. She was returned to the open market, but there was no real interest. Although there was the occasional weird ideas to purchase her, one was by a company named CruiseShares, who thought to introduce a timeshare-style system on board and operate her with a small fleet of other older refitted cruise ships. However, the whole idea was soon abandoned, as for that time there was little to no chance at all of it taking off.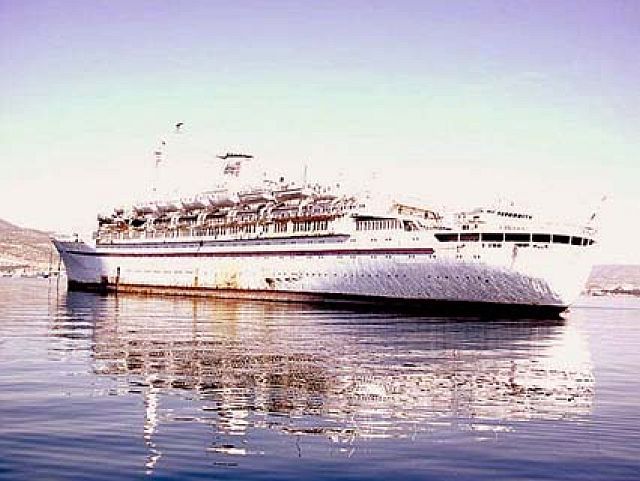 The Sea Harmony is seen here in July of 2003
Photograph was taken by my dear friend, the late Captain Yiorgos (George) Graikos
The once glamorous and revolutionary ex SS Statendam sadly remained in Greek waters and thus this great once Trans-Atlantic liner and very popular Cruise Ship commenced, due to her being neglected with no maintenance done on board whatsoever, she rapidly deteriorated she slowly became a rusting hulk and she became a sad looking ship at anchor in the middle of Eleusis Bay and she began slowly listing slightly to starboard.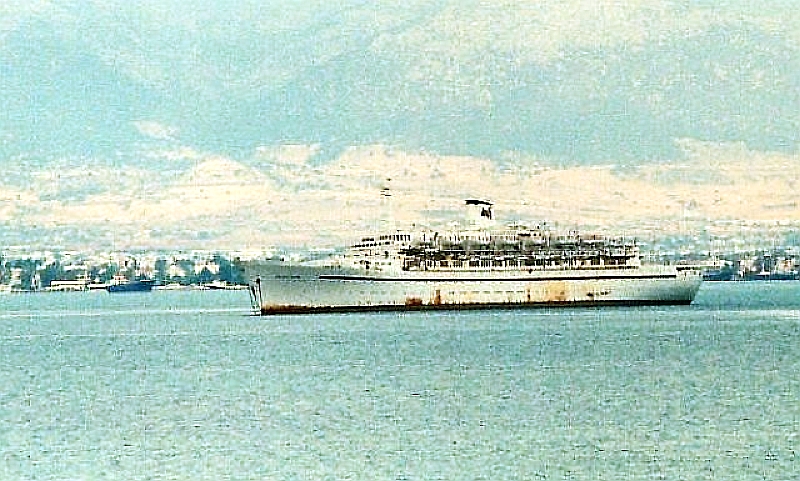 The Sea Harmony is seen during her very last weeks at Eleusis Bay Greece looking rusty and listing to starboard
She has been sold and headed for the breakers yard in India
After a long lay-up for 8 years and 9 months, on March 14, 2004 this proud liner, looking very shabby and to say at least rather old due to her rusty and weather beaten hull, she finally departed Eleusis Bay with a new name painted on her bow "Harmony I," and flying the traditional flag of death for ships that are bound to the breakers yard, and that id the dreaded "St Vincent and Grenadines" flag for her delivery voyage to Alang beach in India.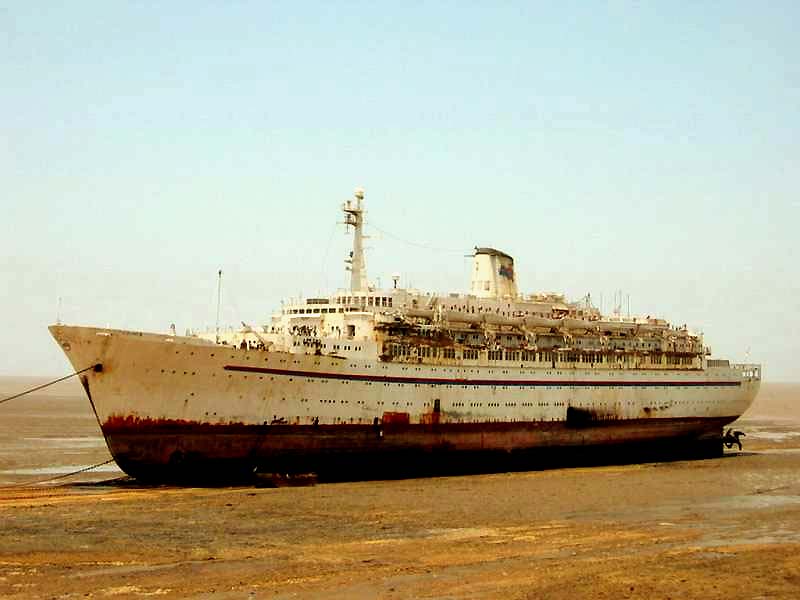 SS Harmony I is seen after having bee beached at Alang
This photograph was sent in by a supporter, thus source & photographer is unknown – Please see photo notes at the bottom of the page
Above we see a tragic sight of the now renamed MS Harmony 1, ex Sea Harmony, Regent Star, Rhapsody built as the elegant Holland America Line SS Statendam seen beached at Alang India, awaiting the hordes of workers with their cutting tools to come aboard and commence cutting her up into pieces, although her interiors had already been stripped.
Not long after her arrival work on dismantling commenced. Perhaps this was the most dignified end to a long and glorious career of the SS Statendam with Holland America Line. For her final years with the other companies were far from her finest days!
Memories of the Wonderful Holland America Line S.S. Statendam
This is the way ship lovers and past passengers prefer to remember
this fine and revolutionary liner/cruise ship the much loved … SS Statendam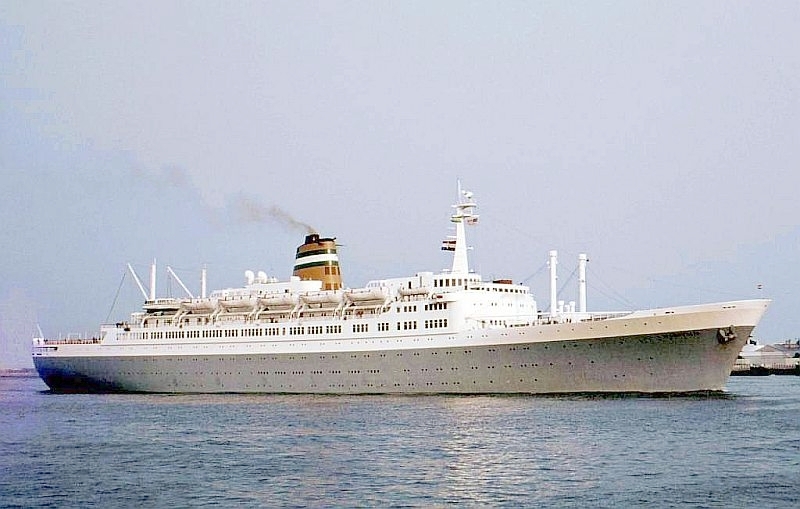 She looked wonderful in her original colours and many preferred it far more than later with her
blue hull and orange funnel livery during her cruising days! But it is all a matter of choice!
SS Statendam specifications:
Built by:                     Wilton Fijenoord Schiedam.
Yard:                         753.
LR/IMO No:                5339212.
Tonnage:                    24,294 GRT – call sign PDPT
Length:                      642ft / 196.2m.
Width:                       81ft / 24.7m.
Draught:                    25.91ft / 7.9m.
Engines:                     Parsons four steam geared turbines.
Screws:                      Two - 22,000 BHP.
Service speed:            19 knots
Passengers:                84 First Class & 867 Tourist Class
Crew:                        474.
In Conclusion - summing up the SS Statendam:
In 1957, when Holland America Line's SS Statendam debuted and she became an instant hit on North Atlantic crossings from Rotterdam to New York as well as during her seasonal cruising programs. As the Statendam was built to be mostly as a Tourist Class ship, but one of the major factors to her great success was the high quality of her accommodation, which was in reality very close to first class standards of most ships operating at the time as were her superb public venues, which occupied the full length of the ship, whereas on most ships, Tourist is located aft. Thus, for a predominantly Tourist Class liner she was miles ahead of all the competition and she was a vast improved version of the two pioneering ships I have already mentioned being the much loved "Economy Twins" - SS Ryndam and Maasdam, which preceded her.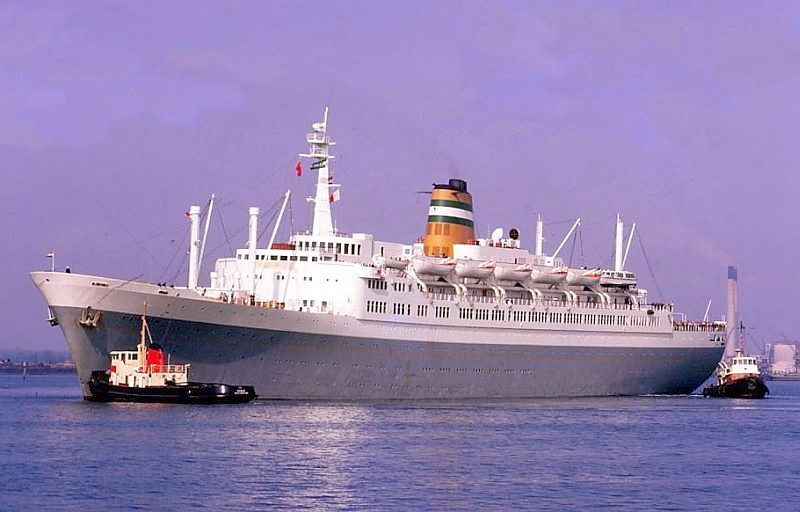 Here we see the SS Statendam in her glory days departing Southampton for New York
Photograph sent in by David Franks – taken by "J.K. Byass"
SS Statendam was later rebuilt as a superb luxury one-class permanent cruise ship in 1972. The transformation was so vast that Holland America Line dubbed her to be "The Cinderella Ship" in their publicity material. Sadly, little of her original decor survived this refit, which saw a complete rebuilding of her Promenade Deck. However, in certain parts of the ship, various traces of her 1950s traditional elegance did remain. One of the main remnants was the indoor pool, the cinema, and the purser's lobby.
Ten years later in 1982, the Statendam was sold to the French company Paquet Cruises, who gave her a refit and renamed her Rhapsody. She proved successful, hut they obtained a much newer ship that would prove more economical to operate, thus in 1986, she was sold to Regency Cruise Line who renamed her Regent Star.
Although both companies made changes internally, but they did leave a number of the original parts of the ship in tact. The Regent Star sailed on until 1995 when she was placed under arrest in Greece and taken over by CIT Financiers of New York, and she was laid up. As a very neglected sad and a rusty looking ship, she remained at anchor at Eleusis, Greece under the name of Sea Harmony until being sold to Indian breakers as the Harmony I in 2004.
**************************************************
ms Statendam V – 1993:
The fifth ship to carry the famed name Statendam would enter service in 1993 and she is at the time of writing one of 15 Holland America ships operating around the globe that continue the rich and elegant traditions of Holland America Line. This famed company commenced operations in July 1872 has now won more "The Highest Rated Cruise Company" from "Conde Nast" and the "Best Overall Cruise Value" 20 for consecutive years, and they continue to keep winning these awards right until this year in 2013, even in Australia, the "Australian Federation of Travel Agents" (AFTA) has awarded HAL the title of being "Best Cruise Operator." From the 1950s to this very day, Holland America Line is still known as having "The Spotless Fleet" which is a great compliment.
The author has sailed with Holland America, the last cruise being on the delightful 61,214-ton ms Volendam accommodating just 1,430 passengers, unlike most ships of this size having around 2,000, and I can tell you that this ships was supreme and sailing with HAL is simply one of the finest cruise you can possibly experience at sea, for there is not one other company that I can name that is better! The crew to passenger ration is excellent as is the excellent service, supreme cuisine and some of the best entertainment. I found that HAL does not push that typical oceangoing trashy over the top Las Vegas style entertainment on their passengers as seen on most ships, for the production shows and guests vocalists, orchestras, classical concerts were all sublime!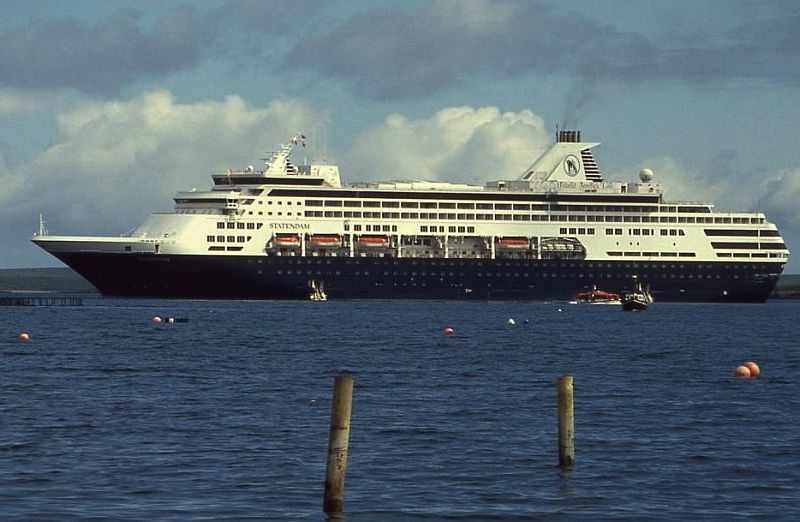 The MS Statendam V
PS: The ms Maasdam and her sister the Ryndam were transferred to P&O Cruises Australia and were given an amazing internal refit. They were renamed the Pacific Eden and Pacific Aria respectively, with the Eden being based in southern and western ports of Australia, whilst the Pacific Aria, being home ported in Brisbane where she became the most popular  and Highest rated P&O ship, whilst the Eden somehow never did as well, yet they were identical.
With new ships up to 114,000 gross tons entering the P&O Australian fleet, the Pacific Eden will depart Australia on March 16, 2019 as she will be transferred to the UK "Cruise and Maritime Voyages" (CMV) early April 2019. Thus the ex Statendam V will continue to live on providing British passengers much joy at sea!
You can read about other Holland America Line Ships on ssMaritime.com
SS Nieuw Amsterdam - SS Rotterdam V - SS Volendam (ex SS Brazil)
TSS Ryndam & Maasdam - SS Diemerdyk & Dinteldyk
-Also visit my other Holland America Pages-
Page One … "The History of Holland America Line and Today's Modern Fleet"
                                                                                                 1872 to 2000                                                                                                                       
Page Two … "The History of Holland America Line and Today's Modern Fleet"
1993 to 2015
-Holland America Line Ships featured on Cruise-Australia-
ms Rotterdam - ms Volendam - ms Zaandam - ms Oosterdam & ms Nieuw Amsterdam
-Cruise and Ship Reviews by the Author-
ms Oosterdam 2013 Cruise'n'Ship Review
ms Volendam Cruise Review - ms Amsterdam Ship Review
**************************
Use the Back button on your browser or Close the Page to return to the previous page
or go to our INDEX
ssMaritime.com & ssMaritime.net
Where you will discover over 1,250 Classic Liners & the 1914 built MV Doulos Feature
Photographs on ssmaritime.com, & .net and associate sites are by: 1. By the author. 2. From the author's private collection. 3. Or as provided by Shipping Companies and their Publicity Companies as well as by private photographers or collectors. Credit is given to all contributors. However, there are some photographs provided without details regarding the photographer concerned., therefore I hereby invite if owners of those images to be so kind and make them-selves known to me per email at rg@ssmaritime.com in order that due credit may be given
ssMaritime is owned and © Copyright - Reuben Goossens - All Rights Reserved