M.Y. Stella Polaris 1926 of the "Bergen Line" & Clipper Line"
Please Note: Firefox & some other Search Engines may not be suitable
Use Google Chrome or Tor Browser for this Web Page to load perfectly!

Please Note: All ssMaritime and other related maritime sites are 100% non-commercial and privately owned, thus ssmaritime is NOT associated with any shipping company or any other organisation! Although the author has worked and been involved in the passenger shipping industry for well over 60 years, but due to his old age and poor health, he was forced to retire. Yet, he has completed well over 1,355 Classic Liners, Passenger-Cargo Liners as well as humble converted C3 converted Migrant Liners, which has transported countless thousands folk to the new world, as well on vacations'. I trust the features online will continue to provide Classic Liner and Ship enthusiasts both the information they are seeking, but more so provide a great deal of pleasure and relive many happy memories!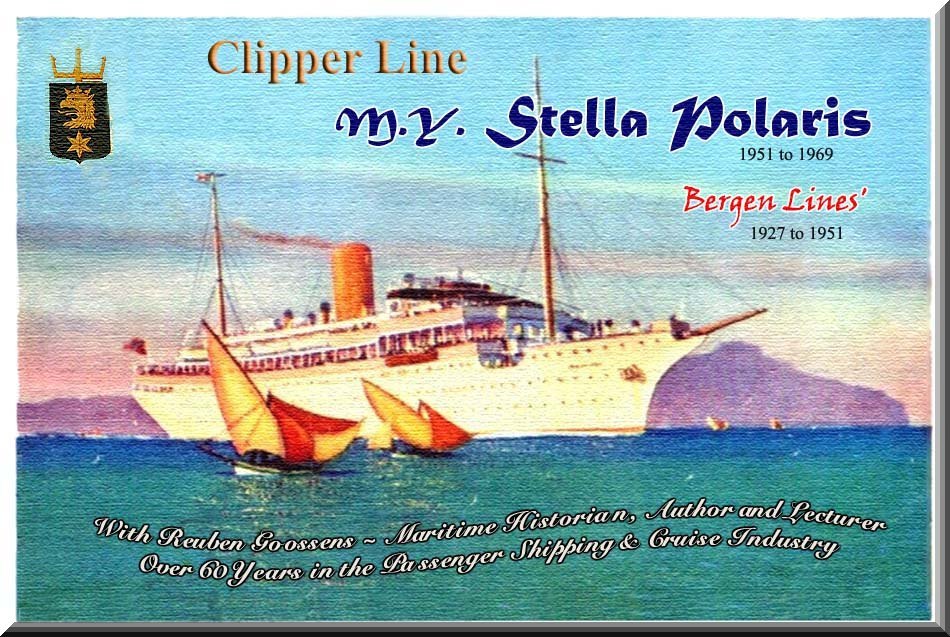 Please Note: Postcards, photographs & other images are from the author's private collection, unless stated otherwise.
Page Two
Clipper Line ~ Stella Polaris
And as the "Scandinavia" a Japanese Hotel & Restaurant
This Three Page feature covers one of the most famous and intimate luxury cruise ships, which was known as being more of "A glamorous Royal Yacht". I will extensively cover the graceful Motor Yacht Stella Polaris' history from construction to her final days. However, if you have arrived to this page via a search engine, please first visit "Stella Polaris" Page One.
Clipper Line:

On October 23, 1951 the Bergen Line sold the M.Y. Stella Pilaris

to a Mr. "Einar Hansen" of Malmö, Sweden. Hansen was the owner of a newly established cruise company named "Rederi Ab Clipper", or as it is better known as the "Clipper Line", and she was obtained for her to operate cruises in the Caribbean, the Mediterranean the Baltic Sea and her previous annual World Circumnavigation Voyages.

Thus the company sent her to builders, the Gotaverken's shipyards for an extensive refit and modernization and he installation of a swimming pool.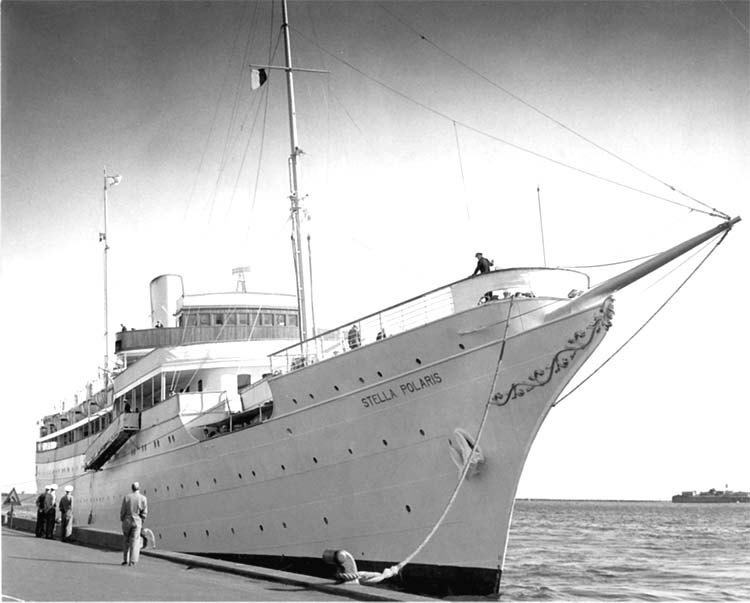 Looking like new having been given a refit
Upon her completion the "Stella Polaris had been brought up to the latest and most advanced standards. In addition all her public rooms on B-deck had been modernised, with new textiles and carpets, and a complete air-conditioning system was installed for the entire ship. Even her crew quarters had been updated and freshened up.
On Sunday December 10, 1951, the Swedish flag was hoisted on the Stella Polaris and she departed on her very first "Clipper Line" cruise, sailing just minor variations. During July 1952, she was moored at Helsinki for the 1952 Olympic Games, and then in August 1952, she commenced her first voyage from Malmo, being her home port, and she headed for the Mediterranean. The "Stella Polaris" continued her successful cruises, like in the past she would carry many of her previous rich American and European Guests, who remained loyal to this magnificent Yacht regardless of her new owner and flag. As it turned out the "Clipper Line" was a excellent operator providing her Guests a full Five Star cruise experience!
With her "Around the World" Circumnavigation voyages always having been so popular, the "Stella Polaris" departed for her first Clipper Line Circumnavigation voyage fully booked out, and she departing from New Orleans on January 6, 1952, with ports of call being; Panama, the Cocos Islands, Galapagos Island, the Marquesas Islands, Tahiti, the Society Islands, the Cook Islands, Samoa, Fiji, Guadacanal, Port Moresby, Thursday Island, Darwin (Australia), Timor, Bali, Sumbawa, Semarang, Djakarta, Bangkok, Singapore, Belawan, Penang, Colombo, Bombay, the Seychelles, Zanzibar, Lourenco Marques, Durban, Port Elizabeth, Capetown, St. Helena, Rio de Janiero, Bahia, and Trinidad.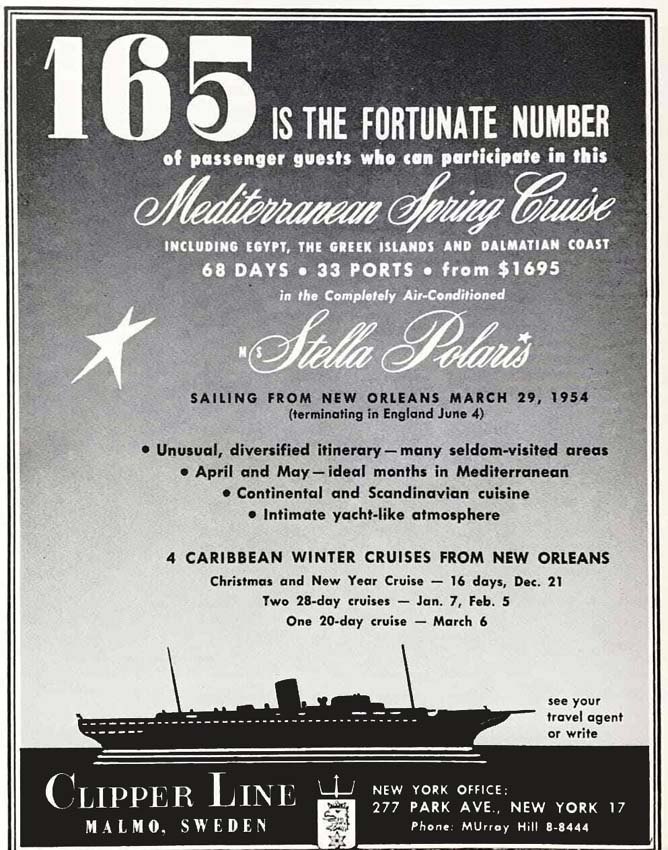 A Clipper Line advertisement for her long Mediterranean cruise departing on March 29, 1954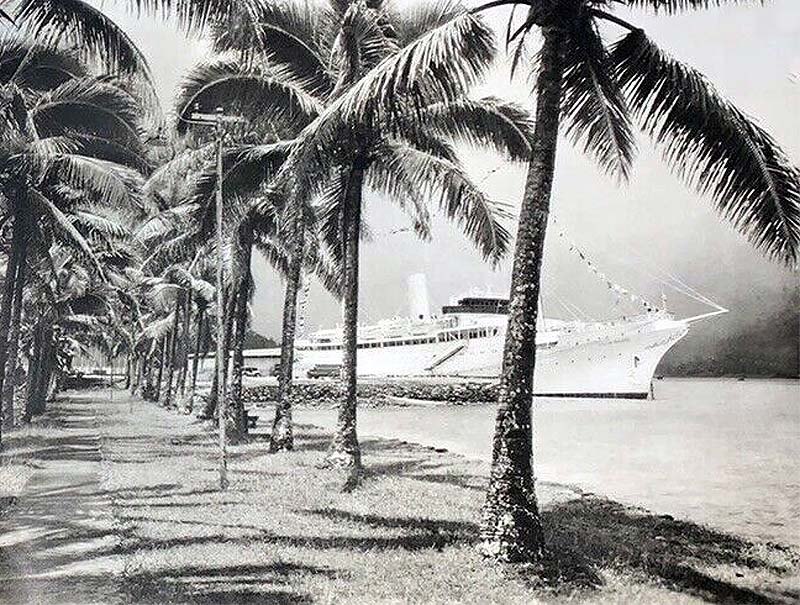 She is seen here during her world voyage at a Pacific Island
Then in 1954, the Clipper Line decided she needed another refit, but this time the contract did not go to "Götaverken", but to the German Yard of "AG Weser Shipyards" in Bremen, and the "Stella Polaris arrived on October 8, 1954. Her passenger areas were comprehensively rebuilt, resulting in a smaller capacity of just 165 Guest's; however, she now offered her Guests larger cabins, as well as the majority having private bathrooms.
Photo Album after her 1954 Refit: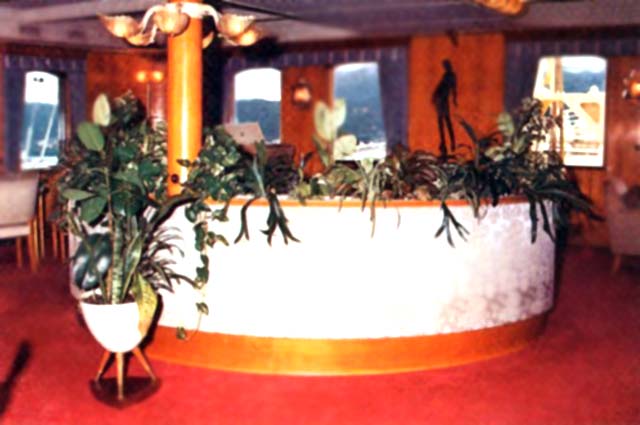 Forward Lounge on Promenade Deck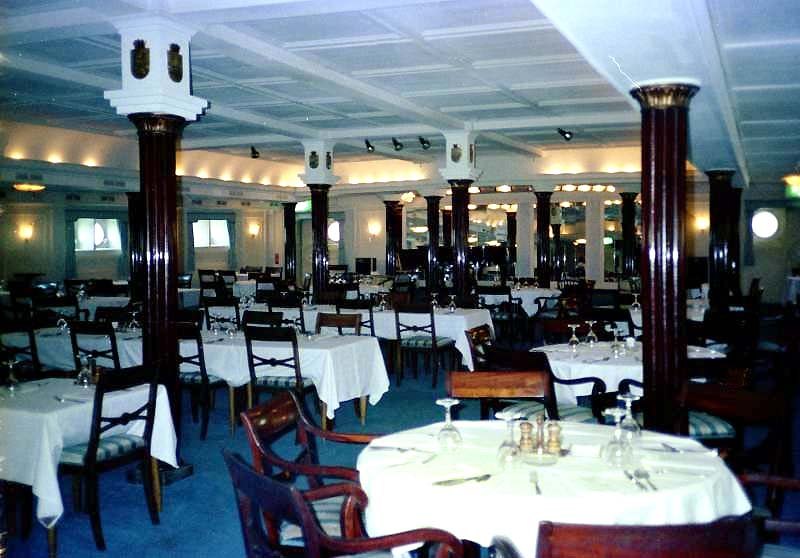 The Restaurant on Main Deck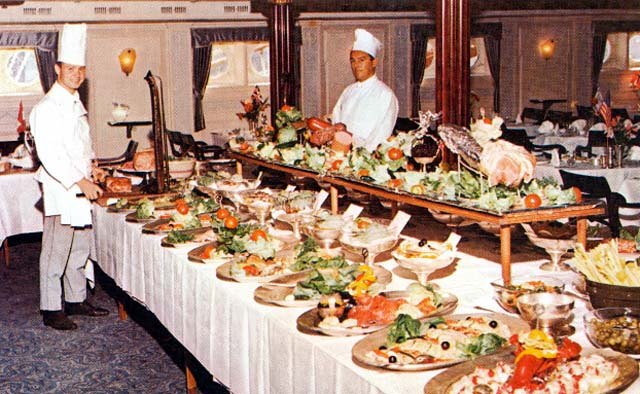 A smorgesboard is served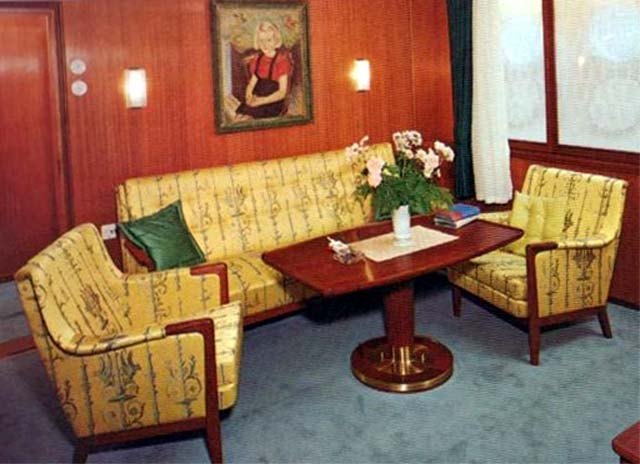 Suite A Lounge area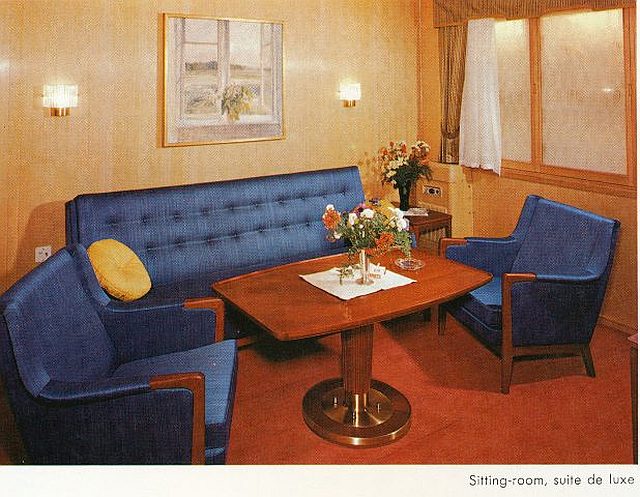 Suit B Lounge area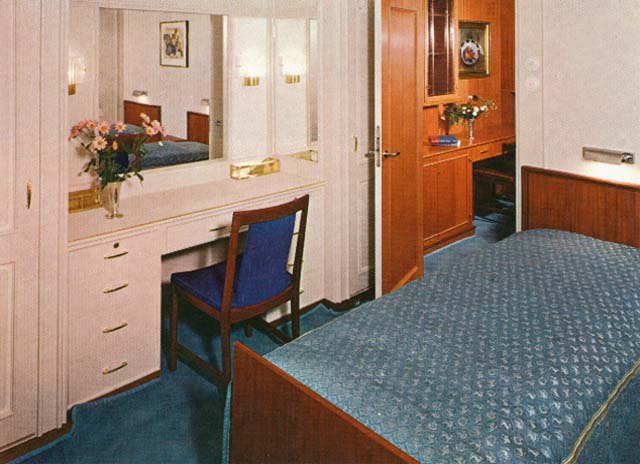 Part of the Suite bed room having twin beds and a bathroom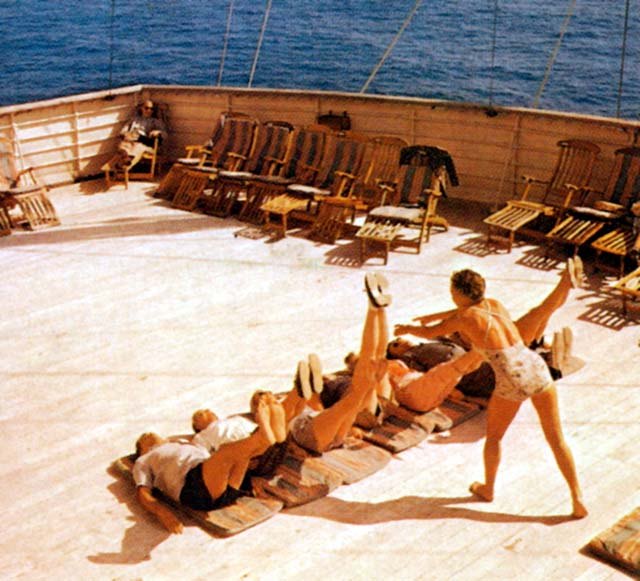 Exercises up on Boat Deck aft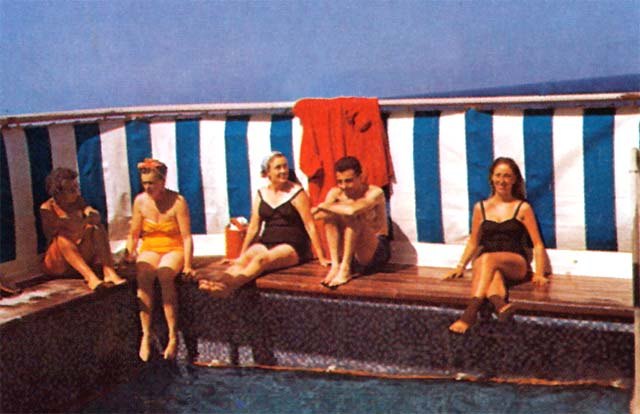 The tiled Swimming Pool on Promenade Deck forward
Her refit was completed on November 28, 1954, and she soon returned to her luxury cruise duties. The "Stella Polaris" continued to cruise for the "Clipper Line, and she proved to be a most profitable ship for them. She headed to New Orleans once again and operated her regular Caribbean cruises and her Circumnavigation Voyage, concluding with and exciting Mediterranean Cruise, concluding in the UK.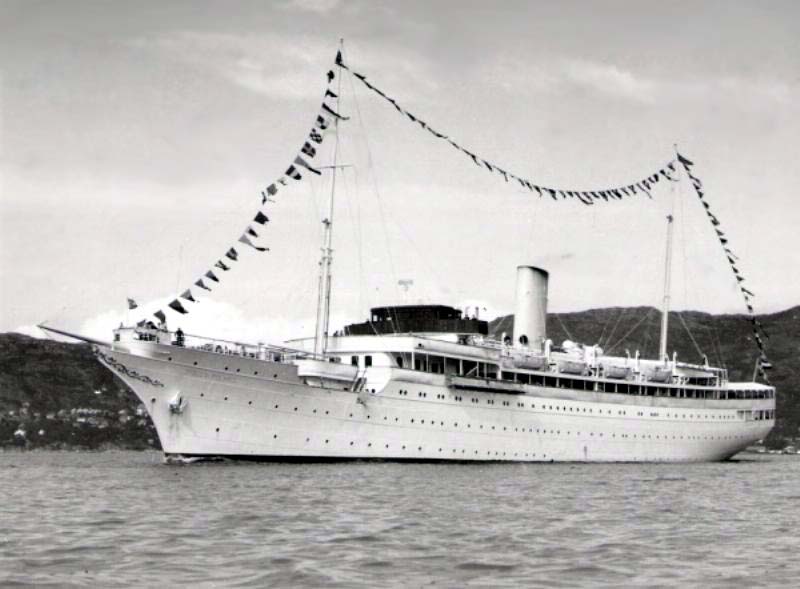 Stella Polaris is seen fully dressed for her first cruise in 1954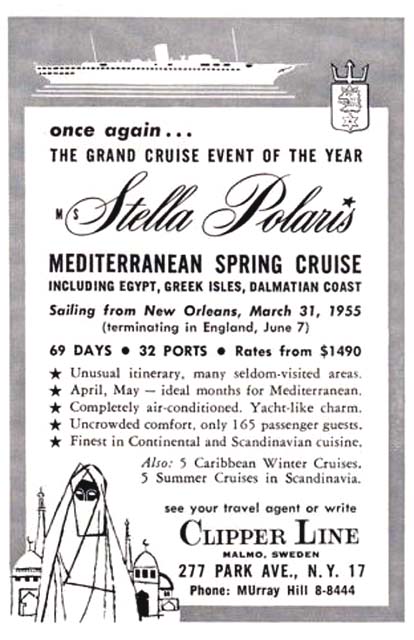 A Clipper Line advertisement for her long Mediterranean cruise departing on March 31, 1955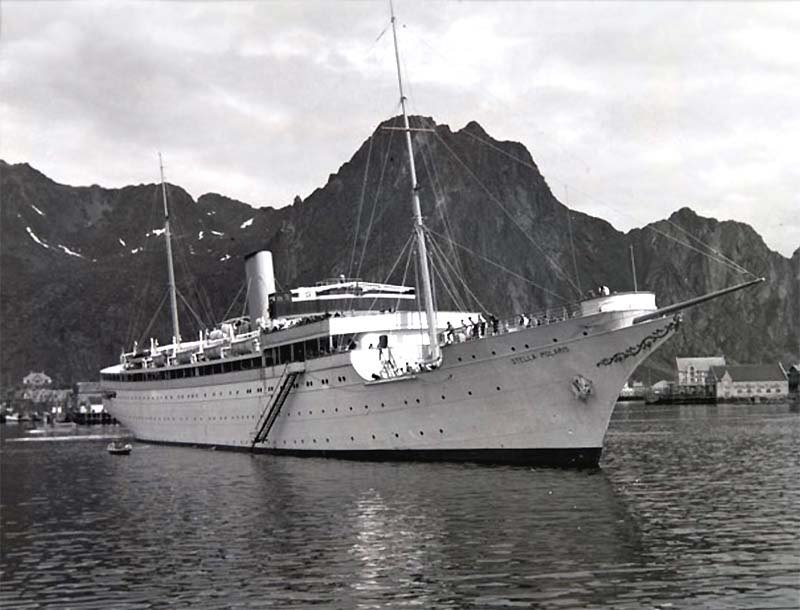 The refitted Stella Polaris is seen during a cruise of the Norwegian Fordland's

Whilst with the "Clipper Line" she continued to receive ongoing updates, for example on September 2, 1965 the "Stella Polaris" arrived at the Swedish shipyard, "Eriksbergs

Mekaniska Verkstad" for another rebuilding and a refit. This was completed on November 14, 1965 and soon there after she departed Gothenburg via Copenhagen towards New Orleans.

Then in 1966 she was fitted with fire extinguishing equipment at the "Kockum's shipyard" at Malmö. Her for last "Clipper Line" refit she arrived at the "Kockum's shipyard", Malmö on October 24, 1968.

However, due to her now old age on March 12, 1969 she was laid up at Malmö and placed on the market.

Please Note: Her Deck Plans and Specifications are on Page Three. Use the Stella Polaris Index below.
Under Japanese flag:
On October 23, 1969, it was announced that "Stella Polaris" had been sold for US$850,000 to International House Co. Ltd. of Tokyo, for use as a floating Hotel and Restaurant in Japan. Her new owners took her to Lisbon, Portugal. She left Lisbon on October 28 under the Japanese flag, sailing through the Panama Canal for the last time before arriving in Yokosuka in Japanon December 13, 1969. This was the very last time that the "Stella Polaris" sailed under her own power. For the new owners had her refitted for use as a Hotel and Restaurant ship.
After completion, she was towed and then moored at the quay in the town of "Kisho", (Numabu City) on the "Izu Peninsula" (around 130 km SW of Tokyo). But during the refit her rudder, propellers and the cylinder heads of the machinery were all removed, the reason being that she could be taxed as a building rather than a ship.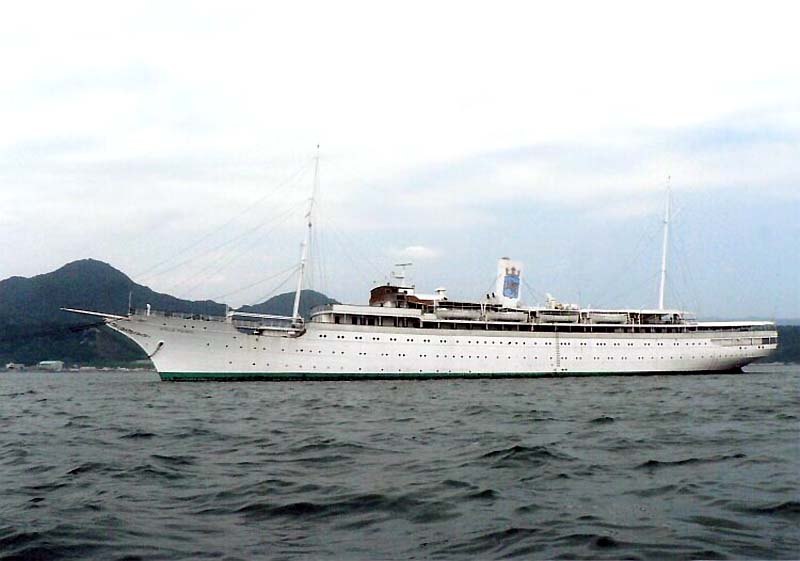 The "Scandinavia" is seen under tow bound for the town of Kisho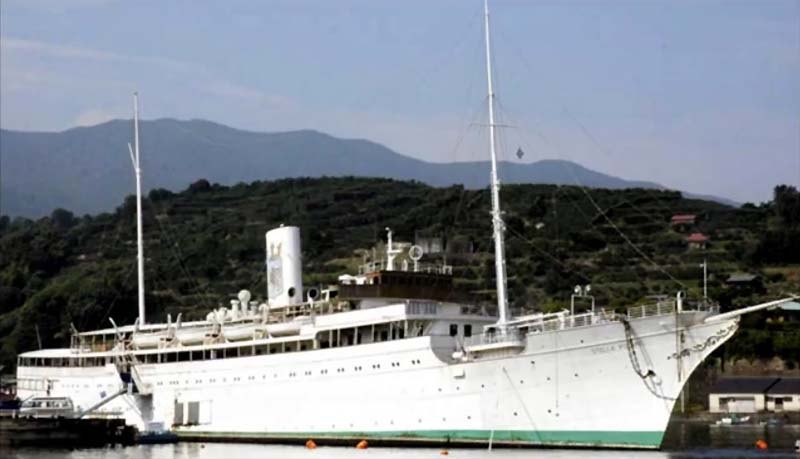 Above & below: Floating Hotel, Restaurant "Scandinavia" is seen berthed at Kisho Numabu, Japan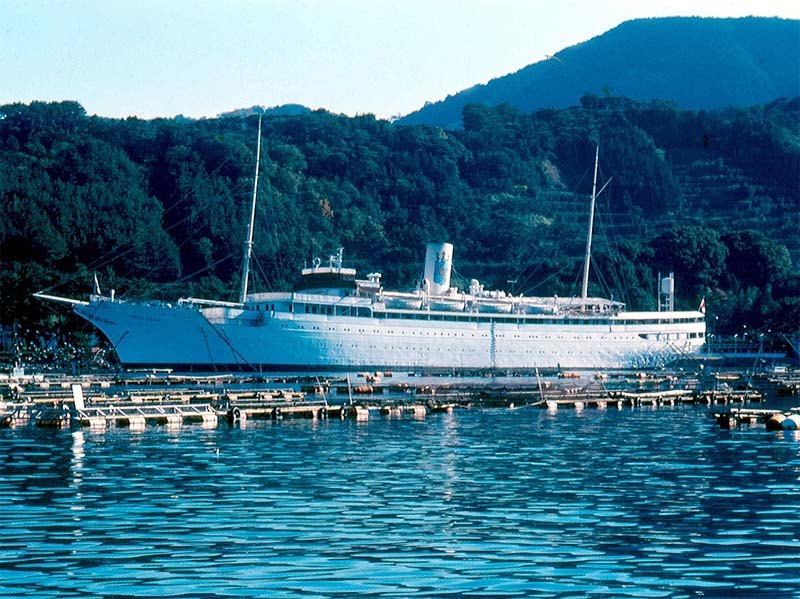 Photographer is sadly unknown
Although the Floating Hotel and Restaurant had been renamed "Scandinavia", but the name "Stella Polaris" remained on her bows to her very last day! In 1999 her Hotel operations were discontinued, but the Restaurant operated until March 2005 when she was closed down and placed on the market.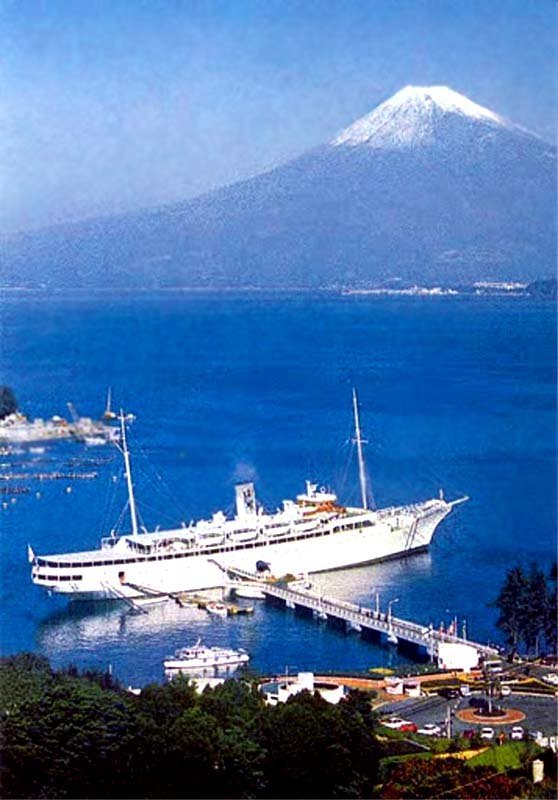 Hotel Restaurant "Scandinavia" moored at her pier in Kisho

There was a meeting in Japan on April 11, 2006, about the future of the historic ship and an attempt was made to form a special association to save her.

However, in 2006 she was sold to the Swedish company "Petro-Fast AB" in Stockholm and the intended for her to be used as a luxury floating Hotel and Restaurant in Stockholm

.. On August 31, 2006, she was taken under tow from "Kisho" to China were she would be given an extensive overhaul for her new Swedish role.

But sadly on September 2, the "Scandinavia" commenced to take on water and she sunk off "Cape Shionomisaki", south of Nagoya at a depth of 72 meters, orientation 225°.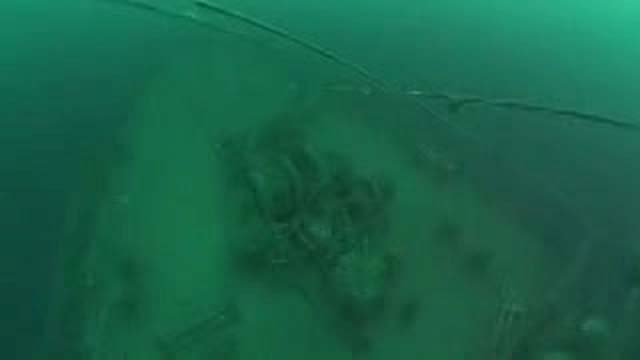 A view of the Scandinavia's bow (Stella Polaris) at the bottom of the sea
Remembering the magnificent - M.Y. Stella Polaris

An artist's impression of her under the Swedish flag during her early days with the Clipper Line
MY Stella Polaris Index:
Page One:            With the "Bergen Steamship Company" from 1927 to 1951.
Page Two:            With the "Clipper Line" from 1951 to 1969 & Under Japanese control.
Page Three:         Deck Plans & General Specifications.
*************************
"Blue Water Liners sailing to the distant shores.
I watched them come, I watched them go and I watched them die."

Featuring over 1,358 Classic Passenger Liners, Passenger-Cargo Liners & Classic Cruise Ships!
Or ENTER HERE
For interest: Sadly an email service to ssMaritime is no longer available, due to the author's old age and chronic illness as well as being disabled, etc. In the past ssMaritime received well over 120 emails per day, but Goossens can no longer handle same. He sincerely regrets this!
**************************
ssMaritime.com & ssMaritime.net
Where the ships of the past make history & the 1914 built M.S. Doulos Story.
The Author has been in Passenger Shipping & the Cruise Industry for well over 60 years
In addition he was the founder of "Save the Classic Liners Campaign" in 1990.
Please Note: ssmaritime and associated sites are 100% non-commercial and the author seeks no funding or favours of any shape or form, never have and never will!
Photographs on ssmaritime and associate pages are by; the author or from the author's private collection. In addition there are some images that have been provided by Shipping Companies and private photographers or collectors. Credit is given to all contributors. However, there are some photographs provided to me without details regarding the photographer/owner concerned.
This notice covers all pages; although, and I have done my best to ensure that all photographs are duly credited and that this notice is displaced on each page, that is, when a page is updated!
ssMaritime is owned & © Copyright by