M.Y. Stella Polaris 1926 of the "Bergen Line" & Clipper Line"
Please Note: Firefox and some other Search Engines may not be suitable
Use Google Chrome for this Web Page to load perfectly!

Please Note: All ssMaritime and other related maritime sites are 100% non-commercial and privately owned, thus ssmaritime is NOT associated with any shipping company or any other organisation! Although the author has worked and been involved in the passenger shipping industry for well over 60 years, but due to his old age and poor health, he was forced to retire. Yet, he has completed well over 1,435 Classic Liners, Passenger-Cargo Liners as well as humble converted C3 converted Migrant Liners, which has transported countless thousands of folk to the new world, as well on vacations'. I trust the features online will continue to provide Classic Liner and Ship enthusiasts both the information they are seeking, but more so provide a great deal of pleasure and relive many happy memories!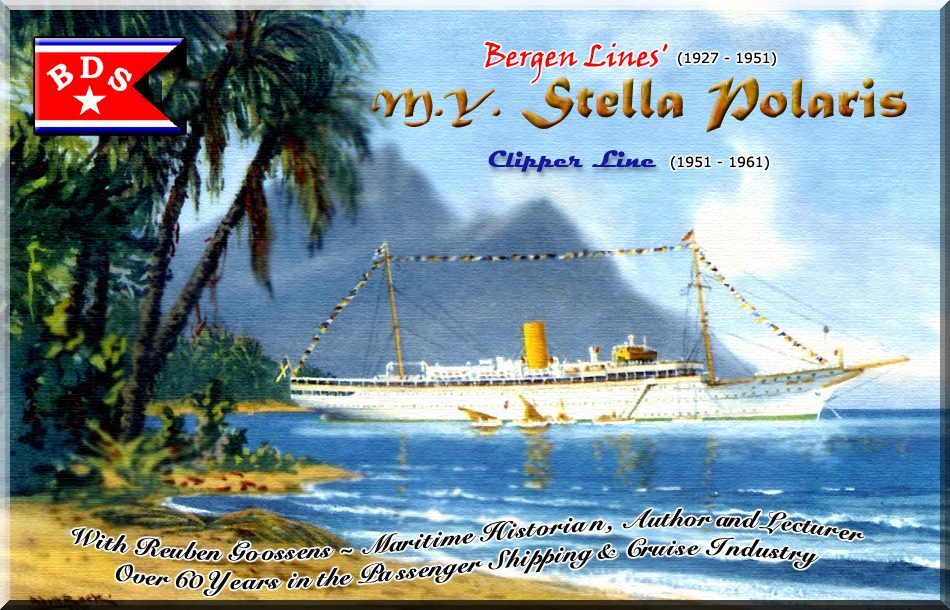 Please Note: Postcards, photographs & other images are from the author's private collection, unless stated otherwise.
Page Three
Deck Plans and
General Specifications
This Three Page feature covers one of the most famous and intimate luxury cruise ships, which was known as being more of "A glamorous Royal Yacht". I will extensively cover the graceful Motor Yacht Stella Polaris' history from construction to her final days. However, if you have arrived to this page via a search engine, please first visit "Stella Polaris" Page One.
Deck Plans: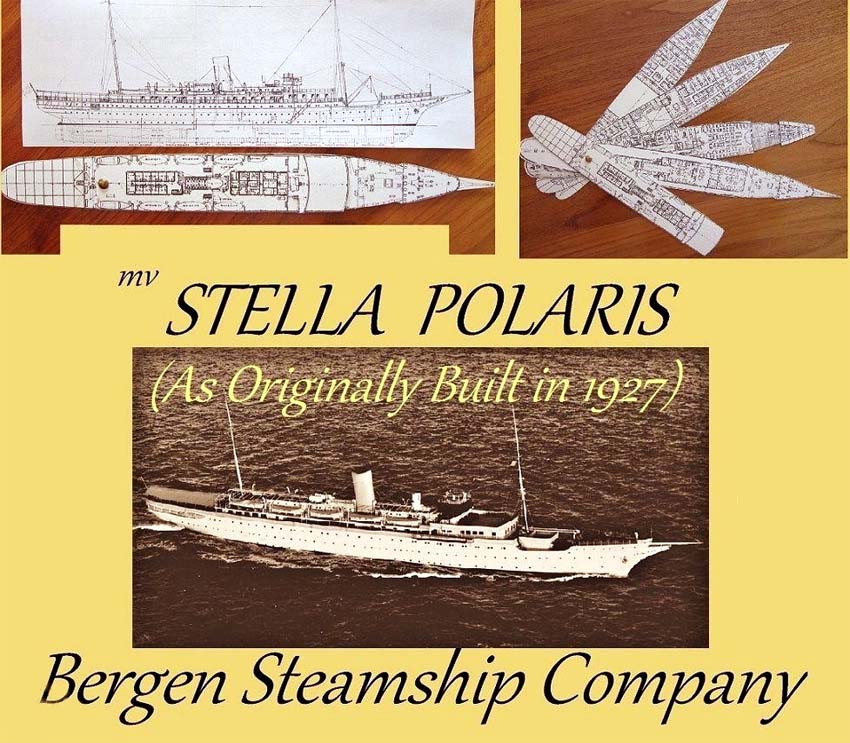 A Bergen Steamship Company Deck Plans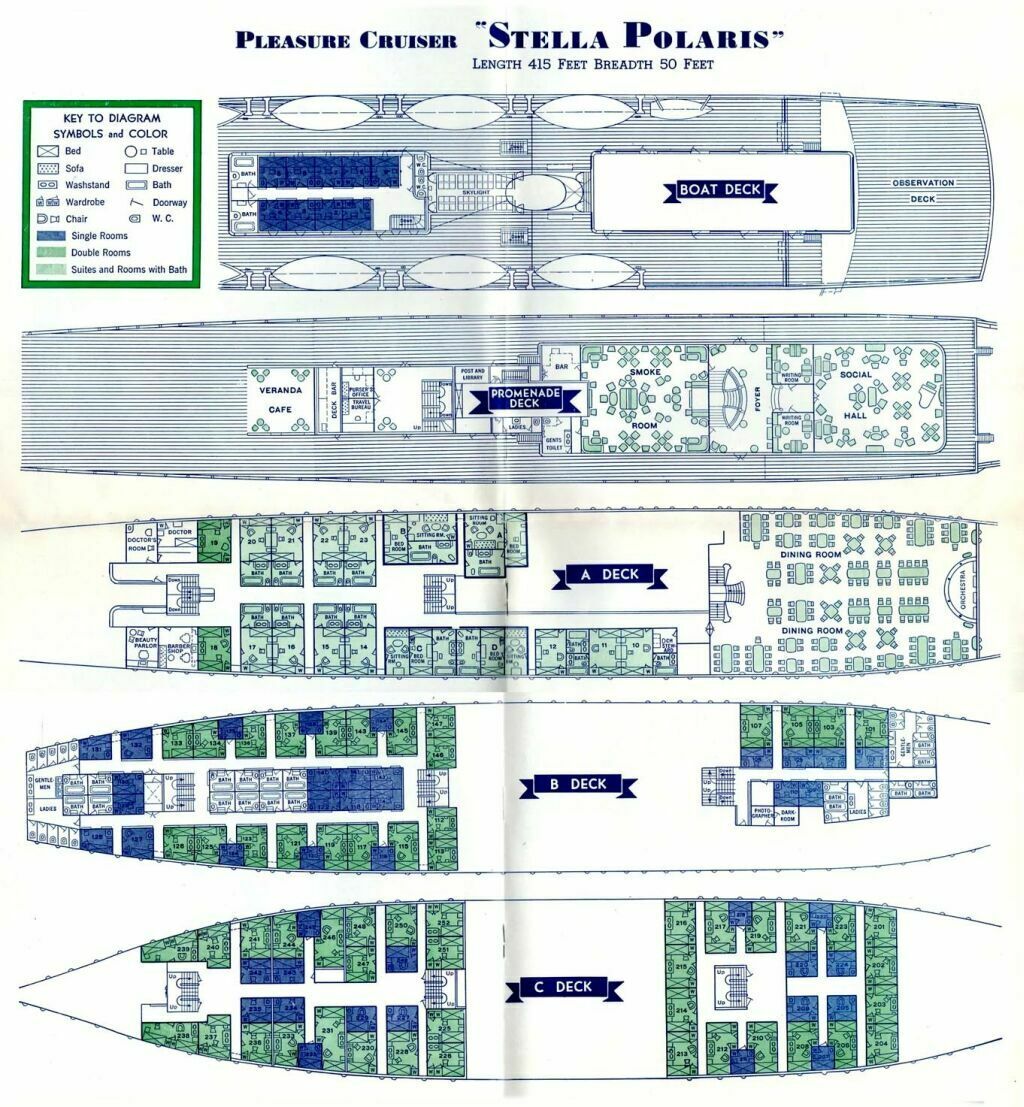 A Deck Plan from the 1930's
To open a larger version of this plan use THIS LINK – When the plan opens on anew page it will be small,
just click on it and it will enlarge to it's actual size. When finished, click the back arrow to return to this page.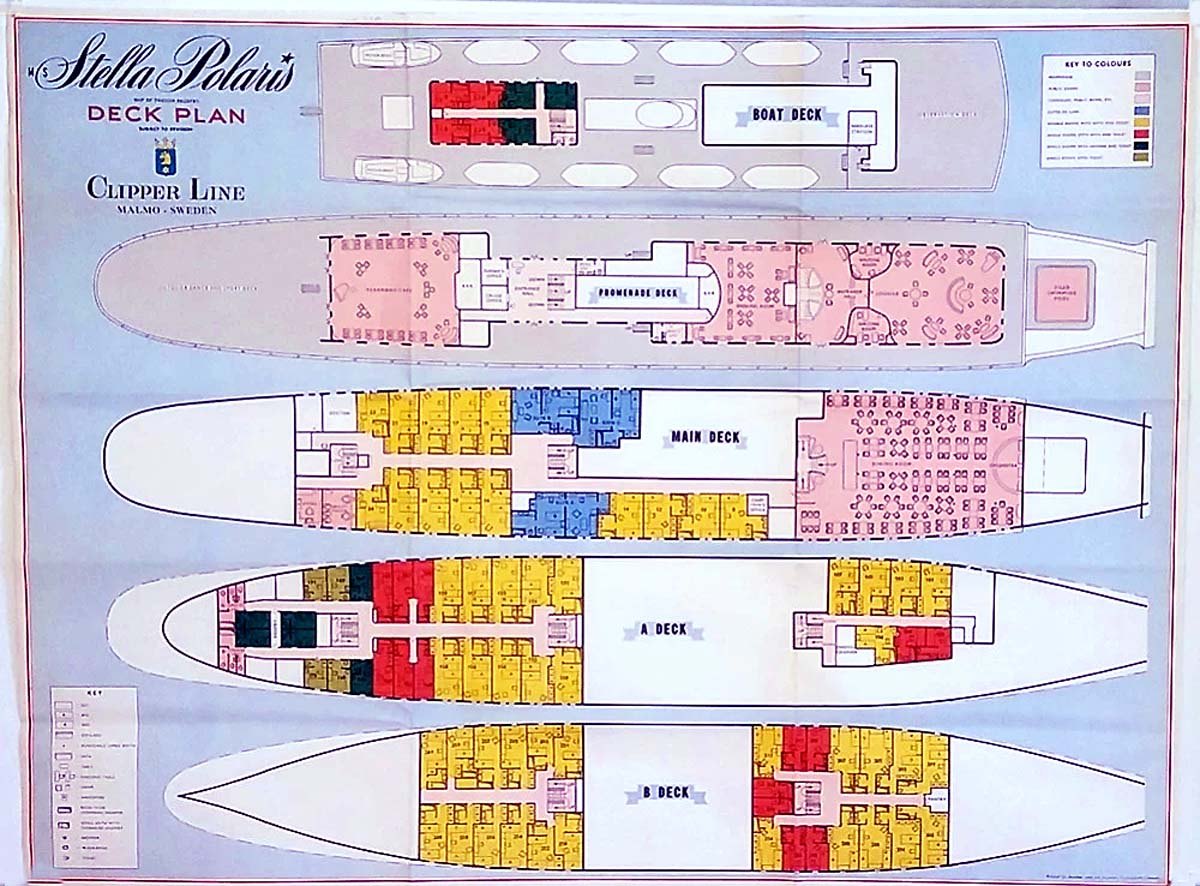 A 1951 Deck Plan with a Swimming Pool installed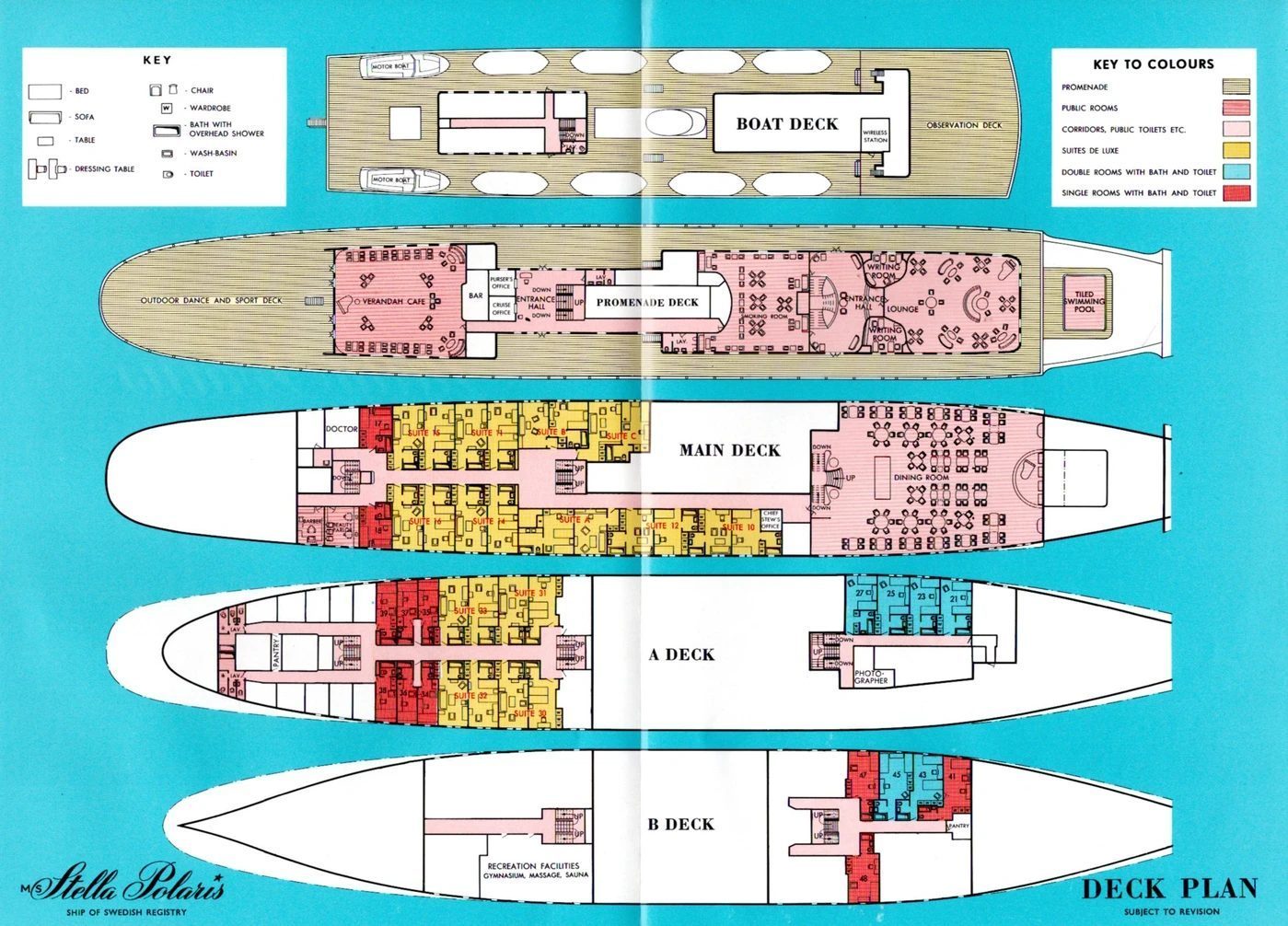 Her final Deck Plan after her 1954 refit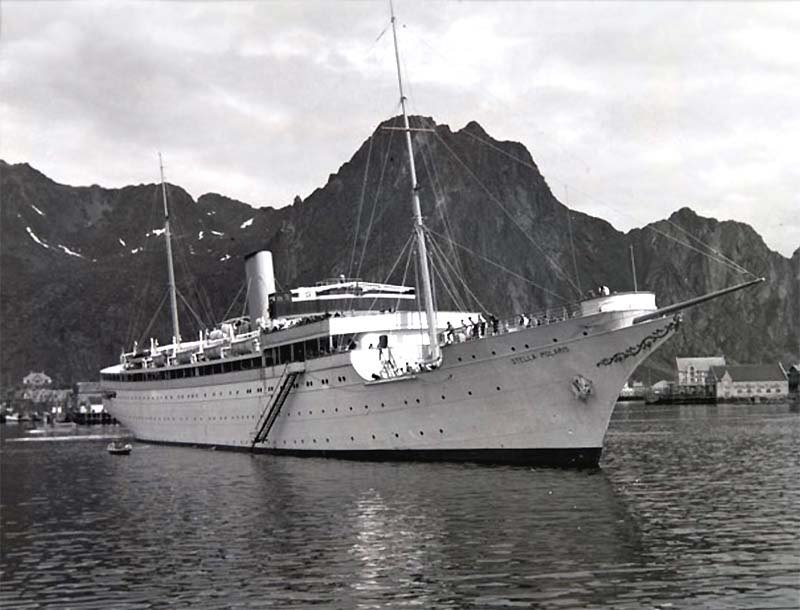 The refitted Clipper Line M.V. Stella Polaris is seen during a cruise of the Norwegian Fordland's
*************************
General Specifications
Names:                             Stella Polaris - 1927-1969.
.                                      Scandinavia - 1969–2006.
Ordered:                           Contract for Stella Polaris was signed on August 4, 1925.
Built by:                            "Ab Götaverken", Gothenburg, Sweden 1927.
Yard N°:                            400.
Launched Named:               September 11, 1926.
Sea Trails:                         February 20, 1927.
Maiden Voyage:                  February 26, 1927.
Call signs:                         LGCF / LCYZ.
Shipping companies:           Bergen Steamship Company - 1927-1951.
.                                      Clipper Line - 1951-1969.
.                                      International House Co. Ltd - 1969-2006.
Registered:                        Norway - 1927-1943.
.                                      Germany - 1943-1945.
.                                      Norway - 1945-1951.
.                                      Sweden - 1951-1969.
.                                      Japan - 1969.
.                                      1969-2006 (registered as a building).
Technical data:
Hull: Steel - Clipper Bow.
Length:                             127.1 m - 360.5 ft.
Width:                              15.54 m - 50.5 ft.
Draft:                               7.92 m - 29.26 ft.
Machinery:                        Two 8-cylender, Burmeister & Wain diesels by Götaverken.
Power:                              5,200 SHP.
Speed:                              17.5 knots.
Tonnage:                          5,208 GRT, 2,599 NET, 1,800 DWT.
Passengers:                       200.
.                                      100 during World (Circumnavigation) Cruises.
.                                      165 after rebuilding in 1954.
Crew:                               130.
Status:                             Sunk in 2006.
*************************
Remembering the Magnificent - M.Y. Stella Polaris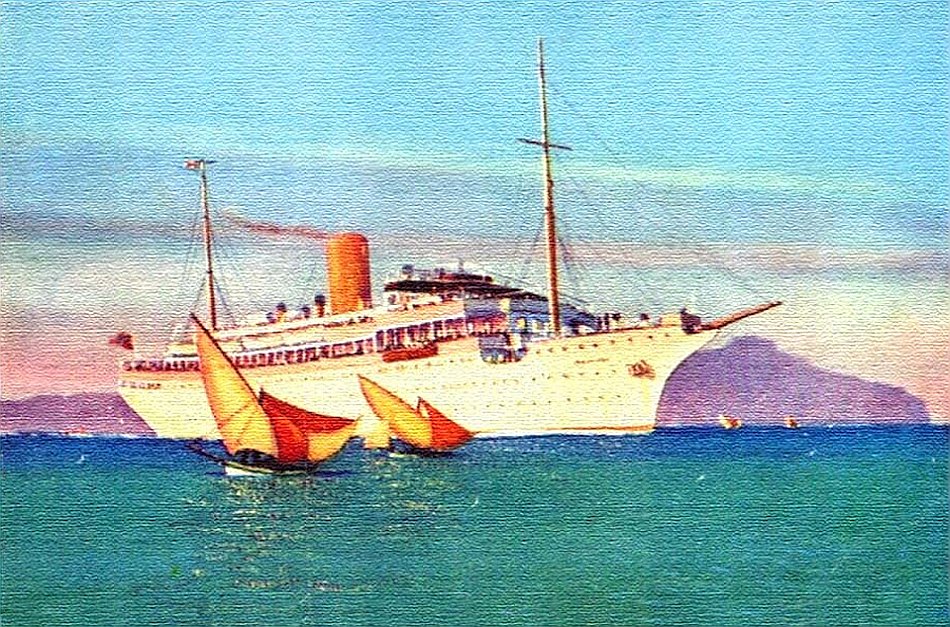 An artist's impression of her under the Swedish flag during her early days with the Clipper Line
MY Stella Polaris Index:
Page One:            With the "Bergen Steamship Company" from 1927 to 1951
Page Two:            With the "Clipper Line" from 1951 to 1969 & Under Japanese control.
Page Three:         Deck Plans & General Specifications.
*************************
"Blue Water Liners sailing to the distant shores.
I watched them come, I watched them go and I watched them die."
Featuring over 1,435 Classic Passenger Liners, Passenger-Cargo Liners & Classic Cruise Ships!
Or ENTER HERE
For interest: Sadly an email service to ssMaritime is no longer available, due to the author's old age and chronic illness as well as being disabled, etc. In the past ssMaritime received well over 120 emails per day, but Goossens can no longer handle same. He sincerely regrets this!
**************************
ssMaritime.com & ssMaritime.net
Where the ships of the past make history & the 1914 built M.S. Doulos Story.
The Author has been in Passenger Shipping & the Cruise Industry for well over 60 years
In addition he was the founder of "Save the Classic Liners Campaign" in 1990.
Please Note: ssmaritime and associated sites are 100% non-commercial and the author seeks no funding or favours of any shape or form, never have and never will!
Photographs on ssmaritime and associate pages are by; the author or from the author's private collection. In addition there are some images that have been provided by Shipping Companies and private photographers or collectors. Credit is given to all contributors. However, there are some photographs provided to me without details regarding the photographer/owner concerned.
This notice covers all pages; although, and I have done my best to ensure that all photographs are duly credited and that this notice is displaced on each page, that is, when a page is updated!
ssMaritime is owned & © Copyright by