M.Y. Stella Polaris 1926 of the "Bergen Line" & Clipper Line"
Please Note: Firefox and some other Search Engines may not be suitable
Use Google Chrome for this Web Page to load perfectly!

Please Note: All ssMaritime and other related maritime sites are 100% non-commercial and privately owned, thus ssmaritime is NOT associated with any shipping company or any other organisation! Although the author has worked and been involved in the passenger shipping industry for well over 60 years, but due to his old age and poor health, he was forced to retire. Yet, he has completed well over 1,435 Classic Liners, Passenger-Cargo Liners as well as humble converted C3 converted Migrant Liners, which has transported countless thousands of folk to the new world, as well on vacations'. I trust the features online will continue to provide Classic Liner and Ship enthusiasts both the information they are seeking, but more so provide a great deal of pleasure and relive many happy memories!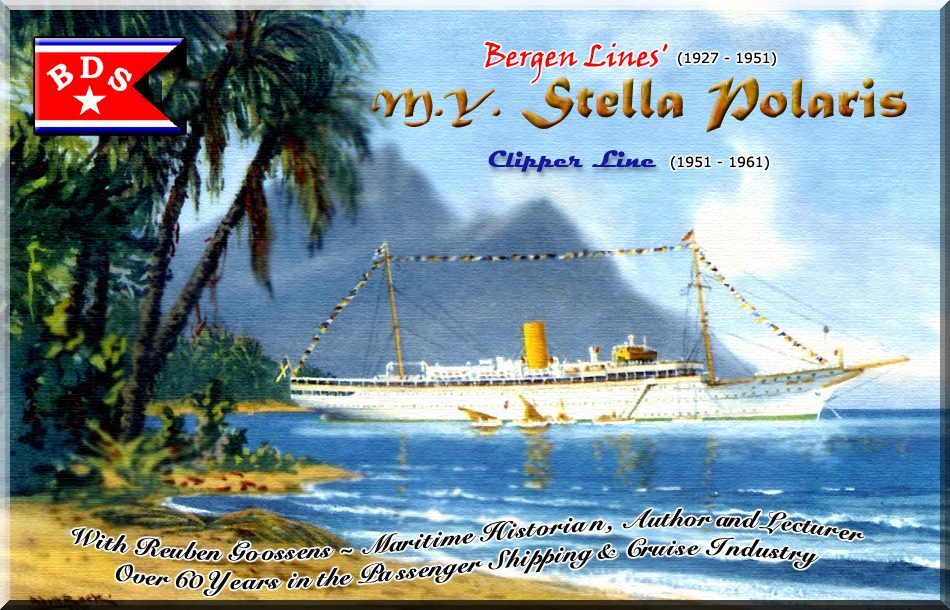 Please Note: Postcards, photographs & other images are from the author's private collection, unless stated otherwise.
Page One
This feature covers one of the most famous and intimate luxury cruise ships, which was known as being more of "A glamorous Royal Yacht". I will extensively cover the graceful Motor Yacht Stella Polaris' history from construction to her final days. However, I will commence with a brief, but incomplete history of the company and their early ships.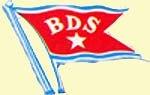 The "Det Bergenske Dampskibsselskab" House Flag
Introduction to BDS or "The
Bergen
Line" & their early ships:
The Norwegian company "Det Bergenske Dampskibsselskab" (BDS) was founded on December 12, 1851, and was internationally known as the "Bergen Steamship Company" and later it became simply known as the "Bergen Line". The intension was to operate not only coastal steamships, but also cargo services to the Continent.
BDS's first cargo ship was ordered being an iron-hulled 476 GRT (Gross Registered Ton) paddle steamer the "Bergen" (1) which was launched on August 16, 1852 and was delivered by December. Her schedule was from Norway to Hamburg, Germany.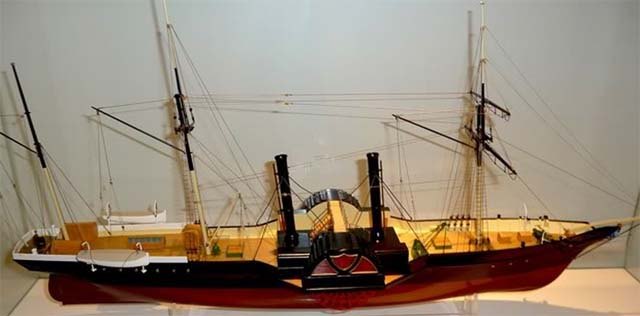 A model of the "Bergen" (1)
Provided by Jřrn Karlsen (UK)
BDS ships to date had only sailed the Norwegian coastal service as well the Norway to Germany service, however the new UK service was instigated when on June 14, 1888 the Norwegian Government agreed to support a new weekly passenger and cargo service from Bergen via Trondheim to Newcastle UK.
The company's first passenger-cargo ship was the 995 GRT, D.S. "Mercur", when in 1890 she commenced the newly established; Norway to UK service.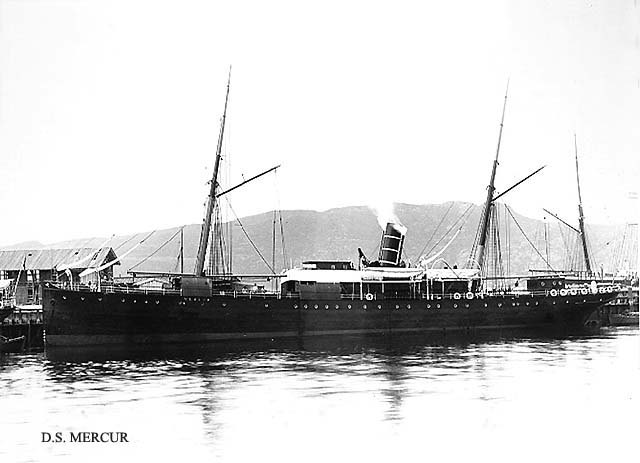 The Mercur is seen here at her berth
Her maiden voyage from Bergen departed on May 31, 1890 departing at 2100 hrs on May 31, 1890 and she arrived in Newcastle early in the morning of June 2. She was joined in 1893 by her new sister ship.
Mercur's sister, D.S. "Venus" joined her in March 1893, although her tonnage was somewhat greater at 1.095 GRT. She was built on the Tyne by "CS Swan & Hunter" and she was delivered in August 1893. She joined the "Mercur" and remained on regular sailings to and from the UK until 1931 when she was sold.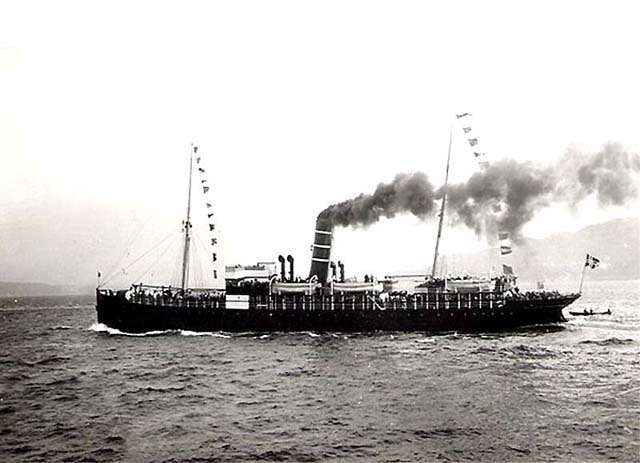 D.S. Venus is seen at sea
Provided by Jřrn Karlsen (UK)
Other notable ships were the D.S Jupiter (2) of 1915, which was sold in 1955 to Epirotiki Steam Ship Co, of Greece who renamed her the "Hermes", and converted her into a luxury cruise ship. Then DDS built the D.S. Leda (1) in 1920 but she was seized by the Germans and was sadly sunk in 1945. But both of these ships did have a  long and a good service with BDS.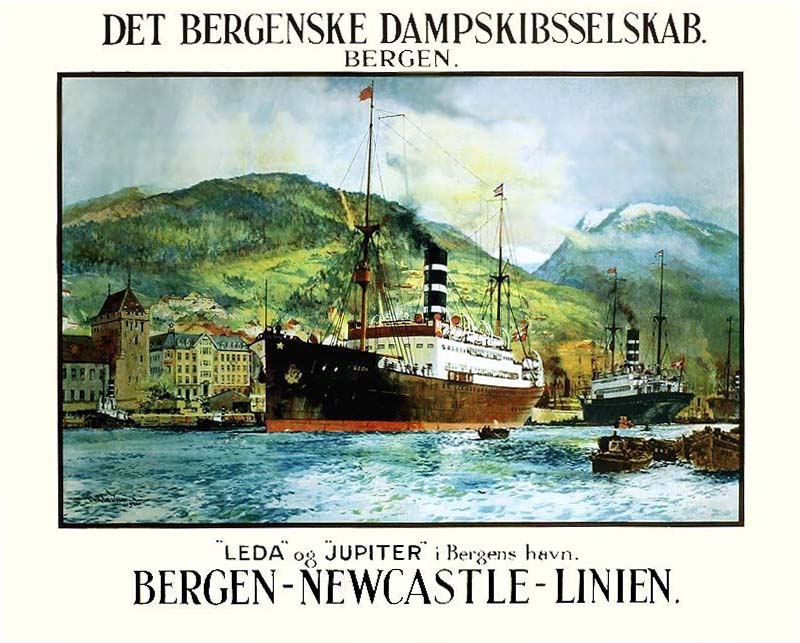 D.S. Leda is seen on the left with the D.S. Jupiter on the right
Cruise ships were later operated by BDS from the early 1900's until 1971, whilst their fleet of cargo ships operated around North and South America.
BDS or the "Bergen Steamship Company", in due course became better known as "The Bergen Line", but in 2004 the company was taken over by the "Anders Jahre" who controlled the "Kosmos Line" who continued to operate as a company to manage the Norway - Newcastle ferry services.
BDS, "The Bergen Line" as from 1921 operated cruise ships, which lasted until 1971. Many do not know that they also set up the "Royal Viking Line" which was done in partnership with "Nordenfjeldske" and operated some of the finest cruise ships.
The steam ship "Meteor" was built and completed in 1904, as a tourist ship for the German "HAPAG Lloyd". After WW1, in March 1921 she was obtained by BDS to become their first major cruise ship. After a refit making her a luxury cruise ship she was officially reregistered in Norway and soon she commenced her cruise duties.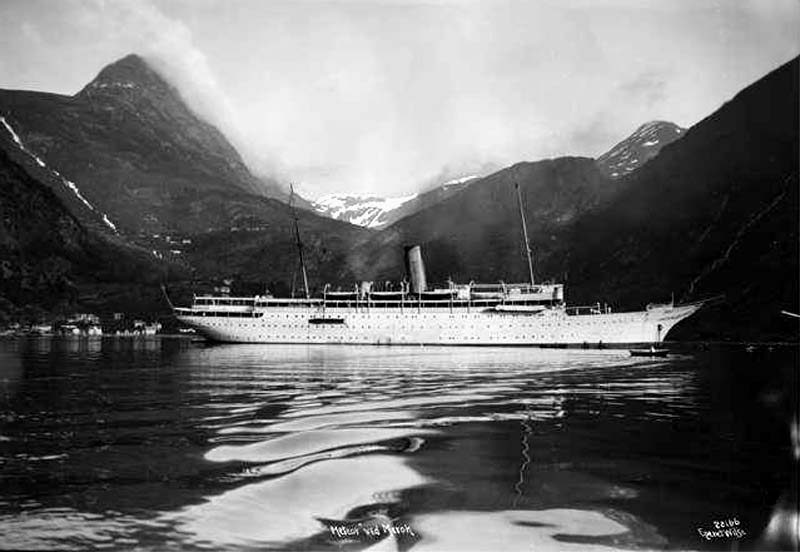 D.Y. "Meteor" of 1904 to 1942
Photo was sent in by an ssmaritime supporter, but the photographer is unknown
*************************
M.Y. Stella Polaris
Construction to Maiden Voyage:

The contract for the BDS' new cruise ship was officially signed on August 4, 1925, and amazingly this was the very first time that the shipyard who won the contract being "Ab Götaverken" in Gothenburg, Sweden would build a passenger ship. As this yard was inexperienced in constructing a passenger ship, let alone a luxurious cruise ship, it was decided that majority of her interior decor would therefore be designed and built by subcontractors; including Selander & Sons who played a major part in the internal design and fitting of woodwork throughout her public rooms and cabins, as well as alleyways and her outdoor teak decks, ensuring that her interiors were ultra luxurious. The Stella Polaris was completed with the highest standards of the time, as the fine cruise ship was going to be aimed at a wealthy market.

The new cruise ship would be named "Stella Polaris". Amazingly, this magnificent ship was designed by the BDS' own technical manager

Knud Zimmer, however it was the Meteor that became the blueprint for her extreamly popular successor, the M.Y. Stella Polaris as we can see from the photo above, however her superstructure would be different.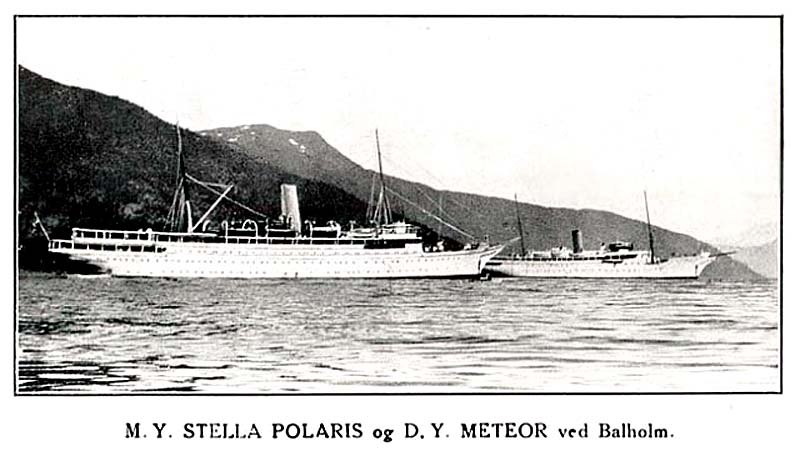 Postcard of the Stella Polaris (left) and the Meteor (right aft)
In appearance the 5,020 GRT, M.Y. Stella Polaris looked very much like a traditional, which was evocative of days long gone, her superbly good looks was perfected by her elegant clipper-bow, that was completed with a decorative bowsprit and she had a traditional counter stern.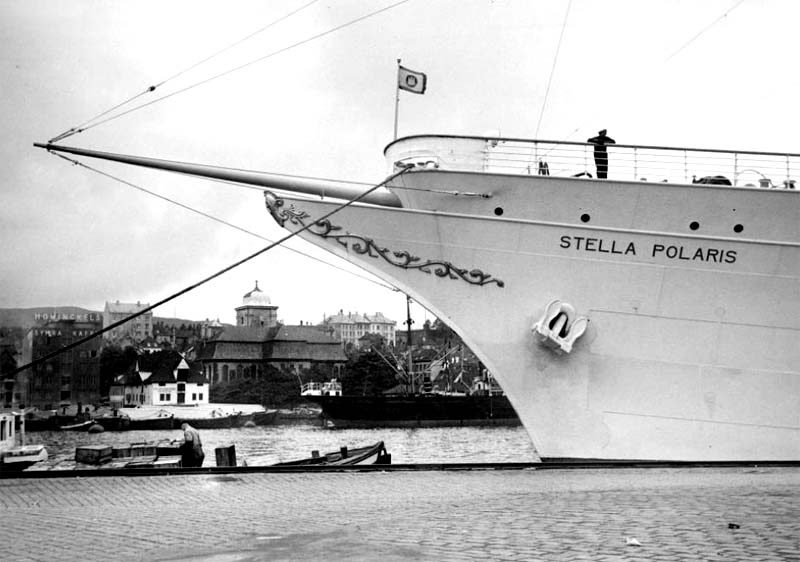 Her elegant bow and decorative sprit
Photo was sent in by an ssmaritime supporter, but photographer is unknown
This all white ship, with a long and an elegant low-level superstructure, she was perfectly balanced with her two tall back sloping masts, combined with a single tall and slender yellow funnel. She certainly looked very much like a glamorous luxurious cruise ship, which BDS intended to build as their supreme new cruise ship.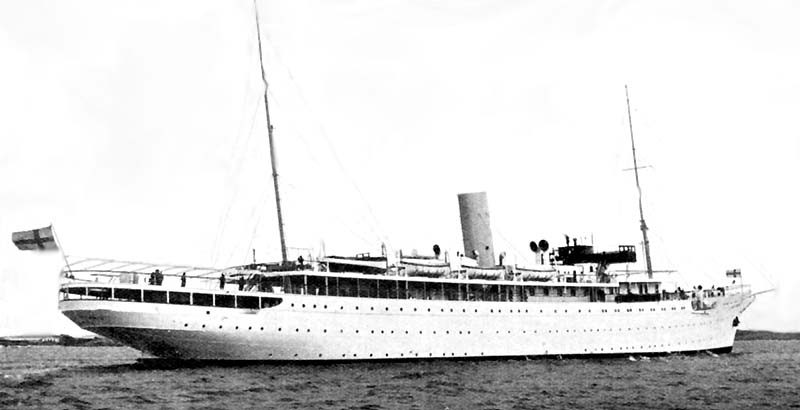 M.Y. Stella Polaris' is seen with her fine counter stern

Photo was sent in by an ssmaritime supporter, but photographer is unknown

She was constructed during 1925 & 1926; and a huge crowd turned up at the yard for her launching. The ship was officially named and launched on September 11, 1926 by

Lillie Lehmkuhl who was the daughter of the shipping company's director Kristofer Lehmkuhl.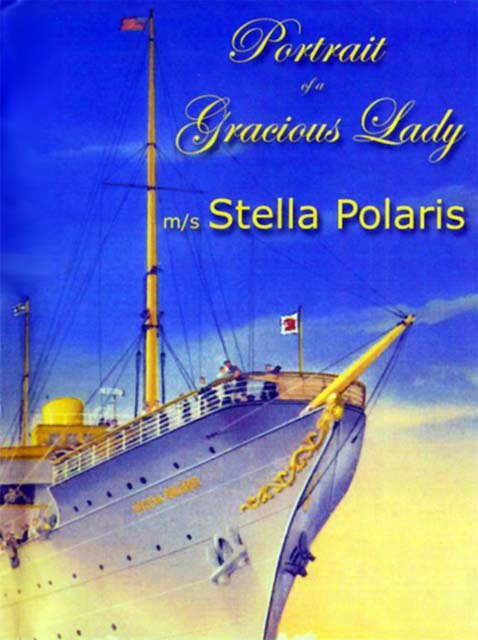 An advanced full colour poster of the M.Y. Stella Polaris
When completed, on February 20, 1927 she undertook her deep sea / speed trials, and after her successful trails, she had reached a maximum speed of 17.5 knots; she was delivered to "Bergen Steamship Company" and this was five weeks earlier then originally scheduled for she was originally scheduled to be delivered in April 1927, having cost "Det Bergenske Dampskibsselskab" (BDS) a total of SKR 4,692,511 (Norwegian Krona).
The M.Y. Stella Polaris offered accommodations for 200 passengers; however during her annual around the world cruise she would accommodate a mere 100 passengers, and the ship having a crew of 130 it is obvious that she offered impeccable service. When not on a world cruise, she operated cruises around the Mediterranean, North Cape, as well as the Caribbean.
The "Stella Polaris" was undoubtedly BDS' very first purpose built cruise ship, making her officially their very first fulltime luxury cruise ship in the world Other ships operated cruises, however they were Passenger Liners that normally operated Line voyages, and cruised only seasonally.
On Saturday February 26, 1927, at Noon, M.Y. Stella Polaris departed Gothenburg for her maiden voyage. She headed for Tilbury in the U.K., where she took on further supplies as well as passengers and she then continued her voyage to Lisbon and then headed for the Mediterranean sector.
During her early career the Stella Polaris better known as being "A glamorous Royal Yacht", considering she offered the most luxurious interiors for the 1920's as well as the finest accommodations for her 200 First Class passengers.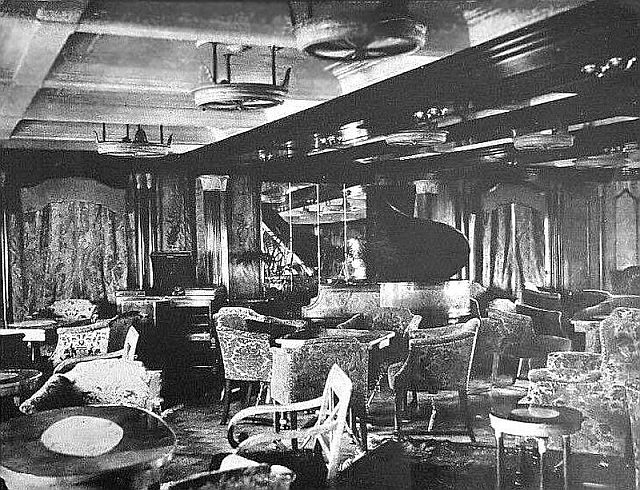 The Social Hall forward on A Deck
Decks and Interiors':
Stella Polaris had six main decks, being Bridge deck with her all timber Bridge, which was followed by A to E decks. Below the Bridge was A or Boat deck that offered a large Observation deck forward of the superstructure, as well as her six lifeboats. Later additions were nine passenger cabins as well as a gymnasium area, with some additional lifeboats. B or Promenade deck was the location of her main lounge areas, such as the Music Salon, a Reading and a Writing Room, the Smoking Room with a Bar and the Verandah Café aft of her superstructure.
One deck down, forward on C-deck, was the location of the beautiful and elegant Grand Dining Room, which could seat 214 guests. C-deck also housed passenger cabins; noteworthy were the 4 deluxe Staterooms, all having two beds as well as having a sofa, which converted to a bed offering room for an additional guest. These Staterooms were designed with variety of fine timbers such as; mahogany, maple, pear and birch and all had Private facilities. In addition there were 70 twin and 50 single Staterooms. However, all the cabins were to be spacious and sumptuously fitted out, all accommodations featured lower beds, and hot and cold water, whilst 35 Staterooms had a full bathroom, as is stated on a promotional leaflet, as is seen below, featuring four cruises in 1928.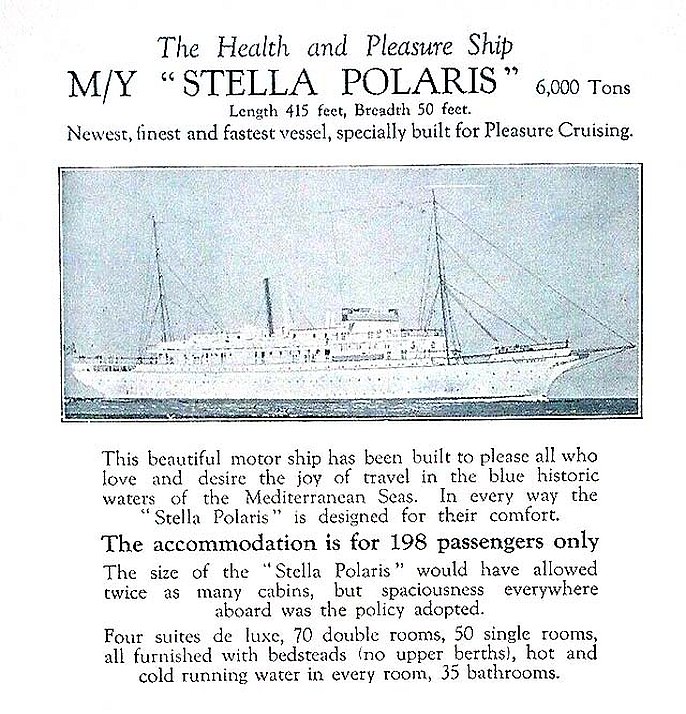 -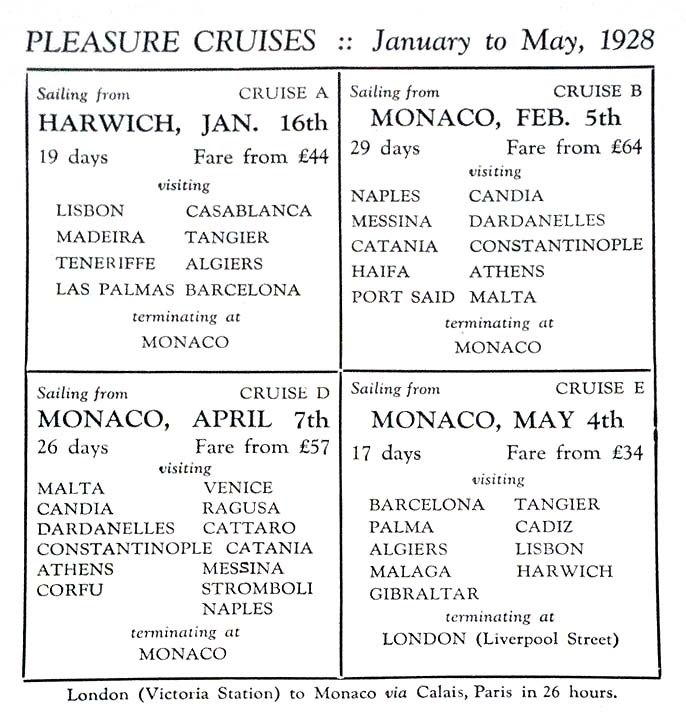 Above we see the cruise promotional leaflet released by the UK agency of BDS
Aft of the accommodations was a beauty Salon, a barbershop and the ships hospital with a doctor's reception. D and E-decks housed further passenger cabins. The crew were accommodated in comfortable four-berth cabins, although a little smaller than the passenger cabins but nevertheless with nice furnishing and decorations.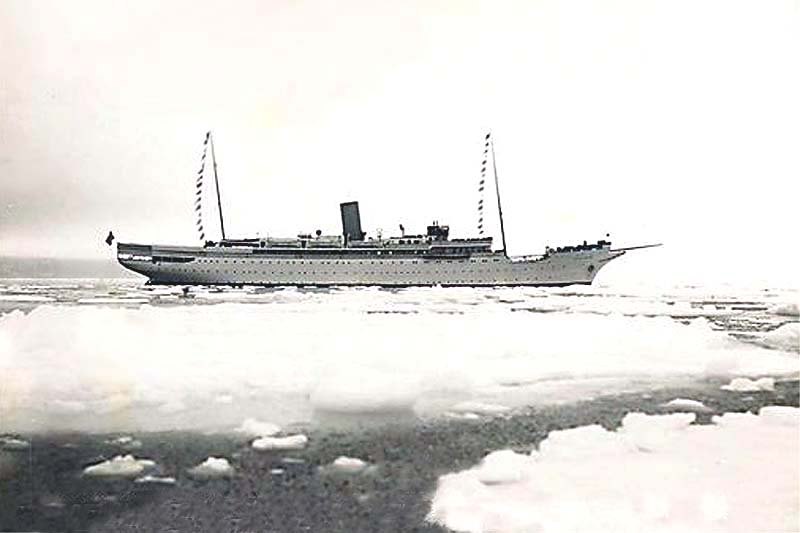 M.Y Stella Polaris is seen as built on August 6, 1930 and is surrounded by ice packs
Later her decks mentioned above were renamed Bridge, Boat, Promenade, Main and A & B decks.
Boat Deck:
Far forward on Boat Deck was the spacious Observation Deck, located forward of the bridge and the officers quarters. Here also were wide and spacious decks, with her seven lifeboats, but later this became eight lifeboats with another aft being two motorised tenders.
A-Deck:
On this deck, commencing from far forward was the magnificent Social Hall (Music Salon) featuring exquisite timber carvings, the finest furnishings beautifully upholstered in fine brocades and fine silk drapes. This spacious venue was followed by a Writing Room on the portside and a Reading Room on the starboard side. Next was the Main Lobby with its Grand Timber Stairwell with its superb and stylish brass railings. Next came the elegant Smoking Room and its Bar located on the port side just aft, followed by the Verandah Café far aft.
B-Deck:
Forward on B deck was the Grand Dining Room, which could seat up to 214 guests. The Grand Stairwell was the entry to this fine venue from A-deck above, as well as there being a door leading to the staterooms located aft of the Dining Room.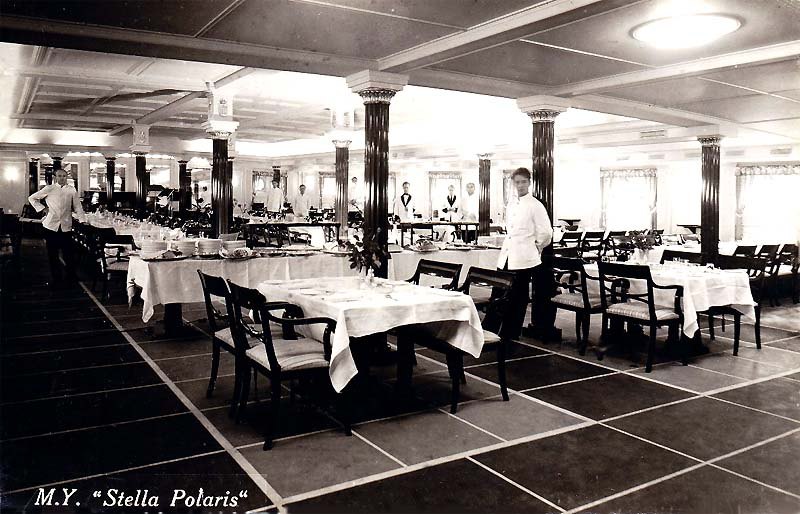 The Grand Dining Room
On B Deck there were the ships deluxe staterooms all having private bathrooms, these staterooms featured fine timbers, such as mahogany, maple, pear as well as birch, whilst all other cabins were also beautifully fitted out, but had mostly had shared facilities. This deck also had a Hairdresser and a Barbershop, as well as the doctor's surgery and sickbay far aft.
D and E-Decks:
These decks offered a range of further passenger cabins.
Cruises:
She continued on her cruise duties, for during spring and the autumn M.Y. Stella Polaris usually cruised in warmer regions like the Mediterranean and the Canary Islands, whilst during the summer months she was stationed in northern waters operating the Norwegian coast, Svalbard and the Baltic Sea cruises.
However during the winter months she operated what became a very popular Around the World "circumnavigation voyage" and this voyage would usually depart from New York. On regular cruises, she carried 200 passengers, while the number of passengers was reduced to just 100 for the "Around the World (circumnavigation) voyages".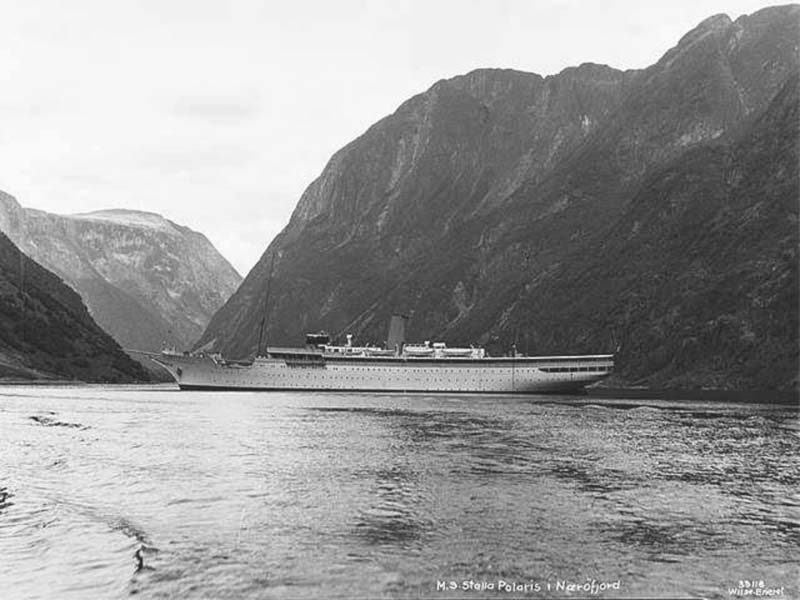 A postcard of the Stella Polaris seen cruising the Norwegian Fjords in the 1930s
She recommenced cruising, but for the 1936 and 1937 cruise season, she included a West Indies Christmas & New Year cruise followed, on 3 January 1937, by a second fully booked West Indies cruise, prior to commencing her sold out world "circumnavigation voyage".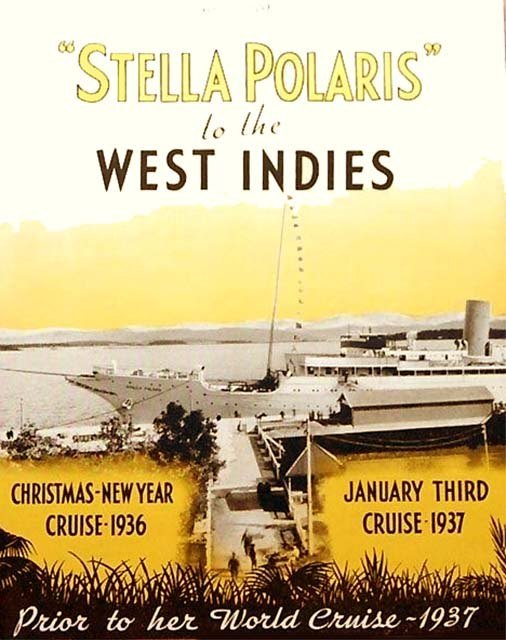 On the night of June 12, 1937, the "Stella Polaris" collided with the small Norwegian Cargo Ship, the 158 ton S.S. "Nobel" in "Aramssundet". The "Nobel" was loaded with dynamite and ammunitions, but thankfully the "Nobel" sank without any of the explosives on board detonating.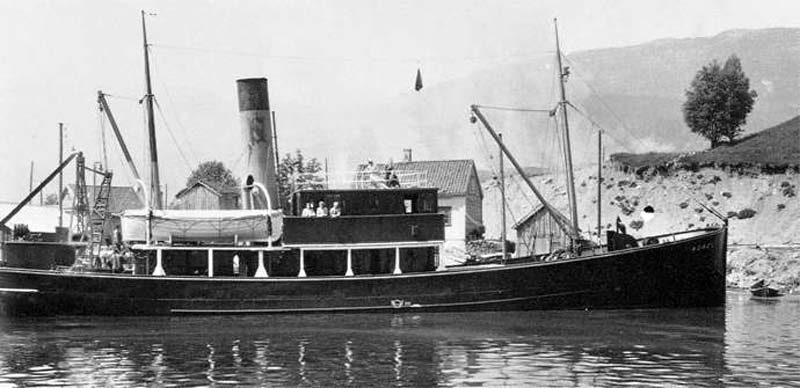 The D.S. Nobel was built in 1912
The "Stella Polaris" suffered only minor damages, to her bow and a broken bowsprit.
Her last World cruise prior to the outbreak of war saw the Stella Polaris depart New York on January21, 1939, and she once again visit Havana transit the Panama Canal, the Galapagos Islands, the a variety of Pacific Islands, Australia, Bali, Colombo, the Seychelles, South Africa, St.Helena, Dakar, Tenerife, Casablanca, Gibraltar, concluding her voyage at Southampton on May 12, 1939.
She continued her cruise duties until September 1, 1939, when she returned to Oslo. But as World War Two had broken out on that very same day she had arrived back in Oslo as Germany had invaded Poland, it was decided to immediately lay her up. Soon there after, in order to protect the Stella Polaris, her owners ordered the ship to be moved to the Osterfjord, which is not far from Bergen.
WW2:
It was on April 9, 1940 that German warships entered the man Norwegian ports, from Narvik to Oslo, deploying thousands of German troops and they occupied Norway. At the same time, German forces also occupied Copenhagen, as well as other Danish cities.
Then on October 30, 1940 German Navy seized the ship, and she was soon placed in use as a floating accommodation Barracks for German U-Boat officers.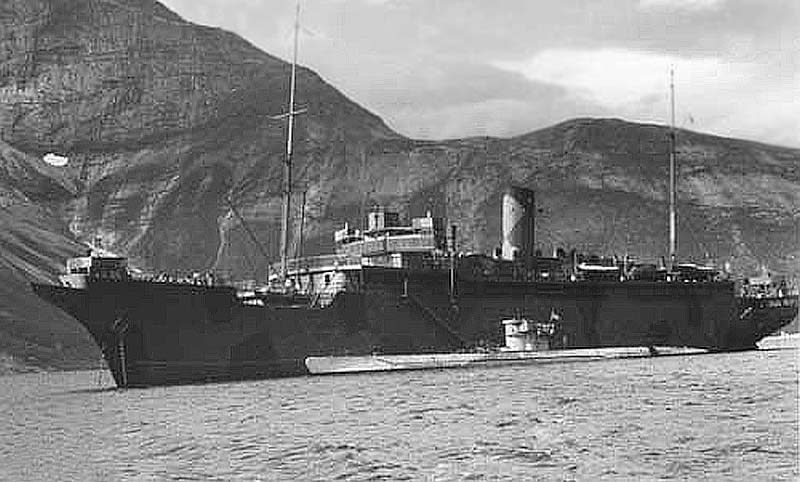 The Stella Polaris is seen in her German war livery
Later, on September 1, 1943 the Stella Polaris was placed under the German flag and she became fully crewed by an all German staff.
After the Germans finally surrendered on May 8, 1945, the Stella Polaris arrived in Trondheim were she was again laid up briefly. However in June 1945 she was taken over by the "British Ministry of War Transport" and she was used to transport Soviet prisoners of war from "Mo i Rana" in Norway to "Murmansk" Russia. In addition she also operated for a brief time as a troop transport ship between Norway and Leith in Scotland.
Back to her Norwegian Owners:
On August 18 1945 she arrived at Oslo and was docked at "Akers Verksted for an overhaul, for sadly this once magnificent ship sadly looked more like a rust-bucket and she was in a terrible state. Sadly most of her luxurious and classic interiors had been close to being destroyed by the Germans, however the engine room thankfully remained in top condition and well maintained, but sadly her beautiful bowsprit was also missing. After her overhaul she was returned to the Bergen Line on November 7,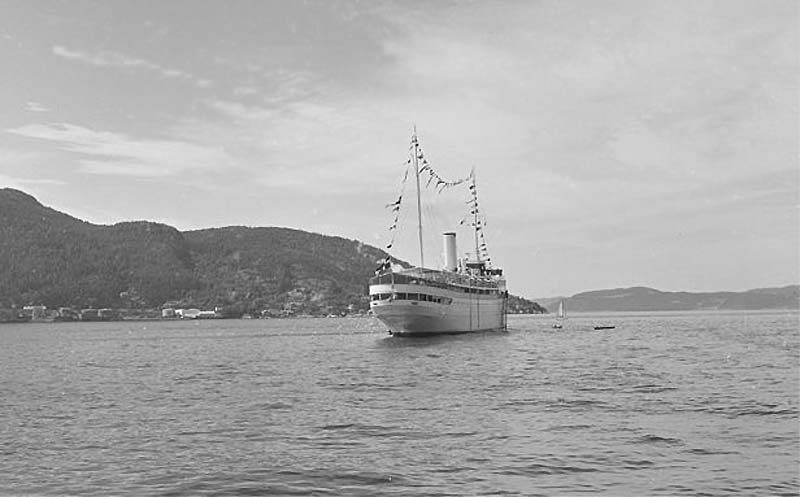 The Stella Polaris retuned to her cruise duties
The "Bergen Steamship Company" decided that the "Stella Polaris" remained a ship of great value and therefore they decided to completely restore the ship to her to her former glory and she was sent on November 14, 1945 to the "Götaverken" shipyard in Gothenburg to be fully restored and refitted to become the magnificent cruise ship that she had been.
Some of the changes to the ship were as follows; her bridge was now fully enclosed and also installed was the very latest navigation equipment. Another big change was that a brand new ship-wide ventilation system was installed, whilst internally she was given a new feature, a new Dance Hall. Also during this refurbishment her passenger capacity was reduced to 189 Guests. Amazingly her complete renovation cost "Bergen Line more than her original construction costs.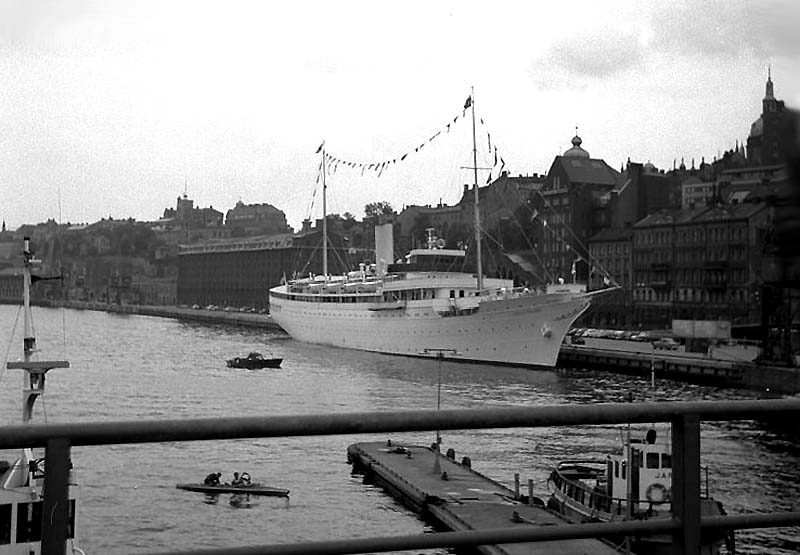 The elegant Stella Polaris, is seen berthed at her home port, ready for depaeture
When completed, she was returned to the Bergen Line on June 1, 1946 and she was made ready to recommence cruising. She departed from Bergen on August 10, 1946, for a repositioning cruise to New York, from where she would once again operate her popular Caribbean cruising season. For the very first time since 1940 the Stella Polaris departed New York on August 10, 1946 filled with paying passengers on her first cruise to the Caribbean. Her schedule was as follows; she sailed from New York to Nassau, San Juan, St. Thomas, Fort de France, Caracas, Kingston and calling at Cuba prior to her return to New York.
She then commenced four longer cruises, visiting the Bahamas, Bermuda to Puerto Rico, the Virgin Islands, Martinique, Venezuela, Curacao and Jamaica, once again calling again at Havana during her voyage back to New York.
During the summer of 1947, she was placed on a temporary operation between Bergen and Newcastle in the U.K., this was because M.S. "Venus" was under renovation. In November 1947, she returned to her cruise duties and operated both in Europe. In the summer of 1948, she made a number of voyages between Bergen and London during the 1948 Olympic Games.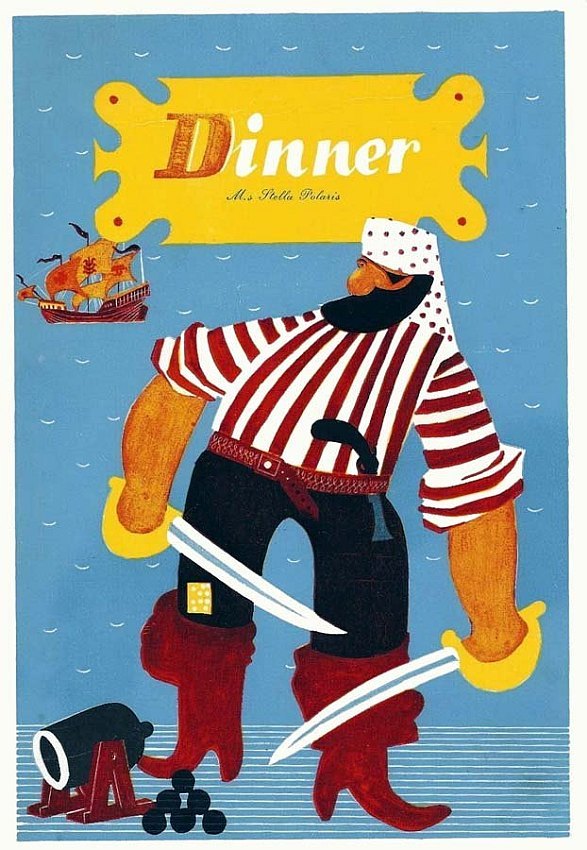 -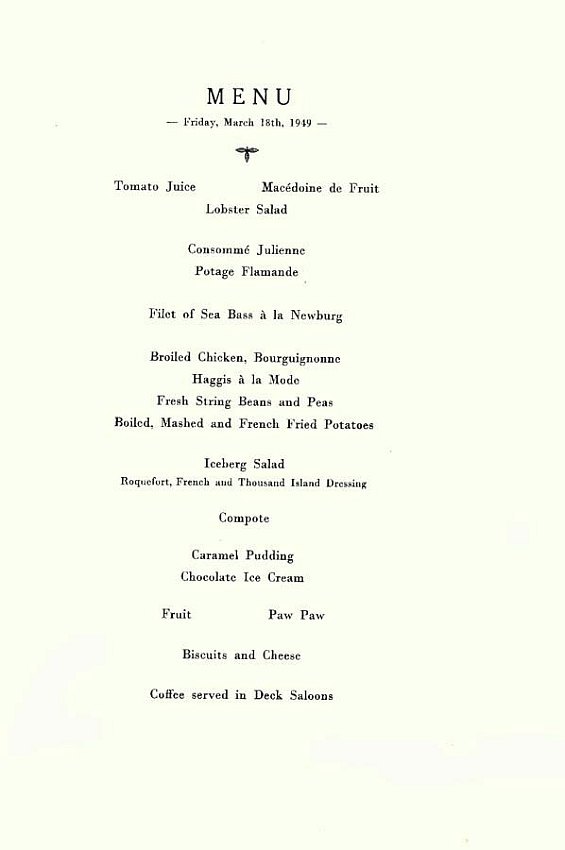 Dinner Menu from Friday, March 18, 1949
However her Caribbean cruises from the New Orleans continued, as well as her 134 day "Around the World" Cruise, and the last one with the Bergen Line commenced early in January 1951.
On October 13, 1951 the M.Y. "Stella Polaris" returned to Bergen for the last time, as she had been placed on the International market. However it was on October 23, 1951 that she was sold to "Einar Hansen" of Malmö, Sweden, being the owner of a newly established cruise company "Rederi Ab Clipper", or the "Clipper Line", for her to operate cruises in the Caribbean, the Mediterranean the Baltic Sea and some other regions.
Please Note: Her Deck Plans and Specifications are on Page Three. Use the Stella Polaris Index below.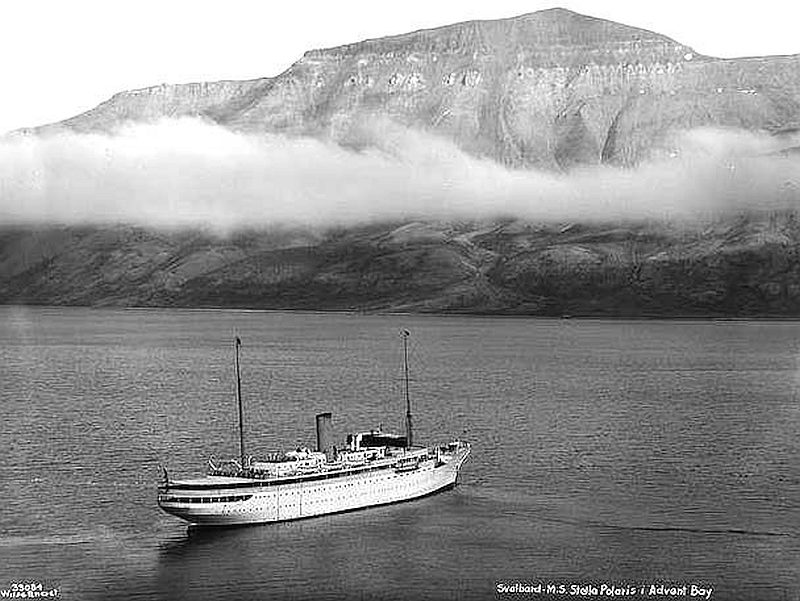 A Bergen Line postcard of the Stella Polaris cruising the Norwegian Fjords
MY Stella Polaris Index:
Page One:            With the "Bergen Steamship Company" from 1927 to 1951.
Page Two:            With the "Clipper Line" from 1951 to 1969 & Under Japanese control.
Page Three:         Deck Plans & General Specifications.
*************************
"Blue Water Liners sailing to the distant shores.
I watched them come, I watched them go and I watched them die."

Featuring over 1,435 Classic Passenger Liners, Passenger-Cargo Liners & Classic Cruise Ships!
Or ENTER HERE
For interest: Sadly email service to ssMaritime is no longer available, due to the author's old age and chronic illness as well as being disabled, etc. In the past ssMaritime received well over 120 emails per day, but Goossens can no longer handle same. He sincerely regrets this!
**************************
ssMaritime.com & ssMaritime.net
Where the ships of the past make history & the 1914 built M.S. Doulos Story.
The Author has been in Passenger Shipping & the Cruise Industry for well over 60 years
In addition he was the founder of "Save the Classic Liners Campaign" in 1990.
Please Note: ssmaritime and associated sites are 100% non-commercial and the author seeks no funding or favours of any shape or form, never have and never will!
Photographs on ssmaritime and associate pages are by; the author or from the author's private collection. In addition there are some images that have been provided by Shipping Companies and private photographers or collectors. Credit is given to all contributors. However, there are some photographs provided to me without details regarding the photographer/owner concerned.
This notice covers all pages; although, and I have done my best to ensure that all photographs are duly credited and that this notice is displaced on each page, that is, when a page is updated!
ssMaritime is owned & © Copyright by Reuben Goossens - All Rights Reserved.