Canadian Pacific Rail's T.E.V. Princess Patricia II and her sister the Princess Marguerite II of 1949
Please Note: Firefox, iPhones, iPads & some other Search Engines may not be suitable
Use Internet Explorer & Google for this Web Page to load perfectly!

Click the logo above to reach the ssMaritime FrontPage for Ships of the Month & News Updates
With Reuben Goossens
Maritime Historian, Cruise'n'Ship Reviewer, Author & Lecturer
Please Note: All ssmaritime as well as my other related maritime & cruise sites are 100% non-commercial and privately owned sites. Be assured that I am NOT associated with any shipping or cruise companies or agencies or any other organisations! The author has been in the passenger shipping industry since May 1960, but although retired and unwell, I occasionally attempt to write an article now and then, in order to bring enjoyment and pleasure to ship enthusiasts past passengers and crew.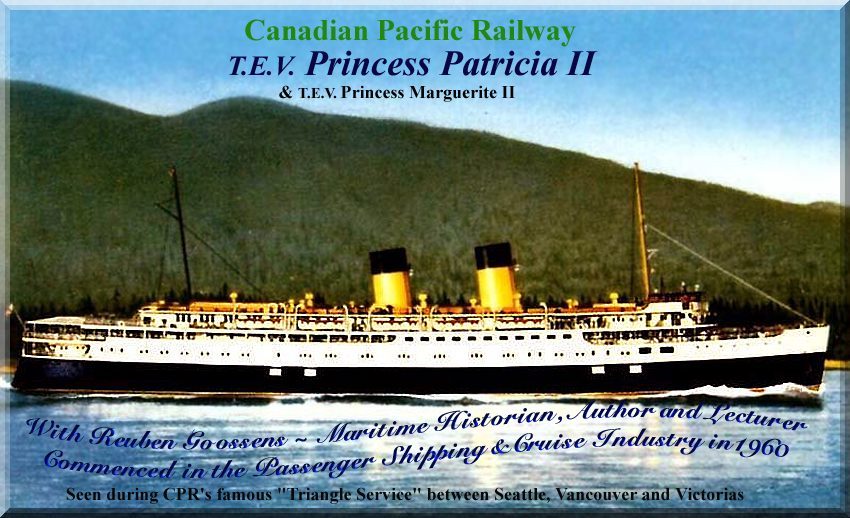 Please Note: Photographs on this feature are from the author's massive maritime collection or as
stated otherwise. There are some that have been provided to me by supporters but I have no details
For the latter, please see the photo notes at the bottom of this page, thank you
Page Two
Introduction:
It you have reached this page via the search engine the extensive history of the delightful T.E.V. Princess Patricia can be found on Page One. This page contains her Photo Page and Deck Plan as a cruise ship!
If you wish to read her complete history, with many photographs on Page One first, go to the bottom of this page and use the Link to Page One.
Photo Album:
This album presents images from a brochure, which is part of the author's private maritime collection and it reveals the Princess Patricia's interiors, as well as her decks, etc, which had not changed since her refit into a cruise ship back in 1963. The only new addition was the installation of air-conditioning and a swimming pool which was added for what became the Princess Cruises charter in 1965.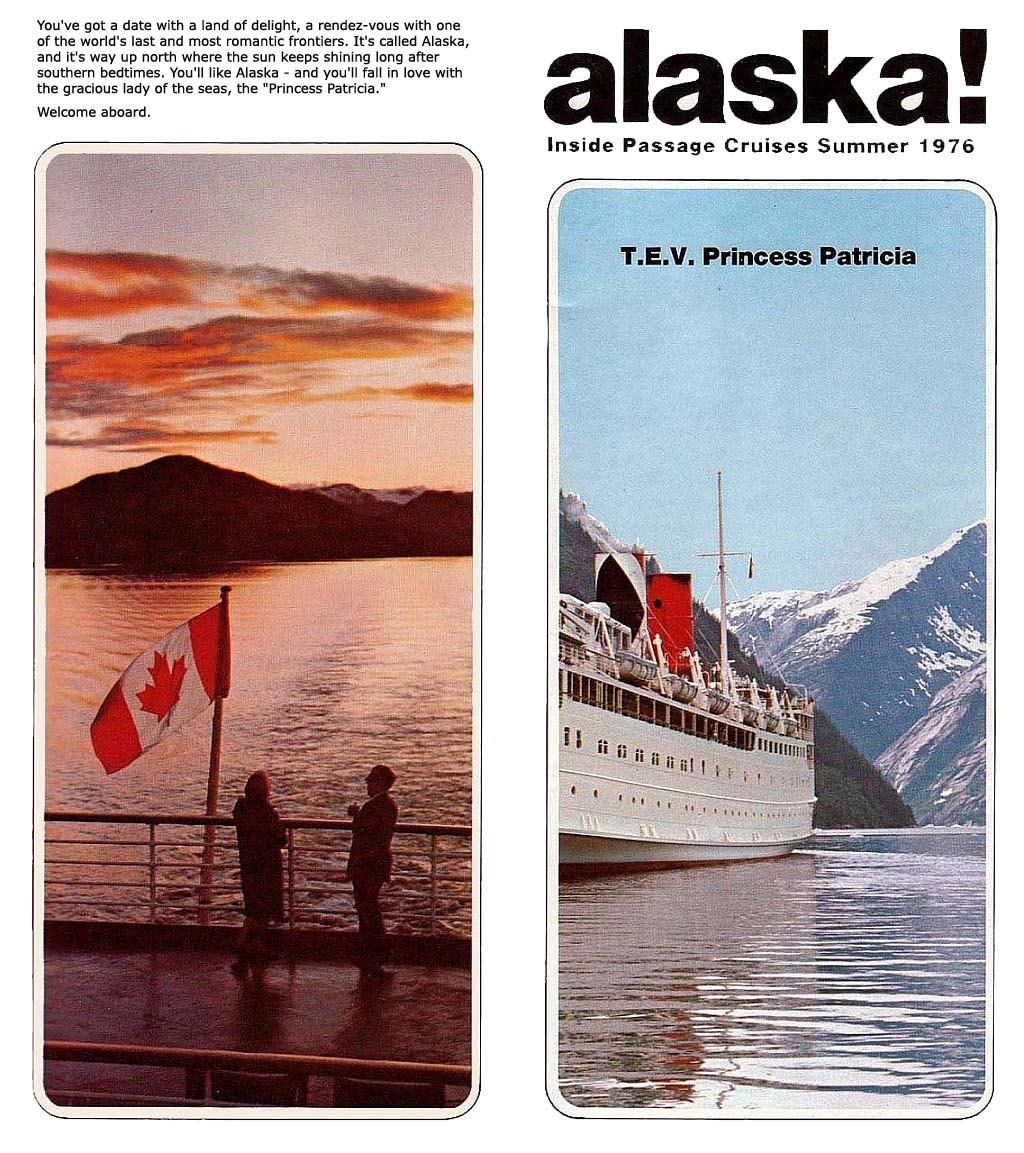 The Front and Back covers of CP's Alaska cruise brochure for 1976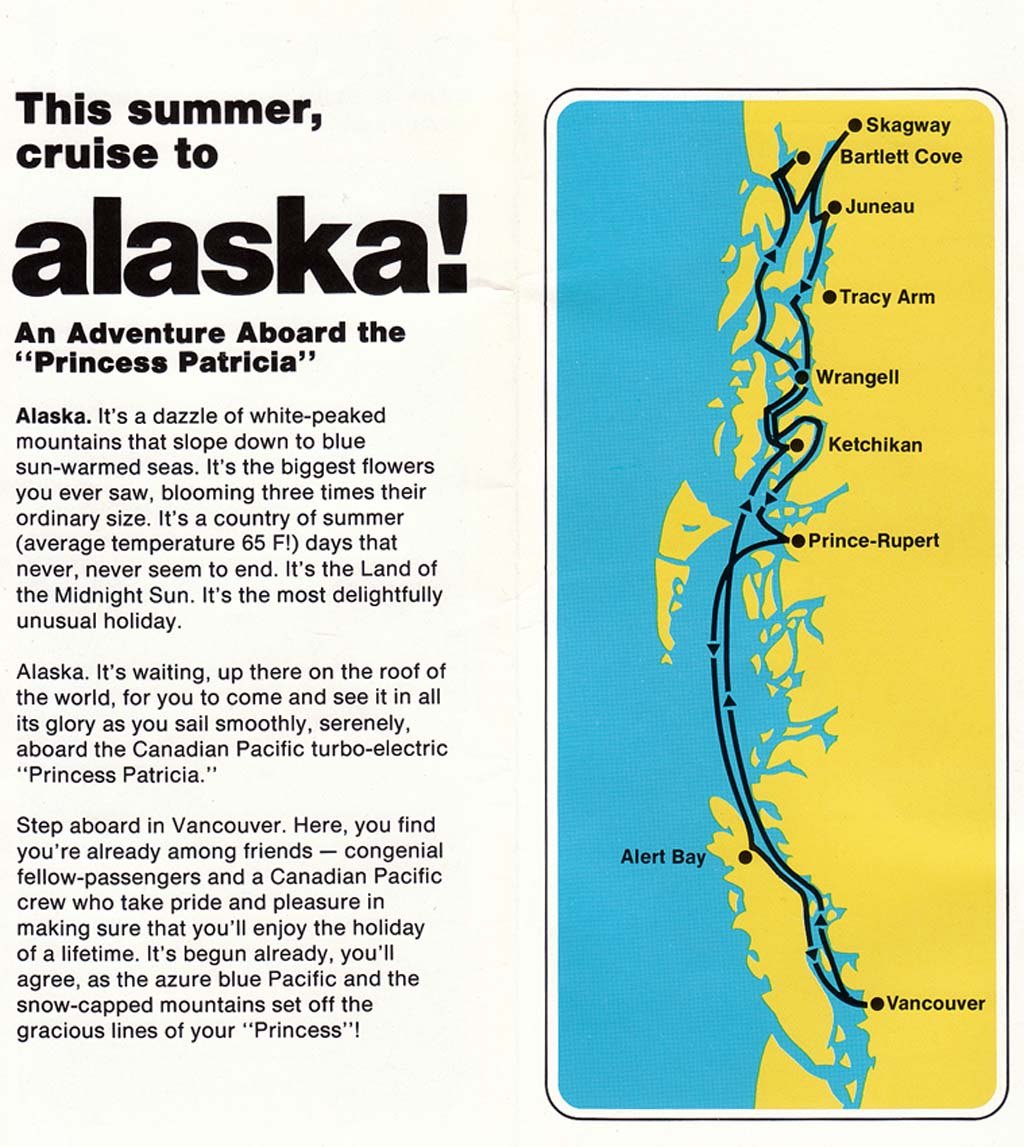 1976 CP's Alaska cruise brochure CP's Alaska cruise brochure's inside cover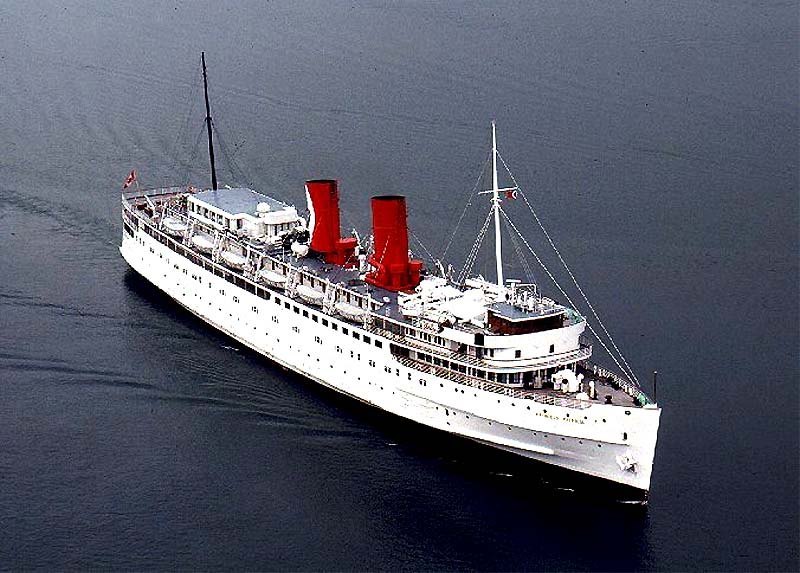 T.E.V. Princess Patricia is seen with her final livery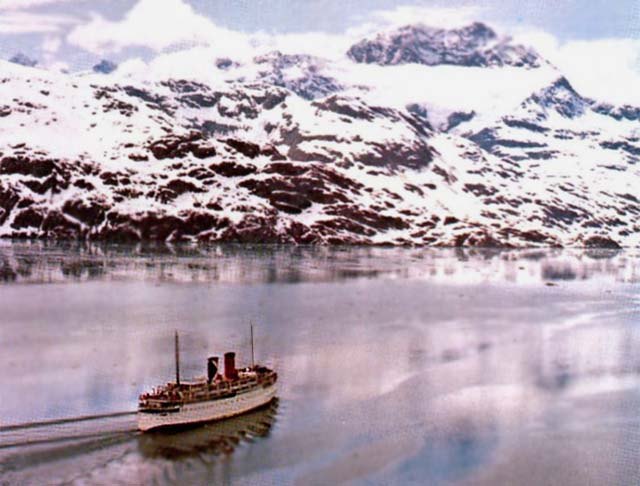 Here she is seen cruising Alaska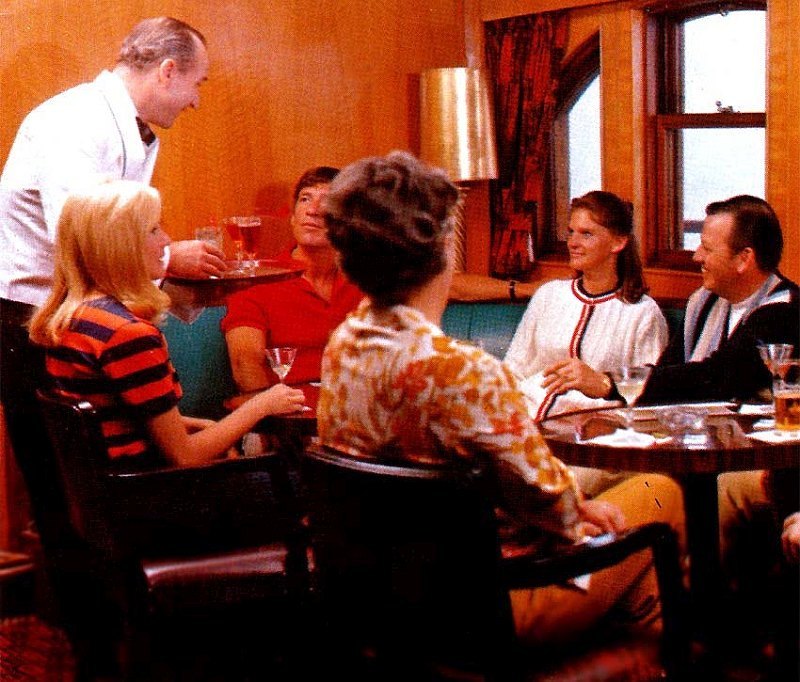 A bar scene on board the Princess Patricia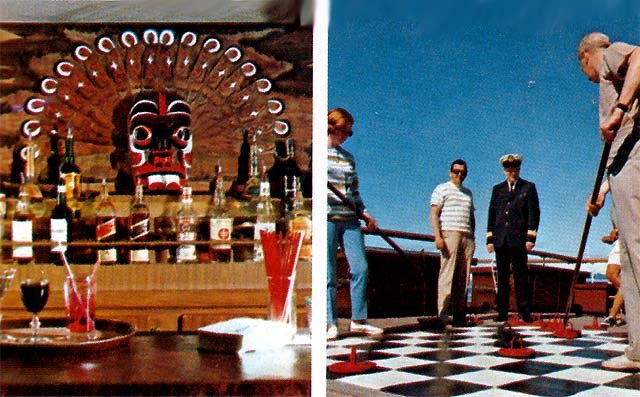 The Bar and out on deck and the Draughts and Chess Board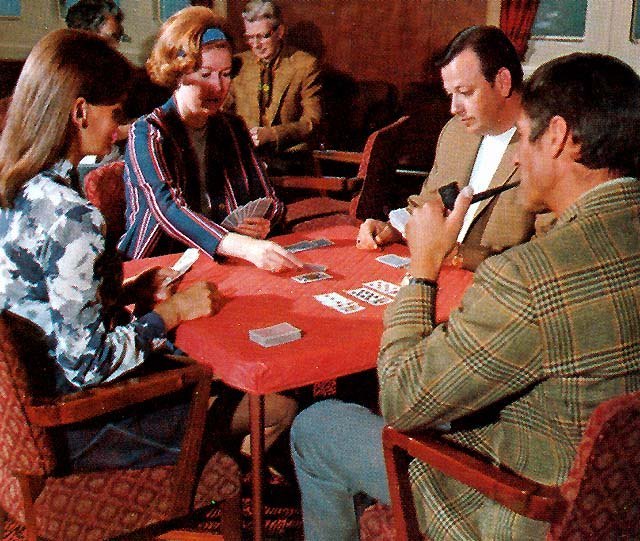 Passengers enjoying a game of cards in the Card Room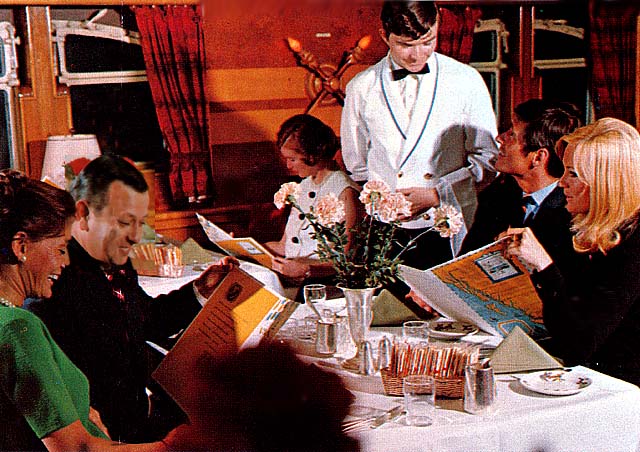 Passengers enjoying a fine meal in the Restaurant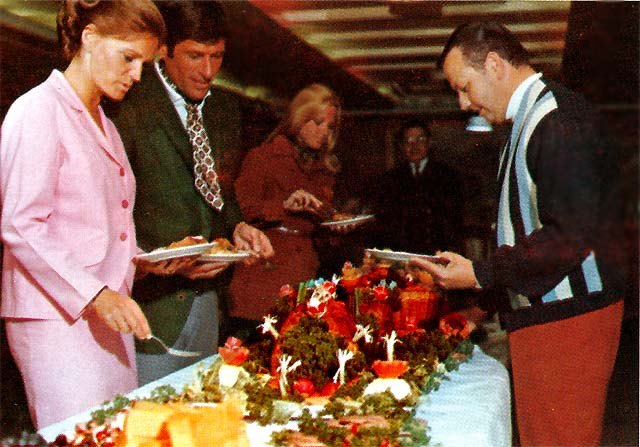 Like any good cruise ship there is always an excellent "Midnight Buffet"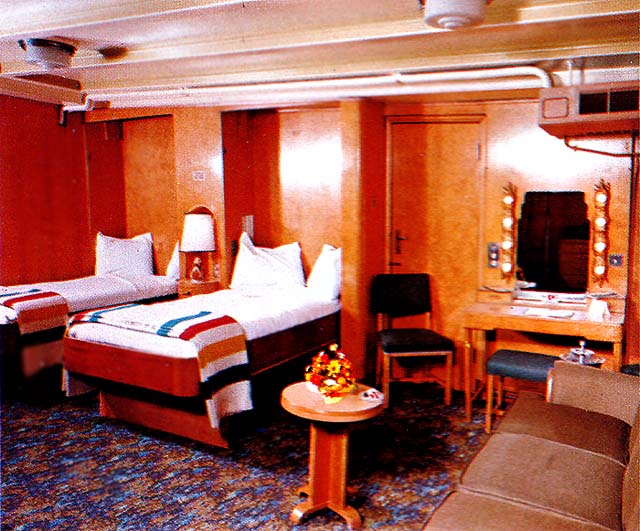 A deluxe twin bedded Stateroom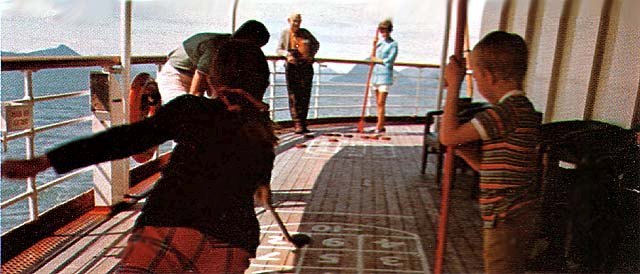 Another popular game was always Shuffle Board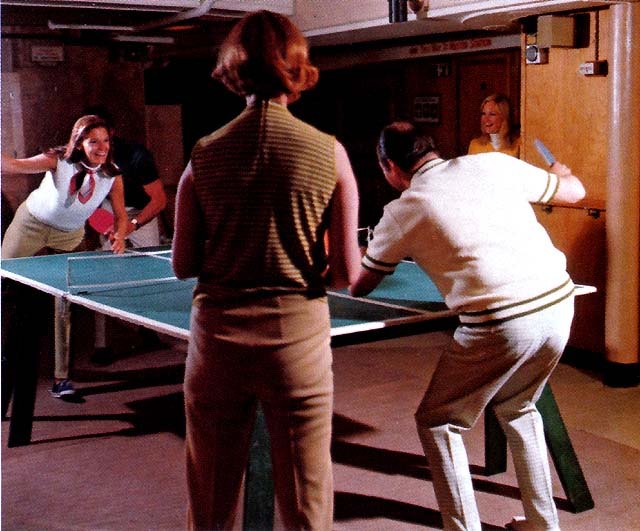 Table Tennis was just one more of the sports activities on board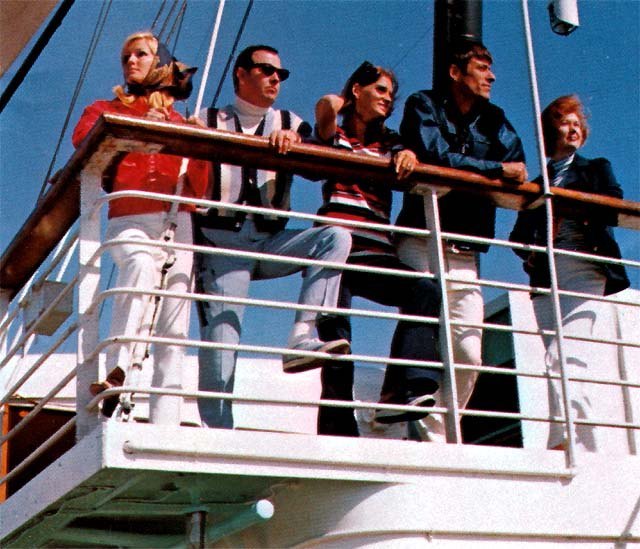 Passengers on the top deck watching an arrival in another port
Deck Plan - This is a small version, a Large version can be viewed by clicking this LINK or the Plan below itself
When the large Plan opens, it may reduce in size, just one click will return it to its full size!!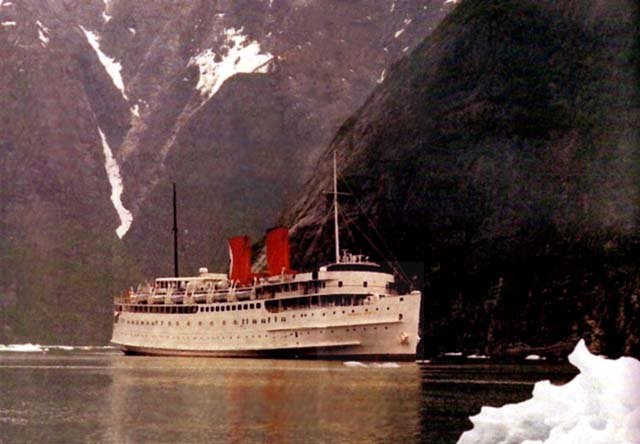 The Princess Patricia is seen in Alaskan waters
The majority of times, it would be the ever popular Captain George Black who would be in command of the T.E.V. Princess Patricia" whilst she was on her Alaskan Cruises.
***********************************
Go or Return to Page One: T.E.V. Princess Patricia's History Page
There is a delightful comprehensive 28 minute film covering a Princess Patricia cruise of Alaska
with full narration and music. Use the link to enter: https://youtu.be/dyV3auKCX9U.
***********************************
"Blue Water Liners sailing to the distant shores.
I watched them come, I watched them go and I watched them die."
Return to the ssMaritime MAIN INDEX
ssMaritime.com & ssMaritime.net
Where you will discover over 1,300 Classic Liners & the 1914 built MV Doulos Story
The Author has been in Passenger Shipping & the Cruise Industry for some 60 years!
Also visit the …
"Save The Classic Liners Campaign"
Founded in the early 1990's - The author is the founder and president
Please Note: ssmaritime and associated sites are 100% non-commercial and the author seeks no funding or favours of any shape or form, never have and never will!
Photographs on ssmaritime and associate pages are by; the author or from the author's private collection. In addition there are some images that have been provided by Shipping Companies and private photographers or collectors. Credit is given to all contributors. However, there are some photographs provided to me without details regarding the photographer/owner concerned. I hereby invite if owners of these images would be so kind to make them-selves known to me (my email address may be found on www.ssmaritime.com only), in order that due credit may be given.
This notice covers all pages; although, and I have done my best to ensure that all photographs are duly credited and that this notice is displaced on each page, that is, when a page is updated!
ssMaritime is owned & © Copyright by Reuben Goossens - All Rights Reserved