Canadian Pacific Rail's T.E.V. Princess Patricia II and her sister the Princess Marguerite II of 1949
Please Note: Firefox, iPhones, iPads & some other Search Engines may not be suitable
Use Internet Explorer & Google for this Web Page to load perfectly!

Click the logo above to reach the ssMaritime FrontPage for Ships of the Month & News Updates
With Reuben Goossens
Maritime Historian, Cruise'n'Ship Reviewer, Author & Lecturer
Please Note: All ssmaritime as well as my other related maritime & cruise sites are 100% non-commercial and privately owned sites. Be assured that I am NOT associated with any shipping or cruise companies or agencies or any other organisations! The author has been in the passenger shipping industry since May 1960, but although retired and unwell, I occasionally attempt to write an article now and then, in order to bring enjoyment and pleasure to ship enthusiasts past passengers and crew.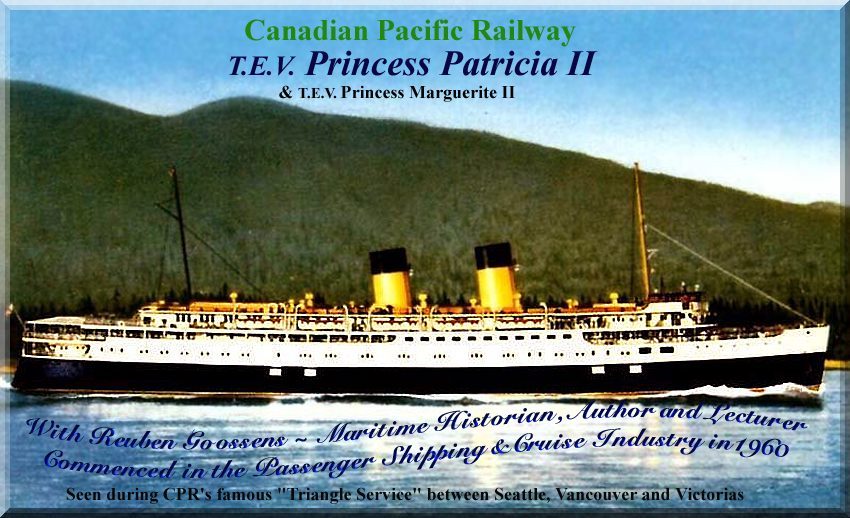 Please Note: Photographs on this feature are from the author's massive maritime collection or as
stated otherwise. There are some that have been provided to me by supporters but I have no details
For the latter, please see the photo notes at the bottom of this page, thank you
This feature will cover mostly the T.E.V. (Turbo Electric Vessel) Princess Patricia II, which is the ship that in 1966 became the very first ship to operate as a Princess Cruises' ship and as we know, thereafter "Princess Cruises" become a major, and one of the largest Cruise Companies in the world. Therefore this already delightful luxury daytime Passenger-Car Ferry would in due course become a magnificent small Cruise Ship and she was entirely responsible for the beginnings of what became one of the great Cruise Companies in the world!
We should not forget however the beginnings of the Canadian Pacific Railway (CPR) "Princess" fleet of ships over the years, and I will cover just several of these as well in the company's history.
But re the ship in question, it was in 1949 that two new 5,911 GRT (Gross Registered Tons) luxurious coastal Passenger-Car Ferries were constructed for the Canadian Pacific Railway by the "Fairfield Shipbuilding and Engineering Company, Ltd" in Glasgow, Scotland. These two ships were built at a cost of four million dollars each, and they were especially constructed to provide a luxury express day Passenger-Car Ferry service on CPR's famous "Triangle Service" between Seattle, Vancouver and Victoria. However before looking at these two fine ships, which are this features two main ships in question, let us look back at CPR's history, which is quite remarkable!
Part One
- CPR's History & Several of their early Ships:
In 1881, the "Canadian Pacific Railway" company was officially formed, but it was also known as the "British Columbia Coast Steamship Service" (BCCSS), which would provide a daily passenger service to various coastal communities for the next 80 years. There were many of their coastal ships that would carry the name "Princess", but this came about more after the turn of the century when the economy and population of British Columbia expanded dramatically and CPR decided to enlarge its fleet, as their ships had certainly become the pride of their coastal service and they ended up with an excellent fleet of thirty-two ships.
Part Two -

S.S. Princess Patricia I:
This small ship was built in 1902 as the 665 GRT Steam Turbine Ship; S.S. Queen Alexandra, built by William Denny & Bros, at Dumbarton for "J. Williamson's Turbine Steamers Ltd." She was 270 ft long, 3.1 ft wide and had a depth of 5.5 ft. As built she had 3 Parsons Turbines, 4.400 SHP, with 5 screws, 2 screws on each of the outer shafts and one on centre shaft with a speed of 18 knots.
She operated from Greenock, to Dunoon, Wemyss Bay, Fairlie and then by Garroch Head to Loch Fyne where she called at Tarbert and Ardrishaig. Passengers would catch, the vessel at various ports being able to connect having used a train or a bus that was scheduled to connect with her arrival at the various ports.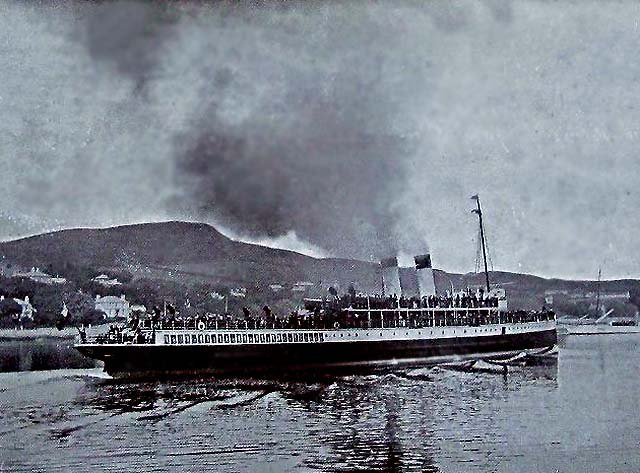 The S.S. Queen Alexandra is seen departing Campbeltown in 1912
In 1905 she was placed into dry-dock for her regular maintenance, but it had been decided to remove 2 of her outer screws, leaving to 3 screws, one per outer shaft and one on the center shaft, being more than sufficient to operate her at her normal speed.
Around August 1911 discussions were being held between "J. Willaimson's Turbine Steamers Ltd" in regards to CPR purchasing the S.S. Queen Alexandra. But suddenly on September 11, 1911, the ship caught fire whilst she was berthed for the night in Albert Harbour at Greenock. Although she had been damaged but thankfully it was not too severe and it could be repaired. Negotiations to sell the S.S. Queen Alexandra to CPR did recommence and in due course a deal was made with a good deal for CPR, but on the basis that the ship would be fully repaired and be in perfect condition with all certificates passed etc, when she was handed over.
When all repairs had been completed it was in 1912 that she was handed over, and CPR renamed her "Princess Patricia." She departed the UK and this very small ship sailed successfully across and southward the Atlantic Ocean, then around "Cabo de  Hornos" or "Cape Horn" - the tip of South America and then north to Vancouver with various stops on the way.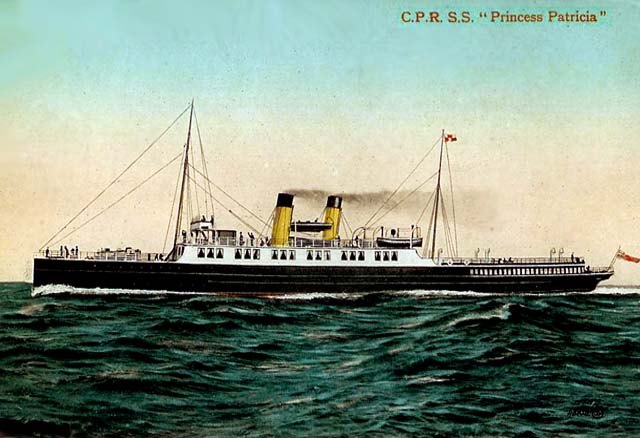 This is a 1912 illustrated postcard of CPRs' newly acquired S.S. Princess Patricia I
Upon her arrival she again entered dry-dock where she was partially rebuilt and completely refitted and reregistered by CPR as being 1,158 GRT.
having been rebuilt and completely refurbished the S.S. Princess Patricia I was almost like a brand new ship and this delightful new small luxurious ship commenced operating out of Vancouver to Victoria B.C. and soon proved that this fine Parson Tiurbine Steamer was the fastest ship in the fleet, as well as the fastest ship ever to operate on this service to date!
She continued and was a very popular ship until in May 1937 and she was laid up later that year and then sold to a local ship breaker in Victoria B.C., and the Princess Patricia was broken up by "Capitol Iron & Metals Co Ltd" in 1938.
Just for interest, there was one more ship of special interest, and that was the S.S. Princess Beatrice, which was completed in 1903, however she did have the honour of being the very first ship to be especially built for CPR. She was s fine small steamer that was built by the local "British Columbia Marine Railway Co., Ltd" at Esquimalt, B.C. Although she was a wooden vessel of 1,290 GRT, she was powered by a single reciprocating engine of 1,392 HP, giving her a fine speed of 13 knots and she proved to be a good and a strong ship during her lifetime!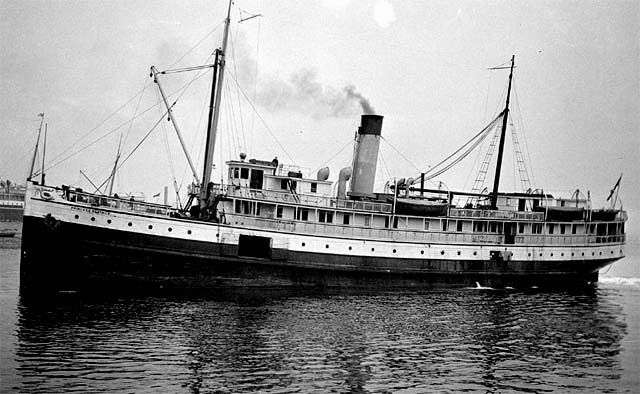 The little S.S. Princess Beatrice of 1903
She was certified to operate with 350 day passengers. However, for overnight services she could accommodate up to 86 passengers using her 40 staterooms. She was retired in 1928 and sold.
Part Three -
S.S. Princess Marguerite I:
The turbine steamship Princess Marguerite I was launched in 1924, at the "John Brown & Company Ltd" shipyards at Clydebank near Glasgow, Scotland, for CPR's "Triangle Service". She was a 5,875 GRT ship and was 350 ft in length, 60 ft wide, and powered by powerful steam turbines which operated her twin screws that gave her a maximum service speed of 22.5 knots. This magnificent vessel was a class of ship that CPR called one of the "Miniature Luxury Liners".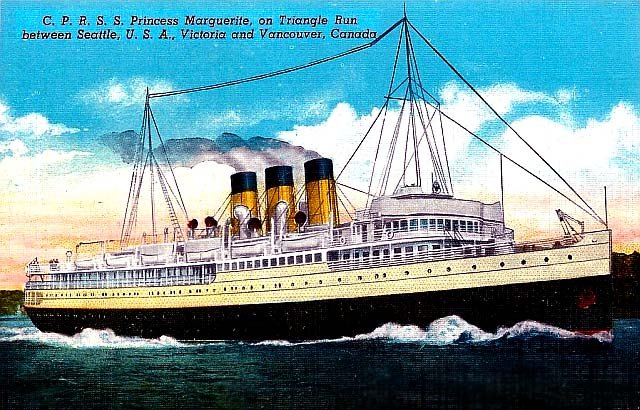 A beautiful colour postcard of the wonderful new S.S Princess Marguerite I
She was officially named for "Marguerite Kathleen Shaughnessy", the daughter of Baron Thomas George Shaughnessy (1853-1923), who was a former CPR President and Chairman of the Board. When she was completed, it was on March 25, 1925, that the S.S Princess Marguerite departed Scotland for her long voyage to Victoria B.C. Having arrived she commenced on the famous CPR "Triangle Service", providing continuous service between Seattle, Victoria, and Vancouver.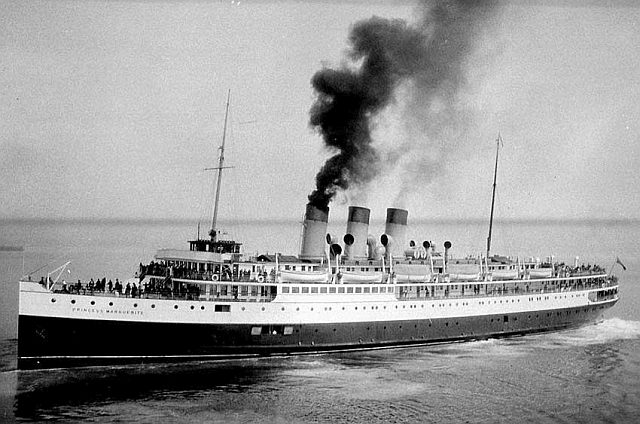 A fine photograph of this wonderful ship the S.S. Princess Marguerite I, but bad times lay ahead!
With World War II having commenced, the British Admiralty and the Ministry of War Transport, requisitioned the Princess Marguerite for use as a troop transport in September 1941. She received a refit to become suitable as a trooper, and when completed she headed off filled with troops bound for the Middle East. During a voyage on August 17, 1942, around midday the S.S. Princess Marguerite was sailing together in a small convoy from Port Said, to Famagusta on the Mediterranean island of Cyprus.
Despite air cover and in company of an escort of three destroyers as well as the armed merchant cruiser HMS Antwerp, the Princess Marguerite, was hit by two torpedoes, which were fired by the German of the Kriegsmarine U-Boat U-83, when she was located at 32°03'N 32°47'E - west of Port Said, Egypt.
The torpedoes hit amidships and rapidly the ship's fuel tanks exploded and soon she was ablaze from far forward to her stern. The fire reached the munitions stores and the explosions turned the ship into a disaster zone and thus she was now doomed ship. The chief engineer quickly decided to close down the engine, and the ships Master, Captain Richard A. Leicester, gave the order from the Bridge to abandon ship. Aboard the ship was a crew of 125 as well as 998 British Soldiers, but for the to get off the ship in their life boats became very difficult, as there was oil burning all over the surface of the water, and this made evacuation difficult if not very hazardous. The ship sank within an all too short 45 minutes, and there was a tragic loss of 49 Soldiers and 5 members of the Crew.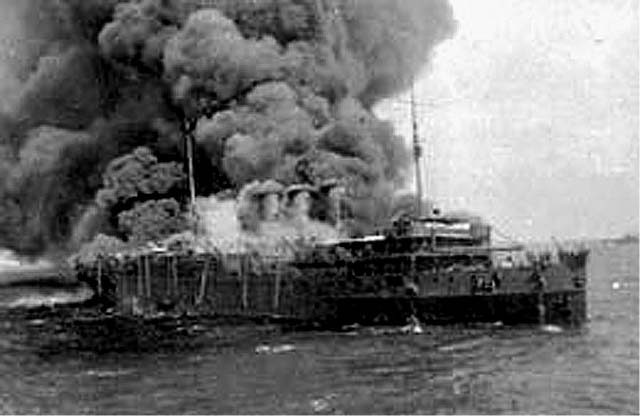 Here we see the tragic wartime end of what was a magnificent small luxury ship!
Two Royal Navy destroyers, the HMS Hero (H-99) as well as the HMS Kelvin (F-37) came rapidly to the scene and the rescued all the survivors, and with the Princess Patricia having now gone down, they turned back to Port Said were all the soldiers disembarked.
Amazingly it was decided to withhold what had occurred, and news that the S.S. Princess Marguerite had been torpedoed and sunk was withheld from the public until January 22, 1945, simply unbelievable.
Remembering a Fine CPR "Miniature Luxury Liner"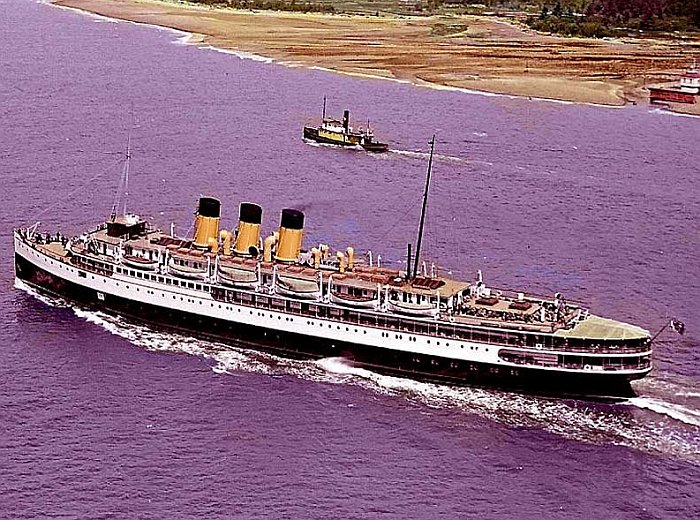 Here is the ultimate aerial view of this magnificent Ship, thus this Photo is a fine memory of her!
This ship had fittings and accommodations that would equal any luxury Trans-Atlantic Liner!
All these steamers plied the "Triangle Route" between Vancouver, Victoria, and Seattle, and in due course some of these ships would also end up sailing up northward, where they became a lifeline for a number of isolated ports on Vancouver Island as well up the coast of British Columbia and along the Alaskan coastline.
In due course CPR became famed for their cruises through the dramatic "Inside Passage" of Alaska. The coastal service brought prosperity to the region, and CPR was recognized as one of the finest coastal fleets in the world.
Being one of the first two steam turbine ships built, was the Princess Patricia II, which held the speed record for the Triangle route, but I will cover her after the T.E.V. Princess Marguerite II.
Part Four

A

- T.E.V. Princess Marguerite II:
The T.E.V. Princess Marguerite II, being the first of two luxury day ferries, was launched on May 26, 1948. When completed, she departed Scotland on March 5, 1949, for her 9,600-mile voyage sailing via the Panama Canal to Esquimalt B.C., where she arrived on April 6, 1949.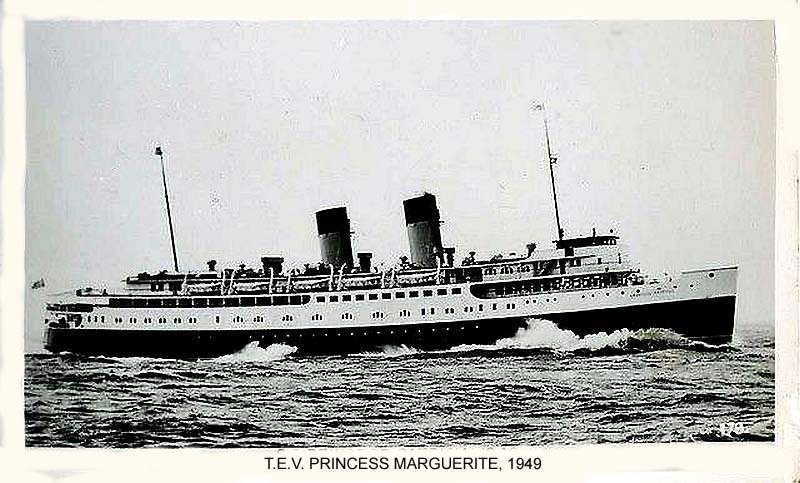 This is an early CPR postcard of the Princess Marguerite II seen in choppy waters
After a cleanup and some repainting, T.E.V. Princess Marguerite II entered service on April 28, 1949, maintaining a service that was just under four hours between Seattle and Victoria.
Part Four B -
T.E.V. Princess Patricia II:
The second of the sisters, the T.E.V. Princess Patricia (II) was delivered in 1949 to CPR, having also been constructed by the Fairfield Shipbuilding and Engineering Company, Ltd in Glasgow. She was launched on October 6, 1948 and was officially named and christened by Lady Patricia "Patsy" Ramsay, who was the former "Princess Patricia of Connaught," the granddaughter of HRM Queen Victoria.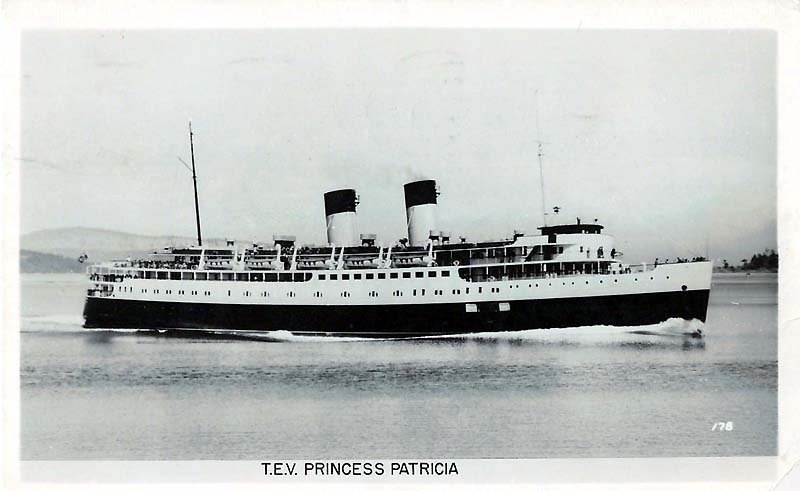 Here is another early CPR postcard of the T.E.V. Princess Patricia
The T.E.V. Princess Patricia arrived in Victoria on June 15, 1949. She, like the Princess Marguerite, would be moored near the CPR's "Empress Hotel" in Victoria's Inner Harbour, and in Seattle at the "Canadian Pacific Railway" Dock - Pier 64, on Alaskan Way near the foot of Lenora Street.
The Princess Patricia like her sister would also enter the "Triangle Service" but first she had to undertake a short dry-docking for some minor voyage touch up's at Esquimalt. Captain Thomson who had also brought the ship out from Scotland, complied with orders to make the voyage "with all speed" and do so being consistent with "all safety" and the Patricia averaged better than 18 knots for the entire voyage. Having commenced their "Triangle Service" the two new Princesses consistently maintained their 3 hour and 50 minute schedule between Seattle and Victoria, which was amazing!
Part Five -
Interior Details and some Specifications:
These outstanding and glamorous ships were designed for relatively short voyages, and later also operated Alaska voyage & Cruises during the summer months from Vancouver. Yet they were spacious ships to say the least, as each ship had space for up to 2,000 passengers and could carry up to 60 vehicles on the car deck. Each ship was fitted with 51 cabins being either two, or three berth cabins and all located outside with a view.
In addition the ships offered comfortable lounges, such as a Cocktail Lounge and Bar, as well as an Observation Lounge, and wide spacious Promenade Decks. In addition each ship had a "Grande Staircase," as well as a spacious and an elegant fully wood panelled formal Dining Room, whilst there was also a Coffee Shop and a Cafe.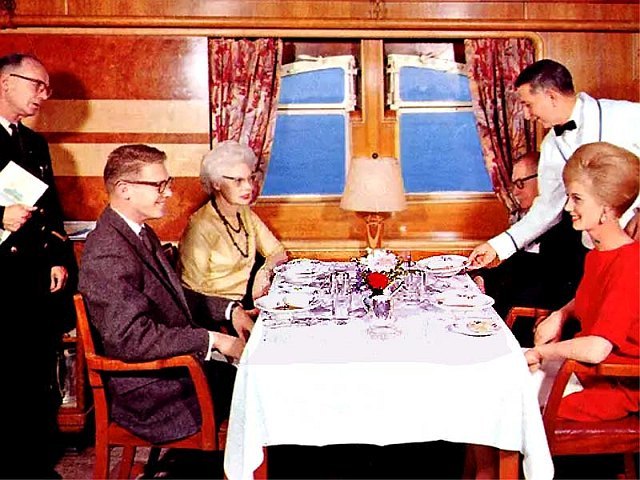 The formal Dinning Room
The sister ships were 356 ft long, 56 ft wide, and 16 ft Draught. They were powered by twin-screw steam turbo-electric drives, and steam was provided by four oil-fired water tube boilers working at 320 pounds pressure. They had a maximum speed of 23 knots, but operated at a service speed of 18 knots. Tonnage: 5,911 GRT.
Part Six -
1949 to the 1960's:
The day-time "Triangle Service" was under a four hour affair and it was a very popular, and it was certainly a well used service.
As I have already indicated, but both ships offered a very high standard of luxury with a number of dining options, a fine Dining Room, Coffee Shop and there was also a deck-side Take-a-Way. There was a magnificent Lounge, a Bar, a barber as well as a shop. All venues were panelled up to a dozen different exotic hardwoods, whilst the lounge with a dance floor had a grand piano. All of their teak decks also featured with perfectly maintained polished timber railings, and considering all the luxury found on these two fine small ships, in actual size they were but mini versions of the great Trans-Atlantic Liners.
Yet, they did have one shortcoming and that was, having been built as Passenger-Car Ferries, their car capacity was poor, for they only transport between 50 and 60 vehicles on a single 7 ft high car deck, and this deck was accessed by side doors. But then some of the car space could well be taken up by express wagons as well as cargo which needed to be transported. Therefore, the aforementioned combined with high running costs, tended to limit their days on inter-city ferry service in the long run as people wished to take their cars with them in the age of cars ever growing in popularity!
It was becoming obvious that in due course CPR began to realise that their passenger loadings was rapidly slowing down, and in the early 1960 larger "B.C. Ferries" Passenger-Car Ferries began to operate. The two services overlapped for just one season, and thus CPR ended the "Triangle Service", but continued the Alaska operations during the summer months but that will be covered in the ships history section..
Part Seven -
Princess Marguerite II full History:
In 1963 the two sister ships were separated and were refitted but very differently. Thus Part Seven covers only the T.E.V. Princess Marguerite II.
The "Princess Marguerite," or "Maggie" as she became lovingly known, had operated not only the Victoria-Seattle run, but also operated to Alaska in the later years during the summer months. That is until September 1974, when "Canadian Pacific Steamships" announced that the summer sailings of the much loved turbine steamship Princess Marguerite II would not continue 1975. Canadian Pacific cited large losses of around US$300,000 based on the last three years alone, and they mentioned the highly inflated costs of fuel as the reasons for laying her up. They did make urgent efforts to have the beloved "Maggie" purchased by the provincial government to operate her on her traditional service, which was thankfully successful.
It was indeed the government of British Columbia who purchased the Princess Marguerite, as well as the Victoria Terminal, and 8.7 acres (3.5 ha) of Victoria's Inner Harbour for $2.47 million. The ship was given a US$500,000 comprehensive renovation at the "Burrard Dry Dock", which included converting the second car deck to a lounge for 200 passengers, refurbishing the dining salon, and modernizing all other passenger amenities to current standards of comfort. Externally the vessel was repainted white with stylized Union Jacks on her two funnels and the stern.
Having been fully completed at the season start for 1975, the Crown-owned "British Columbia Steamship Company Ltd" was placed her back on the daily passenger and automobile service between Victoria and Seattle to feed Victoria's tourist industry. Thus she would operate the typical schedule with a morning departure from Seattle and then a late afternoon return to Seattle. On board the T.E.V. Princess Marguerite II, during her, well let's call it her maiden voyage under the B.C.S.C. ownership, were some very special guests, being the Premier Dave Barrett of British Columbia as well as the Governor Dan Evans of Washington, together with a complement of 1,000 passengers. However, with new much faster and cheaper to operate motor ships arriving on the scene, as well as having been designed as drive on, drive off car-ferries, it was four years later in 1979 that "Maggie" was laid up.
But in the summer of 1980 with the "B.C. Ferries" MV Queen of Prince Rupert having been renamed Victoria Princess and repainted with the Union Jack livery in keeping with the theme of the previous "Princess Maggie". And due to a huge public response to this somewhat unloved new ship that had no character, old "Maggie" was returned to "B.C. Ferries" and the Princess Marguerite was refurbished once again and returned to service for the 1981 summer season.
However, finally in 1988 B.C.S.C. was sold for US$6 million to the B.C. Stena Line, a subsidiary of the Swedish ferry operator. For interest, it was in 1987 that Stena had purchased from "B.C. Ferries" the "Island Princess", formerly the CPR's "Princess of Vancouver", and ran her in tandem with the "Princess Marguerite".
By 1989 the T.E.V. Princess Marguerite II was the last of the coastal steamers, and she was finally withdrawn from service for the very last time, never to have another return, thus there were no more rebirths as in the past! For scrap she would have been worth around US$750,000. she remained in lay-up, but then in 1990 "B.C. Stena Line" went out of business and it was said that the British Columbia government gave approval for the Princess Marguerite II to be sold the "My Kris Hotels" Group of Bristol, England, which depended a court release of a claim by the "Canadian Merchant Service Guild" for unpaid severance pay for past officers of her.
As soon as she was cleared, the "Maggie" headed to Singapore and upon her arrival she was sold to the UK-based Sea Containers, we will never know what they intended to do with her. Then in 1992 old "Maggie" was refitted to become a Singapore-based Casino ship, which apparently was never a great success. Then finally she was sold to an Indian ship breaker and she was towed to Alang were she was scrapped 1997.
There is no doubt, but T.E.V. Princess Marguerite II was not just a greatly loved ship, but she had a successful and long 48 years of service that brought so much joy to so many thousands of people who sailed on her!
Part Eight -
Princess Patricia's II full History:
In 1963 CPR took the lovingly known "Princess Pat" out of her 14 year long "Triangle Service" and she was taken to Yarrows Ltd., at Esquimalt, where she was completely converted into an all First Class Cruise Ship. This transformation cost CPR well over a million US dollars. To date she had been a daytime passenger-car ferry, but her refit would see her transform so dramatically with additional cabins and deluxe staterooms being installed providing accommodations for 347 First Class passengers. Many cabins had either shared facilities between two cabins, or private facilities. Although there were some cabins without private facilities. All cabins did had either a window or a porthole, there were no inside cabins on the Princess Patricia.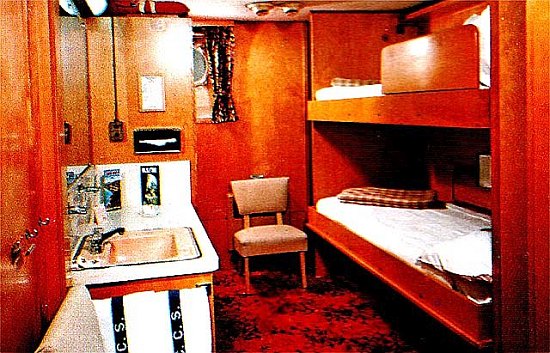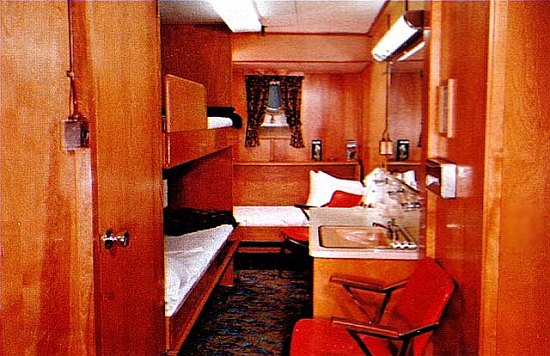 Left: Here we see a two berth cabin, Right: And this is a three berth cabin
Other new features included, a spacious "Solarium" come Lounge, located aft, high up on Bridge Deck, a wonderful venue with large windows almost all around the room.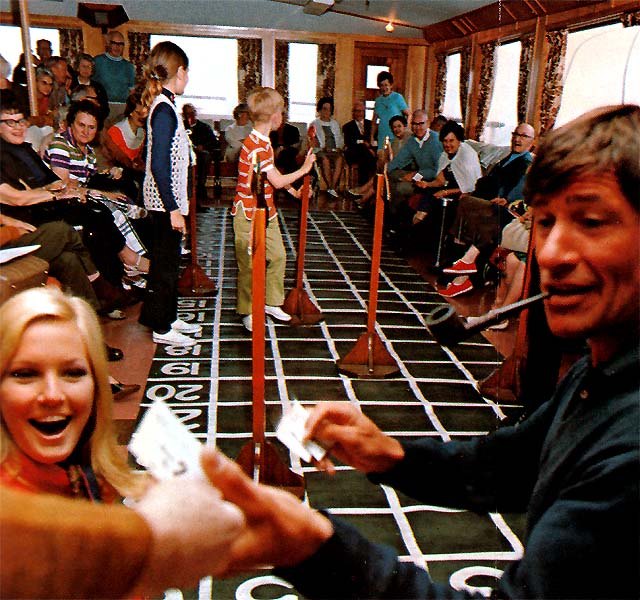 Passengers having fun with horse racing up in the Solarium
Other new installations were a beauty parlour and a hair dresser for both ladies and gentlemen, and a much needed passenger elevator (lift) to all decks except Bridge Deck, and not to forget a welcome self-service laundry.
She was repainted in the colours which was formerly reserved for Canadian Pacific's Main Trans-Atlantic or Trans-Pacific Liners to the UK, Europe and Asia, thus she received an all white livery, with green boot-topping, with buff and black funnels with the traditional chequered C.P. house flag, which was located only on her forward funnel.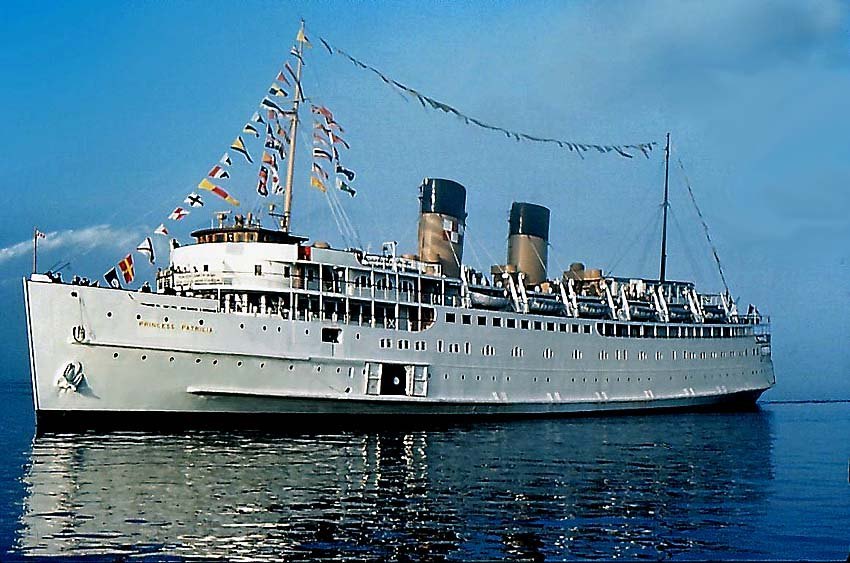 The ex car-ferry, now a genuine cruise ship Princess Patricia seen after her refit
Upon completion she was registered as being 6,062 GRT and now being a cruise ship, her new role was now to provide eight 8-day Alaska cruises during the summer months. And thus, she replaced the 1921 built S.S. Princess Louise which had operated for just over 40 years on the Alaska service.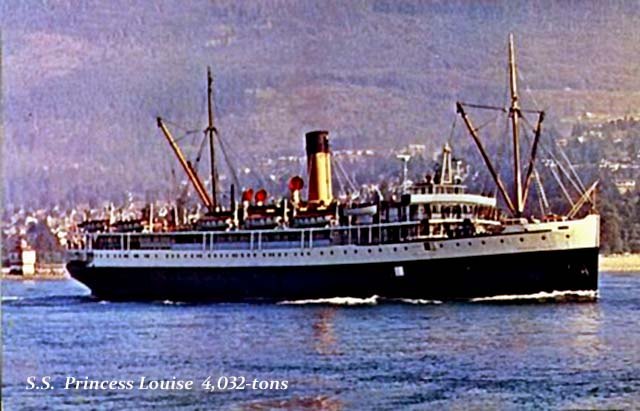 The aging S.S. Princess Louise had spent her life sailing around Alaska
Captain George Black had been in command of the "Princess Pat" during her cruise services to Alaska. However, C.P. was suddenly approached by a Mr. Stanley McDonald, a Canadian-born businessman and well known entrepreneur who had a genuine love and interest in the cruise industry, and it was his wish to charter the Princess Patricia, in order to operate cruises out of Los Angeles to Mexico during the winter months, being the time when the ship was usually laid up. An agreement was reached in 1965, but first the Princess Pat was fitted with air conditioning throughout, as well as a swimming pool for her winter cruises to Mexican ports, whilst she was under McDonald's charter company "Pacific Cruise Lines" of Seattle.
She was delivered to Pacific Cruise Lines in Vancouver, however, she would operated from Los Angeles, but it was decided in LA to operate her under the banner of "Princess Cruises" and the T.E.V. Princess Patricia became the very first ever of a new and what would rapidly become the great "Princess Cruise Lines Ltd", which today is the third largest cruise line in the world with 18 ships operating around the globe, with 4 Royal Class ship between 142,714 RT to 143,700 GRT with another ship on order to make her maiden voyage in 2020, and two 175,000 GRT ships due in 2022 & 2025. Thus from this small 6,062 cruise ship, Princess Cruises has crown into a cruise giant company and deservedly so!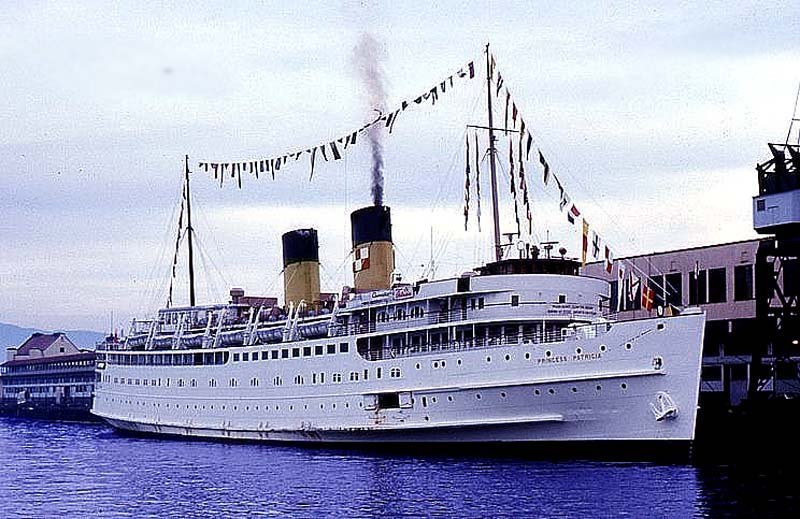 T.E.V. Princess Patricia is seen in Vancouver having been delivered to her charterer
Having been delivered to her charterer, the company updated her menus, as well as all the paper work n board with the name Princess Cruises and all things that would prove that she was a Princess Cruises ship, even though her funnel was still all Canadian Pacific!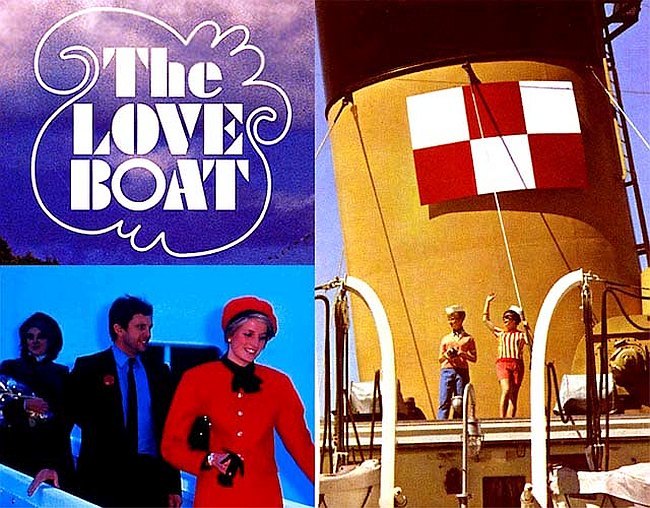 Right from the beginning Princess dubbed her the "Love Boat" long before the TV Series of that name

For two seasons in 1965-66 and 1966-67, T.E.V. Princess Patricia operated between Los Angeles and the Mexican Riviera during the winter thereby becoming, as I already stated, the very first ship of the "Princess Cruise Line". Obviously

McDonald decided to name his new company Princess Cruises after the greatly loved Princess Patricia II.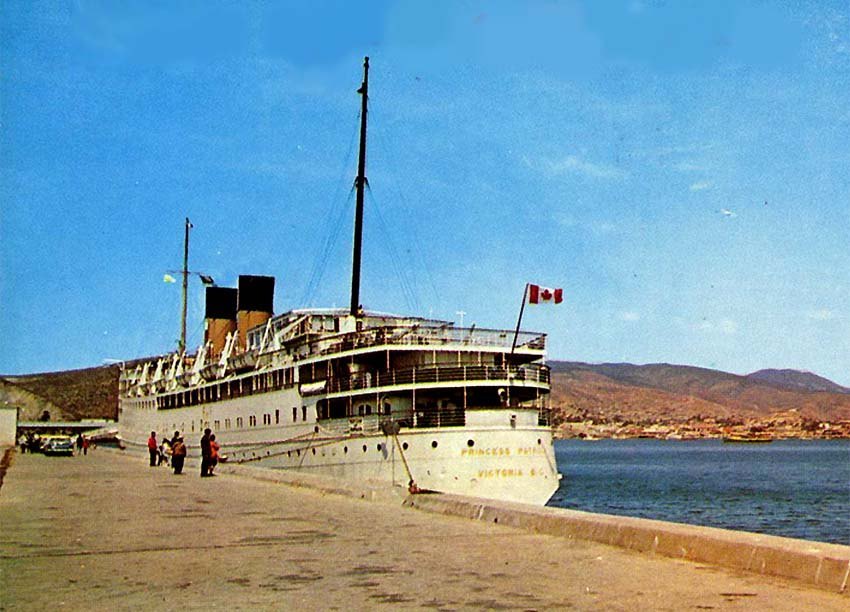 The Princess Patricia is seen berthed at Ensenada, Mexico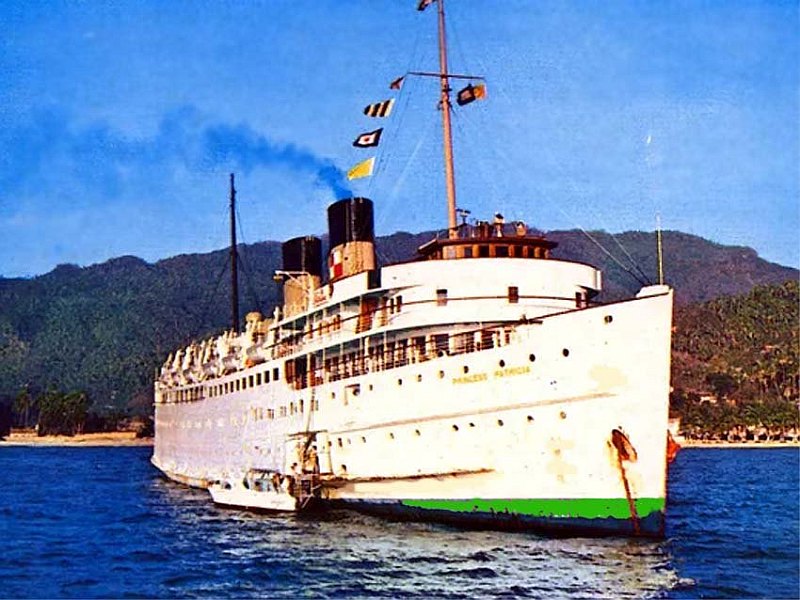 And here she is seen at anchor at another Mexican port
Although the charter was short, being due to the huge popularity and the demand for ships with a larger capacity, Princess' first new ship was the modern Italian ship, the 12,263 GRT MV Italia, which made her maiden voyage in 1965, and she was chartered by Princess Cruises in 1967 and she renamed Princess Italia and she remained with Princess until 1973.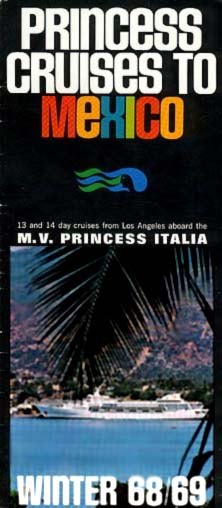 A Princess Italia Brochure for 1968 and 1969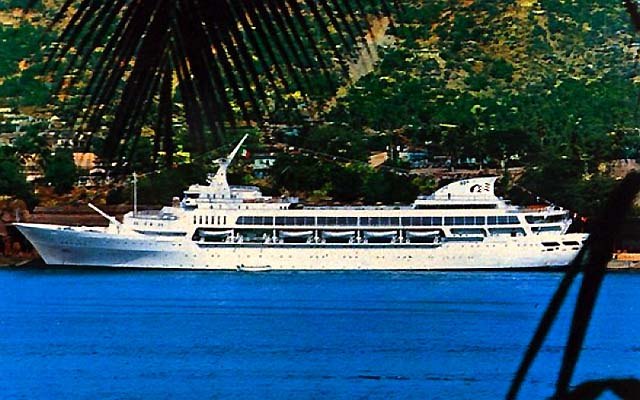 MV Princess Italia, she only received the brand new, but now famed SeaWhich logo on her funnel
a year after entering service, she operated as far as Australia and countless other destinations
It is quiet amazing that, there have been so many ships, as there are today and there are more to come that are all "Princesses" and every one of them has been named after a small Canadian ship, the T.E.V. Princedd Patricia that established this huge International Cruise Line.
But back to the Princess Pat:
Although the Princess charter concluded in 1967, the Princess Patricia continued to cruise to Alaska each summer and thanks to Princess she was now a far superior ship!
However there was one more change, not long after the Princess charter CP for she was given a new funnel livery, being the official last C.P. funnels as seen on all their Ocean liners, and now seen on the remaining coastal ships. Both funnels were painted red, however only the aft funnel also had a white stylised diamond band from top to bottom, with a dark blue insert within the white band at the very back of that funnel.

The Princess Pat seen with her final CP funnel livery
Her Photo Page and Deck Plan can be found on Page Two via the Link at the bottom of this page
The majority of times, it would be the ever popular Captain George Black who would be in command of the T.E.V. Princess Patricia" whilst she was on her Alaskan Cruises.
Her Concluding Era:
The wonderful T.E.V. Princess Patricia" became the last remaining passenger ship from the original CPR and Canadian Pacific fleet as she continued to cruise to Alaska each summer until sadly that era finally ended on October 12, 1981.
Canadian Pacific refused to sell her at this stage as she was still turning a comfortable profit on Alaska summer operations.
The Princess Patricia ended her service in Vancouver on Thanksgiving Day 1981, the same day ninety years earlier when another white hulled, two funnel steam ship with three masts of 5,905 GRT pulled into Vancouver for the first time. This was the S.S. Empress of India one of the first three Canadian Pacific passenger ships built for William Cornelius Van Horne, the founder of Canadian Pacific to extend the transcontinental portage of the Canadian Railway to markets in Asia and Europe.

The elegant S.S. Empress of India of 1891 is seen arriving at Vancouver
Together with the Canadian National Line's S.S. Prince George the Princess Pat was used as a floating hotel in Vancouver BC, during the 1986 World's Fair. In addition the Princess Pat was also used as a filming location for the 1989 film, "Friday the 13th - Jason Takes Manhattan," being the eighth film in the "Friday the 13th" film franchise.
Thereafter, she was sold to Hampstead Holdings Ltd., Canada with plans for her to become a Macao ferry (near Hong Kong), but once again her age, and the fact she was too expensive to operate compared to newer ships worked against her and she was laid up. There were a number of plans of obtaining her and convert her into a Restaurant, but nothing came about this, including several other ideas that were in the running at the time to save this lovely old girl, but sadly she would never operate commercially again.
The End has

Come

:
We now come the end of a ship that has been so much loved, the "Princess Pat", but it is here where the details become rather confusing as there are variations of information I have at hand and believe me, they are very conflicting indeed.
1. According to "Clyde Built Ships" or the "Caledonian Maritime Research Trust", her final sale and her breaking up goes as follows: It is written in my words, but the date and details are correct.
T.E.V. Princess Patricia was sold to a Taiwanese ship breaker and she headed for the port of Kaohsiung, Taiwan and she was broken up on June 8, 1989.
2. Whilst other sources have her as having been broken up from 1991, and as late as 1995, but there is nothing to confirm these time lines. Therefore I tend to go with the record by her builders, who are usually the best with facts.
However is there is someone in Canada who has factual information that differs with what is shown above, I would love to hear about it!
In Conclusion:
Some Fine Memories of a wonderful small Ship, the …
T.E.V. Princess Patricia
We are well aware that she was in her later an excellent small cruise ship, but even whilst she was a day passenger-car ferry she had luxury's on board, which had her hailed even then as a "Mini version of the Great Ocean Liners".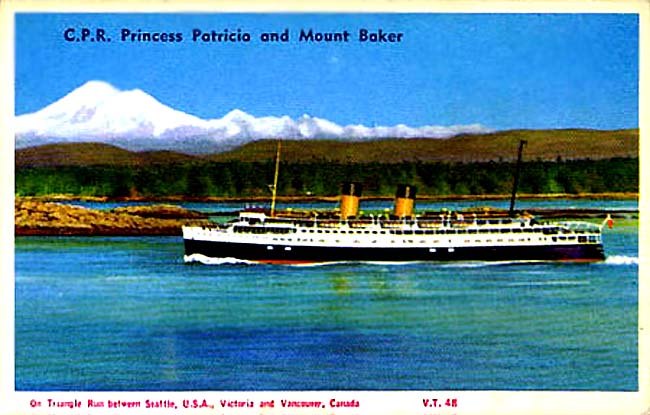 A postcard of the T.E.V. Princess Patricia passing Mount Barker during her "Triangle Service"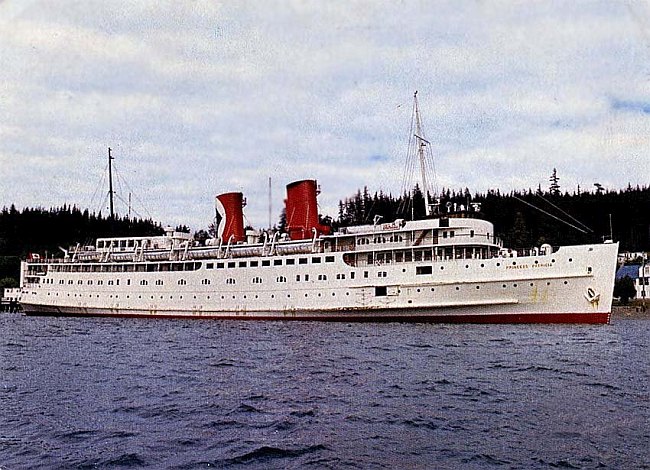 The much loved Princess Pat seen laid up in her final days
Above we see the T.E.V. Princess Patricia docked in her final days, but she will always be remembered as a ship that gave thousands of passengers a wonderful voyage, be it when she was on her "Triangle Service" or during her countless Alaskan Cruises. But her greatest fame will always be that she was the very First Princess Cruises "Love Boat" and the Ship that created one of the greatest Cruise Lines in the World with 18 ships in the fleet, with three new ships in construction in of 143,700 GRT is due in 2020, and two 175,000 GRT ships are due in 2022 & 2025.
***********************************
Go to Page Two: Photographs & Deck Plan
There is a delightful comprehensive 28 minute film covering a Princess Patricia cruise of Alaska
with full narration and music. Use the link to enter: https://youtu.be/dyV3auKCX9U.
***********************************
"Blue Water Liners sailing to the distant shores.
I watched them come, I watched them go and I watched them die."
Return to the ssMaritime MAIN INDEX
ssMaritime.com & ssMaritime.net
Where you will discover over 1,300 Classic Liners & the 1914 built MV Doulos Story
The Author has been in Passenger Shipping & the Cruise Industry for some 60 years!
Also visit the …
Founded in the early 1990's - The author is the founder and president
Please Note: ssmaritime and associated sites are 100% non-commercial and the author seeks no funding or favours of any shape or form, never have and never will!
Photographs on ssmaritime and associate pages are by; the author or from the author's private collection. In addition there are some images that have been provided by Shipping Companies and private photographers or collectors. Credit is given to all contributors. However, there are some photographs provided to me without details regarding the photographer/owner concerned. I hereby invite if owners of these images would be so kind to make them-selves known to me (my email address may be found on www.ssmaritime.com only), in order that due credit may be given.
This notice covers all pages; although, and I have done my best to ensure that all photographs are duly credited and that this notice is displaced on each page, that is, when a page is updated!
ssMaritime is owned & © Copyright by Reuben Goossens - All Rights Reserved