Please Note: Firefox and some other search engines are not suitable – Use "Internet Explorer" for this page to load perfectly!

Click the logo above to reach the ssMaritime FrontPage for News Updates & "Ship of the Month"
With Reuben Goossens
Maritime Historian, Cruise'n'Ship Reviewer, Author & Lecturer
Please Note: All ssmaritime and my other related ssmaritime sites are 100% non-commercial and privately owned sites. Be assured that I am NOT associated with any cruise or shipping companies or travel/cruise agencies or any other organisations! The author has been in the passenger shipping industry since May 1960 and is now semi-retired, but continues to write article on classic liners and cruise ships in order to better to inform cruise and ship enthusiasts for their pleasure!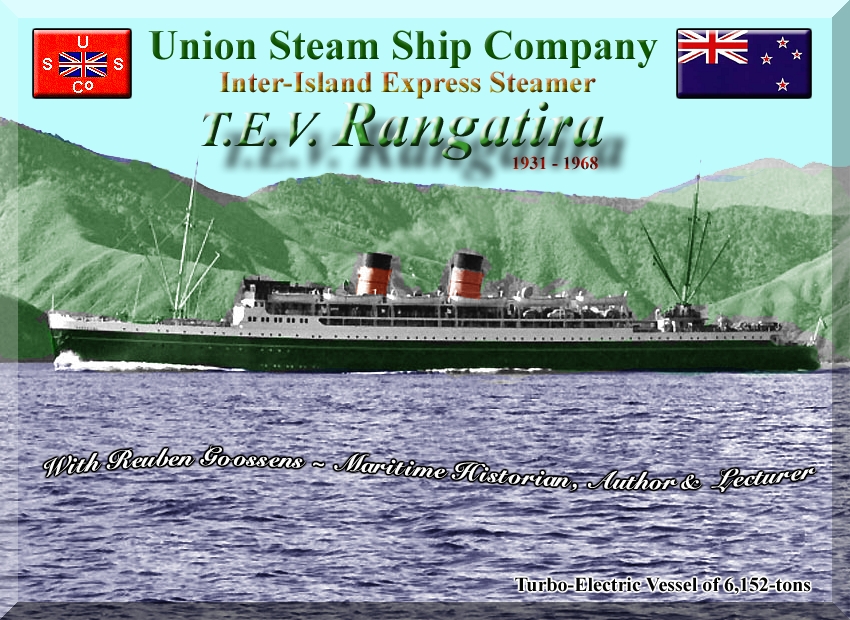 --Also Covering the T.E.V. Rangatira of 1972--
Considering that I have written on many delightful Union Steam Ship Company ships, be they their grand Trans-Pacific or Trans-Tasman liners, but also their excellent ships that operated New Zealand's popular coastal voyages. One of these ships is a very special ship indeed, not so much for her many grandiose interiors, but mostly as I consider her to be the most beautiful ships to be built for the southern hemisphere. In the northern hemisphere, the vast majority of maritime historians and experts have voted and consider that the Holland America Line 1938 completed SS Nieuw Amsterdam as being the most aesthetically pleasing liner ever built, considering her externals having had sheer perfection in balance, with her stately bow raked, the perfect designed forward superstructure, her two slightly slanted funnels combined with her two tall masts and her sleek lines were all in perfect balance with her long white superstructure atop of her black hull and it presented one of the most beautifully presented liners in history!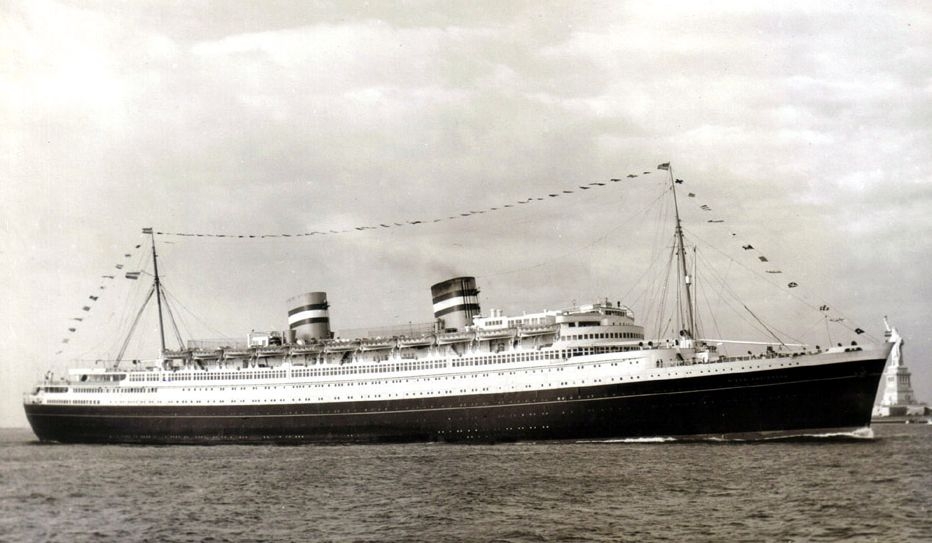 The elegant SS Nieuw Amsterdam departs New York whilst on her maiden Trans-Atlantic voyage
from Rotterdam to New York and home to Rotterdam. The louvers in her forward funnel was soon removed
Introduction:
However, seven years before the grand SS Nieuw Amsterdam was built, a much smaller ship was constructed for the Union Steam Ship Company (USSCo) of New Zealand and she was in so many ways blessed with a similar external beauty of that great Trans-Atlantic liner that was famed for her spectacular art-Deco interiors and being an ultra luxury liner!
However, this much smaller ship would be completed as the somewhat more humble, Union Steam Ship "Inter-Island Express Steamer" 6,152 GRT (Gross Registered Tons) T.E.V. Rangatira that would be completed in 1931, and yes she was one of the of the most pleasing and beautiful looking ships I have seen besides my beloved SS Nieuw Amsterdam! I recall the days when I lived in Rotterdam and watched the great SS Nieuw Amsterdam and watched in awe as she departed with her decks filled with excited passengers her beauty was beyond compare! Then later when I lived in Wellington New Zealand in the late fifties and early sixties, I used to see the delightfully beautiful Rangatira and I just loved to watch as she sailed in and out of Wellington's beautiful harbour, for she was always a sight for sore eyes, as she was such a beauty!
Many believe that the TSS Awatea was better looking ship and indeed she was a one of the most beautiful ships possible, but there was something very special when it came to the perfect balance of the T.E.V. Rangatira and you will realise that she was indeed sheer perfection in maritime design for a ship of her size and remember that she was essentially built to be an overnight ferry!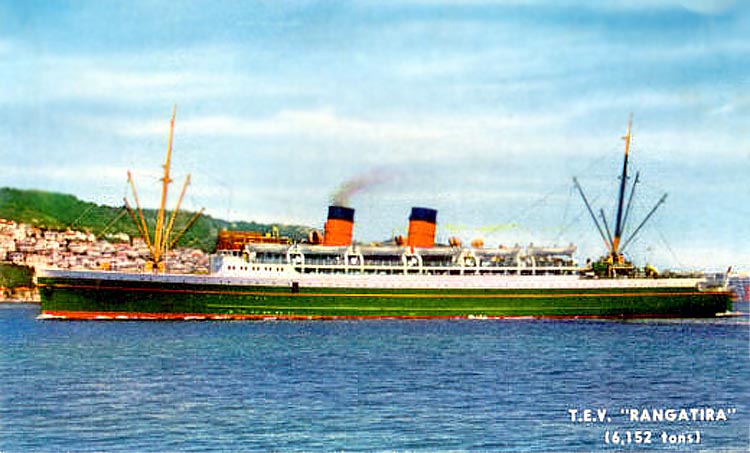 A full colour postcard of Union Steam Ship Co T.E.V. Rangatira
Building & Launching the New Ship:
The directors of the USSCo commenced planning for a replacement ship for the aging 1907 built SS Maori and early in 1930 they came up with the plans of a two funnelled and two masts, whilst being a super efficient steam ship due to her turbo-electric motors capable of sailing at high speeds, thus able to shorten the voyage between Wellington, New Zealand's Capital in the south of the North Island and Lyttelton being the port of Christchurch, being the largest city in the South Island.

A drawing starboard side of the proposed T.E.V Rangatira
Then in September 1930 the USSCo finally placed an ordered for their new ship to be built by Vickers Armstrong Ltd, at Barrow-in-Furness the UK, and thankfully due to the Great Depression at the time, her purchase price came to only 500,000 UK Pounds.
Her construction went ahead rapidly and she was ready and launched on April 16, by Lady Wilford the wife of the New Zealand High Commissioner in London.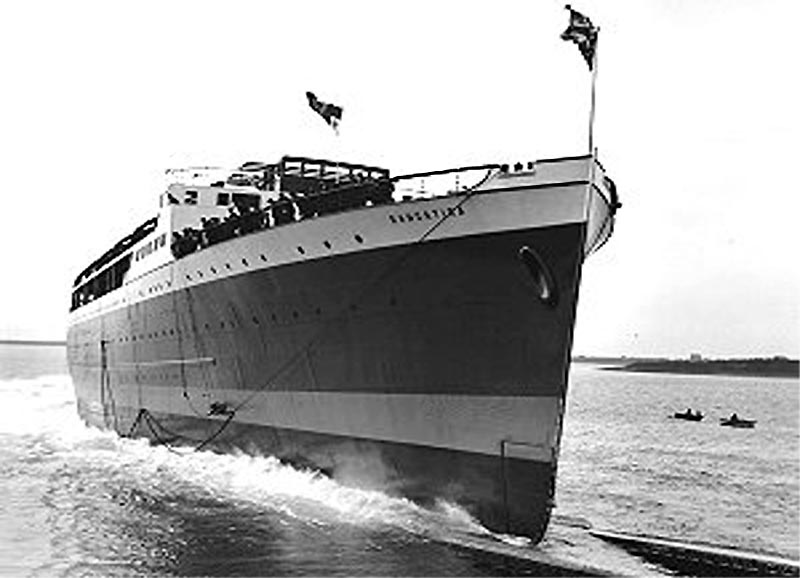 The Rangatira slips down into the water having been launched on April 16, 1931
She was taken to her fit-our berth, however on the very same day of her being launched, a fire broke out and damaged some of the passenger accommodations, which did delay her delivery by around a month.
New Zealand Bound:
Upon the ships completion and having undertaken her sea trails she was made ready for her delivery voyage to New Zealand. She departed the Barrow, Cumbria England on September 8, 1931 under the command of Captain W. Martin and she sailed via the Panama Canal to the New Zealand's South Island Port Chalmers, being the city of Dunedin's harbour, where she arrived on October 16, to a huge welcome!
However, whilst she was still at sea heading for Dunedin, she was making big news; both in New Zealand, but also in Australia, and the Sydney Morning Herald reported the following on September 16, 1931.
"The Rangatira"
"New Turbo-Electric Liner."
"Details which have just reached Sydney regarding the new turbo-electric liner Rangatira, recently completed by Vickers-Armstrong, Ltd., Barrow-in-Furness, for the Union Co. of New Zealand, Ltd., show that the vessel attained a mean speed of more than 22 knots on her trials. She is expected to reach Wellington, via the Panama Canal, about October 10, and will be commissioned for the "ferry" service between Wellington and Lyttelton. The only regular direct means of communication between the north and south Islands of the Dominion.
The Rangatira is a vessel of 4500 tons gross, and has accommodation, on five decks, for 600 first-class and 170 second-class passengers she will carry a crew of 112. For quick manoeuvring in and out of berths, a bow rudder has been fitted. Special interest attaches to the new vessel, which will actually be the first turbo-electrically propelled steamer to reach Australasian waters. The new P&O. liner Strathnaver which will introduce that type of propulsion to Sydney will not arrive until the beginning of November. The Rangatira motors are capable of developing 13.000 Horsepower."
The Sydney Morning Herald reported that she would arrive on October 10, but as we know, they were out by six days, for the T.E.V Rangatira would arrive on October 16 to "a huge welcome" in Dunedin, as I said above!
Considering the weather was mild and sunny all of the New Zealand Newspapers were all present as well as large number of the public and ship lovers who were waiting for the Rangatira to arrive. As soon as she came into sight everyone was astonished for it was obvious that they loved her beauty as she came into sight! There was no doubt, but she was blessed with her delightfully raked stem and cruiser stern, crowned and blessed with her two perfectly raked red and black topped funnels, matched by her two tall masts and her green hull and than that sublime yacht-like white superstructure. Everyone looking on was amazed with the T.E.V. Rangatira and her striking appearance, and sure enough the newspapers made a huge fuss about this magnificent ship throughout the country and also about her interiors and her overall facilities.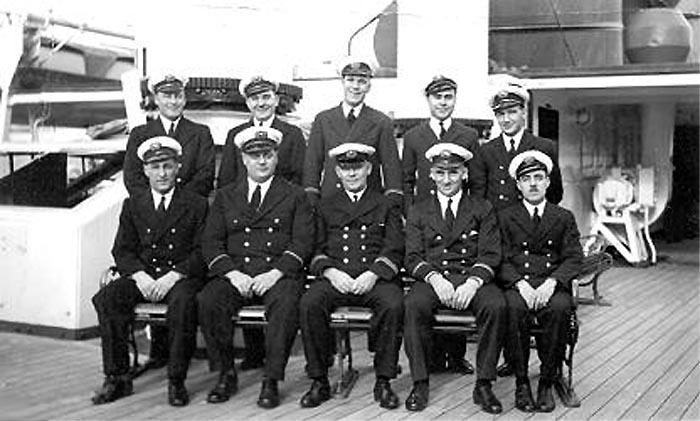 Captain W. Martin is seen aboard the Rangatira with his Officers having just arrived from the UK
As soon as she was cleared the Rangatira entered dry-dock and she was made ready externally and internally for her Inter-Island Express Service. When she was ready she headed north for Lyttelton the port for the city of Christchurch and then on Wednesday March 4 the Rangatira departed Lyttleton with 350 passengers for her maiden voyage to New Zealand's Capital City, Wellington where she arrived the next morning "at 7 AM sharp" as the Wellington "The Dominion" reported. They also stated;
"Punctual to the minute, the Union Company's new turbo electric steamer Rangatira completed her first run … yesterday morning when she berthed at Wellington after a passage of 10½ hours from Lyttelton. Using only four of her six boilers, and one turbo-alternator, the ship easily maintained a speed of 17½ knots.
The Rangatira combines size and speed with all the comfort and a good deal of luxury of present-day overseas liners. She has superb accommodations for … 600 First Class and 170 Second-Class passengers. A feature of the First Class quarters is the unusually large number of single and double berth cabins of which many have bathrooms or shower attached. The ordinary bathroom accommodation is far in excess of that in the other steamers. There are a number of double berth cabins-de-luxe, each with bathroom, the size and furnishings being on a scale associated with large overseas liners. The Second-Class accommodations is excellent in its appointments. It is in many respects quite equal to that in the First-Class section. The whole ship is ventilated on the thermo tank Punkah Louvre system, which supplies fresh air to every compartment and which every passenger can regulate. There is a reading lamp to every berth, and every cabin has a washbasin fitted with hot and cold running water supply. "The Dominion" Wellington, November 5, 1931.
The above makes interesting reading from times so long gone, but it provides an interesting picture of the TEV Rangatira back in 1931!
Public Rooms:
First-Class offered two venues for the overnight voyage; located aft on Upper Deck was the spacious Mahogany lined Smoke Room complete with a Bar and this venue as all sections of the ship featured some beautiful timbers and highly polished brass fittings.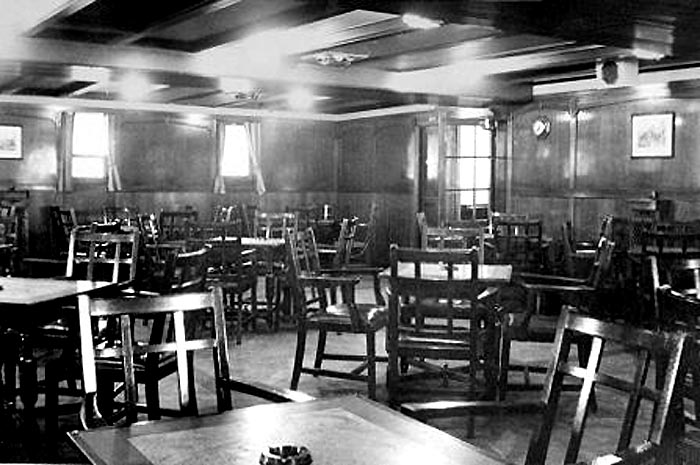 Here we see just a corner of the aft Smoking Room and Bar
The Dining Saloon was superbly panelled in an Oak panelling and fittings and the double portholes had screens to cover them in the evening. The majority of tables were for four, but there were a few for six and some for two. The floor had a non-slip corking finish that looked a little a lino, but it was not, it was of a far superior grade. It did have a large square pattern on it.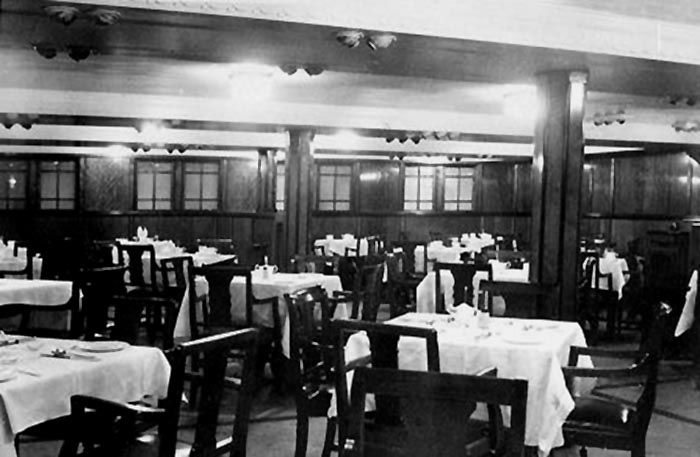 The Dining Saloon looked more restrained, but served excellent food!
Second Class Smoking Room and Dining Room were very similar to the First Class rooms, and were attractive venues but both were finished in a Bird's-eye Maple panelling that was very pleasant indeed!
The ship had five passenger decks, and both classes besides their lounges and dining venues also had very attractive and spacious vestibules that extended the full width of the ship. In addition the Rangatira provided extensive open deck spaces topside, and her Promenade Deck was covered but open at the sides, but the forepart was screened with heavy plate glass windows, in addition passengers also had the use of the great expanse of Boat Deck that had ample buoyant seats along the walls for obvious reasons. As the ship was completely electric, she was able to power a small town, and everything on board worked by her own power plant. Her lifeboats could have been lowered by her fully electric davits in less than a minute and each boat was fitted with a propeller that was geared for hand-propulsion. Besides all this she had all the up to date safety equipment for that time!
Of course the question is; did her public room's measure up to the great or even some of the lesser ocean liners. I have to be honest and say, no of course not, for she was ultimately designed to operate a 10½ hour overnight "Ferry" service, thus she offered quality single, two berth and some four berth accommodations in both classes for this voyage, with the majority having private facilities, and there was a pleasant Lounge and a Bar, as well as a good Dining Room that offered good food that the USSCo was well known for!
There was no doubt about it, but the Rangatira became very popular with the public and she was packed more often than not. However, it was said by her captains and officers that she was not an easy ship to steer as it seemed to have something to do with her rudder.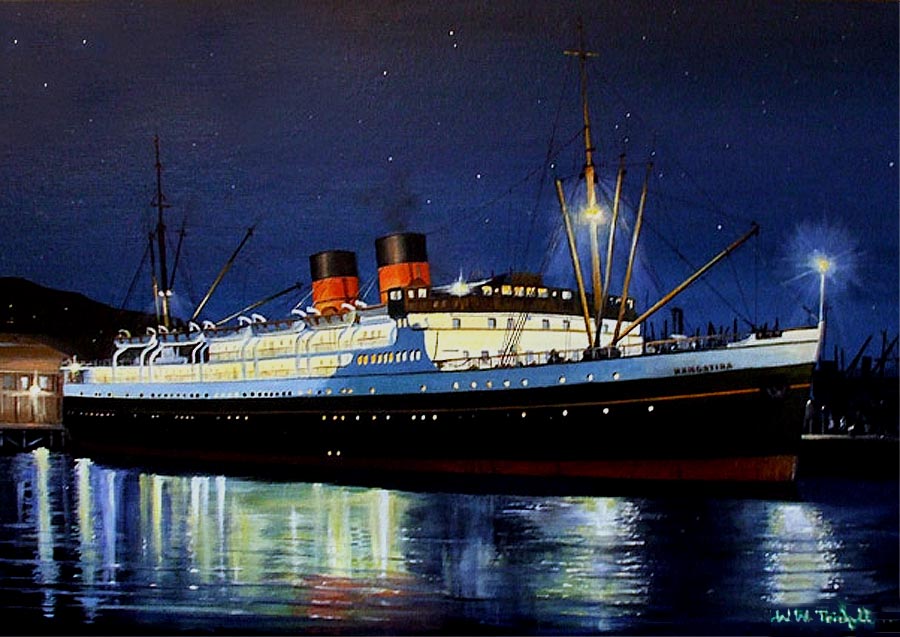 A painting by the New Zealand artist Wallace Trickett, of the TEV Rangatira berthed in Wellington early in her career
From the original painting by Maritime Artist; Wallace Trickett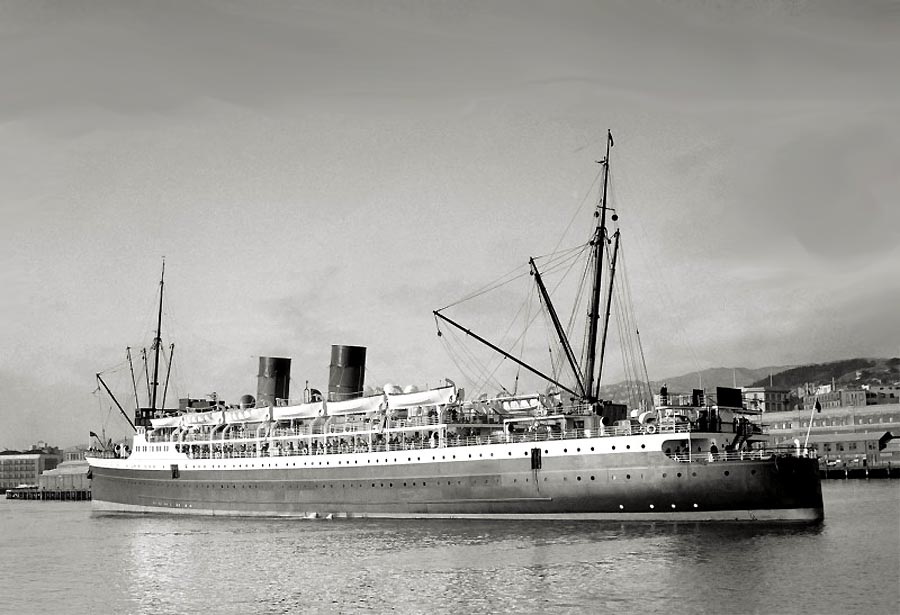 A fine stern view as the sleek Rangatira with her beautiful cruiser stern departs wellington for her voyage to Lyttelton
Her voyages to and from Lyttelton from Wellington became very popular, for the Rangatira was considered as the most comfortable ship, with the best accommodations and public rooms, etc. Thus she became a much-loved ship.
The truth is that occasionally a ship forges a place in the affections of her passengers and thus there is no doubt she became one of the USSCo's ships that could claim that special distinction! The T.E.V. Rangatira was without a doubt one of the most innovative design for her time and thanks to her there came a number of siblings, including her subsequent running mate the T.E.V. Hinemoa. However, the record for the fastest passage made by the T.E.V. Rangatira for the 175 mile (280 km) voyage from Wellington to Lyttelton remains unbroken and there were other amazing speed records   
On January 2, 1933 the Rangatira as a One Class ship undertook a her very first official day excursion from Wellington to Picton, onboard there were 2,020 passengers, for she was officially  licensed to carry up to 2,300 passengers on day cruises. Passengers could enjoy all the ships facilities and some had booked a cabin, whilst other used the lounges and enjoyed their meals in her two dining rooms.
A little later in April on Easter Monday the Rangatira created speed records for the trips to and from Wellington that have not been beaten. On the journey from Wellington she maintained an average speed of 21.4 knots and on the voyage home to Wellington an amazing 22.6 knots, completing the voyage from wharf to wharf in two hour and fifteen minutes.
Troubled Waters:
For those who live in Wellington call the city; the "Cold, Wet and Windy City" and believe me it can be very cold and the winds are really bad times, in fact they are so fierce it can be very difficult to walk upright, and when it rains it simply pours down! It can be a city of extremes' and the harbour especially its rocky entrance is one of the most dangerous in the world as countless ships have run up on the rocks during many of the Gale-Force Winds during the countless storms experienced there.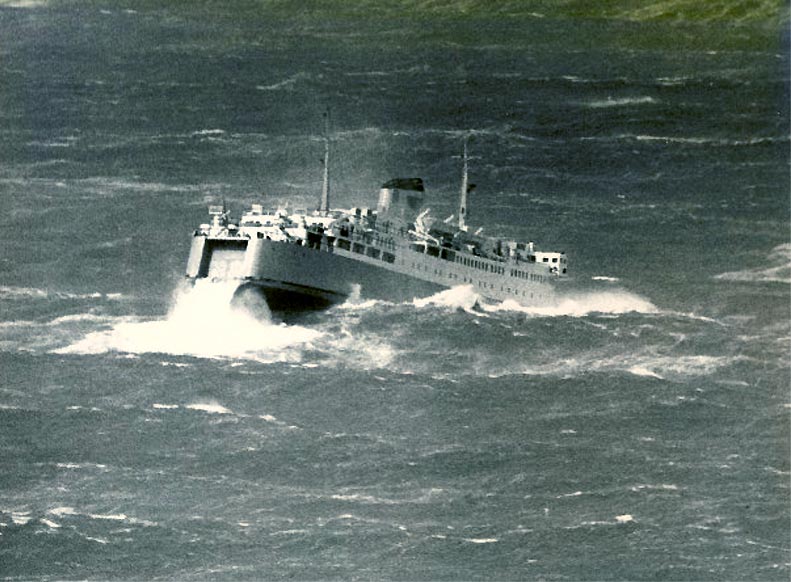 The Rail-Road ferry Aramoana seen in Wellington Harbour's wild weather in the 1960's

Rangatira seen during bad weather days and you will understand what they suffered in the story below!
On February 2, 1936 whilst she was under the command of Captain W. D. Cameron and having almost eight hundred passengers aboard, she was heading for Wellington plunging through extremely rough seas during a Southerly storm and waves continually breaking over the bow and over the top of the bridge. The Gale-Force winds were doing their best to sink the ship, but the captain did his utmost to keep her on course, which was difficult and off those rocks! But then suddenly the Rangatira struck rocks just near the entrance to Wellington Harbour in severe weather conditions were so bad as that which capsized and sink the 1966 built TEV Wahine in 1968 when she also came to grief in much the same conditions, but sadly with far greater losses!

The superb, ultra modern TEV Wahine had all the technology, yet the Wellington weather defeater her!
But on this day for the Rangatira the extremely poor visibility was a major factor and that came with a combination of strong rain and never ending driving sprays across the bridge masking the coastline. Therefore, due to the conditions, the Captain made sure that the Rangatira had slowed down, but yet she still suddenly struck the rocks and was stuck.
She remained fast for around twenty minutes, after which she was able to reverse herself off the rocks, but it was realised that her bow had filled with water; Captain Cameron slowly manoeuvred her into the heads by taking her stern first into the harbour, but he did this with the assistance of two tugs. Whilst moving, she was continually taking water through the large holes in the bow, but with her propellers being half out of the water by the time she was grounded at Clyde Quay wharf, she looked a very sad sight indeed, for her forward lower passenger decks were awash with water. But thankfully there was no loss of life and no serious injury to anyone on the ship!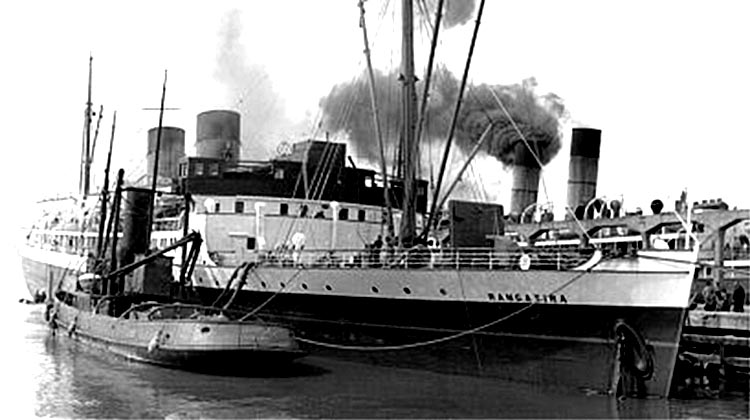 The Rangatira at Clyde Quay wharf in Wellington with much of the water pumped out and awaiting being moved to the floating-dock
However, it was discovered that she had suffered rather extensive damage to her hull thus she would have to enter into the floating dock at Wellington. Where she remained for a good eighty-eight days until she was fully completed and ready to set sail again!
It was on June 29, 1936 that the TEV Rangatira resumed her duties on the inter-island service until the end of August 1939 as she had been called for the war effort!
World War II:
However it had become obvious that rumours of war were becoming a reality, thus on September 1, 1939, the Rangatira sailed from Wellington northward from Wellington for the short voyage to Auckland where she would have a very short visit to have a 6-inch gun fitted at her stern. As soon as this was completed as well as other modification made, all done within just several days, she headed out to sea for her sea trials in the Hauraki Gulf and upon completion headed back to Wellington arriving on September 8.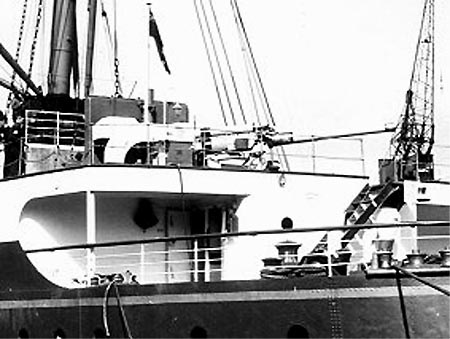 Here we the aft 6-inch gun having just been fitted at Auckland
Between 1940 to 1945 the Rangatira operated more as an occasional troopship in the Pacific because she continues her regular services as well as some trooping operations.
The day after Japan had signed a military alliance with Germany the Rangatira departed on October 28, 1940 with 30 of the New Zealand Battalion of the 8 Brigade Group and they were the very first soldiers to occupy the Namaka Camp in the western area of Fiji.
As there little to no records, the Rangatira would have returned to New Zealand and either have operated other voyages to the Pacific or returned to her regular local duties. However, it would be just several months after the above mentioned trooping voyage to Fiji in September 1940, that during one of her voyages as she was approaching Lyttelton on December 29, 1940 she had a rather nasty incident!
The Rangatira was sailing into a thick fog bank whilst following a mine cleared channel, and then she suddenly ran aground at Pigeon Bay, being near the entrance to Lyttleton Harbour. Captain George B. Morgan decided that it would be best that the 750 passengers on board would leave the ship per her lifeboats and be later rescued by the coastal freighter, the 3,067-ton Waimarino, which was in the region at the time. The Rangatira remained stuck for the next ten hours, but then she was able to get free using her own power and with the assistance of a small tug. Once she was free, she headed for Port Chalmers (Dunedin) where she would be dry-docked and have the bottom of her hull repaired. When her repairs were completed, she returned to Lyttelton and she resumed her services on February 1941.
Whilst being repaired between December 1940 and February 1941, the entire ship was repainted from funnel tops to waterline in a dull grey war paint. In addition her fore promenade deck plate glass windows were closed in with steel plates, making her now a true full-time wartime trooper!

The very bland all war grey troopship the HMTS Rangatira (A22) seen arriving back in Wellington
Next we see her depart on May 26, 1941 when a convoy of USSCo ships would be heading for Fiji packed with soldiers. These included the Second Section of the 1st Relief for the 8th Infantry Brigade Group, of the 2nd New Zealand Army Expeditionary Force (33 Officers and 883 Ordinary Ranks). Ships in this convoy were the Rangatira as well as the larger 10,800-ton TSS Monowai and they departed from Auckland.
January 2, 1942 a Section of the B Force Expansion of the 2nd New Zealand Army Expeditionary Force (85 Officers and 1668 Ordinary Ranks) embarked on the Rangatira and the smaller 4,166-ton MS Matua and both ships sailed for Lautoka Fiji, and those on the Monowai headed for Suva Fiji. The group arrived at their destinations on January 6.
Another trooping voyage recorded took place son after, on January 10, 1942 it was the B Section of B Force Extension of the 2nd New Zealand Army Expeditionary Force (83 Officers and 1459 Ordinary Ranks) who embarked at Auckland on Rangatira, Monowai and the 4,436-ton TSS Wahine (1913 to 1951) and the Port cargo liner the Port Montreal and headed for Fiji, with the Rangatira arriving there just four days later on January 14.
During her wartime days, there was even a report that she was torpedoed by a Japanese miniature submarine, but the torpedo slipped just behind her. It was supposed to have happened off Pencarrow Head that is near the entrance to Wellington Harbour. This is not unusual, for in Sydney Australia two of these submarines actually entered that harbour and sent off their torpedoes and did some damage, but not enough. One escaped and the other remains at the bottom somewhere in the huge Sydney Harbour!
Returned to the USSCo:
But, thankfully the Japanese had surrendered and the war was over, thus the HMTS Rangatira was released and in 1946 she was comprehensively refitted with her accommodations and the entire ship upgraded. In addition, she would also become a One-Class Ship and now she would accommodate just 794 passengers in excellent accommodations.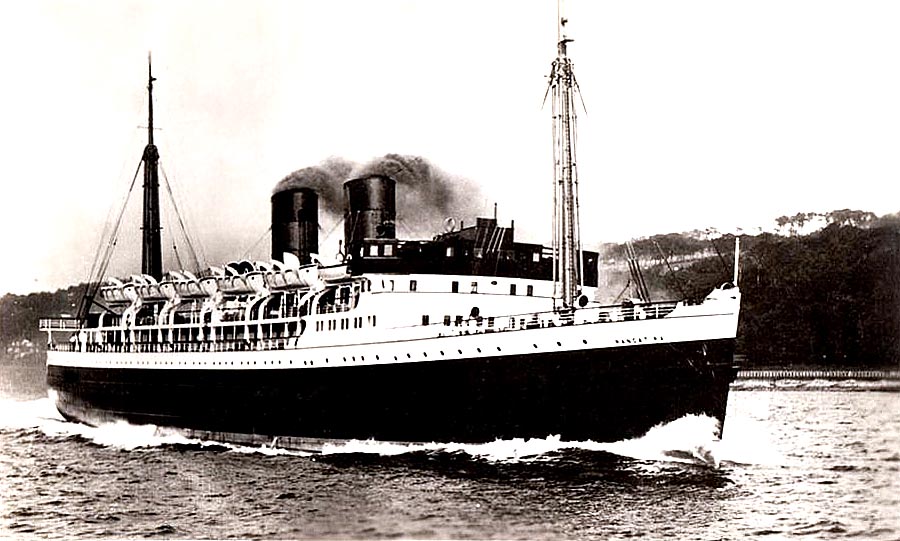 T.E.V. Rangatira is seen here sailing at full speed
She returned to her regular service and she was more and more popular as a mode of reaching either the capital of New Zealand, Wellington, or the Capital of the South Island, Christchurch. I recall that when we lived for a short time up north in Auckland, like so many, we took the excellent overnight train service to Wellington, had a day in the city and boarded the ship during the afternoon and sailed in the evening for a wonderful voyage overnight to Lyttelton. We would go and have a delightful meal in the dining room and thereafter spend some time in the lounge. Although, I would prefer to go roaming around the ships decks and of course I did just that! In those day's, I did not bring a camera on "ferry" voyages, for we did not think of them as very important, yet as I walked the decks, I realised how beautiful these ships really were!
However in 1947 the 6,152-ton TEV Hinemoa arrived in Wellington from the UK when she commenced her duties on the Wellington Lyttelton run, she joined the Rangatira with another ship retired.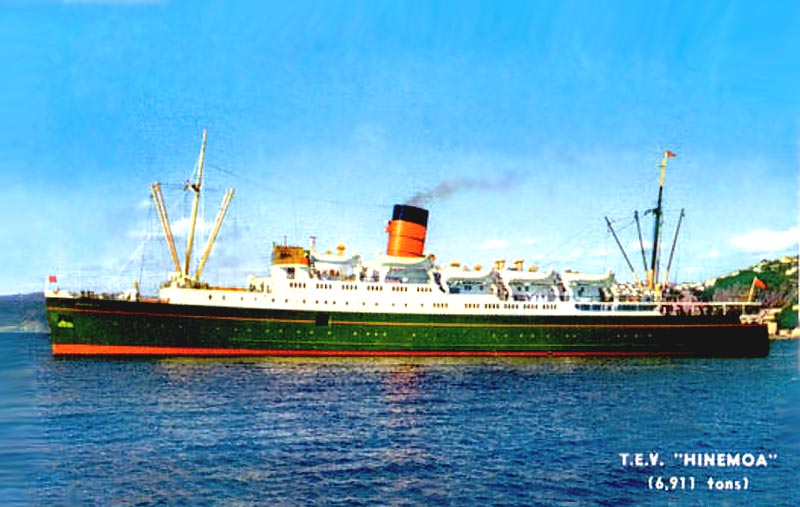 The USSCo brand new ship, the TEV Hinemoa arrives in Wellington of January 27, 1947 for the very first time
The Hinemoa was followed up six years later by a revolutionary ship the TEV Maori in November 1953. Upon her arrival the Rangatira was taken off the Lyttelton service and she became a relief she. Both she and the rapidly aging 2,000-ton SS Tamahine were placed on the short run between Wellington to Picton service between Christmas until after Easter and this continued until arrival of the next entirely new style of ship in 1963.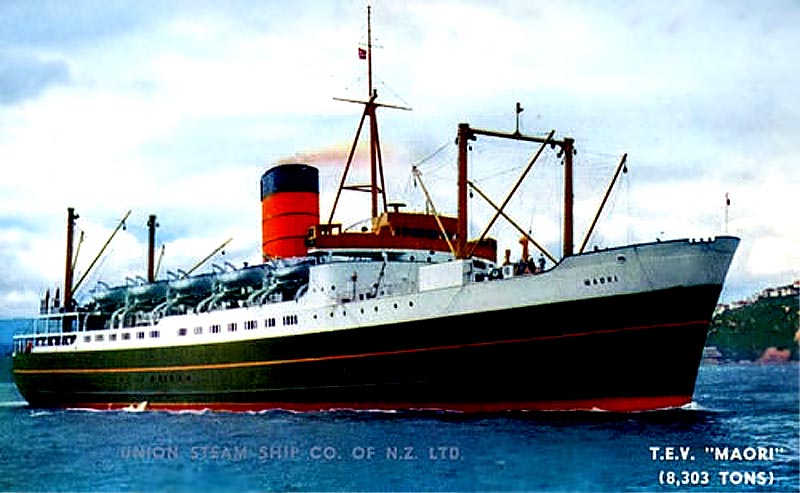 The TEV Maori arrived in Wellington from the UK on November 15 1953
In 1959 the Rangatira was commissioned to relieve the SS Tamahine on the Wellington to Picton service; however on the morning of Christmas day at 2.30 AM on December 25, 1959 the Rangatira ran ashore inside the Tory Channel on Wheke Rocks. Somehow, she remained stuck for over 24 hours, but thankfully the damage was superficial and she was refloated again at 4.25 AM by the tug Tapuhi also using her own power.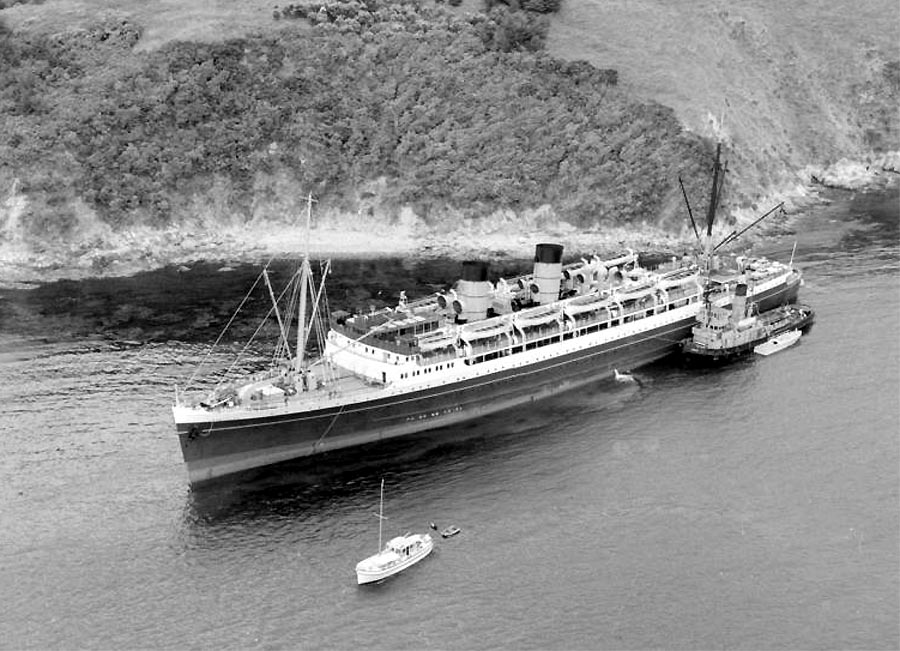 The Rangatira is being assisted off by the tug Tapuhi on December 26, 1959
Having been freed, she continued to Picton where she arrived at 7.50 AM. Her passengers disembarked and soon the TEV Maori arrived as she would take them back to Wellington. They certainly had an unexpected extended vacation. The Rangatira headed for Port Chalmers to be docked for her hull to be checked, but it proved to be fine!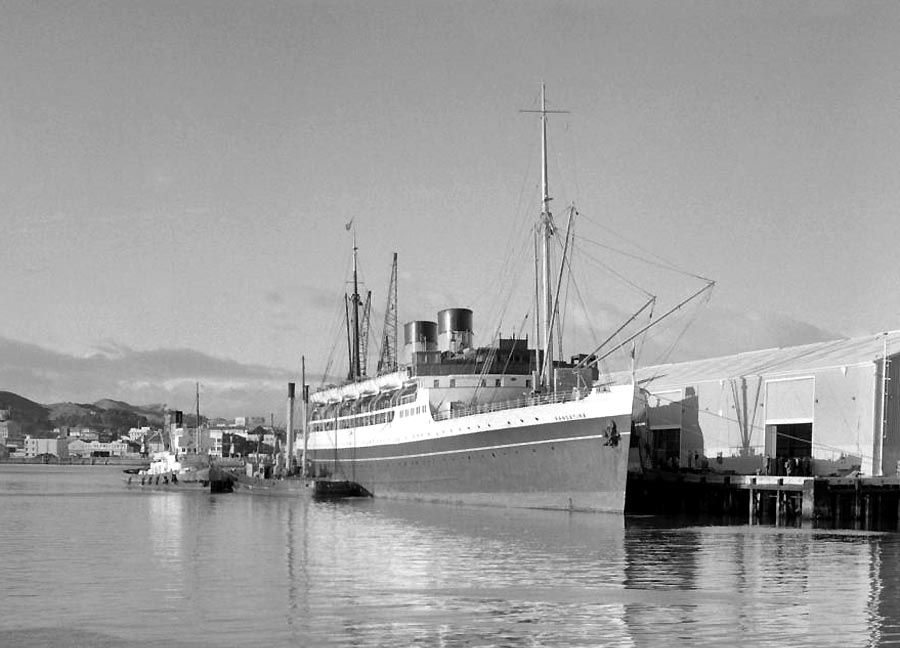 A magnificent photograph of the Rangatira as she is berthed in Wellington in the early 1960s
Her days thereafter were varied, for now she was very much a relief ship, filling in when a ship was out of service, for even the Picton service was being taken over by the new operation the rail-road ferries, for they would soon order further ships. However, she would still operate day cruises and go to Picton, etc. In 1962 she even carried the King and Queen of Thailand and their party from Wellington to Lyttelton. This would be the very first and only time in the Steamer Express Service, that the TEV Rangatira would fly an actual Royal Standard! Obviously it made big News in New Zealand!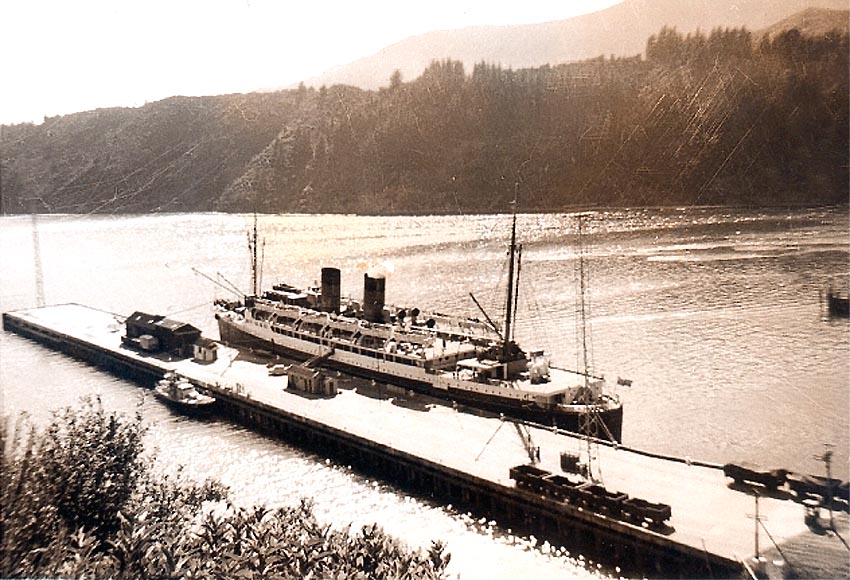 The Rangatira is seen berthed at Picton
However, the truth was that the glory days for what was the wonderful TEV Rangatira was now slowly coming to an end for in 1963 the brand new and luxuriously appointed Cook Strait Rail-Road Ferry, the G.M.V. Aramoana arrived on the scene and she was a huge success! I certainly recall making a few one day return voyages on her and her lounges and the buffet were very modern and comfortable!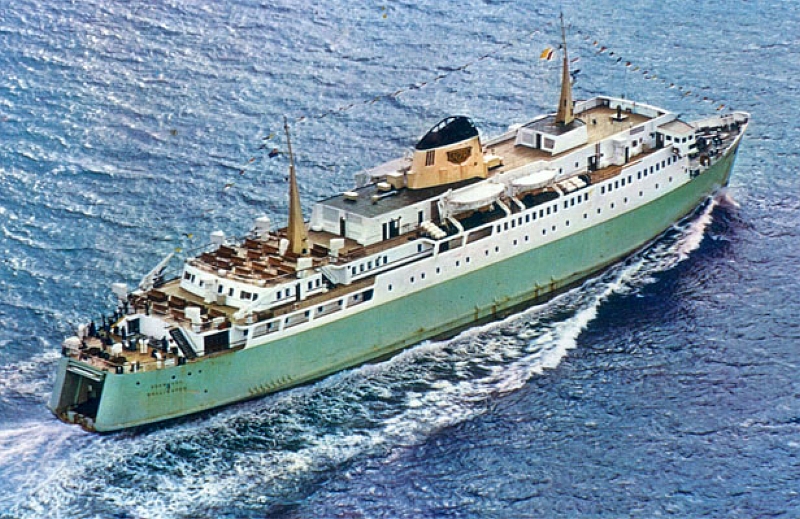 The all-new ferry GMV Aramoana
Between being laid up in Wellington and operating various voyages, either to Picton or whilst the Maori had gone to Hong Kong to be converted to become a roll on roll off passenger/car and truck ferry, the Rangatira operated together with the Hinemoa, each departing from opposite ports. This was from April to December 1965.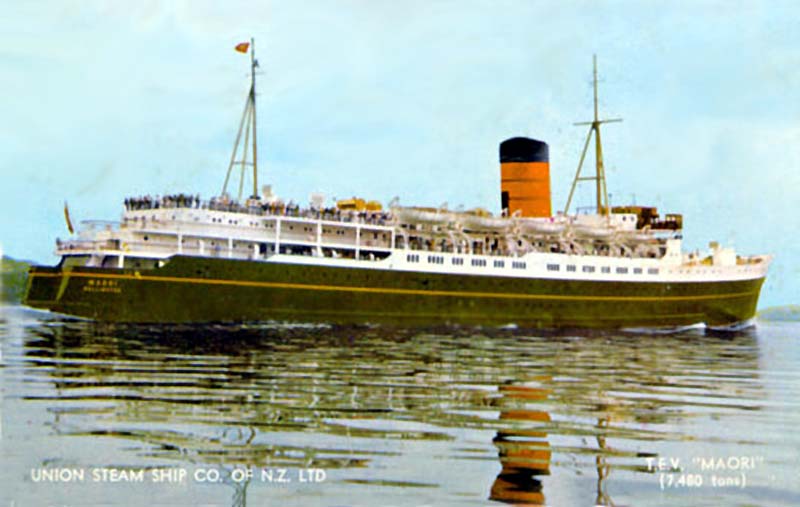 A postcard of the TEV Maori seen with her new aft Roll on Roll off conversion
Her Final Voyage and Sale:
Then whilst she was still partnering TEV Hinemoa she commenced her very last passenger voyage from Lyttelton to Wellington on December 14, 1965. This amazing ship had achieved a record 3,500 crossings and achieved record-breaking speeds and sailing the shortest voyages between Lyttelton and Wellington, as well as Picton and Wellington, she was an amazing ship minded, and all that for a "Ferry!" However, the word ferry may be technically correct, but as a ship she was in design more a liner and with very little modifications have become a Trans-Tasman liner, or for that matter a Trans-Pacific Liner. She had the seaworthiness as she had already been sailing the worst seas in the world and the Tasman and the Pacific certainly could not offer anything worse! But, now her days were over, and she remained the darling of New Zealand!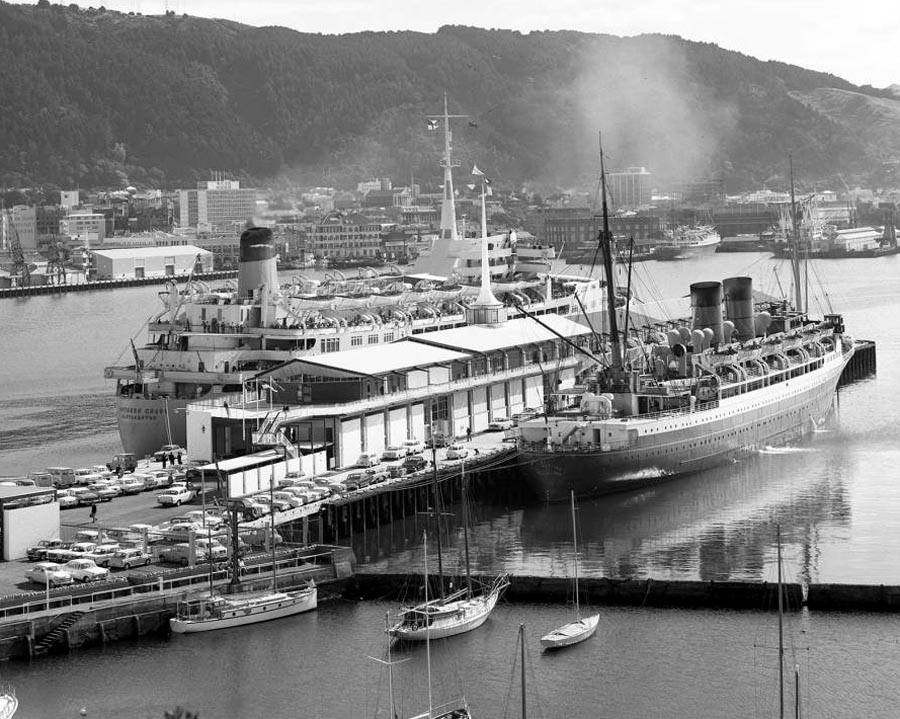 The 20,200-ton SS Southern Cross and the TEV Rangatira seen at the Wellington Passenger Terminal
on April 14, 1965. How small the Rangatira looks against the 1955 built Shaw Savill Liner
Sadly, in due course both the Passenger Terminal and the elegant TEV Rangatira would be no more!
Upon arrival in Wellington the Rangatira was officially laid up and shut down and placed on the market and awaiting a buyer. In due course, she was purchased by Manners Navigation Co. Ltd of Hong Kong on September 4, 1967. Amazingly, they resold her that very same day to Fortune & Co Ship breakers also of Hong Kong for her to be broken up.
The still graceful looking T.E.V. Rangatira departed Wellington on October 25, 1967 to a small crowd because it was not well advertised, and she was under-tow by the tug Fuji Maru. The Rangatira was bound for Hong Kong sailing via Brisbane, and she arrived at Hong Kong on November 27. She was broken up in the early months of 1968.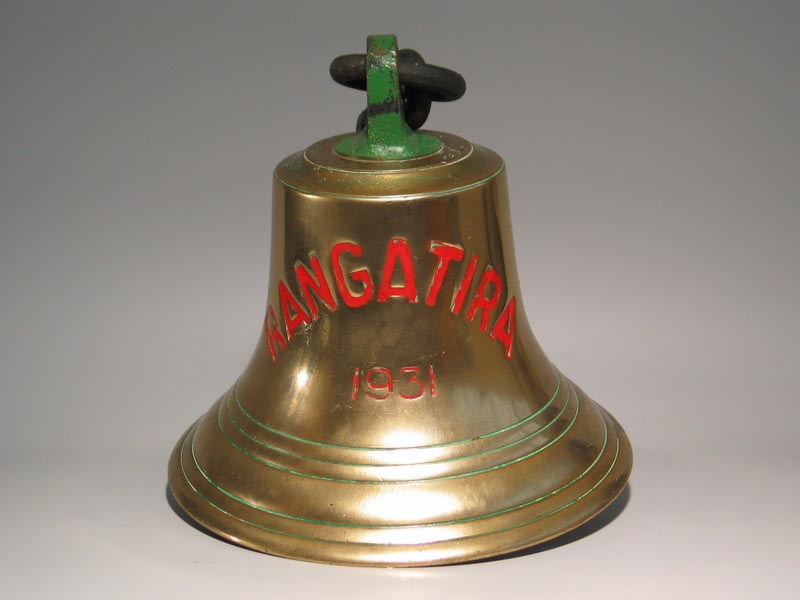 Thankfully her Bell remains and I believe that it is in one of New Zealand's Museums, but I do not have any details!
Sent in by one of my supporters, but photographer & owner is unknown
****************************************
Inter-Island Express Service – Epilogue:
With the TEV Rangatira having departed in October 1967 the TEV Hinemoa and Maori had their stern sections converted to make them roll on roll off ferries. But very soon came a brand new ultra modern ship, the 8,944-ton TEV Wahine would arrive on the scene in 1966, and she was hailed as the ultimate USSCo Inter-Island Express Ferry as she arrived in Wellington! In fact she was so well received that soon USSCO ordered a second ship The TEV Rangatira II that would be the largest (and last) ship to be built for the Steamer Express service, but more on her later.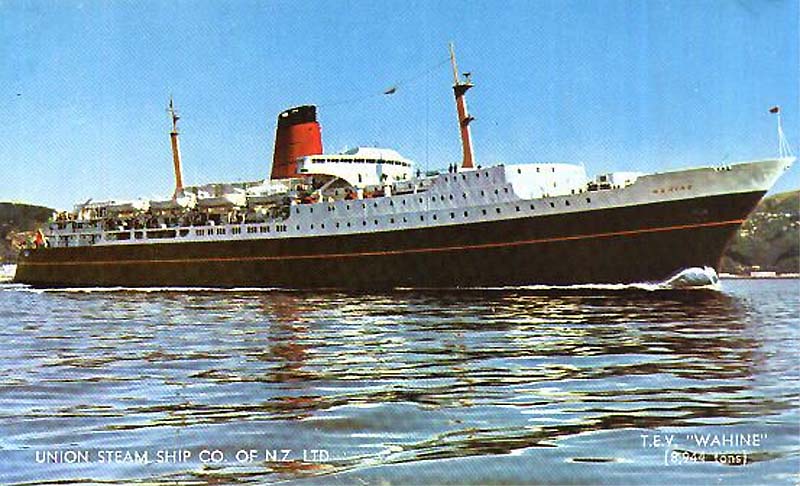 A Union Steam Ship Co postcard of the modern and sleek TEV Wahine
At 8.30 pm on Tuesday April 9, 1968 Captain Gordon Robertson who is in command of the TEV Wahine receives via the ships radio the following weather forecast from the New Zealand Meteorological Service covering the next 24 hours.
The forecast commences with the words "Storm warning," and advises that at 6 pm on 9 April a "Severe Tropical Depression" was centred about 60 miles east of North Cape (the northern-most tip of New Zealand, some 635 miles from Lyttelton and the Wahine). It is moving south-south-east at a speed of 20 knots, accompanied by winds of over 60 knots within 100 miles of the storm's centre, and over 35 knots within 300 miles of the storm's centre. In the central region of the country, including Wellington and Cook Strait, "Strong northerlies changing to southerly after midnight tonight" are forecast, with the southerly winds "gradually increasing to gale or storm from tomorrow morning." There would be "rain and poor visibility."
At 8.43 pm the TEV Wahine departed from the Inter-Island Terminal at Lyttelton for her regular overnight voyage to Wellington. Aboard are 610 passengers, 123-crew, but also one stowaway, who happens to be a seaman. Below there are; 75 cars, 4 trucks, 114 bags of mail and 24 "Seafreighters. These were tarpaulin-covered pallets mounted on wheeled trailers and are loaded with general cargo. All Seafreighters are towed aboard the ship and parked on the main vehicle deck for the overnight voyage. The Wahine was 43 minutes late due to the late arrival at the wharf of the express train that is responsible of bringing passengers from Invercargill and Dunedin to the ship. During the night and in the morning further Gale warnings are sent, thus great care is required upon entering Wellington, which is one of the most treacherous harbours in the world in these weather conditions!
Wednesday April 10, 1968:
Tragically as the Wahine neared Wellington, the weather would have its evil influence on her vision for she was about to be destroyed and sadly with lives lost.
She was hit by a massive blast of the hurricane of unprecedented ferocity. Her radar suddenly failed and she sheared off course to port and the ship simply failed to answer to her helm. At 6.40am her starboard quarter struck the southern end of Barrett Reef, and several minutes later she lost all motive power. Suddenly with the massive waves bouncing her around, she was bounced clear off the Reef and she drifted through Chaffers Passage with her anchors down and she finally came to a stop near Steeple Rock. The wind was gusting by over 100 knots and despite the best efforts a tug that had come to the Wahine assistance, the tug Tapuhi to get a line aboard; it was decided to let her ride out the storm until she could be brought to a safe anchorage.
She remained upright, that was until 1.00 pm when the Wahine commenced to list to starboard, which was due to water having flooded onto her vehicle deck. At 1.20 pm, the order to abandon ship was given. Apart from a few who decided to take their chances by swimming ashore, all passengers and crew were able to get away in lifeboats and life rafts. The ship finally heeled completely over at 2.00 pm, coming to rest on her starboard side with her port side remaining above water.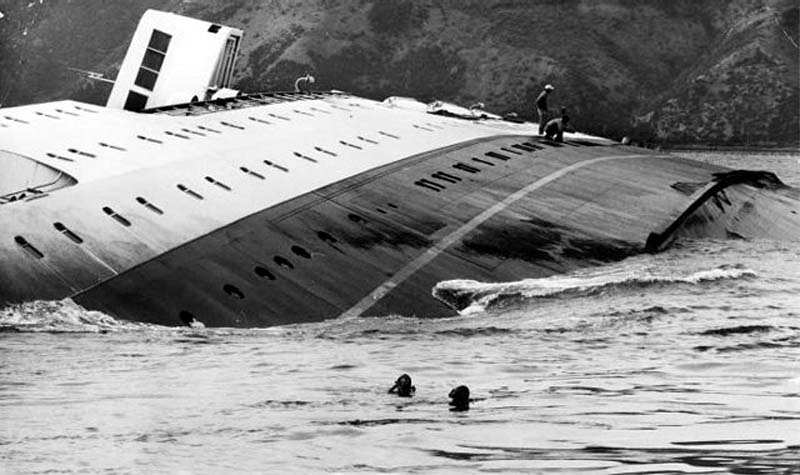 Alexander Turnbull Library, Wellington, New Zealand. Dominion Post Collection
Above is a photograph of the Wahine that was taken the day after the disaster. The storm had now gone and thankfully Wellington Harbour is calm again, with the weather fine and sunny. In the photo we see both the Police and Royal New Zealand Navy divers in the foreground searching the wreck for bodies, whilst Union Steam Ship Company trained personnel are checking each porthole in case there are still survivors trapped inside the ship. In the background is the Pencarrow coastline where countless passengers and crew had struggled and others sadly died less than 24 hours earlier.
Sadly Fifty-One precious people were lost on that horrid day making it the worst maritime disasters in New Zealand history. Then, because the Wahine was blocking the channel, she had to be moved, but yet another storm had already broken the ship into three and it was a difficult and a very long task, but the job was finally completed in 1973.
****************************************
The Last Ever USSCo Inter-Island Express Ship the 1972 T.E.V. Rangatira:
As I had already stated earlier the last Inter-Island ship to be built for Union Steam Ship Company was the TEV Rangatira, which was also the largest ship to be built for this service. Her keel was laid on April 2, 1970 and she was launched on June 23, 1971 by Lady Blundell.
She was originally scheduled for completion in November 1971, however as there were continual delays at the builders yards meaning that the Rangatira was sent from the builder's in Newcastle down to Southampton where she would fitting out. When completed she under took her Sea Trials that commenced on December 20, 1971 and she was handed over to her owners in January 1972. On February 16 she departed Southampton filled with cars bound for Wellington.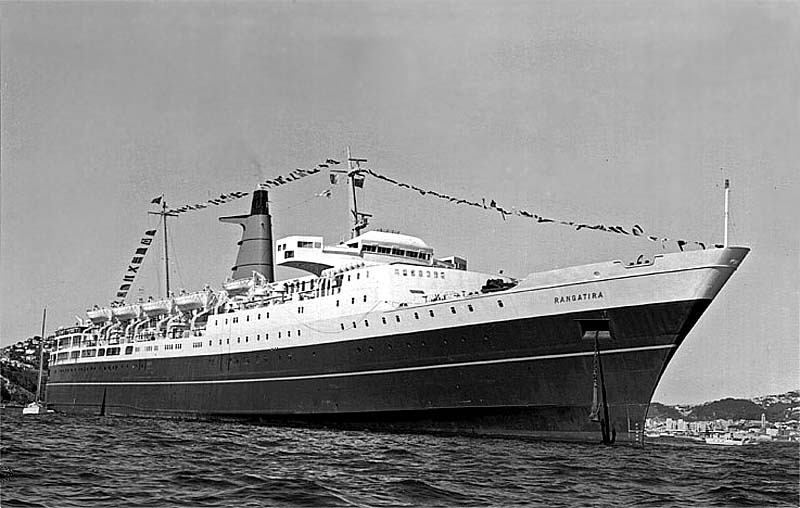 The very modern and sleek TEV Rangatira II
The Rangatira arrived in Wellington on 18 March 18, 1972 and as she passed the wreck of the Wahine she gave a long blast of her whistle as a salute and lowered her stern flag. She then entered the inner harbour, and the Wellington Harbour Board tugs the Toia and the Kupe gave her a watery welcome with their fire hoses. The TEV Rangatira was berthed at the Taranaki Street RO/RO Terminal in order to discharge her cargo of cars that she had brought with her from England, and having completed this she moved to the Inter-Island Wharf for preparations prior to entering service. The new Rangatira certainly received a tumultuous welcome as she arrived as people were always excited and a new USSCo ship arrived!
The Rangatira had a gross tonnage of 9,387 tons and a length of 500.4ft and there was no doubt that this new ship was superbly fitted out with some of the best facilities ever! Her public rooms were spacious, well-designed and featured attractive murals including one much loved large painting of a Maori Chief that had been a feature on the earlier Rangatira. She had a comfortable cafeteria but also a spacious dining saloon, and a large bar. She offered accommodations for 768 passengers and had space for over 200 cars.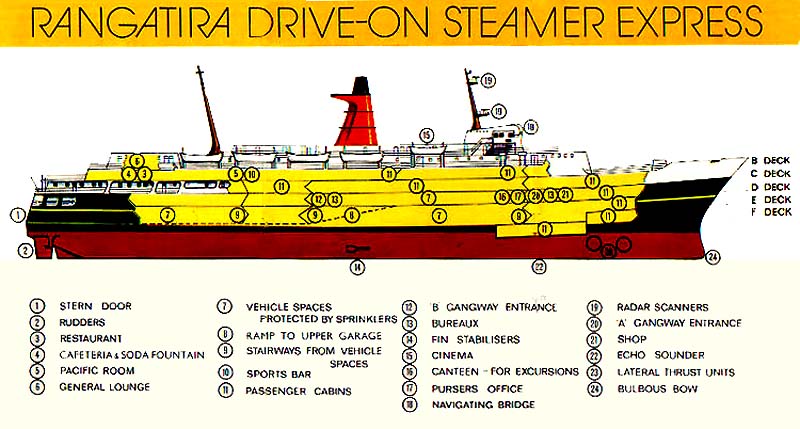 Her lay-out taken from a brochure
When she was ready for her maiden voyage she was a fully booked ship and she departed from Wellington on March 28, 1972. At a later date her passenger capacity was reduced to 733 and this was done in order to enable that each crewmember to have a single cabin.
By this time though, it was apparent that the service required only one ship, therefore the Maori was laid up in Wellington and on the market, the Hinemoa had already been sold and gone.
Sadly due to the growth in air travel and competition from the very popular Rail Ferries between Picton and Wellington there was a rapid decline in passenger numbers and thus very heavy financial losses were being incurred. In early 1974, the USSCo announced that it would officially cease the operation of the much-loved "Steamer Express Service" on the June 3, 1974 in the face of these increasing losses. The Government stepped in and announced that it would charter the ship so that the service could be maintained until at least the February 16, 1975.
In a move to reduce costs, the passenger accommodation on two decks was closed down during the off-season, reducing the capacity to just 530. With extensions to the charter, Rangatira remained in service until when she arrived in Wellington for the last time on September 15, 1976.
Since entering service, she had made the crossing of Cook Strait 2,096 times, carried a total of 832,260 passengers and 139,656 vehicles. Then on Friday 17 September, the very last of the Union Steam Ship Companies Inter-Island Express Ships, the TEV Rangatira departed Wellington for the very last time and she sailed via Papeete Tahiti, the Panama Canal to Falmouth in Cornwall England, where she arrived on October 17 where she was laid up awaiting for interested parties to charter the ship. She would have a most varied career for a short period, but her latter years were, to say the least rather sad!
TEV Rangatira departed Falmouth late in September 1978 and she headed for Sullom Voe in the Shetland Islands stopping in Glasgow on the way where she obtained further supplies and fuel. She headed further north and arrived at Sullom Voe on October 2, 1978 where she was used there as an accommodation ship for the oil workers.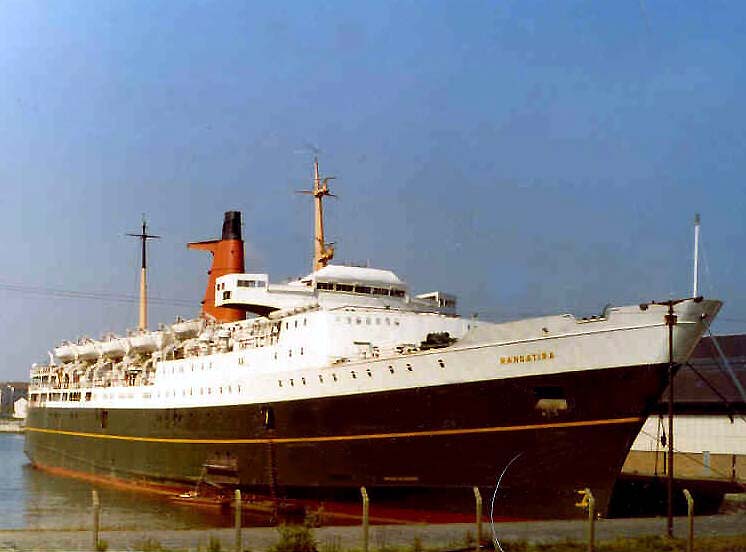 The Rangatira seen here at Glasgow in 1978 when she was on her way to the Shetland's
Photographer is unknown – Please see the photo notes at bottom of the page
She remained there until July 1981. As the charter had then completed she returned to Falmouth where she was again laid up.
However on May 15, 1982 she was chartered to the British Ministry of Defence to be used as an accommodation/barracks ship at Port Stanley in the Falkland Islands during the war. She was made ready to enter the war zone and on June 19, she departed Southampton bound for Port Stanley arriving on July 11.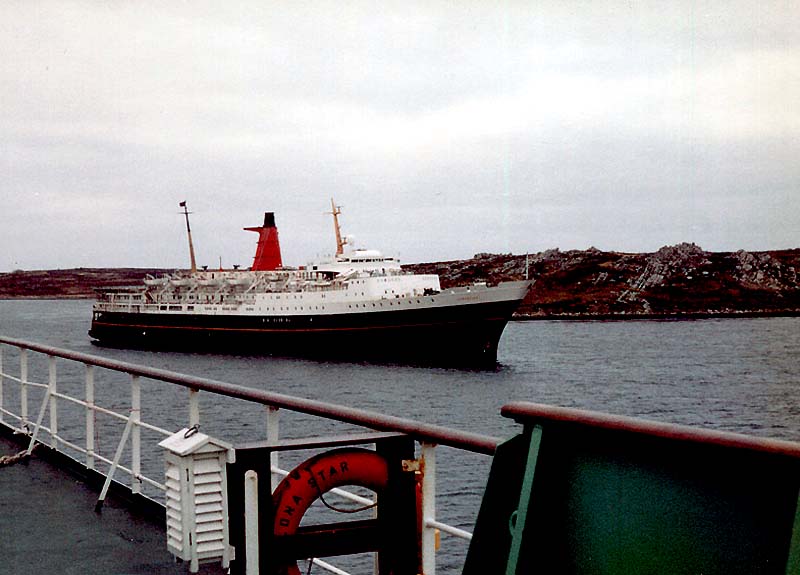 The TEV Rangatira is seen at Stanley Harbour from the decks of the Blue Star Line ship the Avelona Star
I am told that this photograph was by & © Jason Willis-Richards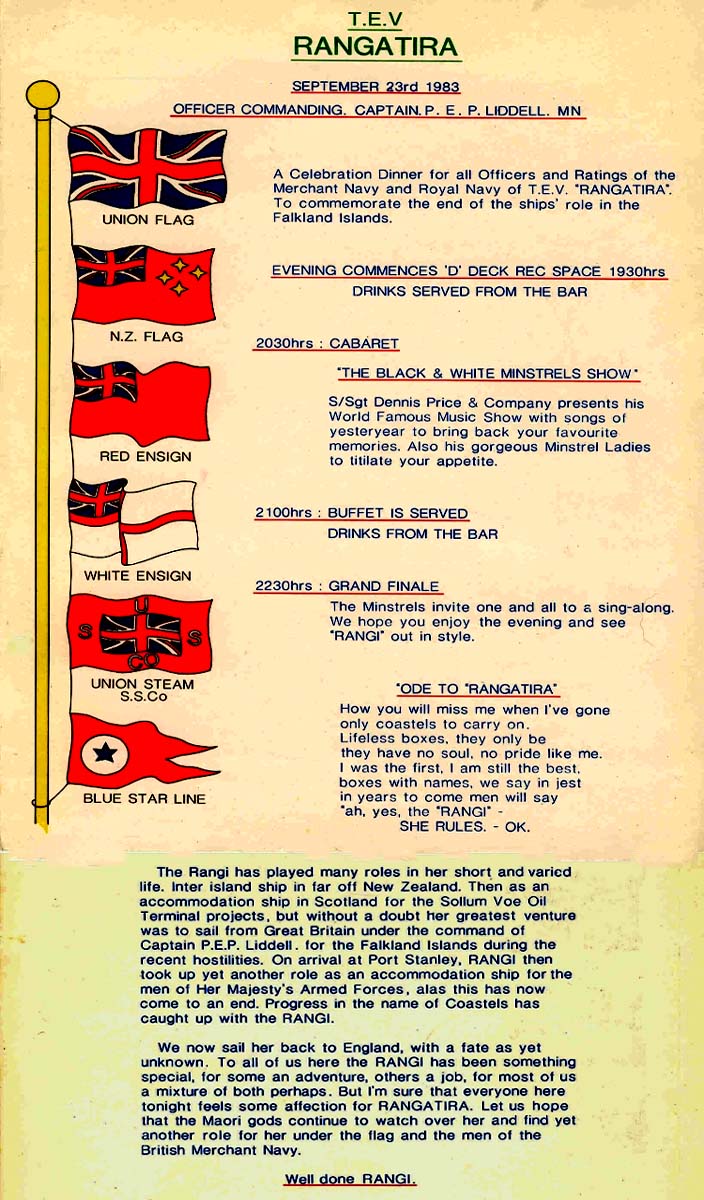 The TEV Rangatira has been in the Falklands for a year and this is a farewell program presented on September 23, 1983
With that charter completed, the Rangatira departed Port Stanley on September 26, 1983 and she arrived in Belfast in October to be refitting again as a passenger ship upon completion she departed Belfast for Falmouth where she arrived on March 30, 1984 and she was laid up.
Finally the Union Steam Ship Company decided to sell her rather than retain her for charter purposes, and she was sold in 1986 to the Greek, P.J. Marangopoulos who would use her as a ferry in the Mediterranean. He renamed her, Queen M, and she would be operated by Marlines Ferries.

The Marlines Ferries TEV Queen M having had her aft section completely rebuilt
On November 3, 1986 the TEV Queen M departed Falmouth under-tow of oilrig supply vessel, the Vigen Supplier and it was said to save costs. She was extensively rebuilt and was operated on a ferry service in the Mediterranean between Italy and Greece. In August 1987 she was laid up in Piraeus and placed on the market.
Then on September 8, 1987 the Queen M was sold to Searoyal Ferries Ltd, and she returned to her previous service and continued to operate until 1990, when she was sold to Alimar Shipping Co who renamed her Carlo R. However, she sees to have remained laid up for some time, and the only time she actually returned to active service was as just for several months from June to August 1995 when she operated between Bari (South-East Italy) and Igoumenitsa (North-West Greece). However, on August 16, 1995 she arrived at Naples as she required some repairs, but she was subsequently arrested for non-payment of fees, etc.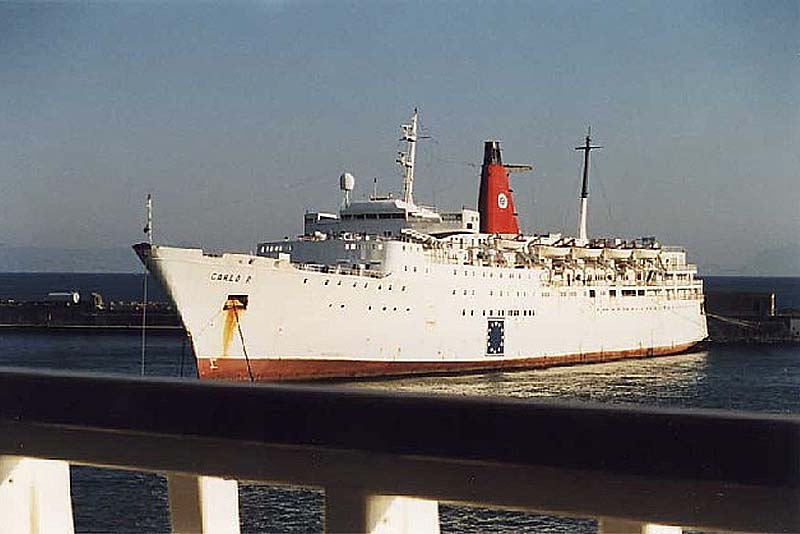 The TEV Carlo R is seen at Naples but laid up
The Carlo R remained laid up for just over five years until she was sold at auction to the Oberon Cruise Line in October 2001 and Oberon gave her a rather pretentious name TEV Alexander The Great! She was taken under tow to the Montenegro port of Bijela, where she arrived on December 23, 2001. It was here it was intended for her to be converted into a luxury cruise ship, however in January 2004 she was still there laid up, and worst still in a "dead ship" (completely shut down) condition at the Adriatic Shipyard at Bijela, and she had also fallen into a poor condition and it had become obvious that her owners had completely abandoned her conversion into cruise ship.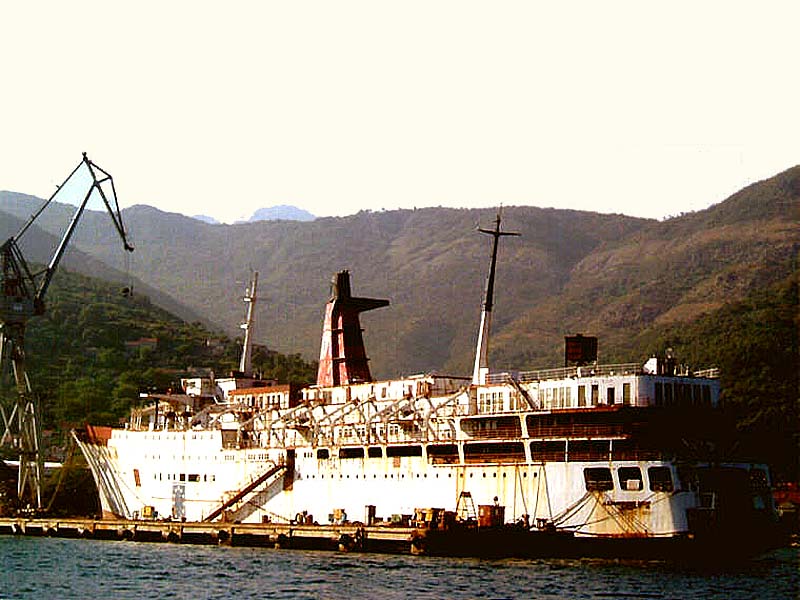 The SS Alexander The Great is seen in lay-up condition at Bijela around 2003
Photograph by & © Dr. H. Harrington
Thus as he was becoming a financial burden, for they had been trying to sell the ship, finally Oberon sold her to Turkish breakers and on January 12, 2005 she departed Bijela under tow of the Greek tug "Hellas" and she headed for Aliaga, in Turkey, where she arrived on January 20, and nine days later she was beached and breaking up soon commenced!
Farewell to those old Days:
With this ship came a sad end to an Old and a Long Tradition of the Union Steam Ship Company "Inter-Island Express Services" and that is a tragedy id you really think about it, for hundreds of thousands have sailed on these many ships and have countless happy memories of their voyages, as well as the rough days at sea, but on the whole, the ships reached port safely, bar one sad ship the TEV Wahine, which will always be remembered! But, The Rangatira of 1931 is in a way, one of the most loved and special ships ever on the service, and we say Goodbye!
Reuben Goossens.
****************************************
Specifications – T.E.V. Rangatira of 1931:   
Built:                                  1930 by Vickers Armstrong Ltd, Barrow-in-Furness.
Launched:                           April 16, 1931 by Lady Wilford.
Delivery voyage:                  September 8, 1931.
Official Maiden voyage:         November 3, 1931, Lyttelton to Wellington.
Official Number:                  157646.
Tonnage:                            6,152 GRT (Gross Registered Tons).
Length:                               419ft - 127.71m.
Breadth:                             58ft - 17.67m.
Draught:                             17ft - 5.18m.
Engine & Power:                  Six oil fired boilers generating steam at 400 pounds per square inch at a temperature of 725° Fahrenheit. Turbo-electric engines with six water tube boilers forced draught of 13,000 BHP, 446psi.
.                                        Two turbine driven alternators, each supplying 5,120 Kw at 3,150 volts to two double-unit 6,500 horsepower electric motors at 220 revolutions per minute, directly coupled to the propeller shafts.
Screws:                              Two.
Speed:                               22 knots service speed, 23.9 knots maximum. By switching the polarity of the motors she could change from 22 knots ahead to 17 knots astern within five minutes.
Passengers:                         600 First-Class, 170 Second-Class and 186 seated passengers if required.
.                                        One-Class after her 1946 refit.
Crew:                                 112.
Remembering a Great USSCo Ship!
T.E.V. Rangatira of 1931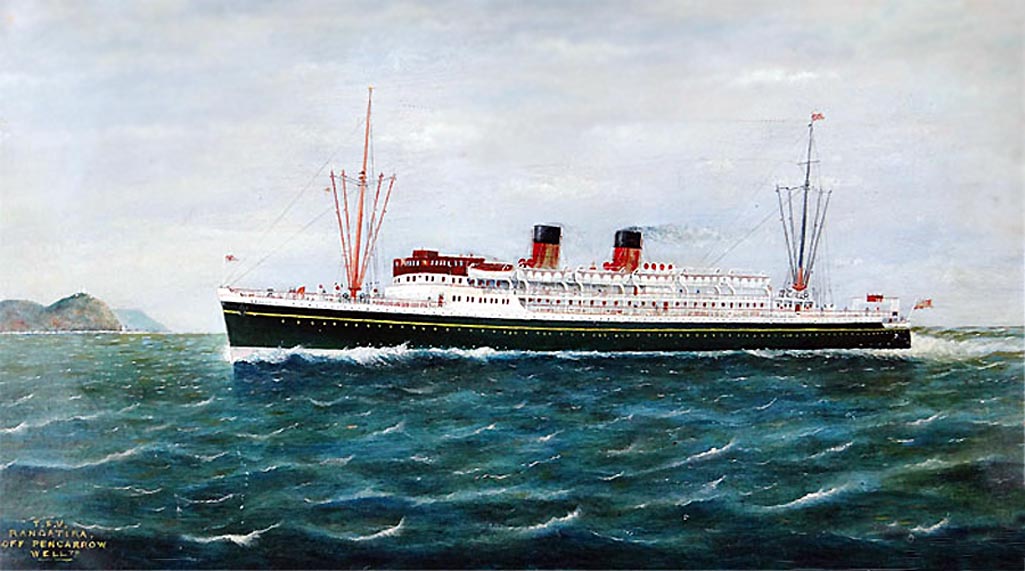 The beautiful T.E.V. Rangatira seen off treacherous Pencarrow rocks at the entrance of Wellington Harbour
But she is a radiant beauty that was loved by ALL who sailed on her for well over 30 years!
Also view Other USSCo Passenger Ships online, from oldest to the last ever built
SS Waitaki / SS Moeraki & Manuka / SS Marama & Maheno / RMS Aorangi
TSS Monowai / TSS Awatea / MV Matua / MV Tofua
****************************************
Return to the ssMaritime Main INDEX
ssMaritime.com & ssMaritime.net
Where the ships of the past make history & the 1914 built MV Doulos Story
Also visit my
"Save The Classic Liners Campaign"
Please Note: ssmaritime and associated sites are 100% non-commercial and the author seeks no funding or favours of any shape or form, never have and never will!
Photographs on ssmaritime and associate pages are by the author or from the author's private collection. In addition there are some images that have been provided by Shipping Companies and private photographers or collectors. Credit is given to all contributors. However, there are some photographs provided to me without details regarding the photographer/owner concerned. I hereby invite if owners of these images would be so kind to make them-selves known to me (my email address may be found on www.ssmaritime.com only), in order that due credit may be given.
This notice covers all pages, although, and I have done my best to ensure that all photographs are duly credited and that this notice is displaced on each page, that is, when a page is updated!
ssMaritime is owned & © Copyright by Reuben Goossens - All Rights Reserved