Australian National Line; T.S.M.V. Empress of Australia
Please Note: Firefox and some other search engines are not suitable – Use "Internet Explorer" for this page to load perfectly!

Click the logo above to reach the ssMaritime FrontPage for News Updates & "Ship of the Month"
With Reuben Goossens
Maritime Historian, Cruise'n'Ship Reviewer, Author & Maritime Lecturer
Please Note: All ssMaritime and other related maritime/cruise sites are 100% non-commercial and privately owned. Be assured that I am NOT associated with any shipping or cruise companies or any travel/cruise agencies or any other organisations! Although the author has been in the passenger shipping industry since 1960, although is now retired but having completed around 680 Classic Liners and Cargo-Passengers Ships features I trust these will continue to provide classic ship enthusiasts the information the are seeking, but above all a great deal of pleasure! Reuben Goossens.
Australian National Line
T.S.M.V. Empress of Australia
Later: MV Empress, Royal Pacific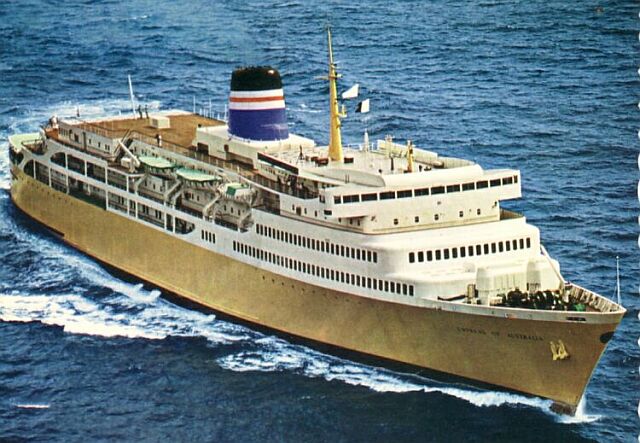 T.S.M.V. Empress of Australia was a fine Australian built ship that served its nation well!
Author's private collection
Australian National Line ordered a new ship to be built for their Sydney to Devonport service and it proudly proclaimed that it would be the largest ship of this type in the world. This new passenger vehicle ship was to be constructed by the "Cockatoo Docks & Engineering Co. Ltd," at Cockatoo Island Dockyard and she was simply known as "ship number 220." Her keel was laid down on September 11, 1962.
T.S.M.V. Empress of Australia was launched on January 18, 1964 by the daughter of the Governor General of Australia, Lord De L'Isle Catherine Sidney, who said those famed words "I name this ship 'Empress of Australia.' I congratulate those who have so faithfully and skilfully constructed her. May God bless her and all who sail in her." Having entered the water she headed to her fitting-out berth. After completion and her sea trials the £2.6 million ship (a fortune at the time) was delivered to Australian National Line on 8 January 8, 1965.
The Empress of Australia was a true roll-on roll-off passenger ferry and was designed to carry 91 cars or a mix of 51 cars and 33 semi trailers. She operated between Sydney and Tasmania and she immediately had a major effect in the development of Tasmania's tourist industry and overall trade with the mainland. At the time, for a ship of this type, a voyage of 625 miles is one of the longest ferry services in the world. The Empress of Australia featured modern and attractive lounges, dining and other facilities. Her cabins comprised of six deluxe single or twin bedded suites, as well as 83 twin bedded cabins, the balance being either singles or four berth cabins. She made three round voyages per fortnight, one Sydney to Hobart and two to Bell Bay (Launceston) with one visit to Burnie.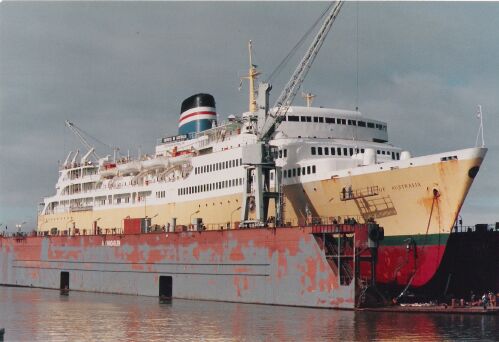 The Empress of Australia is seen here in Orr's dry dock Melbourne late in her career
Photograph by & © David Francis (Victoria AU)
David Francis from who sent me the above photograph, wrote: "I had a stint on her as a JAP (Junior Asst. Purser). My sea going career lasted for about 10 voyages and as it was during winter and the seas of Bass Strait were certainly very rough, I was convinced being on the land a better idea. I was about 20 at the time, and now in my 60's … Sadly I didn't date the photo of her on dry-dock, which now hangs in my study, but from memory it was taken on a Sunday and there was not a soul around or to be seen anywhere, not like security ravaged times of these days. She certainly looked rather grand perched up there!"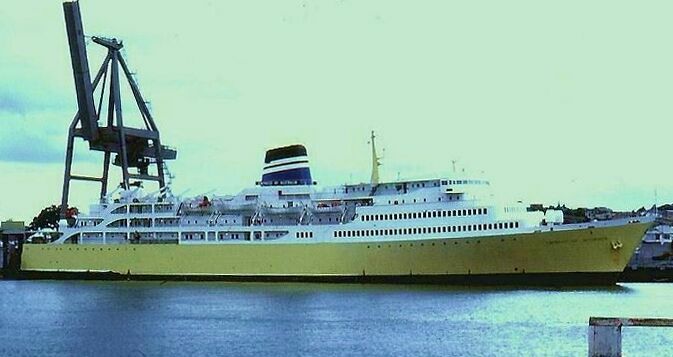 Empress of Australia seen at Devonport Tasmania
Statistics:
Tonnage:………………..12,037 GRT
Length:…………………..443ft
Width:…………………….40ft
Draught:…………………20ft
Engines:…..............M.A.N. - Type Diesels
Screws:……….….……..Twin + Side thrusters (unique for the time)
Speed:………….………..17 knots – 19 ½ knots maximum during sea trials
Passengers:……….…..250
Cars:………………….…..91 cars – or 53 cars & 33 semi trailers
Other:………………….…Fully Stabilized and Air-Conditioned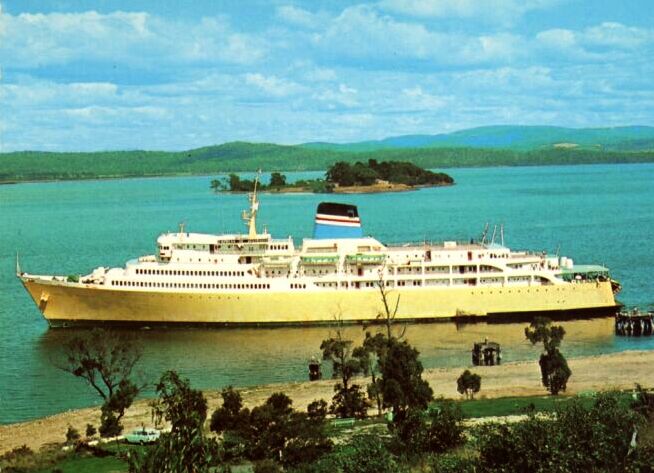 A delightful photograph of this beautiful ship seen at Bell Bay on the Tamar River in Tasmania
Thank you Mr. Boettge (Germany) for providing additional information
Author's private collection
With the popularity of the service, late in 1984 it was decided to replace the Empress of Australia by a newer and more economical vessel the 12,515 GRT MS Abel Tasman, which was built in 1975 as the MS Nils Holgersson, which would be delivered mid 1985.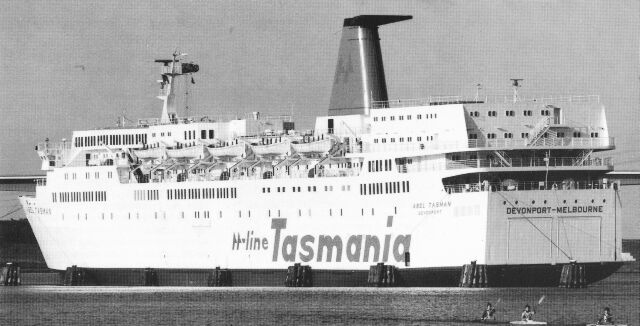 MS Abel Tasman is seen here laid up ready to sail just prior to her positioning voyage to Australia in April 1985
However this was delayed due to local strikes and she did not depart until May 18
Photograph Gerhard Fiebiger
The superb Australian Empress of Australia was sold to Congreve Glow Inc, but was registered to Phineas Navigation Ltd of Limassol and renamed MV Empress in 1985. She was laid up, but was in use at various times. Little information is available. Her tonnage was now registered as 8,187 GRT.
The Rebuilding of an "Empress"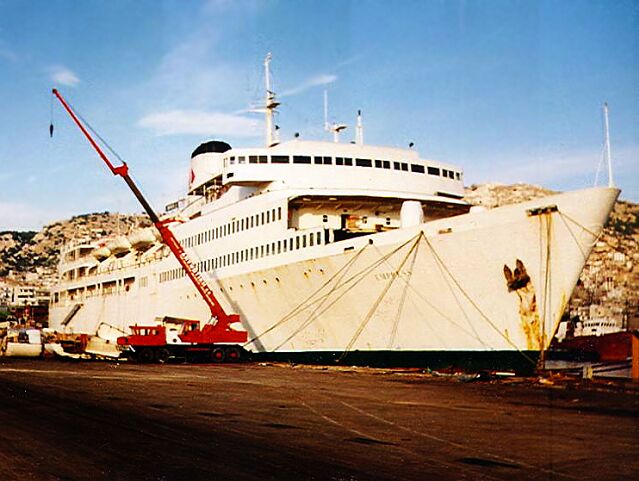 MV Empress seen in Greece just prior her rebuilding in 1989-91
In 1987 her ownership was changed to Congreve Shipping Corp of Nassau, and used in the Mediterranean by Tony Travel & Agency who operated mostly on the Cyprus to Lebanon service with passengers opting for a berth or a reclining seat.
1989 she was reregistered under the new ownership of Falcon Maritime Co, Piraeus, who took her to Chalkis Greece to have her completely rebuilt. However she was transferred to Stena Lines to become the Stena Empress and it was intended for her to operate the Stena Line service from Gothenburg to Copenhagen.
However this did not seem to eventuate as mid conversion her owners decided to turn her into a traditional cruise ship and use her for extended cruises, thus new cabins were fitted in the vehicle decks. The conversion was undertaken by the Avlis Shipyards which originally commenced in September 1989 and was finally completed mid 1991.
Dry-Dock and Completion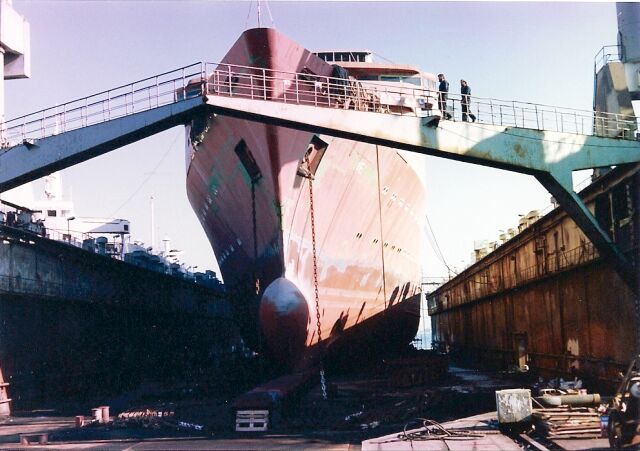 A fine bow view whilst being rebuilt at the Chalkis dry-dock in 1990
*Provided by the moderator & photographer Kostas Gatsos of WWW.Nautilia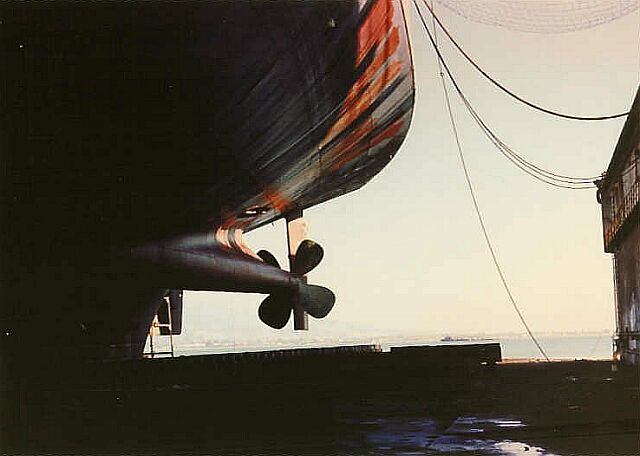 Seen in the Chalkis dry-dock in 1990.
As a cruise ship the Empress was one of the first cruise ships to have two rudders and screws  
*Provided by the moderator & photographer Kostas Gatsos of WWW.Nautilia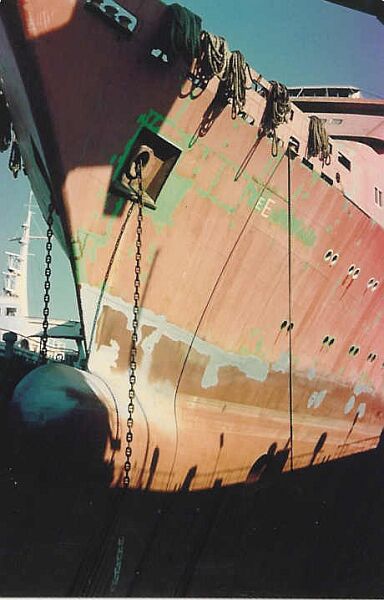 The Empress was also one of the first to have bow thrusters
*Provided by the moderator & photographer Kostas Gatsos of WWW.Nautilia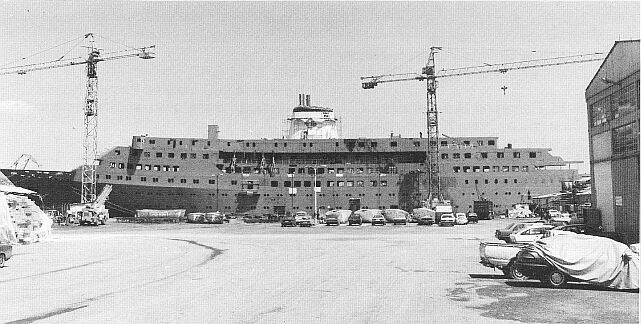 MV Empress seen at the Avlis Yards in Greece during her reconstruction
Author's private collection
Please Note: I am looking for further photographs of her completed – email me please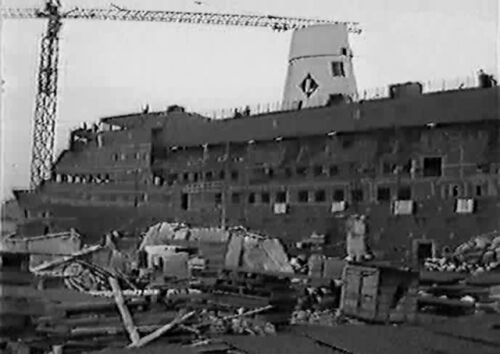 Although she is still under construction, here we see her funnel being raised

The

Starlite Cruises Logo

Upon completion the Empress was listed as 13,176 GRT, measuring 468ft in length and operated at a respectable 17.5 knots, accommodating 623 passengers with a crew of 226.

Records show that by 1990 she was she was owned by Starlite Cruises, but she was reregistered to Sun Cruises Maritime by Tony Travel & Agency Ltd Piraeus.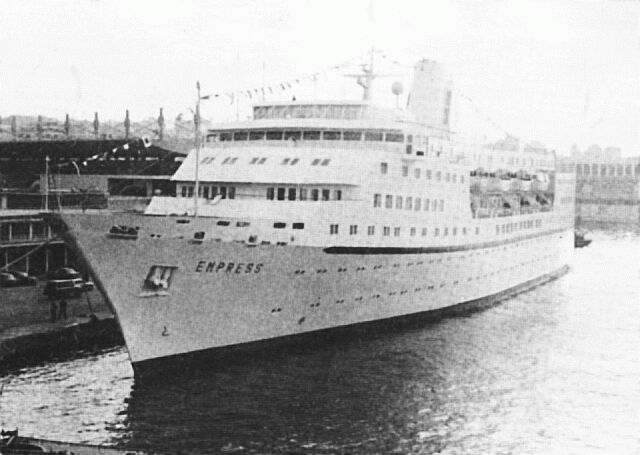 MV Empress was a handsome looking cruise ship when completed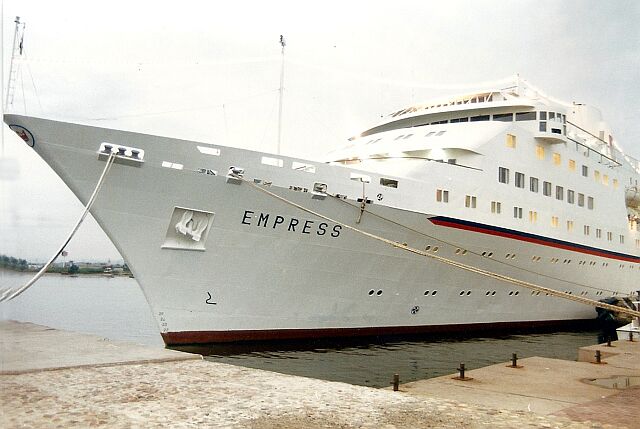 MV Empress ready to set sail
*Provided by the moderator & photographer Kostas Gatsos of WWW.Nautilia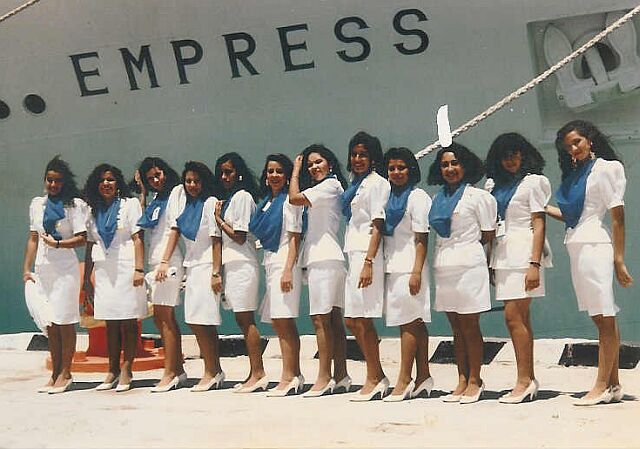 Empress Female Staff line up for a publicity photo
*Provided by the moderator & photographer Kostas Gatsos of WWW.Nautilia
She was delivered to her operator Starlite Cruises and MV Empress departed on her maiden cruise on June 16, 1991. Her main itinerary was mostly based on seven day cruises between San Diego and Puerto Vallarta, with calls at Manzanillo, Cabo San Lucas, Acapulco and Lazatlan.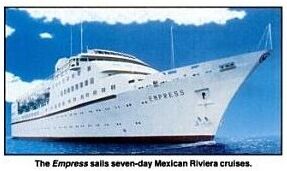 MV Empress as advertised during her Mexican cruise days
From an advertisement
MV Empress' facilities and accommodations were of a high standard, as all staterooms had private facilities with most having a full bath tub with overhead shower, hair dryers, international dial telephone, TV with in house movies and individual climate control air-conditioning as well as 24 hour room service. Public areas included a range of superb Lounges and Bars, a large Casino, a dazzling Nightclub, a groovy Disco, as well as a quiet Library and a superb Observation Lounge. Other facilities included ample deck space for sun baking and sport activities, a sparkling Pool, and the ever popular Whirlpool and Sauna. There was a well stocked Duty Free shop, a Beauty Salon, a Tours Desk and a 24 hour Reception Desk!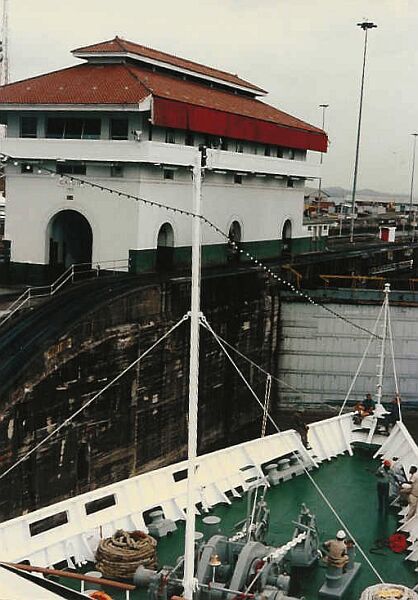 The bow of the Empress seen in the Locks of the Panama Canal in March 1991
*Provided by the moderator & photographer Kostas Gatsos of WWW.Nautilia
However her stay at San Diego would be a short lived venture for the Empress as all too soon she would return to Greece and she was laid up until a new service was found for her.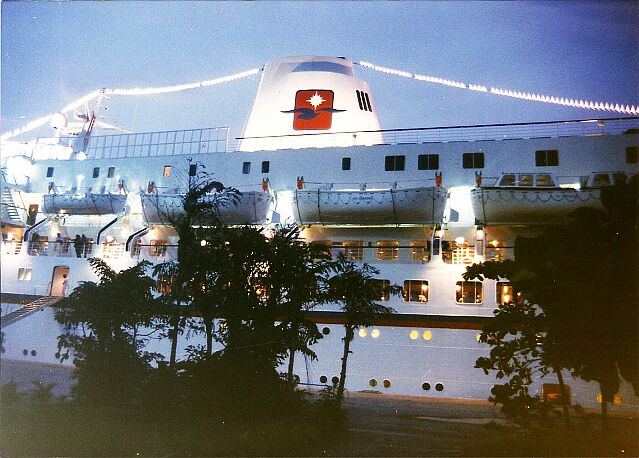 The Starlite Cruises MV Empress is seen floodlit whilst in port
*Provided by the moderator & photographer Kostas Gatsos of WWW.Nautilia
In December 1991 it was decided to rename the Nassau registered ship, and she became 13,176 GRT MV Royal Pacific. Early in 1992 she departed and headed for Singapore to become one of those dreaded Asian Casino Ships and undertake offshore gambling cruises sailing out of Singapore into the Malacca Straits. Before her departure, poker machines were added to the majority of public rooms and hallways and the Casino was extensively upgraded.
Upon arrival she began to operate a series of three and four day gambling cruises out of Singapore to Indonesian ports, and soon she became quite a popular ship, considering she looked like a new and a modern passenger ship! Many of the croupiers on board were Australians who were apparently recruited from the Casino in Adelaide. All went well for the Royal Pacific, but in August 1992 her name would be entered in the maritime historical books forever!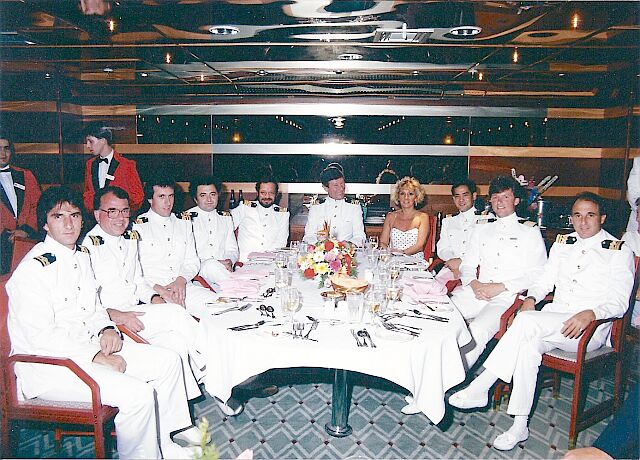 Above and below: MV Royal Pacific crew 1992 – The Captain and a number of officers are the same in both photo's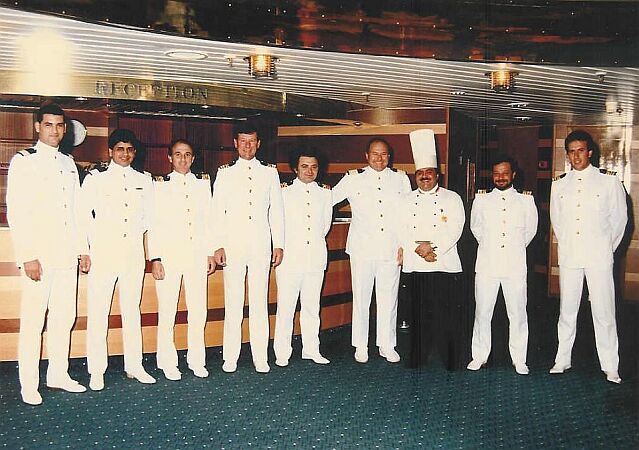 Bar Manager, Chief house keeper, Staff Captain, Captain, A/B Engineer, Hotel Manager, Chef, A/Engineer, Chief Electrician
    *Both the above images were provided by the moderator & photographer Kostas Gatsos of WWW.Nautilia
Strangely enough it would be in August 1992 that her cruise schedule was altered to include a number of weekend cruises "To Nowhere." The very first of these cruises was scheduled to depart on the evening of Friday August 21 and for all on board this would indeed be a "Voyage to remember!" 
MV Royal Pacific departed Singapore in the evening on Friday August 21, 1992 with a complement of 355 passengers and 179 crew members for a two night cruise to nowhere. The highly experienced Greek Captain Tasos Papayannis decided to take a course up the calm waters of the Straits of Malacca then down into the Andaman Sea and back to Singapore. Weather conditions and visibility were good. Passengers happily dined and enjoyed the entertainments on offer, but mostly spent time losing their money in the ships large Casino and countless slots machines. But all this fun and frivolity was about to end on the second night, when early in the morning of the 23rd located at precisely 02.20 AM with the ship being in Malaysian waters but 12 miles away from Singapore, some of the passengers may still have been in the Casino and enjoying a drink in the lounges and bars, but many would have been asleep in their cabins, when the small 800-ton Taiwanese fish factory vessel named "Terfu 51" rammed into the aft section of the Royal Pacific on her port side whilst the Terfu 51 was sailing at full speed. This caused massive damage to the Royal Pacific well above and below the waterline. In addition the damage was well above the level of the watertight bulkheads, which were open and for some reason they could not be closed.
The Chief Engineer told the enquiry later that "the engine room was flooded within minutes." The damage was so extensive that the ship rapidly heeled over as water rapidly entered into her hull section and into the cabins on her lower and then higher decks, decks that originally had been the car roll-on roll-off decks, that during the conversion had been reconstructed and filled with accommodations, and this had been done to all the correct maritime architectural guidelines and specifications, and it was determined that this was in no way responsible for the ships rapid sinking.
The Captain handled the situation in an orderly and correct manner and he quickly ordered to "abandon ship" and all lifeboats were launched. Survivors were picked up by passing ships. Sadly, the Royal Pacific sank within 10 to 15 minutes at Latitude: 02° 27.148 N / Longitude: 101° 36.304 E to a Depth of 16.1m as I already stated in Malaysian waters. Survivors were very quickly picked up by boats that were dispensed from Malaysia and nearby Singapore.
Tragically three people drowned during the rescue and six others remain officially reported as missing. However, it assumed that they are trapped inside the hull as the ship heeled over so rapidly and filled with water at great speed. At the time of the collision, the Royal Pacific was just 12 miles out of Singapore, and one could ask, how can such a small fish factory vessel cause so much damage to such a good sized ship? I have not as yet been able to discover the details of the charges laid against the captain and crew of this Taiwanese fishing vessel, which was obviously wholly at fault of this tragic collision and loss of life. However, it is important to note, that out of a total of 355 passengers, and 179 crew members on board, thus it was remarkable that only 9 lives perished, even though even one life lost is too much!

This is an image of the Royal Pacific as seen in a Greek Newspaper reporting her sinking on August 24 1992
*Photograph Greek News - www.nautilia.gr
On January 4, 2009 I received an email from Alexandros Papayannis whose Uncle was the Captain of the Royal Pacific. Alexandros wrote:
"I would like to inform you that the Captain of Royal Pacific that fateful night was my uncle, Captain Tasos Papayannis who passed away 4 years ago. I heard many stories regarding the accident and sinking of the ship. Until his death he could not overcome the loss of 9 souls, although he was not blamed for the accident. Please keep up the good work for us ship lovers."
I thank Alexandros for his input, I am sure that many will find it valuable, and also for the many who will have met the Captain during his long service at sea!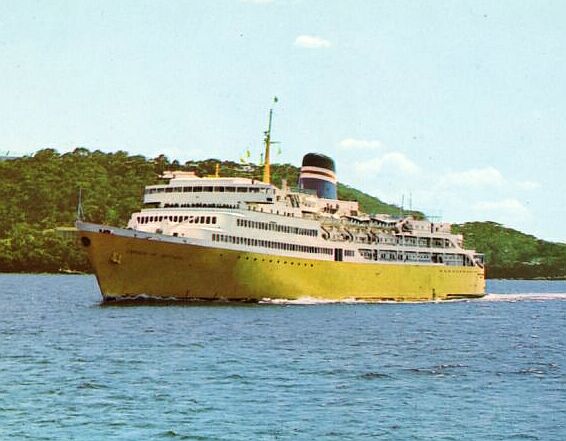 Now this is a great way to remember her – At full speed ahead!
Author's private collection
This beautifully crafted ship that was the much loved T.S.M.V. Empress of Australia, MV Empress and MV Royal Pacific eventually served 27 years and had it not been for an off course fishing vessel with a captain who should have been thrown into Jail for life, she may still have sailed on for many years to come, but that was just not to be!
"Blue Water Liners sailing to the distant shores.
I watched them come, I watched them go and I watched them die."
****************************
Visit our ssMaritime Main INDEX
Where you will discover more than 680 Classic Passenger & Passenger-Cargo Liners!
ssMaritime.com & ssMaritime.net
Where the ships of the past make history & the 1914 built MV Doulos Story
Please Note: ssmaritime and associated sites are 100% non-commercial and the author seek's no funding or favours of any shape or form, never have and never will!
Photographs on ssmaritime and associate pages are by the author or from the author's private collection. In addition there are some images that have been provided by Shipping Companies and private photographers or collectors. Credit is given to all contributors. However, there are some photographs provided to me without details regarding the photographer/owner concerned. I hereby invite if owners of these images would be so kind to make them-selves known to me (my email address may be found on www.ssmaritime.com only), in order that due credit may be given.
ssMaritime is owned & © Copyright by Reuben Goossens - All Rights Reserved.