Howard Smith Ltd - T.S.S. Canberra 1913 to 1947, then owned by the Greek Line 1947 to 1954, owned by the Dominican Republic, renamed T.S.S. Espana 1954 to 1959
Please Note: Firefox and some other Search Engines may not be suitable
Use Google Chrome for this Web Page to load perfectly!

Click the logo above to reach the ssMaritime FrontPage for Ships of the Month & News Updates
With Reuben Goossens
Maritime Historian, Cruise'n'Ship Reviewer, Author & Lecturer
Please Note: All ssMaritime and other related maritime sites are 100% non-commercial and privately owned, thus ssmaritime is NOT associated with any shipping company or any other organisation! Although the author has worked and has been involved in the passenger shipping industry for well over 60 years, but due to his old age and poor health, he was forced to retire. Yet, he has completed well over 1,435 Classic Liners, Passenger-Cargo Liners as well as humble converted C3 converted Migrant Liners, which has transported countless thousands of folk to the new world, as well on vacations'. I trust the features online will continue to provide Classic Liner and Ship enthusiasts both the information they are seeking, but more so provide a great deal of pleasure and relive many happy memories!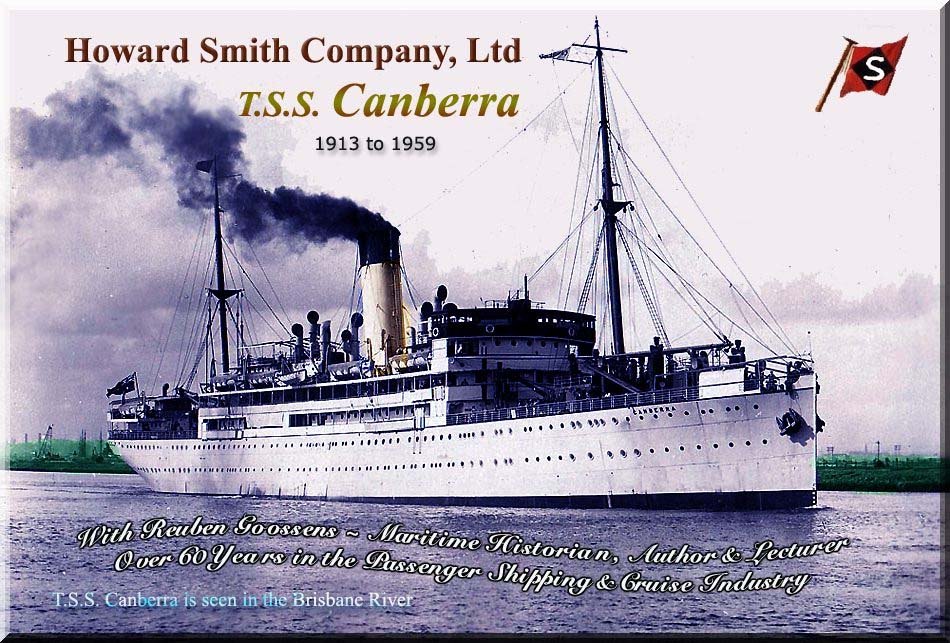 T.S.S. Canberra above is seen between the years after WWI and before WWII
Photographs are from the ssMaritime historic collection - unless stated otherwise
I wish to thank the "State Library of Queensland" (SLQ) & "State Library of Victoria" (SLV) for their wonderful contribution
Introduction:
Howard Smith Limited had a long and a proud history in Australian shipping which goes back to the 1850's when the Englishman Captain William Howard Smith (born in Yarmouth, England in 1813) together with and a friend, who was a marine engineer Mr. Skinner, obtained a 199-ton iron hulled single screw steamer, but was a fully schooner-rigged vessel named "Express", and he set off with his family for Melbourne, Australia, where they arrived in May 1854. He and Skinner, the marine engineer became involved with the Parker brothers and together they played a big part in setting up the Australian coastal shipping company "Huddard Parker Ltd".
However, Captain Howard Smith really desired his own coastal Shipping Company in Australia, thus in 1862 he returned to England in order to purchase a suitable ship to commence a new coastal trade in Australia.
S.S.

You

Yangs

:
In the UK, Captain Smith purchased in 1863 a steel hulled schooner rigged steam ship named "Kief", being 583-tons and Captain Smith renamed her "You Yangs". Having been given a refit, she departed for Melbourne and it was on May 14, 1864, ten years after arriving in Melbourne the first time that Captain Smith had arrived on the "Express".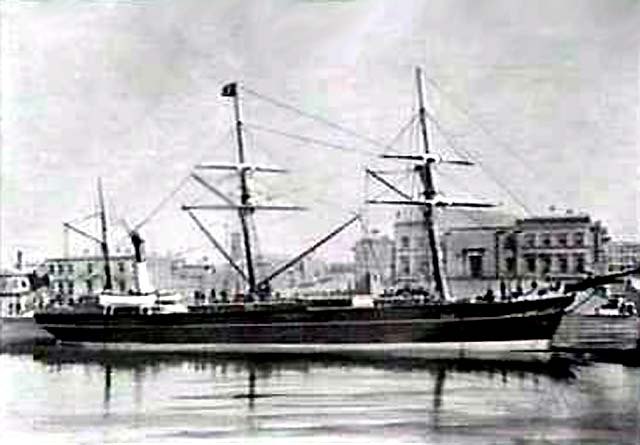 S.S. "You Yangs" the very first ship under the Howard Smith name in 1883
However at that time she operated by the current company name of "Melbourne Steam Ship Company" and she was placed on a varied service, sailing between Melbourne, Sydney and Newcastle, New South Wales as well as voyaged to the Island state of Australia Tasmania as well as South Australia as required.
In November 1869 the "You Yangs" was reregistered in Melbourne, but then in 1871 she was given a comprehensive refit with her tonnage increased to 672-tons, as well as having been given some additional passenger accommodations, which were not always used. Then finally, in October 1883 she was transferred to the new company, "W. Howard Smith & Sons Limited", and it was in this year, that "Howard Smith Limited", was really born!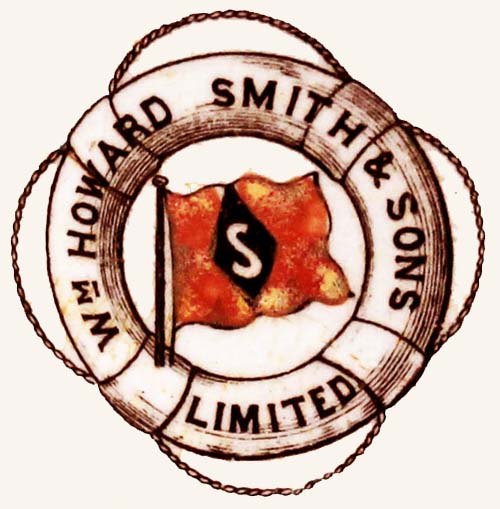 A W. Howard Smith & Sons Limited lifebuoy logo from the late 1880's and early 1900's
Then during a voyage south, the You Yangs struck a rock, and was abandoned East of Kangaroo Island (near Pelorous Island) South Australia, on the June 14, 1890, she was badly holed thus she rapidly took on water and began to sink. Her captain called for his crew of 20 to abandon ship, and the captain was the last to leave the sinking vessel.
S.S.

Bombala

:
Obviously time has passed and there have been other ships, but the S.S. "Bombala" of 1904 was the first of a new and a larger series of passenger Cargo liners to operate along the Australian coast.

The 3,540-ton Bombala was a steel steamship built by

James Laing & Sons at Deptford Yard 597, Sunderland, for the Howard Smith & Company's new Melbourne to Fremantle (Perth) Western Australia, service. She was launched on October 22, 1903 and completed in March 1904.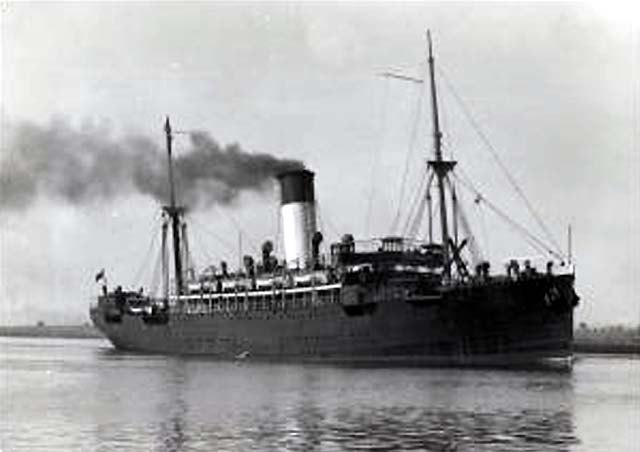 A fine photograph of the S.S. "Bombala" the forerunner of the Passenger, Melbourne to North Queensland service
She was powered by a four Cylinder Triple Expansion Engine with four single ended coal fired boilers. As of 1913 she mostly serviced the more popular Melbourne to Sydney, Brisbane and Cairns in North Queensland service and she was very popular with passengers.
Finally she was sold 1929 to London interests, and was renamed "Aspasia", but six years later she was sold again in 1935 to Italian interests and was renamed "Christos", however sadly she was scrapped in that same year at Savona Italy.
S.S.

Cooma

:
The 3,839-ton passenger cargo liner S.S. "Cooma" was built by Alexander Stephens & Sons Ltd, Linthouse in 1907. She was powered by one x 3 Cylinders Triple Expansion Steam Engine, with a single shaft, and a single screw, with four coal fired boilers with a forced draught.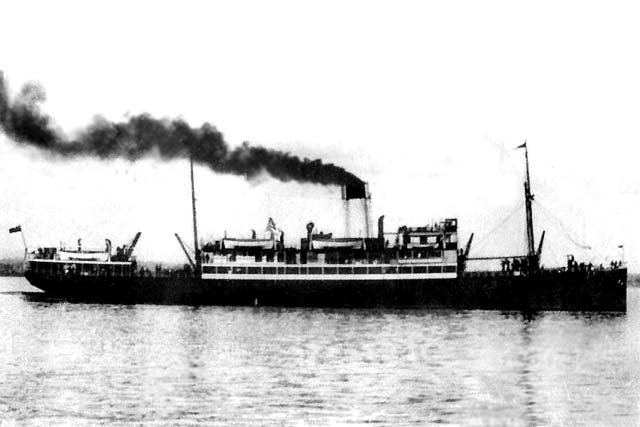 The S.S. "Cooma" was the second of a Trio, but the next ship would be twice their size!
Howard Smith Ltd., Melbourne placed her on the very popular Melbourne, Sydney Brisbane and North Queensland port service accommodating passengers in two classes. She sailed as a service speed of 15 knots. There was no doubt that she became a very popular ship on that service with passengers who loved to sail on her!
One afternoon on July 7, 1926, the S.S. Cooma departed Brisbane bound for Cairns, with some 250 passengers on board, music was playing as they departed and every one was looking forward to warm and sunny days ahead up north in Cairns during the Australian winter as it would be cold down in Melbourne and Sydney! However, as she headed northward it was later in that same day that several other Burns Philp ship the S.S. Burwah received SOS calls coming from the much larger liner Cooma and two other Burns Philp steamers the Morinda and Malabar did as well. The Burwah was on a voyage sailing south from Rockhampton down to Brisbane and thus she was the closest ship, and she headed for the troubled ship arriving around 10 pm and discovered that the Cooma had been wrecked and aground on North Reef which is located around 80 mls - 128.7 klms east of Rockhampton.
Cooma's Captain Maine sent a radio message to Burwah's Master that his "ship was making some water", but that she was not in immediate danger. However considering that relatively heavy seas were running, thus the Burwah remained close by during the night. Thankfully the next morning the seas proved to be calmer and all of Cooma's 250 passengers were transferred to the Burwah who were safely taken to Port Alma. During the day the H.M.A.S. Moresby which had also arrived, but her Commander reported that he felt that the S.S. Cooma was a complete wreck, and that he had taken off all her crew. There were attempts to secure and refloat her, and many tons of cargo worth at least £20,000 had been removed from Cooma's holds to another freighter, whilst perishables had been tossed overboard. But finally she was declared a total wreck and in May 1927 what was left of her was sold for the sum of £150. In conclusion, Cooma's Captain Maine was charged with lack of Caution, not doing his job, for he should have remained on the bridge, etc, etc, and his masters ticket was suspended for (what?) just a lousy two months.
T.S.S. Canberra:
We have finally come to the ship that is the main part of this feature, the magnificent, and one of the first "Fast Passenger Liner" especially designed for the Melbourne, Sydney, Brisbane, Mackay, Townsville to Cairns service and she was known to have beaten the Sydney to Brisbane rail service on a good number of occasions, that was until their shorter and faster coastal railway service to Brisbane was finished.
The 7,710 GRT, T.S.S. "Canberra" was built by Alexander Stephen & Sons at Linthouse ship-yards in Scotland, and she was launched on November 9, 1912, as soon she was in the water, she was towed to her fit-out berth, where she would be finished, and amazingly she was fully completed just four months later.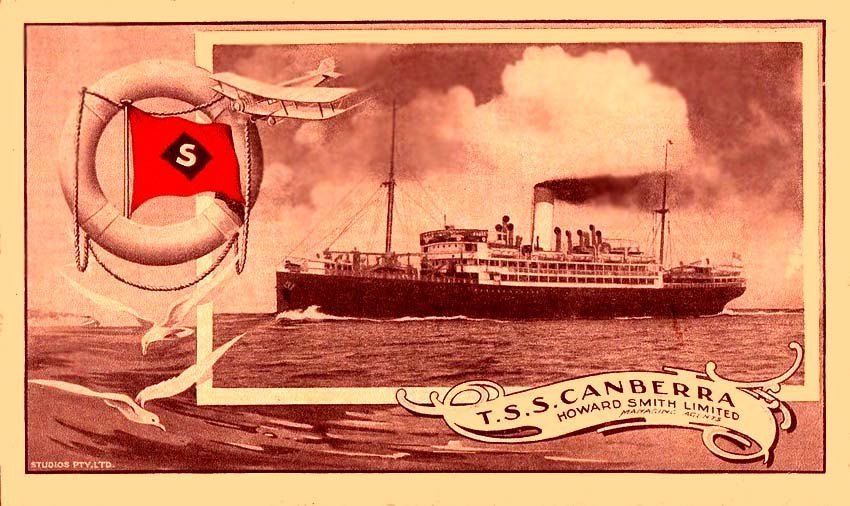 A very early publicity image of the T.S.S. "Canberra" from Howard Smith Limited
The brand new T.S.S. Canberra headed to Plymouth where passengers boarded, and on March 17, 1913, she departed on her delivery voyage bound to Melbourne Australia. She sailed via Durban South Africa where she bunkered on April 7, and from there she sailed to Melbourne arriving at her Yarra River Berth on April 23.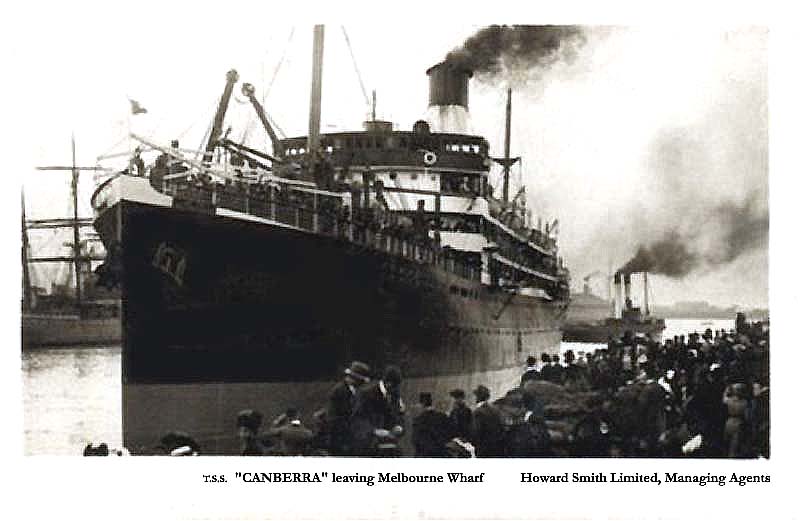 A Howard Smith postcard of the T.S.S. Canberra departing Melbourne for her voyage up north
Having been made ready in Melbourne for her new service, her Australian Passenger and Cargo coastal service soon commenced, and she joined the S.S. Bombala and the S.S. Cooma on the very popular northward coastal service to North Queensland, sailing via Sydney and Brisbane and other ports to tropical Cairns.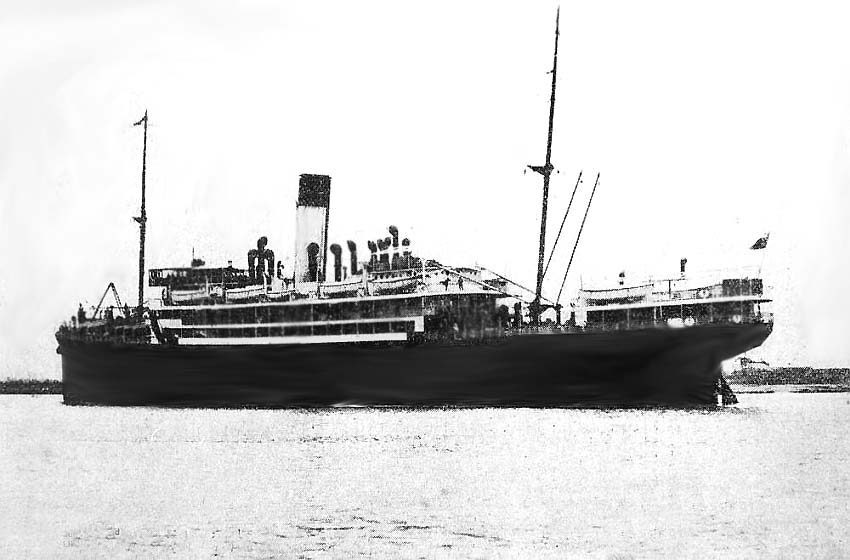 T.S.S. Canberra is seen departing Brisbane on May 23, 1913
State Library of Queensland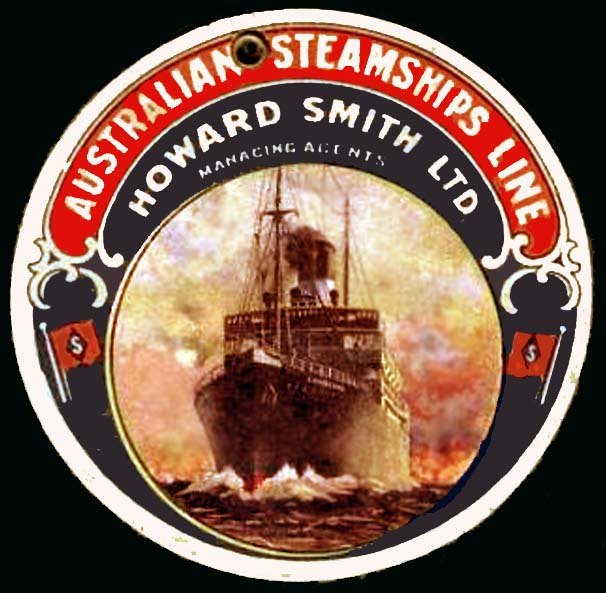 A typical Howard Parker "Canberra" baggage sticker for your suitcase
Her Accommodations and Public Venues:
The Canberra had excellent First Class accommodations for 170 First Class passengers; with one, two and three berth cabins, all being superbly appointed, Second Class offered mostly four berth cabins that were also of a high standard and it accommodated 180 passengers, whilst Third Class had accommodations for 60 passengers.
Her Public Venues were located on Promenade Deck forward where there was a Lounge and a Smoking Room with a Bar and Verandah as well as the First Class main Lobby, which fitted an elevator (lift), outside where a Promenade Deck, and topside was the spacious First Class Sun/Sports Deck.
The other two classes occupied the balance of the ship, with a good number of lounges located aft on Promenade Deck and A Deck, with spacious deck areas, both covered and exterior, as well as having sport facilities; they shared the public facilities and Dinning Room.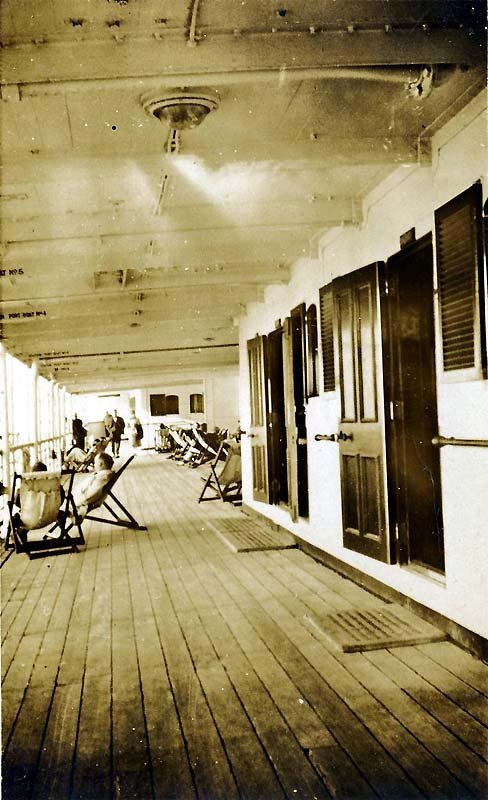 -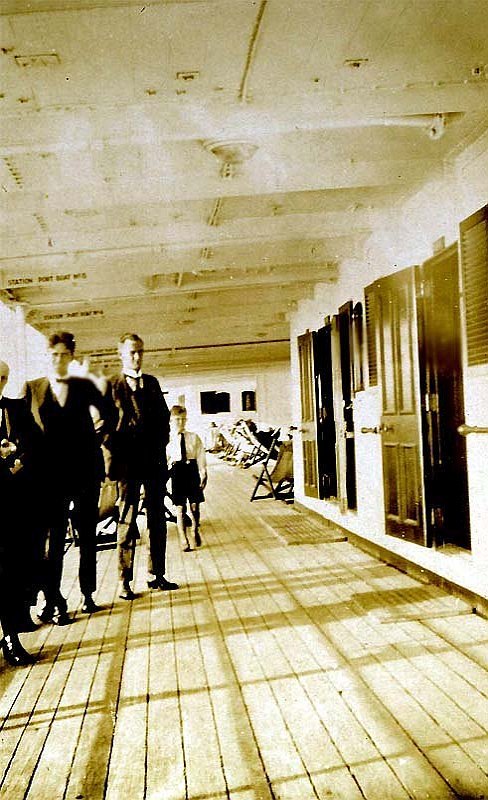 First Class Passengers seen on Promenade Deck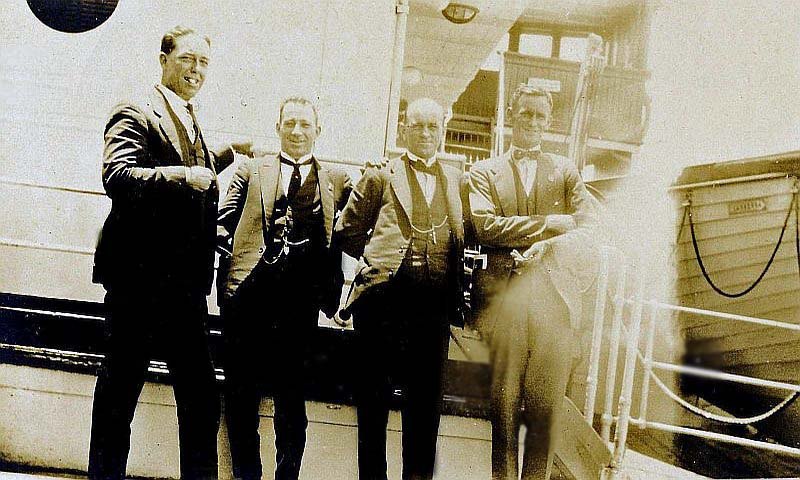 Above & below: Male passengers up on Sun Deck, above forward, below far aft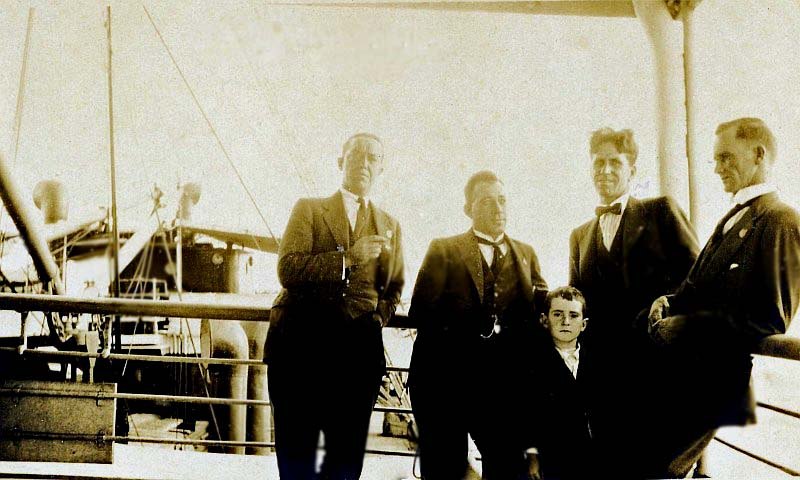 B Deck also had cabins located both forward and aft, whilst on C Deck cabins occupied the entire deck.
There were two Dinning Rooms, both located on B Deck, one large Dinning Room located forward and a second one aft, but sadly I do not have any photographs of her interiors.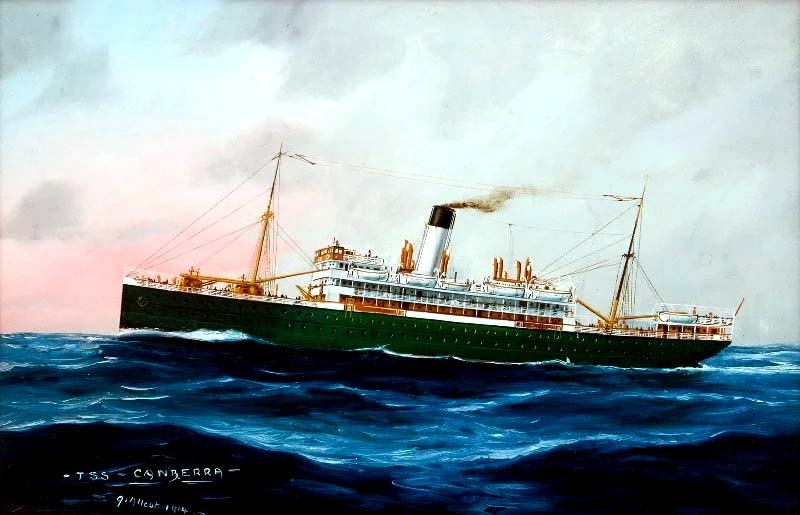 A delightful painting of the T.S.S. Canberra
Painting by & © John Allcot
T.S.S. Canberra offered a reliable service and she became a much loved ship with those who used her as a transport ship, as well as a cruise ship. She tended to depart Melbourne and Sydney fully booked with passengers, many of whom would have booked a round voyage, much like today's cruises, and her holds would be full, thus financially she was very successful, being such a fast ship for her days!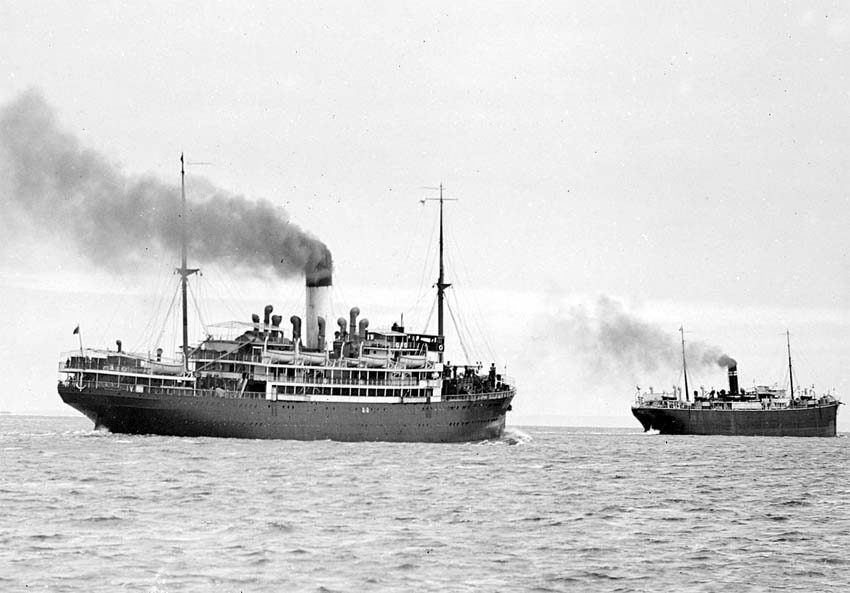 The T.S.S Canberra is seen arriving and about to enter Port Philp Bay and heading for Melbourne
Ahead of her is an unknown ship - the date is unknown
State Library of Victoria
But sadly her days would end after four years of operations as the war that was called "The Great War", or "World War One" was on the horizon and the Canberra was required to serve!
Service during World War One:
H.M.A.T. Canberra:
Between 1917 and 1919 she served as an Australia Troopship, but was placed under the management of the "British India Steam Navigation Company".
In October 1917 the Canberra was requisitioned to become an Australian Troopship and she headed for "Cockatoo Island Dry-dock" in Sydney, where from October 16 to November 15, 1917 she was refitted to become a troop transport ship, able to carry up to 1,080 troops.
With her conversion completed in Sydney the H.M.A.T. Canberra was commissioned on November 15, 1917, and on November 16, the Canberra embarked 723 "Australian Imperial Force" (AIF) personnel as; 1st Field Artillery Brigade 32nd Reinforcements, 25th Infantry Battalion 21st Reinforcements, 1st Light Horse Regiment 33rd Reinforcements, 4th Light Horse Regiment 33rd Reinforcements, 6th Light Horse Regiment 33rd Reinforcements, 7th Light Horse Regiment 33rd Reinforcements, 12th Light Horse Regiment 23rd Reinforcements, Camel Reinforcements (part), 1st Field Squadron Engineers (August & September) Reinforcements, 1st Signal Squadron Engineers (August & September) Reinforcements, 1st to 4th Signal Troops (August & September) Reinforcements, Two Medical Officers (1 Major & 1 Captain), Dental Details, 6 miscellaneous, 2 Red Cross workers, 56 Nurses and Two Chaplains. Her holds that were not used for troop accommodations, were filled with equipment and stores and when ready, she departed for Western Australia.
She arrived at Fremantle, where on November 23, she embarked the 16th Infantry Battalion 27th Reinforcements, Railway Unit (November) Reinforcements, Medical Corps General Reinforcements, Dental Details, Nurses and One Chaplain, and she departed bound for Egypt. She was then employed transporting troops between Mediterranean ports and the Persian Gulf. After the German offensive on the Western Front, in 1918 she was part of a convoy with fast, well known liners, all rushing troops from Egypt to France.
After the Armistice was signed at Mersin, H.M.A.T. Canberra took on board released British prisoners from the "Kut al Amara" garrison. Thereafter she took British troops from India to the UK but at last she came home with Australian soldiers with their families.
Thankfully this fine Australian passenger/Troop ship had suffered no damage during the war and thus she was able to be returned to her owners in one piece, unlike so many other ships that had been lost.
Back to Passenger Services:
Thankfully with WWI over, H.M.A.T. Canberra had served valiantly, and she was returned to her owners on April 27, 1920 who sent her to the ship-yards where she was completely and beautifully restored as well as fully updated, etc. However, her exteriors saw quite a transformation, from her old black hull days, as she came out of her restoration with her hull having been repainted a shade of grey with a thin black ribbon up high on the hull, located just below the B Deck port holes. In addition she had now become a Two Class ship, with First Class accommodating 64 passengers and Second Class having 646 passengers.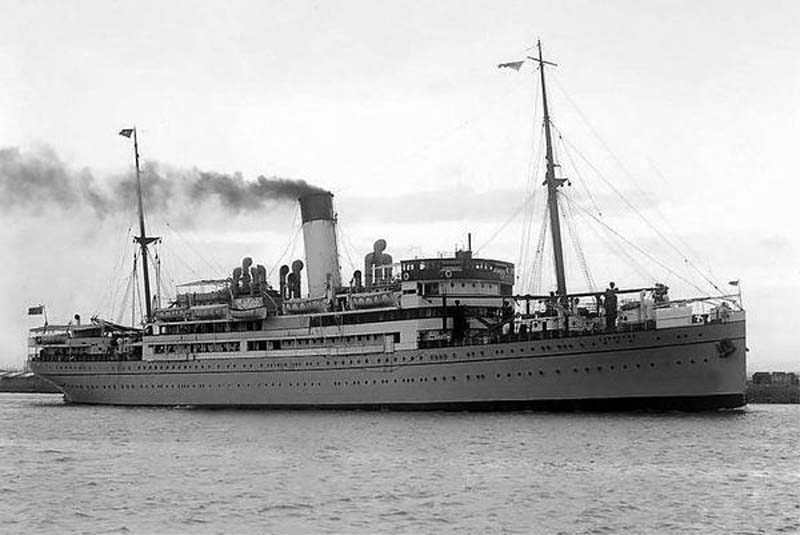 The T.S.S. Canberra is seen after her restoration and arriving in Brisbane
State Library of Queensland
First Class:
The Canberra was given her refit, and she now had upgraded First Class accommodations for just 64 passengers; all her cabins were superbly appointed, and all located on A Deck. Whilst on Promenade Deck forward were two public venues, the Smoking Room and Bar being located far forward, and just aft was their main the Lobby, which also fitted an elevator (lift), Doors aft of the Lobby led into the elegant Main Lounge, come Music Room. Outside was a spacious Promenade Deck as photographs further above have shown. Just above was the spacious First Class Sun Deck.
Second Class:
This Class now accommodated 646 passengers and they occupied the balance of the ship, with a good number of lounges aft located on Promenade Deck and A Deck, with spacious deck areas, both covered and exterior, as well as having sport facilities, etc. B Deck also had cabins located both forward and aft, whilst on C Deck cabins occupied the entire deck.
Second Class offered two Dinning Rooms, both located on B Deck, one large Dinning Room located forward and a smaller one aft, the latter being mostly for the economy accommodations.
A Deck Plan can be seen in her next life as the Greek ship T.S.S. "Canberra" for there had been almost no interior changes except the additions of four dormitories!
The all new Canberra certainly looked fresh and very much like a new ship, and soon she resumed her regular duties, sailing from Melbourne, Sydney, and Brisbane then up to Cairns in North Queensland. And it seemed like she had never left the scene, as she was even more popular then ever.
Tragedy Strikes the T.S.S. Canberra:
The Canberra arrived in Sydney from the Queensland ports on Friday June 26, 1925, and she had berthed at the "Erskine Street Wharf". All local passengers had soon disembarked, and she was due to depart for Melbourne on Saturday afternoon. But just prior to her departure, her Commander; Captain W.C.T. Firth had logged several of his crew as being absent without leave in his log book. This started what may be called a revolt within the crew, as the crew demanded that he remove it from the log. After a meeting, there was a stalemate and the ship was unable to depart. The majority of passengers decided to leave the ship and catch the train for Melbourne. The captain decided to leave the ship for the night, and he left his First Officer in charge. However, suddenly around three in the morning smoke was seen streaming from an open porthole, and a severe fire broke out that tore throughout many parts of the ship. Alarm was given by a watchman and soon the fire brigade arrived to put out the fire. Sadly after the fire was extinguished, it was discovered that the ship was badly damaged, many Tourist Class Cabins were damaged, as well as the First Class Lounges, but worse still being daylight, the body of a steward was found in the corner of the Music Room. The later enquiry never came to a conclusion of how or why it started. Thankfully she was fully insured by Lloyds of London and she was sent to "Mort's Dock" to be repaired and refurbished with electrical system having to be replaced, cabins having to be newly appointed, new floorings laid with new rubber covering, as well as a considerable amount of new fine woodwork having to be restored, and much of the furnishings having to be replaced.
However, she came out of the ship-yard looking simply superb, but almost a year had been lost. She finally returned to service in May 1926, and she returned to her northward voyages to the Tropic's in Queensland.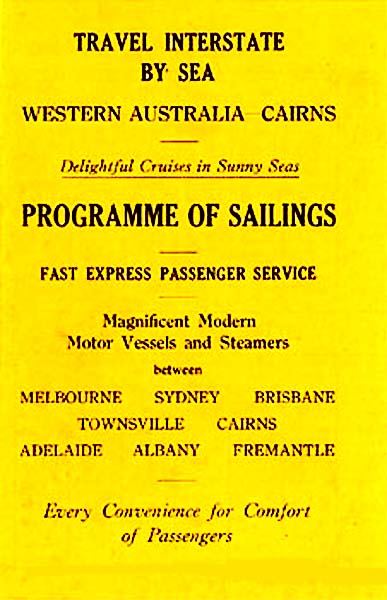 Here is a rather simple cover for Coastal voyages for Howard Smith's T.S.S. Canberra &
Also for three other companies; Huddart Parker, Melbourne Steamship Co, & McIlwraith McEacharn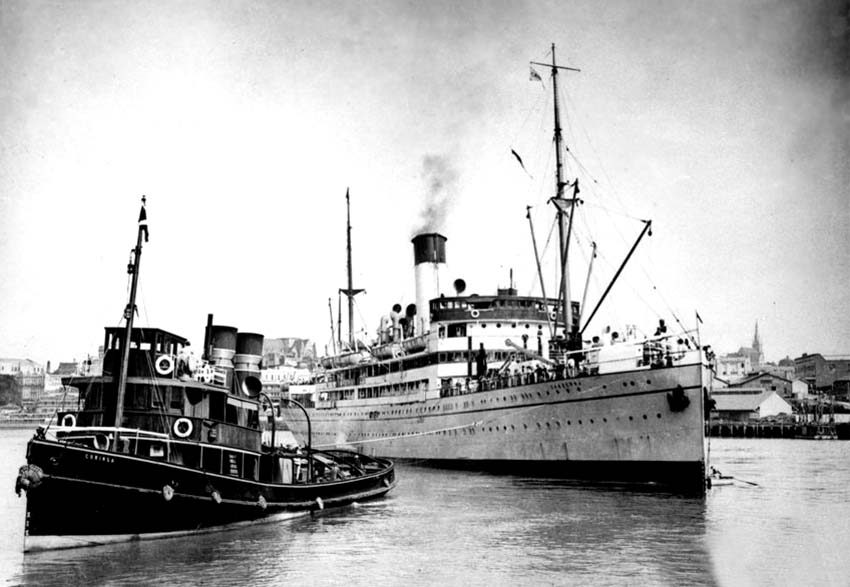 A fine photo of the Canberra about to berth in Brisbane, being under tow of the
Historic twin funnelled tug "Coringa" (1914 to 1940)
State Library of Queensland
T.S.S. Canberra sailed on for the next fifteen years, and as she was getting older, and being a coal burning ship, her stokers named her; "Hungry-Mary". And like many coal burners, she was famed for that black smoke emanating from her smoke stack!
World War Two:
T.S.S. Canberra once again went into service, under requisition from the "Shipping Controller" from July 1941 and she entered Woolwich Dry-dock in Sydney for minor alterations for her trooping needs. Although she remained mostly on her coastal duties, but periodically she would be trooping carrying about 650 personnel to Port Moresby, Papua New Guinea. One of her voyages was from Townsville in March to Papua New Guinea, and it was during this voyage she was heavily strafed by Japanese aircraft when off Cape York, but she managed to escape any major damage.
These are the dates which I know for sure that the Canberra was in Port Moresby; August 5, 1943, February 15, 1944 and March 13, 1944.
The Canberra, although having experienced enemy attacks, she survived the remainder of the war, and she as returned to her owners in August 18, 1947 and considering she required an extensive refit the company decided considering the ties and the declining passenger numbers that it would be best to place her on the market.
Canberra
's New Life: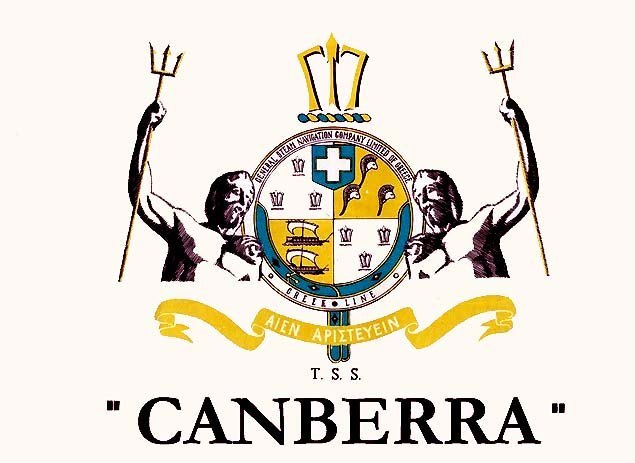 The Greek Line Deck Plan cover- plan is shown below
The T.S.S. Canberra was sold just days later on August 21, 1947 to a Singapore-based, Chinese syndicate for £100,000, who decided for reason of cost, it was better to tow her from Sydney to Singapore, rather than having to take an Australian captain and crew there and returning them by air. Thus, with a skeleton crew on board she departed Sydney under tow with the English registered 592 GRT ocean going tug SS Rumania on Friday September 5, 1947 and she reached Singapore on Tuesday October 28 and she was laid up.
She was rapidly resold to the "Ormos Shipping Co" of London, owned by a well known Greek "Goulandris" brothers but the "Canberra" which retained her name was registered in Panama. She headed under her own power to Piraeus, Greece where she was given a minor interior refit, although all her interior cabin and public venues layout remained much unaltered. Except now on D Deck there were four large dormitories two for men and two for ladies, two were located far forward in the bow section, and two far aft in the stern section, both had male and female WC and Bathing facilities. In addition there were some additional lifeboats added, her hull remained grey, but her funnel now had the traditional "The Greek Line" colours of Yellow (bottom), Blue (Centre) and a Black Top.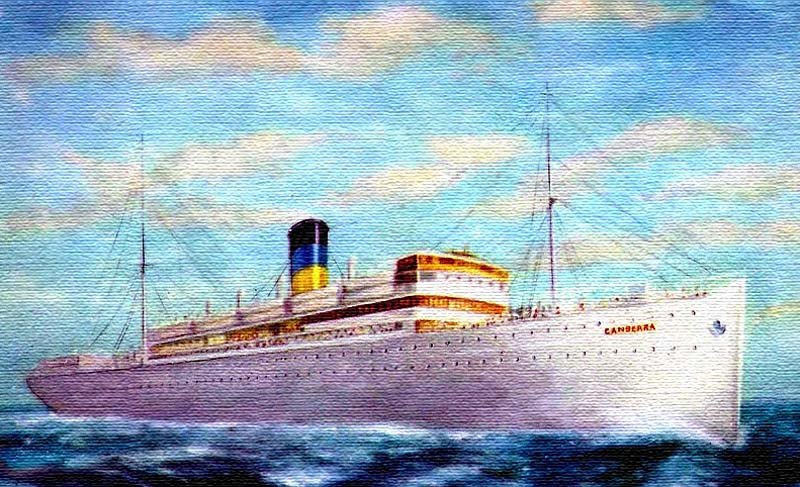 An early artistic postcard from The Greek Line revealing their newly acquired T.S.S. Canberra
With the "Canberra" having been completed she was first placed on a regular emigrant service from European ports to South America, which continued until August 1949.
T.S.S. Canberra Returns to Australia:
Then on August 31, 1949 the Canberra departed Naples with some 766 migrants bound for Fremantle, Western Australia, where she arrived on October 16, she then headed for Sydney Australia, where she arrived later in October. Although her passengers had left the ship, many Australians came to look at her as it was wonderful to see the much loved T.S.S. Canberra once again in Sydney, and she remained there for three days, when she made a rapid return to Europe arriving in November.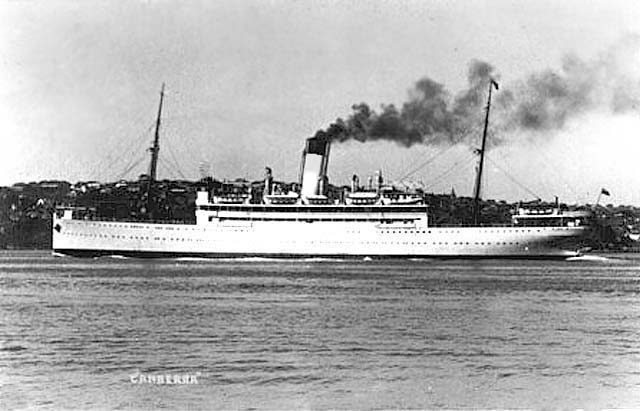 T.S.S. Canberra seen back in Australian waters
Thank you Jason Baker for this photo, but the source is unknown
Please see my photo notes at the bottom of the page
Soon after her arrival in Europe, the Canberra was given a major refit, including being converted to oil firing, as well as becoming a Two Class ship with 52 First Class Passengers, and 752 Tourist Class Passengers. Externally her hull was painted all white and she looked a fine ship indeed.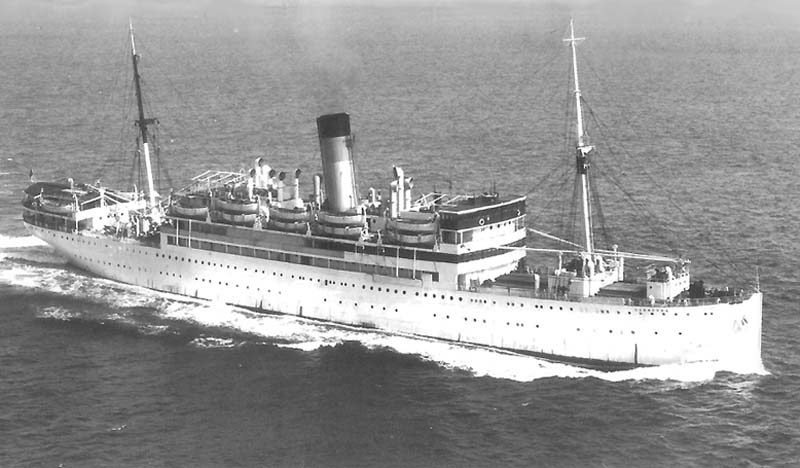 The "Canberra" looked a fine ship indeed in this publicity aerial photograph
1949 T.S.S. Canberra - Deck Plan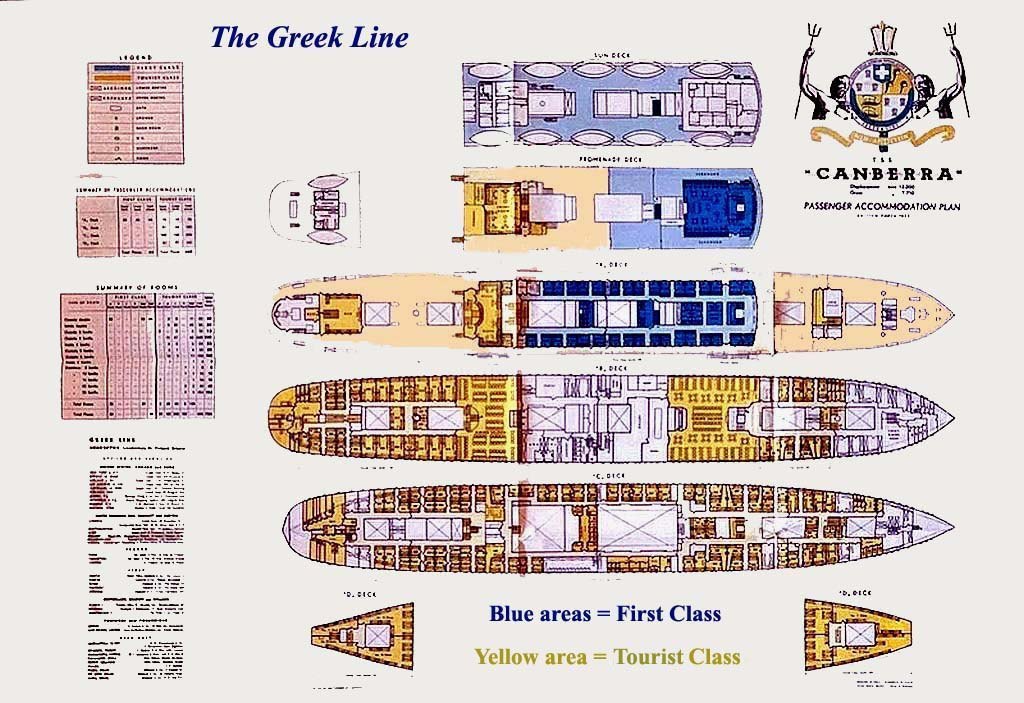 Upon completion, she commenced a new service for the next five years operating from Greece and later Germany and England to the USA, then exclusively to Canada.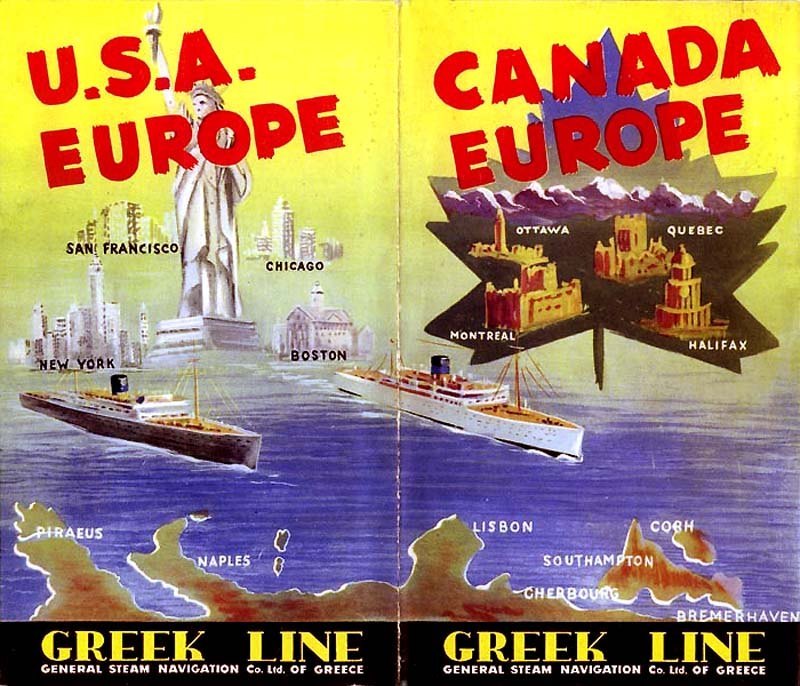 A The Greek Line brochure coving their Canada and U.S.A. service
Another ship with a back hull is also shown
Having been moved to the Canadian service, she made a single trip from Piraeus to Montreal; then on July 25 she made the first of three round voyages Montreal -Quebec - Cherbourg - Southampton. Then on October 7, 1950 she made one round voyage Montreal, Quebec, Piraeus, Quebec to Montreal.
Thereafter she returned to Bremerhaven which became her new European terminal. Calls were made at Southampton, Cherbourg and Cobh.
On October 8, 1954 the Canberra made her very last voyage for "The Greek Line" from Quebec via Cherbourg and Southampton to Bremen, for it had been decided that she would be retired and she was sold in that very same month.
Dominican Republic

Steamship Line - T.S.S.

España

:
By the end of October 1954, the Canberra was sold to a famous architect who was born in San Juan, Puerto Rico in 1986,
She operated services to Spain, sailing via the West Indies with her holds loaded with sugar and passengers, returning with cargoes as well as emigrants to Santo Domingo.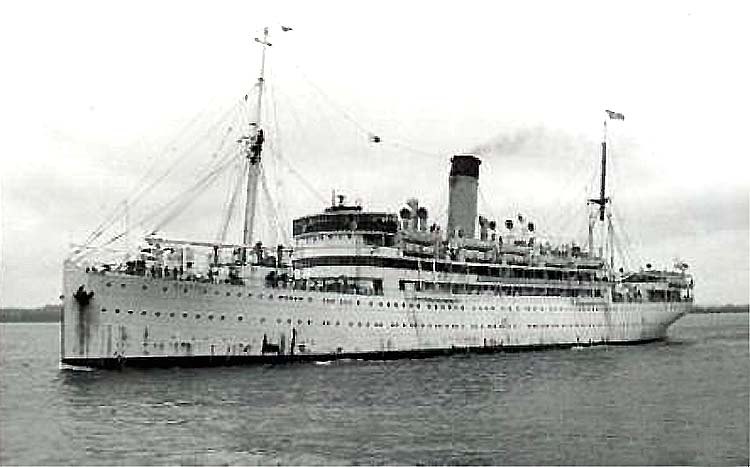 The T.S.S, España seen towards the end of her days
However, in due course the "España" was transferred to Dominican Republic Navy and used for troop transport movements with little to no details being available, this continued until 1959 when she was sold to a local ship breaker, and she was scrapped that year scrapped in the Dominican Republic.
***********************************
Details & Specifications T.S.S. Canberra 1913 - 1954:
Built by: Alexander Stephen & Sons, (Linthouse) Glasgow.
Yard: 452.
Built for: "Australian Steamships Limited".
Managed by: 1. "Howard Smith Ltd" - 1913 to 1947.
" 2. "The Greek Line" - 1947 to 1954.
Official No: 132441.
Port of registry: Melbourne, Australia
Launched: November 9, 1912.
Maiden Voyage: March 17, 1913.
Tonnage: 7,710 GRT, 6,665 NET.
Length: 410 ft - 125 m.
Breadth 57.2 ft - 17.4 m.
Draught: 33.3 ft - 10.14 m.
Construction: Steel.
Engine: Quadruple expansion steam engine
Propellers: Twin screws.
Speed: 15 knots service speed, 17 knots maximum.
Accommodations:
1913: 170 First, 180 Second, 60 Third Class Passengers.
1920: 64 First, 646 Second Class Passengers.
1949: 52 First, 752 Tourist Class Passengers - "The Greek Line".
Holds: Four, including refrigerated space.
***********************************
Let us Conclude with a Beautiful Memory of the …
T.S.S. Canberra 1913 to 1954
T.S.S. España 1954 to 1959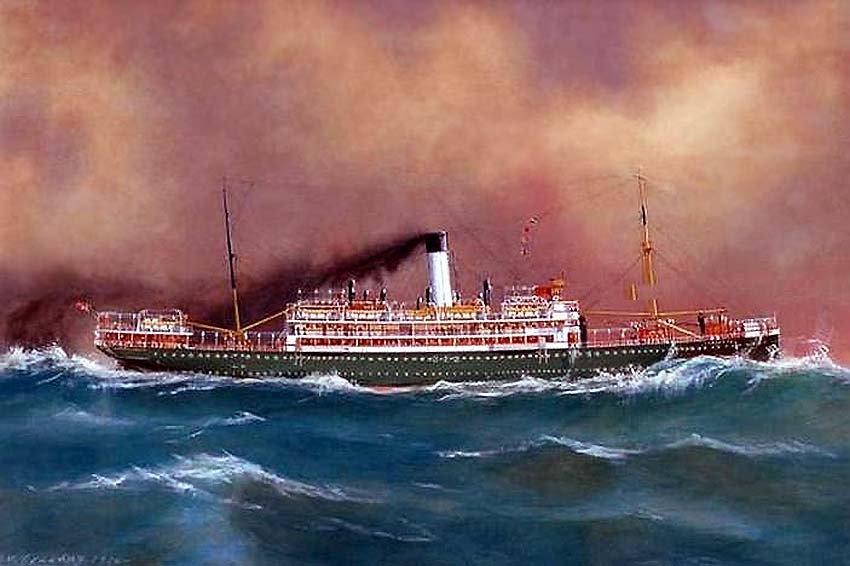 Painting of the Howard Smith Ltd, T.S.S. Canberra by & © - A. V. Gregory
***********************************
"Blue Water Liners sailing to the distant shores.
I watched them come, I watched them go and I watched them die."

Featuring over 1,435 Classic Passenger Liners, Passenger-Cargo Liners & Classic Cruise Ships!
Or ENTER HERE
For interest: Sadly an email service to ssMaritime is no longer available, due to the author's old age and chronic illness as well as being disabled, etc. In the past ssMaritime received well over 120 emails per day, but Goossens can no longer handle the same. He sincerely regrets this!
*********************
ssMaritime.com & ssMaritime.net
Where the ships of the past make history & the 1914 built M.S. Doulos Story.
The Author has been in Passenger Shipping & the Cruise Industry for well over 60 years
In addition he was the founder of "Save the Classic Liners Campaign" in 1990.
Please Note: ssmaritime and associated sites are 100% non-commercial and the author seek no funding or favours of any shape or form, never have and never will!
Photographs on ssmaritime and associate pages are by; the author or from the author's private collection. In addition there are some images that have been provided by Shipping Companies and private photographers or collectors. Credit is given to all contributors. However, there are some photographs provided to me without details regarding the photographer/owner concerned.
This notice covers all pages; although, and I have done my best to ensure that all photographs are duly credited and that this notice is displaced on each page, that is, when a page is updated!
ssMaritime is owned & © Copyright by Reuben Goossens - All Rights Reserved