Click the logo above to reach the ssMaritime FrontPage for News Updates & "Ship of the Month"
ssMaritime.com is proud to support a special effort to save the 1965 built T.S.S. Dover!
British Rail - Passenger & Car Ferry
T.S.S. Dover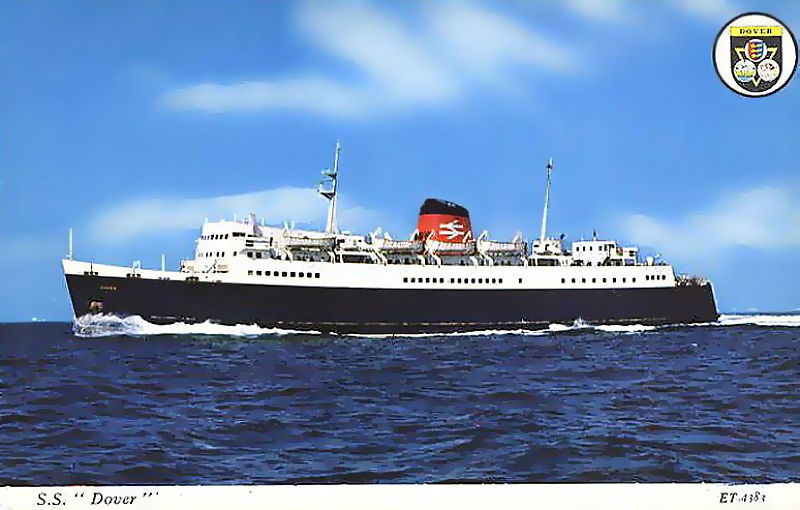 Please Note: I hereby wish to thank the "Dover Steam Ship Company" for their kind assistance with this page and providing some of the images.
The 1965 built TSS Dover is a British built twin screw turbine steamship and a typical stern loading roll-on/roll-off (RORO) passenger car ferry. However, she spent a great deal of her later life as a permanently berthed floating nightclub before she ceased operations and has been laid up ever since on the River Tees in Middlesbrough.
Thankfully there is considerable interest in this classic ferry and in order to preserve her, being the very last steamship to be ordered by British Rail, and a conservation plan is at hand with an excellent organisation having been set up, being the "Dover Steamship Company," which ssMaritime and our "Save The Classic Liners Campaign" fully supports!
The TSS Dover was built by on the River Tyne in England by the famed by Swan, Hunter & Wigham Richardson Shipyards of Newcastle in Yard 2013. She was launched on March 17, 1965 and was completed in June 1965.
The TSS Dover had the distinction of being the last steam vessel ordered by British Rail but was not the last to enter service. That honour fell to her near sister, Holyhead Ferry 1, built by Hawthorn Leslie, another Tyneside shipyard. When it become apparent that another sailing slot was to become available at Dover, British Rail approached Hawthorn Leslie to build a sister ship but they were unable to complete the vessel to British Rail's deadline so the order went to the Swan Hunter yard instead. Both vessels had hatches fitted forward these were to facilitate the loading mail by crane and to unload vehicles should the stern loading ramp be rendered unusable. The TSS Dover also had the honour of the last vessel delivered by a British shipyard early and because of this, Swan Hunter was given a special bonus from British Rail.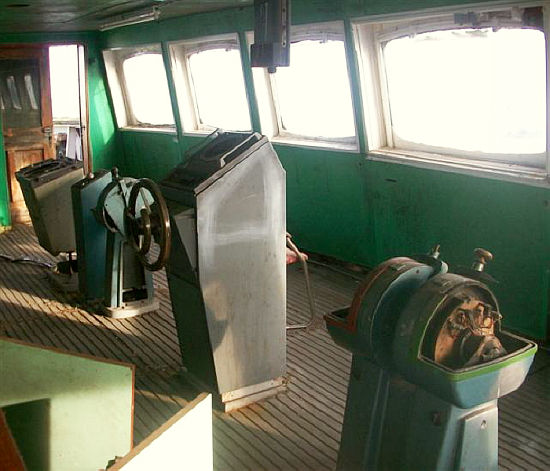 TSS Dover's bridge
TSS Dover was the first vessel to appear in the new British Rail livery of a "monastral" blue hull, white waterline/chocolate brown boot topping: white superstructure, pearl grey masts, ventilators and davits. The funnel was painted red with the new logo that consisted of two railway lines with crossings between them and a pale blue house flag was adopted with this logo.
The vessel arrived in Dover on the 6th June 1965, and departed  on her first voyage, which was a press junket to Boulogne to open the newly constructed car terminal. The following day the Dover was shown off to the press at the Pool of London, where her amenities, which brought new standards of interior decor and comfort to railway ships, were displayed to the press and travelling public.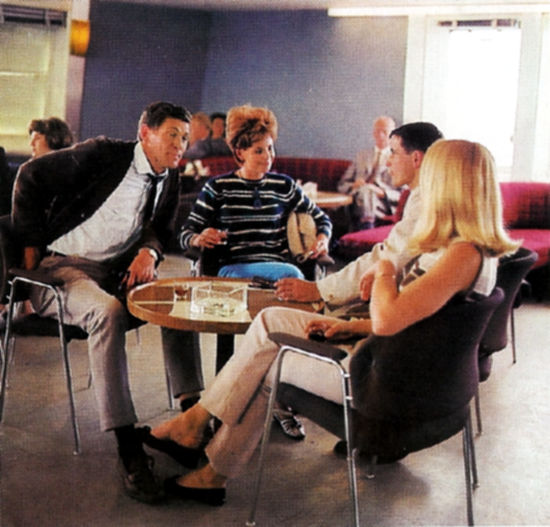 Here we see one of British Rail's TSS Dover publicity images of a lounge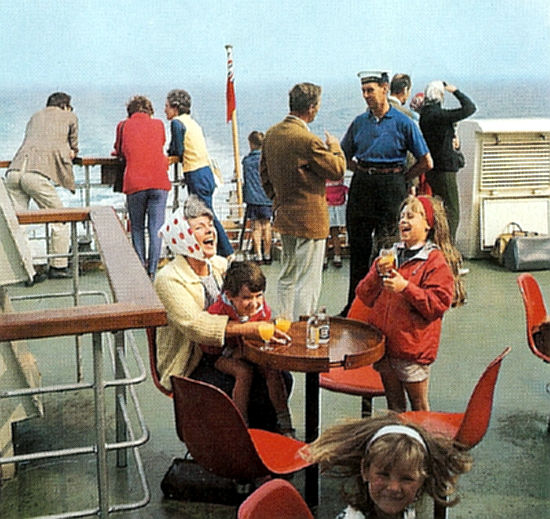 Life up on deck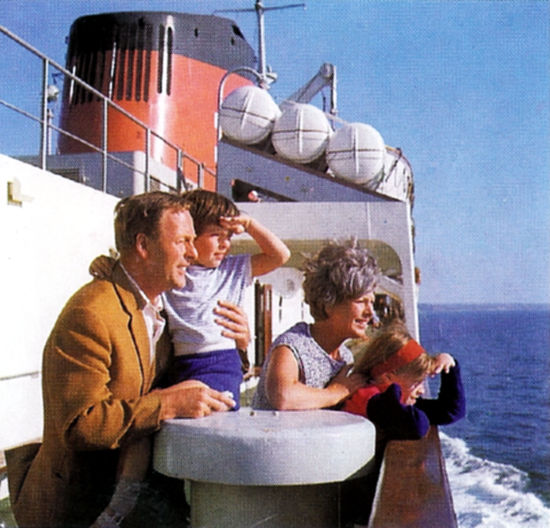 A family up on Boat Deck
The vessel entered full time service on the 24th June but she was withdrawn from service on the 28th June as the engines had developed certain technical problems which resulted in a lack of power, reduced speed and vibration. The ship resumed service on the 5th July, following remedial, work between Dover and Calais.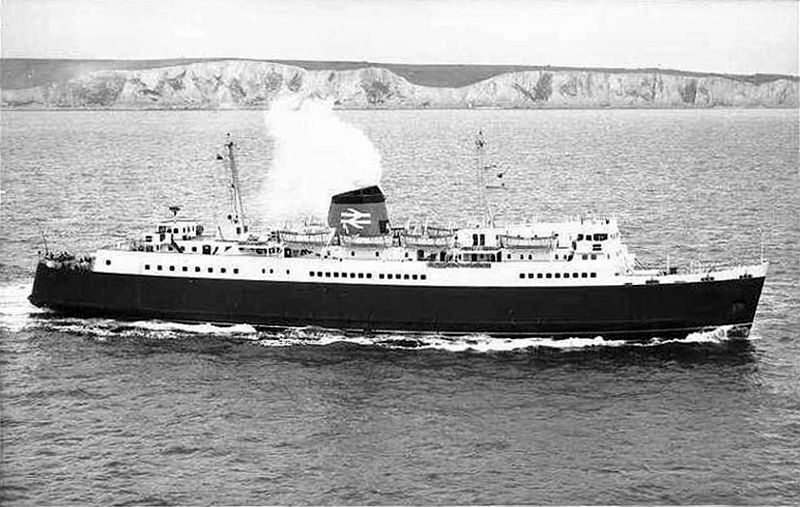 A Postcard of the TSS Dover
On 9th February 1967, Dover was used to carry out ramp tests at the Central Electricity Generating Board ramp at nearby Folkestone harbour. Because of the tides, the car deck wound up some four feet below the top of the quay. In the spring of 1967, the onboard restaurant became a self service buffet. Later that year the Dover was placed on the Newhaven to Dieppe service.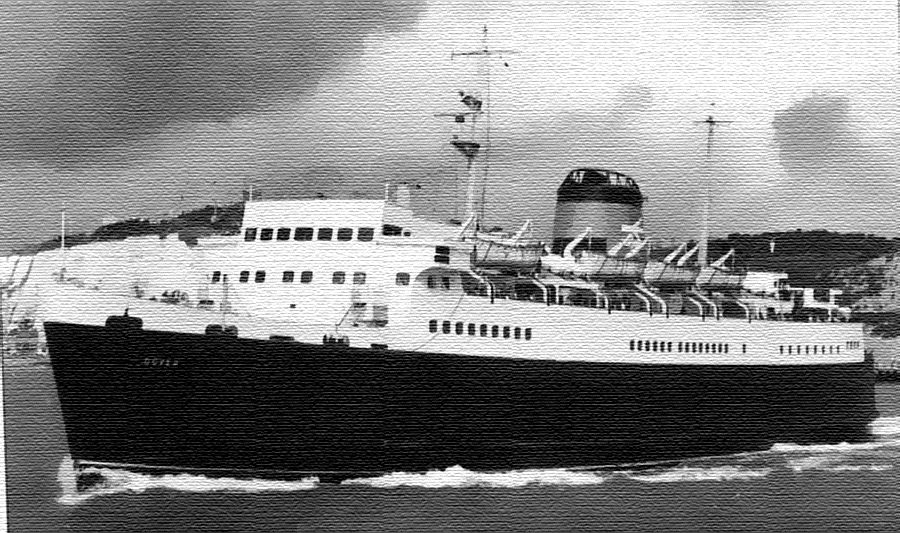 Postcard of the Dover
The Dover did further stints on the Newhaven, Dieppe route between October 1967 and January 1968 and again in the October of 1968. In 1969 TSS Dover was transferred to the Holyhead - Dun Laoghaire when the Vortigern was transferred to Dover in July. In June, Dover operated on the Preston, Boulogne service. Behind the scenes, British Rail's Shipping & International Services Division was to adopt the brand name of Sealink and all the companies vessels would be painted in the new house colours.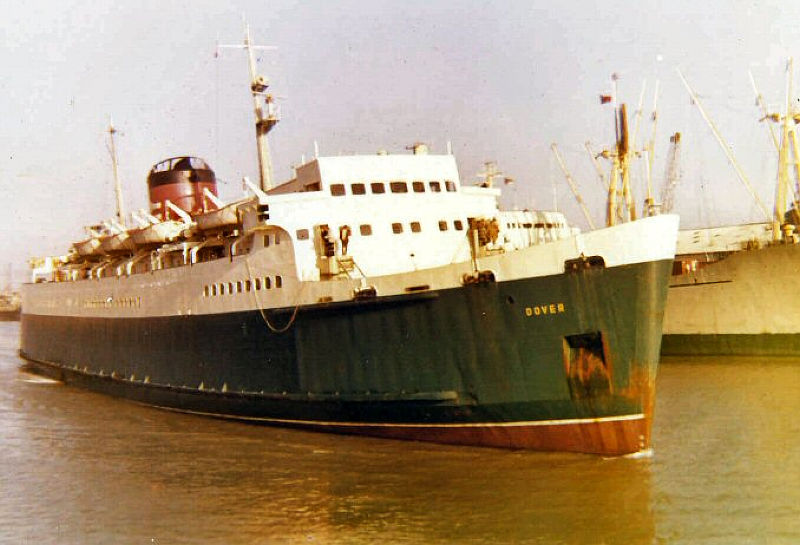 Here we see her during her latter days
From 22nd May and 19th September 1970, Dover operated between Holyhead and Dun Laoghaire with some experimental sailing's from Heysham to Dun Laoghaire, these however proved to be unprofitable and so they were stopped. On the 28th September Dover was again to be found working the Newhaven, Dieppe route, however on the 23rd October Dover collided with the West Pier and suffered propeller damage which was repaired in Southampton. On the 8th November, Dover was returned to Dover to resume her cross channel duties.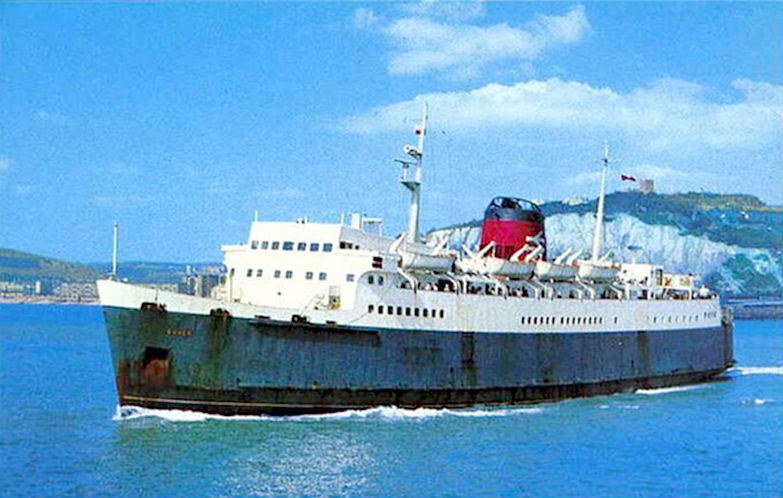 Soon she will Sealink pained on her hull
In June of 1972, Dover was transferred to the Folkestone, Boulogne service operating a passenger only service. On the 25th September Dover was back on the Newhaven, Dieppe route to relieve the vessels Vilandry and Valencay that were undergoing r refits. On December 4, 1972, Dover again returned to her home port, but found her self riding out heavy seas for three days before entering the harbour. In 1973 further changes to the vessels paint work were made with the word Sealink painted on the hull.
From June 1974 to the end of 1975 Dover operated as extra cover on the Holyhead - Dun Laoghaire route in exchange for the Holyhead 1. The change was brought about by the need to provide extra vehicle capacity at the port brought about by unexpectedly heavy bookings.
In 1976, Dover was back on the Dover - Calais route, however on the 14th June Dover collided with the Breakwater on entering Dover East whilst berthing sustaining heavy damage. On October 17th, Dover returned to Holyhead for to provide cover for the damaged Avalon.
A New Name:
In 1977, Dover was rebuilt at the Danish shipyard of Aalborg Verft, Aalborg, where she was converted into a drive through ferry with the addition of a bow door and other modifications. At this time the Dover was renamed the Earl Siward, and returned to Dover on July 1. In October, the vessel returned to service on the Holyhead,Dun Laoghaire route.
On January 1, 1979 the vessel was registered to Sealink U.K. Ltd. Thus the ex TSS Dover, resumed operations on the Irish sea route before returning to Dover. The withdrawal of the Earl Siward from Holyhead marked the end of an era, as she was the last railway owned, steam turbine vessel to operate on the Irish sea routes. On November 2, 1980, Earl Siward was withdrawn from service after suffering a stripped turbine blade. She returned to service on December 17, following repairs in Dover's Wellington Dock. On January 16, 1981, Earl Siward began work on the Folkestone, Boulogne route but was withdrawn from service on February 28 for eight weeks following an engine failure.
The end of Earl Siward's tenure with Sealink was in sight, on the 14th April 1981, she made her final run on the Dover to Calais service before a two month lay up in Newhaven. Between June and July she operated on for short periods on the Newhaven to Dieppe and Weymouth and Jersey/Guernsey routes before being laid up in Newhaven again.
Sold to Sol Ferries:
On the November 25, 1981, Earl Siward was sold to Sol Ferries Ltd, Limassol, Cyprus and renamed the Sol Express. In 1982 she was refitted in Perama, Greece before starting on the Brindisi, Igoumenitsa to Patras service. In 1983, Sol Express suffered a major turbine failure and she was laid up in Limassol before being sold on to the Quadrini Group in 1986.
A New Life:
On March 6 the long voyage to from Limassol to Newcastle began as the Sol Express was taken on tow back to the north of England. On April 16, 1986, she arrived on Tyneside where she was converted to a floating casino, restaurant and night club and she was renamed the "Tuxedo Royale" and was moored in Newcastle.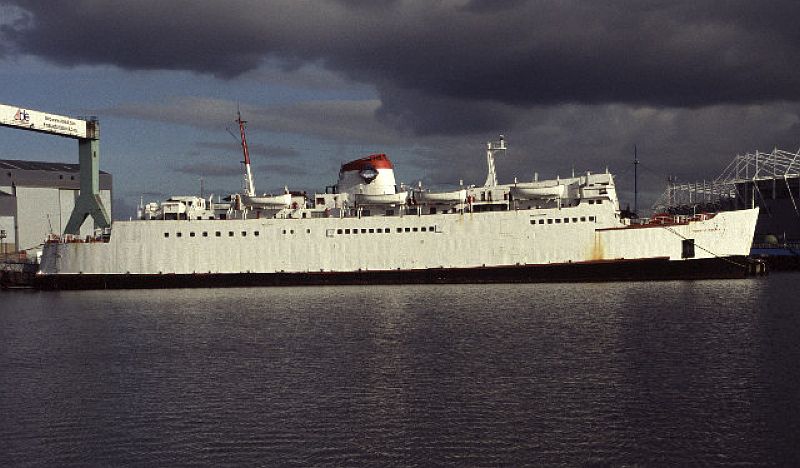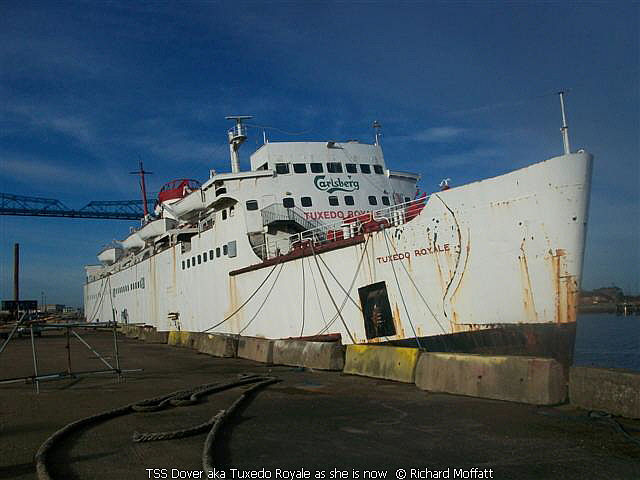 Dover-Tuxedo-Royale
In 1993 the Tuxedo Royale was replaced in Newcastle by the Tuxedo Princess, formerly Caledonian Princess and she moored in Middlesborough. However, Tuxedo Toyale's career was a failure on April 20, 2006, she was moved from Middlesborough to Hartlepool to make way for the Middlehaven development.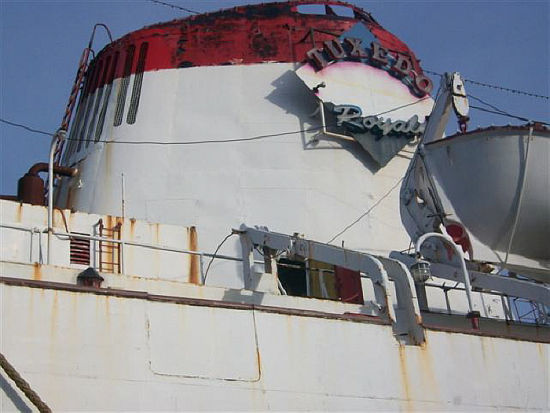 Tuxedo Royale's Funnel
While she was laid up, the Tuxedo Princess was sold to a Turkish ship breaker. However, on January 6, 2009 the ex TSS Dover was moved from her location in Able Seaton to Able Central Quay at Middlesborough just below the Transporter Bridge, this was to allow Able UK to move the controversial US Navy 'ghost ships' to be moved across the basin to allow for the arrival of another controversial vessel, the French aircraft carrier Clemenceau. Absolute Leisure subsequently went bust and the ownership of the vessel ceded to Able UK in lieu of berthing fees.
Hope for Her Future:
At the time of writing the TSS Dover, AKA Tuxedo Royale is now owned by Able UK awaits her fate and hopefully a bright future with the newly formed Dover Steam Ship Company who has great plans for restoring her to her original beauty!
However sadly in May 2011 vandals boarded the ship and removed/damaged vital fittings from the machinery deck. This caused a large ingression of water, which initially caused her to list quite heavily to starboard and from the stern she gradually settled to the bottom in a more or less upright position. Currently at high tide her car deck is awash, which means the machinery deck is under water most of the time. However, she will be righted and cleaned up and her restoration will be continued. I suggest that you read the Dover Steam Ship Company Newsletters which are online. See the link below.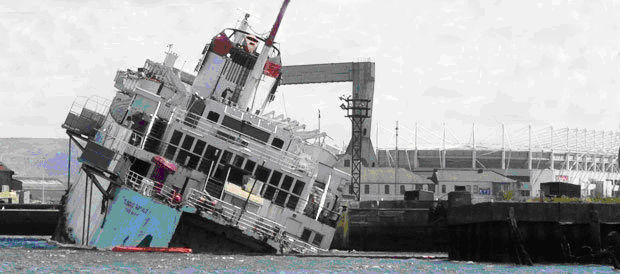 She is seen here listing in May 2011 after vandals attacked the ship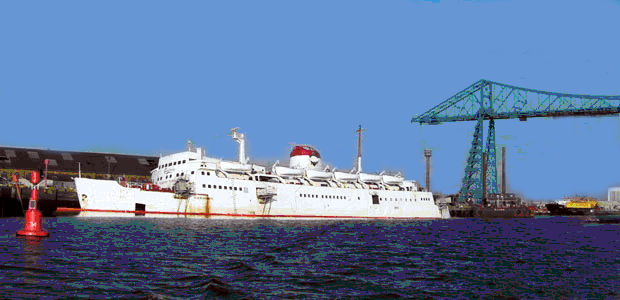 Tuxedo Royale is seen laid up in 2011
Specifications:
| | |
| --- | --- |
| Length | 369 Ft – 112.47 m |
| Breadth | 57 Ft – 17.37 ,m |
| Draught | 12.8 Ft- 3.9 m |
| Weight | 3,602 GRT |
| Engines | 4 Pametrada steam turbines with double reduction gear |
| Screws | 2 |
| Power | 12,000 SHP |
| Speed | 19.5 Knots |
| Capacity | 1,000 Passenger, 200 Cars |
Visit the online TSS Dover Newsletter
If you are interested in joining the TSS Dover Restoration Campaign, why not join this remarkable foundation. Contact Richard Moffat – with all details are located below!
Richard Moffatt - Chairman DSC.
Email: chairman@tssdover.co.uk.
Website: www.tssdover.co.uk.
Join us? Then visit: www.tssdover.co.uk/html/join_us.htm.
Use the Back button on your browser or Close the Page to return to the previous page
or go to our INDEX
Also visit my …
"Save The Classic Liners Campaign"
***********************************
Who is the Author of ssMaritime?
Commenced in the passenger Shipping Industry in May 1960
ssMaritime.com & ssMaritime.net
Where the ships of the past make history & the 1914 built MV Doulos Story
Also visit my …
"Save The Classic Liners Campaign" & "Classic Ocean Voyages" pages
Photographs on ssmaritime and associate pages are by the author or from the author's private collection. In addition there are some images that have been provided by Shipping Companies and private photographers or collectors. Credit is given to all contributors. However, there are some photographs provided to me without details regarding the photographer/owner concerned. I hereby invite if owners of these images would be so kind to make them-selves known to me (my email address may be found on www.ssmaritime.com only), in order that due credit may be given. I know what it is like, I have seen a multitude of my own photographs on other sites, yet these individuals either refuse to provide credit or remove them when asked, knowing full well that there is no legal comeback when it comes to the net. However, let us show these charlatans up and do the right thing at all times and give credit where credit is due!
This notice covers all pages, although, and I have done my best to ensure that all photographs are duly credited and that this notice is displaced on each page, that is, when a page is updated!
ssMaritime is owned and © Copyright by Reuben Goossens - All Rights Reserved