Please Note: Firefox & Google Chrome may not suitable – Use Internet Explorer or Google for this page to load perfectly!

Click the logo above to reach the Cruise-Australia FrontPage for News Updates & "Ship of the Month"
With Reuben Goossens
Maritime Historian, Cruise'n'Ship Reviewer, Author & Lecturer
Please Note: All ssmaritime and my other related ssmaritime sites are 100% non-commercial and privately owned sites. Be assured that I am NOT associated with any cruise or shipping companies or travel/cruise agencies or any other organisations! The author has been in the passenger shipping industry since May 1960 and is now semi-retired, but continues to write article on classic liners and cruise ships in order to better inform cruise and ship enthusiasts for their pleasure!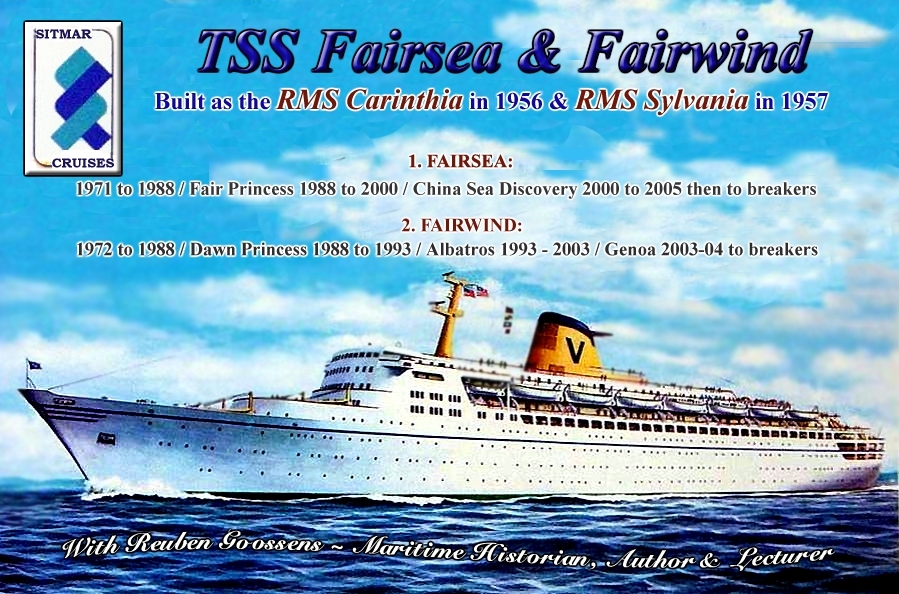 Page One
From Cunard Atlantic Liners to …
… Luxury Sitmar Cruise Ships!
Introduction to this Brand New Feature:
When I commenced this new Sitmar Cruises feature, it was to feature two ships, the greatly loved and luxurious TSS Fairsea and her twin the TSS Fairwind, which were originally two of the last of four identical Cunard sisters launched between February 1954, being the RMS Saxonia, next came the RMS Franconia in December 1954, followed by RMS Carinthia (Fairsea) on December 1955 and finally the RMS Sylvania (Fairwind) in November 1956.
The intention was a two-page feature, one with their history and a good number of never seen before images and photographs. Then on page two there are a number of various Deck Plans from the before they were even rebuilt to as they progressed. However, the feature somehow required more, for Sitmar Cruises operated with more than just these two 5 Star luxury ship in the USA, for in Australia Sitmar Cruises had the TSS Fairstar based in Sydney as a full time one class cruise ship, and they also built a brand new ship in 1984, the magnificent SS Fairsky. However, Mr. Boris Vlasov the company owner in conjunction with his finest designers had designed a remarkable brand new ship, and the MV Sitmar FairMajesty was, but sadly, with Mr. Vlasov having passed away and this fine ship being completed, in July 1988 Sitmar was taken over by P&O and she became the Star Princess. P&O also took over the two unnamed Sitmar ships in building, which became the MV Crown and the Regal Princess. Therefore, I just had to cover the TSS Fairstar, SS Fairsky and especially the MV Sitmar FairMajesty!
What is on this

Page:
Although in Part One of this page I will cover the beginnings of the Wonderful Sitmar Cruises newly acquired Cunard liners and beautifully rebuilt as 5 Star luxury cruise ships, the TSS Fairland, later renamed Fairsea, and the Fairwind, I am sure that these ships origins will be of interest, although I have kept it somewhat short as this feature is all about the Sitmar ships!
In Part Two you will discover some amazing and very rare artist impressions, which I am sure you will have never seen before for they are unique, as these were handed out at a special travel/shipping agents portfolio during a Sitmar promotional presentation in Brisbane Australia late in 1970, and I remember well that one of Australia's greatly loved male singers "Kamal" was the star of the night and he sang "Hava Nagila" especially for me as he knew I sang it when I sailed on voyages or cruises by request, as it was a song I as well known for by entertainment staff and many regular passengers! However, the illustrations from this portfolio are presented in Part Two and I am sure, for all who admire these two ships will enjoy viewing them!
Finally Part Three brings us to the ships being completed followed by their maiden voyages as Sitmar Cruises luxurious 5 Star cruise ships and how P&O took Sitmar over on July 14, 1988 and transferred both ships to Princess Cruises and what happened to them in due course!
Special Update July 2014:
Due to the massive popularity of this new feature, I have had countless requests asking and one of these was as follows
"Dear Reuben. I have read your feature on the Sitmar Cruises, Fairsea and Fairwind and I have read it a number of times and loved it, for it is packed with so many joyful memories. Several of my friends also enjoyed the feature in fact so much we would like to ask the following question. Is it possible that you might have any further material that you could add to the feature? Be assured it will mean a great deal to all of us and everyone who has sailed on these fine ships! Personally I have sailed on both ships nineteen times and that is not covering when they became Princess Cruises ships. I sailed on the Fair Princess once and the Dawn Princess twice. The truth is, although the ships were still beautiful but they were obviously far superior when Sitmar Cruises owned and operated them, for Princess, although quite good, they simply did not have that genuine luxury 5 Star high standard of service and even more importantly that amazing and delicious Sitmar cuisine, which was simply beyond compare! We all hope to see so much more online in the near future. I am amazed of what you have done over the years, for without people like yourself Reuben; all this amazing maritime history would be lost to our future generations; thus a great-big thank you!" Joshua Sherman - Cal USA. "
This is just one of the many requests I have received of a similar nature and Yes, I shall be adding new pages with interior photographs as well as brochures that date back from as far as 1971. Some will be just the covers, but with certain brochures I will reveal much more!
Further to the above:
I have added new pages named "Other Sitmar Cruises Ships to 1988," and a special photo page of the interiors and exteriors of the ship that was the MV Sitmar FairMajesty, but when I sailed on her when she was Her Maiden Around the world voyage in 1998 as P&O's MV Arcadia. She was without a doubt a superb ship in every possible way, as you will see!
But now to Page One and Part One!
--Part One--
The Ships History
The First two ships of the Saxonia Class Liners:
Cunard Line built four almost identical passenger-cargo liners in the mid fifties, which were known as the "Saxonia Class Liners." These were built for the UK to Canada and America service and they were the; 21, 637 GRT (Gross Registered Ton) RMS Saxonia, which was launched on February 17, 1954 and upon completion she commenced her duties sailing across the Atlantic to Canada as well as New York.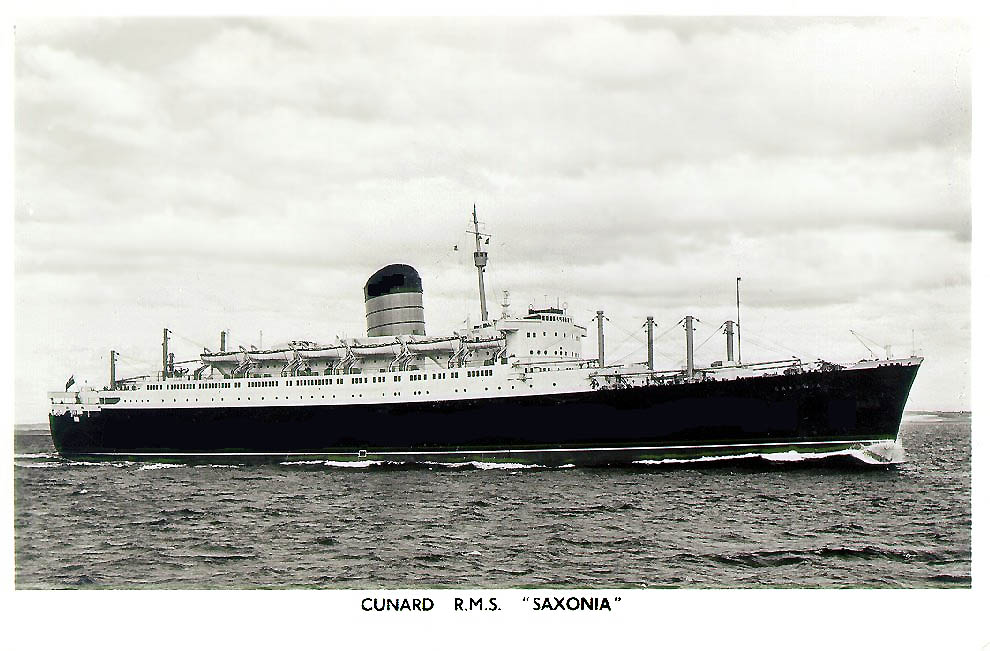 The second of the Saxonia Class was the 21,717 GRT RMS Ivernia that was launched on December 14, 1954 and she likewise operated on the Trans-Atlantic service.
In 1962 and 1963 both ships were given an extensive refit and were repainted in a two tone Cunard cruising green, just like the popular cruise ship RMS Caronia. Their aft decks were extended with windows placed along the sides of their aft decks which were ideal as wind shields, and a spacious kidney shaped swimming pools were added on the Lido deck with a new bar, etc, making these ships most attractive looking and excellent cruise ships! The Saxonia was also renamed RMS Carmania and Ivernia was renamed RMS Franconia, and both ships commenced to operate fewer liner voyages across the Atlantic and more popular vacation cruises. In 1967 Carmania was painted all white, but in 1973 she was sold to a Soviet company, the Black Sea Shipping Company and was renamed the TSS Leonid Sobinov. She operated as a cruise ship out of Britain as well as Asia and Australia and New Zealand until she was finally laid up in the mid 90s and she was broken up at Alang, India in 1999. The Franconia was sold in 1973 to another Soviet company, the Far Eastern Shipping Company and she was renamed TSS Fedor Shalyapin and operated as a very popular cruise ship especially whilst in Australia during the 1980s under the management of "Celebrity Club Cruises" being the Author's company, but she was laid up by the end of the 1990s and was finally taken to Alang India, under the name of SS Salona where she was broken up in 2004.
The Two Cunard Ships that became the TSS Fairsea & Fairwind: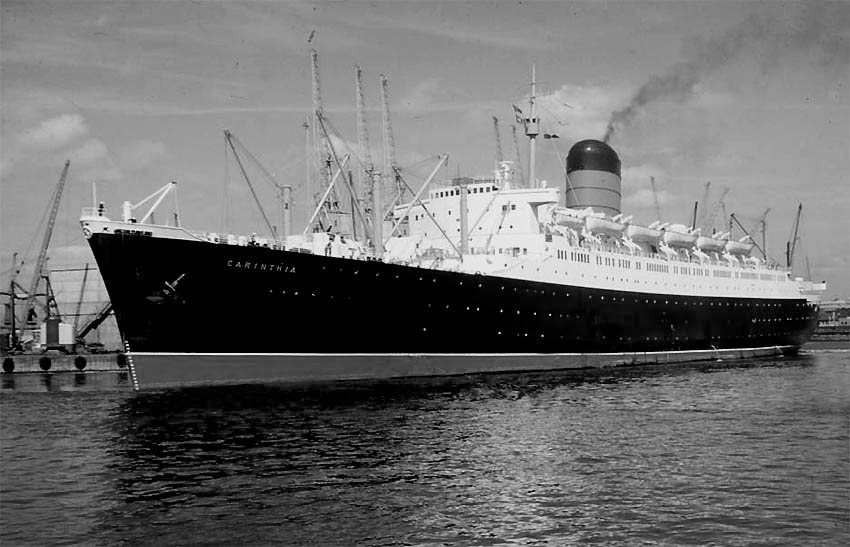 RMS Carinthia seen at Southampton
The next two sisters became the famed Sitmar Cruises ships, the 21,947 GRT RMS Carinthia, which was launched on December 14, 1955 and the 21,989 GRT RMS Sylvania, launched on November 22, 1956. Having served on the Atlantic service they were both sold to Sitmar Line in 1968.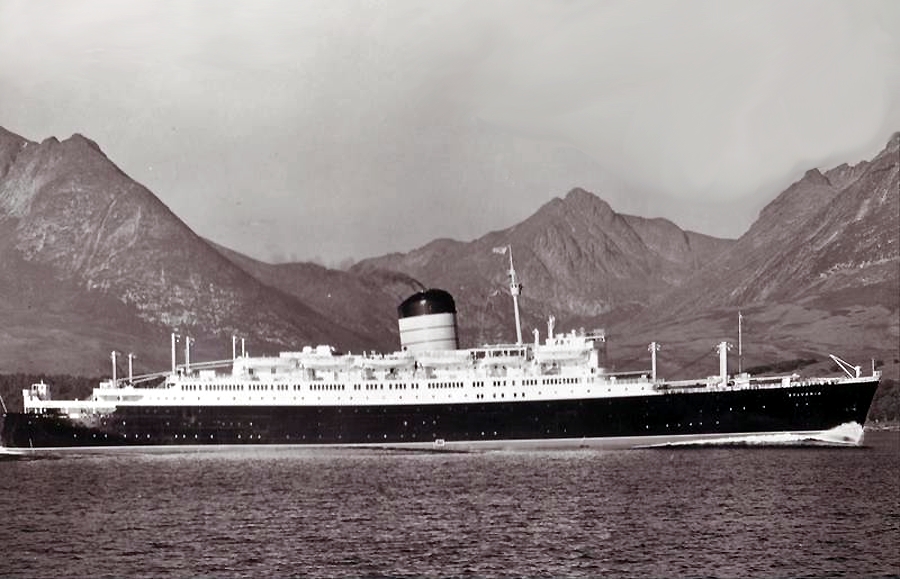 A wonderful view of the RMS Sylvania as a Trans-Atlantic Liner
Designers in action in Italy, yet they remained in Southampton:
Sitmar Line intended for the two new ships to operate on their Southampton to New Zealand and Australian service, but due to changes to the Australian migration contracts having been changed, as well as the ever-changing situation with the ever-increasing popularity of air travel, both ships were laid up at Southampton. Thus, Mr. Boris Vlasov decided to create two luxurious and modern cruise ships, which he would place into the very demanding American market! Therefore he gathered his finest Sitmar maritime architects to design these ships, but for the interiors, to ensure that it was of the highest and the most luxurious standards, he called on one of the most famous Italian Architects of the time, Mr. Umberto Nordio. He had undertaken a good number of interiors of some of the finest and greatest Italian liners, such as the Raffaello, Homeric, Oceanic, as well as the post war refits of old V Ships such as the Conte Biancamano. The Fairsea and Fairwind would be his very last projects, for sadly he passed away, just a few months after the Fairwind entered service in 1972.
In the meantime in Southampton, Sitmar ensured that the ships new names were placed on their bows and stern, in addition their funnels had been painted in the traditional Sitmar yellow with the blue Sitmar logo on it, being the traditional "V."
The RMS Carinthia was first renamed, Fairland but this was changed whilst she was being rebuilt in Italy as the Fairsea. The RMS Sylvania was renamed the Fairwind.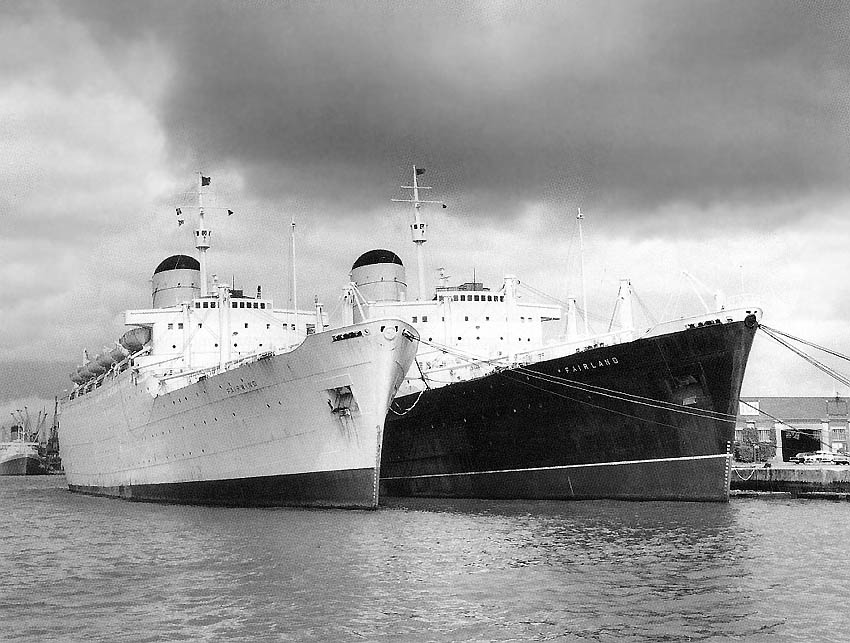 Here we see the TSS Fairland (right) and her sister the Fairwind (left) laid up at Southampton
Awaiting their time to sail for Trieste Italy for their comprehensive rebuilding into luxury cruise ships
From the Author's collection
--Part Two--
The Designers Impressions of the Ships Interiors
From Sitmar Cruises 1970 Promotional Portfolio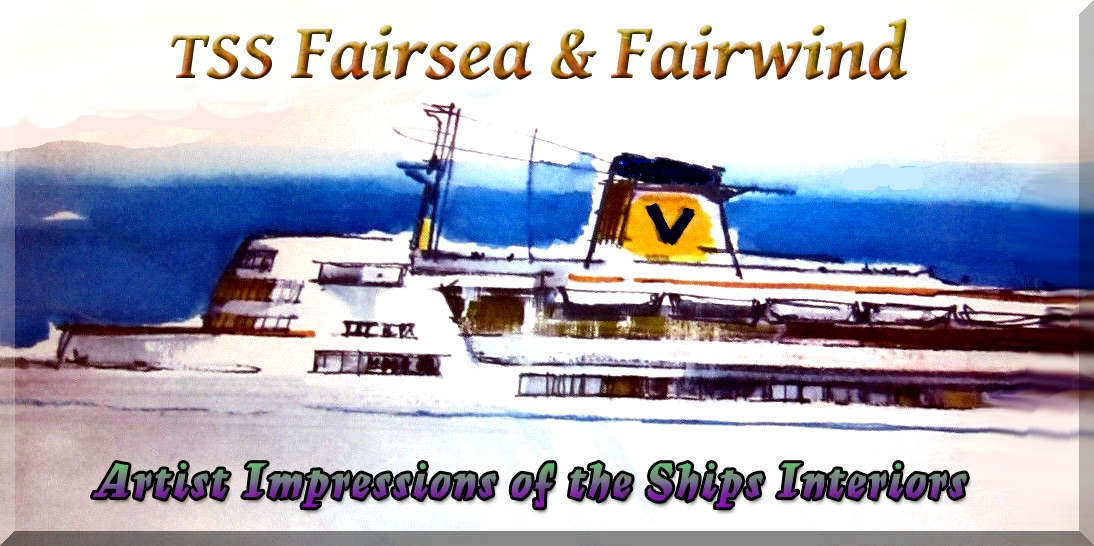 A colour promotional portfolio for the new Sitmar Line ships, the TSS Fairsea and Fairwind was given to agents who attended a Sitmar Cruises function in Brisbane, Australia late in 1970.
<![if !vml]>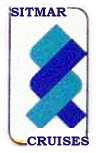 <![endif]>Their original intension was to operate their two new ships; the Fairsea from 1971 and the Fairwind from 1972 for voyages from the United Kingdom to Australia, however this was soon cancelled due to the alteration's to the migrant contracts, as well as with more people travelling by air, etc. Thus, the newly established   decided to operate these fine ships on the lucrative American 5 Star luxury cruise market to Mexico, Alaska as well as the ever-popular Caribbean circuit!
However, a travel agents and media portfolio that was handed out commenced with the following opening statement:
The world's greatest ocean, the Pacific will fascinate you with its beauty as it has fascinated mankind for hundreds of years. This is the home of sun-loving islanders: it will soon be the home of the new "luxury twin" cruise vessels", the incomparable Fairsea and Fairwind.
You are now holding in your hand a unique "presentation portfolio" containing a brief description of our two new ships, but also our new company, Sitmar Cruises.
But we promise you, the reality will be even grander, more exciting, than words can tell.
Please Note: Copy as seen above and below the "Promotional Portfolio Front Cover" is in a blue font for it was taken directly from the Portfolio. However, some very small alterations have been made only for the reason that there have been changes with the English language over the years, and thus there was a need for some slight rephrasing. Having said this, I have ensured that I <![if !vml]>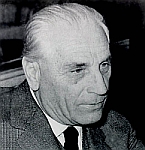 <![endif]>have remained strictly to the original copy of the Portfolio and not changed any of its original meaning!
Although the portfolio was intended for travel agents and the media, yet its contents was very much written as if it was to Sitmar's future passengers, thus it had the look more of a promotional brochure, although it was ever released to the public as far as I am aware.
 Umberto Nordio (1891-1972).
One more Note: The interior design of these luxurious ships was by one of Italy's greatest Interior Maritime Designers Umberto Nordio and what you will discover below are by his actual impressions of the ships interiors as was presented originally to the company directors and later in the Portfolio to the media and agents in 1970, thus you are looking at something exceedingly special, an introduction to what would become reality in 1971 and 1972.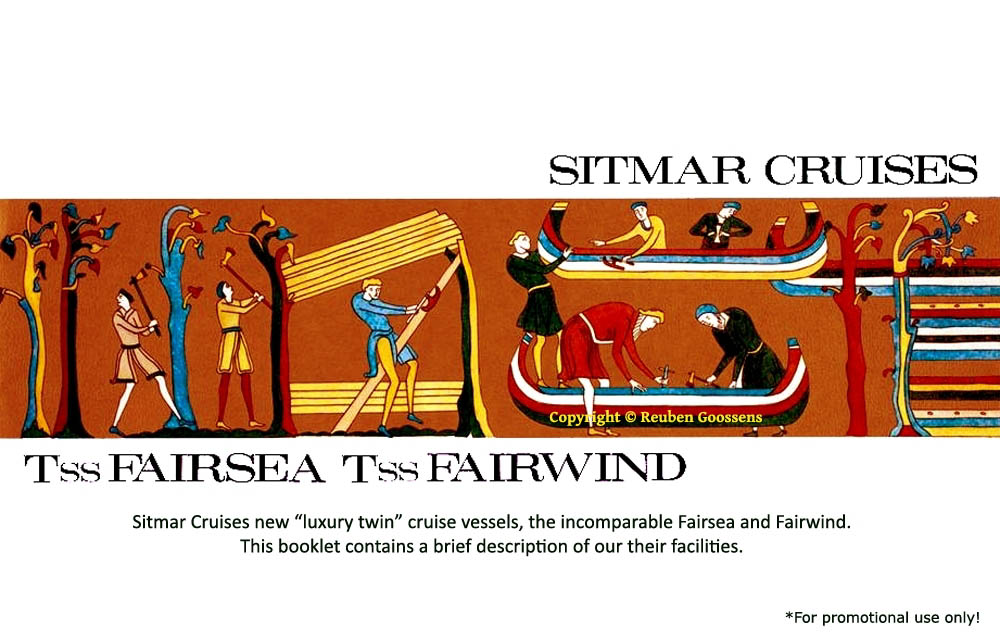 The Promotional Portfolio Front Cover
Sitmar Cruises "Luxury Twin" ships, Fairsea and Fairwind will be one class – luxury class. The nine decks and their variety of lounge rooms and entertainment areas, the cinema, the cocktail bars, everywhere you turn you will find something new to enjoy.
Thus, the Fairsea and Fairwind will open up new dimensions in luxury. No other cruise ship can boast such lavish appointments, such a feeling of extravagant spaciousness.
Each Sitmar Cruise ship has nearly 35,000 square feet of deck space, so there is bound to be a special sunshiny spot just for you.
Dolphin Nightclub:
Fairsea and Fairwind were born to the good life. They will be happy ships because they were built for pleasure. From stem to stern, every line breathes elegance. No expense has been spared in the creation of a rich and a luxurious atmosphere.
Wall to wall carpeting abounds throughout the ships and in Dolphin Nightclub on the Ocean Deck it even covers the walls!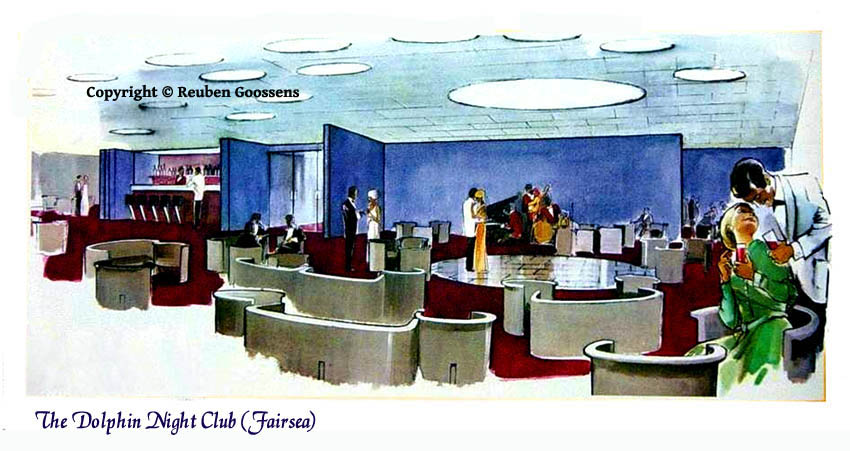 This venue was located forward on Ocean Deck, which was directly above Promenade Deck
It was named the "Mistral Night Club" on the Fairwind
South Pacific Lounge (Fairsea) and Caribbean Lounge (Fairwind):
Laze in one of the pools, or sit back and watch the fun from the comfort of the South Pacific Lounge or "the Beach." Or pull up a deck chair, and be enchanted by the moods of the blue Pacific.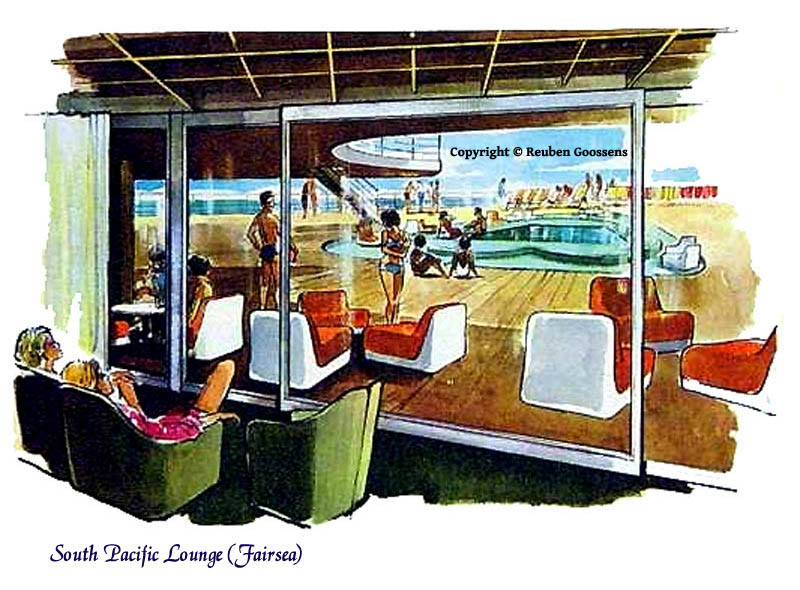 Looking over the Pool and "the Beach," but a contrast to their casual gaiety is the South Pacific Lounge on the Fairsea or the Caribbean Lounge on the Fairwind as seen below. At this venue passengers could watch one of the intimate floorshows, or dance the night away to the romantic strains of a top-line orchestra. During the day it was a popular venue and bar with a view of "The Beach" area and the Pool!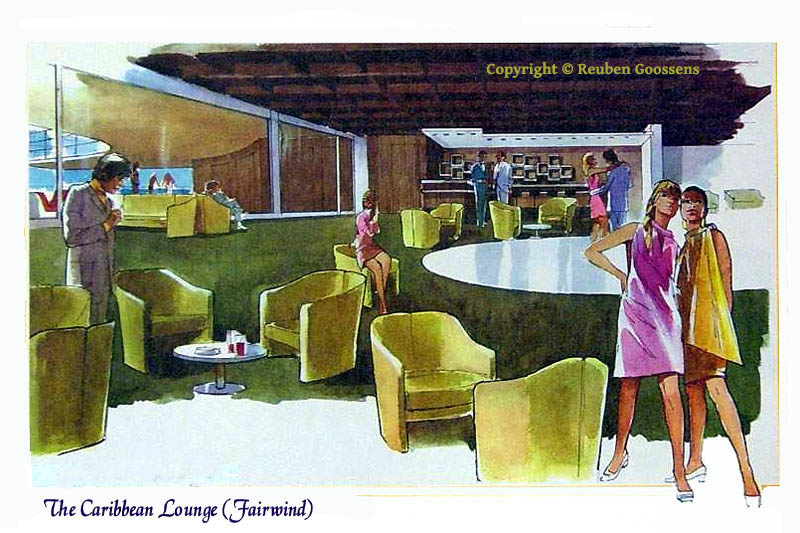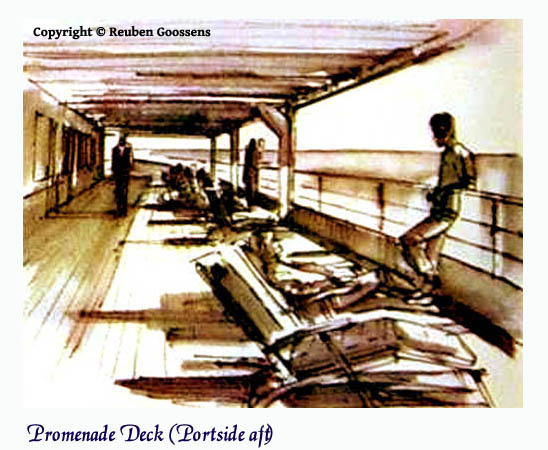 The Windward Lounge:
Throughout the ships will be many rooms for passengers' use. Each room will have its own style of decoration, its own unique atmosphere. Change your mood … change your room.
A team of the world's foremost interior designer's have worked to make each lounge truly spectacular. In addition to the lounges, each with its own bar, other rooms will be set aside for functions, such as art shows, concerts and rehearsals.
There is so much to see and do, aboard two really fabulous ships.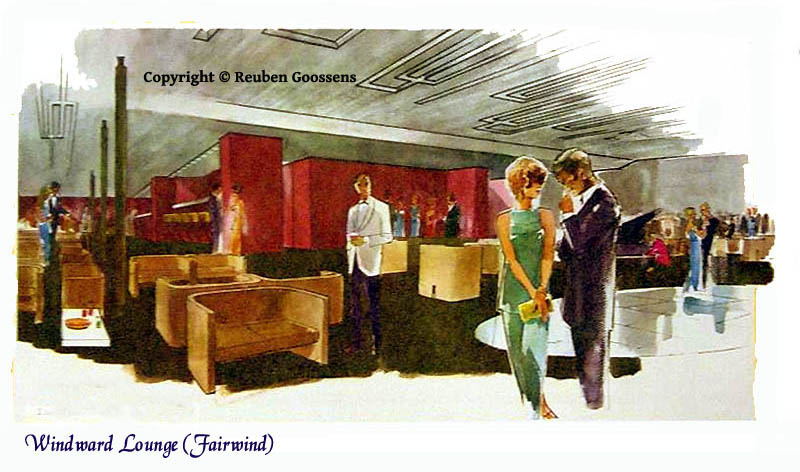 On board the Fairsea the Lounge/ Showroom was called the "Seaward Lounge"
Excelsior Cocktail Lounge:
Sitmar Cruises "Luxury Twin" ships, Fairsea and Fairwind will be one class – luxury class. The nine decks and their variety of lounge rooms and entertainment areas, the cinema, the cocktail bars, everywhere you turn you will find something new to enjoy. One of these is the delightful Excelsior Cocktail Lounge.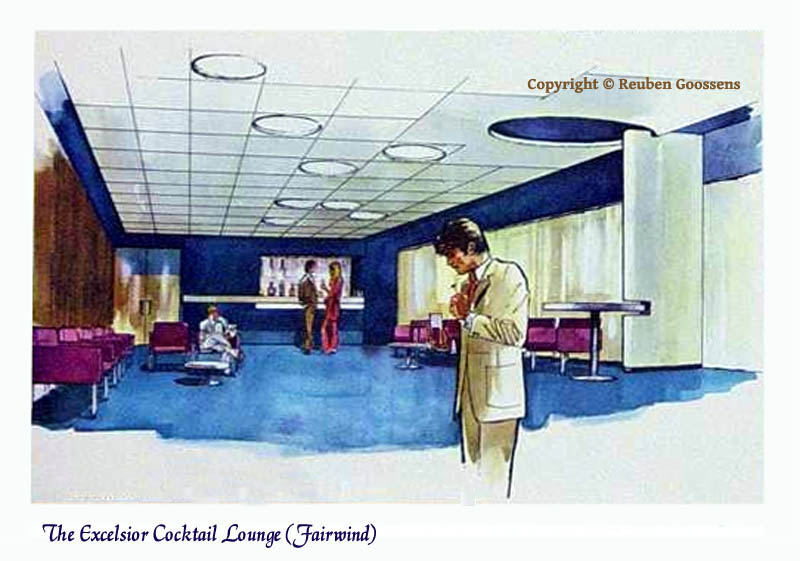 Located on Promenade Deck portside between the aft Caribbean or South Pacific Lounge and the Grill
On the Fairsea this is called "Doney's Cocktail Lounge."
The Exotic Garden:
The Exotic Garden on the Fairwind and the Palm Room on the Fairsea is an unusual and beautiful feature of the Promenade deck. On this deck, too is the shopping centre, stocked with the day-to-days needs and luxury goods, and all are tax and duty-free.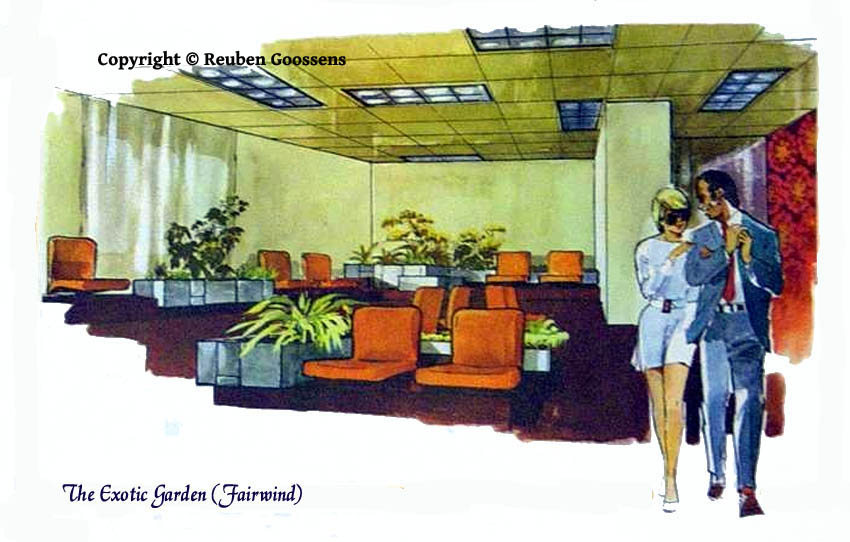 This venue was named the Palm Room on the Fairsea and was located on starboard side of the Grill
On the Fairsea this is the "Palm Room."
"Soda a Go-Go":
The sophisticated atmosphere of the Sitmar Cruises ships relaxes in the discotheque's, into sheer exuberance for teenagers and the young at heart. Sitmar Cruises caters for all ages, even the little ones, who have their own special pool and playrooms with well-trained staff and nurses who are in constant attendance.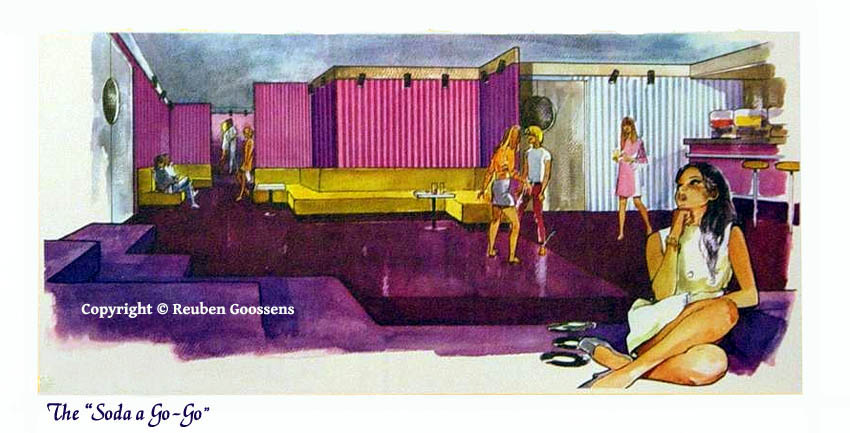 A venue for the younger generation complete with a jukebox and a non-alcoholic bar, it was also
the highest venue on board, located far aft starboard on Europa Deck, next to the Youth Centre and its pool
Card Room & Other Venues:
The Fairsea and Fairwind cater for every taste, with an unequalled sense of style. Card rooms, a library, quiet rest and reading rooms are provided, all peaceful havens away from the bustle and brightness. Live just the way you choose to live, your every whim will be catered for on a Sitmar ship!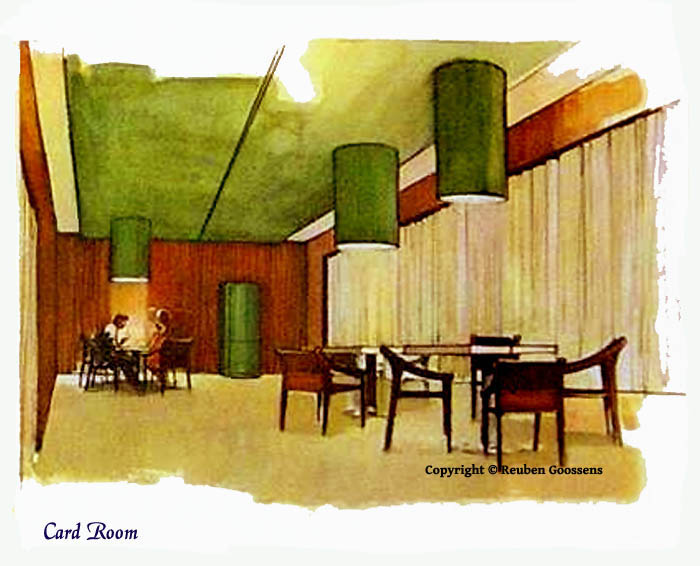 There were two Card Rooms, located Port and Starboard at each side of the second forward stairwell
Further aft on the starboard side was the "Pickwick Room," being the Writing Room
The Cinema:
Nothing has been left undone that could help to make your Sitmar Cruise the experience of a lifetime. In the two level cinema, the ultimate in modern theatre design, you will sink into opulently upholstered seats to watch first release movies, knowing as you do that you are sharing with the stars, the sheer pampered leisureliness of the good life. Many of the movies as well as the Live Shows that will be staged here will be relayed through the ship's closed circuit Television system.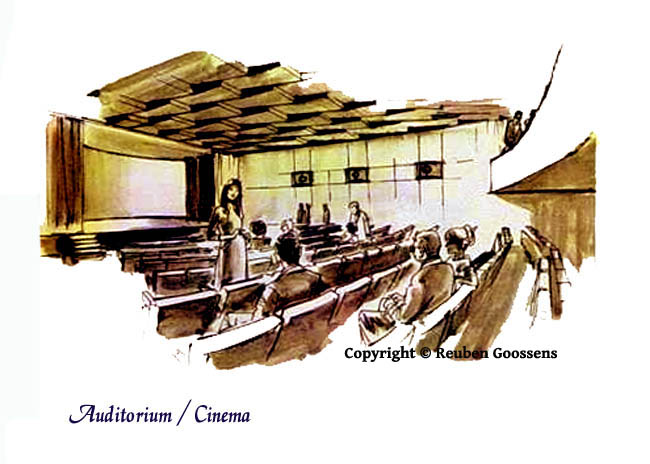 The Cinema was on Continental and D Decks and could be reached via two lifts as far as Bahamas Deck
And then down one flight of stairs to the Balcony, or another flight of stairs to the main Auditorium
Dining Rooms:
And … such food! Prepared by true Cordon Bleu Chefs in the most modern kitchens and served with a selection of the world's finest wines. Nor need your dining be formal to appreciate the delights of this genuinely international cuisine. A snack by the pool, a private luncheon with friends in your room, breakfast in bed, however you dine, and "Bon appétit" is a promise!
Presenting the most exclusive Dining Rooms in the world! Each night will be a night to remember, with beautifully prepared and presented foods, served to you in elegant and gracious surroundings. Each of the "Luxury Twins" will have two magnificent Dining Rooms, capable, between them, of seating all our Guests.
All Sitmar cruise-goers can dine together, unhurried, in an atmosphere of spaciousness and ease.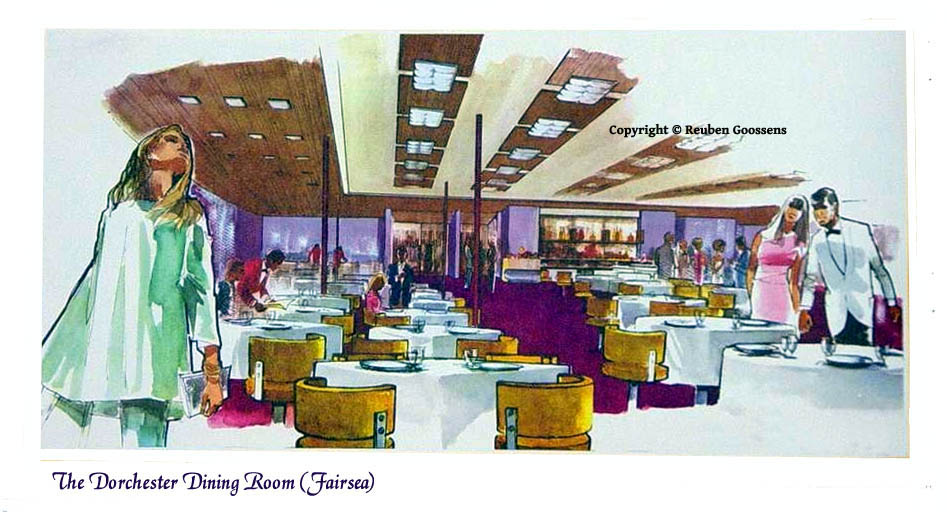 This is the forward Dining Room, whilst the Fairwind Dining Room was called the "Lancaster"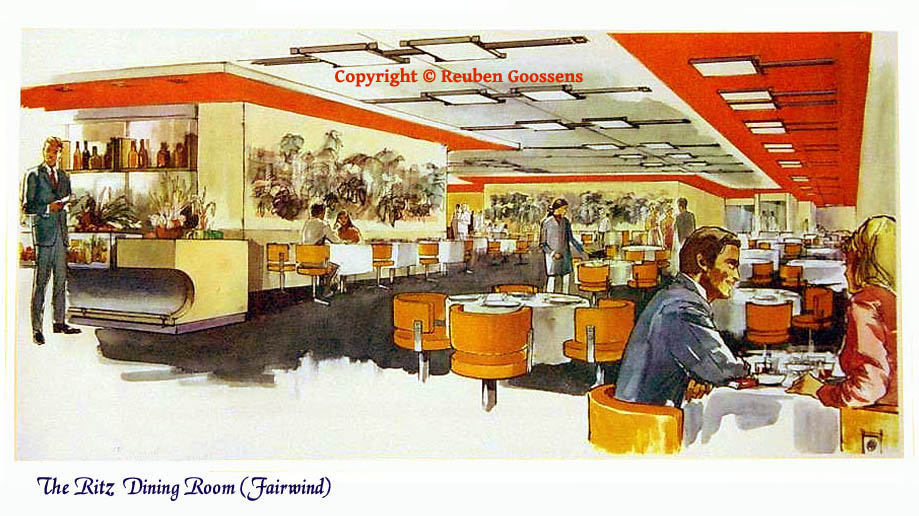 This is the aft Dining Room, whilst the Fairsea aft Dining Room was the "Grosvenor"
The Grill:
Should you wish to dine one evening in an intimate and sophisticated atmosphere, a telephone call from your cabin will reserve your table in the "Grill." Here you can order your choice of meat, fowl or fish, grilled to perfection before your eyes. The "Grill," with its own cocktail bar and barman who prides himself on his ability to mix any cocktail you can possibly name, could be responsible for one of the most memorable evenings of your cruise.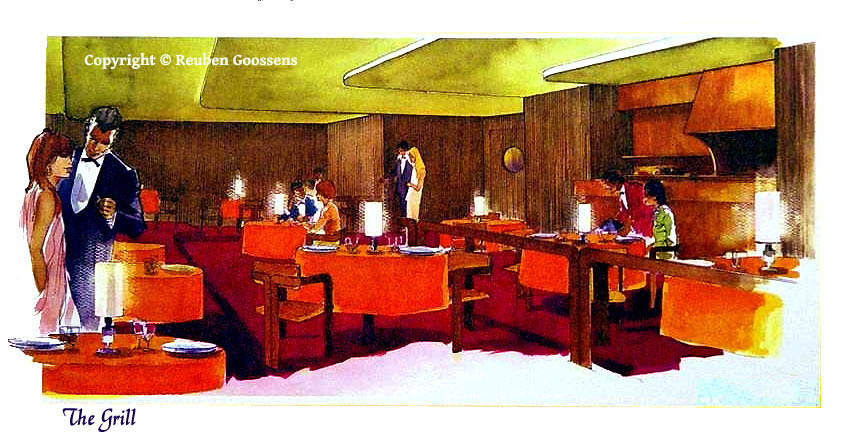 The "Grill" was located portside just forward of the Excelsior Cocktail Bar
It was removed during the ship's later years
Accommodations:
Accommodation aboard Fairsea and Fairwind is second to none, with a selection of Single rooms, Twin rooms, de-Luxe rooms and luxurious Apartments, all having their own private facilities. Each have a telephone, three channel selections, and of course individual air-conditioning.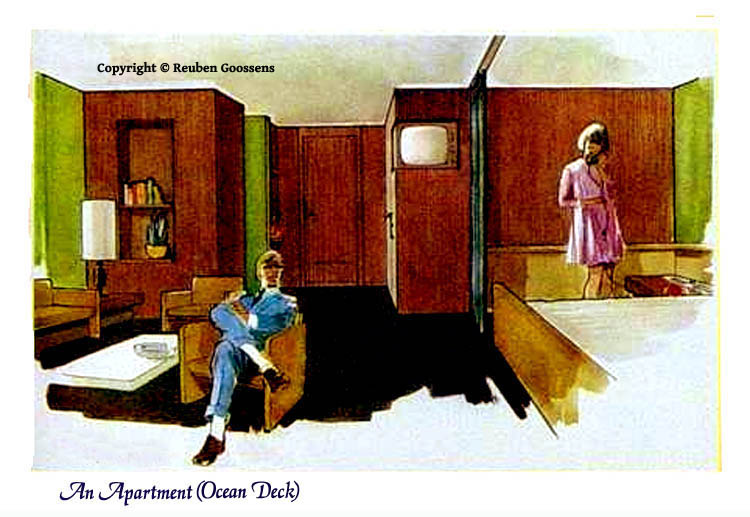 Just four Apartment Suites were located amidships and they were named as follows;
Minorca & Portofino on the starboard side and Antibes & Capri on portside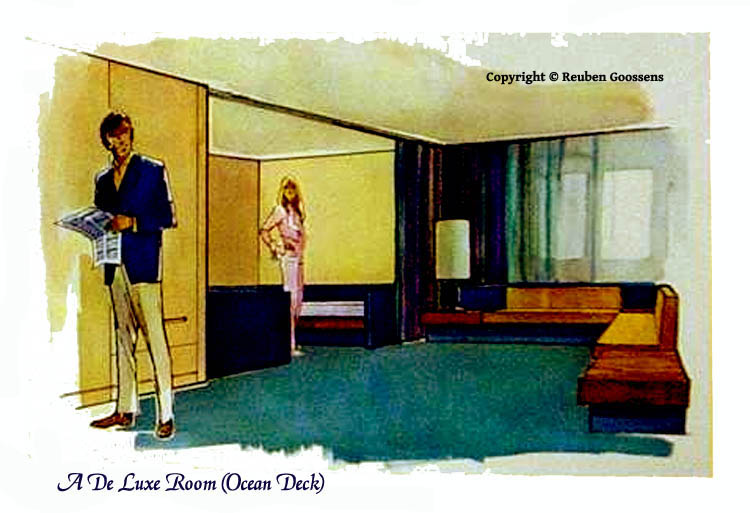 There were twenty-six of these delightful Mini-Suites, or de-Luxe Rooms on this Deck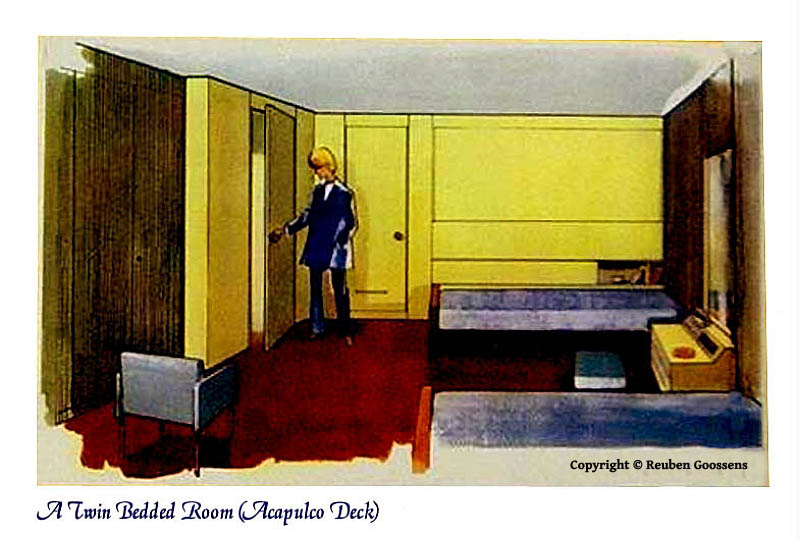 This type of cabin could be found throughout the ship and although these ships were mostly sold
With lower berths only, at times, upper berths would be used by request if children would sail with families
In addition, there were also single bed cabins that had an upper berth that could be sold as a two-berth cabin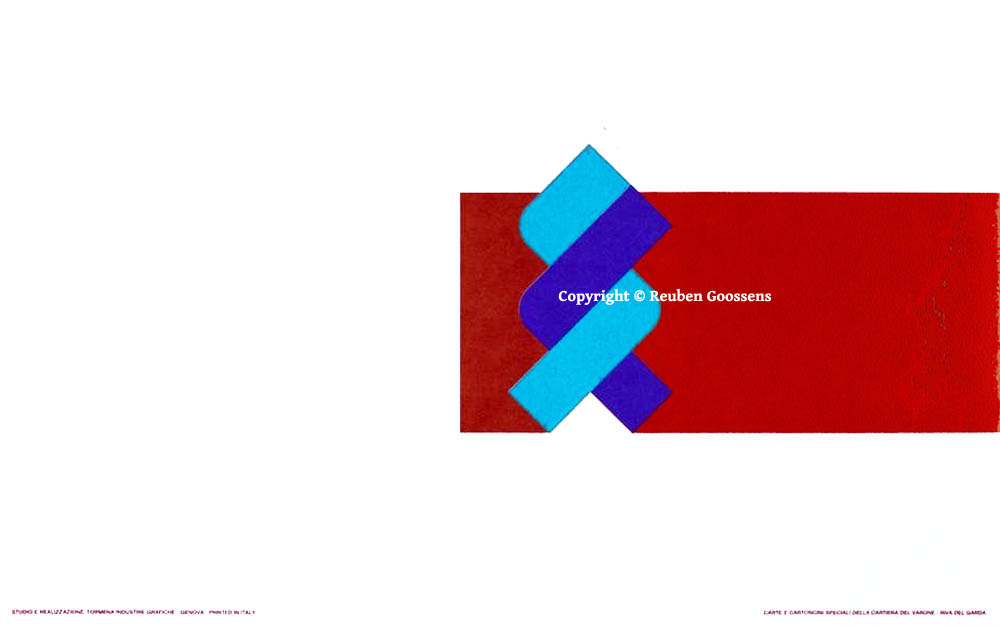 The back cover of the presentation
****************************************
--Part Three--
Completion, Maiden Voyages and the Ships in Later Days!
Two New Sitmar Cruises Ships:
1.
RMS Carinthia
-
TSS Fairland
–
Fairsea - Fair Princess - China Sea Discovery
In February of 1971 she headed for Italy where the Fairland arrived in Trieste on February 21, to be completely rebuilt and superbly refitted into a luxury 5 Star cruise ship for the American market. During her refit she was renamed the Fairsea and she became the very first ship to become part of the newly established "Sitmar Cruises Inc." when this magnificent 21,916 GRT cruise ship with her many glamorous public lounges, venues and accommodations for just 884 passengers (lower beds only) when she was completed. This elegant new cruise ship, yet still having that wonderful touch of a classic ship about her, passed all her trails on the Atlantic and her SOLAS inspections and when this was completed she was ready for her voyage to the USA from Cadiz in Spain.
However, before I relate her voyage to Los Angeles in the United States of America let me say this; it was originally intended to operate both ships on the Australian service as liners, but that was soon halted and it was then decided to rebuild them as luxury all First Class cruise ships for the new company Sitmar Cruises! Yet, Australia remained on the horizon for this country had been Sitmar's main destination for most of its career. See our "Brochure and other Images" page for full details.
On November 3, 1971, almost four years after her final voyage as a Cunard liner, the TSS Fairsea departed Cadiz with a good number of Italian and American media on board as well as American travel agents and tour operators. Ports of call during her Trans-Atlantic cruise were; Antigua, St Thomas, Panama Canal, Acapulco and she arrived in Los Angeles on December 10 to a hearty reception from ship and cruise lovers! She remained In LA for the next few days, as she was being made ready for her new series of luxury Mexican cruises. On December 14, 1971 there was a special Media day with a reception on board and in the afternoon the Fairsea departed on her fully booked official maiden Sitmar Cruises cruise to Mexico!
During the summer months the Fairsea would operate Sitmar's Alaska cruises and she would be based in Vancouver, whilst in the winter she was home in Los Angeles operating cruises of the; Panama Canal, Curacao service and Mexico. The Fairsea and her sister, the Fairwind would bring Sitmar Cruises to the very pinnacle of cruising success!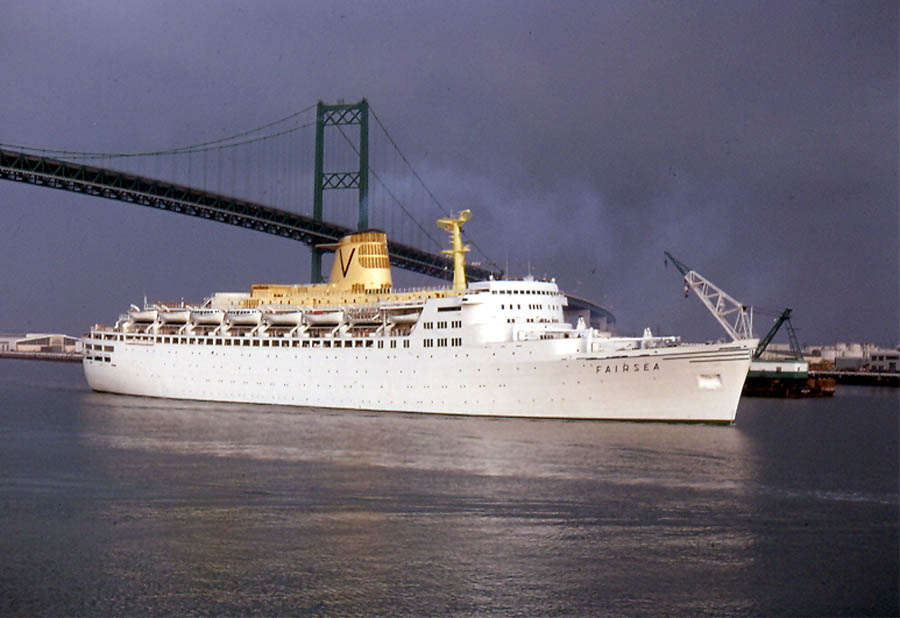 The elegant looking TSS Fairsea is seen departing Los Angeles for another Mexican cruise
Photograph by & © David - also known as Pompeyfan!
Please Note: This next section that will cover the days of the Fairsea and Fairwind cruising days will be covered in the very near future!
****************************************
The Sitmar Story in Brief:
Some background in relation to Sitmar Lines:
Sitmar was originally started by Mr. Alexandre Vlasov in 1928 when he purchased a second hand older ship which he renamed the SS Boris in honour of his son who would later take over the company after his passing.
<![if !vml]>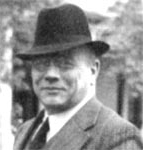 <![endif]>Sitmar Line, were company names that was derived from the acronym "Societa Italiana Trasporti Marittimi," that translates as "Italian Maritime Transport Company." Sitmar originally commenced as an Italian Shipping Line founded by Mr. Alexandre Vlasov who had his origins in Russia, however he soon moved and the company's headquarters were transferred to Monaco.
Alexandre Vlasov 1880-1961-
Mr. Vlasov initially operated cargo services commencing in 1937, but in due course he decided to operate only a fleet of passenger liners between Italy to Australia, which commenced in 1947, with the SS Castelbianco, SS Wooster Victory later renamed Castel Verde and the fleet increased with ships such as the SS Castle Felice, Fairsea, Fairsky and the Fairstar in 1964. The fleet operated out of Italy Germany, the Netherlands as well as England and the ships were popular with peoples from all countries, especially Australians and New Zealanders! But as we are now discovering Sitmar was entering into a whole new direction!
For interest, Sitmar was originally started by his father Mr. Alexandre Vlasov back in 1928 when he purchased a second hand older ship which he renamed the SS Boris in honour of his son. As his company grew over the years, a new company name was officially adopted some ten years later as he ventured into passenger operations and thus on April 30, 1938 the name SITMAR, or Socierŕ Italiana Transporti MARittimi S. A." was officially founded!
<![if !vml]>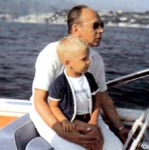 <![endif]>When Mr. Alexandre Vlasov passed away on October 3, 1961 his son Boris took full control of Sitmar Line and the Vlasov Empire, which was vast! He was fully involved in redesigning his companies' new fleet as well as marketing, for he was nothing short from a genius, taking after his father!
-Boris Vlasov (1930-1987), he is seen with his nephew Andrea aboard his yacht the Shark in 1968.
Being a genuine and a wonderful family man, in 1971 Boris Vlasov set up a special trust as an economic safeguard for his family, but sadly when he passed away on November 2, 1987 whilst he was in Japan, it would be within just eight months that his beloved company would be sold by his own family and those who controlled this blossoming and financially well to do company! One of the world's most loved companies' throughout Europe, Britain, America, Asia, New Zealand and Australia Sitmar was a byword and suddenly it was gone, as was the unique service that was offered on the Fairsea and the Fairwind, for they were without doubt two of the most glamorous and luxurious 5 Star cruise ships in their day and the cuisine and service on board was far superior to what was available on the vast majority of cruise and shipping companies in those day. One exception was the famed Holland America Line that stood out as one as the world finest and its fleet was known as the "Spotless Fleet!"
P&O buys Sitmar in July 1988:
Thus on July 14, 1988 P&O had purchased Sitmar Cruises outright including and their three ships, the TSS Fairsea and TSS Sitmar FairWind were both transferred to Princess Cruises, whilst Sitmar Cruises popular Australian based cruise ship, the TSS Fairstar was transferred to the newly formed company, P&O Holidays.
In 1988 the Princess fleet consisted of the following ships: MV Island Princess (1972-1999), Sun Princess (1974-1989), Pacific Princess (1975-2002), Sea Princess (1979-1995) and the Royal Princess (1984-2005).
For all passengers on board any of the Princess ships whilst on their cruise received a special letter from Mr. Tim Harris the President of Princess Cruises and I include just part of this letter below;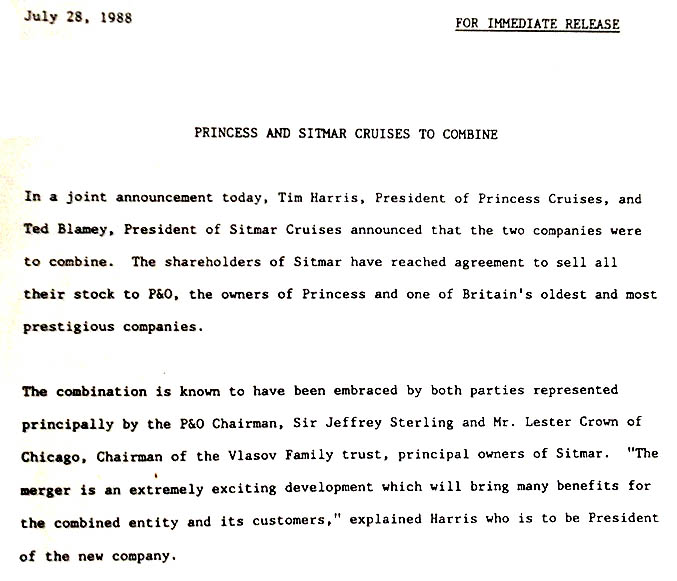 Fair Princess - 1988 to 2005:
The TSS Fairsea entered dry-dock for a refit and she received her new name of Fair Princess as well as her official Princess livery, being mostly the removal of the "V" and replacing it with the "seawitch" logo on her funnel as well as the loss of those famed racy dark blue triple bow lines coming from the Sitmar logo!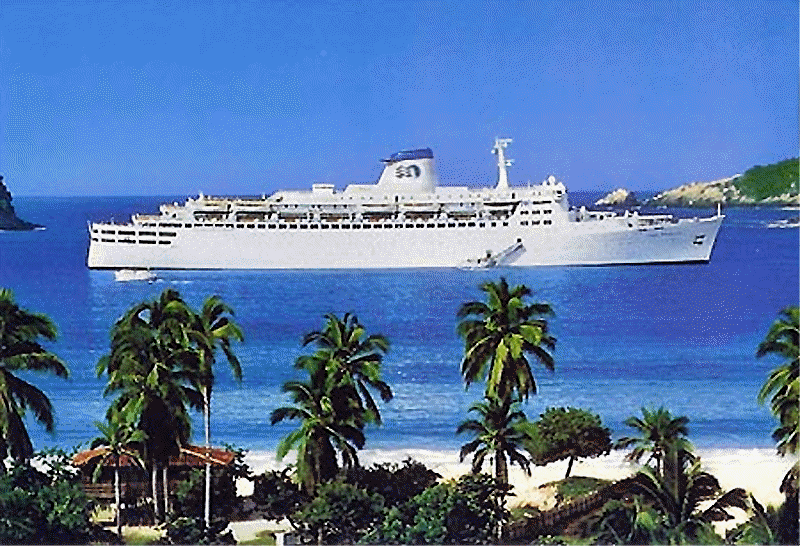 This is Princess Cruises' first mock up postcard of the Fair Princess somewhere in the Caribbean
Upon completion of her refit she departed Los Angeles for a Pacific Cruise to Australia, visiting Tahiti, various other South Pacific Islands and New Zealand arriving in Sydney on November 10, 1988. Then for the next five months the Fair Princess remained in based in Sydney and operated cruises around the South Pacific as well as to New Zealand. Then in April, 1989 she operated a return Pacific cruise home to the West Coast of the United States.
In 1993 P&O Princess Cruises issued a lavish brochure which enthused: "The intimate Fair Princess boasts a charming, private-club atmosphere that makes it easy to meet and mingle and make lasting friends. Walnut-panelled walls, gleaming stainless steel rails, luxuriously thick carpet, butter-soft leather, reflective ceilings, etched glass doors and distinctive artwork all evoke seagoing traditions. This classic ship is packed from stem to stern with fabulous amenities; the Fair Princess is an uncommon delight." As a ship she proved to be just as popular as she had done during her Sitmar days, even though that special Sitmar touch had now gone, but she was still a luxurious and the perfect classic ship!
But here in Australia, cruise lovers felt that they already had their very own special cruise ship, being their much loved TSS Fairstar being another ex Sitmar liner, that had become a fulltime Australian cruise ship based in Sydney since 1974 and she made major inroads in cruise market and set new standards in addition she outlasted many major international competitors who simply could not compete with Sitmar Cruises or P&O Holiday's Fairstar! Read about the Fairstar on Page Three of this feature!
However, early 1995 P&O/Princess sold the Fair Princess to Regency Cruises, but before the sale could be finalised, Regency Cruises had gotten major financial difficulties and went bankrupt. Now P&O/Princess decided to lay-up the Fair Princess at Mazatlan, Mexico and she was in danger of being sold, but she was saved a year later by P&O Holiday's Australia, for it was then when P&O announced that the Fair Princess would replace the aging TSS Fairstar, ex HMTS Oxfordshire and she would be based in Sydney Australia.
However, in order to bring her back into service she required considerable work to be done and thus she was given a $10 million refit and overhaul, being her third major overhaul in just over a decade. In addition to soft furnishings, her boilers and other mechanical issues were dealt with ensuring that she would be in top condition! For passenger comfort, she offered some 30 Suites and Mini Suites as well as almost 60% of the accommodations being twin bedded cabins with all cabins on board having private facilities! She offered accommodations for just 1050 passengers.
She headed for Australia arriving in Sydney on February 1997 having been officially transferred to P&O Holidays in Australia and amazingly she was berthed astern directly astern of the retired TSS Fairstar at Garden Island Naval wharves in Sydney, for the popular Fairstar had been sold to the breakers and the Fair Princess was her replacement!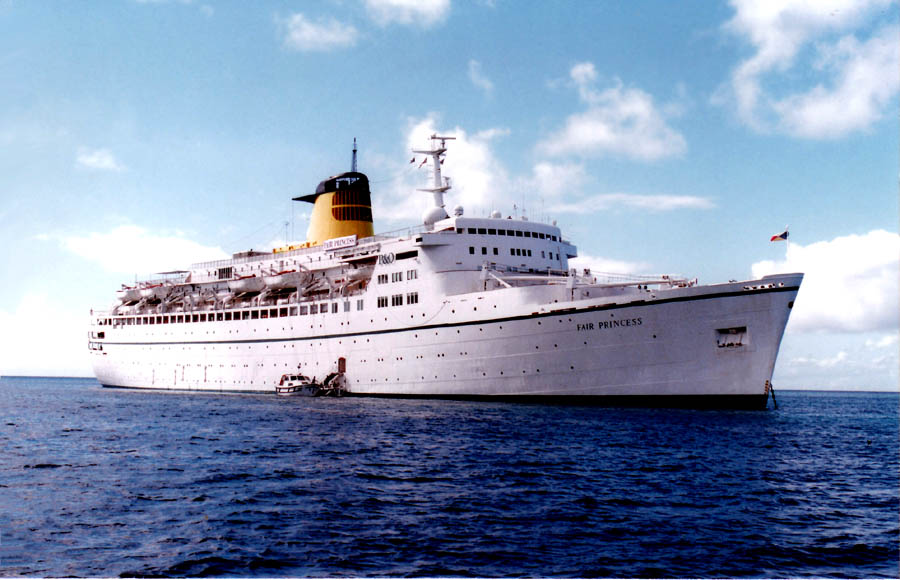 Here we see the transformed P&O Holidays TSS Fair Princess, but please take note of the top of her funnel!
P&O Holidays Australia - Ship mix up:
For some reason P&O Holidays what ship they had obtained visually, for when P&O stated; "In 1997 arrival of P&O Fair Princess ushers in a wonderful new era of pleasure cruising from Australia."
However the photograph they presented you will discover that it was actually the ship that P&O/Princess Cruises no longer owned, for it was the TSS Dawn Princess that P&O sold back in 1993 to "V-Ships" (part of the old Sitmar Line) who gave her a refit and chartered out under the name of Albatros to a German Company. Thus, in truth the ship P&O was promoting as theirs, was actually owned by V Ships named the Albatros and not the Fair Princess. How do we know this, just look at the funnel for that clearly proves it, as it is very different as were the interiors of the two ships by that time!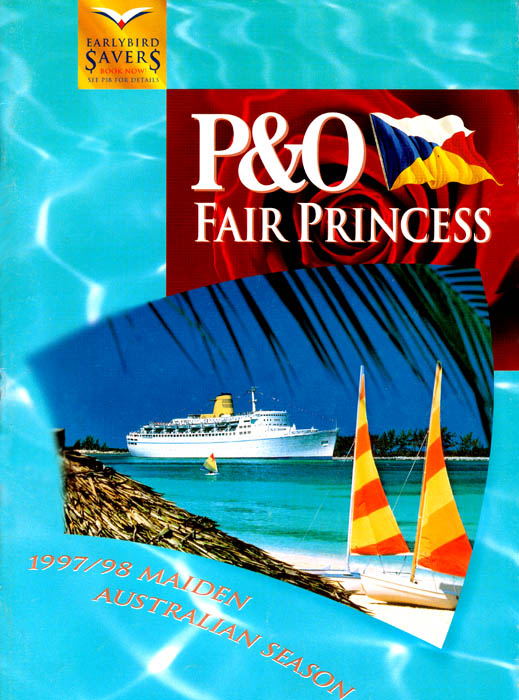 The very first "P&O Fair Princess 1997/98 Maiden Australian Season" brochure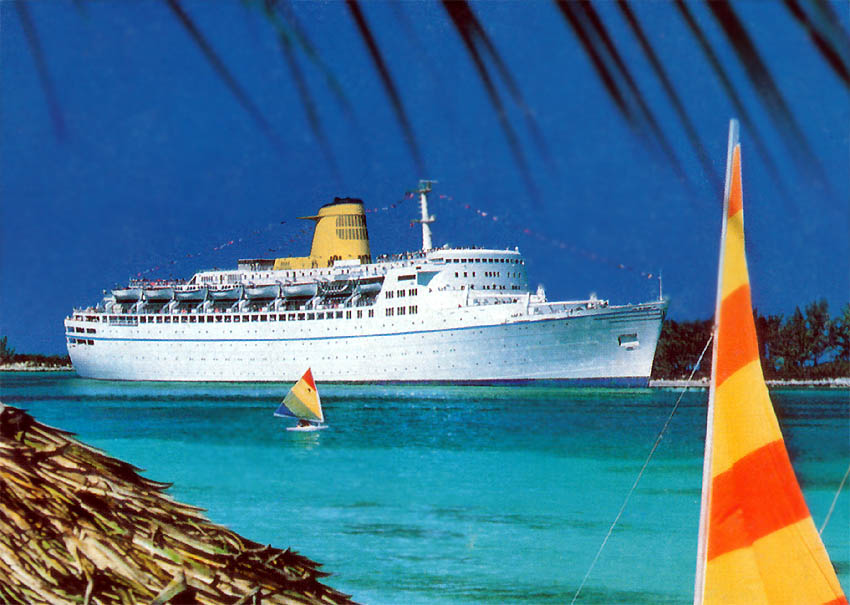 Above we see a close up of the actual image on the brochure cover and you will note that the funnel has a grill on the forward section below the fin that extends aft, but is solid above. Also, she features the Sitmar Cruises "V" logo with the three racy blue lines of the TSS Fairwind, that that was the name of this ship, that became the Dawn Princess. It is understandable for P&O to use an old image and do some airbrushing to make the ship look like the P&O product, but on this occasion, absolutely no care or thought went into this whatsoever. I did write P&O, but besides not receiving a reply, they continued using this image for a number of years as they consider that people are stupid anyway and would not know the difference!
Below we see the actual funnel of the Fair Princess and you will note that above the fin and with in the black dome area there is also a grill in the front that stretches to both sides. This assists with smoke dispersion. The grill arrangements of both ships have been there from 1971 & 1972, which you will be able to see from all the Sitmar Fairsea and Fairwind photographs above!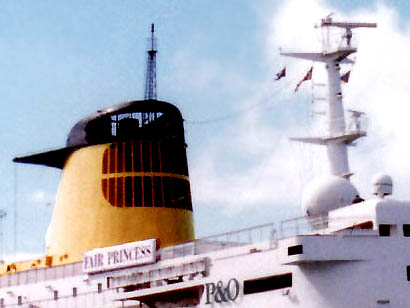 The Fair Princess had been fully booked with 1,050 passengers for her very first cruise from Sydney, departing on February 7, 1997. P&O had marketed her to a more mature demographic, thus aiming to the married 30s to the retired couples and singles, rather that those on the Fairstar, which had become known in her latter years for all the wrong reasons as the "FunShip," thus more like the drunkards ships! She had become rather a wild ship towards the end and P&O did not want to repeat that with their new ship!
P&O Holidays described her as "… having a classic liner exterior with excellent sea-keeping qualities, suited to the South Seas." And certainly this was all true, but her many of her passengers were not too happy with their cruise on this so called "new era of pleasure cruising" for they felt that the Fair Princess was just as old as the Fairstar, the ship they had just sold and this ship, they felt would not last very long. And they were right!
During her very first cruise there was an ongoing series of mishaps, such as fires, burst water pipes resulting in flooded cabins below and many defective lights and other problems, etc.
Then on February 27, 1998, with all passengers having boarded at Darling Harbour in Sydney, all four of the ships generators completely failed, that required the cancellation of the cruise. Problems continued to plague her including three of her passengers having gone down with typhoid fever in 1999 and ongoing generator problems!
Although she had her problems, yet in spite of all that, and as we read all the above in a single block, it does seem much worse that it was, but she remained a very popular ship and she was usually fully booked!
Personally, I sailed on the Fair Princess on a good number of occasions and I always loved my cruises on her and during my last voyage on her to New Zealand, departing Sydney January 31, 2000, being her last ever New Zealand cruise. I was asked by cruise director Dan Styne who knows me well, if I would be happy to provide a maritime lecture, thus as a full fare paying passenger I gave a Lecture in a completely packed Seaward Lounge/Showroom on Tuesday February 8, 2000, the title of the lecture was "The Saxonia Class Liners." Also present was my dear friend Captain Philip Pickford, Chief Engineer Domenico Maglio as well as another good friend Purser John Nicoli as well as a number of other officers and staff, but all had to stand along the aft wall as the venue was completely packed! I was thanked by Captain Pickford and was given a gift, which I treasure to this day! Thus to be honest, whilst I was on board thankfully there were never any problems and the Fair Princess operates and sailed to perfection and I could no complain about this ship in any shape or form, but I do understand that she did have her problems and that her passengers were inconvenienced when she did break down!
Then out of the blue P&O announced that a sale of the Fair Princess had been negotiated and that her entire cruise programme would be cancelled after November 2000. The next day there was a press release by The Great Canadian Gaming Corporation stating that it had acquired a 25% interest in the Fair Princess and that the ship would be based in the South China Sea to service the medium and short-haul cruise ship and entertainment market.
Fair Princess was used as a hotel ship, providing much needed accommodation for visitors to the 2000 Sydney Olympic Games and she was berthed at White Bay for the duration in September/October 2000.
TSS China Sea Discovery:
However, after her last P&O cruise, the Fair Princess departed Sydney for the final time on November 15, 2000 and she arrived at Hong Kong on November 29. The first thing she had to undergo was a survey by passenger safety inspectors and a list of some seven pages of defects was presented of things that had to be fixed. Having finally obtained her passenger safety certificate, in February 2001 the Fair Princess was renamed the China Sea Discovery. At first, the idea was to use her on gambling cruises out of Hong Kong on the weekends, as well as operating cruises between Haikou in Hainan and Haloing Bay in Vietnam.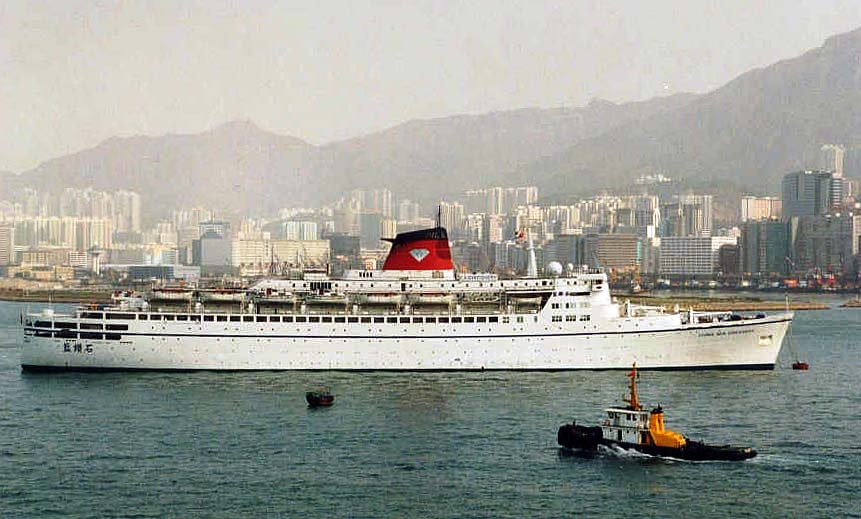 The China Sea Discovery seen in Hong Kong, although she spent most of her time laid up with a blue funnel in Taiwan
Photograph © 2001 Kiwi Marine Consultants Ltd, Hong Kong
However, the TSS China Sea Discovery was never a success for more often than not there would be no more than just twenty passengers on board for her overnight gambling cruises from Hong Kong. It was said that many of the Hong Kong based Casino ships changed their names regularly all due to the Asian superstitious nature as well as those related to their gambling! Just four months later, in June 2001, the China Sea Discovery was laid up at Kaohsiung in Taiwan, whilst her owners were seeking a new way to break into the lucrative Asian cruise market. But, she would not return to service for her Asian crew was had not been paid their wages, therefore they went on strike whilst remaining on the ship and by 2003 the ship was very much in a derelict condition and after two further years of lay-up in 2005 the China Sea Discovery was finally sold to Indian breakers and she was taken to Alang India.
Finally on November 20, 2005, the renamed Sea Discovery arrived at Alang, India where she would be beached and broken up. However, this old girl was not going to give up that easily, for on tragically on February 17, 2006 a massive fire broke out in her engine room of the partially dismantled ex liner and it trapped nine Indian workers in the hull, five of whom sadly died and four managed to escape. The fire left the remains of what was once a great ship a blackened hulk from stem to stern. All work was halted and it was not recommenced for a very long time. I was told that breaking up of this once fine ship was very, very slow and that it was completed sometimes in mid 2006. There is no doubt, the once glamorous ex RMS Carinthia; luxurious TSS Fairsea simply would not give up without a fight!
TSS Fairsea - Fair Princess - China Sea Discovery Album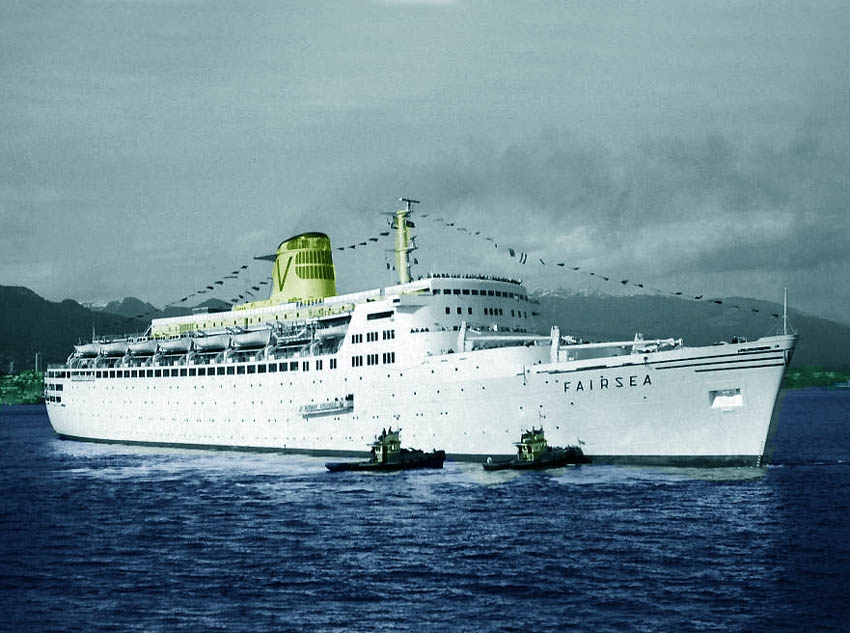 The elegant Sitmar Cruises TSS Fairsea is seen at Vancouver heading off for another Alaskan cruise
Photographer unknown – Please See Photo Notes down the page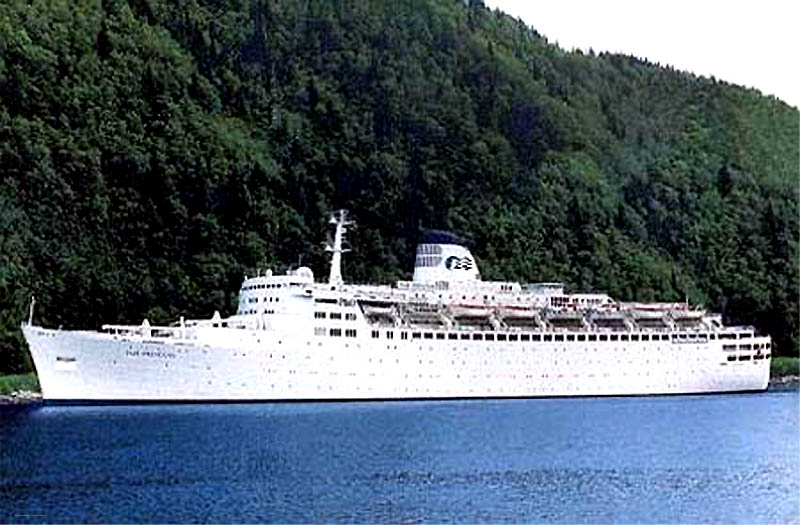 But here she is again, but now as the Princess Cruises - Fair Princess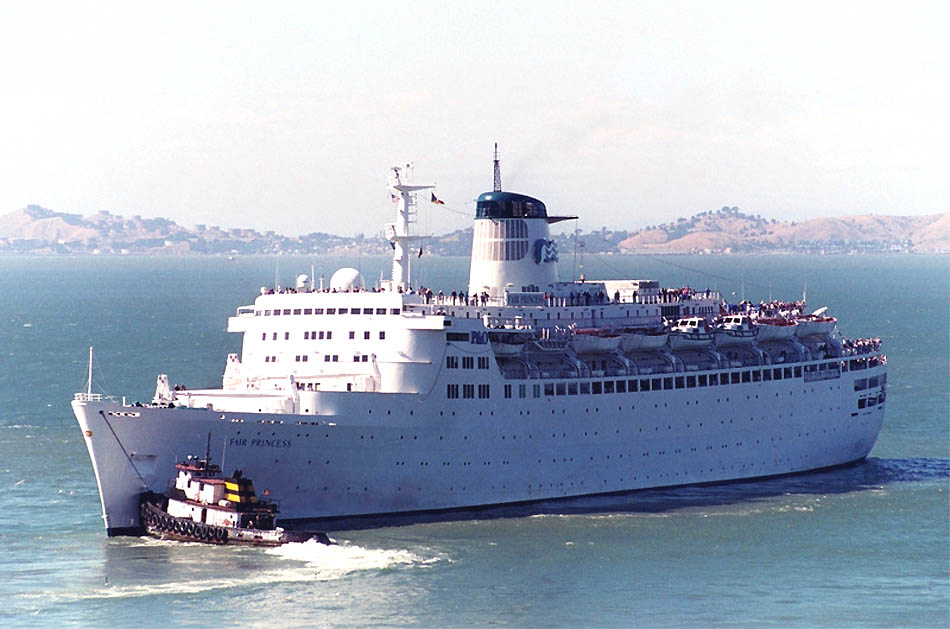 Here see the P&O/Princess ship, the Fair Princess departing San Francisco around 1995
Photograph by & © ssflandre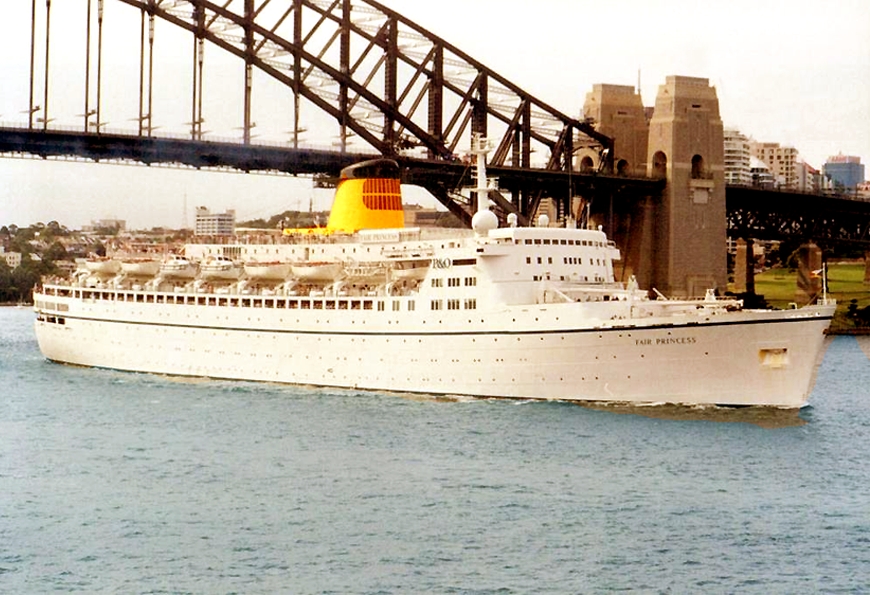 Here we see the Fair Princess as the P&O cruise ship in Sydney Australia departing for another cruise
Photographer unknown – Please See Photo Notes down the page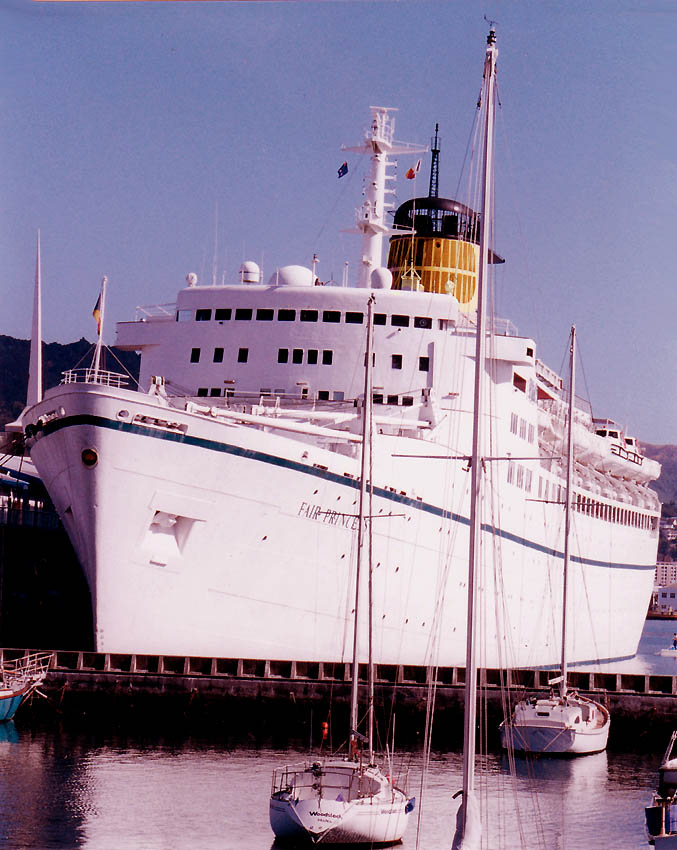 I took this photo of her during my New Zealand cruise, in Wellington on February 7, 2000, the next day
I gave a lecture in the Seaward Lounge, it was entitled, "The Saxonia Class Liners" - I wonder why?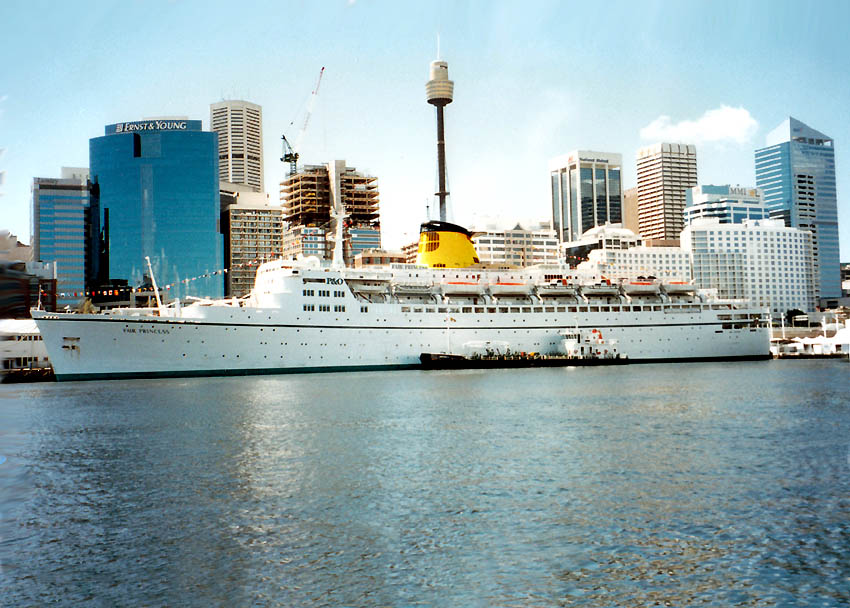 Fair Princess seen at Darling Harbour Sydney during her last days in 2000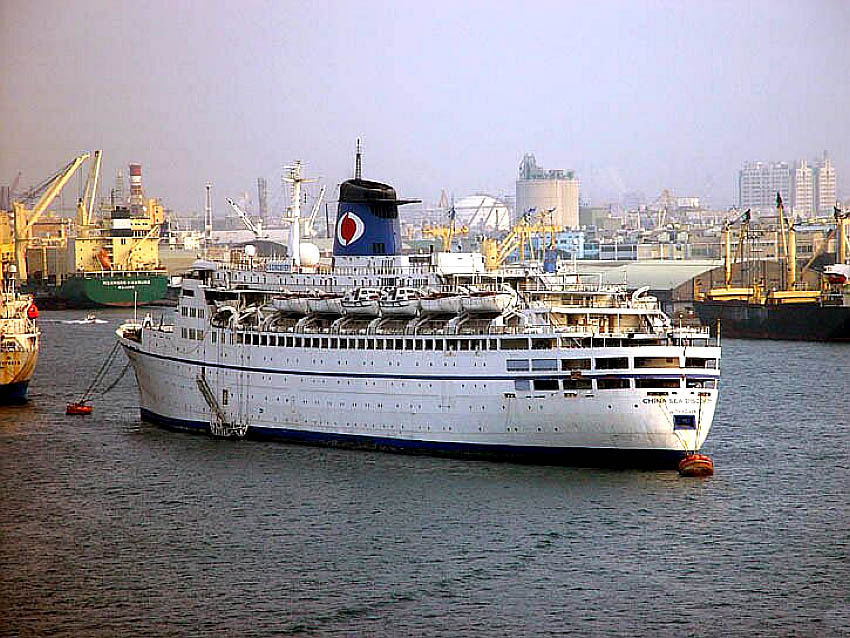 The China Sea Discovery seen laid up at Kaohsiung in Taiwan mid 2005
Photograph by & © 2005 Adam-Fedorowicz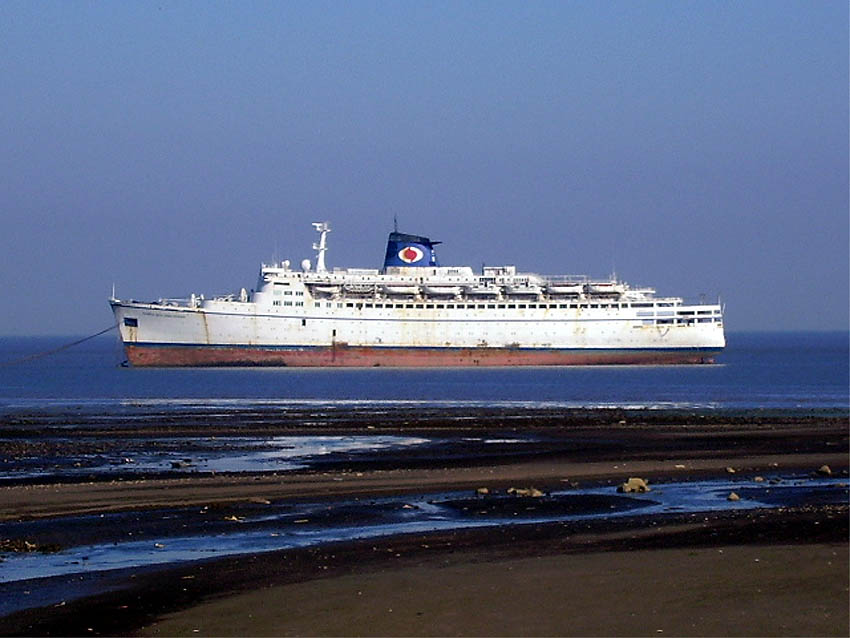 The China Sea, ex TSS Fair Princess, Fairsea and RMS Carinthia is seen
beached at Alang India awaiting her breaking up process to commence
Photograph provided by & © Copyright; www.midshipcentury.com
****************************************
2.
RMS Sylvania
-
TSS Fairwind - Sitmar FairWind - Albatros
Like her sister the Fairsea, the Fairwind also headed for Italy and was likewise comprehensively rebuilt in Trieste. Upon completion she was registered as being 21,985 GRT. This simply superb looking new Sitmar cruise ship was delivered to Sitmar Cruises on June 14, 1972 and having been fully stored up and manned, she departed for a special positioning cruise with passengers being; various people from the media as well as American travel agents and tour operators. She called in at Cadiz, St Thomas, La Guaira, St Anna Bay. Panama Canal, Acapulco to Los Angeles.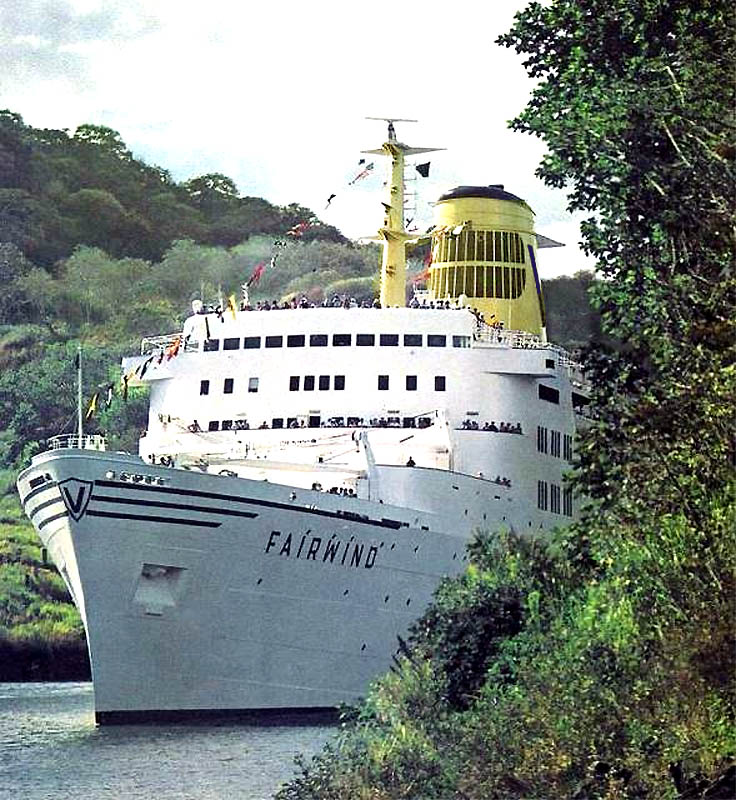 Here we see the Fairwind during her 1972-positioning voyage in the Panama Canal
The media, Tour and travel agents are out taking photographs and enjoying their free cruise on this new luxurious cruise ship!
Having arrived and after her media commitments, she commenced cruising exclusively for the luxury American market and the glamorous TSS Fairwind departed on her official maiden cruise to Mexico on August 14, 1972.
Sitmar Cruises were planning a new campaign, that included renaming all their ships by adding "Sitmar: in front of the original names, and therefore in June 1987 the Fairwind was reregistered and she was renamed the Sitmar FairWind. Whilst she was in dry-dock she received a general overhaul and she was completed in March 1988. As the Sitmar FairWind appeared, she featured the new official "Sitmar Cruises Cooperate" colour scheme and funnel logo, as well her new name of course.
The Sitmar FairWind was in fact the first cruise ship to feature a colourful blaze along the sides of her hull, which these days seem to have become far more common, although some companies, such as AIDA, NCL and others have gone rather overboard with some of the most horrid designs! Sitmar Cruises' livery along her hull was somewhat restrained, colourful and quite attractive! Although the blue funnel colour scheme was not very popular! At the same time a brand new ship was being built for Sitmar Cruises, the 63,524 GRT Sitmar FairMajesty, which was launched on May 28, 1988, but she would be completed as the Star Princess in 1989.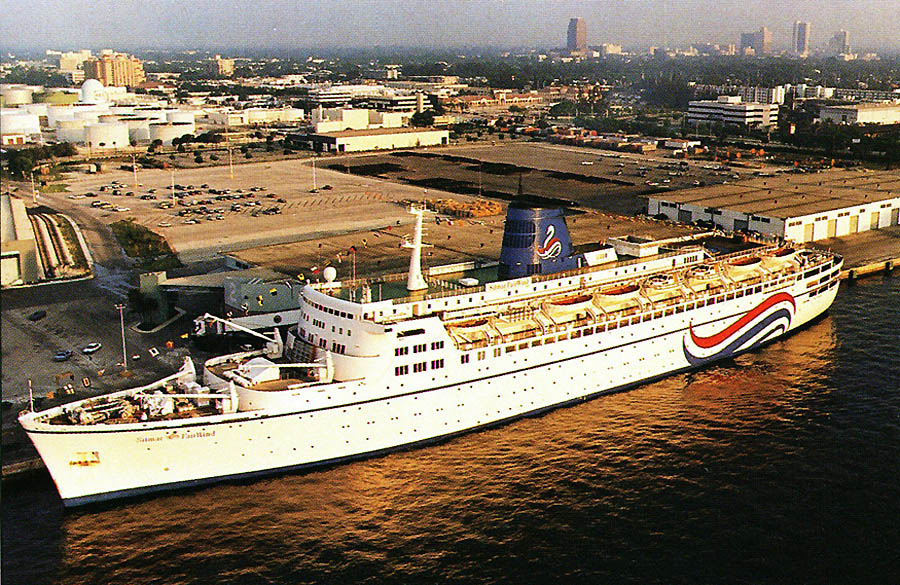 The wonderful TSS Sitmar FairWind is seen here at Port Everglades Florida in May 1988
It was great while it lasted, for in July 1988 she became the Dawn princess
However, the Dawn Princess would only have a rather short life with Princess Cruises, for she entered one of her regular dry-docking in Portland, Oregon in 1991 and asbestos was discovered on the ship. Obviously it was decided to remove the asbestos, meaning that the ship would be out of service for at least three months. Then in 1992, P&O Cruises announced that the Dawn Princess; "no longer fits in the Company's modern fleet," and then the very next year (1963) she was withdrawn from service.
TSS Fairwind - Dawn Princess & Albatros Album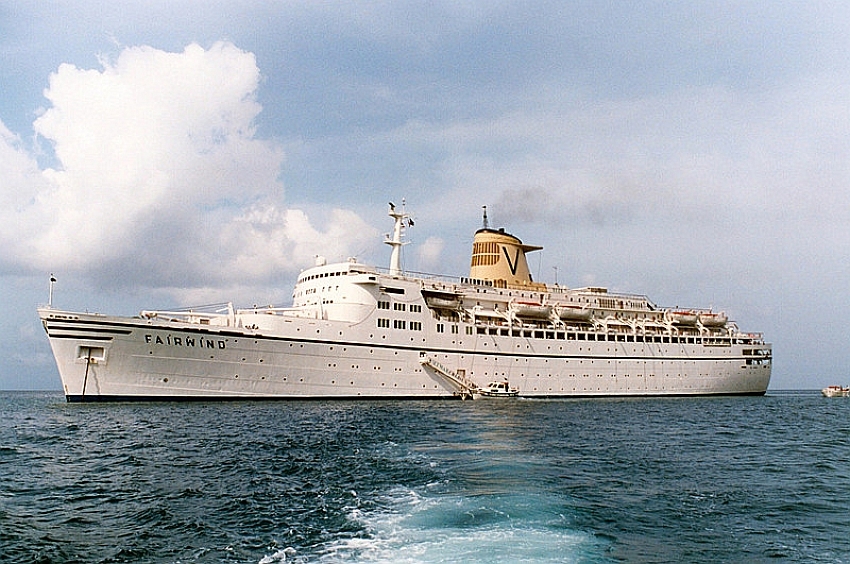 Whilst the Fairsea cruised Mexico, the Fairwind spent most of her time cruising the Caribbean
She is seen here at anchor off one of the Caribbean Islands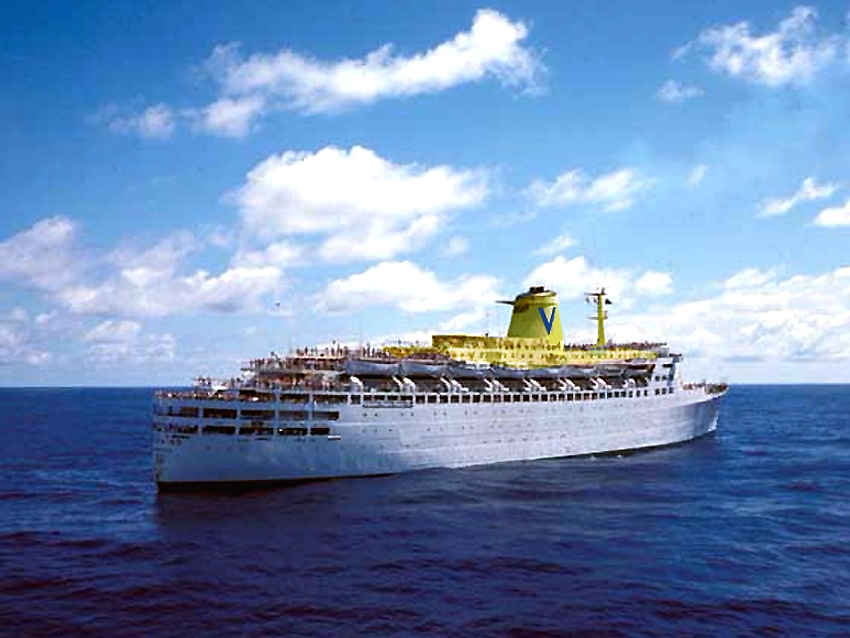 A wonderful private photograph of the Fairwind taken in 1977
Photographer unknown – Please See Photo Notes down the page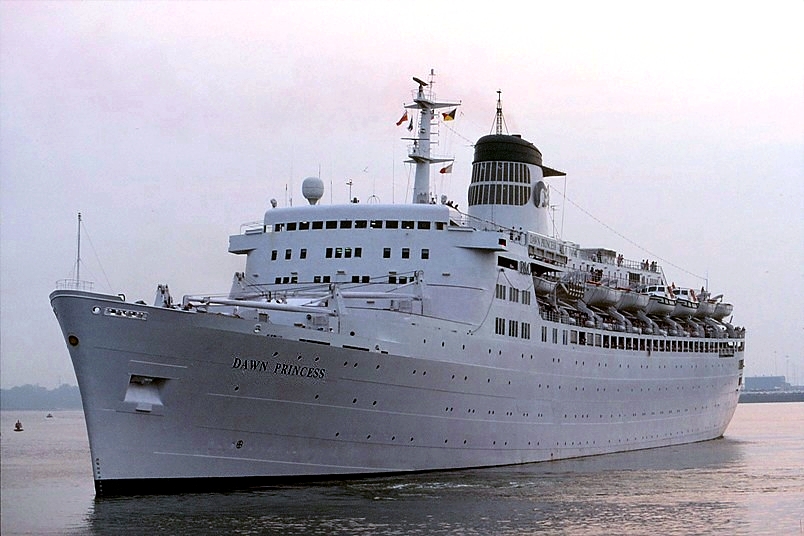 TSS Sitmar FairWind became the Princess Cruises' Dawn Princess in 1988
Photographer unknown – Please See Photo Notes down the page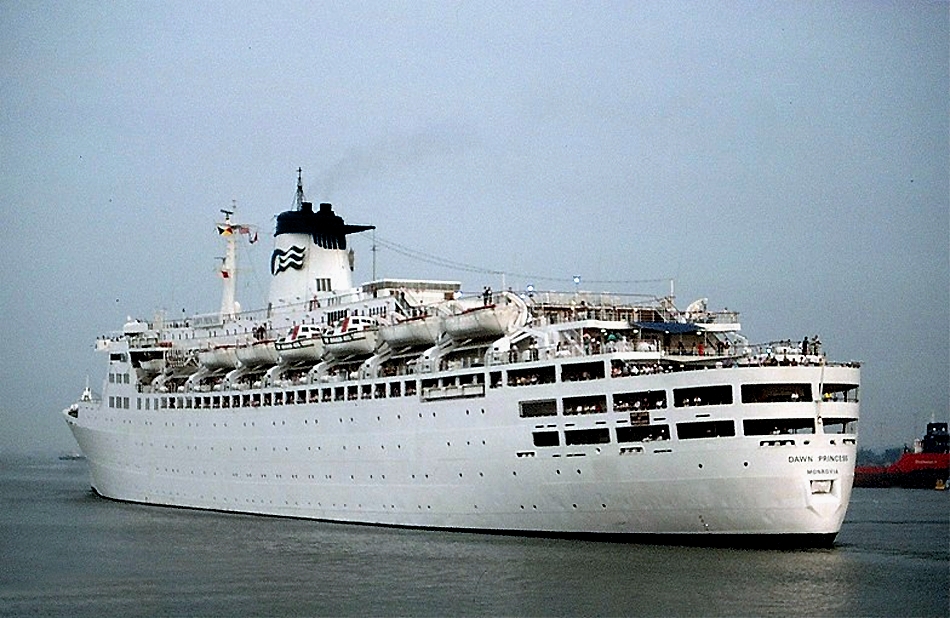 Another view of the Dawn Princess, and as we can see she has that traditional Cunard stern, with an aft anchor!
Photographer unknown – Please See Photo Notes down the page
TSS Albatros 1993 -2003:
She was purchased by Happy Days Shipping an offshoot of V Ships, being a part of the original Sitmar Line! She was given a comprehensive refit as well as single bow thrusters and was renamed on August 18, 1993 "Albatros" and she was handed over to the company who had already chartered her. This company was the well-known German Tour Operator "Phoenix Reisen" who took up the charter option for the next ten years and successfully operated her on shorter European cruises as well as long 130-day grand world cruises, which included visits to Australia and New Zealand!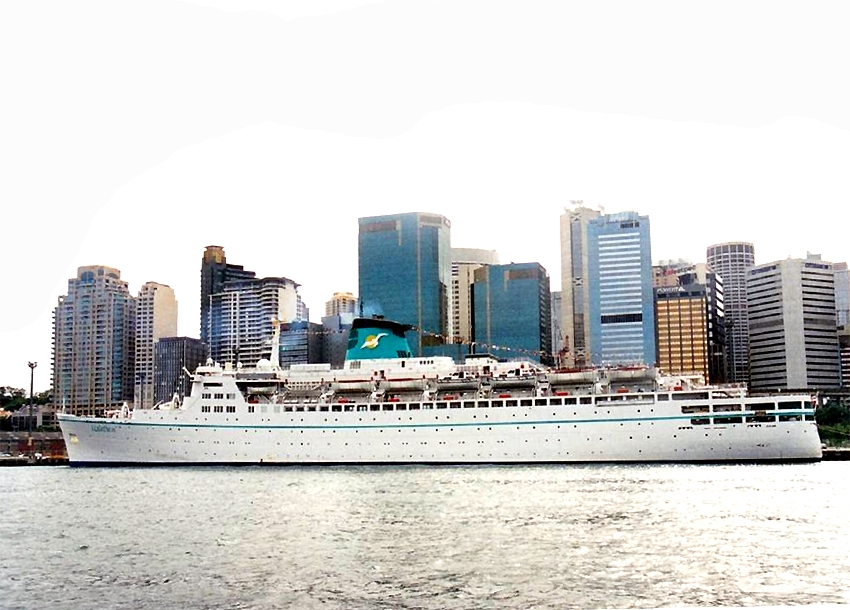 The TSS Albatros is seen at Darling Harbour Sydney during her 2001 130-day world cruise
But sadly by November 2003, the ship that had been suffering a number of breakdowns in recent times had been getting worse and she was laid up in Genoa Italy. Thus Phoenix Reisen had to make a decision in regard to their charter contract with the ships owner being, V-Ships and with great regret decided to terminate the contract of the ship they had come to love and had served them so well!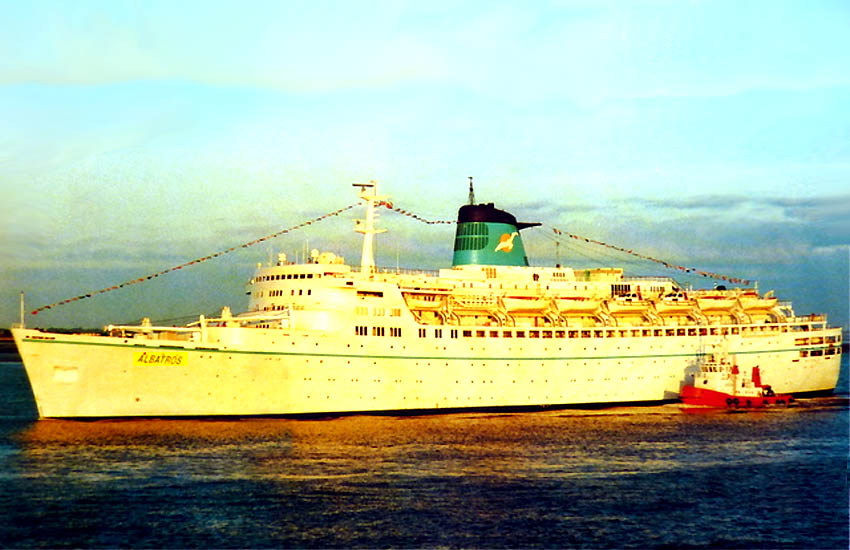 TSS Albatross arrives in port towards the end of her days
It was with decided with some sadness by V-Ships that the old girl being a good 46 years old, would not have many years left in her and the cost of repairing her was simply prohibitive. Therefore this once great liner and cruise ship was sold to the breakers at Alang, India in December 2003.
Because she was located in Genoa, the breakers decided to rename her for the delivery voyage to Alang; "Genoa" and she arrived on January 1, 2004 alongside the beach of Alang, India and she was beached in due course and the old girl was subsequently was broken up.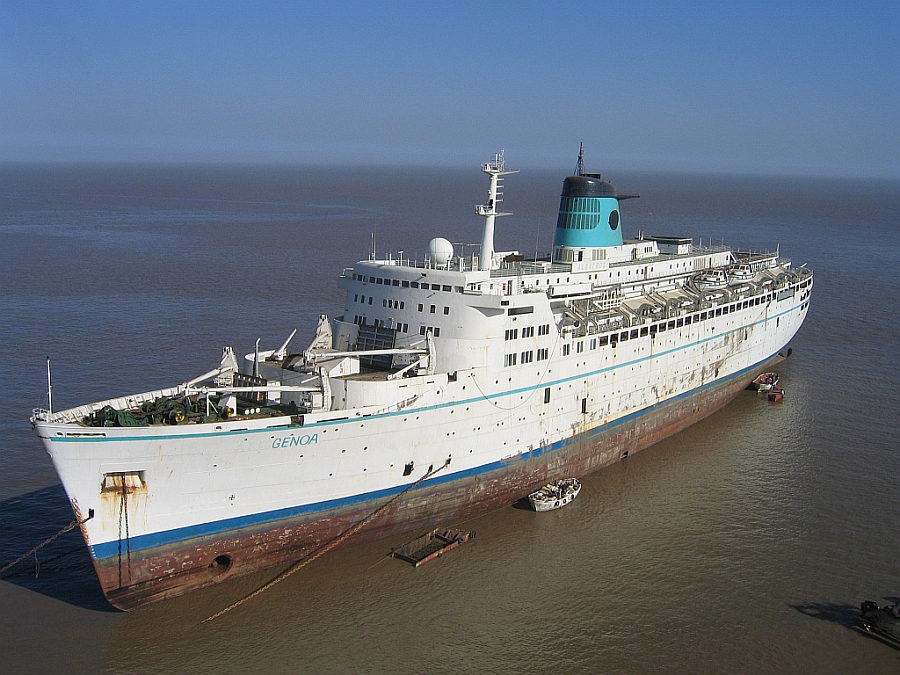 The Genoa (ex Albatros, Dawn Princess Sitmar FairWind, Fairwind, Sylvania)
is seen beached at Alang India and breaking up is already underway
Photograph provided by & © Copyright; www.midshipcentury.com
Ships Specifications and Other details:
Ship 1.
RMS Carinthia: 1956-1968 - Cunard.
TSS Fairland: 1968-1971 - Sitmar.
TSS Fairsea: 1971-1988 - Sitmar.
TSS Fair Princess: 1988-2000 - P&O-Princess.
TSS China Sea Discovery: 2000-2005 - Emerald Sea & China Sea Cruises
Sea Discovery: 2005-2006 - Alang breaker.
Ship 2.
RMS Sylvania: 1957-1968 - Cunard.
TSS Fairwind: 1968-1987 – Sitmar.
TSS Sitmar FairWind: 1987-1988 - Sitmar.
TSS Dawn Princess: 1988-1993 - P&O-Princess.
TSS Albatros: 1993-2003 - V-Ships.
Genoa: 2003-2004 - Alang breaker.
Builder:                                     John Brown & Company, Clydebank, Scotland.
Yard:                                         1. 699.
.                                               2. 700.
Tonnage as built:                        1. 21,946 GRT / 9,551 DWT.
.                                               2. 21,989 GRT.
Length:                                     185.40m – 608.3ft.
Beam:                                       24.49m – 80.4ft.
Draft:                                        8.90m - 29.2ft.
Engines:                                    4 × John Brown steam turbines, combined 18,277 kW - 30,000SHP.
Propellers:                                 Two.
Speed:                                      21 knots service speed, 23 on trials.
Rebuilt tonnage:                         1. 21,916 GRT, then 16,627 GRT based on American standard.
.                                               2. 21,985 GRT, then 16,627 GRT based on American standard.
1996 refit:                                 1. 24,799 GRT.
Passengers:                                1. 884 One Class luxury.
.                                               2. 921
Passengers 1984 refit:                 1. 906.
Passengers 1996 refit:                 1. 1,100 One Class.
Crew:                                        489.
****************************************
Memories
Remembering Two Beautiful Ships that Gave us so Much Joy - be it the …
TSS Fairsea or the TSS Fairwind
Or During their Later Incarnations, we Still Loved Them!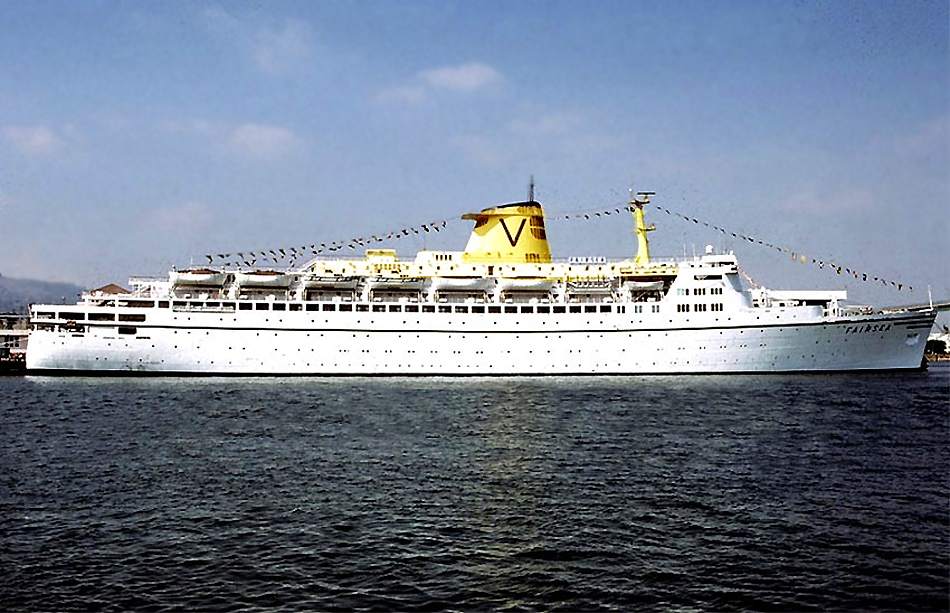 The Luxurious Sitmar Cruises TSS Fairsea is seen here at the San Pedro cruise terminal, near Los Angeles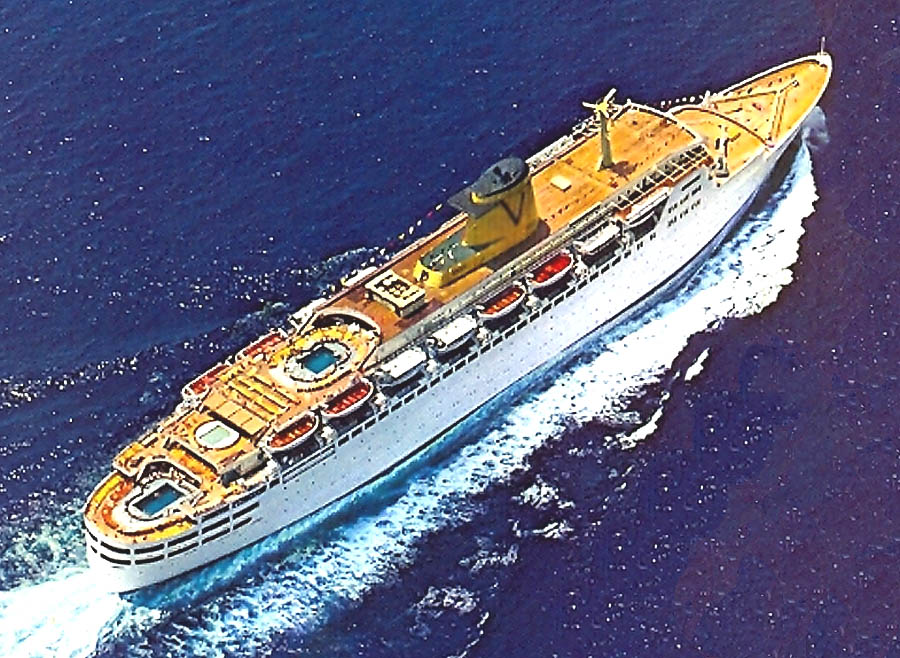 A great view of the Fairwind, revealing the ships spacious and beautiful solid teak decks
This is something that has been sadly lost on today's modern cruise ships!
Sitmar Cruises INDEX:
Page One …        The Ships History - From Liners to Cruise Ships!
Page Two …       Deck Plans - 1972, 1973/74, 1985 & 2000.
Page Three …     Brochures, Photographs & Other Items.
Page Three B …  Sitmar Cruises Final Brochure for 1989, but these cruises never eventuated.
Page Four …       Sitmar Memorabilia and Menus.
Page Five …        Other Sitmar Cruises Ships to 1988.
Page Six …         MV Arcadia, launched as Sitmar FairMajesty
.                         with a 1998 Author's Photo Album!
****************************************
Return to the ssMaritime Main INDEX
ssMaritime.com & ssMaritime.net
Where the ships of the past make history & the 1914 built MV Doulos Story
Please Note: ssmaritime and associated sites are 100% non-commercial and the author seeks no funding or favours of any shape or form, never have and never will!
Photographs on ssmaritime and associate pages are by the author or from the author's private collection. In addition there are some images that have been provided by Shipping Companies and private photographers or collectors. Credit is given to all contributors. However, there are some photographs provided to me without details regarding the photographer/owner concerned. I hereby invite if owners of these images would be so kind to make them-selves known to me (my email address may be found on www.ssmaritime.com only), in order that due credit may be given.
This notice covers all pages, although, and I have done my best to ensure that all photographs are duly credited and that this notice is displaced on each page, that is, when a page is updated!
ssMaritime is owned & © Copyright by Reuben Goossens - All Rights Reserved