T.S.S. Tuscania 1922-1939, "Nea Hellas" 1939-1955, "New York" 1955-1961
Please Note: Firefox and some other Search Engines may not be suitable
Use Google Chrome for this Web Page to load perfectly!

Please Note: All ssMaritime and other related maritime sites are 100% non-commercial and privately owned, thus ssmaritime is NOT associated with any shipping company or any other organisation! Although the author has worked and has been involved in the passenger shipping industry for well over 60 years, but due to his old age and poor health, he was forced to retire. Yet, he has completed well over 1,435 Classic Liners, Passenger-Cargo Liners as well as humble converted C3 converted Migrant Liners, which has transported countless of thousands of folk to the new world, as well on vacations'. I trust the features online will continue to provide Classic Liner and Ship enthusiasts both the information they are seeking, but more so provide a great deal of pleasure and relive many happy memories!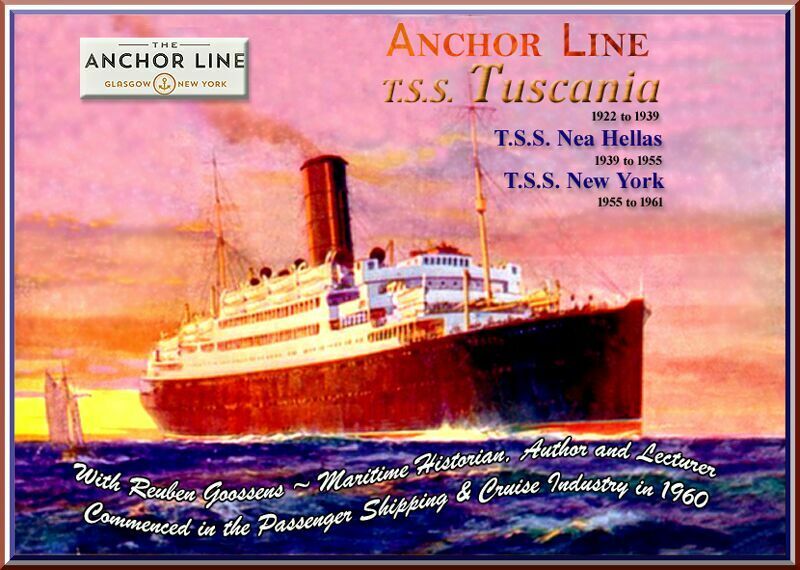 Postcards, photographs & other images are either from the author's private collection or from my supporters.
Thus a very thank you to three very special ssmaritime supporters for sending me their wonderful
photographs & images for I could not have completed this feature to this point.
I am sorry but some of the images shown may not be of the highest quality, but they are the best that were available
*********************

This is the "Anchor Line" House Flag
A Brief Introduction:
This delightful Scottish liner was built in 1922 as the T.S.S. Tuscania (2), for she was named after their earlier liner, then a troop ship the S.S. Tuscania of 1914, which was sadly lost during World War One, when in 1918 she was torpedoed and sunk by the German U-boat UB-77 while she was transporting American troops to Europe. There was a sad loss of 210 lives.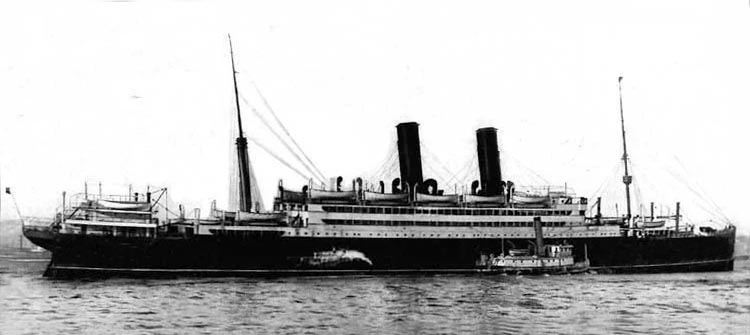 The 14,348 GRT luxury liner S.S. Tuscania (1)
The "Tuscania" (2) "operated for 19 years, and then she changed hands and had two other names as she was purchased by the "Greek Line" in 1939, and she became the "Nea Hellas" and she famously carried allied troops across to ports around the world as well as immigrants from the Old to the New World, and countless tourists and operated many holiday cruises. Then in 1955 the company changed her name to "New York", and she sailed on until 1960.
*********************
Construction to Delivery:
The T.S.S. Tuscania was built by Fairfield Co, Ltd, Glasgow for the 'Anchor Line', a company that was founded in 1856. Her tonnage was 16,991 GRT (Gross Registered Tons), and offered accommodations in 240 First Class, 377 Second Class and 1,818 in Third Class and she had a crew of 346.
She was launched on October 4, 1921, and she was towed to the builder's fit-out berth where she would be finished. She was completed early September 1922, and the "Tuscania" was a ship that had state of the art engineering for her day. She was a fine looking 552.3 ft - 168.3 m long liner with two tall masts, a single slender tall black funnel and she was powered by six steam turbines and with her twin screws she sailed at a respectable 16 knots service speed.
She undertook her Sea Trials on September 8, 1922, and achieved an excellent 17.5 knots maximum speed during her speed trails. After a paint touch up, she was officially delivered to her owners at Glasgow several days later.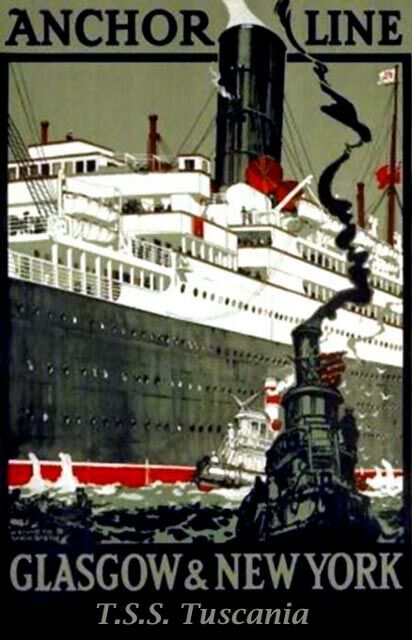 A Promotional poster of the T.S.S. Tuscania
Maiden Voyage and Voyages:
Once the "Tuscania" had arrived at her home berth, she was made ready for her big day being the day of her maiden voyage. Then on September 16, 1922, she was filled with happy passengers all awaiting her departure for her maiden voyage sailing via Moville (Ireland) to New York.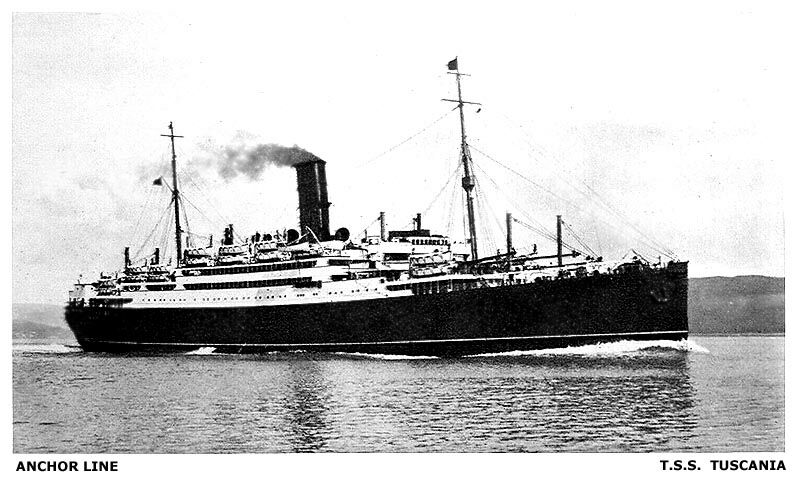 An early Anchor Line postcard of the "Tuscania"
For the next three years T.S.S. Tuscania continued on her regular new York services, but she also operated 5 Mediterranean voyages from New York, then in May 1926 made her last voyage from Glasgow to New York, Plymouth, Le Havre and concluding at London.
*********************
Interiors:
"Tuscania's" interiors were rather beautiful, although like some ships, not so much over the top, but certainly quietly elegant and they were greatly appreciated by her passengers. Like on many liners of her day a variety of quality timbers were used throughout her venues, as was marble, and fireplaces were found in many venues, as we will see below.
Sadly I do not have many photographs available, only those that were kindly provided to me by Donald Mackenzie of Scotland, and I am most grateful to him for his assistance. Some of these images are not of the greatest quality, and he apologises for this, but they were the best available.
First Class: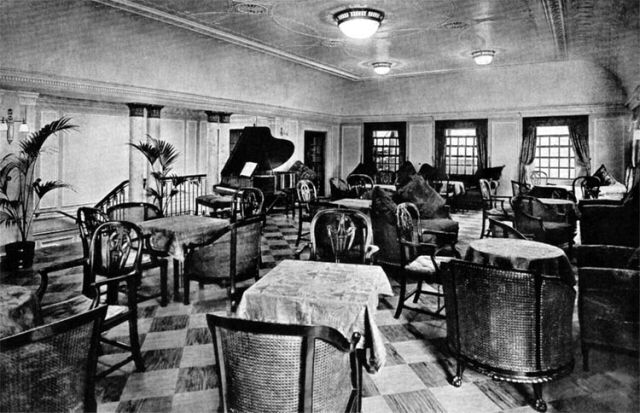 This is a view to the entrance of the lounge via the Grand Stairs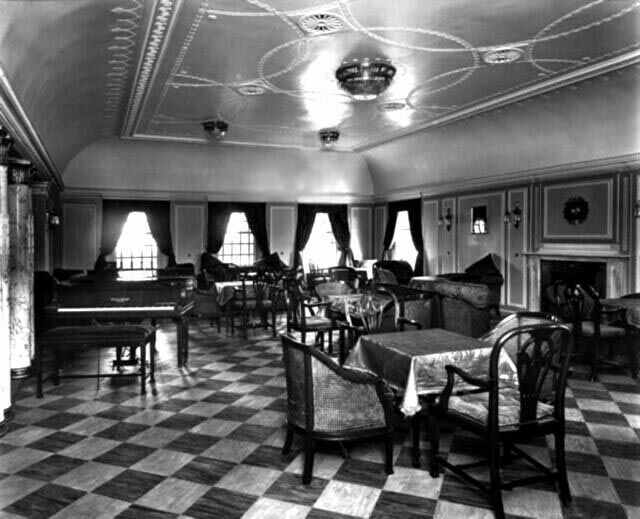 Above & below: Two views of the Main Lounge & below the Drawing Room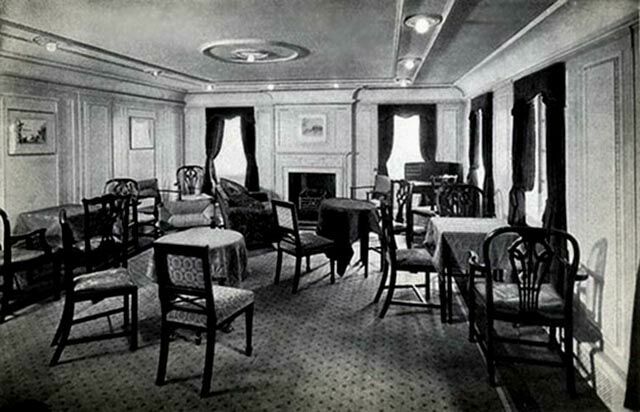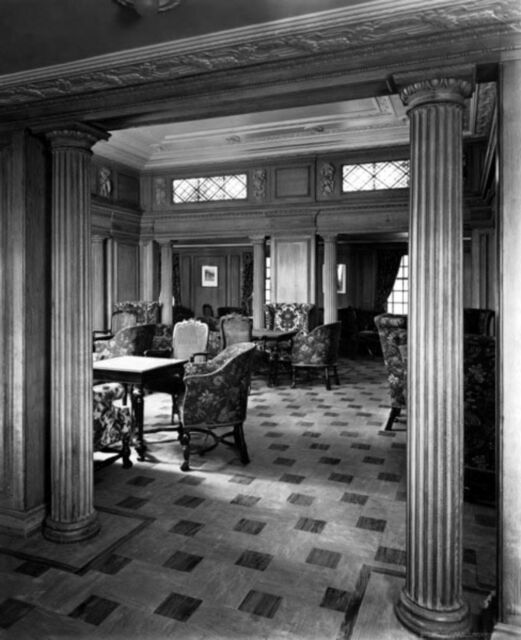 Above & below: The stunning Smoking Room & below its fire place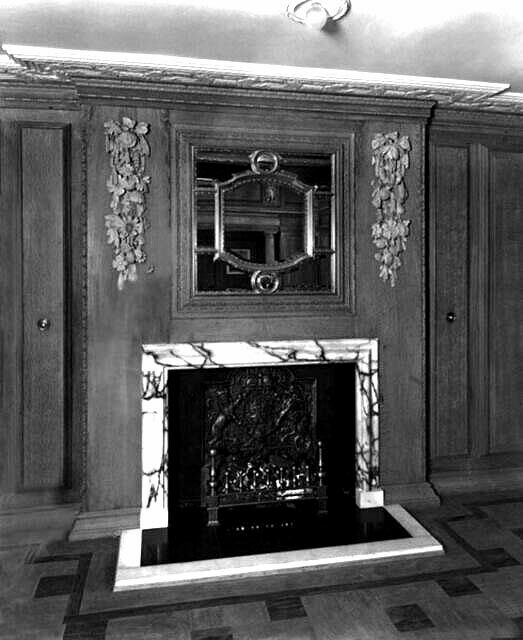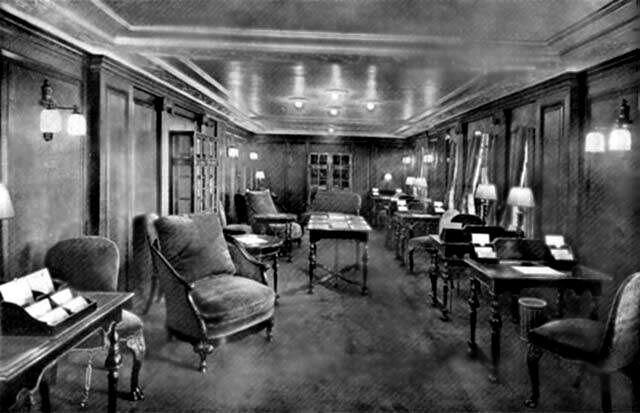 The Writing Room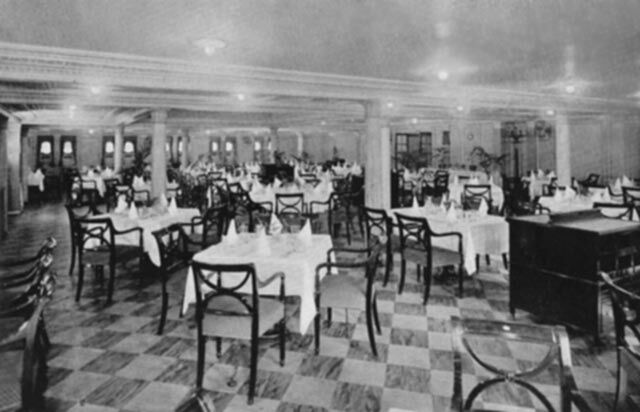 Above & below: The Dining Room and a small colour version from a brochure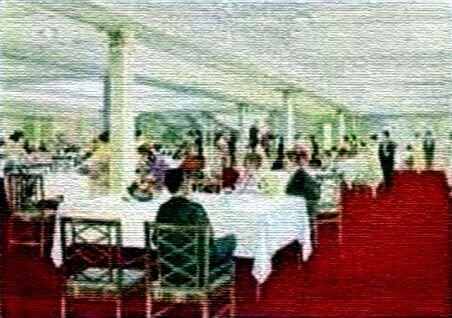 The Dining Room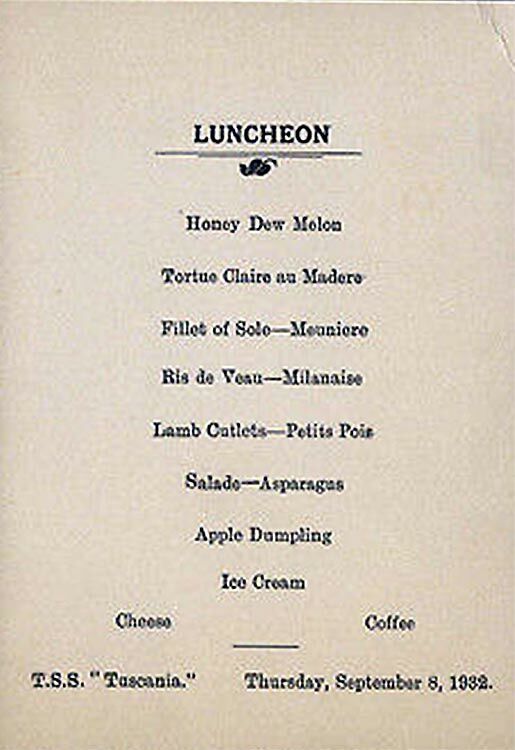 A Lunch Menu dated Thursday September 8, 1932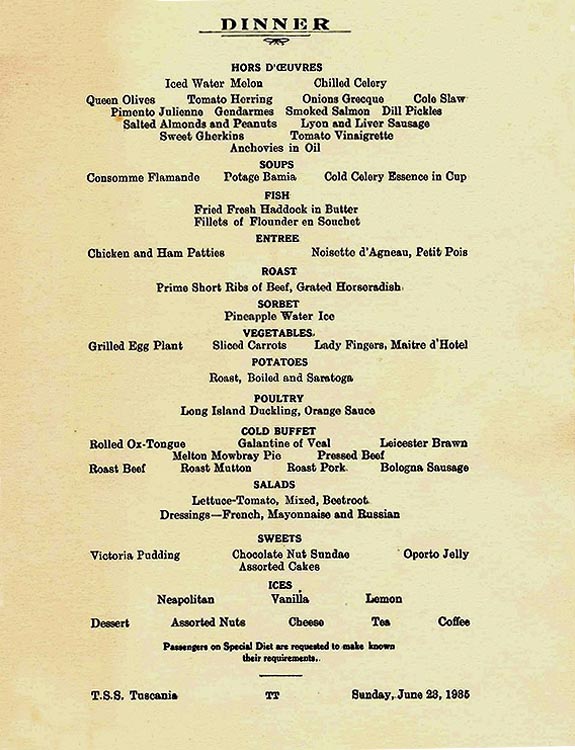 And this is a Diner Menu from Sunday June 23, 1935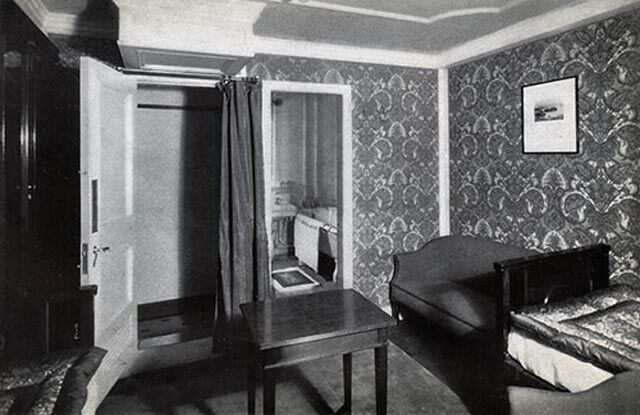 Here we see a twin bedded stateroom with a sofa and a private bathroom
*********************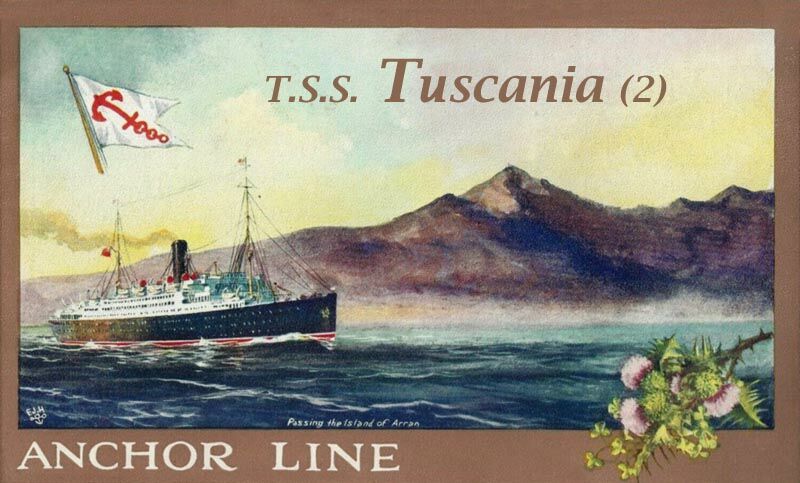 An 'Anchor Line' brochure cover
Second Class:
Her Second Class was also very well furnished as you will see from the two images below.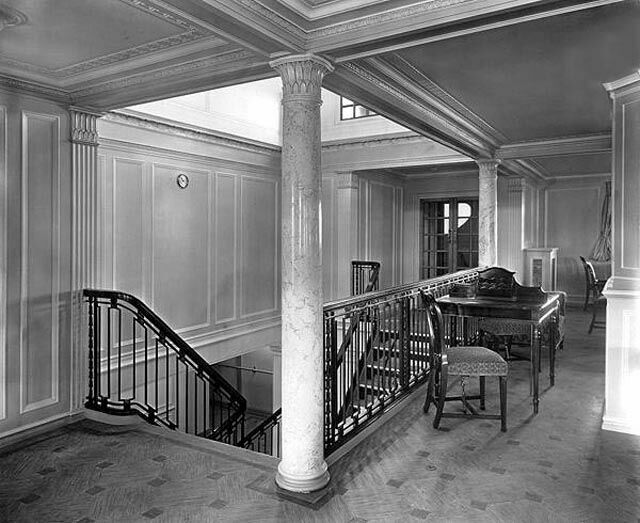 A secondary stairwell from their promenade deck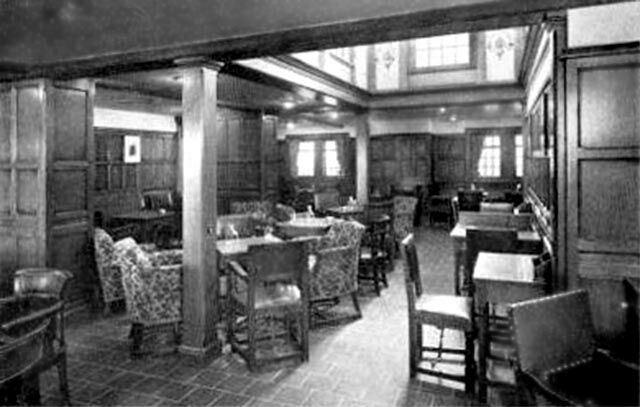 The Smoking Room had a fine dome above with windows allowing light during the day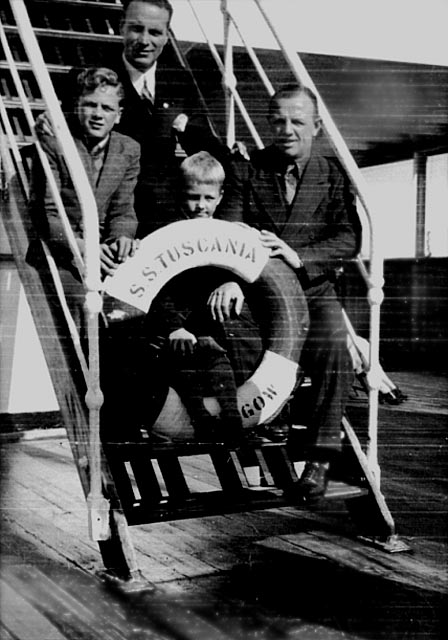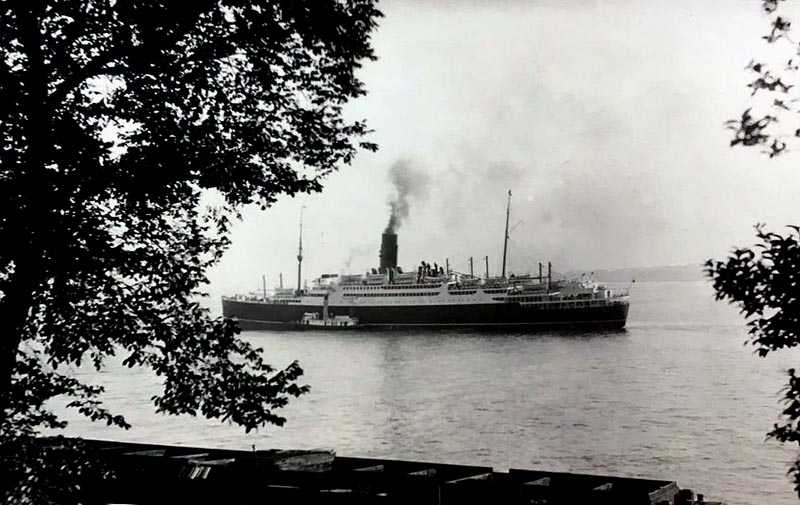 T.S.S. Tuscania is seen in the 1930's
*********************
Souvenirs & Memorabilia:
Like most ships, the ships shop would have available certain items for passengers to purchase as a memory of their voyage, and below are just some, as well as three items from the dining room tables.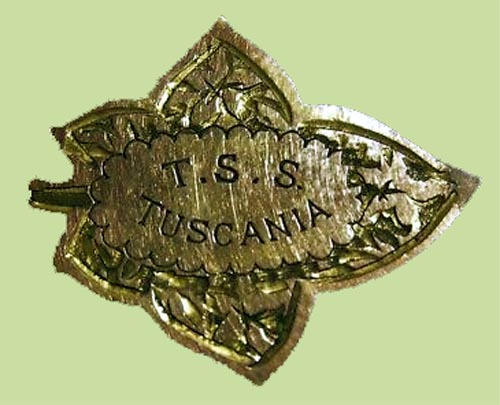 An unusual gold brooch with T.S.S. TUSCANIA on it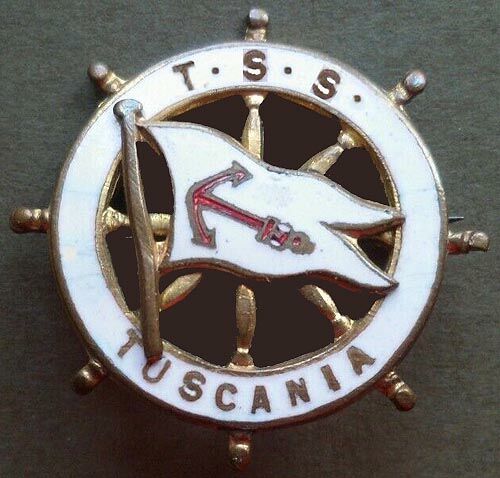 This pin or badge is far more traditional and typical of those obtained on board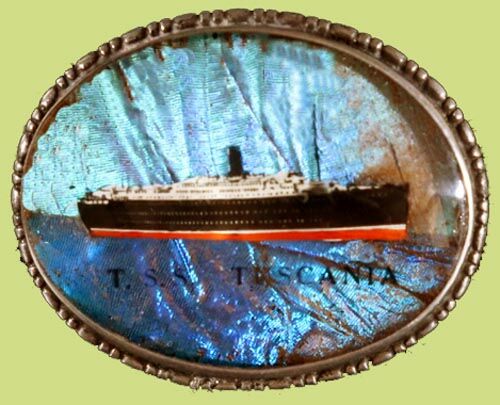 A Sterling Silver with a Vibrant Blue Hand painted T.S.S. Tuscania image Brooch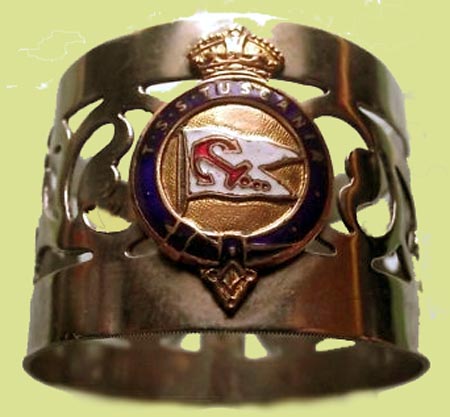 A highly polished Anchor Line T.S.S. Tuscania Napkin Ring obviously taken home from the ship

Above & below: A butter knife that also somehow ended up in someone's suitcase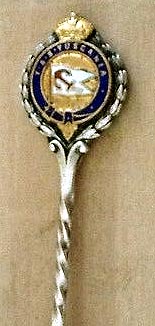 *********************
Her 'Cunard' Voyages:
The reason for that last "Anchor Line" voyage was that she had been chartered by "Cunard Line" for their London, Le Havre, Southampton to New York service commencing on June 3, 1926 with Cabin and Tourist Class passengers, although this service would only operate during the summer season. However she was repainted where needed to reflect the "Cunard" Livery.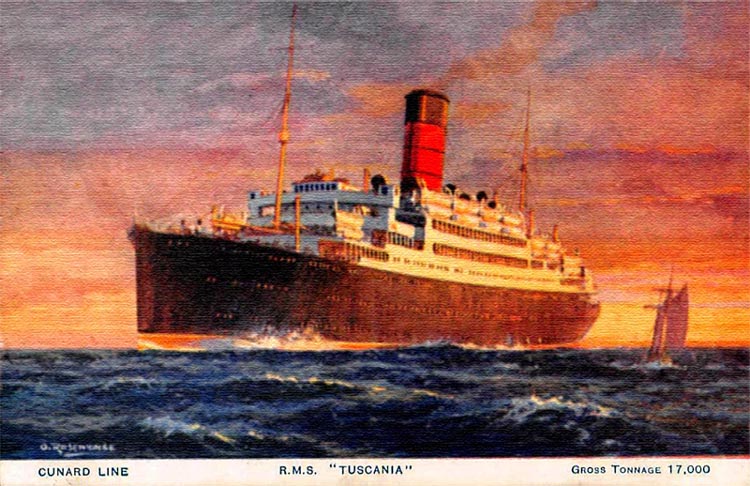 A postcard of the now prefixed R.M.S. Tuscania released by the 'Cunard Line' in 1921, in their livery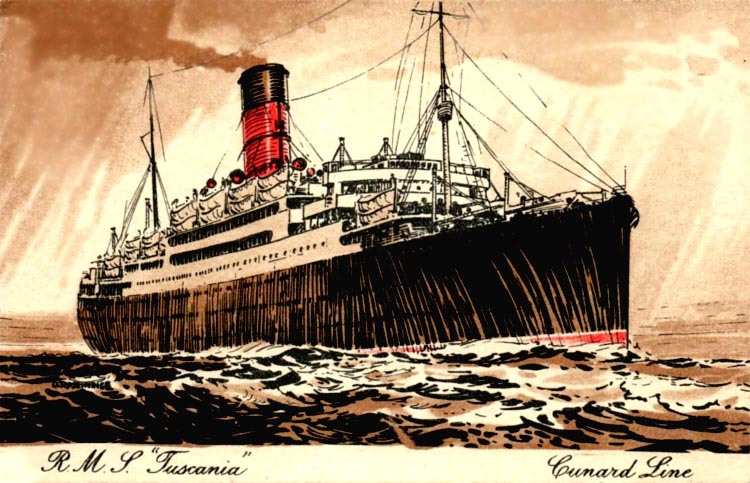 She departed from London on September 19, 1930, for her final "Cunard" London, Le Havre, Southampton and New York voyage and after her return to Glasgow she was laid up in October.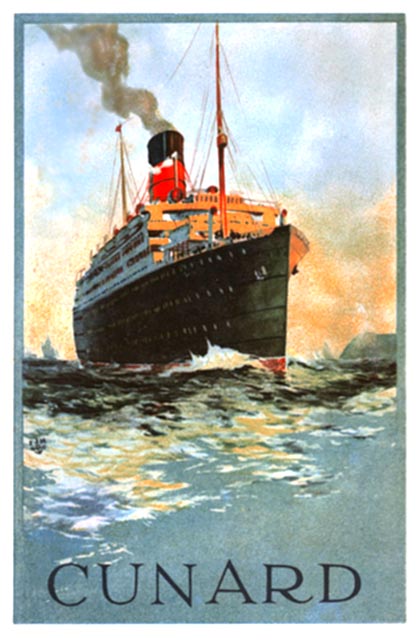 Here is a poster of temporary Cunard liner, the R.M.S. Tuscania
However, in May 1931, she made one more Trans-Atlantic voyage for "Cunard Line" from Southampton to New York and return to Southampton.
Back with Anchor Line:
Having been returned to Anchor Line in 1931, she became the T.S.S. Tuscania again, and she received a refit, after which she commenced a new service sailing from Glasgow, via Liverpool to Bombay (India) service. In addition, seasonally she also made some Trans-Atlantic voyages, and operated cruises out of New York, as well as out of the UK.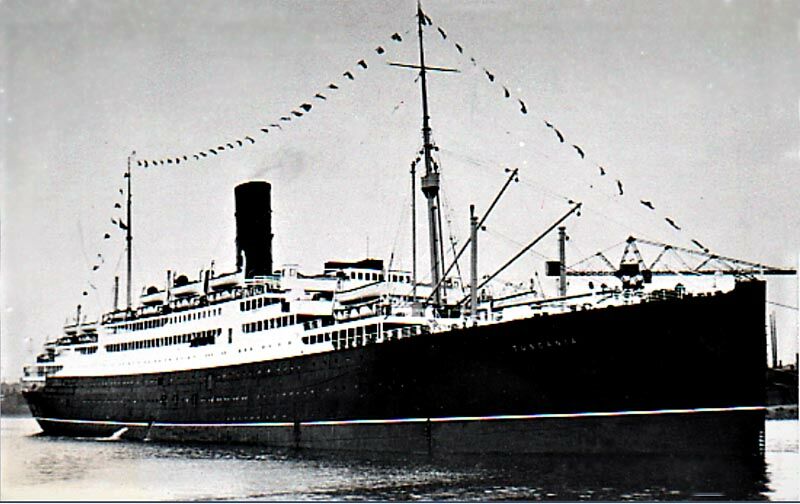 Here we see the "Tuscania" seen after having had a refit with her promenade deck partially glazed in, etc
The popular "Anchor Lines" cruises would offer voyages to the North Cape and the Mediterranean, and from the US to the West Indies. Of course itineraries varied from season to season, however the quality of the service offered remained impeccable!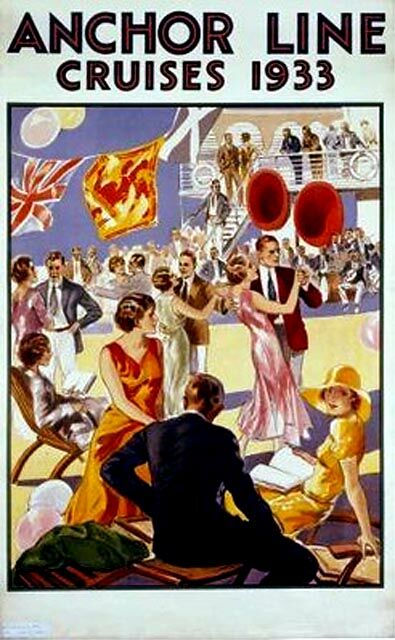 A 1933 cruise poster for the T.S.S. Tuscania looking very festive
Then late in September 1938, she made her last voyage for she had been placed on the market, although she still operated several short cruises until there was a hint of a buyer in the air.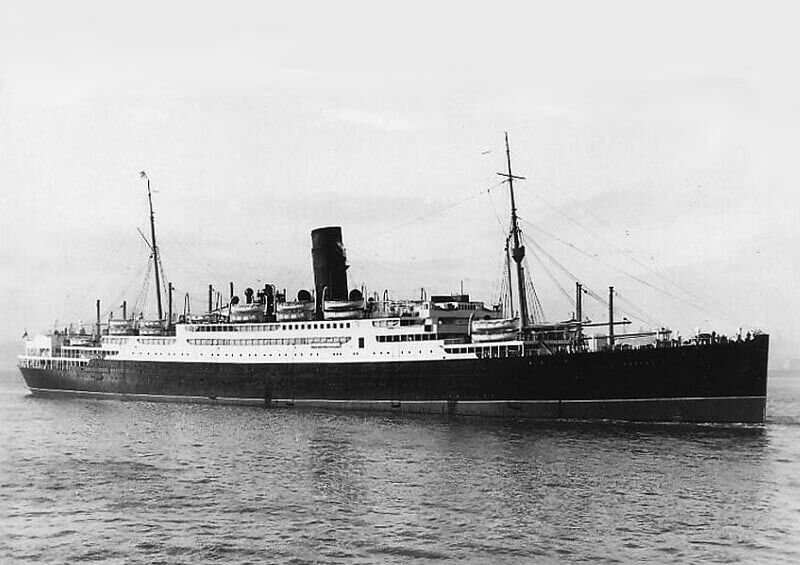 She is seen here in 1938 looking simply superb
*********************
"Tuscania" sold to the Goulandris Brothers:
Early in 1939, the 17 year old "Tuscania" was purchased by the famous shipping magnates, the "Goulandris Brothers" owners of the "General Steam Navigation Company" also known as the "Greek Line."
She soon headed for Greece, arriving at Piraeus on March 8, 1939, and there she was renamed "Nea Hellas" meaning "New Greece". At a local shipyard she was given a refit, being internally modernised and had her accommodations altered to 200 Cabin Class passengers, 400 in Tourist Class and 500 in Third Class, perfect for her new service operating from Piraeus to New York.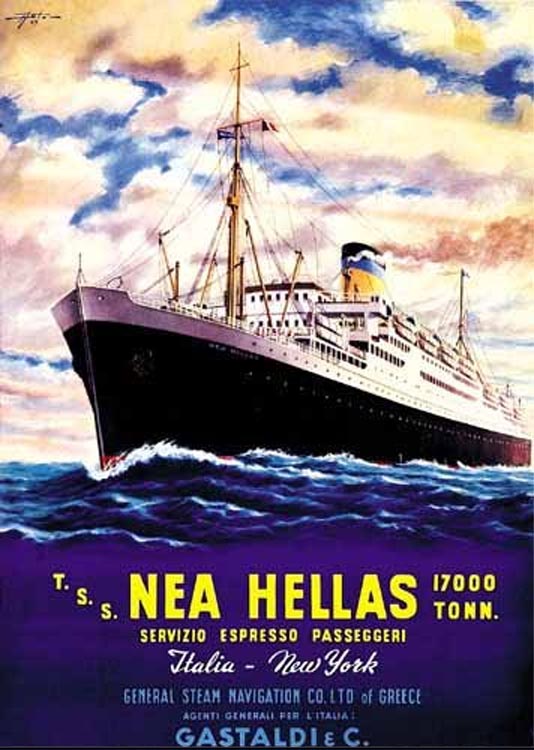 An early poster promoting the new liner "Nea Hellas"
T.S.S. Nea Hellas departed Piraeus for her Maiden Voyage on May 19, 1939, and considering that she was the first ship to sail officially for the renamed "Greek Line", the 'New York Herald Tribune' reported when she arrived in New York and due to  all the publicity there were countless parties held for New York's diplomats, the social elites and many of the well known Greek businessmen, etc.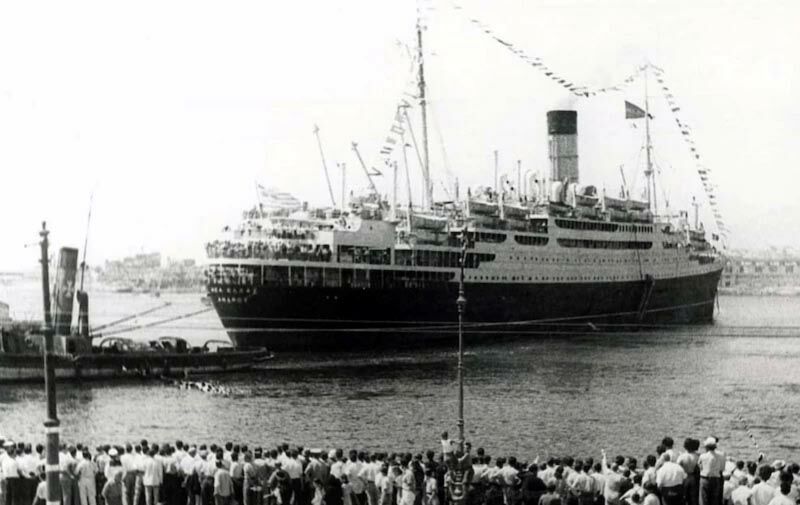 T.S.S. Nea Hellas
The "Nea Hellas" operated nine return voyages between Piraeus and New York, with the last voyage on this service commencing on May 11, 1940, as well as operating cruises of course during the cooler months to the Caribbean. However, on June 8, 1940, she was transferred to the Lisbon, New York service and she commenced her last voyage on October 20, 1940, being her final peace time voyage as World War 2 had well and truly broken out, and having returned to Piraeus she was placed in a lay-up situation during the winter in of 1940.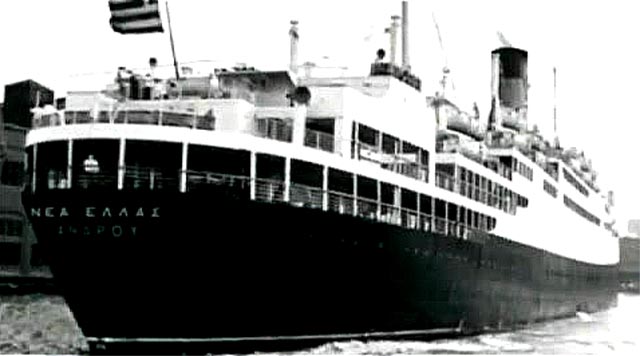 Another stern photograph of the "Nea Hellas"
World War Two services:
However, with the War having broken out in Europe she had managed to operate longer than most European ships, but in January 1941 the British had requested the Greek Government and "Goulandris Brothers" if they would allow her come under the allied command for war duties, which was fully agreed upon. She was taken to England were she was refitted and became the troop transport ship, the H.M.T. Nea Hellas (HR-190). She was fitted with a number of Bofors guns, ample 20 mm Oerlikon anti-aircraft guns, as well as several Canons.  Interestingly "Nea Hellas" was the only Greek ship that ever became a British Troop ship!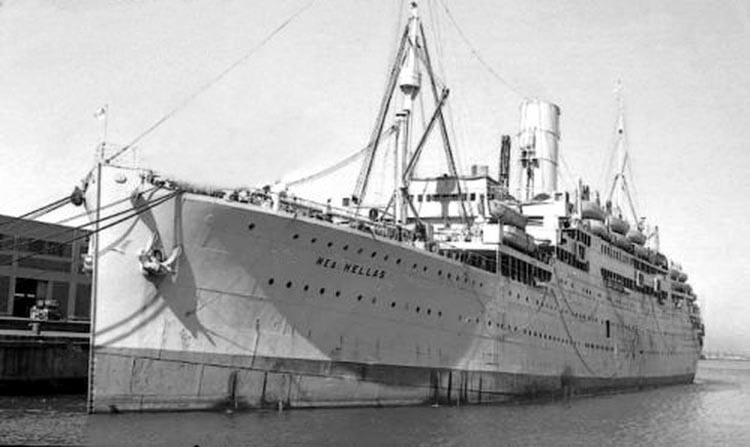 The H.M.T. Nea Hellas (HR-190) is seen as a full fledged Troop Ship
For the next six years, H.M.T. Nea Hellas sailed the world carrying troops as well as other passengers who needed to get back home, and she became known as the "Nelly Wallace," by the Brit's she carried into war.
Throughout the War she carried over 600,000 troops and she avoided any serious damage or loss of life despite at all times being in a principal role and in the theatre of war at sea, although she was attacked several times, but I will cover that later.
Throughout the war, the H.M.T. Nea Hellas was part of a number "WS (Winston's Special) Convoys" that would see her sail with may other passenger ships converted into troopers, and being escorted by a host of naval ships of a vast variety, be it frigates to destroyers, etc.
Convoy WS 10, WS 10B & CM 17:
Sailing from Avonmouth on July 30, 1941, Liverpool July 31, the Clyde August 2, a convoy of 19 ships including the "Nea Hellas" assembled off Oversay on August 3.
Their Escorts from the UK would be from varying dates, and they were: The cruiser Cairo and destroyers Whitehall, Winchelsea and Witch Aug 2 to Aug 5; armed merchant cruiser Worcestershire and destroyers Broadway, Gurkha, Isaac Sweers, Lance, Legion and Piorun Aug 2 to Aug 6; cruiser London as ocean escort was relieved on Aug 10, by the cruiser Edinburgh for the remainder of the voyage. However, the destroyer Jupiter remained with the convoy to Freetown from the UK.
Local Freetown based escorts destroyers the Velox and Wrestler and corvette Bergamot joined on Aug 14, and corvette Cyclamen on Aug 15, the convoy arrived at Freetown on August 17, 1941.
The convoy sailed from Freetown on August 21, with the same fleet as before, but with the Vice Commodore shifted onto 'Britannic'. The local A/S escort is unknown but certainly included four corvettes; the cruiser Edinburgh and destroyer Jupiter accompanied the convoy to Cape Town where it arrived September 2.
The following ships entered Capetown, the Britannic, Indrapoera, Nigerstroom, Phemius, Reina Del Pacifico, Stirling Castle, Strathallan, Volendam and Windsor Castle.
The remaining ships proceeding to Durban, with the escort for this voyage being the cruiser Hawkins.
Thus in South Africa the convoy had divided and the Indian portion had commenced as WS 10B, whilst a group of ships including the "Nea Hellas" headed for Aden under the designation CM 17.
H.M.T.

Nea

Hellas Attacked:
Whilst on another Convoy, the "Nea Hellas" was on her way to and close to Freetown, when suddenly on October 10, 1942, she was attacked, twice by the Italian submarine 'Archimede' in a position S.W. of Freetown, in the Central Atlantic. Although the torpedoes hit her hull, but thankfully they did not explode and the she was able to escape at maximum speed. This was the very same sub that sank another large troopship one day earlier the Orient Line's 20,001 GRT, S.S. Oronsay. Elsewhere on October 9 & 10, troopships "Duchess of Atholl" 20,119 GRT - Canadian Pacific's S.S. Coy, and the Orient Line's 23,456 GRT, S.S. Orcades were torpedoed and sunk. However, in addition to the Italian submarines torpedo's near-miss, the "Nea Hellas" was the subject of three further separate attacks from the air by German aircraft, and believe it or not, all were completely unsuccessful. Therefore the "Nea Hellas" fared very well indeed, for she was the lucky ship!
Combined convoy WS 28 / KMS 11:
The H.M.T. Nea Hellas was part of one of the "WS (Winston's Special) Convoys" and she sailed from the Oversay Island (UK) rendezvous on March 16, 1943. The convoy was divided into convoys WS 28 and KMS 11 at sea five days later. There were a total with 38 other Troop ships in this group, which included the "Nea Hellas".
Also sailing along were naval auxiliaries H.M.S. Bulolo, H.M.S. Largs and the H.M.S. Ulster Monarch were part of the convoy.
On assembly off Oversay the following naval escorts were with the convoy; sloops H.M.S. Wren, H.M.S. Woodpecker, destroyer H.M.S. Douglas and the escort destroyers H.M.S. Badsworth, H.M.S Eggesford, H.M.S. Whaddon, HMS Goathland and ORP Krakowiak.
Then on March 21, the convoy split up into two sections, KMF 11, made up of "Banfora", "Cuba", "Johan van Oldenbarnevelt", "Ormonde", "Orion", "Nea Hellas", "Rangitata", "Windsor Castle" and the H.M.S. Ulster Monarch which proceeded to Algiers arriving on March 23, 1943, being escorted by the original escort, but without the H.M.S. Douglas that was forced to put into Gibraltar on March 22 due to damage to her port propeller. However, after an inspection it turned out that she was able to continue, but she could not sail more than 22 knots and it was decided that she could rejoin the convoy. All five escort destroyers also put into Gibraltar to fuel but departed later that day to rejoin the convoy at Algiers.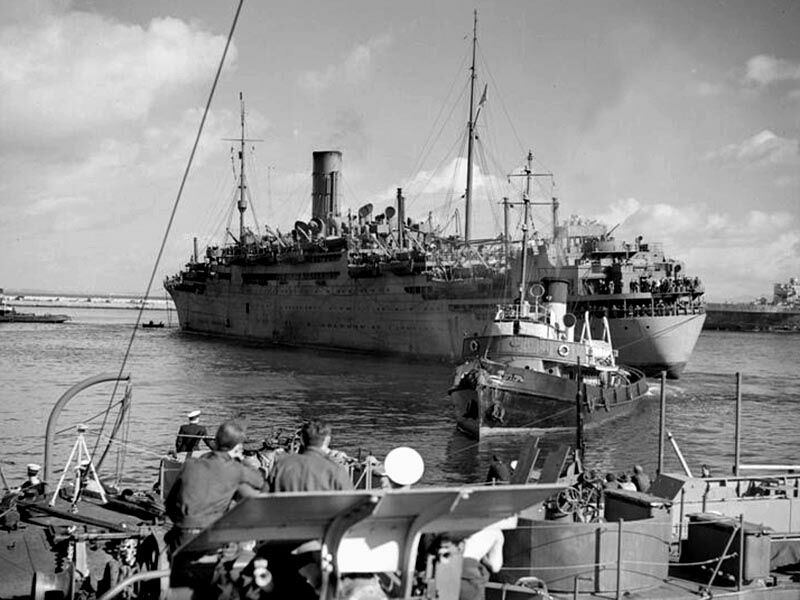 Trooper "Nea Hellas" is being berthed at Algiers
However at 0254 hours on the 23rd the 19,141 GRT, "Windsor Castle" was torpedoed by a German He.111 from I/KG 26 in position 37°28'N, 01°10'E. Her crew and troops were taken off by the H.M.S. Wren, H.M.S. Eggesford and the H.M.S. Whaddon. It was reported that the last two ships were dangerously overloaded with survivors as the "Windsor Castle" had 2,699 troops on board and a crew of 289, sadly one crewman, Junior Engineer Officer William Ogilvie Mann, died in the bombing. The ship finally sunk at 1524 hours that day.
The "Nea Hellas" Returned to the UK, although the convoy split and continued to Freetown arriving on March 27.
Combined convoy WS 29 / KMS 13:
Once again, this combined convoy was formed off Oversay on April 16. 1943. The convoy KMS 13 was divided with another convoy at sea on April 20, 1943 being for the second part of the fleet - WS 29.
Thus the "Nea Hellas" departed under convoy WS 29, and then four days later was transferred to convoy KMS 13, as she departed independently on April 20, being bound for New York.
In July the "Nea Hellas" operated a voyage with an escort filled with Canadian troops who would disembark at Philippeville in Algeria on July 10, 1943. Jason Philippe sent me the following photographs from that voyage, which are very interesting and I thank him for his support.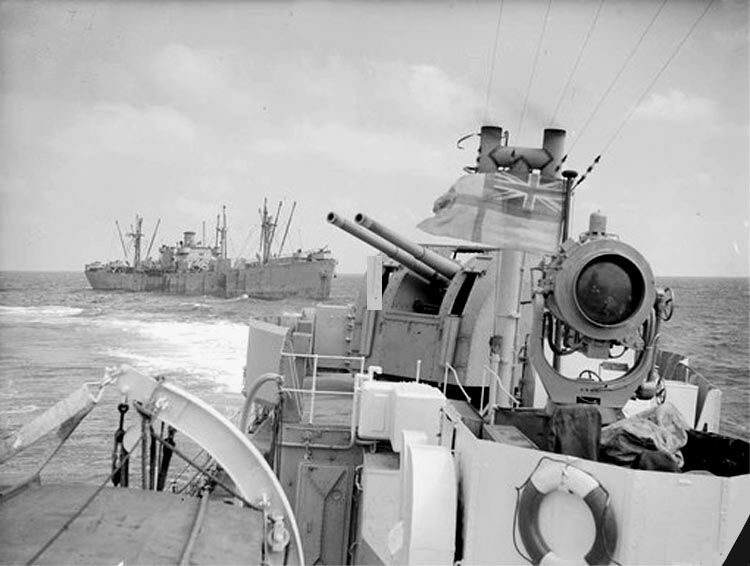 Her we see the ships heaviest armaments
Jason advised me that this was "Private H.R. Stevens" who was on gun duty; it was obviously a Bofors gun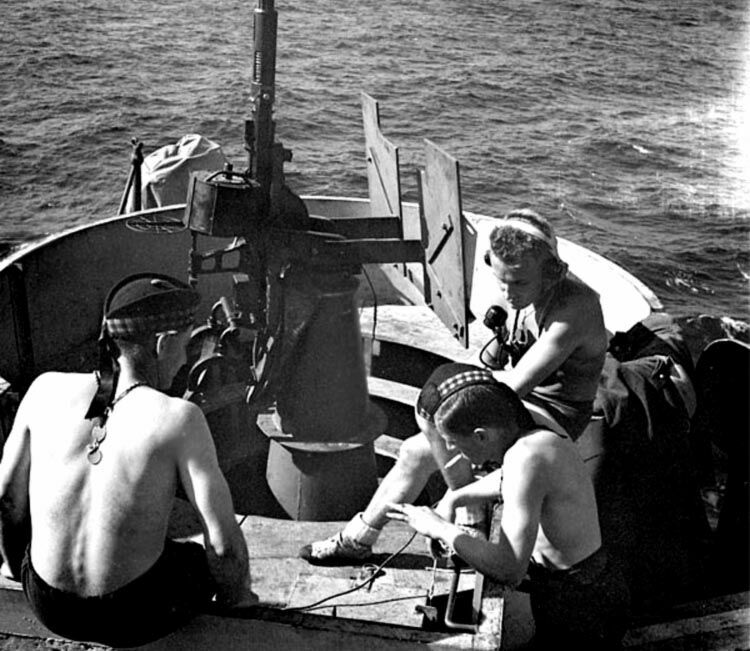 Canadian Infantry reinforcements of the 48th Highlanders are seen beside a 20 mm Oerlikon anti-aircraft gun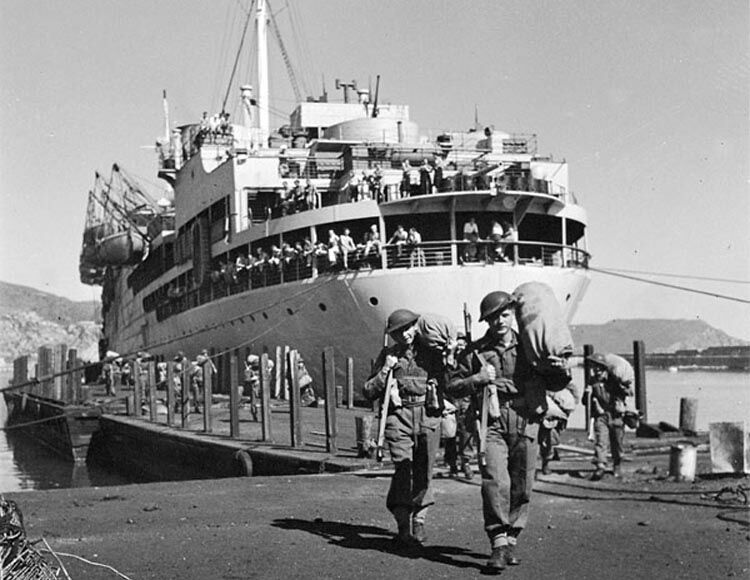 Here we see the Canadian Troops leaving the "Nea Hellas" at Philippeville, Algeria
Combined Convoy WS 32 &
KMF 20:
Convoy WS 32 was sailing with KMF 20 from Oversay on July 20, 1943 with a considerable sized fleet. Although the H.M.T. Nea Hellas joined convoy WS 29 at sea on August 8, 1943,
Escort was provided by destroyers Beagle, Bulldog and Douglas Aug 8 to Aug 12, frigates Derg, Kale and Tay Aug 8 to Aug 19, destroyer Wolverine Aug 8 to Aug 12 and destroyers Norman, Quiberon, Rapid and Relentless Aug 12 to Aug 18. The convoy arrived at Cape Town on August 18, 1943, and departed again the next day and arrived at Durban on the 22nd. The "Nea Hellas" retuned to the UK.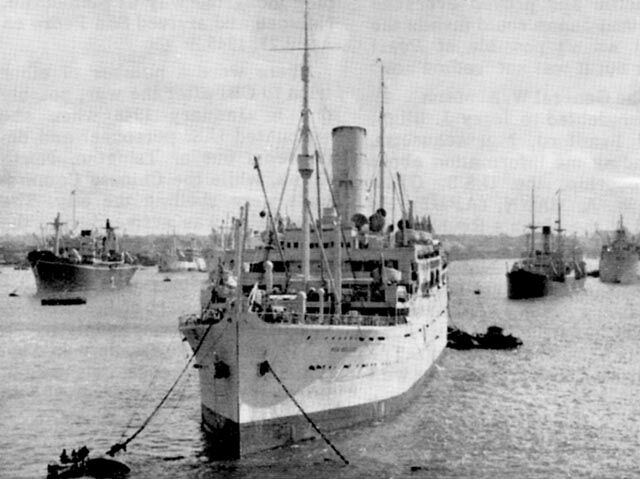 H.M.T. Nea Hellas (HR-190) is seen here at Port Said, Egypt in 1944
The above are just some of the examples of her hectic trooping duties, for she was certainly very busy for the entire six years of the War!
*********************
In 1947, she was returned to the "Greek Line" and she was thoroughly refitted and modernised, and she would now accommodate 300 passengers in First Class, 310 in Tourist Class, and 850 Third Class.
Upon her completion the T.S.S. Nea Hellas would now serve as Greece's Flagship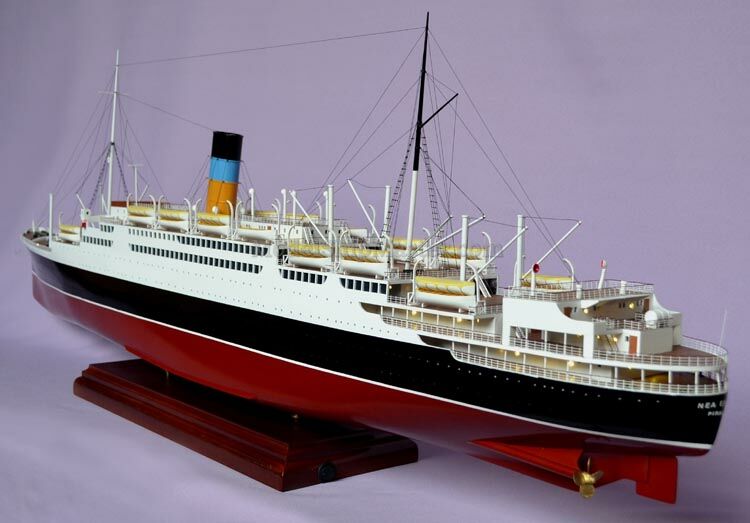 A Beautiful model of the Greek Line's T.S.S. Nea Hellas
Model available from; www.modelshipmaster.com/products/ocean_liners/Nea-hellas-passenger-ship.htm
to carry 200-cabin, 400-tourists, and 500-3rd class passengers. Her original route was reinstated; Piraeus to New York, with calls at, Genoa and Lisbon, and later adding, Naples, Malta, Halifax and other cities in due course. The Greek journal "Naftika Chronika" (Nautical Chronicles) even wrote that she had restaurants and lounges, with excellent furnishings, and was "nicely decorated."
During her life, she carried over 800,000 Greek and other European immigrants to Canada and the United States, including many fleeing the Nazis, others leaving behind post-war poverty in Europe, but most to be with families that had previously migrated to the New World, or simply started a new life.
The "Nea Hellas" was chartered by the "International Refugee Organisation" - the "IRO" for a voyage on January 24, 1949 sailing from Genoa via the Suez Canal, Colombo via Fremantle, to Melbourne, Australia with some 1,525 passengers, and during the voyage, a stowaway was discovered, thus it was plus one. The ship arrived at Melbourne on February 23, 1949, and obviously the captain was not aware what was awaiting him, for there was trouble ahead! As it turned out the Seaman's union had placed a ban on the Greek ship, and they had also ensured that the tug boats would be with them. The reason being was the Greek Governments involvement in the detention and the death of a Greek union leader. Thus the ship was unable to depart until the 26th.
She headed home and soon she returned to her regular Trans-Atlantic services and winter cruises until 1955, but it was then she was replaced by the new 22,979 GRT brand new S.S. Olympia.
*********************
Her New Name - "New York":
Thus in 1955 the "Greek Line" decided to rename her "New York" and sent her for another refit. She received some modernisation, and her accommodation was dramatically altered, as she would now become a two class liner for the very first time, offering stylish cabins for 80 First Class passengers and more modest ones for 1,369 guests in Tourist Class.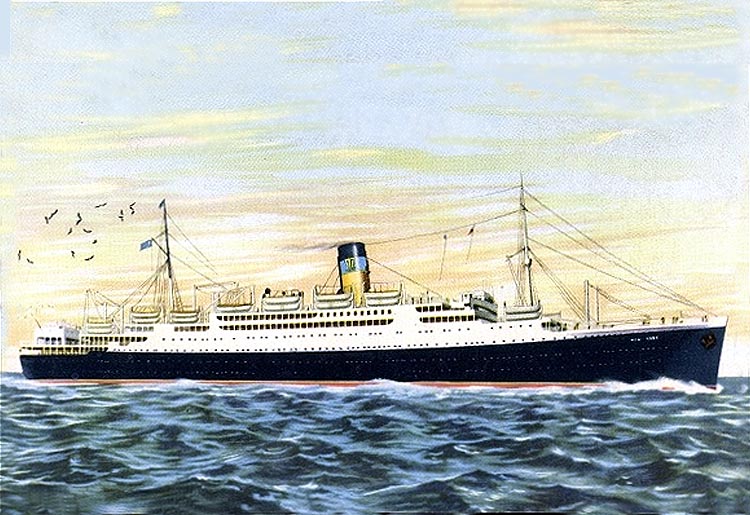 A 'Greek Line' postcard of the updated and renamed T.S.S. New York
The T.S.S. New York departed on March 1955 sailing as follows; via Southampton, Cherbourg, Cobh, Halifax and New York, Boston, Cobh, Cherbourg, Southampton, Bremerhaven. As in her past life, she would continue to operate a good number of affordable cruises, both in the US as well as in Europe.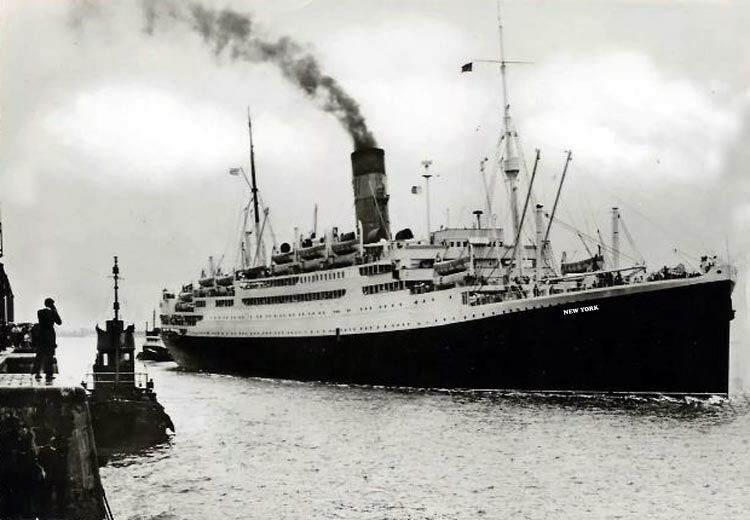 The "New York" is seen berthing in 1955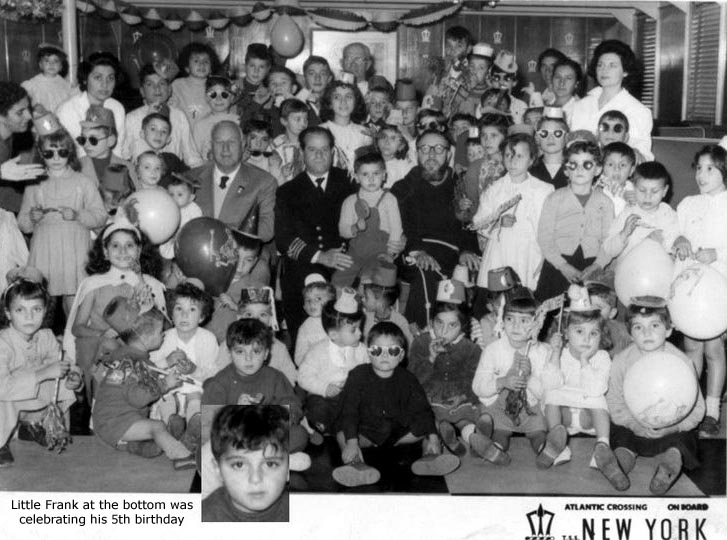 Little Frank's 5th Birthday party on board the T.S.S. New York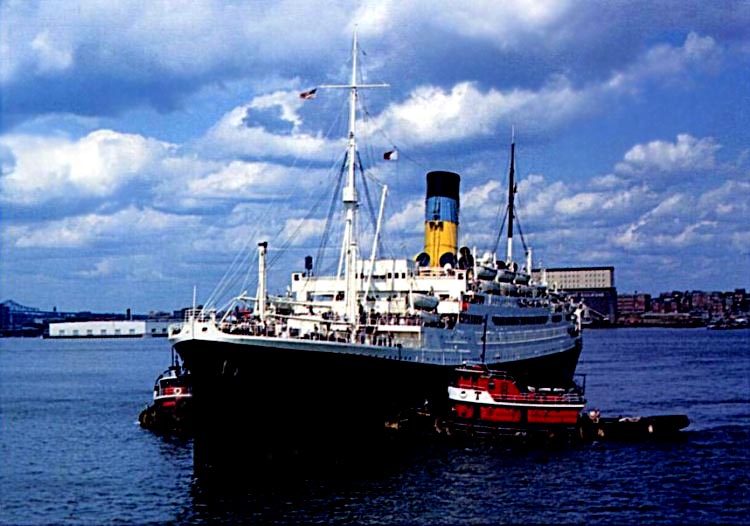 The T.S.S. New York is seen whilst on a voyage from New York and Boston in 1956
Her concluding Days:
October 13, 1959, the "New York" commenced her final voyage sailing from Piraeus, Palermo, Naples, Genoa, Quebec, Genoa, Naples, Messina and finally returning to Piraeus on November 14, 1959.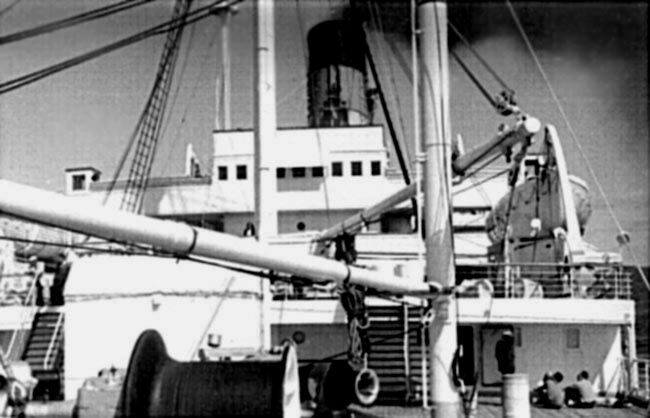 Looking from the Foc'sle towards the Bridge
*********************
Her Final Days:
Having been in the water for a good 40 years, but for twenty of those years, half of her life at sea, she had been a Greek liner. The Greek Line with the arrival of their new ship and a fine fleet, had no use for her any more, thus they decided to sell her, which they did to a Japanese breaker for £312,000.
On August 19, 1961, she departed Piraeus, for her final voyage as she was bound for Onomichi in Japan. T.S.S. New York arrived at the breakers yard on October 12, and she awaited the breakers blowtorches which arrived all too soon!
In Conclusion:
The grand old lady was gone, but the memory of the once glamorous T.S.S Tuscania, then the more modest "Nea Hellas" and "New York" may well have remained on in the minds of those that were fortunate to roam her decks, eat in her restaurants, and enjoyed the good life on the seas, whilst they were on board. Although she not have had the status of some of the other more prominent grand luxury liners that sailed the Atlantic, she was certainly a fine workhorse that allowed thousands upon thousands of individuals and their families to travel to the New World in style and comfort and discover a new life.
*********************
T.S.S. Tuscania, Nea Hellas & New York's Specifications & Details:
Names:                                  Tuscania: 1922-1939.
.                                            Nea Hellas: 1939-1955.
.                                            New York: 1955-1961.
Owners:                                 Anchor Line: 1922-1939.
.                                            General Steam Navigation Company of Greece (Greek Line): 1939-1941.
.                                            British Government: 1941-1947.
.                                            General Steam Navigation Company of Greece (Greek Line): 1939-1941.
Operated by:                          Anchor Line 1922-26, 1931-1939.
.                                            Cunard Line: 1926-1931 (summer only).
.                                            Anchor Line: 1941-1947.
.                                            Greek Line: 1939-1941 & 1947-1961.
Registered at:                         Glasgow, Scotland, 1922-1939 & 1941-1947.
.                                            Andros, Greece, 1939-1941 & 1947-1961.
Builder:                                  Fairfield Shipbuilding and Engineering Company, Govan, Glasgow.
Yard N°:                                 595.
Launched:                              October 4, 1921.
Sea Trails:                              September 8 1922.
Maiden Voyage:                       September 16, 1922.
Official No:                             146307.
Category:                               Passenger vessel.
Hull: Steel.
Route:                                   Glasgow-New York 1922-1939.
.                                            Troopship 1941-1947.
.                                            Piraeus-New York 1939-1955.
.                                            Bremen-New York 1955-1959.
Tonnage:                                16,991 GRT, 10,016 NRT.
1937:                                    17,001 GRT.
Length:                                  552.3 ft – 168.3 m.
1937:                                    175.05 m - 574.31 ft after refit & lengthening.
Beam:                                    70.3 ft – 21.4 m.
Depth:                                   38.6 ft - 11.76 m.
Installed Power:                      Six Brown Curtis steam turbines, producing 12,500 BHP, DR geared to two shafts. By Fairfield Shipbuilding and Engineering.
Propellers:                              Twin Screws.
Speed:                                   16 knots service speed, 17.5 knots maximum.
Accommodations:                   
1922:                                    240 First, 377 Second, 1,818 Third, Crew: 346.
1929:                                    206 Cabin, 439 Tourist, 485 Third Class.
1939:                                    200 Cabin Class, 400 Tourist Class, 500 Third Class.
1947:                                    300 in First Class, 310 in Tourist Class, and 850 Third Class.
1955:                                    80 First Class passengers and 1,369 in Tourist Class.
Crew:
1922:                                    346.
1926:                                    280.
1939:                                    200.
1955:                                    320.
Fate:                                     Sold & broken up at Onomichi in Japan October/November1961.
*********************
R
emembering the
D
elightful
T.S.S.
Tuscania
(2)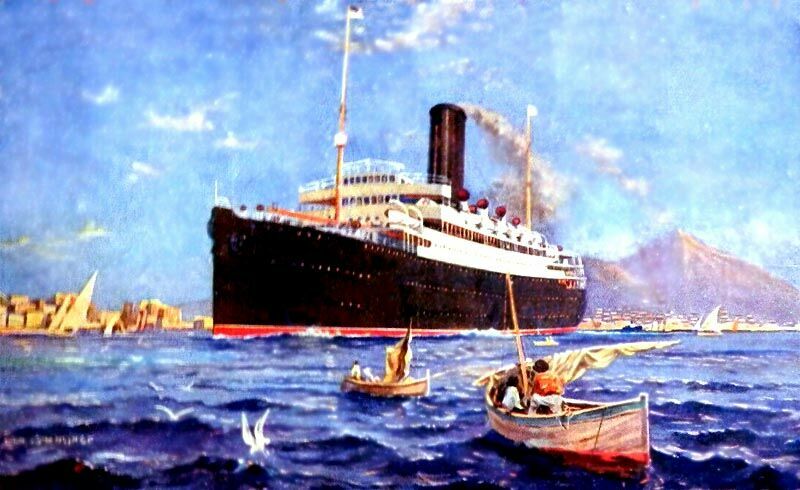 An excellent artist impression of the T.S.S. Tuscania is seen in the Suez Canal in the 1930's
*********************
 "Blue Water Liners sailing to the distant shores.
I watched them come, I watched them go and I watched them die."

Featuring over 1,435 Classic Passenger Liners, Passenger-Cargo Liners & Classic Cruise Ships!
Or ENTER HERE
For interest: Sadly an email service to ssMaritime is no longer available, due to the author's old age and chronic illness as well as being disabled, etc. In the past ssMaritime received well over 120 emails per day, but Mr. Goossens can no longer handle same. He sincerely regrets this!
*********************
ssMaritime.com & ssMaritime.net
Where the ships of the past make history & the 1914 built M.S. Doulos Story.
The Author has been in Passenger Shipping & the Cruise Industry for well over 60 years
In addition he was the founder of "Save the Classic Liners Campaign" in 1990.
Please Note: ssmaritime and associated sites are 100% non-commercial and the author seeks no funding or favours of any shape or form, never have and never will!
Photographs on ssmaritime and associate pages are by; the author or from the author's private collection. In addition there are some images that have been provided by Shipping Companies and private photographers or collectors. Credit is given to all contributors. However, there are some photographs provided to me without details regarding the photographer/owner concerned.
This notice covers all pages; although, and I have done my best to ensure that all photographs are duly credited and that this notice is displaced on each page, that is, when a page is updated!
ssMaritime is owned & © Copyright by Reuben Goossens - All Rights Reserved