Grace Lines - SS Santa Rosa of 1958 - In 1991 rebuit to be come Regent Rainbow, sold in 1995 renamed SS Emerald, broken up in 2012
Please Note: Firefox & Google Chrome may not suitable - Use Internet Explorer / Google for this page to load perfectly!
Click the logo above to reach the ssMaritime FrontPage for News Updates & "Ship of the Month"
With Reuben Goossens
Maritime Historian, Cruise'n'Ship Reviewer & Author
Commenced in the Passenger Shipping Industry in 1960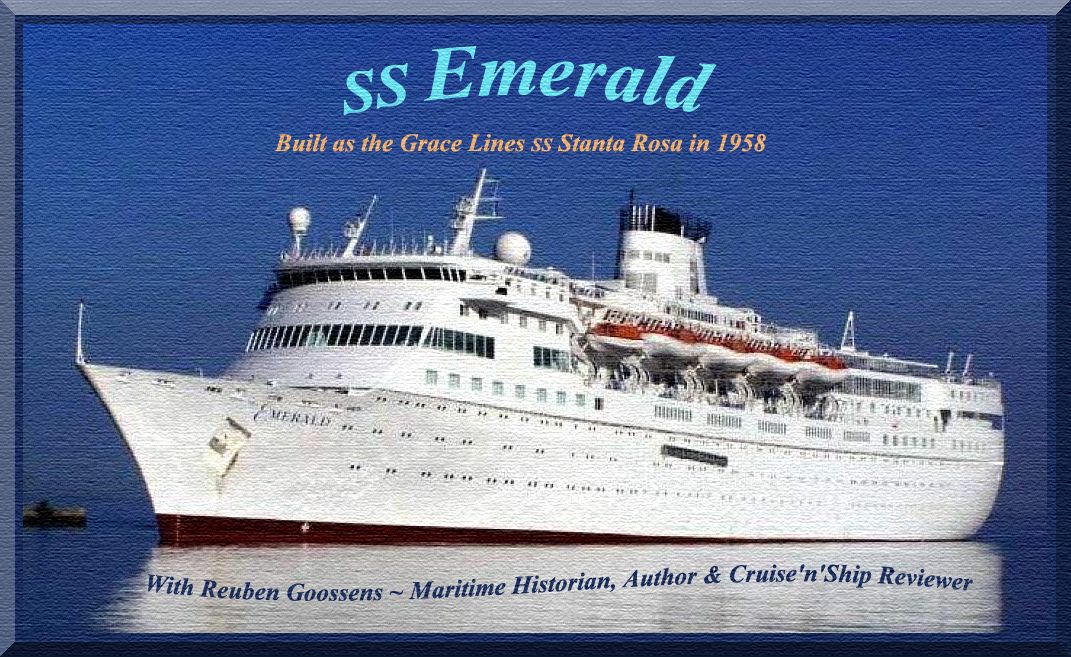 The magnificent Emerald has been sadly broken up, such a suburb ship, but we will long remember Her!
This is a special photo page of this remarkable classic cruise ship that was built as the famed American liner SS Santa Rosa that had been launched on August 28, 1957, completed and departed on her maiden voyage on June 12, 1958. She and her slightly newer sister Santa Paula were built as luxury passenger-cargo ships and were all first class liners, operating between New York and Central America as well as operating Caribbean cruises.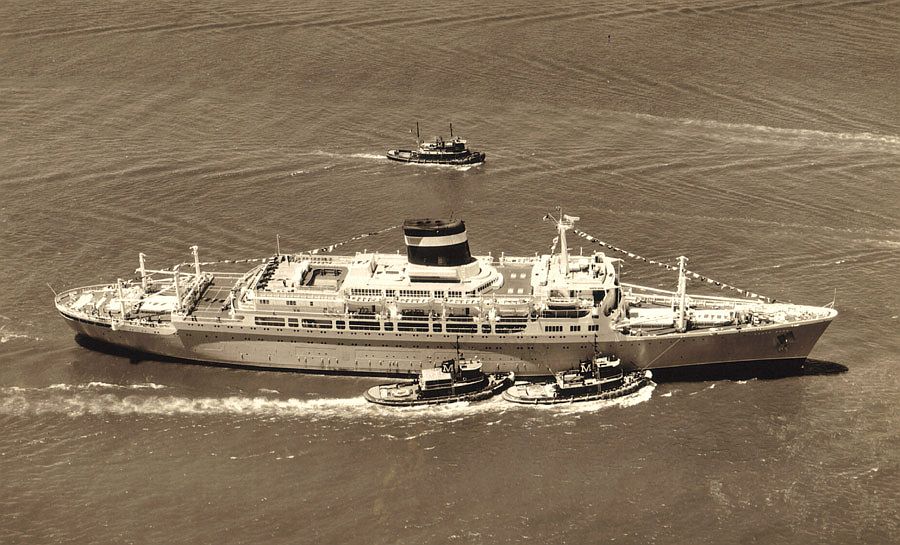 Luxurious Grace Lines, SS Santa Rosa is seen here as built, arriving back in New York in June 1958 from her maiden voyage
In 1990/91 this great ship been sold and had was completely rebuilt in Greece into an impressive looking cruise ship that saw her external appearance dramatically change from a traditional looking liner into a very modern cruise ship. She was renamed Regent Rainbow and was placed under the management of Regency Cruises, 1995 Regency was declared bankrupt and she was sold to Louis Cruises and renamed The Emerald. Under both names she had become the darling of countless cruise lovers, especially by the British public and she sailed successfully for many years!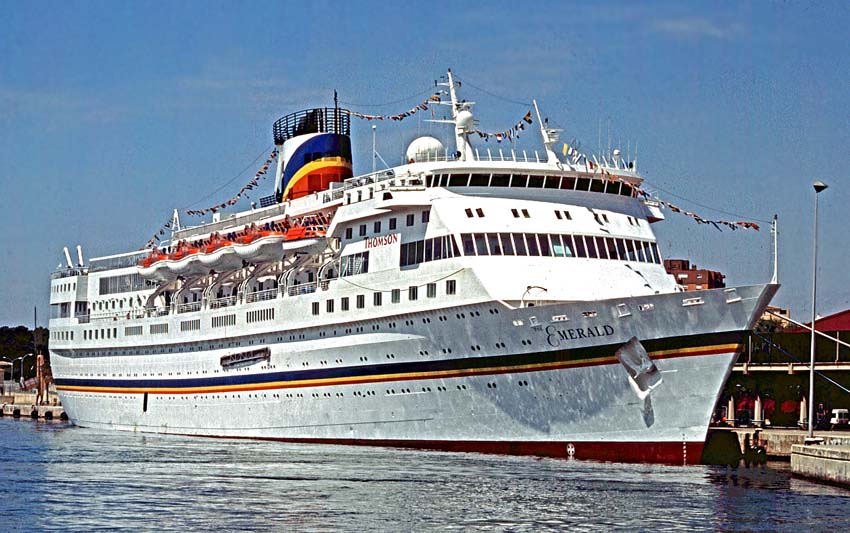 The Emerald is seen here at Mallorca in 1998, whilst under charter to Thompson Cruises
Photograph by & ? Hans-J?rgen-Amberg
However, with SOLAS 2010 on the horizon it may well be possible that her end is near and in 2010 she was laid by Louis Cruises at Eleusis Bay in Greece. As the president of the "Save The Classic Liners Campaign" it was my hope that she would be obtained and turned into a superb boutique hotel or some other positive possibility for she is a superb condition throughout, but obviously that did NOT eventuate!
However, in memory of what was one a great American liner, I will present on this page photographs of the Emerald, being the Grace Lines SS Santa Rosa in 1958. Enjoy!
The Emerald Photo Album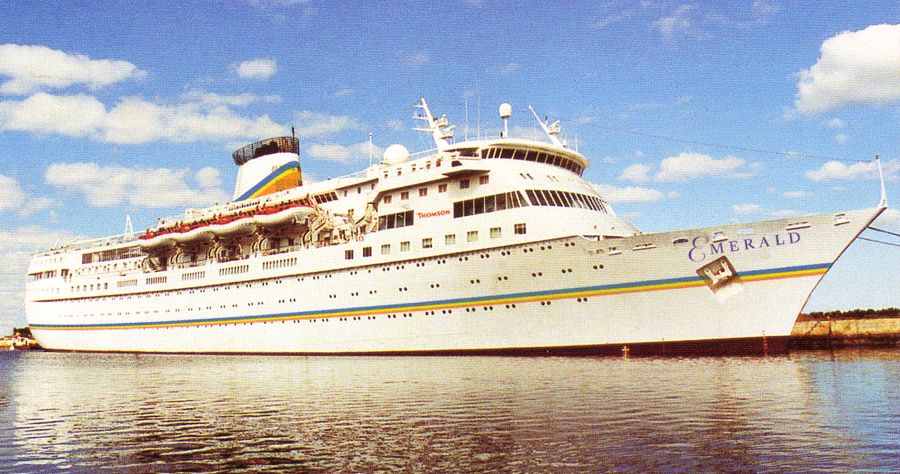 The sleek looking Emerald seen whilst under charter to British Thompson Cruises
Interiors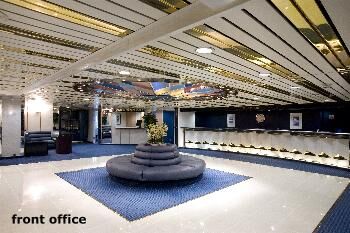 The Main Lobby and Reception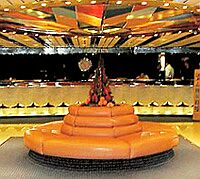 Another view of the Reception Desk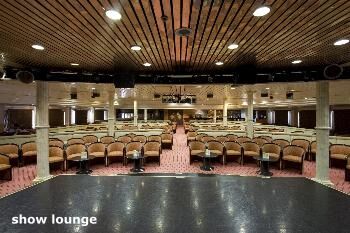 Above and below: The Regency Show lounge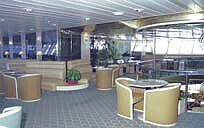 --------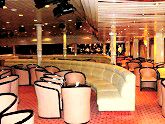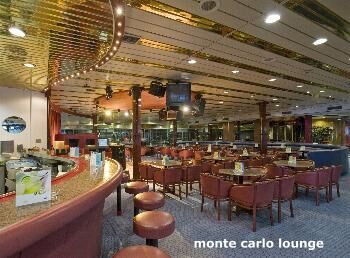 Monte Carlo Casino Lounge & Bar is one of the largest afloat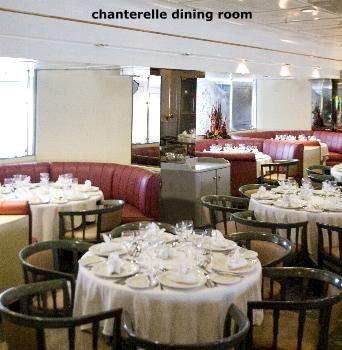 The elegant Chanterelle Restaurant on Promenade Deck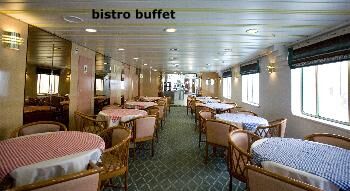 Le Bistro Buffet up on Deck 7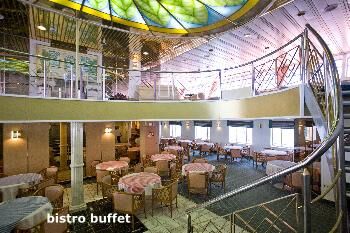 Le Bistro Buffet is located Upper Deck (7), whilst the massive Starlight Lounge is located on deck 8 and may be reached via the stairs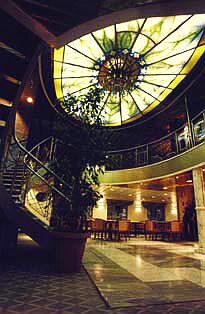 Here is a better view of the fine stairwell and the grand lighting system that adorns the ceiling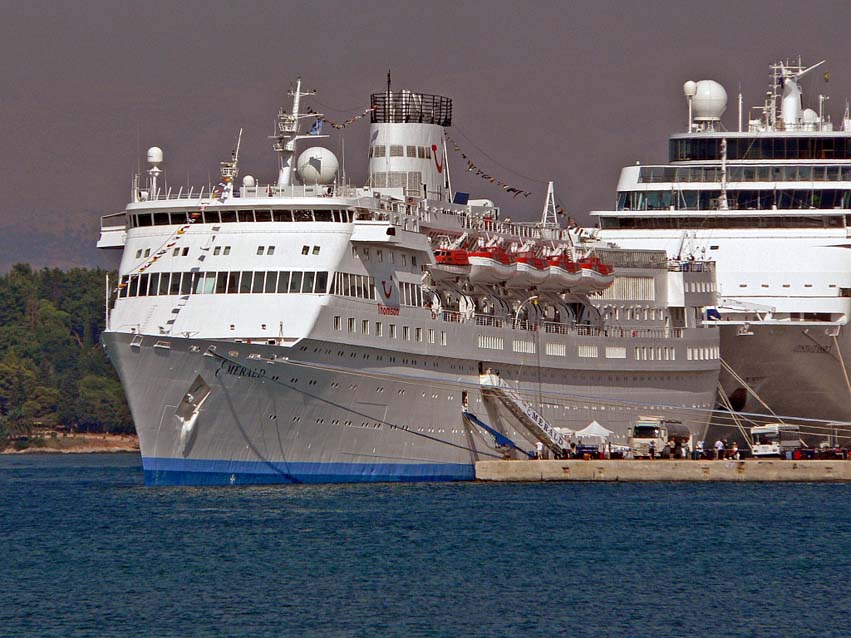 The Emerald is seen here at Corfu in 2008 – Aft of her is the Costa Classica
Photograph by & ? Hans-J?rgen-Amberg
Accommodations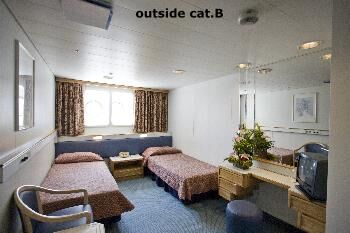 Outside twin with two windows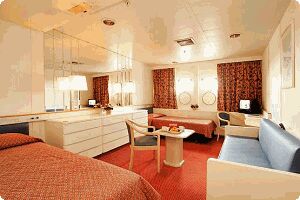 Twin bedded room with portholes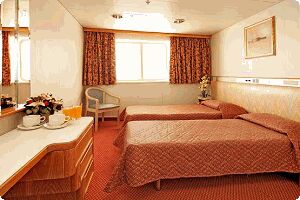 Twin bedded room with windows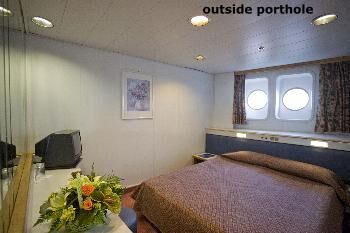 Outside double with portholes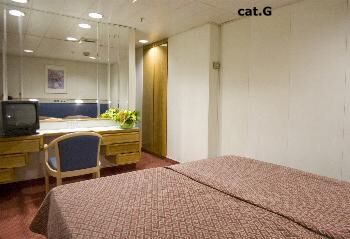 An inside double bedded cabin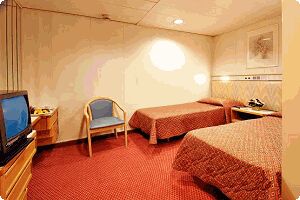 The cheapest inside twin bedded cabin
Deck Plan
Below you will find the full deck plan of the "Emerald" revealing all the main features on each deck.

Deck 8 – Bridge Deck … The Sky Room, Discotheque, Starlight lounge, and whirlpools.

Deck 7 - Upper Deck … Le Bistro for a delicious buffet, Lido pool bar and swimming pool. Also Cabins.

Deck 6 - Boat Deck … Cabin deck.

Deck 5 - Promenade Deck … Yacht Club lounge-bar, Royal Casino lounge, Monte Carlo Court/Lounge, Chanterelle Restaurant, Regency Showroom, boutiques, library.

- Allegro
Deck 4 – Allegro Deck … Main Lobby and Reception – Cabin deck.

Deck 3 – Bolero Deck … Beauty Salon - Cabin Deck.

Deck 2 – Concerto Deck … Cabin deck.

Deck 1 – Dolorado Deck … Cabin deck, and …
Deck 0 - Exercise Deck … Fitness centre, Massage room, Sauna, Children's Club and Medical Centre.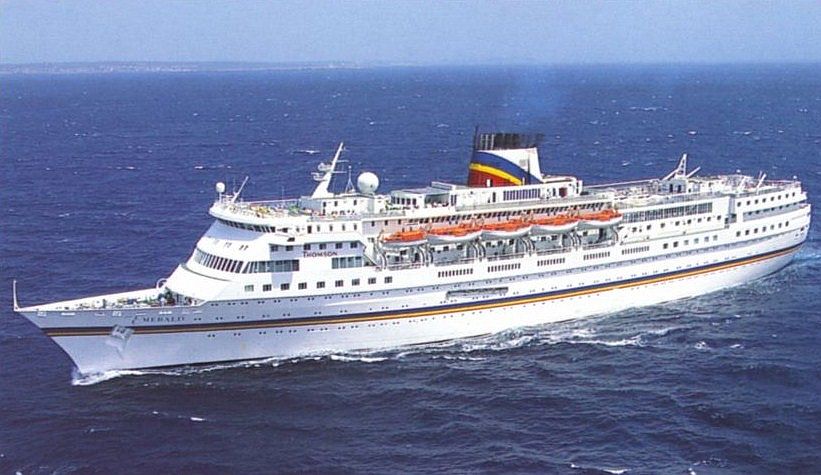 The Emerald is seen here still in her Thompson Cruises livery

when operating for the British market, where she was a huge success!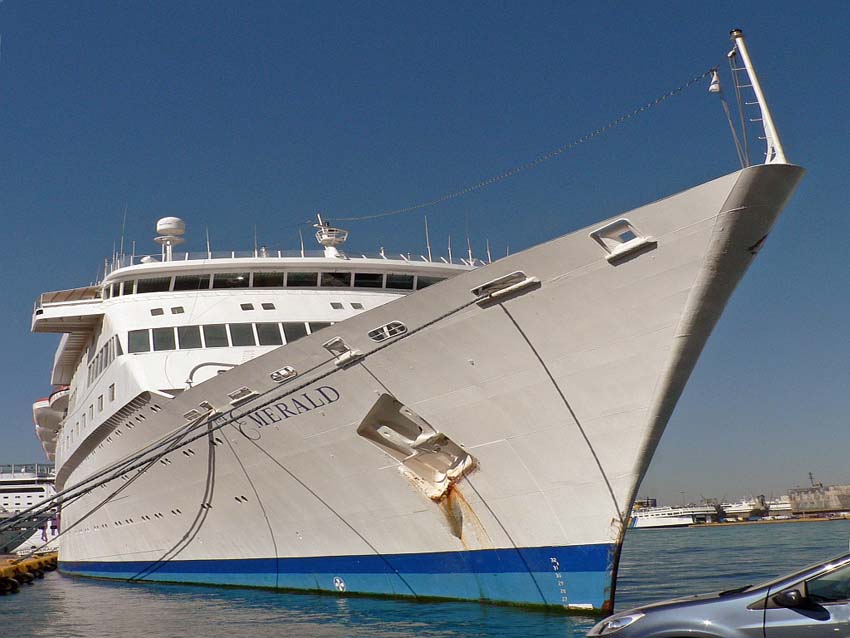 Her bow is simply stunning – She is seen at Piraeus in 2009
Photograph by & ? Hans-J?rgen-Amberg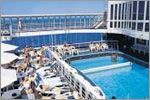 Lido Deck and the ships Pool on Deck 7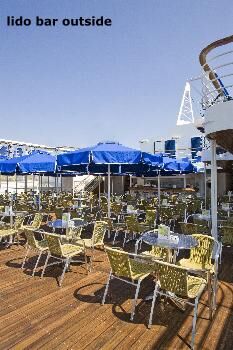 Lido Bar pool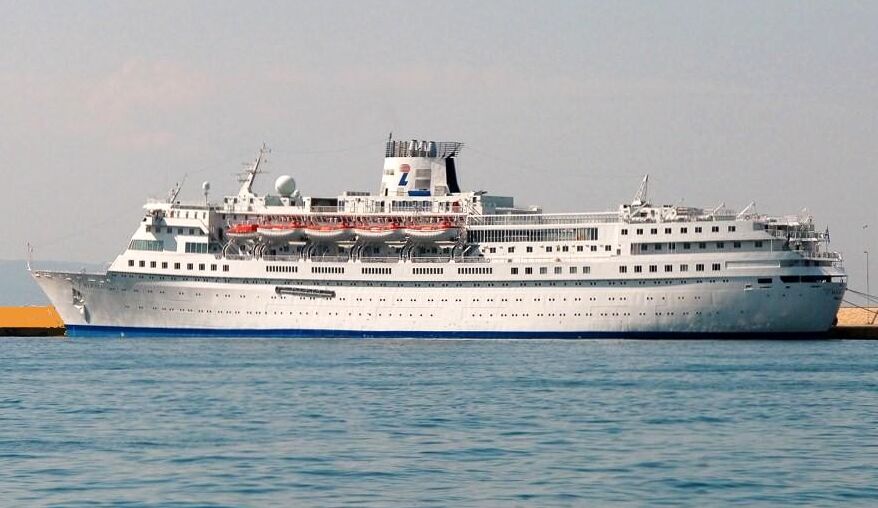 The Emerald seen in port in 2009 and seen under her owner's livery - Louis Cruise Lines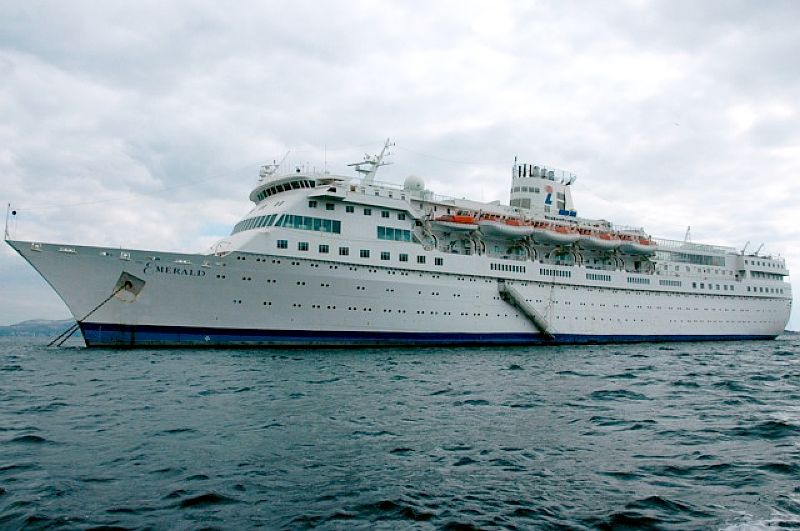 The Emerald is seen at lay up in Eleusis Bay, but as can be seen, whilst she remained there she was perfectly maintained!

This delightfully modern cruise ship that was originally a famous luxury classic liner, the SS Santa Rosa, the Emerald remained in service until 2010, but then she was laid up and placed on the market. She would have been the perfect ship to be converted into a floating hotel or for an enterprising company, even an updated cruise ship as she was still SOLAS compliant.

But sadly there was no one to take up the opportunity to make further use of her, and thus she was sold in August 2012 to be broken up at Alang India! Having arrived she was beached and breaking up commenced late in 2012.

We will remember this wonderful ex Grace Liner, which has given us a remarkable 55 years of joy and great service!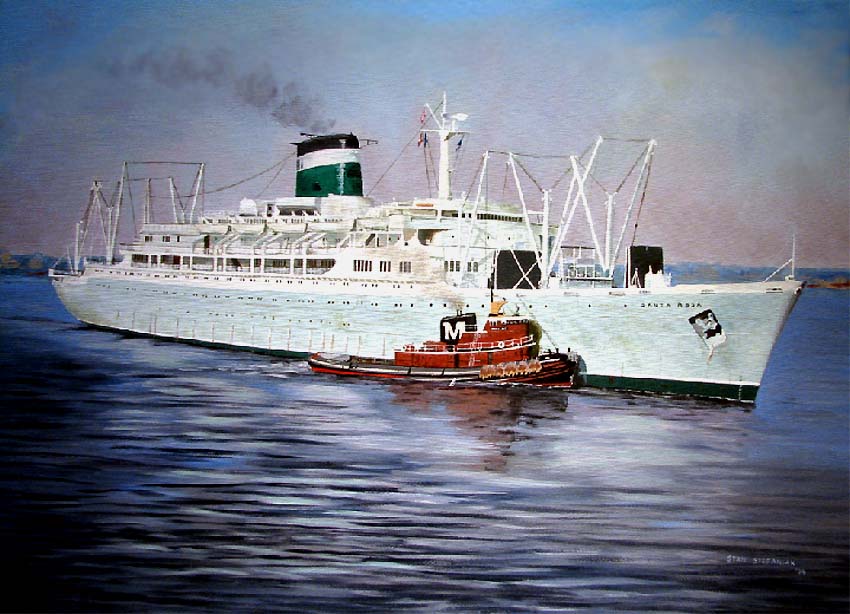 For many, this wonderful painting will invoke so many wonderful memories of what
was indeed a great ship be it the SS Santa Rosa or for that matter the SS Emerald!
Grace Line INDEX:
Page One …???????? SS Santa Paula & Santa Rosa – History Page
Page Two …???????? The Marcia Kennedy Story – An interesting story from a Santa Paula 1969 hostess
Page Three …?????? The Emerald - ex Santa Rosa rebuilt as a luxury cruise ship – see her interiors!
**************************************************
ENTER OUR …
ssMaritime Main INDEX
Where you will discover over 700 Classic Passenger & Passenger-Cargo Liners!
ssMaritime.com & ssMaritime.net
Where the ships of the past make history & the 1914 built MV Doulos Story
Photographs on ssmaritime and associate pages are by the author or from the author's private collection. In addition there are some images that have been provided by Shipping Companies and private photographers or collectors. Credit is given to all contributors. However, there are some photographs provided to me without details regarding the photographer/owner concerned. I hereby invite if owners of these images would be so kind to make them-selves known to me (my email address may be found on www.ssmaritime.com only), in order that due credit may be given. I know what it is like, I have seen a multitude of my own photographs on other sites, yet these individuals either refuse to provide credit or remove them when asked, knowing full well that there is no legal comeback when it comes to the net. However, let us show these charlatans up and do the right thing at all times and give credit where credit is due!
This notice covers all pages, although, and I have done my best to ensure that all photographs are duly credited and that this notice is displaced on each page, that is, when a page is updated!
ssMaritime is owned and ? Copyright by Reuben Goossens - All Rights Reserved