Please Note: Firefox & Google Chrome other search engines may not suitable
Please use "Internet Explorer" or "Google" for this page to load perfectly!

Click the logo above to reach the ssMaritime FrontPage for News Updates & "Ship of the Month"
With Reuben Goossens
Maritime Historian, Cruise'n'Ship Reviewer, Author & Lecturer
Commenced in Passenger Shipping & Cruise Industry in 1960
R.M.S.
Titanic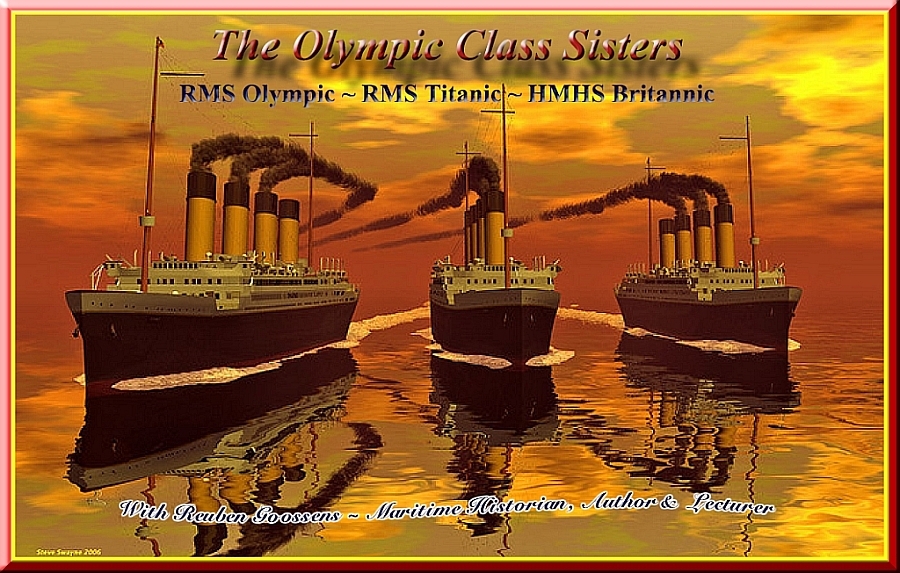 Artist unknown – *Please see the photo notes at bottom of page
Part One
Part One of the RMS Titanic feature is all about the ship herself and I will cover her planning, the building and her magnificent interiors including as many photographs as I have in my collection and those I have been given, etc. On this page you can get to know the ship, whereas on Part Two you can read more about her final few days and the details related to them! But you will find that it has been covered with great care and sensibility certainly without any sensationalism! Page Three contains her complete Deck Plan for you to peruse.
Introduction:
For some reason I never had a desire to write about the RMS Titanic and you could well ask, "But you are a maritime historian, thus why not, for is she not one of the most important ships in the world?" To be honest, no she was far from it, for she was a rather second grade version of her earlier sister the RMS Olympic, which departed on her maiden voyage on June 14, 1911.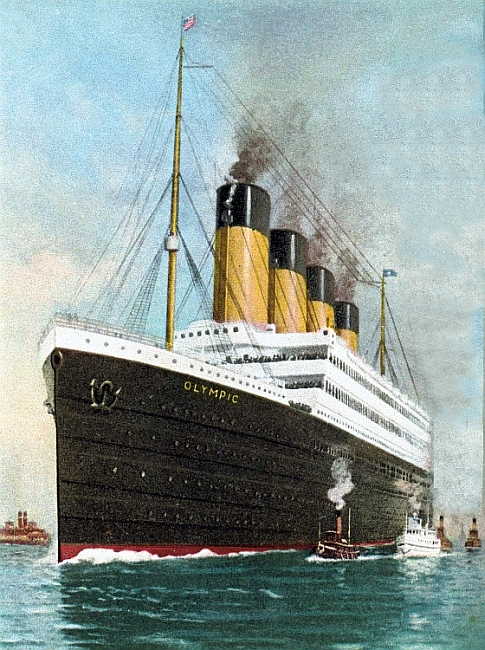 A painting of the Titanic's earlier and identical sister the RMS Olympic
As many will know, I have already completed features on two of the Olympic Class Liner's, the first built being the successful RMS Olympic and the third of the trio, being the tragic wartime Hospital ship, RHMS Britannic. But I have only ever given a lecture on the Titanic whilst on a voyage from Australia to England, which just happened to coincide with her 100th.Anniversary. During this voyage I gave a total of six maritime lectures, three of these were related? to the titanic, including the main lecture o the anniversary day.
But, recently I decided that it is time to add her to ssmaritime.com, thus I pulled my notes and photographs and put then to good use and I have added them for your reading and viewing pleasure, even though I am well aware that it has been done before and that is just why I never wanted to do it, but, here it is anyway!
The RMS Titanic as we all well know was part of the White Star Line, which was owned by the "Oceanic Steam Navigation Company" and all of its stock was owned by the "International Navigation Company Ltd," of England, which in turn, was owned by the "International Mercantile Marine Company" (IMMCO) being an American Corporation.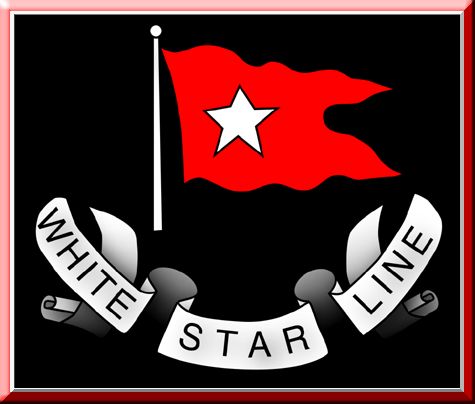 Thus in reality White Star Line was an American owned Company. And nothing has changed to this day for Cunard Line is again fully owned by an American Company, being the Carnival Corporation, or PLC, also known as Carnival Cruises, a Company that owns so many of the well known brands, such as P&O Australia, P&O UK, Princess Cruises, Costa Cruises and the list just goes on!
But back to the subject of the so-called the … "Unsinkable RMS Titanic."

Here we see the Titanic's overall interior's layout

This view clearly shows her 15 watertight bulkheads, which they thought was sufficient, but they were not!
Let us start with some of the details regarding her beginnings, as well as her two sisters and continue into some of the details of the building and engines, etc.
Early in 1907, Bruce Ismay President of the White Star Line, and Lord Pirrie who was Chairman of Harland & Wolff shipbuilders commenced working on the idea to build a series of luxurious passenger liners for the company to compete in the transatlantic passenger market. They decided on three ships, which would become the Olympic 45,324 GRT, Titanic 46,392 GRT, and the Britannic 48,158 GRT.
The next twelve months, being part of 1907 and the first half of 1908 was spent in extensive design work and pre planning for the building these grand ships. Then on July 30, 1908, official authorization was given to build both the Olympic and her sister-ship the Titanic. However, it would be a good three years later, in 1911; the order was placed for the third ship the Britannic.
It is believed by many that her name was originally to be "Gigantic" and that the change to "Britannic" was mostly due because "Gigantic" sounded too similar to the name "Titanic," as the tragedy had occurred some two years earlier, thus it was deemed best to stay clear from any confusion and fears for that matter.
The Titanic Story:
Titanic's keel was laid down on March 31, 1909 at the Harland & Wolff Yard number 401, with her sister Olympic being built next to her in Yard number 400.
But let as look at her building progress in pictures and in words.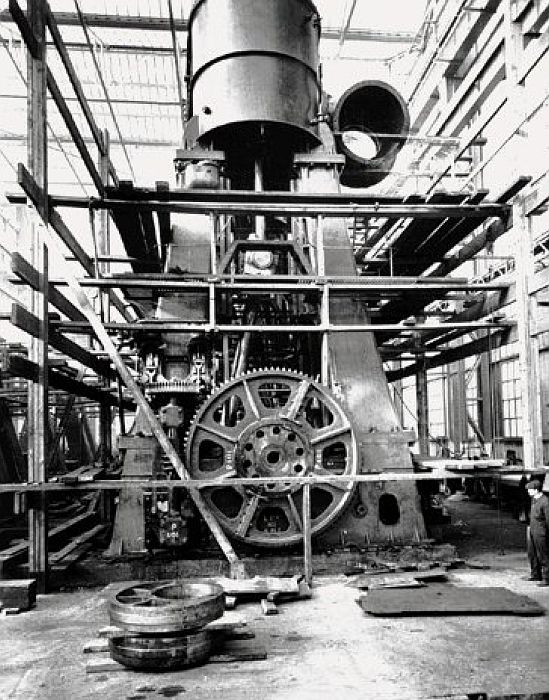 Her Engine Room: She had two four-cylinder steam reciprocating engines and one low-pressure turbine engine. The turbine, which drove the center propeller, utilized the exhaust steam from the other engines. This design recycled the exhausted steam instead of wastefully venting it up the funnels. The result was an increase in efficiency. Her engines had a total of 51,000 IHP. She had 29 boilers of which 24 were double ended and 5 single ended. Amazingly there were 159 furnaces to be fired up, thus can you imagine how many men were required for that terrible job?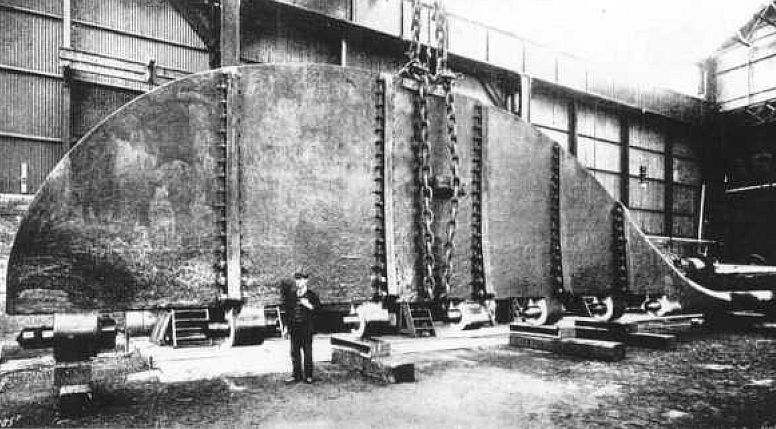 The Ships Rudder was 78 feet 8 inches (23.98 m) high and 15 feet 3 inches (4.65 m) long, weighing over 100 tons – that it required steering engines just to move it. It was constructed by the Darlington Forge Company, Ltd., and was of the elliptical type, of solid cast steel, built in five sections.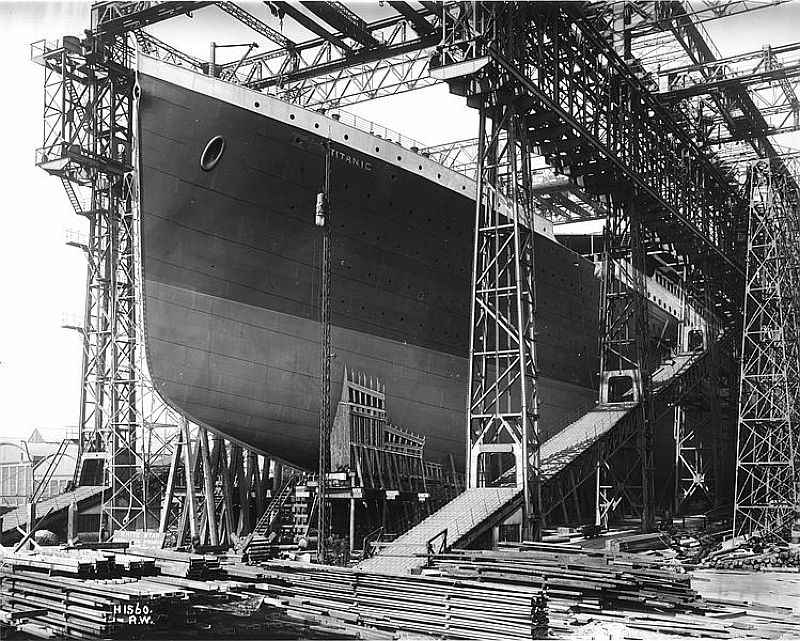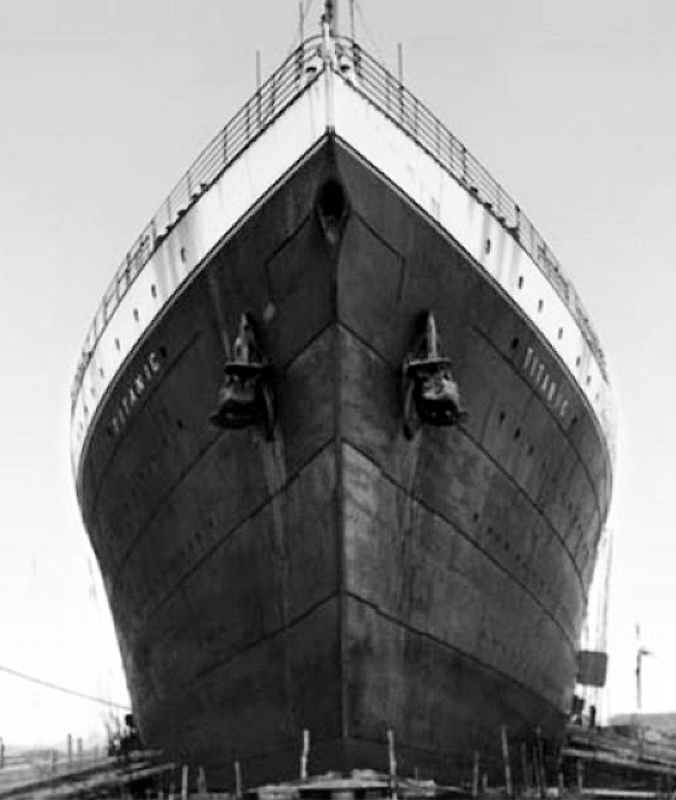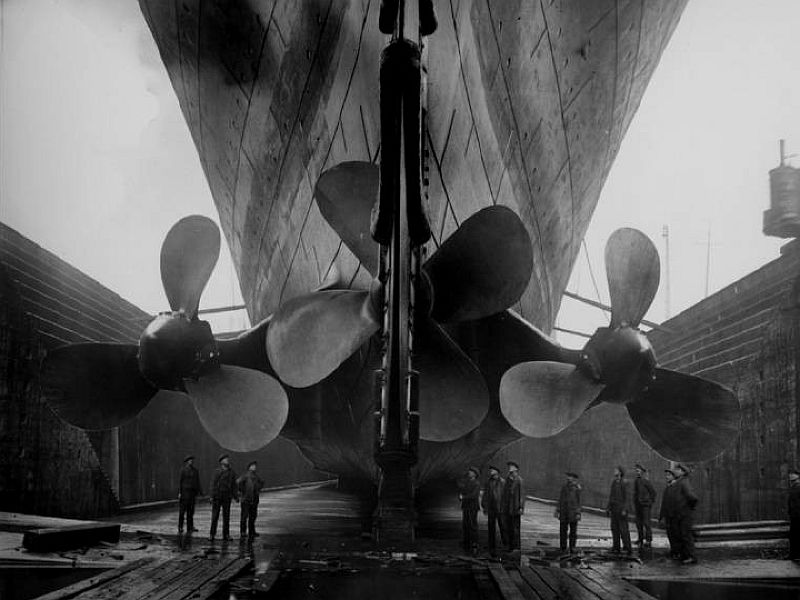 Almost ready for launching: The three photographs above are of the Titanic seen almost ready for launching. First we see her mighty bow, followed by her stern with her three giant propellers. The diameter of the two outer propellers were 7m - 23ft, whist the middle one was the smaller one at 5.18m - 17 ft tall.
Her Launching: The Titanic was launched on May 31, 1911 at 12:15 pm and she was towed to her fitting out berth to have her superstructure added and her four funnels fitted, etc.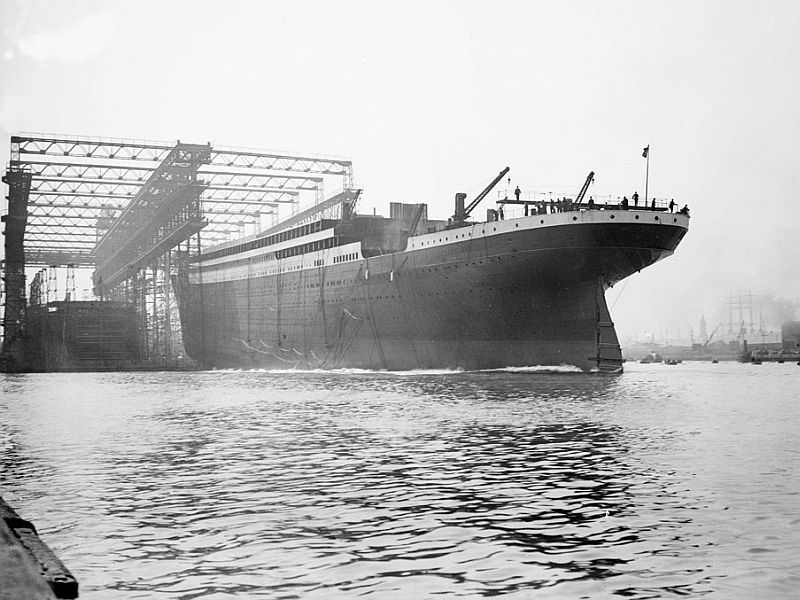 Above & below: Two fine photographs of the Titanic as she comes down the slipway and she is seen in the water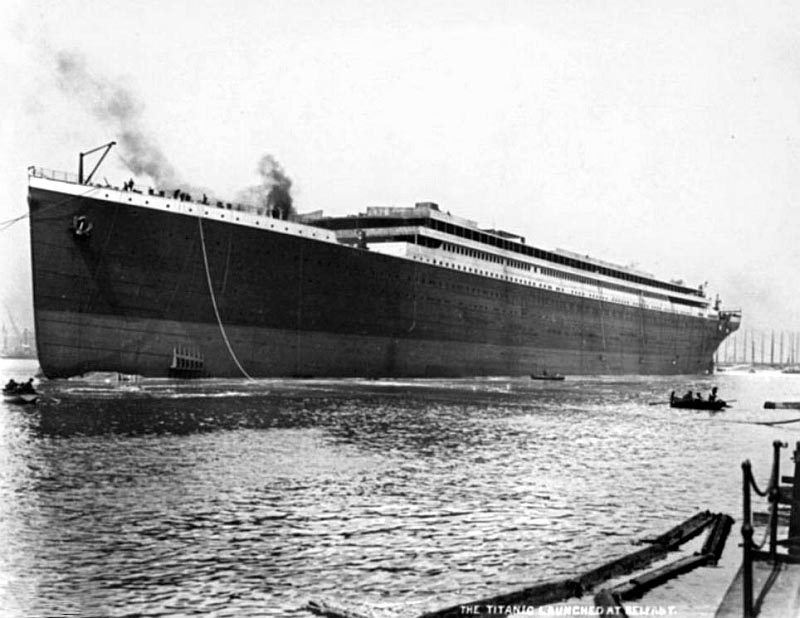 Amazingly, it took some 2,000 men and three years to build this grand liner. Sadly during the construction 2 men were killed, but for the time that was considered far less than the usual, for anything up to 18 could accidentally die during these a massive tasks, thus she was considered a "lucky ship. Little did they know what was too come very soon!
Amazingly over three million rivets were used for the hull alone, and two hundred were the number of rivets that a four man riveting team could complete a day. Construction workers were considered to be highly paid in those days and received a total of two British Pounds for a 49-hour week. At the time of building the Titanic it cost US$7.5 million to build (in 1912), which took three years and some 14,000 workers were used to construct her.
Interestingly, the movie "Titanic," which was made in 1997 cost more than US$200 million to make. And now they have spent many millions more to create a 3D version of the very same movie for the 100th anniversary of her sinking.
Titanic II:
However, recently there were plans to build a perfect full-scale replica of the Titanic on behalf of the Blue Star Line Australia in China. The idea was to operate her as a fulltime trans-Atlantic Liner and it was expected to cost around US$500 million. She was to be constructed in China. Her two forward funnels were to have lifts up to a viewing lounge, with windows on both sides. However, Titanic II, which was expected to commence sailing in 2017/18, but due to the Blue Star owner being involved in the Australian Coal Mining Industry, which had a massive financial collapse, went into bankruptcy and thus the plans of the ship sadly failed!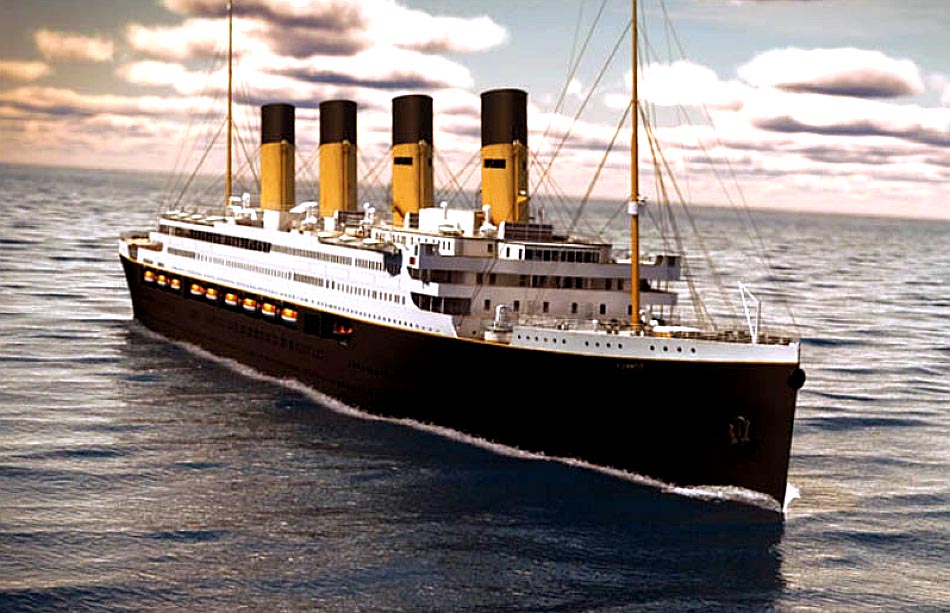 What could have been: Titanic II, note the additional lifeboats & tenders set into her upper aft hull section.
Image provided by & ? Blue Star Line
****************************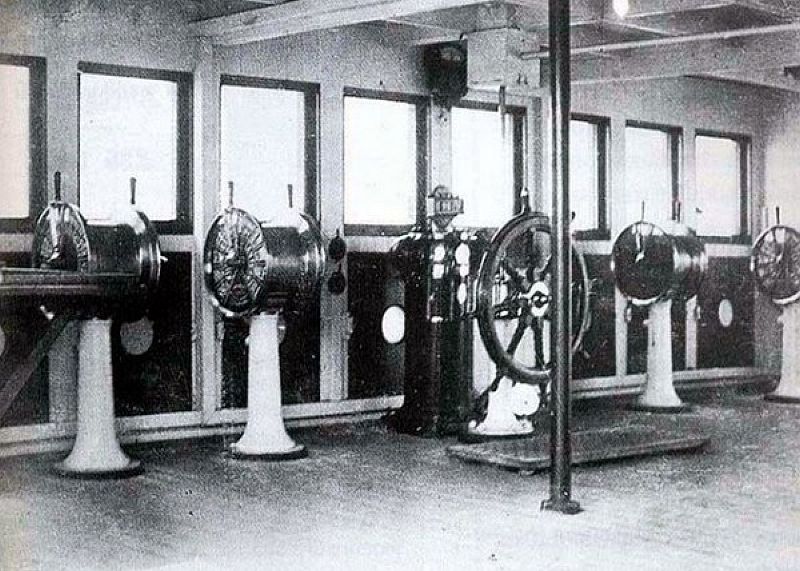 But finally RMS Titanic was completed and her bridge was fully fitted out and soon her Master, Captain Edward J Smith who would be taking charge of her at Southampton as he would take her on her maiden voyage to; well sadly it was to the Atlantic sea, as it turned out!
But first, she undertook her sea trials that began at 6 am on Monday, April 2, 1912 and they proved to be most successful indeed. On that same day Titanic departed Belfast and headed for Southampton.
RMS Titanic arrived at Southampton the next day, April 3, 1912, and she was bedecked in flags considering it was Good Friday on April 5.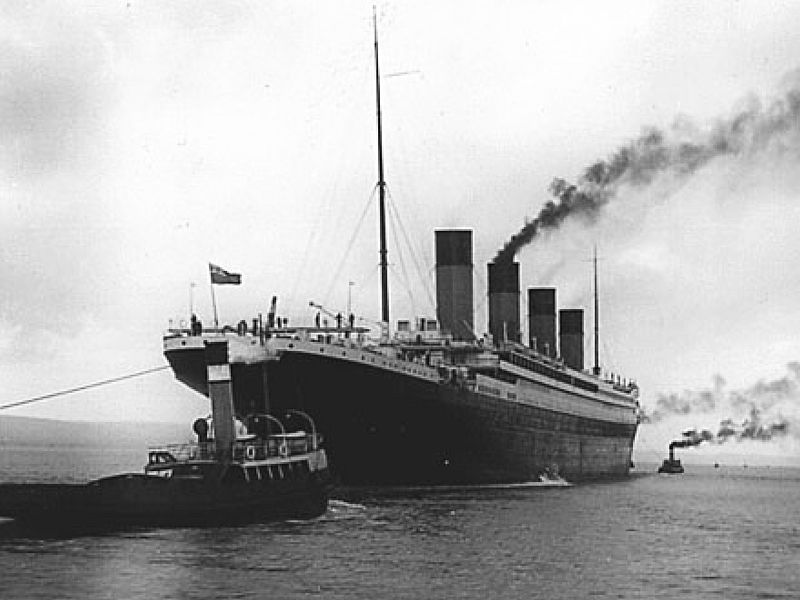 Heading off for her sea trails

Her four stately Funnels: Funnels were very much a status feature in the early 1900s, the more you had the grandeur the ship and obviously the more powerful and safer she would be!

Well that is just utter rubbish, for the truth is only her forward three funnels were operational and her fourth, aft funnel was a dummy, there just for show! Even though some of the companies advertising have illustrations showing smoke coming from all four of the funnels, but that was just advertising, never trust what any shipping company tells you, for they will somehow twist the truth to suit their own needs somehow!

Here we see one of the White Star Line small banners, that clearly shows the aft funnel with smoke pouring from it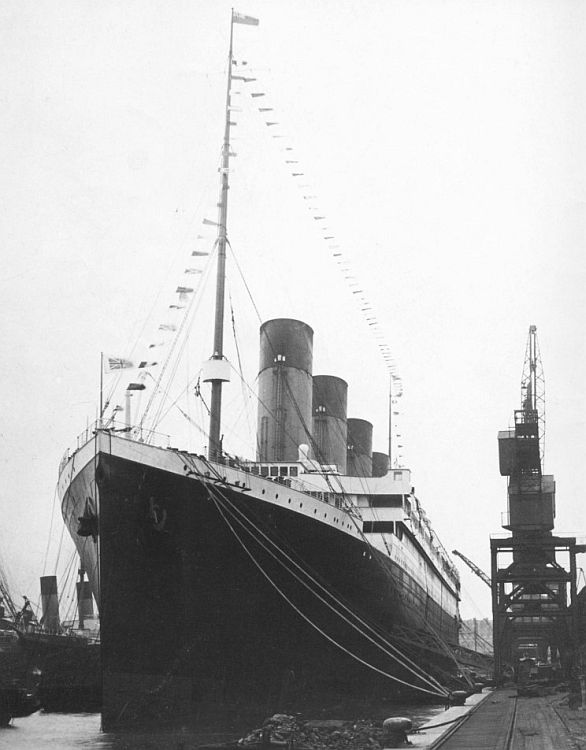 The Titanic arrived at Southampton the next day, on April 3, 1912 and above we see a Photograph of her at Southampton fully decked out in flags especially for Good Friday on April 5.
The next few days it was time for food and storage to come aboard, as well having the ship completely prepared for fulltime passenger services and thus being fully manned, etc and ensure that everyone is fully trained and know their way around this new and big ship! With all accommodations having been made perfectly ready and galilees and their storerooms fully stocked, the grandiose Titanic was ready for her maiden voyage!
But what was so Amazing was that the Titanic was not fully booked, which was most usual for such a high prestige liner about to depart on her maiden voyage. However, there was a very good reason for this as there hah been a national coal strike in the United Kingdom that had caused huge disruptions to shipping schedules during the early months of 1912, causing a good number of voyages to be cancelled. Therefore, many would passengers decided to delay their travel plans until the strike was over. But somehow the Titanic would sail on schedule!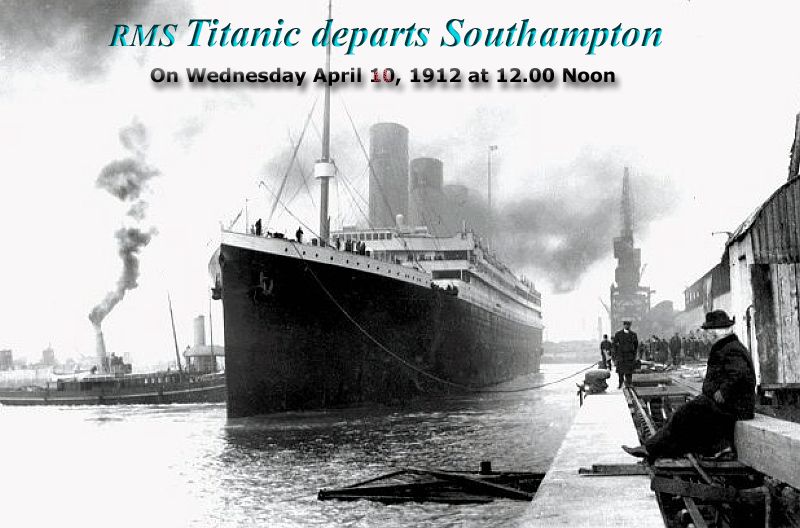 Above & below: Titanic departs Southampton for her only passenger voyage ever!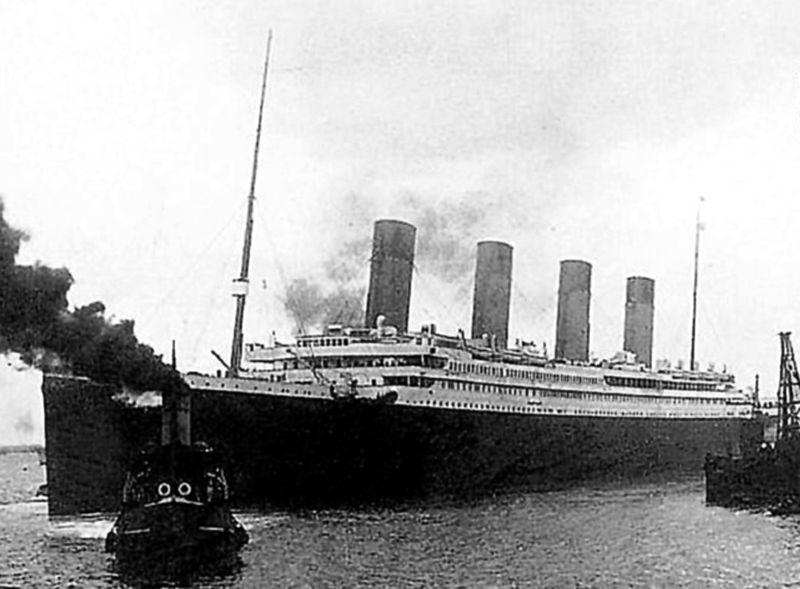 The Titanic departed Southampton for her maiden voyage on Wednesday, April 10, 1912 at 12:00 Noon. But her earlier sister, the RMS Olympic maiden voyage was just under a year earlier on June 14, 1911.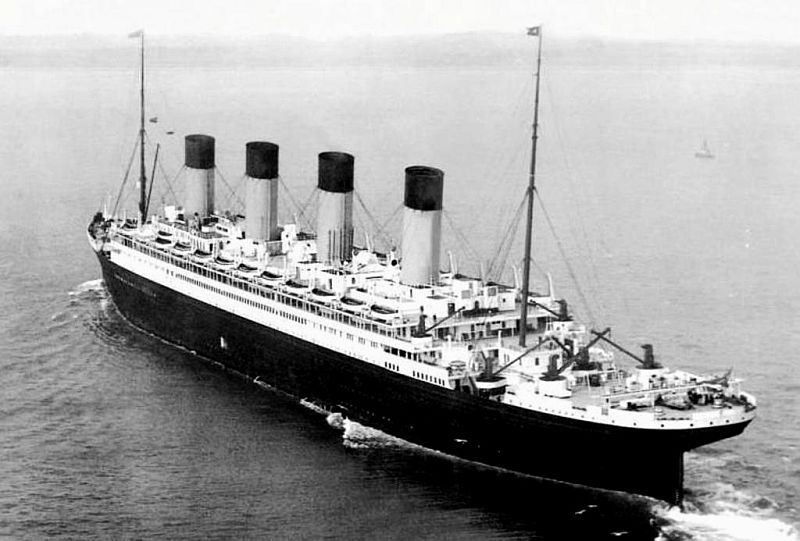 Titanic heads first for Cherbourg France, then to Cobh Ireland, before heading towards New York
You may well ask "what did it cost to sail on the Titanic?" Well I do know and I am happy to tell you, however I am sorry but you will have to wait just a little as I like to tease just a little!
First Class:
Sailing in First class, it was obviously very much for the very rich, being upper class, thus would we should fit in you think? Well Gentlemen that would be if we brought at least four dinner suits, and several different tuxedos, but ladies, you could never ever be seen in the same dress or costume more than once for the entire voyage! Can you imagine having to dress formal every single night! And if you turn up at your restaurant not suitably dressed your Maitre D' Hotel, would kindly ask you to return to your suite or stateroom and kindly get dressed! I somehow do not think that is the style of cruising for the majority of vacationers! I find nothing wrong with formal dinning and evenings, I love them, but not every single evening, on Cunard and P&O UK there are formal, semi formal and smart casual and that is perfect!
By the way, I will get to the fare after we will see what they received for their fares!
First Class – Lounges - Photo Album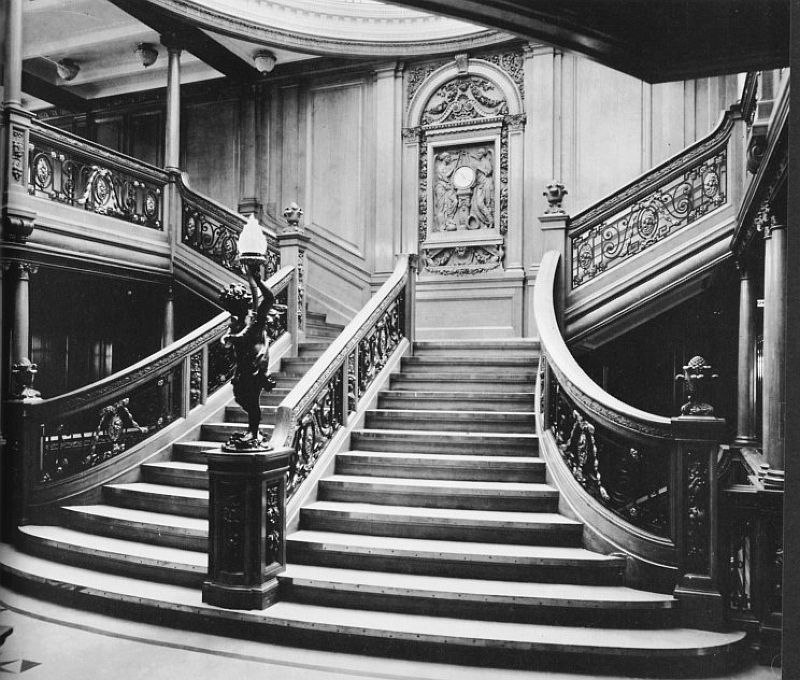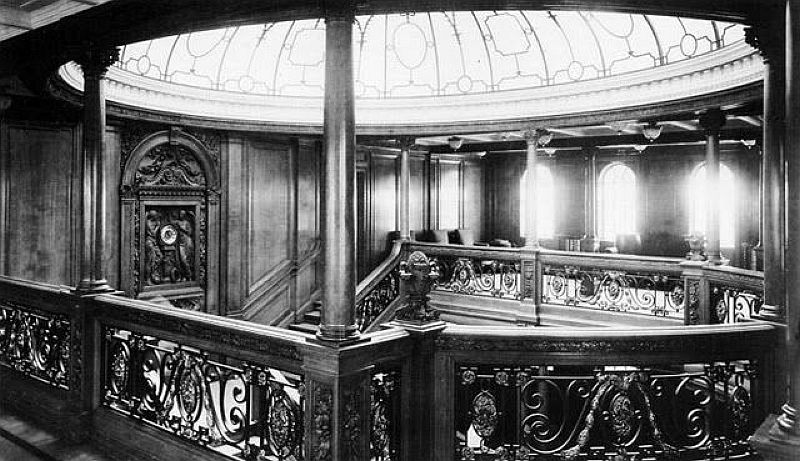 I am sure most of us will know this sight, if you have seen the movie, the famed grand First Class stairwell as seen from Promenade (A) Deck and from the top on Boat Deck.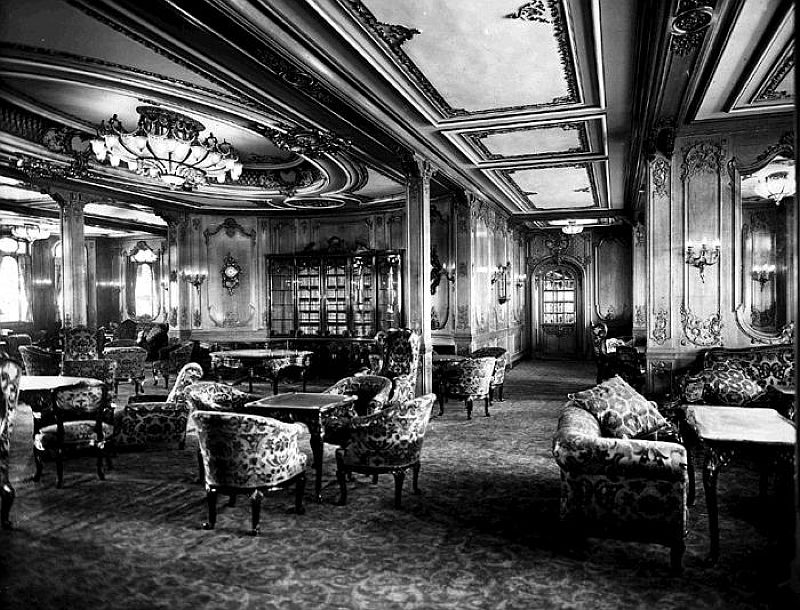 This is the magnificent Main Lounge, with its superb centre piece chandelier lines in the finest of timbers, rich tapestries and deep Westminster carpets, richly decorated ceiling, everything the Nobility of the world and the very rich could possibly want!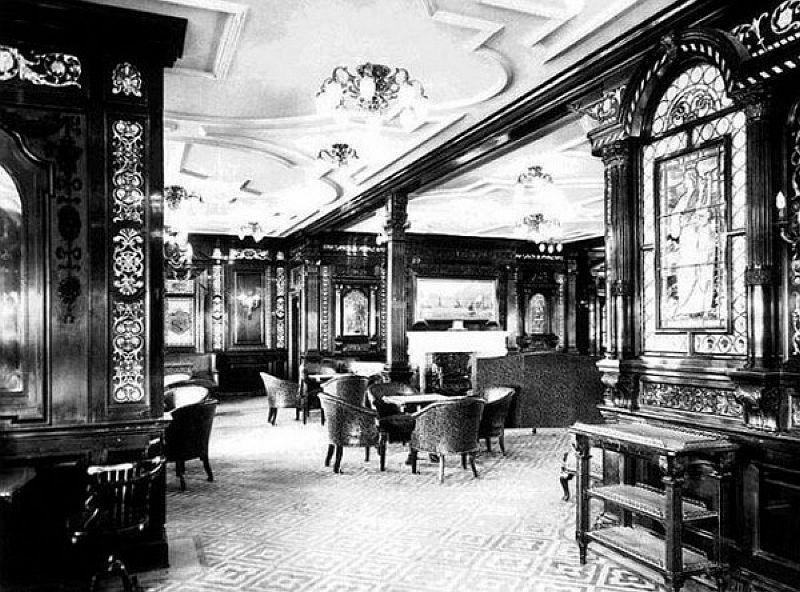 The Smoking Room was equally rich in its d?cor, covered in superb timbers, lead glass windows, fine art, and along the side deep alcoves. Yet in spite of the dark timbers, this was a very light and bright room during the day, but, apparently the gentlemen did not appreciate this and requested the heavy draped to be kept closed and to have the room kept in darker toned 24 hours per day, as there was a party on board that preferred to play a game of cards throughout the voyage, and they only had short breaks to rest. They smoked the finest cigars and drank the most expensive cognac continuously!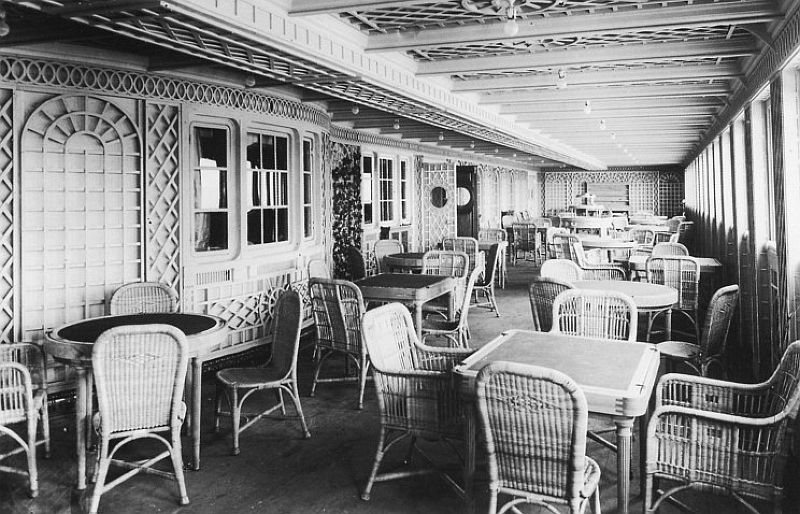 Here we see the delightful Caf? Parisien, which for four full days was the place to be seen, although we see it here prior to the ship being delivered, thus the tables would have been superbly set with bone china and fine silver!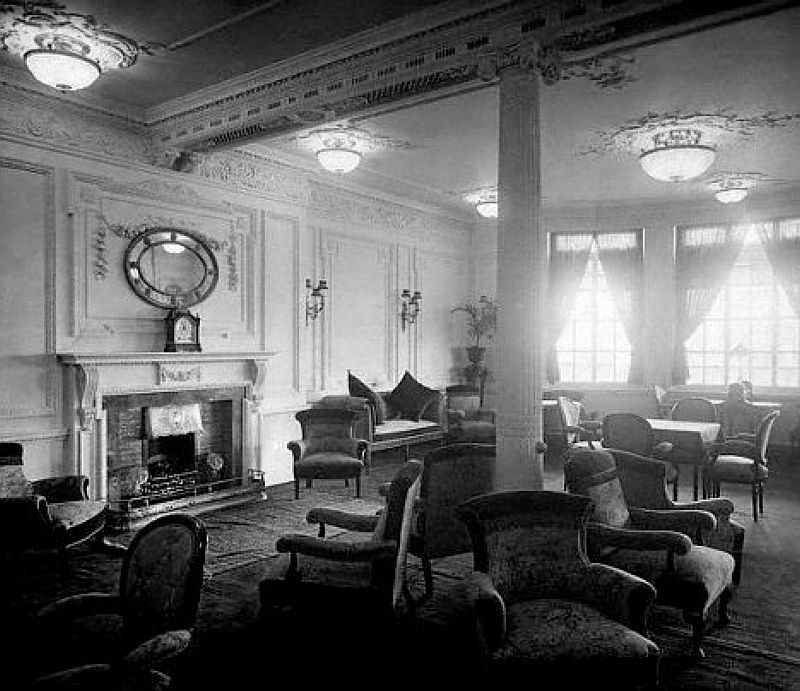 This is the magnificent Reading Room with its delightful fireplace.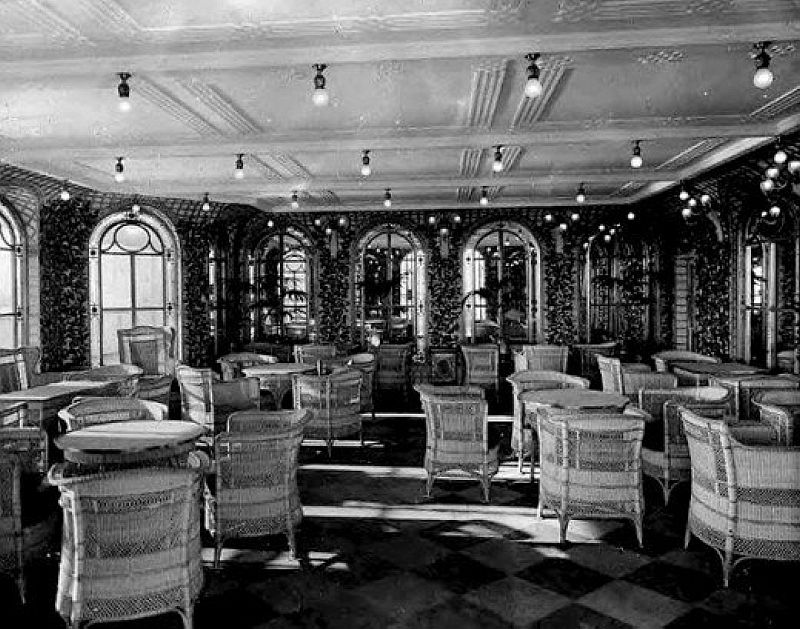 Aft, portside of the Smoking Room was the Palm Court for relaxing, again it is seen prior to the ship reaching Southampton.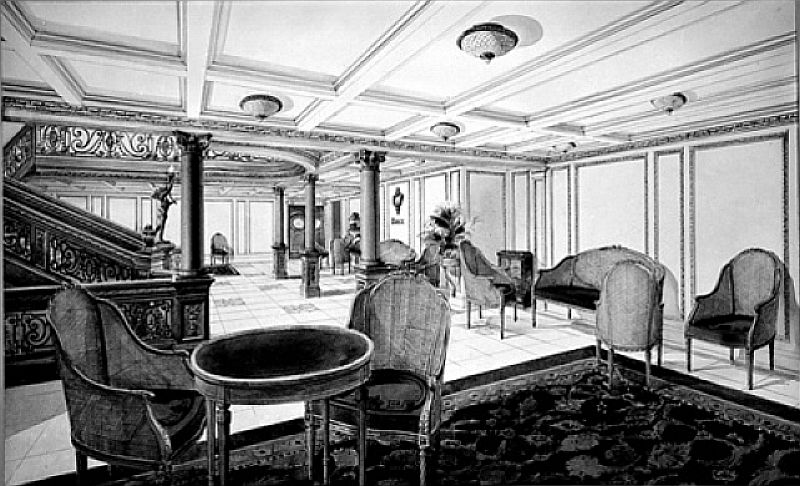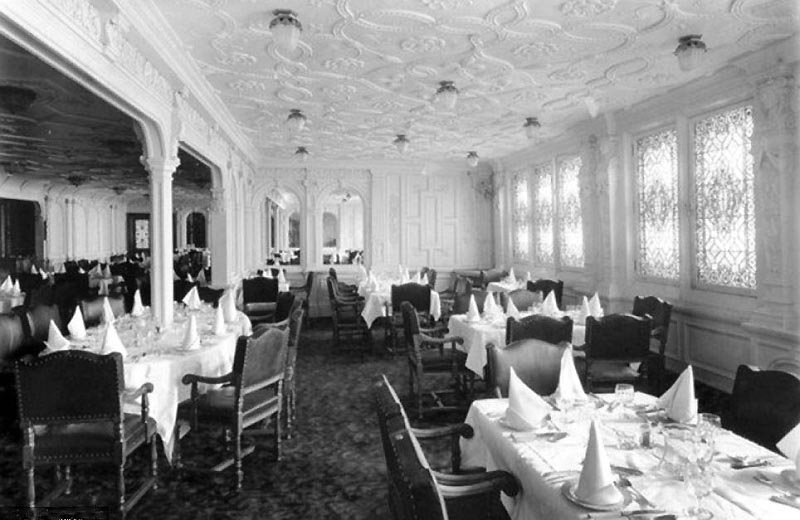 On C Deck prior to entering the Dinning Room there was time to spend some time in the Reception Lounge (see artists impression) and to make your grand entrance in the high domed Dinning Room! The photograph shows one of the side galleries near the portholes of the ship, thus there is a low ceiling, but we see all the tables so beautifully set in all its finery!
First Class – Cabins, Decks & Gym - Photo Album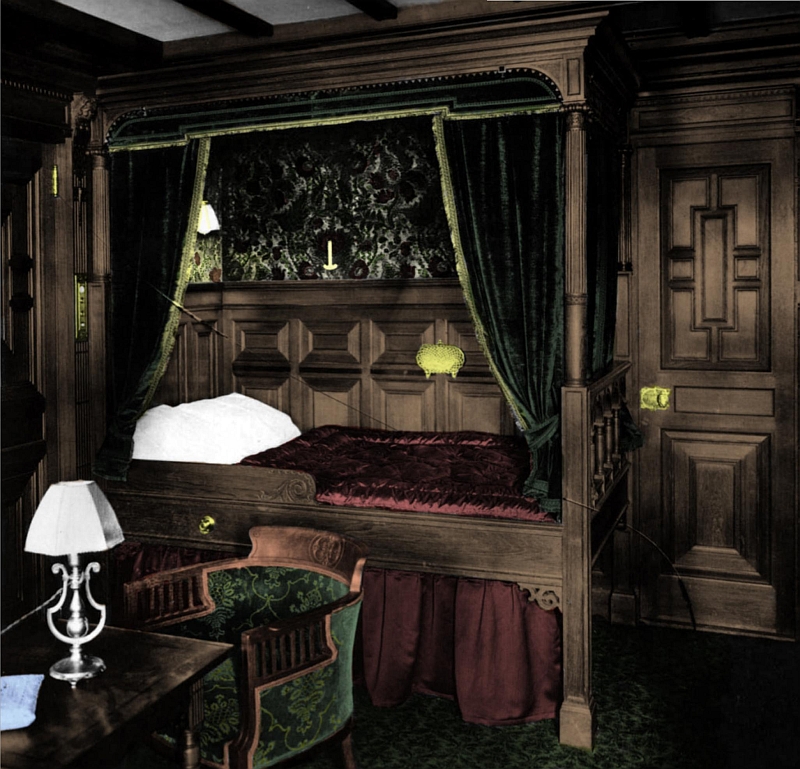 A luxurious double-bedded stateroom with a door to a second cabin if required
Colourisation of this photograph was done by lifelong American historian Christopher Conte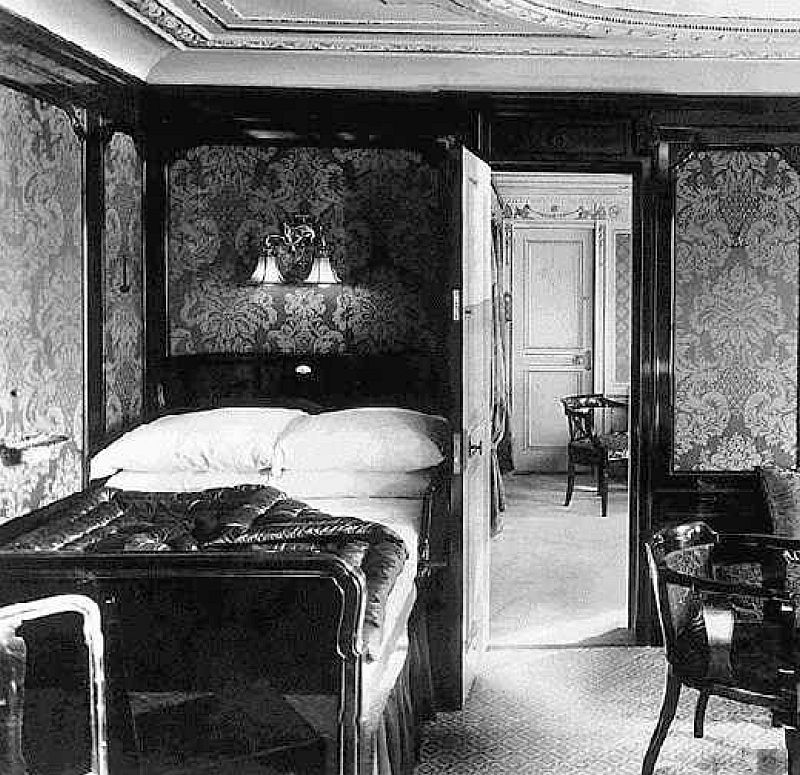 A double-bedded stateroom with an adjoining lounge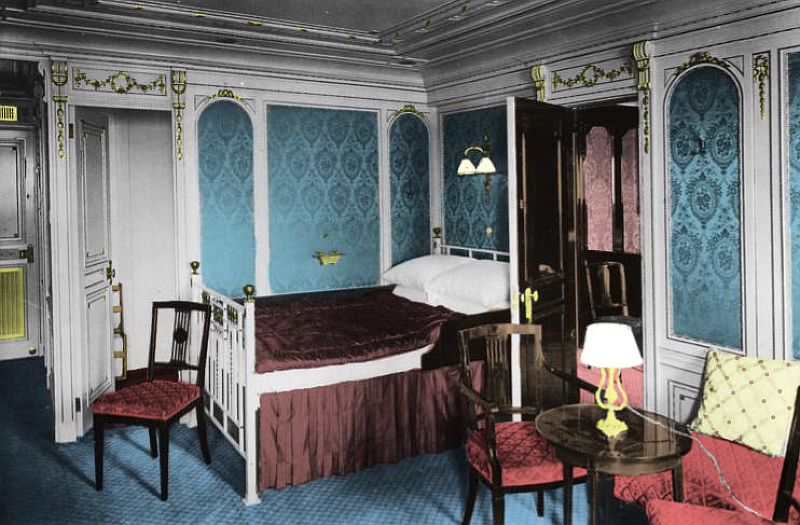 Colourisation of this photograph was done by Christopher Conte
Above there are three photographs of double-bedded First Class Staterooms, all were multi roomed and as you will see, they were very luxurious. Her designers used a variety of decorative styles for her suites and staterooms, these included Louis XVI, Italian Renaissance, Georgian, Regency, and the old American Adams style. Many of the double beds were either against the wall, or close to it! These days, we prefer them to be in the middle of the room, in those days it was obviously different as all the accommodations were certainly spacious enough?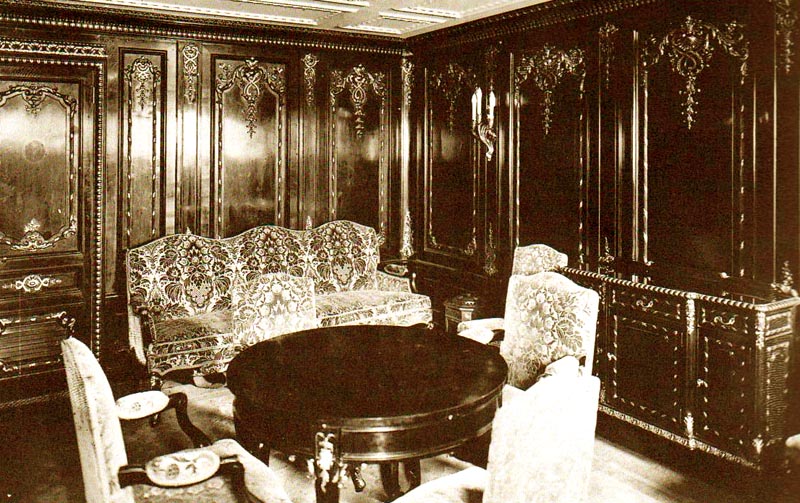 The Promenade Suite lounge
The most luxurious accommodations were the promenade suites that were located on B deck, which had their own private decks. These suites also included two bedrooms, a sitting room, two huge walk in wardrobe, which were small rooms, a private bathroom, as well as a room for the passenger's personal servant. The stewards and stewardesses were also close by to meet any request made by the first class passengers. Their quarters were located along the first class corridors, so that they could come fast when a bell was rung.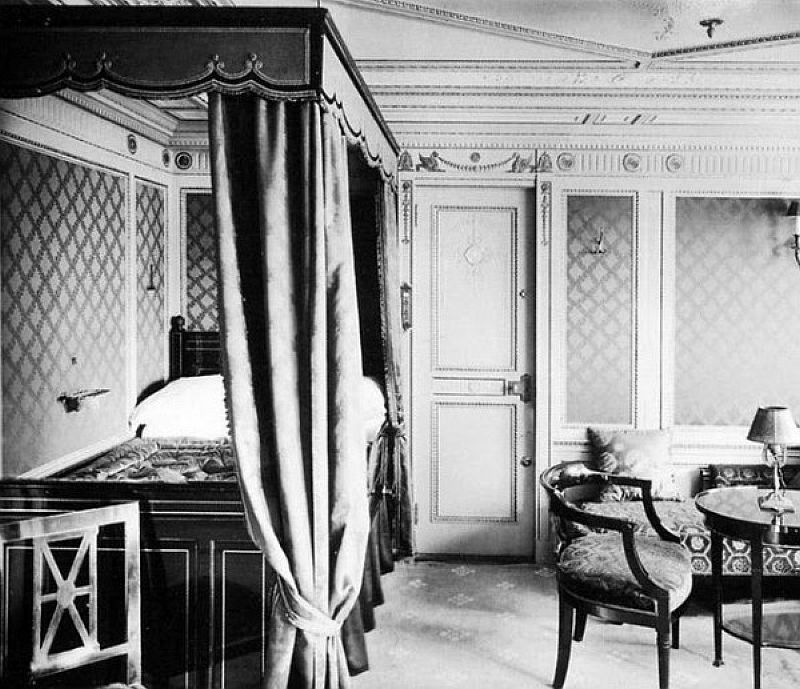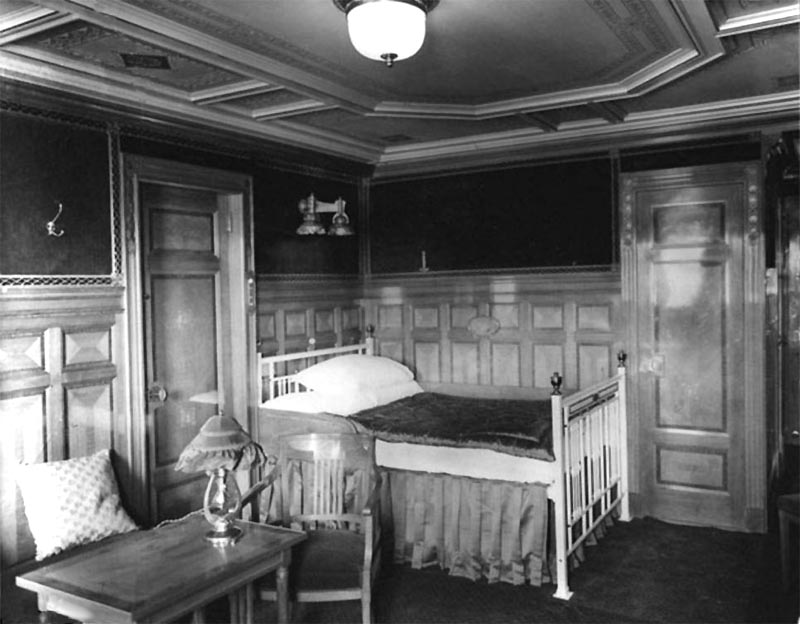 In addition Titanic also had sufficient single bed Staterooms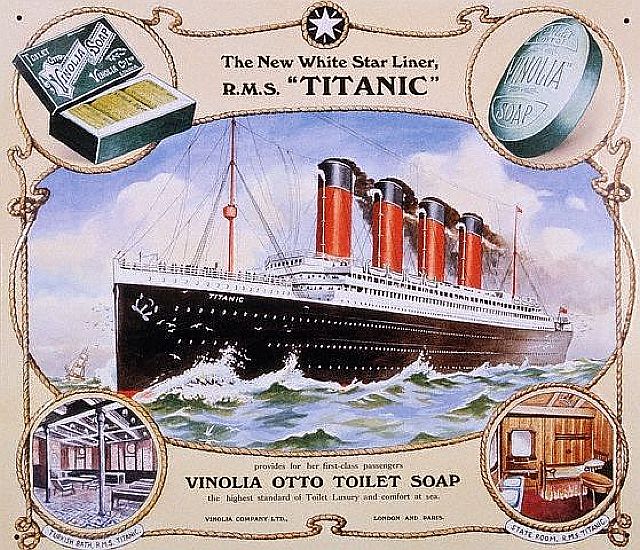 All First Class Staterooms were provided with was then the very finest of soaps, the famed "Vinolia Otto Toilet Soap"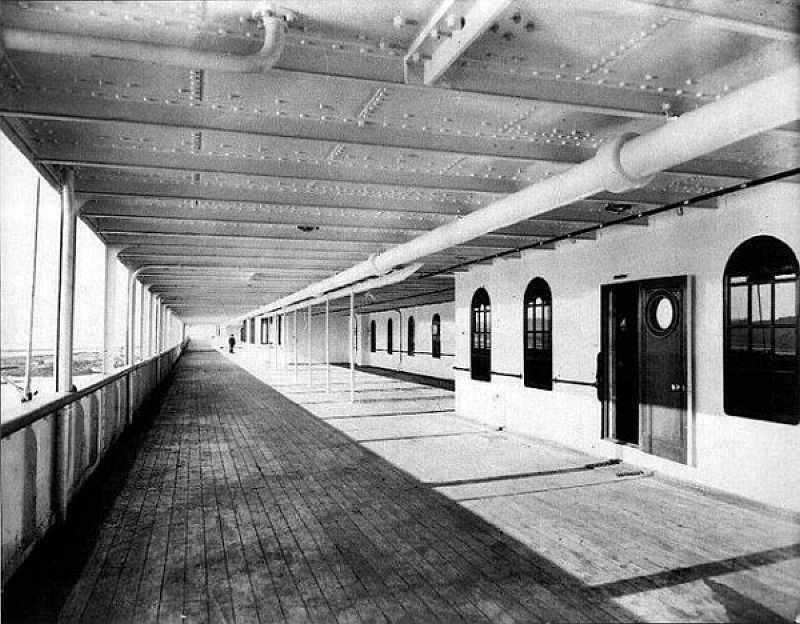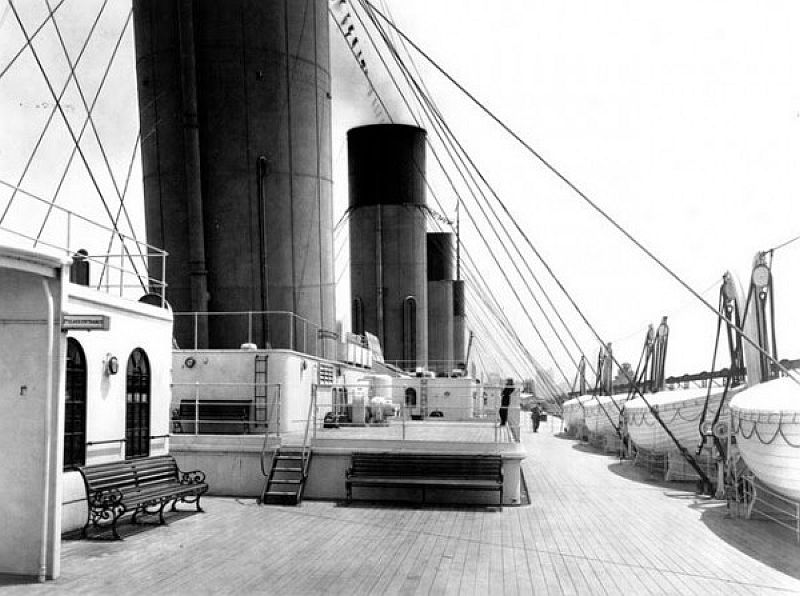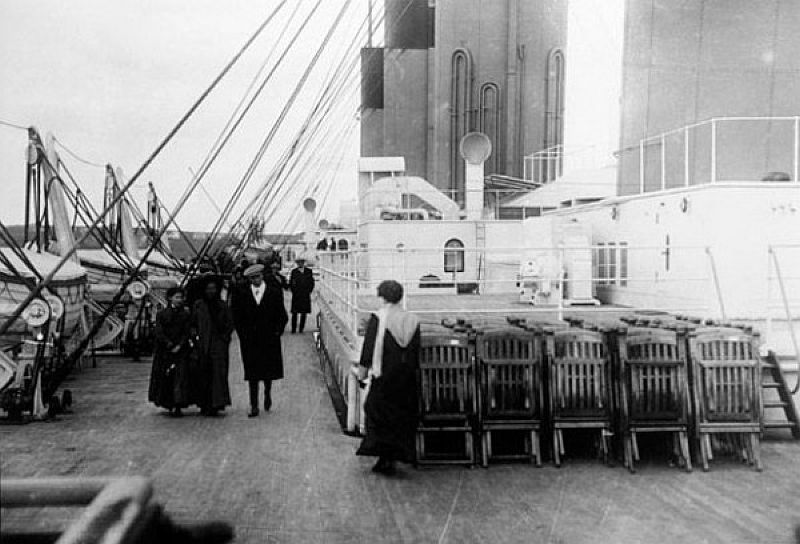 We now see the massive outdoor deck space that was available to the First Class passengers, her spacious Promenade Deck, located on A Deck, as well as her huge spaces up on Boat Deck!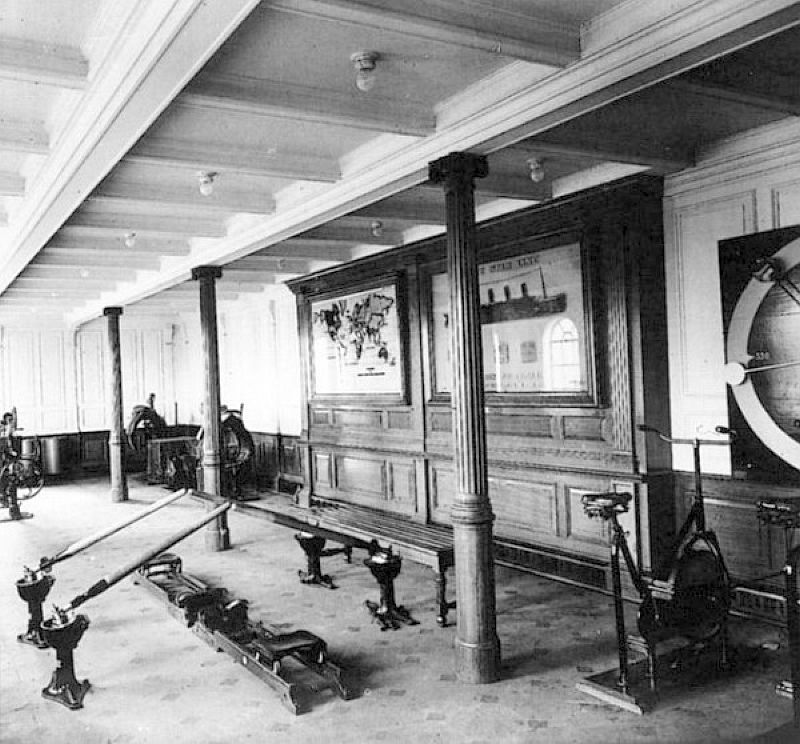 Located forward on the starboard side is the First Class Gym
So now we come to the question, what did the passengers have to pay for all these luxuries? Of course we need to remember that this was 1912 and an average First Class fare was US$4,350 per person, and remember this was just a 6-day voyage! To give you an idea how much this is in today's monetary value, it is a massive US$108,750 per person now that is very rich!
Second Class:
Now you may ask, what about Second Class? They paid US$1,750 per person on an average, or US$43,750 in today's value.
Also remember that the dollar was worth a more than our Pounds in those days, and Australian's would have been earning around – give or take - a Pound a week?
I will now continue with further photographs of the ship, but be assured, I will return to her story later!
Second Class – Lounges & Cabins - Photo Album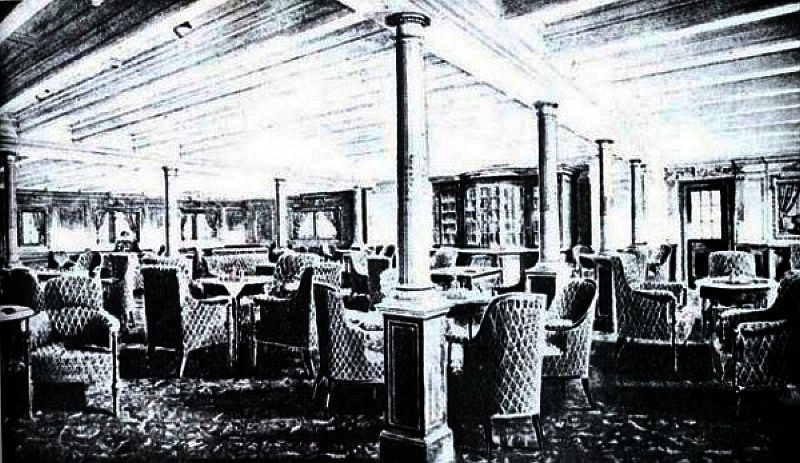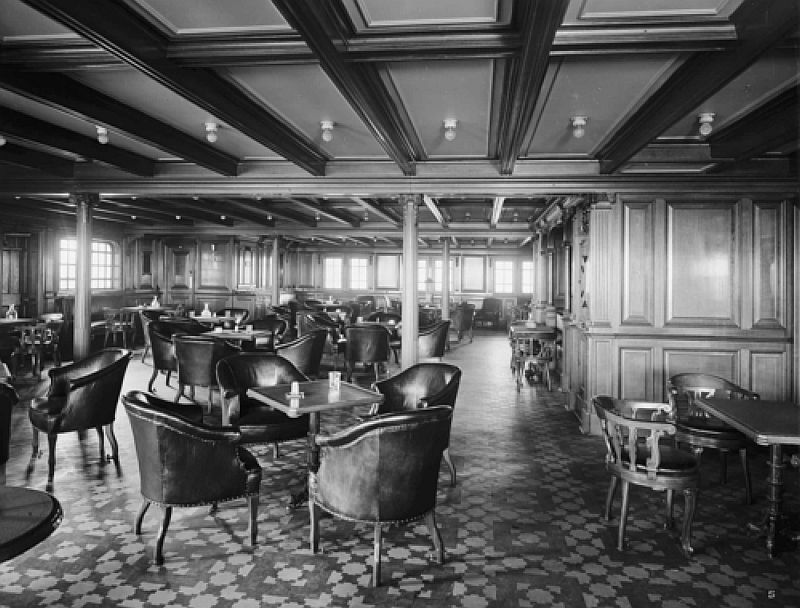 Above we see the Second Class Lounge followed by a superior photograph of their Smoking Room. Although not as splendid as First Class but still very pleasant and decorated in fine rich timbers, carpets, and comfortable and leather furnishings.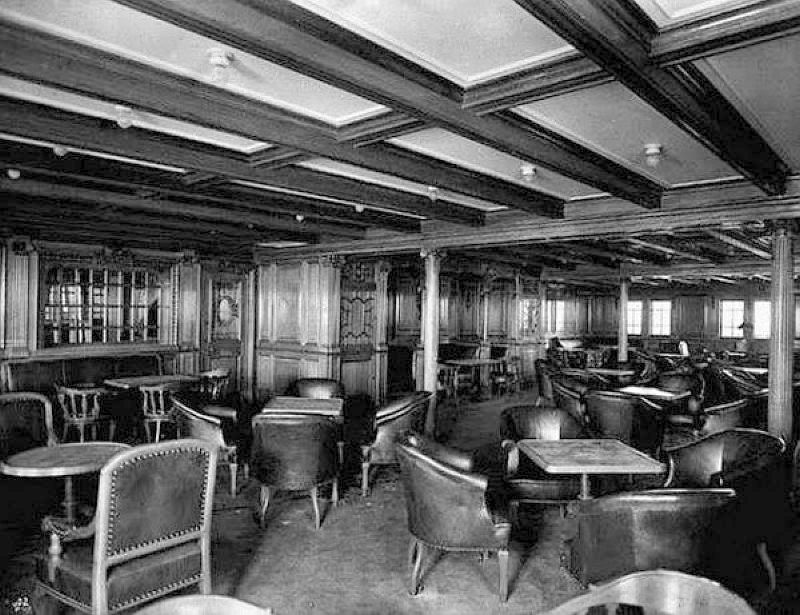 The Library's decor had a very similar style to the smoking room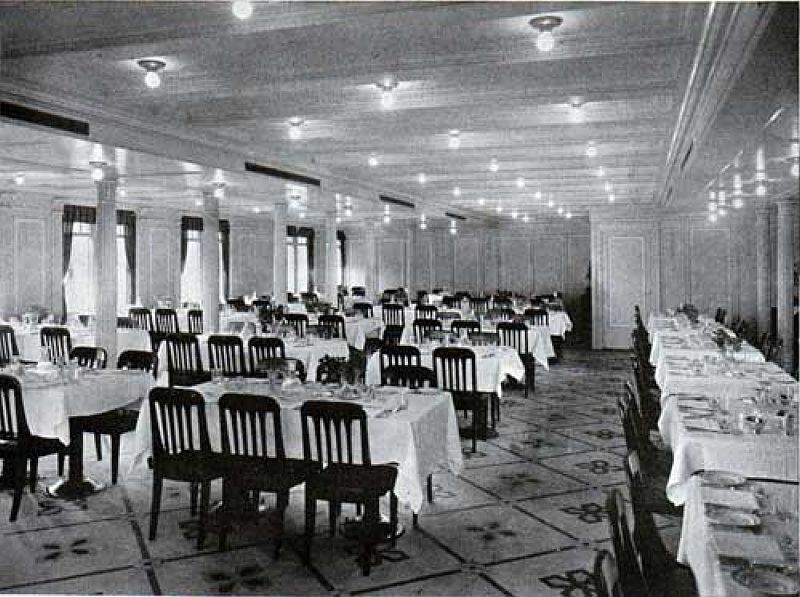 We see the Dinning Room along the side of the ship and as we can see that most of the tables were oblong and seated mostly six persons. Certainly not as glamorous as First Class, but with its Grecian pillars, flooring and other style touches that are not seen in this image, it was certainly a most pleasant venue.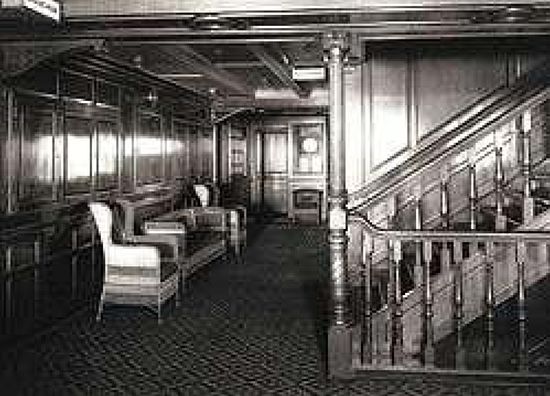 Here we see one of the Second Class stairwell and hallway, which was clad with fine timbers, beautifully carpeted and with a comfy sofa and furnished with two high whinged chairs.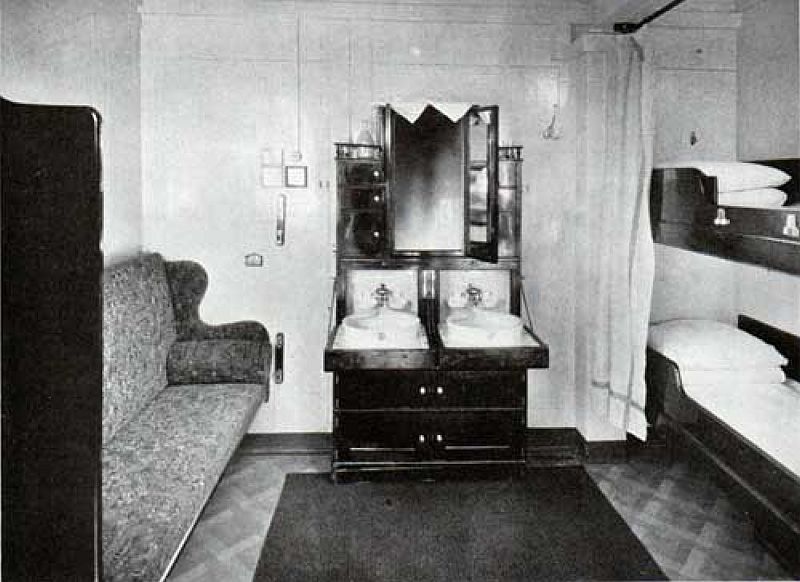 Finally we see a well appointed outside two-berth cabin, complete with a convertible long sofa bed, two berths and a timber cabinet containing two basins with hot and cold water as well as drawers and a folding mirror! The floor is carpeted with a rug, and the wardrobes are behind the photographer as is the porthole and entrance.
We need to understand that Second class cabins were equivalent to First Class accommodations on most other ships. Each room was beautifully finished with fine mahogany furniture and off-white walls.
Third Class:
We finally come to Third Class, which cost an average of US$30 per person or US$750 in today's valuation, thus a great deal cheaper, but it was still quite expensive, as there were cheaper ships on the market, but you paid for what? The prestige of sailing on a White Star Liner!
Their facilities were to say the least rather poor compared the rest of the ship, but for those who were travelling in this class in those days were basically heading for a new life in a new land. Therefore they did not care too much about comforts for a mere 6-days as most had come from much worse! But I am sure, that this particular voyage was not exactly one they had counted on!
Third Class – Lounges & Cabins - Photo Album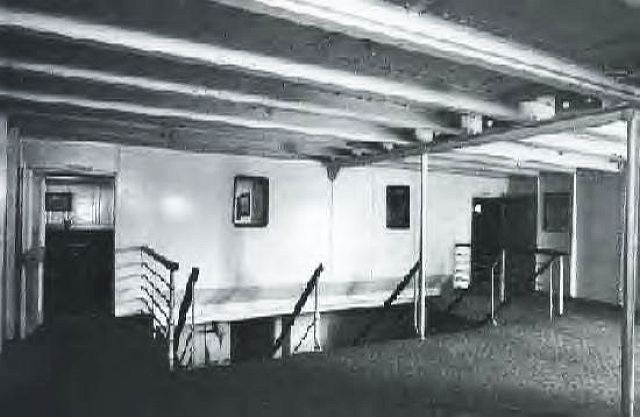 Here we see the Third Class Hallway and their stairwell on B Deck looking into their Lounge & Smoking Room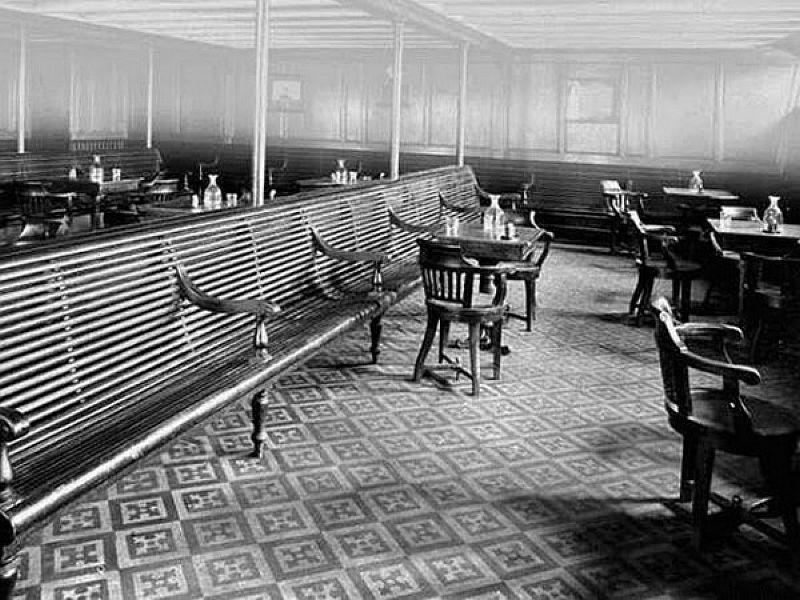 Here we see the Third Class Lounge and Smoke Room, in the movie this was the room where the famed dance took place!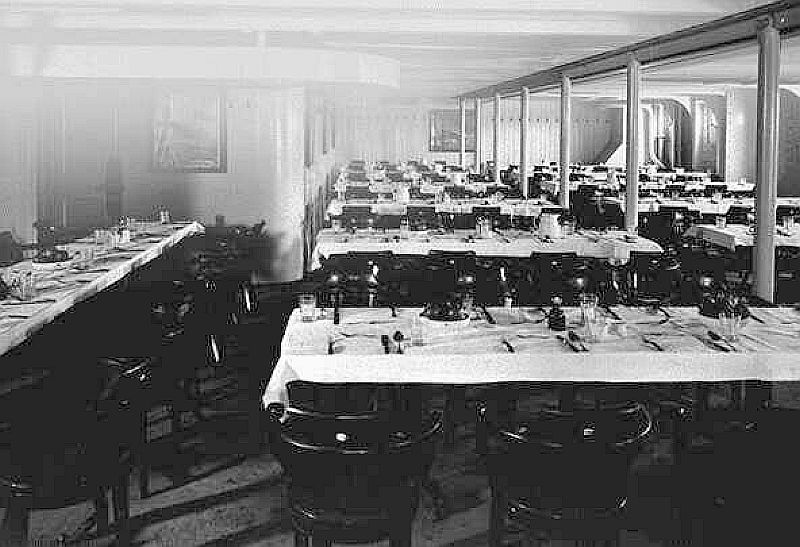 The dinning Room had long tables from six to ten seats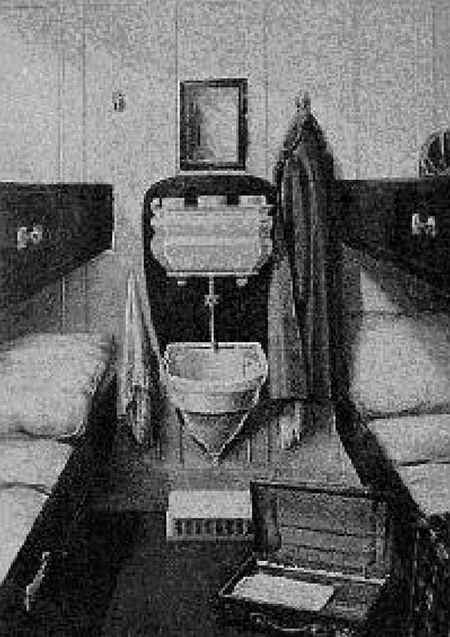 Here we see one of the better Third Class cabins, a four-berth cabin with a sink with just cold water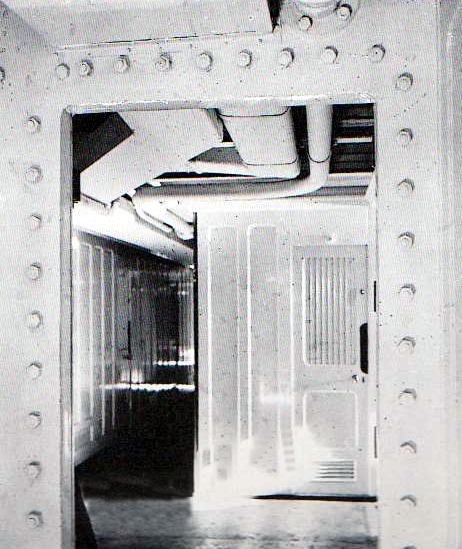 The very basic Third Class passageway heading to the dormitories
Titanic's Specifications:
Tonnage:…………………………………46,328 GRT Gross Registered Tons.
Length:..………………….………………269.2m - 883ft.
Beam:…..…………………………………28.2. – 92.5ft.
Draught: …………………………………10.36m - 34ft.
Engines: …………………………………Triple H&W expansion steam engines.
Screws:..…………………………………Triple.
Speed:...…………………………………22.5 knots.
Decks:….…………………………………9.
Passengers:.…………………………..2,603 – 905 First, 564 Second & 1,134 Third.
Crew:.………………………..………….900.
Total: .………………………..…………3,503.
Maiden Voyage: .…………………..1308 passengers & 898 crew a total of 2,206 souls on board.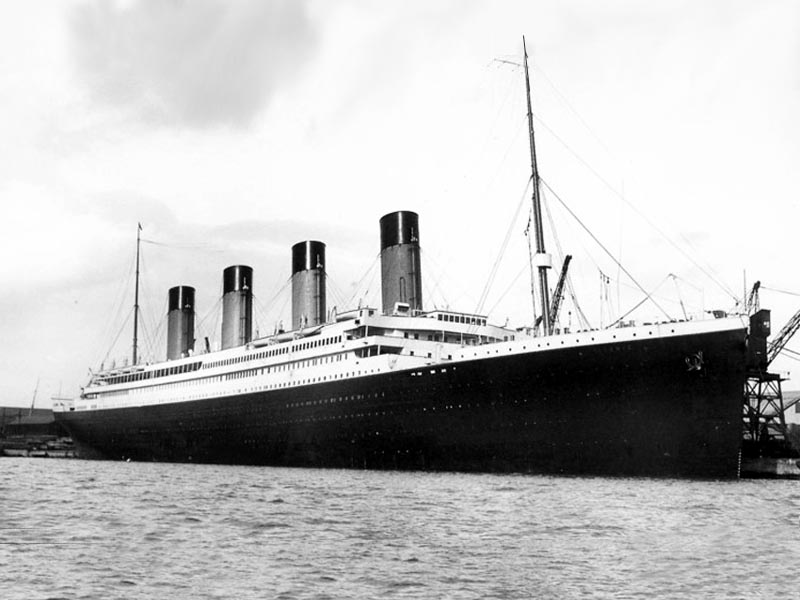 The RMS Titanic is seen here fully completed but prior to her tragic departure

That story will be fully covered in Part Two

*******************************

RMS Titanic

Index:

Part One … From construction to her final days - This Page.

Part Two … Follow her day-by-day story from departure to sinking.

Part One … The Ships Deck Plan.

Also visit the RMS Olympic & HMHS Britannic Pages

********************************

Use the Back button on your browser or Close the Page to return to the previous page
or go to our INDEX

ssMaritime.com & ssMaritime.net

Where you will discover over 1,125 Classic Liners & the 1914 built MV Doulos Feature

Please Note: ssmaritime and associated sites are 100% non-commercial and the author seek's no funding or favours of any shape or form, never have and never will!

Photographs on ssmaritime and associate pages are by the author or from the author's private collection. In addition there are some images that have been provided by Shipping Companies and private photographers or collectors. Credit is given to all contributors. However, there are some photographs provided to me without details regarding the photographer/owner concerned. I hereby invite if owners of these images would be so kind to make them-selves known to me (my email address may be found on www.ssmaritime.com only), in order that due credit may be given.

This notice covers all pages, although, and I have done my best to ensure that all photographs are duly credited and that this notice is displaced on each page, that is, when a page is updated!

ssMaritime is owned & ? Copyright by Reuben Goossens - All Rights Reserved