Union Steam Ship Company; MV Tofua II
Please Note: Firefox and some other search engines are not suitable – Use "Internet Explorer" for this page to load perfectly!

Click the logo above to reach the ssMaritime FrontPage for News Updates & "Ship of the Month"
With Reuben Goossens
Maritime Historian, Cruise'n'Ship Reviewer, Author & Maritime Lecturer
Please Note: All ssMaritime and other related maritime/cruise sites are 100% non-commercial and privately owned. Be assured that I am NOT associated with any shipping or cruise companies or any travel/cruise agencies or any other organisations! Although the author has been in the passenger shipping industry since 1960, although is now retired but having completed around 680 Classic Liners and Cargo-Passengers Ships features I trust these will continue to provide classic ship enthusiasts the information the are seeking, but above all a great deal of pleasure! Reuben Goossens.

Union Steamship Company
The Twin Screw Motor Vessel
MV
Tofua II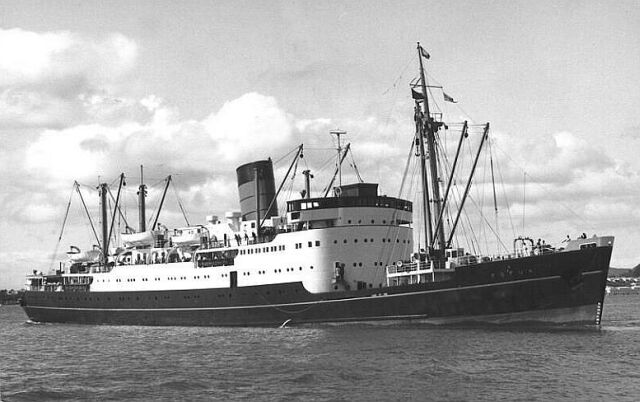 MV Tofua II returning home to Auckland after another round voyage to the Islands
All images on this page are from the author's private collection, *unless otherwise noted
SS Tofua 1:
Before MV Tofua II, the Pacific Islands was well served by a good number of Union Steam Ship Company (USSCo) ships, including the very first SS Tofua that was built in 1908. She departed Liverpool for Auckland New Zealand on April 12, 1980 and sailed via South Africa, having passed the Cape she had an extremely rough passage sailing across the Indian Ocean and some damage was sustained to some of her fittings. She arrived in Melbourne very early on June 2 for a very brief refuelling stop and she continued north to Sydney arriving on June 4.
She was 4,395 GRT and was also built by William Denny & Bros. She served the Union Steamship company and the Pacific Islands well until 1932 and she was broken up in Osaka Japan two years later. The Matua commenced her services in 1936. Tofua, named after a Pacific Island, and she was a very popular ship, thus the USSC decided that their next ship would be named Tofua.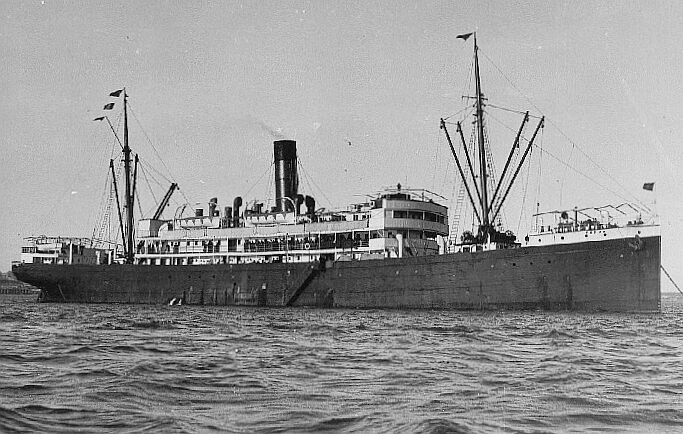 This is the first Tofua
Unknown at the time of ordering, but the Tofua would be the very last Union Steamship passenger cargo ship to be designed and built for the South Pacific trade. She was ordered and built by one of the most reliable ship builders in the world the famed - William Denny & Bros Shipyards at Dumbarton. She was launched on May 22, 1951 and after fitting out and sea trials she was had to be delivered to her owners, thus she made a half way around the world voyage to New Zealand where she was delivered to the Union Steamship Company and she soon joined the MV Matua on the Pacific service.
She offered a Lounge and Smoking Room on Promenade deck, with the Main Lounge and Bar being quite spacious and it featured a vast array of fine wood panelling and furnishings with dark leather upholstery, that created an attractive ambience for the passengers, it was much the same in the Smoking Room. The Dinning Room also featured timbers, but it had generally a lighter feel offering a more casual atmosphere whilst dinning. I always recall that Tofua's Dinning Room was always spoken of with great joy and pleasure as it was a very pleasing venue and I speak with much experience having dined there on many occasions!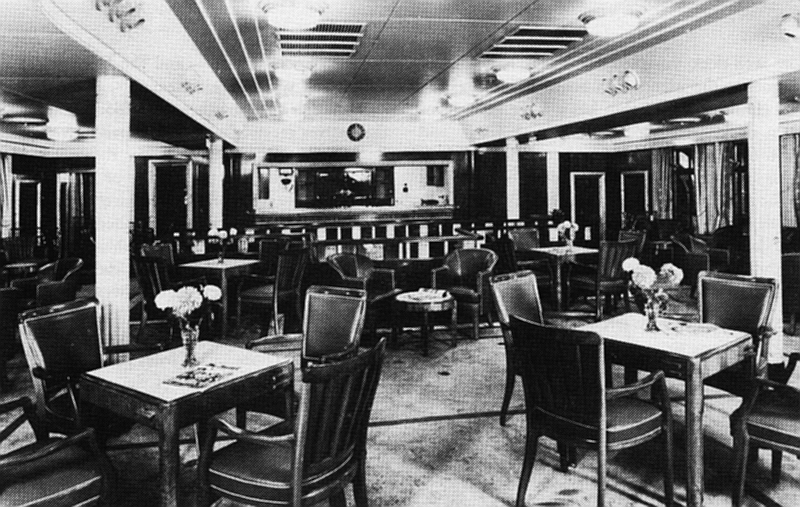 The delightful Main Lounge and Bar
Photo provided by Stan Evans
Her decks provided ample space to laze in the shade or the sun as well to enjoy all the sport activities that were available. Like the Matua, Tofua was not air-conditioned, but instead had a quite efficient Punkah Louvre forced drought ventilation system that worked very well in the warm climates she sailed in.
Her cabins were also much improved and all offered high quality furnishings, in all her accommodations, be it in single, twin bedded, or her two or three berth cabins. The excellent furnishings even extended into the crew and officers accommodations.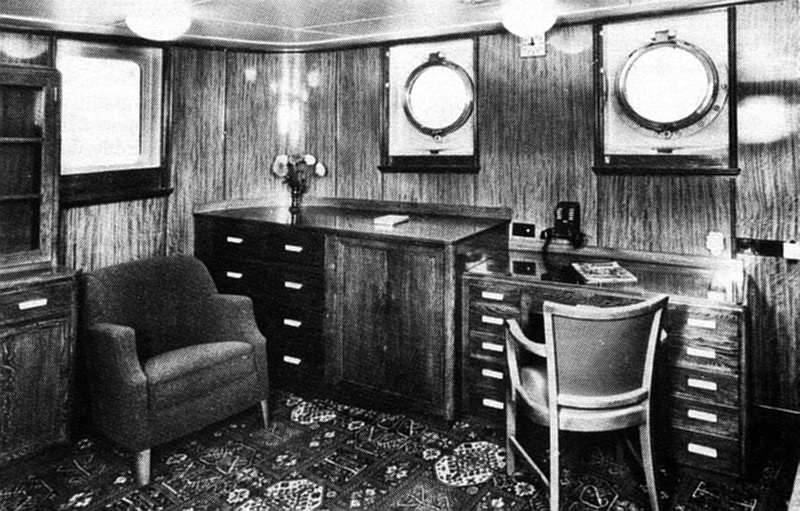 Captains Day Room
Photo provided by Stan Evans
Like her older running mate the Matua, she was able to carry up to 200 people on short coastal voyages, where natives would move between islands. However, they and the passengers on board would seldom meet as they were in separate sections of the ship.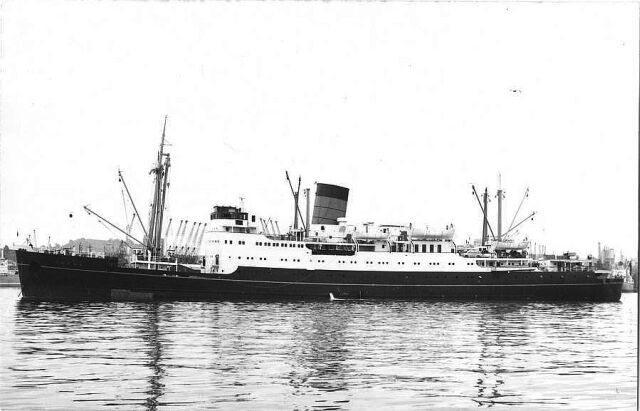 Tofua was a popular ship with passengers and ship lovers as she was an attractive ship to look at!
Photograph by & © Mr. G. Stevens
Tofua was a popular ship and certainly a ship the author loved greatly and spent a great deal time on, as I did, mind you on the Matua, for both ships were very different, but each had their own very special personality! I felt that the Matua was a little more semi-formal and old fashioned, whilst Tofua was far more casual, but she was certainly well known as being a very happy and a more casual ship! Yet the little Matua still had her staunch supporters and she remained the popular "Banana Boat to the very end!
Tofua's ports of call were as follows: Auckland, Suva (Fiji), Nukualofa, Vavau (Tonga) Niune Island, Pago Pago (American Samoa), Apia (Then still British Samoa), Suva (Fiji), Auckland. There were other ports of call as cargo needs required, including as one photograph shows on this page, Lyttleton.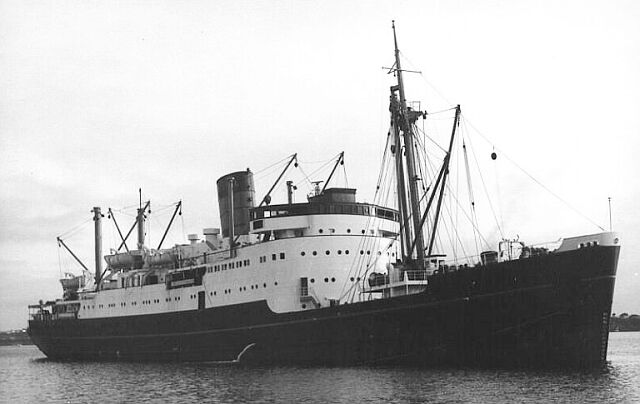 For a relatively small passenger ship she looked very proud and in a small way even grand!
Specifications:
Shipbuilder:    William Denny & Bros. Ltd, Dumbarton - Yard No: 1447
Launched:      May 22, 1951
Propulsion:     Sulzer 2 x 7 cylinder Sulzer type Diesels
Screws:          Twin screws – 6,800bhp
Speed:           14.5 knots
Tonnage:        5,299 GRT
Length:          391ft
Breadth:         55ft
Draught:        21ft 7in
Passengers:    73 one class
                     Non air-conditioned but had …
                     Punkah Louvre forced drought ventilation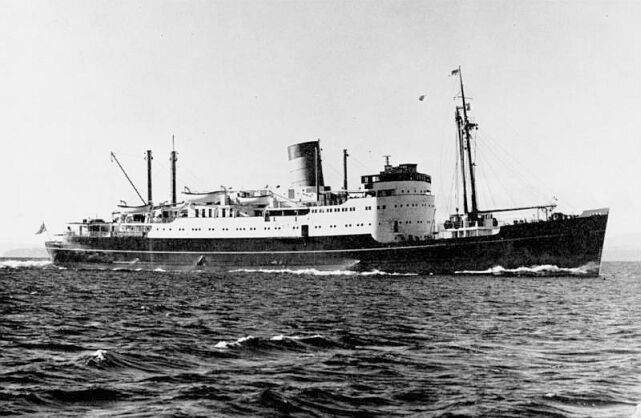 MV Tofua seen here at full speed ahead
Tofua's cargo spaces comprised of 5 holds and t'ween decks, which were designed for general, cooled and refrigerated cargoes, some had air cooling and ventilation for the abundance of fruit, which the ship was famed for transporting!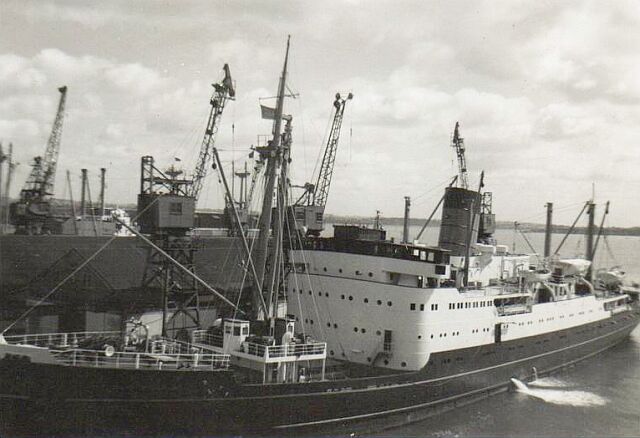 MV Tofua berthed in Auckland
Photograph by Duncan Montgomery
In the Engine Room with Brendon
Brendon McCambridge (Bardy) was 4th Engineer for a round voyage on MV Tofua in 1973. He recall's that the 2nd Engineer was Bugsy Corkin and his junior on watch was Bruce Carlton. He has retained fond memories of this fine ship over the years. When moving house late in 2009 he happened to find a few old slides after 38 years that just happened to include the images below. We are most grateful to Brendon for providing them to us!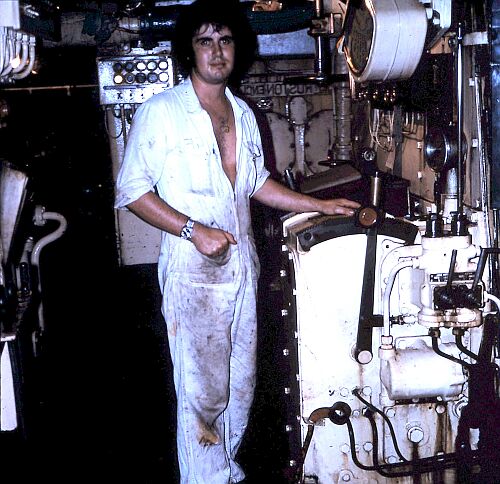 Brendon (Bardy) at Tofua's main controls
This photograph is the property and © of Brendon McCambridge of NZ – Used with permission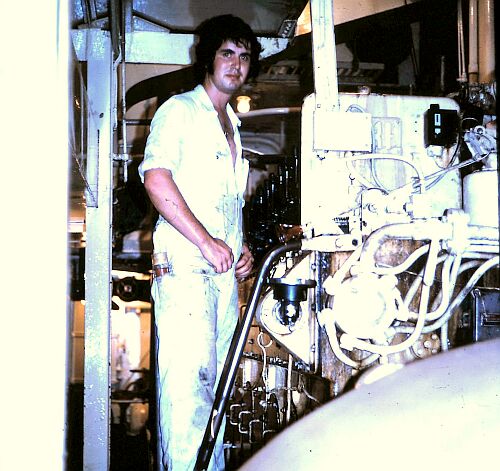 Brendon at one of the generator's
This photograph is the property and © of Brendon McCambridge of NZ – Used with permission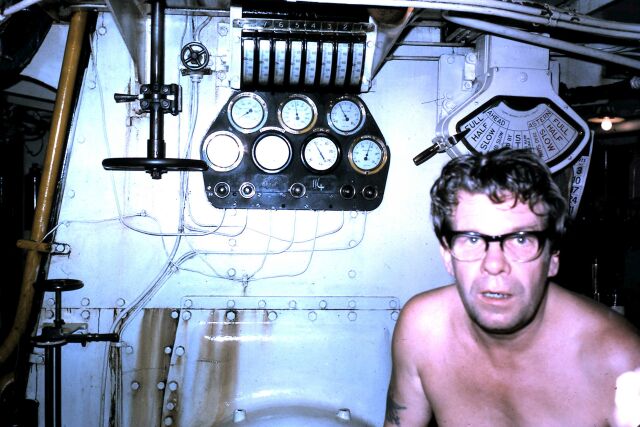 A workmate – "Bangladesh" one of the ships greasers
This photograph is the property and © of Brendon McCambridge of NZ – Used with permission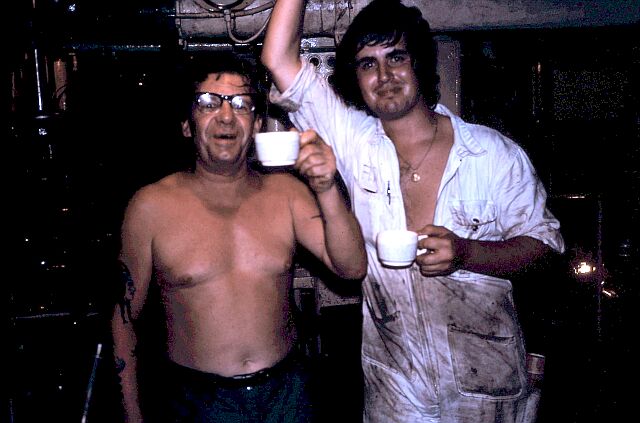 Bangladesh and Brendon
This photograph is the property and © of Brendon McCambridge of NZ – Used with permission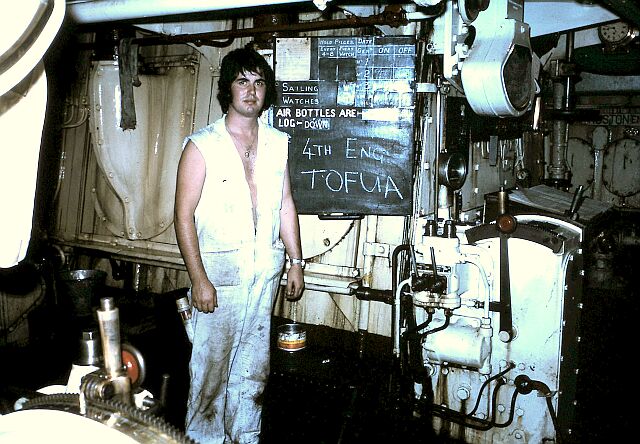 Brendon at number 4 engine
This photograph is the property and © of Brendon McCambridge of NZ – Used with permission
MV Tofua served the Union Steamship Company well for a good 22 years, but as times and the means of travel was changing in 1973 it was decided to place her on the market. She was purchased by Cheung Ming & Co of Hong Kong (registered owner, Khymer Shipping Co, Panama) who renamed her MV Tack Tai.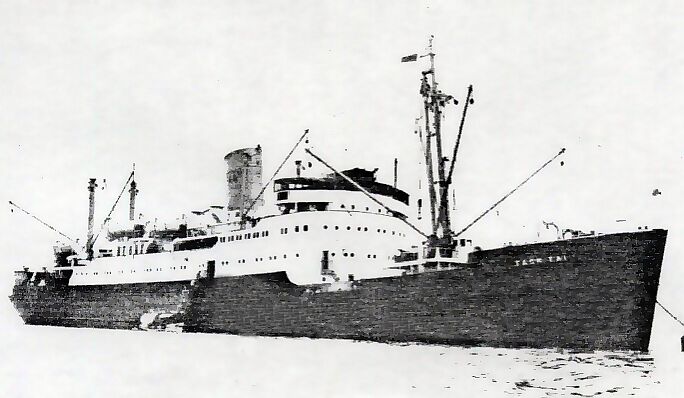 MV Tack Tai at anchor somewhere in Asia
Image provided by Joe McMillan
She operated in Asia for another two years, but was sold on July 19, 1975 to The Peoples Republic of China to be broken up at Shanghai.
Tofua Photographs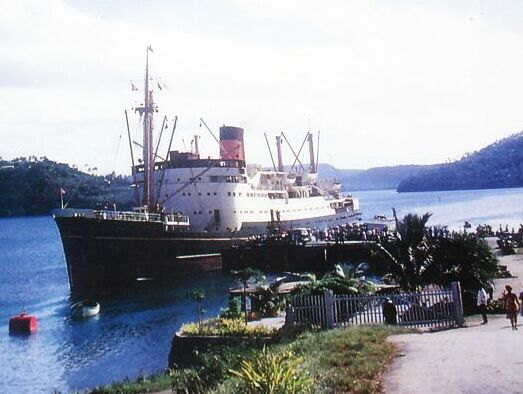 MV Tofua is seen here at Vava'u - Tonga
*Photographer unknown – Please Photo notes at bottom of page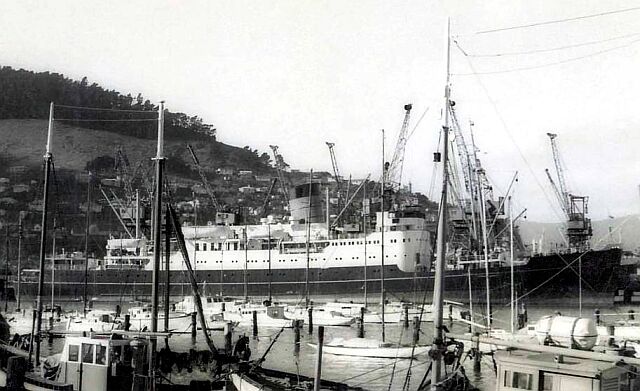 Above and below

: MV Tofua seen berthed in Lyttleton on June 30, 1962. Lyttelton is the port of the City of Christchurch

The Tofua would only call at Lyttelton occasionally

Photograph by & © Dave Edge – New Zealand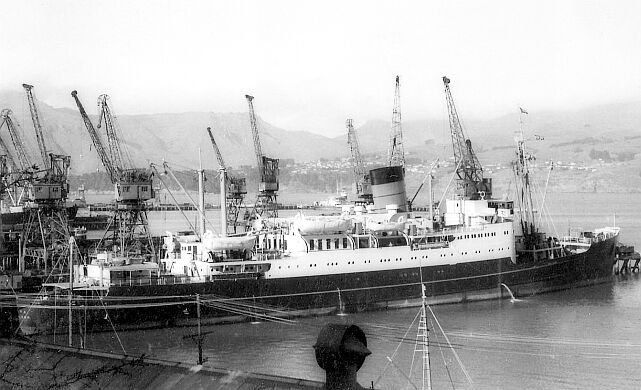 A delightful stern view of the Tofua taken from up high in Lyttelton on June 30, 1962
Photograph by & © Dave Edge – New Zealand
I trust you have enjoyed reading this page on this fine and much loved passenger liner. If you have sailed on her I would like to hear from you, and if you have any photographs I would greatly appreciate some, especially those of the interiors and out on deck. Email Me!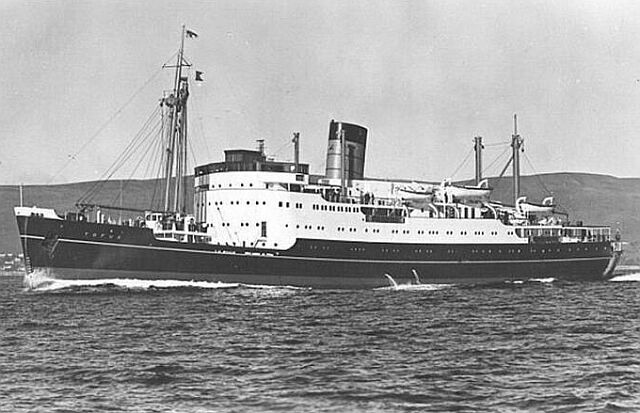 Another fine photo of the MV Tofua cruising the South Pacific Islands
MV Tofua was the last of the Union Steamship Companies Passenger Fruit Ships and they are sadly missed!
Also view the other USSCo Passenger Ships online, from oldest to the last ever built
SS Waitaki / SS Moeraki & Manuka / SS Marama & Maheno / RMS Aorangi
TSS Monowai / TSS Awatea / MV Matua & MV Tofua / TS Loongana
"Blue Water Liners sailing to the distant shores.
I watched them come, I watched them go and I watched them die."
****************************
Visit our ssMaritime Main INDEX
Where you will discover more than 680 Classic Passenger & Passenger-Cargo Liners!
ssMaritime.com & ssMaritime.net
Where the ships of the past make history & the 1914 built MV Doulos Story
Please Note: ssmaritime and associated sites are 100% non-commercial and the author seek's no funding or favours of any shape or form, never have and never will!
Photographs on ssmaritime and associate pages are by the author or from the author's private collection. In addition there are some images that have been provided by Shipping Companies and private photographers or collectors. Credit is given to all contributors. However, there are some photographs provided to me without details regarding the photographer/owner concerned. I hereby invite if owners of these images would be so kind to make them-selves known to me (my email address may be found on www.ssmaritime.com only), in order that due credit may be given.
ssMaritime is owned & © Copyright by Reuben Goossens - All Rights Reserved